If vitamin C isn't already a part of your skin care routine, you need to add it in! You've heard that it's an important part of your diet, but if you pay attention to dermatology and makeup experts, you probably know it has some amazing effects as a topical beauty product.
I was told by a friend of mine who does Botox and plastic surgery for a living that everyone needs to have Vitamin C in their daily skin care regime. That immediately made me add that to my morning routine!
Vitamin C does wonders for your skin and is one of the easiest adjustments you can make to your skincare regimen. It can help to diminish fine lines and wrinkles, make your skin brighter and radiant, improve skin pigmentation, and make your skin look youthful.
It's not too good to be true! All ages and skin types can reap the benefits of using a vitamin C serum.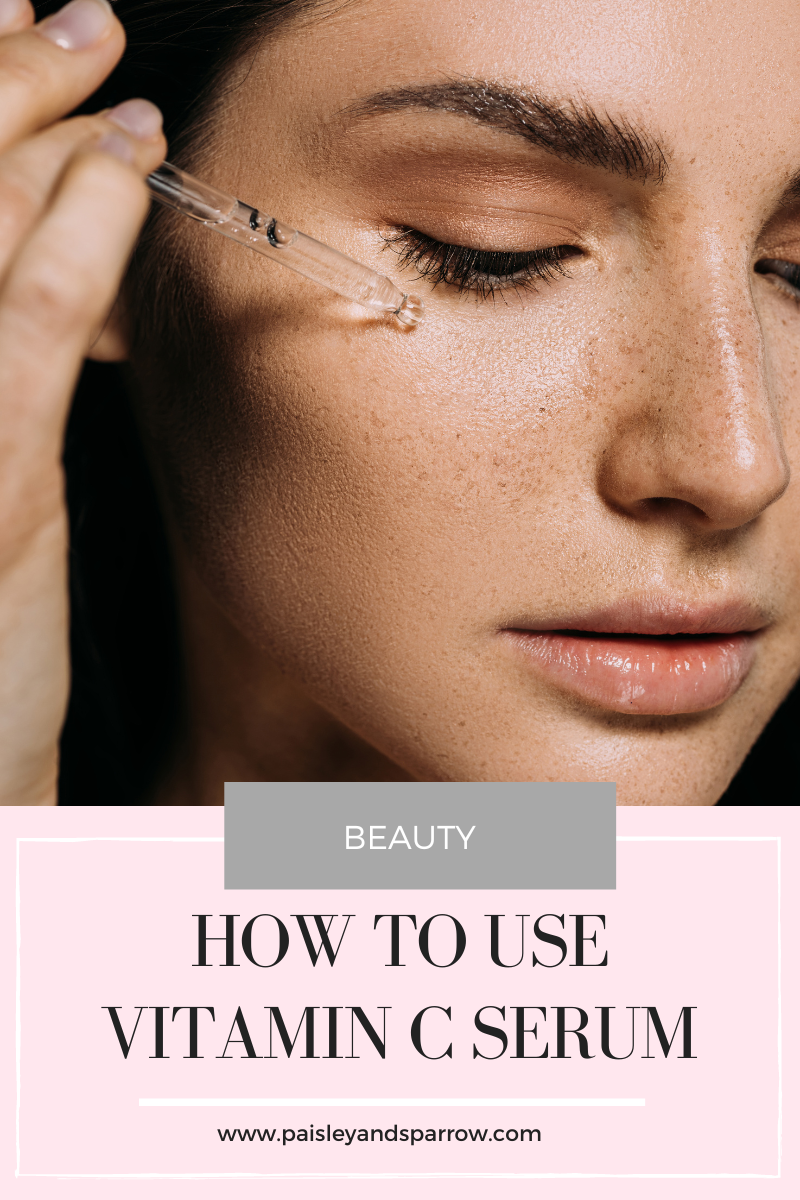 Paisley + Sparrow is a participant in the Amazon Services LLC Associates Program. This post may include affiliate links which means I may earn a small commission if you shop using the links below at no additional cost to you. 
Benefits of Using Vitamin C
There are so many benefits to using a vitamin C serum, addressing some of the issues many of us care most about! It is safe for most skin types, meaning everyone can enjoy the ways it can improve your skin care habits.
Vitamin C has been proven to increase skin hydration and give your skin a youthful glow. This amazing vitamin also acts as an anti-inflammatory. This means you can use it to help reduce redness, puffiness, irritation, and fade dark spots.
Another reason the product is one of the best for dark spots is that vitamin C can impede melanin production. Melanin is responsible for your skin tone, so vitamin C can actually help with hyperpigmentation as well!
Vitamin C is maybe best known in the beauty world for its benefits with anti-aging. This vitamin can't get rid of wrinkles that have naturally developed over time, but it can be used to help with premature aging and wrinkles caused from the sun.
It is able to do this because vitamin C can boost collagen production. Collagen is a protein that decreases over time. As your collagen depletes, fine lines and wrinkles start to form.
But vitamin C use helps to keep a steady supply of collagen, which leads to all of its anti-aging benefits. Promoting collagen helps to prevent the appearance of under-eye circles and sagging skin.
Lastly, you can also use Vitamin C to protect against sun damage and soothe sunburns. This is because vitamin C is an antioxidant, which means it can protect the skin from free radicals that could cause inflammation on the skin. While vitamin C shouldn't act as your replacement to sunscreen, it can help to protect your skin from some harm from the sun.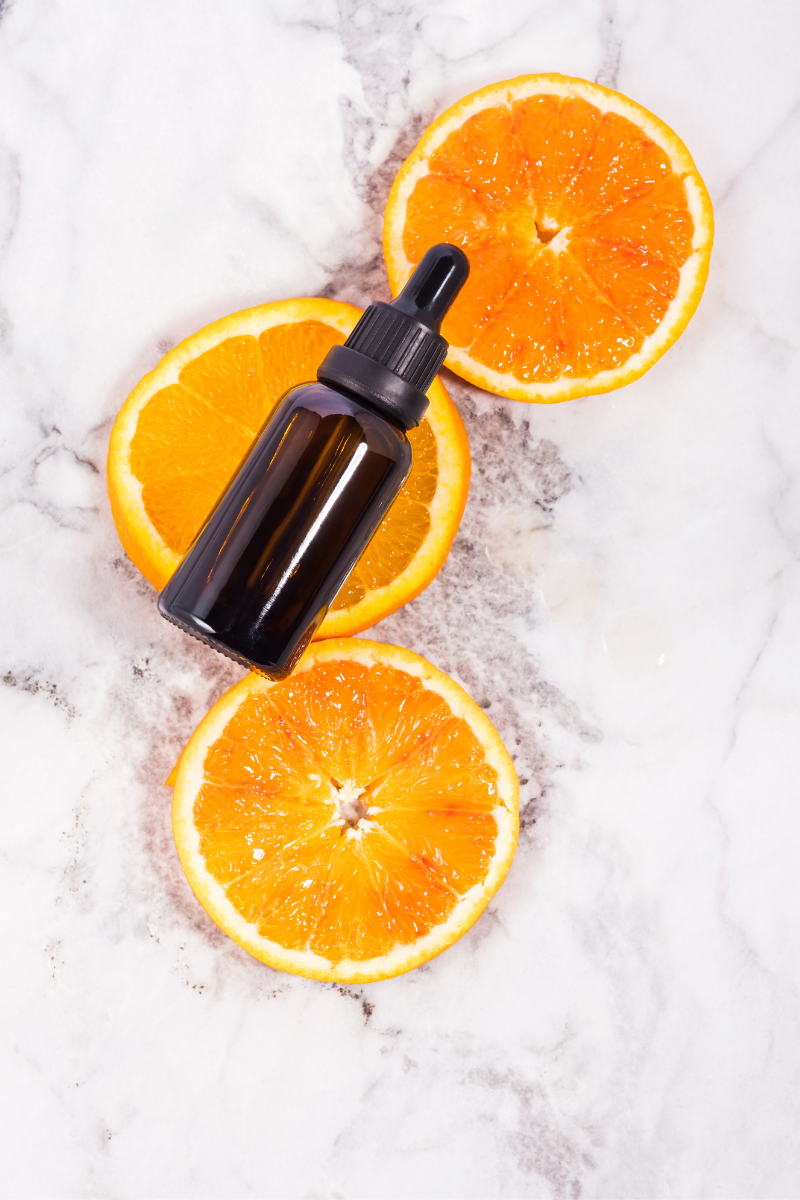 How to Apply Vitamin C Face Serum
You can easily add vitamin C serum to your routine. Simply cleanse your face, tone, apply your vitamin C serum, add your moisturizer of choice, put on eye cream, sunscreen, and then begin your makeup.
While you should obviously use vitamin C serum on your face, it also has wonderful skincare effects for your neck. The collagen in your vitamin C serum is great for the thin skin on your neck that is prone to sagging.
You may also choose to use vitamin C serum on your chest if you have dark spots you want to minimize or would like to mitigate the effects of sun damage.
Always make sure that you apply your serum before your moisturizer for best results. Generally, you should let your serum absorb into your skin for 60-90 seconds. Finishing with a moisturizer will help lock in your Vitamin C serum.
One of the best tips to remember is to apply products in the order from thinnest to thickest consistency.
Apply in the Morning or at Night?
You may be wondering what time of day you should use your vitamin C products. The morning is a great time to layer your serum under your moisturizer and makeup.
If applying in the morning, you should finish with some sunscreen. However, if you have sensitive skin, applying vitamin C in the morning can make your skin more at risk for irritation and sunburn.
The evening is the best time to apply if you have sensitive skin, but it actually is a great time for all skin types! While you are sleeping, the vitamin C will have a stronger impact, absorb into your skin, and work effectively while your body undergoes its natural repair.
If you have a vitamin C serum that contains a higher concentration, you'll only need to apply it once a day. However, if your serum has a lower concentration, you may see some benefits to applying in the morning and at night.
Can I Use Vitamin C Serum Every Day?
Yes! For best results, you should be using vitamin C serum daily. However, start slow.
Apply your serum every other day in the beginning. If you don't notice any irritation, you can begin using your vitamin C serum every day. Consistent use is key for seeing results, so go ahead and add vitamin C to your daily skincare line up.
Best Vitamin C Serums for Your Skin
Ready to start incorporating vitamin C into your daily skincare routine? Here are 12 great vitamin C serums to help you get started. Choose one that includes elements to get the results you want and work best for skin like yours.
At a reasonable price and available at drugstores, this is a great serum if you want to try out vitamin C. It contains 10 percent vitamin C plus hyaluronic acid, another anti-aging component that adds moisture and brightens your skin along with reducing wrinkles.
L'Oreal Paris Skincare 10% Pure Vitamin C Serum
Visibly Improve Radiance, Reduce Wrinkles: Revitalift 10 percent Pure Vitamin C Serum is potent and dermatologist-validated for visible results: improve radiance, brighten dark spots, and reduce wrinkles; Infused with Hyaluronic Acid for added hydration

We earn a commission if you make a purchase, at no additional cost to you.
Available at Amazon, Target and Ulta, this serum is another great budget option to use that still includes all of vitamin C's amazing benefits. It includes both vitamin C and ferulic acid to improve skin tone and complexion, while also giving you a radiant glow.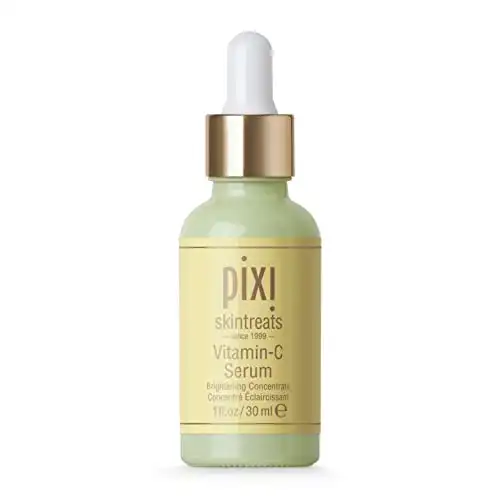 We earn a commission if you make a purchase, at no additional cost to you.
This serum has amazing benefits for anti-aging, including reducing wrinkles and improving skin texture and tone. It also includes salicylic acid and neurosensine, which makes it a great choice for those with acne-prone skin.
La Roche-Posay Pure Vitamin C Face Serum
Anti aging facial serum with 10% Pure Vitamin C + Salicylic Acid & Neurosensine. Rich serum texture leaves skin feeling softer and more hydrated. Skin looks more radiant and visibly refined. Allergy tested formula with fragrance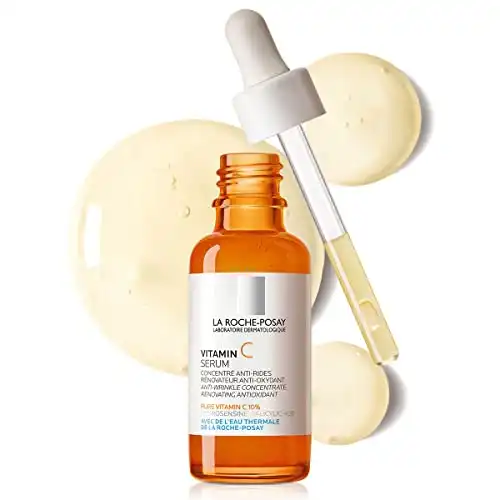 We earn a commission if you make a purchase, at no additional cost to you.
Though this serum is pricey, it is very highly ranked and has amazing benefits due to its blend of vitamin C, vitamin E, and ferulic acid.
It's easy to use with SPF since it can't rub off once absorbed. Use this serum to reduce signs of aging and if you want to keep your skin firm and bright.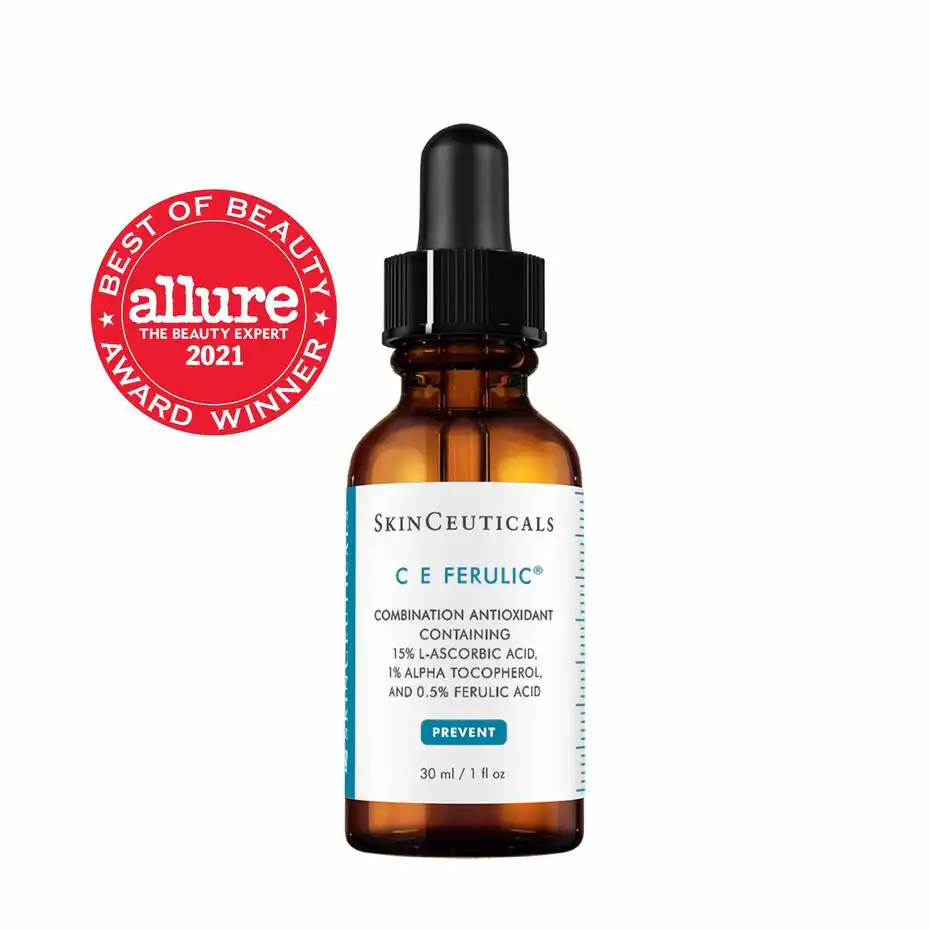 We earn a commission if you make a purchase, at no additional cost to you.
This serum is packaged in capsules, so you'll always have the perfect amount of vitamin C. With 20% vitamin C in each capsule, your skin will be even-toned and have a reduced appearance of dark spots and signs of aging.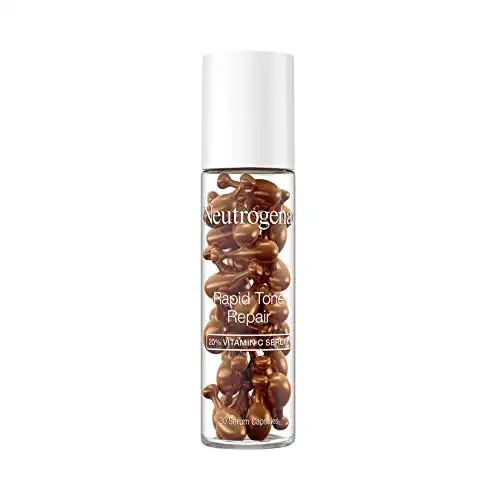 We earn a commission if you make a purchase, at no additional cost to you.
A fan favorite on Amazon, this highly reviewed serum is also a great budget find! It includes vitamin C blended with hyaluronic acid, vitamin E, witch hazel, and jojoba oil to effectively fight redness and dark spots, while making your skin glow.
Designed for ultimate freshness, this serum comes with two formulas that you mix together yourself. It will last for six months and make your skin brighter and firmer due to its combination of vitamin C, vitamin E, ferulic acid, pumpkin ferment, and pomegranate extract.
Drunk Elephant C-Firma Fresh Day Serum
C-Firma, made fresh to order…by you! This super-potent 15% vitamin C day serum is packed with a powerful antioxidant complex, essential nutrients, and fruit enzymes, all working together to firm and brighten the appearance of skin while improving the signs of photoaging.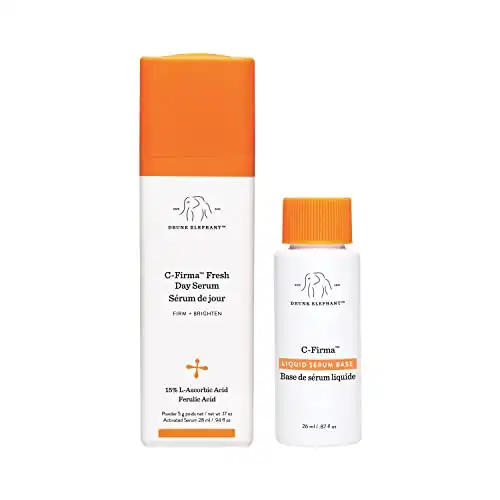 We earn a commission if you make a purchase, at no additional cost to you.
With 8% vitamin C and for only $11, this is a great serum option! It includes alpha-arbutin to reduce spots and hyperpigmentation as well as ascorbic acid to brighten the skin and reduce signs of aging.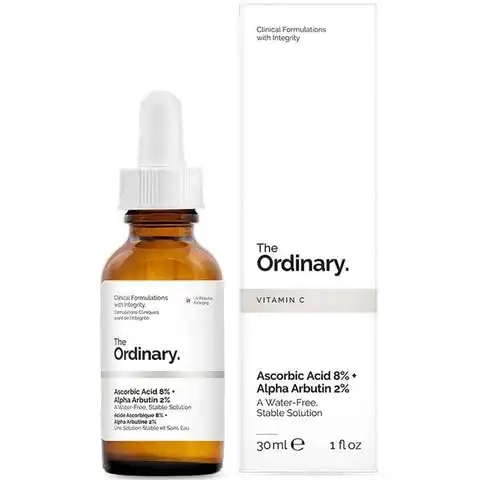 We earn a commission if you make a purchase, at no additional cost to you.
Made with vitamin C and hyaluronic acid, this serum is effective for up to six days once applied! You'll see results in up to two weeks as it reduces lines and wrinkles, firms skin, makes it radiant, and minimizes the appearance of enlarged pores.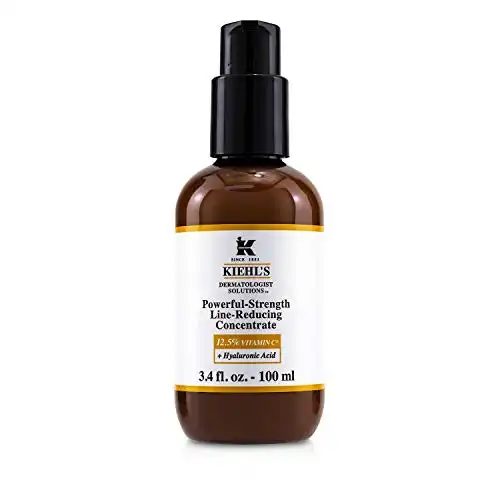 We earn a commission if you make a purchase, at no additional cost to you.
This beauty product is best if you're looking for a fragrance-free serum that easily glides on your face without leaving it feeling sticky or greasy. Your skin will look brighter and even, plus it will help to fade any spots.
Olay Regenerist Max Tone Serum
This lightweight facial serum, formulated with Vitamin C, penetrates the surface of your skin to deliver tone correction, leaving you looking bright and even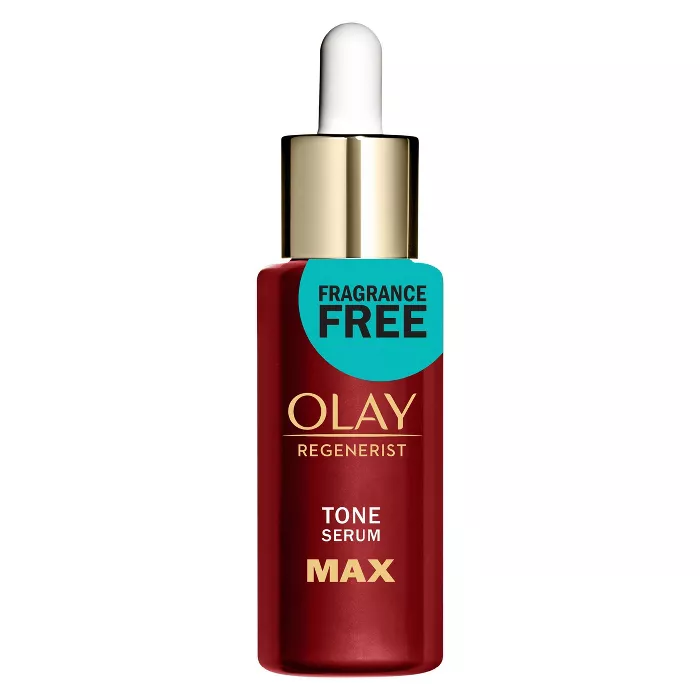 We earn a commission if you make a purchase, at no additional cost to you.
Designed for all skin types, CeraVe's vitamin C serum will brighten skin and provide antioxidant benefits. It contains 10% vitamin C, along with ceramides to restore the skin barrier, hyaluronic acid to hydrate skin, and vitamin B5 to moisturize and calm skin.
CeraVe Vitamin C Serum with Hyaluronic Acid
Formulated with 10 percent l-ascorbic acid, the purest form of vitamin C, to help brighten the complexion and promote more even skin tone. Protective packaging helps prevent oxidation and maintain product performance.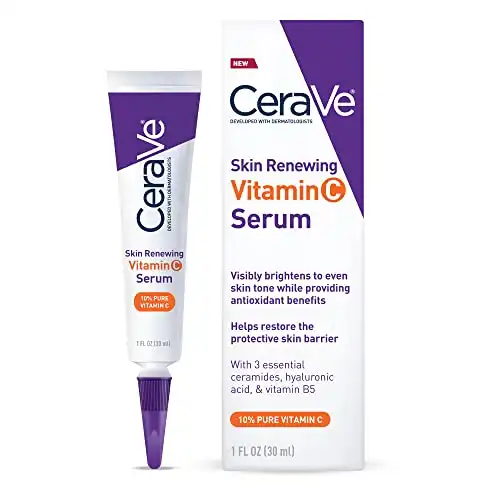 We earn a commission if you make a purchase, at no additional cost to you.
This vitamin C serum is a great choice if your main goal in using one of these products is diminishing fine lines and wrinkles. The brand claims that you will see results in 10 days! The formula includes 15 percent vitamin C and hyaluronic acid to plump and hydrate skin.
Vichy LiftActiv Vitamin C Serum
Vitamin C for face with hyaluronic acid to address dullness, dryness, fine lines, and uneven skin tone. Dark spot corrector and anti wrinkle serum with antioxidants.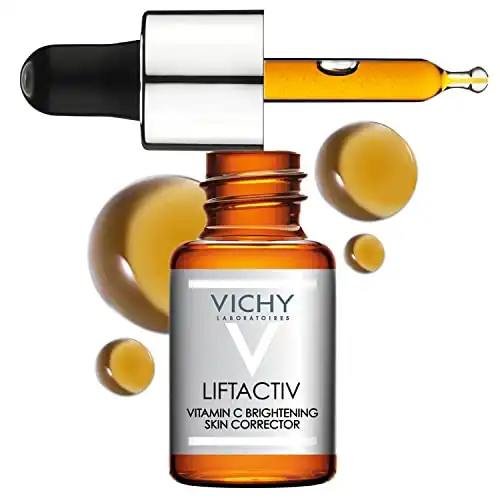 We earn a commission if you make a purchase, at no additional cost to you.
When Should I Use Vitamin C Serum and Hyaluronic Acid?
When using vitamin C and hyaluronic acid, your vitamin C serum should go on first. Let it dry completely, and then apply hyaluronic acid and finish with your moisturizer.
If you don't want to layer your serums, use vitamin C in the mornings and hyaluronic acid in the evenings. Vitamin C will be better in the mornings since it can work together with your sunscreen to prevent sun damage.
Hyaluronic acid focuses on hydration and doesn't have a certain time of the day that's better. By applying your vitamin C in the morning and hyaluronic acid in the evening, you'll be able to receive even more benefits since the two won't be layered together.
If that's too much to keep up with, you can find a serum that includes both vitamin C and hyaluronic acid to cut out an extra step in your skincare routine. Many serums do include both vitamin C and hyaluronic acid together, so just make sure you check your product's label! There are also moisturizers that include hyaluronic acid as well.
When Should I Use Vitamin C Serum and Retinol?
Vitamin C and retinol should be used as separate products. Apply vitamin C serum during the day and retinol at night. Using the two products together at the same time can actually make each ineffective!
Instead, using vitamin C in the morning will have your skin looking bright all day. Retinol impacts photosensitivity, which is how your skin reacts to the sun, so it's better to use at night when your skin isn't out in the sunlight!
Both vitamin C and retinol are great products with amazing benefits. Just don't layer them together!
What's The Best Moisturizer for After Vitamin C Serum?
A good moisturizer should be applied to help lock in your vitamin C. Pick a moisturizer that is designed for your skin type. Just don't pick a moisturizer that contains alpha hydroxy acid. This can destabilize vitamin C!
Otherwise, a good general moisturizer even from the drugstore can help hydrate your skin and lock in moisture and serums. The best moisturizer for you will be one that is formulated for your skin type and will provide hydration. There are lots available and something for everyone and every price range.
FAQ
Are there any side effects to vitamin C serum?
With all good things, there are always risks and side effects! The most common ones that people tend to experience are itchiness, redness, skin irritation, or a cool tingling sensation when applied.

Thankfully, the tingling feeling shouldn't last for very long. Sometimes, it is just your skin getting used to new beauty products. That's why it's important to ease into using vitamin C so that your skin can adjust.

However, if your skin breaks out in hives or swells, wash the product off your face and stop use. That could be the sign of an allergic reaction.

When introducing any new product to your skin, it's important to test it out first before fully incorporating it into your everyday routine. Start with a lower concentration of vitamin C, test out a small amount on your skin, or use your serum every other day to see how your skin reacts.

Testing a small amount of product on your skin and waiting 24 hours will allow you to see how your skin reacts and keep you from having a reaction from the serum all over your face. Once you see how your skin reacts, you can make adjustments so you'll get the best results from the products on your face.
Generally though, vitamin C serum works for most skin types, so the chances of major side effects or reactions are slim!

Is vitamin C good for my skin type?
The great news is that no matter what skin type you have, vitamin C is safe to use and will still offer you all the wonderful benefits! The key is finding the right vitamin C serum for you.

Those with oily to normal skin types will want to find a vitamin C serum that contains L-ascorbic acid. If you have acne-prone skin or dry skin, look for a serum with magnesium ascorbyl phosphate to help with blackheads and acne scarring. Consider a serum with ascorbyl palmitate if you have sensitive skin – it will be non-irritating!

Vitamin C is powerful for all skin types! Make sure that you check the label and ingredients on your serum to determine if it will be agreeable for your skin. Also, check that any products you are currently using won't counteract with vitamin C.
Are there any products I shouldn't use with vitamin C serum?
Some products just don't get along! Although vitamin C is wonderful, there are a few products it should never be mixed with since it could cause irritation or ineffective results.

Never layer vitamin C with benzoyl peroxide, retinol, alpha hydroxy acids and beta hydroxy acids, and niacinamide. Instead, if you're set on using vitamin C and these products, apply vitamin C serums in the morning and your other products in the evening. You can still use your products with these ingredients, just don't layer them on at the same time.

Vitamin C serum is totally worth using as part of your skin care routine! It can work for every type of skin and has so many great benefits. Start applying your vitamin C and see the results quickly! 
Want more skin care fun?
Check one of these posts: