There's no such thing as too many purses! You need different sizes and styles for different occasions, so you can't get away with having just one.
But if you find that your purses are taking up tons of space or you have trouble finding a certain purse that you're looking for, it might be time to find a way to organize your purses.
Having a good way to organize your purses is crucial! Lots of handbags all over the place can quickly cause clutter, and you want to make sure your favorite handbags are within easy reach.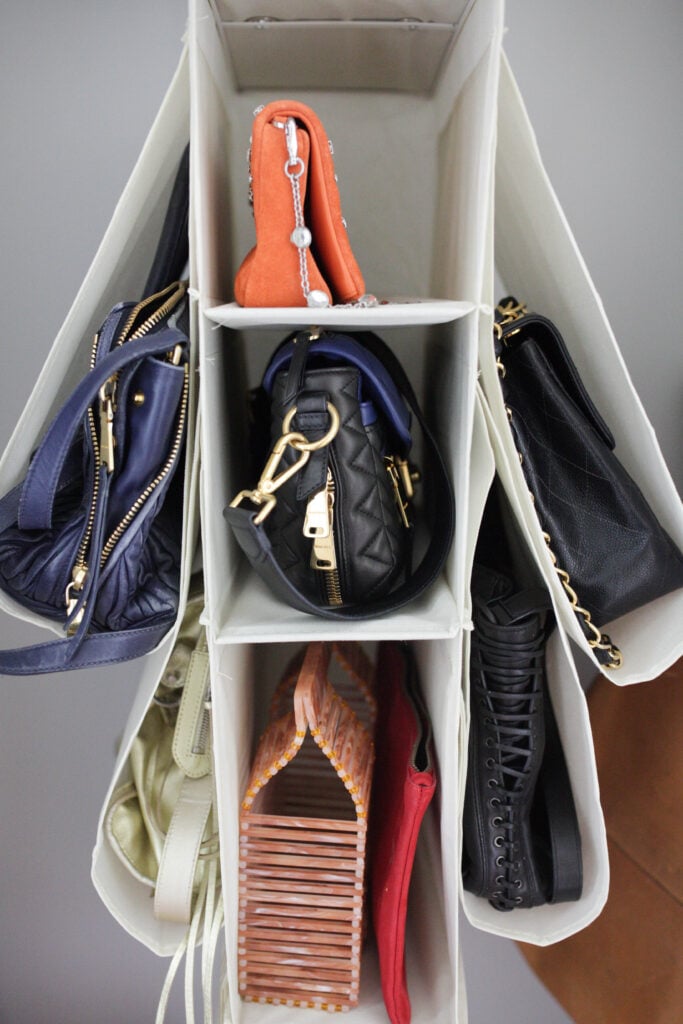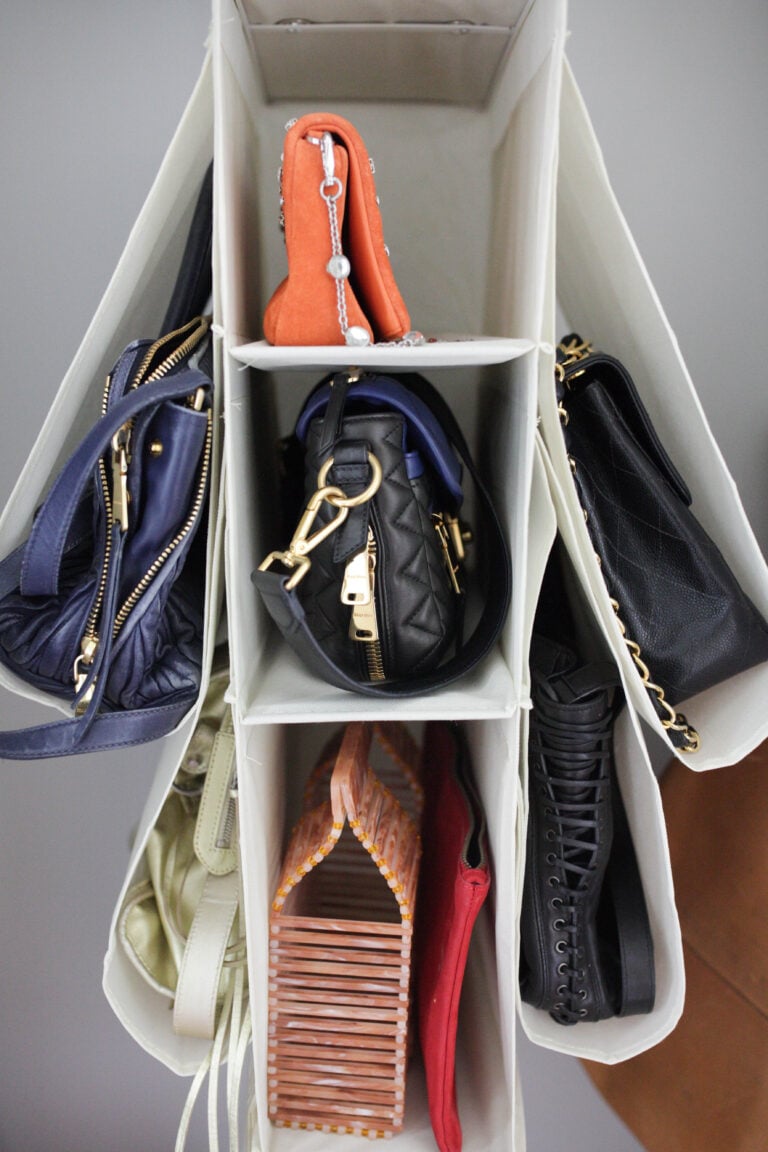 Having a designated place for your purses will help you find them easily, allow you to see all of your purse options, and protects your purses!
Whether you only have a few purses or have more than you can count, there's tons of different purse storage ideas. Here are 30 ideas to help you organize and store your purses.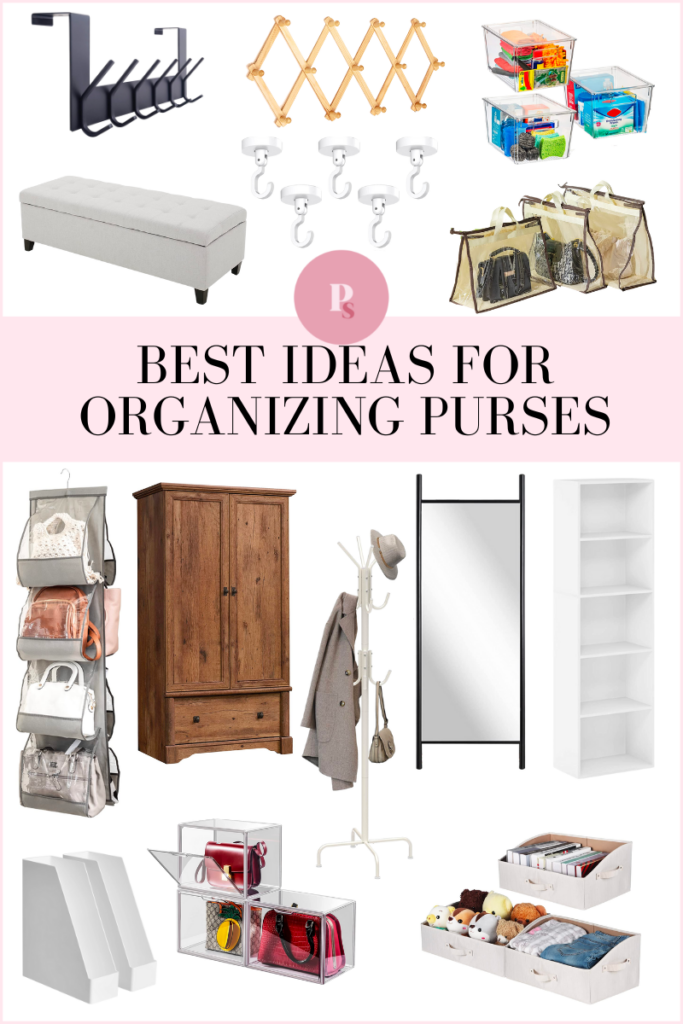 Paisley + Sparrow is a participant in the Amazon Services LLC Associates Program. This post may include affiliate links which means I may earn a small commission if you shop using the links below at no additional cost to you. 
29 Ideas for Organizing Your Purses
A hanging purse organizer is a great way to store your purses without taking up too much space in your closet. This product helps keep your closet shelves clear since it hangs on the clothing rod and is a more efficient use of space.
I've used this one for over 3 years and love it!
This might be the best purse storage idea if you don't have many purses. Get an over the door hook to hang your purses and have a place for them. It's great for small spaces — hang it on your bedroom closet door or the closet by your front door so you can just grab one on your way out.
This basket organizer isn't just for the bathroom or the pantry! There are other clever ways to use this handy organizer. Use this over your closet or bedroom door to help store and organize your purses.
Use clear dividers on a closet shelf as a handbag organizer. The perfect solution if you have a lot of bags that fall on top of each other, the bookends will help to keep each purse in its designated place.
I use these on the top shelf in my closet and it's great to organize all of the off season bags that I own!
A closet storage bin can help to keep purses upright and neatly stored in your closet! These wide bins fit perfectly on a closet shelf, are very sturdy and are lower in the front than back for easy access.
6. Statement Wall
If you have designer bags, you might want those to be displayed! If you have enough space, dedicate a shelved wall to showing off your statement bags and keeping them in good condition. Stuff your bags with tissue paper so they stand up nicely and keep their shape.
7. Overhead Shelves
If you have the space in your closet, dedicate an overhead shelf for lining up your purses. Arrange them in order of color, style, shape, or time of year that you wear them to make each purse easy to find.
You just can't beat the clear box storage solution. It works in so many places in your house, including your closet for organizing purses. Place each purse in a clear cubby on a shelf.
The plastic bins help to give each purse a place, make it easy to grab, and are the best way to keep your handbag collection in like-new condition.
Display purses on a bookshelf. You can put the bookshelf in your closet or display your purses in your bedroom or some other part of your home.
You can even combine some of the other storage ideas on this list to help better display your purses on the bookshelf.
Use shower curtain rings as a great organization hack! Simply clip shower curtain hooks on your closet rod and you've got a handbag hanger to attach your purses to! You can even put multiple purses and totes on a ring.
If you don't have much storage space and only a few purses, try draping your bags and totes off the corner of your floor mirror. This is a great option for studio apartments! It lets your mirror do double duty without using up extra space.
Magazine holders can be a great way to store small bags and clutches without taking up too much closet space. You can label the magazine holders and organize your purses by size, type, and style so you'll always know where to find them for your next special event.
If you want to keep your bags protected, consider investing in a storage cabinet strictly for your purses. Get a traditional armoire if you want to keep your purses hidden.
If you want them to be displayed, get something with clear doors like a display cabinet.
Tight on space? Sometimes the simplest ideas are the best ideas. Use some command hooks to hang your purses wherever you have the space, like in a mudroom or empty wall in your bedroom.
Have an empty corner? Put a coat rack there and hang your purses on the hooks! It's a smart way to take advantage of vertical space.
Just like hangers for your clothes, get some purse hangers to hang your purses in your closet. These closet organizers will keep your purses off your floor and shelves, so everything has its proper place.
Yes, you can use a shoe rack to organize your purses! Place larger purses on the racks and use the pockets on the side for smaller items like clutches and wallets.
Great for spaces like mudrooms, hang your purses on a pegboard. You'll be able to arrange the purses however you like or however fits your space best.
Install a clothes rack in your closet or even on your bedroom wall! Use shower curtain rings or purse hangers here, so you can use your normal closet rod for your clothes.
If you want your purses organized but out of sight, consider storing them in a drawer. Use just one drawer, or get a storage organizer strictly for purses.
If you have space under a shelf, attach some ceiling hooks to hang purses from. Mix and match here by hanging some purses and displaying others on the shelf above.
A storage ottoman is a discreet way to store your purses! Place the ottoman at the end of your bed or in your living room and fill up with all your bags.
These clear cubes are stackable and make a great choice for luxury bags and clutches! Plus, they have a door which keeps the purses even more protected.
Use a hanging closet organizer to store lots of purses without taking up precious closet space!
Save space by using a wall mounted coat rack. Get multiple and stagger them across your wall if you have lots of purses.
Fit lots of purses on an accordion hanger. You can even hang other accessories on here like hats and jewelry.
If you only have a few purses, why not display them? A handbag rack is a great choice for your favorite bags, your go-to purses, or your splurge purchases.
Keep your purses dust free by storing them in these storage bags specifically designed for purses! They zip up and come with S hooks so you can hang them in your closet.
Some purses are too pretty to be stored away! Display your favorites on a floating shelf as some home decor. Mix them with other pieces of decor to make a nice display.
There are so many useful and creative ways to store and organize your purses. No matter your budget, how much space you have, or the number of purses you have, there is a way for you to keep your purse collection neat and organized!
Looking for more organization ideas? Here are ideas for your jewelry, your makeup drawer, and your shoes!