Finding flattering postpartum swimwear and clothes is not always the most fun or most easy thing to do. It's difficult while on a beach vacation or during the summer not to be in a swimsuit because kids always want to do something water-related, whether that's running around under a sprinkler, going to the beach, or swimming in the pool.
While you want to be involved with your kids in these events, wearing a swimsuit might not feel entirely comfortable because your post-baby body and likely postpartum pooch.
Even though your body is beautiful exactly the way it is, it's still natural to feel uncomfortable wearing a swimsuit post baby. We've created the ultimate guide to find the best postpartum swimsuits to hide the pooch.
How to Choose the Perfect Post Baby Swimsuit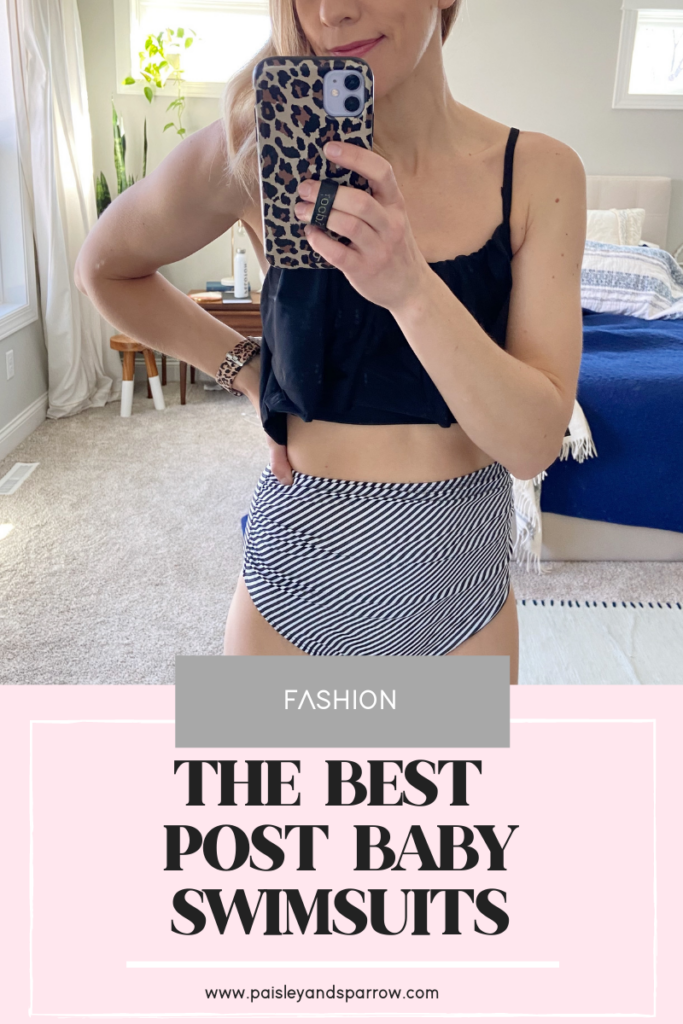 Paisley + Sparrow is a participant in the Amazon Services LLC Associates Program. This post may include affiliate links which means I may earn a small commission if you shop using the links below at no additional cost to you.
There's not a single bathing suit that universally fits everyone because everyone's body type is different. That means the suits you pick for your body will also be different depending on fit, style, and personal preference.
5 Tips to Find the Right Suit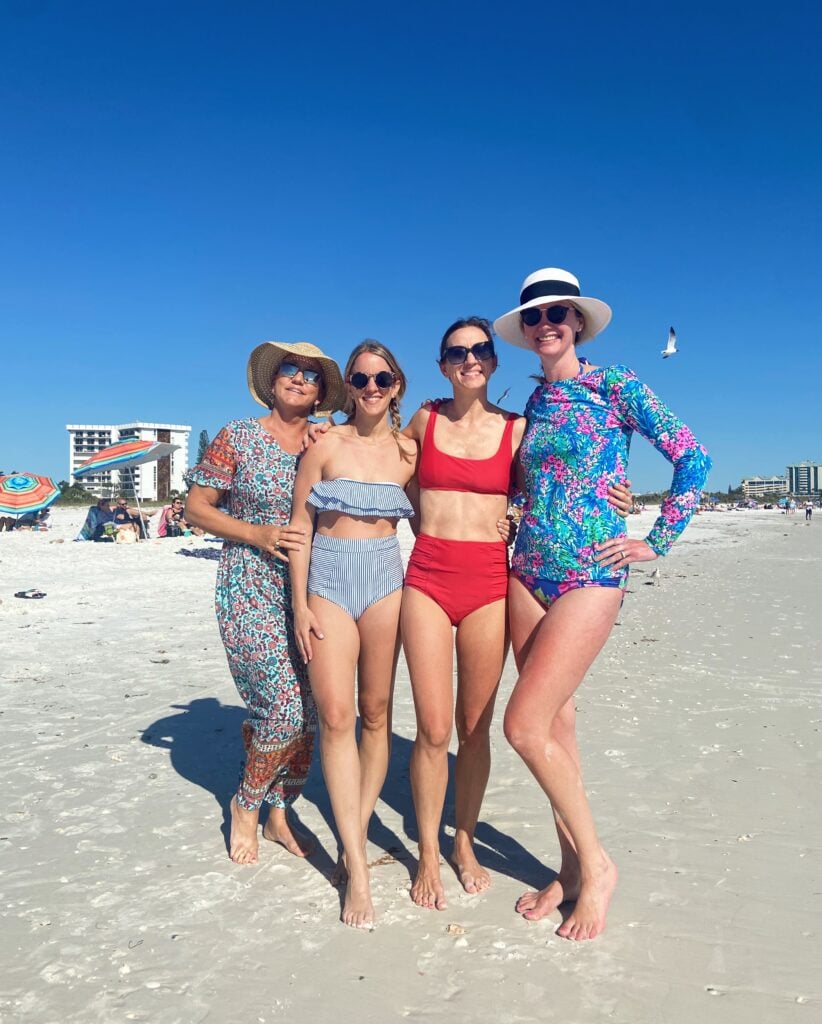 Before we show you our top picks, we'll first cover some essential tips you should know when choosing the perfect postpartum swimsuits.
1. Comfort of the Swimsuit
Being confident in your swimsuit is what will really make you look your best. Think about what would make you the most comfortable, depending on the range of activities you plan on doing.
If you're going to be active in your swimsuit, such as running around with your kids, you'll need a bathing suit that will stay in place and not need to be continuously adjusted.
Do you have to nurse your baby? If so, you'll need to consider finding a suit that makes it easy to pull down your top to feed your baby as needed.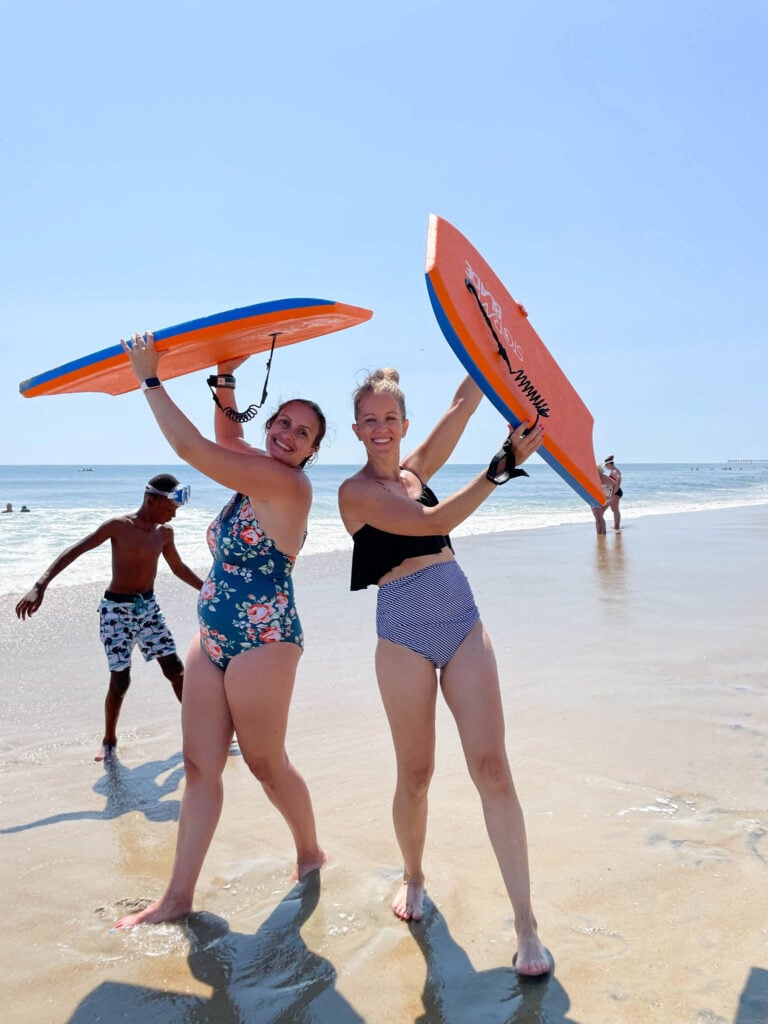 The most important thing is to pick a bathing suit that makes you focus on the activities in front of you, not constantly obsess about your suit.
2. Proper Fit
Don't let the sizing guide intimidate you! Different brands use different sizes. While you might be an 8 in one brand, you could be a 16 in another.
This number does not matter. What does matter is how the bathing suit fits on your body.
If it's too loose, you're likely to have it fall off or not cover your body correctly. If it's too small, it's going to feel very uncomfortable and pull in weird places.
Again, this moves all your attention to your suit instead of the activity in front of you. Pick the right size to make sure you can enjoy your outdoor activities.
3. Have Fun with It
The best part of modern bathing suits is the endless colors and patterns you can choose from. It's a great way to showcase your personality. You can go as bold or neutral as you want.
For example, if you're looking for a bold pattern, consider trying a cheetah or leopard print suit. If you're more modest, a navy blue or white swimsuit is always a classic. Finding the right style will make you more confident in your swimsuit.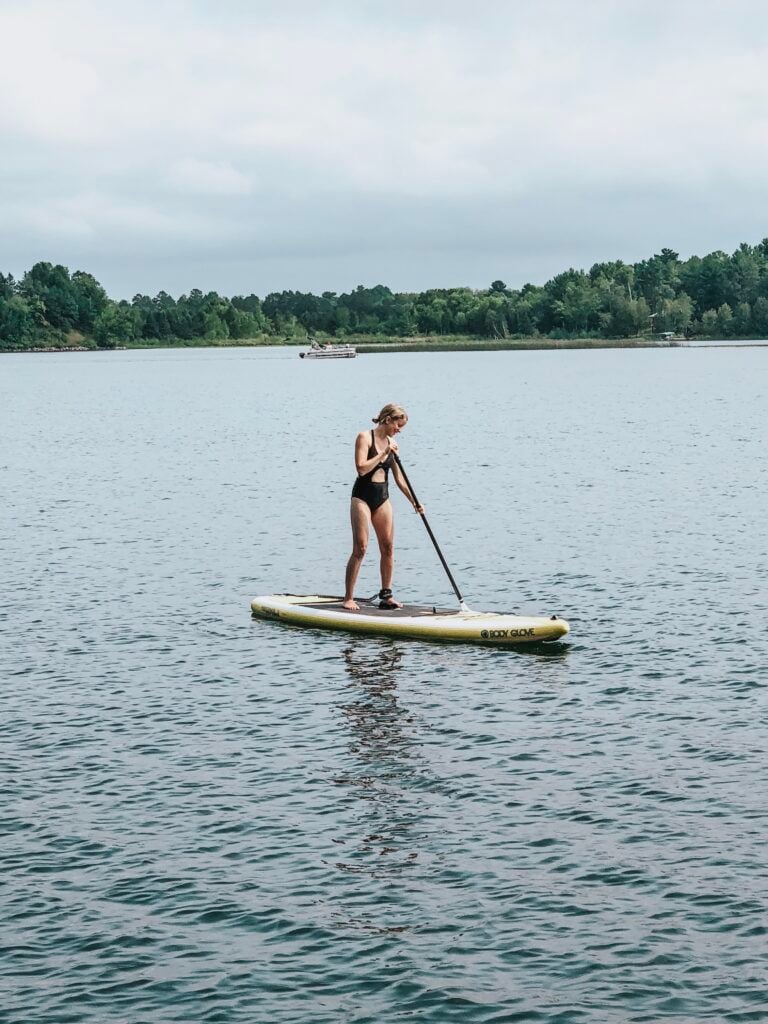 4. Adjustable Straps are a Game Changer
Many bathing suits are built to be a one size fit, which means if you don't fit that exact sizing guide, it's not going to look right on you. However, adjustable straps and ties will be your best friend.
Not only do they make it easy to get your suit off if you need to nurse your child, but they allow you the flexibility to fit the bathing suit to your comfort level. You can tie it super tight or loosen it up depending on your personal preference.
5. Body Type
Your body shape has a lot to do with what bathing suits will feel most comfortable and look the best on you.
Rectangle: If your waist measurements are similar to your bust or hips, and your hips and shoulders are the same width, you have a rectangle-shaped body. Off-the-shoulder bathing suits look great with this body type.
Triangle: If your bust and shoulders are narrower than your hips, you have a triangle-shaped body. Bathing suits that show off the waistline will look great with this body type.
Spoon: This body shape is similar to the triangle shape. However, you may carry more weight in upper thighs or arms. Baby doll cuts will look great with this body shape.
Hourglass: If your bust and hips are equal in size, and you have a narrow waist, you have an hourglass shape. Form-fitting bathing suits will look great with this body shape.
Top 21 Postpartum Swimsuits to Hide Your Tummy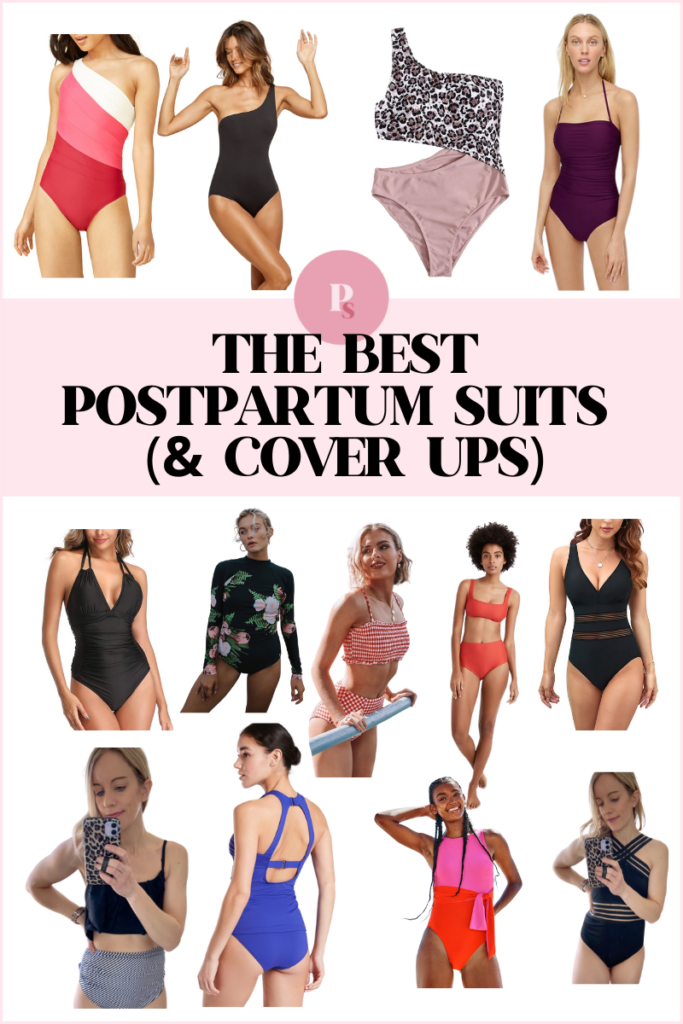 Now let's talk about some of our favorite post baby swimsuits to help hide the pooch! We've sectioned these off into different styles to help you navigate the list. We hop it helps!
One Shoulder Bathing Suits
One shoulder bathing suits, like the most popular Side Stroke bathing suit, offer the best in compression. They pull in all the right spots, like the postpartum pooch, without making you feel uncomfortable. This bathing suit style is a one-piece, one-shoulder style.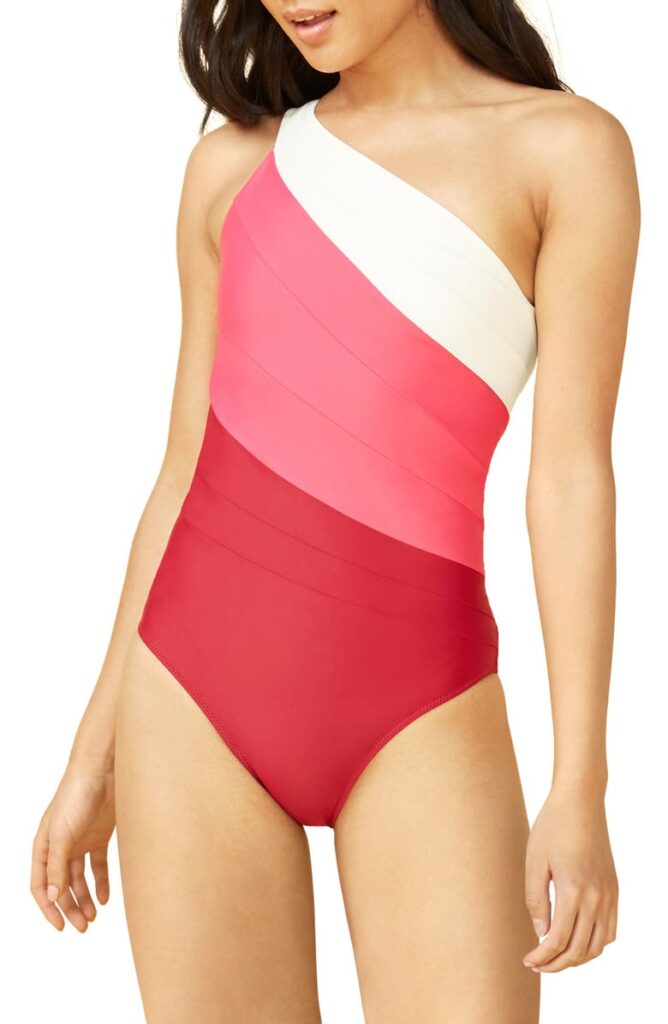 Summersalt is famous for its side-stroke bathing suit. It's their best seller because of how flattering the bathing suit is with its compression abilities. This suit is available in a variety of bright colors and sizes. It offers full coverage in the boob and butt area.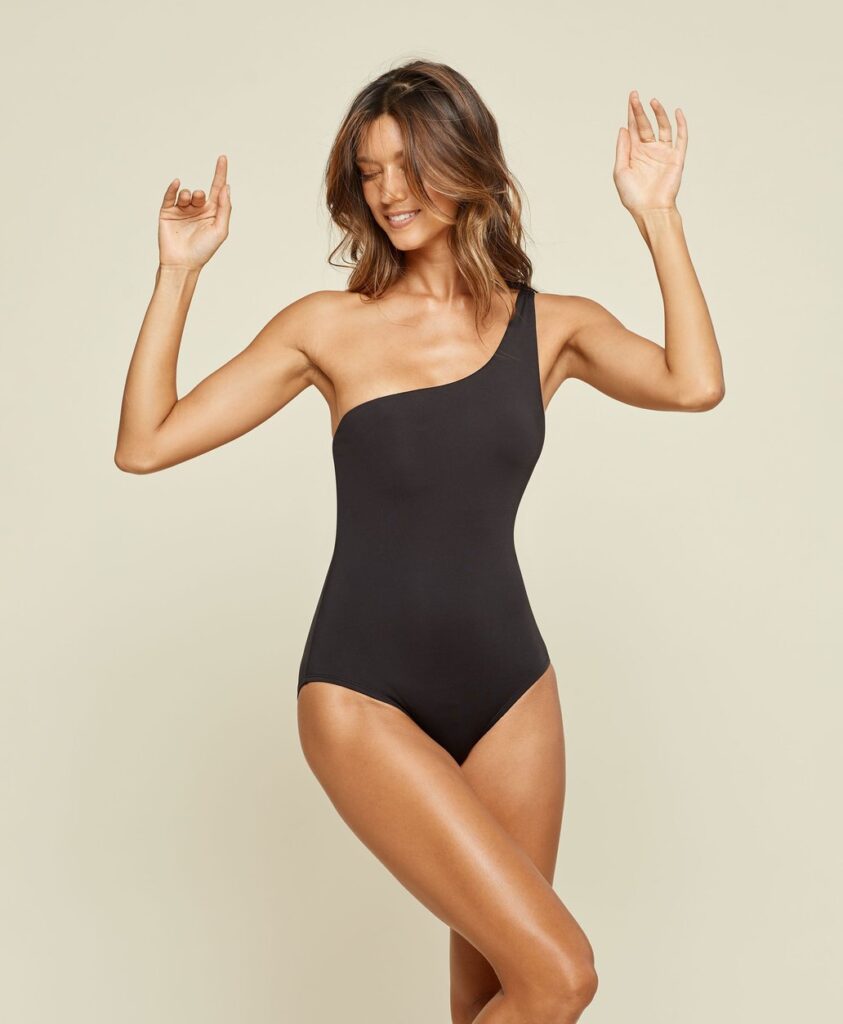 The Wynwood is the definition of style and comfort. Its double-strapped back will keep everything in place, regardless of the activity you participate in. It features adjustable straps and full coverage in the boob and butt area.
This suit is offered in three colors, including black, red and gray. They even allow you to choose different length sizes, including a long torso for taller people.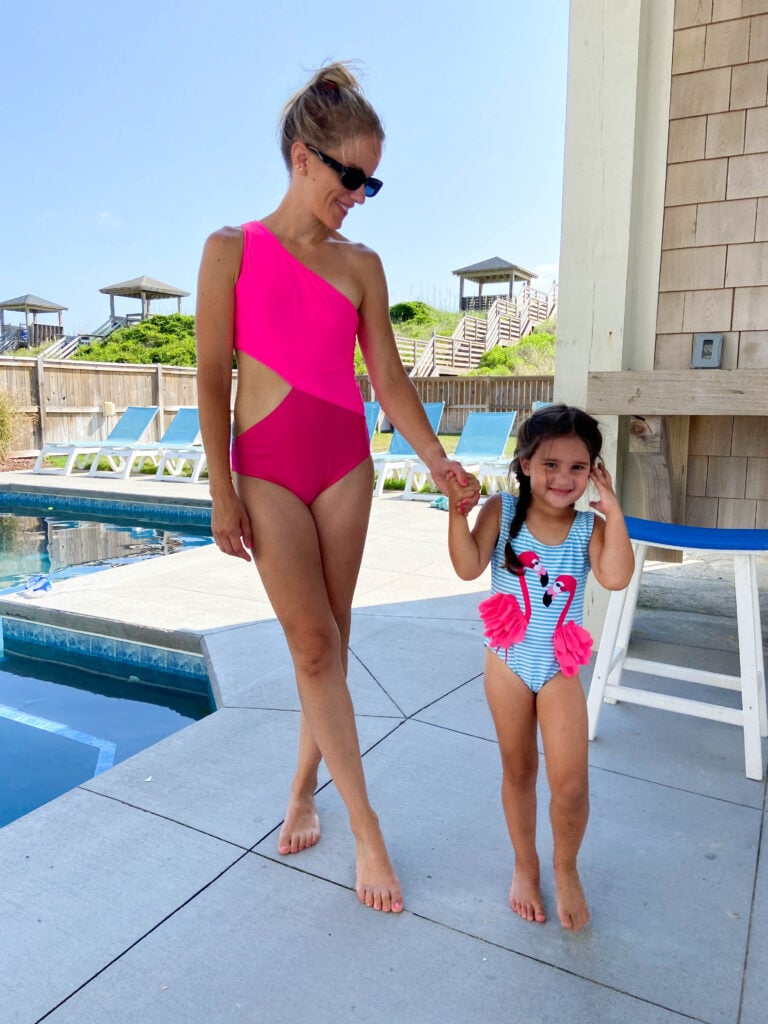 This cut out one shoulder one piece swimsuit is a great option if you want to show a little bit more skin but still keep your tummy covered. It gets almost 3k reviews on Amazon and is a great, inexpensive option that comes in a variety of different color options.
One thing to note – this is probably not a good option for long torsos! I own this one and love it but it did take some getting used to!
I brought this on a family vacation with my entire family along with a lot of other options on this list and this was the one I actually wore the most!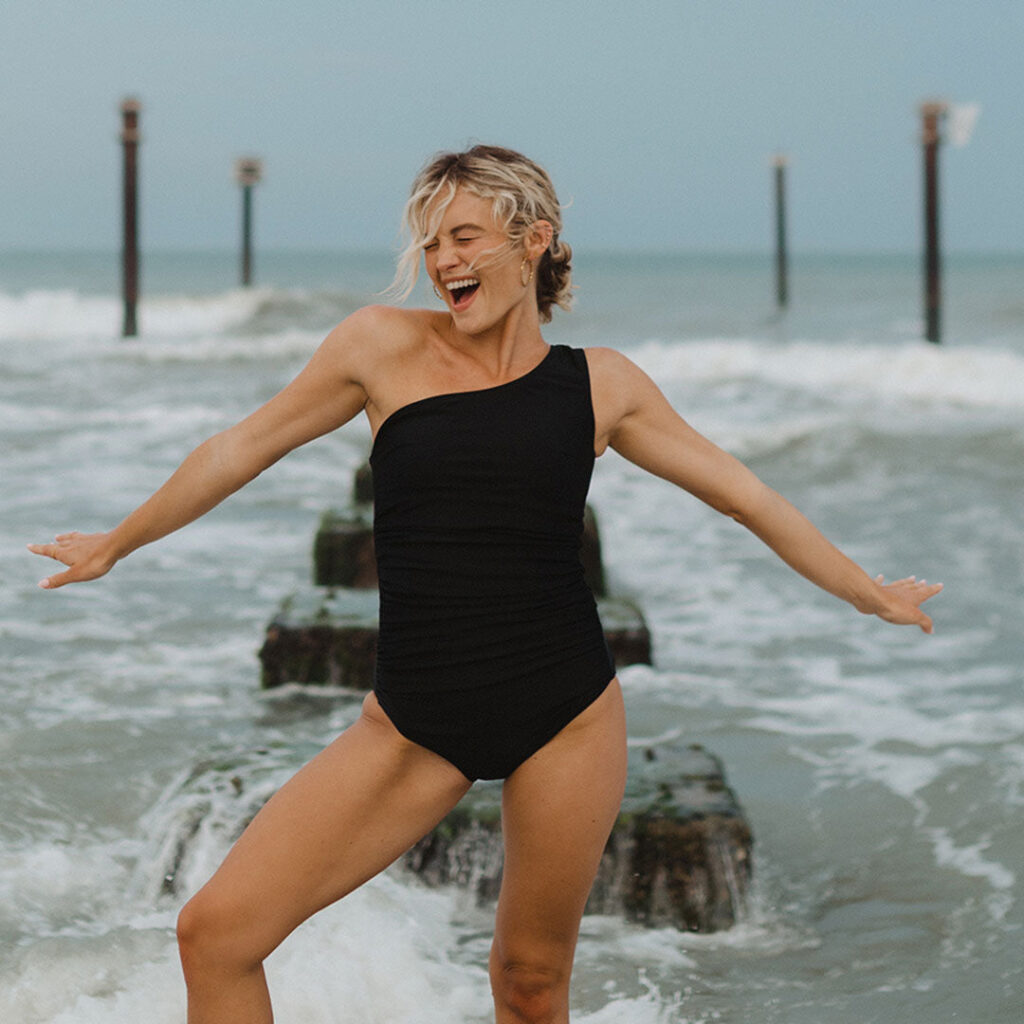 This suit is both one shoulder and ruched giving it a chic look that everyone loves! It's long torso friendly as well as large bust friendly with good coverage to make playing with your kids a breeze.
This suit is fully lined with SPF 45 protection.
Ruched Bathing Suits
A ruched bathing suit is when the fabric among the seams provides fullness or decoration. It's popular in swimsuits because of its ability to hide imperfections while still highlighting your body shape making these a great option for postpartum swimsuits.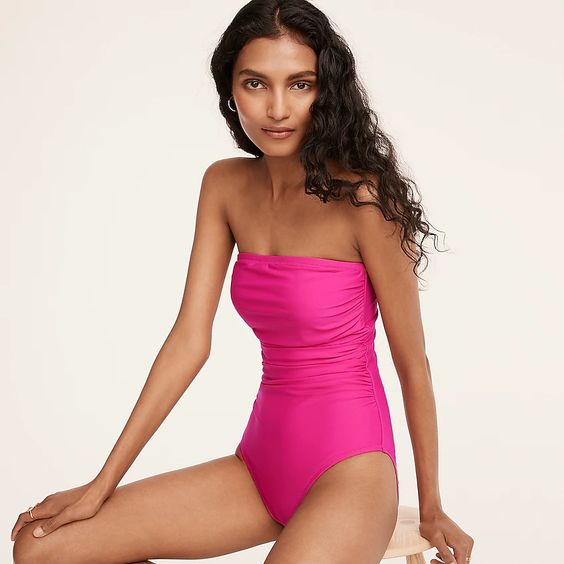 You'll look classy, comfortable, and slimmed down in this ruched one-piece swimsuit from J.Crew. It provides ultimate coverage while looking fashionable.
This particular suit from J.Crew is available in the Rock Red color and is sure to be the perfect addition to your summer swimwear.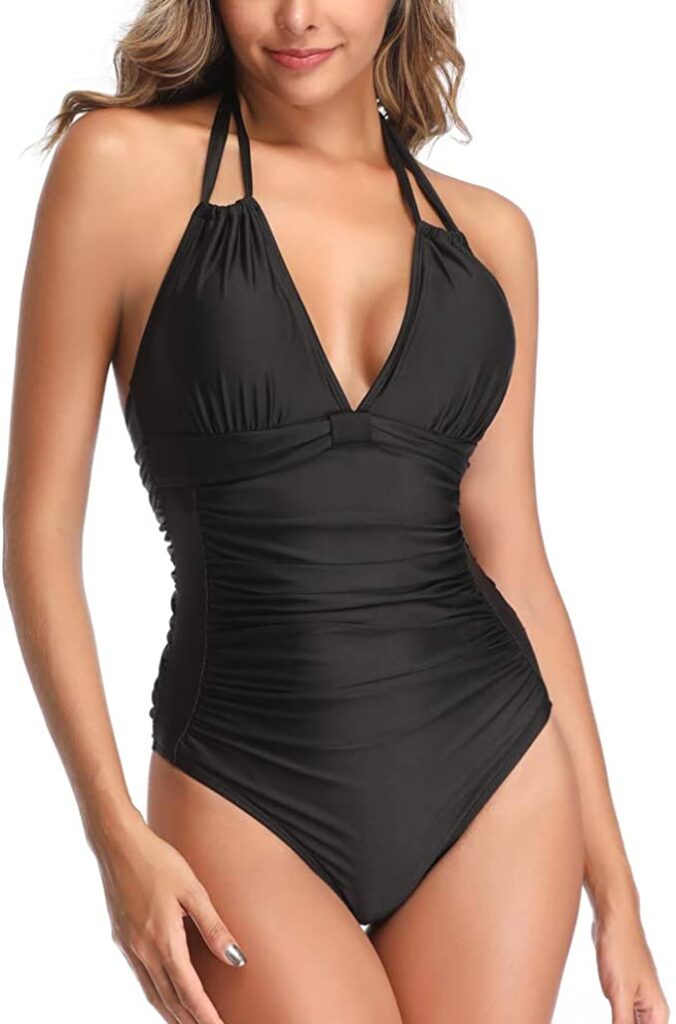 This gorgeous one-piece gets amazing reviews on Amazon! It has the best coverage and support for your entire body including tummy control. There are so many different colors, patterns, and sizes to choose from with this beautiful suit.
High-Waisted Bathing Suits
High-waisted bathing suits offer the benefits of a two-piece bathing suit while helping to suck in any additional fat you might hold around your stomach area. They are classy and modest.
They're comfortable, easy to wear, and one of the most popular swimsuit options available. Plus, high-waisted bathing suits are flattering on most body types!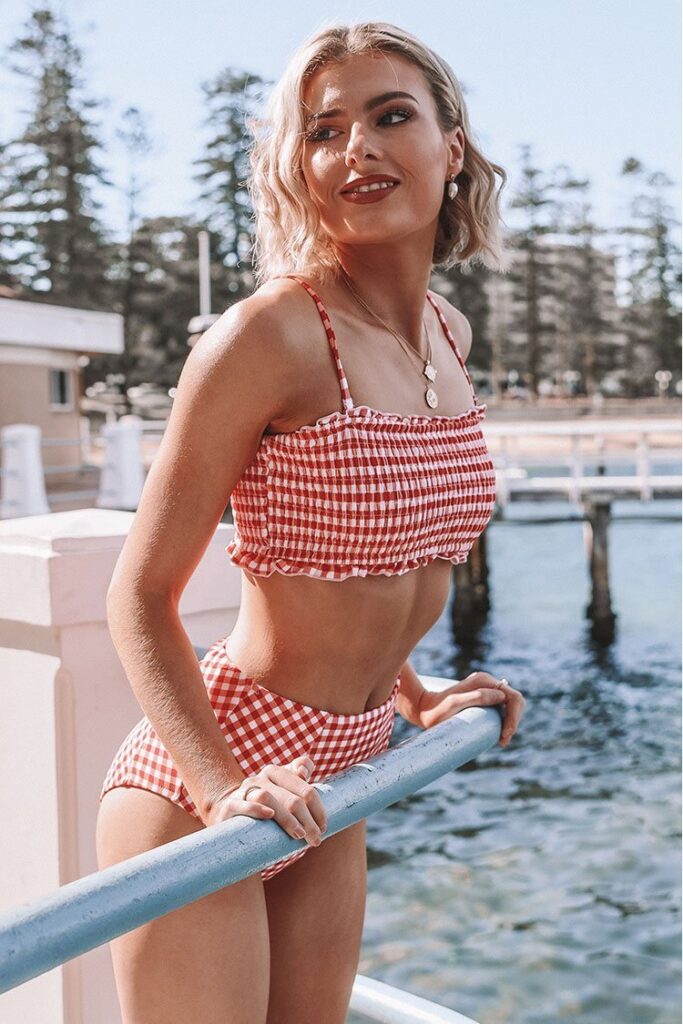 This bathing suit is not only super cute but very budget-friendly. The Red Gingham is comfortable, lightweight, and perfect for any type of active activity. The unique style gives this bathing suit a vintage flair. The Red Gingham is available in a variety of sizes and provides medium coverage.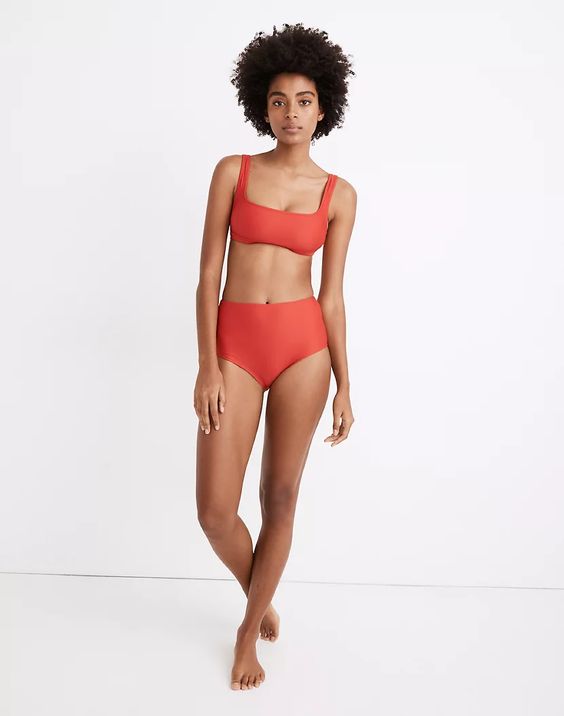 This fantastic bathing suit is one of Madewell's best selling suits. You can mix and match the top with a high-waisted bottom. Available in multiple prints colors, this beautiful bathing suit provides comfort and compression in all the right places.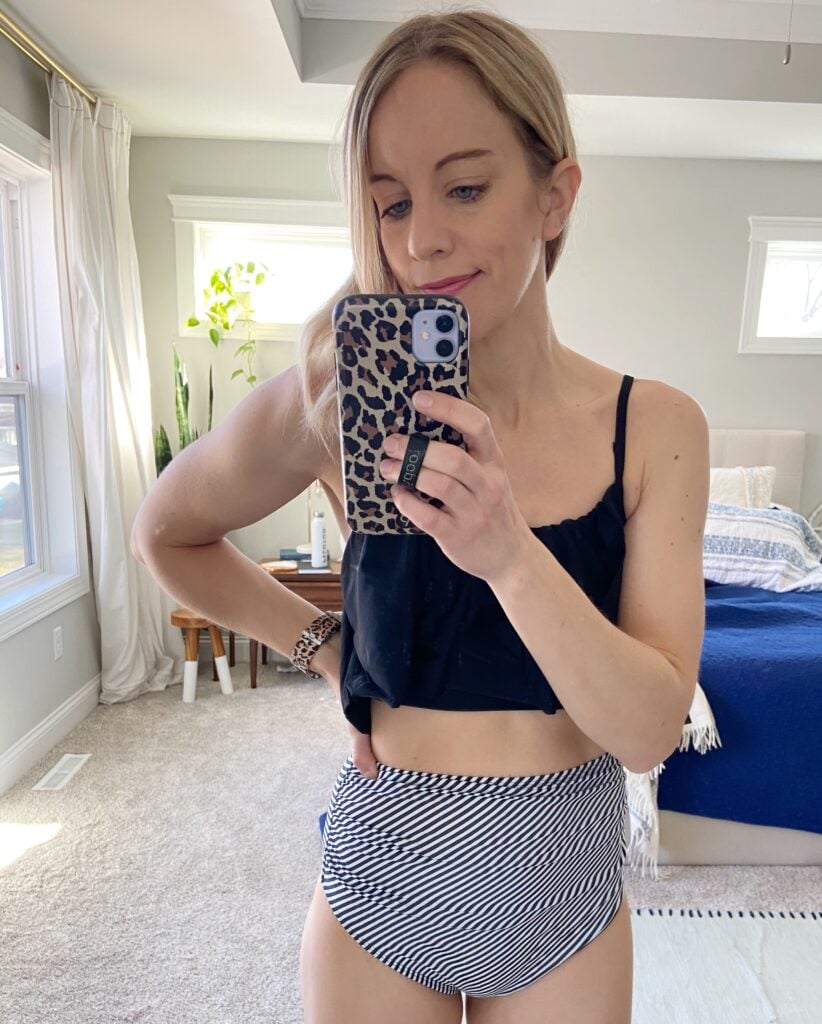 Another great high waisted bottom option is this one with the ruffled, falbala top! It draws your attention up to the ruffled top rather than down at your waist.
The high waisted bottoms suck everything in and this one is less than $30!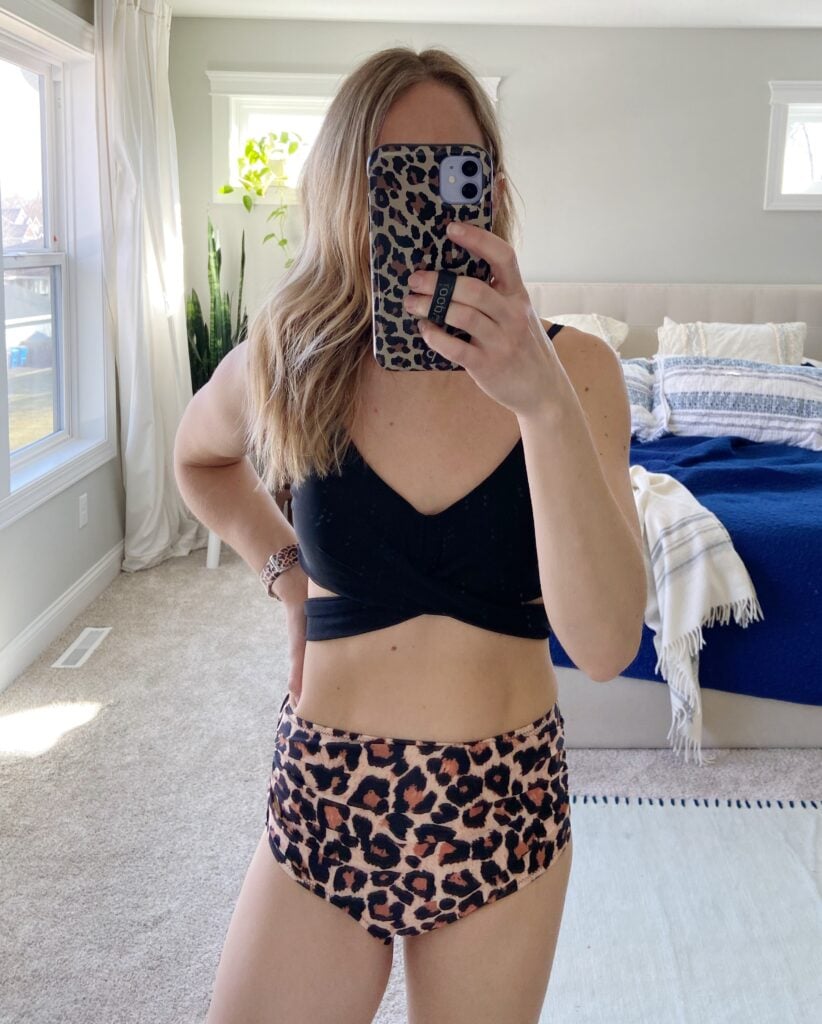 Another Amazon biking I own is this one! The high waisted bottoms are very comfortable and flattering. I love the crisscross in the top. I am very small chested and this camouflages that a bit!
It comes in a variety of colors and styles. I'm wearing size small.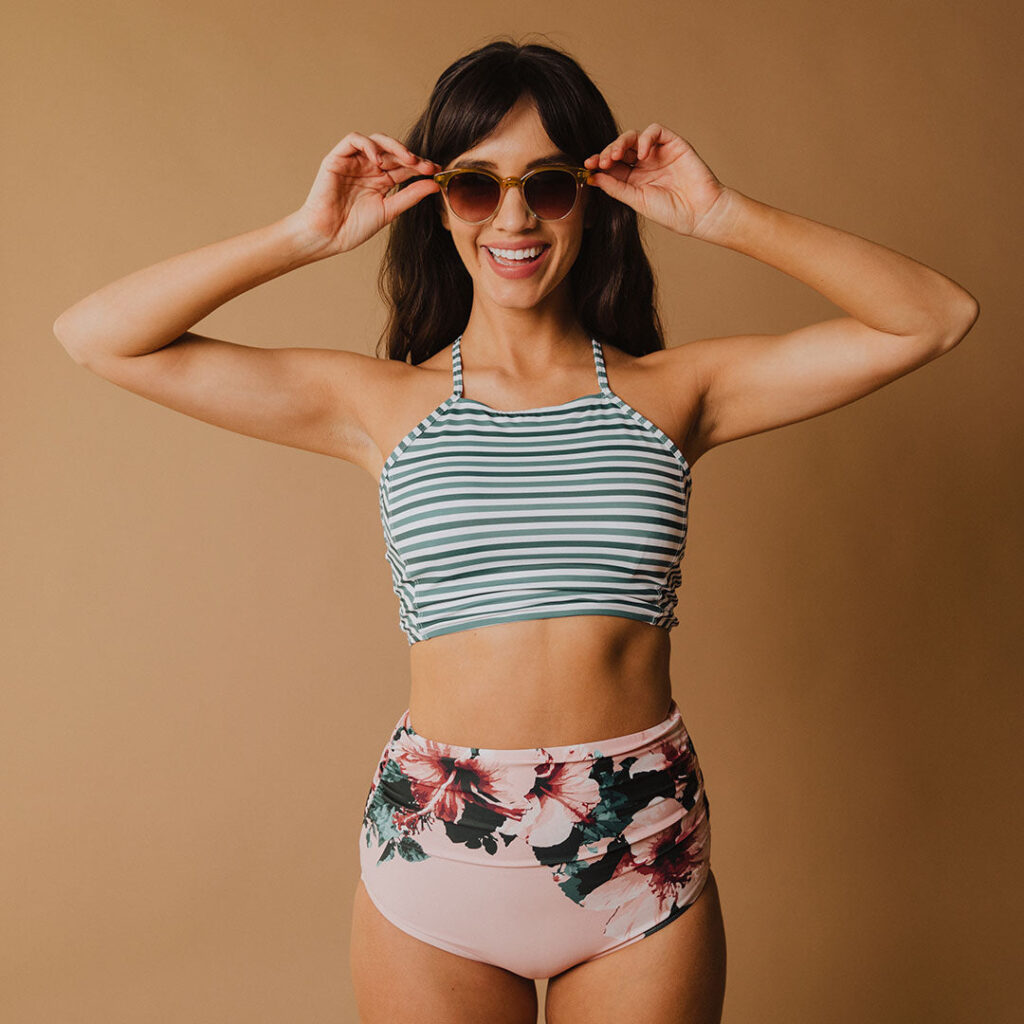 Albion's best selling high waisted bottoms not only has beautiful bottoms with perfect coverage but they also have chic ruching on the sides to ensure a flattering fit!
This suit is curvy/busty and mom friendly that are fully lined with full coverage. There's a reason people give these 5 stars time and time again!
Tankini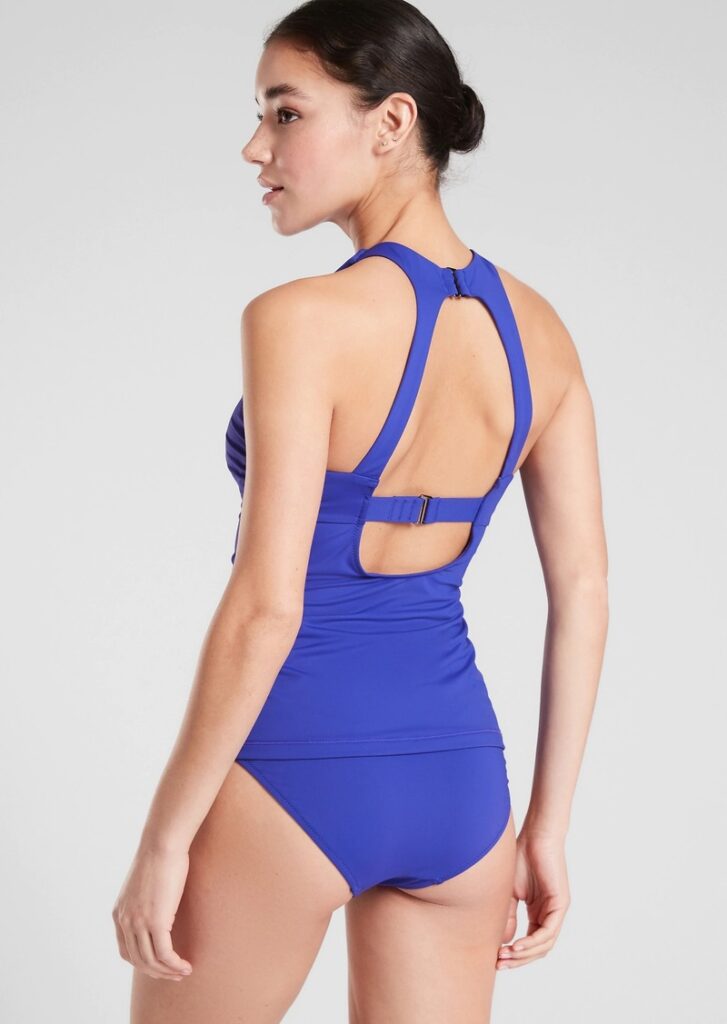 If you pick a tankini you want to make sure to find one that's fitted and not loose around your belly. A fitted one will help support your tummy and give you more confidence. This one by Athleta is a perfect optoin!
If you do choose a loose fitting top, pair it with a pair of high waisted tummy control bottoms!
One Piece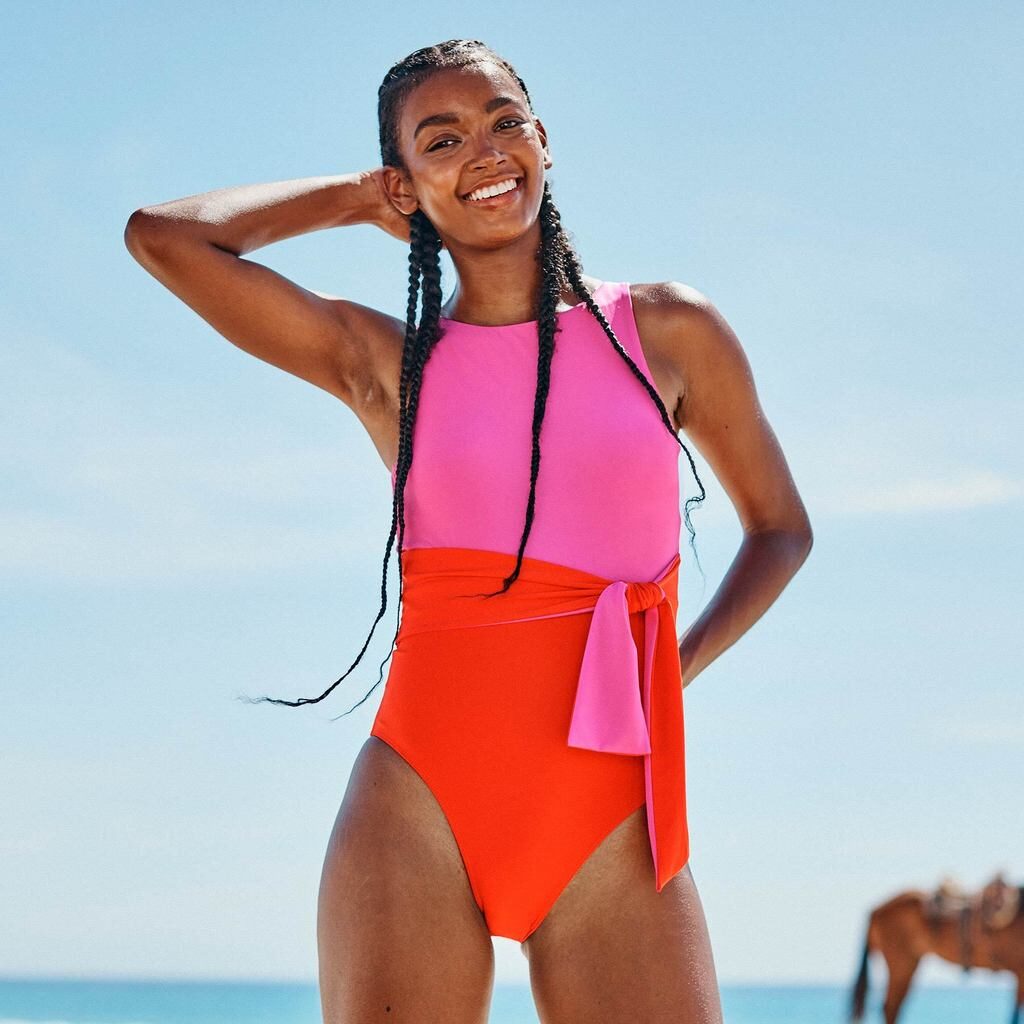 This amazing tie belted suit has a fun open back with nice, good coverage in the front. The tie help accentuate your waistline drawing attention up away from any type of postpartum pooch. Come in two colors.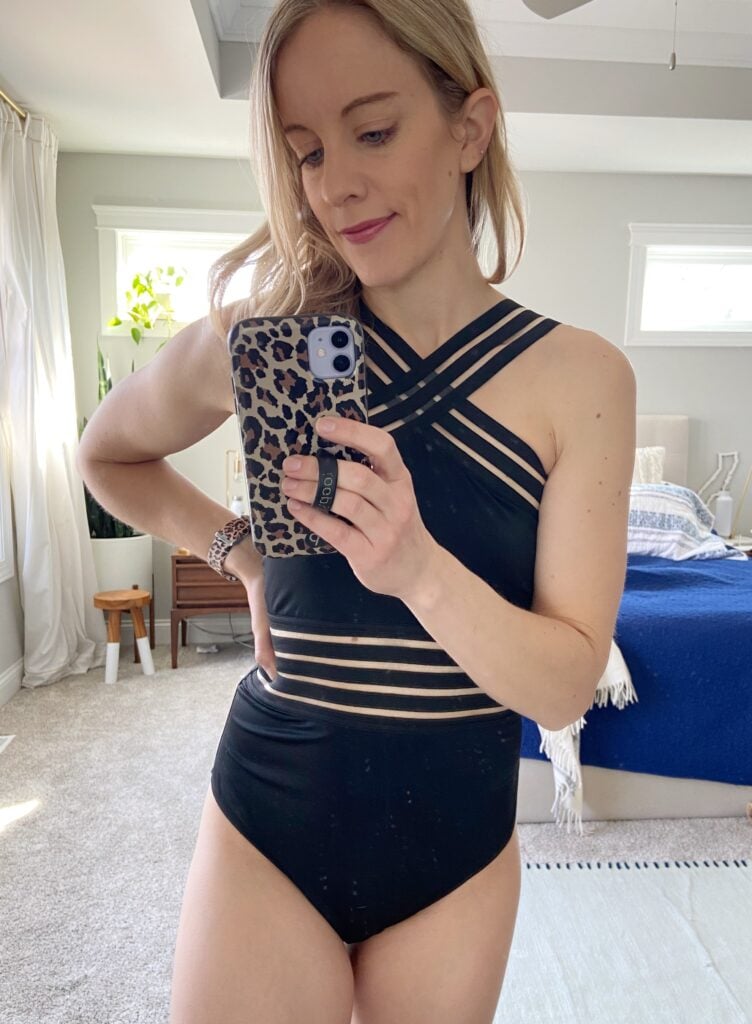 This fun crossover suit is a great option for all of fun details! Black is slimming (although it also comes in a ton of colors) and the detailing along the waist will again help draw the eye up away from your tummy.
The crossover on the top is a unique look. This suit has great butt coverage as well!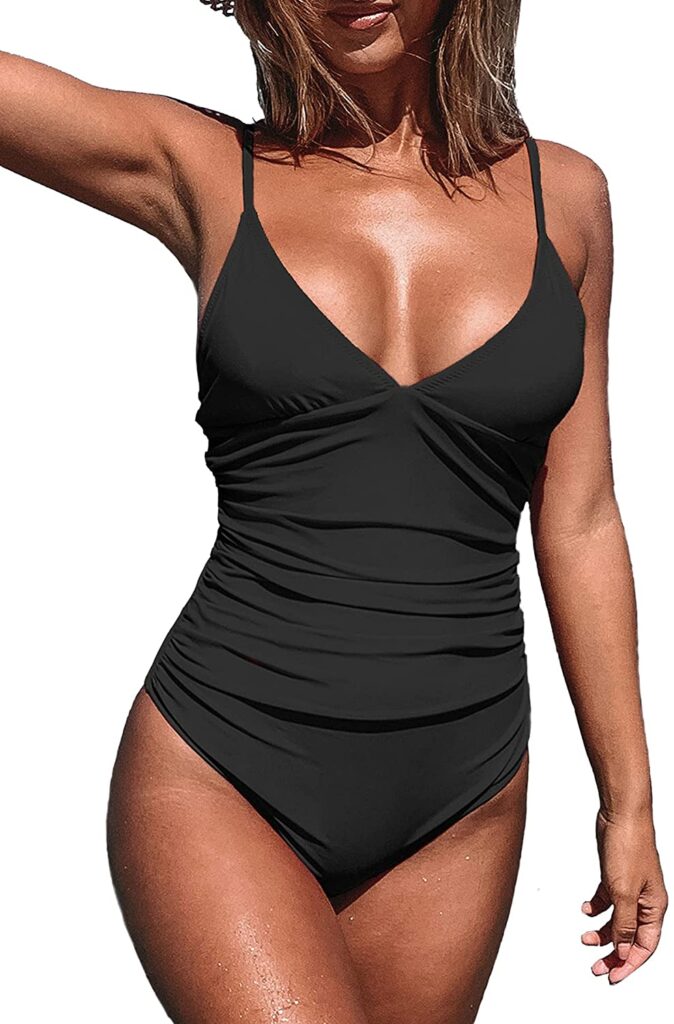 Another one piece option to consider is this one from Cupshe. Unlike the others, this one has a deep-v.
It has adjustable straps making it super comfortable and there's shirring at the sides for a flattering fit. This one comes in a ton of different colors!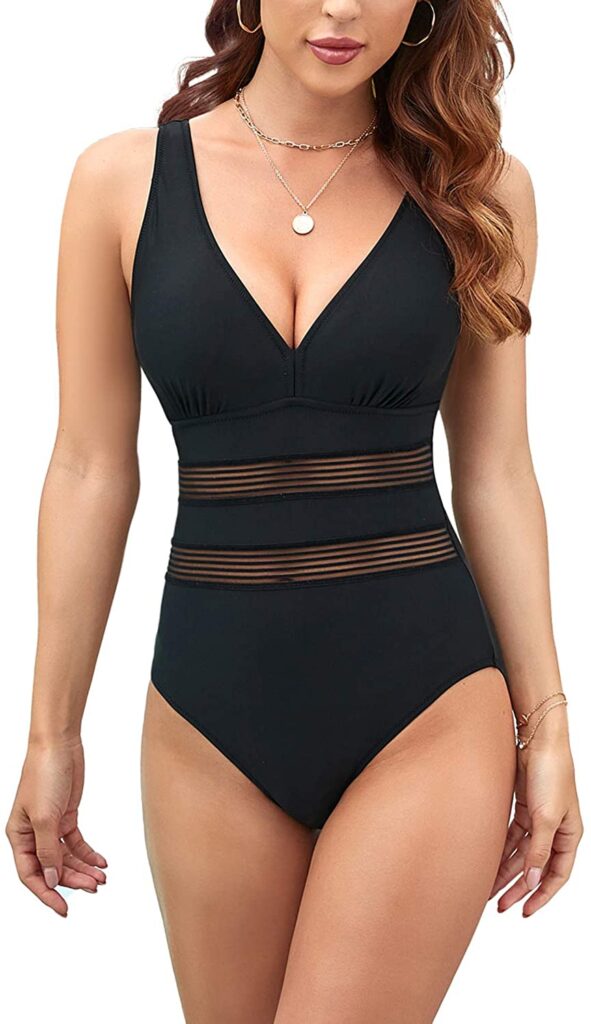 A little revamp of the previous suit, this beautiful one piece also features a v-neck style that's not quite as deep as the previous one. The unique thing about this one is the added mesh panels! This one has 2 mesh panels around the wait for a bikini vibe without actually wearing a two piece!
This one gets incredible reviews and comes in a lot of different colors and prints. Also comes in plush size!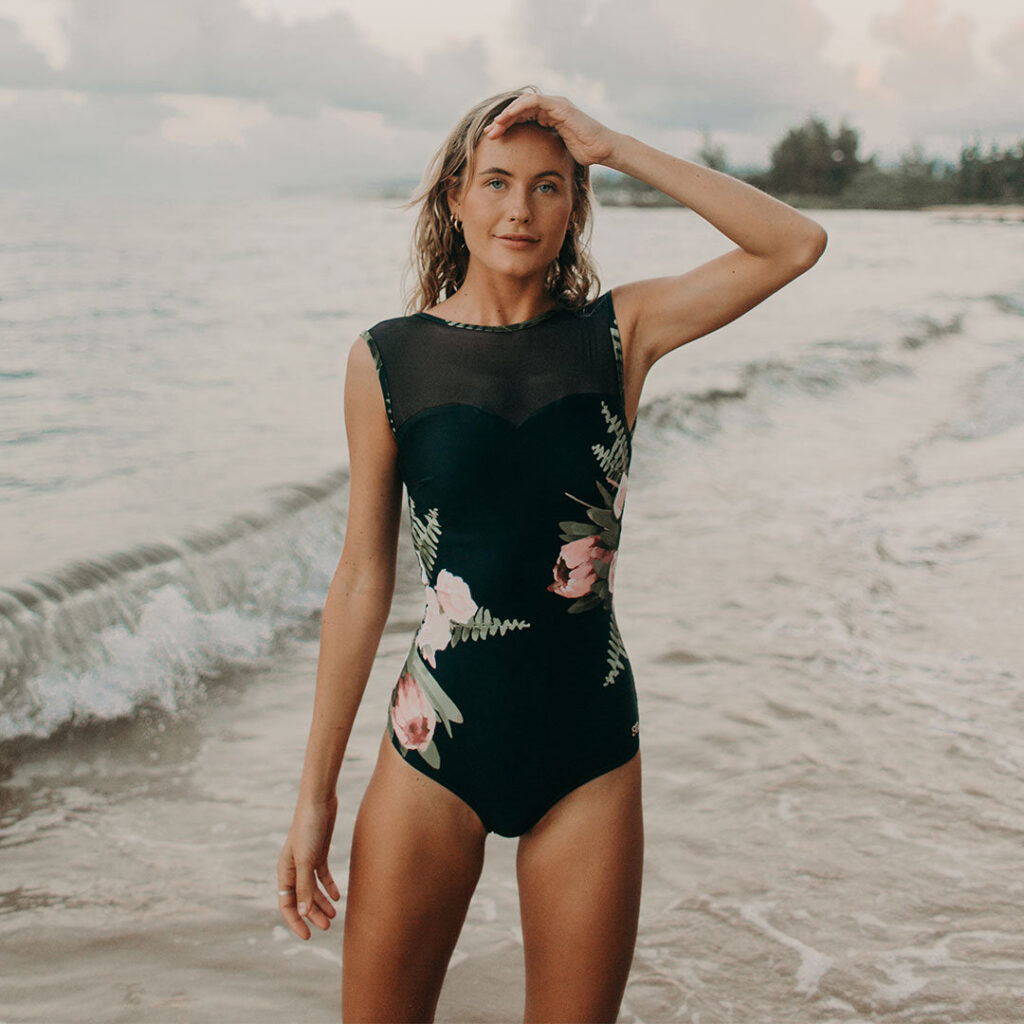 Anther stunner from Albion is this Maria one piece. The front has a sweetheart neckline with mesh panel while the back is lower with multiple straps across the back.
It comes in 2 different prints and gets over 1,200 amazing reviews! This is a must have.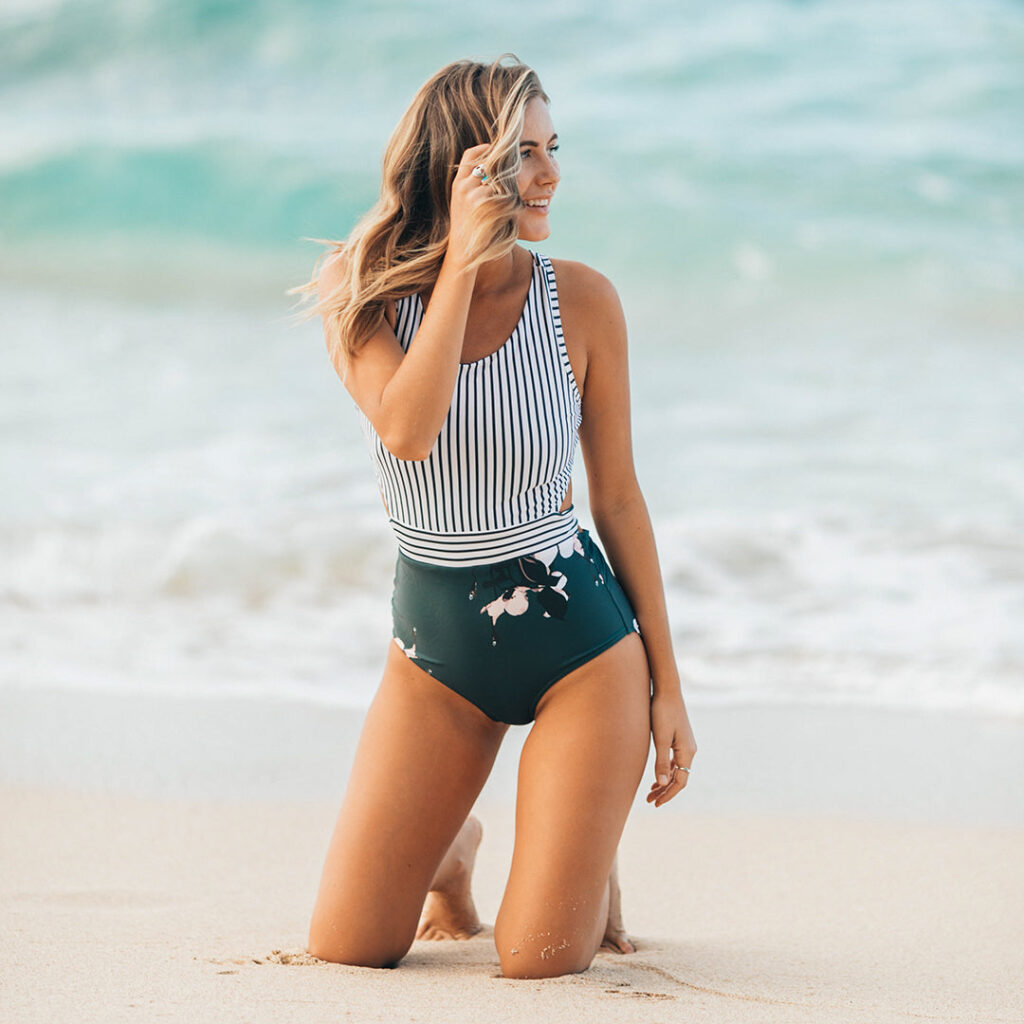 There's a reason this suit has over 1,300 5 star reviews! It's modest yet chic with it's peekaboo back with gorgeous tie. It has a zipper closure on the top giving it great support and the high waist bottom keeps you feeling comfortable.
This suit helps you look and feel amazing and confident!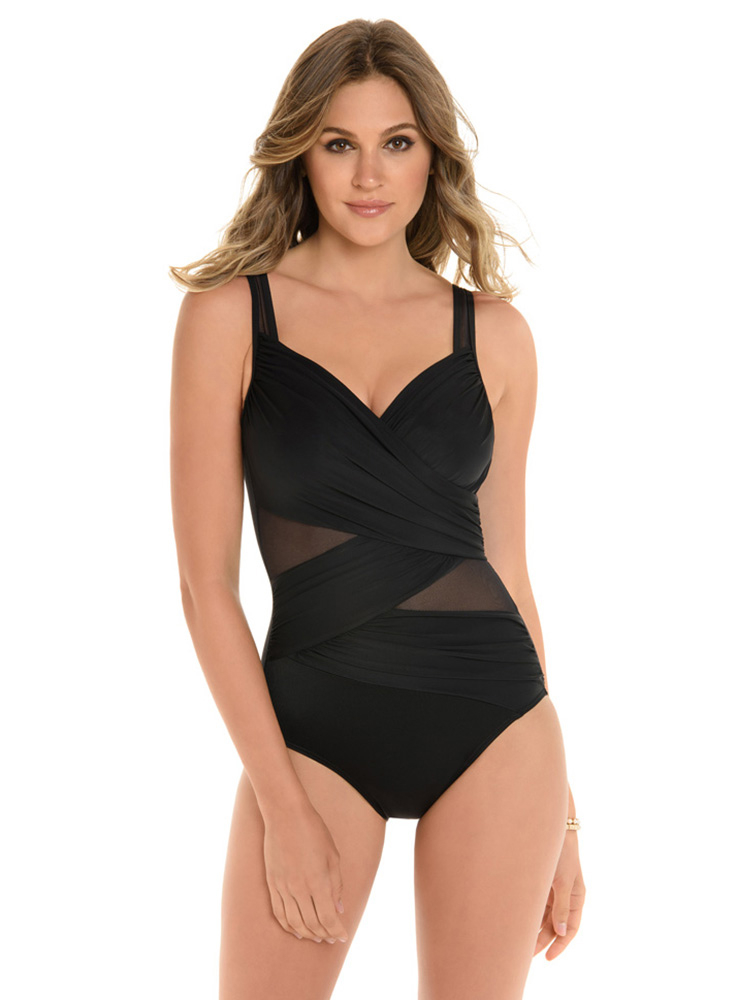 This swimsuit is your fair godmother! It claims to have you look 10 pounds lighter afte ryou put it on! Any new mom can agree that we want that one! 😉
It sculpts, smooths and even adds a bit of support in all the right places.
Long Sleeve Bathing Suit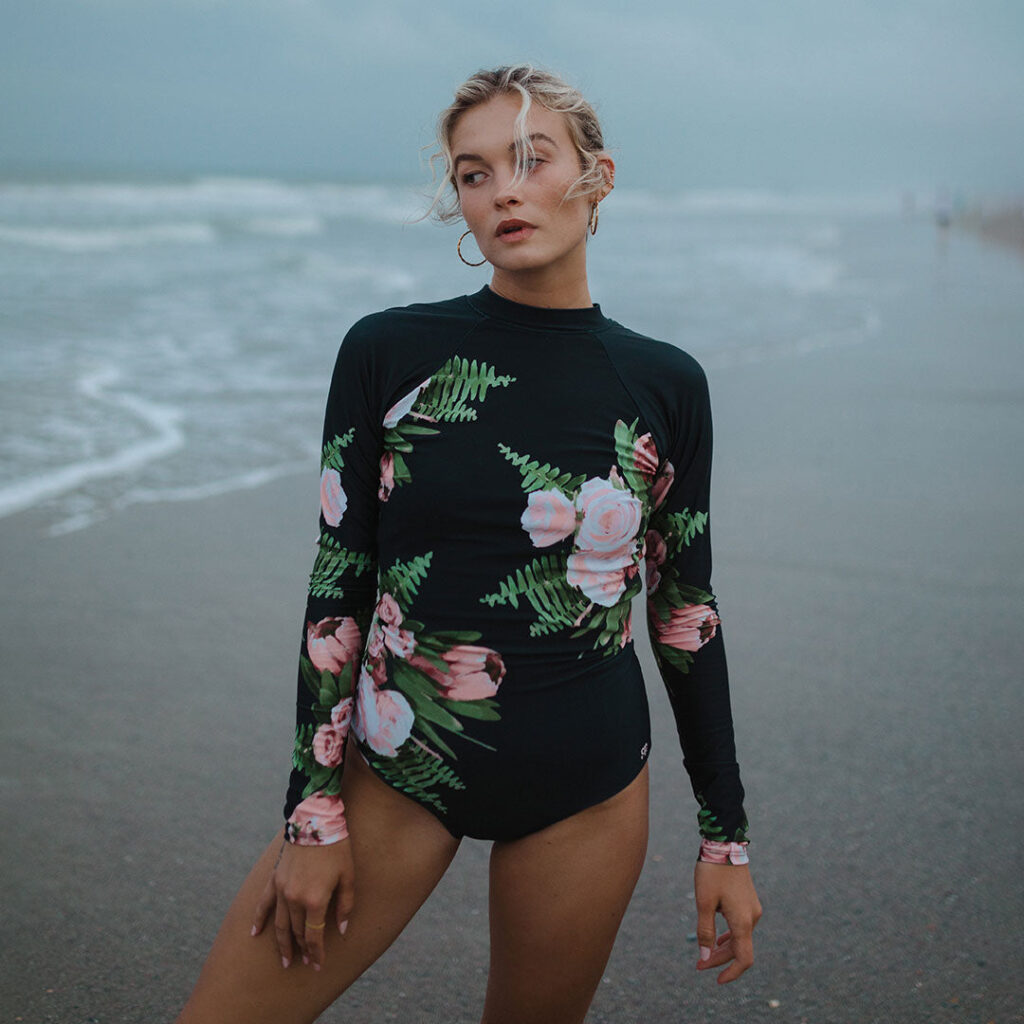 If you love the other Albion swimsuit above but need a bit more coverage on your arms, this one is just stunning! The beautiful floral print gives you a feminine vibe and the open back with the tie gives off a sexy feel to it.
This one is perfect for anyone needing a long sleeve postpartum bathing suit!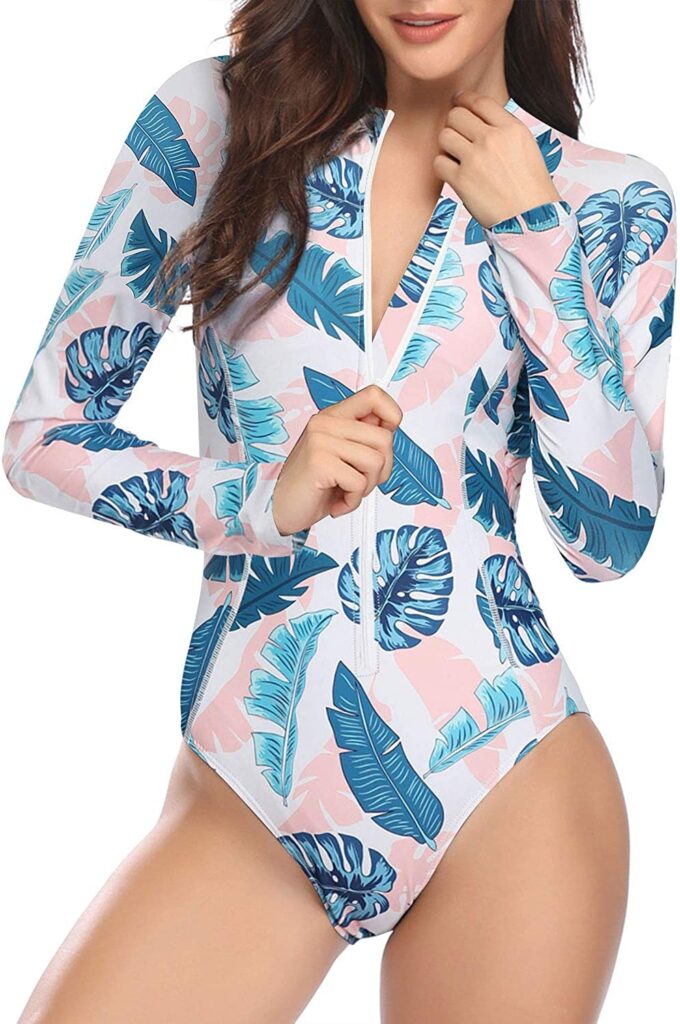 Whether you surf or just want to look like a surfer, this Daci rash guard long sleeve swim suit fits the bill! The zipper closure allows for easy on and off and it has a built in bra to give you enough support for your water sports.
It is made of UV blocking fabric with UPF 50+ giving you ultimate protection from the sun. This suit comes in a variety of colors and prints and has over 3,600 positive reviews!
Bathing Suit Cover Ups
Whether you're at the beach or the pool, cover-ups are an easy, comfortable way to look fabulous no matter where you are. They're light, enveloping, and can make you feel confident in your swimsuit or provide an easy way to cover up if you're not feeling it.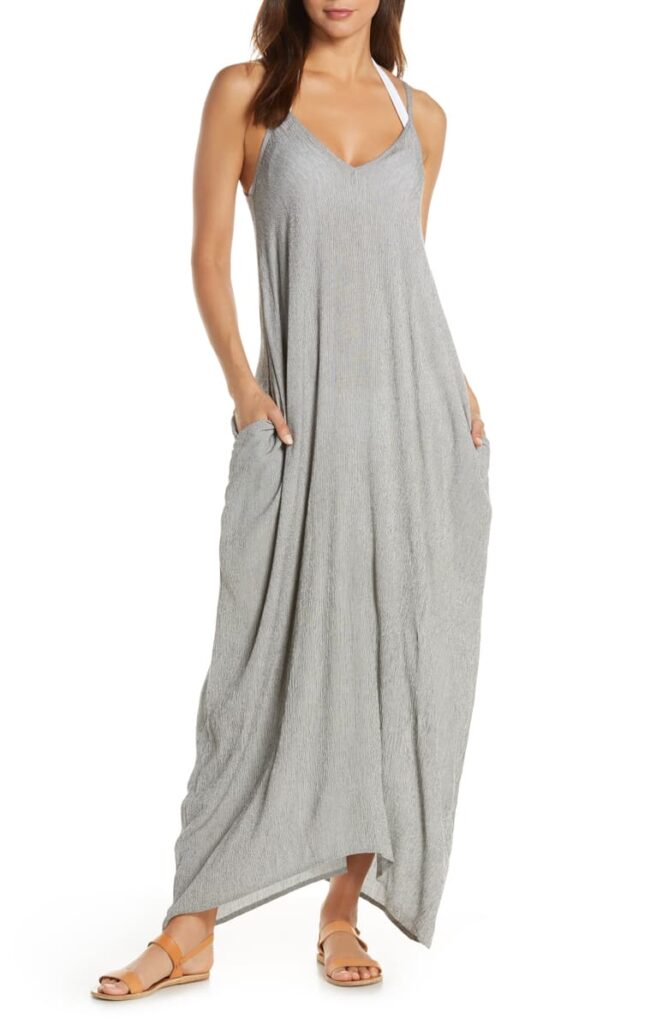 This cover-up is cute, long, and has a deep v in the back. This lightweight maxi dress features spaghetti straps and pockets. It provides protection and comfort after a long day in the sun or pool.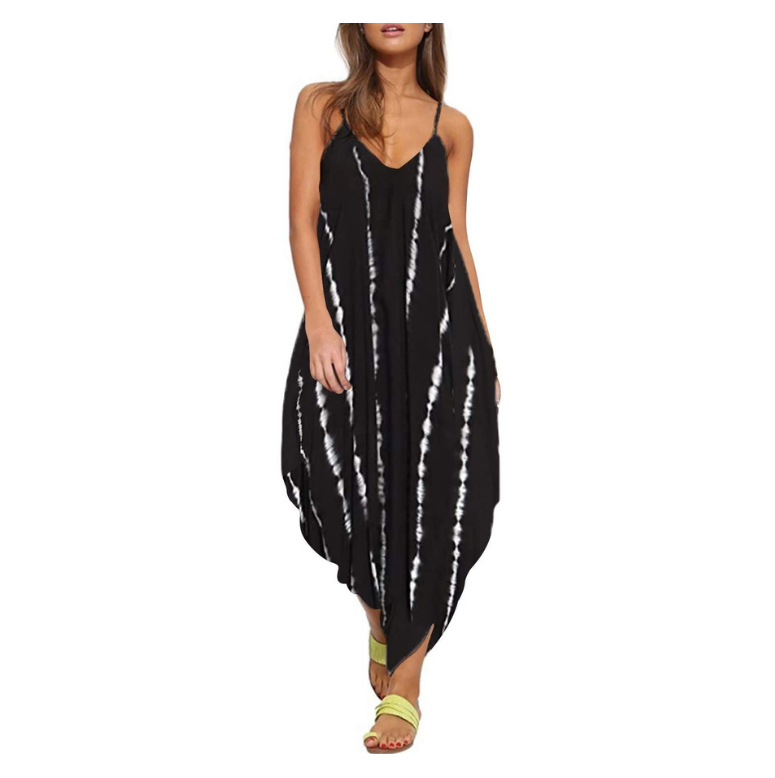 This one-piece jumpsuit romper is an easy cover-up to go from a beach day to a nice dinner. This jumpsuit is available in multiple sizes, colors, and styles.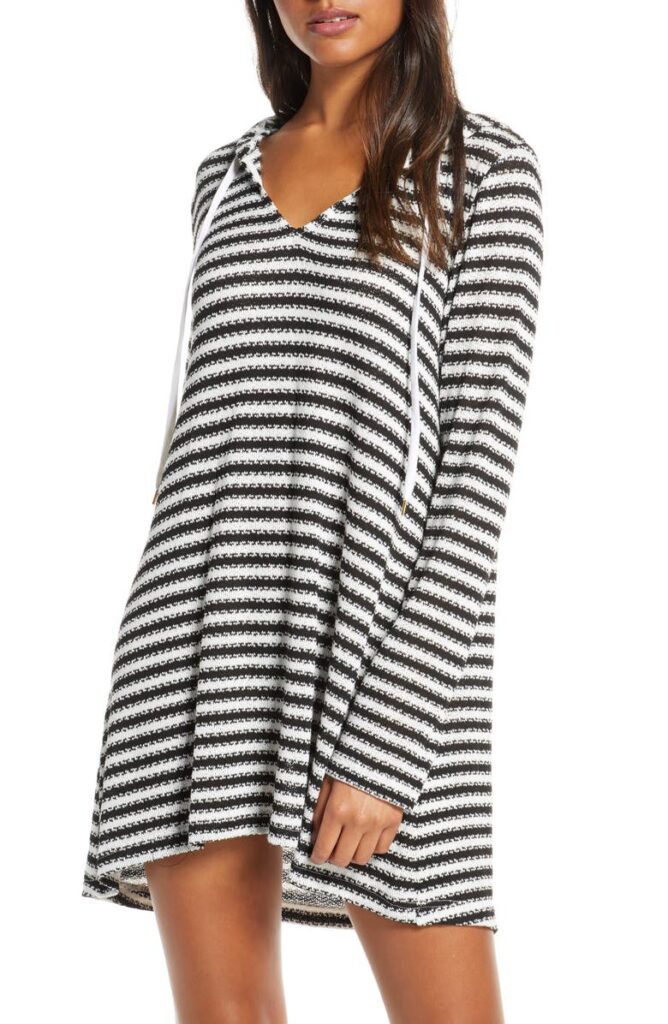 Love your hoodies all year round? This beachy hoodie coverup is a great option for cozying up after a dip in the pool!
Do What Feels Comfortable
As a new mom, you know how challenging it can be to find a swimsuit that fits well and feels comfortable. Your body is going through multiple changes at one time, and even more, if you're breastfeeding. It can feel challenging or difficult to find a suit that makes you feel comfortable and stylish.
Remember to give yourself grace and patience as you navigate choosing a swimsuit in the postpartum world. Find the style preference that works for your comfort levels and confidence.
If you still don't feel good, that's okay. You can always throw on a pair of shorts and a tank top or keep a cover-up around if necessary.
Want some beach outfits to cover up a bit with? Check out these 15 beach outfits for every occasion!
Heading on a beach vacation? Check out these packing hacks!
Also be sure to check out the best water shoes for women! If you're heading to the beach with your little one, here's 20 items to bring to the beach for baby!
Love coordinating with your little one? Here's the best places to shop for mommy and me outfits!