Traveling to the beach with a baby or heading out for a beach day? Babies, as we all know, need a bit more stuff than adults in all aspects of life, including at the beach! Today I'm going to share some of the top baby beach gear you need to know about for a fun day at the beach.
We recently took a beach vacation with my whole family to Nags Head in the Outer Banks with our 1.5 year old in tow. Here's some of the items we brought for him!
I'm also going to include other items we either wish we would have had or would buy if we went to the beach all the time. Since we don't live near the ocean we didn't invest in all of the items on this list, but if you're someone who is frequenting the beach more than once a year it could be helpful to get all of the items!
If you have family that lives by the beach (especially grandparents who want you to visit a lot!), you could also go shopping with them and buy some gear for them to keep at their house so you don't have to bring it with you when you travel there.
One thing to also note: always be careful about bringing a newborn to the beach especially in really warm weather. Babies shouldn't be out in extreme heat and should limit sun exposure. You can always check with your doctor for guidelines before heading to the beach!
So without further ado, here's the best baby beach gear for your next beach trip!
20 Best Baby Beach Essentials You Need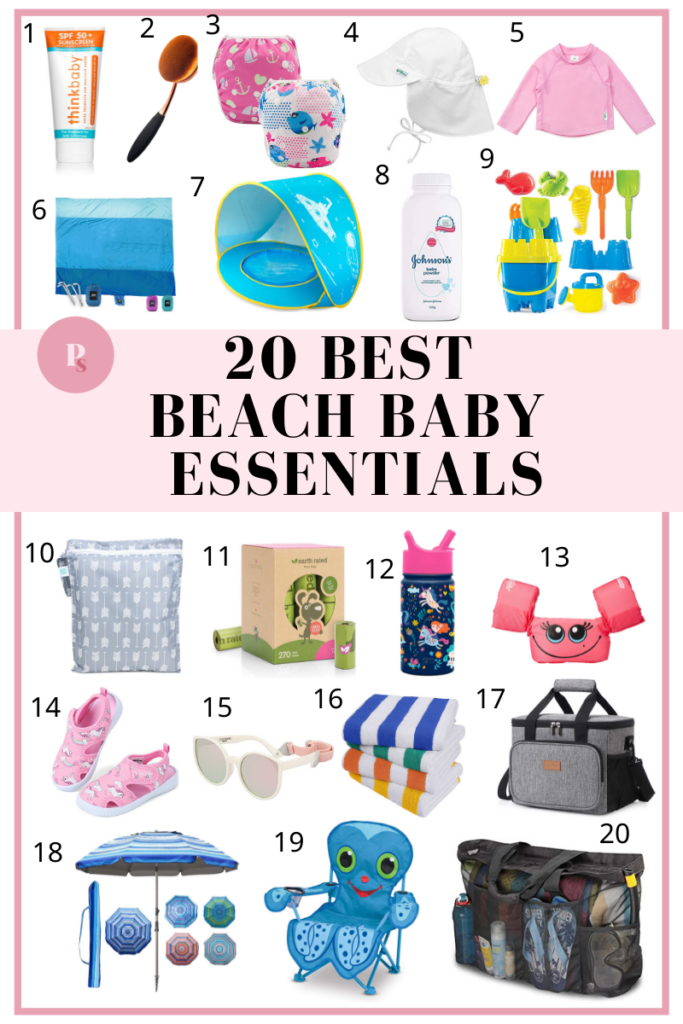 This post contains affiliate links.
One super essential thing is to have the proper UV protection for your little one. As a reminder, The American Academy of Pediatrics (AAP) recommends to only apply a sunscreen no lower than SPF 15 to your baby's face, back of the hands and tops of the feet to babies under 6 months old. Don't put it on their whole body!
After they're older than 6 months you can apply a baby-safe sunscreen to their whole body. Look for sunscreen labeled "broad-spectrum" with an active ingredient of either titanium dioxide or zinc oxide.
I bought and love Thinkbaby SPF 50 sunscreen. It doesn't have any harsh chemicals making it a better option for sensitive skin!
This may seem like a silly thing but using an inexpensive makeup brush makes applying the sunscreen so much easier! I bought this one from amazon and use it not only for our youngest but also our older kids and myself!
Lots of people also swear by cheap beauty blenders for applying sunscreen. The same concept as my makeup brush, but might be something you even have on hand already!
One of the most important things you definitely need to have at the beach is swim diapers! You can choose either disposable swim diapers or reusable swim diapers depending on your personal preference.
We used disposable since we don't go to the beach all that often but if you are a frequent beach goer, a reusable one may the best option for you!
Pro tip (that it seems to take every new mom too long to figure out!): Swim diapers don't hold any liquid, just solids. So if your baby or toddler is wearing the swim diaper in the car on the way to the beach, pop a regular diaper over it for the car ride to save yourself a wet car seat!
Having a sun hat is another good idea to bring for a bit more sun protection. Most babies' hair is so fine, it doesn't do much to block the sun rays. A hat is especially necessary if your little one is mobile and can walk out from underneath a tent or other shady spot you have for them.
A sun hat will shade not only your baby's face but also the back of their neck. I picked up this i play by green sprouts baby sun hat because the fabric is UPF 50+ and the interior lining is breathable so your little one won't get too hot wearing it. Pick something breathable with a wide brim for optimal protection!
Bonus: Babies always look so adorable in goofy hats!
This is an item that will get a lot of use all summer, from the pool to the splash pad.
If you're not sure how much sun you're baby will get or if they're mobile and will easily crawl or walk out into the sun, a rash guard or beach cover up is a good idea! We picked up this simple rash guard long sleeve and it came in handy both at the beach and at home!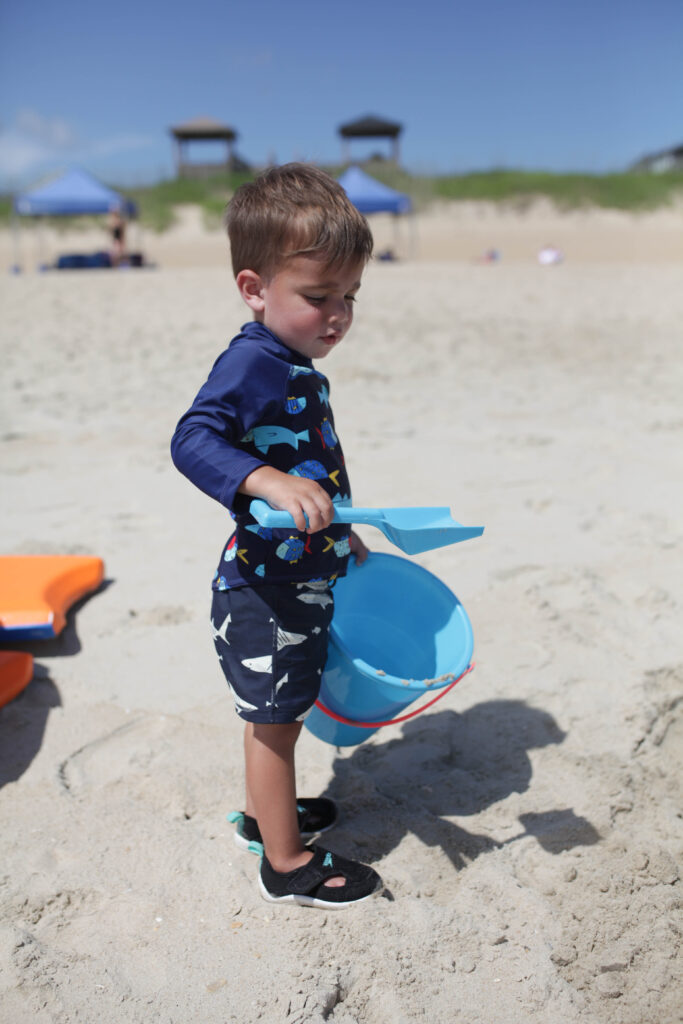 A rash guard is the best way to keep your baby's skin protected from the strong sun so even if you forget to reapply sunscreen they'll still be protected. Plus it's so hard to make sure you completely covered a squirmy baby's skin!
Having a proper beach blanket is not only smart for your baby but also the entire family! I bought this beach blanket for our first family beach vacation and it was a game changer.
Previous to getting a proper beach blanket I would just use my beach towel. It worked fine but the sand stuck to it, especially when wet. It didn't stay laid out properly on windy days (which is most of the days at the ocean!), and it didn't fit many people on it.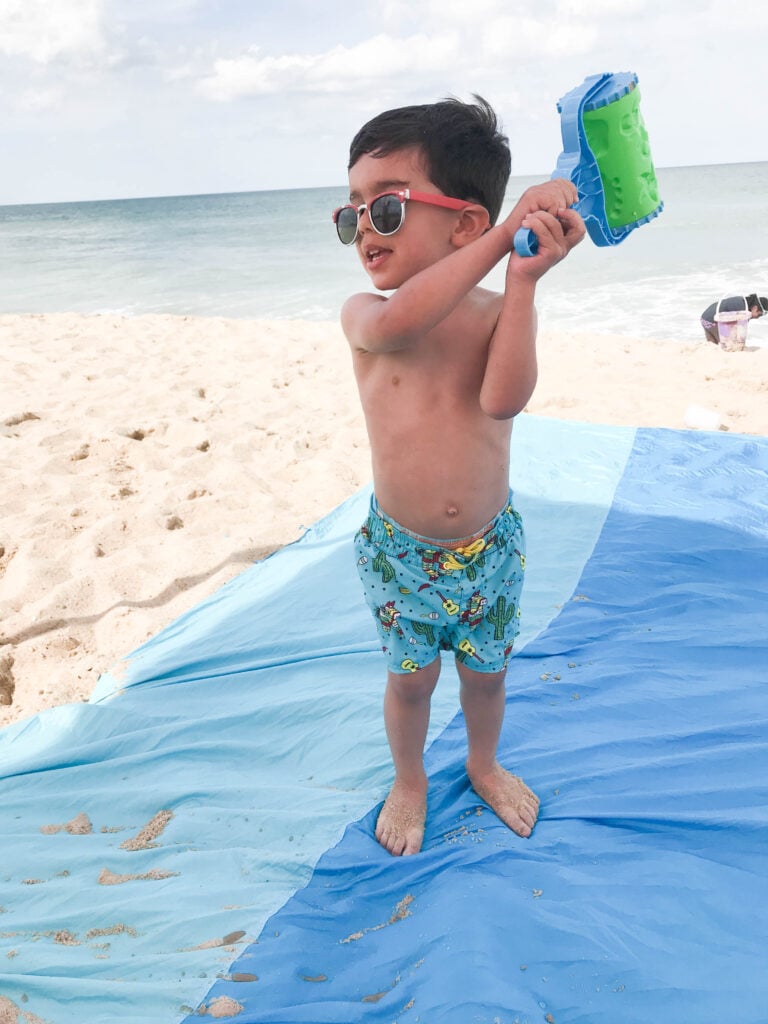 This beach blanket fit a ton of the kids (and grown ups) all at once, had handy pockets on each corner to fill with sand to help weigh it down and repelled sand! It was super easy to travel with since it packed up so small.
We would lay it out underneath the large tent to give anyone who needed it some shade. This is a must get item!
Depending on the age of your baby, a baby beach tent is a great idea. This is another thing that was super easy to travel with because it folded up super small.
We set this up near the ocean so we could easily see the bigger kids splashing in the waves while our youngest safely played in water just up from the water.
You simply dig a small hole where you're going to set up the tent, place the tent down and fill in the hole spot with water. You could also just put some sand in there to let your little one play with sand in a shady spot!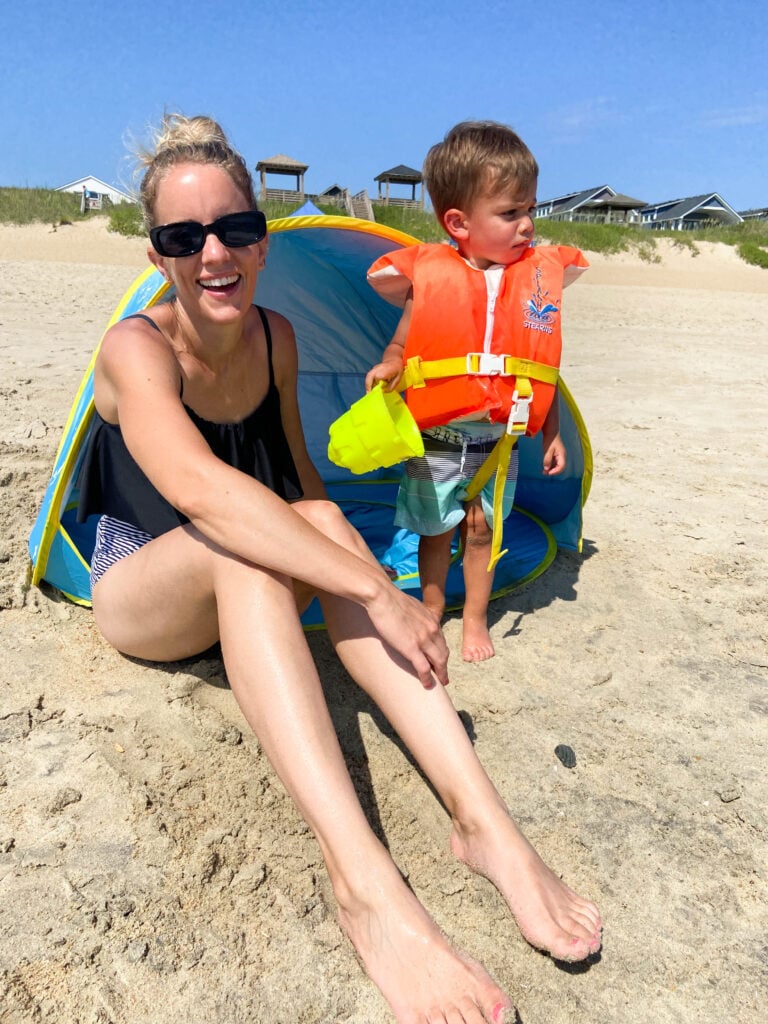 If you're hoping to fit under the shade too, I'd opt for a larger beach tent as well. This one really is just the perfect size for a baby or toddler.
This tent and the beach blanket are two options for where you can let your baby hang out. Here are some more alternatives to answer that question, "What can I put my baby in at the beach?"
If you want an enclosed space to lay a small baby down or you want the peace of mind that your baby won't easily crawl away (especially if you have bigger kids to distract you!), a travel play yard is a great idea. You can get a very simple playard or you can get a tent-style playpen to provide some shade.
You can also bring an inflatable baby pool and add water or sand to create an enclosed baby's play space. Or carry your gear in a laundry basket, and empty it to create a makeshift spot for a nap or to let your baby sit.
Nothing about the beach is more irritating the amount of sand you bring home in your car (and every nook and cranny!).
Fun fact, baby powder is one of the easiest and best ways to get the sand off your baby's skin (and your own skin!). Even if skin is wet, a little bit of baby powder will help the sand slide right off without having to aggressively rub the skin.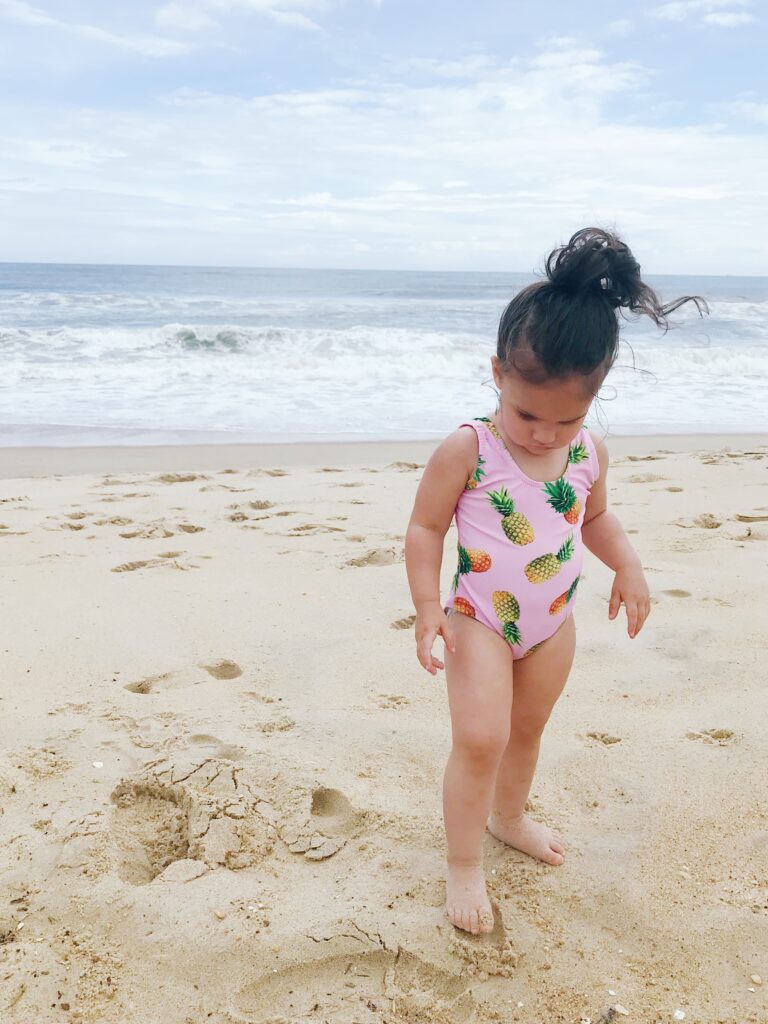 We brought this to the beach and my entire family used it! It was a great option for getting rid of all that unwanted sand stuck to your skin!
9. Beach Toys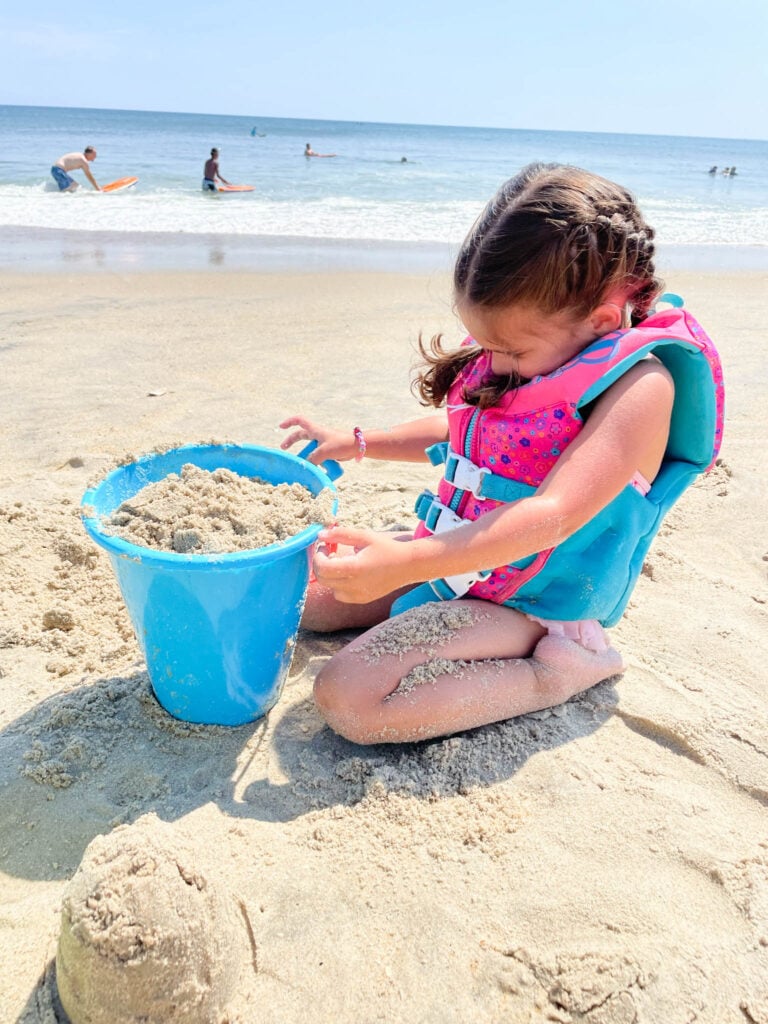 While no, you don't need to bring a TON of toys to the beach, having a few simple buckets and shovels can make a huge difference (unless of course your baby is still super tiny and not moving!).
It doesn't need to be anything fancy — even just a couple of plastic cups are fun for little kids! But a few different sized buckets and some rakes and shovels will help you build legendary sand castles.
We also brought a mesh bag that your baby (and big kids) can have fun filling with shells or other treasures. It's super easy to also dip in the water at the end of the day to remove the sand from anything you want to keep!
This is one of our gotta-have-it beach essentials.
We use a wet bag in real life so obviously we'd use them for beach life! 😉 Wet bags are the perfect little bag to put wet items that shouldn't be mixed with other items you don't want wet.
We use these for when baby's inevitable accident happens but they're also perfect for putting wet swimsuits at the end of the day.
Another item we always have on hand is plastic bags for soiled diapers! When you change your baby's diaper you'll likely need somewhere to put your dirty diaper if there's not a trash can close by. A plastic bag is a great place to put the diaper until you can properly dispose of it.
12. Snacks and Water Bottle
If you're regularly giving your little one snacks or water at home, you're going to want that on hand at the beach! An insulated water bottle is a great choice for keeping water cold.
When it comes to snacks, I like to bring a ziplock bag with a snack and then these small travel containers. I'll put some of the snacks into the travel container and then give it to my child. That way the snack is less likely to fall into the sand!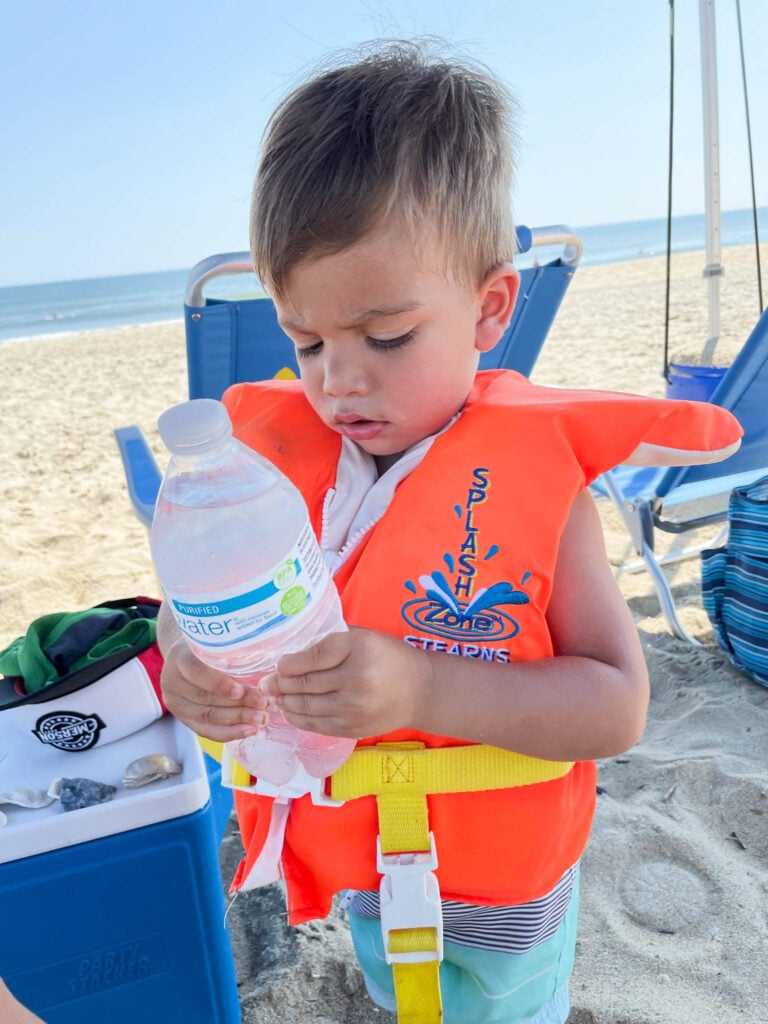 If your little one is mobile and will be near the water, a life jacket or Puddle Jumpers is a great way to keep your baby safe — definitely one of our beach essentials!
We put on one of these whenever our youngest was close to water, even though we had lots of adults around. It was good peace of mind and we knew it would help keep him safe!
Depending on where you're at, water shoes can be a huge help! Between hot sand or sharp rocks or shells or even jellyfish, water shoes can help protect your baby's feet and give them a bit more freedom on the beach.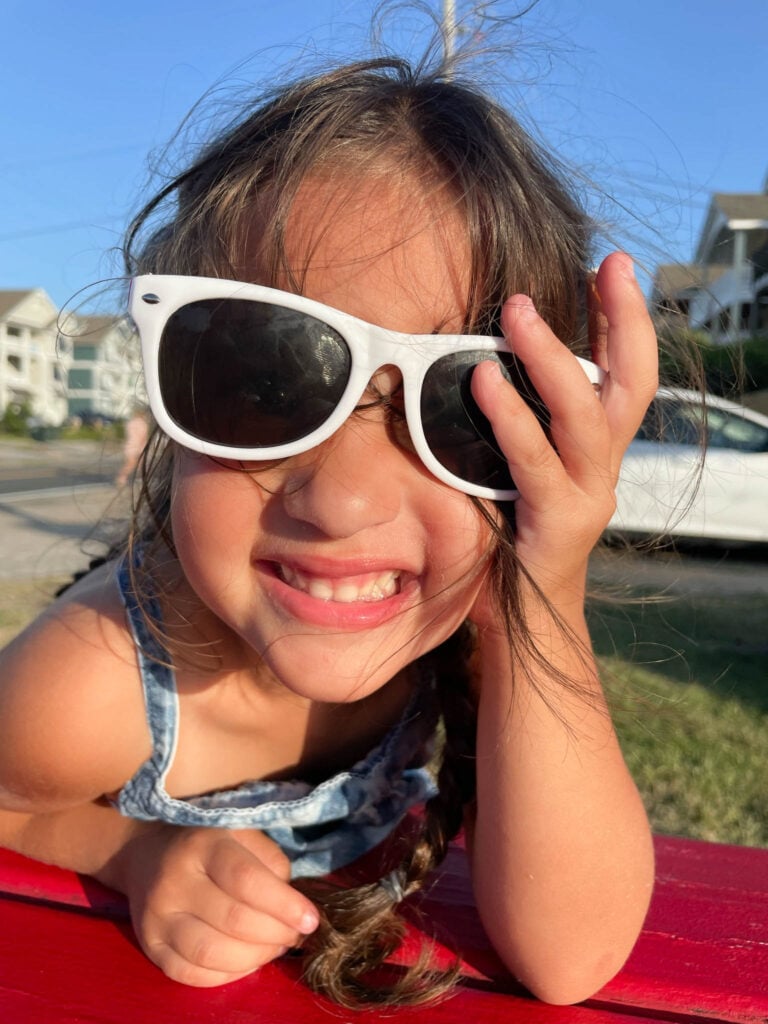 Help protect your baby's eyes from the bright sun or flying sand with baby sunglasses! These will be used all summer long making them a no brainer to buy.
Getting ones with an elastic strap will help keep them on your baby's head easier.
Inevitably you're going to need a beach towel to dry off toes or heads when you take your baby for dip in the water.
These are super lightweight and compact making them an easy thing to throw in your diaper bag or beach bag that won't take up a ton of room!
If you're spending the full day at the beach you'll want to bring a cooler bag for cold drinks, kids' milk, water, snacks, etc! A good cooler is something that will be used for a long time so it's worth getting a good one.
*Find even more cooler backpacks here!
If you're not flying to your beach destination and spend a decent amount of time on the beach, a good quality beach umbrella will give you the extra protection you'll want on those extra hot days! We rented a bench umbrella during our last beach vacation it was 100% worth the extra cost.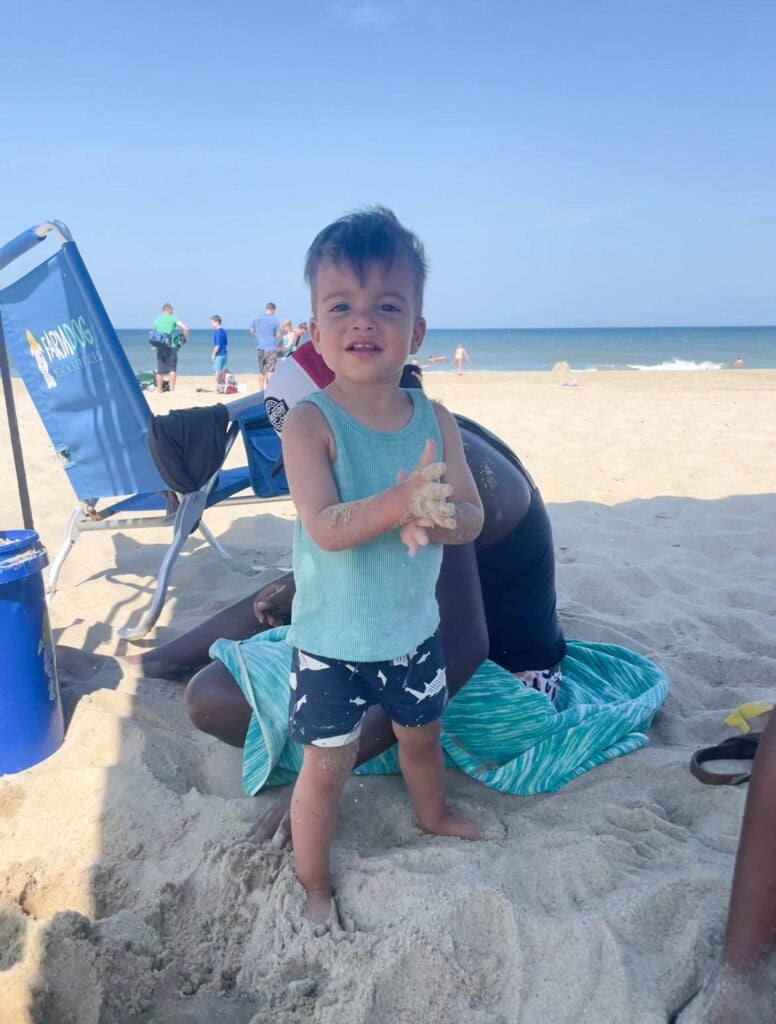 It not only gave the little ones a shady space to play but also gave us adults reprieve from the sun when we needed it!
If you're planning on spending a full day at the beach, you're likely going to want a beach chair for the kids (as well as you). Eating lunch or taking a break is fine on the beach blanket but it could be a lot easier using a specific beach chair.
There are also foldable seat options just for babies, like this one.
This is another thing that is worth getting anyways since you'll likely need one for every day use whether that's outdoor picnics at home or older sibling sporting events. If you're driving to the beach bringing a chair could definitely be a great option for you child to have some down time!
Last but not least is a beach bag! While this could be a specific bag (like this beach bag) that's designed for sand and water, you could also just use your diaper bag and swap out things that you won't need at the beach for things you will need.
Whatever you choose to use, having an easy way to bring all of the necessary baby beach stuff to your spot on the sand will be well used.
There you have it! The 20 best baby beach essentials to bring on your next beach vacation.
Now head on over to my best tips for traveling with a baby! With in-laws on the coast while we live in the midwest, I've learned a thing or two over the years!