Want to know the secret of a flat tummy or flattering backside? Shapewear! Ask any woman you know and we can bet she owns at least one pair of shapewear!
As women, we often times know the struggle with have a lower belly pooch no matter our body type! This is something so many of us struggle with, especially after having kids, so today we wanted to share some of the best shapewear for lower belly pooch.
While you can try to diet and work on your fitness routines, results don't happen overnight and might take a while to see a difference in your appearance. Even at your healthiest weight you may still carry a little extra weight in your lower belly and that's totally normal (and healthy!).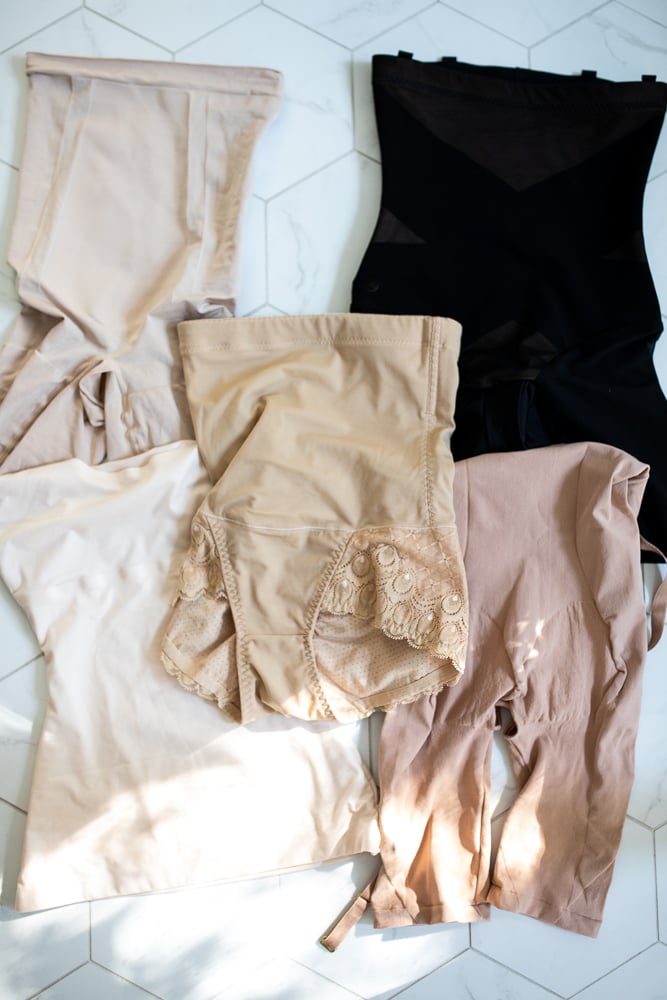 A more straightforward fix while you work towards these goals is to wear shapewear. And even some of the most fit people in the world still wear shapewear! Have you ever heard celebrities talk about what holds them in under their red carpet dresses? (hint: shapewear!)
There's nothing wrong with wanting to feel a bit more supported and smooth out your belly, butt or any other part of your body with some shapewear. Shapewear will pull in the areas of fat you're trying to hide to provide a fantastic hour-glass figure and smooth-looking skin.
However, searching for the right shapewear can be a little confusing. There are plenty of options and styles to choose from on the online marketplace.
To make your life a little easier, we've provided our best shapewear for lower belly pooch recommendations that actually work, so you don't have to waste your money or time trying products that won't help you.
One thing to note – shapewear will always likely be a bit hard to get on, especially ones with high compression. If it's not sucking things in, you likely need a smaller size to get that perfect fit.
6 Best Shapewear for Lower Belly Pooch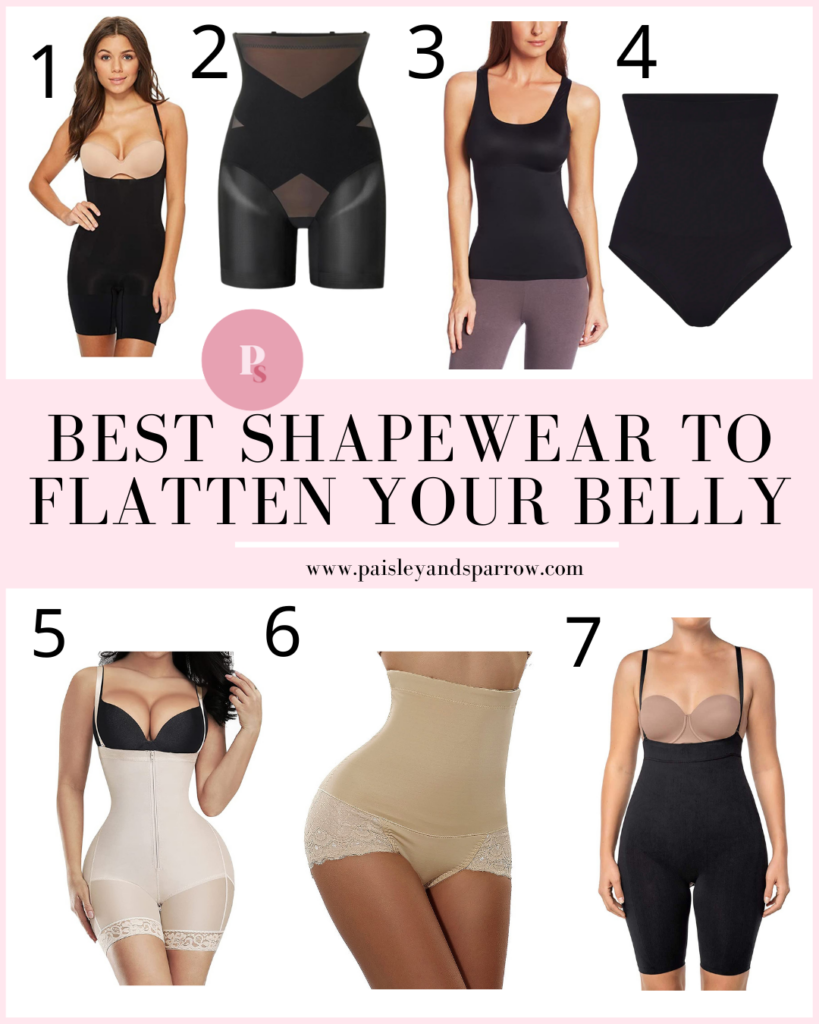 Paisley + Sparrow is a participant in the Amazon Services LLC Associates Program. This post may include affiliate links which means I may earn a small commission if you shop using the links below at no additional cost to you.
Spanx OnCore Open-Bust Mid-Thigh Bodysuit Soft Nude MD
Comfortable sculpting power with less bulk
Bonded tummy panel to flat-out flatten!
Side panels designed for squeeze-free slimming and easy movement
Leg openings designed for invisible fabric-to-skin transition
Adjustable straps lay flat on skin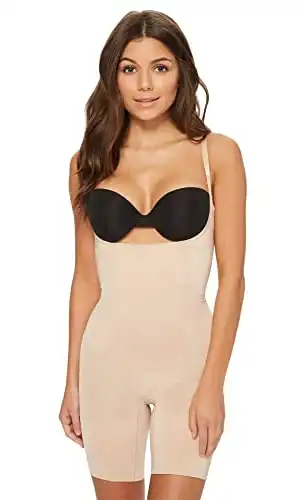 We earn a commission if you make a purchase, at no additional cost to you.
If you're looking for the best shapewear piece to slim down your lower abdomen area, Spanx is our top pick. Spanx has firm compression that works hard to pull in back and tummy fat. This shapewear is lightweight, powerful, and comfortable to wear.
It has bonded tummy panels which helps flatten your tummy and has an open bust so you can wear your own bra. It has adjustable straps as well as booty enhancing pockets so you won't get an unflattering uni-butt.
And it's seamless design means no panty lines (yay!). You'll keep the threat of a muffin top far away with this shapewear! This one has a large size range from extra small to 3X.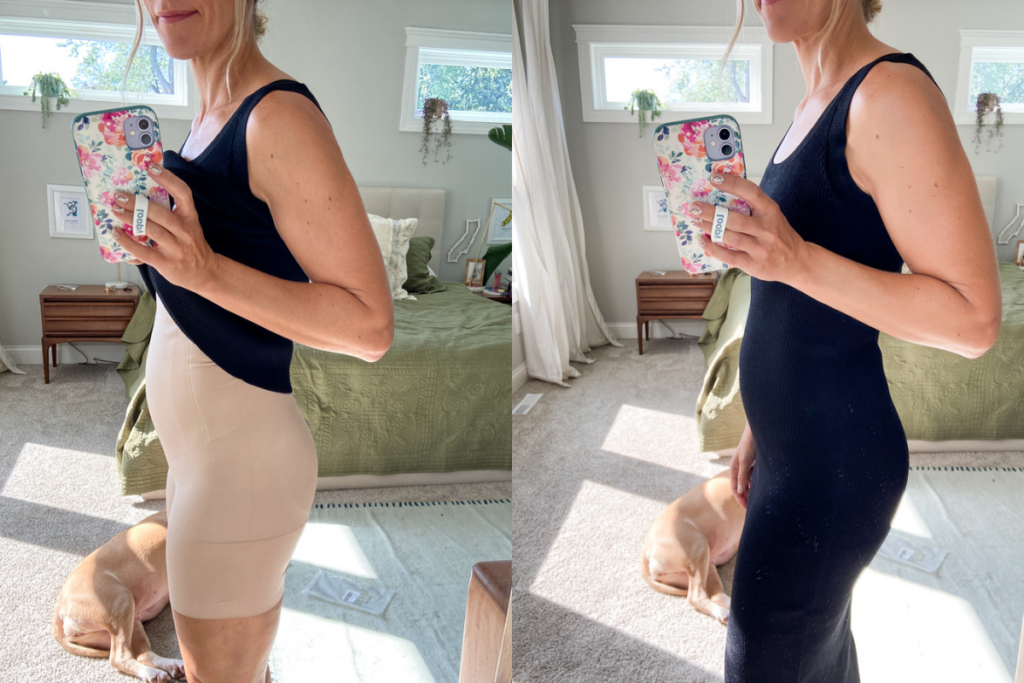 I've personally worn Spanx for years and it's been my favorite shapewear since the first time I bought it!
Pros: Lightweight Quality, Zip-Design, Comfortable, Available in Plus Size
Cons: Not Breathable Fabric
*Check out my favorite Spanx TummyControl High-Wasted Power Panties here!
Honeylove SuperPower Shorts
Targeted compression sculpts without squeezing, flexible boning prevents roll-down, and breathable fabric keeps you cool.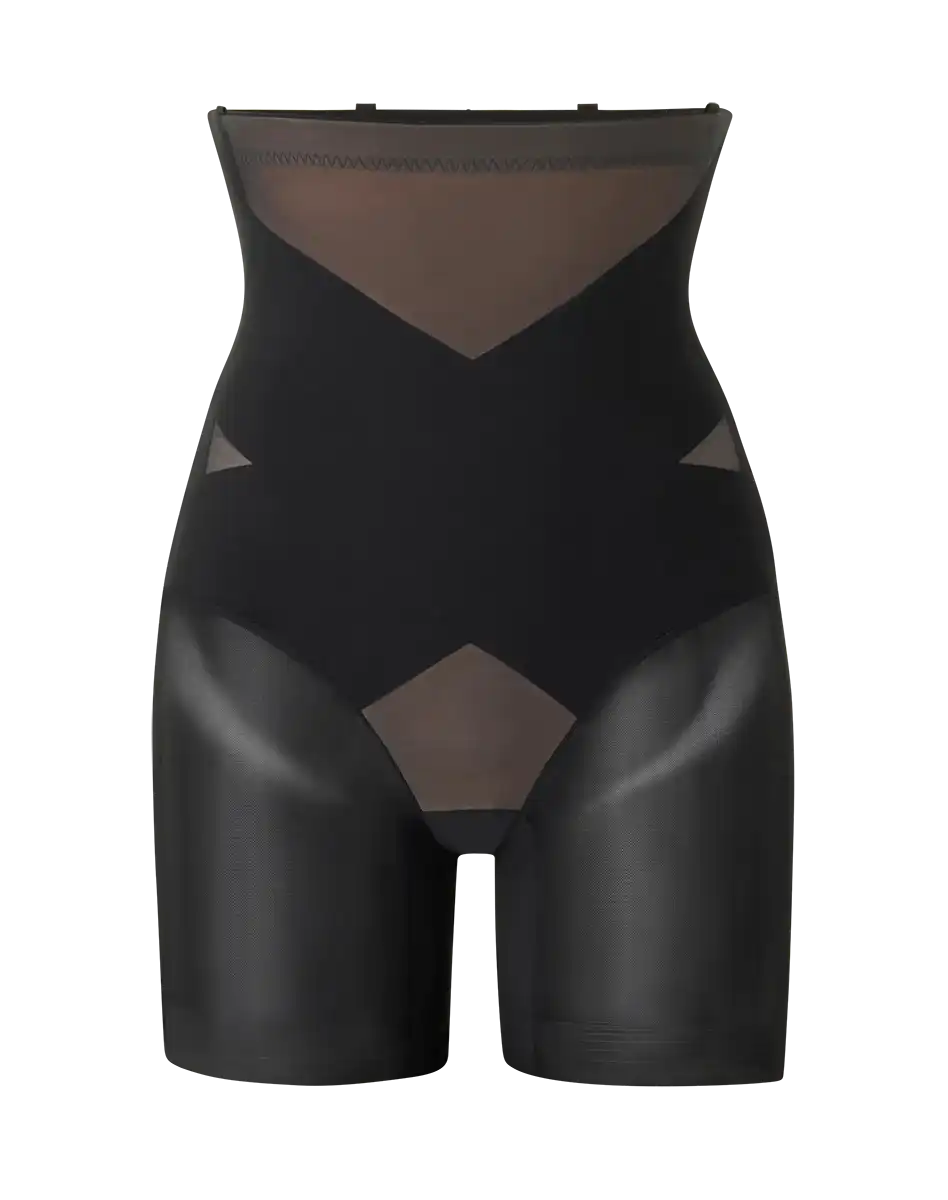 We earn a commission if you make a purchase, at no additional cost to you.
Ok, this is a bit confusing because sculptwear is slightly different than shapewear since sculptwear has boning that really helps sculpt your body! If you want something that really sucks you in, this is the one you should get!
This high-quality Honeylove SuperPower Short is the perfect addition to your shapewear collection. It's created with top-notch materials and has flexible boning inside which prevents it from ever falling down or bunching!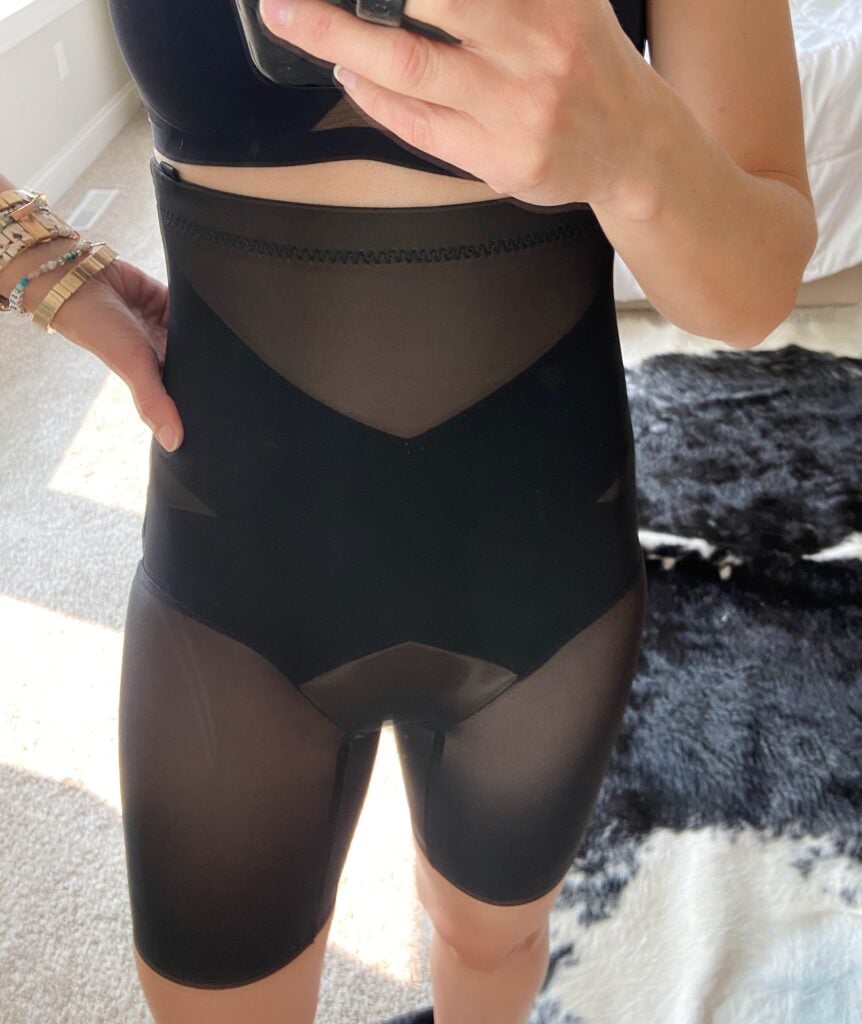 This garment have targeted compression panels to help tone your midsection. It is one of my personal favorites for lower belly pooch because of the panels. It really does the job!
This one feels different than the others since it has the flexible boning inside. Basically this means there's a type of movable wire that keeps your shapewear up. It has some of the best compression of all of the items on this list and will never fall down.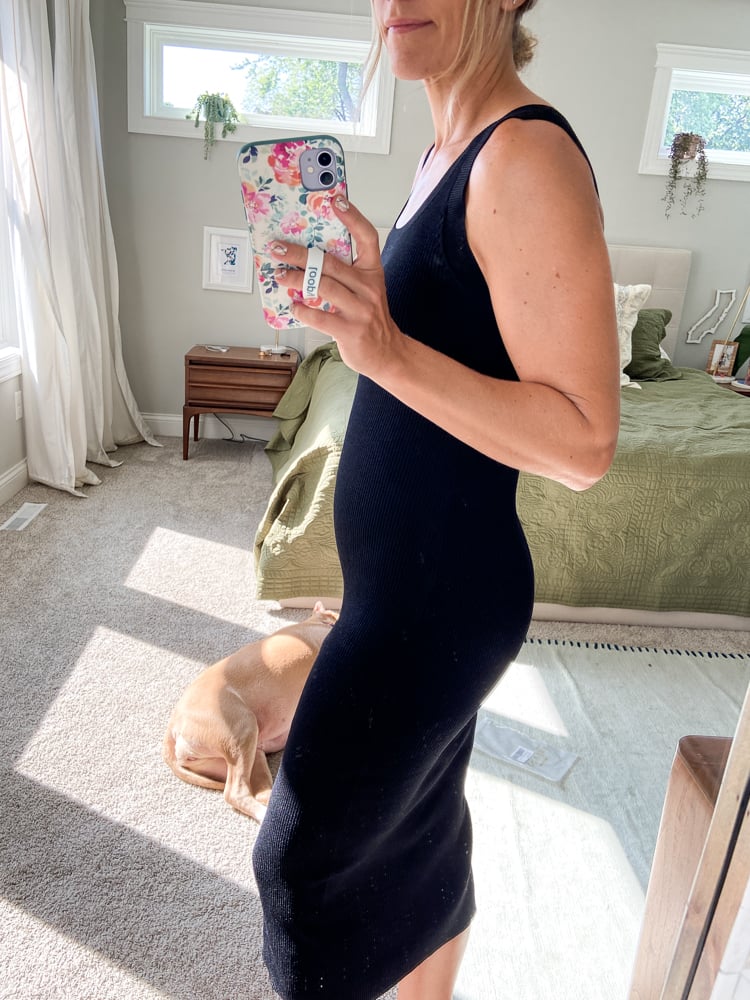 This is me wearing HoneyLove!
I wear this one for fancier events since I know I won't have to tug it up all night and it'll keep everything in place!
Pros: Won't roll down, Comfortable
Cons: Price, Slightly thicker than the others
Want to learn more about Honeylove? Check out my full Honeylove review here!
3. Best High Waisted Brief – Skims Core Control
Skims Core Control High-Waisted Brief
This high-waisted shapewear brief perfectly tones your core and tightens your tummy for a sculpted look while enhancing the natural shape of your butt. Featuring our highest support level and removable adjustable straps, this silky brief is perfect to wear under your favorite outfits for contoured curves and a boost of confidence.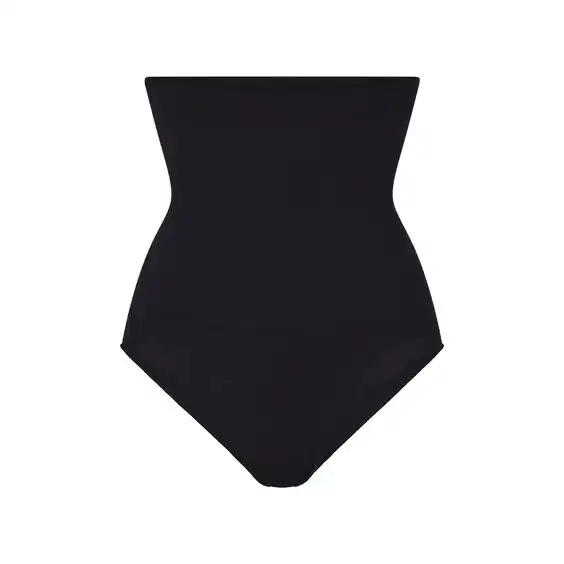 We earn a commission if you make a purchase, at no additional cost to you.
Skims' shapewear has been well loved by everyone from celebrities to TikTok stars to the mom down the street. If you want something that is a brief style shapewear, this is an excellent option!
One great thing about Skims is the range of sizes. This ones comes in XXS to 4X. It also comes in the largest variety of colors to better match your skin tone.
The fabric on these are incredibly soft – it's one thing I love most about Skims! They also come in a thong option if that's more your style.
These do run small so it's a good idea to size up on these!
Pros: Tons of colors and sizes, Great for high slit dresses or skirts
Cons: Sizing can be confusing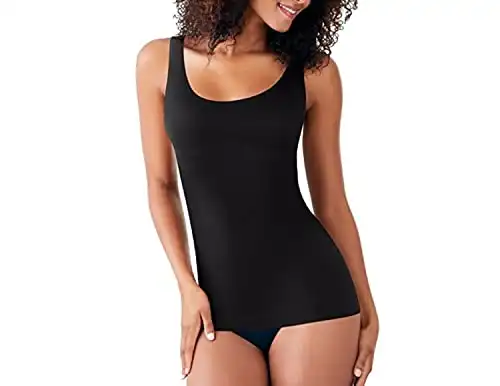 We earn a commission if you make a purchase, at no additional cost to you.
This breathable cami shapewear is created out of elastane and polyamide, which works to slim down your body shape and eliminate your tummy fat. The Maidenform Flexees Shapewear Women's Comfort Devotion Cami is light and comfortable, allowing you to wear it for long periods of the day without feeling lightheaded.
While the cami focuses on the back and tummy area, it offers a lot of flexibility around the chest, making it a perfect option for larger-chested women. The straps are slightly larger so keep that in mind when purchasing to make sure they will be hidden in whatever you want to wear them with.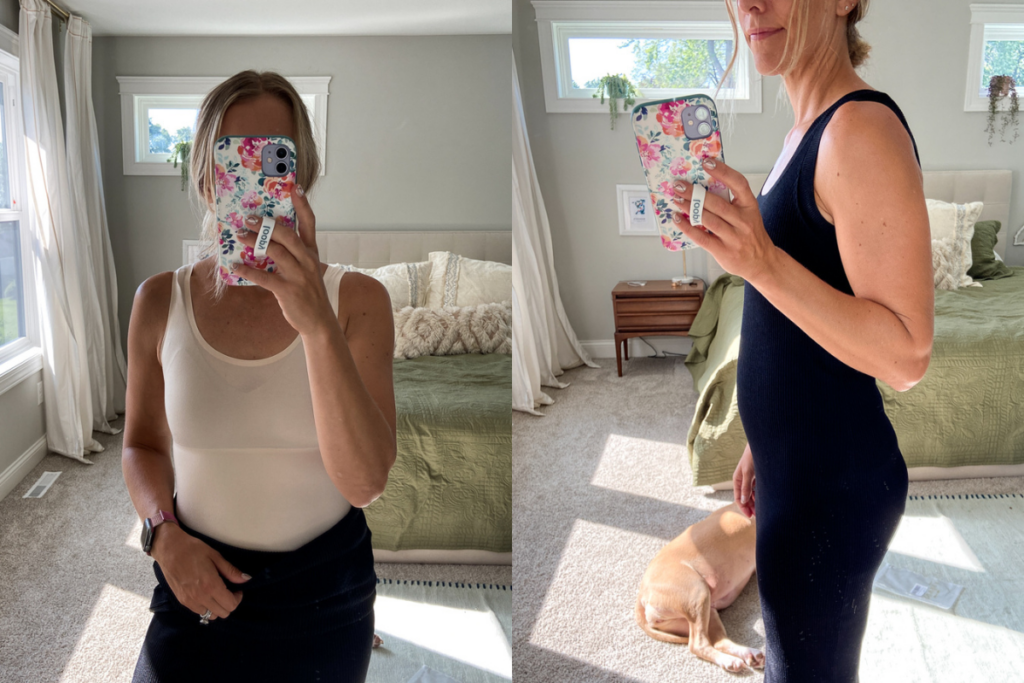 It is one of Amazon's best sellers in shapewear with almost 7k reviews and is great for everyday wear under just about anything!
If you have trouble getting it on over your head, try stepping into it and pulling it up that way – that's how I like to get into this one! This one is extremely soft and really helps tighten things up.
It lands about partway down my butt which can be a little annoying depending on what I'm wearing but overall this is a great cami option!
Pros: Soft, Lightweight, Breathable, Firm Fit
Cons: Hard to put on, not machine washable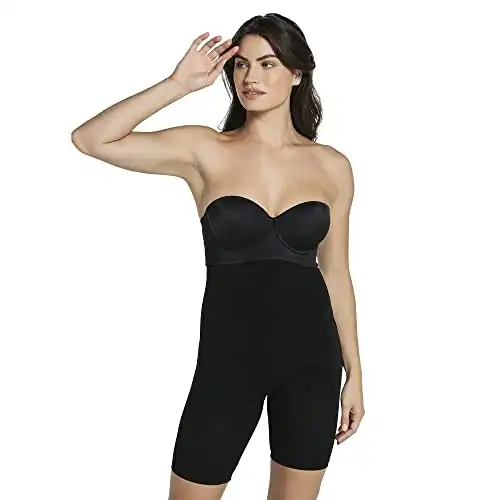 We earn a commission if you make a purchase, at no additional cost to you.
The Leonisa Tummy Control Shaper Short for Women is a pro at pulling in your thigh fat to stop your thighs from rubbing, eliminating rashes. Besides targeting your thighs, this shapewear hits your backside and tummy area to help create a beautiful hour-glass figure.
It provides moderate compression, which is comfortable for all-day use. Leonisa uses SkinFuse which is a seamless technology so you won't have any seams that will be shown through your clothes!
The first time I put this one on I was afraid I wouldn't be able to get it fully on! I carefully pulled it up over my knees to the base of my thighs and it went on just fine. It does an incredible job at compressing your thighs – I promise you'll never chafe wearing these!
The lower belly compression isn't quite as good as some of the others but if you want a dual purpose thigh + belly shapewear, this is it!
Pros: Great for thighs, Maximizes airflow
Cons: Expensive, Limited sizing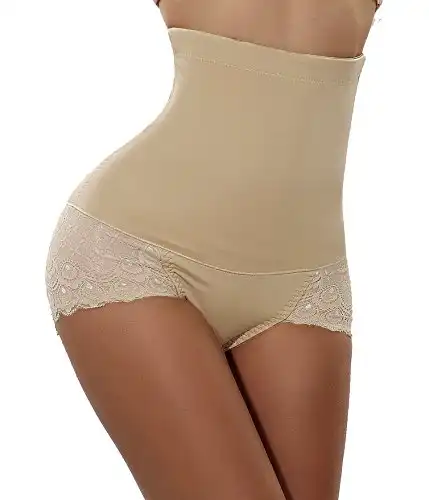 We earn a commission if you make a purchase, at no additional cost to you.
If you want to dive into the world of shapewear but don't want to spend a ton of money, check out Gotolys shapewear. The Gotoly Women Body Shaper High Waist Control's non-latex material is comfortable and helps control the lower belly area.
At the same time, its moisture-wicking ability makes sure to absorb any sweat while keeping you cool throughout the day. Gotolys shapewear is cute and slimming in all the right places.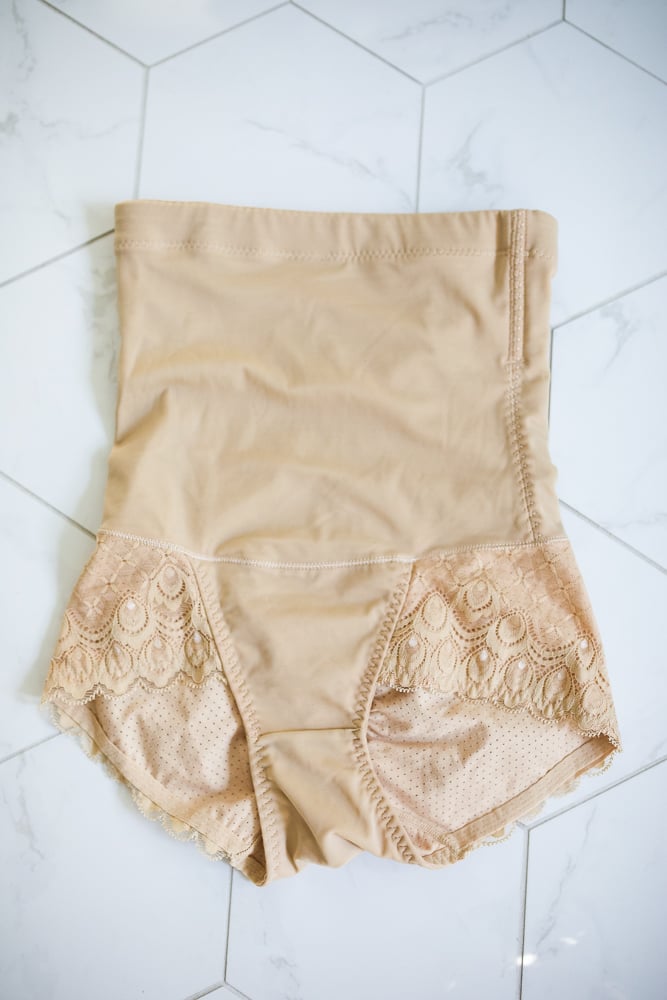 It also smooths and bumps or bulges along your butt or thigh making this a great option for anything from dresses to pencil skirts!
This one isn't quite as good for smaller girls like me. I typically like an xs in shapewear and it only comes in a small. Because of that, it didn't give me quite the shape that I wanted.
If you're normal size is a small or above, this is a great entry level shapewear though! Comes in both black and beige.
Pros: Inexpensive, Easy to wear, Comfortable
Cons: Low compression level, Thin Material, Not great for smaller bodies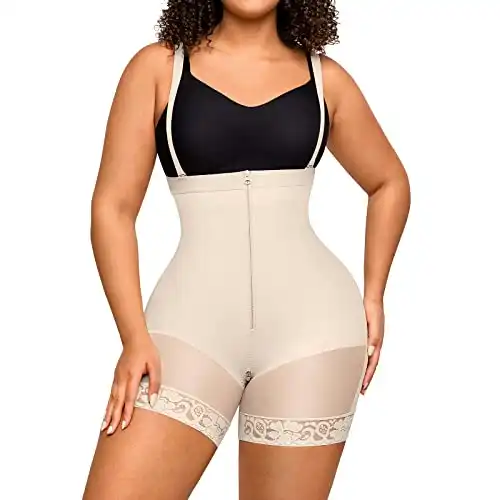 We earn a commission if you make a purchase, at no additional cost to you.
To be frank, the Body suit above (the Spanx Plus Size Oncore mid-thigh bodysuit) also comes in some plus size options and we really love that one! If that one doesn't work for you, the FeelinGirl shapewear is a fantastic one with over 4k reviews on Amazon.
This is great for postpartum wear to put your abs back in places and it's super stretchy and durable. The best part is it has a convenient zipper crotch to make using the bathroom a breeze!
It's also at a lower price point than Spanx which is another selling point.
Pros: Lightweight Quality, Zip-Design at Crotch, Comfortable
Cons: Not Breathable
Shapewear Buying Guide
Before you purchase your shapewear, consider these factors to ensure you're making the best decision for you and your body.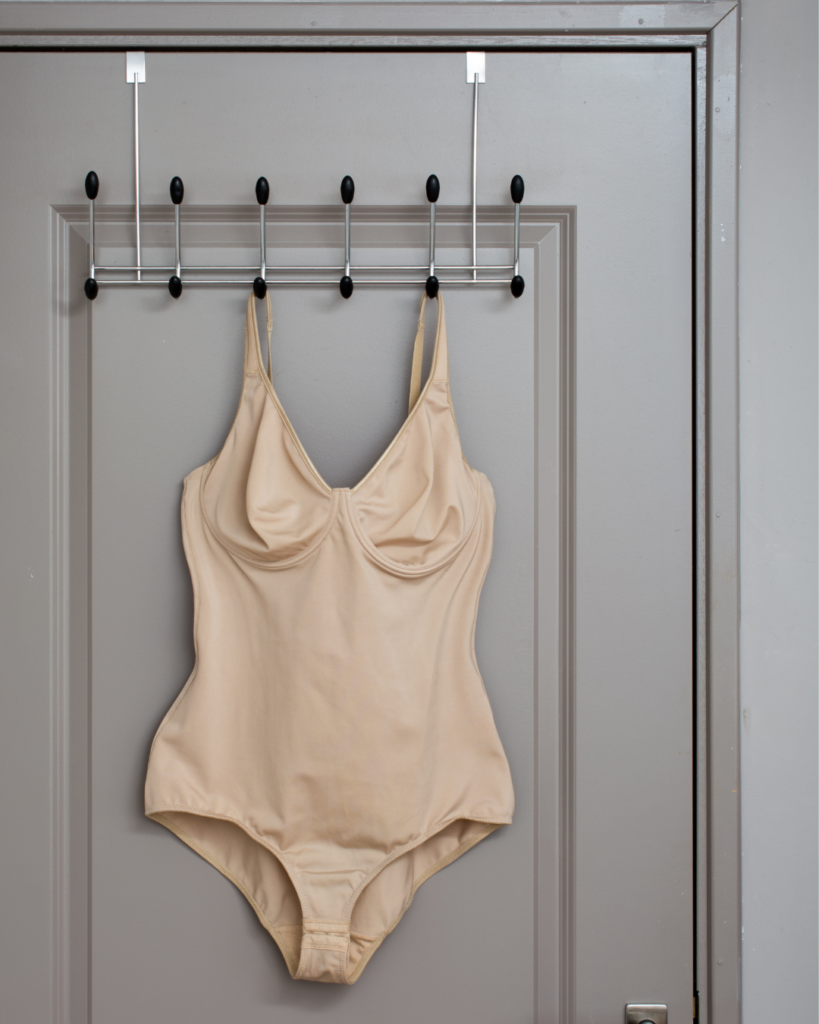 1. Usage of the Shapewear
How frequently you plan to use your shapewear can determine the type of shapewear you need to purchase. Will you only wear your shapewear during a special occasion, like birthday dinners or holidays?
Do you plan to wear it on an everyday basis? How often you use your shapewear will determine the level of support and compression you'll need.
Hint: You'll want less compression in your shapewear if you're going to wear it for more extended periods.
2. Material of the Shapewear
Now that you know the type of compression you need, you'll need to choose between heavy or lightweight materials. Both have their advantages.
Heavier fabrics will provide the ultimate compression and sucks in any excess fat. On the other hand, lightweight fabric provides a lighter compression and works to smooth everything out.
3. Pay Attention to Sizing
If you choose the wrong size for your shapewear, it's not going to work the way you intend it to. For example, if you size up, you're not going to see any result, as the compression won't work well, making the product useless.
If you instead aim to go smaller in size, you're going to have a lot of discomfort and unwanted bulges. Make sure to pay attention to the sizing guide available with your shapewear, and always try it on if you can before purchasing.
Types of Shapewear
There are a few different types of shapewear to choose from that have different goals associated with them. Here are a few of the common types
1. Bodysuits
They look like a one-piece bathing suit. Bodysuits work to smooth out all areas of your body, including the tummy, back, hips, and butt.
2. Tummy Control High-Waist Shorts
They work to pull in your tummy and back to provide shaping and lifting of your stomach. They do not change your hips or butt.
3. Camisoles
Camisoles are light in the compression area. They'll provide a flattering and defined appearance.
4. Thigh Slimmer
Thigh slimmer's will target your thighs, tummy, backside, and hips. They have firm control, which means they'll effectively slim your waist and tummy area.
5. Waist Cincher
Waist cinchers are not corsets. They work to lift your chest and pull at the waistline.
Advantages of Wearing Shapewear
1. Improves Your Appearance
Probably the main reason we all wear shapewear is because it makes us look better! Shapewear helps slim down your figure in all of the right places, such as the thighs, bust, hips, and waist.
You'll instantly see an hour-glass figure that will work well with dresses or everyday attire. This is an easy way to see a difference in your body and smooth bumps that we all have.
2. Builds Self-Esteem
When you wear shapewear, you will see a figure that you love, which can help change your attitude about yourself or losing weight.
Seeing a figure that you love and want to attain naturally encourages you to keep working towards your weight loss goals and a healthier diet.
And let's be real, once you realize that everyone wears shapewear, you'll hopefully realize the body you have is a beautiful one!
3. Improves Posture
The shape and elasticity of shapewear pull your back into a firmer and straighter position. This can help alleviate back pain and improve your walking or sitting posture.
4. Easily Hidden
No one will know that you're wearing shapewear unless you tell them. Most companies have created shapewear that hides underneath your clothing and matches your skin tone so that you can wear it all day without standing out.
Shapewear FAQ
1. How Does Shapewear Work?
Shapewear works as a natural compression to hide the fat you don't want others to see. It puts pressure on areas such as your waist and stomach to create an hour-glass figure and hold fat in.
2. Does Shapewear Help in Losing Weight?
Wearing shapewear will not make you lose a lot of weight. You may see a little bit of a decrease if you are prone to sweating from wearing tight garments. However, it does not compare to regular exercise and a healthy diet.
3. Can You Wear Shapewear every day?
While shapewear won't do any permanent damage to your body, you'll want to forgo wearing them every single day for an extended period. When you wear tight fabric for a long time, it can damage your nerves, squeeze your digestive tract, and cause acid reflux.
4. How Long Should You Wear Shapewear?
You should limit the length of time you wear your shapewear to a maximum of eight hours a day. Make sure to take it off before bedtime, as you should not wear it at night.
5. How Do I Maintain My Shapewear?
There are three easy steps to maintain your shapewear. First, you need to make sure you have multiple shapewear pieces so that you're not wearing the same one every day.
Having at least three to four is ideal if you wear them on a daily basis. Second, when you're not using your shapewear, make sure to dry it flat and hang it up in your closet so it doesn't lose its shape.
Third, make sure to wash your shapewear according to the instructions on the tag of your garment. You should wash it after two to three uses.
Final Notes
Women love shapewear for its ability to provide an hour-glass, beautiful figure without having to lose weight naturally, diet, or invest in surgery. Shapewear can make you look skinnier, smooth out back fat, create a smaller waist, create a toned lower abdomen and shape your butt.
It can also increase your self-esteem and encourage you to attain a healthier lifestyle. Choose the best shapewear for lower belly pooch that feels best for your comfort, happiness, and overall body shape goals.
If you're looking for swimsuit that are great for your postpartum pooch check out this post!