When it comes to finding the best footwear, usually we think about what activities we're going to be doing that day. Have an important work meeting? Heels, flats, and loafers are usually go-to styles.
Going for a run? Running shoes. Going on long hikes? Hiking boots. So, if you're planning for a day in or around the water, there's only one natural footwear solution – water shoes!
There are lots of cute water shoes for women available, so you can find a pair to fit your style.
Why Should I Buy Water Shoes?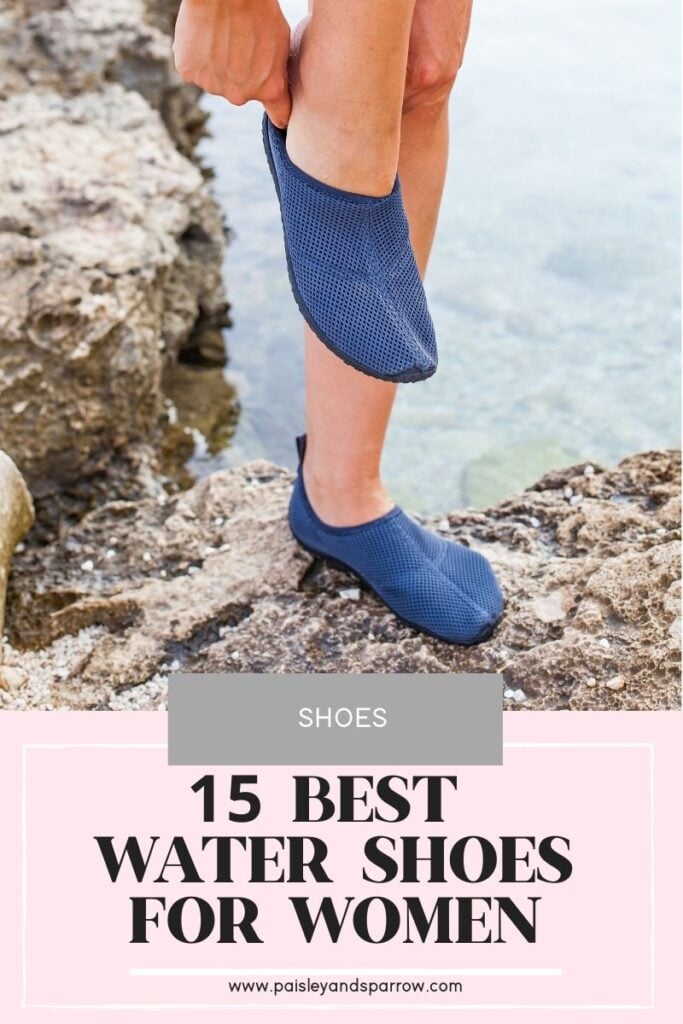 Water shoes are a relatively uncommon thing in most people's wardrobes. Usually, you may just opt for a pair of sandals or flip flops or even go barefoot when spending a day in wet conditions.
But this can be not only uncomfortable but unsafe. Scorching hot sand, sharp rocks, and unhygienic conditions can result in discomfort, pain, or even injury and infection; not ideal for a fun day in the water.
Thankfully, water shoes are here to save the day! Their lightweight feel and durable soles make them perfect for protecting your feet while also providing all of the comfort you'd want when treading through wet conditions and all types of outdoor activities. The perfect pair has a rugged sole, breathable and quick-drying material, and good drainage.
Now that you have the low-down on why water shoes are so important, we'll be sharing some of the best and most popular water shoes for women.
Best Water Shoes for Women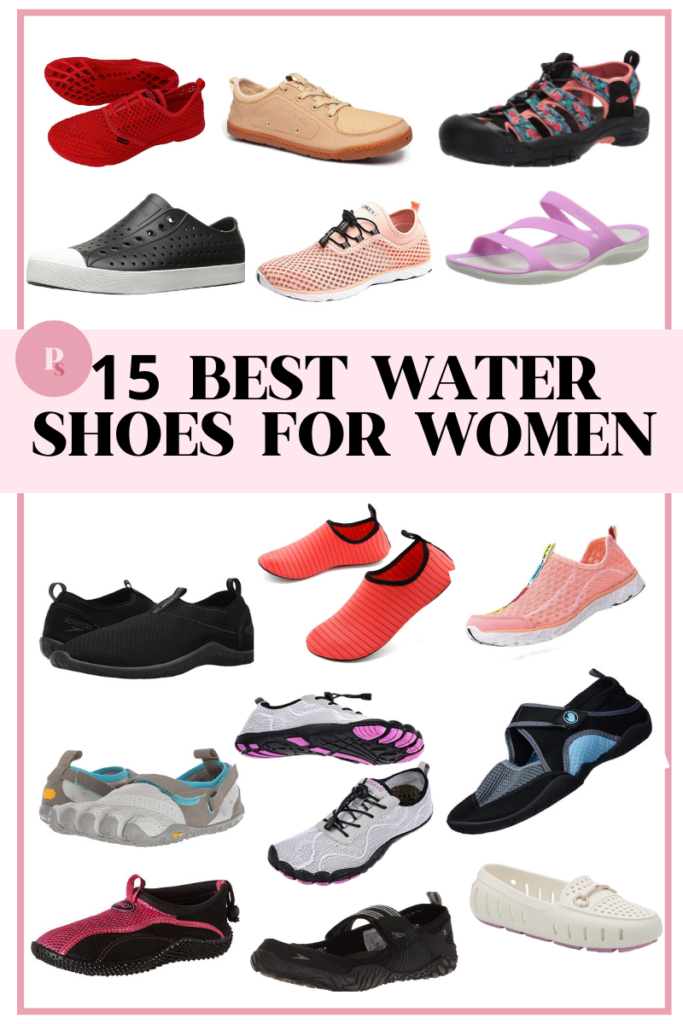 This post contains affiliate links.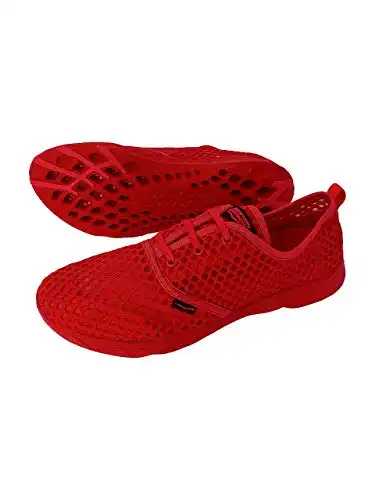 We earn a commission if you make a purchase, at no additional cost to you.
Appropriately named, the Wave Runner Water Shoes are designed to give you a no-slip grip when taking part in any water-based activities. However, the detail that really sets these shoes apart is the unique sole. Nothing will ruin a fun day faster than having to deal with trapped water in your shoes.
Thankfully, the Wave Runner Water Shoes feature a honeycomb-like sole and mesh footbed that easily lets water out while preventing rocks, sand, and other debris from entering.
Their lacing system is made up of auto adjustable laces for each on and off and perfect for everyday use. These are great for something as simple as a beach stroll or as extreme as any variety of water sports activities!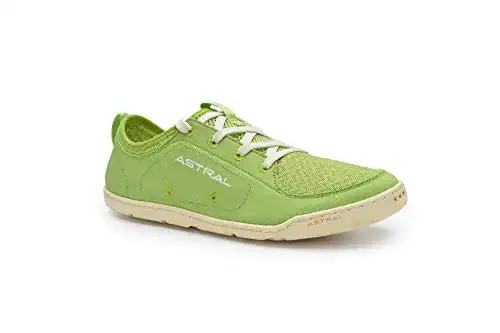 We earn a commission if you make a purchase, at no additional cost to you.
This is my personal favorite women's water shoe! For the woman who's not willing to sacrifice style for comfort, the Astral Sneakers will give you both! These shoes feature a minimalist design that may look like a standard pair of casual sneakers at first, but they have everything you need in a great water shoe.
With a sticky rubber sole and water-resistant material, these shoes have plenty of grip for walking on smooth rocks or boat docks. Better yet, they're 100% vegan and made from sustainably sourced materials!
They're water resistant with holes in the front and back so water can't be trapped inside and the liner's been treated to keep away the stink!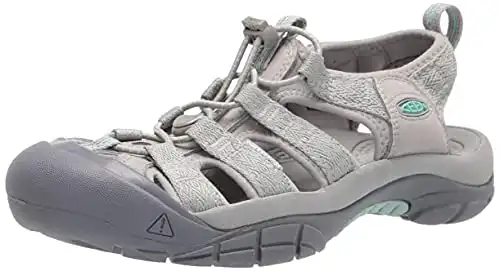 We earn a commission if you make a purchase, at no additional cost to you.
Even with breathable mesh fabrics, sometimes you want something with even more breathability. The answer? Sandals, of course! Keen's water-resistant sandals offer the ultimate breathability with their open strap design.
These sandals also offer a rugged lug sole to provide grip on slippery surfaces and a lace-lock bungee capture system for achieving the perfect secure fit. They're also incredibly comfortable thanks to its EVA midsole.
These are the most protective Keens which makes the not only a good water shoe but also a great option for a hiking shoe. The come in a variety of styles and colors as well as half sizes.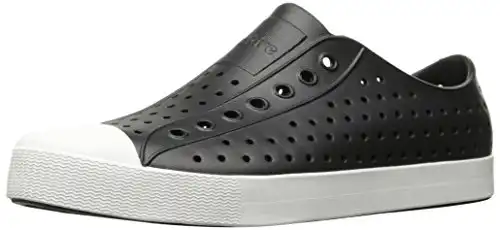 We earn a commission if you make a purchase, at no additional cost to you.
While a great pair of water shoes is always a great convenience in wet environments, cleaning them isn't always such a fun task. Thankfully, the Native Shoes Lightweight Sneakers offer everything you love about water shoes without the need for special cleaning.
Being made of ultra-light and comfortable EVA material, these shoes can simply be rinsed off, dried, and stored after use. Furthermore, these stylish water shoes are a great choice for narrow feet thanks to their more snug width.
Another great option for those looking for a stylish and sporty pair of water shoes is the Zhuanglin Quick-Drying Aqua Water Shoes. These sneakers look pretty similar to an attractive pair of running shoes but with plenty of breathability and drainage thanks to the open soles. Like many of the shoes on this list, they also come in an array of colors to choose from.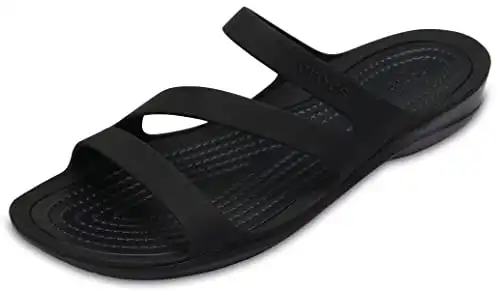 We earn a commission if you make a purchase, at no additional cost to you.
When you hear the name "Crocs" you probably imagine their classic roomy clogs that everyone seems to either love or hate. But you may not know that they also have an amazing pair of water shoes!
The Swiftwater Sandals are designed to be minimal, comfortable, and sporty with their sleek lines and lightweight feel. Simply slip these shoes on and they will easily channel water away.
Due to the style of these sandals, these are a better choice for activities like boating and fishing as opposed to swimming.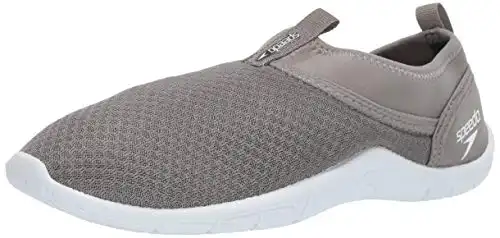 We earn a commission if you make a purchase, at no additional cost to you.
Yet another brand you've likely heard of, Speedo is also getting into the water shoe game with their own style. The Tidal Cruiser Water Shoe is notable for the mesh fabric that covers most of the shoe.
This mesh promotes ventilation and is quick-drying for maximum comfort. This fabric also makes for a soft, lightweight, slip-on design that's ideal both in and out of the water.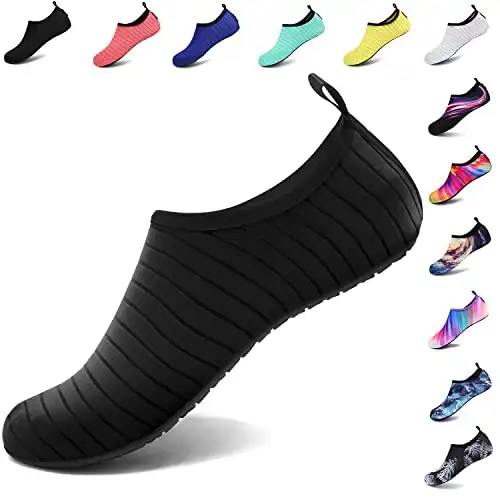 We earn a commission if you make a purchase, at no additional cost to you.
With nearly 40,000 five-star reviews on Amazon, it's safe to say that these are a fan favorite! The Vifuur water shoes are definitely unique at first glance; their sock-like design is unlike any other pair on this list. But this flexible and formfitting shape is what makes these shoes so great!
These shoes are ultra-smooth and flexible, allowing for the perfect fit and preventing the shoe from slipping off your feet. Their low-profile silhouette also makes them incredibly lightweight, which makes them an excellent choice for everything from swimming and surfing to yoga and gardening.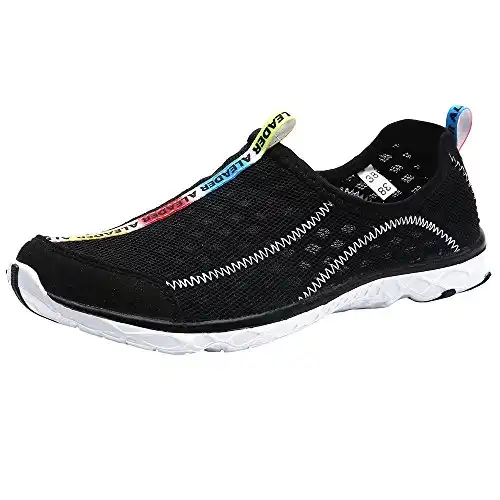 We earn a commission if you make a purchase, at no additional cost to you.
Another great option for those looking for slip-on water shoes is this style from Aleader. Their Mesh Slip On Water Shoes are notable for their lightweight midsole, which provides plenty of bounce and durability for safely trekking through wet areas. These shoes also include a ComforDry sock liner for cushioning and creating a cooler and dryer environment for your feet.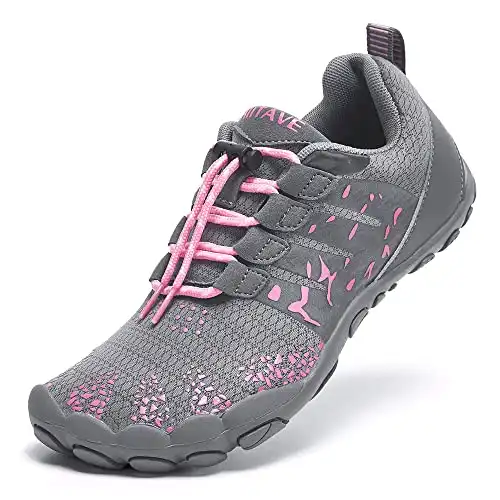 We earn a commission if you make a purchase, at no additional cost to you.
The Hiitave Water Shoes may look like typical water shoes, but the unique sole is what really makes these shoes special. The sole is designed to perfectly mold to your feet, protecting them and creating a lightweight barefoot feel that's great for water activities, especially swimming.
These shoes have the same thick and flexible soles, drainage holes, and elastic drawstring that allows for a snug and comfortable fit. They're made out of breathable material and are quick drying perfect for the day at the beach or swimming pool!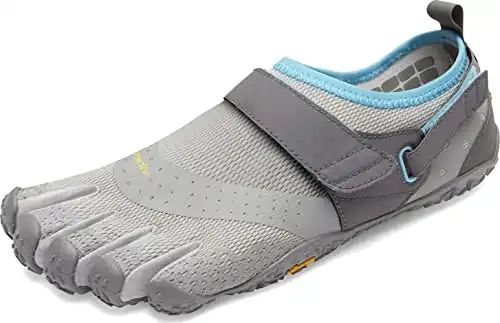 We earn a commission if you make a purchase, at no additional cost to you.
One of the most well-known brands for water shoes is Vibram, partly because of their interesting design. Also known as "toe shoes", the Vibram V-Aqua Water Shoes fit snugly to the feet while allowing for natural movement across various terrains.
A Vibram sole is known for its better insulation and great traction. This type of water shoe is often considered the next best thing to going barefoot and is perfect for those looking for more comfort and freedom of movement while in the water.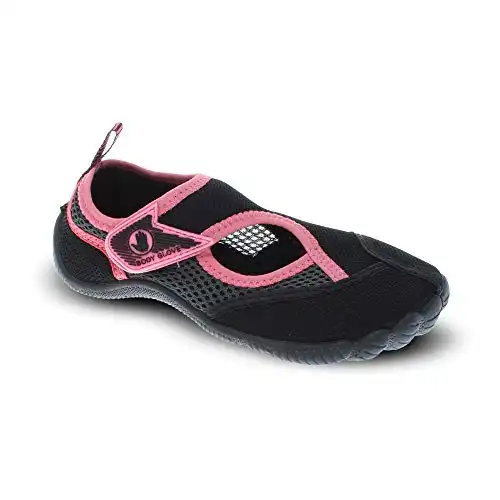 We earn a commission if you make a purchase, at no additional cost to you.
If you're having trouble deciding between a sandal and a more full-coverage option, then you can have the best of both worlds with the Body Glove Mary Jane Water Shoes! The adjustable crossover Velcro strap provides just the right amount of breathability with a snug fit.
Add in soft, stretchy neoprene and a drainable sole and you have a unique and comfortable water shoe option. Wear these for a day on and near the water whether you're on rocky terrain or sandy beaches!
13. TECS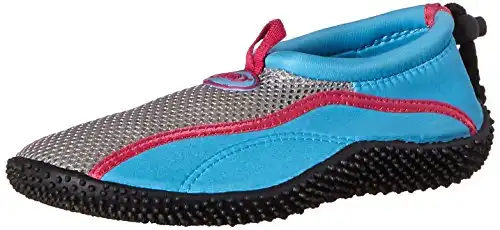 We earn a commission if you make a purchase, at no additional cost to you.
Another popular version of the sock-like water shoe design is the TECS Aquasock Water Shoes. Unlike the previous styles we've mentioned, these shoes have their toggle lace-up feature on the back of the shoe.
This is perfect for women who find the front-lacing style uncomfortable and allows for a tighter grip on those with slim ankles. Furthermore, the outer sole is covered in small spikes for gripping slippery, rough terrain and protecting against any sharp objects. It also features a breathable mesh upper portion for all day comfort! These come in full sizes only (no half sizes).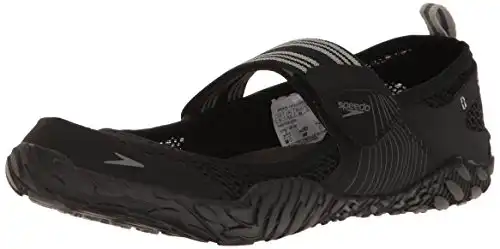 We earn a commission if you make a purchase, at no additional cost to you.
If you've ever wondered what it would look like if you turned your favorite ballet flats into water shoes, this is your answer! The Speedo Offshore Water Shoes forego the typical water shoe shape in favor of a wide stretch strap, leaving the top of your foot open to breathe while still protecting your soles.
These shoes are a great alternative to the "water sock" design with their feminine twist, mimicking the stylish design of a Mary Jane.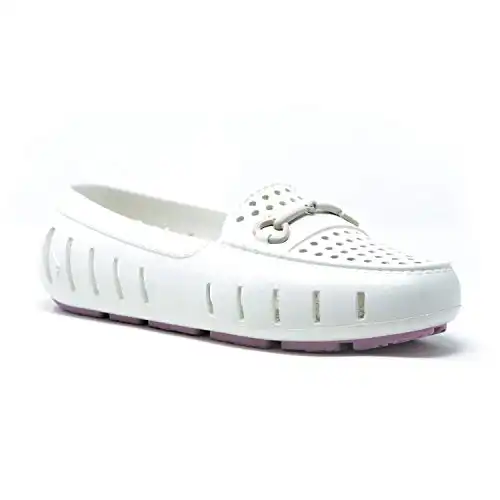 We earn a commission if you make a purchase, at no additional cost to you.
Probably the most unique option on our list, Floafers have managed to blend style with utility with their Tycoon Bit Driver Water Shoes. Think of these as a more stylish version of the typical Crocs clogs – Floafers offer the classic loafer style but with plenty of lightweight breathability that makes them the perfect boat shoes.
They're made of an environmentally-friendly foam that's super easy to clean and, true to their name, they do float if you accidentally lose them at sea. This pair of shoes have excellent traction keeping you safe on wet surfaces.
FAQ
Do water shoes help you swim?
While water shoes do not help you swim better, they can definitely be worn while swimming if they are light and flexible! And if you are in a natural body of water, you may prefer to wear them while swimming to protect your feet from anything sharp or unpleasant on the bottom.
Should I size up or down in aqua shoes?
If you are between sizes in a shoes made of a stretchy fabric, it's better to size down because the fabric will likely stretch out a bit when wet. Some of the shoes I've listed are much more structured and hard, so they won't stretch out. For those, it's best to read the reviews and manufacturer's notes to see whether sizing up or down is better.
Can I use Crocs as water shoes?
Sure! They drain well and protect your feet from sharp objects. The main issue is that they can easily slip off, which means they aren't great for water sports or intense activity. If they do slip off, they'll float, making it easy to retrieve them.
Should water shoes be loose or tight?
Tight. Since many water shoes stretch in the water, you especially want a snug fit. This keeps them from falling off or tripping you during water activities.
As you can see, although water shoes may not be the most popular footwear option out there, they're definitely one of the most useful!
Where traditional tennis shoes trap water and going barefoot can result in injury, water shoes are here to help you say safe, be comfortable, and have a great time during your water-based activities.
Try out one of these unique styles next time you're out in or on the water and I swear you'll never go back!
As you head out to the water be sure to check out these 11 perfect shorts for summer shown on 2 different body types or these 11 best postpartum suits that are flattering on every body type! Need beach outfits? Check out these 15 beach outfits for every occasion.
Going on a beach vacation? Make sure you pack the right beach gear for your baby!