There are many different types of necklines out there. How do you pick which one you should get?
As you shop on line or head out to the store, knowing what neckline you prefer and are looking for will help you narrow down your search! It's also helpful to know which neckline you look better in and prefer to wear.
For example, someone with a smaller chest may choose a jewel style neckline to give an illusion of more curves. On the flip side, large chested women may choose an off the shoulder style to show off their collarbone and shoulders.
Today we take a look at 23 of the most popular types of necklines and what you may need to know about each.
23 Types of Necklines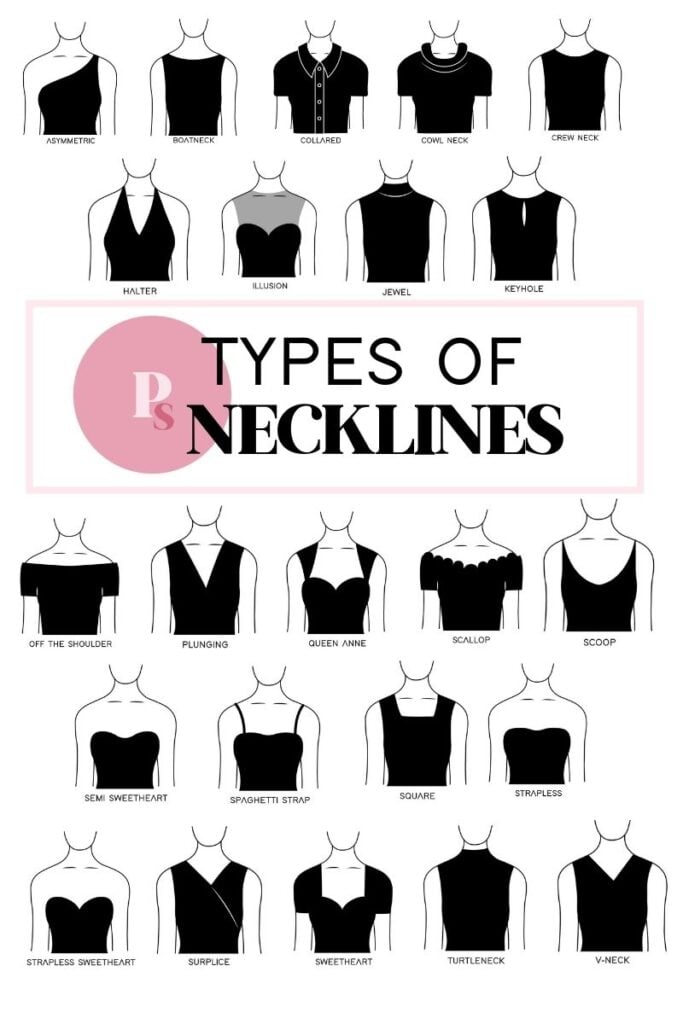 1. Asymmetrical Neckline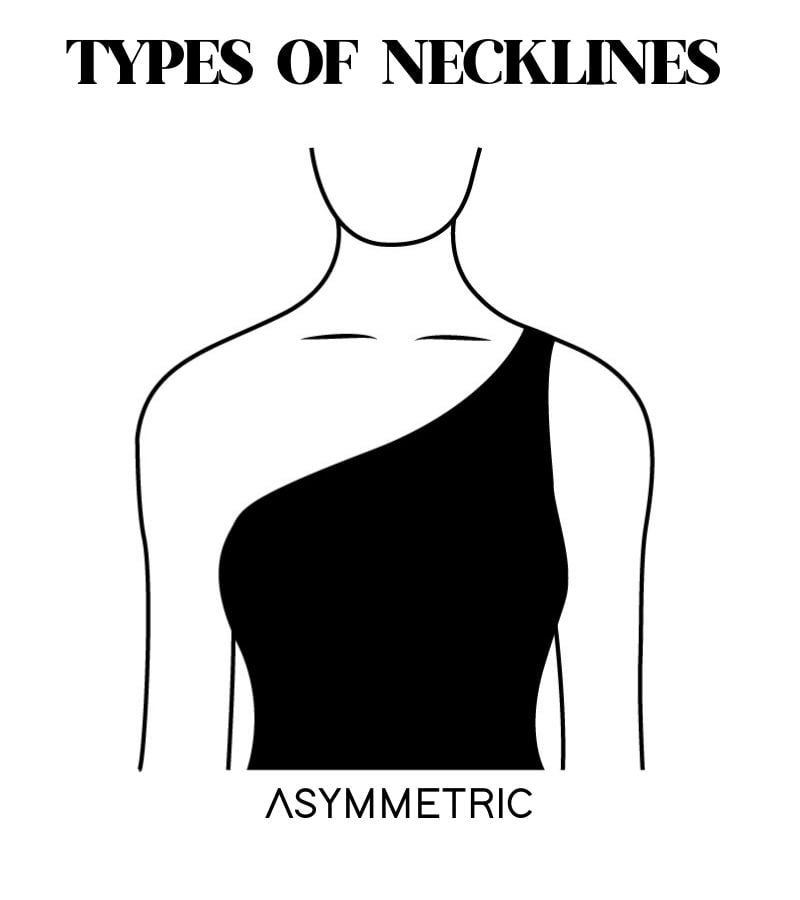 Most of the time, the asymmetrical neckline is one that goes from the top of one shoulder to under the arm of the other should. This is also referred to as the "one shoulder".
One thing to note, though, is that asymmetrical can also refer to a neckline that is not mirrored on both sides. So if 2 sides of a neckline are different, it is an asymmetrical neckline.
2. Boatneck (aka Bateau)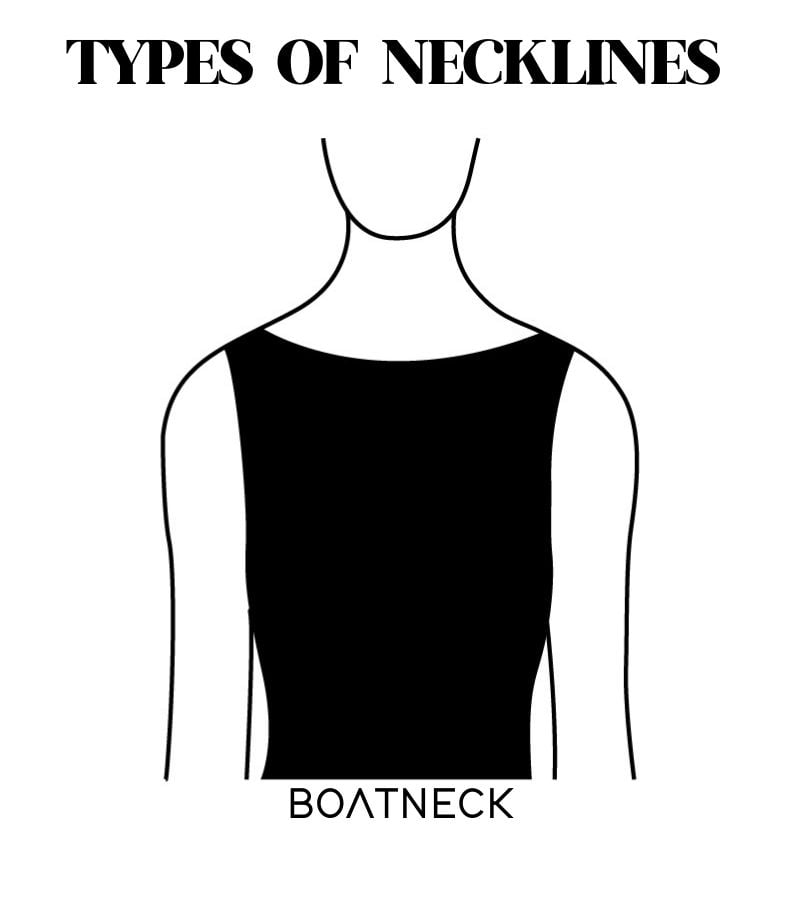 A boatneck, or bateau, neckline is one that is very wide and goes past the collarbone and rests on the shoulders. It is a higher neckline which draws the attention to shoulders and lower neck.
The neckline is very simple and feminine and looks beautiful with a dainty necklace.
3. Collared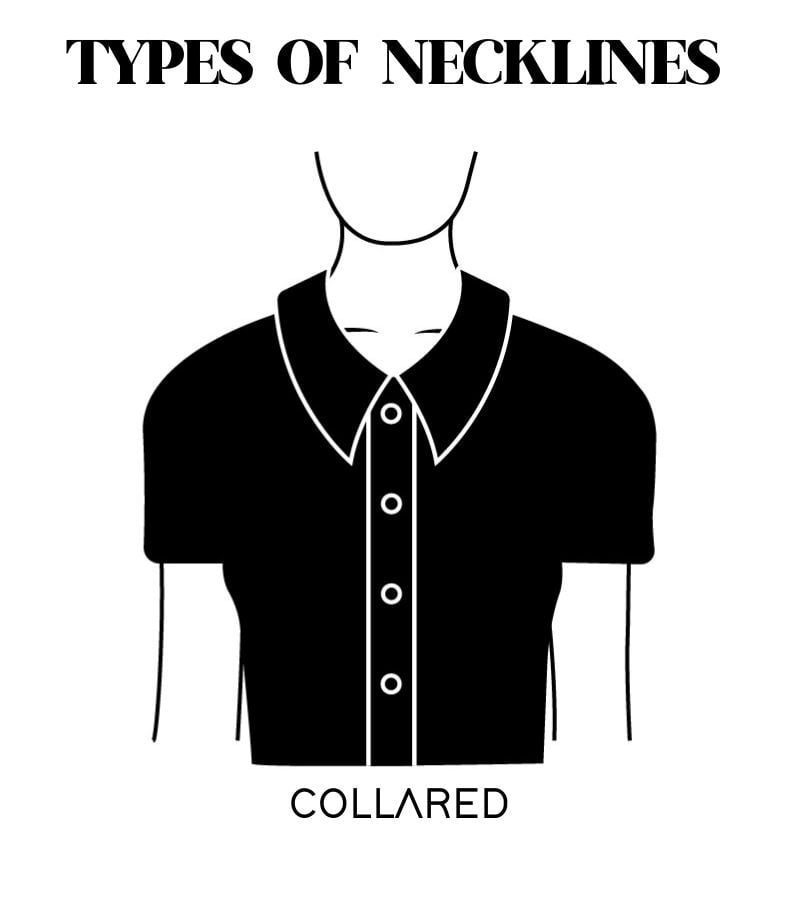 A collared neckline is exactly what it sounds like, it's a shirt with a collar! Collared necklines can be with or without a button and the collar itself can come in a variety of ways – large, small, decorative or plain.
4. Cowl Neck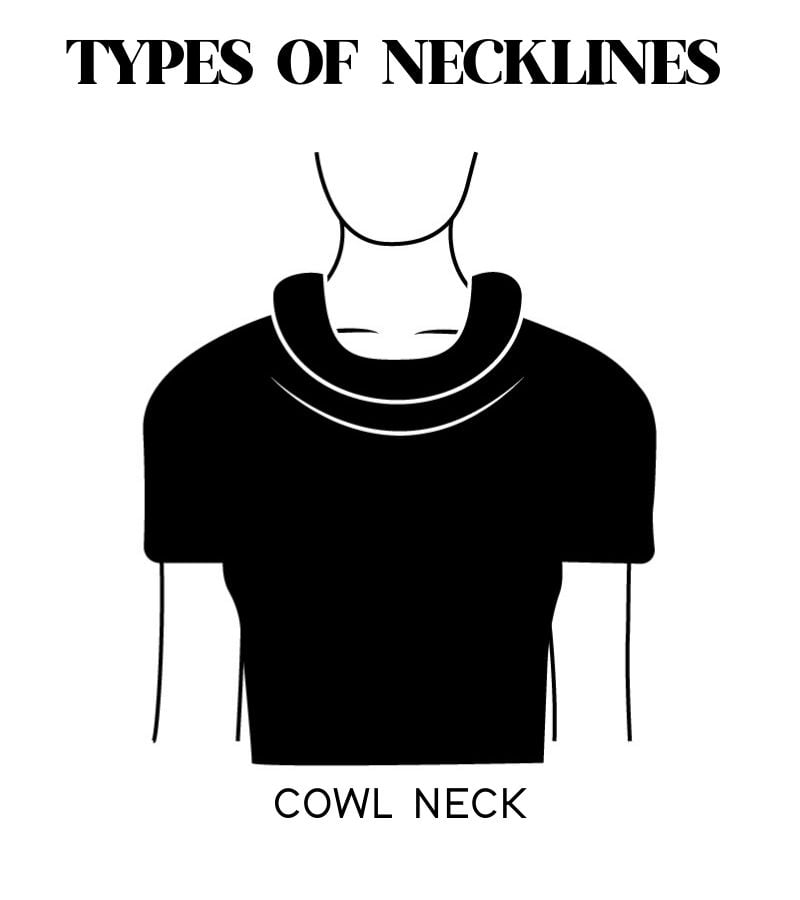 A cowl neck is when there is extra fabric cut at the top of your shirt or dress that drapes or folds around the neckline. The fabric typically drapes just below or around the collarbone. This neckline is a very flattering neckline.
Cowl necklines have been very popular since the 1930s but it's been said they were inspired by the Ancient Greek.
5. Crew Neck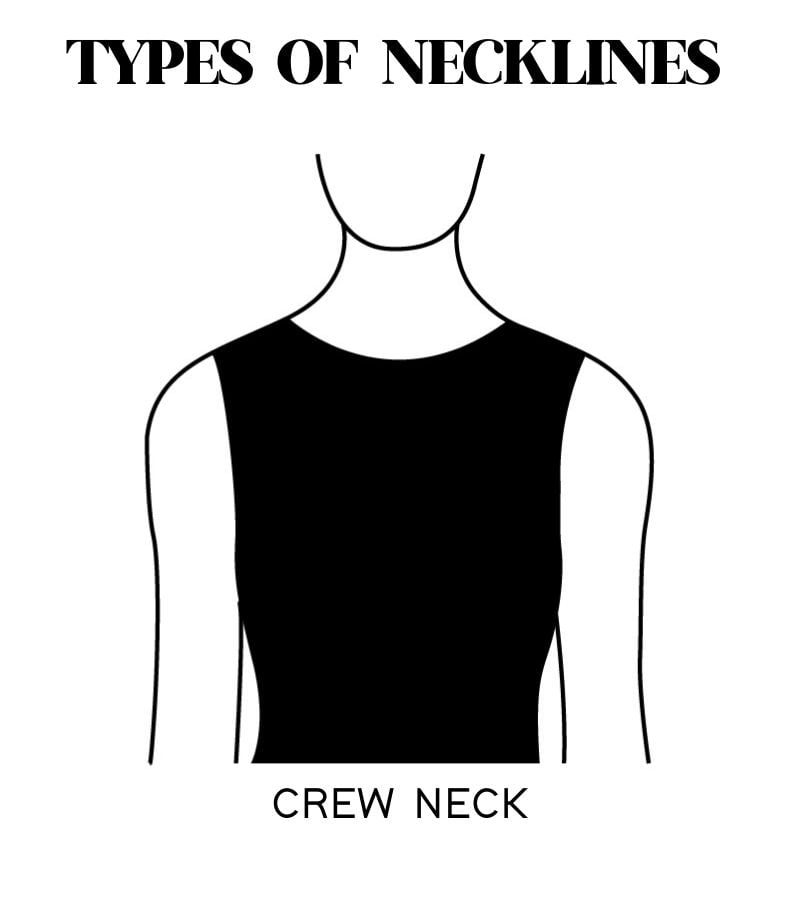 The crew neckline is the most common neckline for t-shirts. It's round that sits above the collarbone close to the neck. This type of neckline looks best on people with longer necks.
6. Halter Neck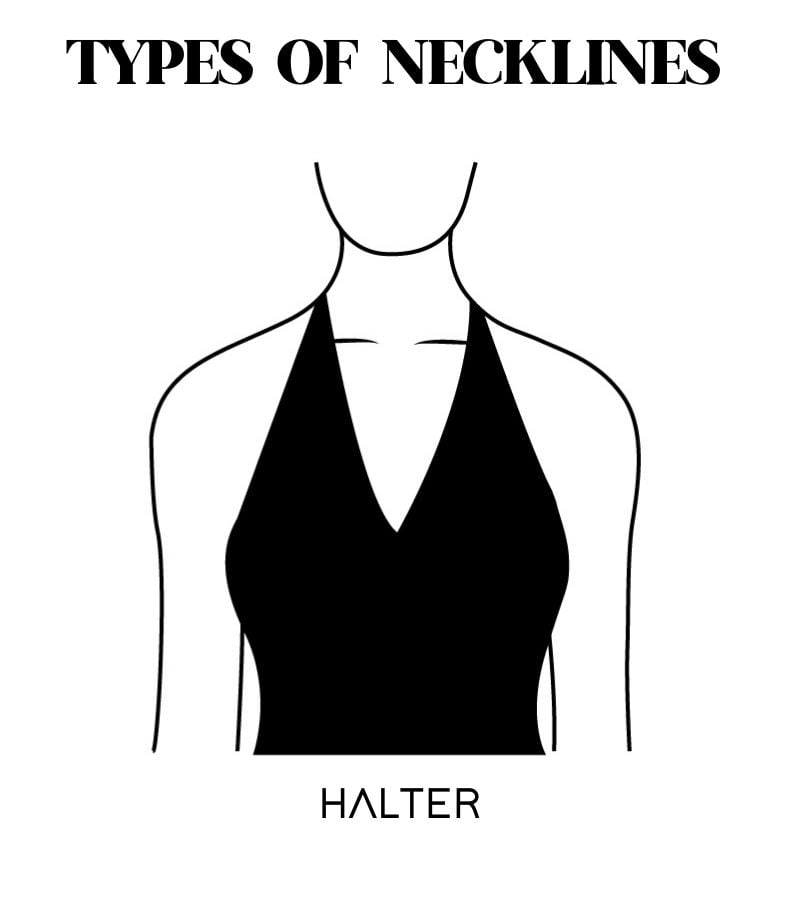 The halter neckline is when the straps of the top connect behind the neck leaving the shoulders bare. This type of neckline often has a low cut or open back.
It typically drops down towards the bust and can create either a v-neck, sweetheart style or even a keyhole neckline. The straps are either sewn together or could also be tied together by the person wearing it.
7. Illusion Neckline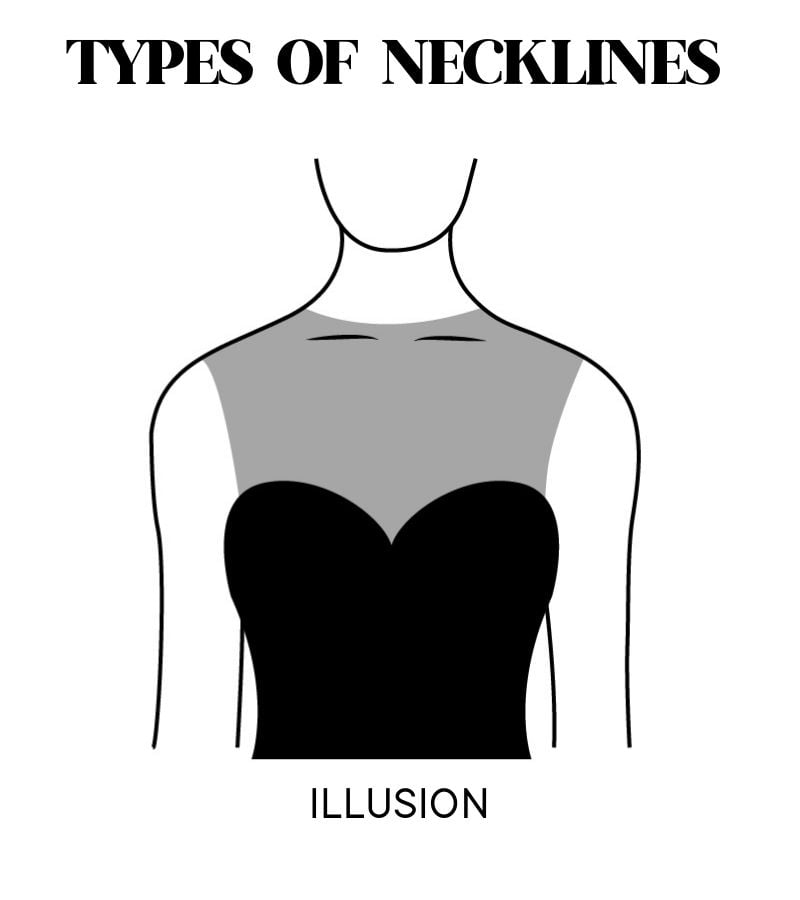 An illusion neckline is a combination of both a low neckline and a high neckline. The low neckline typically is a strapless neckline (sweetheart style is very common) while the high neckline is a sheer or lace fabric creating an illusion of a higher neckline.
Wedding dresses are seen with this type of neckline quite a bit.
8. Jewel Neckline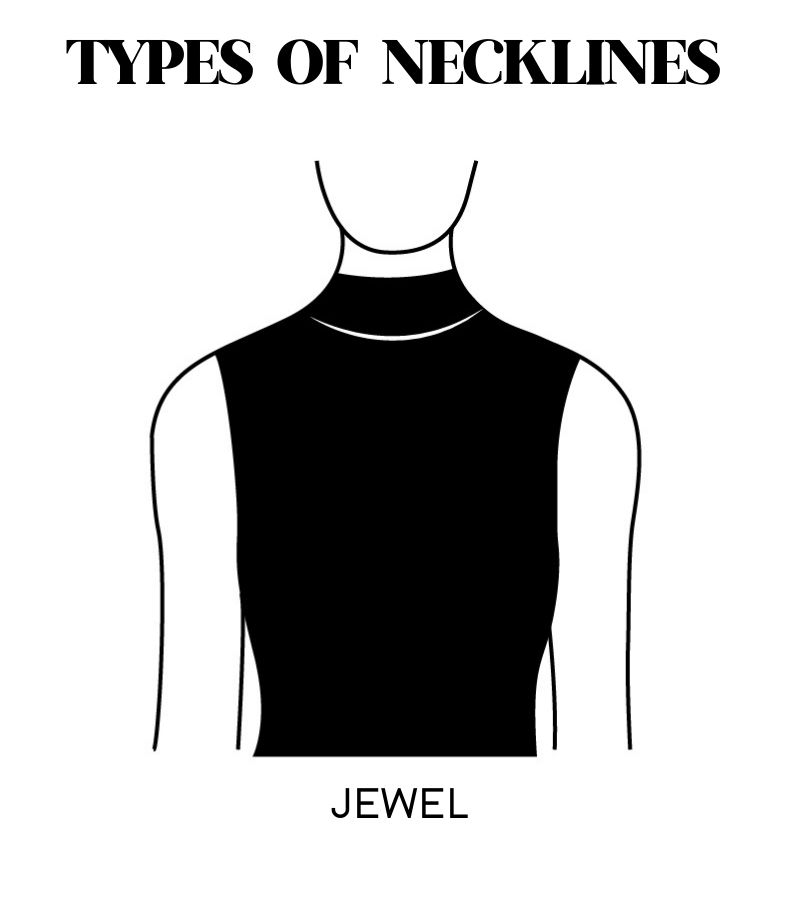 A jewel neckline is a higher neckline similar to the turtleneck. It's somewhat round and doesn't have a collar.
8. Keyhole Neckline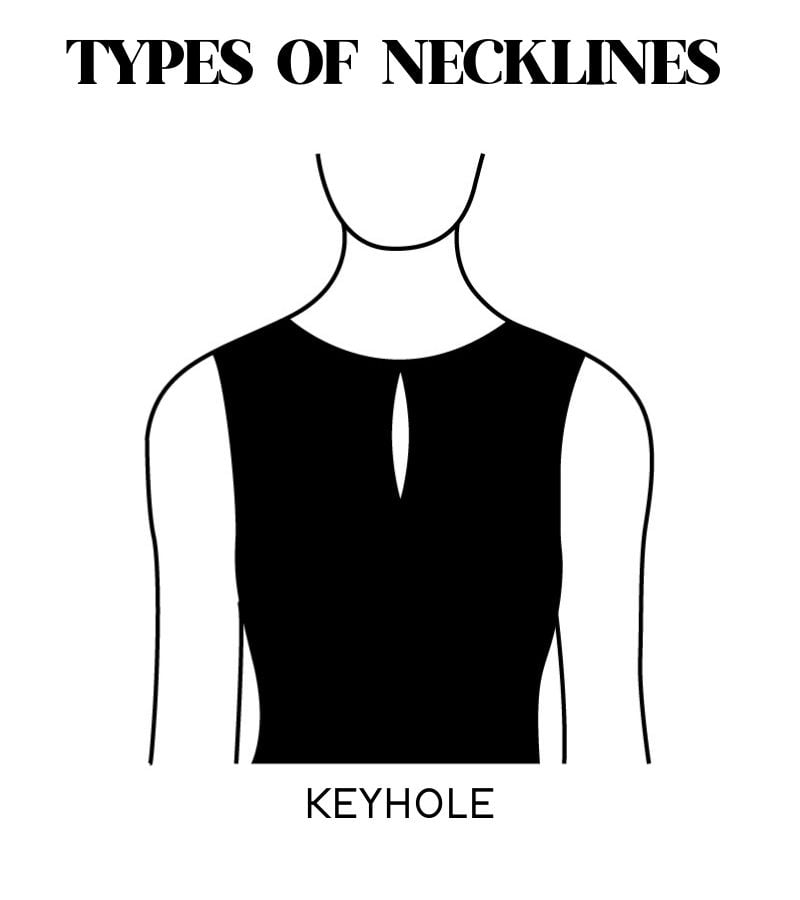 A keyhole neckline is make a hole in the front of your top. The fabric creates somewhat a v shape at the bottom and connects at the top creating a gap in the middle. A keyhole can be small or large!
9. Off Shoulder Neckline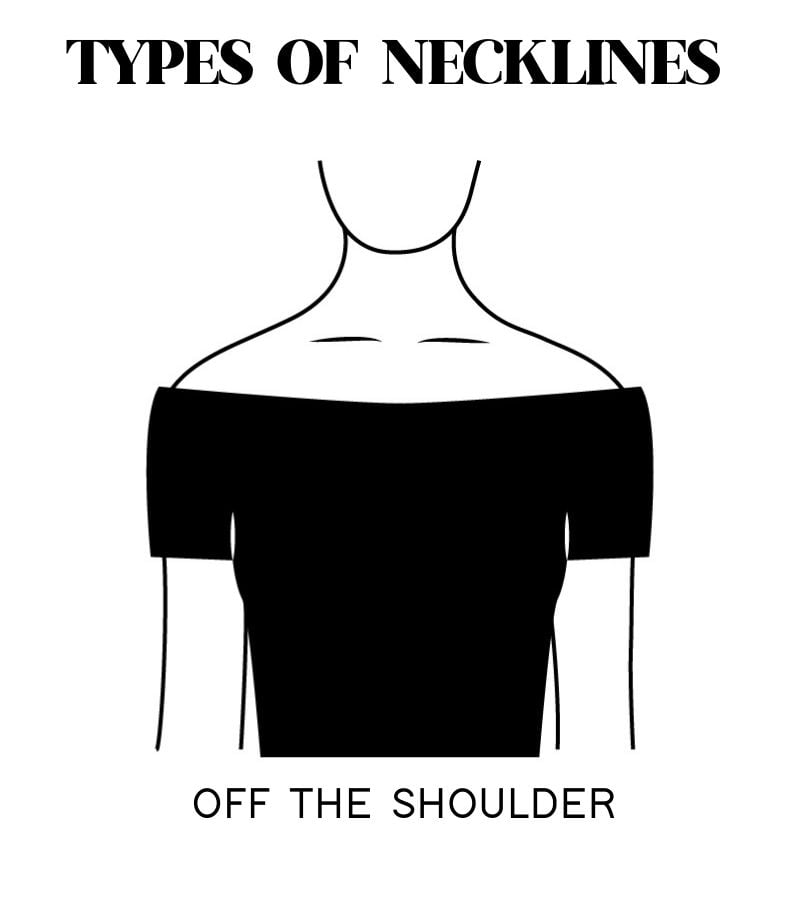 An off the shoulder neckline is when the fabric rests off the shoulders to create a very wide opening. It showcases your collarbone and shoulders while the sleeves cover a bit of your upper arm.
This is very flattering on most women especially those with narrow shoulders and medium to full chests. Keep in mind that this style shows off your arms and shoulders.
10. Plunging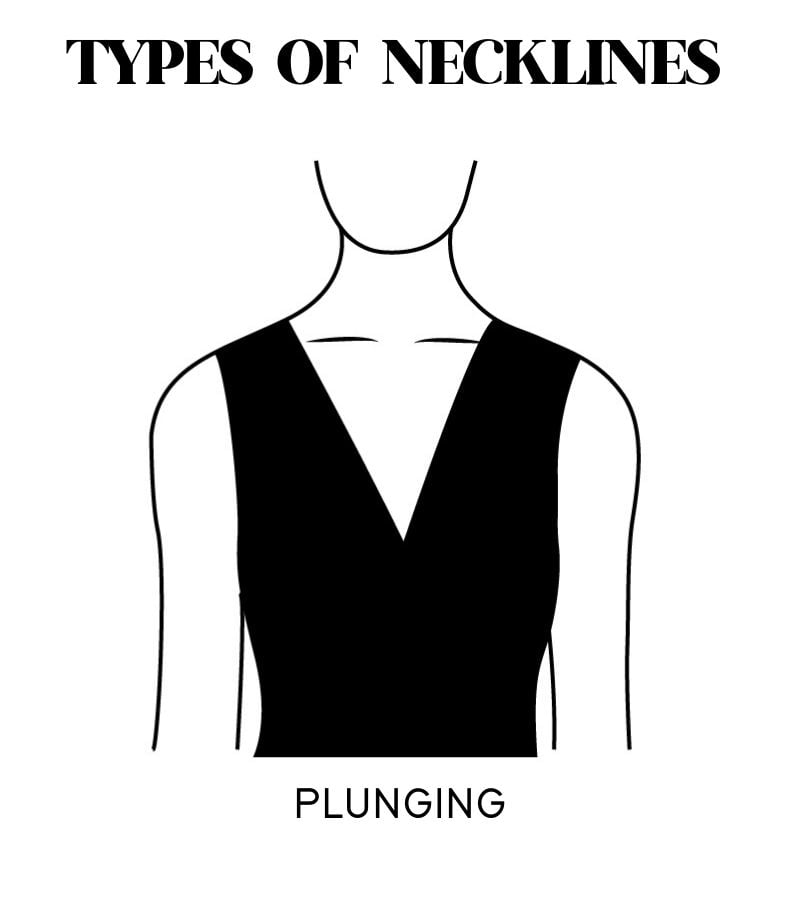 The plunging neckline creates a very deep v that typically extends past the cleavage. It differs from a v-neck because the v-neck typically stops at the top of the chest while the plunging neckline goes much below.
This is also referred to as a décolleté neckline.
11. Queen Anne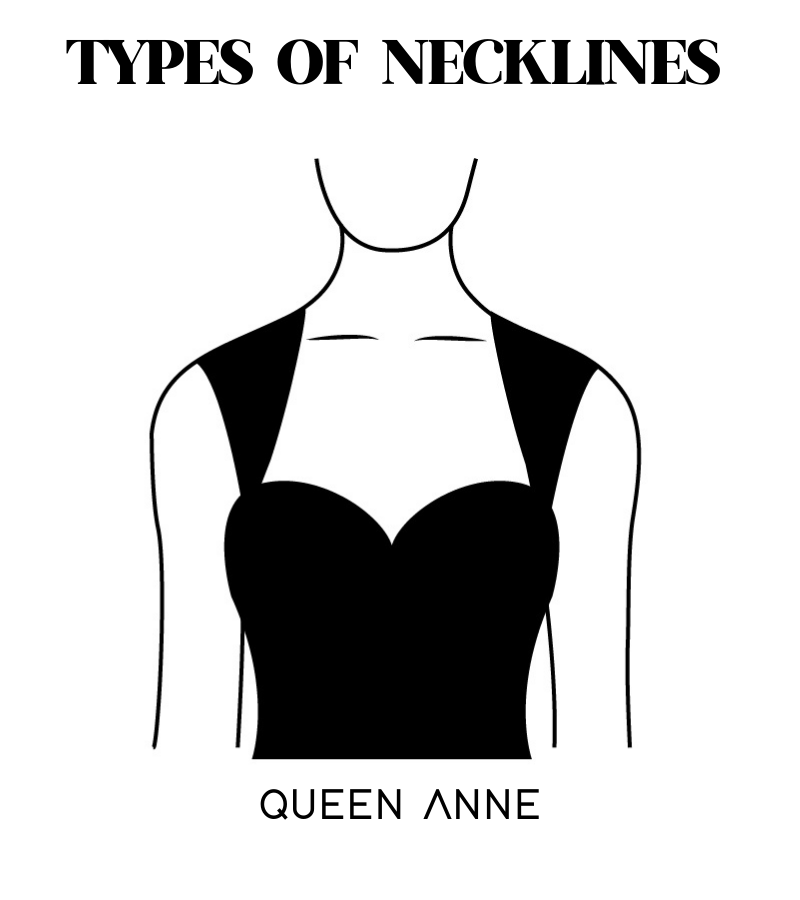 The Queen Anne neckline is a mix of a sweetheart neckline with a high neck. This neckline is named after England's Queen Anne is a very common neckline for brides.
13. Scallop Neckline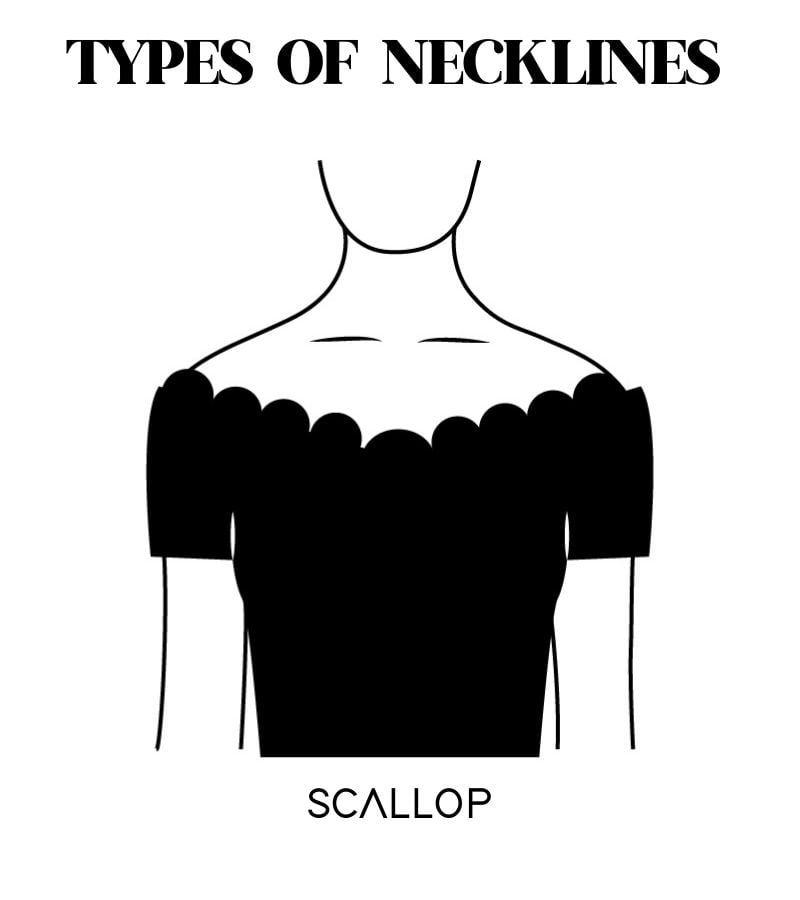 The scalloped neckline has small half circle cut outs along the entire neckline. These can be either small or large and facing either towards the neck or towards the bodice.
This is a beautiful neckline that is a great option for formal wear.
14. Scoop Neck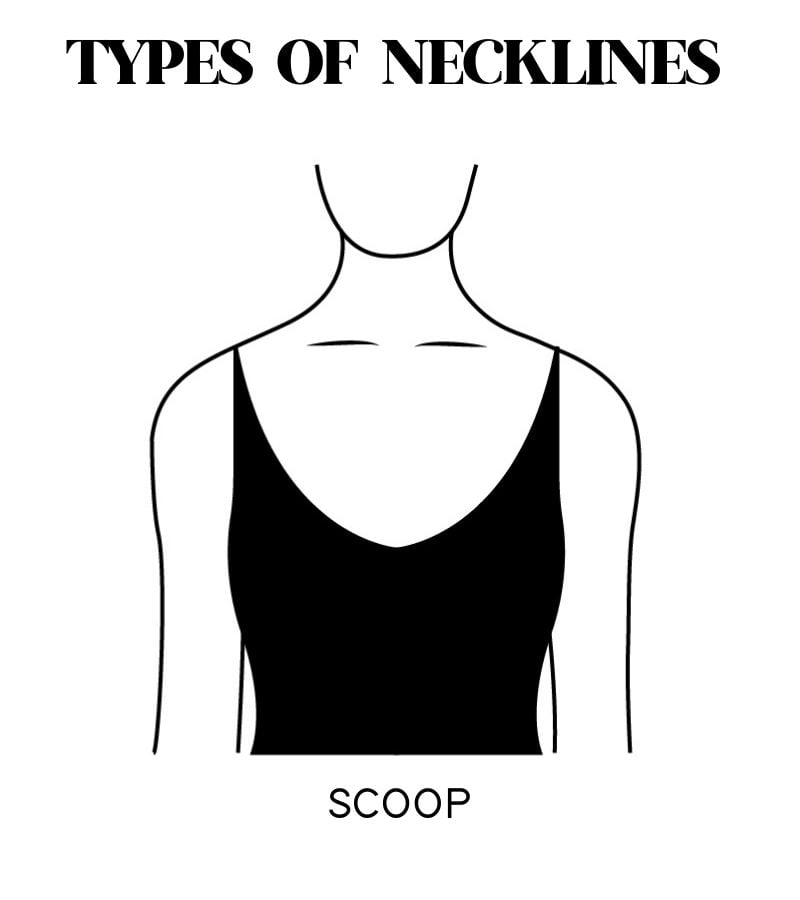 The scoop neck has been around for decades. It's a classic look used for dress and shirts alike. It features a wide, scooping, neckline that creates a deep U shape.
This is a very flattering neckline that is often times seen in the summer time.
15. Semi-Sweetheart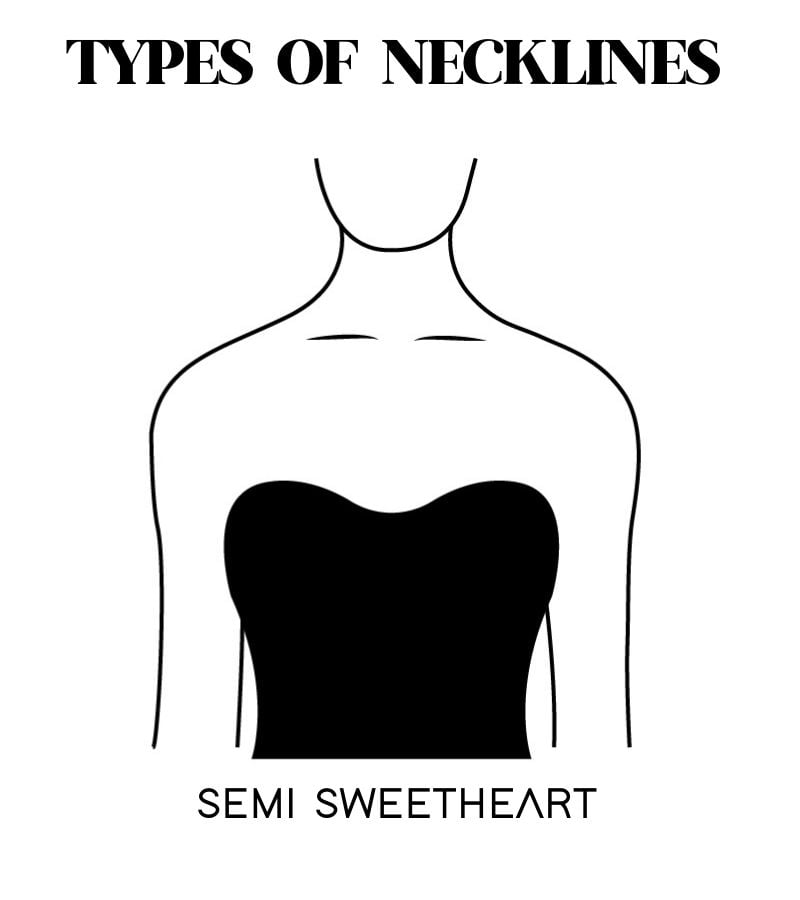 If you keep scrolling just a few you'll see the sweetheart style description. The semi sweetheart neckline is a less dramatic version of the sweetheart. It has the rounded, heart shape that creates a v at the middle.
16. Spaghetti Strap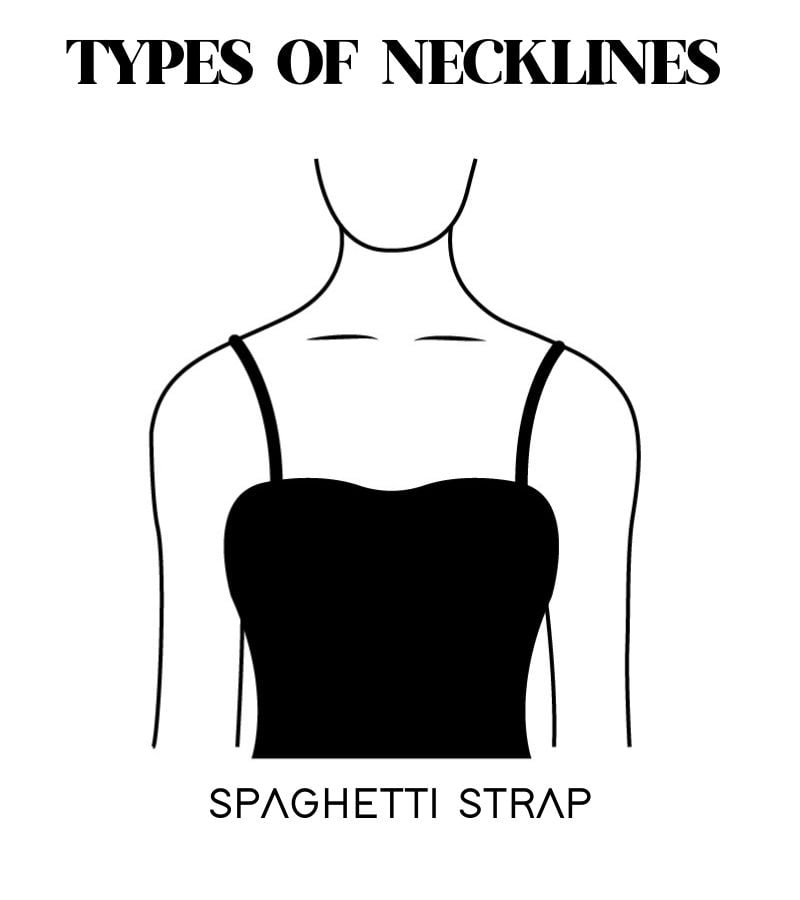 The spaghetti strap top is a very versatile neckline that can be use along with a variety of other necklines. It features two thin straps which rest at the top of your shoulders (the strap resembles spaghetti noodles, hence the name).
17. Square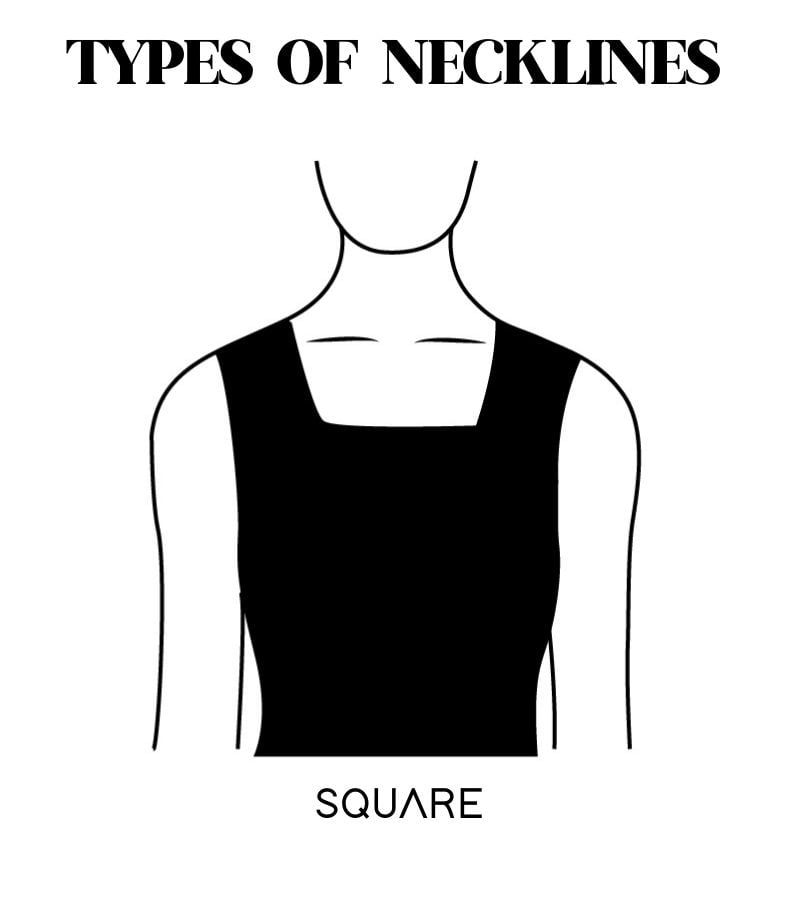 The square neckline creates the a square shape! It's most often times cut wide and low to show off your collarbone.
18. Strapless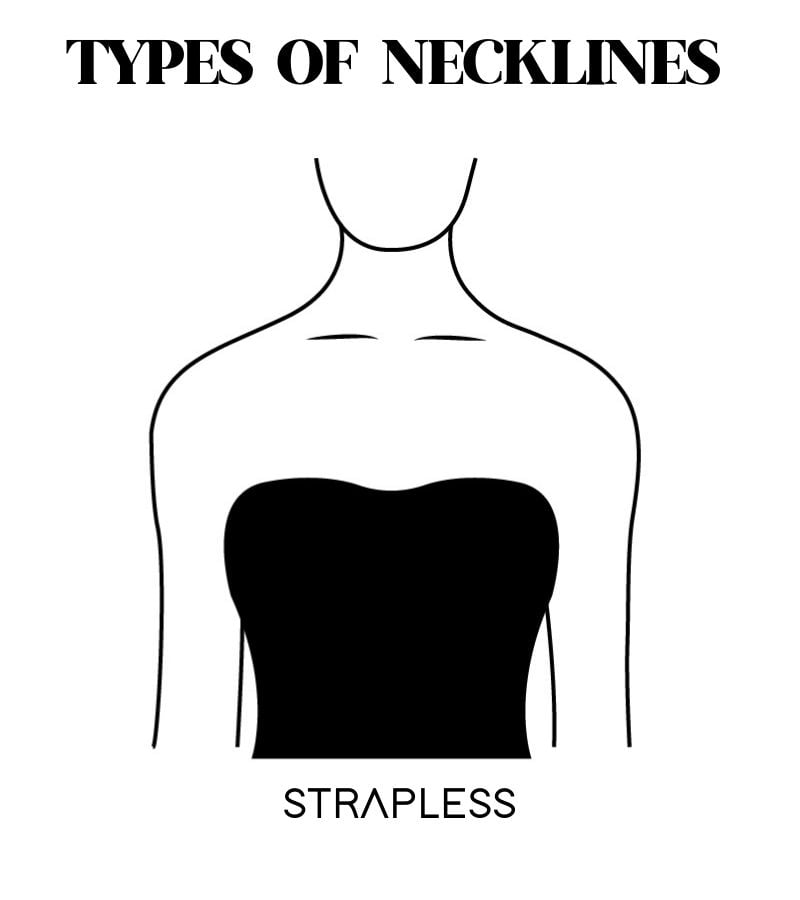 The strapless neckline is an incredibly popular choice for formal dresses, like wedding dresses. It is a neckline that stays up without any straps leaving the shoulders bare.
This type of neckline looks good on those women with larger chests and beautiful shoulders and collarbones while small chested women might find this style not as flattering.
19. Strapless Sweetheart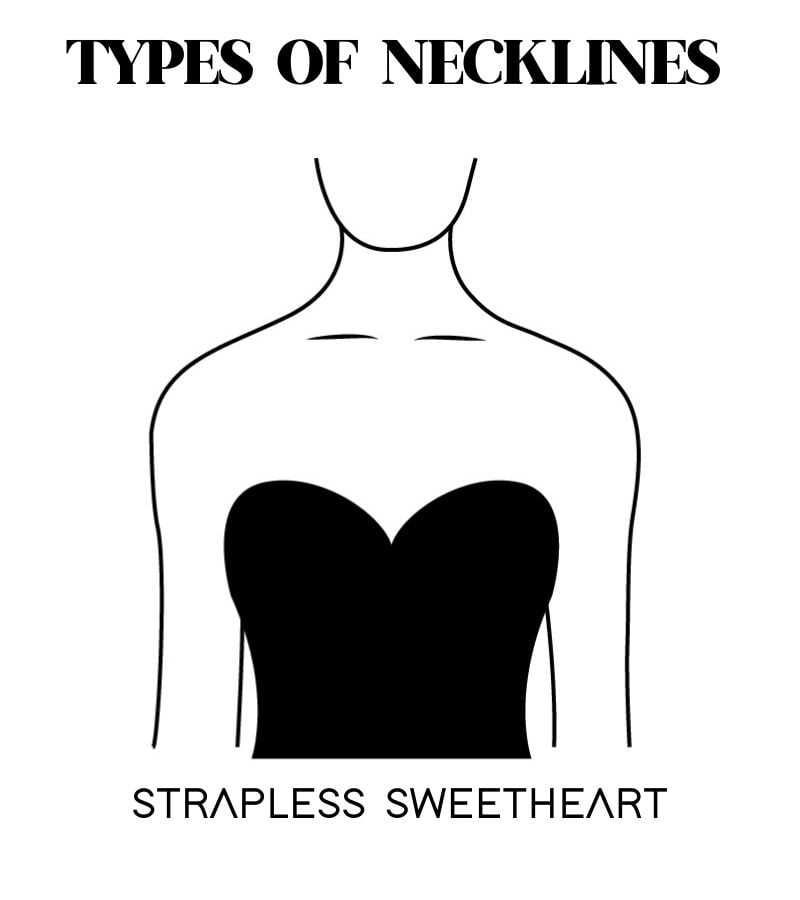 One of the most popular versions of the sweetheart neckline is the strapless sweetheart. This style, as the name hints at, is shaped like the top half of a heart which creates a "v" at the middle.
20. Surplice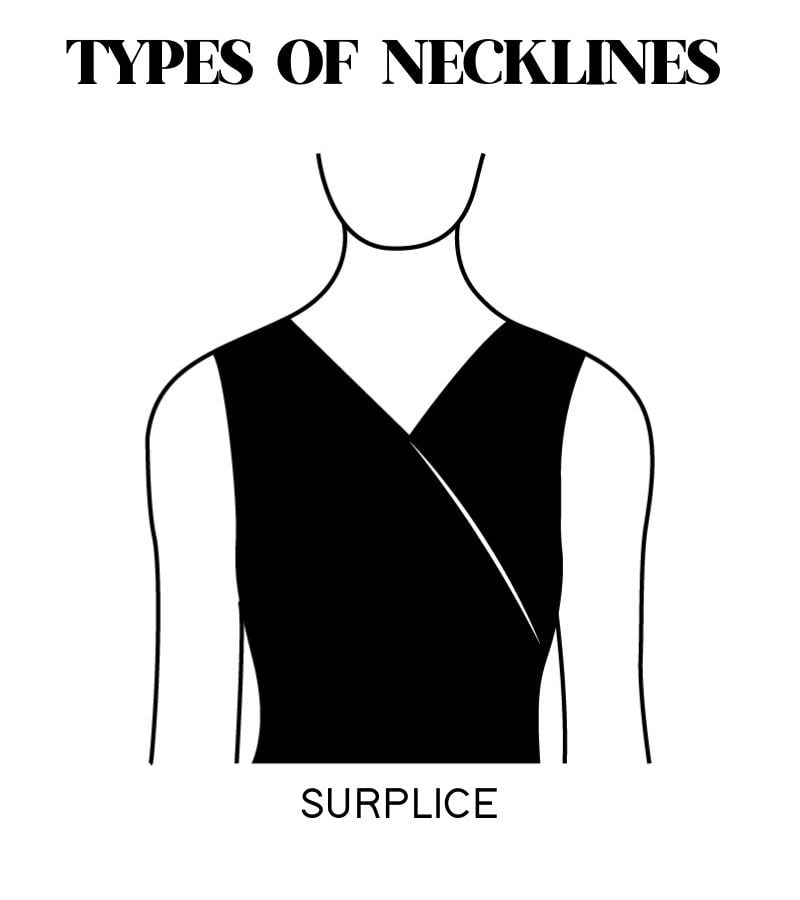 A surplice neckline is what you would see on a bathrobe with one part of the neckline overlapping the other side, creating a faux wrap style. The difference between a wrap style and a surplice neckline is the fabric is sewn into place with a surplice but not with a wrap.
This neckline is very often confused with a v-neck since they both create a v at the top.
21. Sweetheart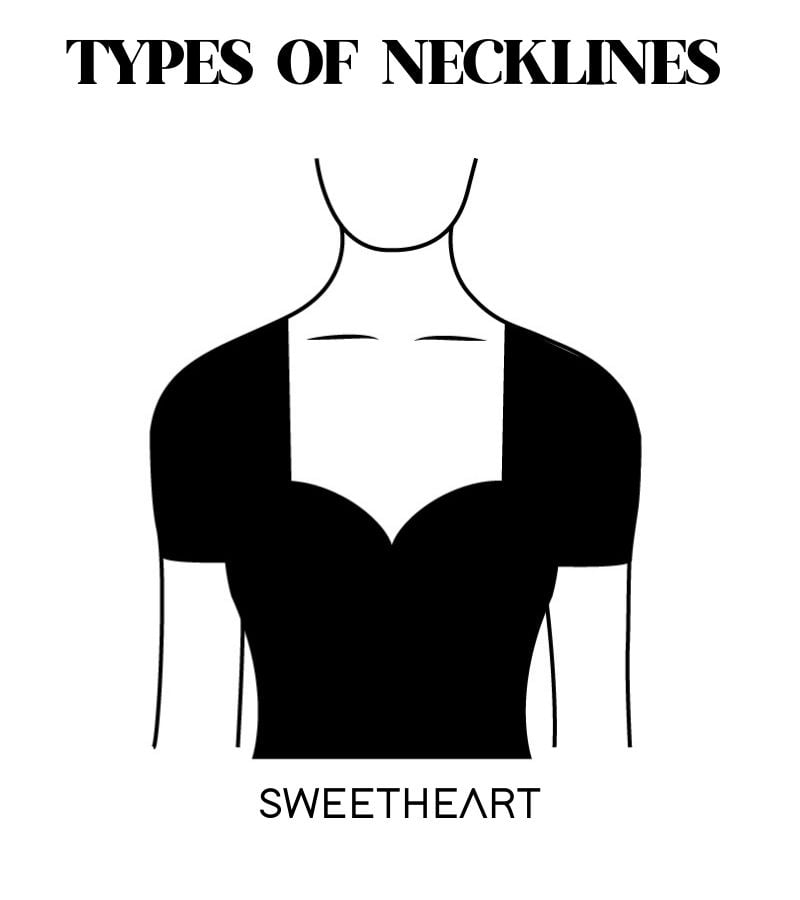 A sweetheart neckline has a curved heart shaped style that accentuates the décolletage. It has a dip in the middle which somewhat resembles a v-neck. It's a very popular neckline choice for wedding gowns!
It's also very flattering on most body shapes. It was first seen in the 1940s.
22. Turtleneck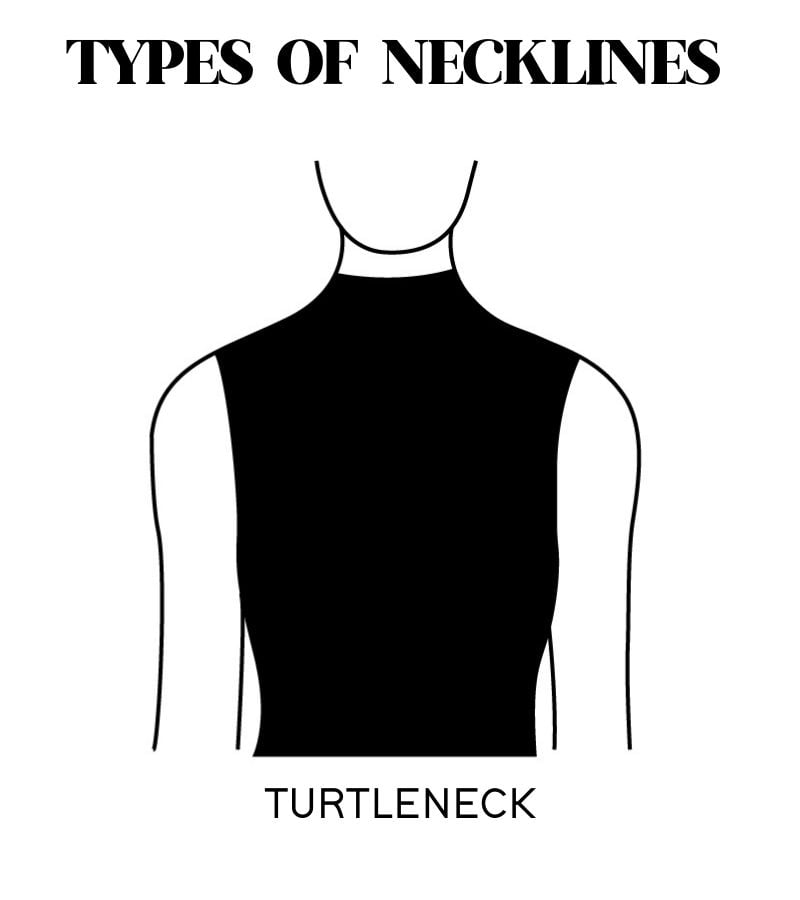 A turtleneck is also called a polo neck! This neckline fit high and close fitting around your neck. It most often has excess fabric that is folded down.
Other versions of this is the mock turtleneck (or mock polo neck) where the fabric stands up around the neck and isn't folded over itself.
These were originally created in the 15th century to protect the necks of knights wearing chainmail. It was then adopted by royalty with the addition of ruffles to indicate their status.
23. V-neck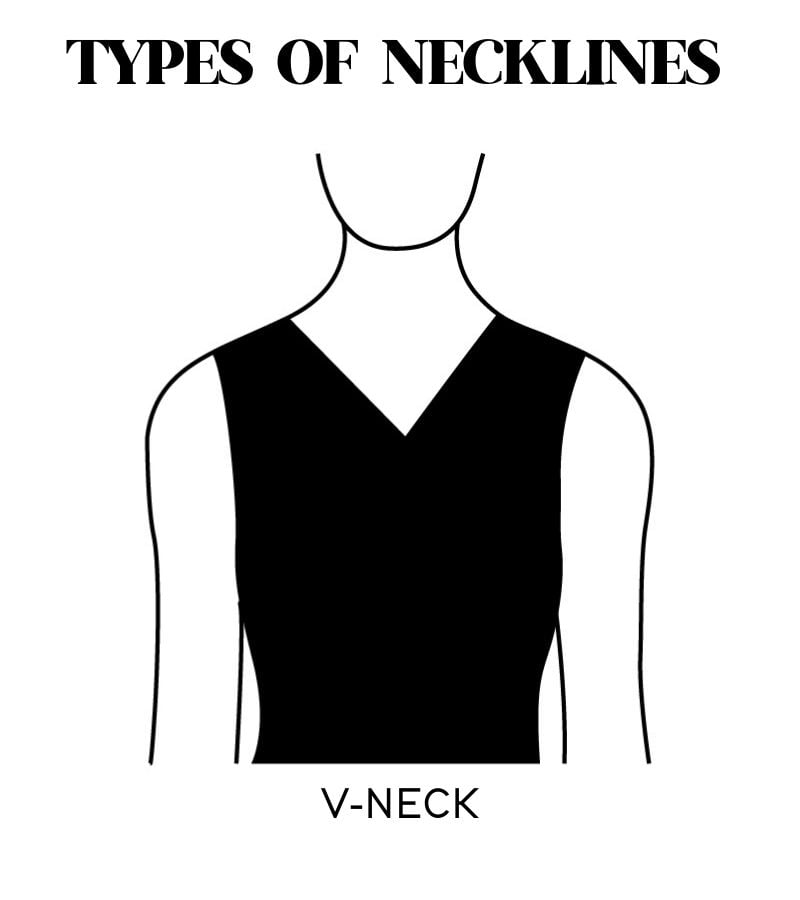 Like many of the necklines mentioned above, the v-neck is what the name says! It's a "v" shape that can be either in the front of the back (or both!). This can be a short V or a plunging V, whichever you prefer, making it adaptable to everyone!
Now that we've shared about some popular types of necklines, let's look into what inseam is! Knowing your inseam is a very key part of finding that perfect pair of jeans so let's learn more!