This post is sponsored by Cameron's Coffee but all thoughts are my own.
If you're like me and don't always have time for a full face of makeup and perfectly curled hair every morning, you're in luck because today I'm going to share my no-fuss, get-ready-in-a-flash morning routine!
Before I share my tips, I wanted to quick introduce you to Cameron's if you're not familiar with them! Cameron's is my go to coffee brand that's local to Minnesota! They're all about spreading positivity and bringing cheer to everything.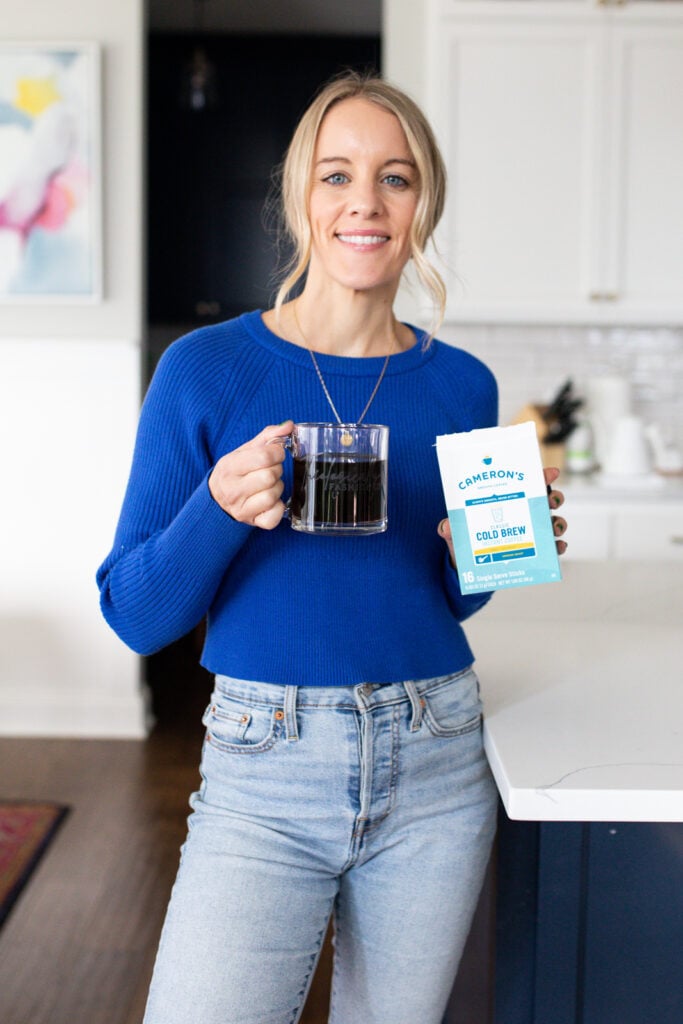 One of their newer products is their Cold Brew Instant Coffee Sticks! These are easy to travel with sticks of instant coffee that can be used both hot or cold. I love using them when I don't have time for a full pot of coffee to brew or when I'm traveling. They're easy to use to get a smooth taste of Cameron's Coffee.
Tips to Get Ready in a Hurry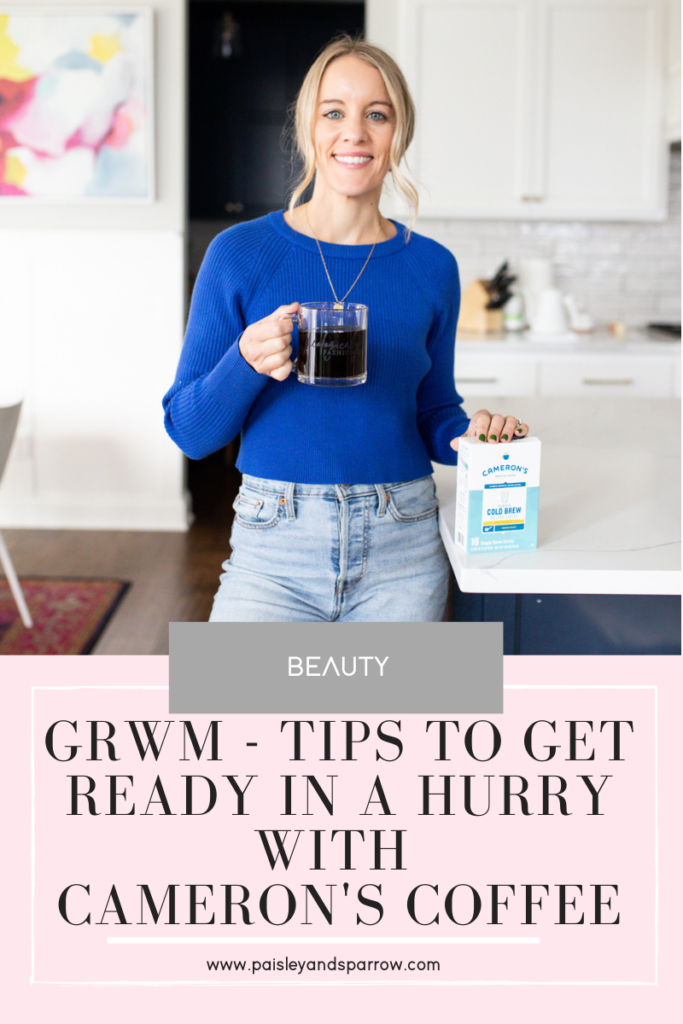 This post contains affiliate links.
1. Use Dry Shampoo
My number one hack for getting ready in a flash is dry shampoo! Dry shampoo will extend the number of days you can go between washing your hair and when used correctly it can make a huge difference in how your hair looks.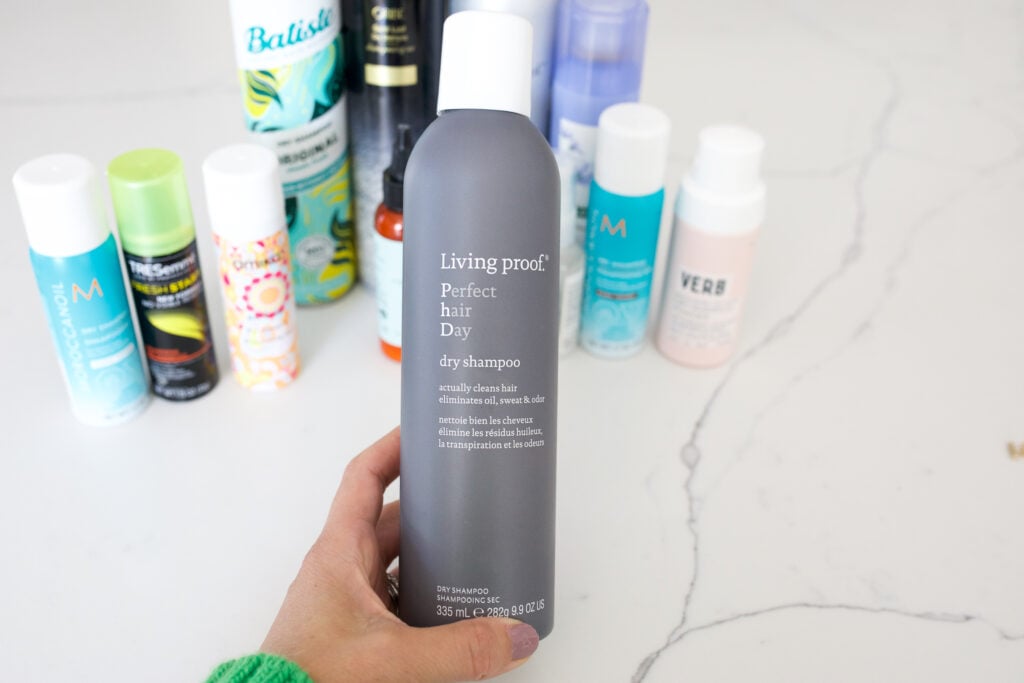 Here's some simple tips for using dry shampoo with success:
Find the right type. My go to is Living Proof's Dry Shampoo but I have a full post with 13 different types of dry shampoo that I personally tested!
Spray it on your roots, not directly on your hair.
Let it sit for 1-2 minutes before using your fingers to rub it in to your scalp to soak up excess oil.
Also don't use too much! You can always add more if you need to.
2. Simplify Your Makeup
Rather than all the things (eyeshadow, eyeliner, highlighter, etc.), simplify your makeup routine! When I'm in a rush I do just the basics – foundation, blush, mascara and eyebrows (because hi, I'm a girl who lived through the 2000s and need to draw on my eyebrows every day haha!).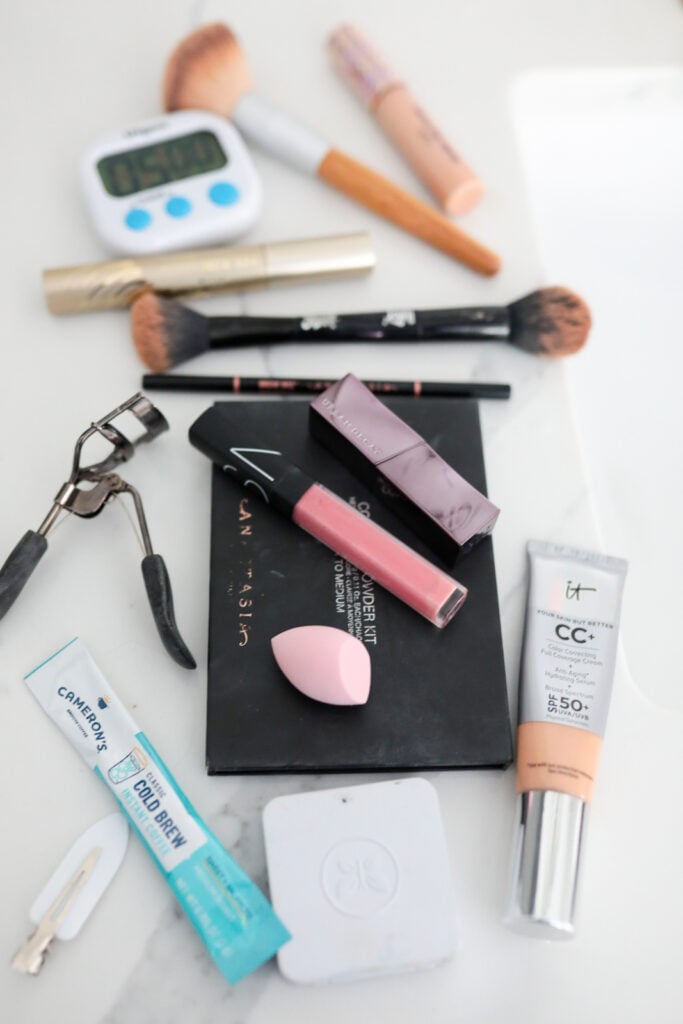 You could also swap the foundation for just some concealer or a tinted moisturizer if you want! I like to always do some blush to add some color to my cheeks, especially in the winter months and some mascara since my eyelashes are blonde.
Here is what I used:
3. Skip the Pot of Coffee
Ok, this is not my norm – I'm a 2-3 cup of coffee every morning kinda gal, but some mornings I just don't have the time to grind my beans, get my coffee pot ready and wait for it to brew.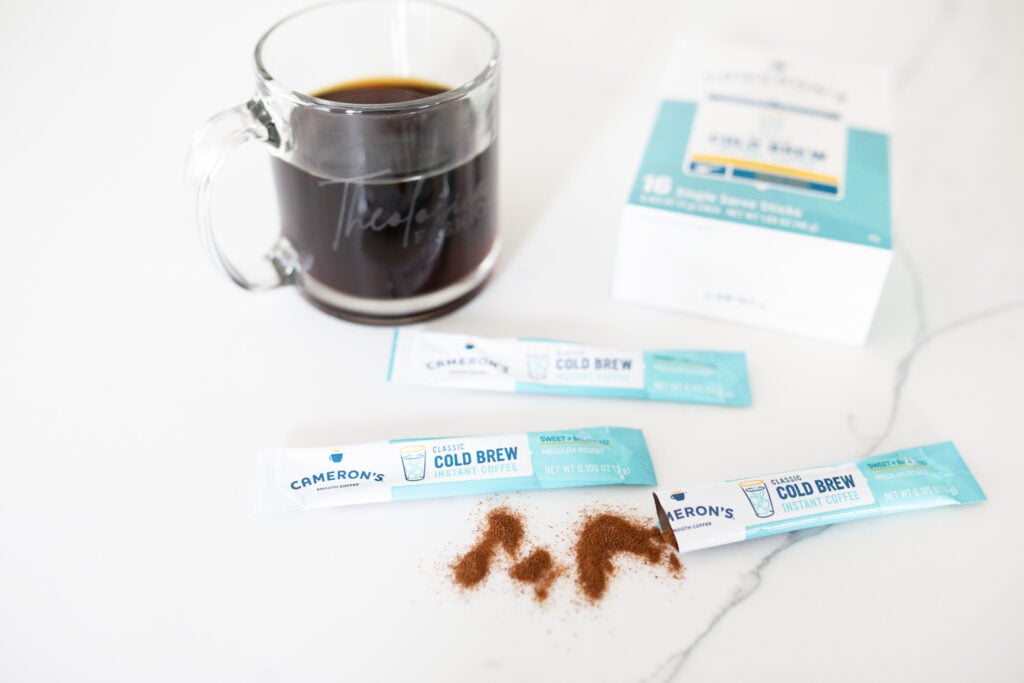 If I'm really in a hurry I'll just use Cameron's Cold Brew Instant Coffee Sticks. While yes, these are technically for cold brew coffee, they can also be used hot! I'll put on my kettle while I put on my makeup so it's ready to go.
These are also great to throw in your purse to have while you're at work or traveling. They easy to use – just open the pack and add your hot or cold water – and enjoy!
4. Easier Hairstyle
One hack for an easier hairstyle is to simply curl the front layers of your hair and pin the rest back in a clip! It will look like you tried but in actuality, the back of your hair is hidden away, uncurled and a mess.
This is one of my go to hairstyles, especially on a day that I really should have washed my hair but didn't have the time to.
And there you have it! Four easy ways to simplify your morning to get out of the door FAST.
Now be sure to head over to Cameron's Coffee and try out their new Instant Coffee for those in-a-rush kinda mornings!