We can all use a little bit of extra smoothing sometimes, no matter your body shape! And one of the best known and trendiest brands of shapewear to accentuate your figure is SKIMS.
If you want the look but on a smaller budget, I've rounded up the best SKIMS dupes for you. They're sure to become your new wardrobe staples.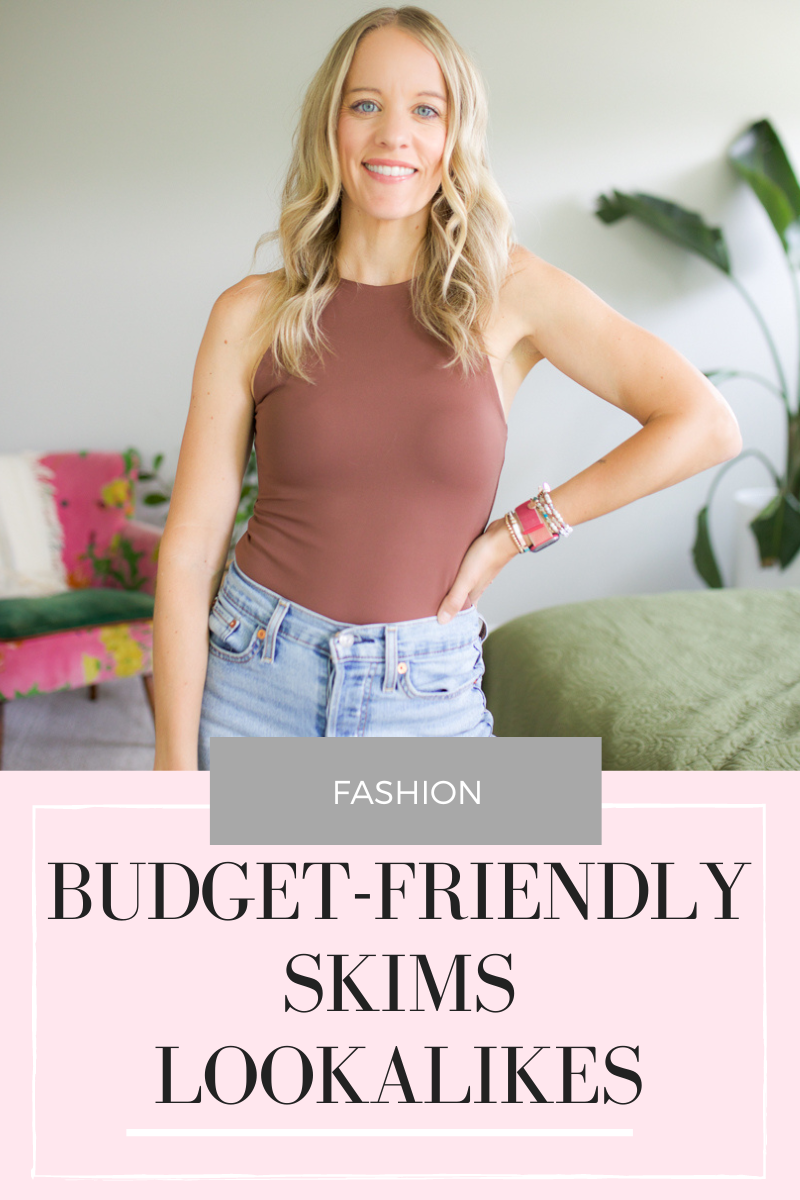 What is SKIMS?
SKIMS is the Kim Kardashian brand of shapewear, one of the most popular on the market. You've probably seen a TikTok video or two about the brand since it's a favorite among influencers (and does a lot of influencer marketing).
SKIMS provides comfortable shapewear, clothing, and underwear and is known for its figure-flattering and enhancing silhouettes.
Why do people like SKIMS?
SKIMS rapidly gained popularity among the public due to the beautiful figure-flattering and -enhancing sexy silhouette that accentuates the body's natural curves.
In addition, the brand's collection is also size-inclusive, with sizes ranging from XXS to 4X, and stretches to twice its size to fit virtually every body type!
What does SKIMS offer?
SKIMS offers a vast collection of products with rave reviews! This popular brand is known for its underwear, shapewear, and loungewear. However, they also offer swimwear, clothing, and various accessories. The SKIMS collection's most popular and iconic items are their Soft Lounge Long Sleeve Dress, sculpting bodysuits, and sculpting underwear.
To offer a size-inclusive range and to make everyone feel beautiful in their own body is no easy feat! However, the average SKIMS item can range between $50 and $68. Let's discuss the best SKIMS alternatives for some of their best sellers so you can get a similar style without breaking the bank!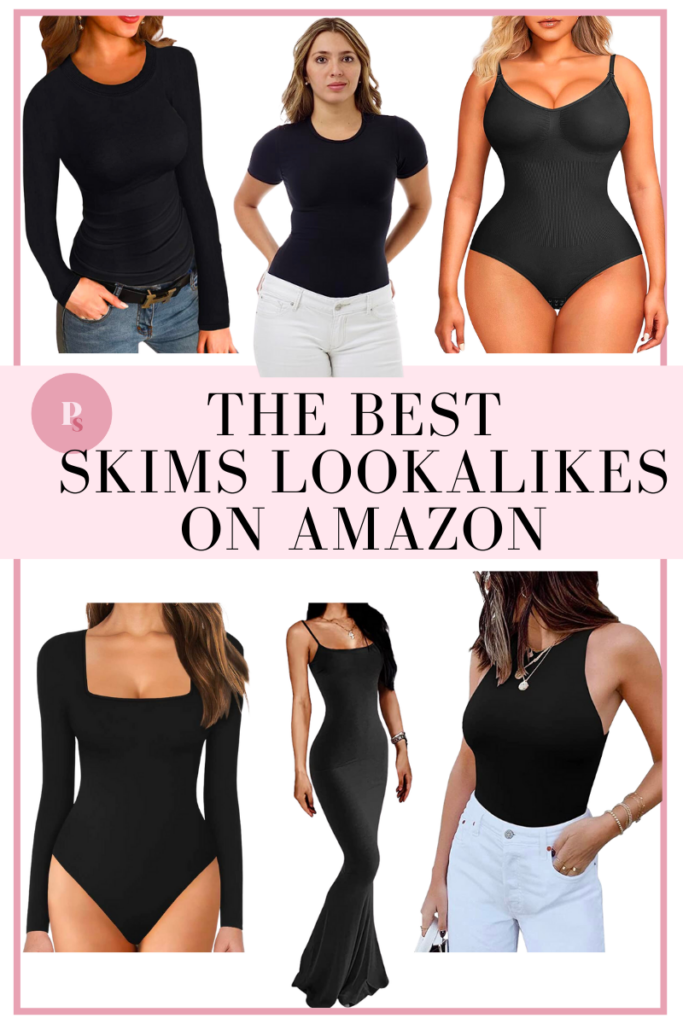 This post contains affiliate links.
Best SKIMS Shapewear Alternative
The SKIMS brand offers different types of shapewear, including waist trainers, contouring bodysuits, shaping bras, underwear, and leggings. The most viral shapewear item from the SKIMS collection is the sculpting bodysuit with snaps.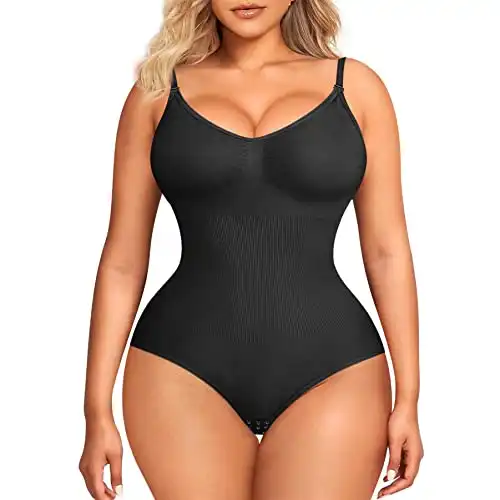 We earn a commission if you make a purchase, at no additional cost to you.
The Brabic Bodysuit Shapewear is a good dupe for SKIMS Sculpting Bodysuit with Snaps. This piece of shapewear has a flattering V-neck and adjustable thin straps.
It doesn't have any padding or wiring, resulting in a seamless finish that looks great on its own or underneath other clothing. In addition, it has the right amount of compression for chest, stomach, and hip support while it lifts and shapes the rear.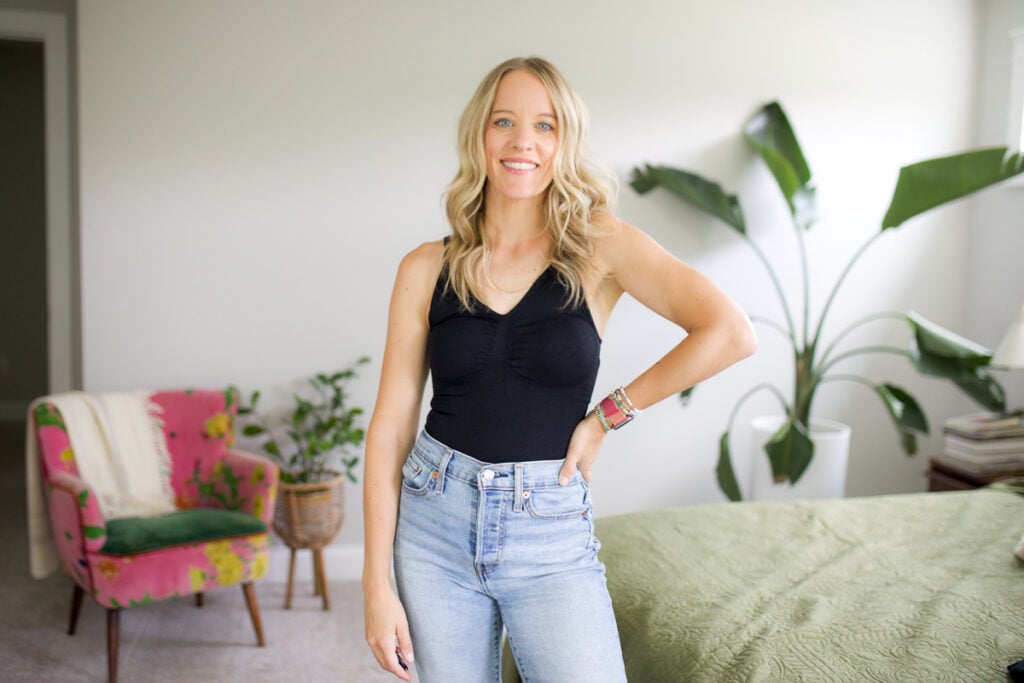 It's a polyester and spandex blend that is incredibly soft and breathable and will easily stretch and hug your curves in all the right places.
Currently, it's rated 4 out of 5 stars and is available for quick shipping with Amazon Prime.
Best SKIMS T-Shirt Alternative
While SKIMS offers several different good t-shirt styles, their most popular item is the Fits Everybody T-Shirt. It's trendy because, unlike a regular t-shirt, it has a more fitted look providing a stylish silhouette that looks polished and tailored.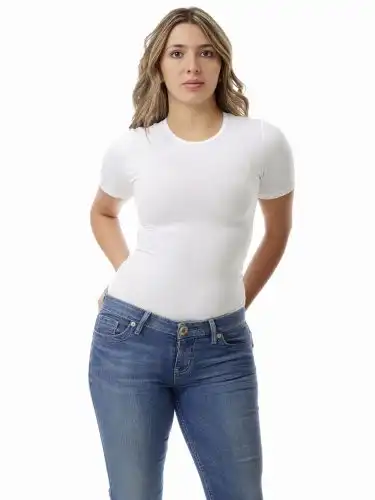 We earn a commission if you make a purchase, at no additional cost to you.
Underworks Cotton Compression T-Shirt is an excellent alternative to SKIMS's Cotton Jersey T-Shirt. It's a cotton spandex blend with a short-sleeve design that easily stretches to emphasize your curves while maintaining superior compression to minimize the chest and tummy. It will highlight your curves and is excellent to rock alone!
It's currently rated 4.5 out of 5 stars. While it's an excellent dupe for SKIMS, there aren't many different colors. The color range is limited to black or white, while the SKIMS version comes in several more.
Best SKIMS Bodysuit Alternative
SKIMS' most popular bodysuit is the Essential Long Sleeve Scop Neck Bodysuit from the Fits Everybody collection. However, they offer many top styles with different sleeve lengths and necklines.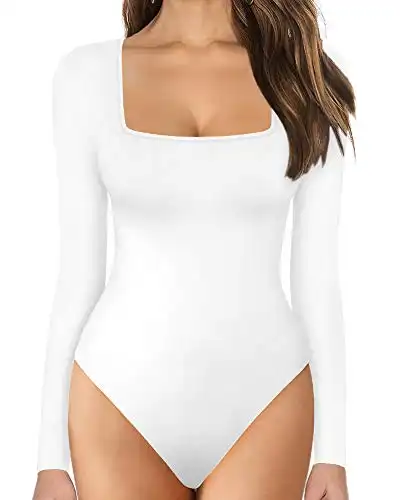 We earn a commission if you make a purchase, at no additional cost to you.
What sets MANGOPOP'S beautiful long-sleeved bodysuit apart from others is its beautiful square neckline! In addition, it's incredibly soft and made of a unique blend of Gossypium and spandex that is lightweight, breathable, and stretchy.
In terms of compression, it's not as powerful as the real thing. As a result, you may need to wear a bra with it if you have a larger chest. However, the fabric is thick enough that the bra straps will not show through it.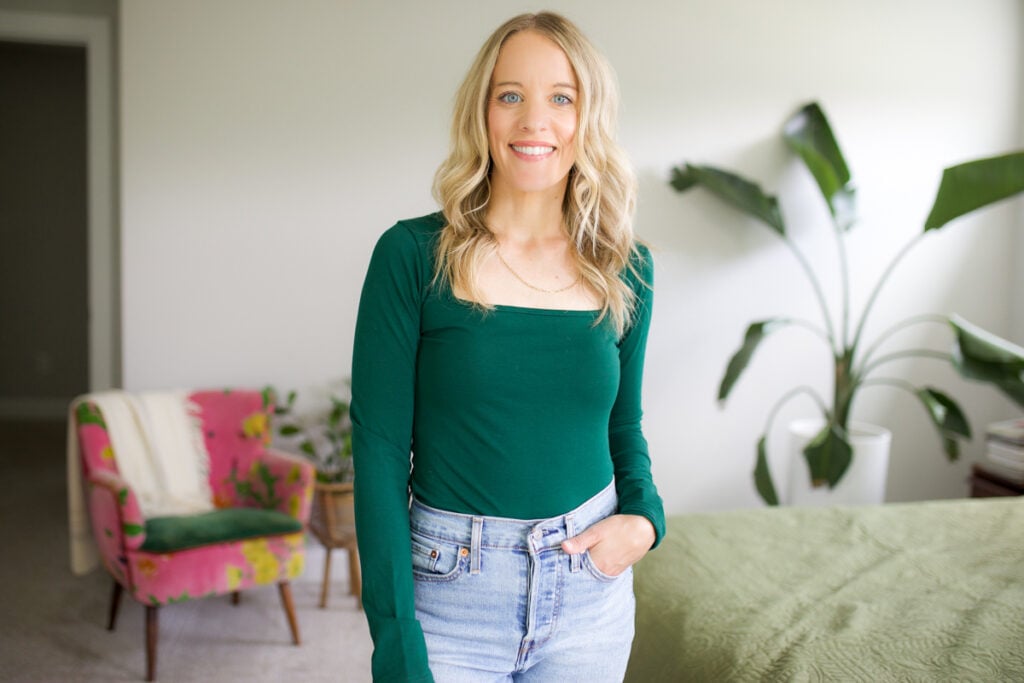 The size range is not as inclusive as SKIMS, with sizes ranging from XS to XXL. If you order this bodysuit, most reviewers recommend buying a size larger than you typically need to accommodate the tightness of the material.
If you're not into the square neckline, the brand also offers a great V-Neck variation!
Best SKIMS Dress Alternative
SKIMS's Soft Lounge Long Slip Dress is one of the brand's most iconic items and sells out frequently and quickly! If you can't get your hands on the real deal, this is a spot-on SKIMS dupe.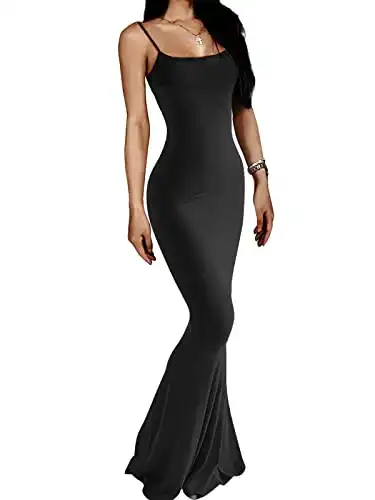 We earn a commission if you make a purchase, at no additional cost to you.
AnotherChill has created the perfect dupe for SKIMS's Soft Lounge Long Slip Dress, and it has been circulating across social media like wildfire. This beautiful dress captures the elegant, slinky, and sexy nature of the SKIMS original!
Similarly to the original, it's made with a lightweight stretchy material that easily stretches and emphasizes your body's natural curves. It also comes with adjustable spaghetti straps so you can easily shorten or lengthen the top to your liking.
It's available in 12 colors and has a 4.5 out of 5-star rating! However, this brand has fewer sizes and only ranges from XXS to XL.
If you prefer SKIM's long-sleeved dress, the brand offers an alternative with long sleeves!
Best SKIMS Long-Sleeve T-Shirt Alternative
SKIMS' popular long sleeves is their Cotton Jersey Long Sleeve T-Shirt. It's trendy because the form-hugging fit elevates the basic long-sleeved t-shirt into something more polished and fashionable!
We earn a commission if you make a purchase, at no additional cost to you.
ANDMO's Ribbed Long Sleeve Crewneck is a perfect dupe for SKIM's Cotton Jersey Long Sleeve T-Shirt!
It's highly fitted, creating a beautiful silhouette and subtle slimming effect. If you desire more slimming, a long-sleeved compression bodysuit is better. However, this long sleeve tee is perfect for everyday wear.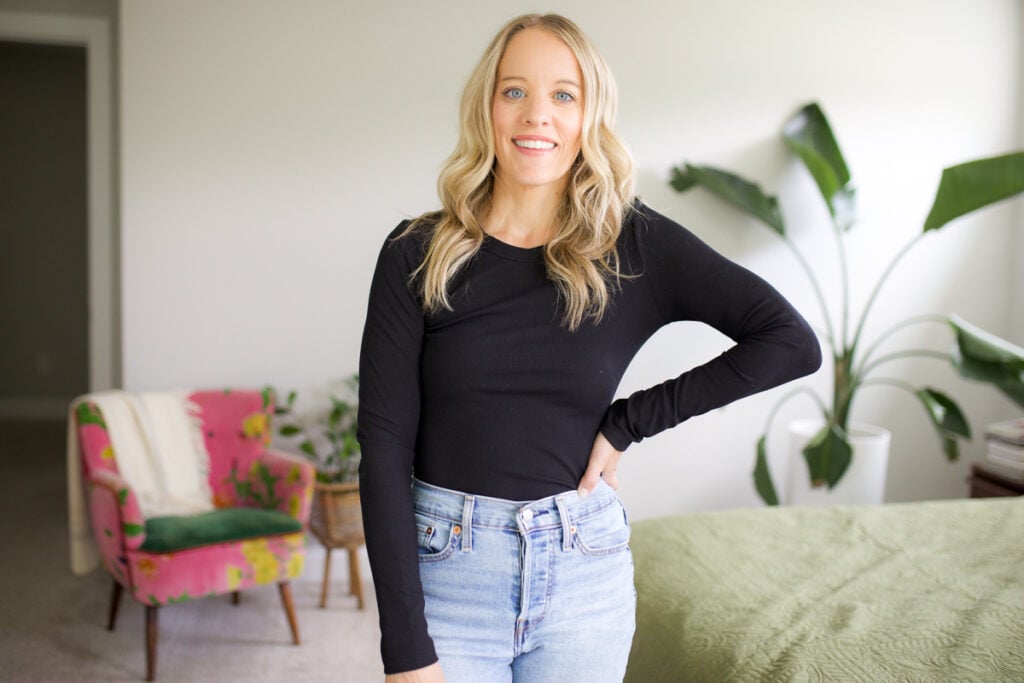 It's available in 12 colors ranging from classic neutrals such as black and white to beautiful seasonal greens and blues. It's currently rated a 4.5 out of 5-star rating on Amazon!
Best SKIMS High-Neck Bodysuit Alternative
SKIMS's iconic High Neck Bodysuit has been extremely popular and can easily be worn alone or layered.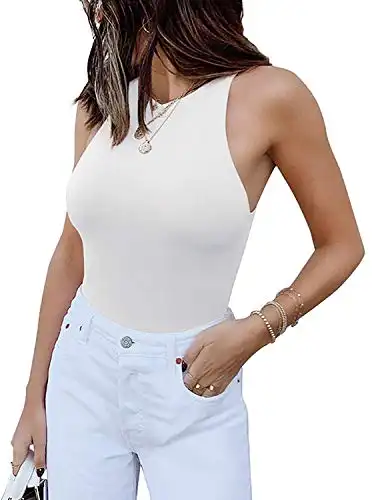 We earn a commission if you make a purchase, at no additional cost to you.
Reoria's Sleeveless Bodysuit Tank Top gives the same traditional SKIMS vibes! It's made of a nylon and spandex blend that is soft and stretches easily. The ribbed fabric and compression create a beautiful slimming effect.
The thong cut makes it easy to pair with your favorite skirt, shorts, or jeans! It is available in 24 colors and rated 4.5 out of a 5-star rating!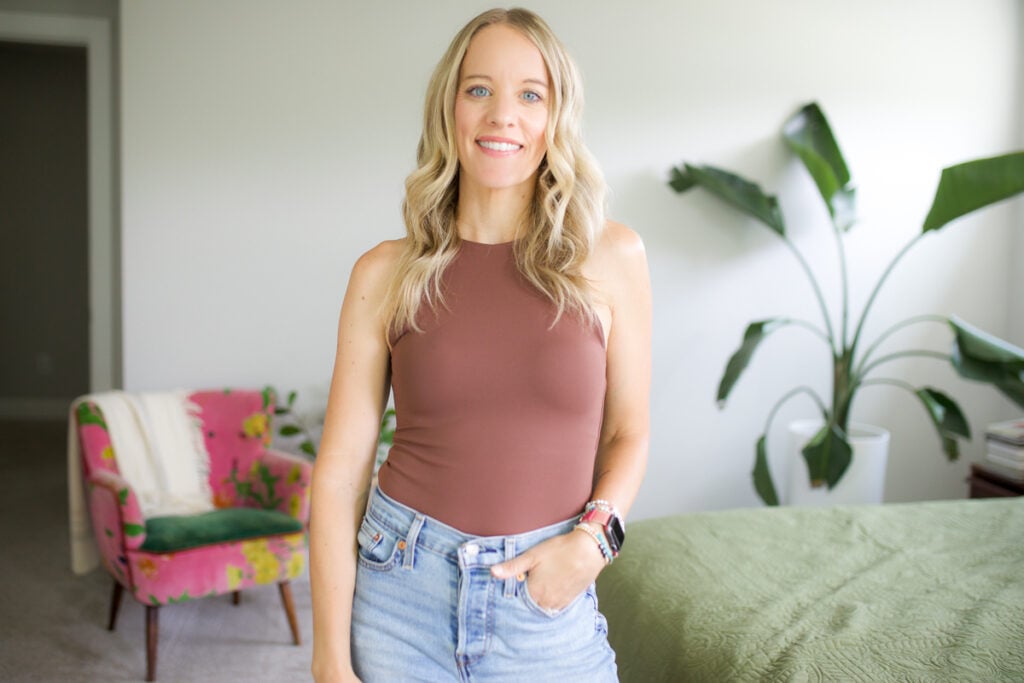 SKIMS Alternatives
There are so many fabulous alternatives available for SKIMS online. However, many are not available in a wide range of color options.
What sets SKIMS apart is the wide range of color choices and sizes. Most of the best dupes are only available in staple wardrobe colors such as black and white. However, SKIMS expands on what "neutral" means by offering shades that closely resemble the natural skin tone. So if you're looking for that iconic nude look, SKIMS may be your best bet.
However, if you prefer classic colors, the SKIMS alternatives above will be a great addition to your wardrobe!
Want more shapewear options? Read my review of Honeylove shapewear, recommendations for smoothing lower belly pooch, and the best products for postpartum shapewear.