Becoming a mother is an incredible experience, but it's no secret that it takes a toll on a woman's body. After giving birth, many of us struggle to regain our pre-pregnancy shape and feel confident in our own skin again. That's where postpartum shapewear products come in!
Designed to provide support and compression to the abdomen and other areas of the body, postpartum shapewear can help new moms feel more comfortable and confident while they are recovering. But with so many options on the market, it can be overwhelming to choose the right one.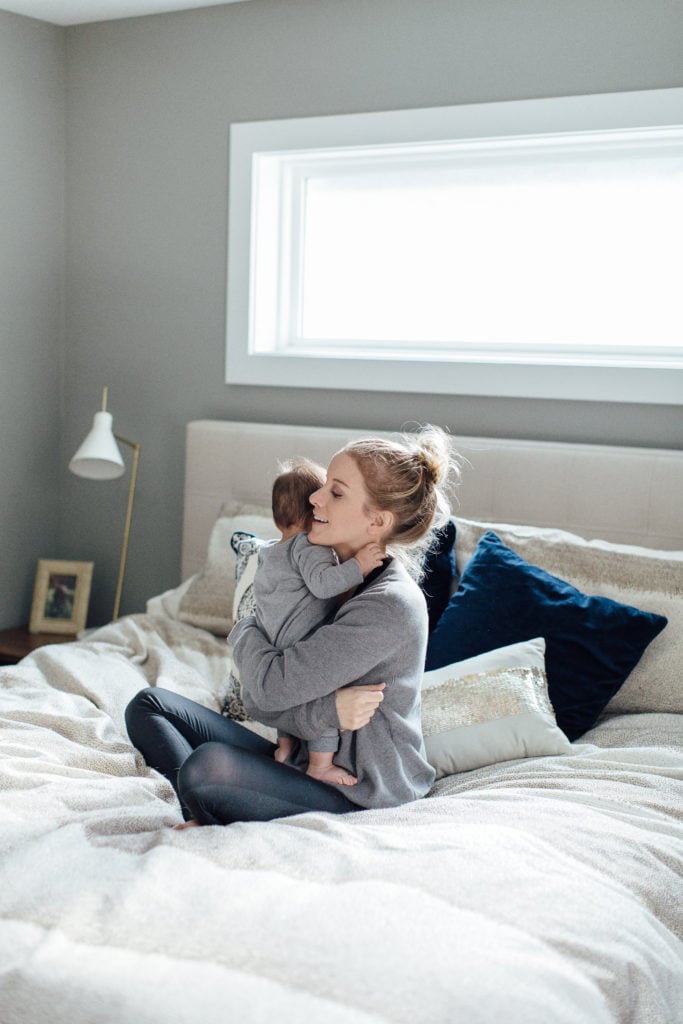 Let's take a closer look at some of the best postpartum shapewear products available today, including their features, benefits, and what to consider when making your purchase.
Whether you're looking for a high-waisted brief, a full-body suit, or something in between, I've got you covered. Let's get started!
Benefits of Shapewear During the Postpartum Phase
Postpartum shapewear products can offer many different benefits for new mothers who are recovering from childbirth. These products are designed to provide support and compression to the abdominal area, which can help to reduce swelling and discomfort, particularly if you had a C-section birth.
By providing support and compression to areas of the body that are healing, postpartum shapewear products can help you feel more comfortable and confident as you navigate the early days of motherhood.
They can help build your good posture, let you move around more easily and earlier, and help minimize cramping, pelvic and lower back pain. Some shapewear can help postpartum moms regain abdominal strength in their core muscles so they can more easily pick up their growing baby and with less pain.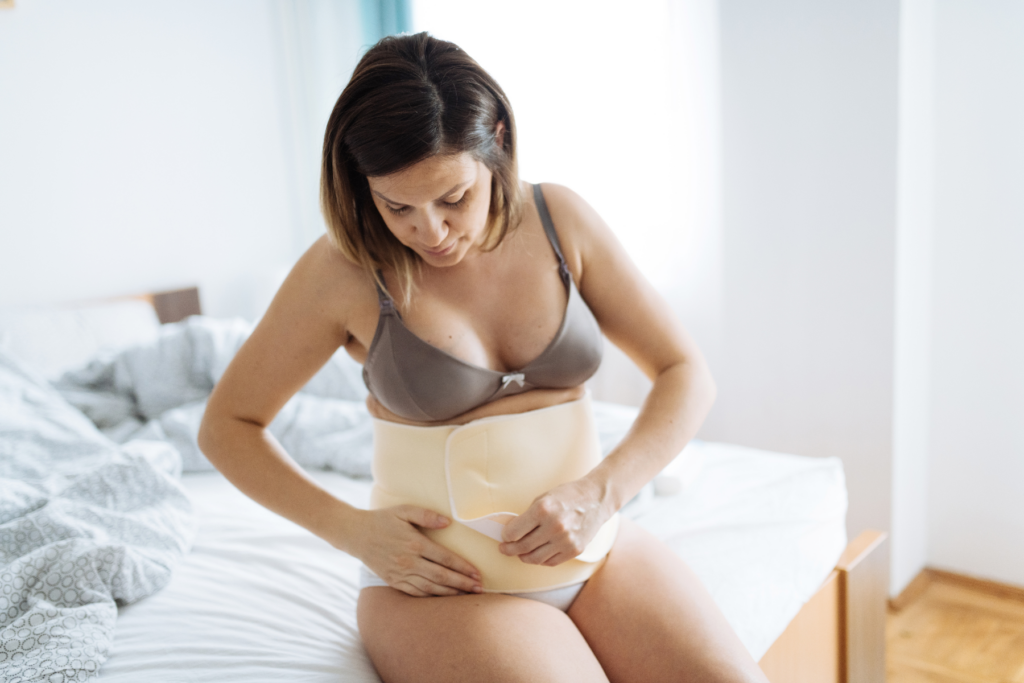 How to Choose Shapewear
If you're considering shapewear for after birth, ask your doctor about it at your next appointment or while you're in the hospital. They'll be able to tell you the best type for you depending on the type of birth and any special considerations you may have.
The point of postpartum shapewear is not to squeeze you back to your pre-pregnancy size. So don't look for waist trainers or a waist cincher.
The reason for shapewear in the postpartum period is for extra support for your muscles and spine. Different options include belly bands, postpartum girdles, and belts, as well as more wearable, gentle support options like bodysuits, high-waisted briefs and leggings.
One important thing to look for is a breathable material that won't trap moisture against your skin and cause skin irritation during the healing process.
Best Postpartum Shapewear Brands
When it comes to shapewear, you want to make sure you have the best postpartum compression garments possible before your baby arrives. If you end up with a so-so product that provides minimal support, you won't wear it consistently and will miss out on the benefits. I've rounded up some of the best brands for supportive shapewear so you know you're making a good choice!
Honeylove
Honeylove is a super high-quality shapewear brand that has been featured in Vogue, InStyle, New York Magazine, and more. They offer a wide variety of sculpting products, including briefs, tanks, bodysuits, and more. They won't roll down, which is especially important for C-section moms.
Want to know more about Honeylove? Find my honest Honeylove review here!
Blanqi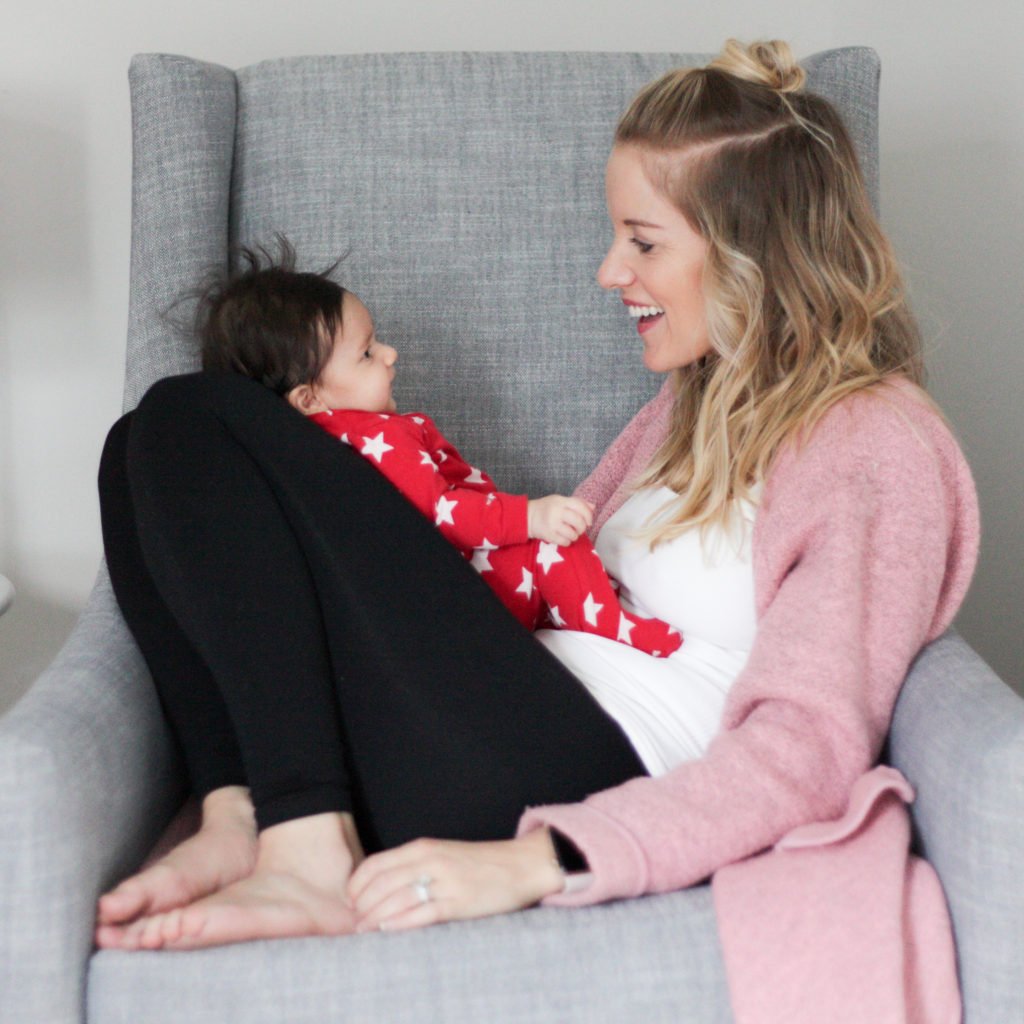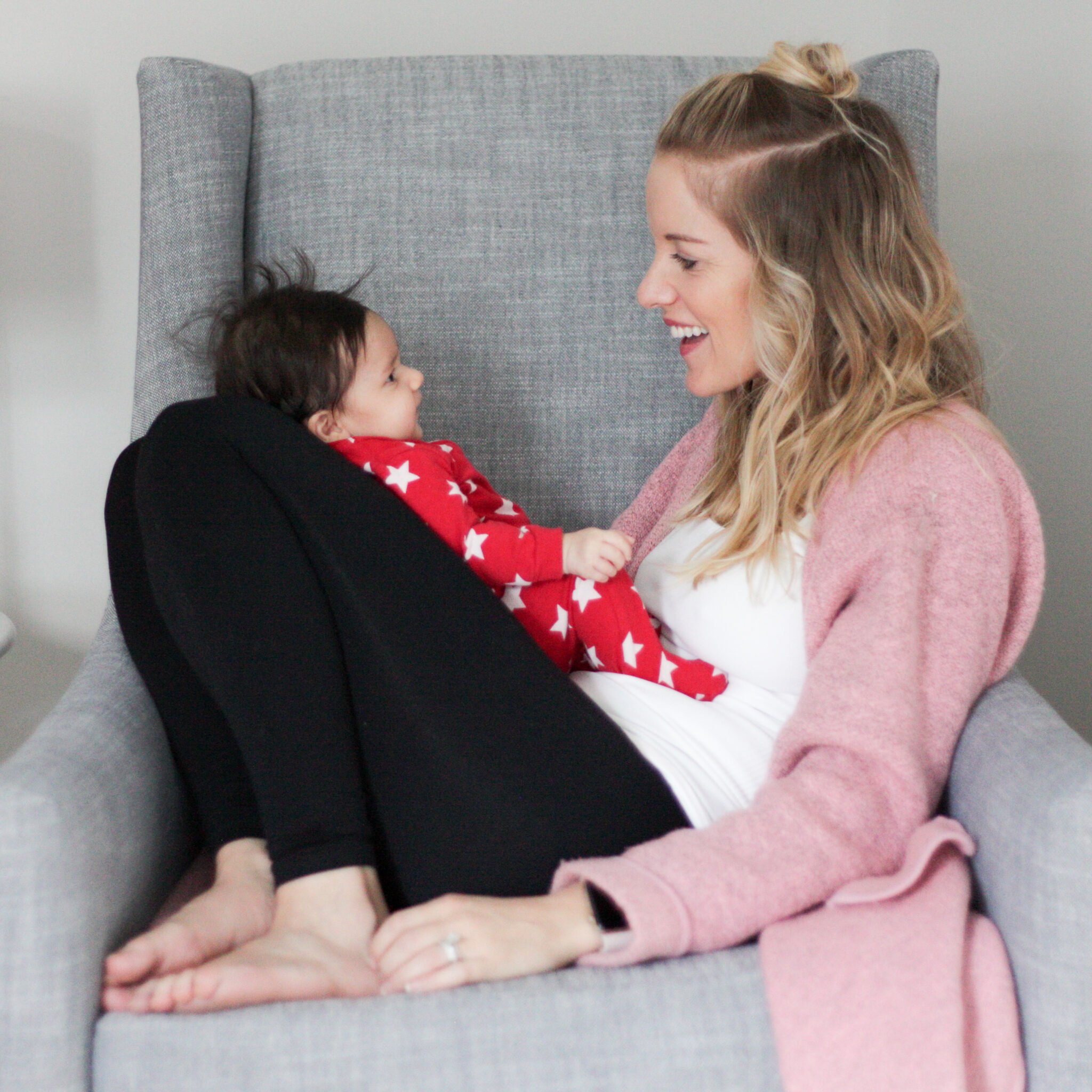 The name Blanqi has become widely known as a must-have maternity and postpartum brand. Famous for their leggings that offer support during pregnancy and beyond, they offer many other shapewear products as well.
It's definitely a good option to invest in while you're pregnant so you can wear it for maternity support and the recovery period.
Leonisa
Whether you're in that first week after giving birth, just had surgery, or you just want to add a little lift to your booty, Leonisa has got you covered. With a huge range of products to help provide you postpartum support, you've got plenty of options here.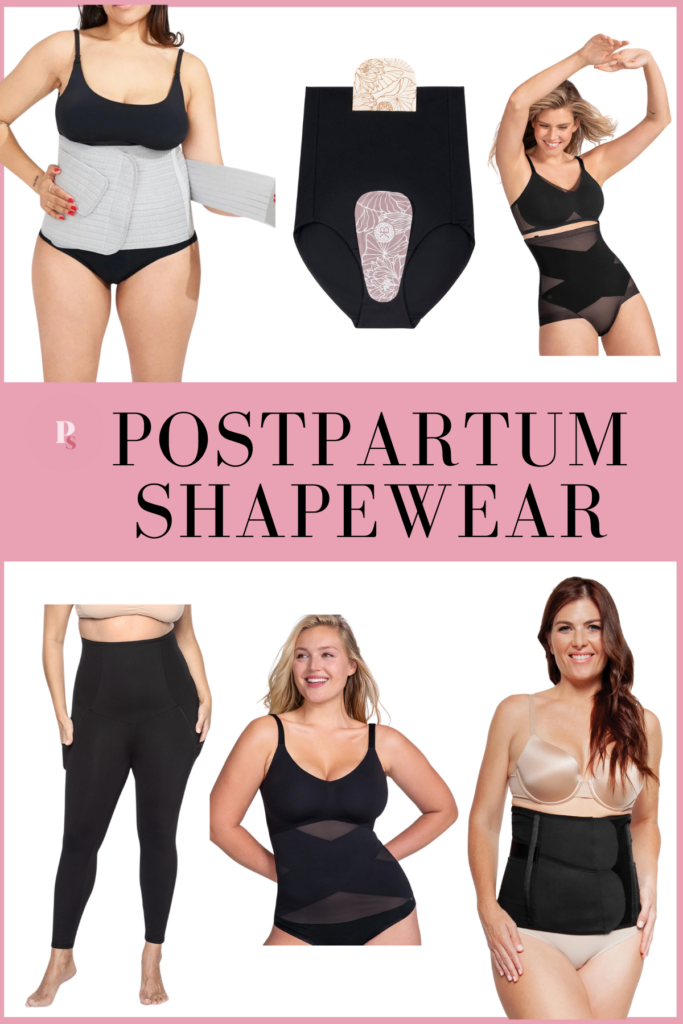 Paisley + Sparrow is a participant in the Amazon Services LLC Associates Program. This post may include affiliate links which means I may earn a small commission if you shop using the links below at no additional cost to you. 
6 Best Postpartum Shapewear
Honeylove SuperPower Shorts
Targeted compression sculpts without squeezing, flexible boning prevents roll-down, and breathable fabric keeps you cool.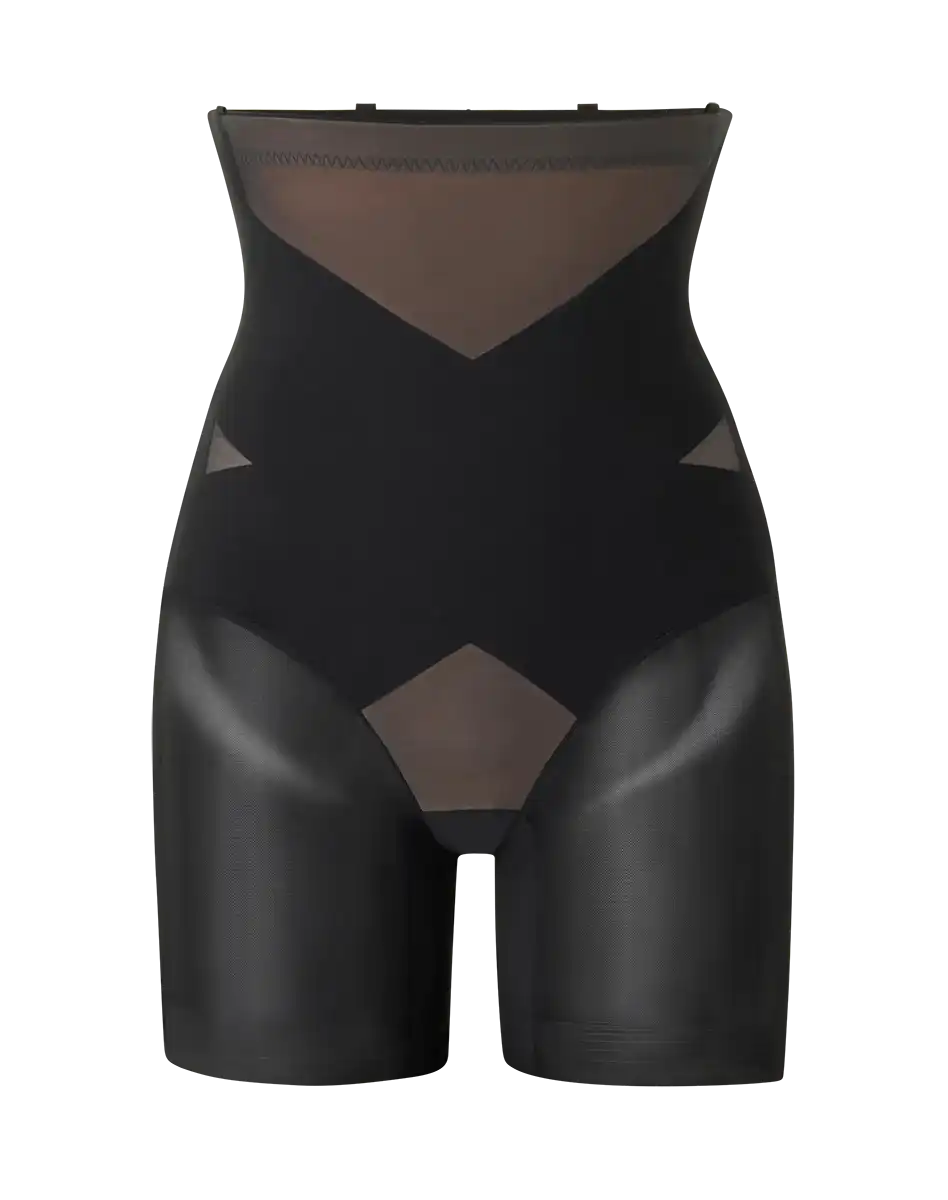 We earn a commission if you make a purchase, at no additional cost to you.
For a shapewear product that does it all, look no further than the Honeylove SuperPower Shorts. This high-waisted compression offers strong, targeted pressure, and is perfect for use during postpartum and beyond.
And with a sleek criss-cross and mesh design, it actually looks great, too (especially after those mesh panties in the hospital – haha)! Finding effective shapewear that is also stylish can be a challenge.
These shorts have hundreds of rave reviews, with customers mentioning that they were able to wear them for hours on end without having to worry about them riding up or down. That makes them the ultimate winner in my book!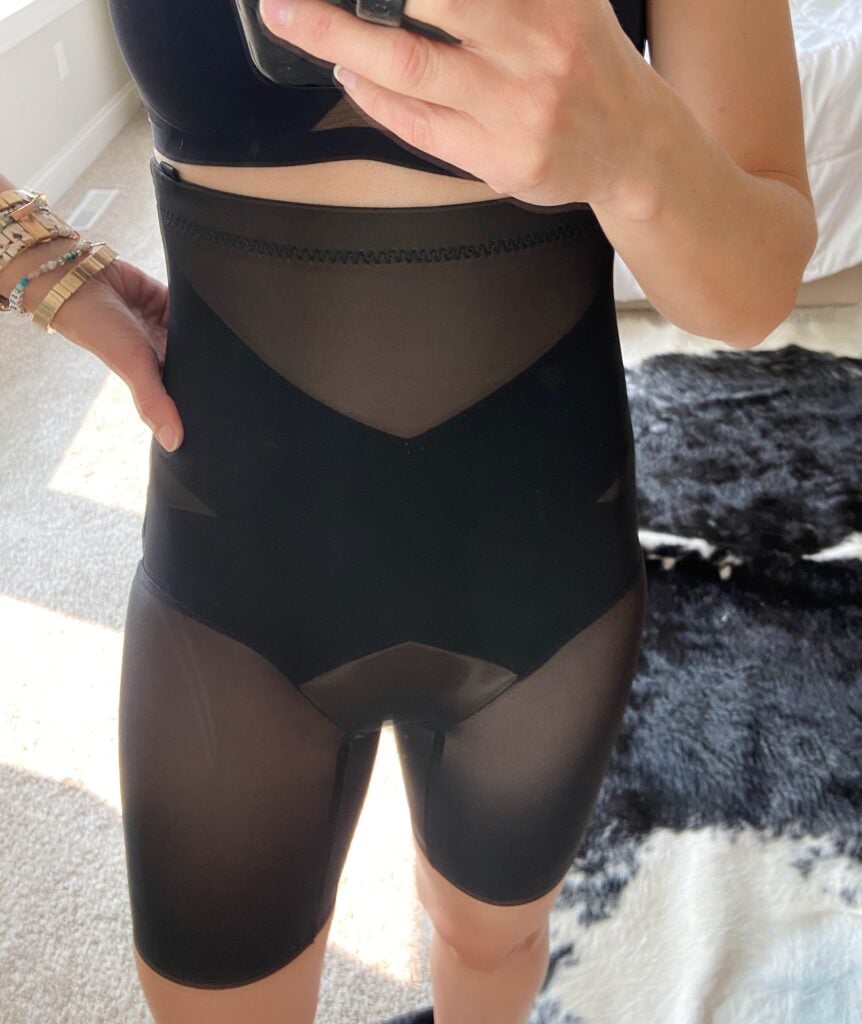 I personally love them for their flexible boning that will make these never ever fall down and keep everything compressed and where they're supposed to be!
Whatever your postpartum journey has in store for you, I highly recommend having this compression product on hand to support you along the way.
Find these and other great lower belly shapewear here!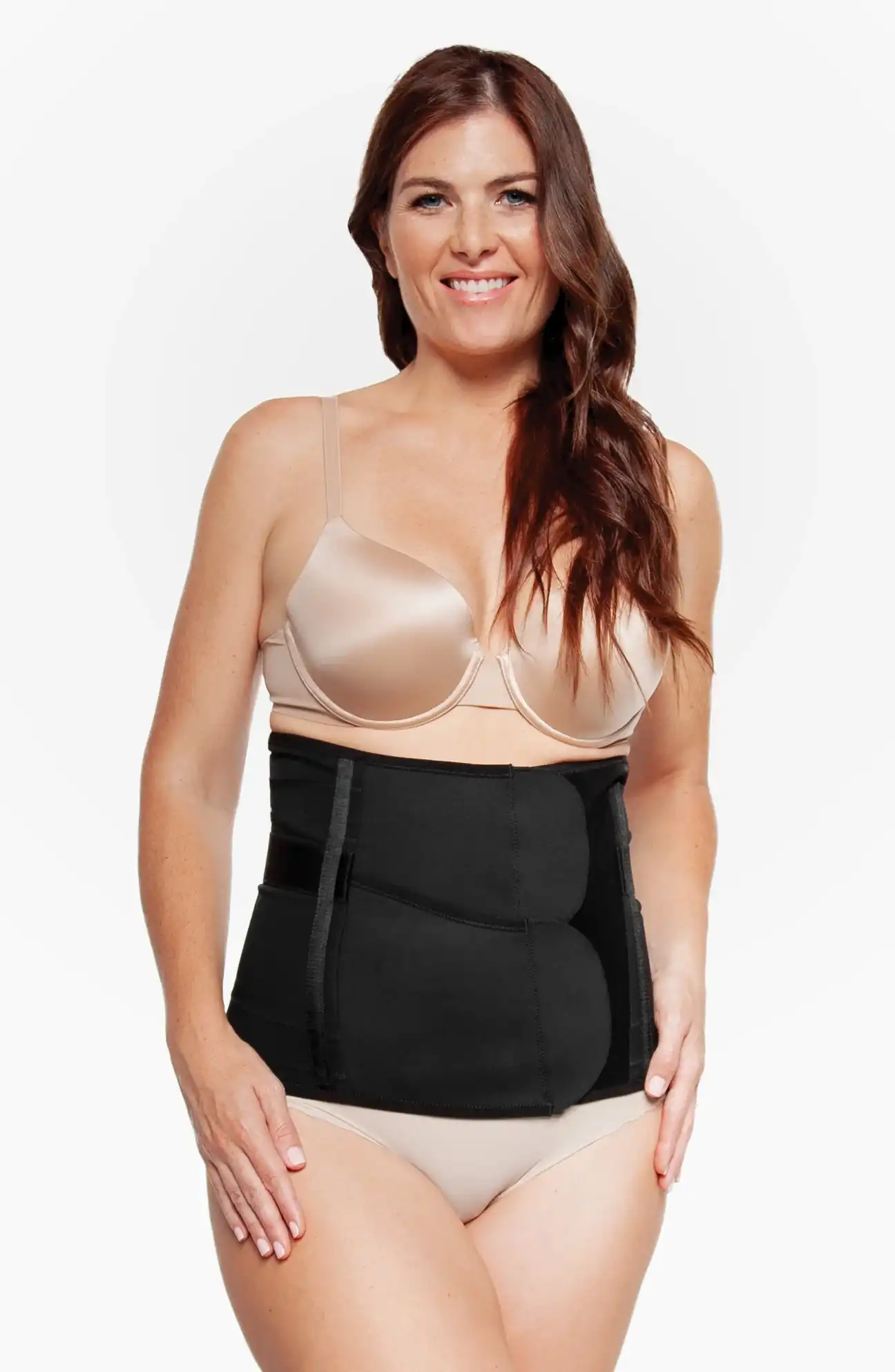 We earn a commission if you make a purchase, at no additional cost to you.
The Belly Bandit Luxe Belly Wrap is a popular postpartum compression garment designed to support the belly and waistline after giving birth. Made from a blend of high-quality materials including viscose, elastane, and latex-free elastic, the wrap is soft, comfortable, and made from a breathable fabric.
It features a double-layered compression panel to provide maximum support and help new mothers regain their pre-pregnancy shape. The wrap is also adjustable and comes with a secure closure system to ensure a customized fit for every body type. The Belly Bandit Luxe Belly Wrap is a great choice for new mothers looking for a comfortable and effective way to support their postpartum recovery.
The Belly Bandit Luxe Belly Wrap is one of the most popular postpartum products on the market. Not only does it offer a high level of compression, but it's also extremely comfortable and breathable. And since it is designed to keep a low profile, you can wear it under a wide variety of clothing without worrying about looking bulky.
With the adjustable support panels, this belly band can ensure a customized fit for every body type. If you're looking for maximum support during your postpartum phase, the Luxe Belly Wrap will keep you feeling secure during your postpartum phase.
If you want a less expensive option, the Original Belly Bandit is also a great way to support your postpartum body. It's a great postpartum wrap, just with fewer customizable options and aesthetic features than the Luxe version.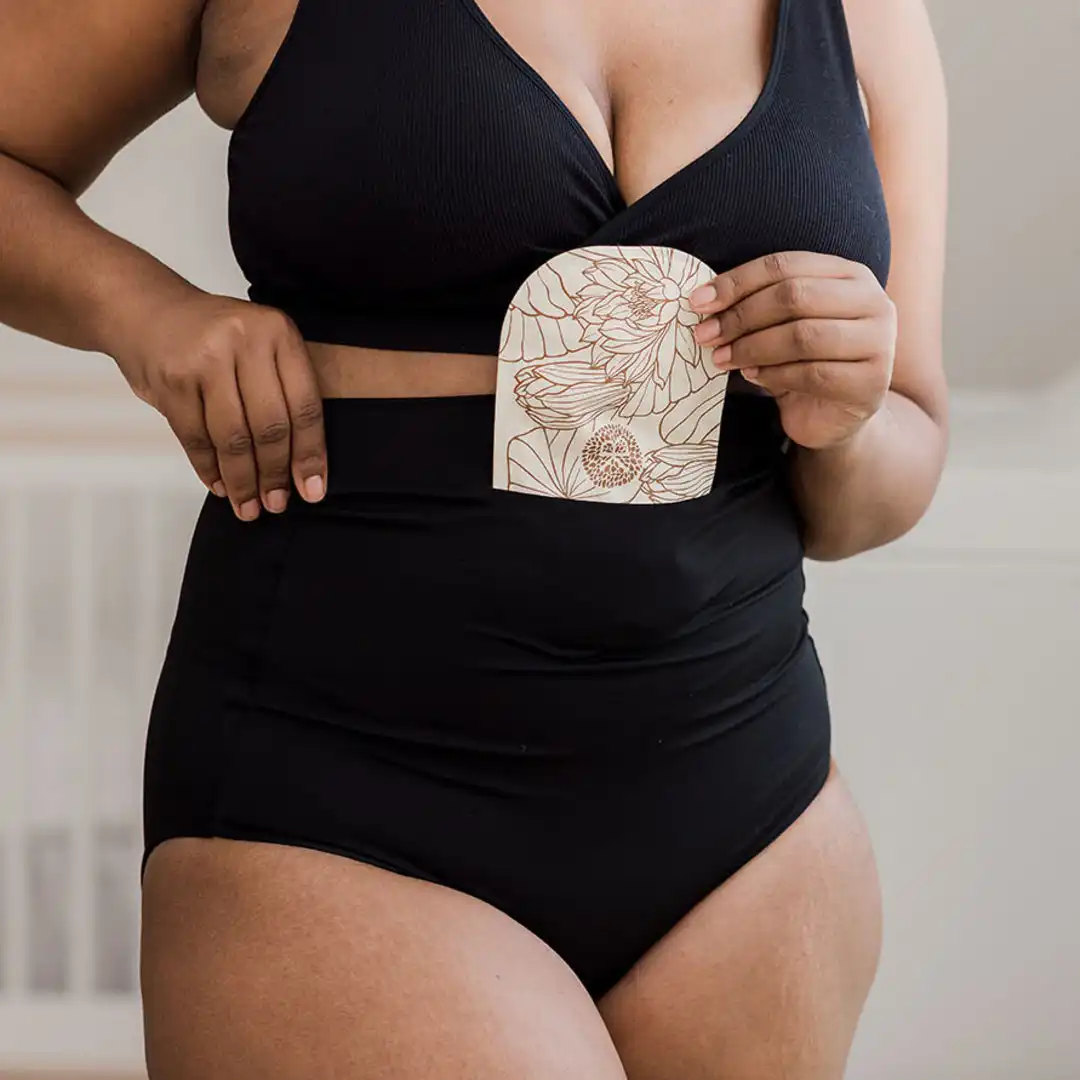 We earn a commission if you make a purchase, at no additional cost to you.
For those seeking ultimate comfort during the postpartum phase, the Kindred Bravely Soothing Fourth Trimester Panty is for you.
Offering gentle compression, this comfortable brief also includes three unique pockets. They fit the soothing gel packs that are also available from Kindred Bravely. Simply heat or cool a gel pack, then insert into the belly, perineal, or back panel for maximum relief.
This multi-use, light pressure shapewear product is perfect for postpartum and beyond. You can also use the Fourth Trimester Panty to help relieve menstrual cramps. It's a worthwhile investment that you can use for years to come!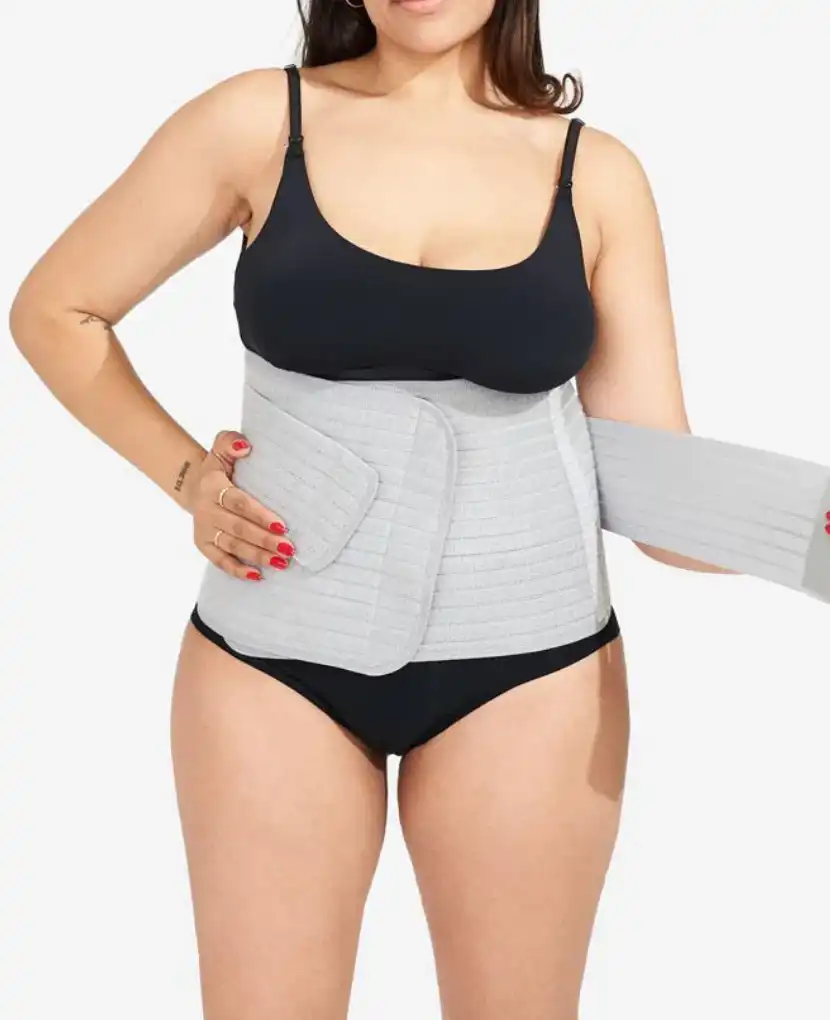 We earn a commission if you make a purchase, at no additional cost to you.
For those who have C section births, supporting healing abdominal muscles is crucial. Providing firm compression while also being extremely comfortable, the Bodily Belly Band is a very popular shapewear option.
Featuring two layers of adjustable velcro straps, you can create a fit that is perfect for your unique body type. Target specific abdominal and lumbar areas with ease, and give yourself the best recovery possible with this high-quality belly band.
Honeylove LiftWear Cami
Built-in bust support lifts without underwire, targeted smoothing holds your tummy, and adjustable straps let you customize your fit.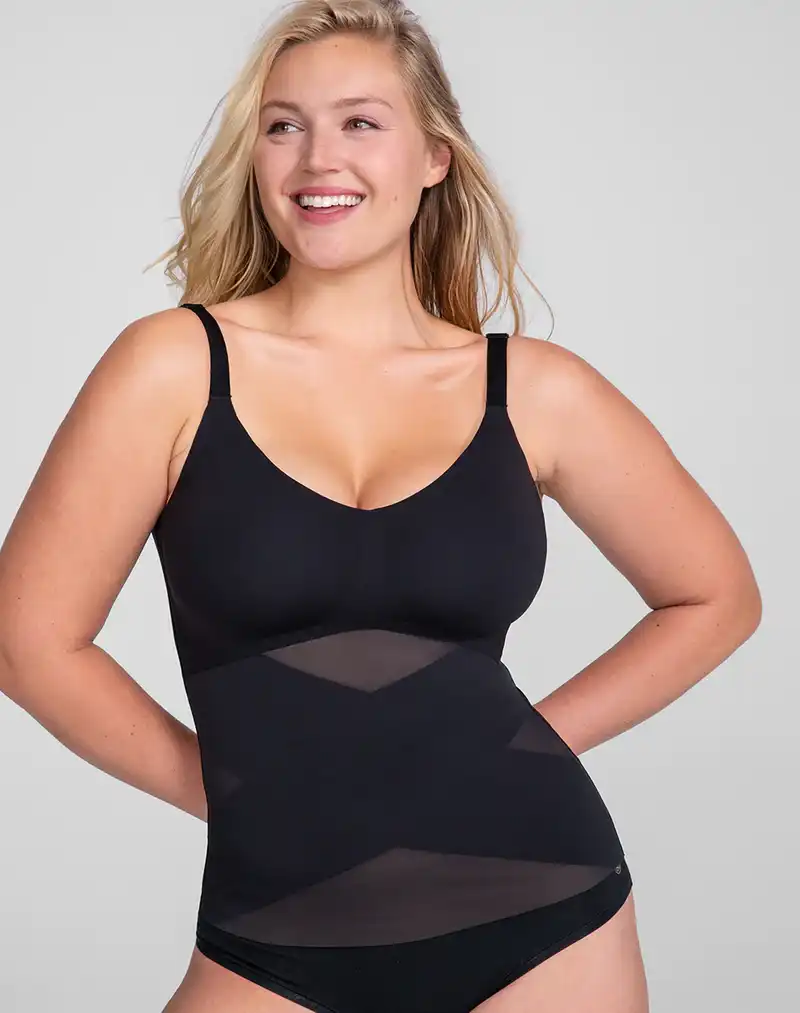 We earn a commission if you make a purchase, at no additional cost to you.
Another home run product from Honeylove, the LiftWear Cami is the ultimate postpartum tank top. Made from super comfortable fabric, this cami features the unique criss-cross bodice design that Honeylove is known for.
Depending on your preference, you can also opt for either narrow adjustable straps or wide straps. I own this in a lovely fig color and it's beautiful! I love how it's long enough to tuck into jeans or skirts and doesn't ride up.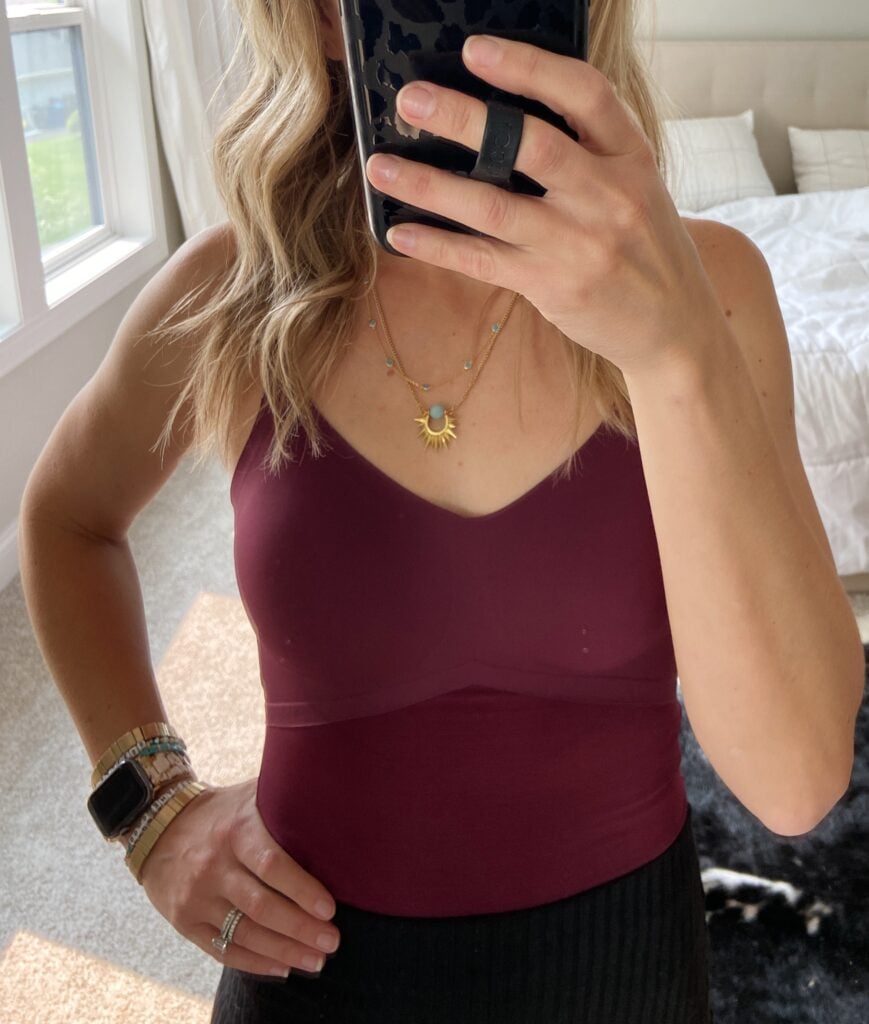 Additionally, the LiftWear Cami is available in eight stylish colors. With this many options to choose from, Honeylove definitely offers the most versatile postpartum tank top on the market today.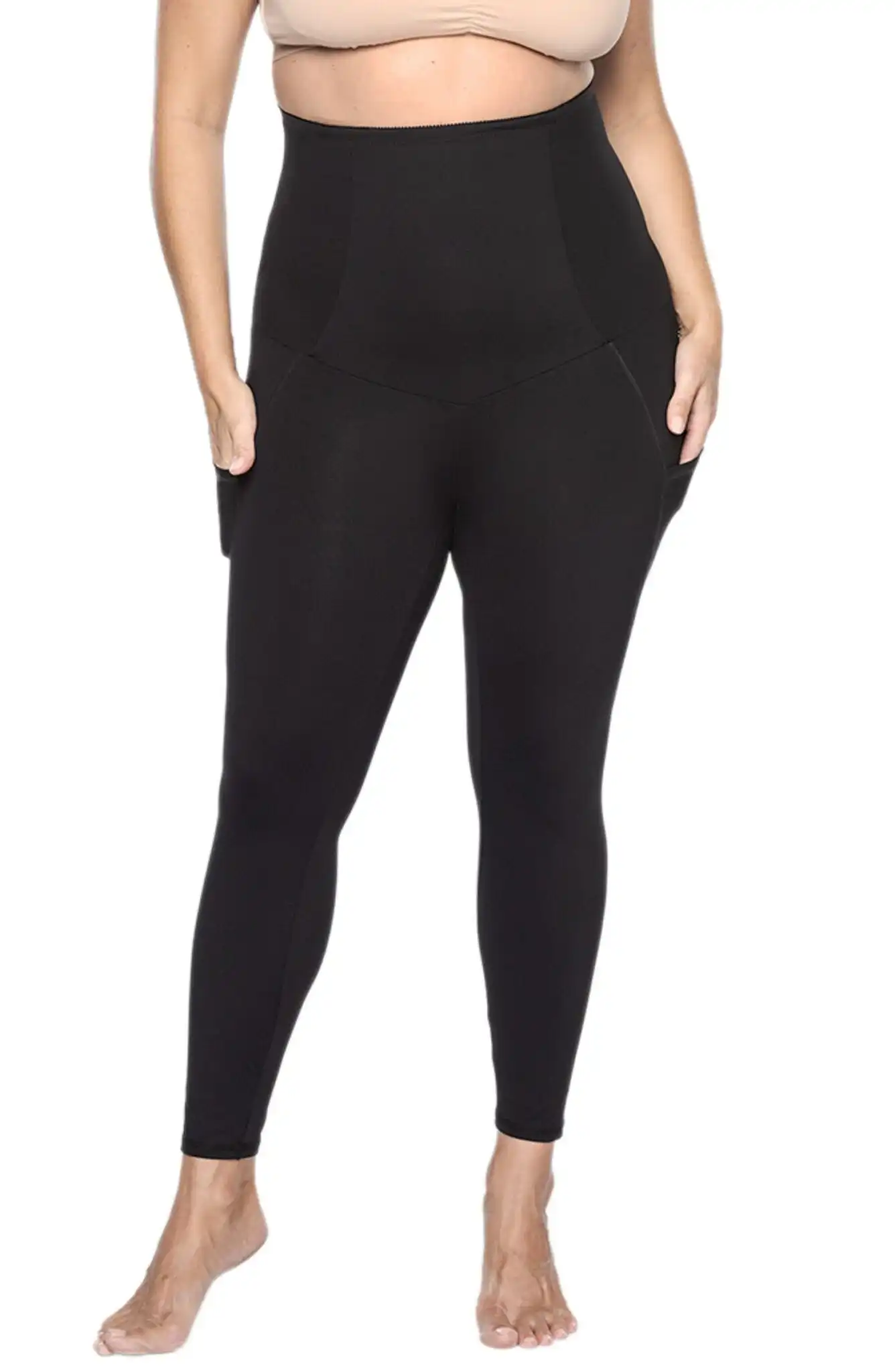 We earn a commission if you make a purchase, at no additional cost to you.
These postpartum leggings include some crucial features, such as a double abdominal panel for ultimate tummy control, as well as a roll-proof silicone waistband. But they also include what I consider a game-changer when it comes to leggings – pockets!
With an ultra-high waist and ankle-length legs, these comfortable leggings will keep you supported everywhere it counts.
FAQ
Is a girdle or belly wrap better postpartum?
Both a girdle and a belly wrap can be beneficial for postpartum recovery, but they each serve slightly different purposes. A girdle typically offers more compression and support to the abdominal area. This can help reduce swelling and provide support to the muscles and tissues that stretched during pregnancy.

You may find this particularly helpful if you have a C-section or experience abdominal separation (diastasis recti) during pregnancy.

On the other hand, a belly wrap typically provides more gentle compression and support. That means you can usually wear it over a longer period of time than a girdle.

You can also adjust belly wraps as your body changes during the postpartum period. This can be helpful as your body continues to heal and recover.

Ultimately, the choice between a girdle and a belly wrap will depend on your individual needs and preferences. Some women prefer the more intense support offered by a girdle. Others may find a belly wrap to be more comfortable and practical for everyday wear.
When should you wear postpartum shapewear?
In most cases, you can wear postpartum shapewear immediately after giving birth. Postpartum support products help provide support to the abdominal muscles, reduce swelling, and promote healing. Especially for those who have had c-sections, shapewear products can be extremely beneficial.

That being said, you'll want to make sure you don't apply too much pressure to your healing abdomen. There are some shapewear products out there that are designed to be so tight that they actually shrink your waistline. That is not the kind of compression you're looking for during the postpartum phase.

Typically, any shapewear product that is marketed specifically for use during the postpartum phase will be safe to use. If you have any questions about what kind of postpartum support products to purchase, or when to wear them, be sure to ask your healthcare provider.
How long does it take for a postpartum belly to shrink?
The amount of time it takes for a woman's belly to get back to "normal" after pregnancy varies greatly. There are a wide variety of factors that go into this process, including diet, exercise, and if you had any abdominal separation during your pregnancy. 

At the end of the day, be patient with your body, and don't worry too much about your belly! The fourth trimester is a beautiful, delicate phase of a woman's life, and it's much more important to make sure you're soaking up motherhood as much as possible.
If you're on the hunt for postpartum shapewear products, I hope this guide helped! Congratulations on your pregnancy and best wishes in your birth!
Need more postpartum tips? Check out the best postpartum PJs, the best underwear for postpartum (yes, you NEED these!) the new mom survival kit, and the only hospital bag checklist you need!