Shapewear is one of the most important things in a women's wardrobe. Honestly, it's not much of a stretch to call it a woman's superpower!
Add some quality shapewear to an outfit and you'll get a more slimming look that's flawless. But we all know what happens when you have not so great shapewear. It rolls down, bunches up and just feels uncomfortable. Simply not worth the hassle even if it helps your figure.
Today I want to share about Honeylove, a newer shapewear brand I've started wearing and LOVING! I'll lead with what makes Honeylove particularly comfortable and flattering, then dive some of my favorite pieces and conclude with how the company came to be.
Let's go!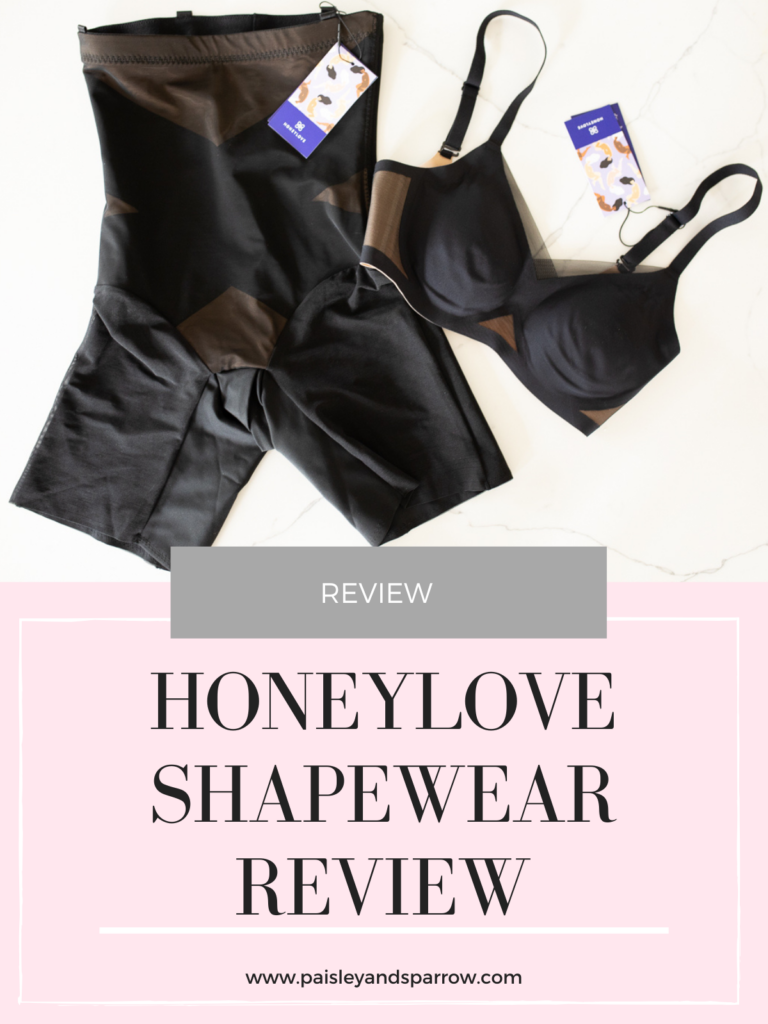 Sculptwear vs Shapewear
Importantly, Honeylove is actually a sculptwear and not a shapewear. Shapewear consists of the same amount of compression all over while Sculptwear has smart compression panels that strategically apply more support to different areas of the body that benefit from more support, such as your tummy or upper thigh.
Just as important, it relaxes compression in areas where it can feel overly restrictive, like your ribcage and the hems of your legs. After all, breathing and moving freely is important.
What amazes me the most about Honeylove is that it won't roll. We've all had the misfortune of being at a fancy event where, of course, your shapewear starts rolling. It's both uncomfortable AND unflattering. Not to mention annoying.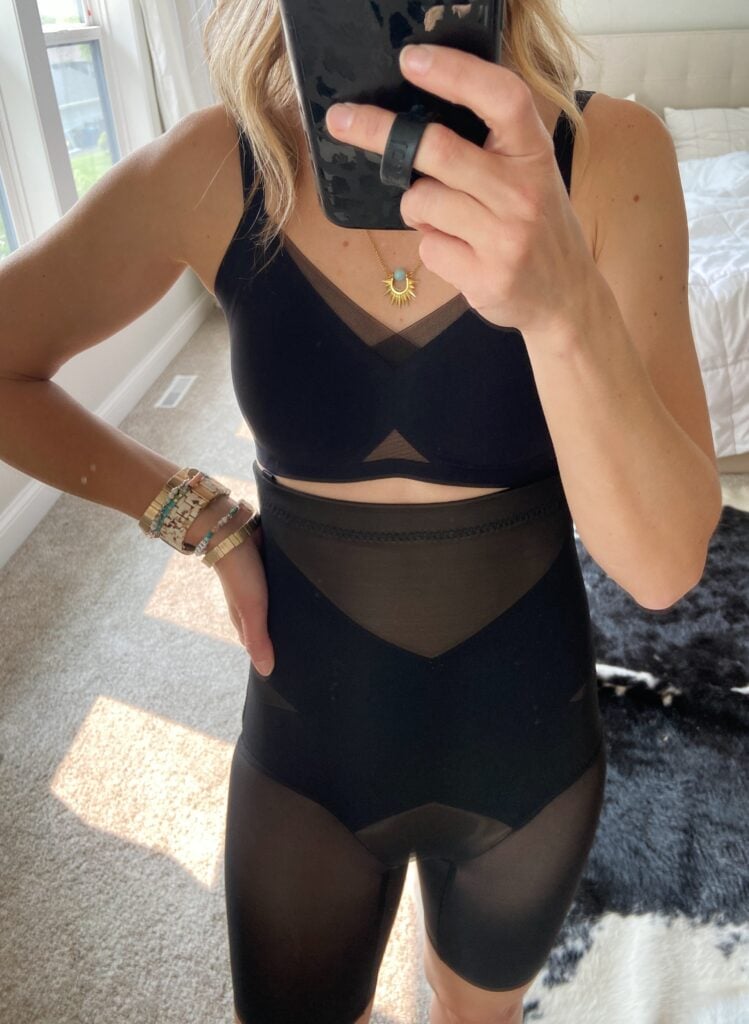 Honeylove has SoftFlex structures in all of their garments – it's like a flexible boning that's hidden in the seams. This holds the garment up without the use of rubber grips or anything else. Basically it's magic! 🙂
Now on to my honest review and their products.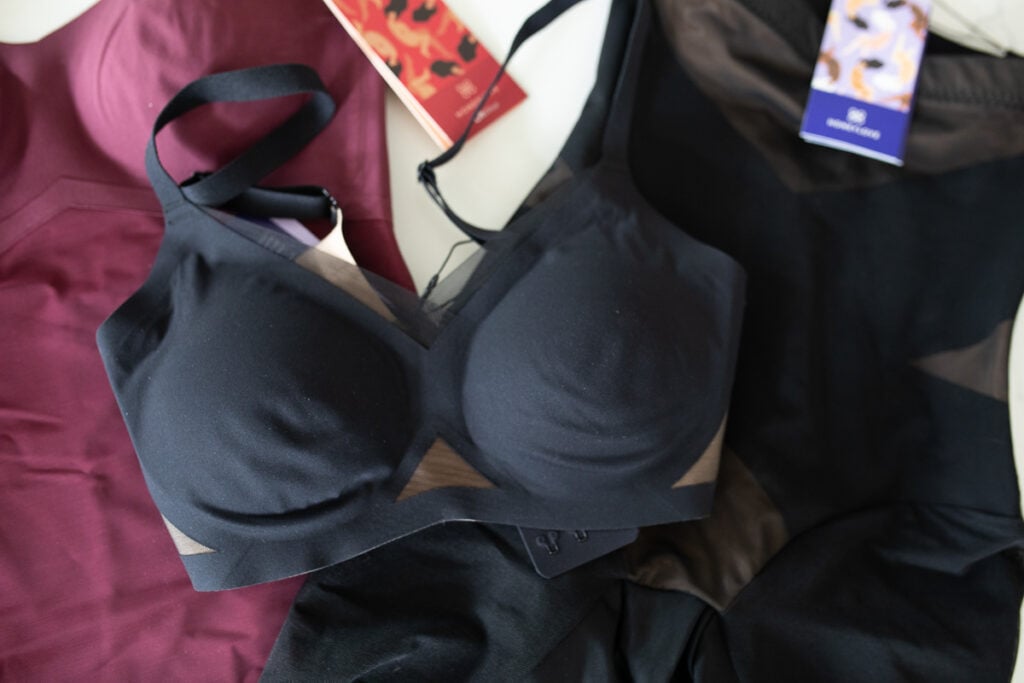 My Honeylove Shapewear Review
So far I have tried 3 of Honeylove's products – the CrossOver Bra, The SuperPower Short and the LiftWear Cami. (I'll be sure to update this when I've tried more!)
One thing that I love about Honeylove's website is that it shows all of the products on real women. You can toggle between two models with different body types so you can get a better idea of what the items would look like on your own body!
Their customer service and return policy is also great! You can get a full refund if you return your unworn items within 30 days. They also offer free shipping on returns and exchanges within the U.S. to make it even easier to try something or get the right fit!
You can also find customer reviews on each product to get an idea of what people like and didn't like about a product. Don't just take my word for it, check out the hundreds of Honeylove reviews on their site!
Price
One thing to note is the price point. The price of these items is on the higher end, similar to brands like Spanx. I firmly do believe that Honeylove products are well worth their price.
Honeylove SuperPower Short Review
The SuperPower Short was Honeylove's very first product! To be frank, this is truly one of the best pieces of shapewear I've ever owned. I knew from the moment I put it on that it would do a great job at both compressing, sculpting and smoothing everything out so I would look and feel confident in whatever I wore.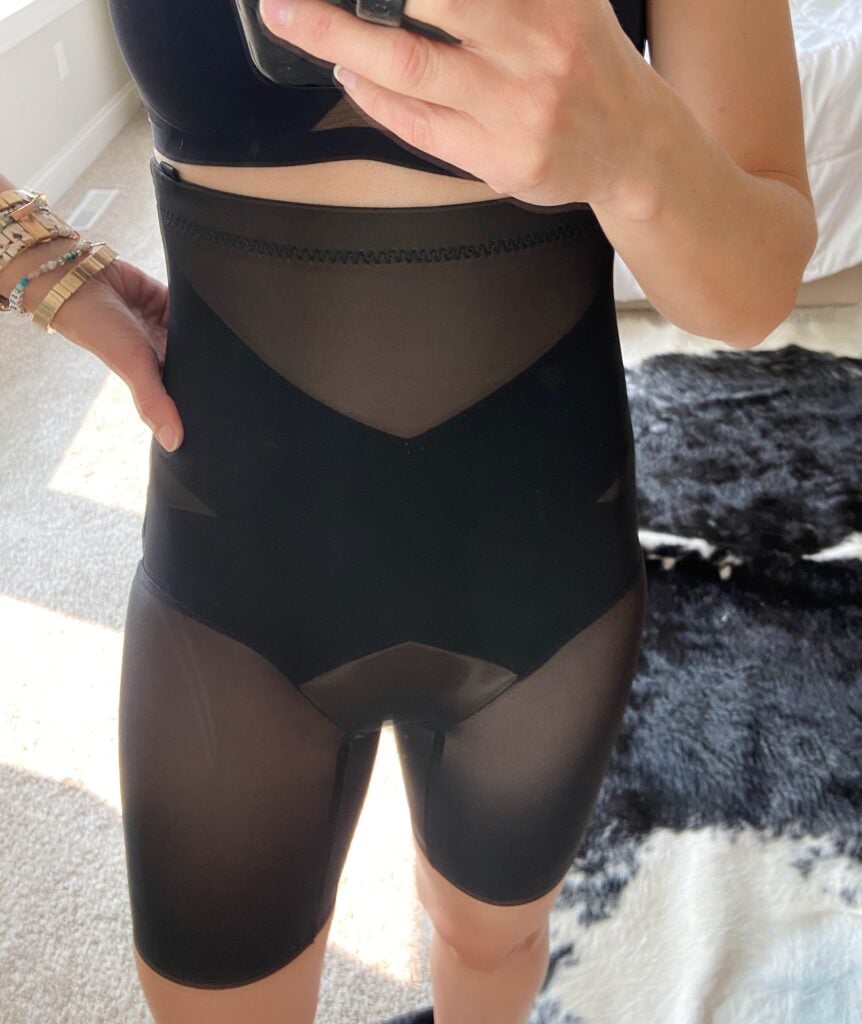 And the flexible boning was the best part! I hate wearing shapewear since it inevitably rolls down or gets bunched up. I was confident that wouldn't happen with these.
Honeylove SuperPower Shorts
Targeted compression sculpts without squeezing, flexible boning prevents roll-down, and breathable fabric keeps you cool.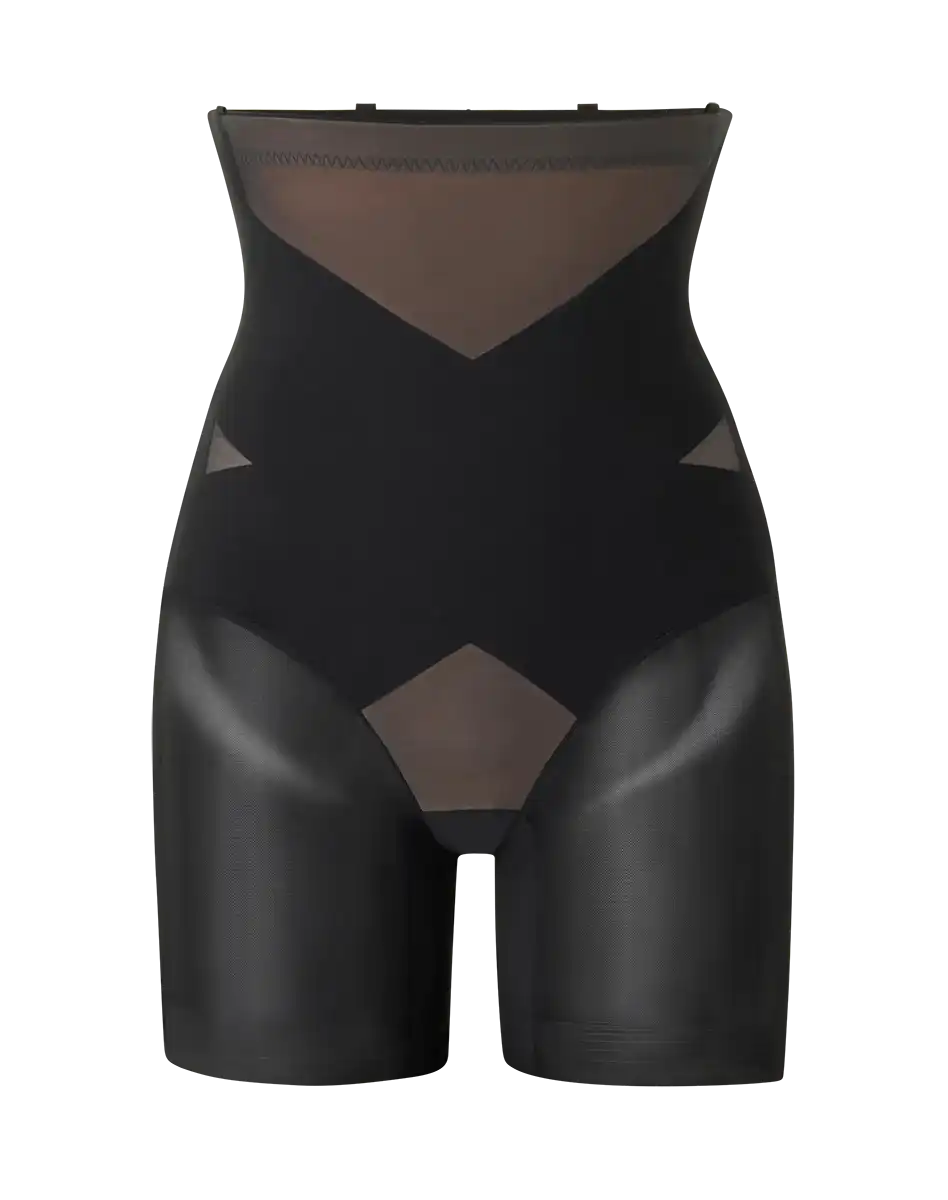 We earn a commission if you make a purchase, at no additional cost to you.
Support
Ever since having 3 babies I've always been a bit self conscious about the extra bulge at my lower tummy. I've tried many different kinds of shapewear and while they're fine, I always end up having to tug them up to keep them up.
The support on these shorts is incredible and it compresses in all the right places! Even without any sort of rubber grip they stay up SO well and never roll or bunch down. Even better, it does the job at keeping my tummy compressed but allows me to breathe freely.
These have targeted compression panels to help tone your midsection. This product is truly an actual must-have!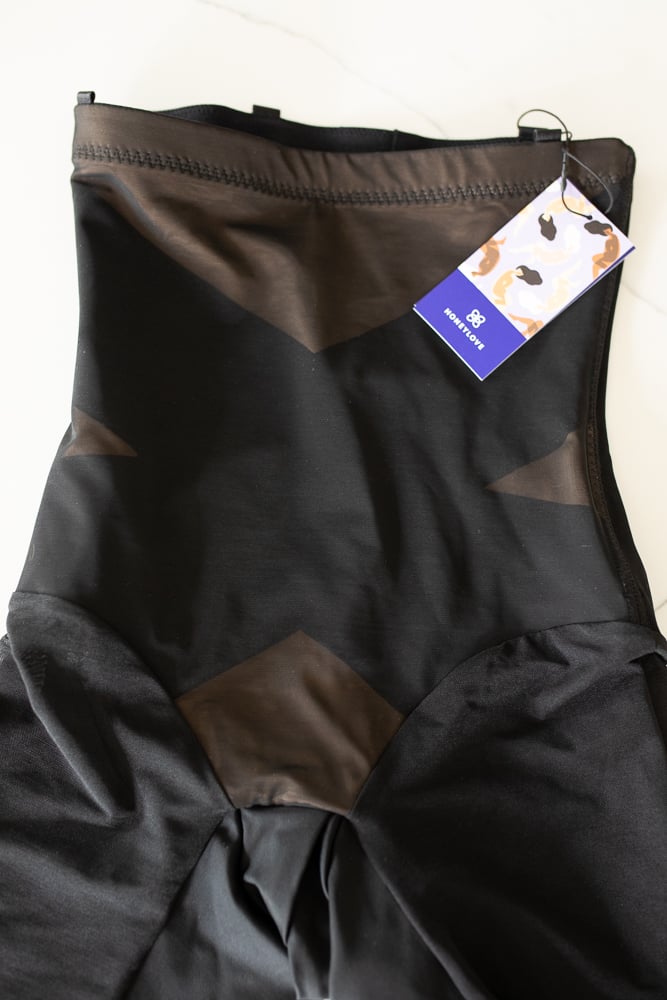 Material
Overall I am very impressed with the material of the products. They are soft yet not slippery and thick but not too thick. I haven't had any issues wearing anything in my closet with these.
I really love how the boning in the shorts moves with my body and doesn't feel restrictive.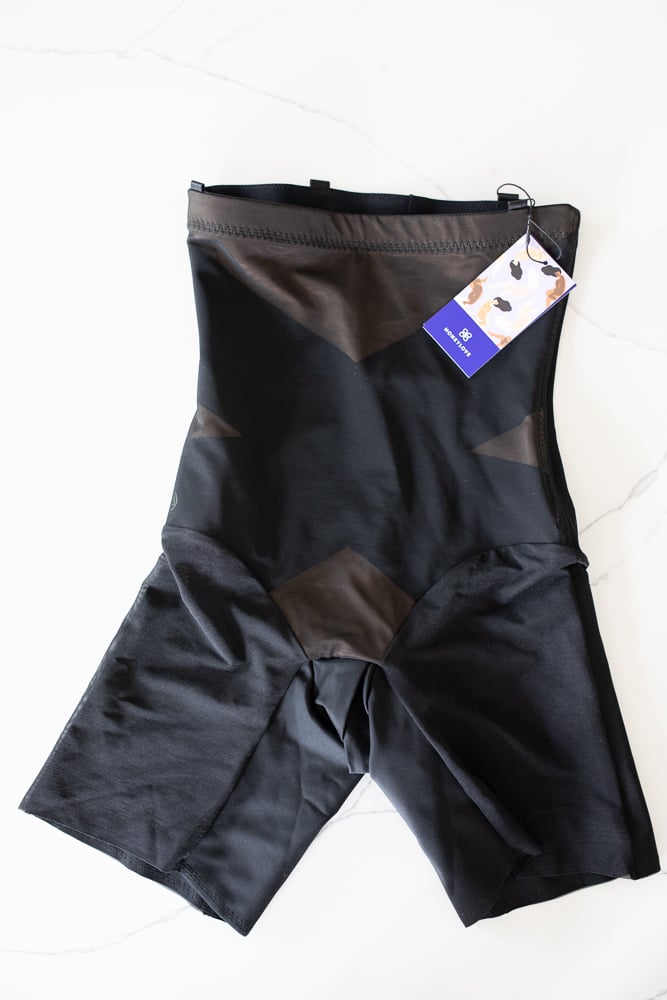 Sizing
I did the sizing help quiz on the Honeylove site and it told me I needed a size small. I actually ordered both a small and x-small since I'm normally an xs in bottoms.
I'm glad I ordered both because the x-small was a much better fit. In my case, I needed to size down from the Honeylove site recommendation.
*You can also find these on my best shapewear for lower belly pooch post!
Honeylove CrossOver Bra Review
Moving on to the CrossOver Bra! I pretty much only wear one brand of bras because I have such a small chest and few bras work for me so I didn't have high hopes for this one.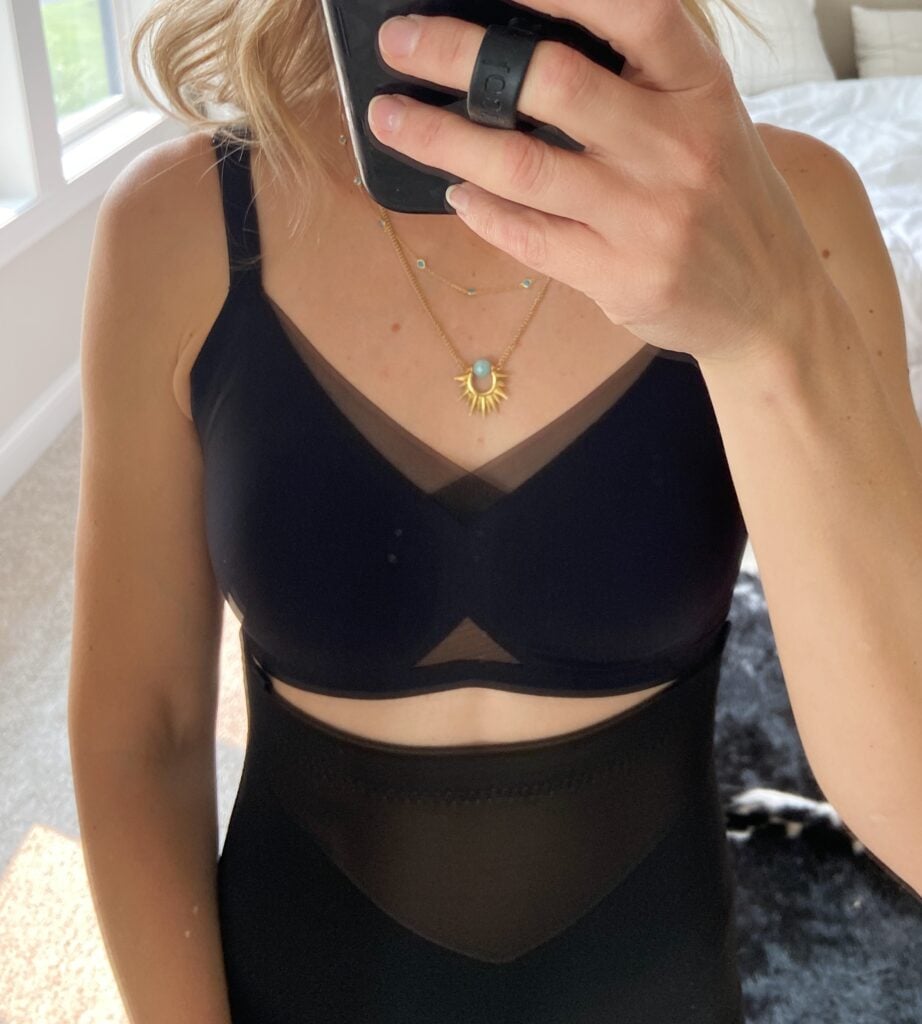 I was actually super surprised that it not only fit, it was incredibly flattering and a super comfortable bra! Those are some really hard feats for someone with an extremely small chest! 🙂
Honeylove CrossOver Bra
Peekaboo mesh adds a sexy touch, and a bonded underbust lifts without underwire. Adjustable straps and back let you modify your fit. Straps can also be crisscrossed to stay hidden under racerback tank tops.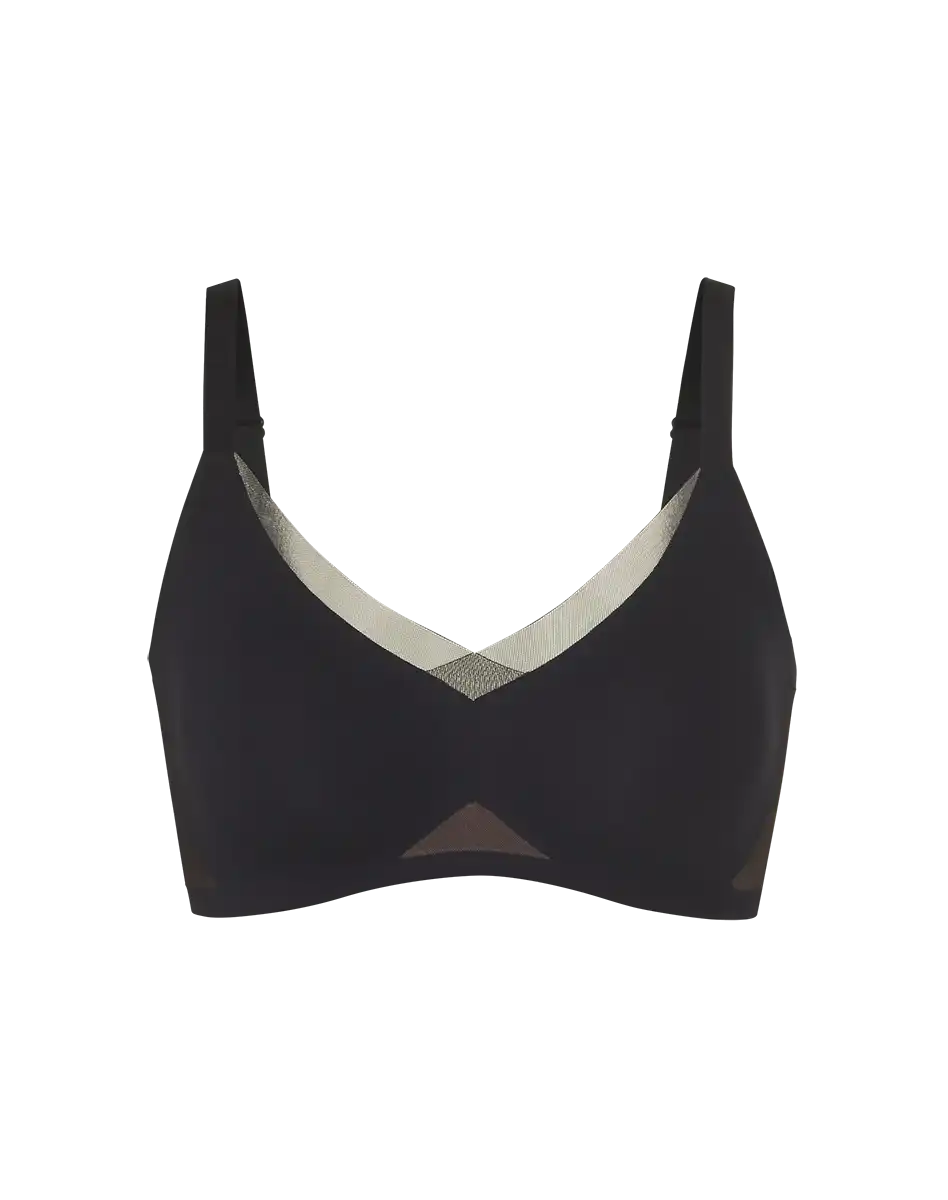 We earn a commission if you make a purchase, at no additional cost to you.
Support
When it comes to support, I don't need much for support so I don't have much of a review here. I did order one for my sister who is a much larger cup size than me to test this out – her review is coming soon!
One aspect I did benefit from are the wider sides. It really helps to eliminate any bra line or back fat and flatten everything out.
Material
Like the shorts, I love this material! Soft, not too slippery and just the right thickness. Both the shorts and the bra have a peekaboo mesh which helps you feel a little more sexy (even while wearing sculptwear!). I love the added coverage that it also gives.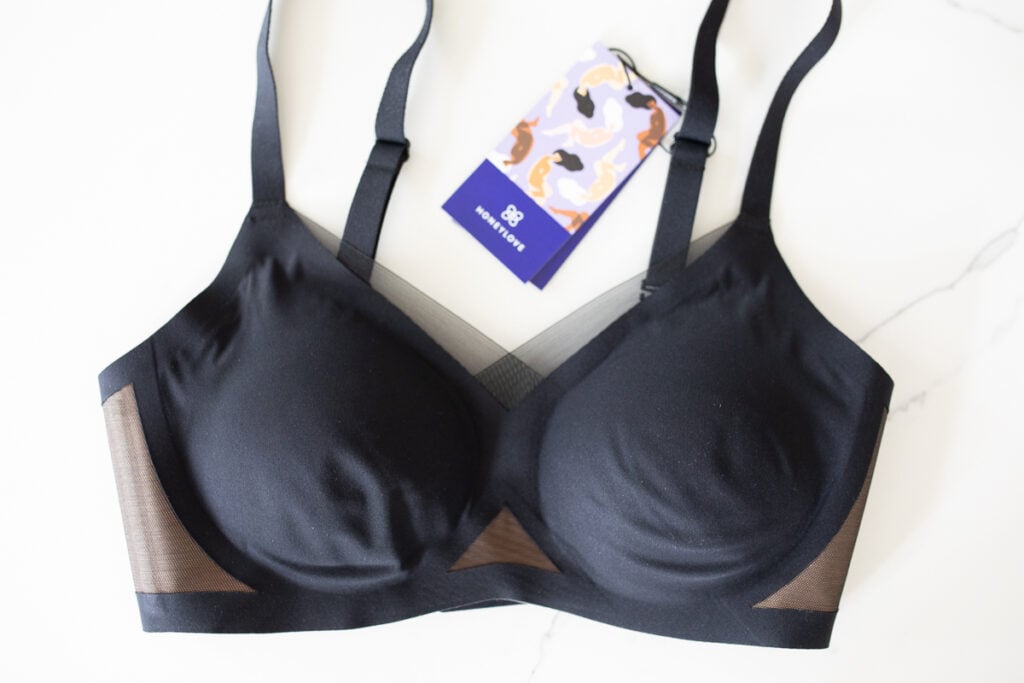 Sizing
Similar to the shorts, I did the sizing help quiz on the Honeylove size and it told me I needed a size small. I usually wear a size small in sports bras that have a tighter fit and a size xsmall in regular bras that have a low to medium support fit.
I'm glad I ordered both because the x-small was a much better fit, even around my ribcage which normally fits like a size small. Again, I sized down from the Honeylove site's recommendation.
The most surprising thing for me is that there was no gapping at the cups! It was a seamless fit.
Honeylove LiftWear Cami Review
Finally, the LiftWear Cami! I wear camis a lot, especially in the winter under cardigans and sweaters. And to be honest, this one was perfect!
Honeylove LiftWear Cami
Built-in bust support lifts without underwire, targeted smoothing holds your tummy, and adjustable straps let you customize your fit.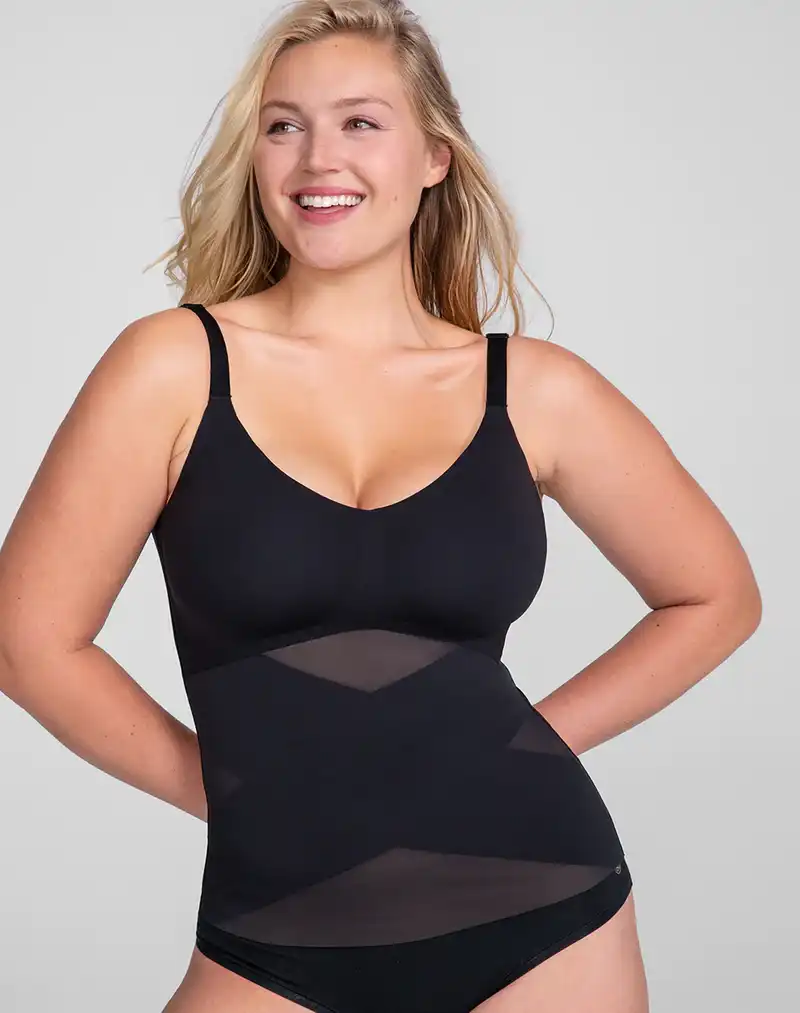 We earn a commission if you make a purchase, at no additional cost to you.
Support
I love the support it gives me at my tummy and also the fact that it has a built in bra-like support. It has removable cups and adjustable straps to get the perfect fit.
This is the perfect layering piece to help smooth and support your upper half!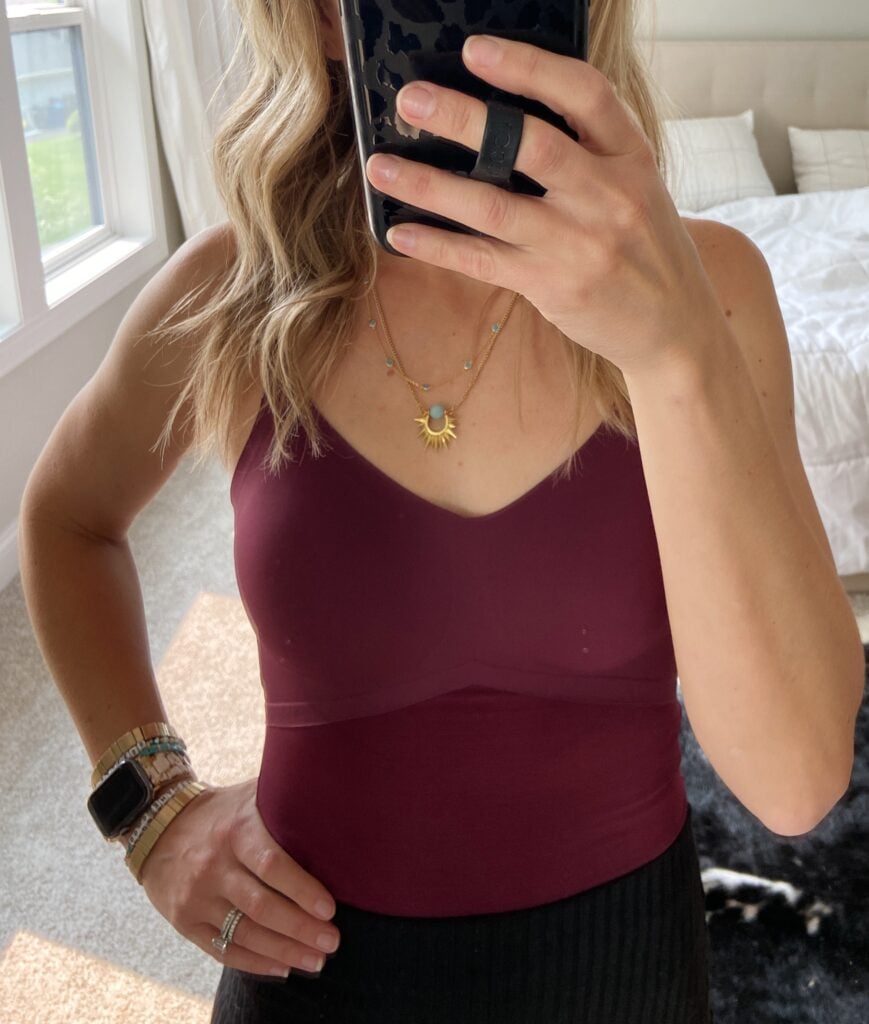 Material
Like the other two products, I loved this material! It was soft and smooth, perfect for all day wear and clearly made out of high-quality fabrics. No issues wearing anything in my closet with it.
Sizing
This is one product that fit that size the quiz told me! I got a size xsmall and it fit great. I have a shorter torso so I thought it would be too long but it at just the right spot and perfect for tucking into pants or a skirt.
The Honeylove site recommended the right size camo for me.
Other Popular Honeylove Products
Let's take a look at some of the other Honeylove products!
Scultpwear
1. SuperPower Brief
Honeylove SuperPower Brief
Targeted compression sculpts your midsection, flexible boning prevents roll-down, and mesh fabric smooths your bottom.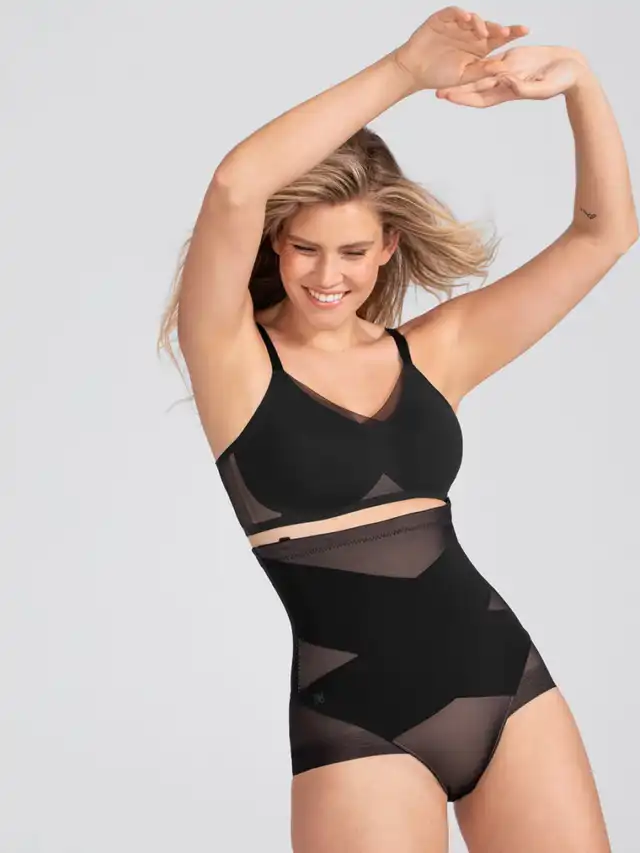 We earn a commission if you make a purchase, at no additional cost to you.
The SuperPower Brief is very similar to the SuperPower shorts but in a brief style instead of a shorts option. It has the same tummy compression and flexible boning and has a mesh fabric to smooth out your bottom.
This is a great option for anyone who wants great midsection support but doesn't need or want the upper leg support.
2. SuperPower Thong
Honeylove SuperPower Thong
Targeted compression sculpts your midsection, flexible boning prevents roll-down, and thong bottom eliminates panty lines.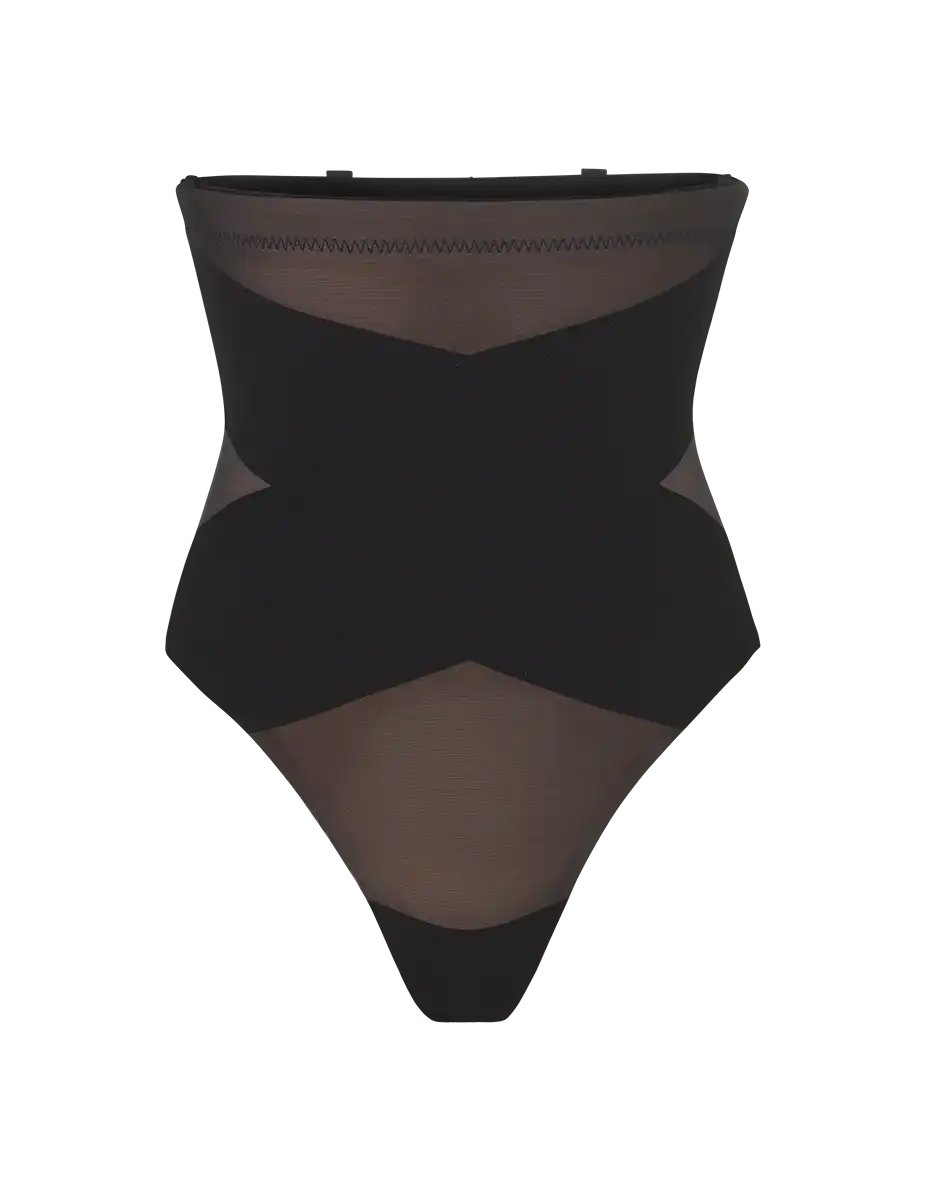 We earn a commission if you make a purchase, at no additional cost to you.
Going a little more cheeky is the SuperPower Thong! This one has the same midsection support and targeted compression but instead of a short or brief style, it has a thong style.
If you want to eliminate any sort of panty lines for a seamless look, this is the type of sculptwear for you!
3. Queen Brief
Honeylove Queen Brief
An hourglass compression panel and smoothing brief bottom provide all-over shaping without sacrificing comfort or style.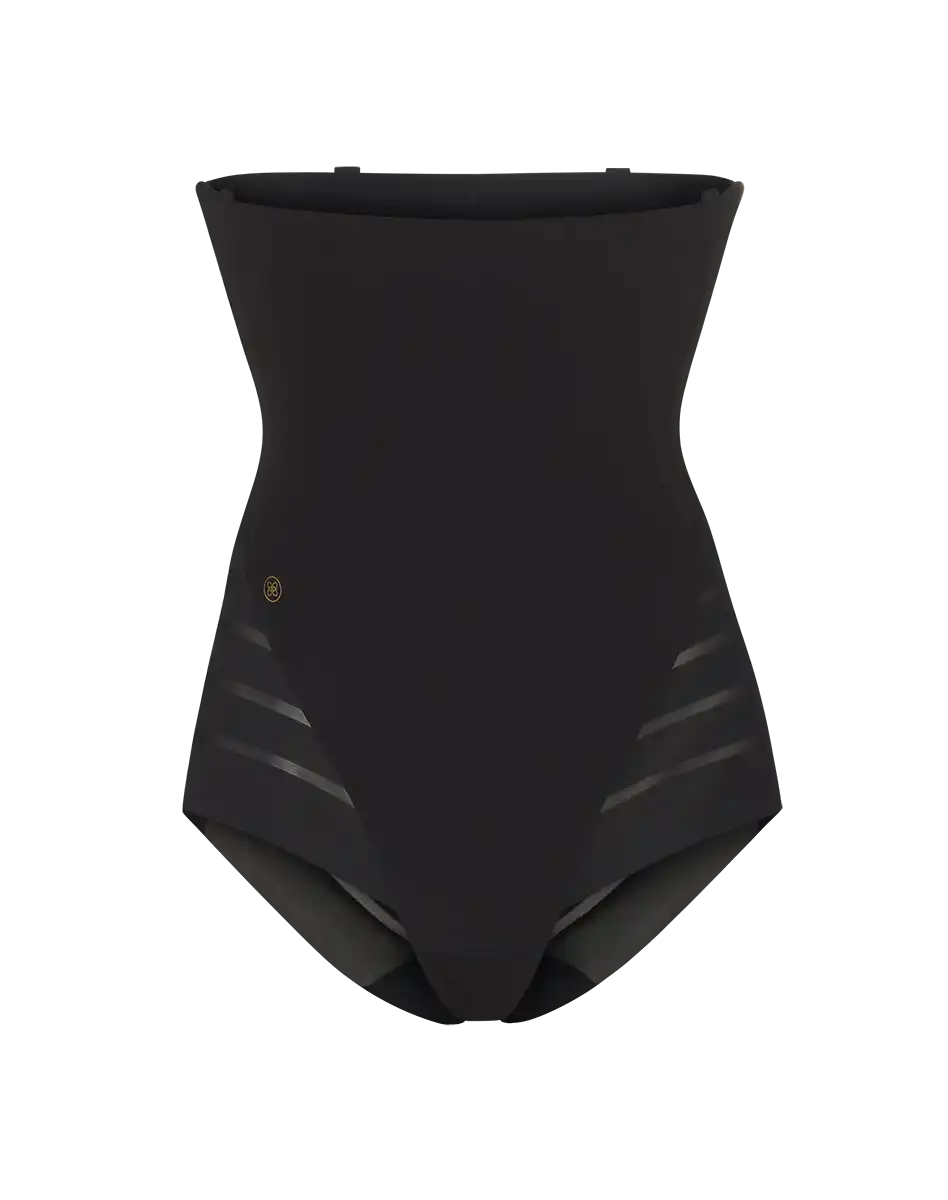 We earn a commission if you make a purchase, at no additional cost to you.
The Queen Brief has an hourglass compression panel to help really control and compress your midsection for that perfect fit. The bottom is made of a paneled mesh to help smooth and shape. It's also sweat-wicking!
Underwear
There are 4 different style of briefs. Here's what they are!
CrossOver Brief -If you're looking for a bit of an everyday wear option for some midsection support, try out the CrossOver Brief! This helps give you some support through your mid-waist and smooths your sides and bottom.
Silhouette Brief – The Silhouette Brief has a 3D printed piping for added support and is made out of a stretchy fabric that won't show under clothes and will prevent any panty lines!
Silhouette Thong – This is the same as the Silhouette Brief but in a thong style!
ShineTech Brief – The ShineTech brief is a great option for when you want a little extra support for you lower tummy. This is full coverage with a no-dig design at both your waist and your hips.
Bras
Need a new bra? Honeylove has 3 options! In addition to the CrossOver bra there's also the Silhouette Bra and a V-Neck Bra. Honeylove bras don't use underwire but they still have that great support that we all need!
V-Neck bra – This one has supportive micro fabric, bonded bust support and thicker straps than the other two.
Silhouette Bra – This bra has thinner straps that are adjustable with 3D printed support.
Bottoms
In addition to intimates, HoneyLove also has some regular clothing all with the amazing hidden shaping panels to help you look and feel your best.
There are 4 different types of bottoms to choose from: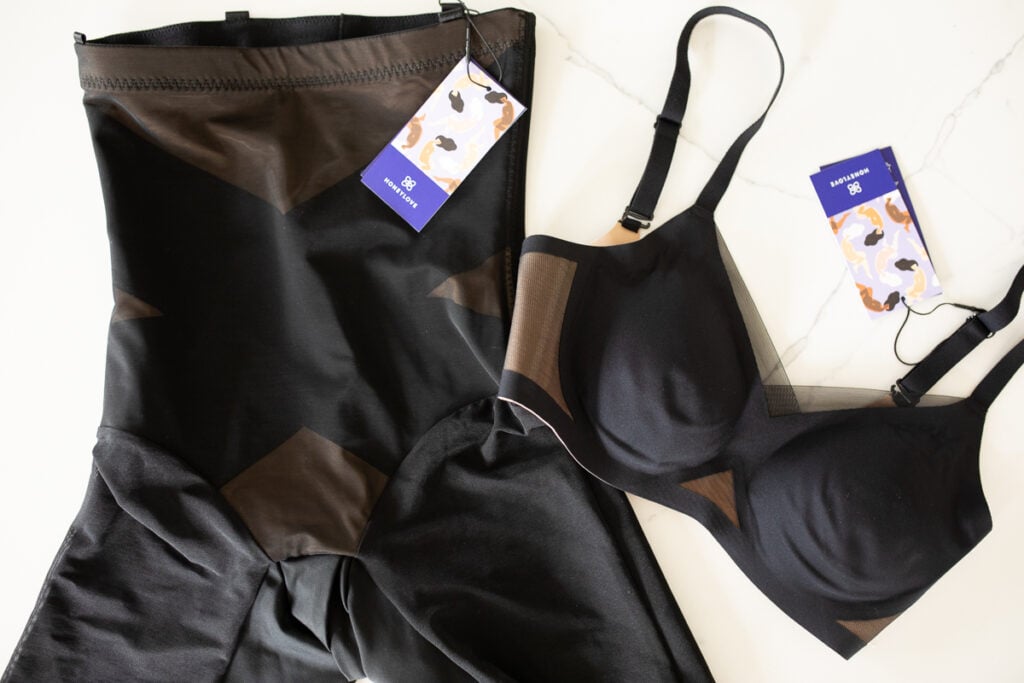 There's even more products than the ones I have listed but you get the idea of items they carry. Overall, I absolutely love my Honeylove products! They're some of the highest quality shapewear that I've ever owned and I'm excited to wear them for years to come.
Honeylove History
Honeylove was started by Betsie Larkin, a vocalist who toured the world getting on stage after stage. Like many brands who were launched to solve the founders problem (like Olive & June, Tubby Todd & Austin Fowler), Betsie also had a problem to solve – a shapewear problem!
She tried tons of different shapewear to help her feel confident on stage but found that everything she tried rolled down, didn't hold in the areas that were supposed to be held in and didn't have great structure. So she made her own!
Her first product, the SuperPower Short, was incredibly successful and that's how Honeylove came to be. It's a prouct for women of all shapes and sizes and really helps you look and feel good in your clothes.
I'm so glad Betsie solved her problem and shared it with us!
FAQs
Who owns Honeylove?
Betsie Larkin owns Honeylove.
Is Honeylove a US company?
Yes, Honeylove is located in Los Angeles, California.
Where does Honeylove ship from?
Honeylove ships from Columbus OH.
Honeylove Review Final Word
If you're in need of a new sculptwear or shapewear piece, I highly recommend Honeylove! From the flexible boning to the compression panels to quality of their items, they're some of the best shapewear on the market.