Looking for some of the best organic baby clothes? Whether this is for your little one or your best friend's new baby, buying organic baby clothes is always a great option!
Organic baby clothes can be easier on your baby's skin because they're free of any harsh chemicals, toxic dyes, etc.
Organic baby clothes have become more accessible and more affordable (and more adorable!) over the years. While some brands have certifications stating they're organic there are many other large retailers who are beginning to launch organic or eco-friendly product lines amongst the rest of their offerings. We love seeing more and more organic options pop up as time goes on.
Before we get too far, here's a quick list of our top 21 organic baby brands.
We want to reiterate that this is a judgement free zone on the internet! We don't care if the bulk of your clothes are hand me downs, bought from Costco or are simply not organic.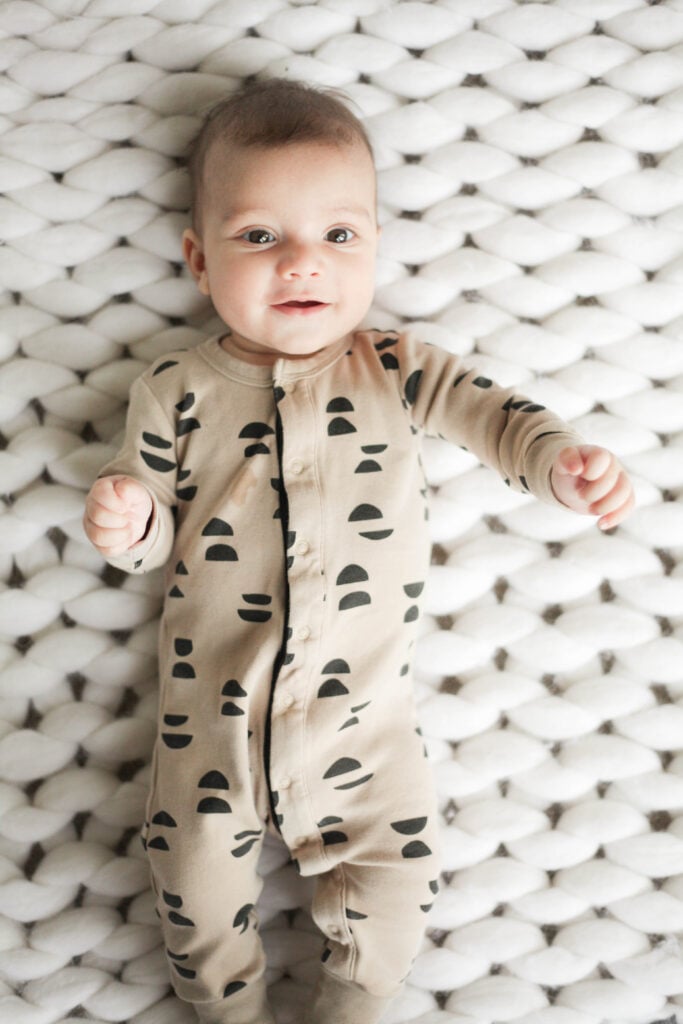 We also know that buying all organic may not be an option for you! That's why we've included some more affordable options that are more eco-friendly or part organic.
You have to start somewhere and sometimes just learning about all of the options and being introduced to the different types of organic clothes out there is a great first step.
For me, the bulk of my 3 kids clothes are a healthy mix of organic, hand me down and big retailer clothes (thanks to older cousins we have plenty of hand me downs!).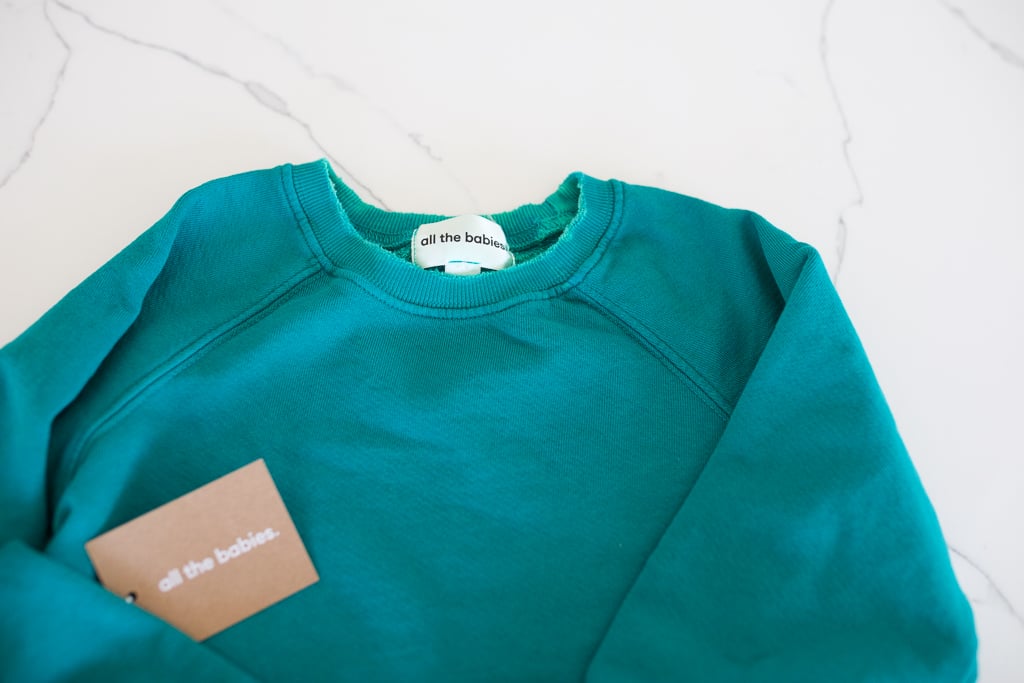 I do love splurging on a couple new organic pieces for my kids each season and one to put in my hospital bag for each new baby! But even my kids' closets aren't 100% organic! You do what's best for you and your baby!
I have personally used clothing from all but one brand on this list and the one I haven't used I've had friends that have used them. If it made the list it's one of the best of the best organic baby clothes brands!
We're going to first share some of the best organic baby clothes brands first then go into more detail on organic clothes following that!
Some of these have organic certification while others are working towards that or just beginning to use more organic products. We've noted which ones have certification and which ones don't in the descriptions.
So without further ado, let's dig in!
21 Best Organic Baby Clothes Brands (2023)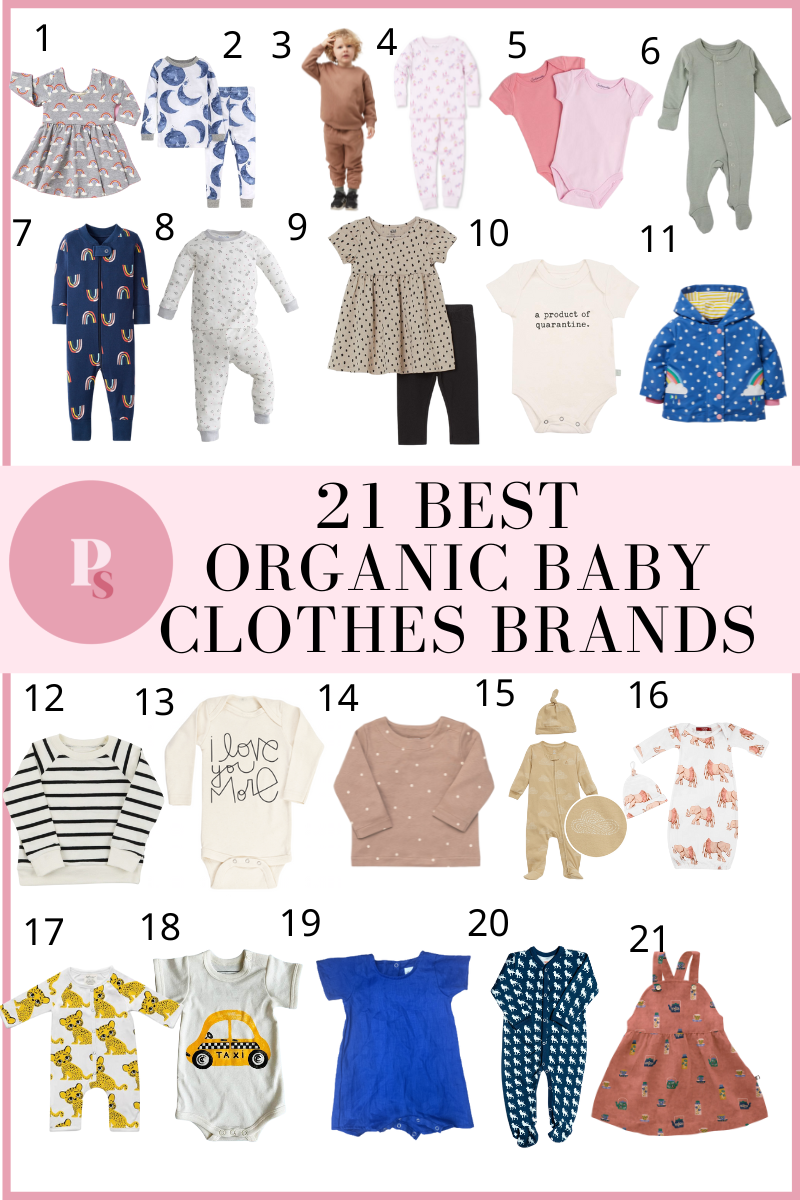 This post contains affiliate links.
And now onto more detailed information about each of the brands! We hope this help you get introduced to a new brand or two!
Monica + Andy is a one stop shop for items for babies, mom and the nursery! One of the things that I love the most is that Monica + Andy is made up of a team of 95% women and 80% moms.
It was started by a mom, Monica Royer, who wanted to ensure that whatever she put on her newborn's skin was the softest, most trustworthy fabric available.
Monica + Andy has a variety of offerings from baby, toddler and kid clothes (sizes 0 to 8Y) and also items for your nursery and mom too! They us GOTS-certified organic cotton in its purest form making it some of the softest fabric around.
It also doesn't shrink, pill or fade! We've owned quite a few pieces from Monica + Andy and they're all amazing pieces! It is quality apparel that we've been able to pass down from kid to kid.
Monica + Andy not only sells some of the most amazing clothes around but they also provide tons of education and resources on their website. From prenatal class to women's health classes to resources on pregnancy, babies, gear and more, their website is an amazing resource for new and expecting parents.
Another personal favorite of mine is Burt's Bees! Burt's Bees is truly one of the best organic baby clothing brands who not only offers baby clothes but also kids clothes, bedding and skincare using all organic materials.
They use 100% organic cotton that is GOTS-certified that's incredibly soft and gentle. Their clothes are Earth and farmer friendly because they don't use synthetic pesticides and fertilizers. Even their buttons and threads are made from recycled materials!
(Here's a look at our youngest in his Burt's Bees pajamas laying in his Dockatot!)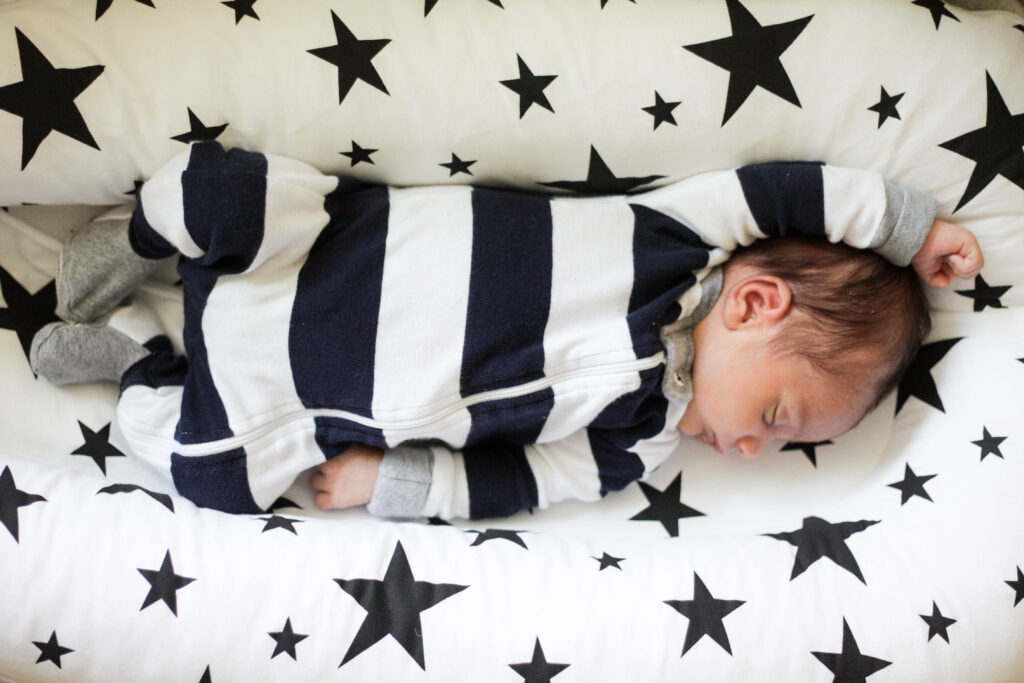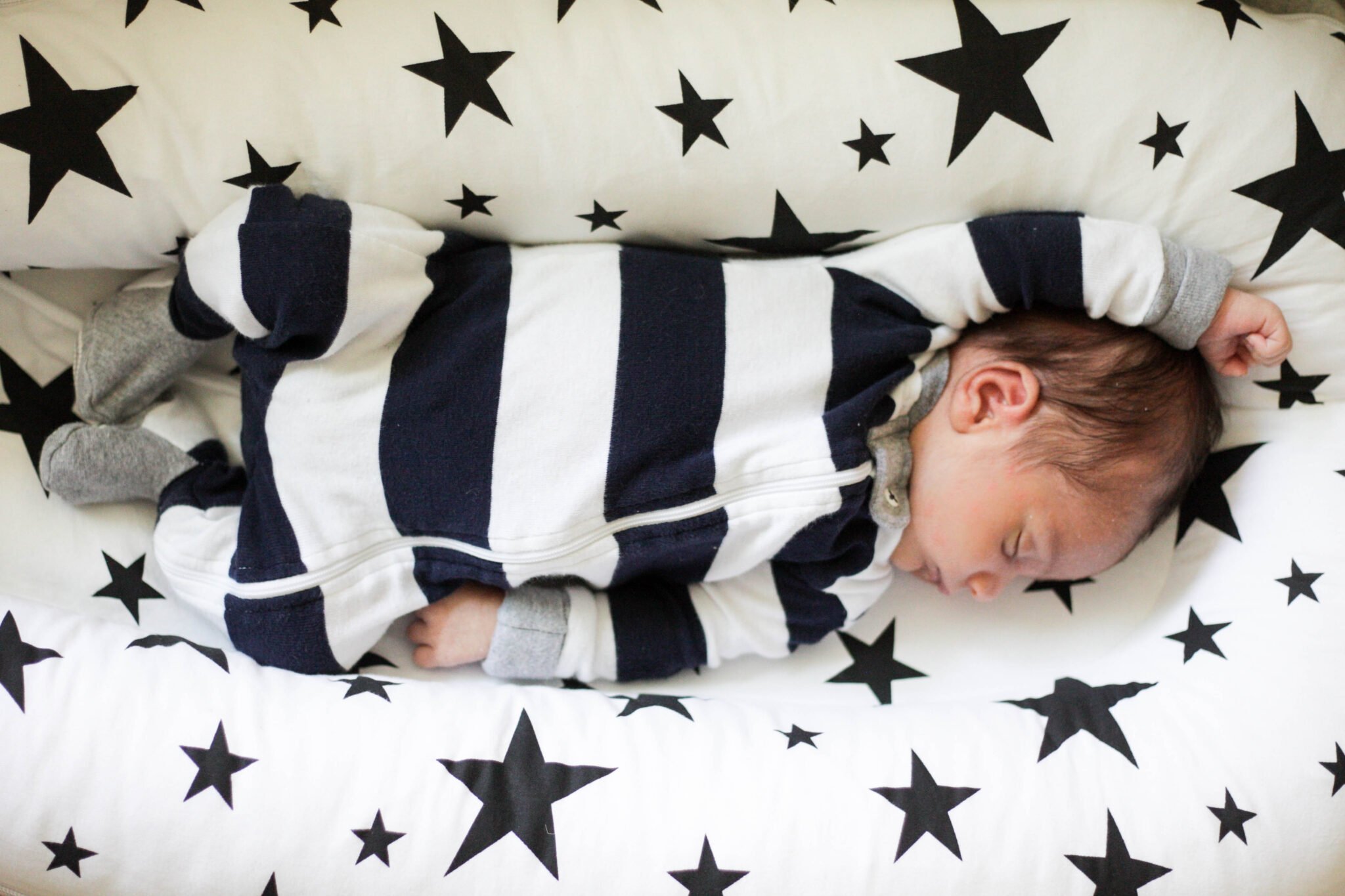 They're well known for the pajamas – both footie pajamas and two piece pajamas – and their prints are changing all the time! Just a note – these run on the slim side. Great for lean kids but size up if your little one isn't super lean!
We have quite a few of their pajamas and our kids (and I!) love them!
L'oved Baby was started by Sharon Oved. She had a goal of breastfeeding her baby for the first year, and found it difficult to feed in public. Sharon created her own breastfeeding cover for her personal use.
Five years later, she started selling nursing covers and over time, the company became what you see today! L'oved Baby now sells clothing, pajamas, and accessories for babies and children, mommy and me pajama sets, as well as burp cloths and nursing covers.
I learned about L'oved baby from my cousin who gifted us a pair of pajamas. Here's our daughter in her L'oved baby pajamas also in her Dockatot.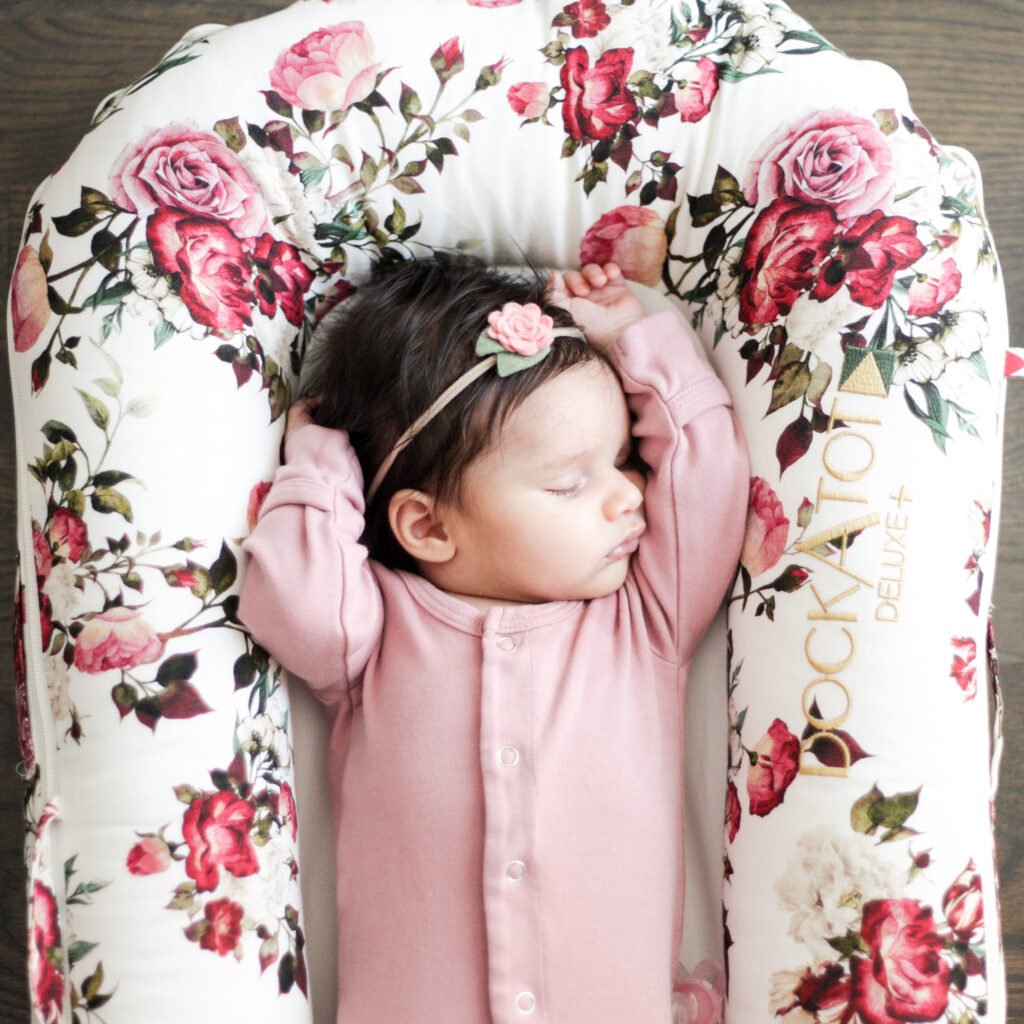 All the products are made of 100% organic cotton that is GOTS certified. The essential items that you should check out are the snap footie, zipper footie, cap, gown, blanket, leggings, and kimono bodysuit.
Of course, L'oved baby still sells nursing covers! The 4-in-1 nursing cover is definitely worth checking out!
Milkbarn Kids, like the others, carries both apparel as well as blankets, bedding and accessories. They are committed to creating the products in the most ethical and sustainable ways using only GOTS certified organic fabrics.
Milkbarn was originally started by a mom in California in 2006 and is now a collaboration between that same mom and her daughter. Her daughter's sketches and watercolor paintings can be found on many of Milkbarn's textiles and fabrics.
We've personally used everything from pajamas to bibs and even blankets for our kids! Our daughter still uses her little lovey as a blanket for her baby dolls. Their products are amazing!
Under the Nile was started in 1998 by Janice Masoud. She wanted to find clothing that would not irritate her baby's skin. In the process, she decided to start a company that would not only benefit her children, but all children!
Janice found an ethical factory north of Cairo, Egypt, who shared her vision for sustainability. Together, they set out to make Under The Nile what we see today – and support women, community, education, and ethical labor practices.
Under The Nile uses 100% organic cotton that is certified by GOTS. Bleach is never used on the clothing, instead, clothing is lightened using a process using oxygen. Additionally, no harmful chemicals are used on the finishing of products and flame retardants are also not used.
Under The Nile has clothing for preemies, babies, kids up through six years old, training pants, toys, as well as products for the home and nursery! There is even the option to start a registry which is perfect for those expecting moms.
Pact makes products for men, women, babies, kids, and even for your home! They start all of their products with organic cotton. This means that no toxic chemicals were used in the farming process.
Pact's products are Certified Organic by the Global Organic Textile Standard (GOTS) so you can be confident in your purchases. Pact's mission is to "build Earth's favorite clothing company."
In addition to organic cotton, Pact offers you the option to offset the carbon footprint of the shipment of your products and they choose packaging to help limit the environmental impact.
Pact has a fantastic "Give Back, Wear Forward" program. Simply fill your Pact box with outgrown clothes, print off a prepaid shipping label, and Pact will ship your box to one of five charities who will put your old clothes to good use.
I've used Pact clothes for not only my kids but also myself!
Hanna Andersson was founded in 1983 by a Swedish woman named Gun Denhart. Ms Denhart was living in Oregon and wanted to start a children's clothing company based on the Scandinavian principles of happiness and design. These clothes are cheerful, happy, and colorful!
Hanna Andersson used OEKO-TEX Stanard 100. From their website, "Hanna Andersson uses OEKO-TEX Standard 100 in all pajamas – baby pajamas, kids' pajamas, and family pajamas. OEKO-TEX Standard 100 is a stringent certification used to identify those products that do not contain any harmful substances in any component."
Hanna Andersson uses suppliers that provide safe, lawful working conditions and adhere to a strict ethical standards agreement.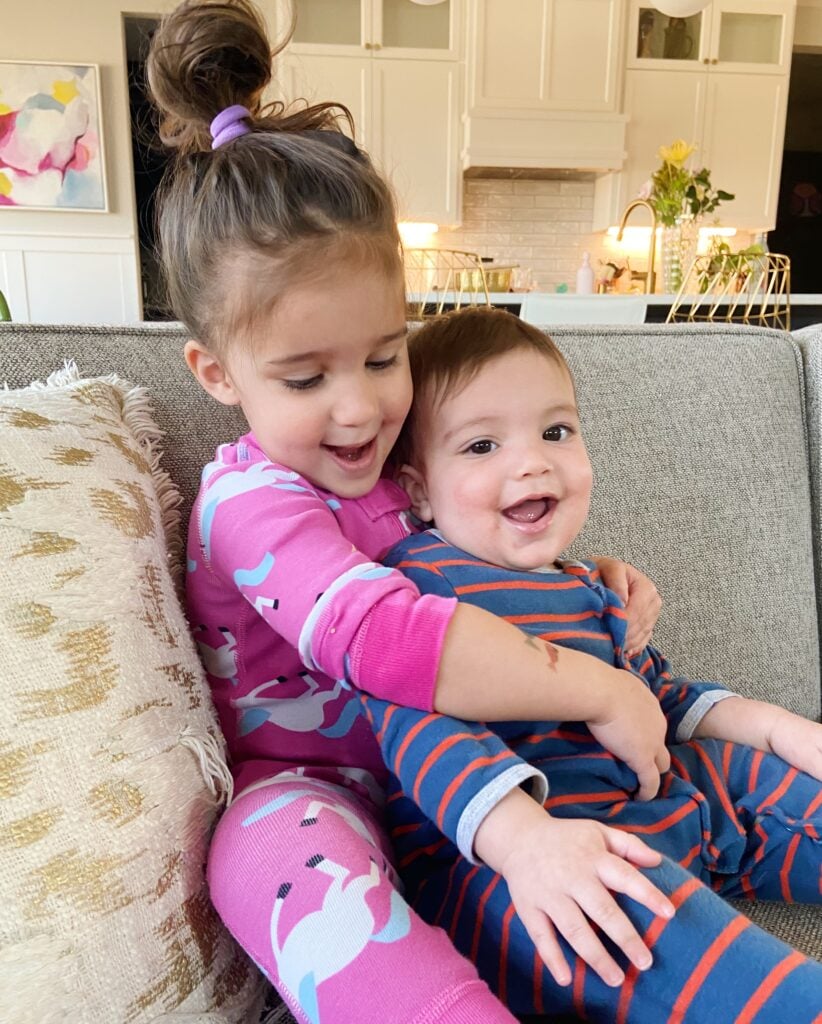 (the unicorn pjs my daughter is wearing are from Hanna Andersson!)
One fun thing about Hanna Andersson clothes is that their clothing is sized in centimeters! They are a European company at heart. You can find the American measurement equivalent on their website.
One perk of these clothes is that most of their products are pre-washed and pre-shrunk. That means no worrying if that cute new dress will still fit your daughter after you wash it!
They have a wide selection of family pajamas – find more mommy and me brands here!
The Boden promise status that they are "obsessed with making things exceptionally well". This means that their clothes don't shrink, their buttons stay on and they're not going to get holes.
They have a 365 day guarantee and even have spots on their Mini coats for 4 names because they're that confident that their clothing will survive multiple owners.
Boden reduces their environmental impact in tons of different ways – everything from using sustainable packaging and recycled materials in their catalogues and packaging, banning the use of disposable cutlery and cups in their cafe and using regenerated fibers in their swimwear. They have big targets for sustainability for the next 2-3 years as well.
And good news! Boden has apparel for the whole family – women, men, kids and babies! I've gotten some appliqué leggings and sweatshirts for my kids and they are such beautiful pieces! They wash well and still look amazing.
Tentree is a sustainable apparel brand that is well known for their commitment to plant ten trees for every item purchased (wow!).
They have kids clothes made from a signature blend of Tencel which is wood pulp covered into a renewable and biodegradable fiber, recycled polyester and organic cotton.
Both my kids and I own a few tentree items and let me tell you, they don't disappoint! I've barely taken off the sweatshirt they sent over and my kids are always reaching for their sweatpants and shirts. They wash well and are still as cozy as can be!
They're cute, cozy and doing good in the world – win win win!
If you're looking for a more affordable price for purchasing organic baby clothes, check out H&M! This large retailer has launched a conscious – sustainable style collection for anyone wanting products made with more sustainable materials.
While their items aren't 100% organic certified, they guarantee that 50% of each item is made using more sustainable materials such as recycled polyester or organic cotton.
Also all of their cotton is 100% sustainable. Sustainable according to H&M is defined as organic, recycled or approved by the Better Cotton Initiative (BCI). They have a goal of using 100% recycled or sustainable materials by 2030 so watch for that!
H&M not only carries baby clothes but they have items for the whole family! We own a lot of H&M products and have always been pleased with them!
Want 100% organic cotton, heirloom quality products and fair trade settings? Then Finn & Emma is your place to shop! Their shop is full of fun, modern colors, unique prints and good quality items for your little ones.
Their garments are made with soft GOTS certified cotton using non-toxi, eco-friendly dyes. They also ensure that everyone making their products are paid a living wage and have a safe environment to work in.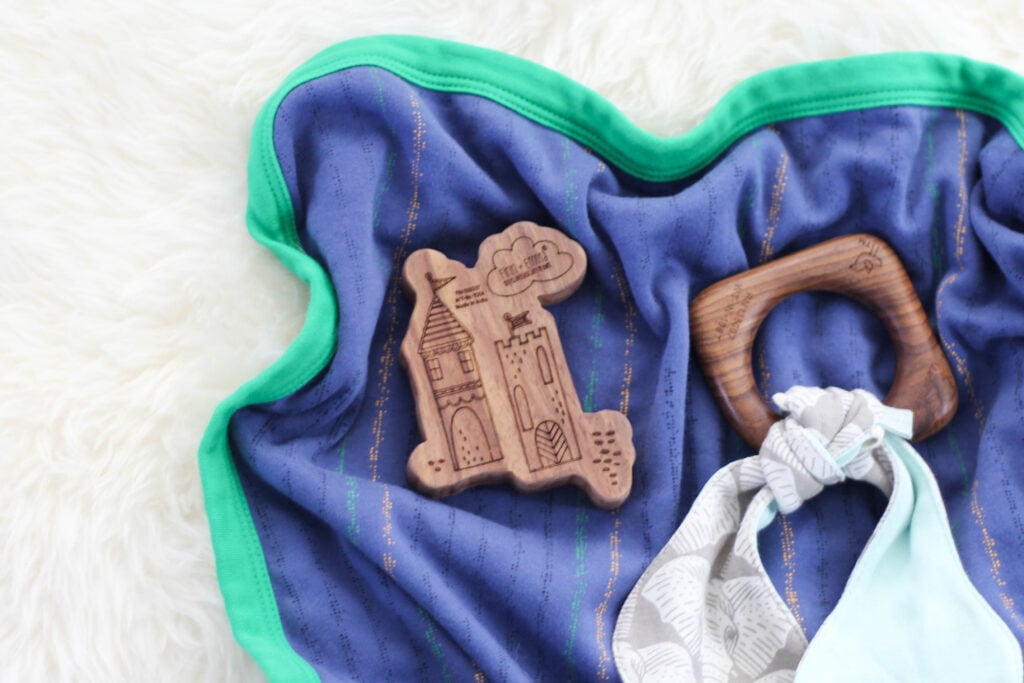 They have everything from organic clothing and natural wood toys for babies and kids to toys hand knit by artisans in Peru to macrame swings!
We have used a ton of their items from pajamas to blankets to toys. They've stayed in such great shape that we've been able to pass them on to friends' kids for tons more use!
Mini Mioche is a Canada based brand that creates ethically made basics that are super soft using GOTS organic cotton. Their fabric is dyed locally in Toronto using low impact dyes. They have no plastic packaging and everything from their hangtags to postcards can be recycled.
They have beautiful gender neutral clothing for babies and kids that can be passed down from kid to kid! Get $10 off using this link!
Tenth & Pine is a Made in USA brand that started back in 2016 by a stay at home mom, Kerynn! She launched the brand after having a miracle baby 10 years after battling infertility. After her little one was born, she wanted to create a brand that encompassed quality, function, comfort and simplicity.
All of the clothes are made with GOTS certified organic materials. Everything is also made in the USA (they're based out of Los Angeles) where they work with factories that not only share the same values but also have fair and safe working conditions for their employees.
They have items for the whole family – mom, dad, and child – and even has items for the nursery including the softest crib sheets ever! Bonus – use the code paisleyandsparrow for 10% off!
Colored Organics is based in MN where I am from! I've met the owner, Amanda, and lots of the people who work at Colored Organics and love them all. Amanda started Colored Organics with two little ones under foot, knowing that her family could make a big impact just by switching to organic clothes.
All of Colored Organics clothes is ethically made and is 100% sweatshop-free never using child labor. Their factories are GOTS certified, they pay fair wages with medical benefits and ensure their workers are given vacation and holiday pay.
Here's my youngest son in Colored Organics that were my oldest pair originally!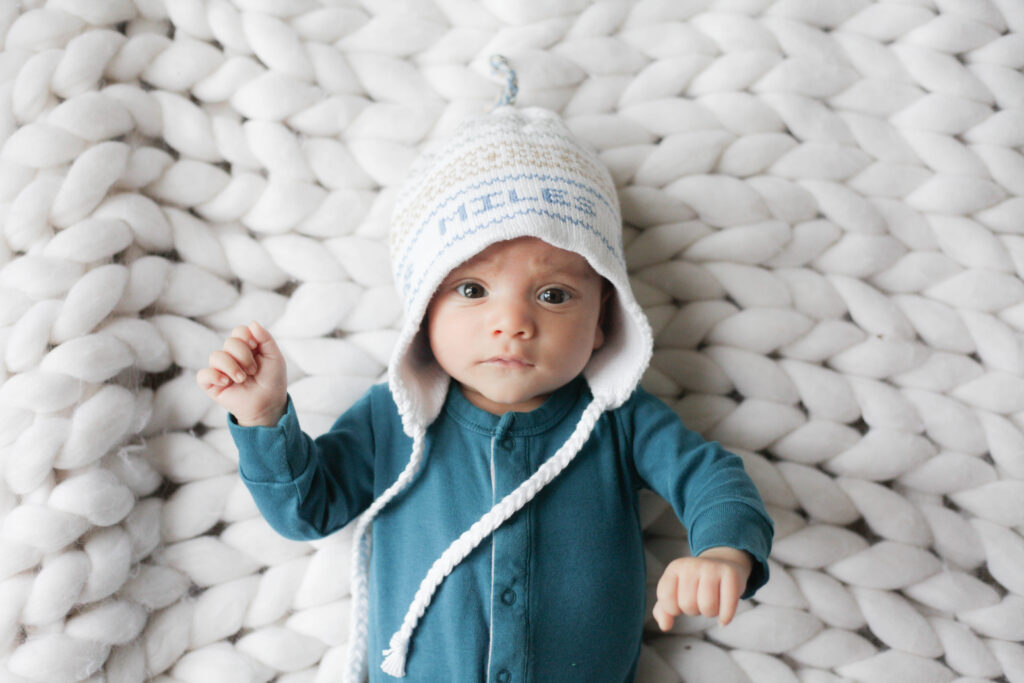 Colored Organics has baby and kid clothes as well as some toys, blankets and more. I adore their pajamas. They hold up so well and are truly the softest things ever!
One other big retailer that has launched an organics collection at affordable prices is Gap! Their organics collection features soft baby and kids clothes made with 100% organically-grown cotton.
The Baby Gap Organics line has mix and match outfits, cute separates featuring whimsy prints and bodysuit and pants packs that make great gifts!
Soft Baby's mantra is "organic that plays"! Here' you'll find 100% organic cotton clothing that's playful and beautiful. They use water-based ink prints that are gentle on baby's sensitive skin, nickel-free enclosures snaps and everything is made using an eco-friendly process.
Their shop is full of adorable rompers, onesies, blankets and more. If you're looking for some bright colors and fresh prints, you'll want to check out Soft Baby!
We absolutely adore their pajamas and have used them with all of our kids!
Estella is run by Jean Polsky and her husband, Chike Chukwolozie out of New York City. Their goal was to bring all of the beautiful artisan-inspired kids' clothing they saw in Europe to New York.
Their clothing is full of bright colors designed by moms and craftsmen that both kids and parents love. Estella is full of luxury baby clothes and organic toys, blankets and nursery decor that support artisan workers.
All the Babies is a European inspired baby and adult clothing brand based out of LA started by a mother daughter duo. Their mission is to give back to babies in need with their GOTS certified organic cotton clothing.
One amazing thing about All the Babies is their give back program! You have the option of sending back your All the Babies clothing for them to hand deliver to a baby in need.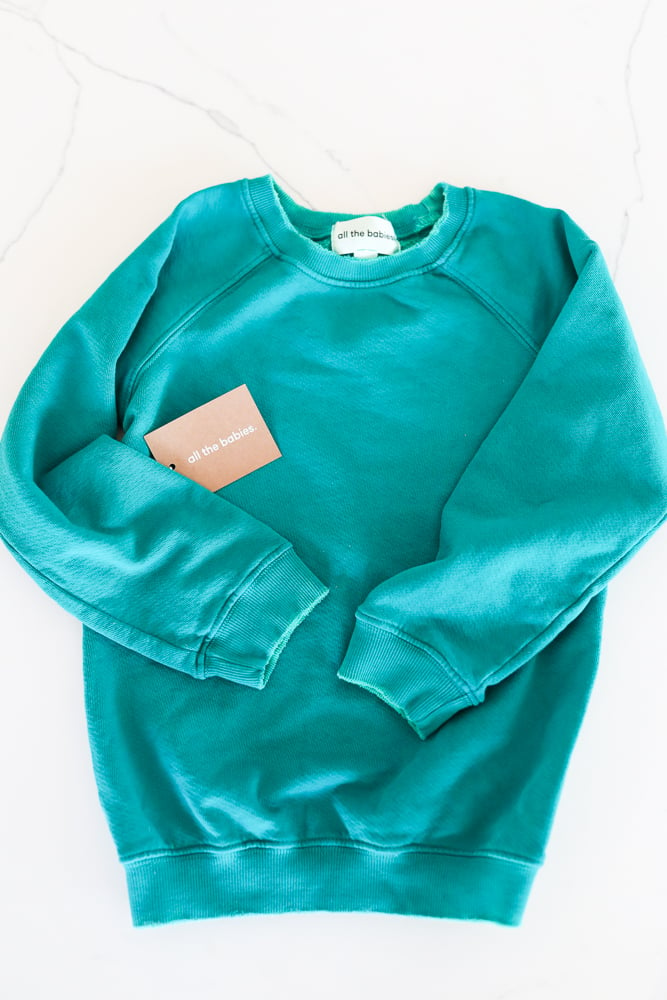 They have baby cloths, adult clothes and lots of coordinating pieces so you can match your little one.
We have a few pieces from All the Babies and they are so cute, so well made and will definitely last a long time! One thing I especially loved was that when I made a recent order it took a while for me to get it. They included a hand written note apologizing for the delay and thanking me for my patience! While I didn't love waiting knowing that there was a real person behind the note made it totally ok!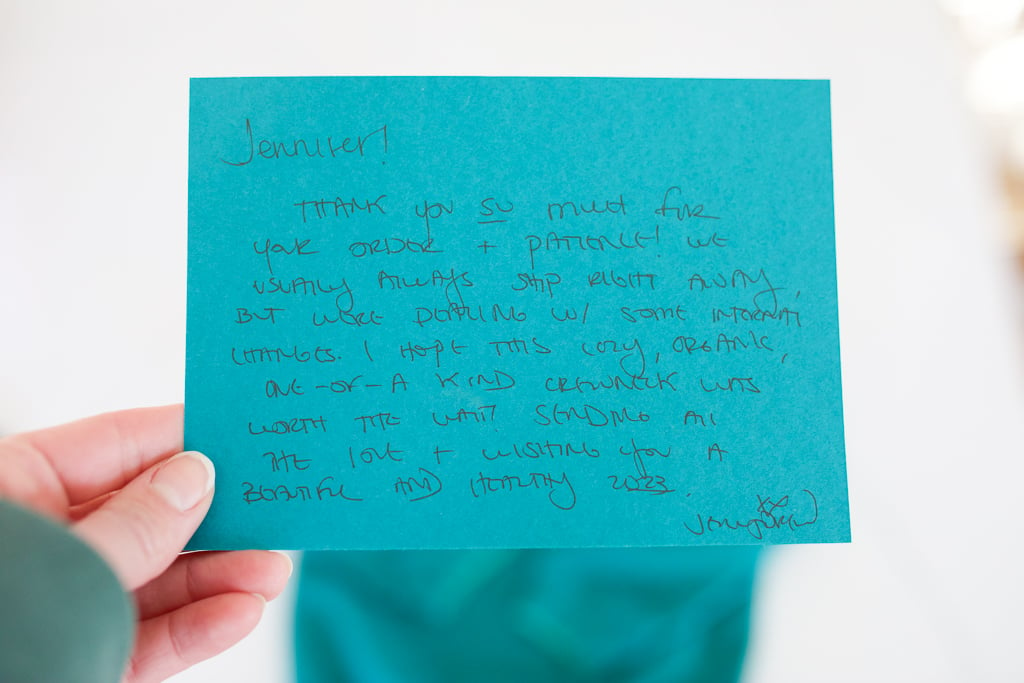 Jazzy Organics is another organic clothing brand that uses GOTS certified organic cotton to create incredibly soft clothing using delicate colors and modern designs. They want to ensure that only the purest organically grown cotton goes on kids' sensitive skin.
Jazzy Organics has fun rompers, blankets, bibs, bonnets and more. All of their products come with a 100% satisfaction guarantee ensuring you're always happy with every purchase!
Ouef, which mens eggs, is a family run sustainable children's lifestyle brand based out of Brooklyn. Their business was created in my favorite way possible – out of necessity.
When they were pregnant with their first child, they couldn't find a crib that was well-designed, well-made and produced ethically so rather than settle for less than ideal, they created on themself!
Sophie and Michael, the owners (who still design everything) focus on creating items that families need that they can make well and make sustainability. They also strive to "Be Good" in all aspects of life and business. Be good designers, be good people and be good to the planet.
They not only have the cutest organic clothes for babies and kids but also a large selection of furniture and decor pieces.
21. O2Baby
O2Baby is a brand that sells exclusively on Amazon! They're known for the incredibly soft pajamas that are made extra long so they grow with your little one.
Nothing is more annoying than a pair of pajamas that only fit for a month! You can cuff the bottom of the pants when you first get them and uncuff them as your baby grows.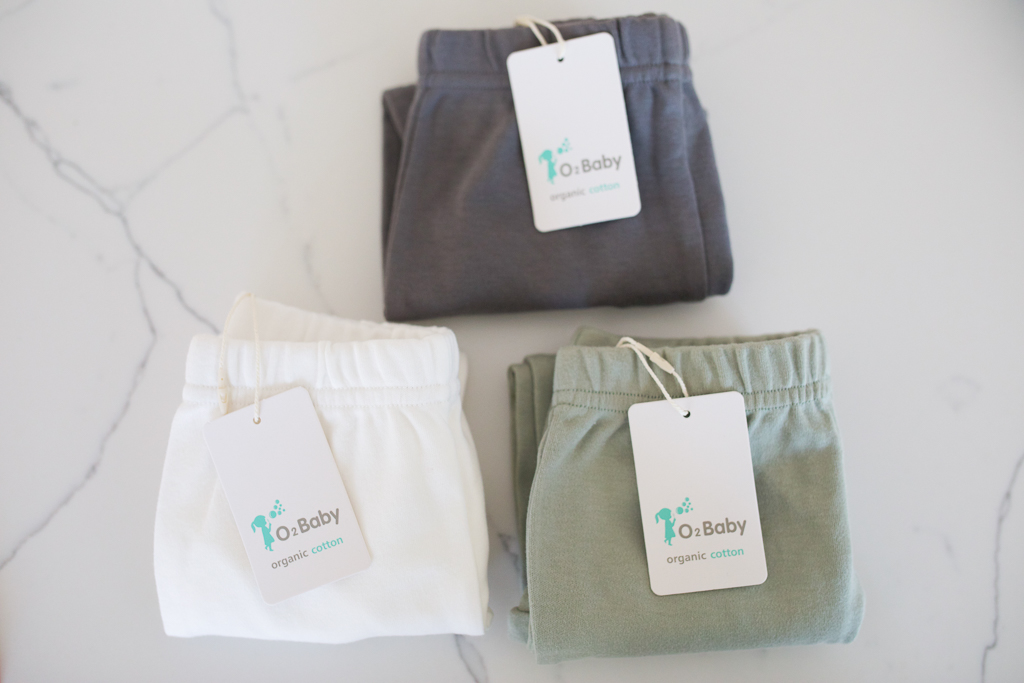 We also have their pants and they're so cute and incredibly soft. We 10/10 recommend them!
Organic Certifications
As you may have seen in the brands above, there are different types of certifications. They 2 main ones are Oeko-Tex Standard 100 or Global Organic Textile Standard (GOTS). The most common one is the GOTS certification.
In order for a textile to be GOTS certified, it means it has to contain a minimum of 70% certified organic natural fibers. If it says that it is GOTS organic, it means that it has to contain a minimum of 95% certified organic fibre.
On the other hand, Oeko-Tex Standard 100 is a global standard so it has the same meaning in every country. For a textile to have a Oeko-Tex Standard 100 certification it means that every part of the textile has been tested for harmful substances.
As you begin your journey into the world of organic baby clothes, keep an eye out of either of those 2 seals. They'll help you in identifying certified organic clothing!
I hope that this list of 20 of the best organic baby clothes brands helps you in determining a new brand or two to try out for a little one in your life!
The clothing industry has come a long way and the number of high quality, luxury as well as affordable organic baby clothes continues to grow. 
Bookmark this page to reference back to often as you look for baby products and clothes and add some of these brands or specific items to your baby registry! Or check out these 9 baby brands that give back for more baby fun!