Whether you have fine hair or a thick curly mane, everyone loves a straight and sleek hairstyle. Straightening your hair is great for changing up your look or for special occasions!
Wanting this look is one thing, but getting it is another. With the right products and approach, anyone can create a silky-smooth straightened look.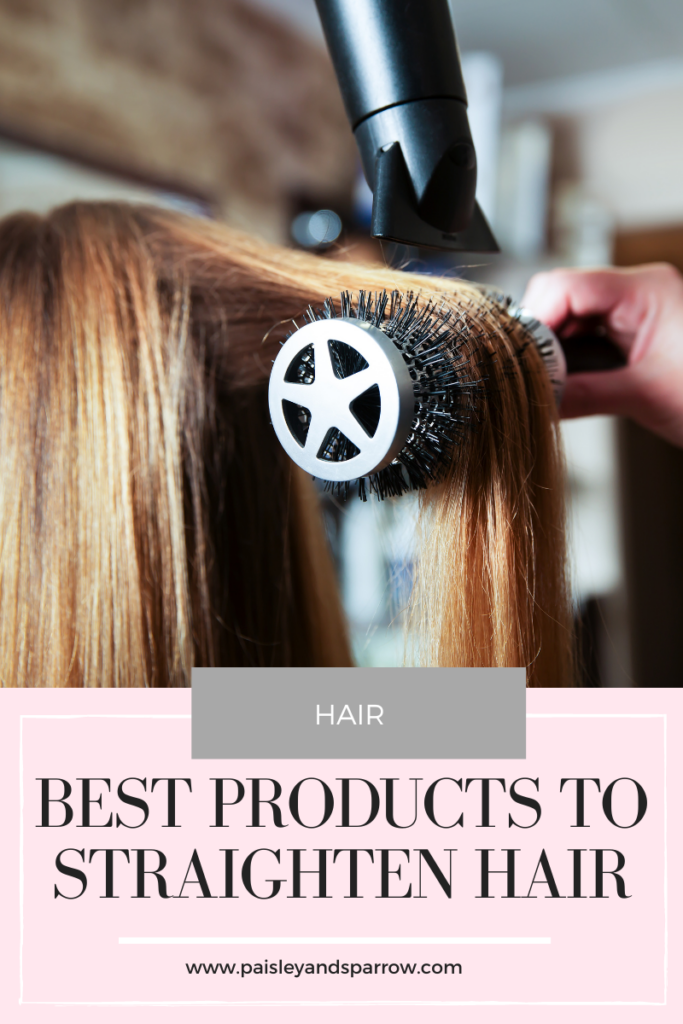 What to Consider in a Hair Straightening Product
Achieving that perfectly smooth and silky straight hairstyle doesn't have to be so daunting with the right hair product. When it comes to finding the right straightening products for your hair, you need to consider your hair needs, hair type and texture, and budget.
You should also look to see if the products contain any heat protection for your hair. Since you'll likely be using a blow dryer and flat iron when you straighten your hair, you want to be sure to protect your hair with products that contain some sort of heat protection.
I've researched and reviewed the best products in these five categories: Best Creams, Best Sprays, Best for Curly Hair, Best for Frizz, and Best Budget so you can easily find what will work for your hair and your lifestyle.
Let's get into it!
25 Best Hair Straightening Products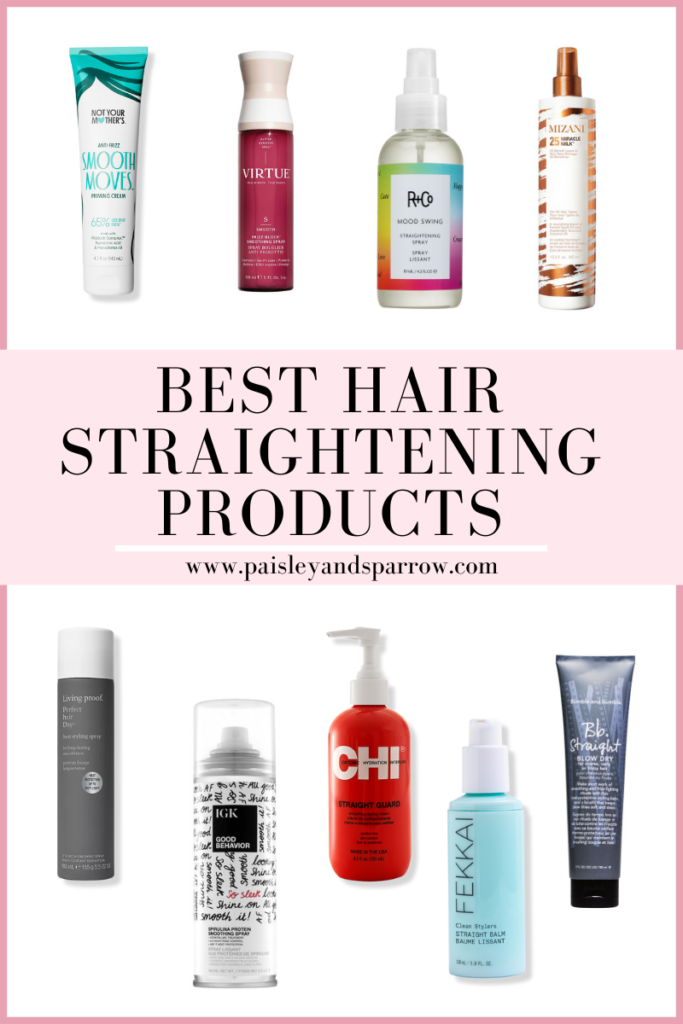 This post contains affiliate links.
On to the best hair straightening products!
Best Creams
When it comes to hair products of all kinds, you can never go wrong reaching for anything Paul Mitchell. Even the pros like it. And this hair straightening product comes highly rated. It's a cream created with textured hair in mind, to create a hold and a shine after straightening.
Pros:
Formulated for frizzy hair
Lovely citrus scent
Cons:
Not strong enough to keep curly hair straightened
Heat protection is a must for the best straightening products. And this hair straightener cream addresses three hair concerns in one — heat, smoothing, and conditioning. It reduces frizz and protects against heat and humidity. It's long-lasting and creates shine. Works for all hair types, and medium to thick hair textures.
I've used this heat protectant cream for my hair for years when I straighten it and absolutely love it. It's one hair product I recommend all the time — it leaves my hair smooth and looking its best after straightening!
Pros:
Non-greasy
Reduces frizz up to 3 days
Cons:
Can be heavy for fine hair texture
The scent for this hair product was created through a collaboration with one of the oldest French fragrance houses in France. It smells incredible!
This product is also formulated for frizz and shine control, promising to protect against heat up to 430 F, and it is fortified with heat-activated protein to strengthen and restore hair strands.
Oribe is one of my favorite hair brands. They have some of the best products that always work amazing!
Pros:
UV protection
Works especially well with curly hair
Divine French fragrance
Cons:
Online only
Not budget friendly
Made in Parma, Italy, this cream comes highly rated! It works for all hair types and textures, thin, thick, coarse, frizzy, etc. It keeps hair in place for hours and even days. Because the product is so long lasting, this keeps your hair from needing more heat styling, which makes your hair healthier in turn! It also keeps hair shiny and frizz reduced, an essential element when straightening your hair.
Pros:
Very long-lasting
Lovely scent
Cons:
May not be as effective in humid weather
This hair lotion reduces frizz and protects against thermal damage by locking in moisture for hair. It's formulated with natural ingredients and without chemicals and parabens that are considered harmful on the EWG score.
This is safe for both colored treated or chemically treated hair. If it's important to you to buy a clean beauty product, this one is made from products grown organically and sustainably without chemicals.
Pros:
A clean beauty pick
Hydrating
Cons:
Not suitable for oily hair
Best Sprays to Straighten Hair
This hair spray works for straightening all hair types. It will help keep your hair frizz-free for up to 72 hours.
This spray is also one of the best products for protecting your hair from heat! Spray it on your hair prior to straightening with a blow dryer to keep it healthy and frizz free.
Pros:
Best pick for humidity
Works for every hair type
Cons:
This heat-activated flat iron spray is one of the best rated in straightening sprays with frizz issues. It tames hair and leaves it looking and feeling glossy. This product is formulated with Keratin protein, so the added protein gives your hair an extra shine.
Pros:
Infused with Keratin
Top pick for frizz control spray
Cons:
Hair may feel greasy depending on your hair type
If you're looking for a straightening spray that fights against humidity but also won't leave your hair feeling greasy, this is a top product pick. Made in USA and with all vegan ingredients, it's a great straightening option for getting that silky blow-out look that will be long-lasting.
Pros:
Heat activated to protect hair from humid weather
All vegan
Non-greasy
Cons:
Less product. It comes in a smaller bottle compared to other hair products
I love this pick because of how lightweight it is, and let's be real: Living Proof makes some of the best hair products! It doesn't leave your hair feeling sticky after you straighten it, but still provides smoothness and keeps your hairstyle strongly in place. It applies in a thin and light mist for even distribution. And you can use it on damp or dry hair, so it's great no matter how you straighten your hair.
Pros:
Lightweight product
Works on damp or dry hair
Best pick for fine hair
Cons:
May not be the best pick for thick and curly hair
In addition to being a great straightening spray, this hair product can also add volume, which is especially nice for all the fine hair ladies reading this right now (like me!).
And you don't have to give up straightening your hair just because you live somewhere hot. It's heat-activated, so it also works nicely in hotter and more humid environments.
Pros:
Amazing smell
Protects hair against heat damage
Cons:
Some reviews report too much residue
Best Products for Curly Hair
With curly hair, it often requires a lot more heat-styling to straighten hair. That's why ensuring hydration for curly hair is so important when choosing products. This protectant leave-in conditioner smooths, straightens, and protects hair from heat styling, especially for curly hair.
Pros:
Lightweight formula
Made with coconut and fennel seed oils
Cons:
For coarser and thicker hair, this blow-dry spray is specifically formulated with straightening thick and curly hair in mind, for strong frizz control. It's smoothing and softening, leaving your hair with a glossy and shiny finish.
Pros:
Perfect for coarse hair
Mineral free oil
Cons:
Despite its description of being unscented, reviewers have reported that its smell may not be pleasant
Humidity can be your worst enemy when you have curly hair and want to straighten it into a less frizzy hairstyle. This straightening cream is an amazing product for curly hair because it locks in style and creates a memory soft finish in the hair. It comes highly rated, with customer reviews and photos showing before and after transformations of their curly to straight hairstyles.
Pros:
Infused with Keratin protein
Great review ratings and comments
Nice rosemary scent
Cons:
This hair spray is perfect for flat iron styling. It's specifically targeted toward coarse and curly hair types. It gives you shine and glossiness and holds the style very well.
This is a cruelty-free hair-straightening product that's made with marine botanicals that combine the healing, nutritive powers of eight different organic seaweeds and algae.
Pros:
Brilliant shine
Cruelty-free product
Conditioning
Cons:
Some feel it has too strong of an odor
This gel is like a healthy salad for your hair! It nourishes your hair with rice amino acids, quinoa extract, and tomato fruit ferment. These ingredients nourish, reduce, frizz, and create shine.
You can use it as a straightening product or to enhance your natural curl. It will smooth out and hydrate your hair either way.
Pros:
Highly nourishing product
Smells amazing
Lightweight
Cons:
Some reviews say it dried out their hair
Best for Frizz
This smoothing spray for frizzy hair is jam-packed with amazing proteins to smooth, hydrate, and protect your hair. It also offers UV protection so you can feel confident knowing your hair is protected while spending time in the sun. This product comes in beautiful packaging and smells lovely.
Pros:
Formulated with powerful proteins
Amazing product for curly and thick hair
High quality
Safe for color-treated hair
Cons:
For a sleek and straight look, this hair cream needs to be your go-to product! It works amazingly on curly and frizzy hair and provides control and long-lasting style.
Pros:
Cream-based for best style control
Nice scent
Mid-price point
Cons:
With 24-hour frizz control and heat protection, you can feel confident in leaving your house knowing your hair will stay in place with this straightening balm. It's also formulated with hydrolyzed vegetable protein, so it nourishes your hair as well. This product has a lovely fresh citrus and fruity scent. So fun for summer!
Pros:
450 F heat protection
Vegan and cruelty free
Free of sulfates, parabens, and other harmful chemicals
Cons:
Not the best for finer hair
This spray will leave your hair with an incredible smoothness and shine. Packed with spirulina protein, it enhances the shine and glossiness of your hair and reduces frizz. This product also protects your hair against heat styling and humid weather.
Pros:
Good for color-treated hair
Smells heavenly
Cons:
This is a lotion spray, so you can count on hydration as well as a lightweight and even distribution throughout your hair. In addition to hydration, it will also help detangle your hair and protect it from the heat.
Pros:
Lightweight product
Sulfate-free
Works amazing on thick hair
Cons:
Not the best for finer hair types
Best Budget Hair Straightener Products
A fantastic budget-friendly option, this cream product not only reduces frizz and gives you shine, but it also helps protect against split ends with its heat protection.
Pros:
Under $10
Up to 450 F heat defense
Cons:
Not only hydrating and straightening but this product is also volumizing! We love a straightening product that straightens and doesn't weigh down hair. It's a whipped balm formula, so it has a light and airy finish in the hair.
Pros:
Vegan and cruelty free
Under $10
For all hair types
Cons:
This hair product is a lightweight formula spray that will leave your hair shiny and stunning. With humidity and heat protection specifically in mind to avoid buildup in hair, your hair will feel light and healthy.
This hair spray is heat activated and can last up to 3 shampoos! I've started using this product recently and love how it makes my hair feel extra smooth and it doesn't weigh it down at all!
Pros:
Under $15
Smells great
Heat-activated
Cons:
Not the strongest formula
This hair product does wonders at taming and de-frizzing, and is such a great and affordable hair straightening serum. It's non-oily and works in both wet and dry hair, which is awesome for any hair styling needs you may have.
This hair serum is especially great on curly hair and will help keep frizz at bay.
Pros:
Can use on wet and dry hair
Fun pineapple scent
Under $10
Cons:
At under $7 and with its amazing reviews, this spray is one of your most budget-friendly options on the market when it comes to straightening and smoothing hair products.
This hair product comes with a high heat protection and formulated with nourishing Shea Butter and Marula Oil to keep your hair healthy and strong.
Pros:
Under $7
Heat protected
Moisturizing and de-frizzing product
Cons:
Not everyone likes the scent
There you have it! I hope you found a good option for a new hair straightening product to help tame your tresses and give you that smooth straight hair you always wanted!
Need more hair tips? Find the best volumizing powders and dry shampoos (and the best ways to use them!).
Do you have straight hair that you need to hold curls? Try one of these hairsprays!