Planning out how to decorate a room in your home? Wanting to try out an accent wall but not quite sure where to start?
Accent walls are coming back with full force in the interior design world and I'm loving seeing all of the fun accent wall ideas out there. From wallpaper to paint, there's so many different ways to create an accent wall.
Accent walls can be used in just about any area in your home. From bathrooms to bedrooms, to living rooms or dining rooms, accent walls can be a beautiful addition to any home!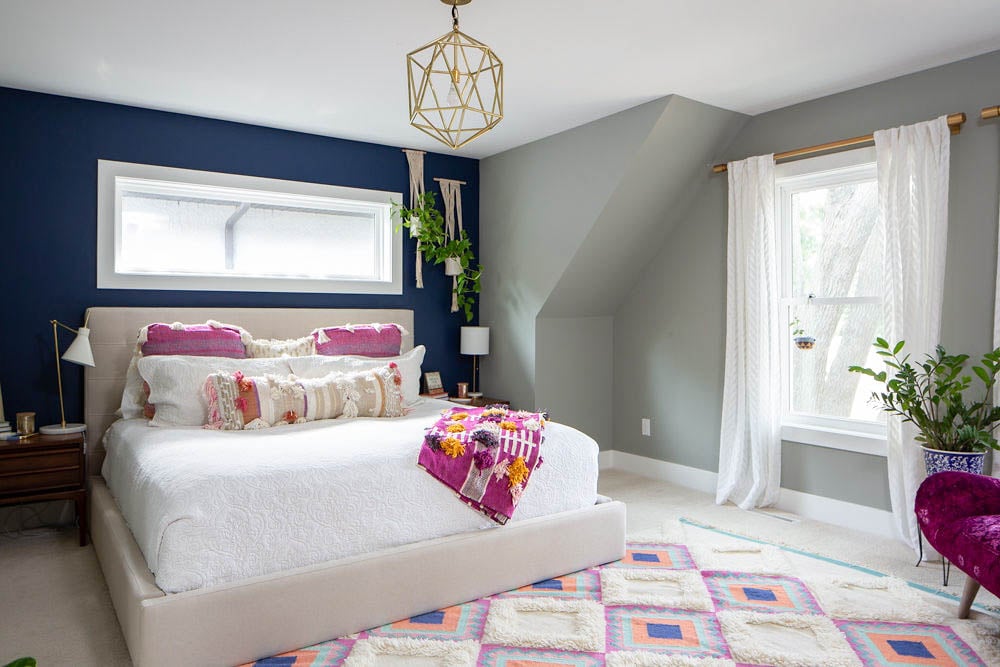 The options are quite honestly endless when it comes to a feature wall in your home. Below we'll take a look at 15 different accent wall ideas to inspire you in your next decor adventure!
15 Gorgeous Accent Wall Ideas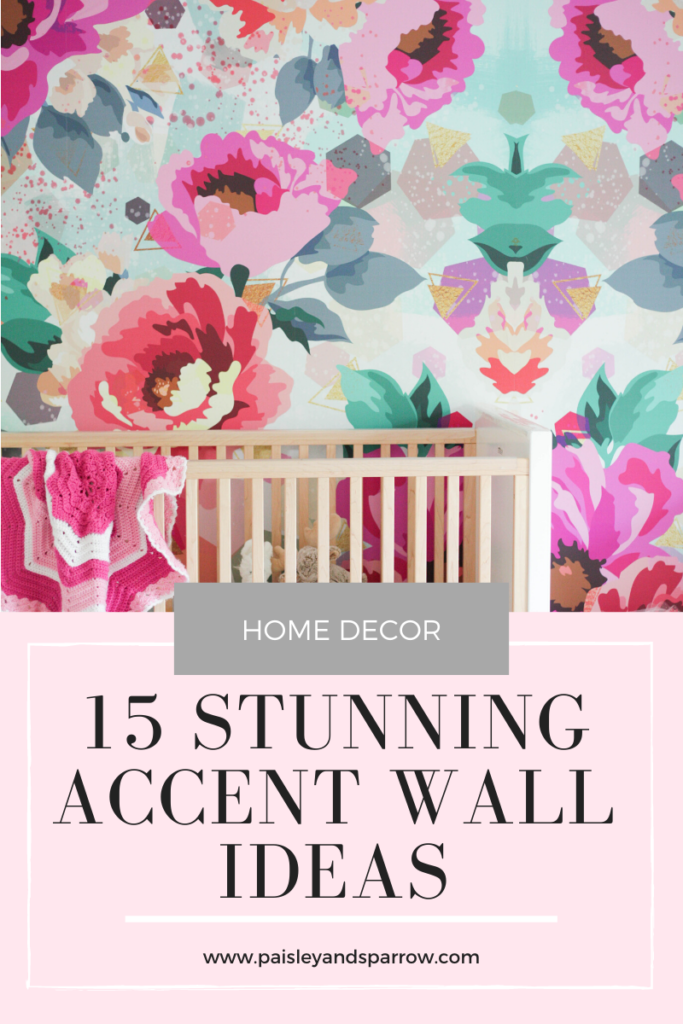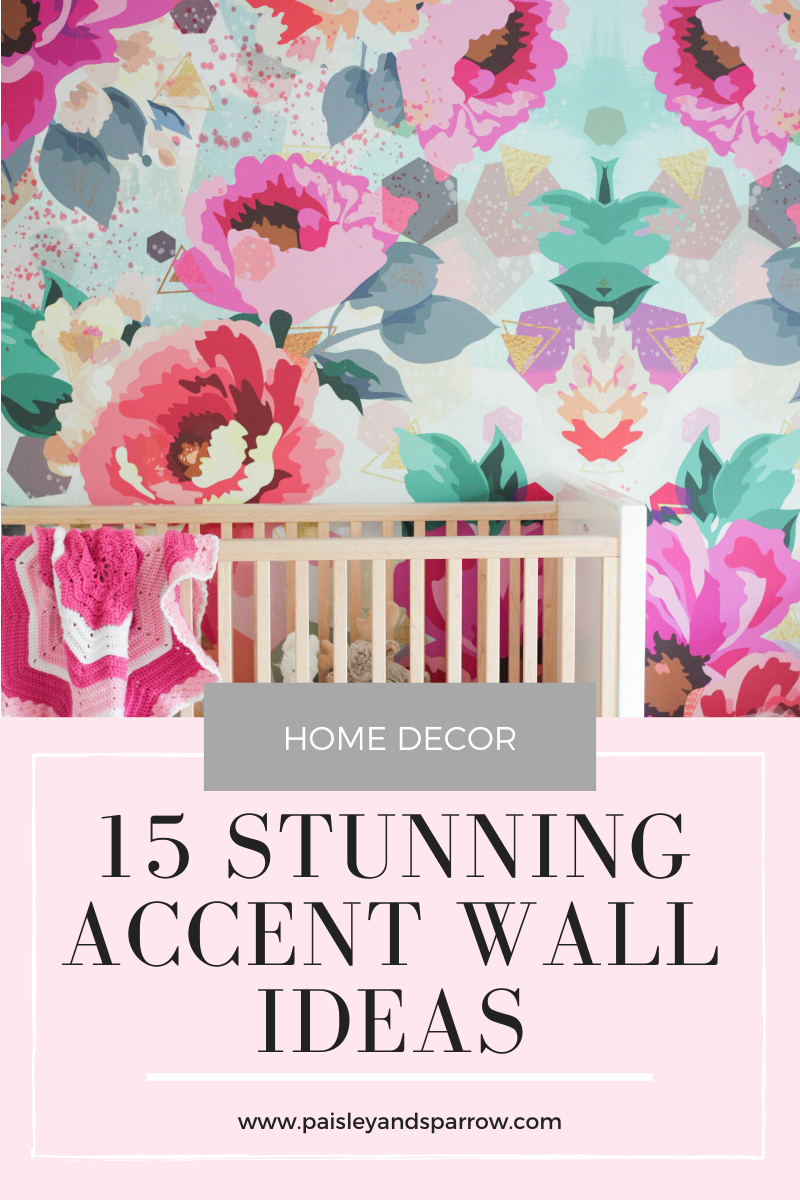 This post contains affiliate links.
1. Wallpaper
First up, let's chat about one of my personal favorites – wallpaper! Ok, ok, you KNEW I had to include wallpaper in here because I am the self described queen of wallpaper!
Surprisingly enough, a wallpaper wall is not the first type of accent wall I've done (see below for our painted bedroom) but we've done our fair share of wallpapering in our homes!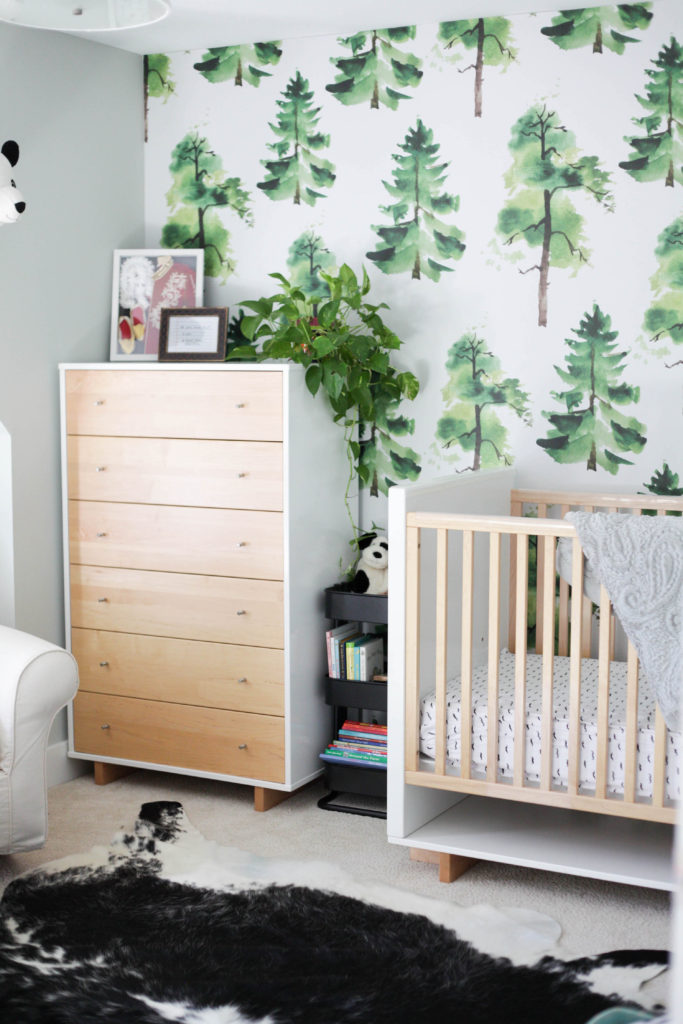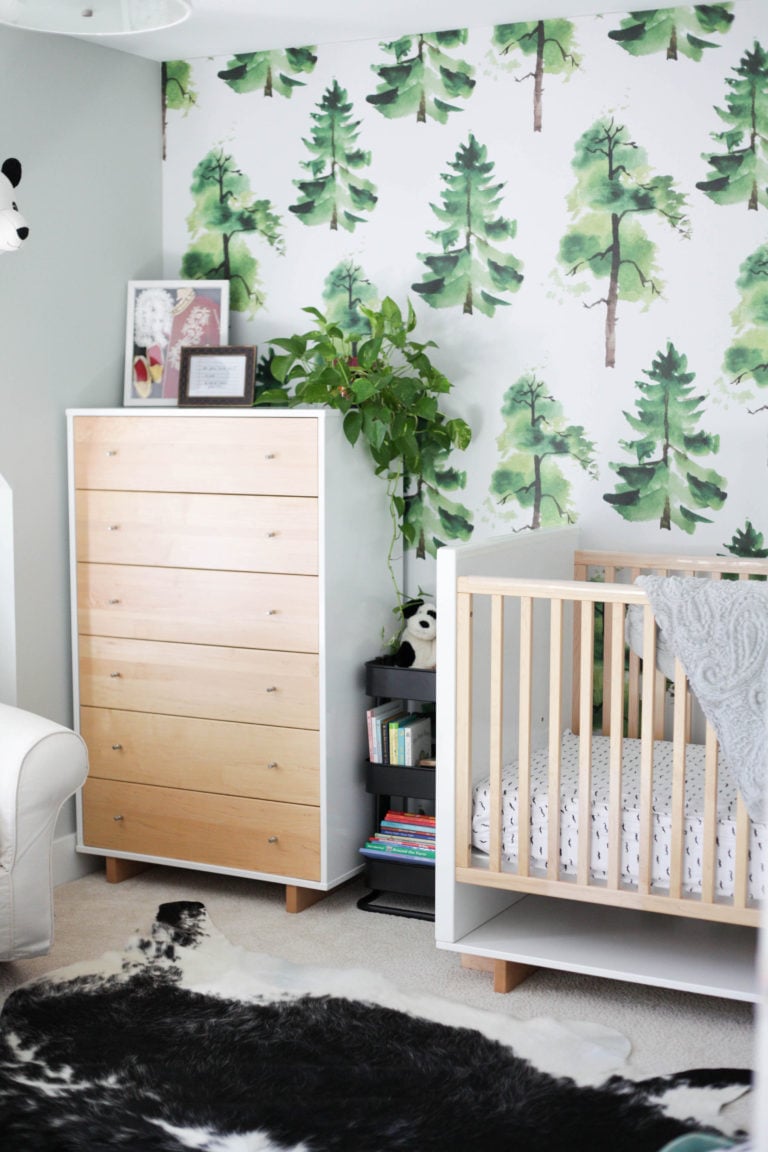 The options are endless when it comes to wallpapering. You can do something bold and bright, something calm and subtle or even something funny!
We've done a variety of different wallpaper accent walls in our house. We've done woodland animals in our youngest's nursery, tree wallpaper in our oldest's bedroom, and more!
Check out this removable wallpaper post for any and everything you need to know about removable wallpaper!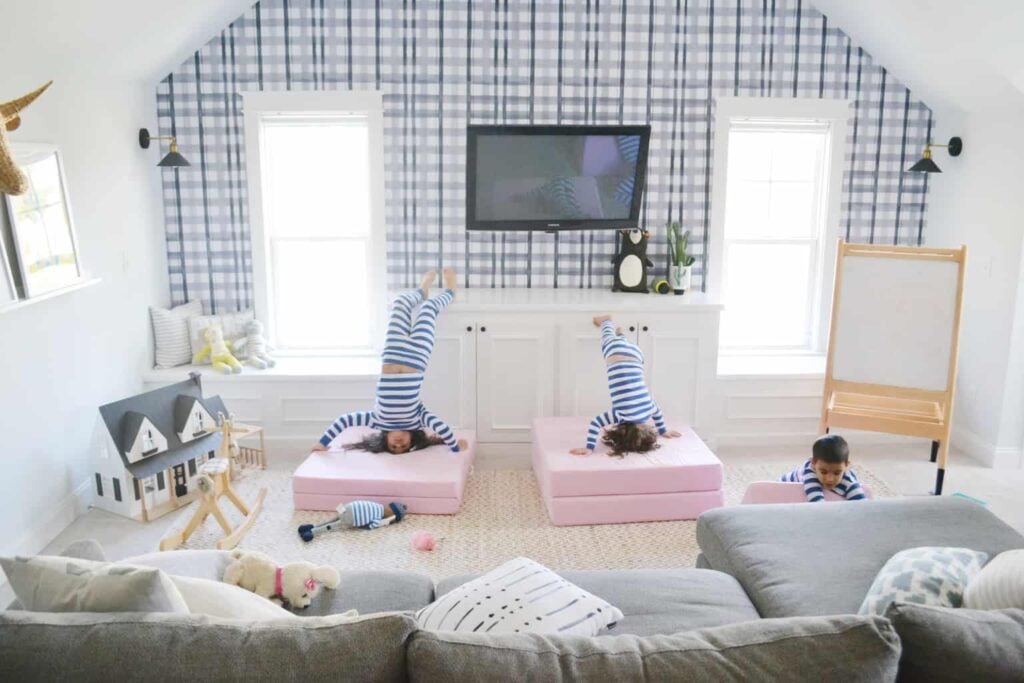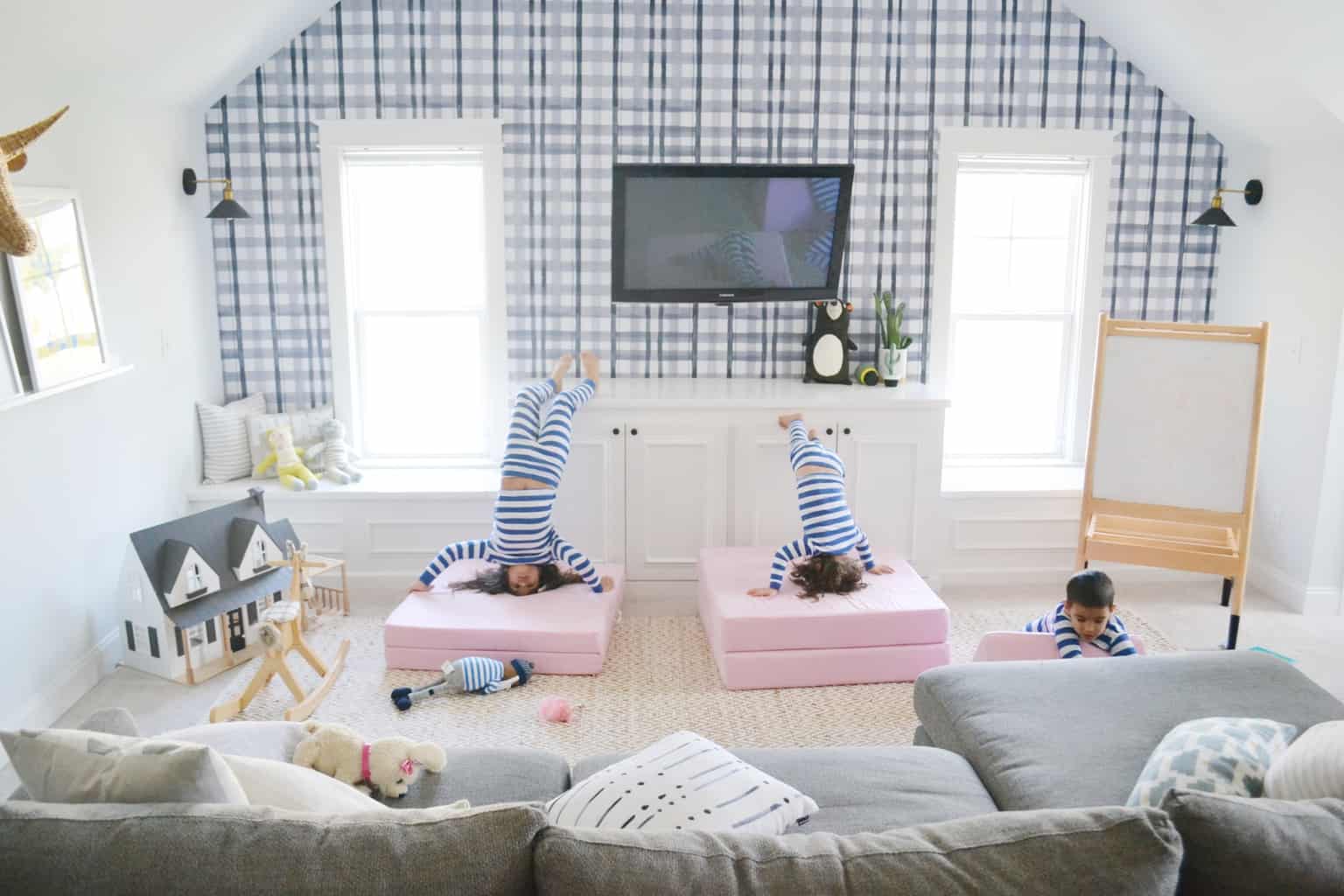 This adorable Cannes wallpaper from urban walls in Chrissy Marie Blog's playroom adds the perfect vibe!
2. Wallpaper Murals
Wallpaper murals are another form of wallpaper and are a super fun way of creating an accent wall. There's so many different varieties of murals from photos to patterns to artwork!
Penelope's floral wallpaper was actually a mural and it's still one of my absolute favorite wallpapers! You can see her full room reveal on this post!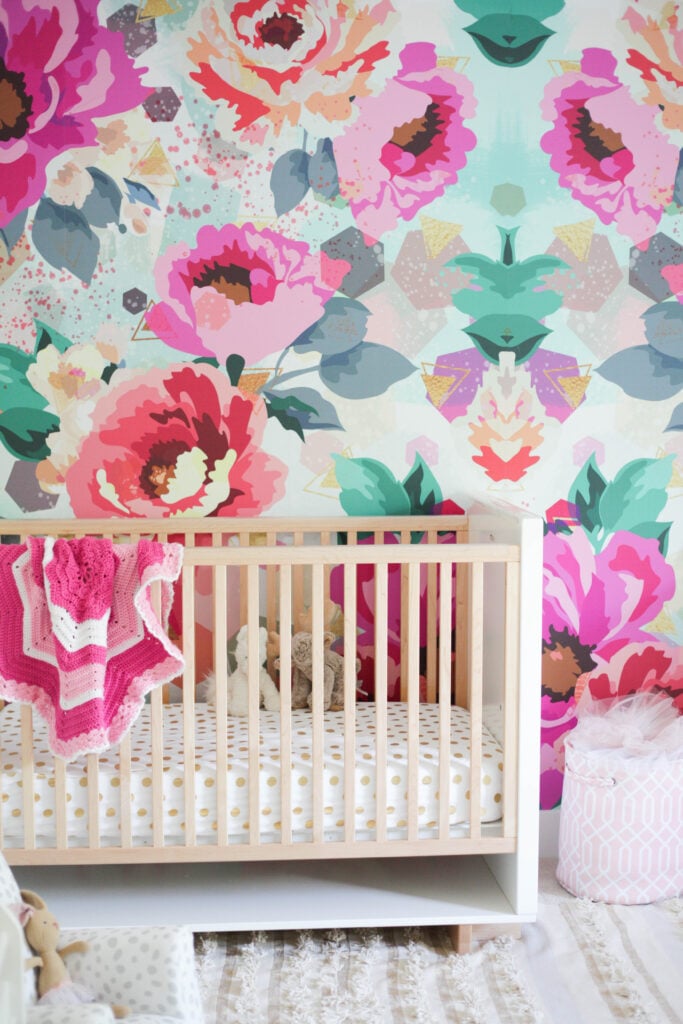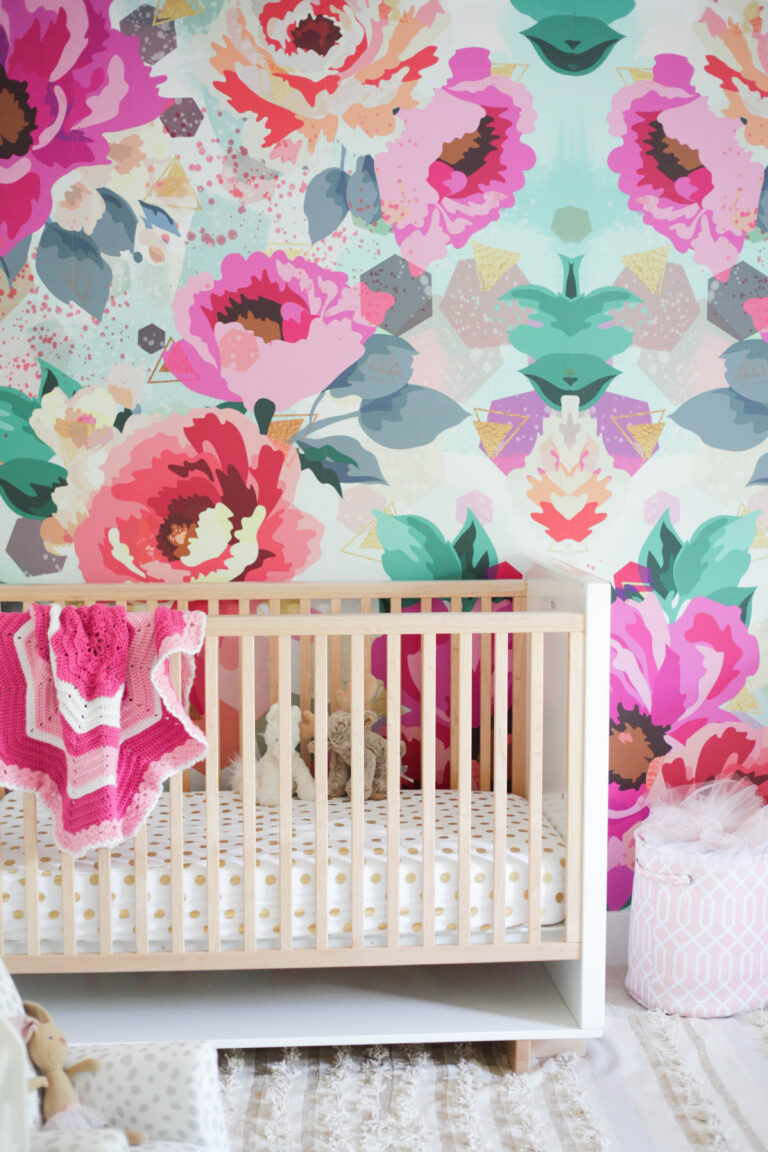 Going bold and bright on wallpaper is always fun, especially when it's removable wallpaper! It's so easy to remove it so if happens to be just a tad to bright and crazy or you just want it up for a season, it's easy to peel off!
This one via Navigating Parenthood looks so great peeking out from behind the toddler bed!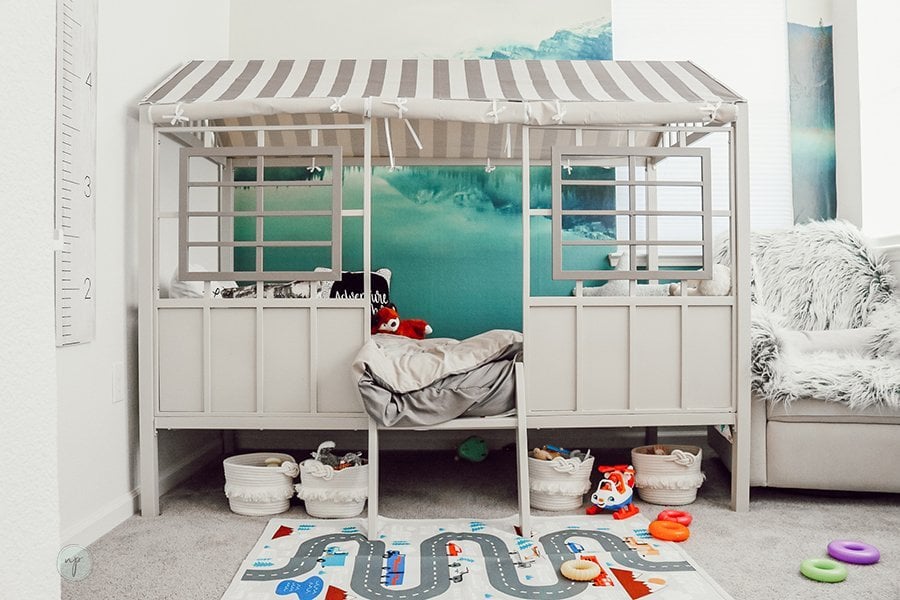 3. Decals
Decals are a very inexpensive, easy way to achieve a faux wallpaper or even stencil look! We've done this in both Roy's first nursery as well as our laundry room.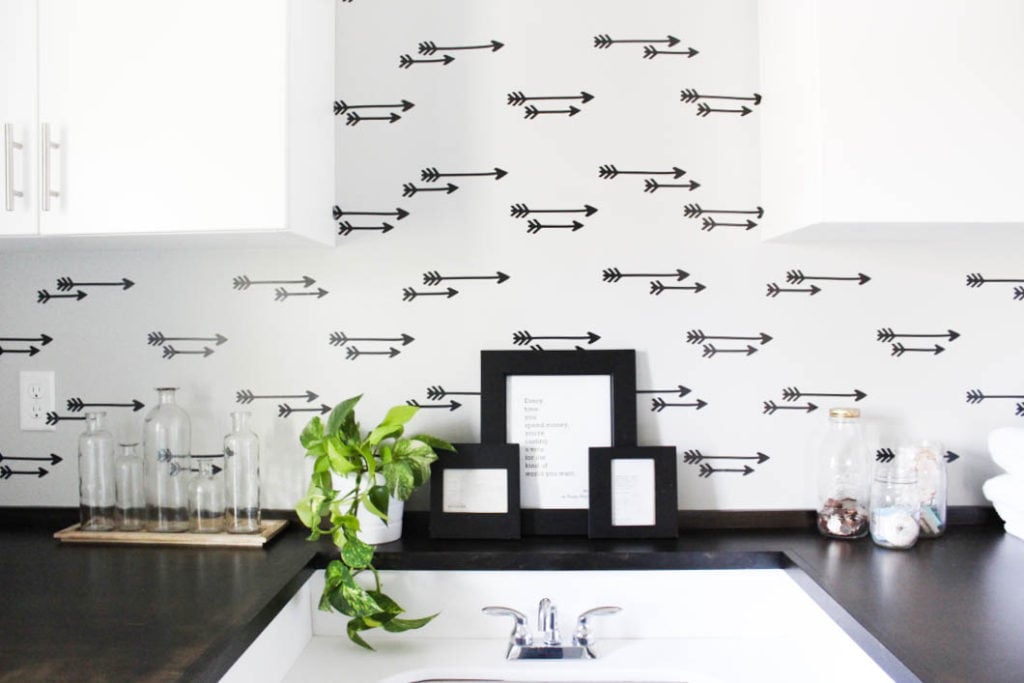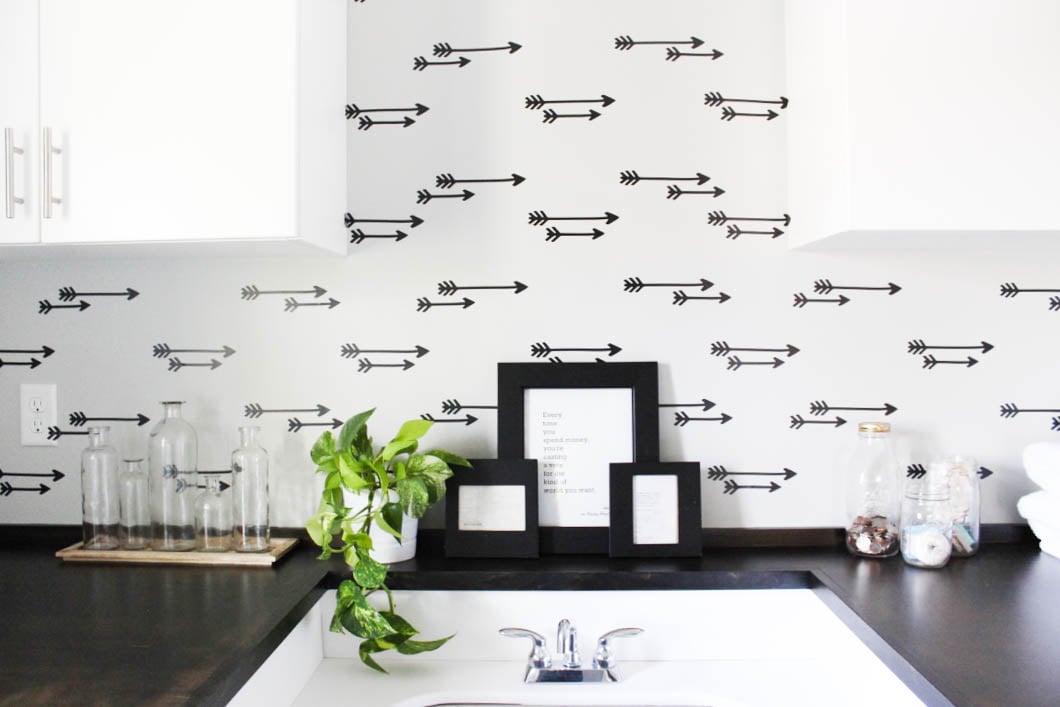 I have a blog post on how to make faux wallpaper using decals if you want to create that kind of look! It's super easy and doesn't take very long at all!
You can use decals to add some fun to your wall! There's also this cute nursery also from Navigating Parenthood!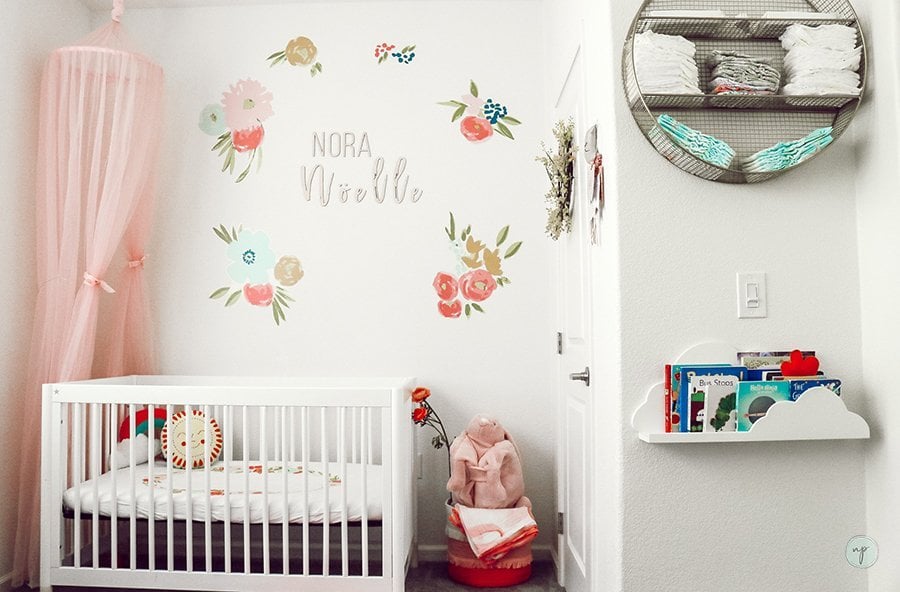 4. Built In Bookshelves
Combine function AND beauty with built in shelves and a full wall painted the same color! This gorgeous wall via Repurpose & Upcycle is one of my absolute favorite accent wall ideas because it allows you to add some good storage options in the midst of the beauty!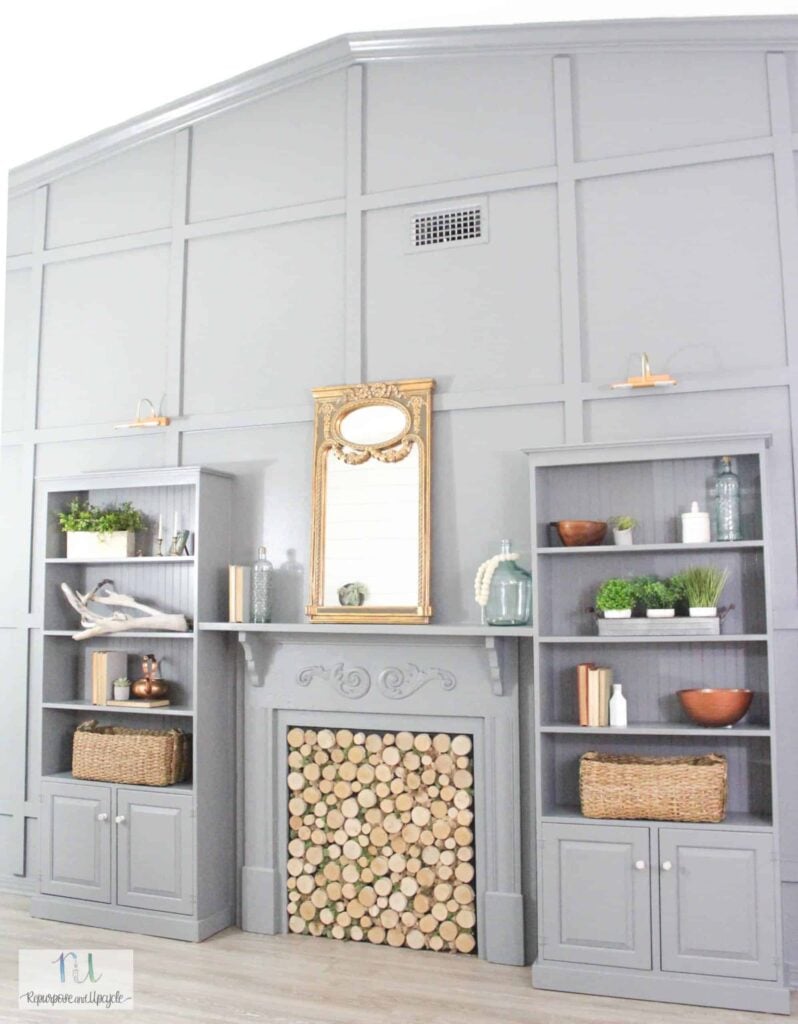 Head over to her blog to learn how to make your own tone on tone feature wall with board and batten, bookshelves and a faux mantel.
5. Board & Batten Wall
Board and batten is one of my newest favorite kinds of accent walls and this nursery one via Hunters of Happiness is just beautiful!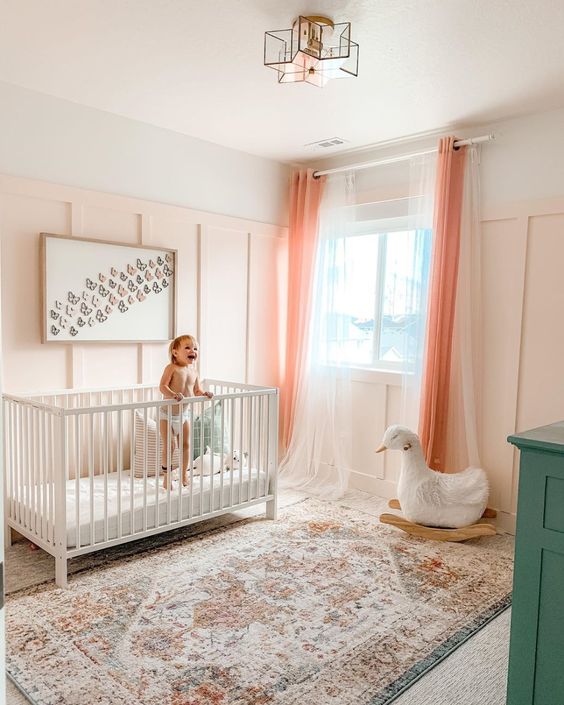 We're planning on doing a board and batten accent wall in our master bedroom. Everything I've read points to it being a fairly simple yet stunning transformation!
6. Wood Accent Wall
I know this wood feature wall via Fresh Mommy is just another form of board and batten work but the uniqueness of it required it's own separate category. 😉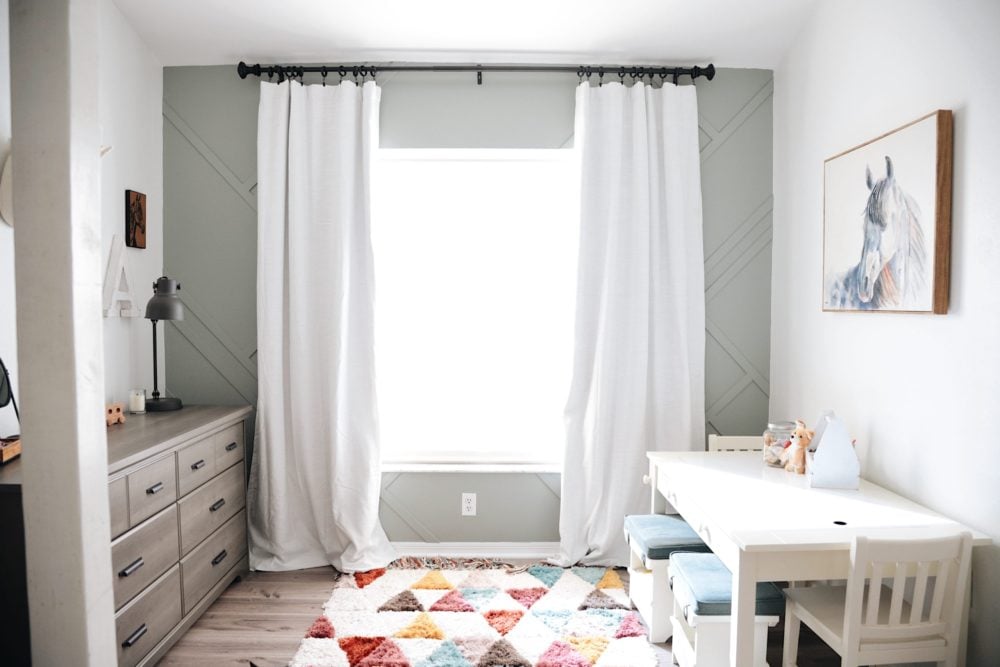 Depending on the wall, the room you're working in and other things such as window, closet, door, etc., you can make any type of fun wood feature wall like this!
Have some fun and play around with different ideas before landing on one pattern!
7. Shiplap Accent Wall
There's no way we can leave out Joanna's favorite, a shiplap wall! This beautiful dining room via Arin Solange At Home is a great example of how a little bit of shiplap can make a big and beautiful impact in a space.
If you like classic looks and not much of a risk taker, try out a shiplap wall (and head to Arin's blog for a full tutorial on how to do it!).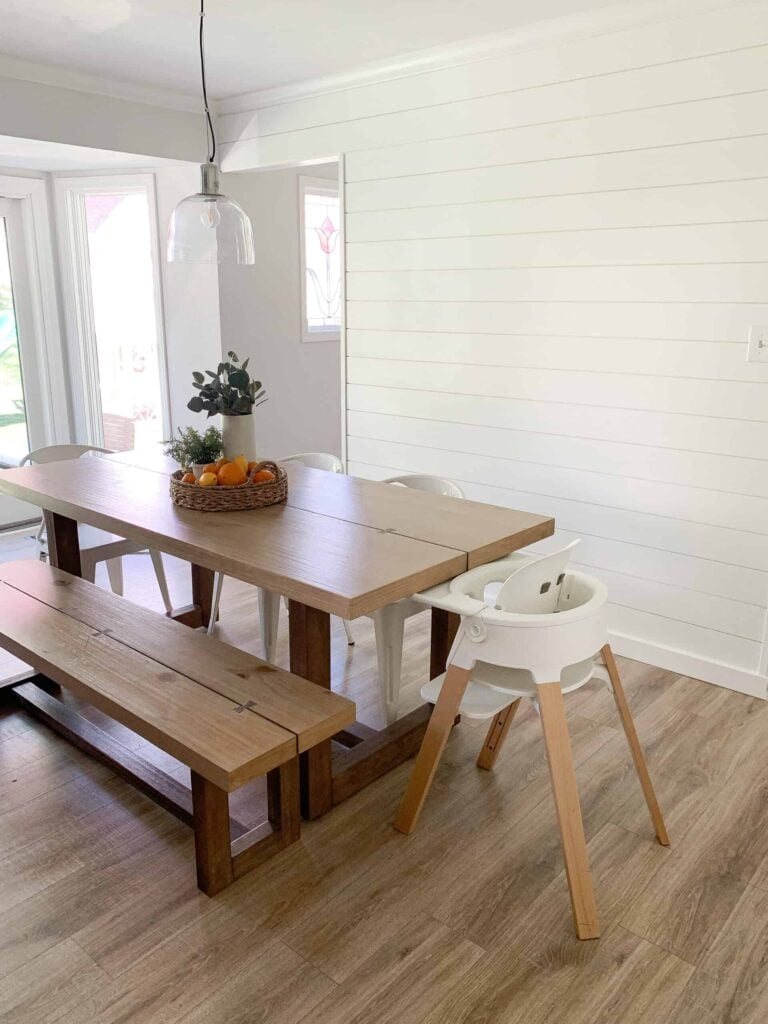 8. Plank Wall
Over shiplap but still like the idea? Add a beautiful plank feature wall to your home! It's easier than you think and makes a huge statement. Depending on what kind and color planks you do, you can have totally personalized accent wall!
This wood plank wall (via Lovely Etc) used a mix of colors to create a unique accent wall. Plank walls are an easy way to add color and texture to your home without spending a lot of money.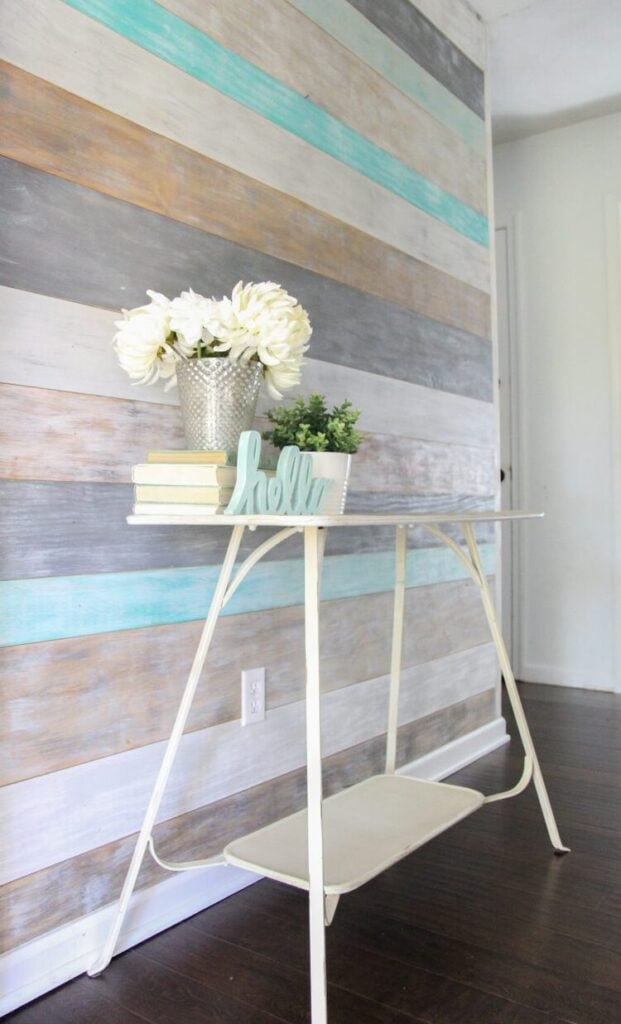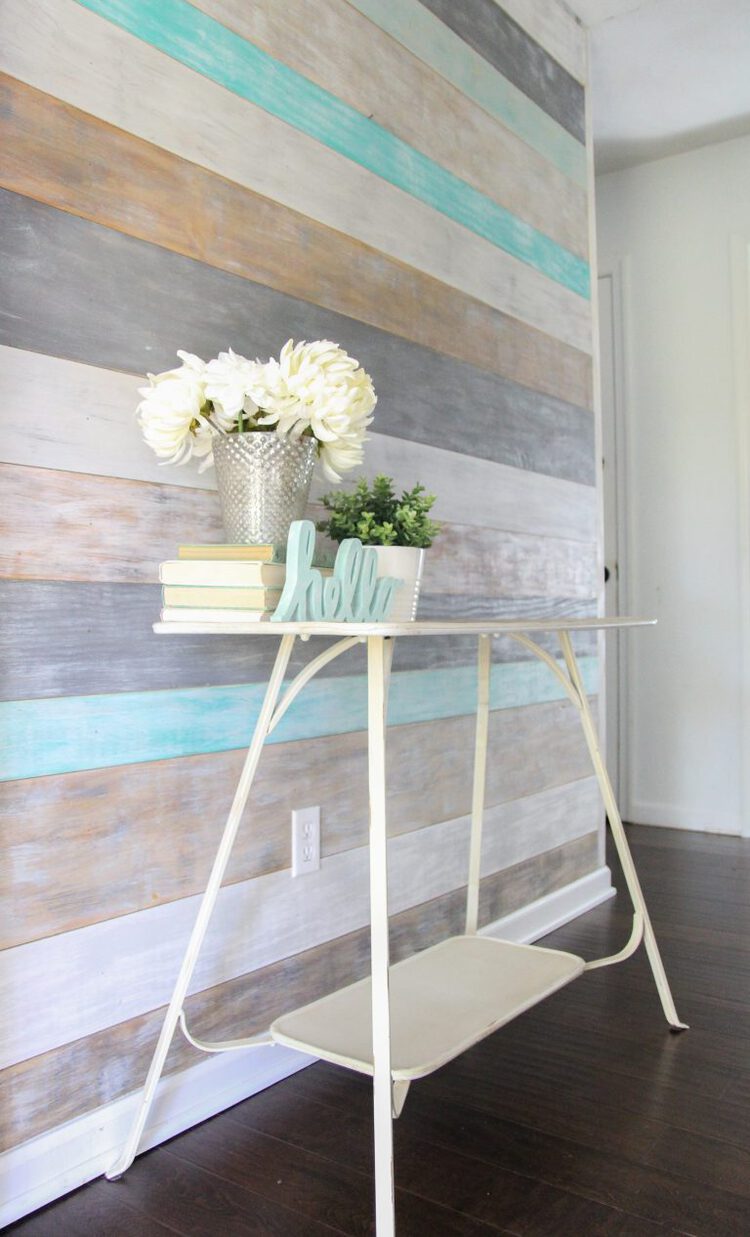 Another look at a panel wall is this one by Houseful of Handmade! They have a full tutorial as well on their blog so you can compare how each person completed their plank wall!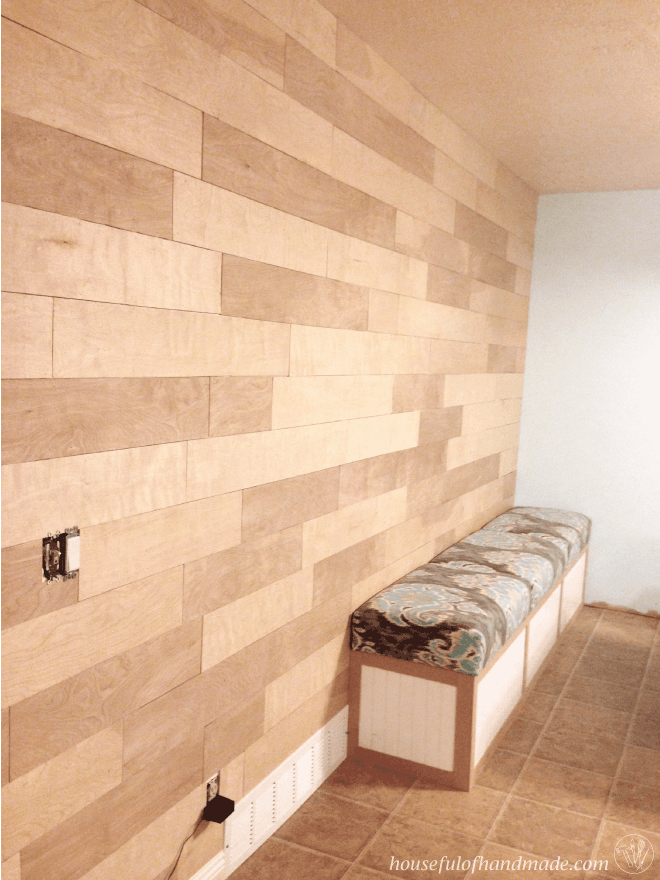 9. Solid Color Painted Accent Wall (Navy Accent Wall)
Want to try out a bold or dark color, such as navy, but not ready to commit a whole room to it? Try painting one wall that color! We did this in our old master bedroom with a blue accent wall and I loved it.
We choose a deep navy color for our accent wall and we loved how it popped against our bed and with the window in the middle.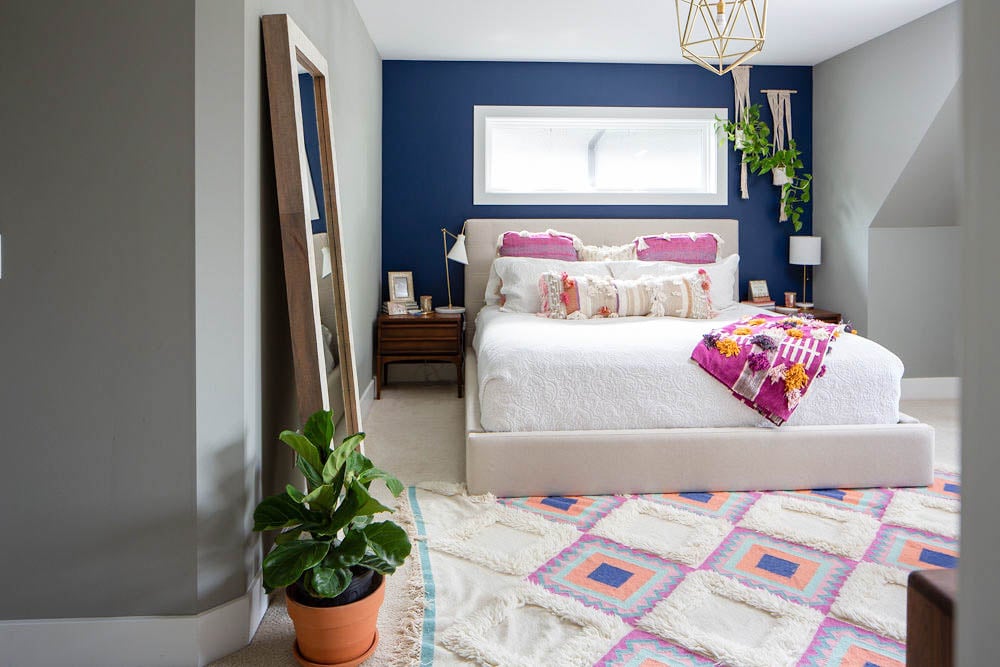 This is also an easy way to test out a color to see how much (or how little) you really like it in your space! I didn't know if a navy accent wall would be a good choice, to be honest!
Navy is pretty dark and moody and most of our home is bright and cheery. Since we just put navy on one wall and that wall had windows, it definitely didn't seem to dark!
Another look at a dark painted accent wall is this sunroom via Chatfield Court! I love how she complemented the light, airy feel of the room with a one dramatic wall. It looks amazing!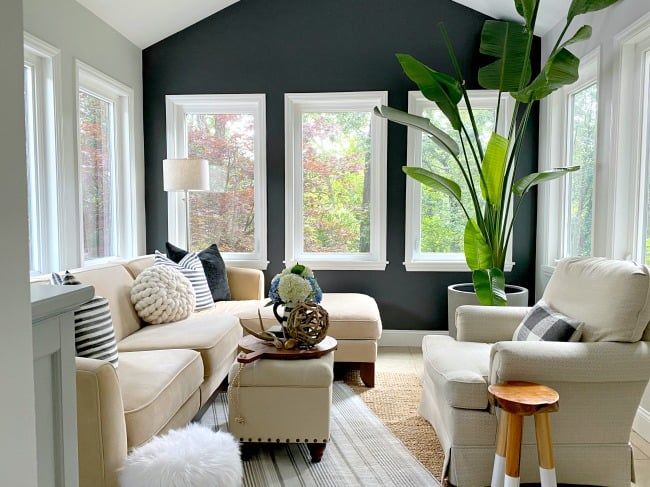 10. Stencil
Love the look of wallpaper but not the price tag? Try a stencil!
This tween girl's bedroom got a fun accent wall upgrade thanks to some paint, a $40 stencil and a few hours of work (via Kate Decorates).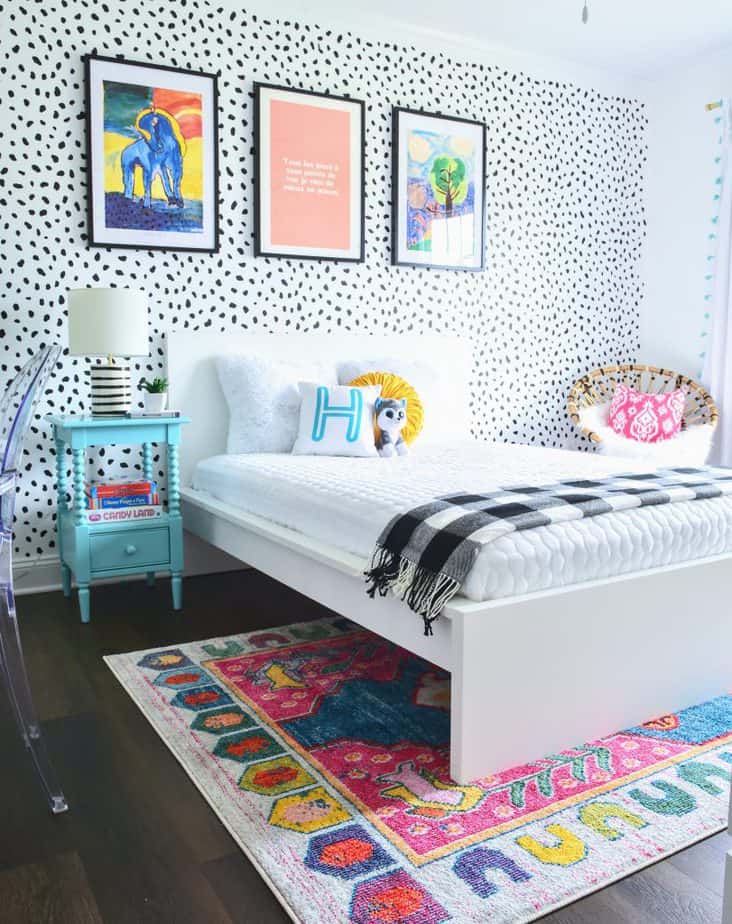 Another fun stencil is the homemade shark tooth stencil for a cute shark toddler room that Amanda Seghetii created!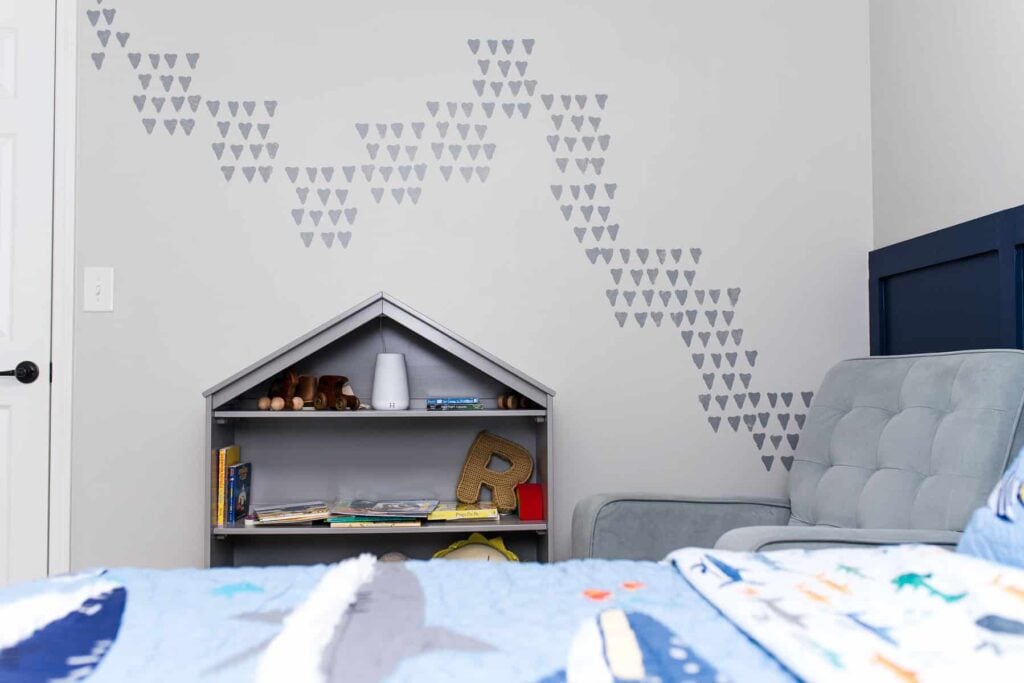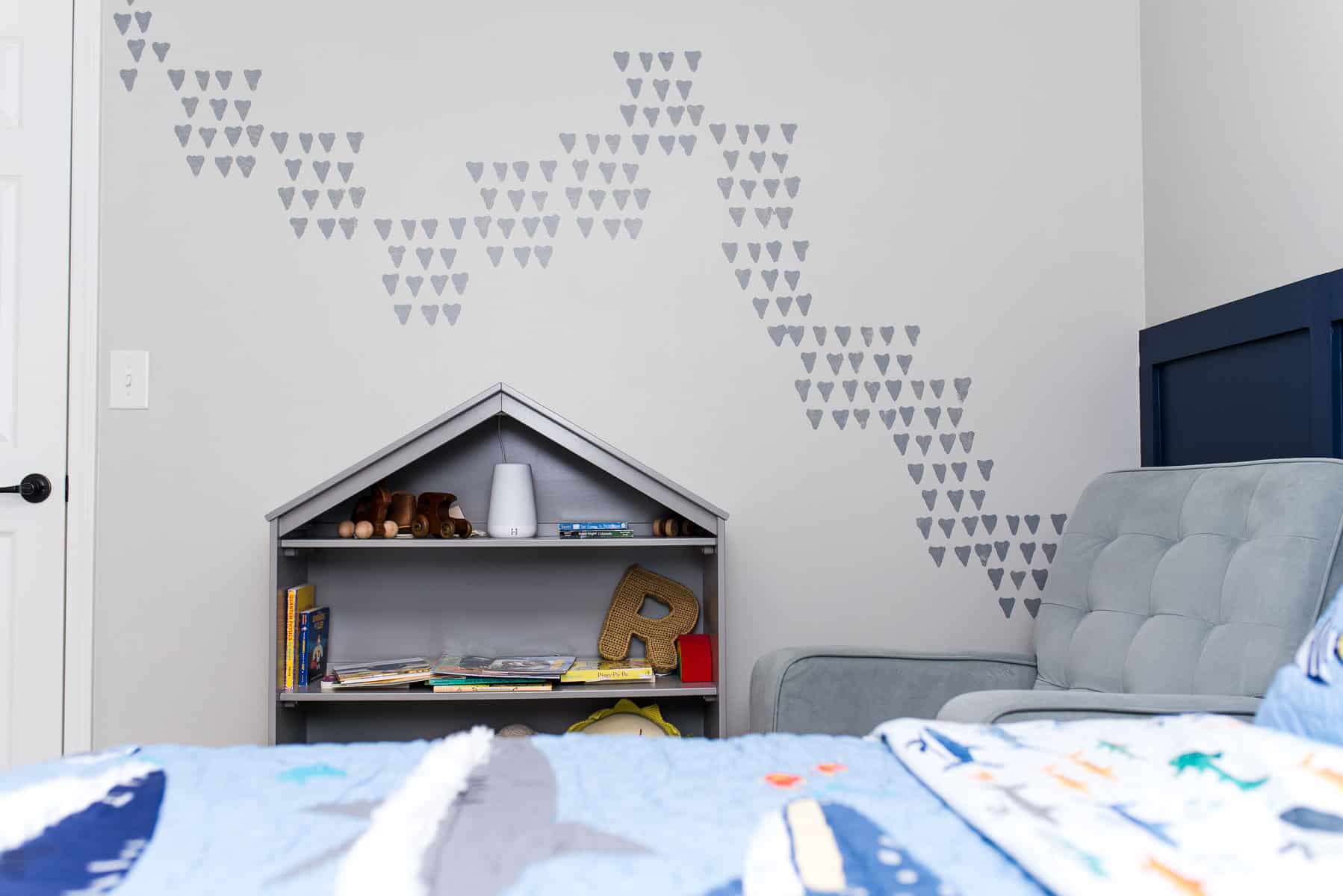 Stenciling can potentially take more time than any other option, especially if you do an entire wall (rather than just a smaller portion like the shark teeth) but a little bit of patience can have a huge payout!
You'll definitely be spending less money than wallpaper and the end result is just stunning!
11. Fabric Covered Accent Wall
Fabric is another great alternative to keep costs low via Amber Oliver!
Rather than spending a ton of money on wallpaper, she simply covered her wall with fabric! She said the entire project cost only about $40 and took roughly 2 hours – you can't beat that!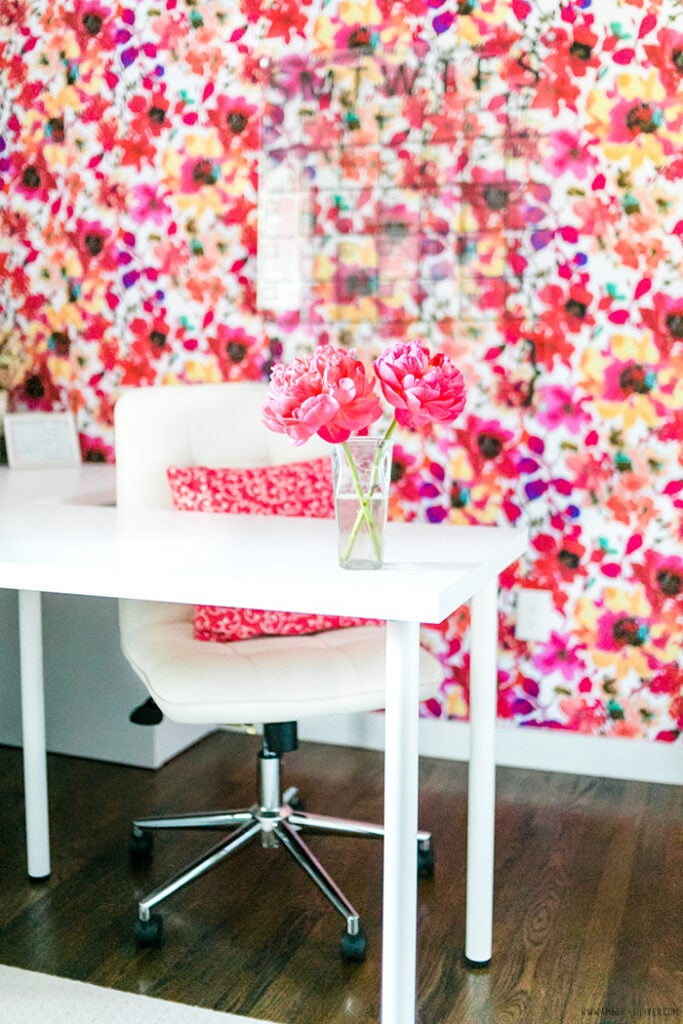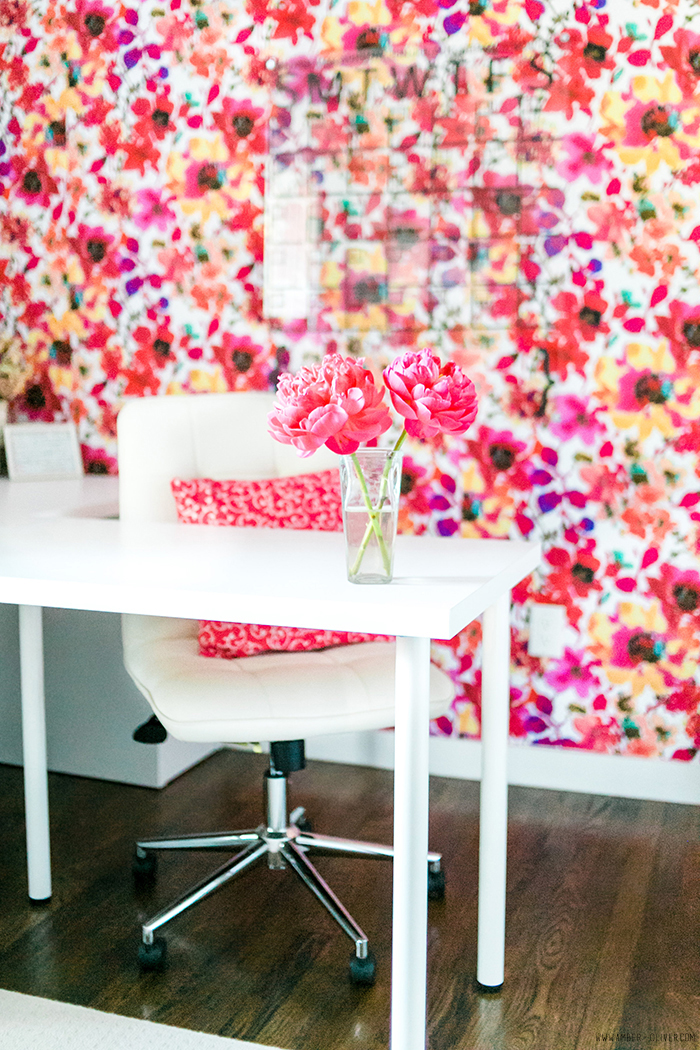 The best thing about fabric is there are endless options. With wallpaper there isn't quite as many options and some can get pretty expensive the more unique they get. Fabric is a great option!
12. Faux Brick Accent Wall
If you are looking for a cheap way to add an accent wall with farmhouse style to your home, you'll love this DIY brick accent wall! I absolutely love the look of this and you'd never know it wasn't real brick!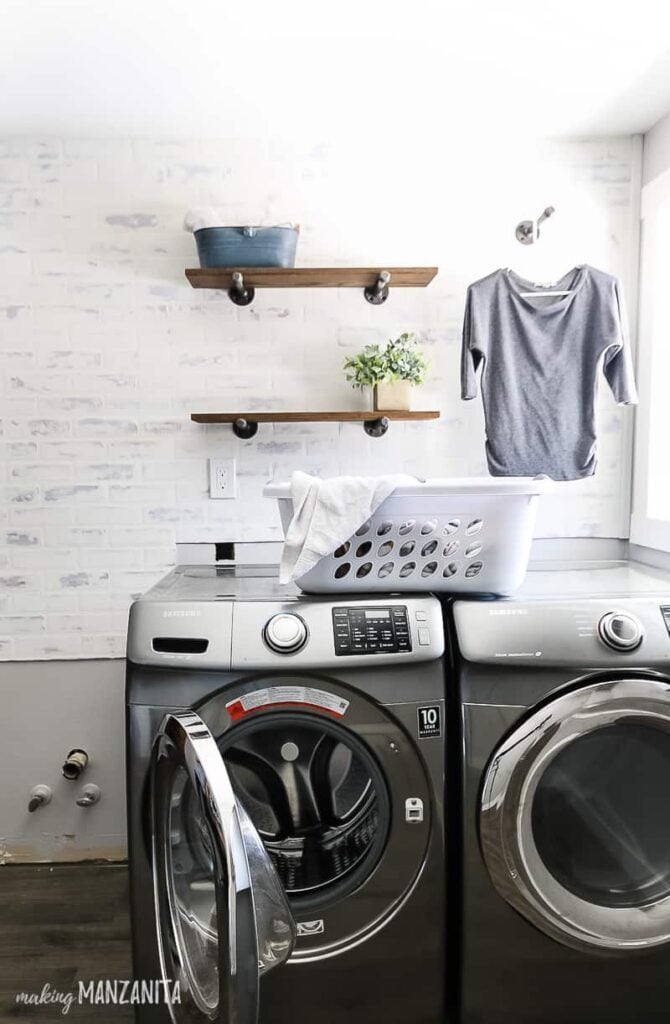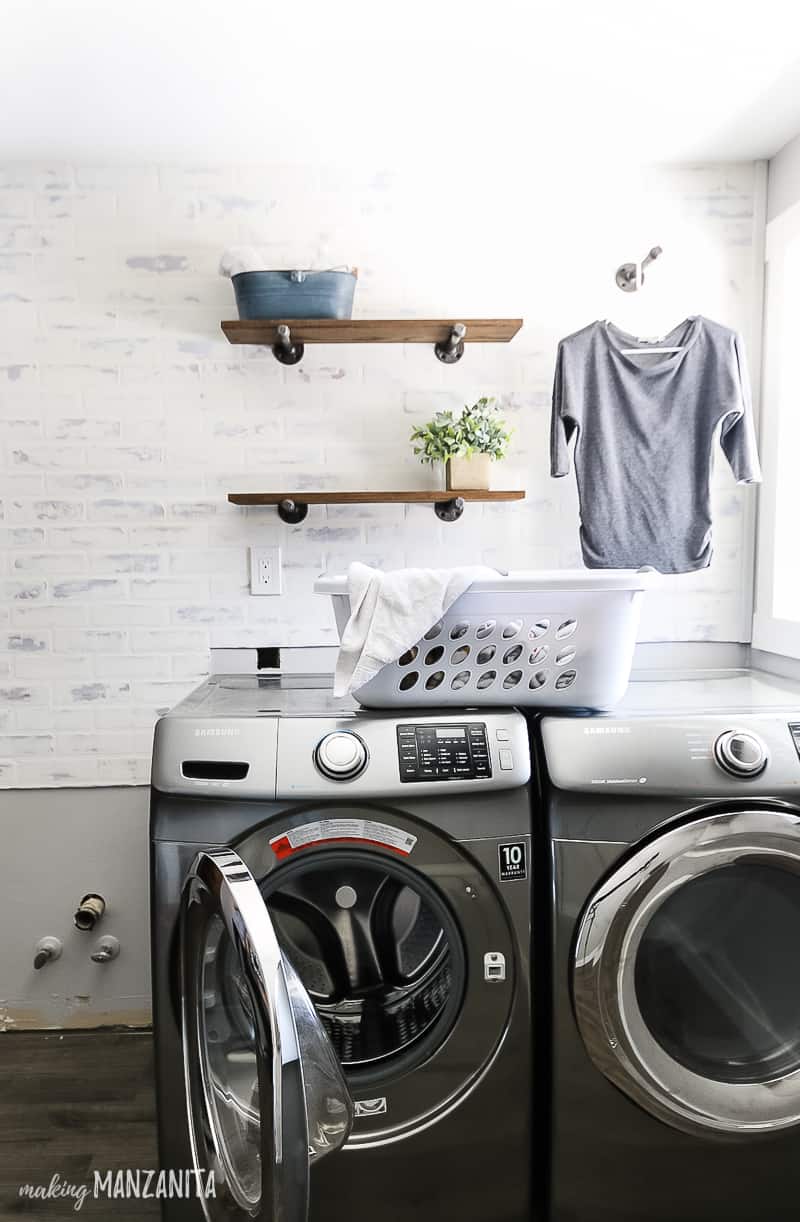 Follow along on this step by step tutorial via Making Manzanita to see how to create a faux brick wall and give it a german schmear finish.
13. Painted Geometric Wall
Want options of color and some cheeky, funThis wall via Crazy Life with Littles is one of my absolute favorite accent walls! She wanted a fun pop of color in the playroom and decided to feed off the rug that was in there.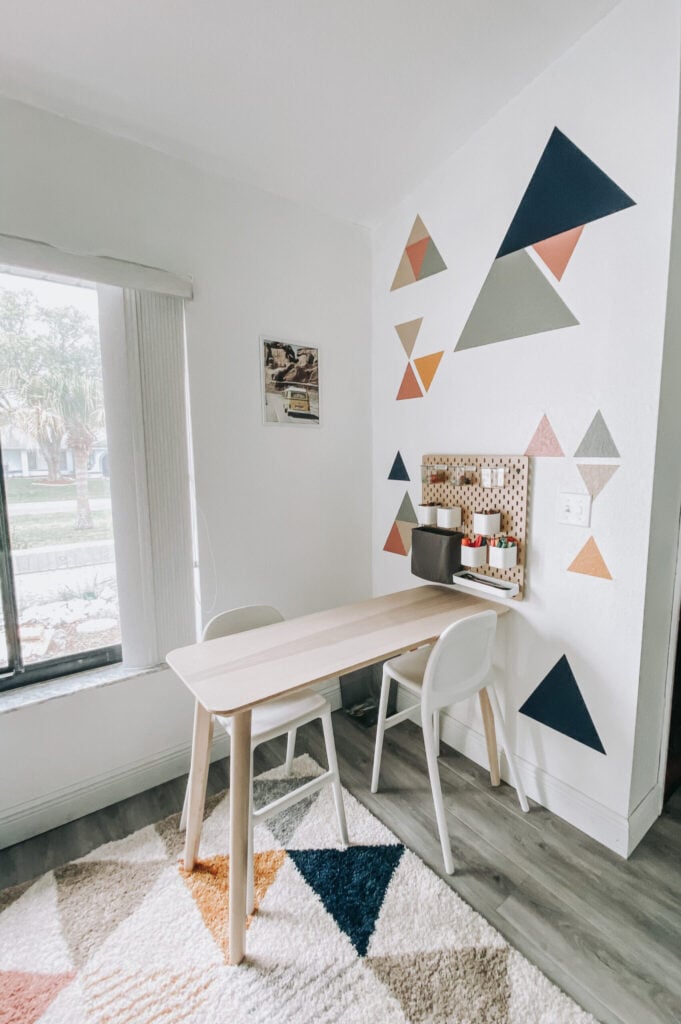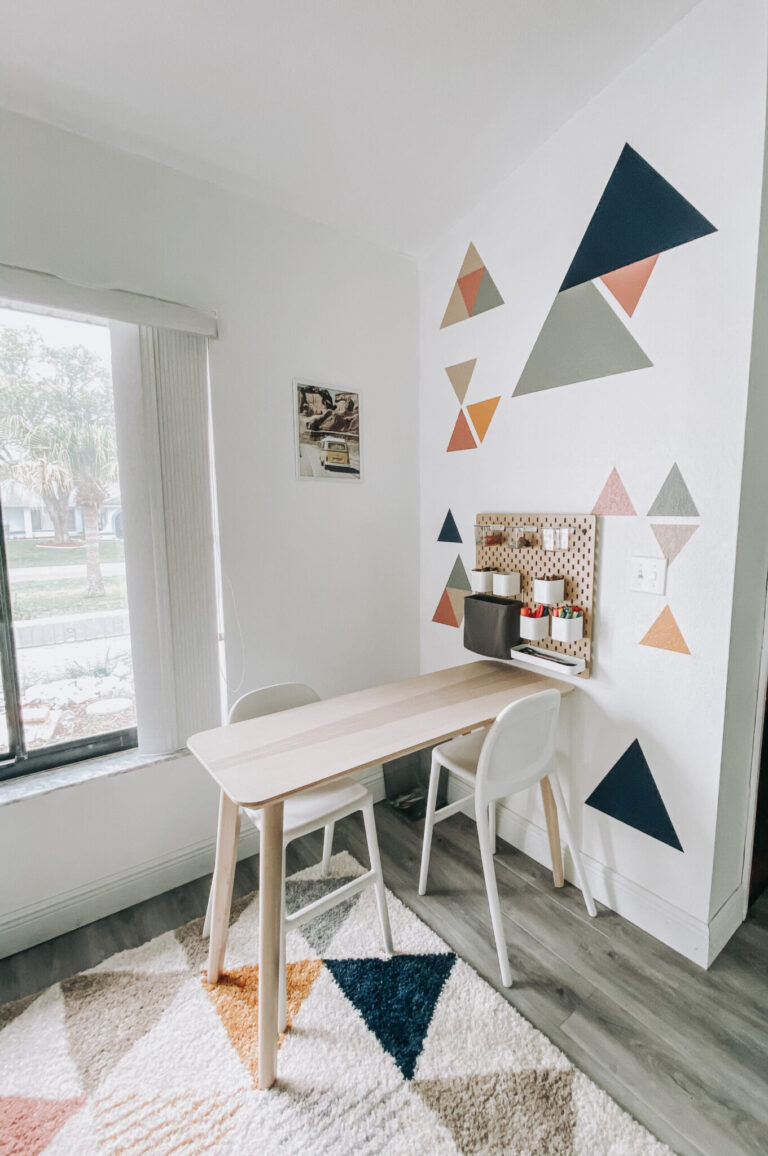 She has a full tutorial on how she did it – and it doesn't look too hard – on her blog!
14. Painted Mural
Painted murals are another great accent wall idea! You can do so many different things with painted murals!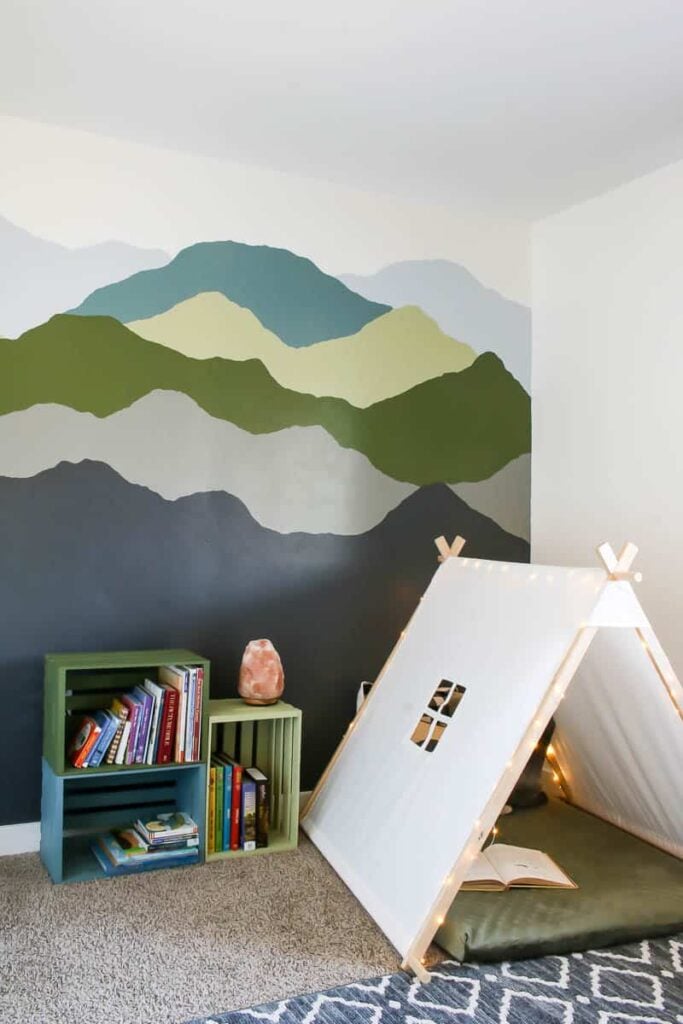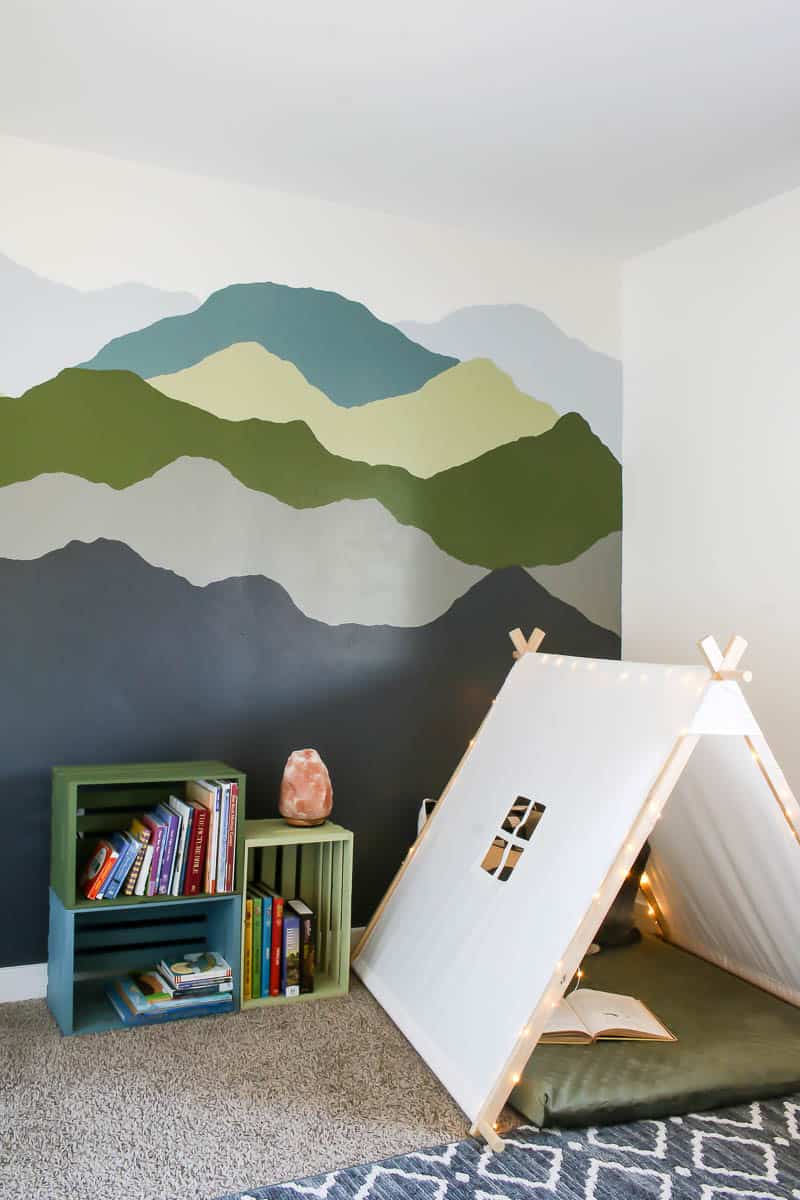 If you ant to learn how to paint a mountain mural your bedroom or a kid's playroom or nursery check out this tutorial via Making Manzanita!
15. Terrazzo Wall Mural
The last accent wall idea is a terrazzo wall mural! I absolutely fell in love with this wall when I saw my friend Jodi at House On A Sugar Hill post it.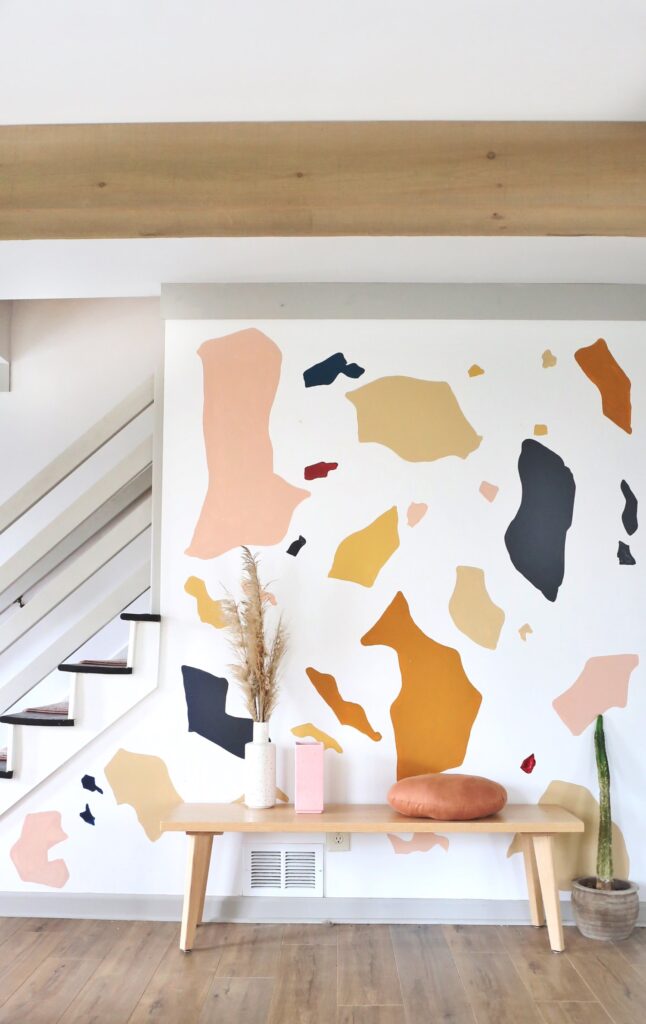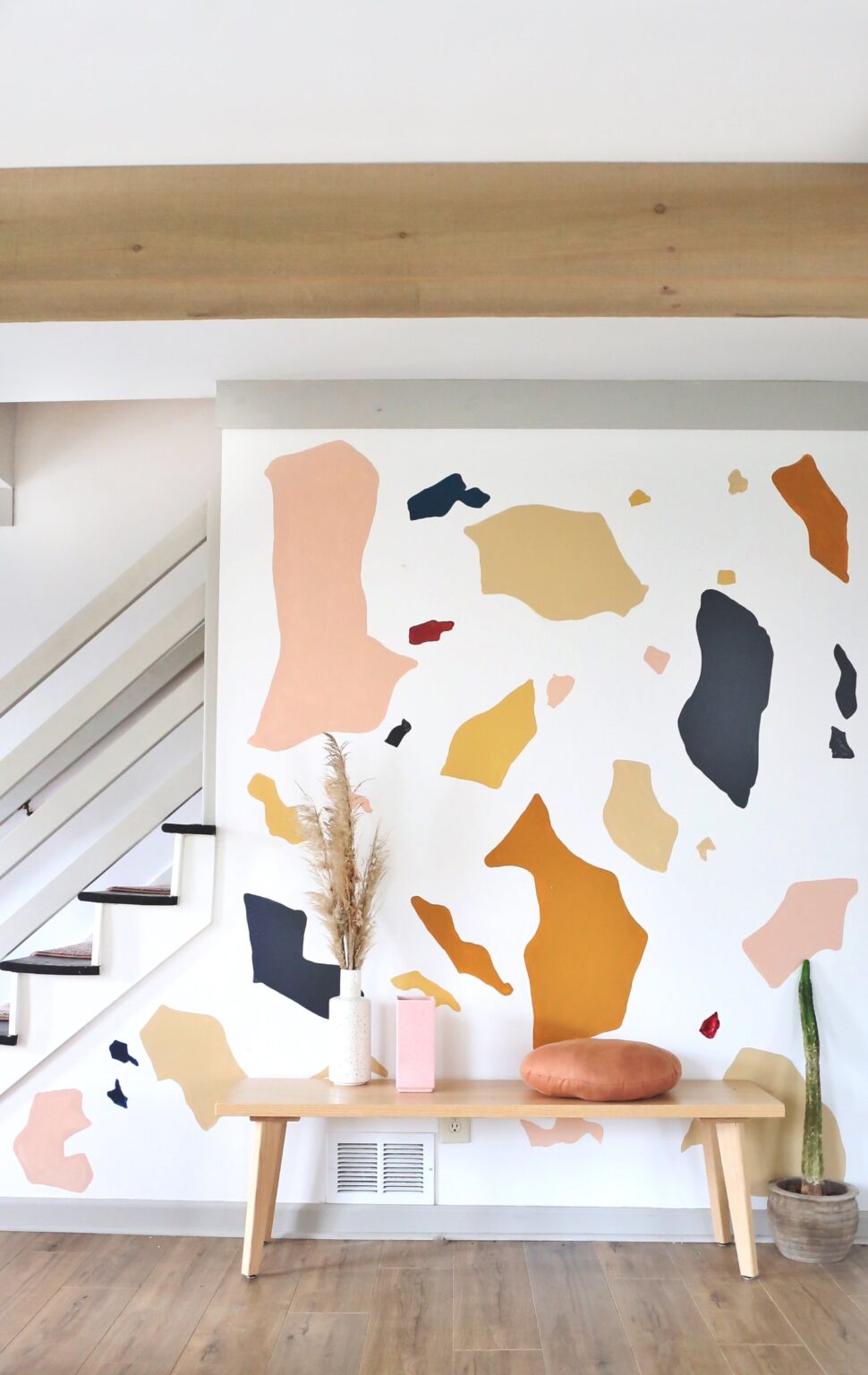 Paint is a very low risk way of changing up a space because it can easily be painted over! Get creative with colors and have fun with it!
She has a full tutorial with the steps she took to create this beautiful accent wall on her blog so be sure to check it out!
I hope these 15 accent wall ideas sparked some inspiration for your own accent wall in your own home! And always remember, you can always change things up so don't be afraid to try something new!
You could also try putting up a large gallery wall as your focal point – head to this gallery wall ideas post to get even more fun ideas for your wall!