*This post 'Gallery Wall Ideas + FAQs – 9 Creative Ideas" was updated June 2020!
Trying to create the perfect gallery wall? Coming up short on gallery wall ideas? Or worse, hung one up and it just doesn't seem to work? We've all been there!
Today let's talk through 5 gallery wall ideas and some frequently asked questions to achieve the perfect gallery wall!
Gallery walls are some of my favorite ways to style a home. Today I'm sharing some gallery wall ideas and some tips to curating the perfect gallery wall for you home.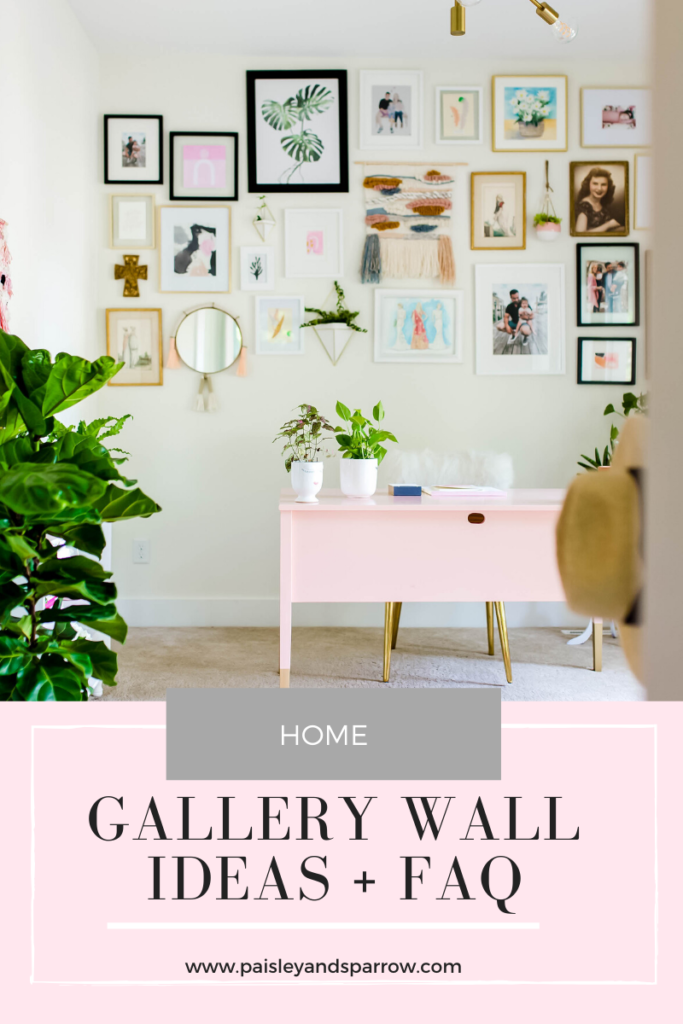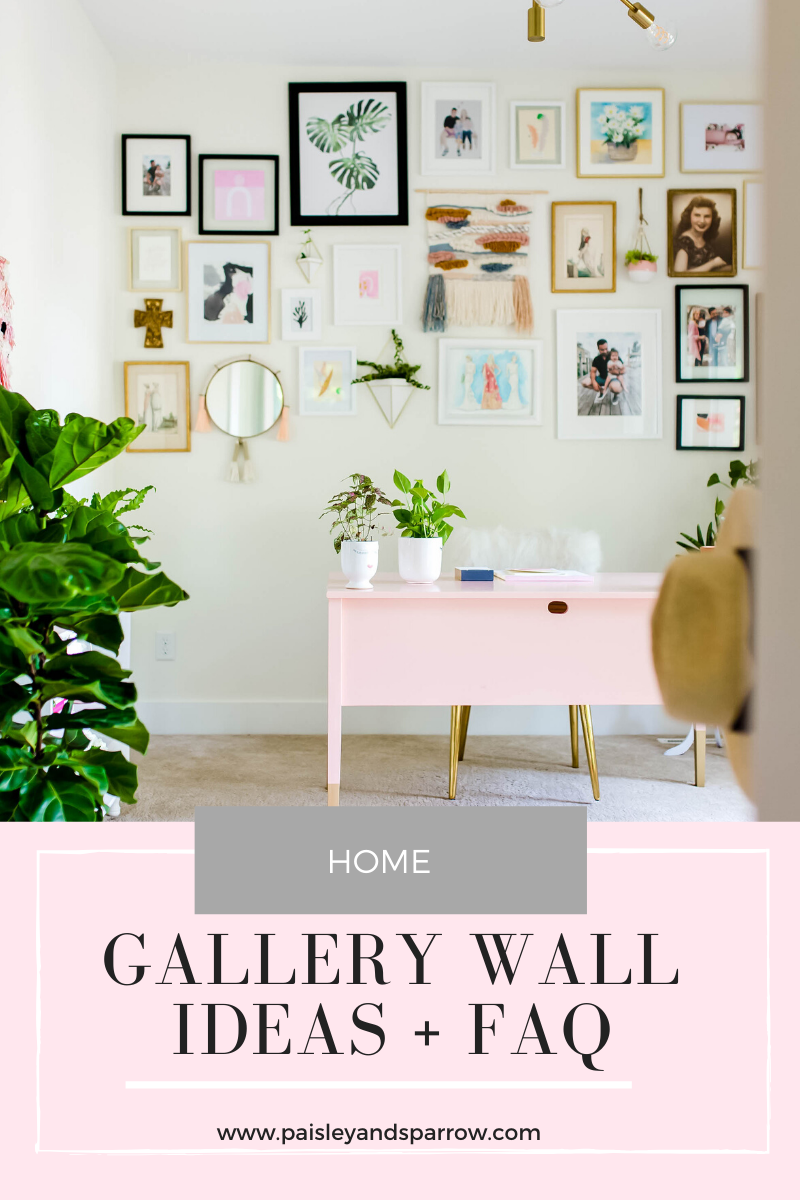 Please note: Paisley + Sparrow is a participant in the Amazon Services LLC Associates Program. This post may include affiliate links which means I may earn a small commission if you shop using the links below at no additional cost to you.
If you walked into our home, one of the first things you'd notice is the color. The next? Our gallery walls!
Gallery Wall Ideas
We have gallery walls all over – in my office, living room, our bedroom, and more. We have a variety of giant ones, small ones, all white frames, the same frames and everything in between.
Gallery walls can be overwhelming to do if it's your first time! How do you make it look cohesive? What's the best way to not overspend on things to hang? How should it look?
Let's start with a few gallery wall ideas that I've created!
1. Wall to Wall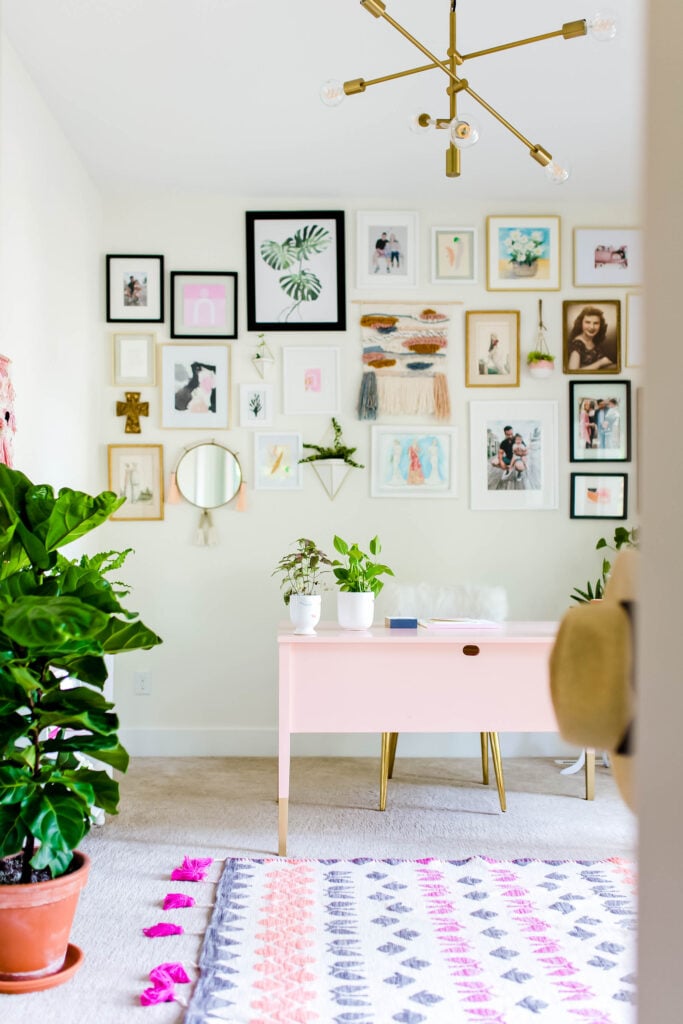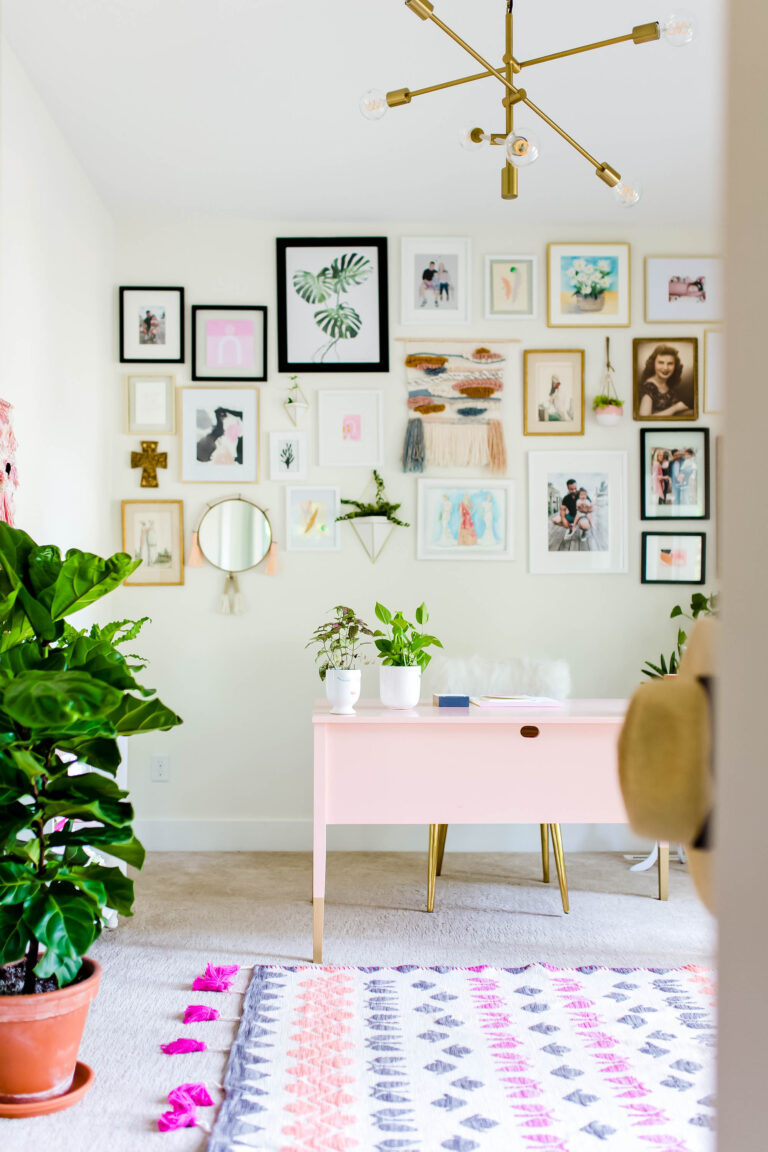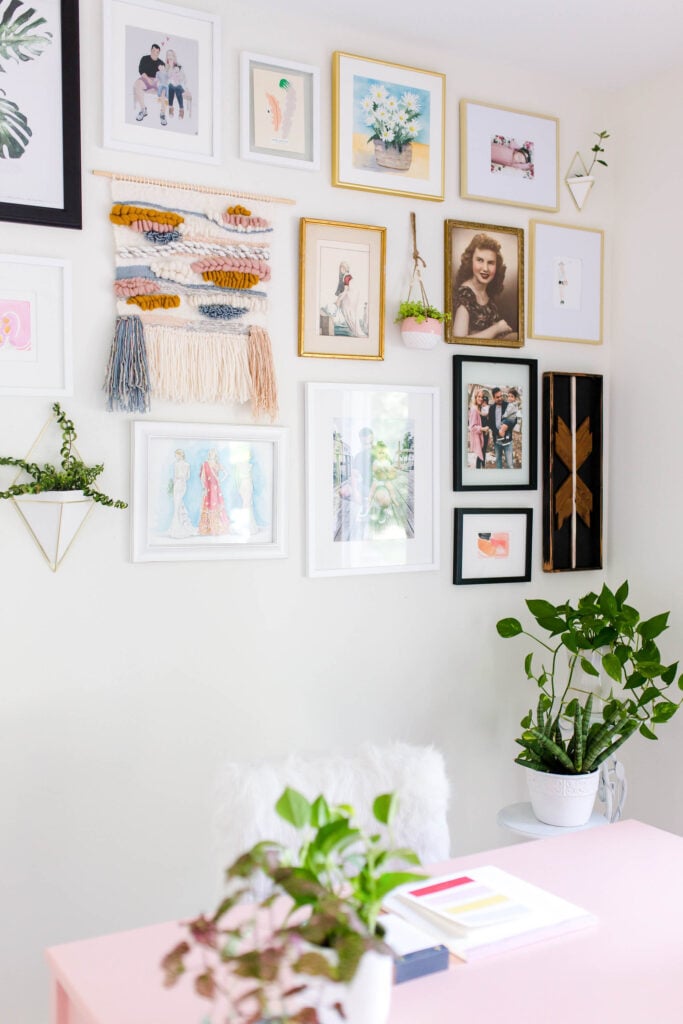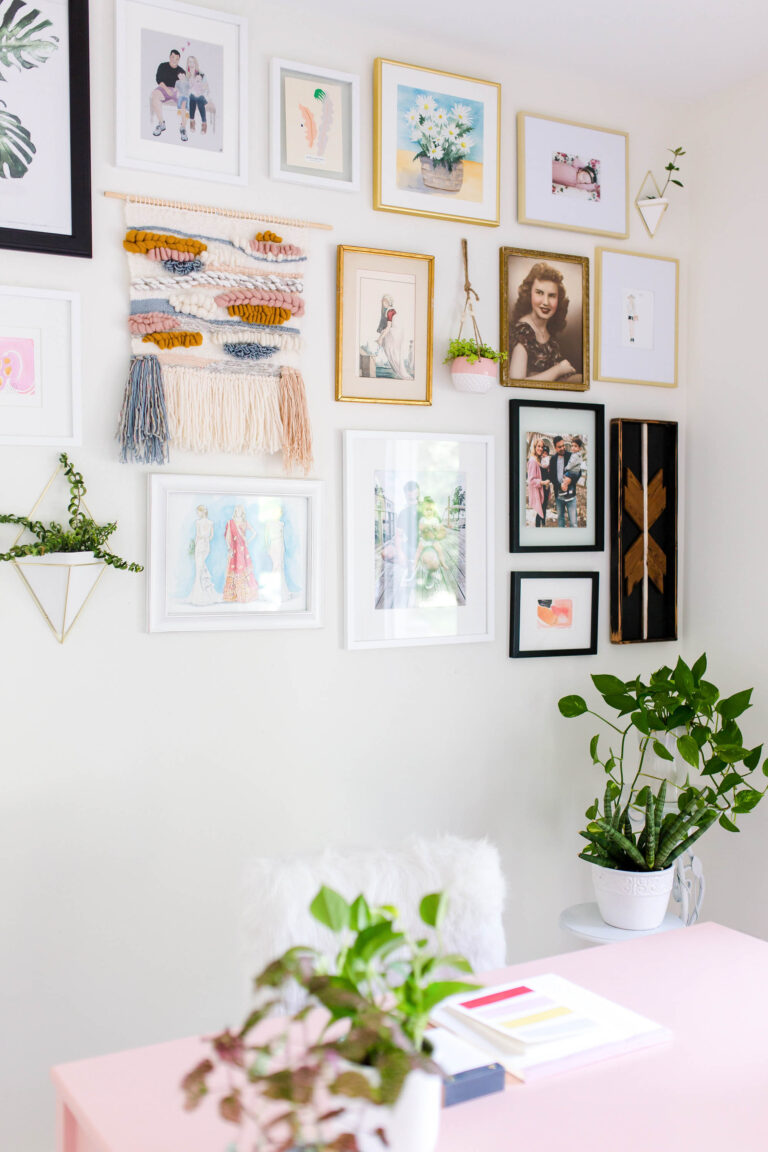 This gigantic gallery wall in my office was probably my biggest project to date but it has been my absolute favorite!
This one was the longest one to create because I had to source so many different things and I was constantly switching things in and out to create the perfect combination.
I share more on this below but about 75% of this was stuff I already had at home so it honestly didn't cost too much money.
2. White + Gold + Plants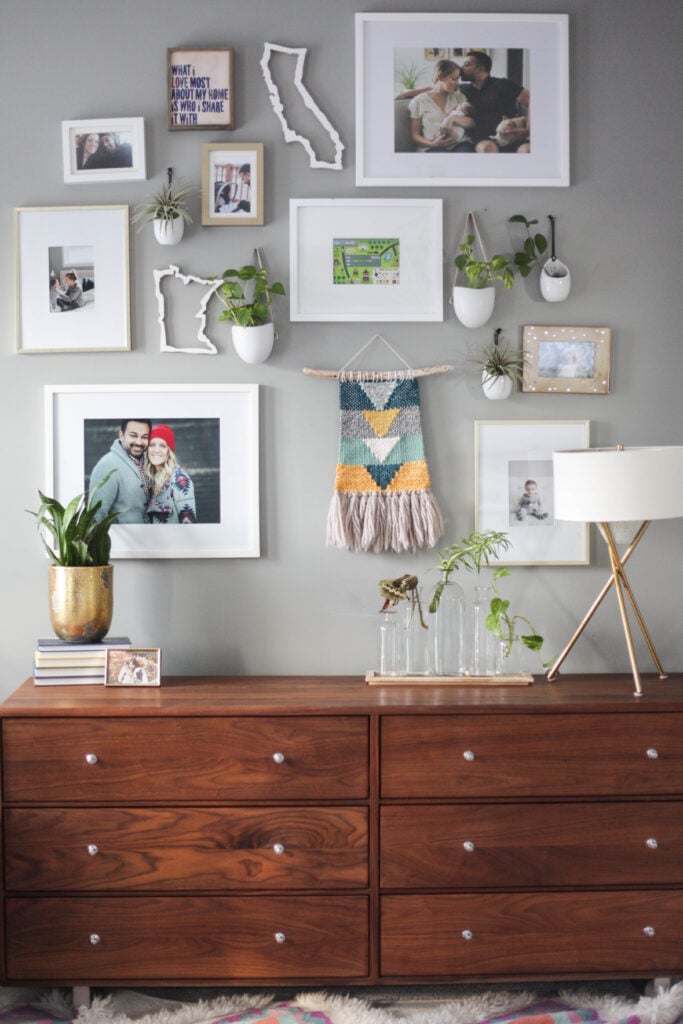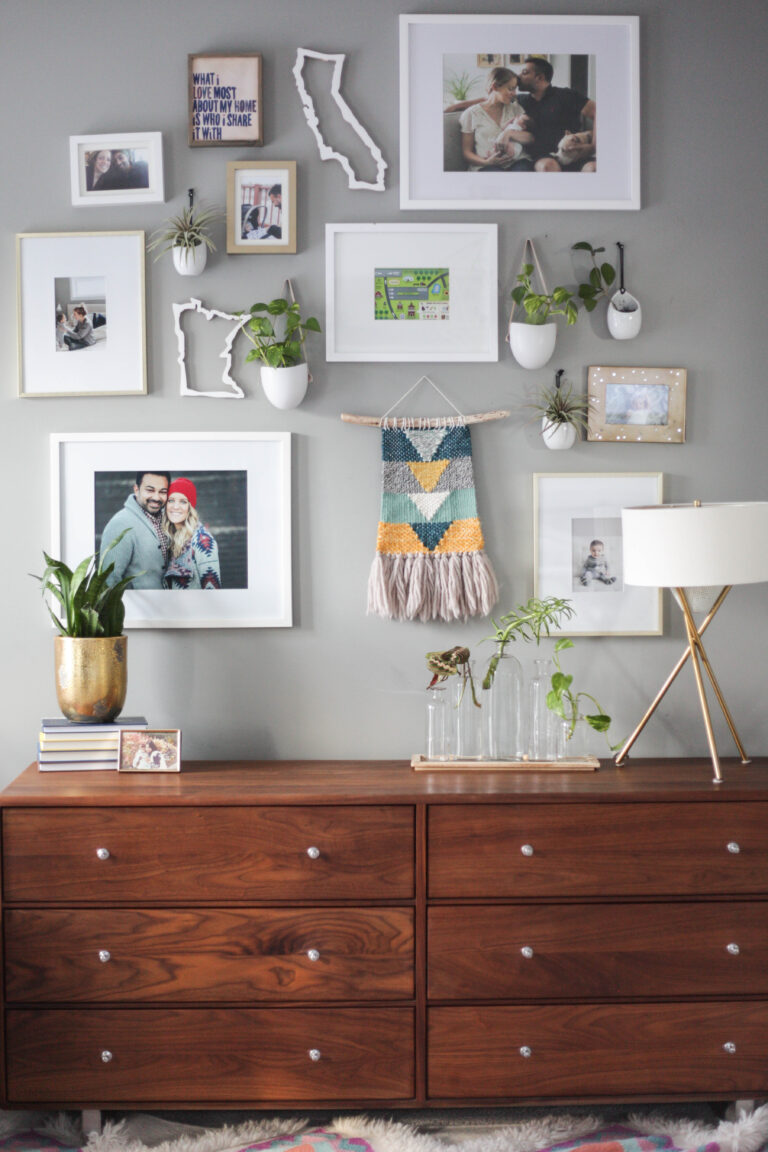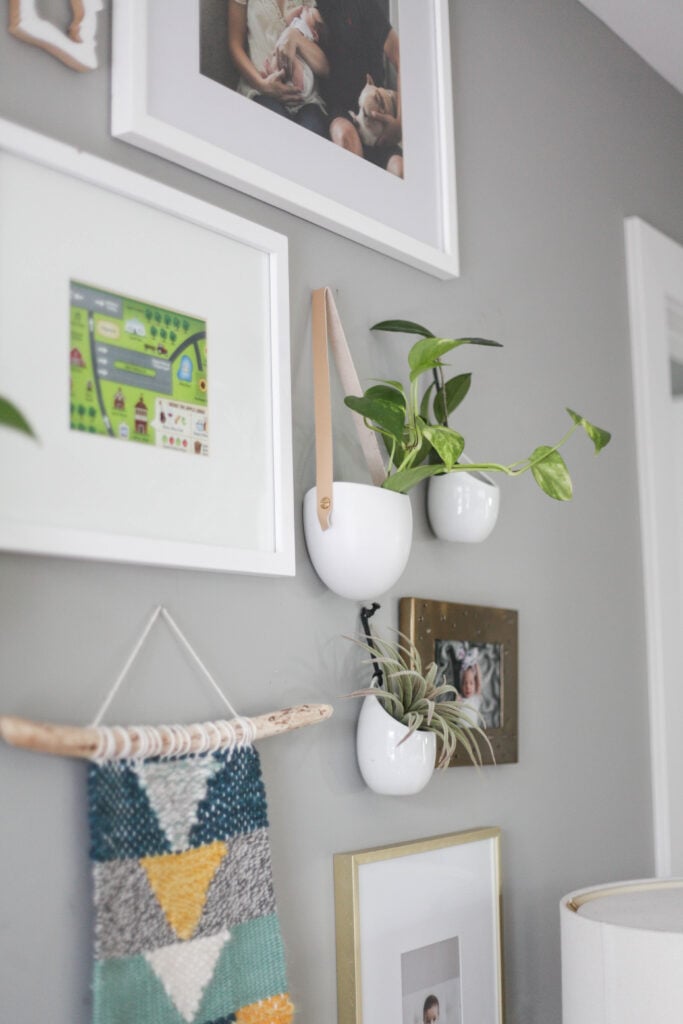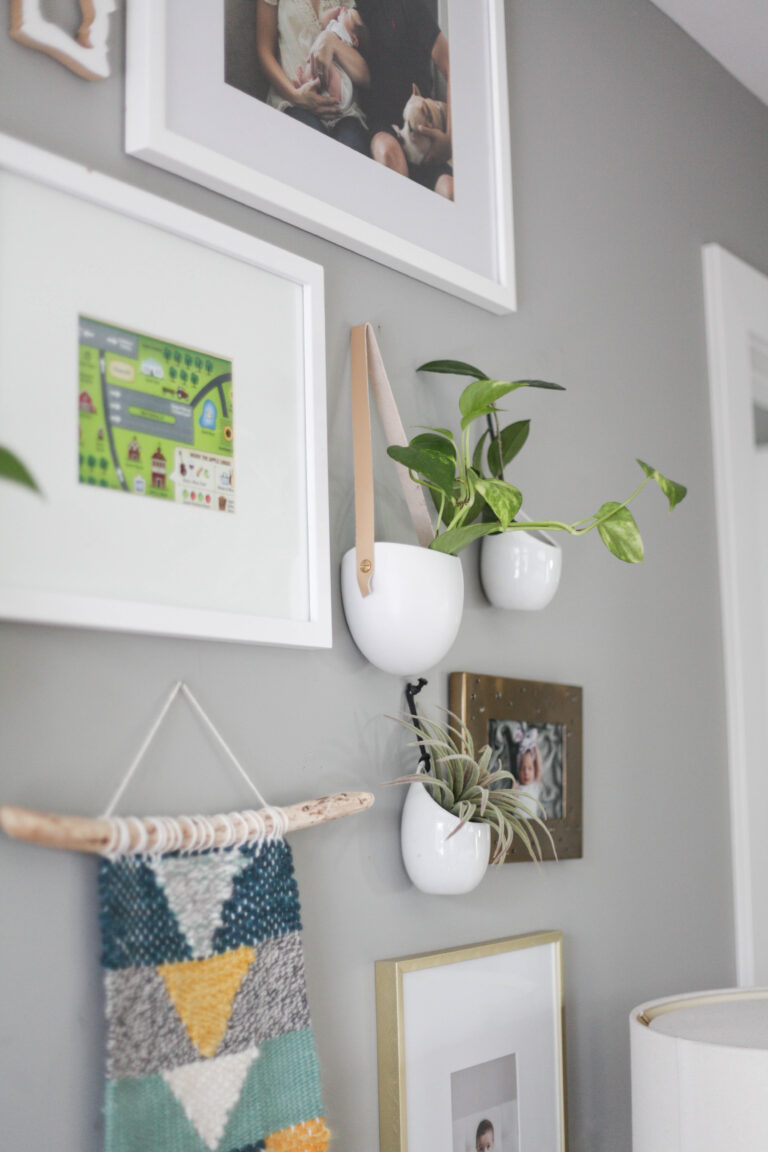 The gallery wall in our bedroom has been through many transitions and of course I feel like I finally got it right just as our house was put on the market.
It always happens that way, doesn't it? 🙂
3. Kid Friendly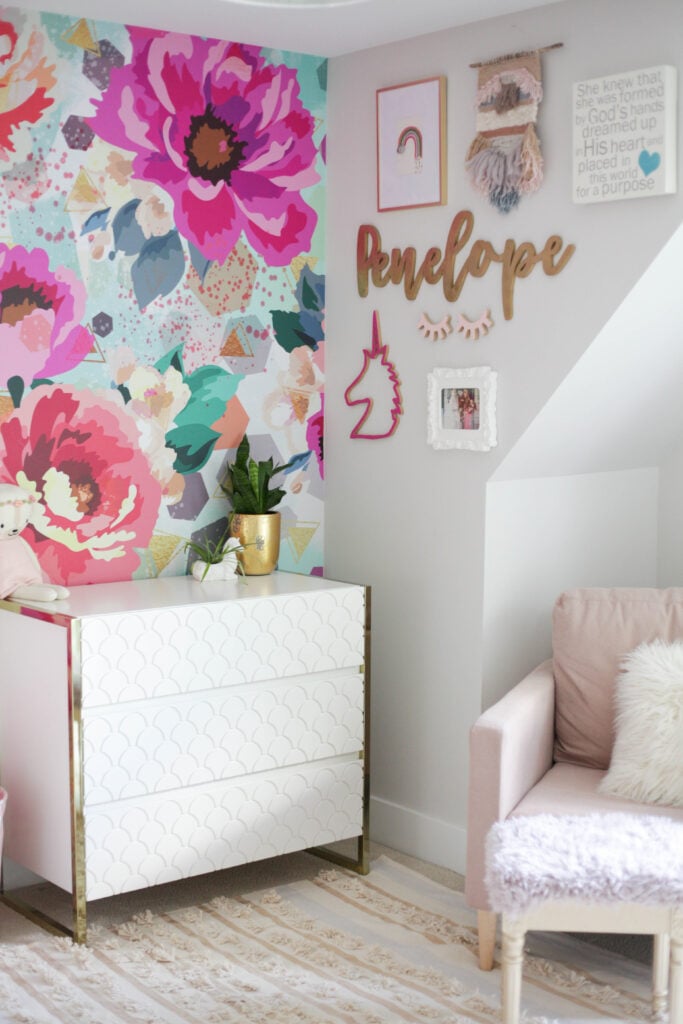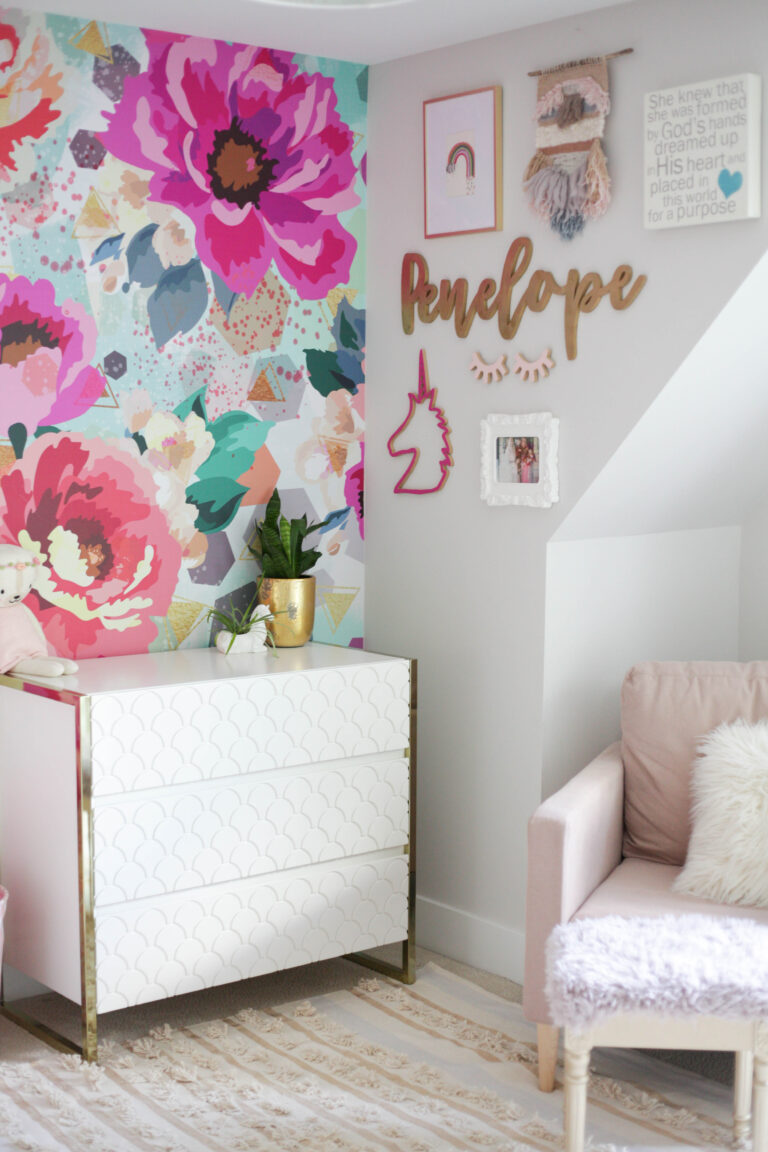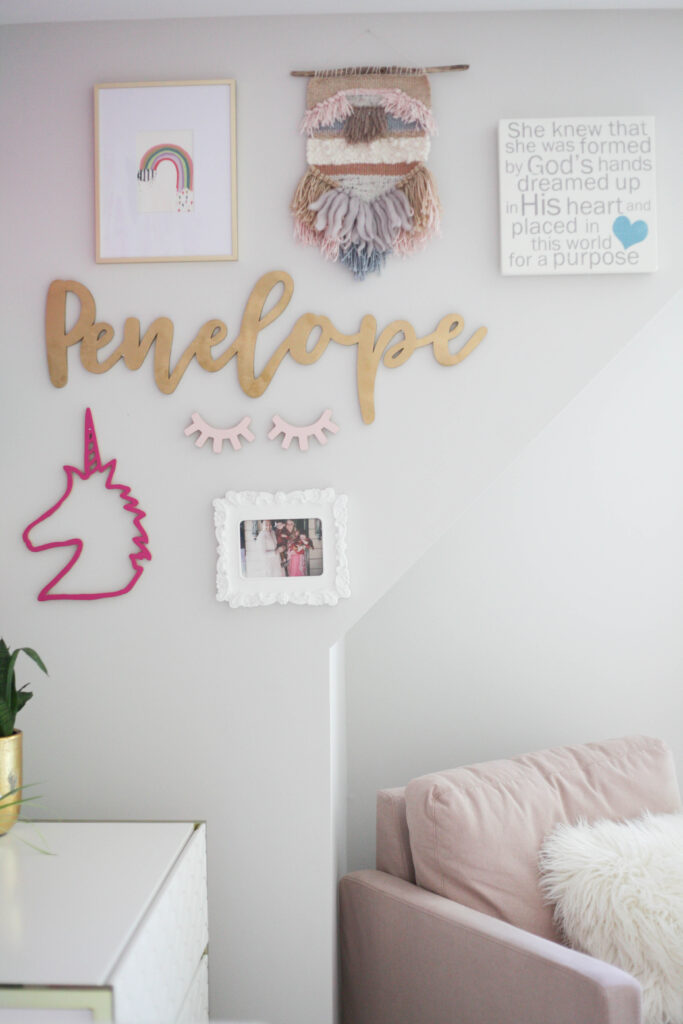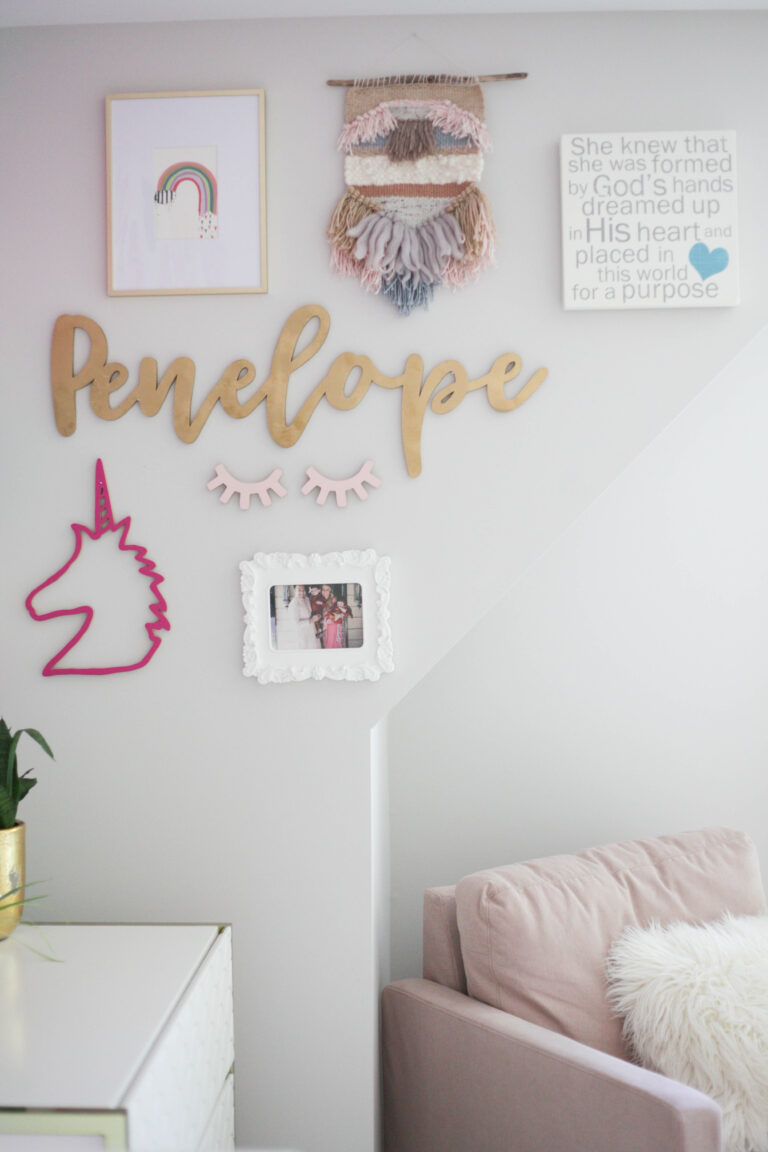 Penelope's gallery wall is one of my favorite! The pop out of the wall allowed for the cutest little mix of kid friendly items.
I love the mix of softness of the puffy woven wall hanging combined with the wood pieces and faux antique picture frame.
The cheeky unicorn and eyelashes from Pink Linen Designs as well as the rainbow print keep this uber girly!
4. Uniform Style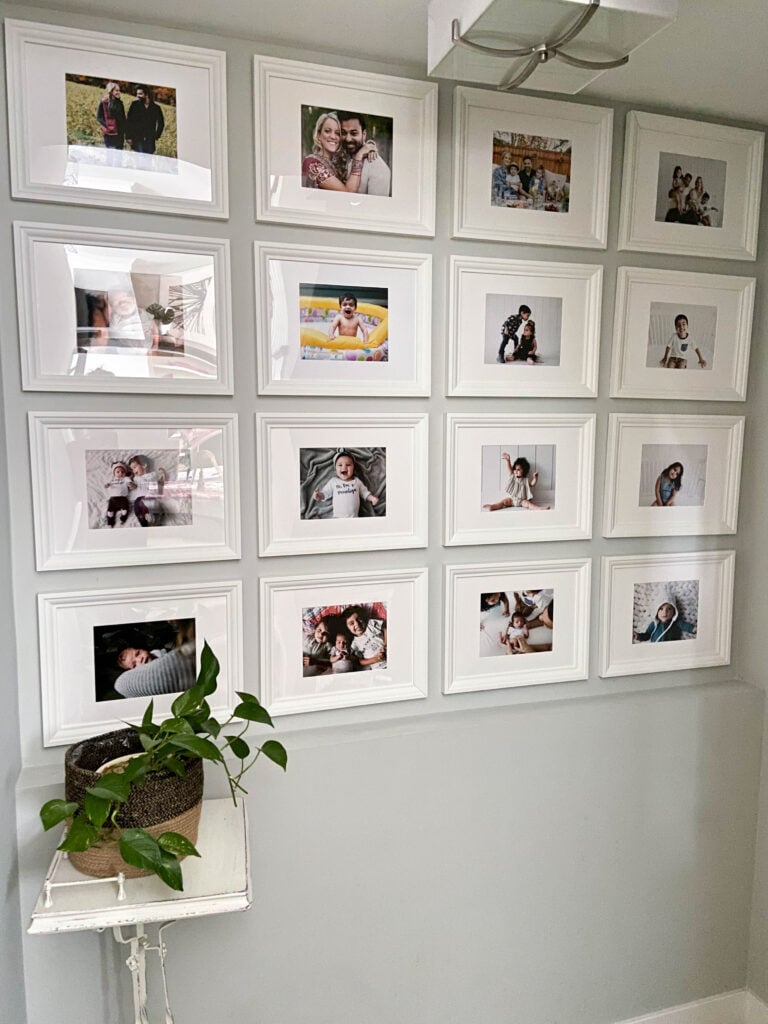 By far the simplest form of gallery walls is a standard 4×4 (or 3×3 or 5×5…) of the same frame in a set space. Our frames are from Ikea.
For this gallery wall we had each row designated to a specific member of our family! From left to right we showed the transition of each kid (and me and Rishi of course!) from birth to current age.
Miles was only a few months old when we did this one which is why he is basically a newborn in all of them!
5. All White Frames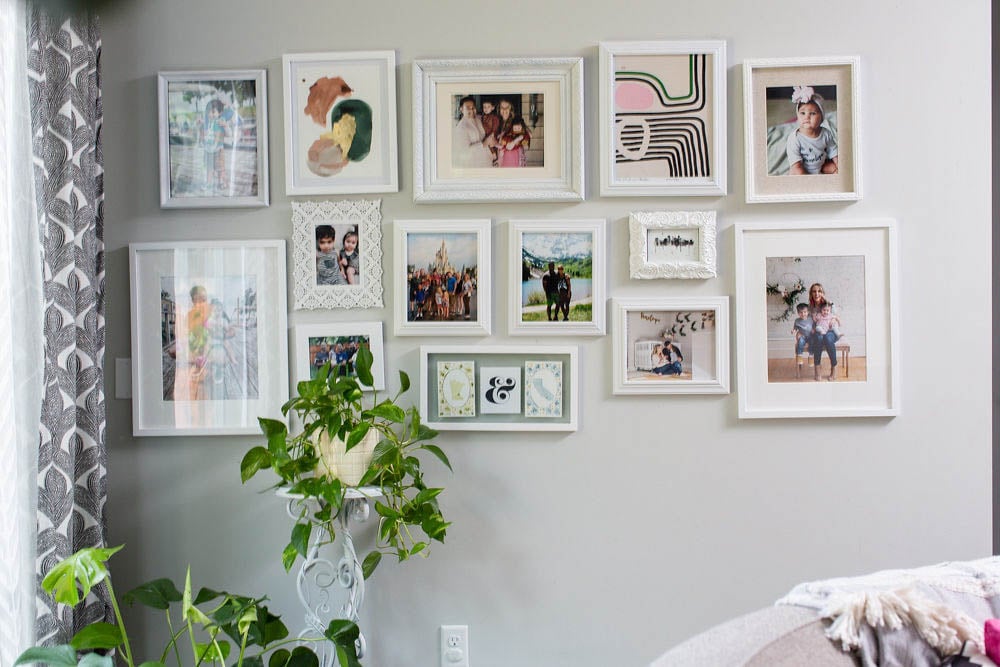 Another easy way to create seamless gallery walls is by using the same color frames. All white or all black or any color you choose will help things look cohesive no matter what's inside the frames!
As you can see we had everything from family photos to watercolor to art prints but the white frames pull it all together.
6. Empty Frames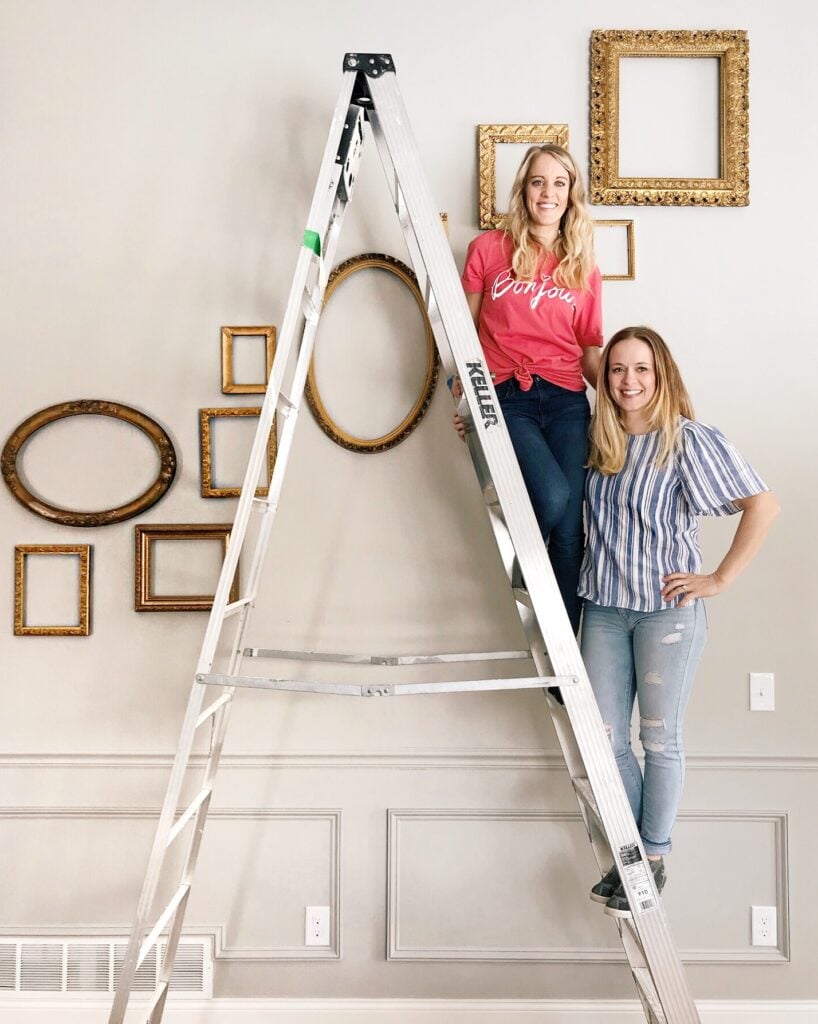 I created this gallery wall for a friend of mine! She had a big blank wall and wanted something fun on it. After scouring her entire home I realized she had a ton of really beautiful gold frames.
I emptied all of the photos in them and took out the backs. We hung them at a diagonal to add some fun dimension to the wall! It's still one of my favorite walls!
7. Plant Wall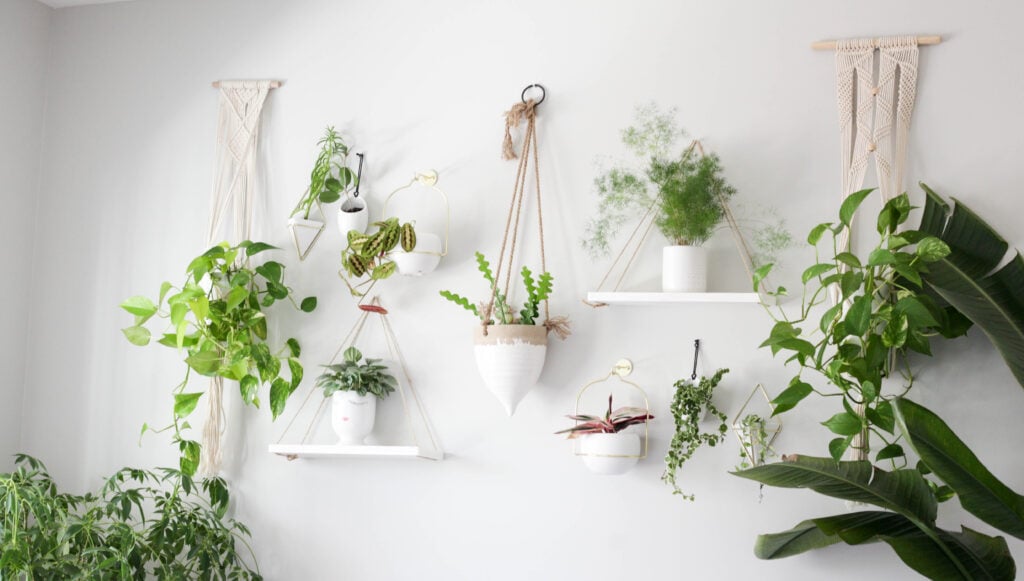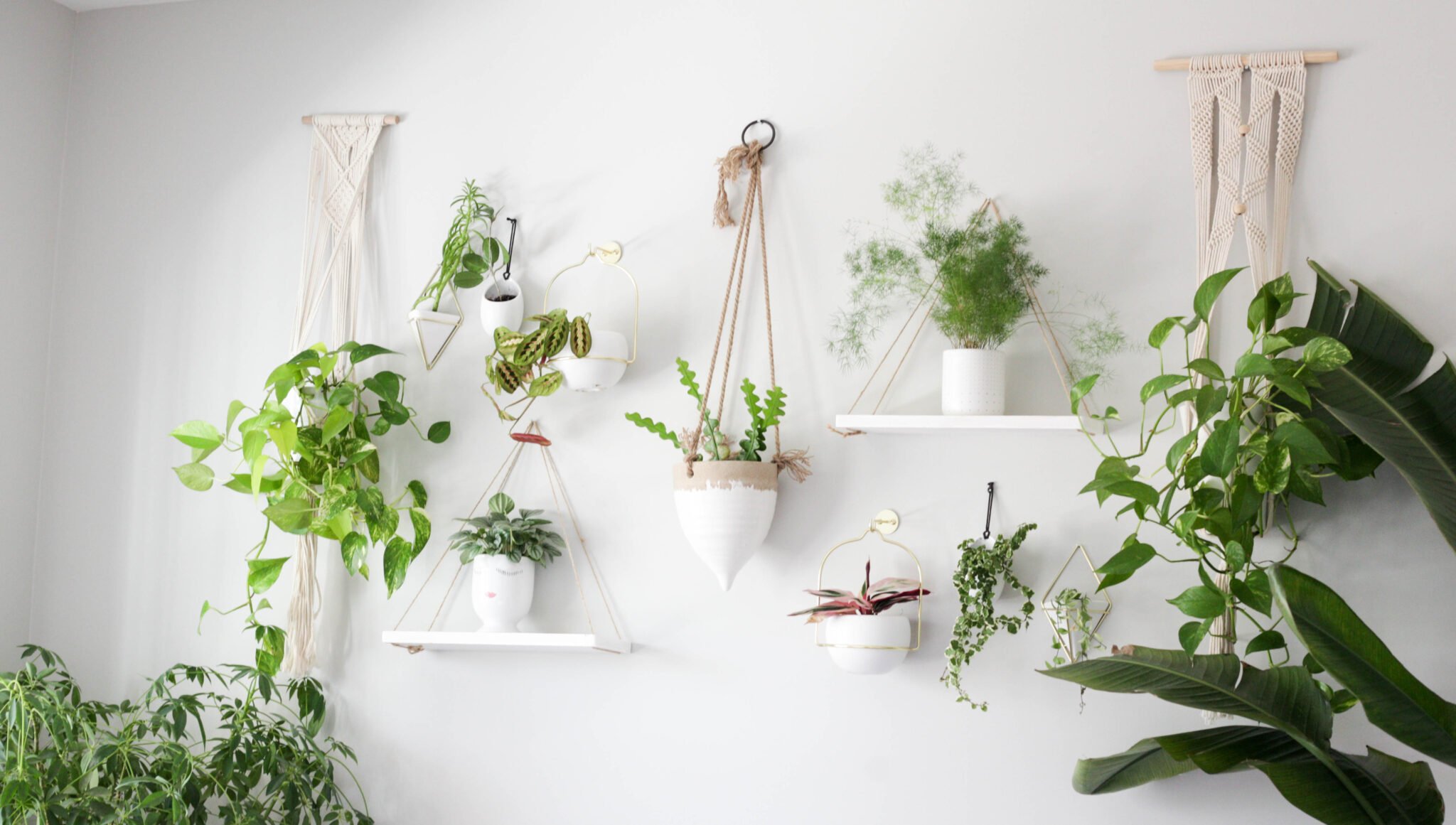 Another fun and unique way to create a gallery wall is with plants! I have an abundance of plants so one way to not overcrowd shelves or tables is to hang them on the wall!
This was a mix of shelves and wall hanging pots that turned out so fun!
8. Hat Wall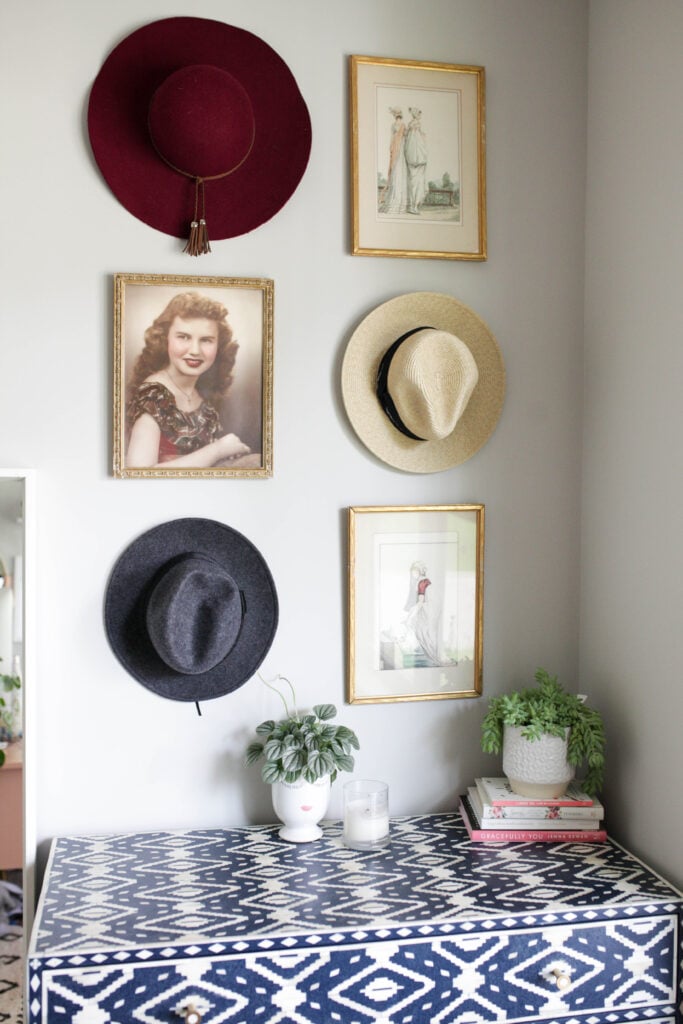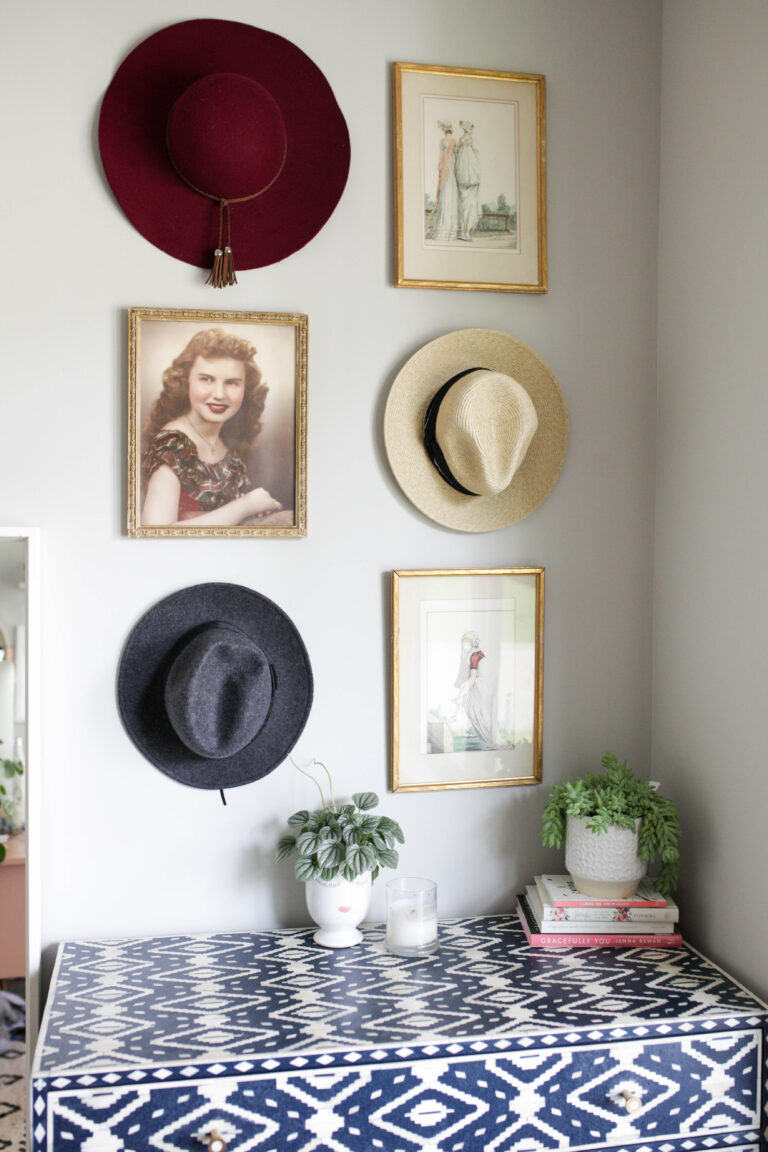 Another unique way to create a gallery wall is to make it functional! I have been trying to figure out a way to store my hats and finally I figured it out – I'll hang them!
I created this fun hat wall as a twist on a "typical" gallery wall you might see. You can do this with hats like mine or even baseball hats in a kids room or any other type of hat for the hat lover in your home!
Gallery Wall FAQ + Tips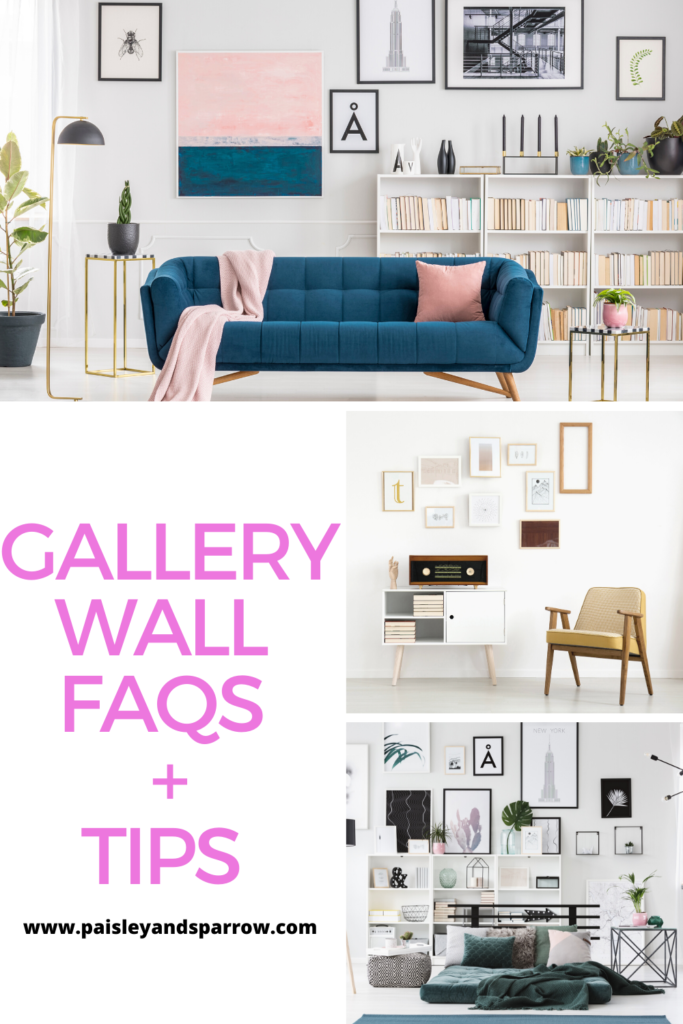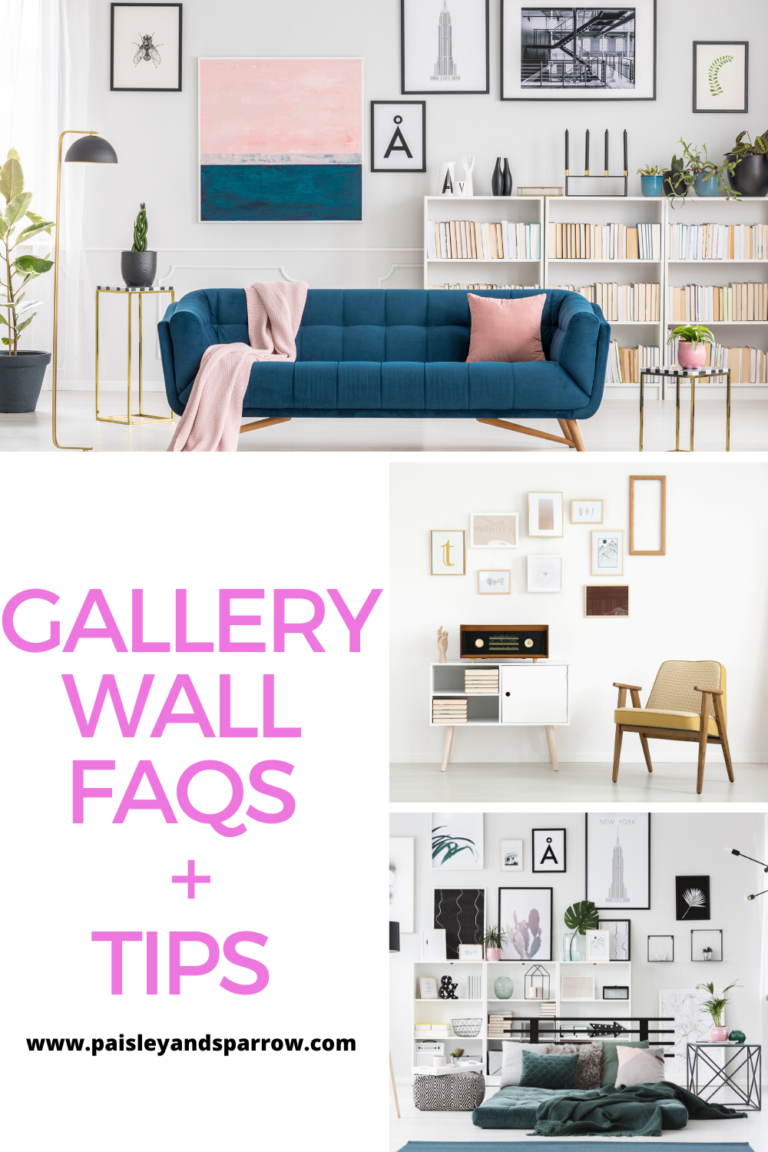 1. Where do I put a gallery wall?
Anywhere! I love the unexpected spots like in Penelope's nook in her room but they can also be in traditional spots like landings in your stairwells (like the uniform one) or on a large wall in a living room.
Think outside the box, though! Do you have a long hall from your entryway to the main living space? Fill it up!
Is your bathroom in need of some love? Why not try one there? The options are endless!
2. How big should my gallery wall be?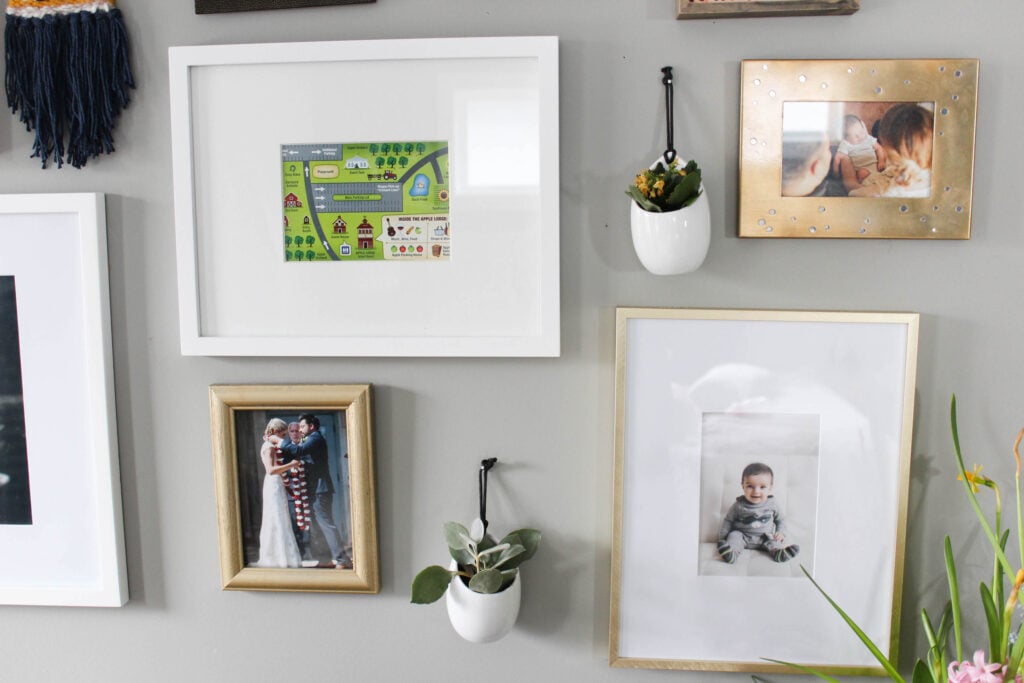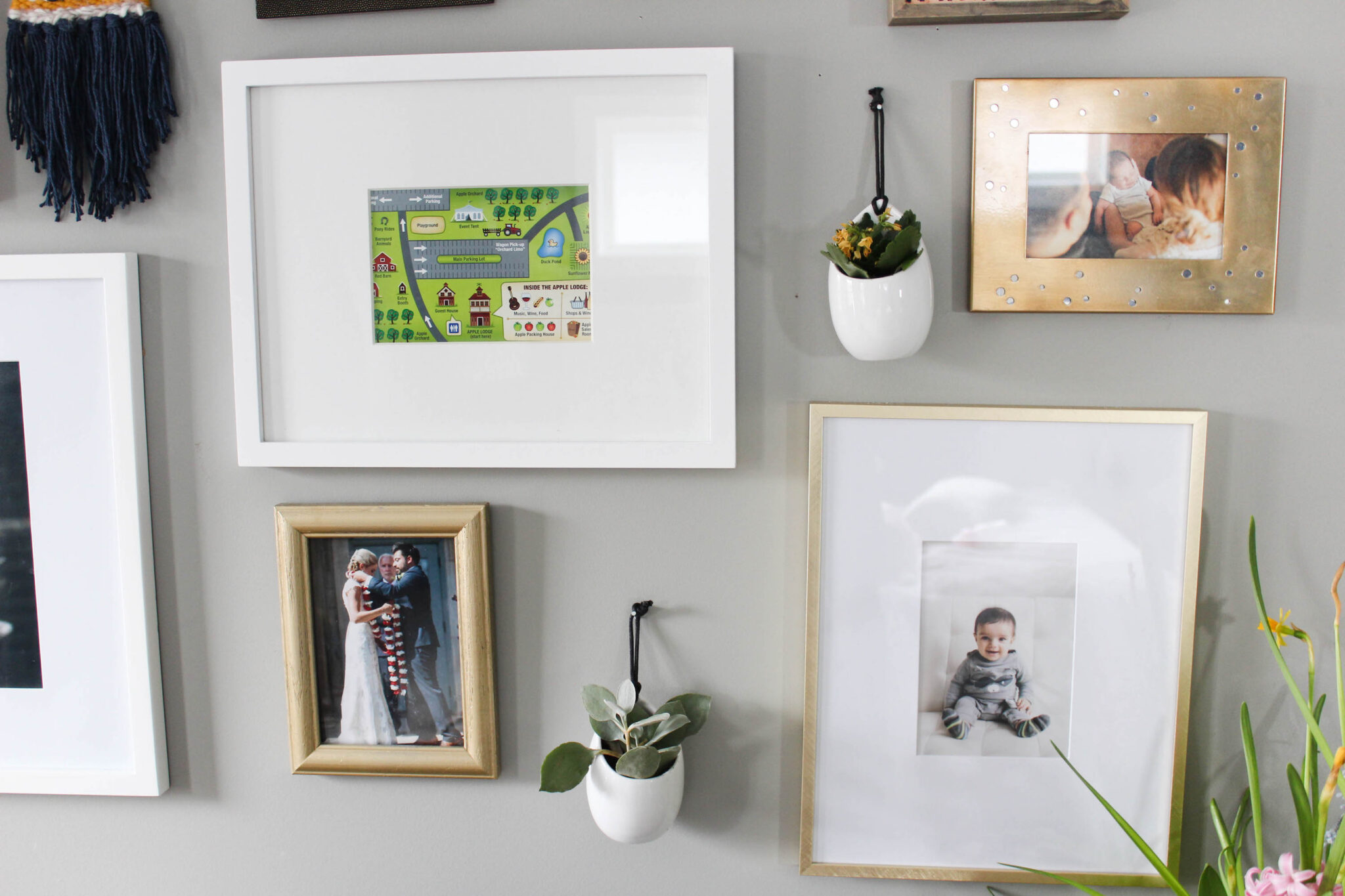 This is up to you! I've done everything from the wall to wall gallery wall in my office down to the small one in P's nook in her room.
Here are some pointers. If your gallery wall is the main focus of the room, make it big! Fill a giant wall or at least a big chunk of a main wall if the walls are really big.
Be conscious about how low you go. If you have kids or pets you may want to keep it out of reach to prevent casualties.
3. How do I organize my gallery wall?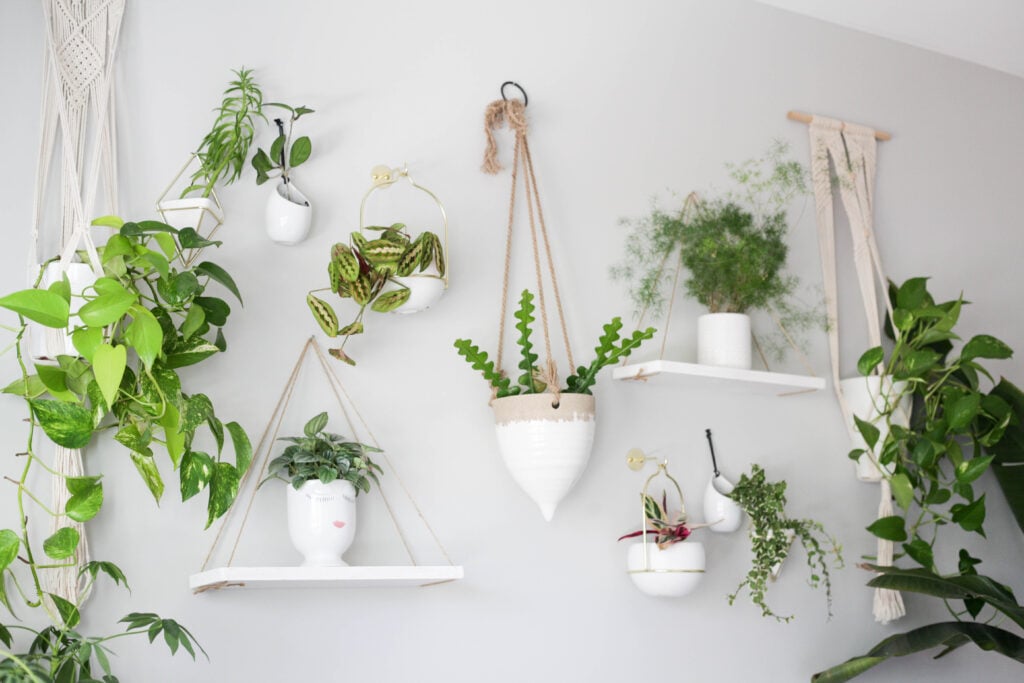 When I organize my gallery wall, I always start on the ground. I place everything out in front of the space I'm putting it on first and plan it out that way.
When it comes to placing things, first things first, start with the biggest item(s). Whether that's a matching set of art, one giant piece, or whatever, figure out where you want that placed.
After that's established, fill in with the medium size items. Spread these out the entire width and height of the wall. You don't want only small items to frame the gallery!
Finally, fill in with small items! Whether it's small pots, littler frames or mini woven wall hangings, fill in the gaps.
4. What should be included in a gallery wall?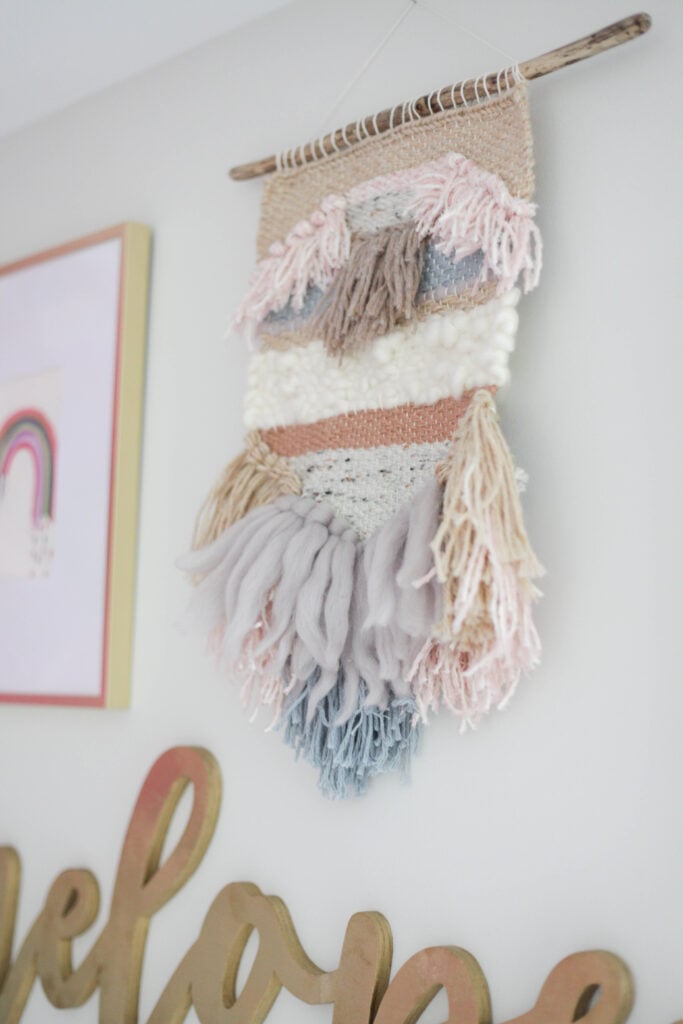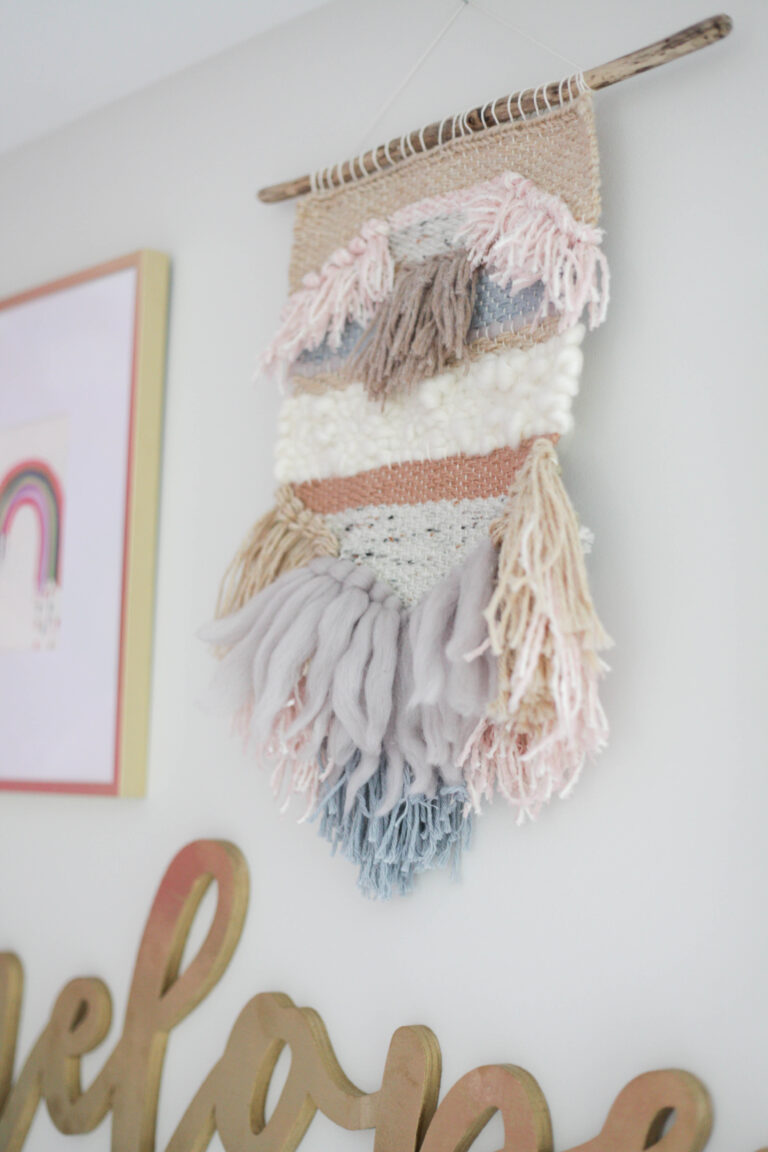 Whatever makes you happy! Whether its frames of family photos, antique mirrors, plants, woven wall hangings, include whatever you want!
My favorite walls are some that have a variety of different things – plants, woven wall hangings, art and photos.
5. How many gallery walls is too many?
This depends on the house! (I know, bad answer!) I personally wouldn't do multiple ones in a room or within eyesight.
Think of these as statement pieces of art. You want to give them their own breathing room!
6. How do I not spend too much money on one?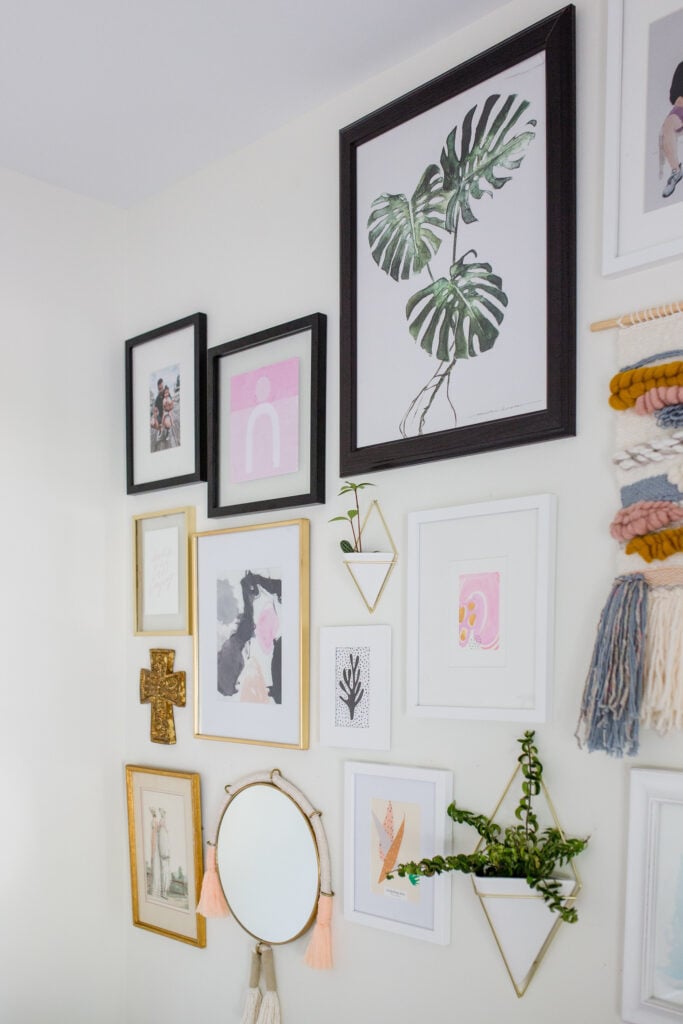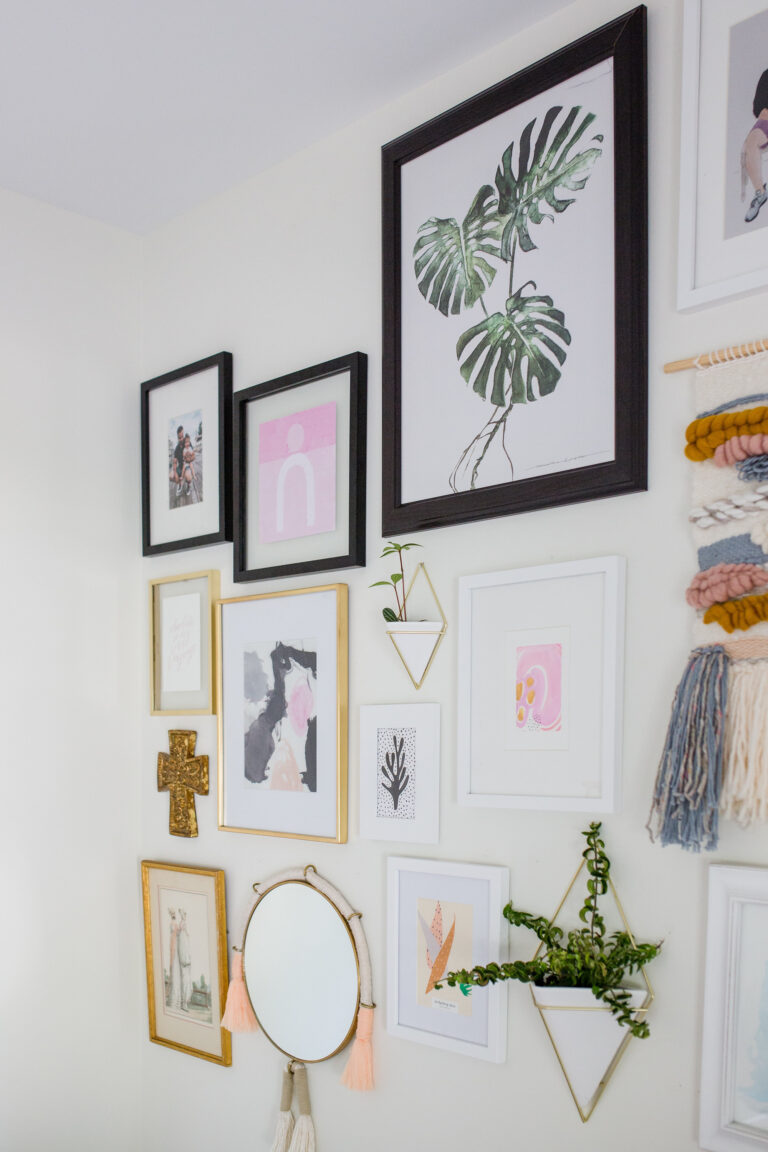 First, shop your house! Gather up all of your frames, art work, mirrors and other wall hangings and put them in one spot.
Figure out which ones you like for the wall you're working on and pile them together. From there you can see what you're missing and supplement with some store bought items rather than buying all new things.
Remember, you can always spray paint things! It's much cheaper to grab a can of white spray paint than to go buy all new items. So if you have 7 frames you love but they're all different colors, just spray paint them!
Another idea is to go to the thrift store! Honestly a lot of my frames (especially if I know I'm just going to spray paint them) come from the thrift store.
When it comes to what goes in the frames, be creative! Rather than buying art I used postcards in my gallery wall in the office and living room! I've also used inserts from brands like Bloomscape, free printables, art your kids make, pretty craft paper…the options are endless!
7. What type of shelves are good for gallery walls?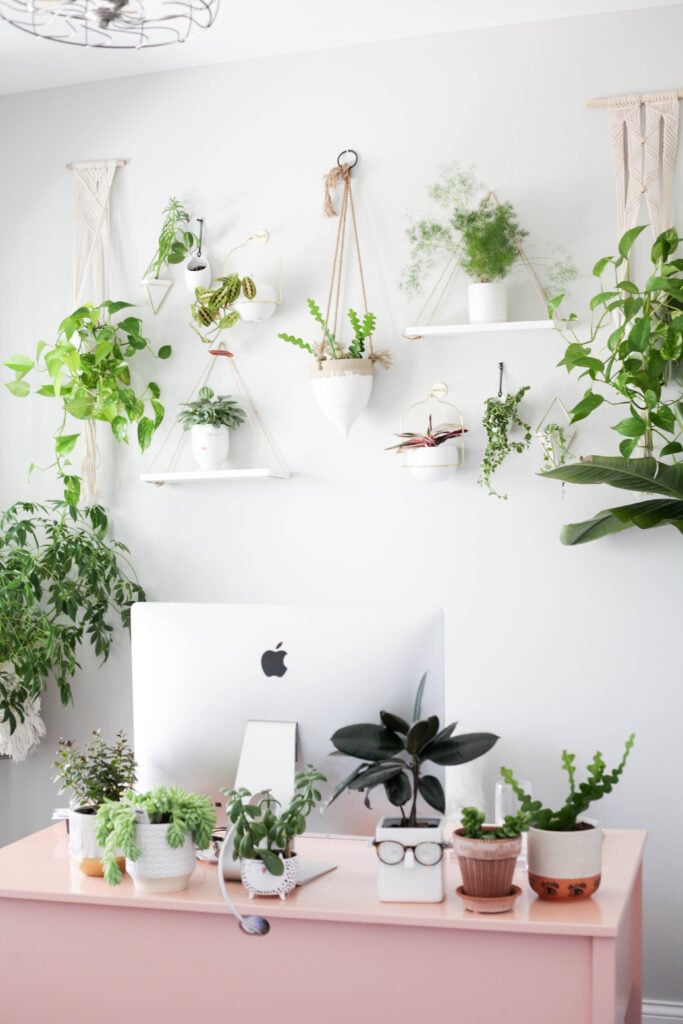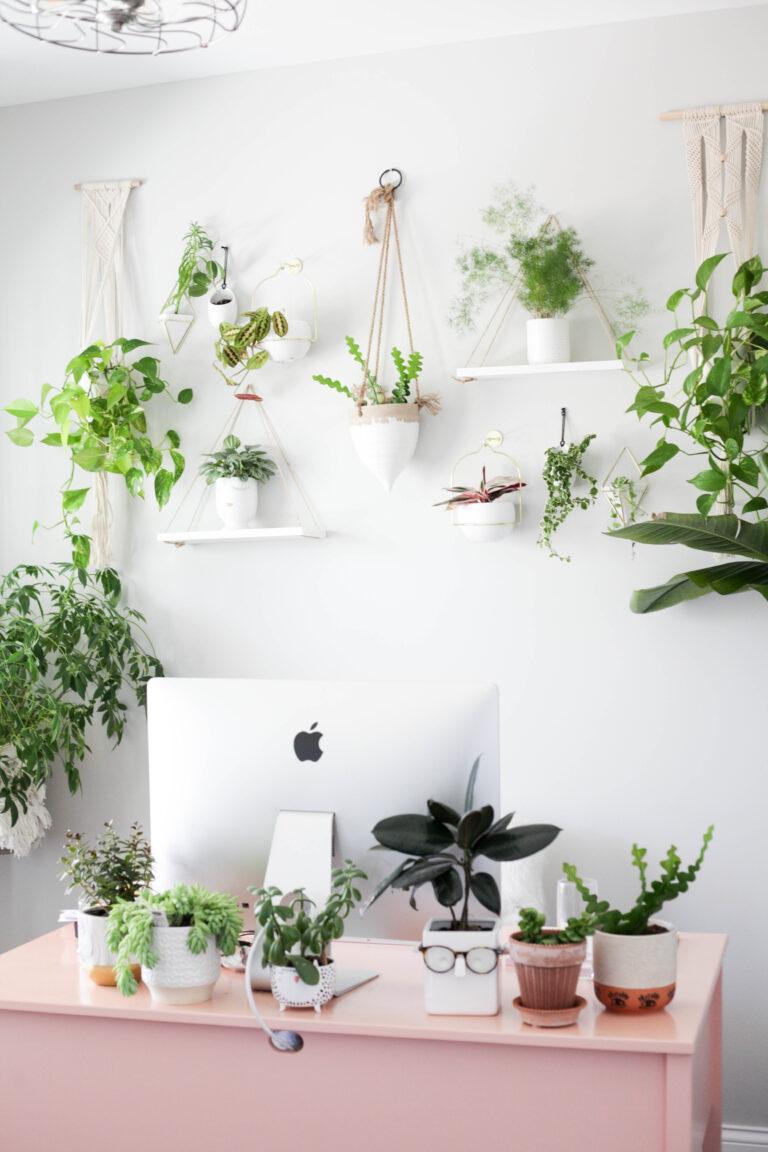 The best kind, in my opinion, are skinnier ones. You don't want shelves that jut out too far from the wall to overshadow any frames around it!
I also love options like the one below (all of it is from Target!) that uses shelves to create the full gallery wall! It's a great way to easily swap out frames, art, etc. and not have to create new holes.
8. What are some easy hanging tips?
Plan it out first! If you're a perfectionist, get a roll of brown kraft butcher paper (from Amazon and under $15!) and cut out each frame/art/item and physically tape it up to the wall.
Then you'll know exactly where to put each item when you hang it rather than guessing as you put a nail hole in the wall!
Another trick is to put a dollop of toothpaste on the back of whatever you're hanging. (Be generous with this!)
Next, push it against the wall where you want it hung. When you pull it off the wall you'll have the perfect spot to place your nails!
Hopefully these gallery wall ideas and answers to FAQs help you create an expertly place gallery wall in your home!
What other questions do you have that I didn't answer? Ask them below!
You can also check out this post for a peek into our entryway where we used vintage mirrors for our wall decor!
Thanks for reading!