Looking to add some removable wallpaper to your home? Temporary wallpaper is amazing for rentals, kids rooms or anyone who has a fear of commitment.
We've put up quite a bit of removable wallpaper in our last home (and have plans for more with our new home) so I wanted to share all of my favorite places to find wallpaper and all my tips for applying it!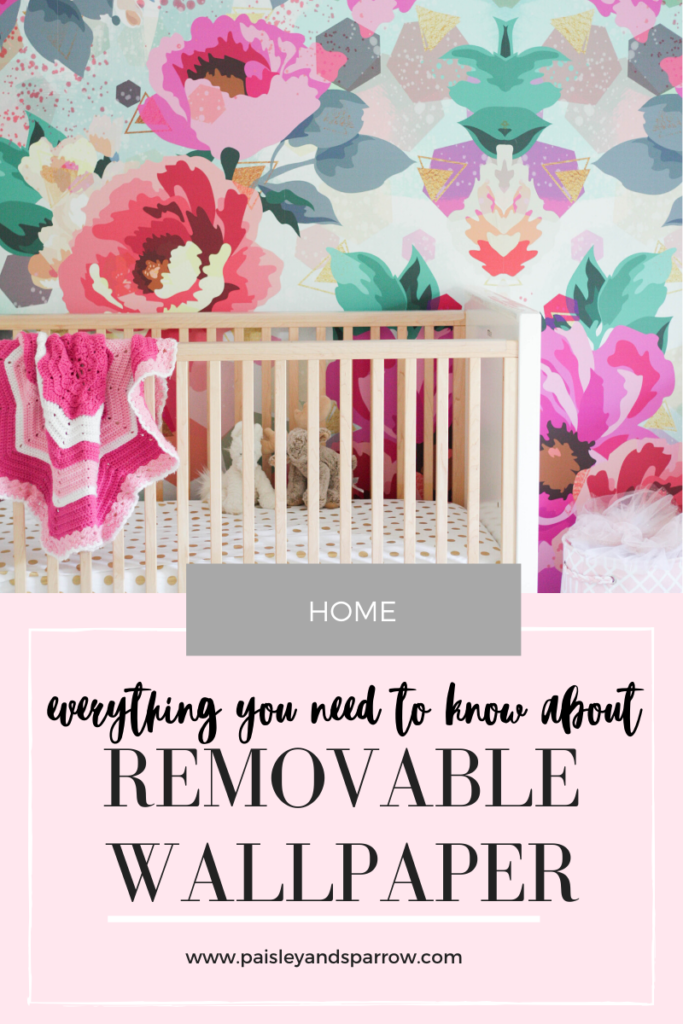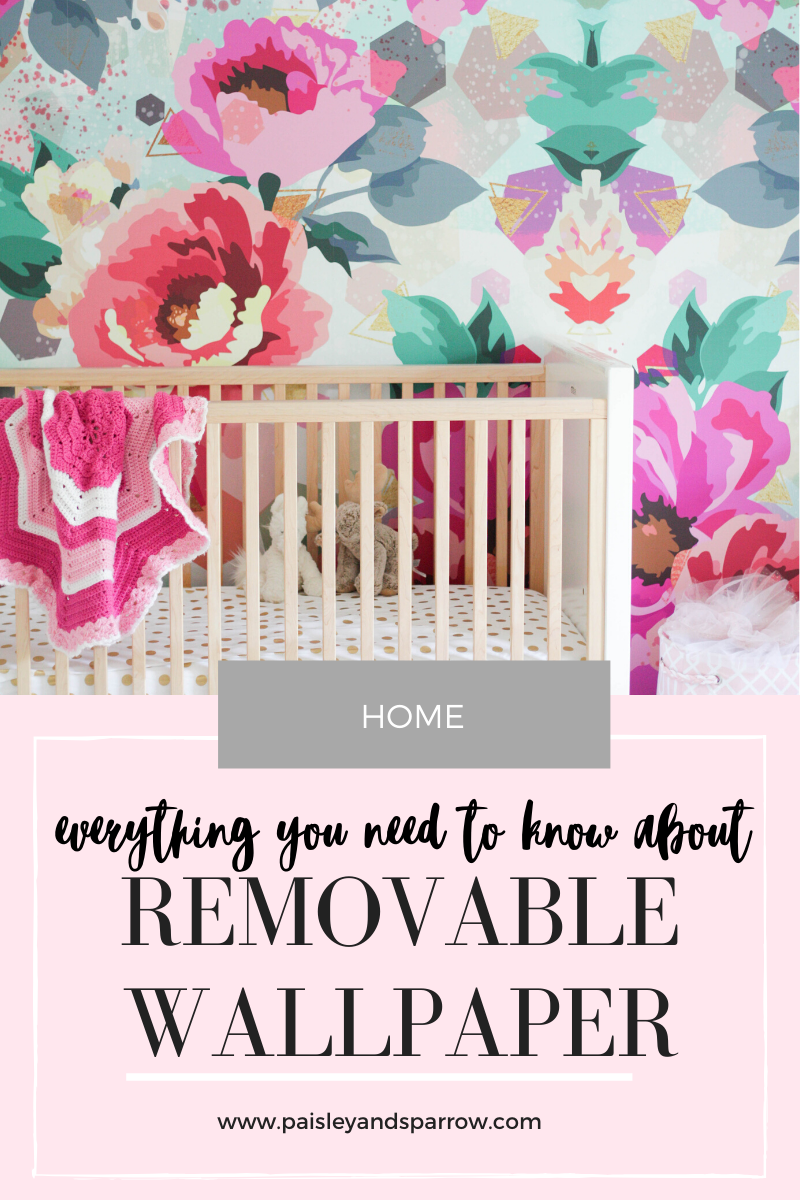 Please note: Paisley + Sparrow is a participant in the Amazon Services LLC Associates Program. This post may include affiliate links which means I may earn a small commission if you shop using the links below at no additional cost to you.
Thanks so much for supporting me and this blog!
Removable Wallpaper Tips
Rishi is the wallpaper putter-upper in our family because he's got the most attention to detail and is quite the perfectionist. Here's some tips that helps him put up temporary wallpaper!
Helpful Tools
Exacto Knive (or sharp blade) – You'll need this to trim the excess paper after applying your wallpaper.
Tape measure – Measure twice, order once! You don't want to get your order and realize you don't have enough, especially since most wallpapers are made to order so the pattern works!
A clean, damp cloth – Anything will do! You'll need this to clean the walls.
Spackel (optional) – If you have holes or cracks, you'll need spackel to fill these in.
Preparation
1. Remove outlet covers, light fixutres, switch plates, etc. to make it as easy as possible to apply your wallpaper.
2. Fill in any holes. You may likely need to pick up spackel to fill in any nail holes or cracks in your walls.
3. Then you'll want to wipe down the wall with a damp rag to remove and dirt, oil or other residue. Make sure this dries completely before you apply your wallpaper.
4. Lay out all the wallpaper panels on the floor in the order you intend to apply them. Sometimes the wallpaper is numbered, other times you'll need to figure it out yourself and sometimes all of the panels are exactly the same so it doesn't matter what order they go up!
**We recommend making sure kids/pets are in another area of your home since we've had both kids and our dog run across the wallpaper that is laid out on the floor while we are putting it up which caused them to crease. Luckily creases don't really show up once it's on the wall but be careful!
How to Apply Peel and Stick Wallpaper
1. When you go to put your wallpaper up, start with the far left side of the surface. Peel back the first 6-12 inches of backing. It's most helpful to crease it so it doesn't roll back up, especially if you're applying this by yourself.
While it may be tempting to just pull off a ton of the backing, be cautious! It's easy for the wallpaper to stick to itself so peel just a little at a time.
2. We've found that it's easiest to overlap the top and sides of the wall slightly just in case the ceiling isn't exactly straight and level so you don't have a gap at the top.
3. Continue peeling off the backing of the wallpaper (about 6-12 inches at a time) and smoothing the wallpaper panel as you go. You can always peel the wallpaper off at anytime to readjust it's placement.
4. Smooth out air bubbles as you see them. (It might be helpful to peel the wallpaper off to fix larger bubbles!) Use your hand to smooth the wallpaper on to the walls as you apply it.
5. If you're applying multiple panels, line up the tiles perfectly – in most cases, you don't overlap! Just be sure to check the type of wallpaper you got as I've seen in one case that you're supposed to overlap.
Pro tip – make sure the new panel isn't upside down when you go to apply it. 😉
7. Repeat! Keep going until your entire wall is covered!
8. Cut the seams. Because you overlap, use an Exacto knife to make a clean line around all of the edges. Make sure you lay something metal (like a metal ruler or something) behind the knife so you don't cut your walls on accident!
FAQ
1. Can you wallpaper over textured drywall?
This depends on a bit on how textured your walls are and what kind of wallpaper you're getting, but for the most part yes!
If your walls are really textured with lots of divots, cracks, etc., there's a very good chance that the wallpaper won't stick. For these, it's best to scrape them so they're more smooth or just consider doing something other than wallpaper!
You can always try putting a sample on the wall to see how it looks and if it will stick. Also check the wallpaper company you're sourcing from to see if they have different varieties of wallpaper. Some brands have ones that are better suited for a little bit of texture.
Remember – if your walls are textured underneath, there's a good chance you'll see that after your wallpaper is applied.
2. Can you put wallpaper in bathrooms (especially with little kids in the house)?
This is potentially a controversial subject. We had peel and stick wallpaper in our powder bathroom and after a couple of years + potty training + 2 toddlers constantly washing their hands in there, it definitely was starting to bleed and look a little worn.
However, there are many wallpapers out there that are ideal for kids rooms and suitable for wiping! Brands like Spoonflower (more info on them below!) have a wallpaper type that's perfect for kids' rooms because as we all know, kids are messy and can get their walls filthy! Using a wallpaper that's wipeable is ideal for bathrooms.
Wallpaper isn't recommended in a bathroom with a shower because of the steam and chances of it getting wet. However, many wallpapers are now humidity proof so that's a great option!
If the print you like isn't wipeable or humidity free, you could always use it as an accent or feature wall.
3. Does removable wallpaper come off easily?
I can't answer this firsthand since we've never taken it down! However, from what I've read and heard, it depends on a lot of things – the quality of the paper you used and the condition of your wall before you put it up.
Many brands say their wallpaper can be removed from one wall and stuck on a different so I would hope those types of wallpaper brands can be trusted!
4. How long does removable wallpaper last?
This depends, again, on the brand you use but the typical answer is around 5 years.
Places to Buy Temporary Wallpaper
I've used a ton of wallpaper in our home and here's a few of my favorites! Some of these I've personally used, others are ones friends of mine have used while others are ones that come highly recommended.
Muse Wall Studio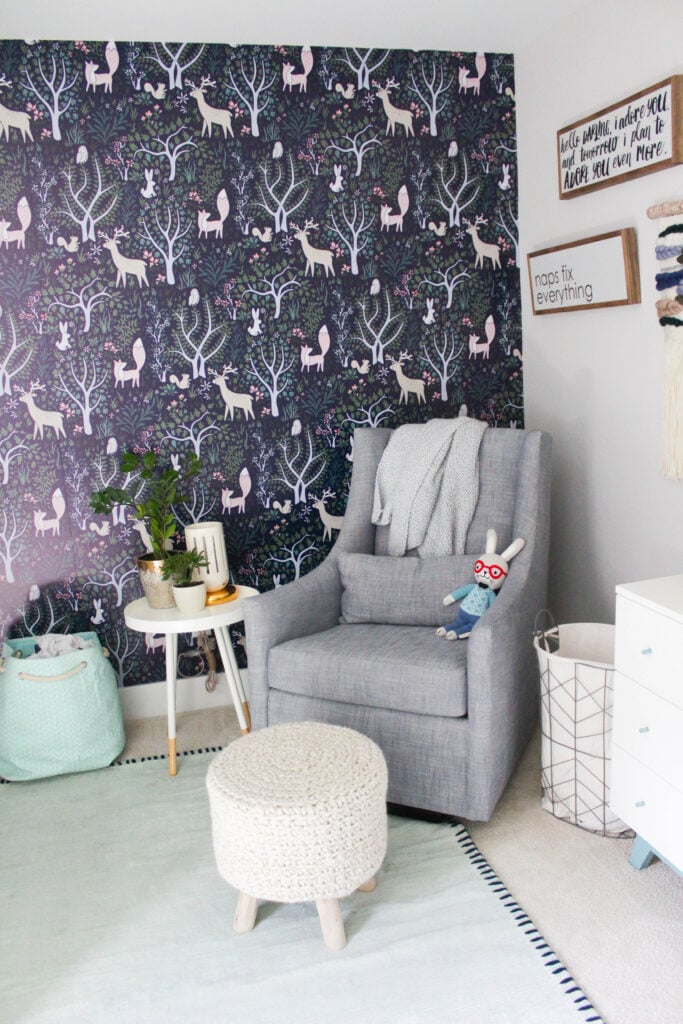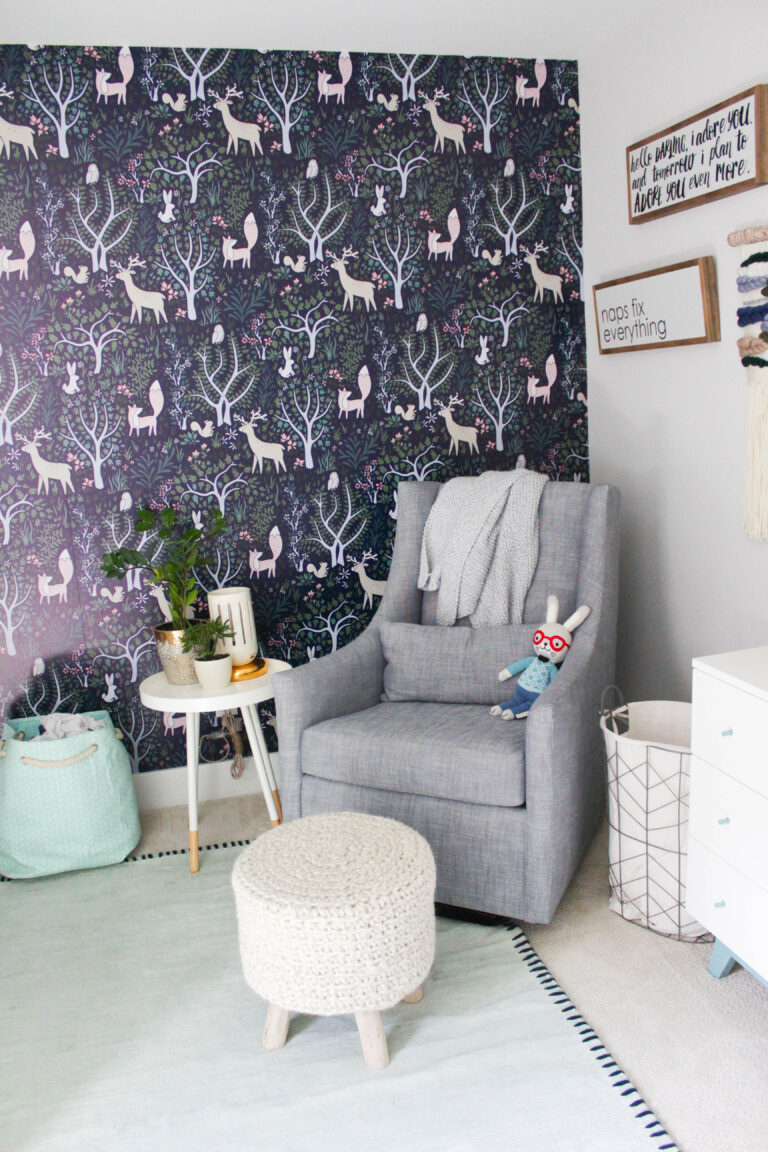 Design type: A variety of fun, high quality wallpapers.
Website: MuseWallStudio (etsy)
Price: varies depending on price
Sample: $3 for a 9" wide by 6" high
Type: Matte polyester wall fabric (can be applied on a wide variety of surface including furniture, glass, wood, etc)
Returns: No returns
Other Fun: Made in USA
We used Muse wallpaper in Miles' first nursery. Muse was amazing to work with and their shipping was super fast.
They sent over an extra tool to help smooth the wallpaper as you apply it which Rishi said was really helpful! They have a ton of great prints and get amazing reviews. I highly recommend using any of Muse's wallpaper!
Anthropologie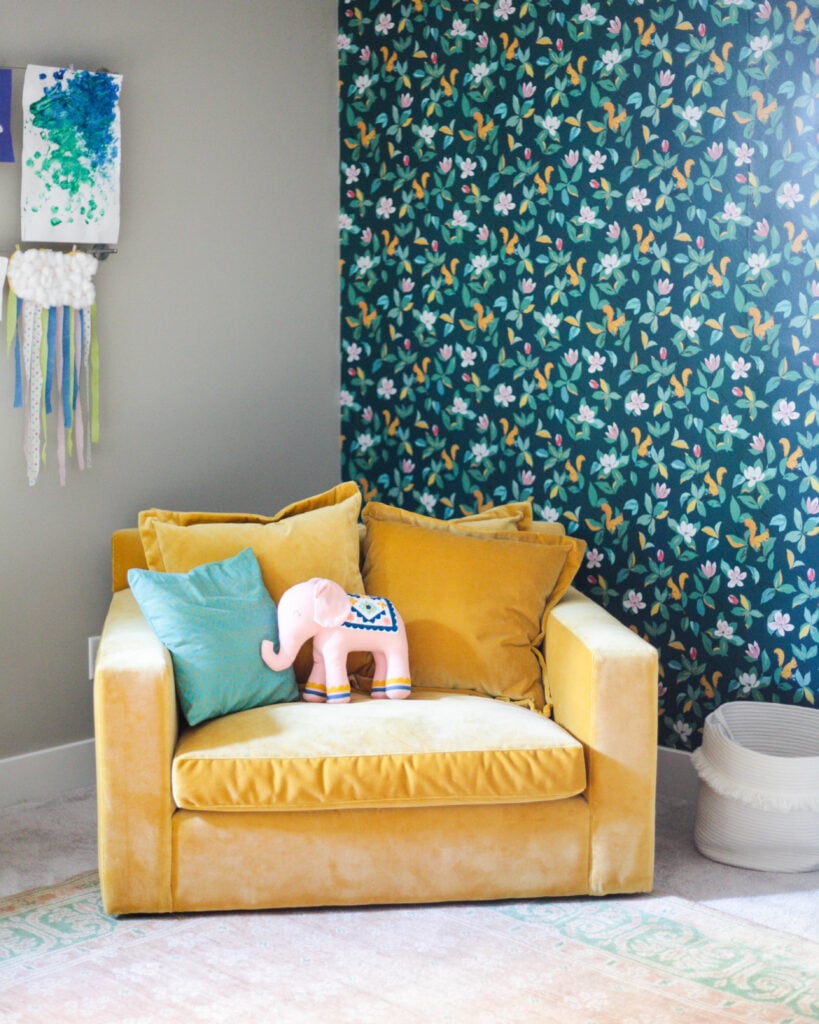 Design type: Unique boho, floral, nature and novelty wallpaper
Website: Anthropologie.com
Price: varies depending on price
Sample: You can get most for $2
Type: Anthropologie has both removable and not removable wallpaper.
Returns: Returns accepted within 28 days
Anthropologie has both peel and stick removable wallpaper as well as the kind that you get wet and apply and get wet to remove.
We got the kind that you get wet to apply and it was surprisingly really easy! We just laid them all out, sprayed it down with a spray bottle and stuck it on the wall.
Rishi (my professional wallpaper applier/husband) said this style was a lot easier to line up perfectly than the peel and stick kind since you could just slide it in to place rather than unstick and reapply.
Anthro is full of amazing wallpaper prints so be sure to check them out!
Wayfair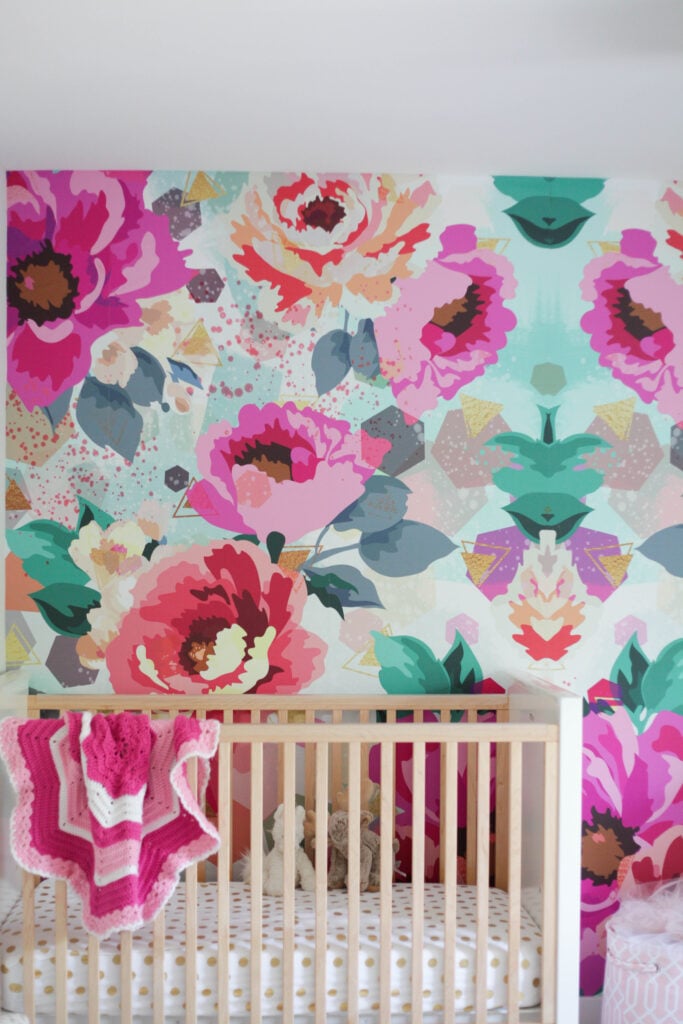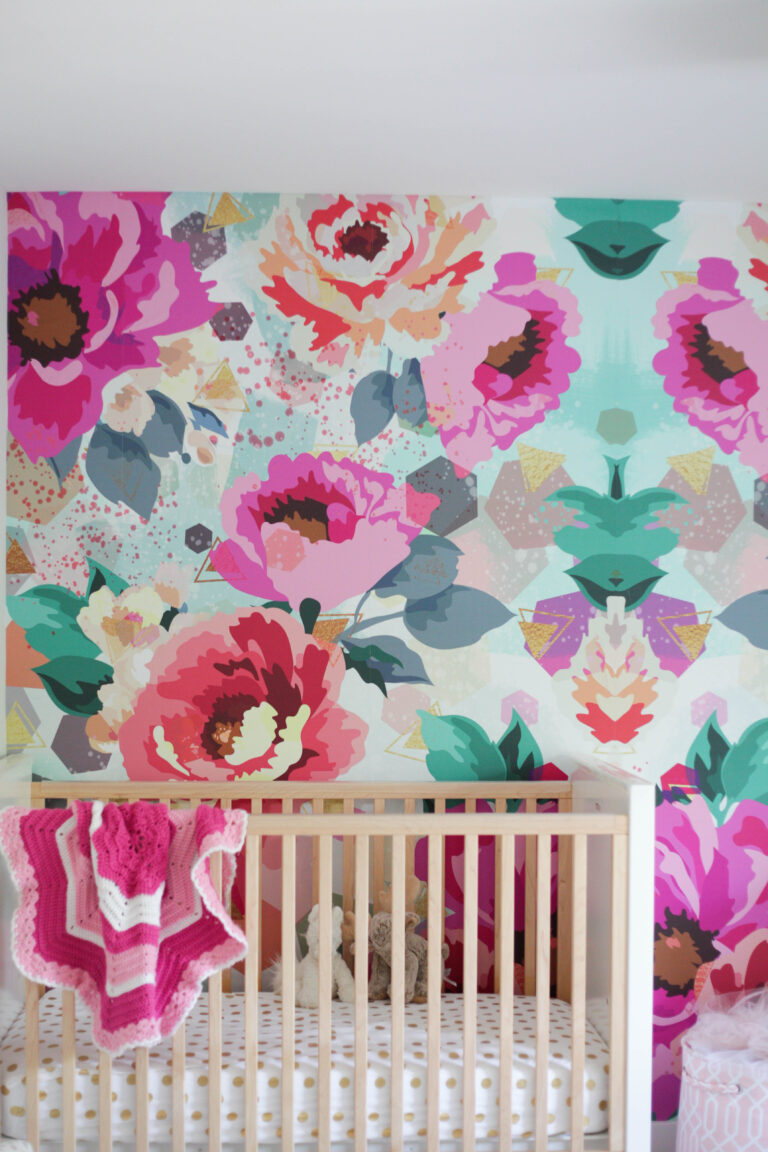 Design type: Everything!
Website: wayfair.com (the wallpaper above is this wall mural)
Price: varies depending on brand
Sample: You can get most for $2
Type: Wayfair has both removable and not removable wallpaper.
Returns: Returns accepted within 30 days
We got Penelope's old room's wallpaper from Wayfair! Wayfair is full of options when it comes to removable wallpaper.
Since there are a variety of brands that are sold on Wayfair, be sure to check the reviews and descriptions of each to get a better idea of the quality and feel of the wallpaper.
Kids Art Wallpaper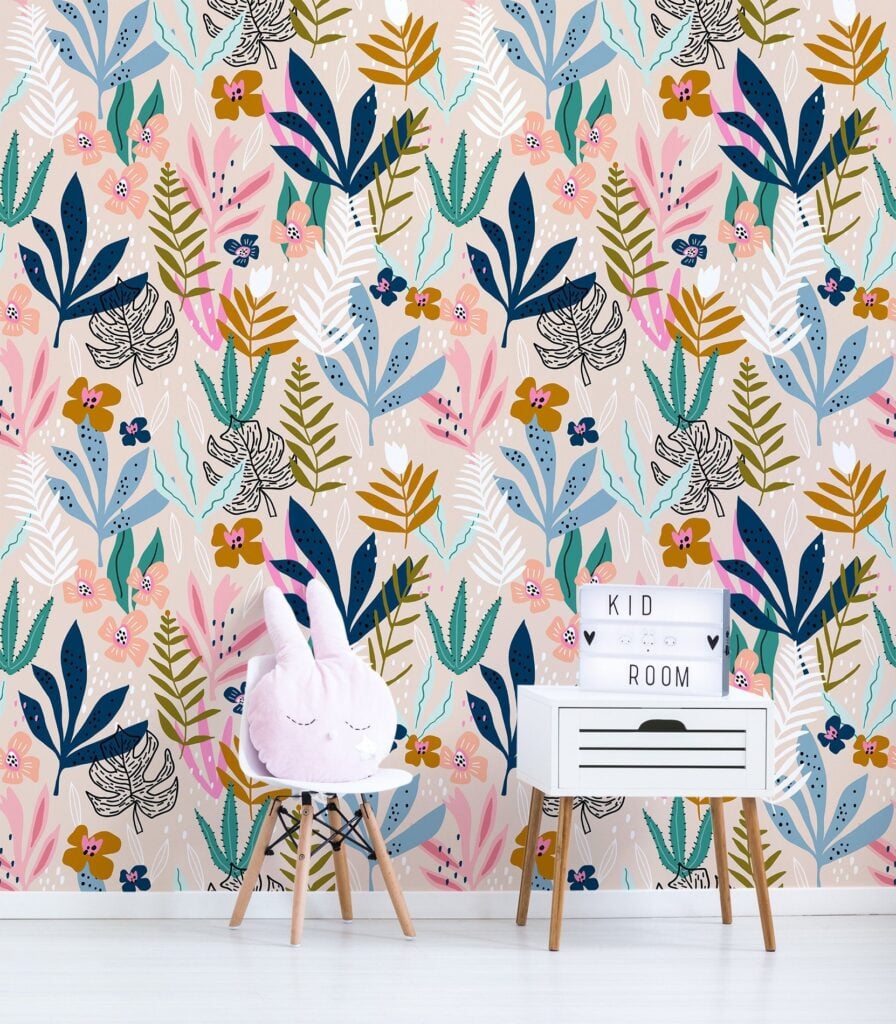 Design type: Fun, whimsical wallpaper great for kids' rooms!
Website: KidsArtWallpaper (on etsy)
Price: There is a sale happening so everything is 40% off! Comes in murals – price ranges from $339.60 – $520.20)
Sample: $15 per sample
Type: Uses the latest technology – GreenGuard – certified HP Latex printer. This ensures you get the highest quality and guarantees it is ecological, environmentally friendly and safe for humans (especially kids!).
Returns: Returns accepted
If you're looking for kid friendly wallpaper, this shop is full of them! Based out of Poland, the owner is very responsive and quick to ship;
We just ordered this wallpaper for Penelope's new room! The shipping has been super quick, the quality was amazing and we're loving how it looks!
anewall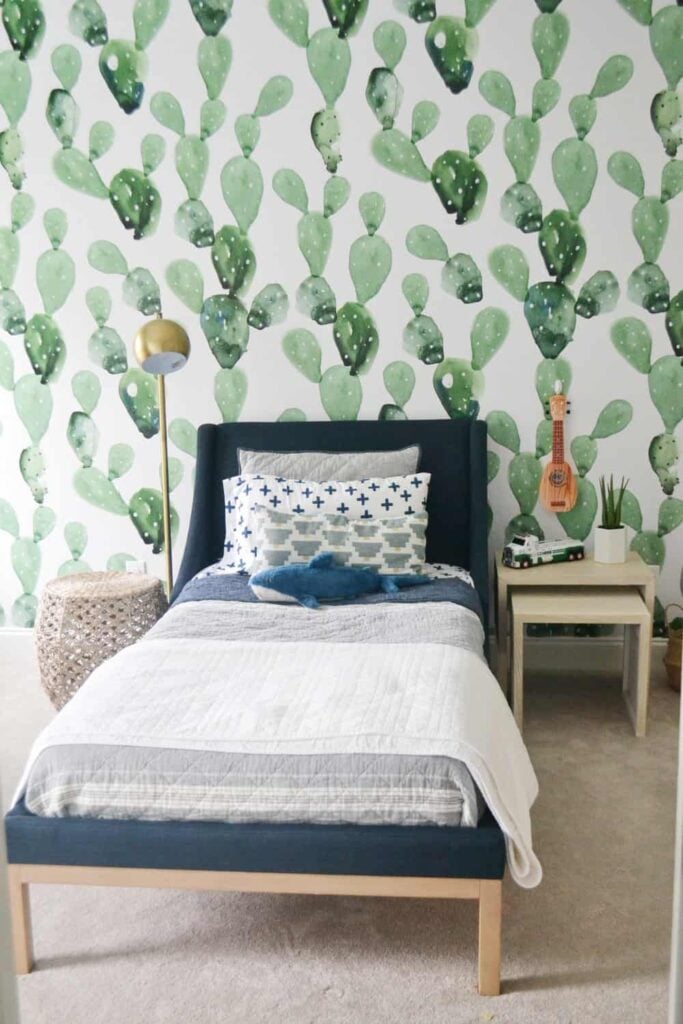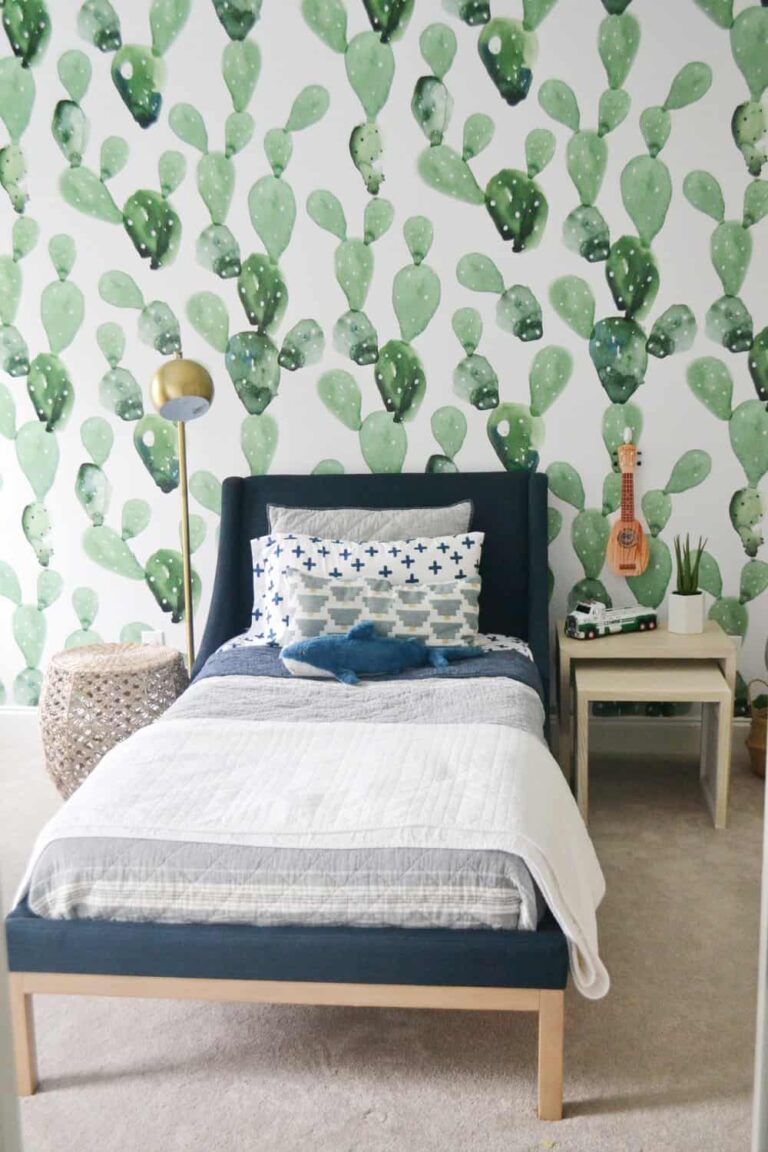 Design type: Large print murals including contemporary, modern and vintage wallpapers!
Website: anewwall.com
Price: Varies
Sample: $15 for a 3 pack of samples
Type: Self adhesive vinyl (also available in traditional and pre-pasted)
Returns: Returns are made to order. They do not offer returns unless the product is damaged or defective.
Other Fun: Made in Canada
I love finding companies that began because they couldn't find exactly what they wanted. Anewwall was started when the search for the perfect wallpaper for a powder bathroom came up empty – so they created their own!
The cactus wallpaper above was done by Chrissy Marie Blog – she said it was fairly easy to put up and it should last for about 5 years! I love how she styled it!
Chrissy shares that "Anewalldecor has lots of on trend wallpaper. It was thick and good quality, and very FORGIVING! The wallpaper went on like a giant thick repositionable sticker. A few times I needed to reposition a piece of wallpaper and I was able to peel it off no problem and restick it."
Kate Zaremba Company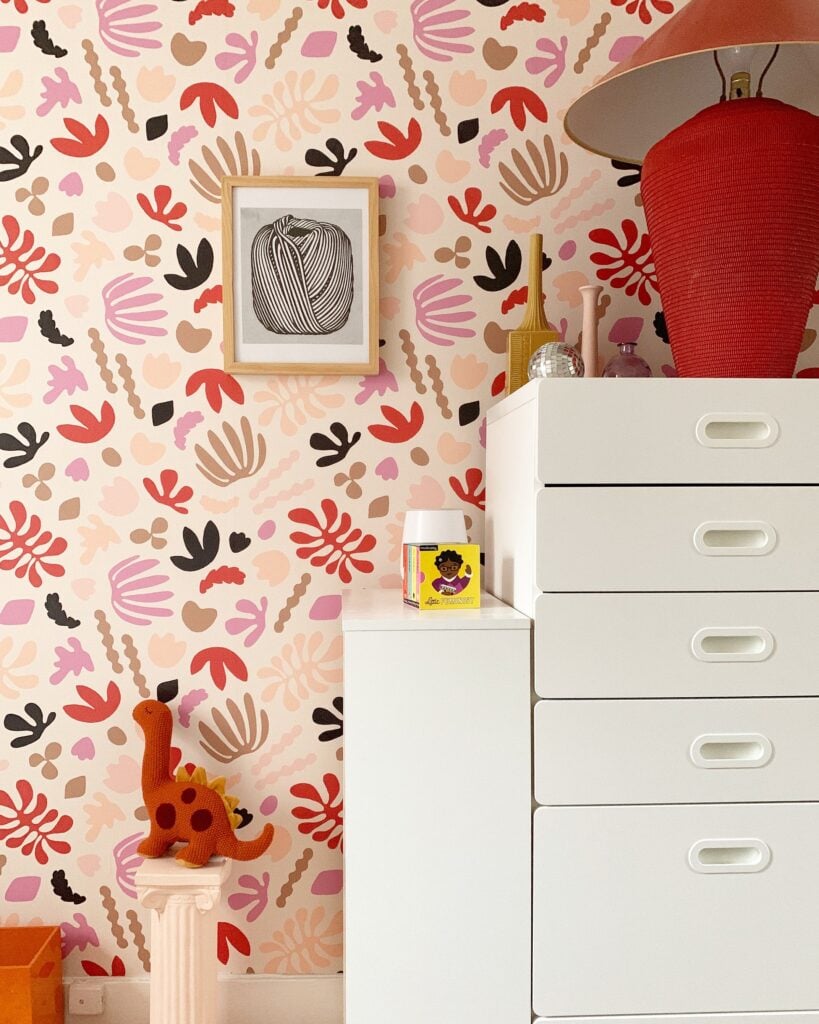 Design type: Abstract designs, lots of fun women prints
Website: KateZarembaCompany
Price: $25 / 2ft X 3ft – poster size, $72 / 2ft X 8ft, $81 / 2ft X 9ft, $108 / 2ft X 12ft
Sample: $5 Sample Sheet 8″ X 10″
Type: PVC-free paper, durable and eco-friendly. Self-adhesive.
Returns: Returns accepted within 30 days
Other Fun: Made in USA
Another wallpaper company that I haven't ordered from but I love her prints!! She has over 3,000 sales with a 5 star reviews I'd imagine you'd have great luck ordering something from here!
Check out KateZarembaCompany on Etsy!
Opalhouse (Target)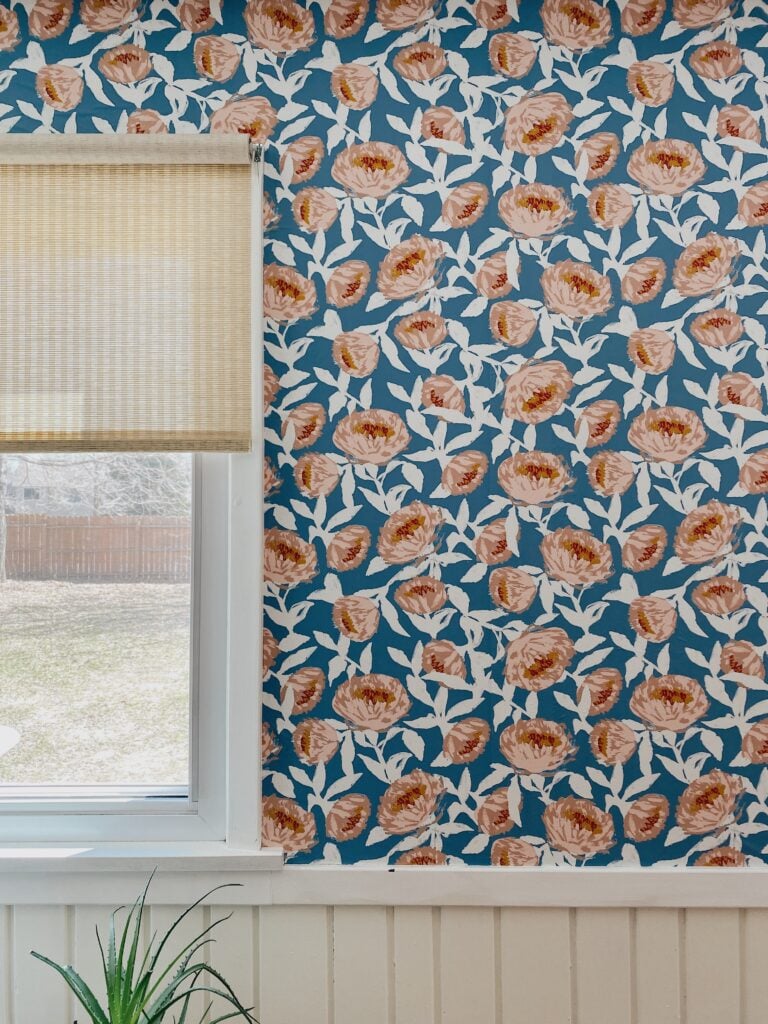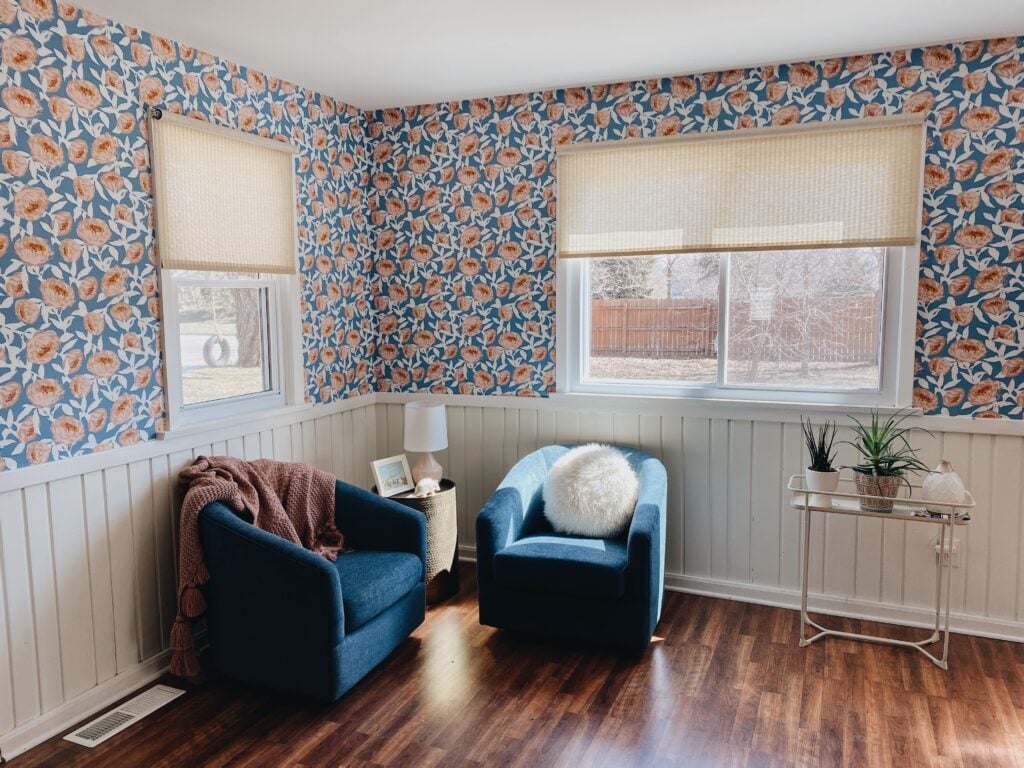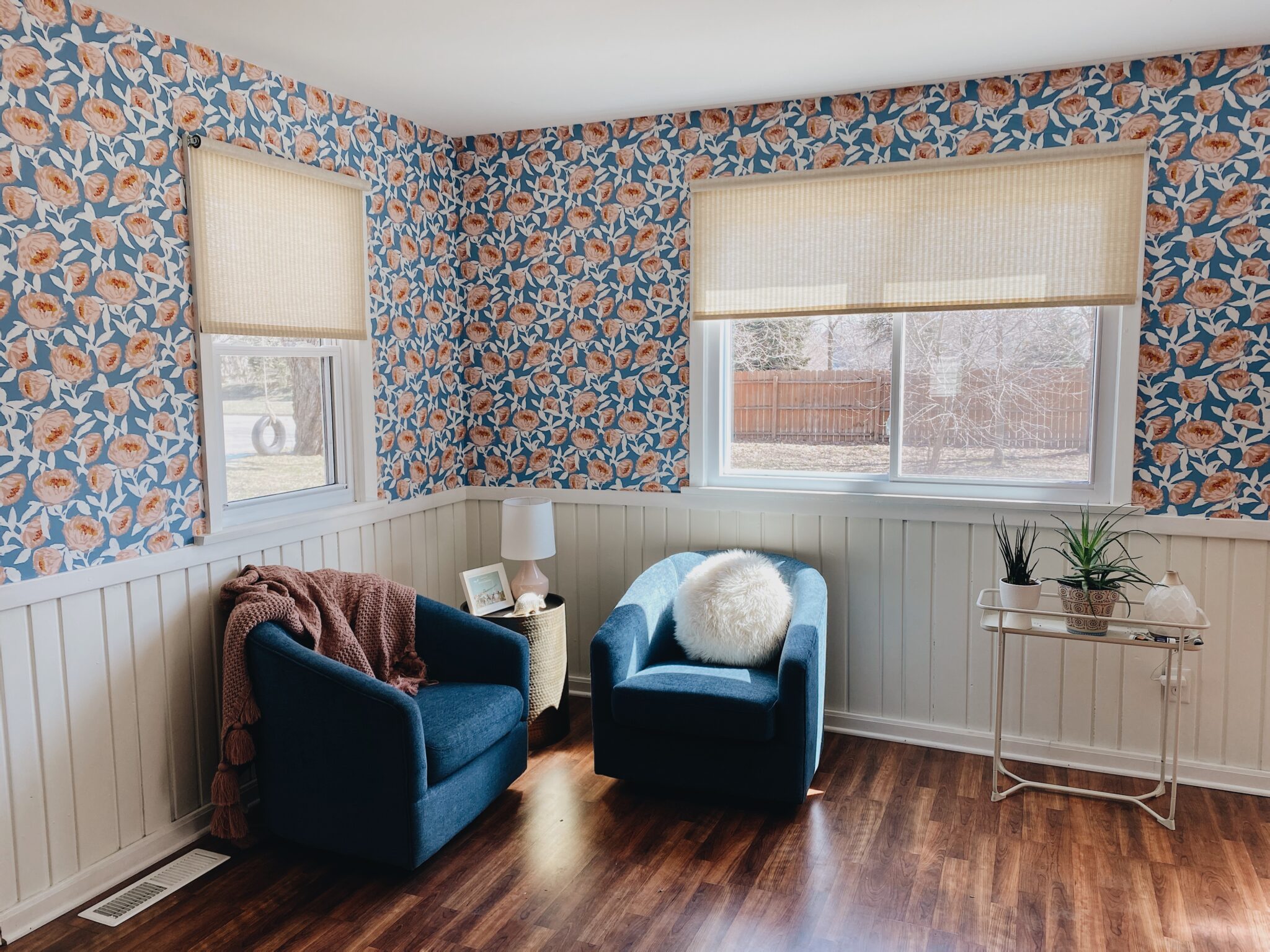 Design type: A variety of fun prints and patterns from Target's Opalhouse collection.
Website: Target.com
Price: $34 for 1 roll 198″ by 20″
Sample: None
Type: Self adhesive vinyl
Returns: Returns allowed within 365 days
Other Fun: Made in USA
According to Stephanie from the Design Living Space who shared her beautiful space above has used Opalhouse before! She says, "Opalhouse brand from Target is our number one go to when it comes to Peel and Stick.
We love all the bright, unconventional patterns and colors that you can find in this line of removable wallpaper. If the opalhouse line isn't your thing, keep looking! Target carries so many other fun brands with lots of different patterns to choose from."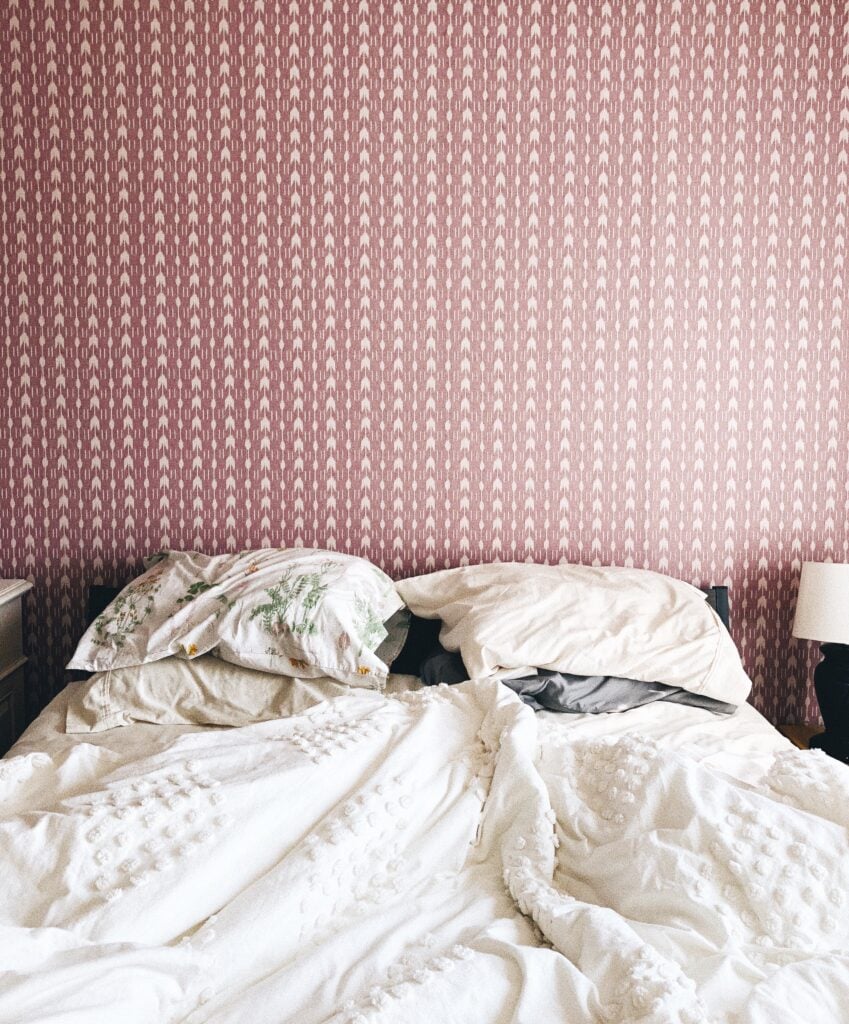 The photo above another print that Target carries (thanks, again, to Stephanie for these photos!).
York Wall Coverings (Sure Strip)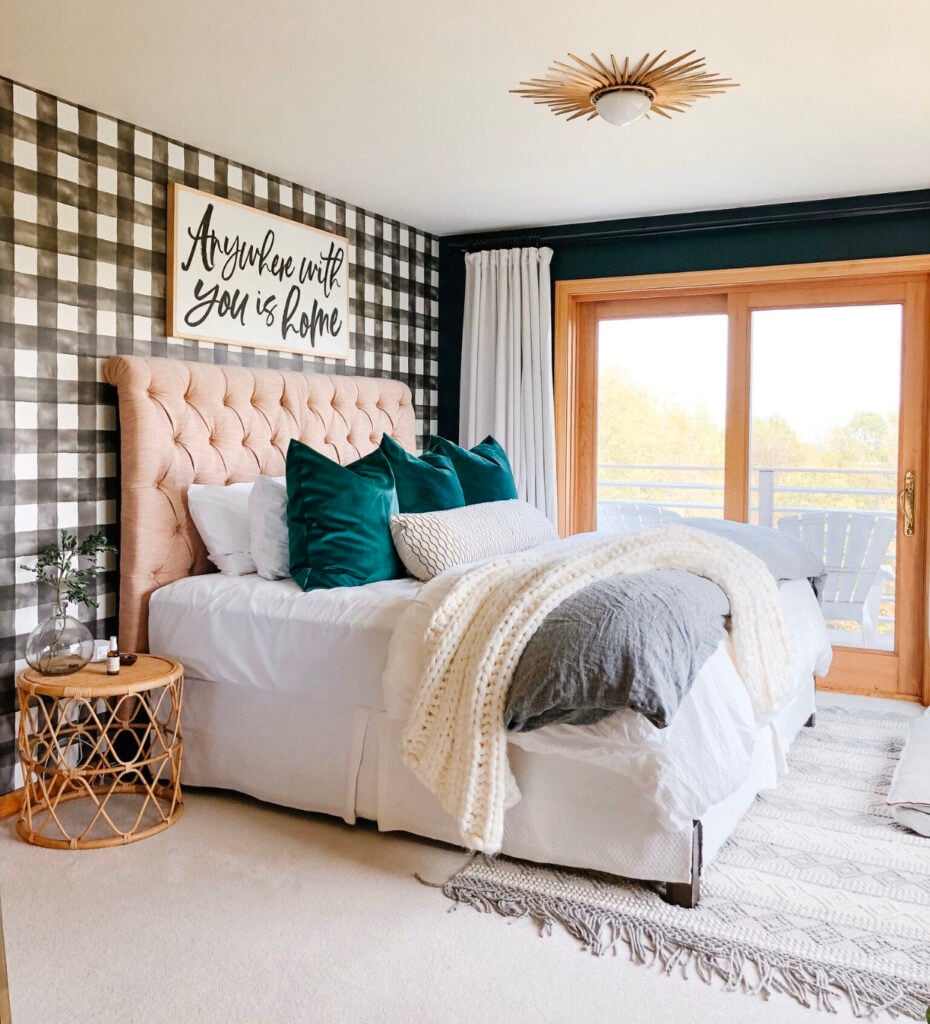 Design type: Hundreds of amazing styles from one of the most reputable wall covering brands out there!
Website: YorkWall.com
Price: Varies
Sample: Varies depending on designer/retailer
Type: SureStrip
Returns: Varies depending on designer/retailer
York Wallpaper is another brand that Stephanie from Diving Living Space has used! Similar to the Anthropologie wallpaper we got, they use SureStrip to make this a removable wallpaper.
Stephanie says, "This line of paper is one you may not have ever heard of, but it's one of my top go-to's in removable wallpaper. Different than your traditional peel and stick wallpaper , but still considered removable.
The paper is applied by spraying the back of the wallpaper to activate the pre-pasted glue, "booking" it as you would with a traditional paper to let the glue activate, and putting it up on your wall. When you are tired of it, you simply peel the corner and remove it!"
Hygge and West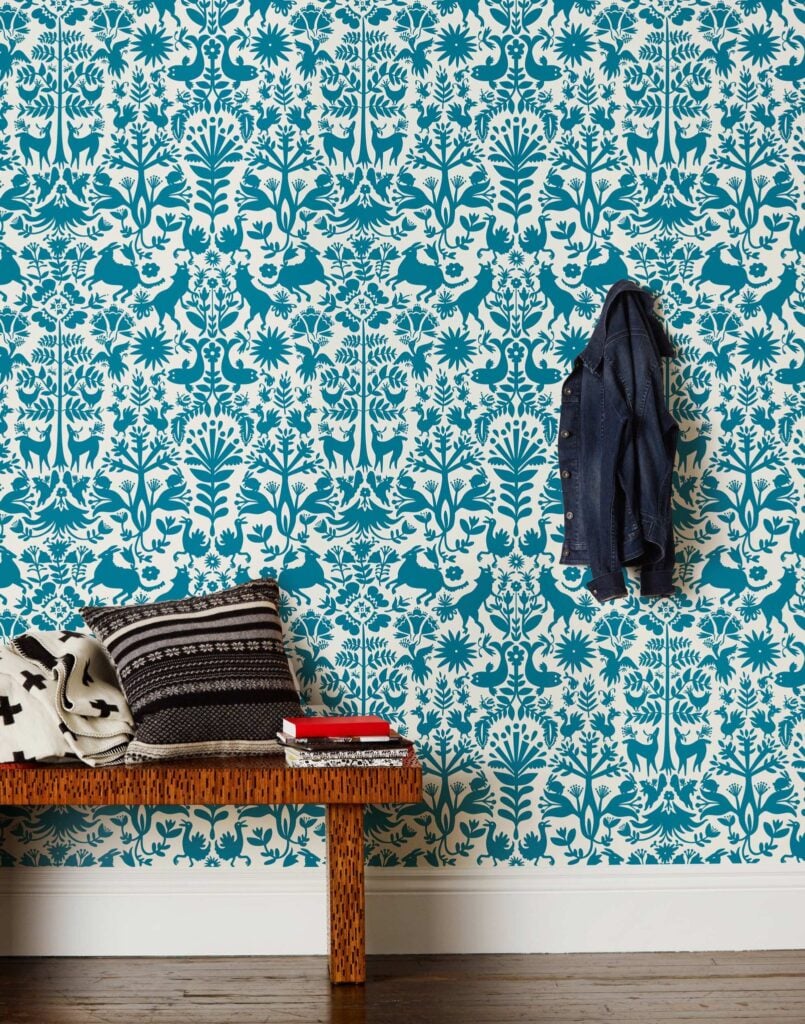 Design type: Modern and contemporary wallpaper tiles made in collaboration with designers
Website: hyggeeandwest.com
Price: $65 for 2 tiles (24″ x 32″)
Sample: $5 Sample tile 6″ x 6″
Type: Matte, polyester wall fabric tiles
Returns: Made to order, non-returnable
Other Fun: Screen printed by hand and made in USA
Hygge and West is a local to MN company that partners with some amazing artists to create their wallpaper! I've never personally used their wallpaper but they come highly recommended by designers and wallpaper fans alike.
Their hope is to bring more hygge into your homes!
You can shop all of Hygge And West's removable tiles!
Spoonflower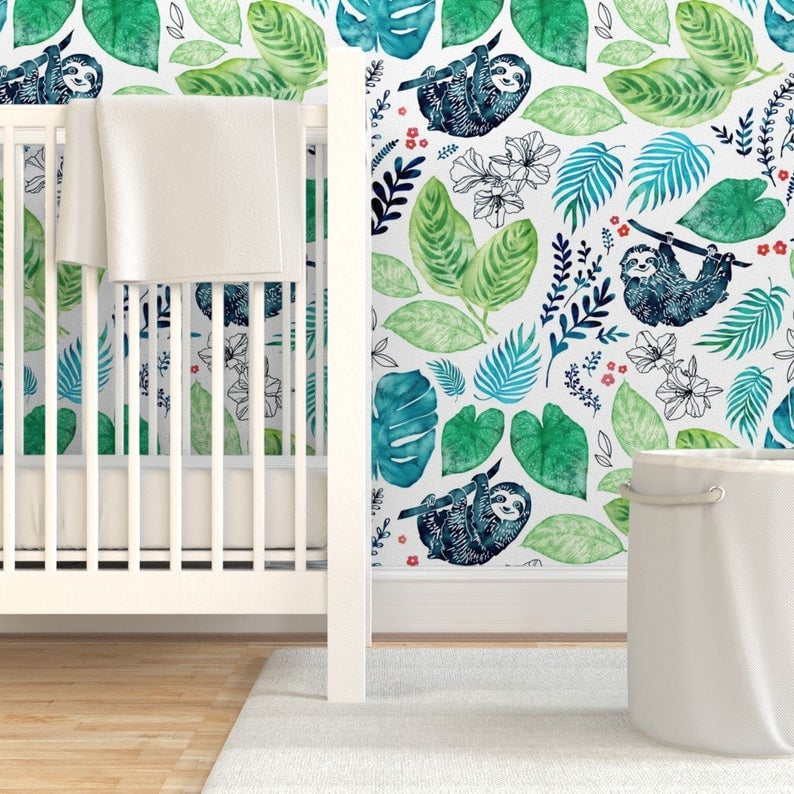 Design type: Custom wallpaper that allows you to personalize any room! Pick from 100s of designs or design your own!
Website: spoonflower.com
Price: $29 for 24″ x 36″, $53 for 24″ x 72″, $77 for 24″ x 108″, $101 for 24″ x 144″
Sample: $7 for a 24″ x 12″ pre pasted swatch or $9 for a peel and stick woven swatch
Type: Eco-friendly! Both pre-pasted water-activated wallpaper or woven peel and stick woven wallpaper
Returns: Returns are accepted within 14 days of delivery and item must be shipped back within 30 days.
Other Fun: Made in USA
Spoonflower is FULL of amazing types of wallpaper from already created designs to customizable designs to ones you create yourself!
They have over 270,000 sales with a 5 star review on Etsy! We picked up this cute dinosaur wallpaper for Roy's new room. I can't wait to share it!
Walls Need Love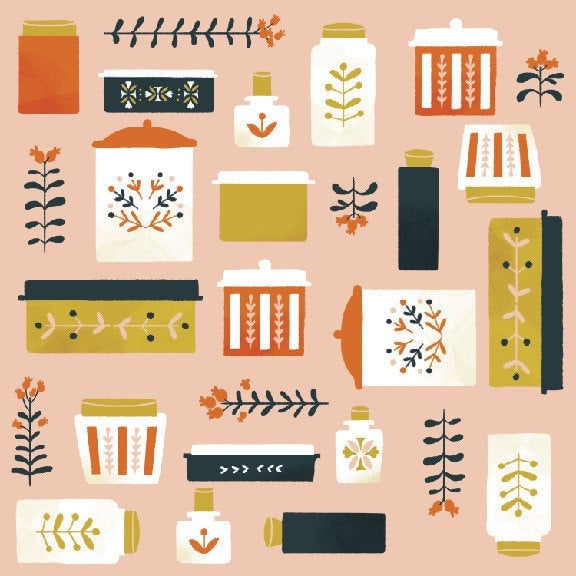 Design type: They specialize in murals and their "easy stripe" decals.
Website: WallsNeedLove (etsy)
Price: $88 for 1 Roll 20″ x 5′ or $312 for 4 Panel mural 100″ wide x 100″ tall
Sample: None
Type: FabTac Adhesive. Remove and reuse!
Returns: Orders are made to order and cant be returned. Exchanges are allowed!
Other Fun: 100% sourced and manufactured in Nashville, TN
I've personally never used WallsNeedLove but I've had friends that have and love them! They also have over 5,000 sales with an average of 4.5 stars!
They have a variety of products from regular wallpaper to murals to their signature stripe decals so you never have to worry about painting the perfect stripe ever again!
You can check out their etsy site here!
Chasing Paper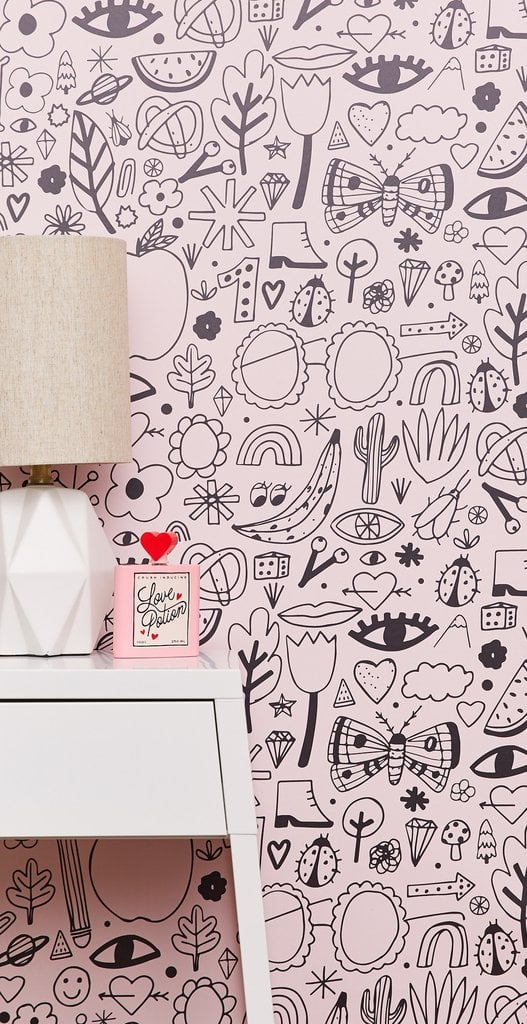 Design type: Stylish wallpaper for the urban home.
Website: Chasing Paper
Price: $40 for 24″ x 48″
Sample: $5 for 9″ x 12″
Type: Low-tack adhesive that is non-toxic. Lasts for several years and can be reused!
Returns: Exchanges accepted within 14 days
Other Fun: Born in NYC with roots in the Heartland!
Chasing Paper is great for everyone – small to big projects! It was created for serial movers, stylish mamas, renters, DIYers and of course, the commitment-phobes. 😉
Their designs are fun and colorful and sure to make a big impact in your room!
There you go! Anything and everything you could possible want to know about removable wallpaper. I hope this inspires you to try some peel and stick (or SureStrip!) wallpaper in your own home!
What questions do you have? I'd love to help!
You can find a few rooms that we've wallpapered here:
Penelope's Bright + Bold Toddler Room
Anthropologie Inspired Playroom
Thanks for reading and sharing!