Penelope's room with the floral wallpaper is finally finished! We've done so much room swapping in our home the past few months that it's nice to finally complete a project!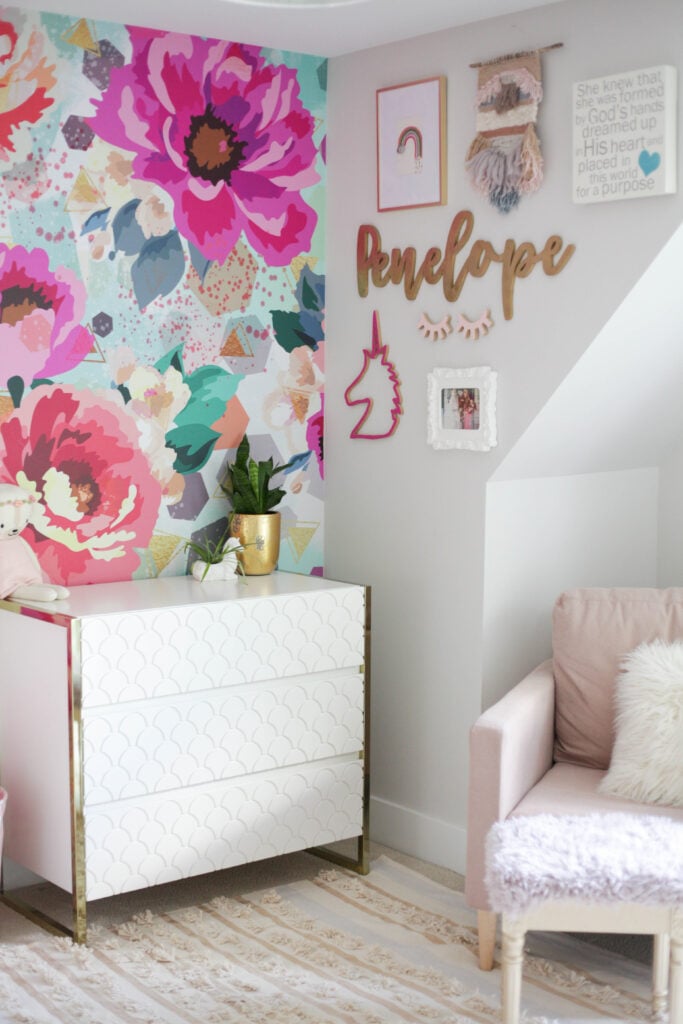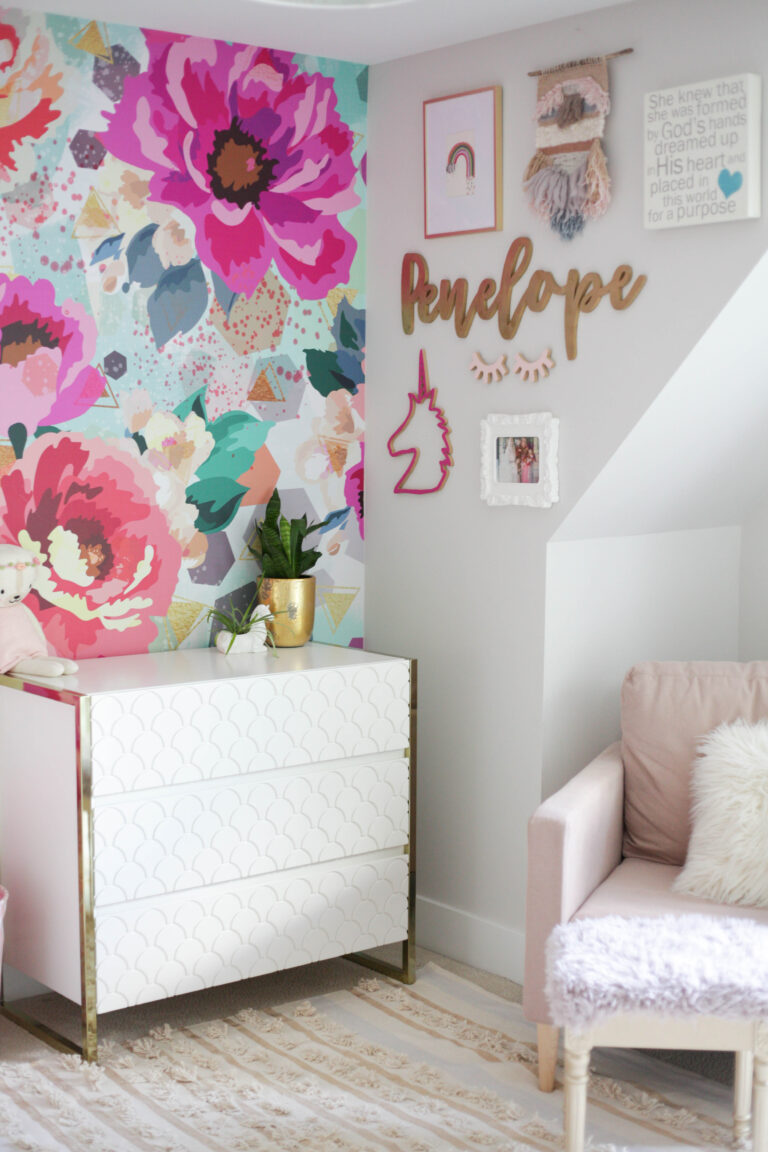 With P's room I knew I wanted to keep it really girly since she'll be our only girl! So bring on the florals and pink and unicorns because I'm here for it. 🙂
Floral Wallpaper
One common thing we've been doing throughout our house is wallpaper accent walls. Maybe when we start tearing all of these off the walls we'll regret that decision, but right now I'm loving the ease of installing a fun wall as the focal point of a room!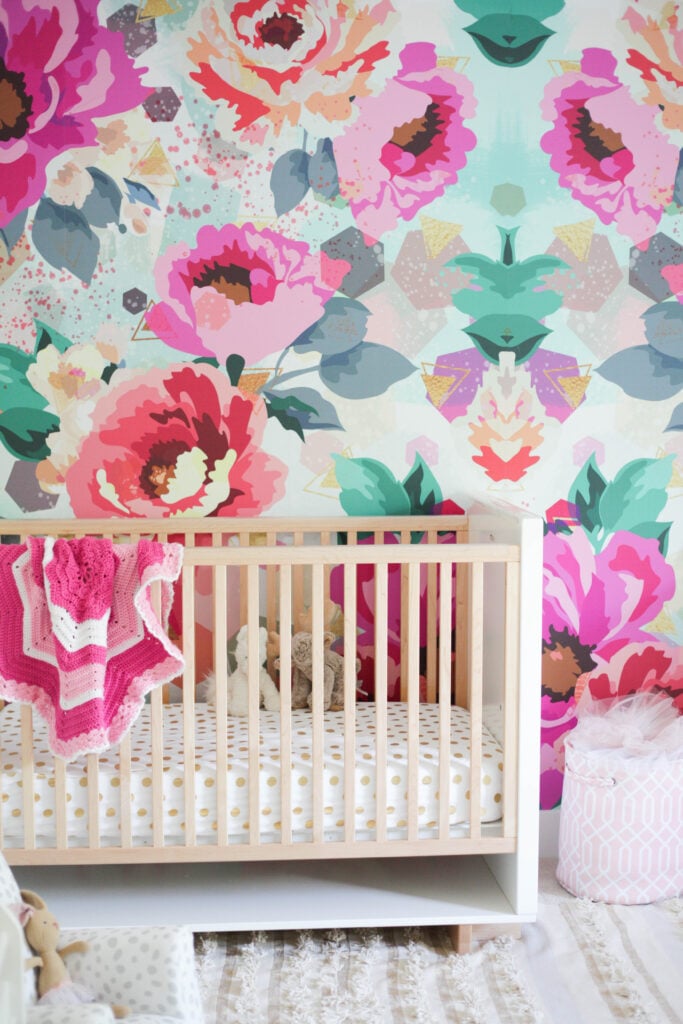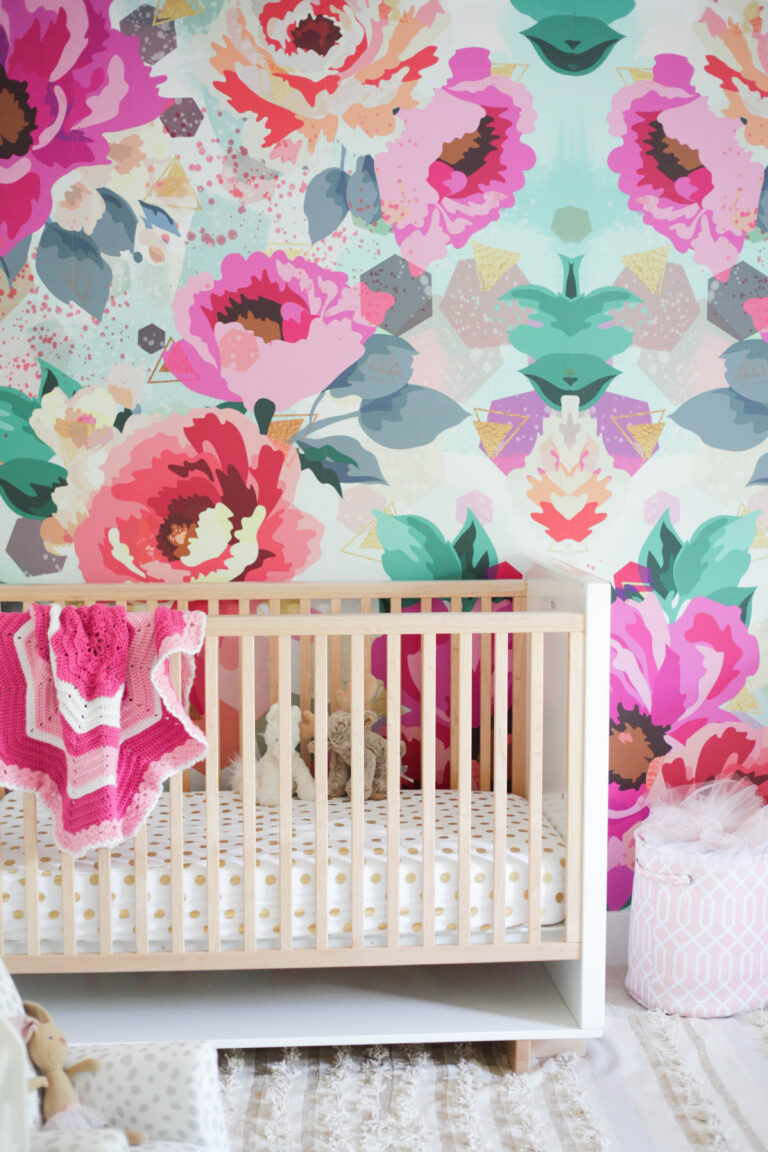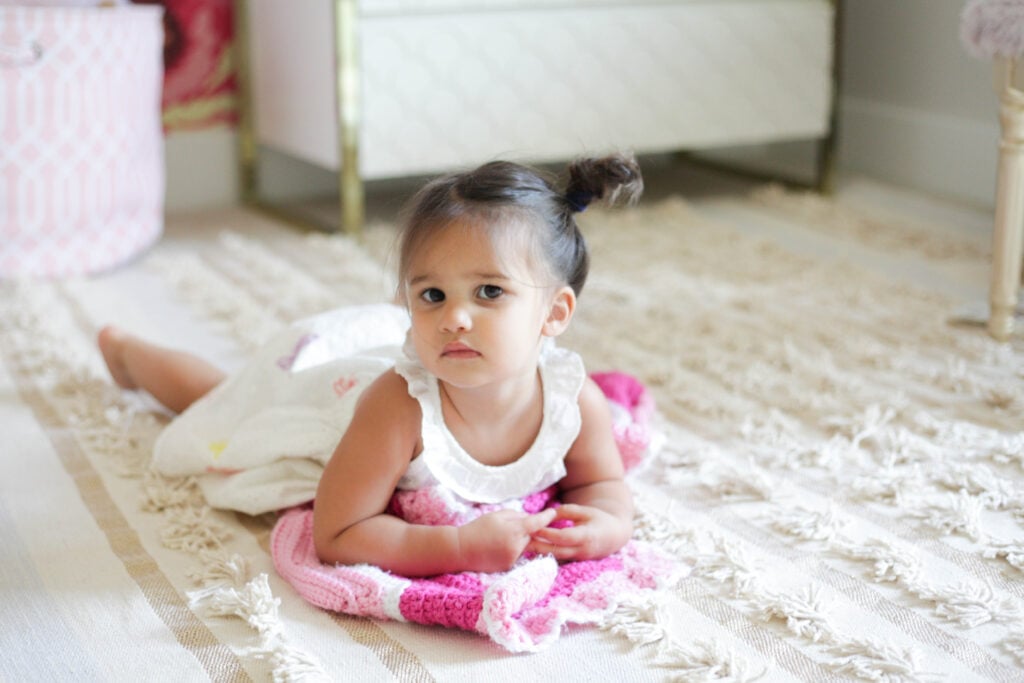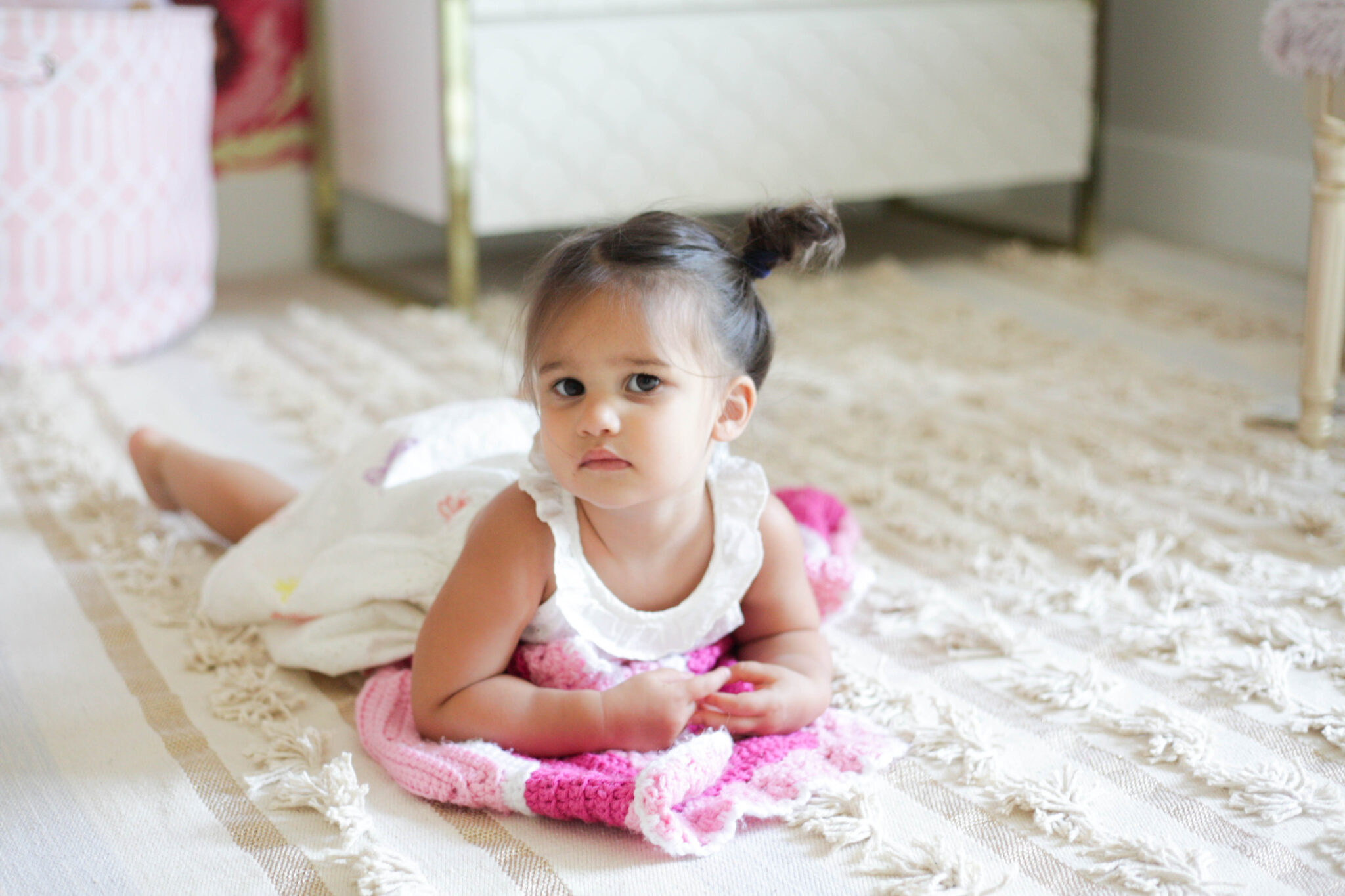 (Also, I say ease because I order it and Rishi does the entire install because he's the detail oriented one of our family.)
I actually found this wallpaper pretty immediately when starting to look for wallpaper for her room and fell in love! I looked for maybe another 20 minutes and decided to just go for it! It had everything I wanted for her room – bright colors, a fun design, and florals (or something girly!).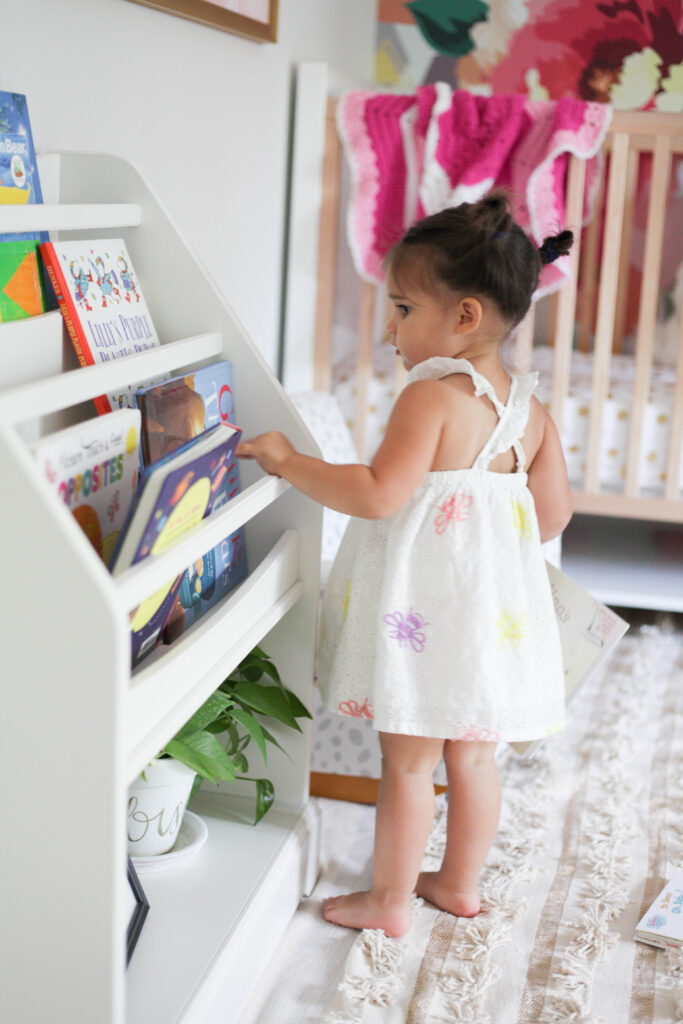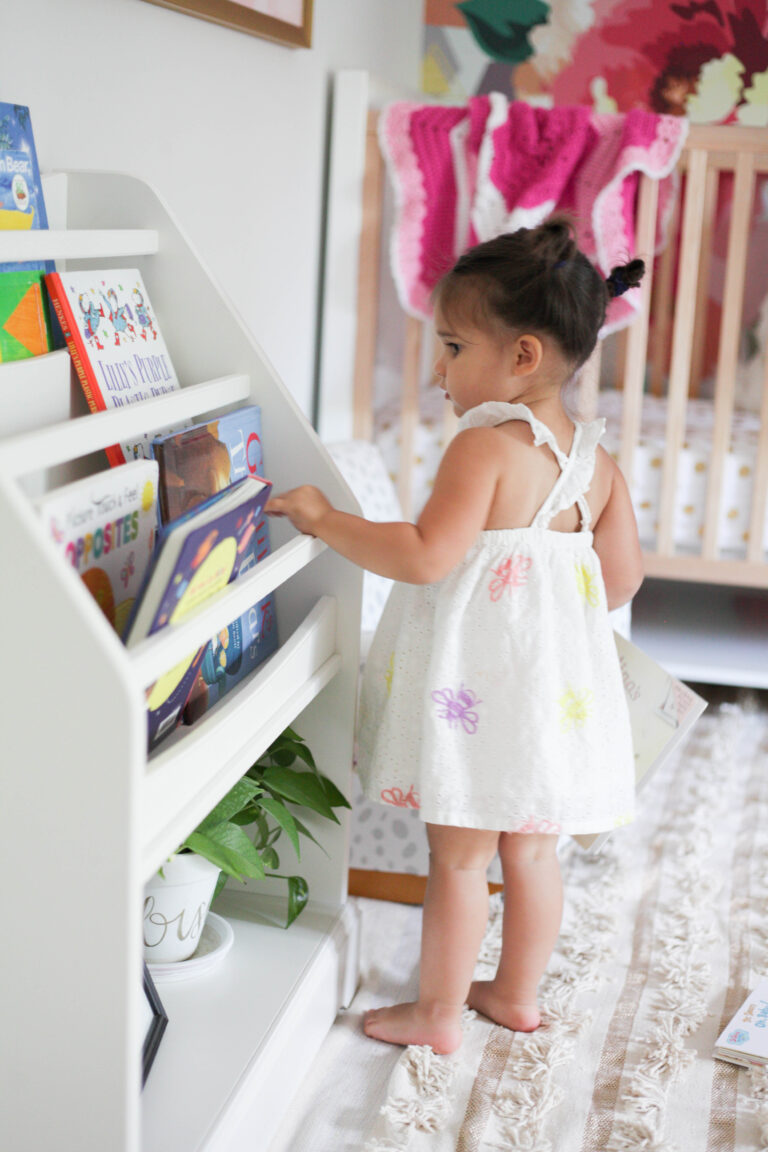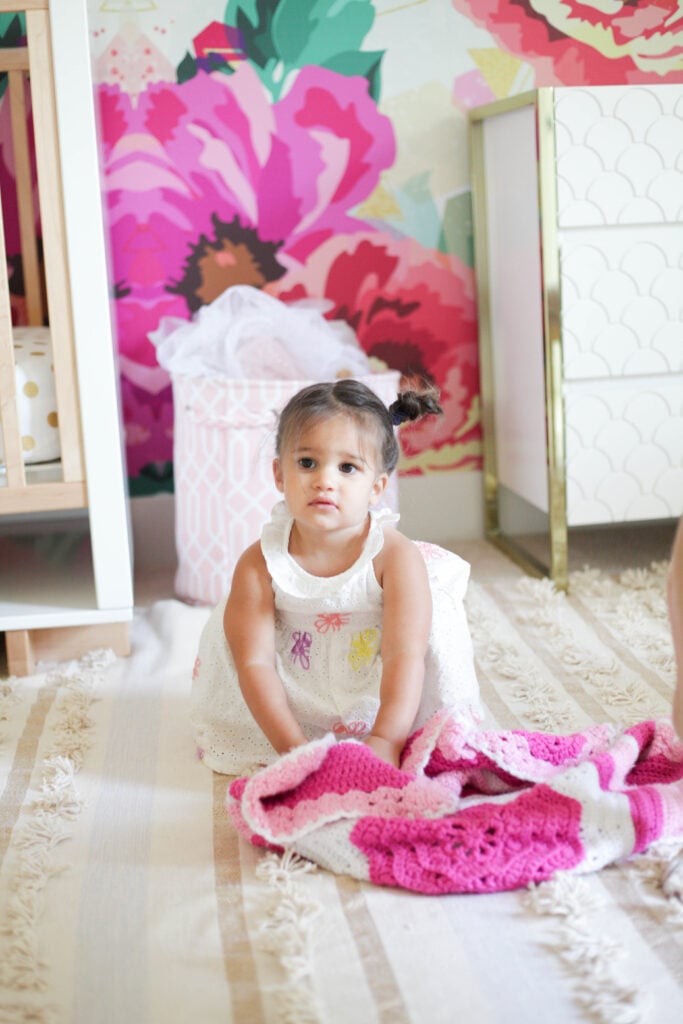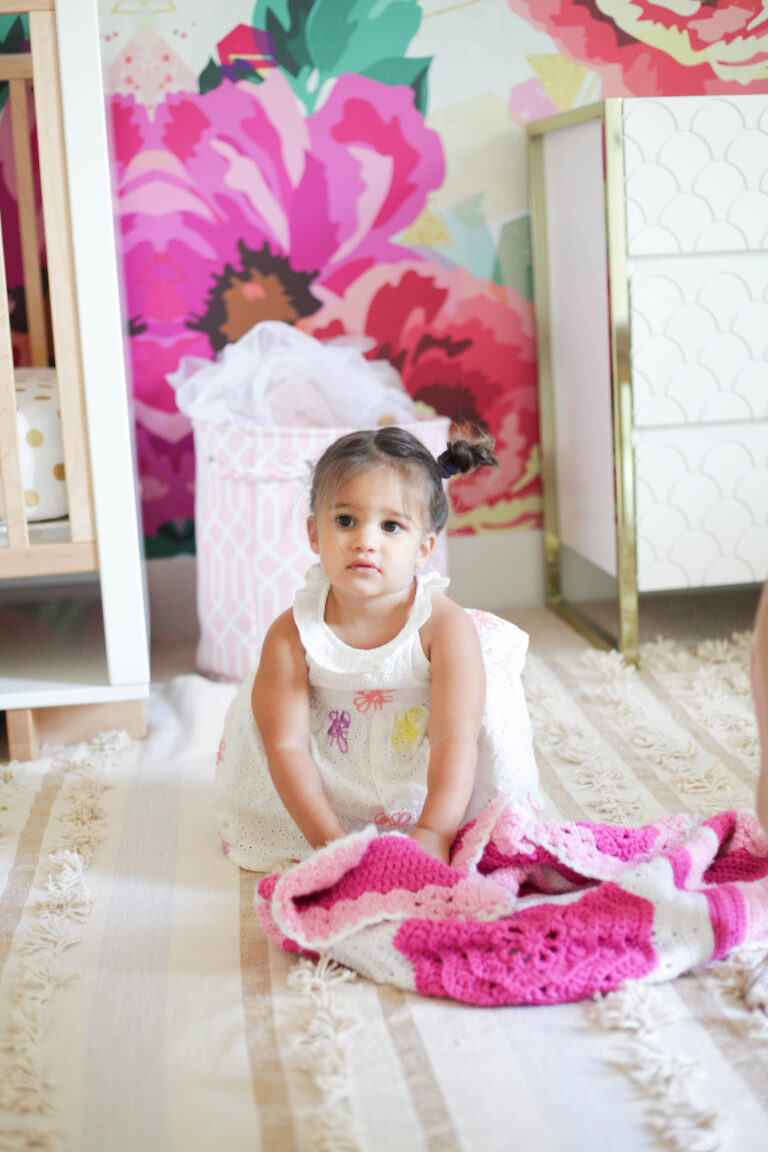 Because the wallpaper is SO vibrant, we knew we wanted the rest of the room to be more muted and not so crazy.
Furniture
We moved the crib from Roy's room into her room to bring in some wood tones. (Roy graduated to a toddler bed!) I actually bought the same print of sheets as her curtains and still use these sheets that went with her old room.
Rishi found the chair online and despite being one that we needed to put together ourselves, it wasn't too terrible to do! I do wish it rocked though. I love lots of texture in rooms so the furry pillow was a perfect addition. It's also a Target find so if it gets disgusting from being in a one year old's room we aren't out too much money! 😉 The side table was something we found for Roy's nursery when he was born!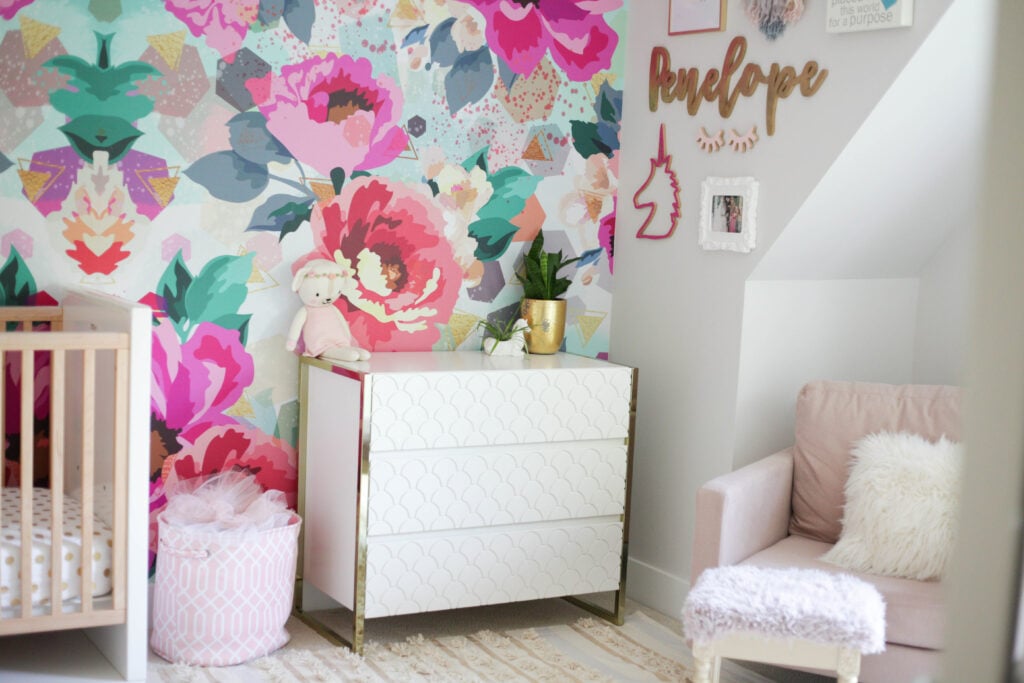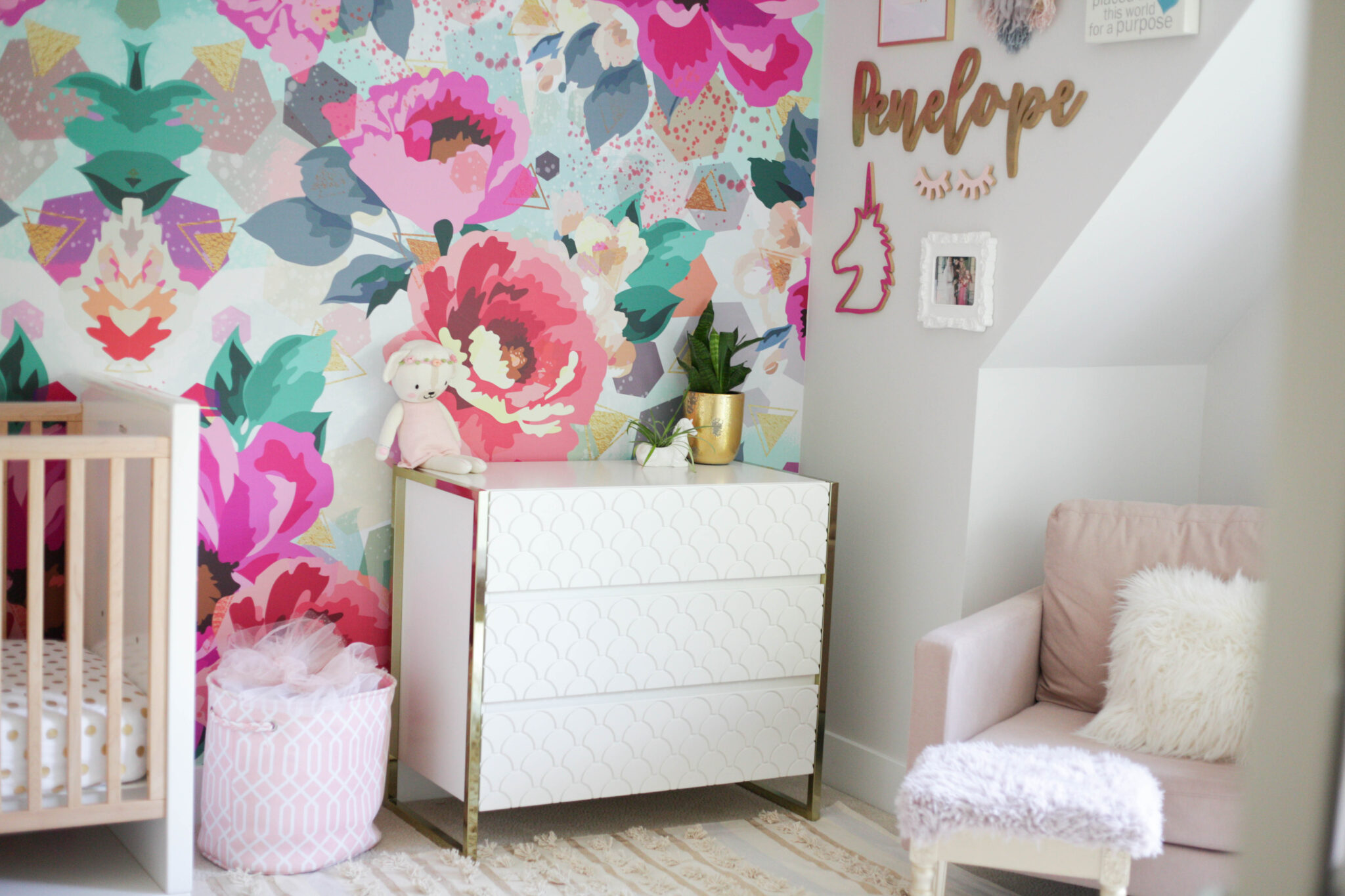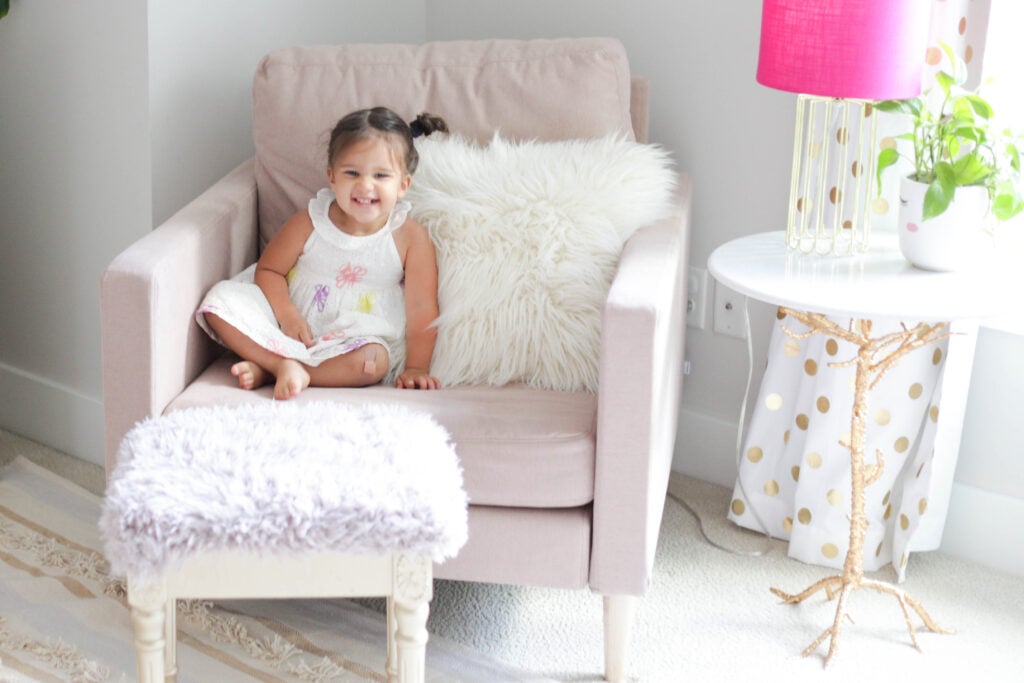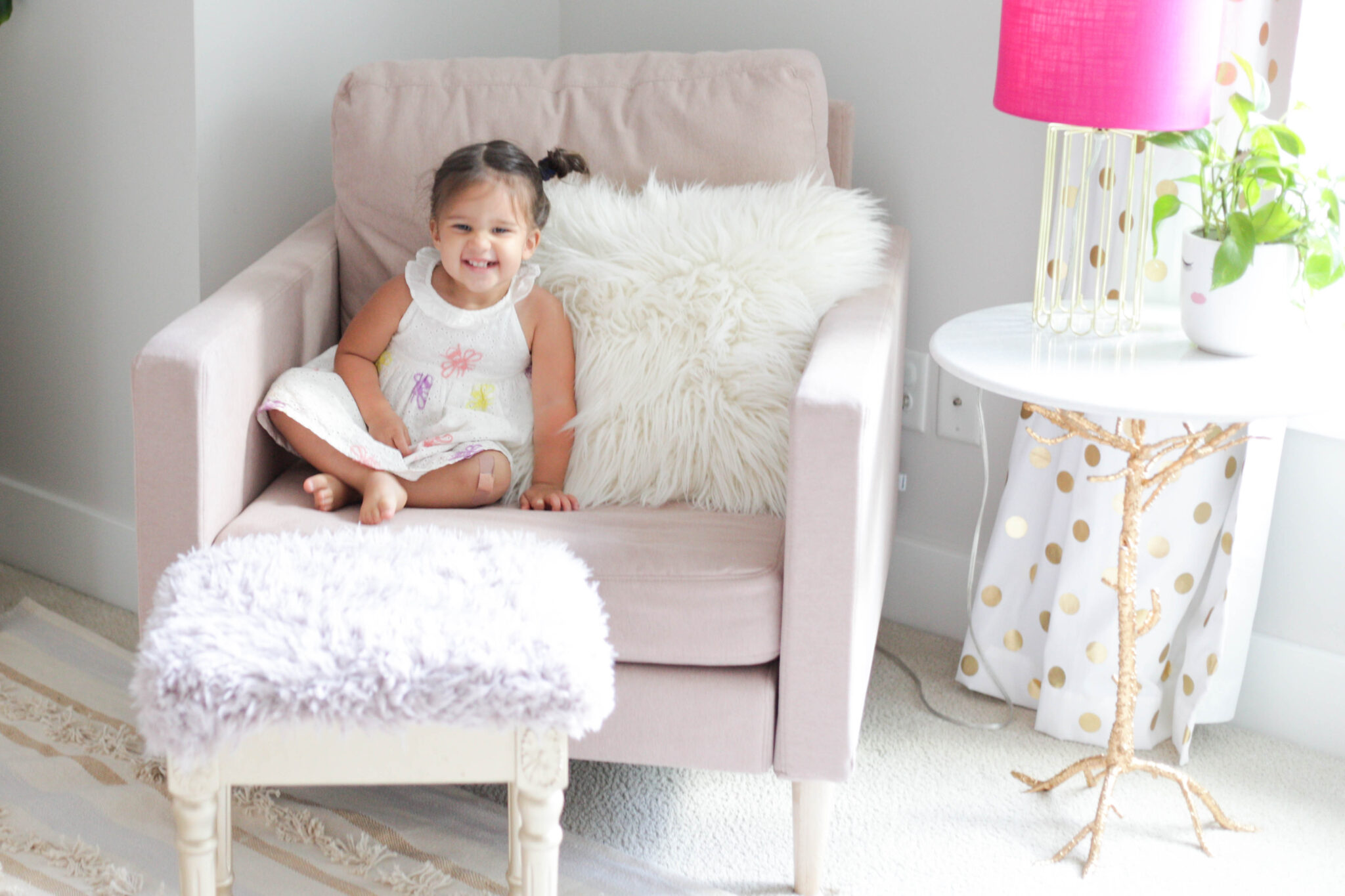 The dresser was a Pottery Barn Kids find that they were clearancing out! (It's still on MAJOR clearance!) I thought it would be a great piece that she could grow into and use for years and years OR be used in a number of different places in our home.
The shelf was the most frustrating part of this room! I had originally ordered a super cute dollhouse style bookshelf that was a DISASTER to put together. It ended up looking not so fabulous by the time it was done that we decided to not use it in her room. I put Rishi in charge of finding a new bookshelf since the original one took me weeks to find and I was over the hunt and he found this one! I absolutely love it!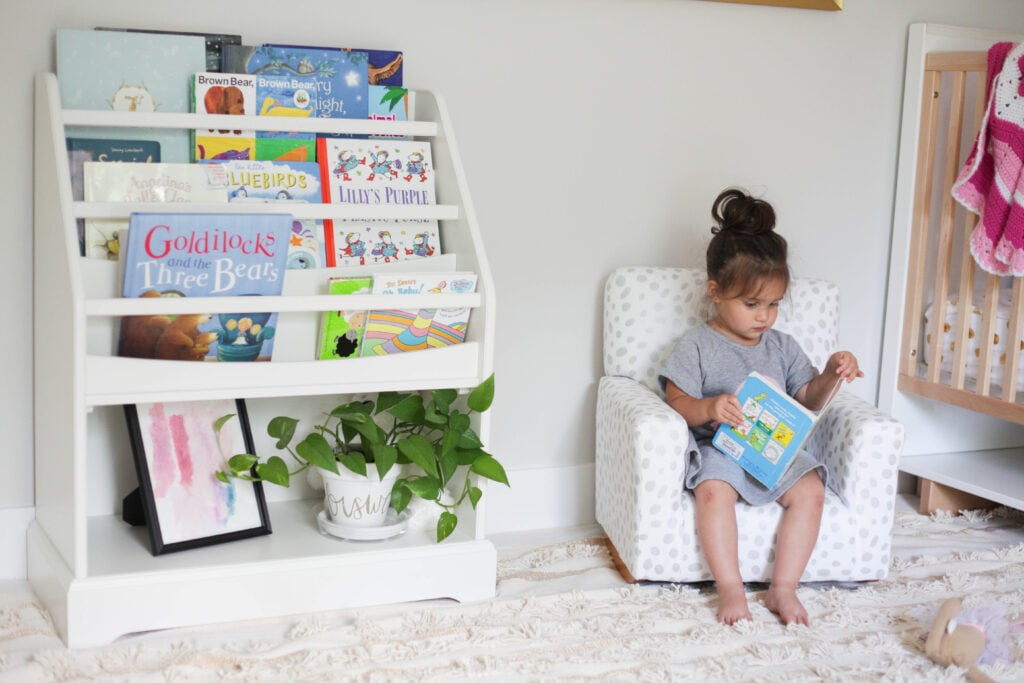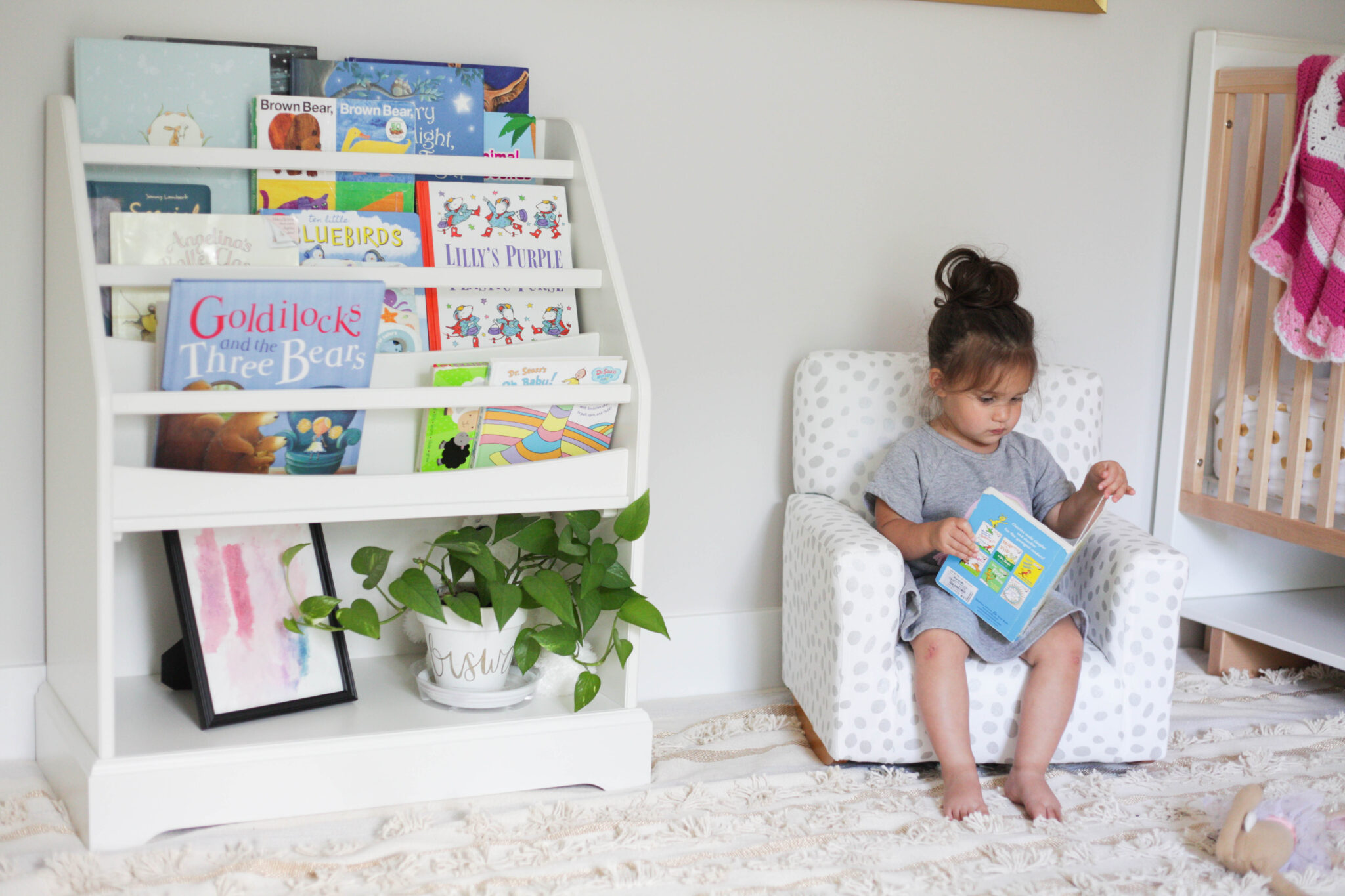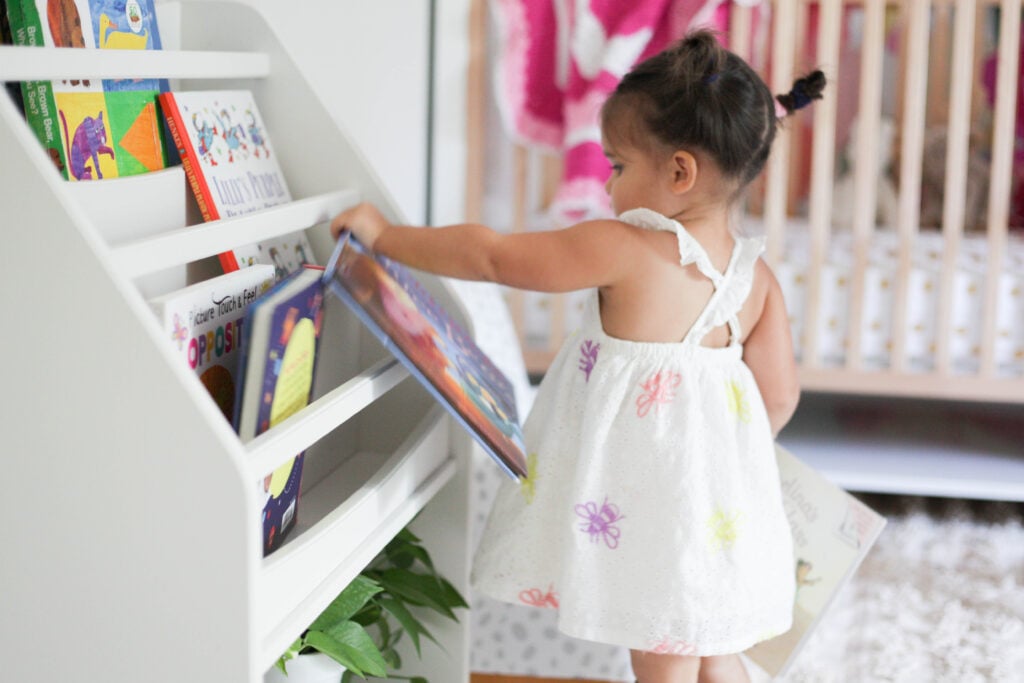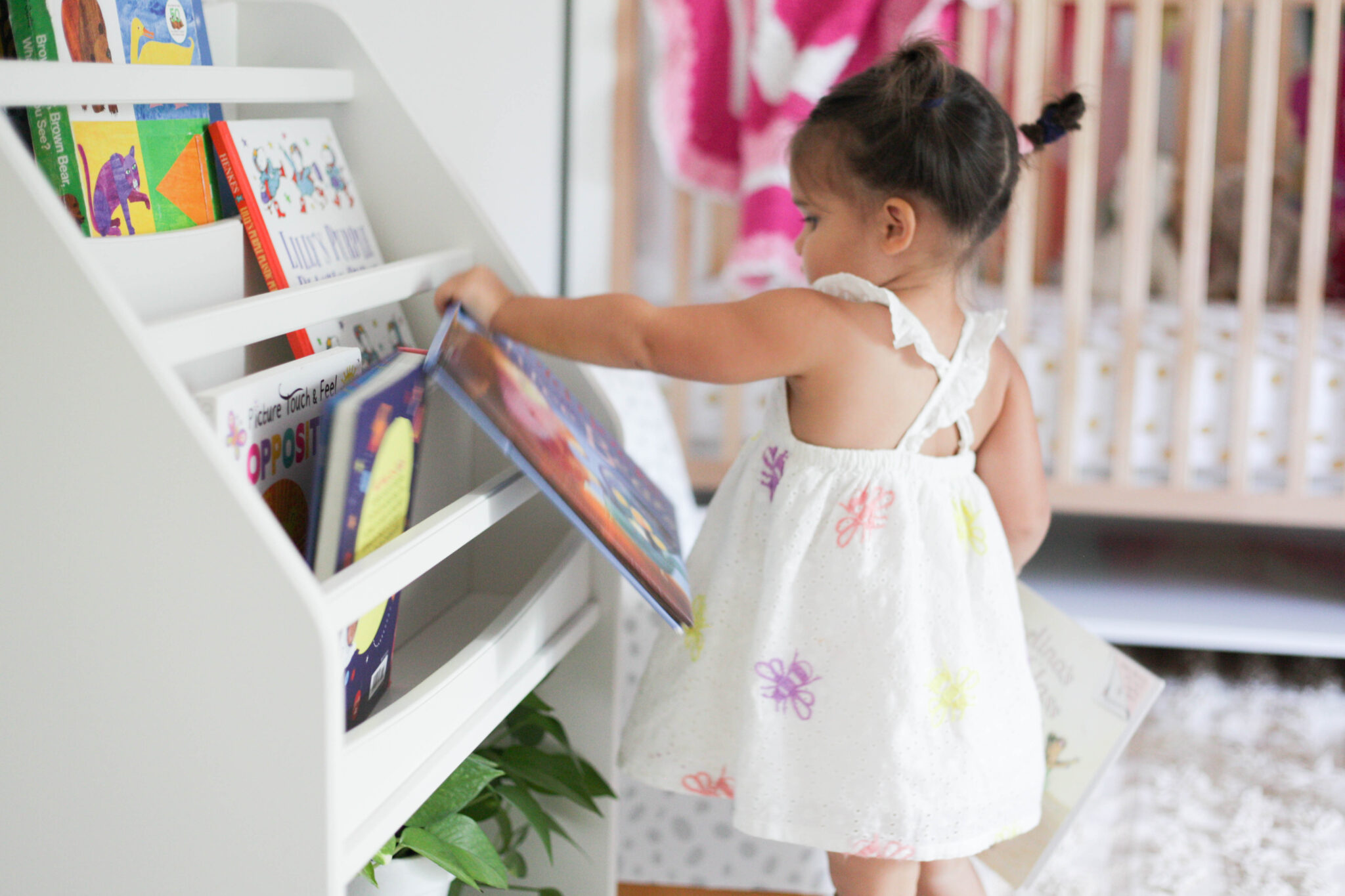 The kids are able to pull books out and put them away super easy and I think it's way easier for them to find the books they want than the bookshelf we have in Roy's room (which is literally just a bar cart ha!).
Accents
We have our gorgeous Brooke & Lou print that was in her nursery that I still love! I was a little worried it would be too much with the wallpaper but since it's only one color I think it works great.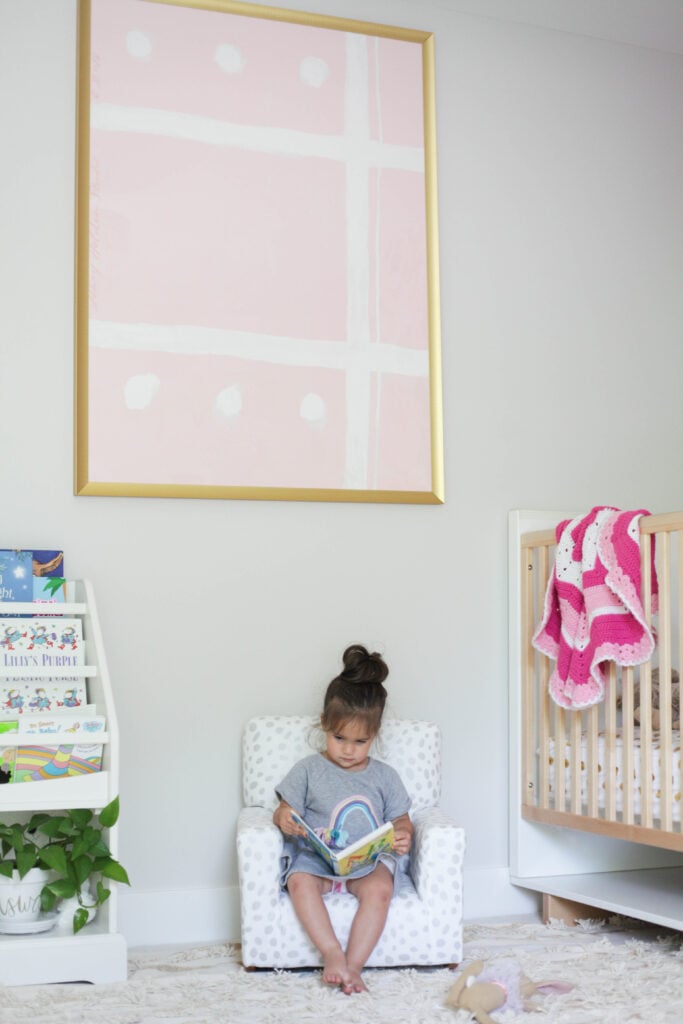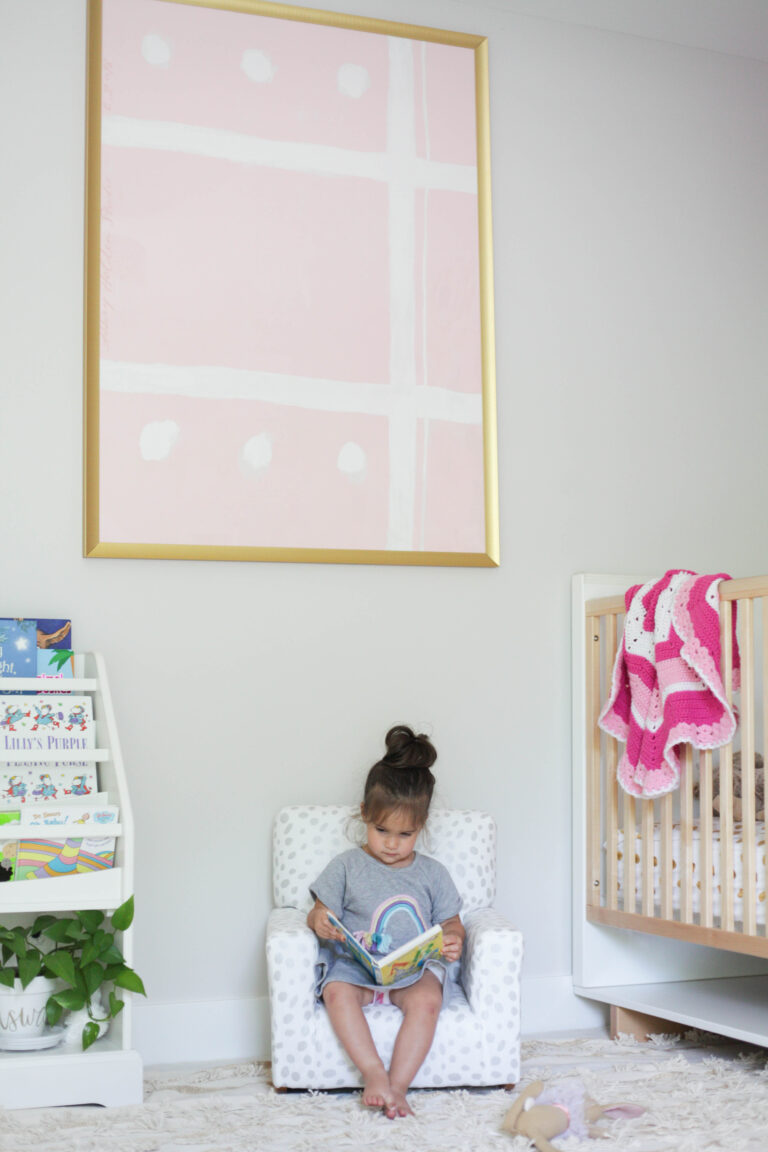 The rug was one of our riskier purchases for P's room. We debated long and hard about a light colored rug in a toddler's room but eventually decided that you only live once so might as well get what you love, even if it means stains may show up more! 😉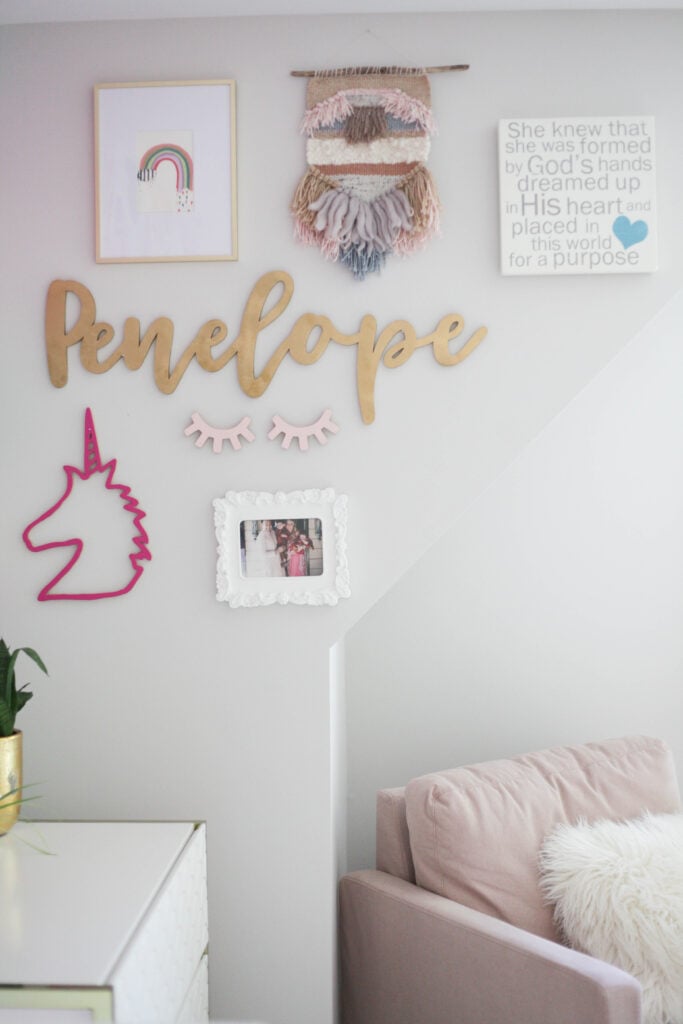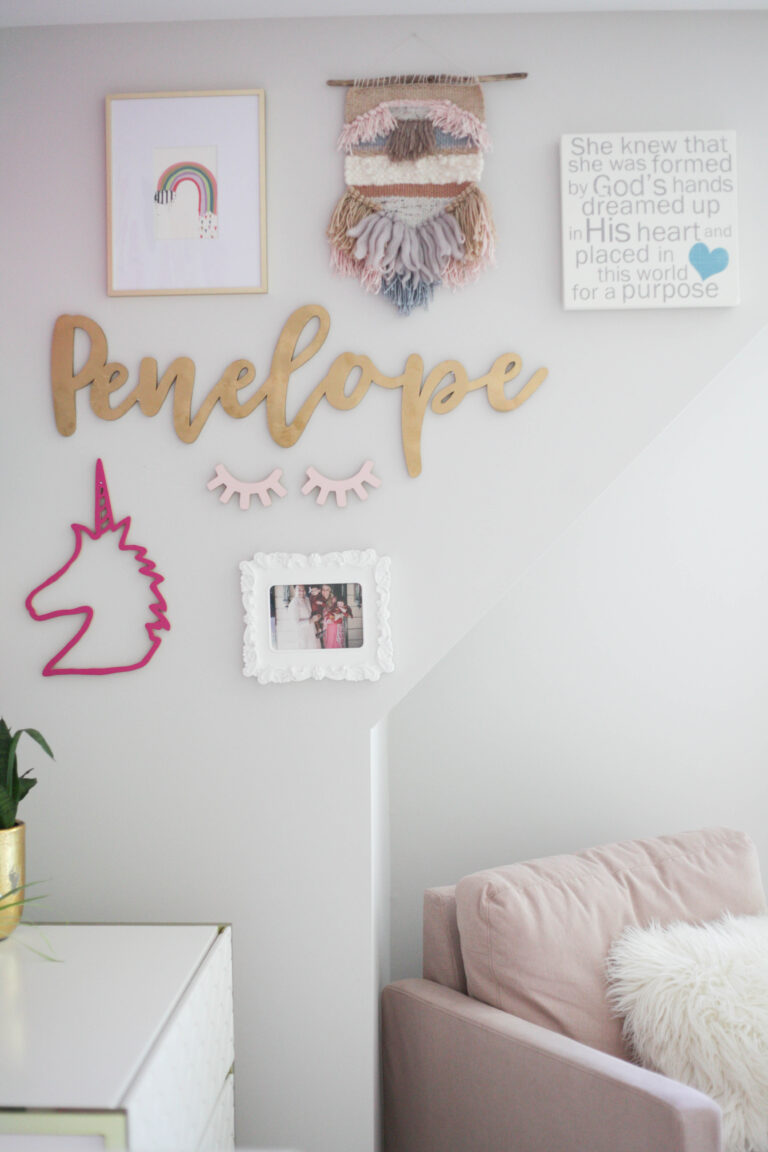 And lastly, no room is complete without some sort of gallery wall! I pulled quite a few things that were hanging in P's nursery and added a few new items. I still LOVE the wood name carving from Common Oak so that clearly was going to stay. I have Junah Wood's woven wall hangings all over our home and love the texture they add!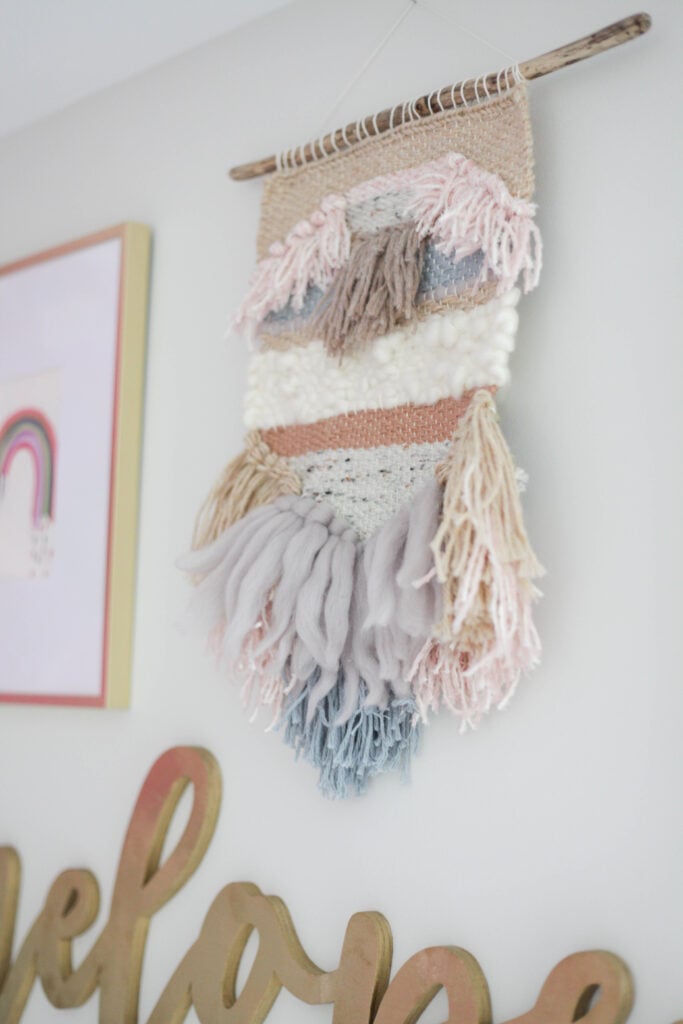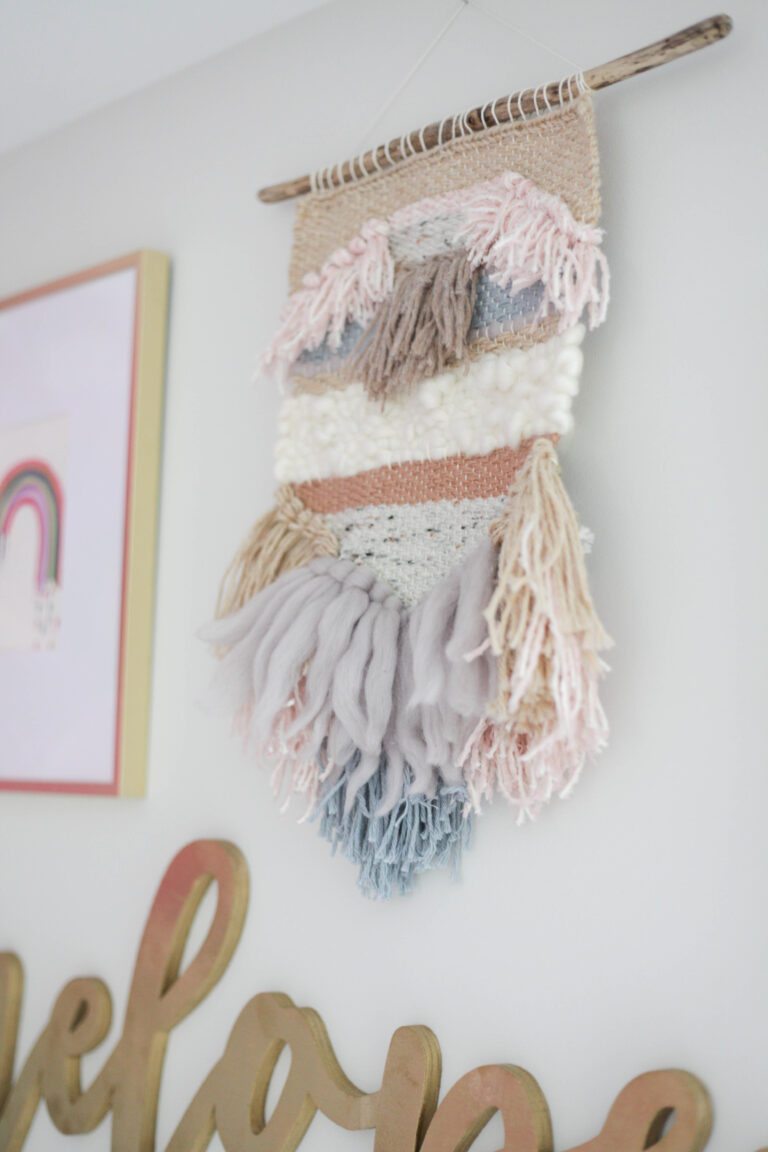 The eyelashes and unicorn are from a local MN maker, Pink Linen Designs. The gold frame is from Target, inside it is the cute rainbow print from Pea & Me and the white frame is IKEA.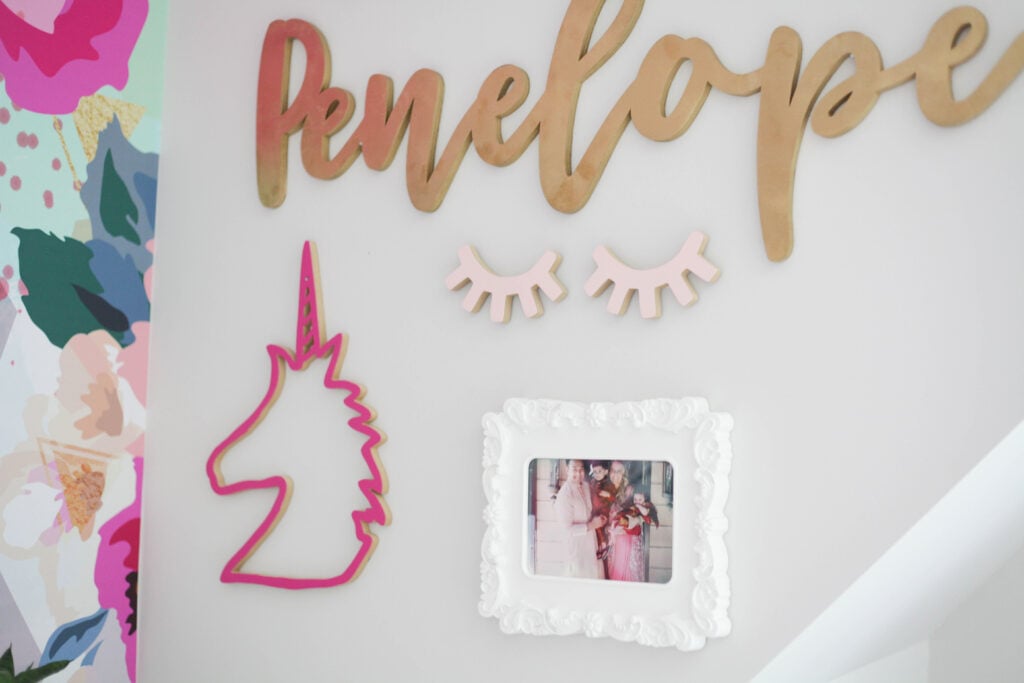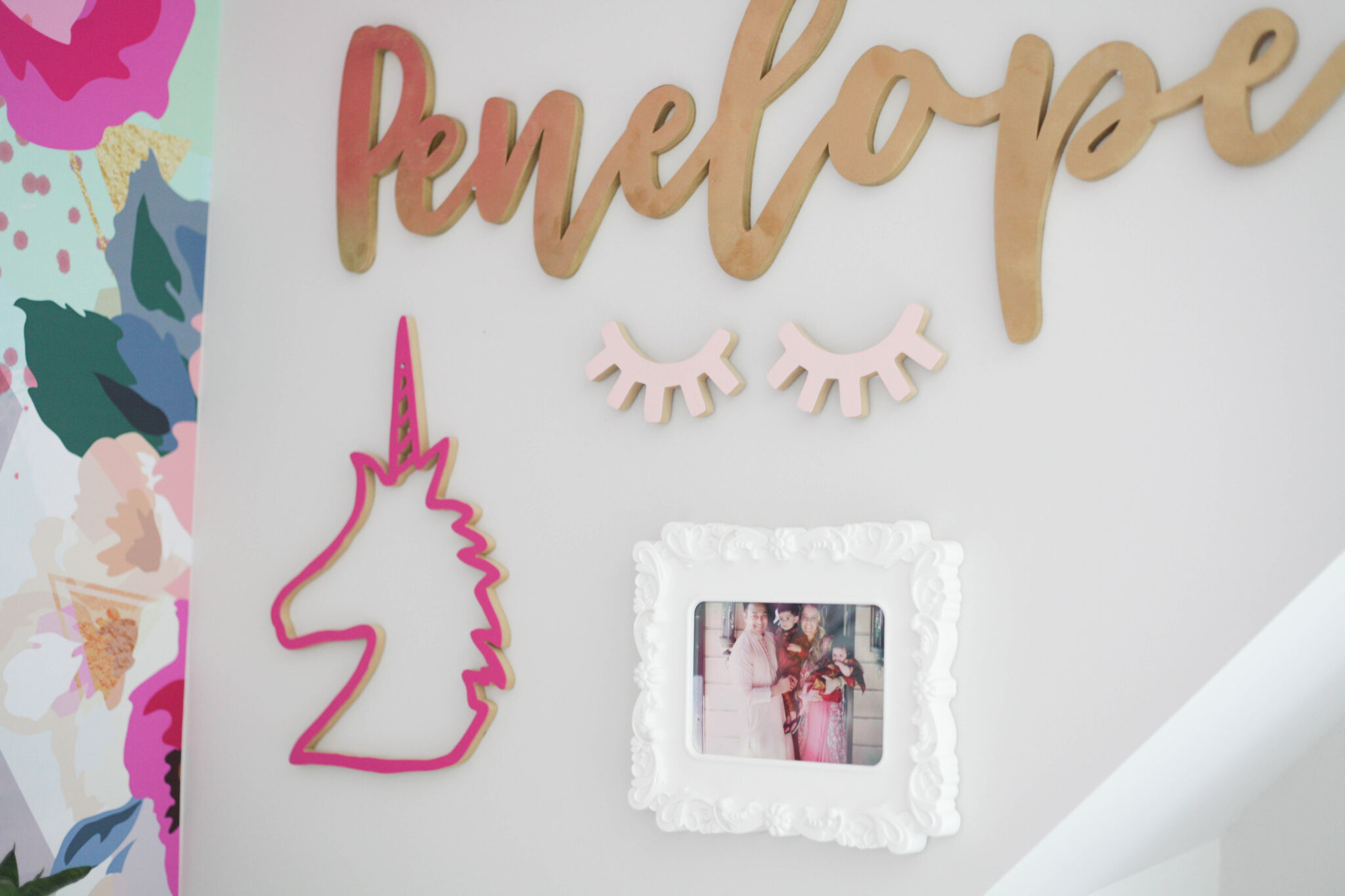 I am so happy with how the room turned out and Penelope (and Roy ha!) seem to love it too! 😉 Now it's time to buckle down and get to work on the new baby's nursery before he makes his debut!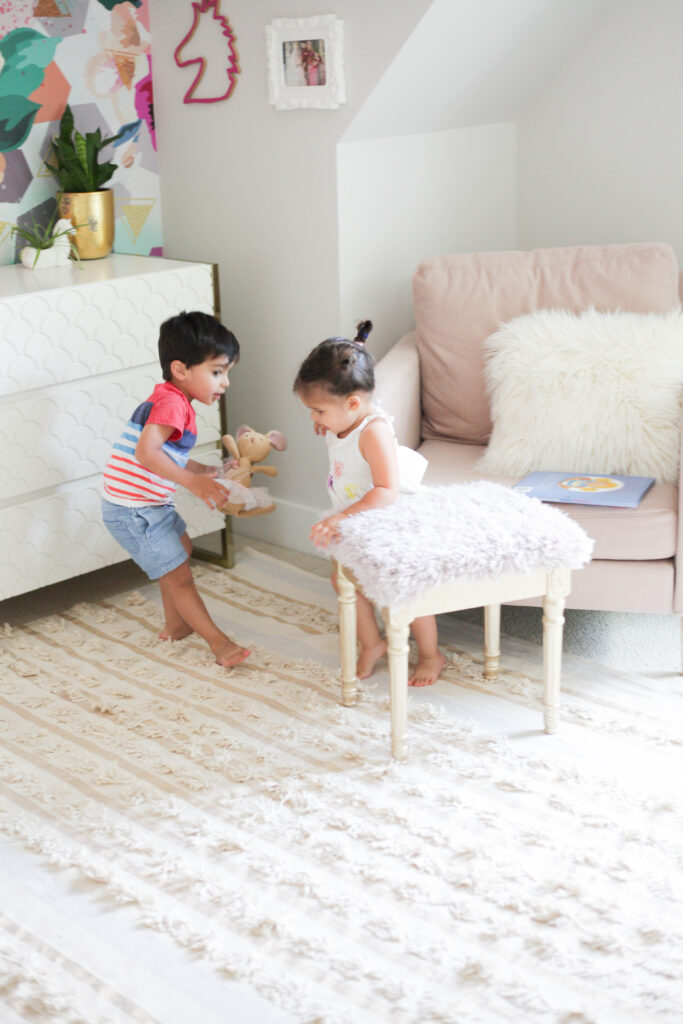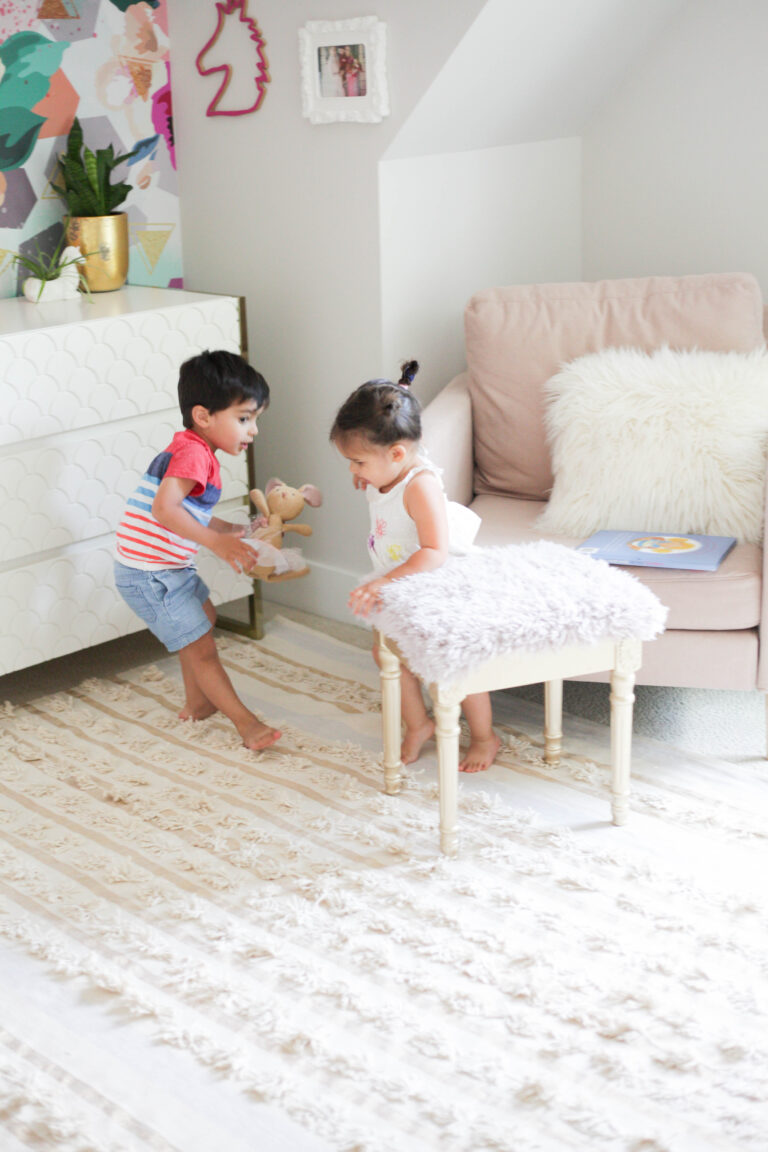 Thanks for reading!
Shop the post:
wallpaper | rug | chair | bookshelf | dresser | side table | crib | P's little chair
wood name carving from Common Oak | Junah Wood's woven wall hangings | eyelashes + unicorn from Pink Linen Designs |gold frame | rainbow print from Pea & Me | Brooke & Lou print
Jen