If you follow any dermatologists or beauty personalities on social media or YouTube, you've probably heard of retinol.
Even though some people say it's basically a holy grail for addressing skin concerns, using a new skin product for the first time always warrants some research to make sure it will provide the best results for your skin.
Retinol can be a powerful product to add to your skincare routine. It's packed full of benefits and is available in all kinds of forms — everything from creams, gels, lotions, serums, and ointments.
Adding retinol to your evening skin care routine could help you start reaping some wonderful benefits.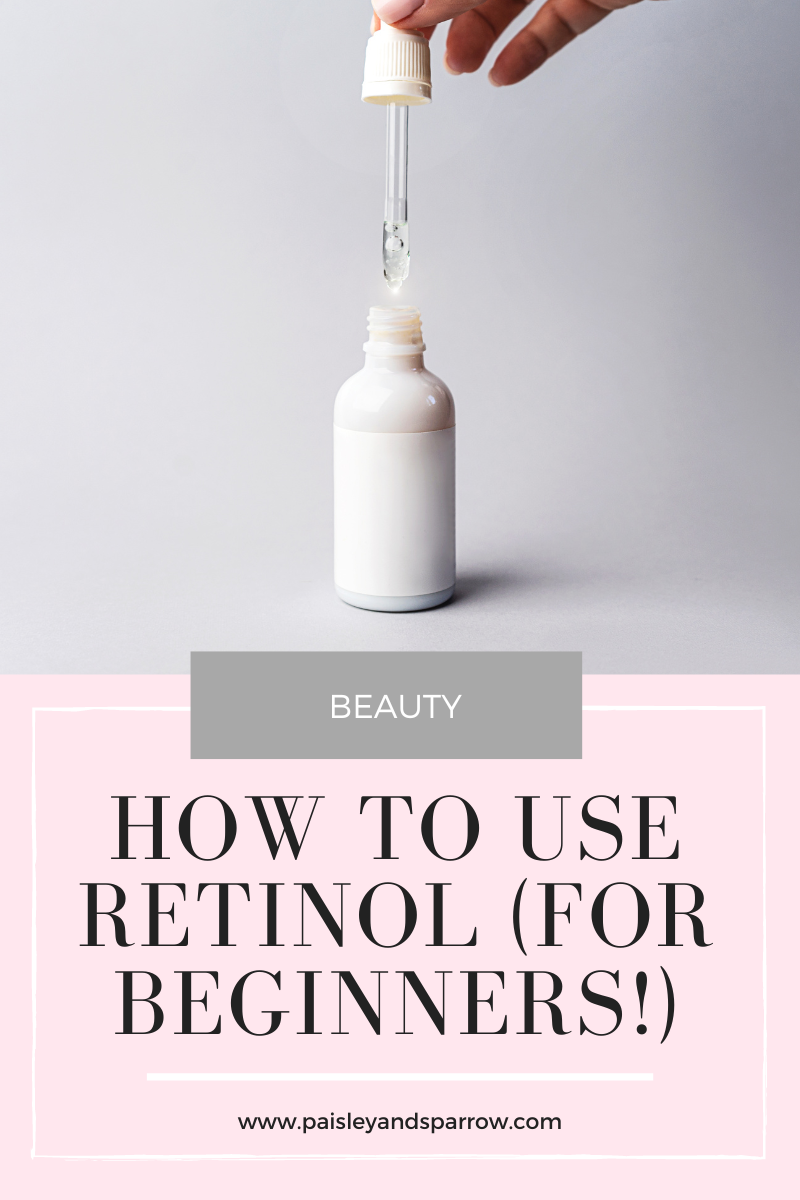 What Is Retinol?
Before first-time users go and buy retinol, you may be wondering what exactly it is. Retinol comes from Vitamin A and is a type of retinoid. Retinol is actually naturally produced by your body and works to boost cell turnover, collagen production, and helps to diminish the appearance of wrinkles and fine lines for smoother skin.
Naturally, using a retinol treatment will provide you with all kinds of added skincare benefits. Retinol can really do it all and is a game changer for a lot of users.
Benefits of Retinol
Retinol is known for unclogging pores, smoothing skin texture, decreasing dark spots, improving the appearance of fine lines and wrinkles, hydrating skin, helping with acne, and keeping your skin appearing healthy and youthful.
There's really a benefit for all types of skin, all ages, and all target focuses.
Side Effects
With so many amazing benefits, it's always important to note the possible side effects of using retinol. Sometimes, retinol can cause redness and flaking in the beginning. This skin irritation can be due to using too much of the product, not properly prepping your face, or it could just be a mild reaction.
That's why it's recommended to gradually introduce the product to your skincare routine so your skin has a chance to adjust.
However, there are some groups that have a higher chance of facing some side effects. If you have fair or sensitive skin, it's best to go gently when trying out retinol. You should also avoid the product entirely if you have over-exfoliated skin, skin with sun damage, or if you are pregnant.
Difference Between Retinol and Retinoid
When you're researching skincare products, you'll probably encounter the terms retinol and retinoid. To choose the right product for your skin, you'll need to know how the terms are used in the world of skincare.
Like I mentioned before, retinol is technically a type of retinoid, which is a derivative of Vitamin A. But when you see the terms on products, they can indicate the different strengths of the products. Retinol generally refers to a weaker over-the-counter product and retinoid is normally a prescription-strength product.
A prescription retinoid will work faster, but it's also more likely to have drying side effects. The over the counter options of retinol may take weeks or months to see similar results, but you'll encounter less irritation, especially for dry skin types.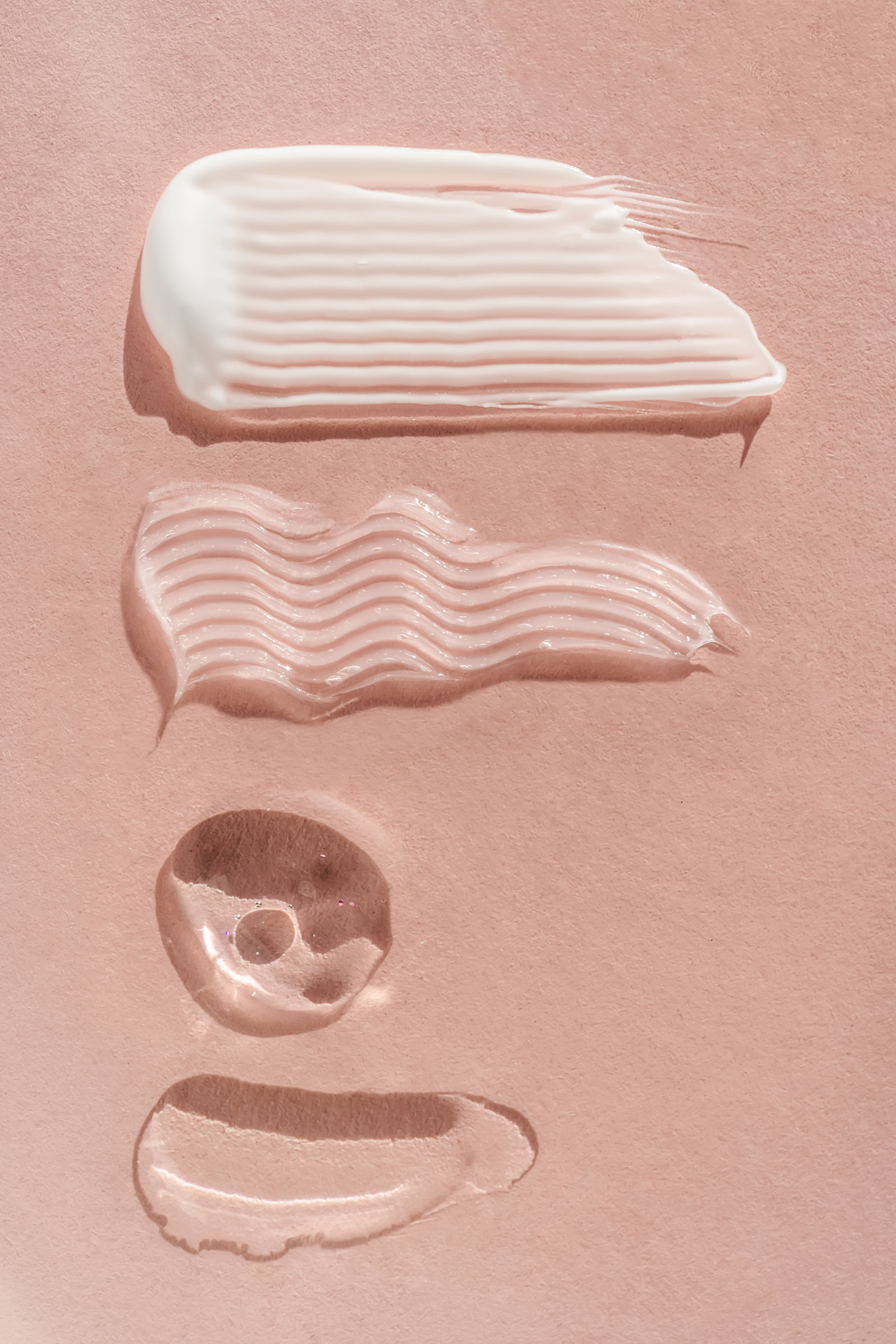 How to Use Retinol
Once you've bought your first retinol product, you need to know how to best incorporate it into your routine. It's recommended that you start by using a low percentage retinol to let your skin adjust to the product before increasing (if you're using prescription retinoid products, ask your dermatologist how frequently you should use it to begin with).
It's also best to use retinol in the evening, so incorporate these steps into your nightly routine.
If you are wearing any makeup, start by removing your makeup.
Next, wash your face with your favorite face wash. Make sure your face is dry before moving on.
Apply eye cream and toner if you use those products.
Now it's time for the retinol! Two rules here: your skin needs to be completely dry and you should use only a pea-sized amount of retinol. Less is truly more here! Smooth the product over your face.
You'll want to use retinol 2-3 times for the first week and gradually build up your usage from there. This allows time for your skin to adjust to the new product.
Let the retinol absorb into your skin for 10-20 minutes. After that, apply your moisturizer.
In the morning, be sure to apply SPF broad-spectrum sunscreen because retinol increases your sun sensitivity.
As your skin adjusts to retinol, follow these same steps as you make retinol part of your evening routine. Adding it in is easy to do!
Best Retinol Products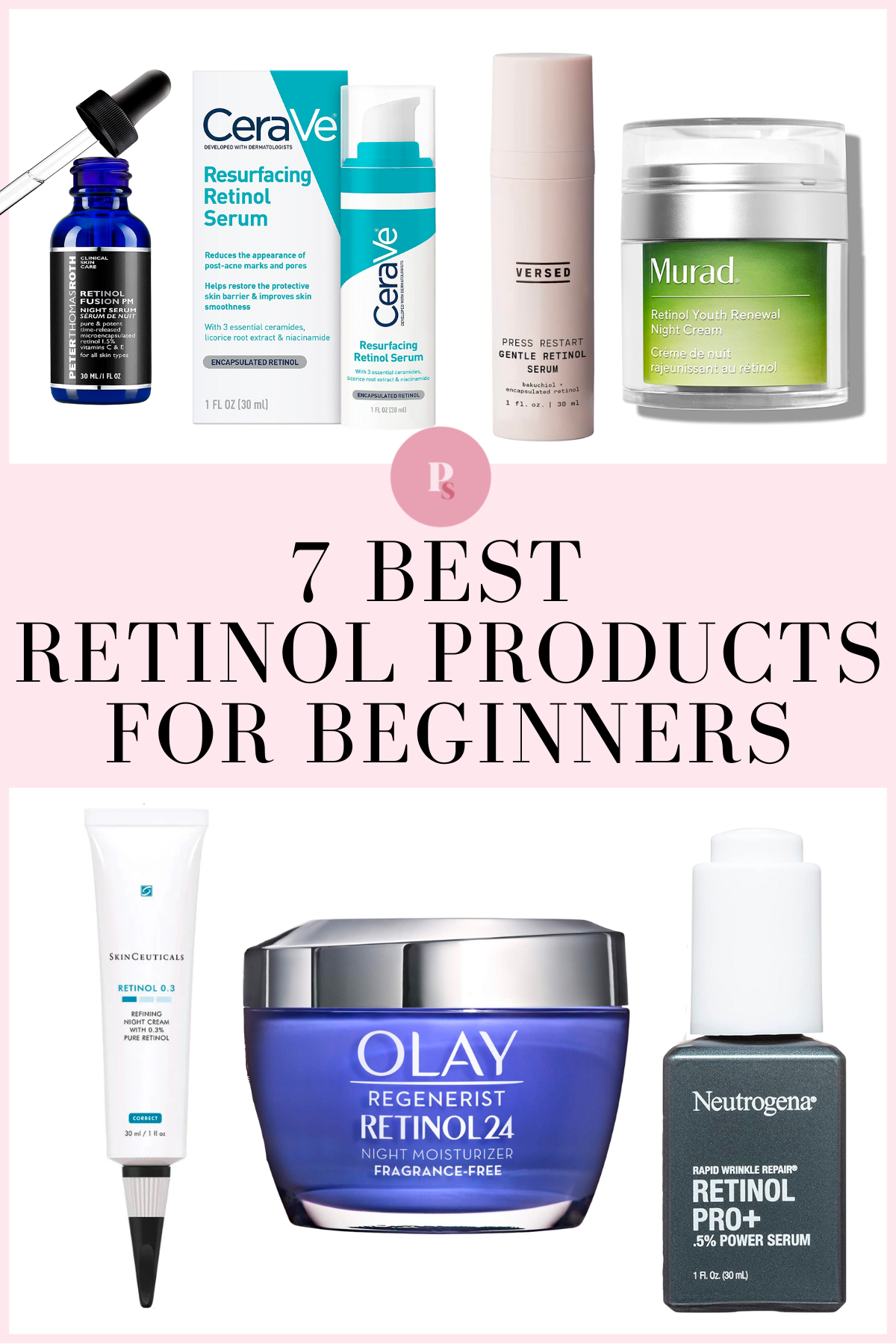 This post contains affiliate links.
Not quite sure where to start when shopping for the best retinol product for you? Here are some of the top recommended retinol skin care products.
Peter Thomas Roth is one of my favorite skin care brands and this night serum is amazing! It's lightweight and won't cause irritation. It's gentle enough to be a great retinol serum for beginners but potent enough to make a difference!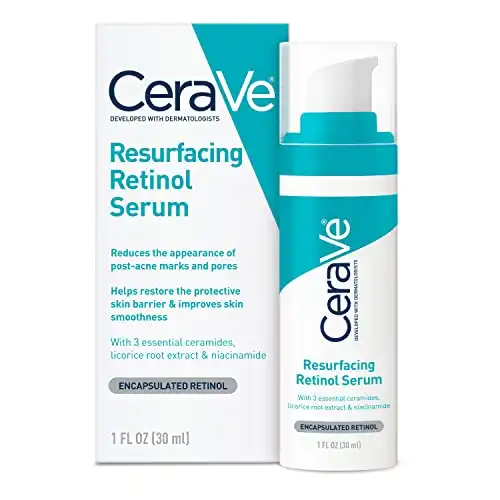 We earn a commission if you make a purchase, at no additional cost to you.
If you have acne or acne scars, this resurfacing retinol serum is a great option to even out your skin tone and help diminish the appearance of any scarring you may have!
I've used Versed products for years and love them. They're gentle enough for sensitive skin but still work! I used this when I was first getting started with retinol and loved it!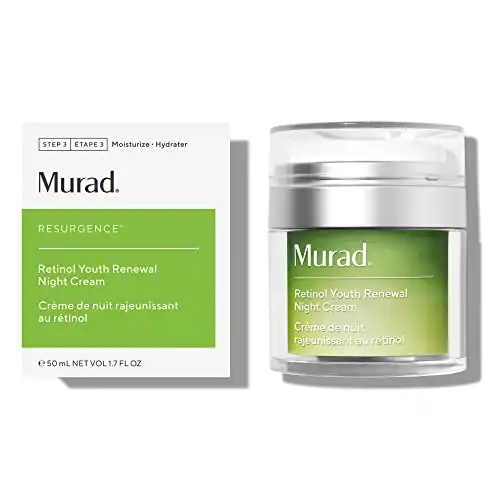 We earn a commission if you make a purchase, at no additional cost to you.
I'ved used Murad products for years including their retinol creams and let me tell you, they truly work! With continued use this product will definitely help any wrinkles you may have.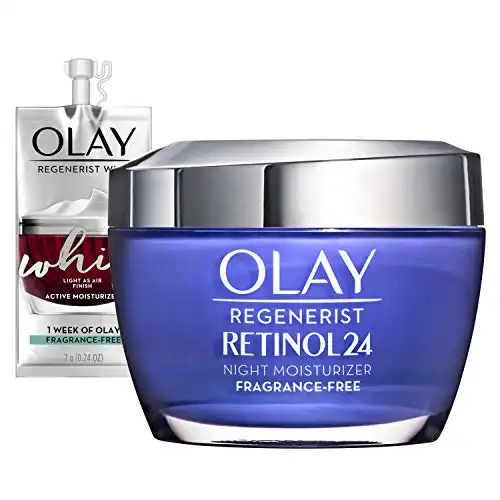 We earn a commission if you make a purchase, at no additional cost to you.
We all know and love the Olay name! This moisturizer is great for dry skin. It's super hydrating along with tons of great added vitamins and retinoid.
SkinCeuticals Retinol 0.3
Promotes cellular turnover
Improves the appearance of fine lines, wrinkles, discoloration, pores, and blemishes
Formulated to minimize irritation commonly associated with the use of retinol creams
Specialized packaging preserves retinol potency
Non-comedogenic, paraben-, fragrance-, and gluten-free
Ideal for skin new to retinol use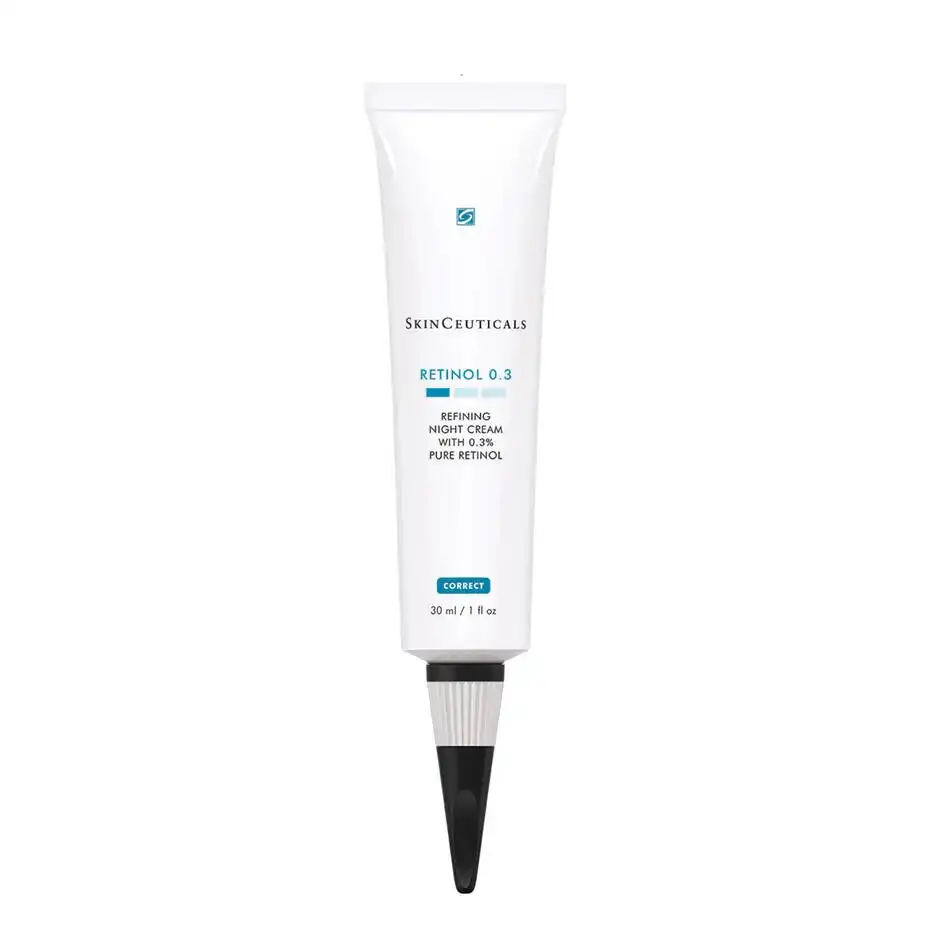 We earn a commission if you make a purchase, at no additional cost to you.
If you're new to retinol and just want to target a few key areas, this is a great option for you! It has 0.3% pure retinol to have maximum efficacy without a ton of skin irritation.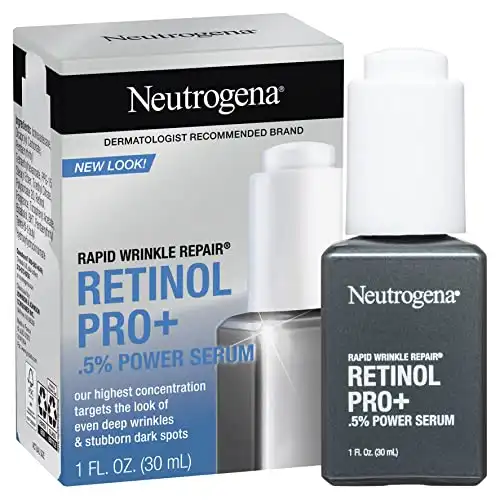 We earn a commission if you make a purchase, at no additional cost to you.
While all of these products can be used on both men and women, we know sometimes men like products with a more masculine vibe! This one from Neturogena is great for a first timer to get acclimated to using retinol.
With any new product, you may have some questions and concerns. Here are some more general questions and answers to help you know exactly what you are doing when applying retinol.
FAQ
Do you put retinol on before or after moisturizer?
There's really no solid answer and it all comes down to your retinol's consistency. Retinol can come as a cream, a serum, etc. The general rule of thumb when it comes to skincare products is to apply the products from thinnest to thickest consistency. So whether you apply retinol before or after moisturizer will depend on the consistency of your products.
Either order will still promise you benefits though! Applying retinol before moisturizer reduces irritation since it decreases the amount absorbed into the skin. Applying retinol after moisturizer, on the other hand, is great for those with sensitive skin as it reduces the potency of retinol. You really can't go wrong either way!
What other products should you use with retinol?
Retinol mixes well with moisturizing ingredients. Pair it with hyaluronic acid, ceramides, and SPF. Hyaluronic acid works as a great moisturizer and can help to cut down on some of the irritation your skin might face from retinol. Similarly, niacinamide also pairs well in cutting down irritation. Retinol can make your skin more sensitive to the sun, so it's important to incorporate daily SPF to protect your skin from the sun, no matter the temperature or weather. Peptide-based night creams also pair well with retinol. Use retinol first, then top off with your peptide cream.
Other products can be used with retinol for great skin benefits, but they shouldn't be used at the same time. Glycolic acid, salicylic acid, and vitamin C all can do wonders for your skin. If using both with retinol, alternate the nights you use the products or apply glycolic acid, salicylic acid, or vitamin C in the morning and retinol at night. Together, at the same time, they can irritate your skin!
Should you use retinol every night?
In the beginning, no. Retinol can be very drying at first, so start by only using it once or twice a week to allow your skin to adjust. If you aren't noticing any side effects after two weeks, you can begin using retinol every other day. Then, after a month, you can begin using retinol every night if you wish. Make sure you allow your skin plenty of time to get used to the product before you increase the number of nights you use retinol per week.
How often should I use retinol?
You can use retinol every single night once your skin has properly adjusted and you aren't experiencing any side effects! Once a night or once every other night is a good frequency for using retinol.
How long should I leave retinol on my face?
It's important to allow time for retinol to absorb into your skin. It's suggested that you leave retinol on your face for ten to twenty minutes before applying your next skincare product. However, you should always read the instructions on your retinol. In some cases, applying moisturizer directly before or after retinol is necessary to prevent irritation.
Do you wash retinol off in the morning?
Retinol will absorb into your skin overnight and loosen dead skin cells, making the morning the perfect time to clean and exfoliate your skin. You're not washing the retinol off, but rather cleansing your face in the morning. Follow your regular morning skincare routine, no need to change things up because of your retinol!
Once you've selected a retinol product that you're ready to start using, slowly begin adding it to your night routine. Remember to start with only a few times a week to allow your skin time to adjust and see if you have any type of reaction.
But don't get discouraged! In no time at all, you'll be able to use retinol every other night or every night. Adding retinol to your evening routine will allow you to have all of the product's wonderful benefits, making your skin happier and healthier.
Looking for more tips for your beauty routine? Try these posts on Vitamin C serum, the best facial oils to use with gua sha, and CeraVe vs. Cetaphil.