I just wrapped up my second trimester and as promised, I wanted to share the second trimester workouts I did!
You can check out what I did during the first trimester over on this post. I find the first and third trimesters to be the hardest to get workouts in!
The first trimester is full of exhaustion and it takes everything in me to actually get a workout in and the third trimester I'm so big and uncomfortable and tired that starting a workout takes so much will power (that I don't really have!).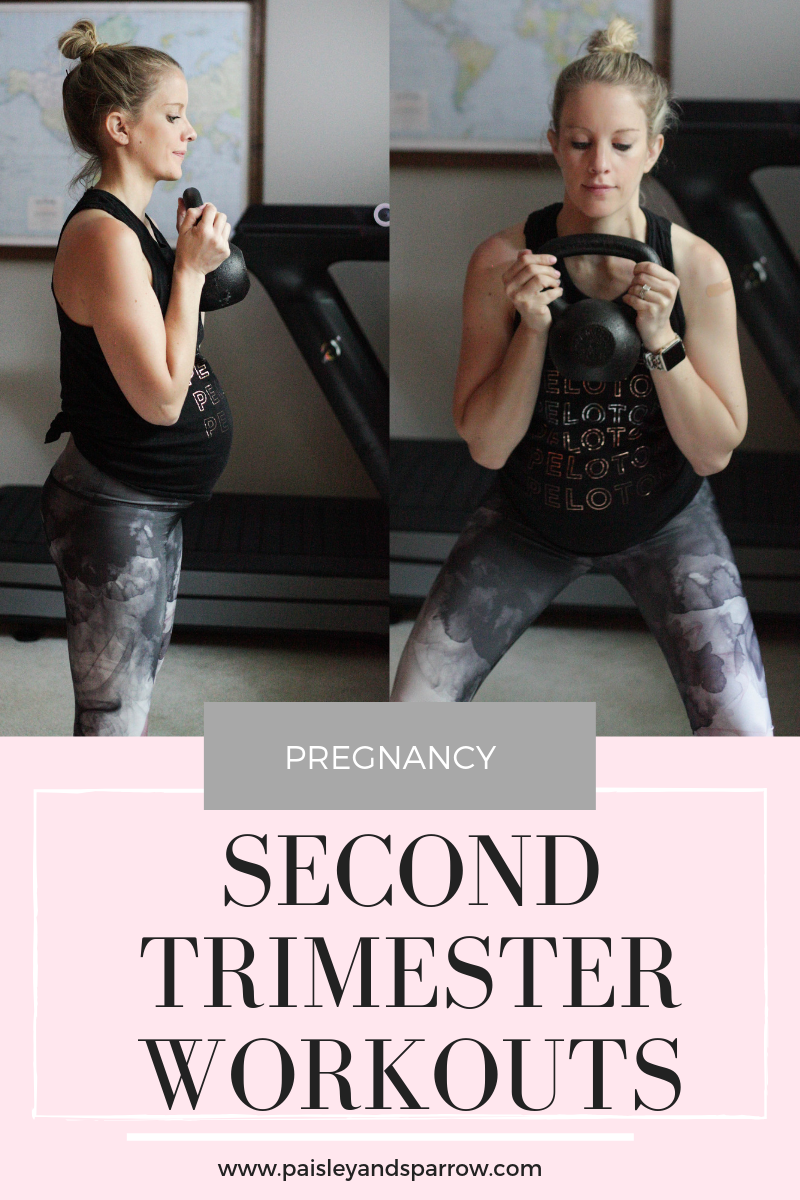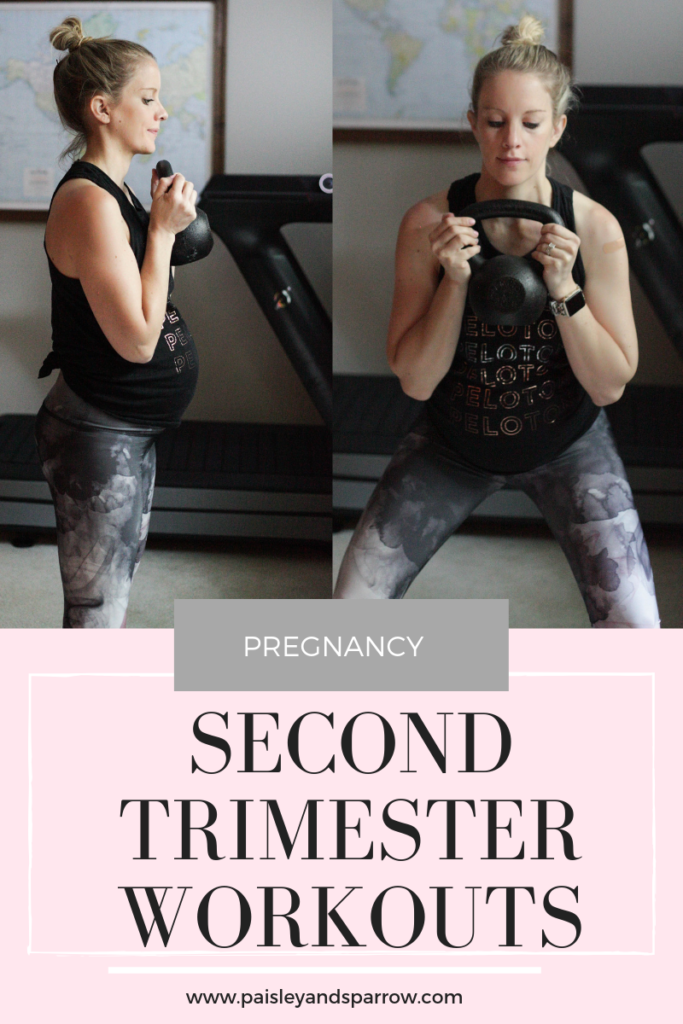 Second Trimester
The second trimester has typically been easier for me to get back into regular workouts.
With Roy, however, I was told to stop running at 20 weeks because it was causing too much pressure and pain. Because of that, I go about my workouts with a very open mind, always listening to my body.
I also know that my body needs more rest at this stage so there were a couple weeks where I didn't do one workout because I had multiple events at night or early morning commitments that didn't allow me to workout.
When I'm not pregnant it's not as hard for me to just wake up extra early to get a workout in but when I'm pregnant I know my body needs sleep so I give it what it needs!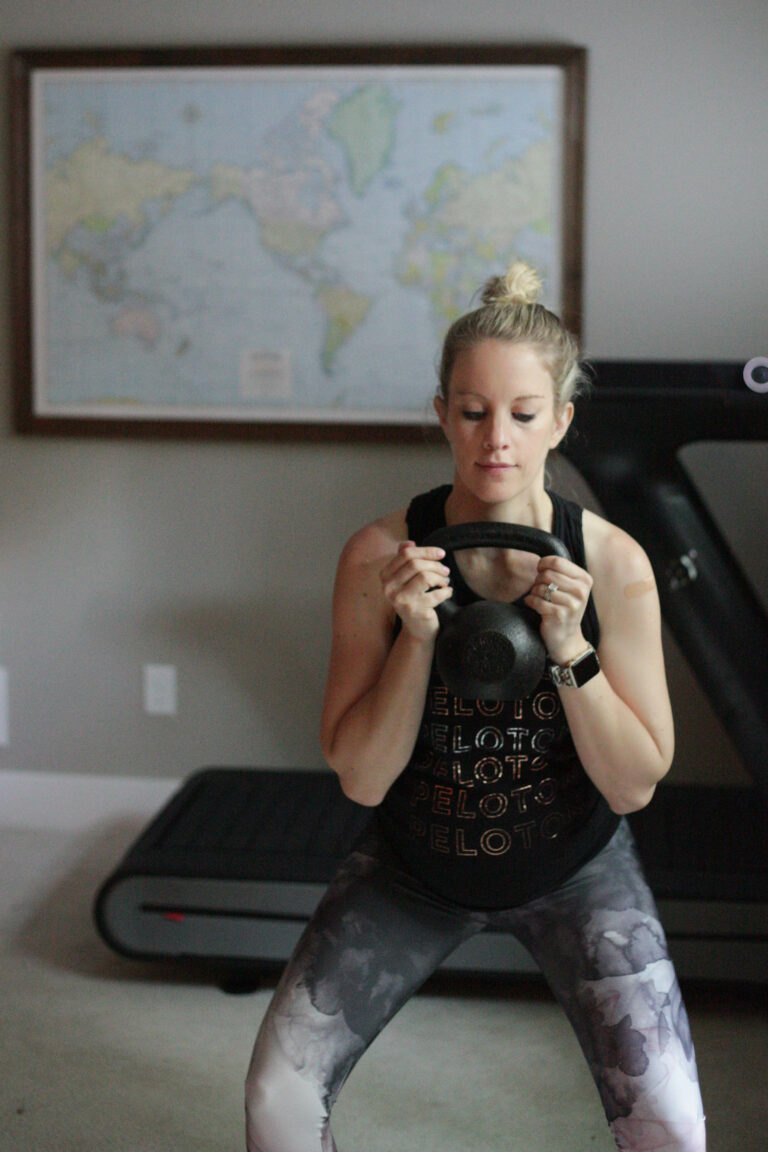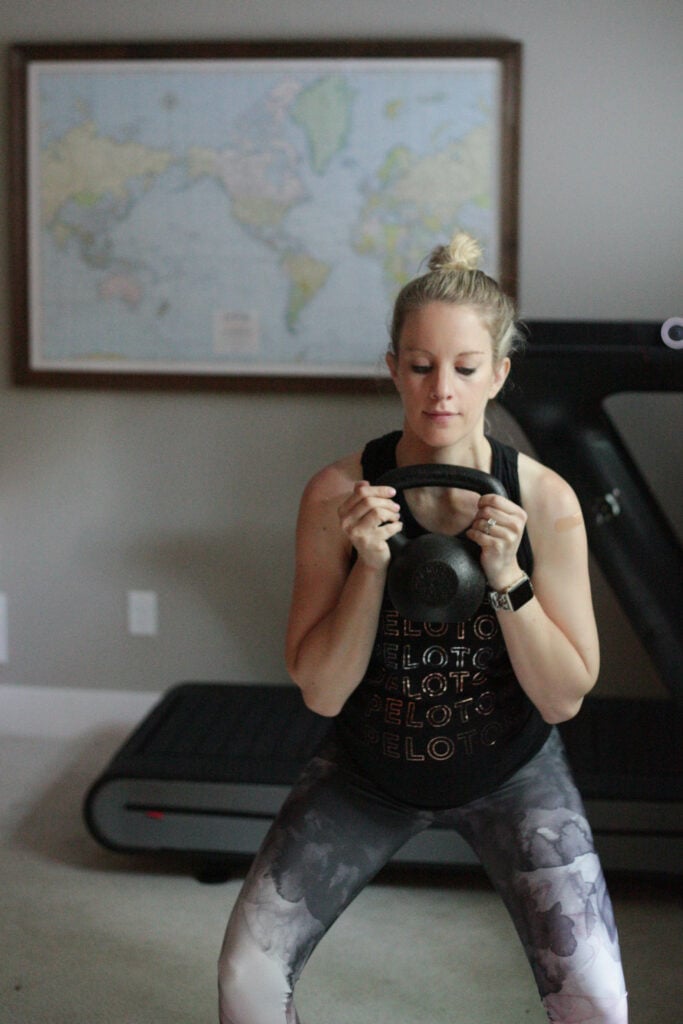 Second Trimester Workout Schedule
In my ideal world, I would like to workout 5 days a week. In pregnancy world, I'm happy if I get 3 workouts in! Most weeks I get between 3-4 workouts in with a bunch of walks included in the mix.
Right now I'm not forcing myself to wake up super early like I did pre-pregnancy. (My normal wake up time is 5:15-5:30. Find more about how I wake up so early here!) Right now I typically set the alarm for 6:00 and get a 20 minute workout in.
Literally just today I told Rishi I want to start aiming for 30 minute workouts, especially since my intensity isn't as high as when I'm not pregnant!
I also do my best to be done with my workouts by 6:30 so I can be done showering and getting ready in case Penelope wakes up early (which she has been lately). That only gives me 10 minutes to get dressed, get the dog fed and let out and do some stretching before I need to start my workout.
When you're pregnant, do what you can! If 20 minute workouts feel good do that. If 10 minute workouts are all you can manage do that! Listen to your body and do what feels the best.
My typical week is working out Monday and Tuesday, taking a break on Wednesday and working out Thursday and/or Friday.
Now that it's summer I also do a lot of walking with the kids and the dog. We try to do at least one walk a day if not more so I'm oftentimes getting in additional steps and workouts with that!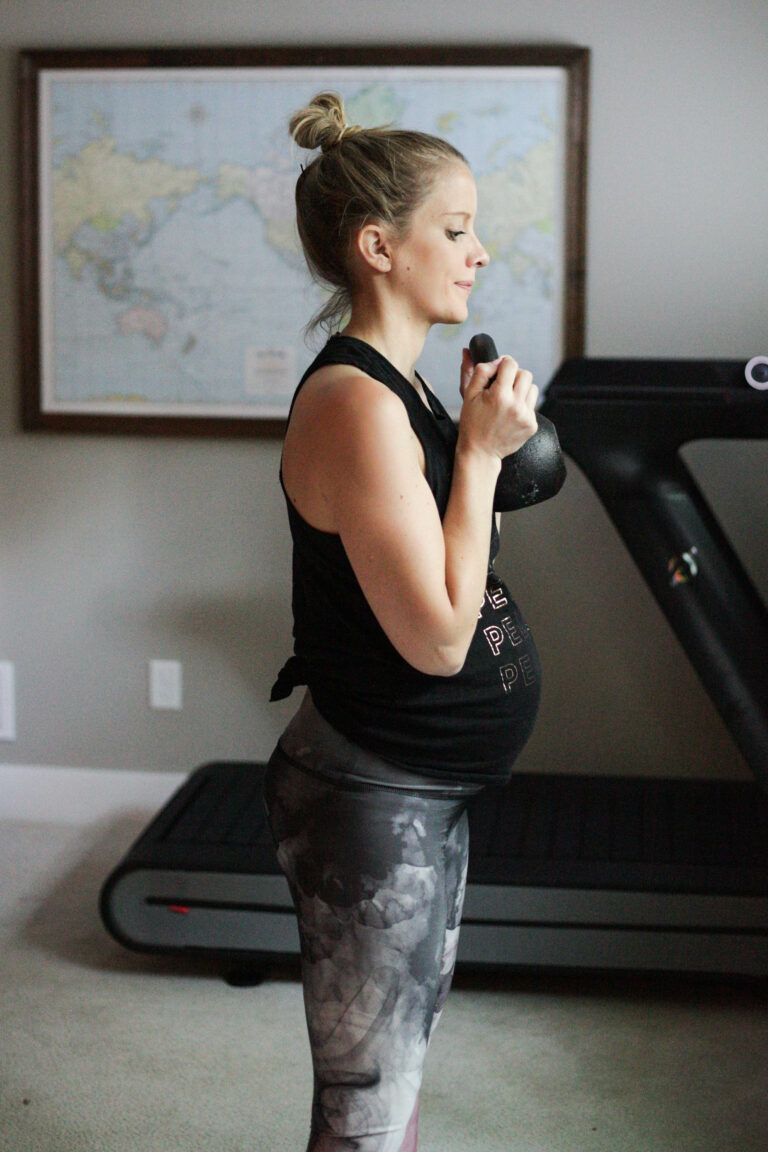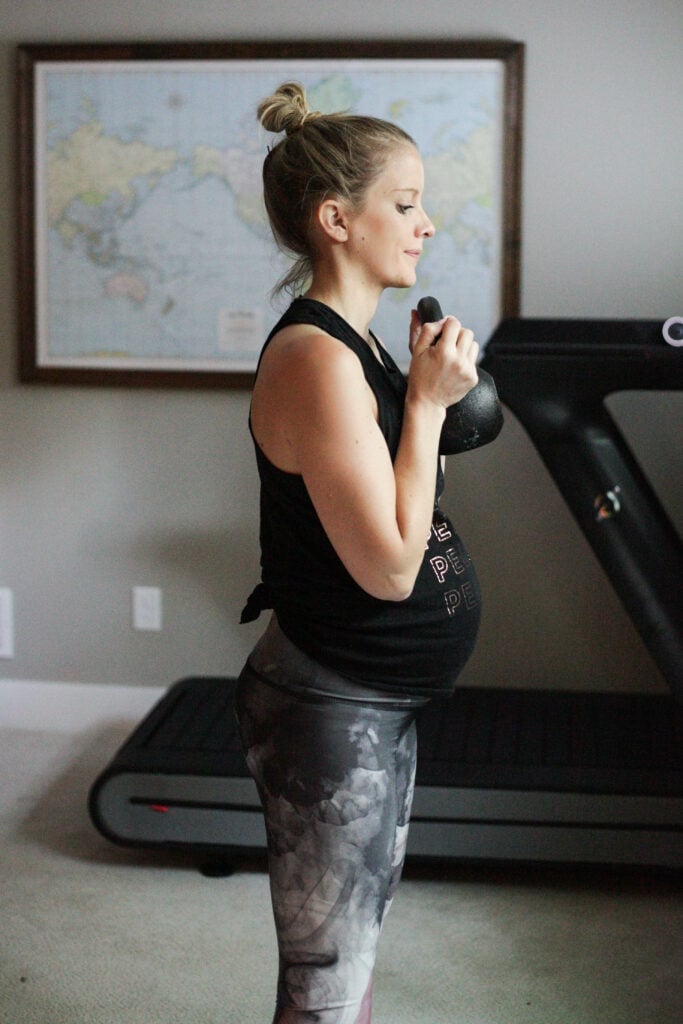 Workouts I'm Doing
To lay it out plainly, I'm doing:
Running
Strength training
Walking
Cycling (indoors)
Right now the bulk of my workouts are a mix of running and strength training. I typically follow one of the Peloton bootcamp workouts which is 10 minutes or running followed by 10 minutes of strength work on the floor. That sounds really wimpy writing that but it's always a great workout!
I attempt to do at least 1 straight running workout (especially before the MomBoss5k that I ran) to get some good cardio work in.
Since I wasn't able to run for most of Roy's pregnancy and didn't run for much of Penelope's simply because I hadn't gotten back into running when I got pregnant again, I'm extra grateful I can still run now!
With all of my workouts I remind myself that the goal is not to overdo it and push myself too hard! I am a super competitive person so sometimes not being able to run as fast as I want to can be hard but the goal is a healthy pregnancy and healthy baby, not the fastest mile.
Great Prenatal Workouts for the Second Trimester
I shared a bunch of these in my first trimester workouts post but here are some great prenatal workouts for the second trimester.
Walking – on a treadmill if the weather is bad, in a mall or outside! And the bigger your belly gets, the more of a workout it is! Add more difficulty and make it a harder workout by walking up hills or adding in lunges while you walk.
Running – if you ran before you got pregnant, you can likely run during! Remember to listen to your body and don't over do it.
Swimming – this is the BEST when you're pregnant and gets better the bigger you get! I did a ton of swimming when I was pregnant with Roy and feeling weightless in the pool was a great feeling.
Yoga – I've always wanted to be a yogi but for now it's just not for me. However, there are lots of places that do prenatal yoga! This is ideal so they can guide you through a workout that's safe for you!
Strength Training – this is a great thing to do throughout your pregnancy. Staying strong overall will help you with labor and have an easier recovery.
What is something that you enjoy? Do you love long walks with your dog? Is yoga your favorite? The best thing to do is find something you really enjoy and do that. You're way more likely to keep up with it!
Ask Your Doctor About Prenatal Workouts
And always keep in contact with your doctor about what exercises you're doing and any concerns you may have. They also may be a great resource for ideas on exercises to do!
I was getting a ton of pain in my obliques when I was carrying the kids and I was nervous my doctor was going to say to not lift weights anymore. She actually said the opposite! I was told to continue strength training because when you're doing that you likely have better form and are not at risk of hurting yourself because you're focused on lifting weights.
She did say, however, to not carry the kids as much or carry them on top of my belly! It's a lot harder to safely carry squirmy kids than weights so she encouraged me to keep lifting.
The best thing you can do while pregnant is keep moving in the safest way possible. Do what you can without overdoing it!
Thanks so much for reading about my second trimester workouts! Be sure to check out my 3rd trimester to do list as well as my new mom survival kit!
With love,
Jen