Looking for ways how to wear paper bag pants outfits? Today I'm sharing 5 easy to wear paper bag pants outfits for everywhere from work to brunch to your next date!
I've been eyeing up paper bag pants since I was pregnant with Miles but there wasn't many maternity paper bag pant options out there so I was forced to wait. 😉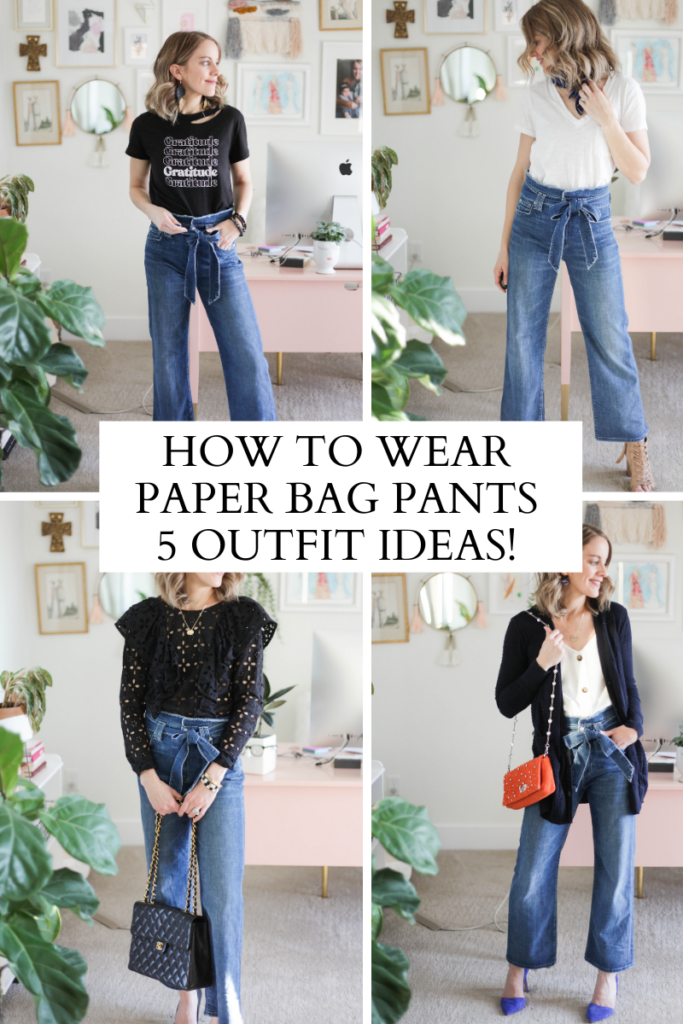 These cropped paper bag pants are a great option for your first paper bag pants outfit since they can be worn both casual or dressy and even great for all seasons!
5 Perfect Paper Bag Pants Outfits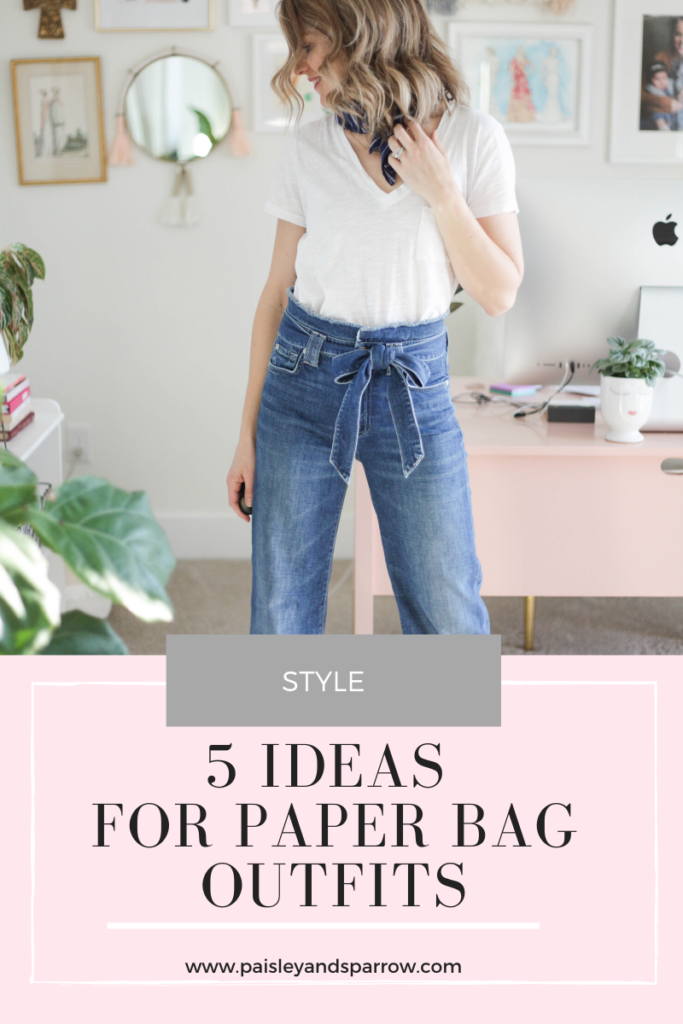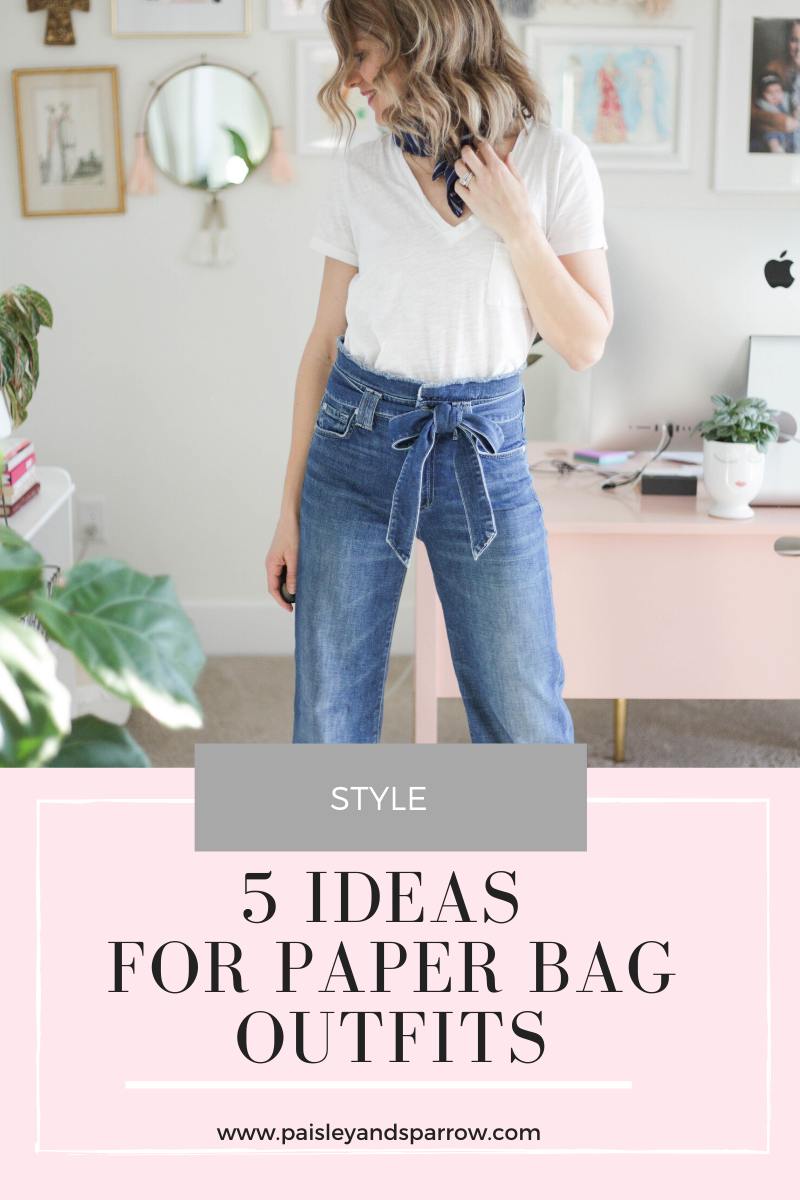 This post contains affiliate links.
1. Everyday Outfit – White tee, Bandana + Gladiator Heels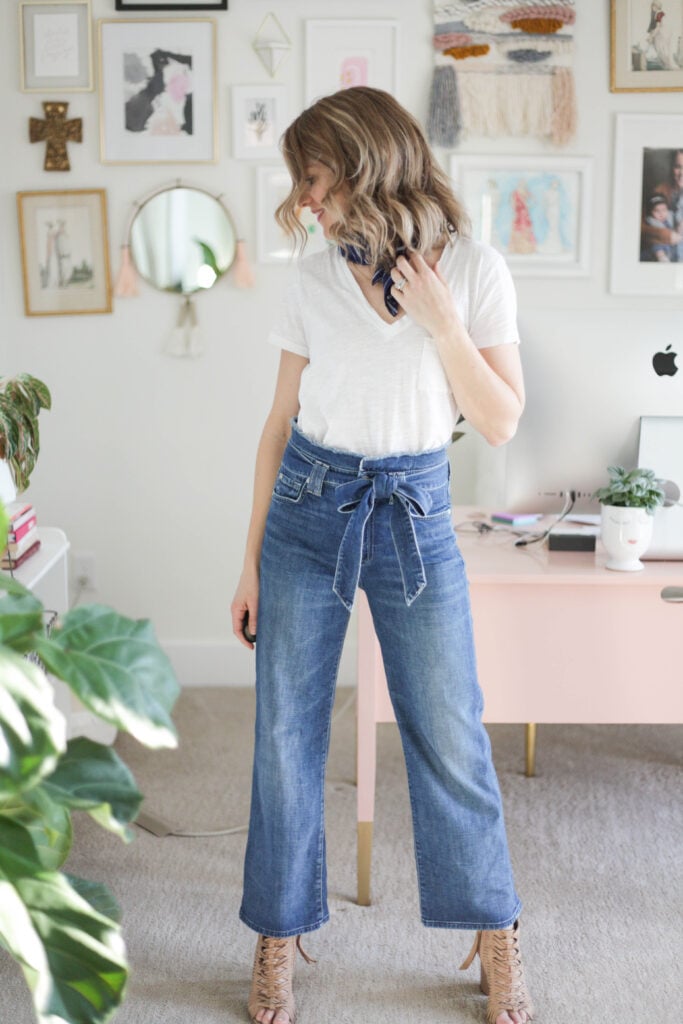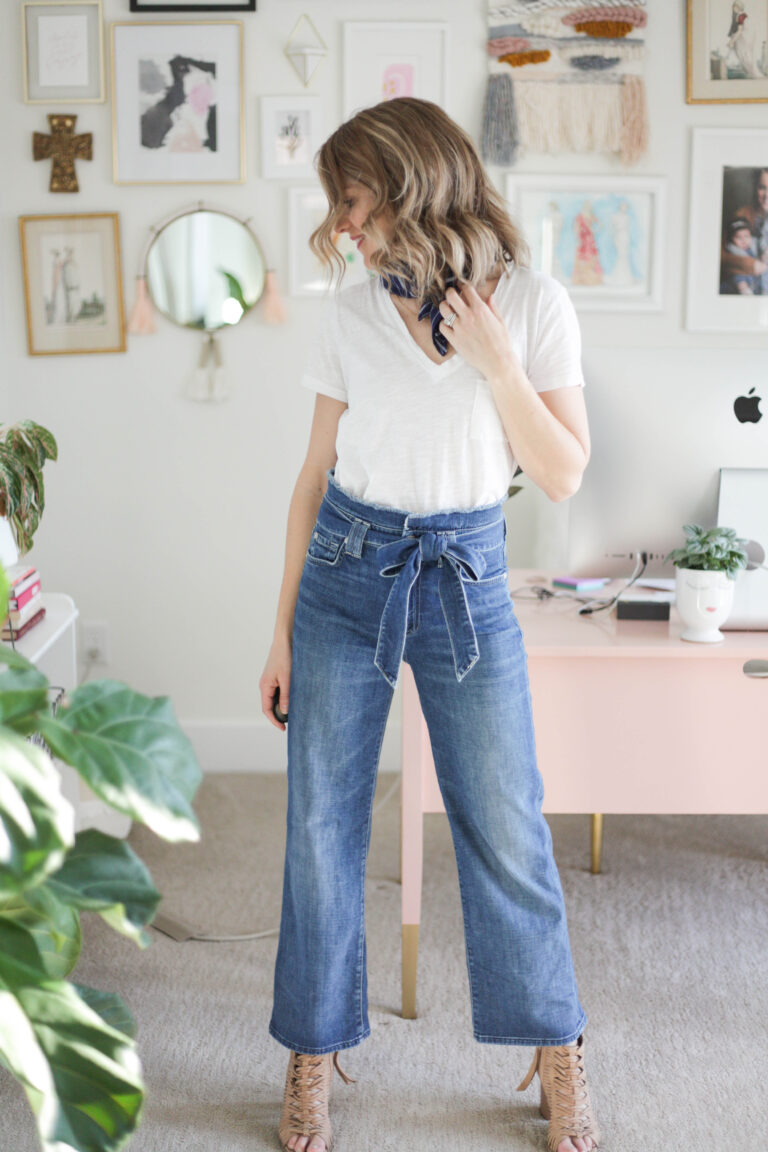 I love this look for an everyday outfit! All you need is a simple white t-shirt (or any solid color plain tee will do!), a fun colored bandana and a pair of funky nude colored sandals.
The bandana gives this simple outfit a fun pop of color and these paper bag jeans dress up an otherwise simple "t shirt and jeans" outfit.
Check out this post for how to wear a bandana around your neck or this one for 8 different ways to style your bandana!
2. Dressy Paper Bag Outfit – Ruffle Black Top, Heels + Chanel Bag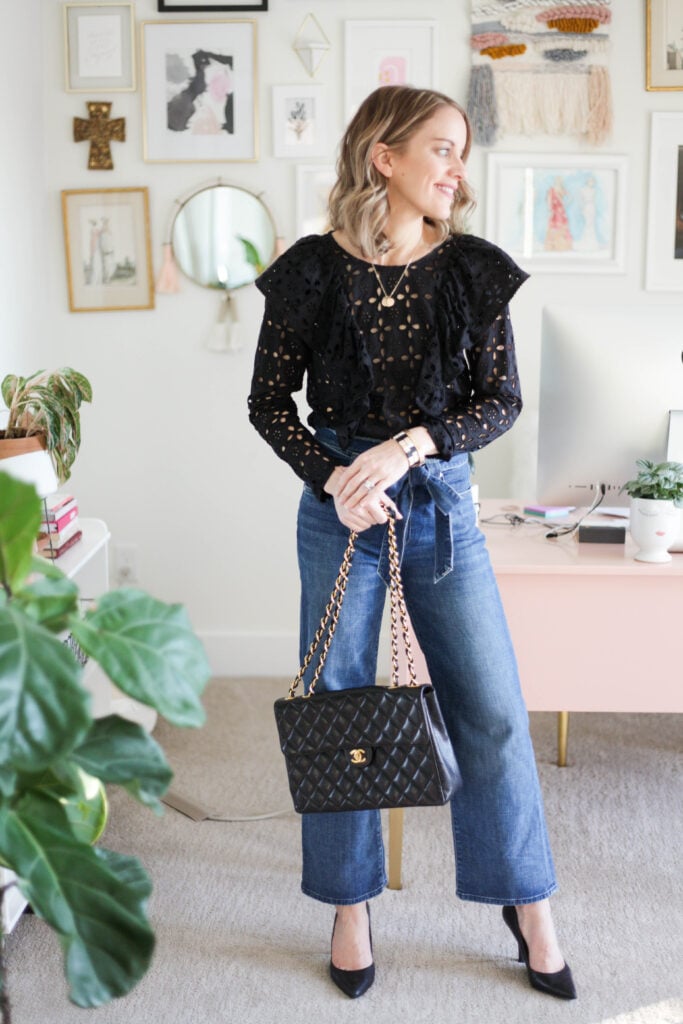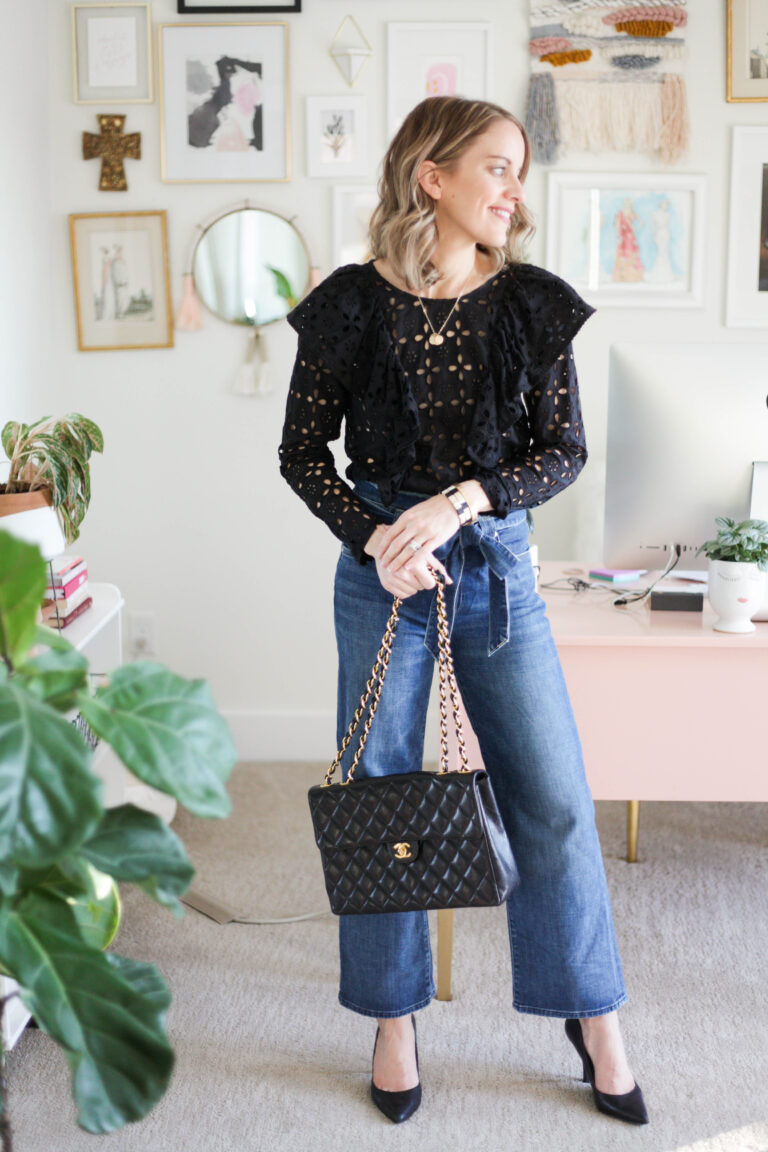 Paper bag jeans can absolutely be dressed up. Choose a fancier top like this black ruffle top and a pair of heels.
For this outfit I chose to keep things sleek with a black top, bag, and heels. Black steps these jeans up to the next level of dressiness.
3. Work Outfit With Paper Bag Pants – Cardigan + Heels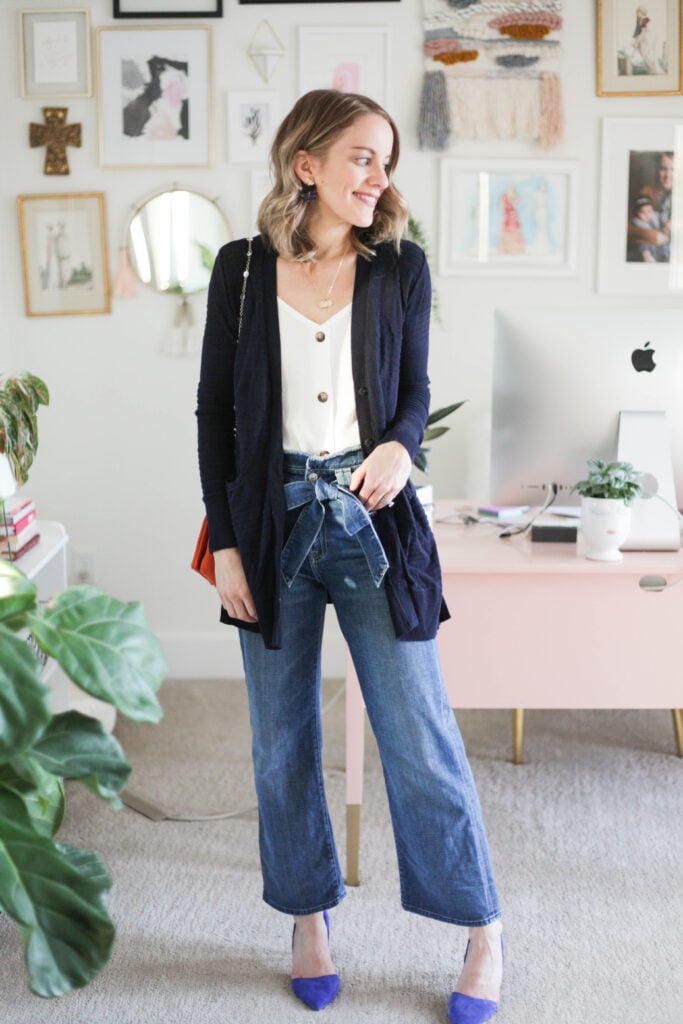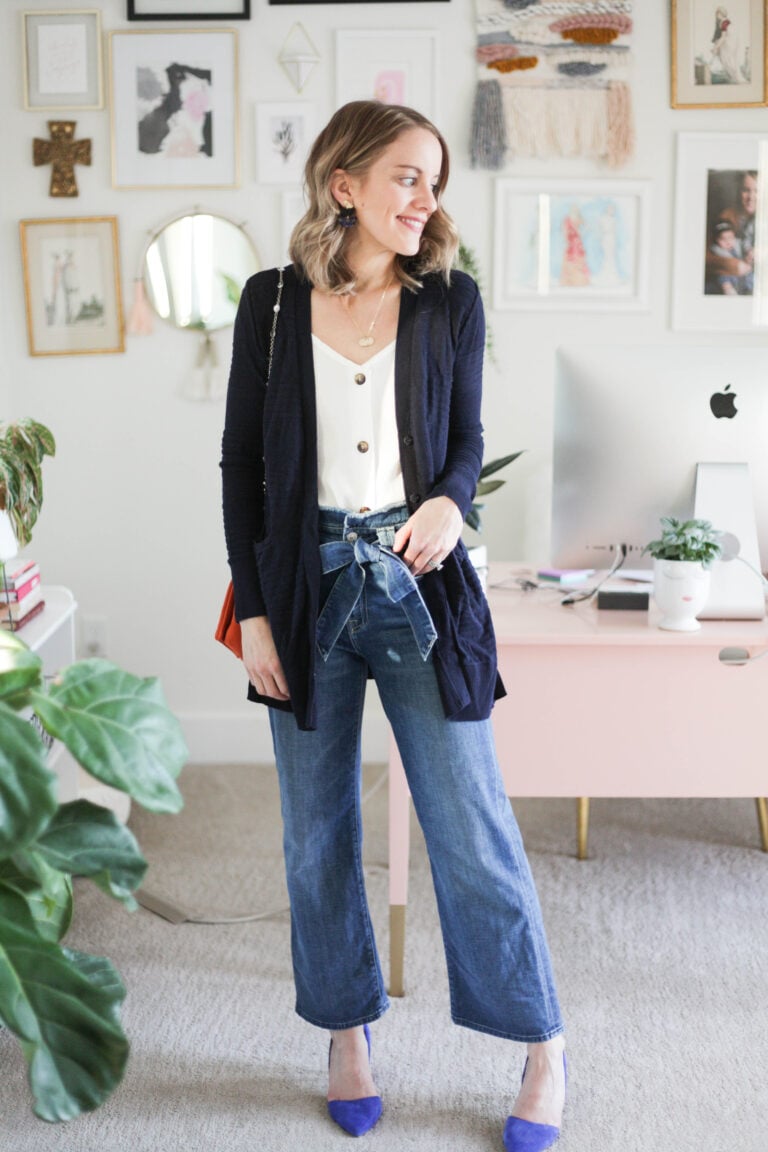 Are paper bag pants professional? They can be!! If you can wear jeans to work this outfit is perfect for you! Paper bag jeans look great with a cardigan and a cute button up top tank top.
Make sure that the cardigan isn't too oversized as the jeans have a wider leg. I like to tuck in a top in order to elongate the legs and really make the cardigan shine.
4. Edgy Outfit – Graphic tee + Leopard Heels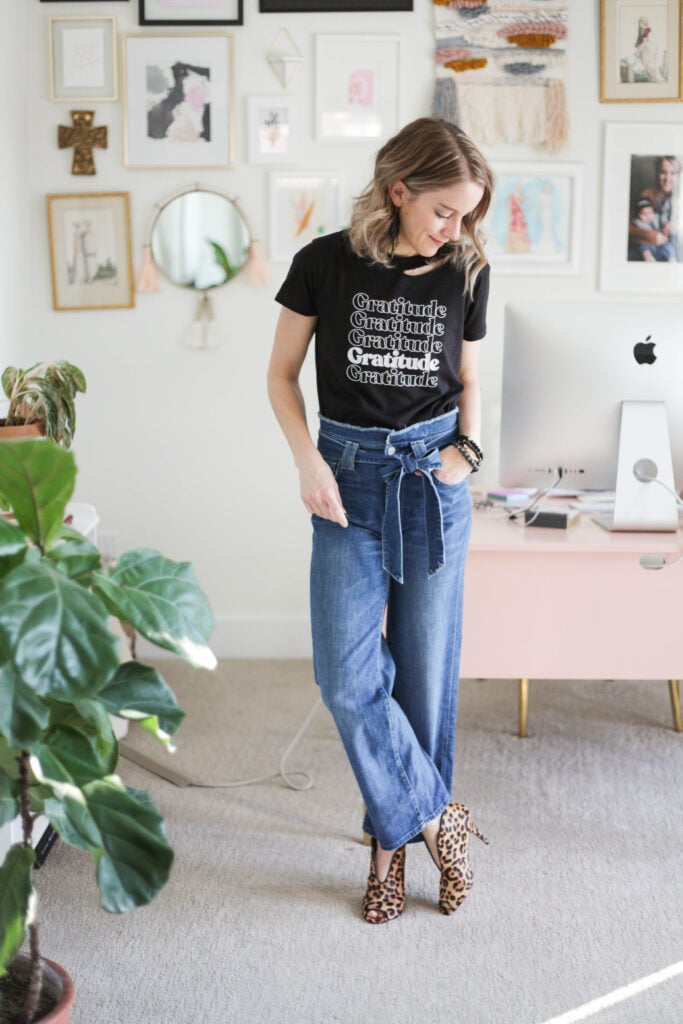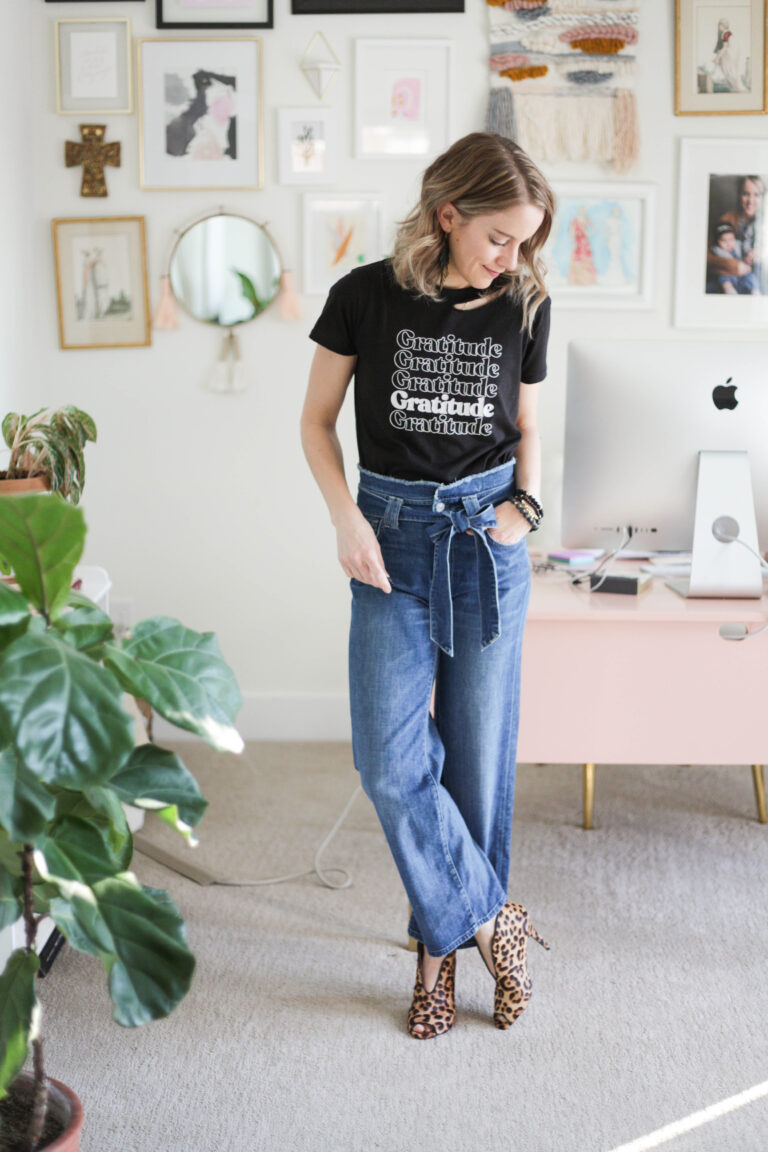 Pants | Tee | Shoes
Who doesn't love a graphic tee shirt? I love pairing a black and white tee shirt with a pair of unique shoes like these leopard printed heels.
Having a fun pair of shoes in your closet can really jazz up a regular tee shirt and jeans outfit. You could also take these shoes and wear them with the first outfit above for a completley new look!
5. Casual Paper Bag Pants Outfit – Sweatshirt + Sneakers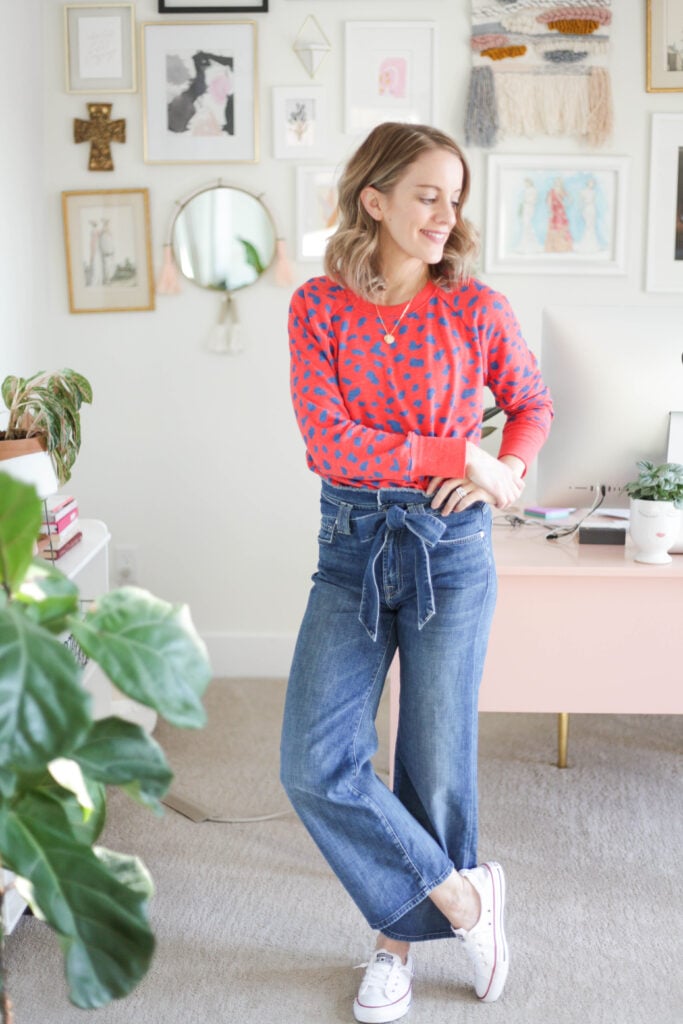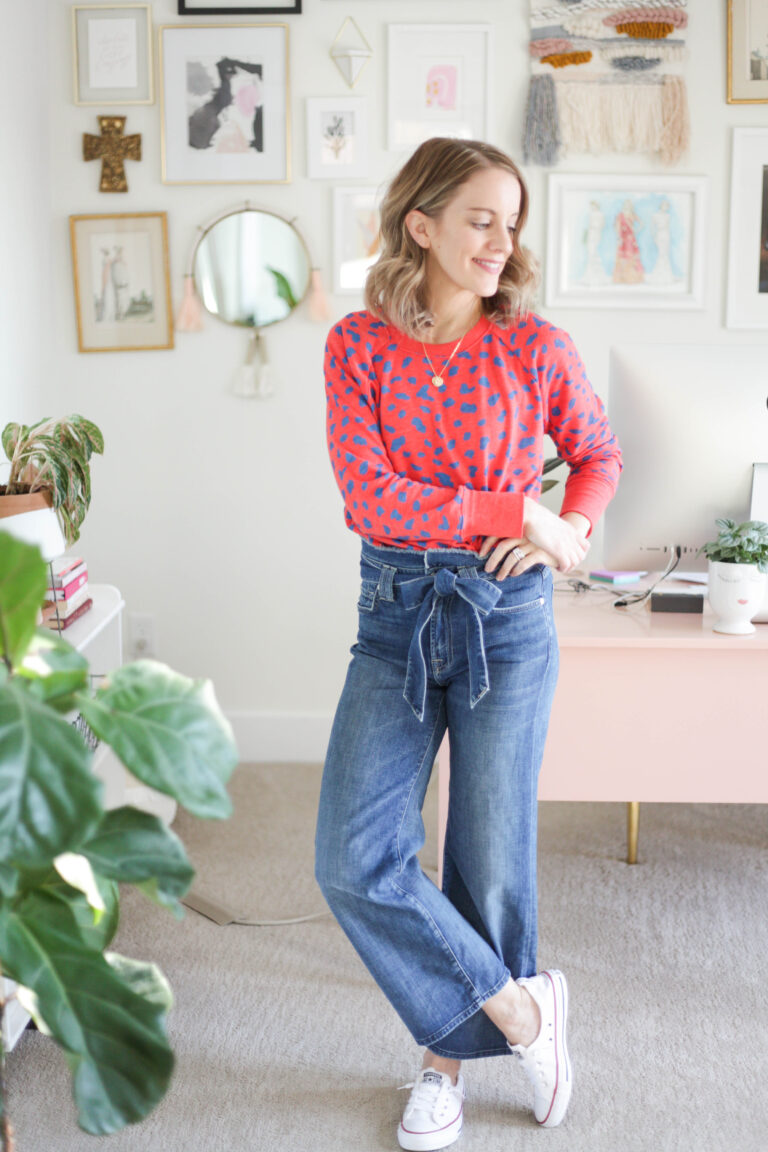 Pants | Sweatshirt | Shoes
You can't go wrong with a sweatshirt and jeans! I recommend wearing a sweatshirt that isn't too baggy in order to tuck it into your jeans.
I like this bright sweatshirt that is casual enough to feel cozy but pretty enough to feel put together. Pairing this with some converse all stars makes this outfit ready for wearing to the grocery store or out for a casual lunch with friends!
**Head to this post to learn how to clean white Converse sneakers!
Are paperbag pants in style in 2020?
Yes! One look around at stores or on Pinterest and you'll quickly see they are everywhere! They come in a variety of types from denim to wide leg to even athleisure style!
Shop Paper Bag Pants

Be sure to pin this for later!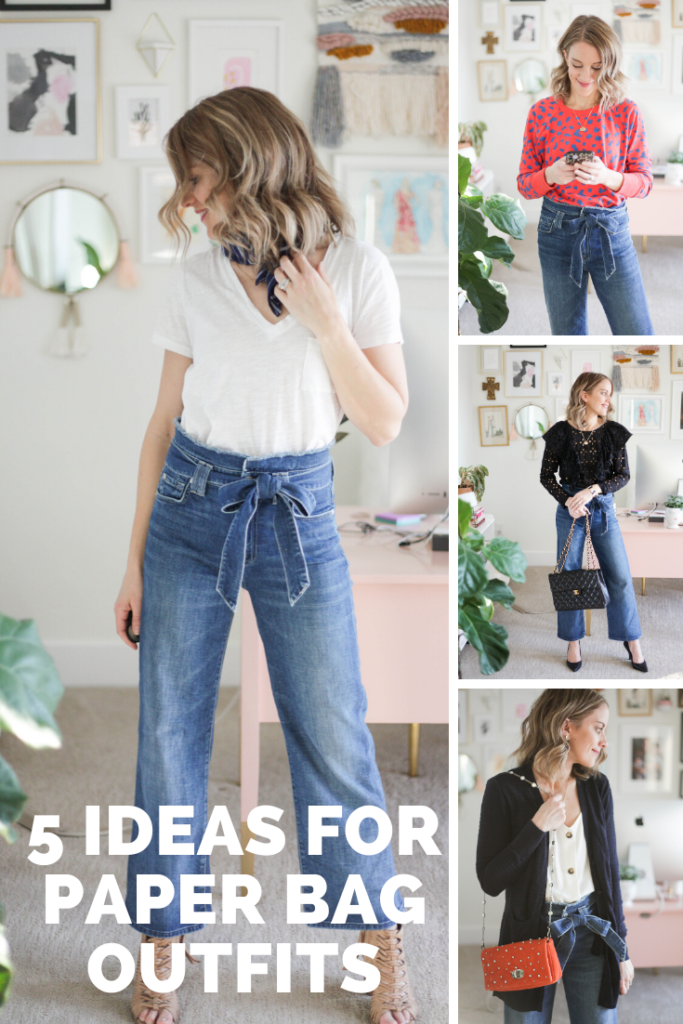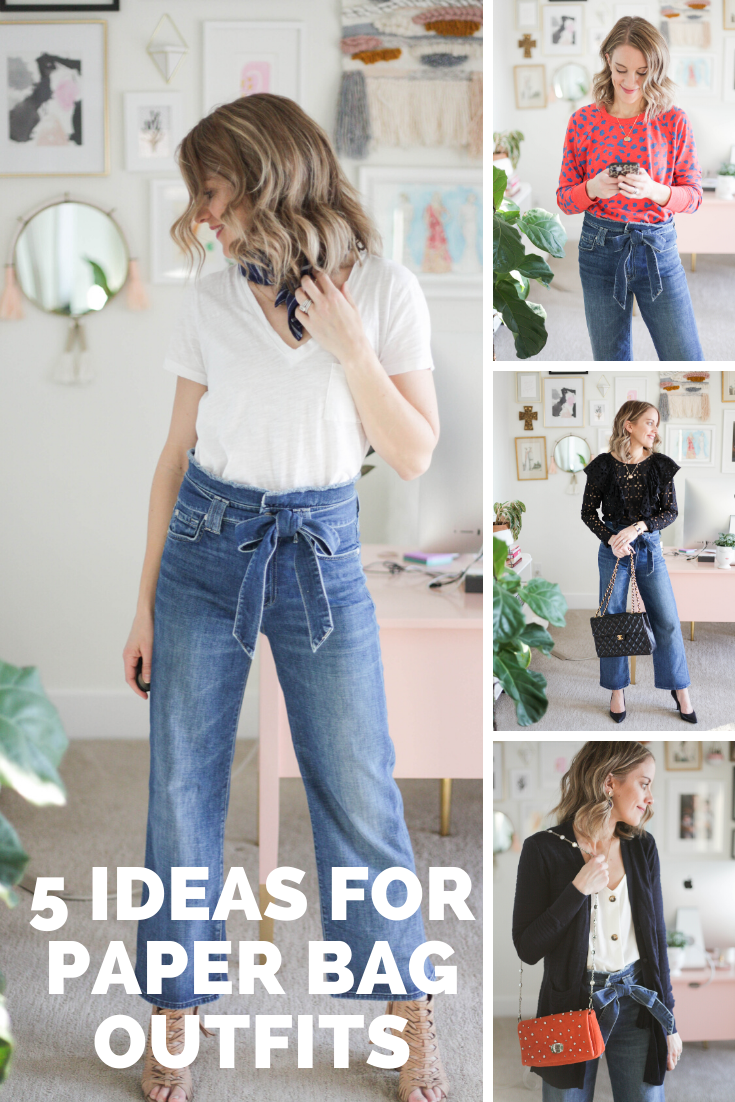 Be sure to head over to my 9 different ways to wear leggings for even more style tips! If you are looking for some fun ways to wear accessories, I have a video of 8 different ways to wear bandanas and 7 different ways to wear blanket scarves. Have fun making new outfits!