Blanket scarves are amazing – they're cozy, they keep you warm and they're stylish! But knowing how to wear a blanket scarf can be confusing. Especially for petite girls, you can feel like you're drowning in them if not wrapped correctly!
I have been wearing blanket scarves for years and here are a few of my favorite ways to style them.
First of all, what is a blanket scarf?
A blanket scarf is simply an oversize scarf, usually in the shape of a square. You can honestly just make your own by getting a large cut of flannel fabric and fraying the edges a little bit!
How to Wear A Blanket Scarf 7 Ways
Ok, one thing you're going to want to do before you get going is pin the image below. No joke! Even when I was shooting these I kept forgetting which styles I usually wore them in! Pin now, thank me later. 😉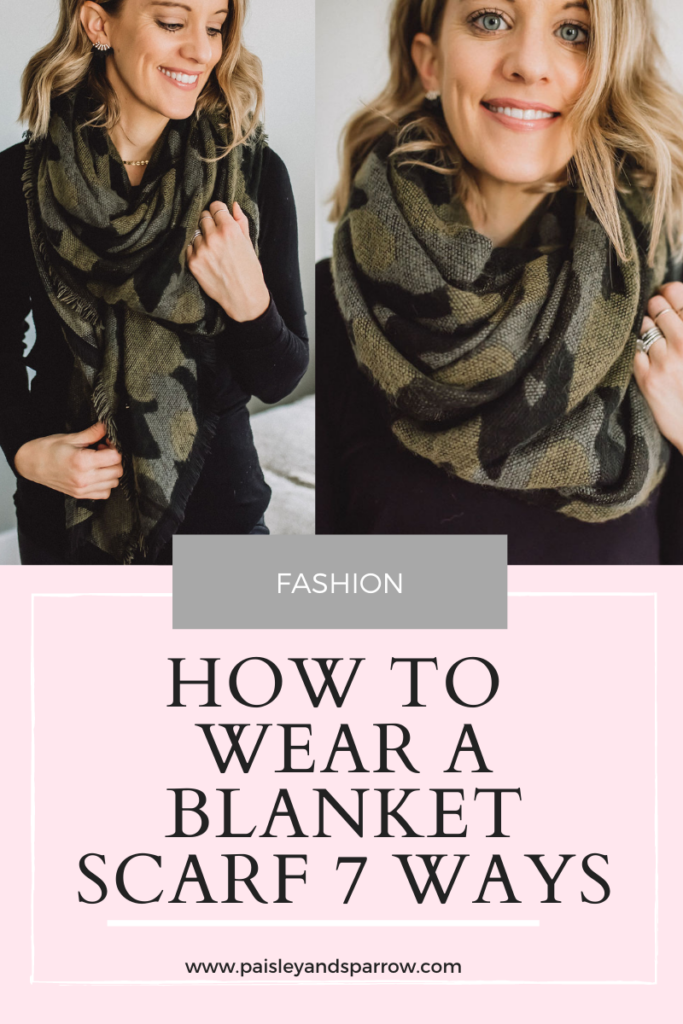 Please note: Paisley + Sparrow is a participant in the Amazon Services LLC Associates Program. This post may include affiliate links which means I may earn a small commission if you shop using the links below at no additional cost to you. 
1. Classic Scarf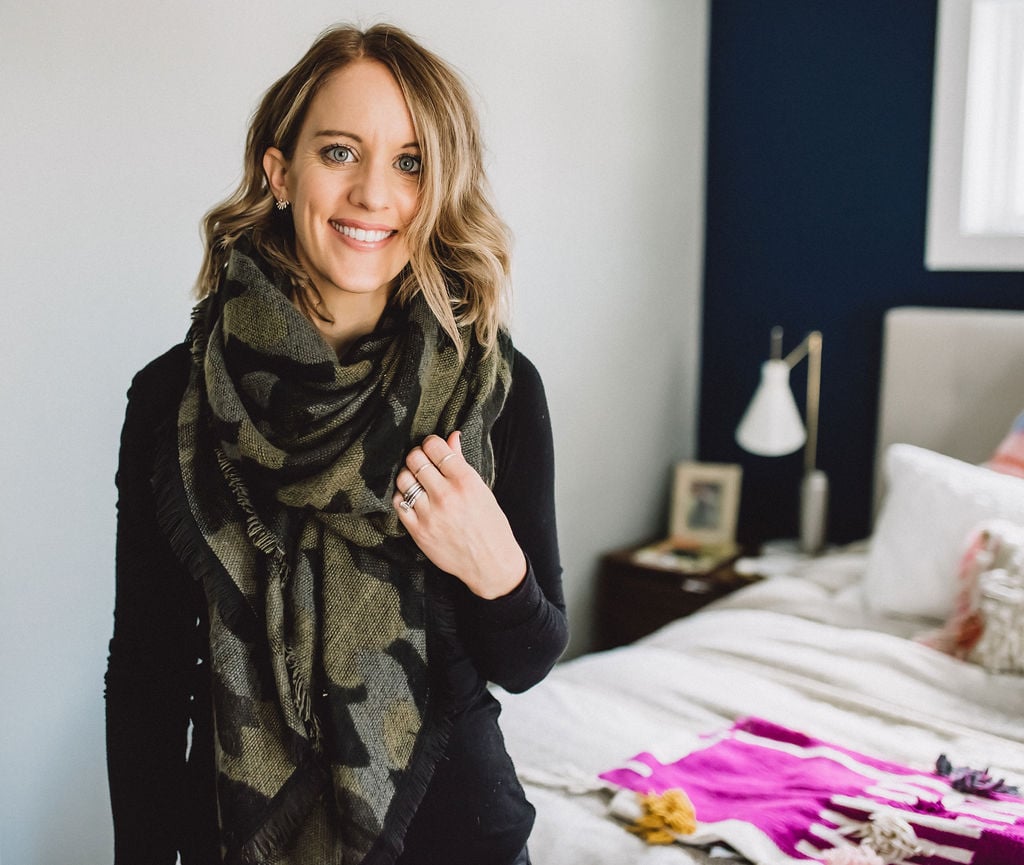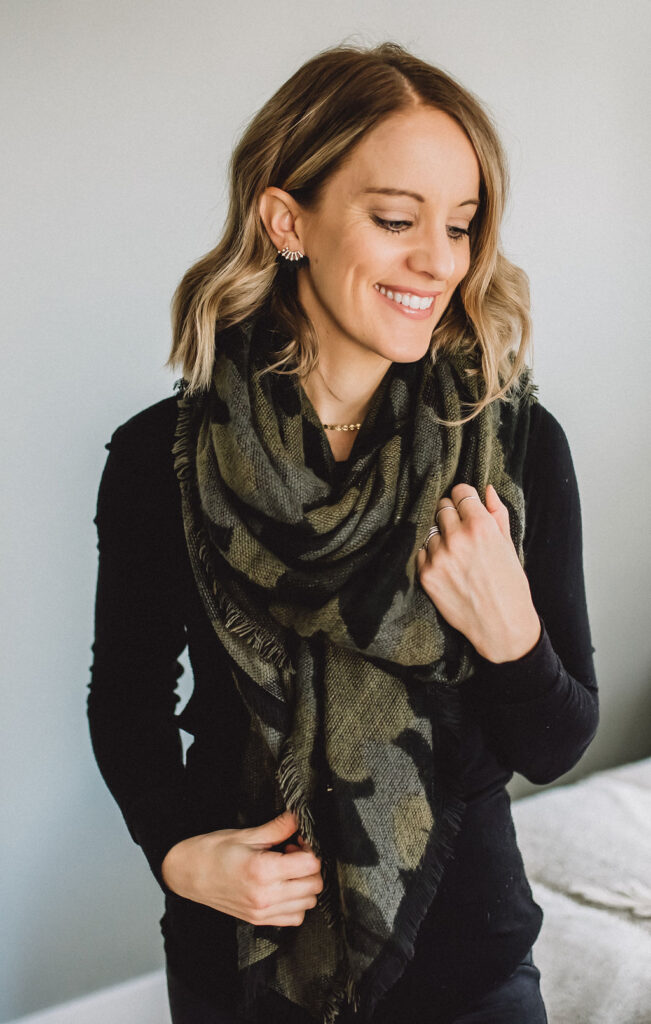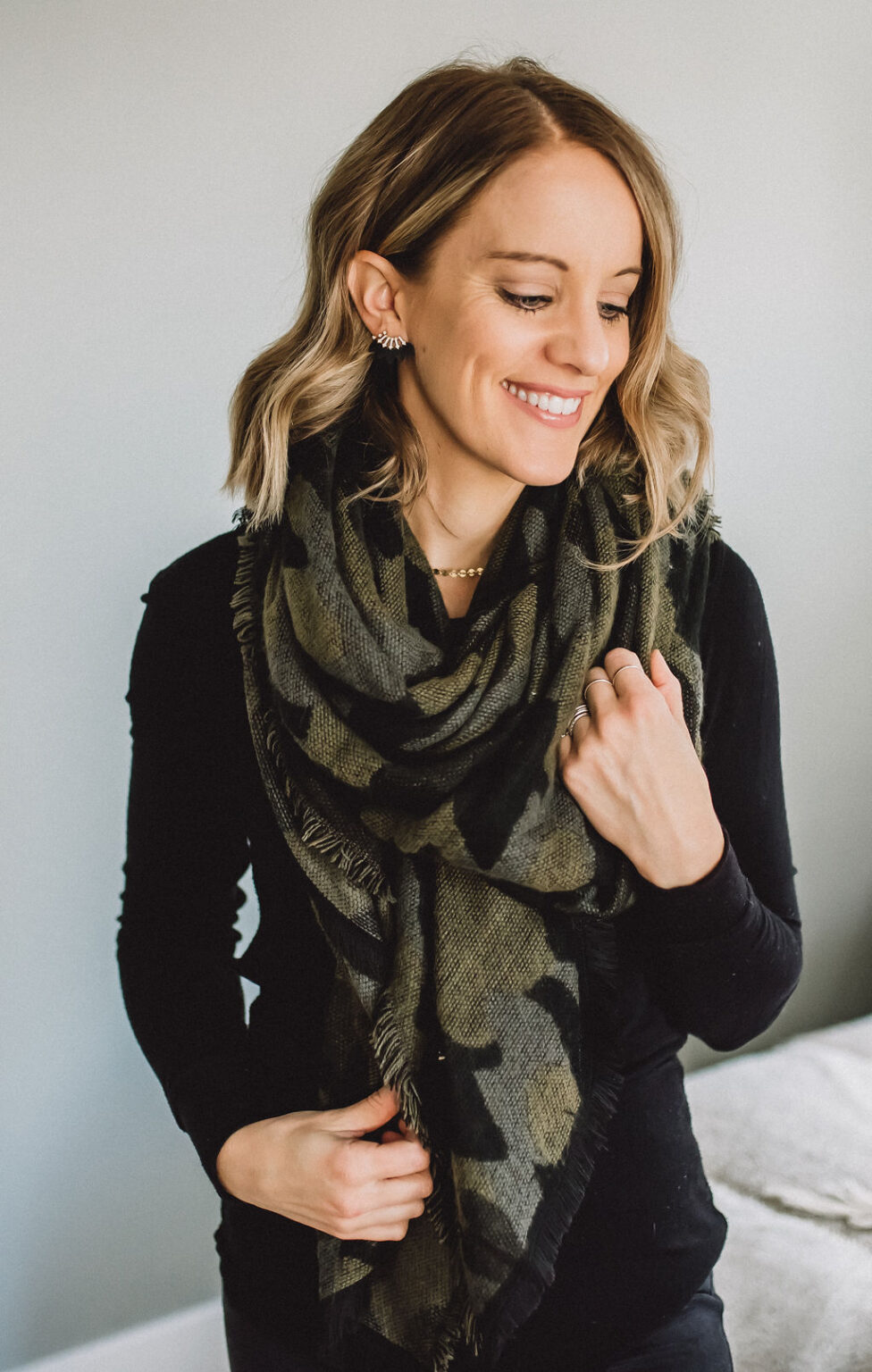 This is the simplest way to way a blanket scarf. Simply wrap it one time around your neck so the ends fall in the front. Pull the loop out away from your face to make it not overpower your face and not feel so "heavy".
2. Circle Style Scarf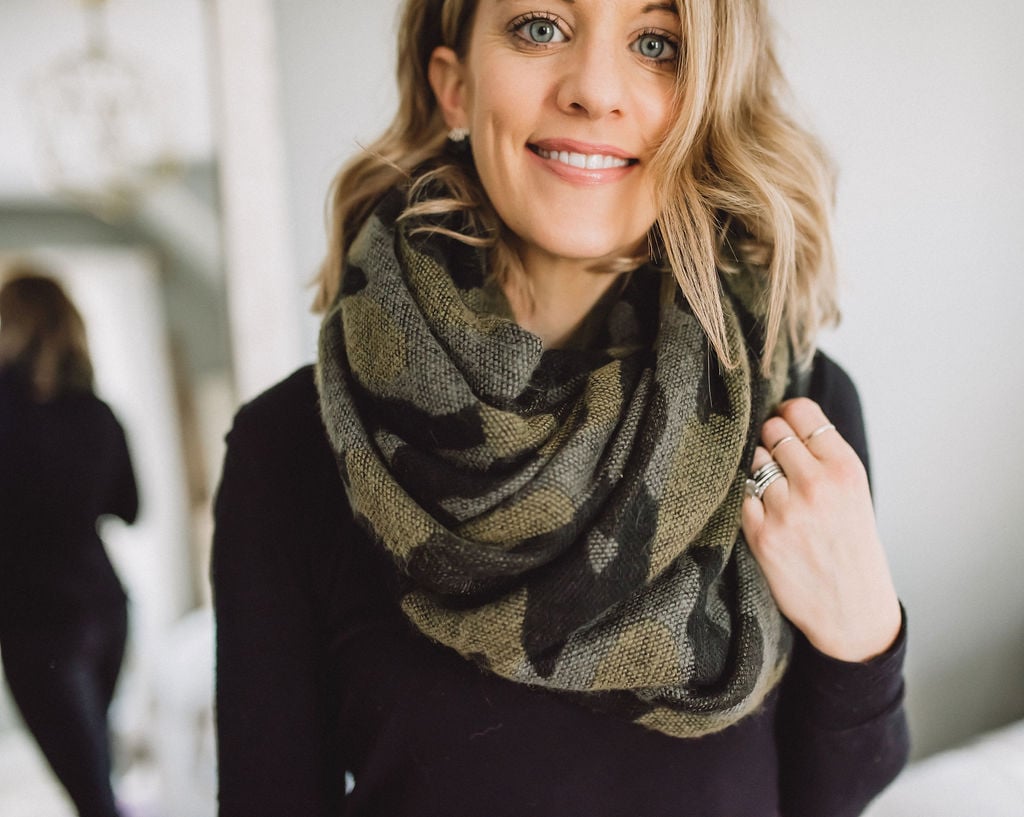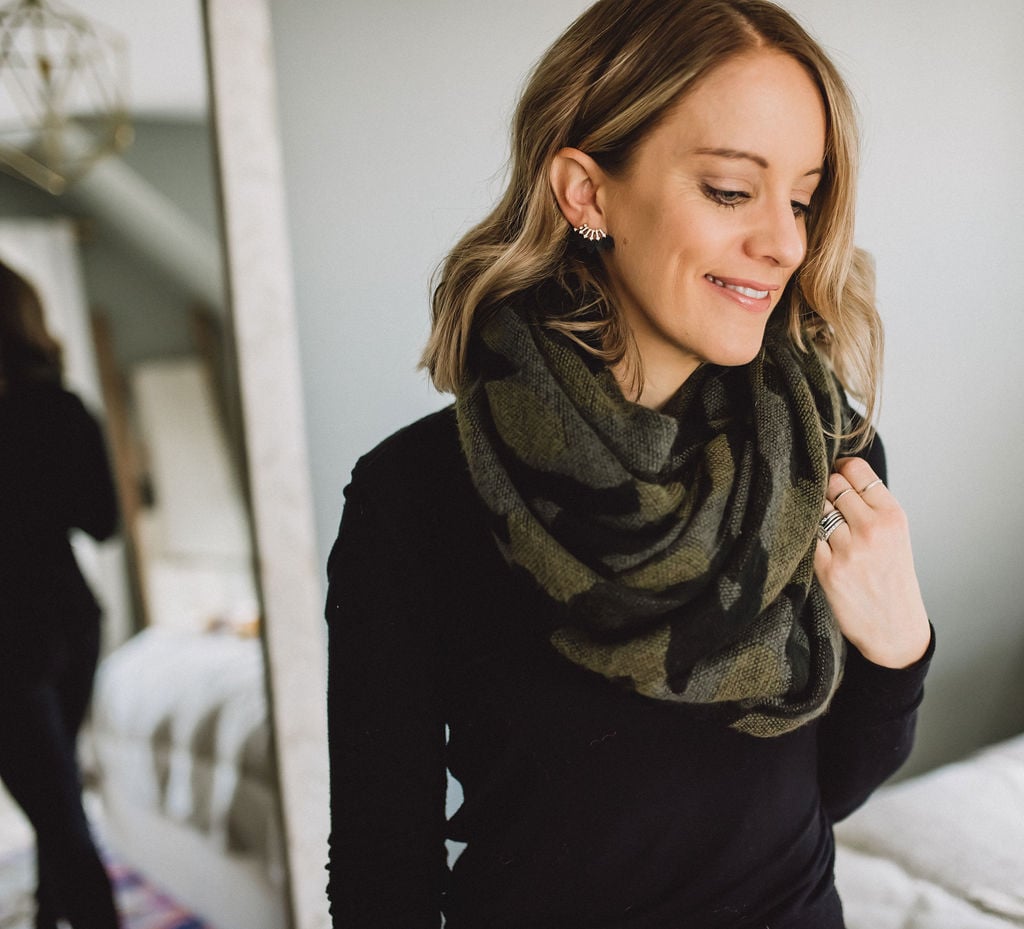 Start in the same style as number 1, but instead of letting the ends hang, wrap them around your head and tuck them up in. One tip is to tuck them up and fold the loop over the end of the scarf to keep it tucked in.
You could also use a safety pin to pin it to the loop to keep the ends tucked in!
3. Shawl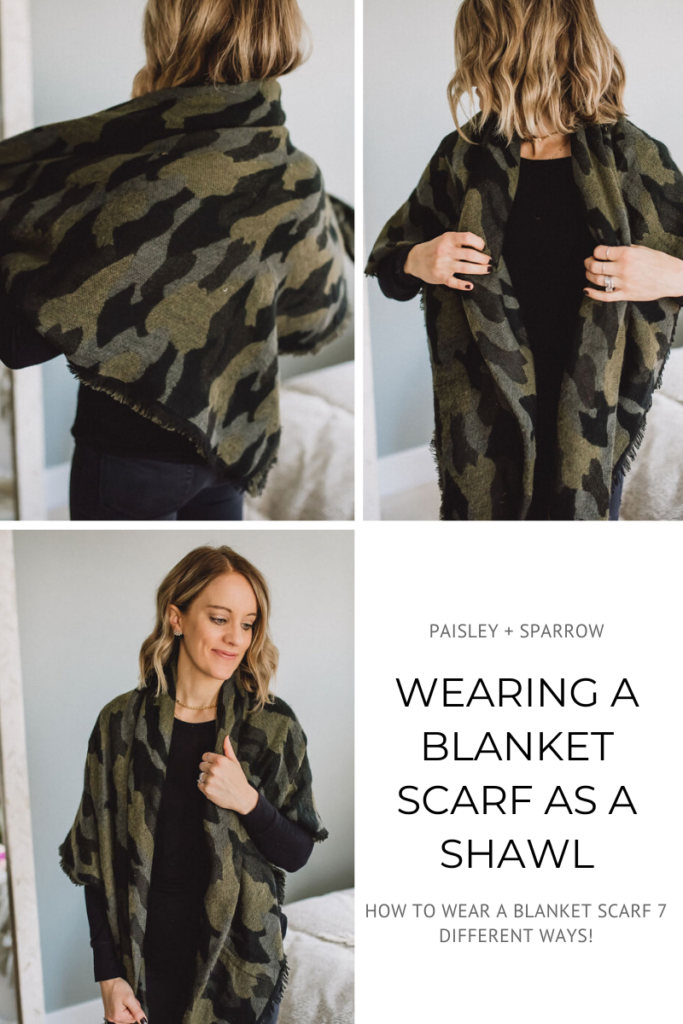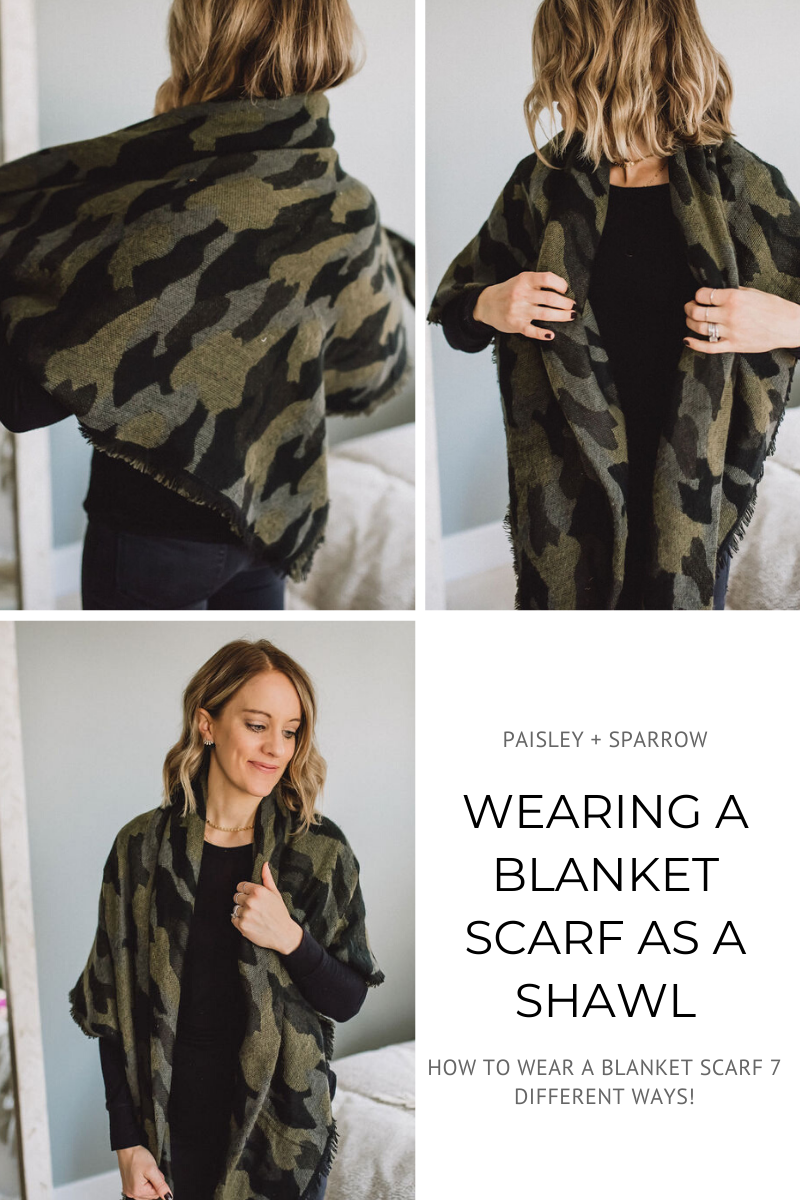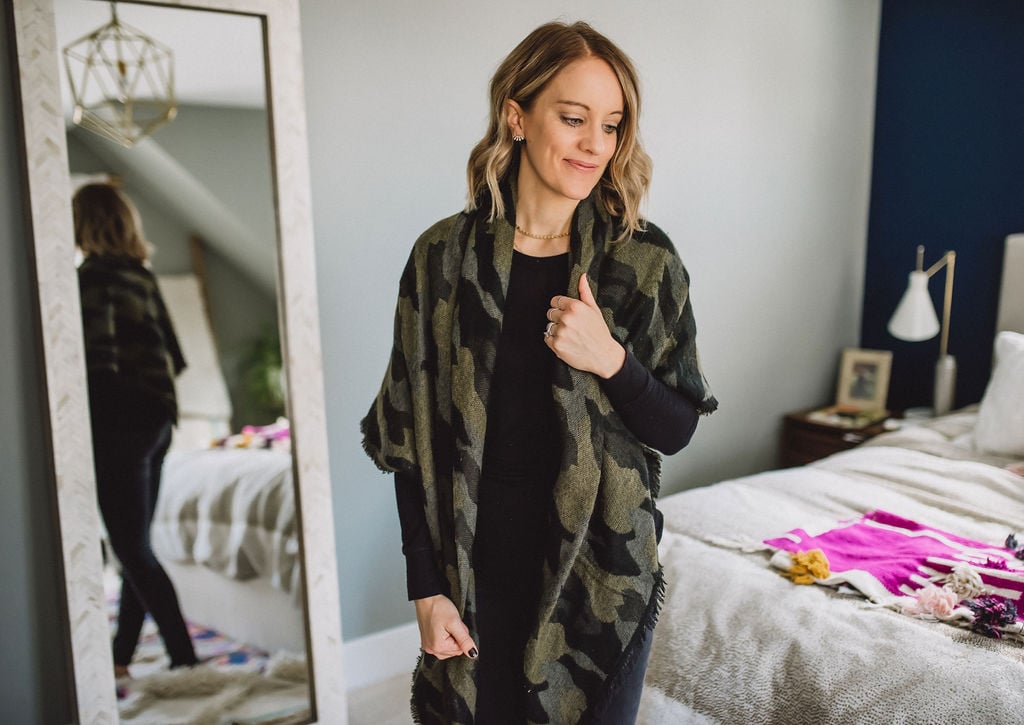 One of the easiest ways to wear a blanket scarf is as a shawl! Simply fold it in half so if forms a triangle. Have the point where the 2 ends meet facing down towards your butt against your back (as shown above) and allow the ends to drape in the front.
This ideal for when you're out and about and putting a blanket scarf on. It keeps you warm and cozy but you don't necessarily need a mirror to make sure it looks ok!
4. Belted Shawl Scarf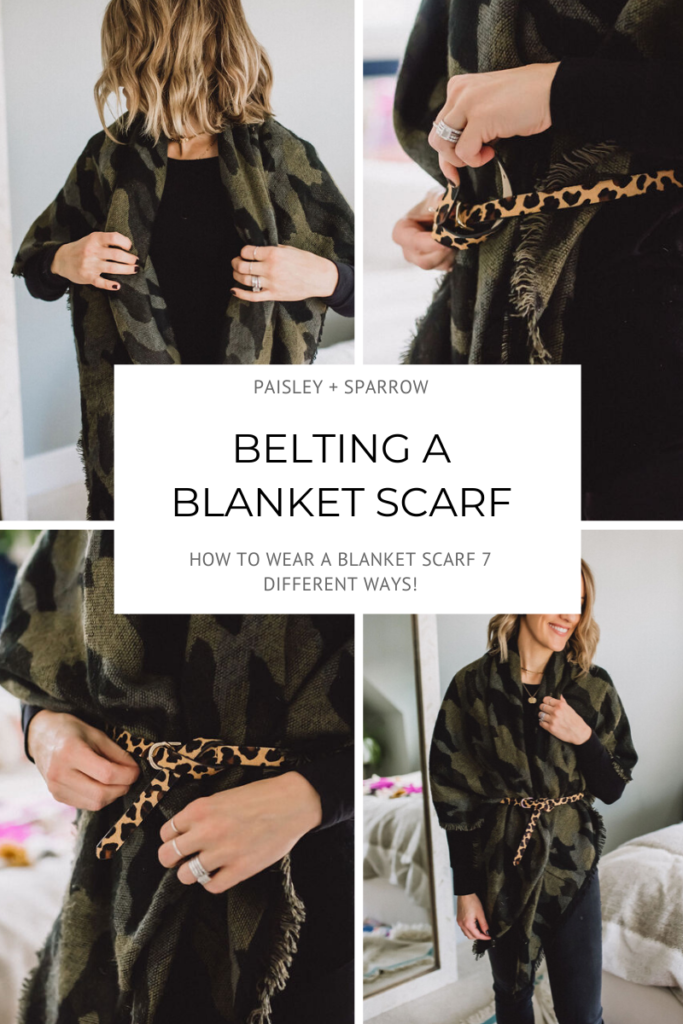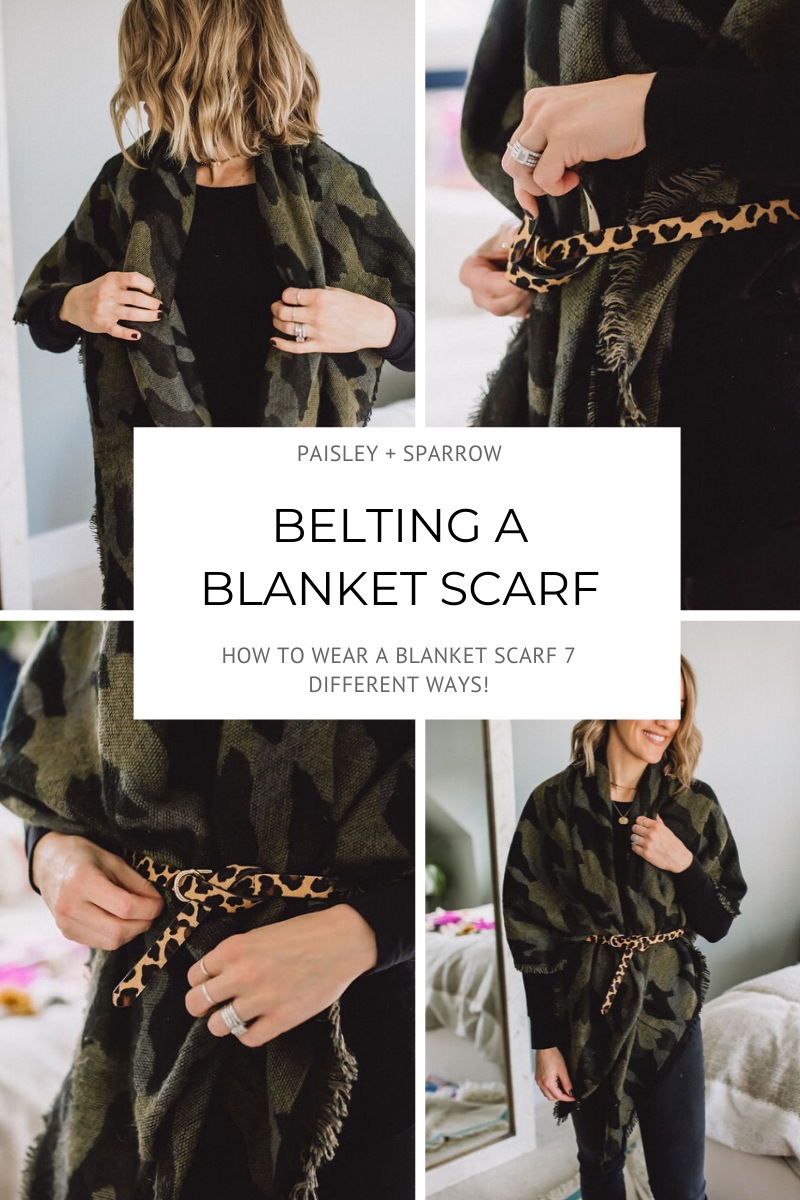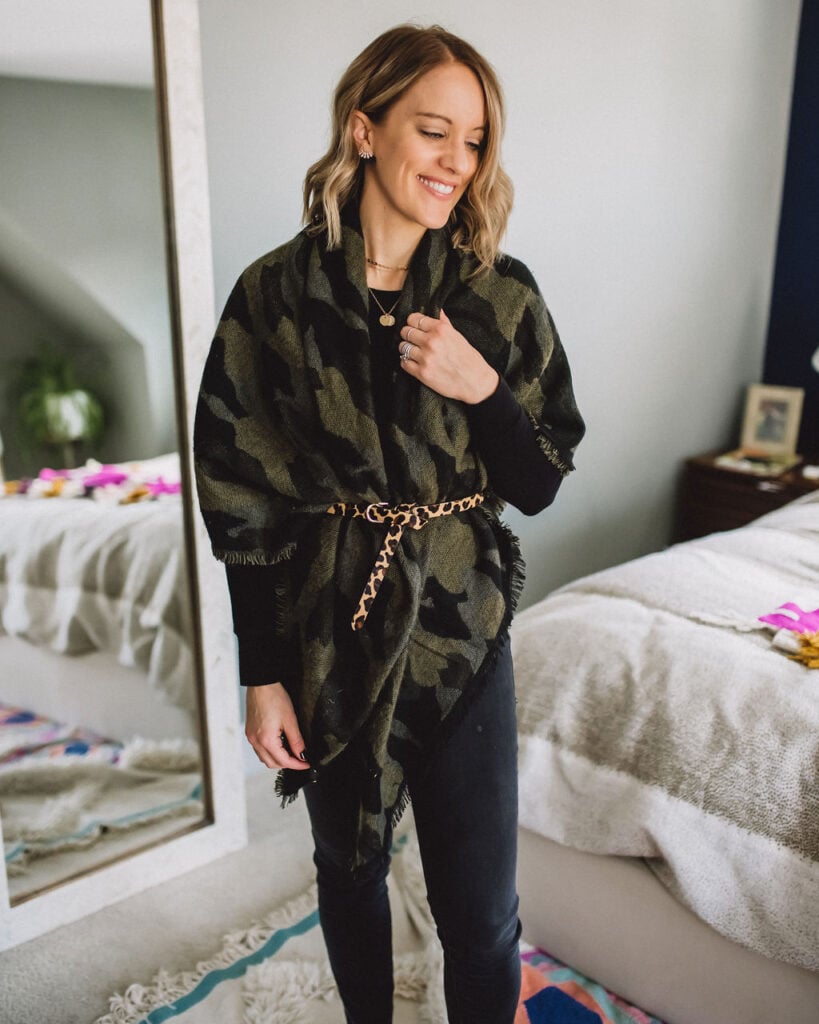 Expanding on the shawl style, add a belt! Wrap your belt around the smallest point of your waist to add some definition and keep your blanket scarf close to your body.
You can wear your belt the regular way or loop it closed. I love to loop my belts when I wear them over my clothes rather than using them the traditional way. All you need to do is wrap the end of the belt behind the belt and tuck it into itself, pulling it tight.
Using a printed (cheetah or leopard are fun!) belt or a fun, different color can completely transform your outfit!
5. Reverse Loop Scarf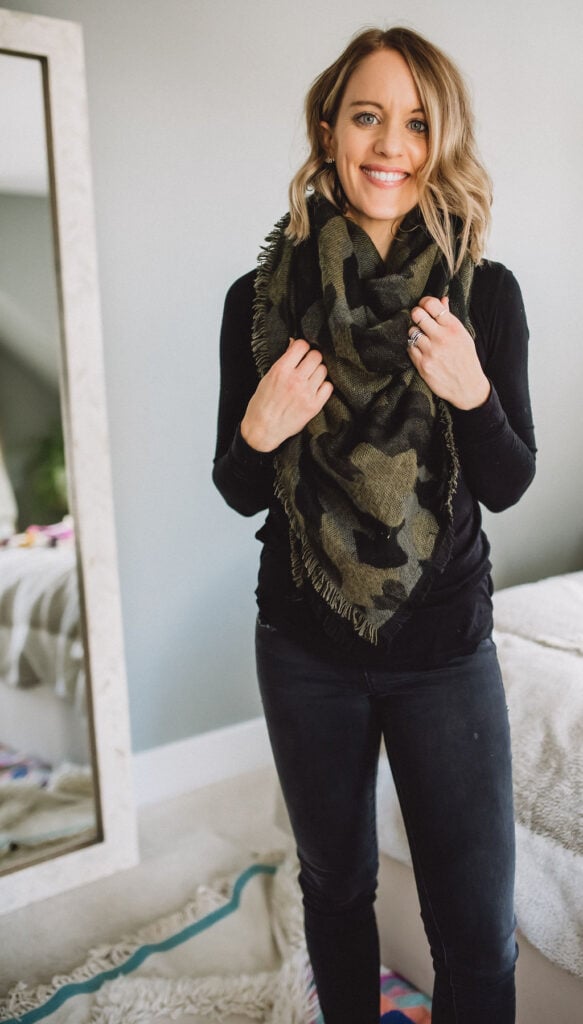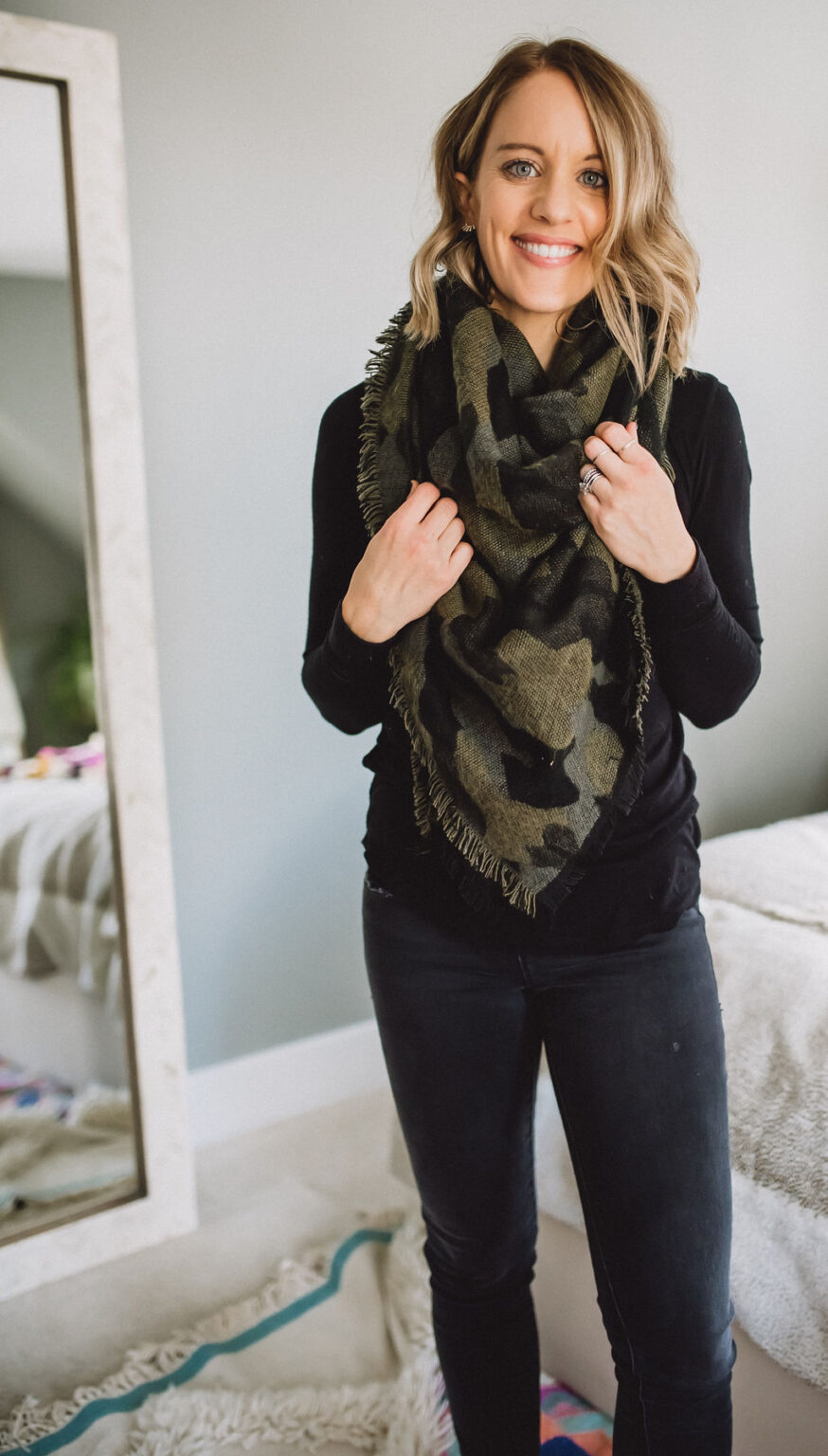 This is my go to way for wearing a blanket scarf. Start with your scarf folded like you would for a shawl. Rather than having the point in the back, put it in the front.
Next wrap the ends behind your neck so the come out in the front of your body. Simply tuck them (or knot them together) under the front of your scarf!
6. The Toss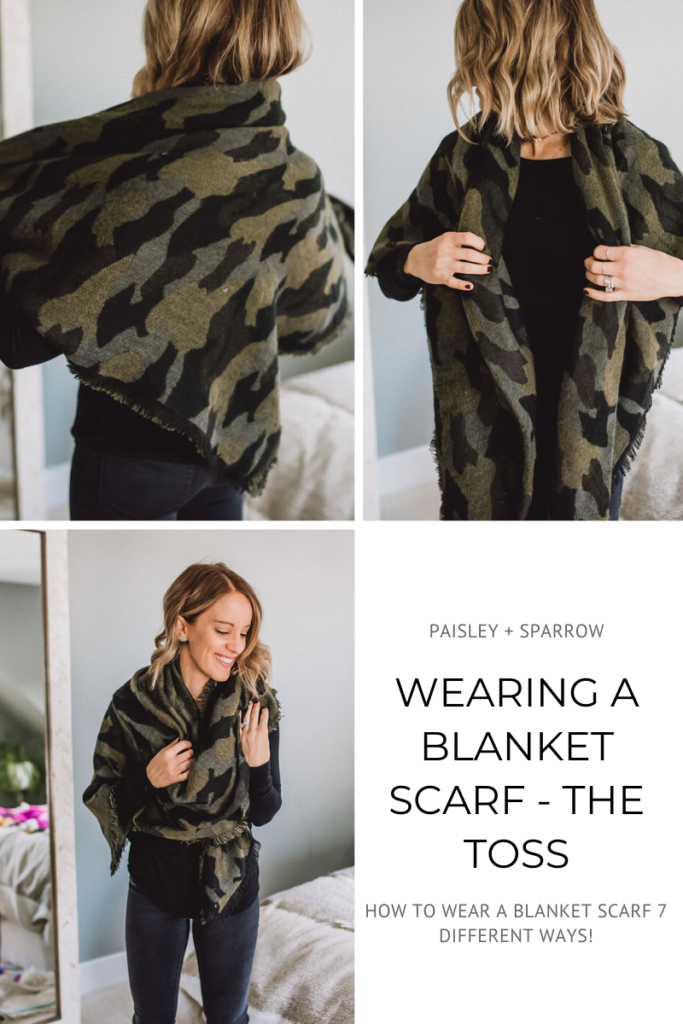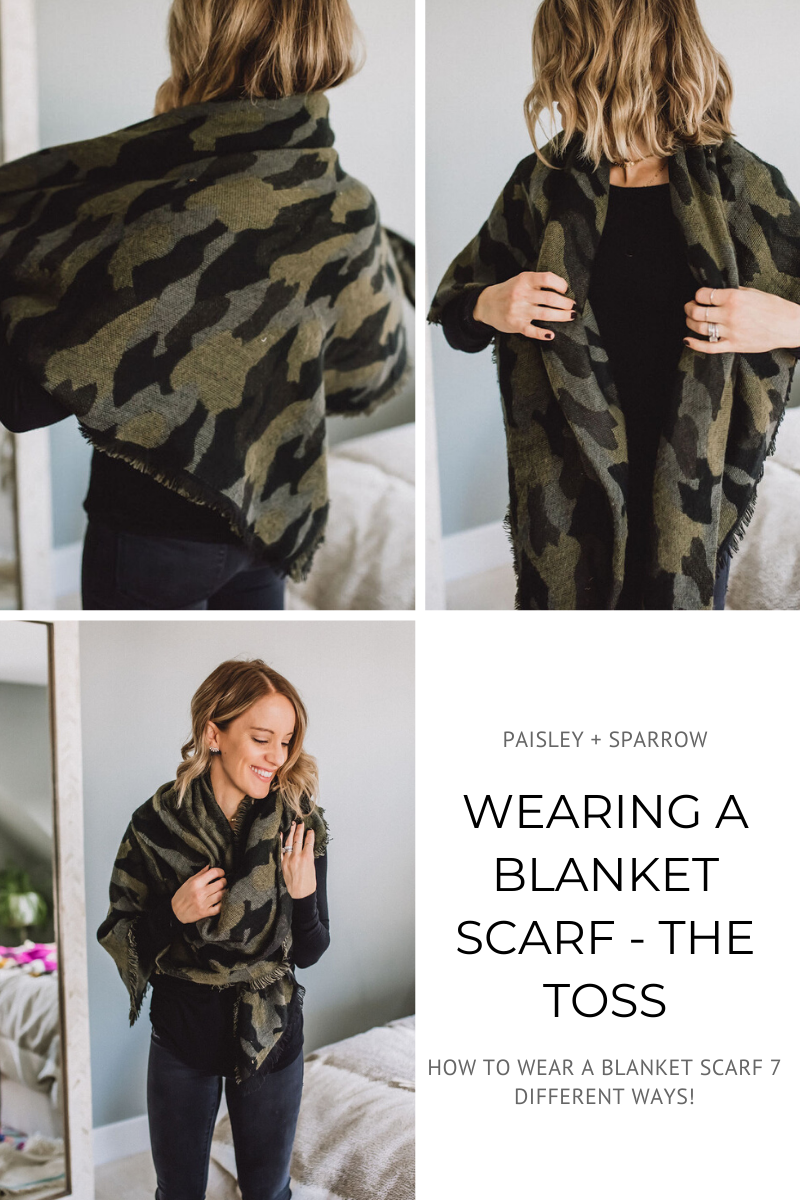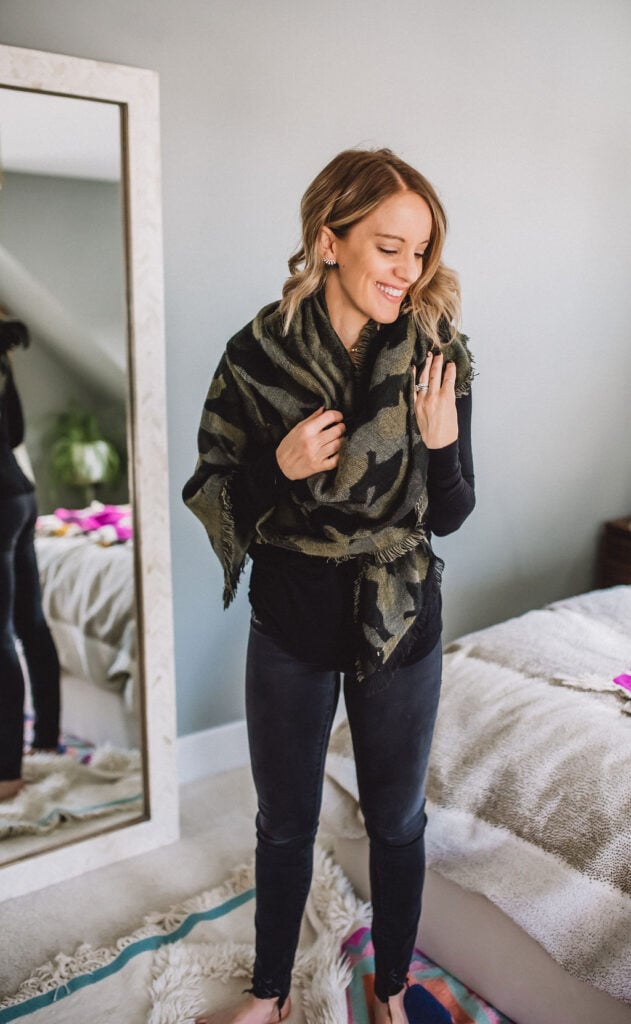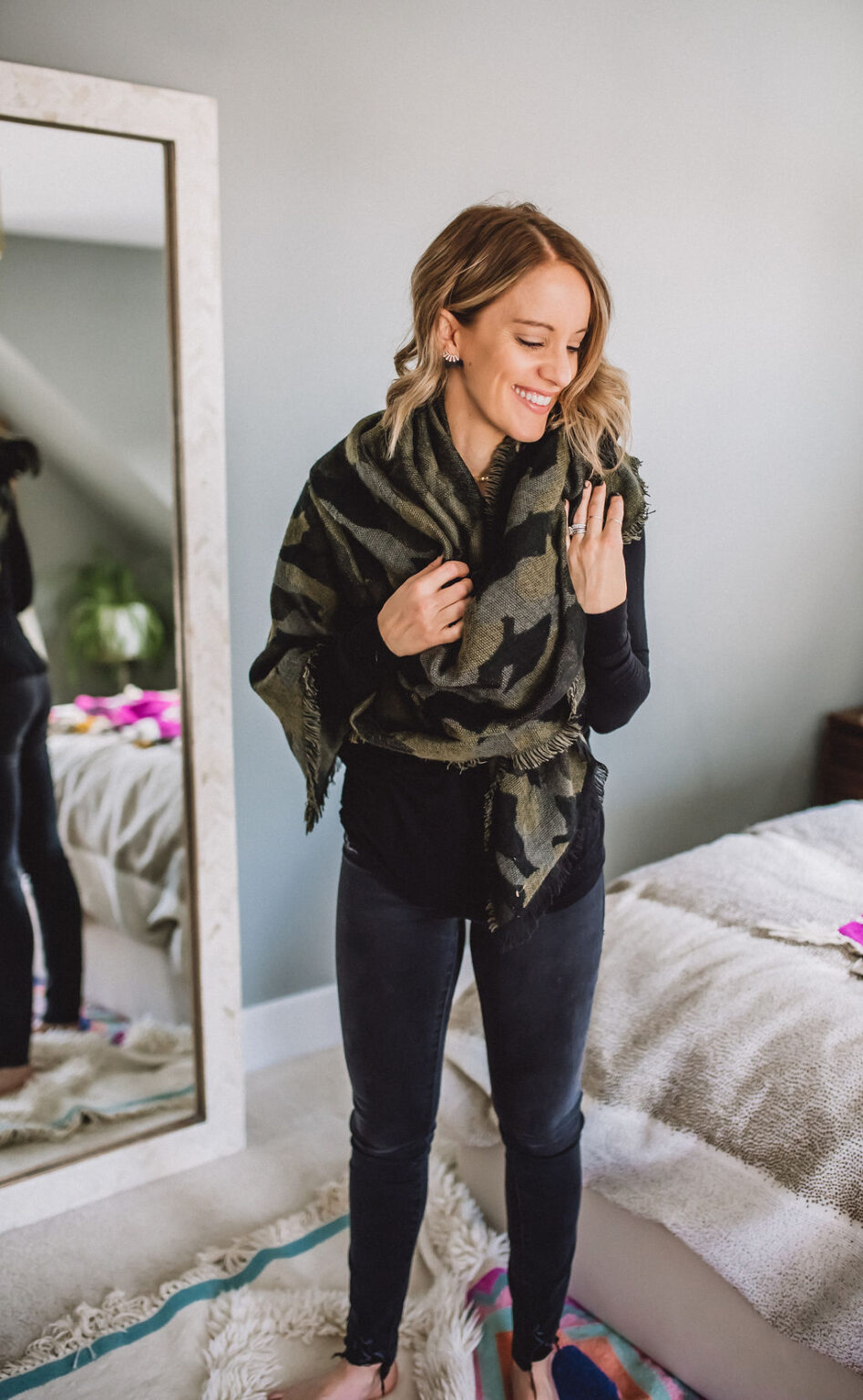 We jokingly call this the "preschool drop off". You're running out of the house and realize it's a bit too chilly for a single layer of clothes so you just toss on the blanket scarf.
This is another super easy way to wear it! Put it on as you would the shawl (folded into a triangle with the middle point on your back). Take the end of the othe oss one of the ends over the opposite shoulder!
7. Knotted Scarf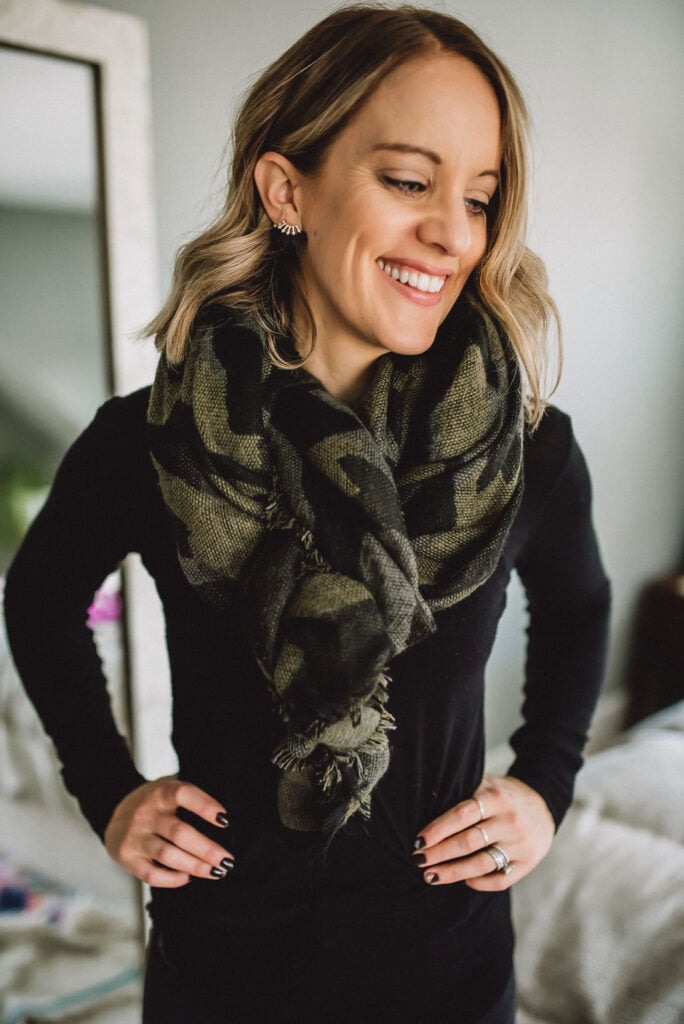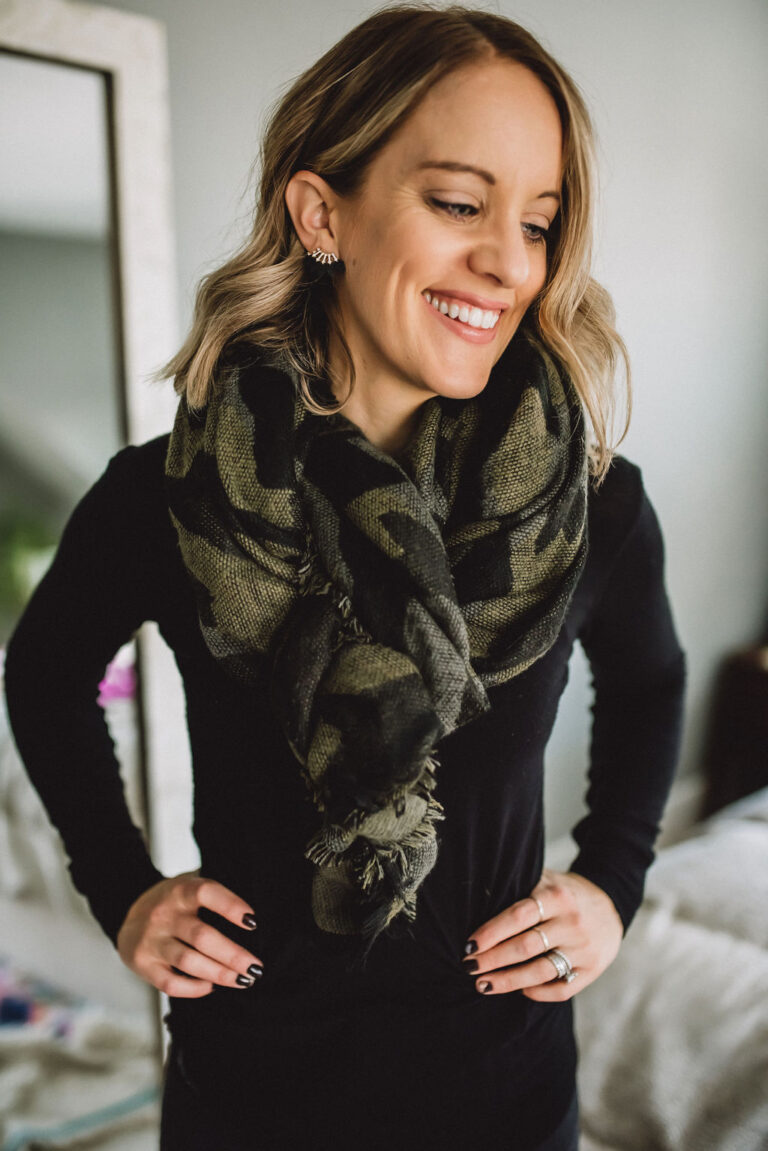 Earrings are Stella and Dot | Necklace is Lissa and Nate
This is the most complex of all ways and I forgot to document the process! A video will be up soon but here's how you do this one:
Start in the reverse loop. Twist the front once to make a hole and put one end through the hole from the front. Take the other end and pull it out from underneath. Bring both ends under the tip of the front and knot them together.
And there you go! 7 ways to wear a blanket scarf! I hope this helps!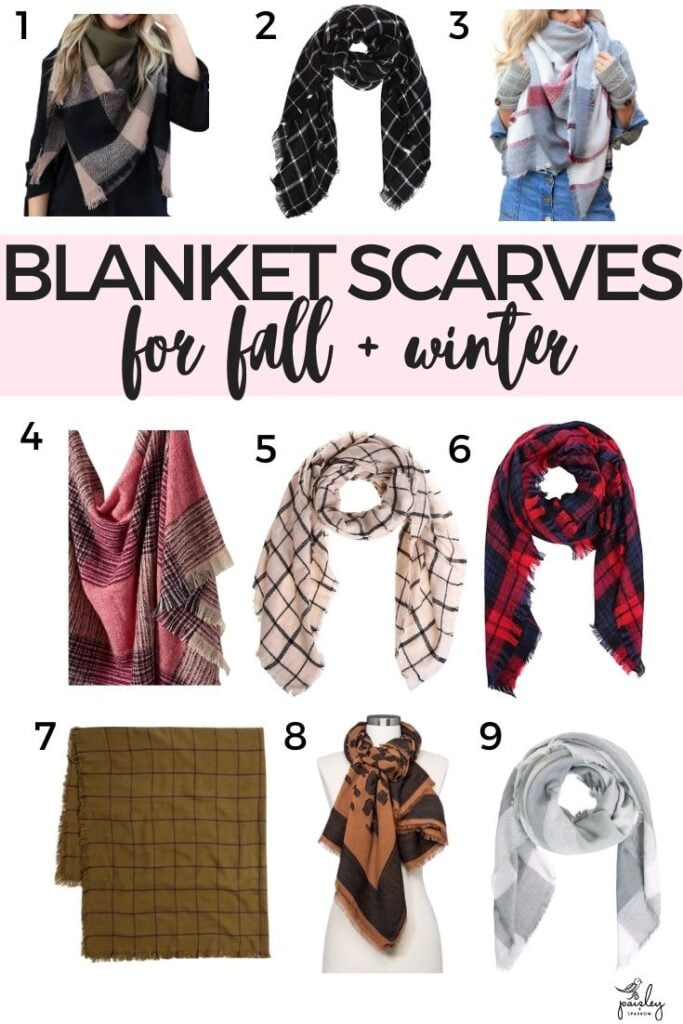 My scarf is old from Anthropologie but here's a few of my favorite scarves that I've found recently!
Be sure to head over to my 9 different ways to wear leggings for even more style tips!