Riding boots are back in style! If you're looking for new ways to wear riding boots that doesn't involve riding a horse, stick around!
I picked up a new pair of boots from Schuler Shoes, my favorite local shoe store here in MN. They're a family owned shoe store that's been a family favorite shoe store for years.
Schuler Shoes is full of amazing shoes and boots from snow boots and running shoes to fashion boots and lifestyle sneakers to loafers and slippers! They're running a sale on boots right now where you can get boots for 15% off. Be sure to check them out!
Now on to how to style therm. Here's 8 fresh ways to wear them.
8 Ways to Wear Riding Boots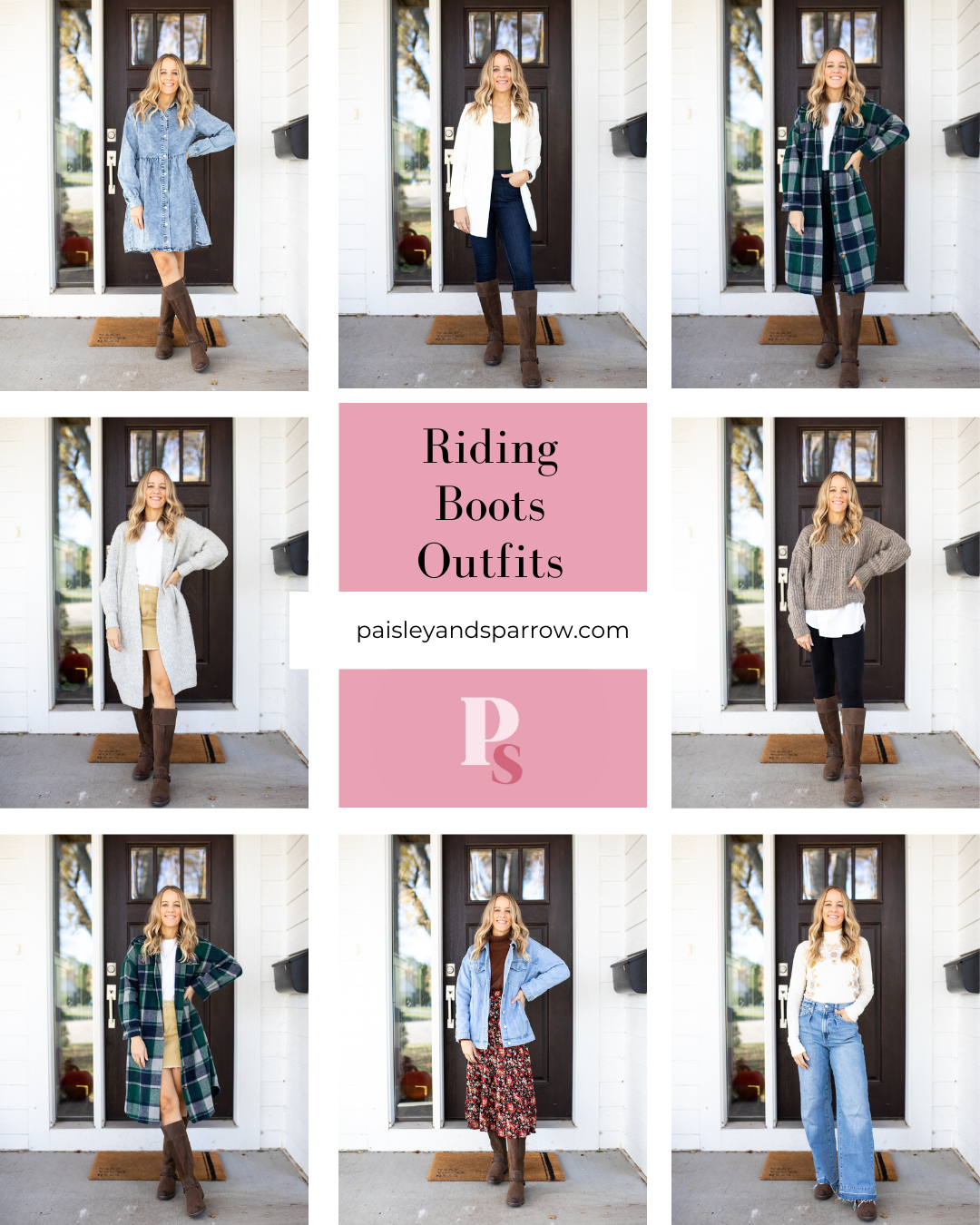 This post contains affiliate links.
1. With a Chambray Dress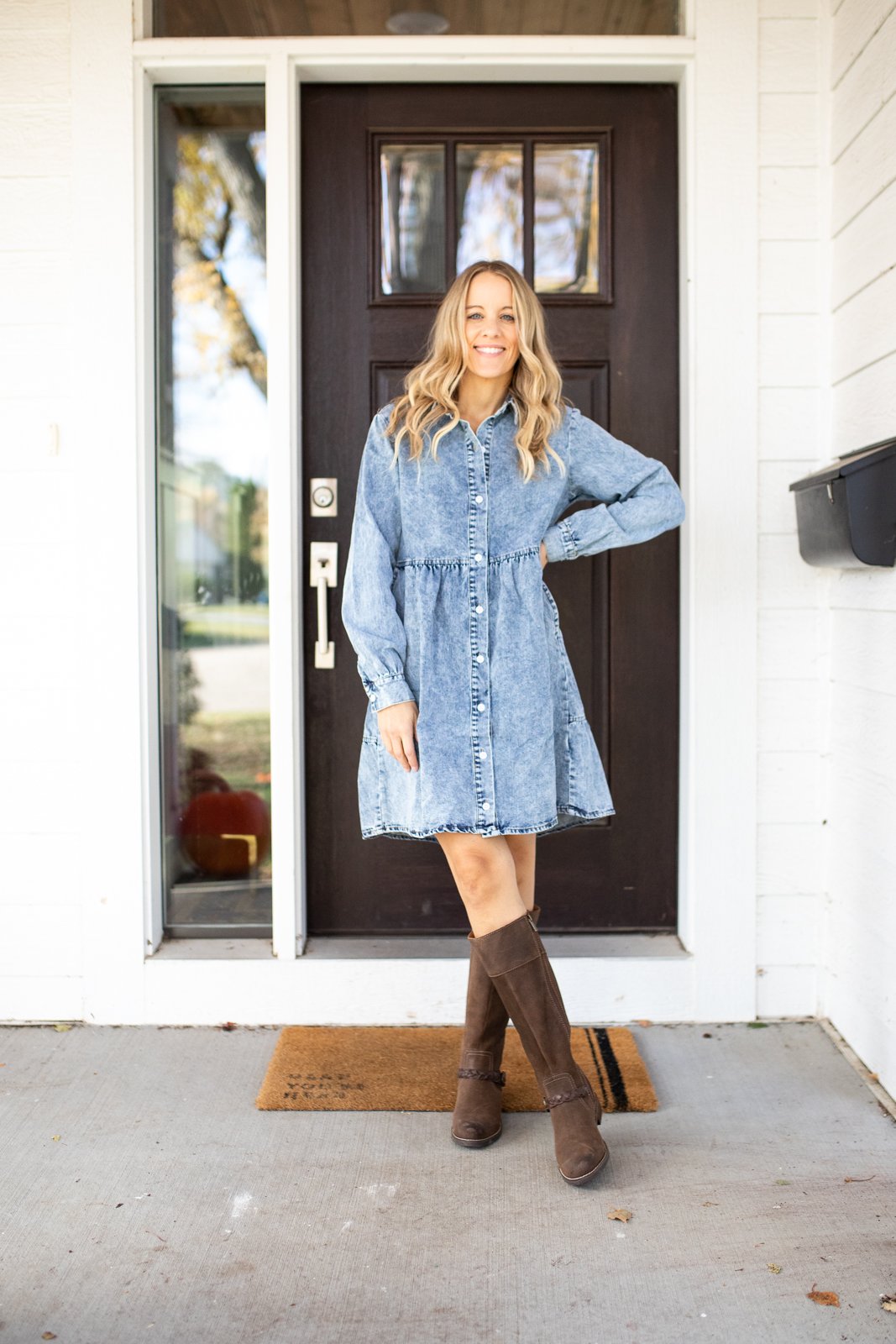 This feels like a classic and timeless pairing if you ask me. Chambray and riding boots feels very western and very on brand for this type of look! Whether it's a night out at the rodeo, a country concert or just a date night with the hubs, this is a fun yet simple look!
2. Skinny Jeans and Oversized Sweater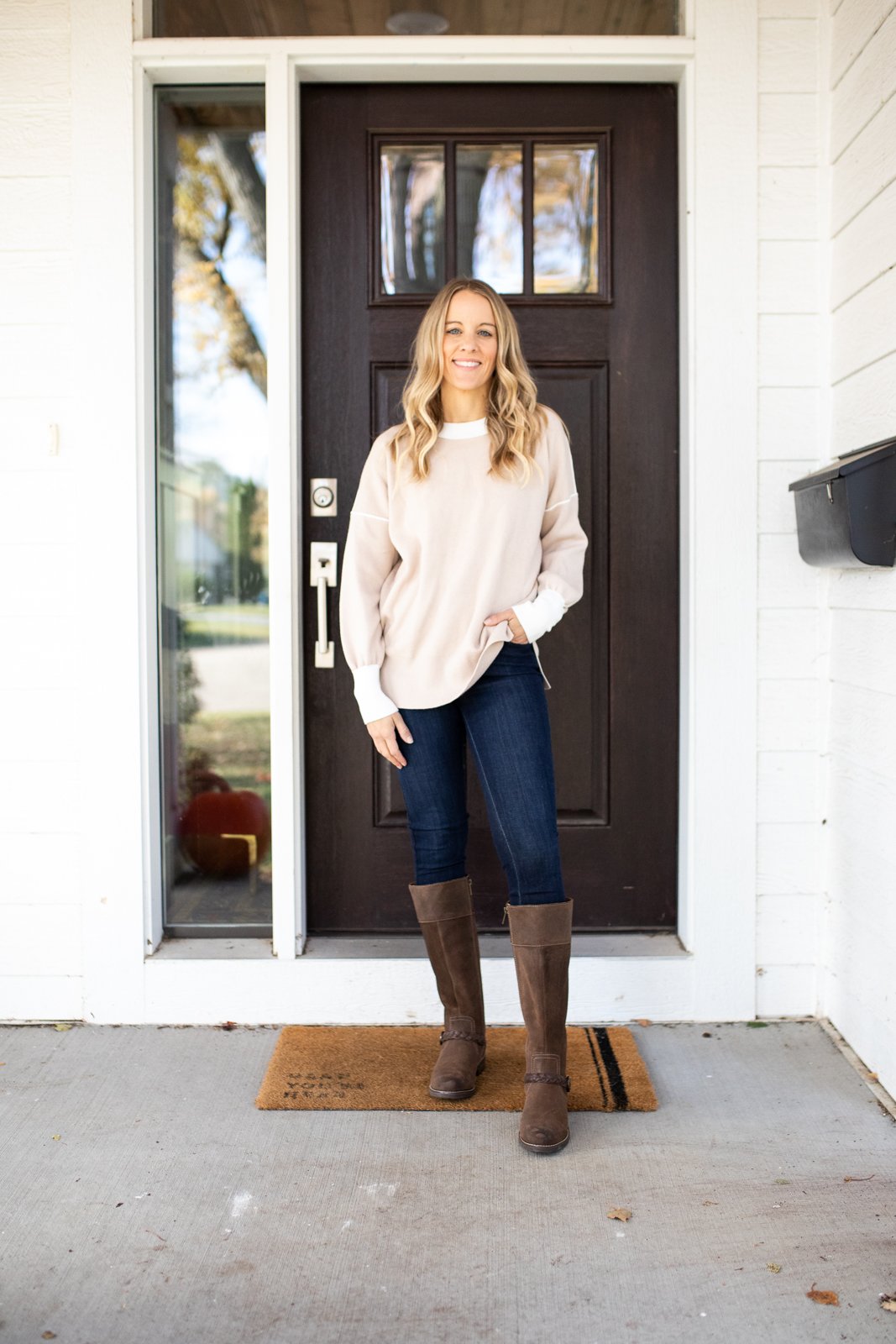 Shop the Look: Skinny Jane Jeans | Sweater | Boots
Skinny jeans are the easiest jeans to pair with a riding boot. Straight leg jeans or boyfriend cut can be really hard to wear either over OR under but a skinny allows your boots to easily sit right on top of the jean.
I kept it simple with a neutral oversized sweater in a light tan that compliments the brown boots.
3. With Leggings and a Layered Sweater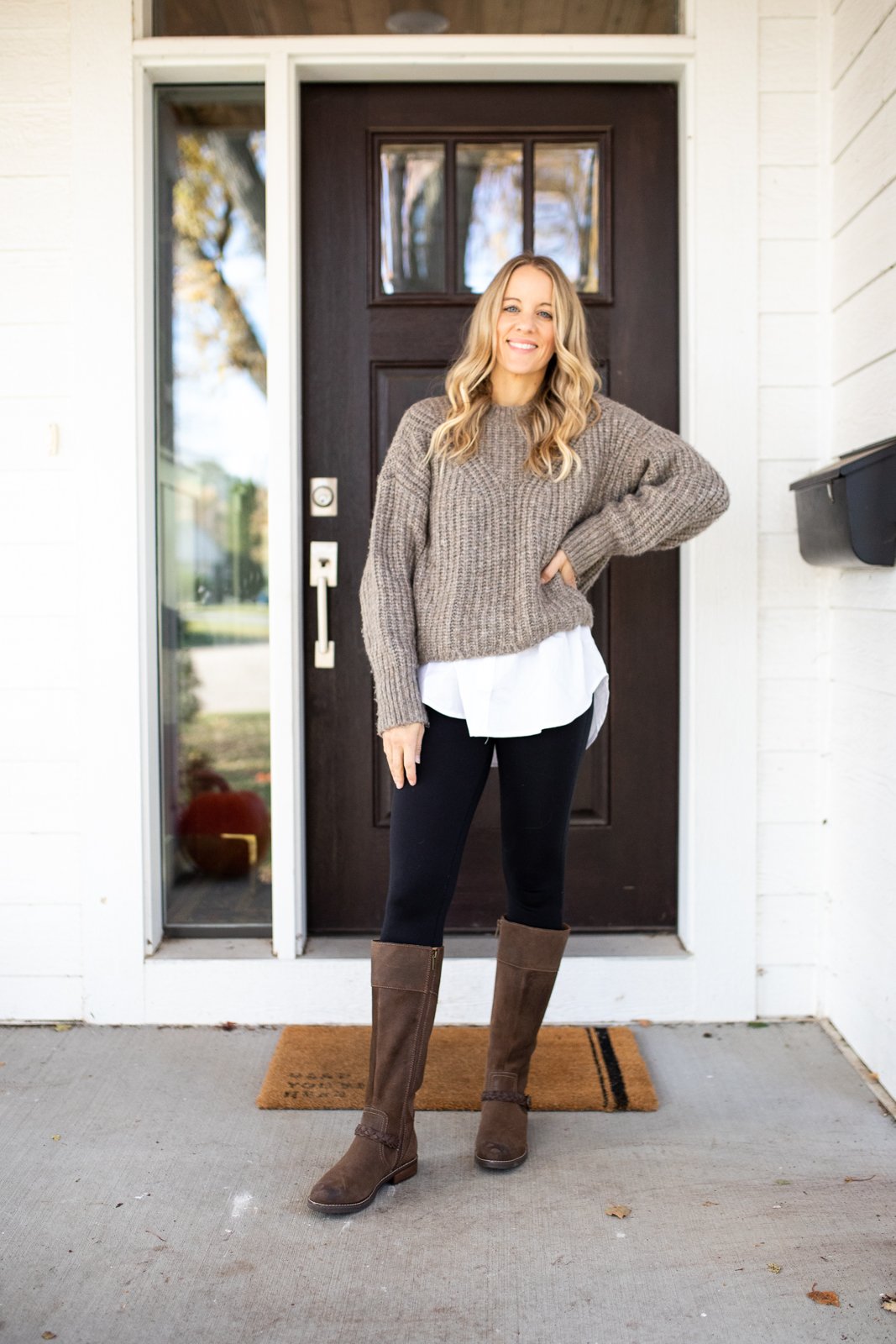 Shop the Look: Leggings | Faux Button Down | Boots
If you want something even eaiser than skinny jeans, throw on a pair of leggings! These are actually fleece lined which are perfect for colder weather. And while this looks like an oversized white button down it's actually just a faux oversized button down! It's actually basically just a skirt that you wear at your waist. It is SO easy to wear!
4. With Wide Leg Pants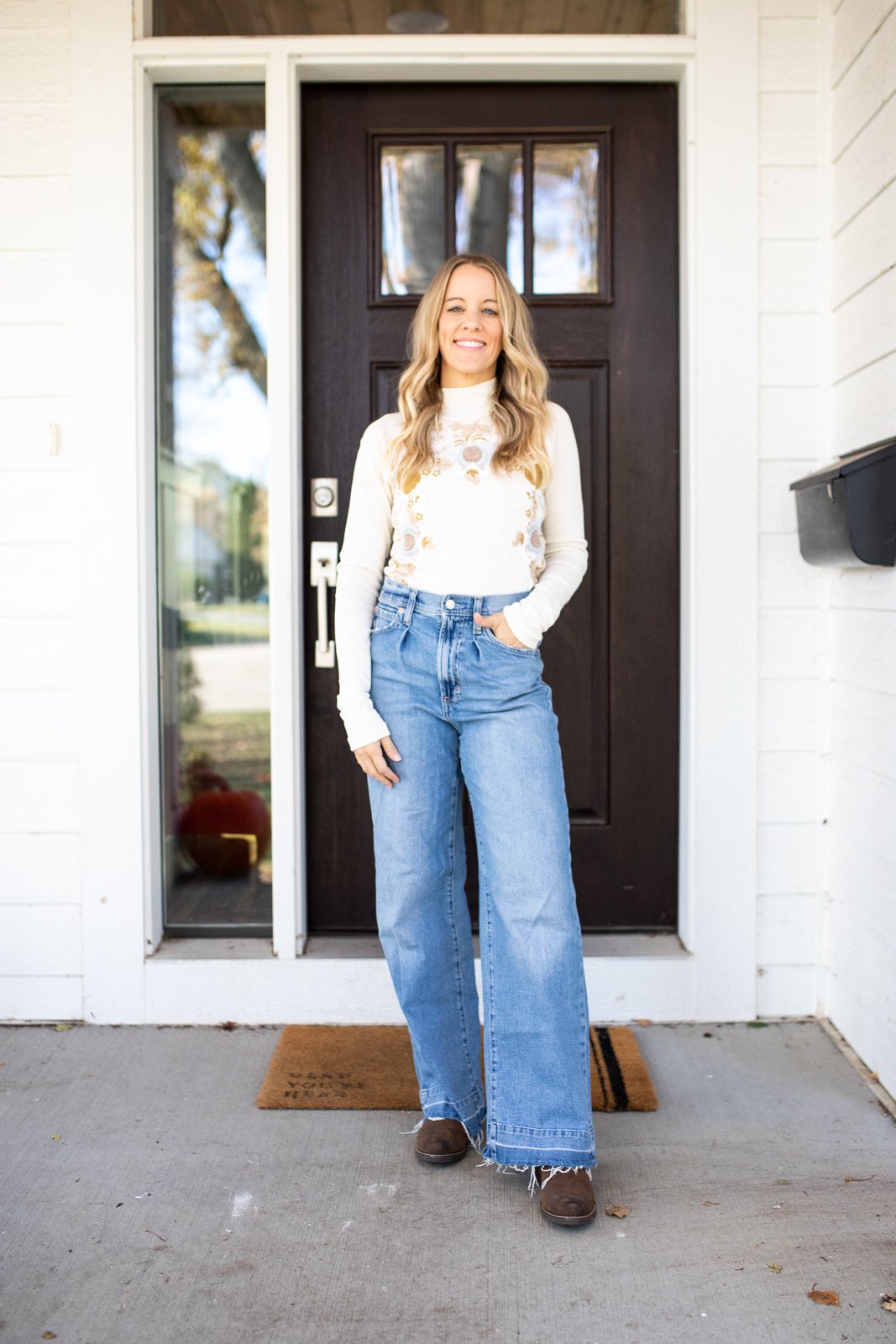 As mentioned earlier, jeans can be difficult to wear with riding boots. If you do want to wear a jean underneath your jeans, opt for a wide leg pair! These work perfectly because you don't see any bunching under your jeans and it's super comfy.
When I wear wide leg jeans I usually pair it with a slim fit top so I don't look too wide all over, especially since I'm only 5'3″!
5. With a Mini Skirt and Cardigan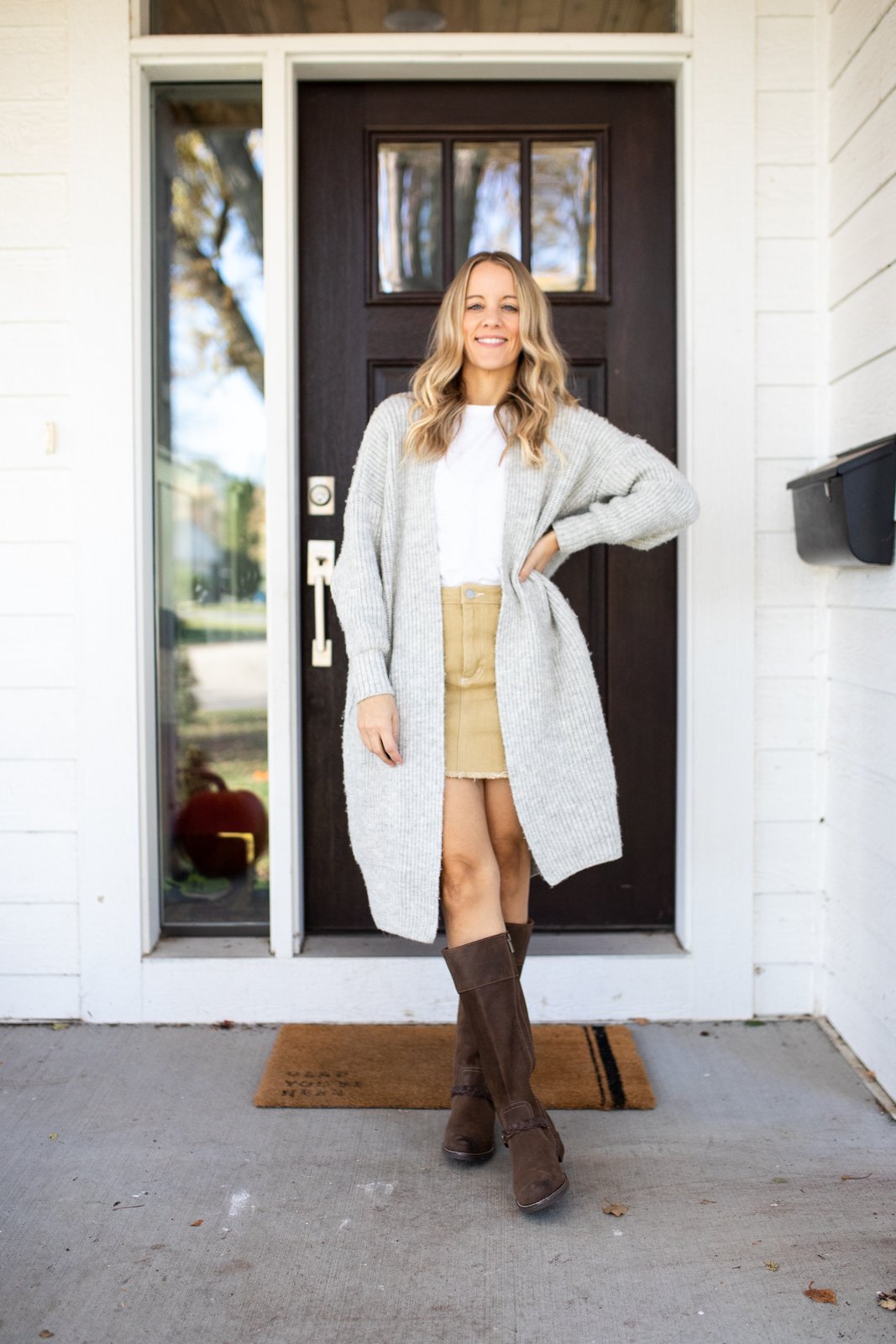 Shop the Look: Skirt | T-shirt | Boots
Mini skirts are a fun skirt to wear with riding boots as the weather transitions from warm to cold! I threw on a long, oversized cardigan to give it a cohesive fall vibe and a simple white t-shirt to ground the look.
6. With a Long Shacket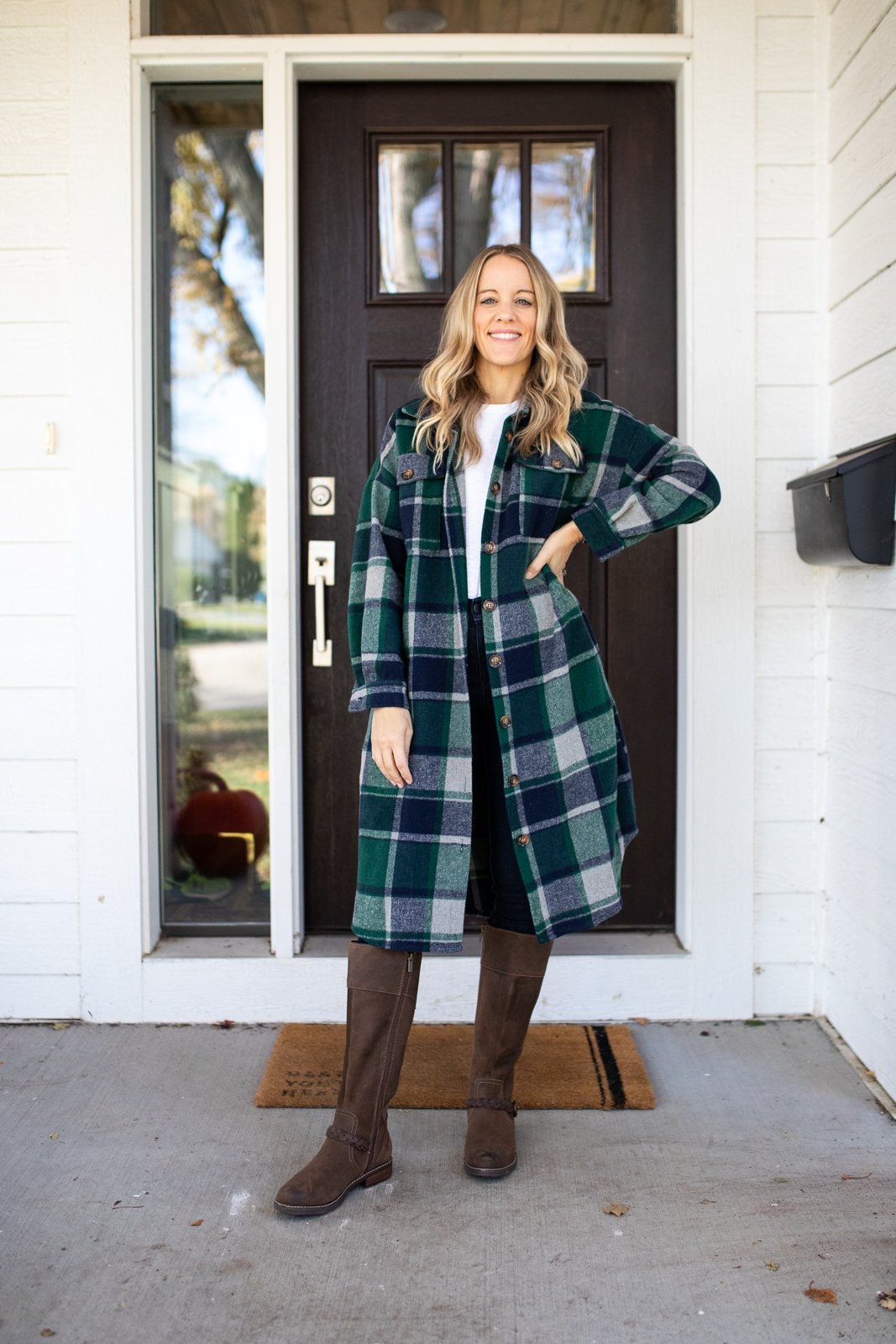 Shop the Look: Skinny Jane Jeans | T-shirt | Shacket | Boots
I absolutely love shackets of all styles and lengths and love them paired with riding boots. I kept the base simple with a dark wash skinny jean and white t-shirt and put on a super long oversized plaid shacket.
7. With a Blazer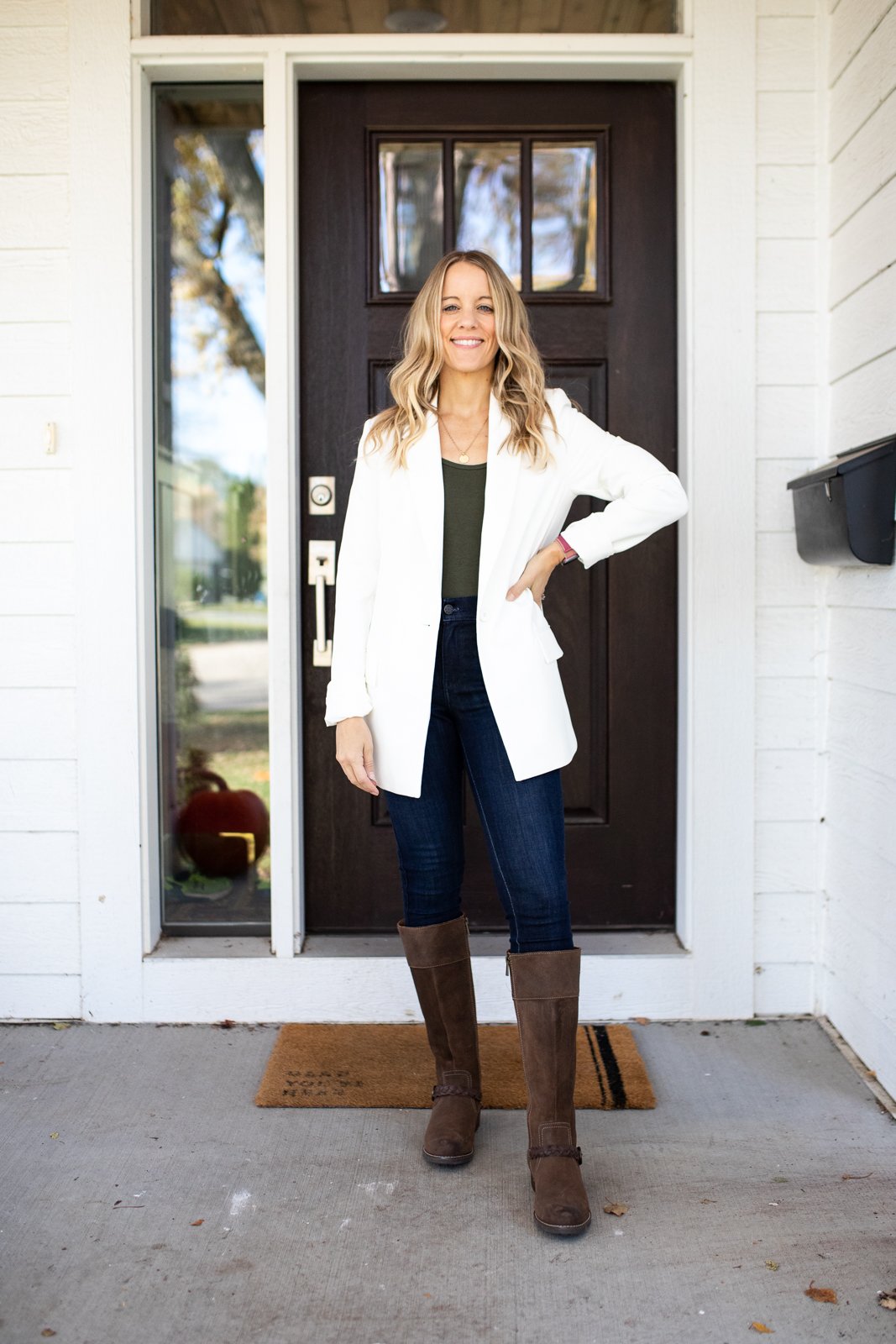 Shop the Look: Skinny Jane Jeans | Tank | Blazer | Boots
I am a huge fan of blazers with jeans and this is a great look! It's chic and classic, something you can wear to a multitude of places and fit in perfectly. It's nice enough for a more professional environment but also casual enough for coffee with a girlfriend.
8. Midi Skirt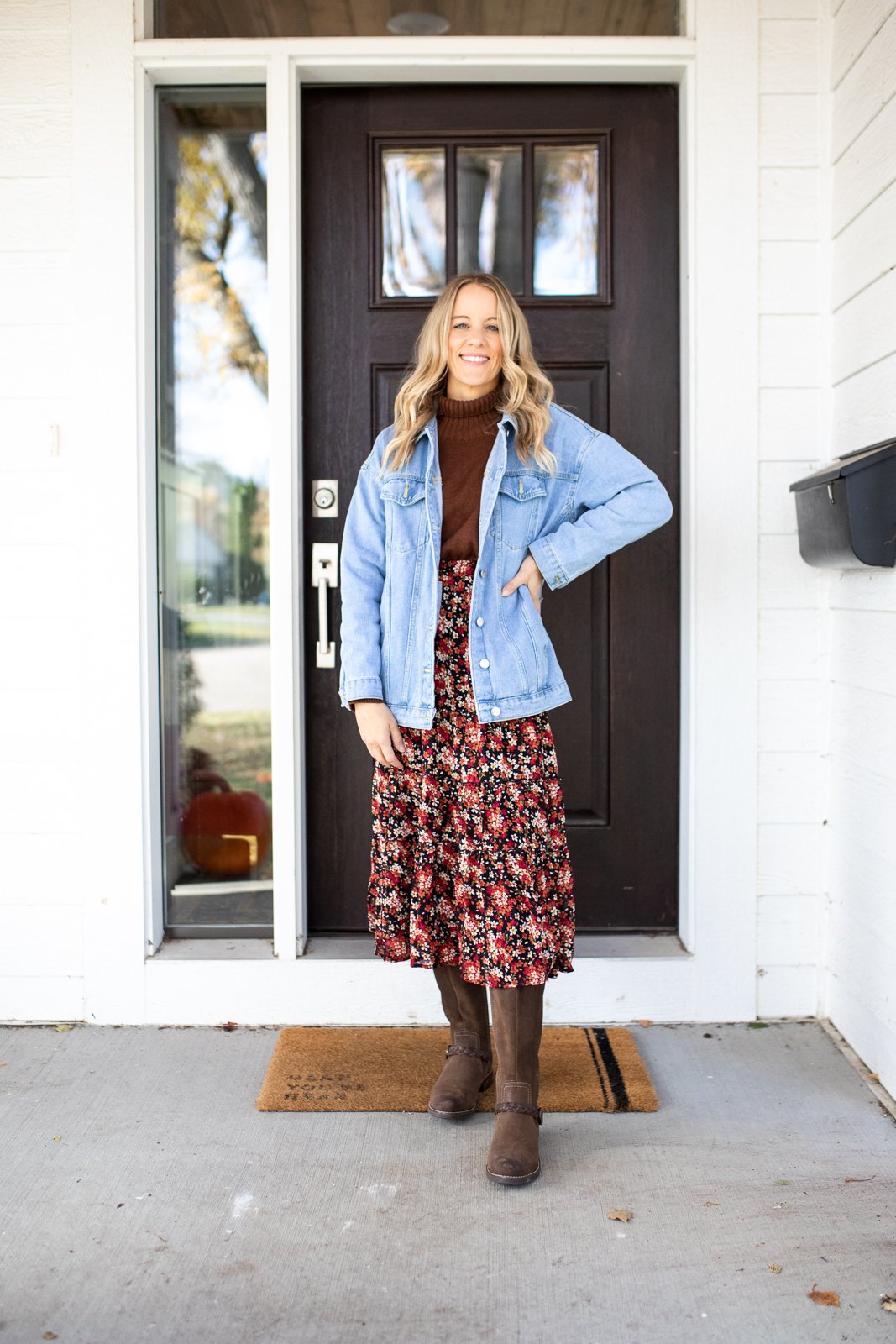 Shop the Look: Midi Skirt | Sweater | Jean Jacket
Midi skirts are a classic way to wear riding boots especially for fall and winter when you want to stay warm but still wear a skirt! Throw on a cozy sweater and top it off with an oversized denim jacket.
There you go! Eight different ways to wear your riding boots whether you need a casual or dressy look. I hope it helps you!