I'm always on the lookout for skincare products that work like a charm without costing me a fortune. I mean, aren't we all?
That's why the skincare world has been so obsessed with gua sha. If you keep up with beauty trends at all, you've heard of this one recently! It's supposed to be extremely effective but simple and inexpensive. People are even saying it's better than Botox!
But what exactly is it? Where did it originate? And how are you supposed to use it to get that defined jawline you've seen in before and after photos?
Let me break it down for you so you can experience the skin benefits of gua sha too!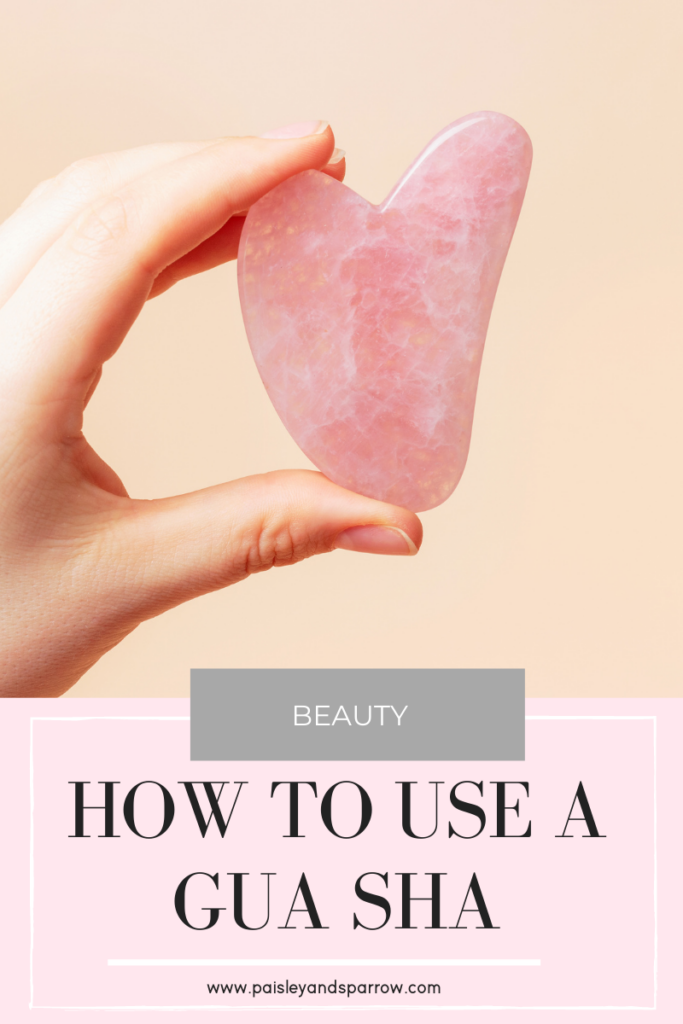 Paisley + Sparrow is a participant in the Amazon Services LLC Associates Program. This post may include affiliate links which means I may earn a small commission if you shop using the links below at no additional cost to you. 
What Is Gua Sha?
A traditional Chinese healing therapy, gua sha works on the principle of healing your skin through scraping it with a massage tool. The process encourages proper blood circulation and is said to be good for various musculoskeletal problems.
You use a smooth-edged tool, mostly made out of Nephrite Jade, to stroke the face. This helps give the face structure, induces relaxation, and reduces redness, puffiness, lines, wrinkles, and other issues noticeably.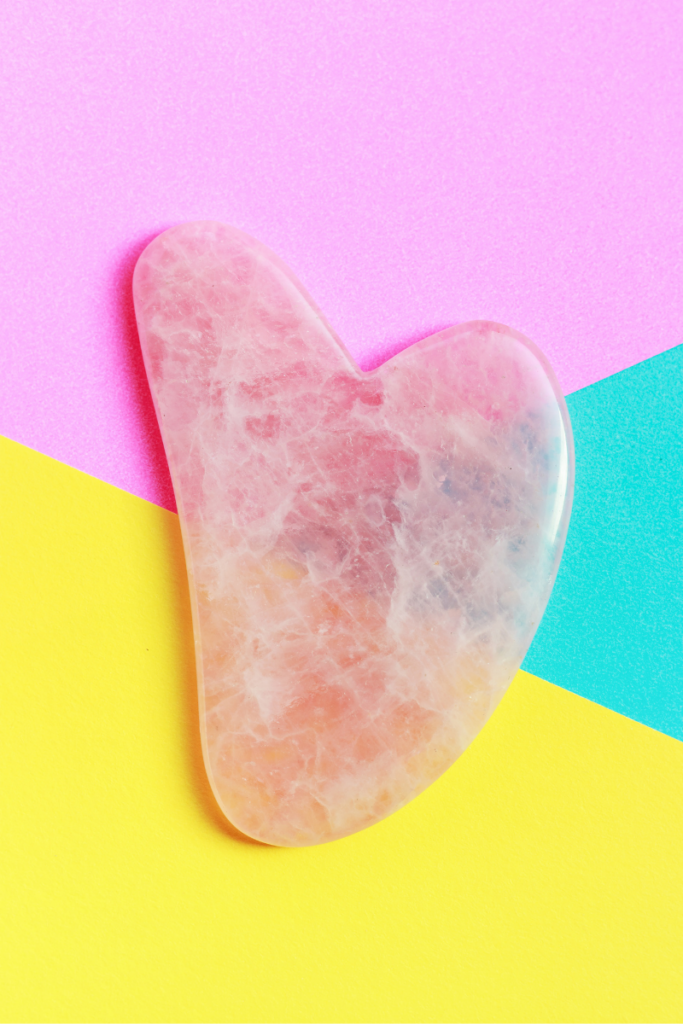 How Does It Help?
Not only is a gua sha routine super relaxing, you only have to do it for a few minutes before it shows its magic. Unsurprisingly, there are numerous other ways it helps you and your skin.
Softens fine lines and wrinkles.
Removes the puffiness and dark circles under your eyes.
Stimulates circulation and facilitates blood flow.
Helps reduc acne marks and pigmentations.
Brightens skin.
Releases tension and tightness.
It does not involve any chemicals and is a safe and natural healing process for your skin.
How To Use A Gua Sha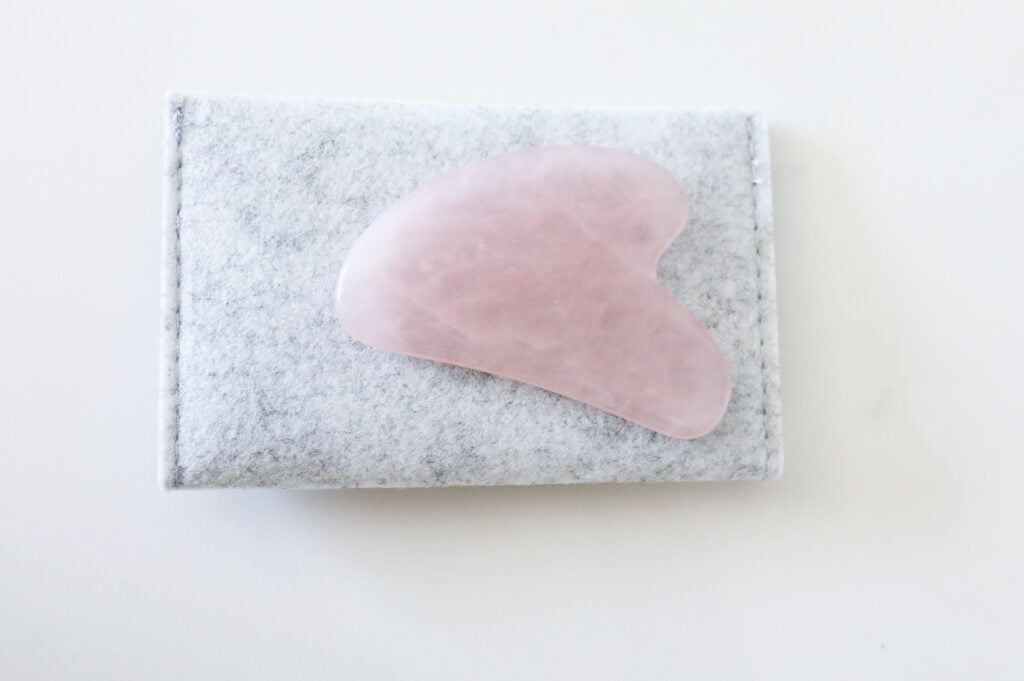 If you feel like your face has gotten dull and just a little blah, gua sha is a natural remedy to help bring some life back to your skin.
While all good things take time, you may see small results even after just one 15-minute session if you do it right!
On Different Parts Of Your Face
Here are step-by-step instructions on how to use the Gua Sha technique, including steps for different parts of your face:
Step 1:
Make sure your hands are completely clean before you touch your face. Wash your gua sha massage stone and store it in the refrigerator to cool for a few hours before you begin.
Step 2:
Use a light cleanser and water to wash your face thoroughly. Dry your face with a clean, sanitized towel, and then apply your favorite moisturizer or face oil. Use a generous amount of product and lather it across the entire face and neck.
Step 3:
Hold your gua sha at an angle of 30 to 40 degrees relative to your skin. Gua sha tools have several different shaped surfaces to choose from; the flat side is the one you'll use most often on your face.
Neck: Using the upper side of your gua sha, starting at your collarbone, sweep up the side of your neck towards the jaw.
Throat: Starting in between the collarbones, gently sweep upwards following the curve of your neck to your jawline.
Jawline: Start from the center of the chin while you go in an outwards motion with the tool toward the earlobe.
Cheeks: Starting at the side of the nose, using the long end of your gua sha, sweep your gua sha upwards toward your hairline.
Under-eye: Very very gently, starting at your inner eye, sweep over the under-eye area ending up at your temple.
Eyebrows: Start from the inside and slowly move toward the outside of the brows.
Lower Forehead: Glide the Gua Sha stone sideways on the forehead to scrape off any dirt, or lymphatic accumulation.
Third Eye: Starting at the center of your eyebrows, stroke up to your hairline.
Check out this web story for some video on using it!
Different Options
There is a variety of gua shas available on the market today, thanks to their popularity.
Try one or all of them! I personally own this one.
Shapes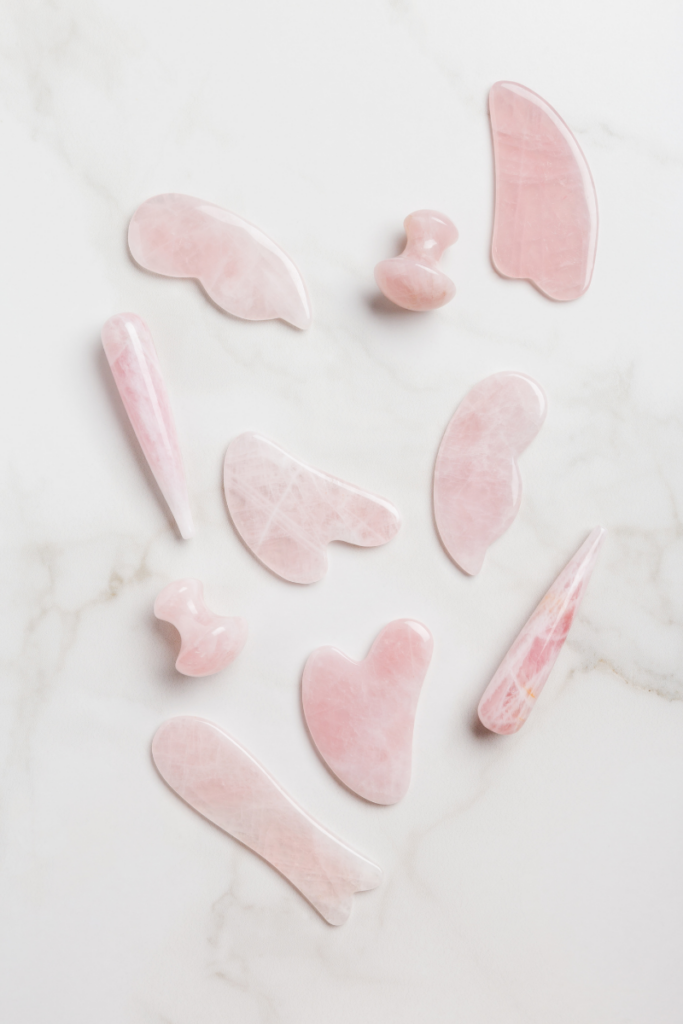 In terms of shapes, the options available include:
Materials
The different materials in which you can find a Gua Sha include:
Each material and shape offers its unique set of benefits. Choose one that fits your requirements the best.
Frequently Asked Questions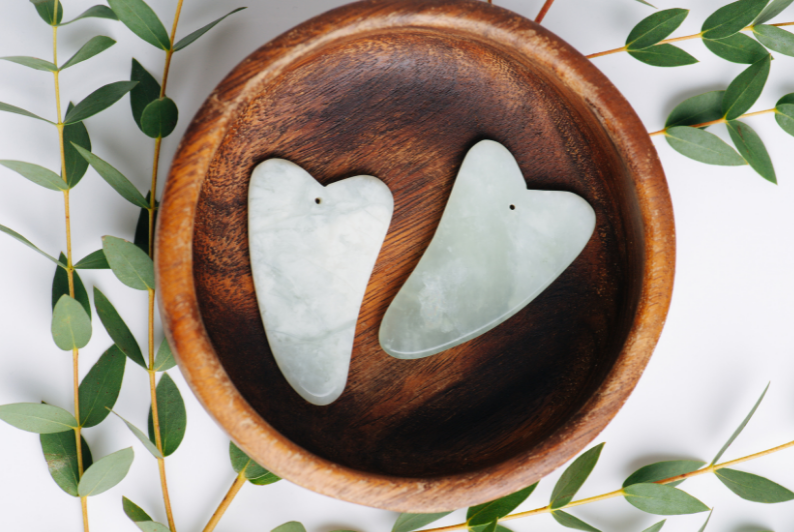 How often should you use gua sha?
The frequency of your gua sha usage depends on your skin's requirements. You'll get best results when you use the gua sha on a daily basis, either as a part of your nighttime skin routine or as your morning skin routine.
If you are short on time, twice a week or once every two days would work too.
Should you use gua sha in the morning or at night?
There is no hard and fast rule behind choosing a time to do your Gua Sha routine. As long as you stick to doing it regularly, doing it any time of the day for as short as 5 minutes would get you the best results.
What do you put on your face when using gua sha?
Keep your face well-moisturized with copious amounts of serum, moisturizer, or oil.
You can use any oil-based or cream-based product that suits your skin type. My favorite oil is Maelove's Love 31 but I have this post with 17 different oils to try!
Read about more Maelove products I love, find a skincare fridge to keep your gua sha tool, or treat yourself to a spa day at home.