Father's Day is coming up, and you want to show your husband that he's the best dad to your kids! But it's so hard to find the perfect present for men — they already have what they need and it's tricky to come up with a unique gift that will make him feel special.
I've rounded up the best Father's Day gifts to celebrate your husband or really any father figures in your life.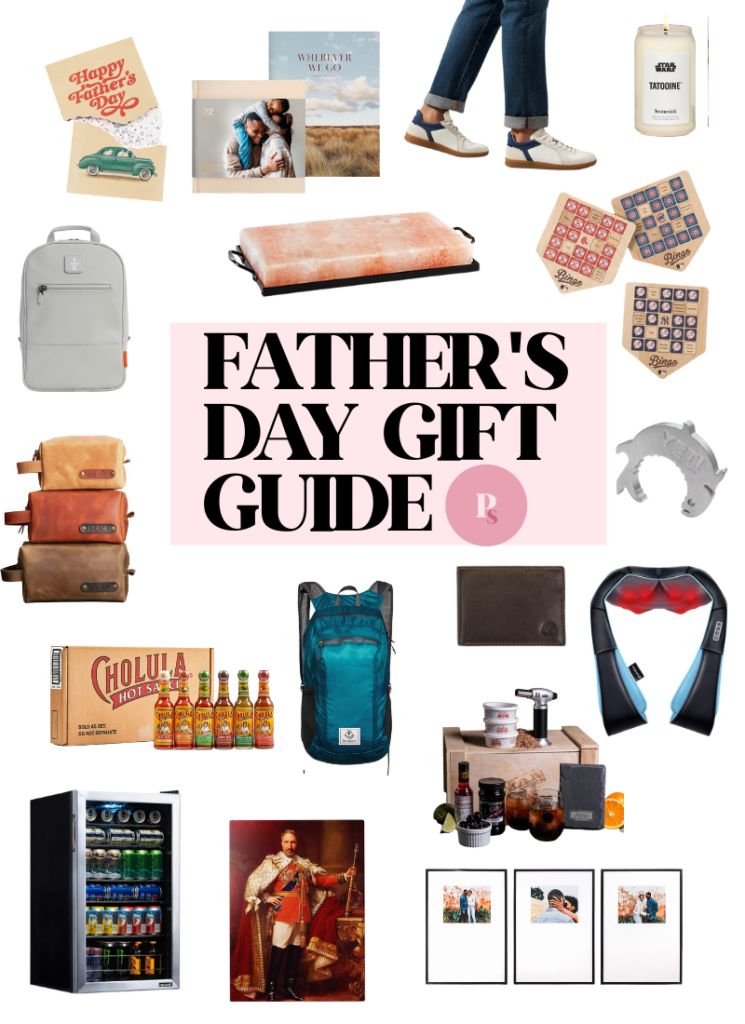 Paisley + Sparrow is a participant in the Amazon Services LLC Associates Program. This post may include affiliate links which means I may earn a small commission if you shop using the links below at no additional cost to you. 
Best Father's Day Gifts
If your guy is the type of dad who will just ask for quality time with the whole family for Father's Day, a board game is a great way to give him that! Gather the family around and play 3D Labyrinth, a game that's simple enough for elementary kids to follow but exciting enough for everybody.
If your husband is a the-hotter-the-better kind of guy, this hot sauce set will please his taste buds. Whatever spice level he's in the mood for, he's covered. Cholula is a classic hot sauce brand, and this set comes with a range of flavors and heat levels.
Practical gifts are still thoughtful gifts! This bottle opener can pry open all kinds of beverages and is perfect for barbecues, beach trips, camping, or wherever he might be cracking open a bottle. Pair it with a cooler to level it up.
If one gift just doesn't seem like enough, a gift set revolving around his favorite things will show him you love him. There are lots of options out there; Man Crates is a fun one. It comes in a real wooden crate so he can feel manly opening it! There are several different themes to choose from and some even offer personalized gift options.
Give his man cave or office a personal touch with this hilarious royal portrait of your husband. They also do similar pet portraits if you want to celebrate what a great pet dad he is!
Wish your jokester husband a Happy Father's Day with this prank card. Not only does it Rick Roll him, but the song keeps playing until the battery dies! And if he tries to rip it open to stop it, he'll get covered in chunky glitter. (Just make sure you can escape the endless noise if you give him this card!)
7. Home Upgrades
Has your husband been wanting to deck out the patio or create a man cave? Or maybe you just need to upgrade your TV or the home office. Father's Day is a great excuse to splurge on something he's been wanting to do and you know he'll enjoy for years. Some ideas: fresh landscaping, a new TV, a standing desk, a beer or wine fridge, or handling a big project he's been putting off.
Men don't have the luxury of a giant purse to hold all their essentials for a big outing (that's why they're always asking us to hold things in our bags for them!). Solve that problem by giving him a packable backpack he can keep in his car or bring with him on trips.
It folds down small so it's not in the way when he doesn't need it, but when he does need it, he can carry snacks, water bottles, tech, extra clothes, or whatever he needs!
A leather wallet is a classic gift for men, but for good reason! It's practical, they use it every single day, and they need a new one once their last one starts to get too worn. Get him a sturdy and secure leather wallet, like this one from Timberland that blocks RFID signals to prevent someone from skimming money from his cards.
If the dad in your life is a Star Wars fan, he will love experiencing his favorite movies with his sense of smell too! Homesick makes candles to evoke feelings of certain places, and they've used a bit of fantasy to capture what moment in the films might smell like! This is a unique gift he's sure to love.
A monthly subscription of craft-roasted coffee is a fantastic gift for the coffee lovers in your life. Get exactly what he likes (while helping him discover new favorites) by answering questions on what flavors he enjoys most in his coffee and how much he drinks. Trade does the rest and sends monthly selections curated for him.
Looking for more gifts for a coffee-loving guy? Check out the recommendations on my coffee blog!
If you married a golf fanatic, you know what he really wants is a lot of time on the golf course. He'd be perfectly happy if that's all you gave him!
But if you want the special moment of him unwrapping a physical gift, go for Stitch's sleek bag for his golf shoes and customize it with his initials. (Bonus: it can also hold 150 golf balls if he needs to use it as a shag bag.)
Make him an even better grill master with a new trick up his sleeve. Get him a salt plank he can cook on and add some extra flavor to each morsel!
Fill his office with things that remind him why he goes to work each day! Get a family photo (professional or candid!) framed; he will love being able to see it everyday. I like Framebridge for an easy and relatively inexpensive custom frame job.
Do you have a ton of awesome photos on your phone of your husband and the kids? Let him enjoy them! Celebrate the special occasion with a special book full of the people he loves.
I love the style of Artifact Uprising books and products; they are so chic and high-quality.
Uncommon Goods has so many unique Father's Day gifts, including this wooden MLB Game Day Bingo. He can bring it with him to baseball game with the kids and everyone will have a little more fun watching the plays and listening to the sportscasters when they're trying to fill up their bingo card!
Are you always finding guitar picks around your house from your music-loving husband? This sleek case will keep him from losing any more picks and is customizable!
A well-made leather Dopp kit will be used over and over throughout the years — and will be associated with many happy travel memories! This one comes in 3 sizes and 3 colors and can be customized with Dad's name or initials.
You've probably heard of Rothy's women's shoes; The Point is a popular ballet flat style. But did you know they also make men's shoes? Buy the RS01 Sneaker for Father's Day to keep him stylish and sustainable. It's 100% knit from plastic bottles!
Anything that means your husband is in charge of dinner is a gift for everyone! He'll love experimenting with these spice blends on all kinds of meats and other dishes. You'll love how great they taste!
If your guy prefers a massage at home over going to the spa, get him this massager with heat and deep tissue massage. It can be used on his neck, back, shoulders, arms and legs.
Every bearded man needs one of these! This beard apron catches the trimmings instead of letting them fall in the sink. It's a joke gift that is actually practical!
I hope you've gotten some inspiration for the perfect Father's Day gifts this year! No matter what, tell the dads in your life how important they are to your family and how much you appreciate them!
Need more gift ideas? Here's my annual men's gift guide with more than 40 ideas or present suggestions for his 40th birthday.
Or if you're looking at photo gifts, check out my family photo tips.