You can't go out anymore without seeing someone walking around in bike shorts. Not only are the comfortable and great for working out, they're versatile and can easily be worn as part of your outfit! Fashion trends come and go but athleisure wear is a trend that's not going away anytime soon.
​This trend really took hold when Kim Kardashian was spotted wearing bike shorts out and about but this trend has been around since the days of Princess Diana! She was often seen going to and from the gym and bike shorts.
I personally have been running in bike shorts for years but only recently started wearing them out and about!
While we all know tons of ways to look chic in leggings, styling a pair of bike shorts can come with its challenges. If you want some new ways to wear your bike shorts, here's 9 different ways to wear them!
9 Bike Shorts Outfit Ideas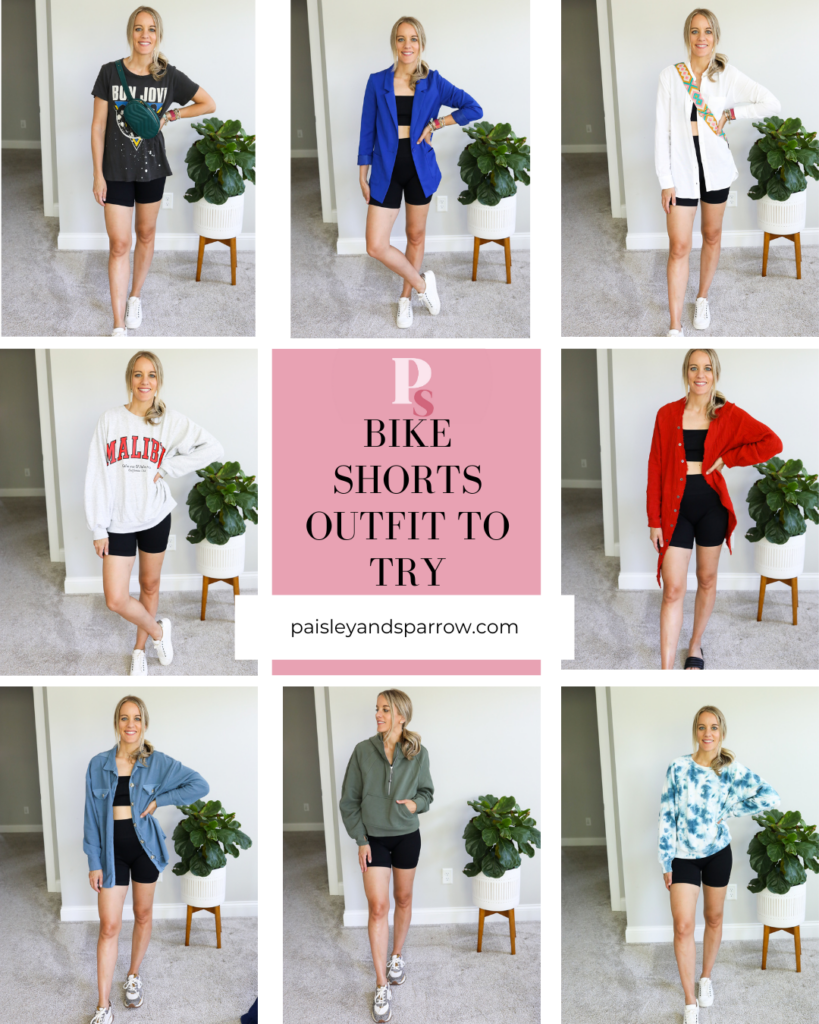 This post contains affiliate links.
1. Bike Shorts and a Cropped Sweatshirt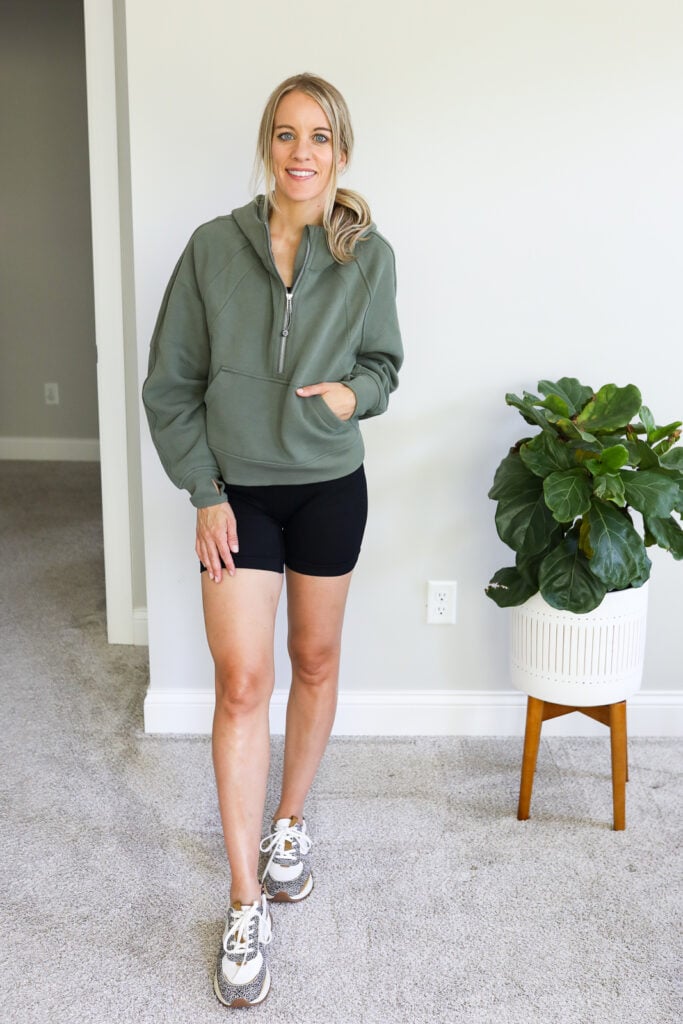 Shop this look: Bike Shorts | Sweatshirt (Less expensive option here) | Sneakers
Whether you just got done with a workout or just prefer a more sporty look, this casual look is a great way to wear a pair of biker shorts!
The Lululemon Scuba sweatshirt (or it's much less expensive dupe from Amazon) is the perfect fit for bike shorts. The oversized, cozy fit balances out the fitted nature of the shorts. Top it off with fun printed sneakers and you're ready for whatever the day holds.
2. Graphic Tee and Crossbody Bag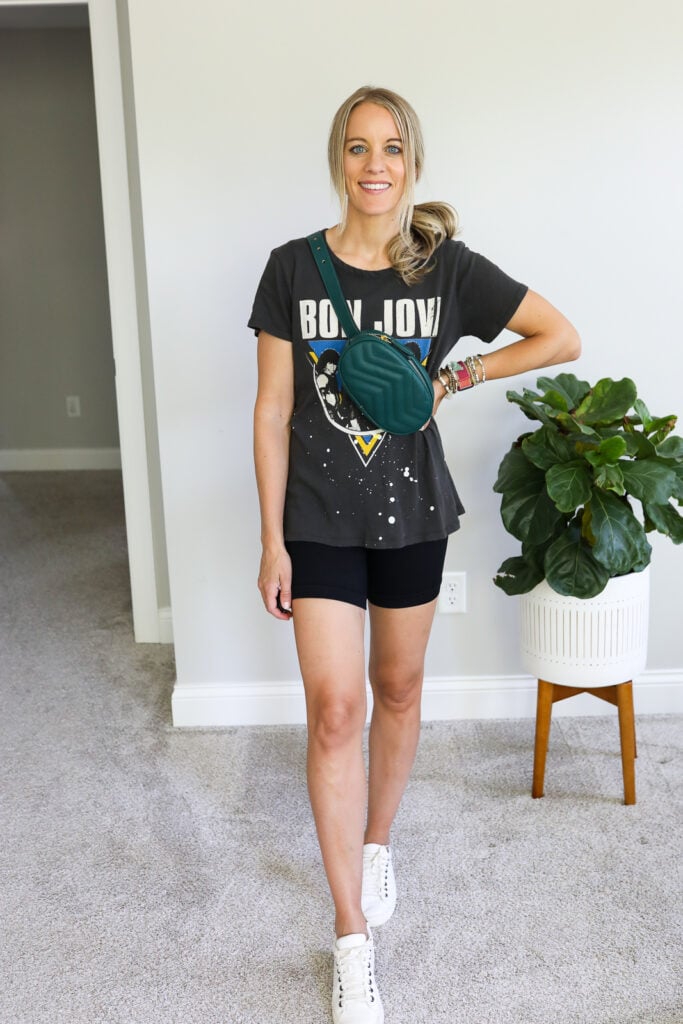 Shop this look: Bike Shorts | Graphic Tee (Sold out, similar here), Crossbody Bag
An oversized graphic tees is one fashion statement that will never go out of style. Fun oversized t-shirts paired with black bike shorts is a great summer look!
A cute crossbody bag keeps your hands free for wrangling kids or grabbing groceries and a pair of classic white sneakers complete the look. On those chillier summer evenings, grab a jean jacket or leather jacket to stay warm!
3. Blazer and Workout Set
Shop this look: Bra and Shorts Set | Blazer (sold out, similar here) | Shoes (sold out, find white shoe options here) | Bracelets
While you're likely not going to wear this to the office, classic blazers with your black biker shorts is definitely is a fun look to rock! Pair your bike shorts with a matching or coordinating sports bra or tank top and throw on a blazer over the top!
A pair of white sneakers and a stack of bracelets gives you a chic look that looks effortless.
4. Oversized Button Down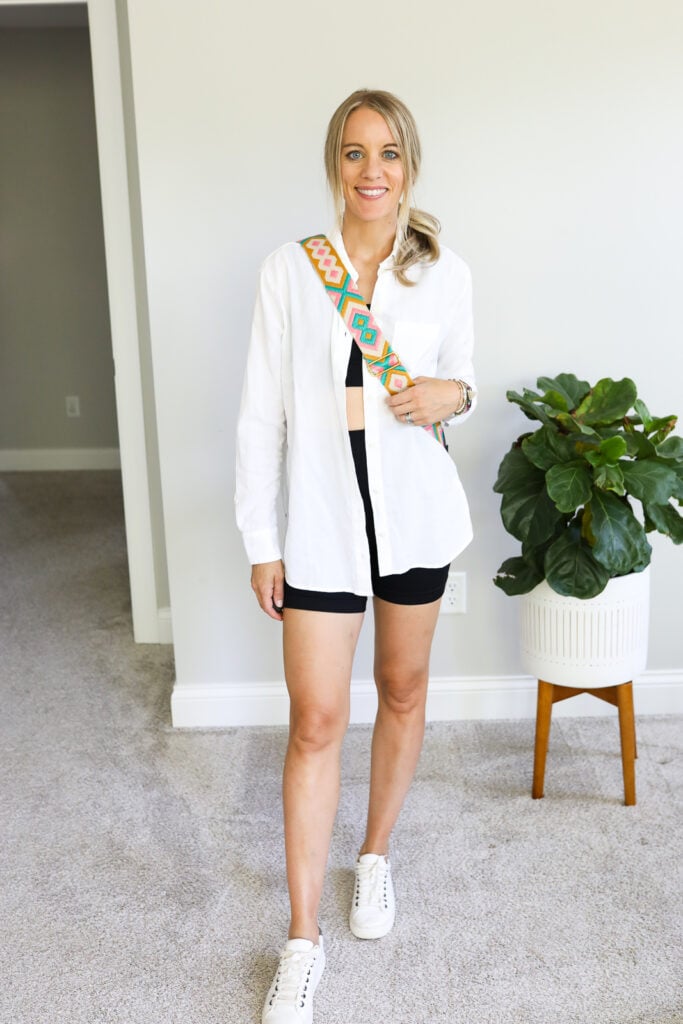 Shop this look: Bra and Shorts Set | Button Down (sold out, similar white button down here) | Shoes (sold out, find white shoe options here) | Bag and Bag Strap
A white button down is one of those items we all have in our closet! Take the look from above with matching base layer (or swap the sports bra for a tank top) and throw on an unbuttoned white shirt over the top.
I like to give the look a cohesive vibe by pairing the white top with white shoes. A fun printed crossbody bag strap gives you a stylish look!
5. Oversized Sweatshirt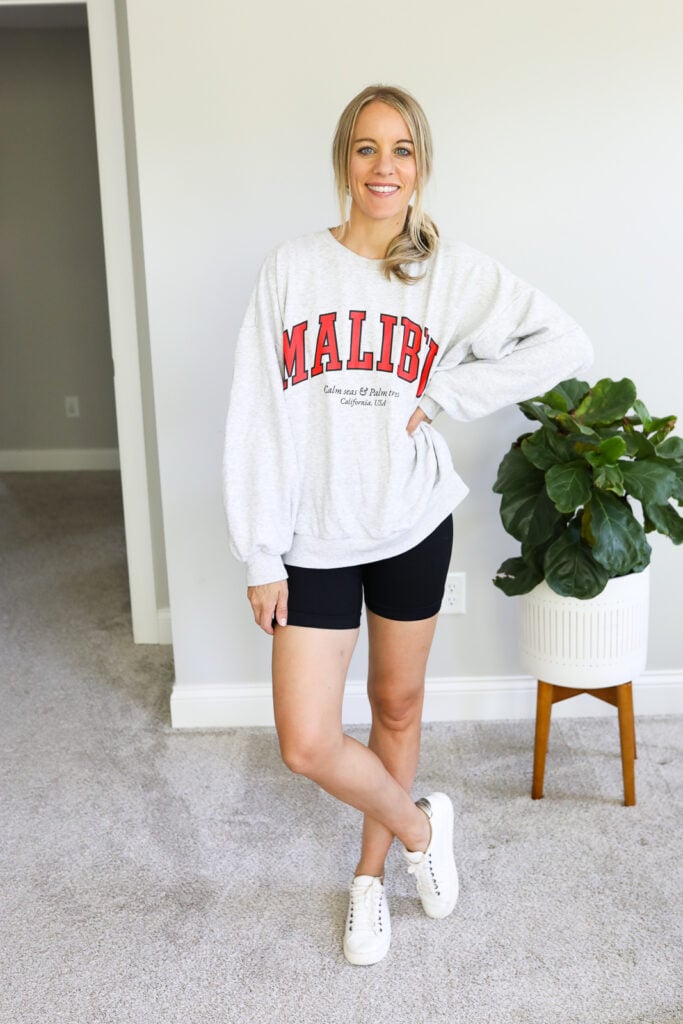 Shop this look: Bike Shorts | Sweatshirt (Sold Out Similar Here)
If it's too chilly for an oversized graphic tee, try out a sweatshirt instead! A pair of classic black shorts can be paired with just about any style oversized sweatshirt. This is probably the easiest way to style biker shorts and a great way to keep your butt covered when you're out and about.
6. Shacket Outfit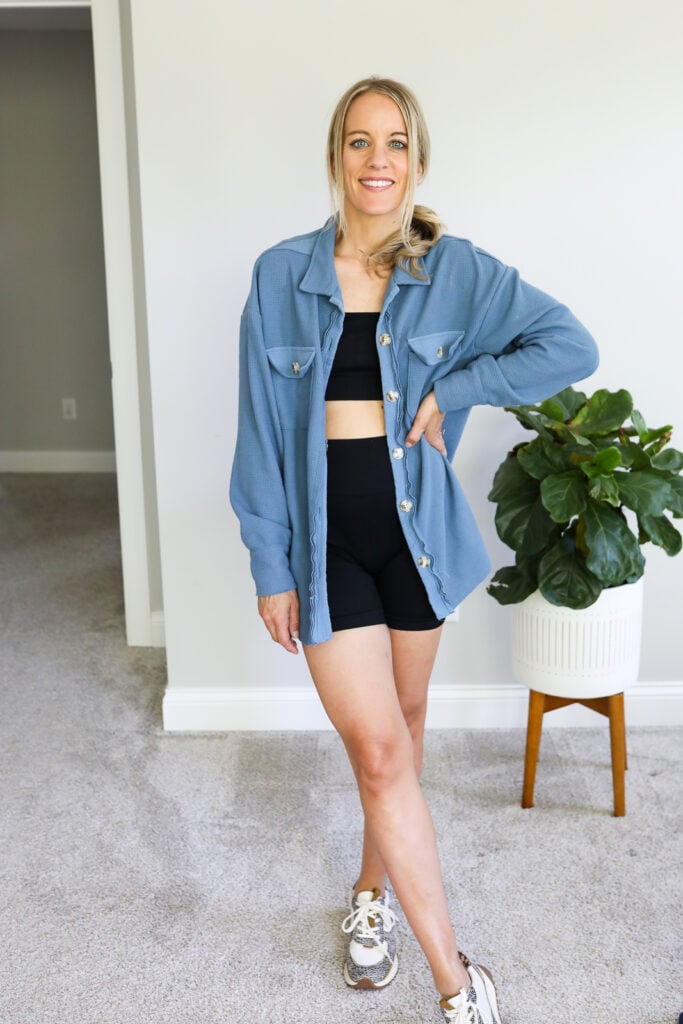 Shop this look: Workout Set | Waffle Shacket | Sneakers
One of my favorite ways to wear my bike shorts last year was with a lightweight shacket! Whether you have a crop top, sports bra or graphic tee underneath, it's such an easy way to bike shorts.
Throw on a pair of fun chunky sneakers for an effortless outfit. This shacket comes in tons of different colors.
7. Tie Dye Sweatshirt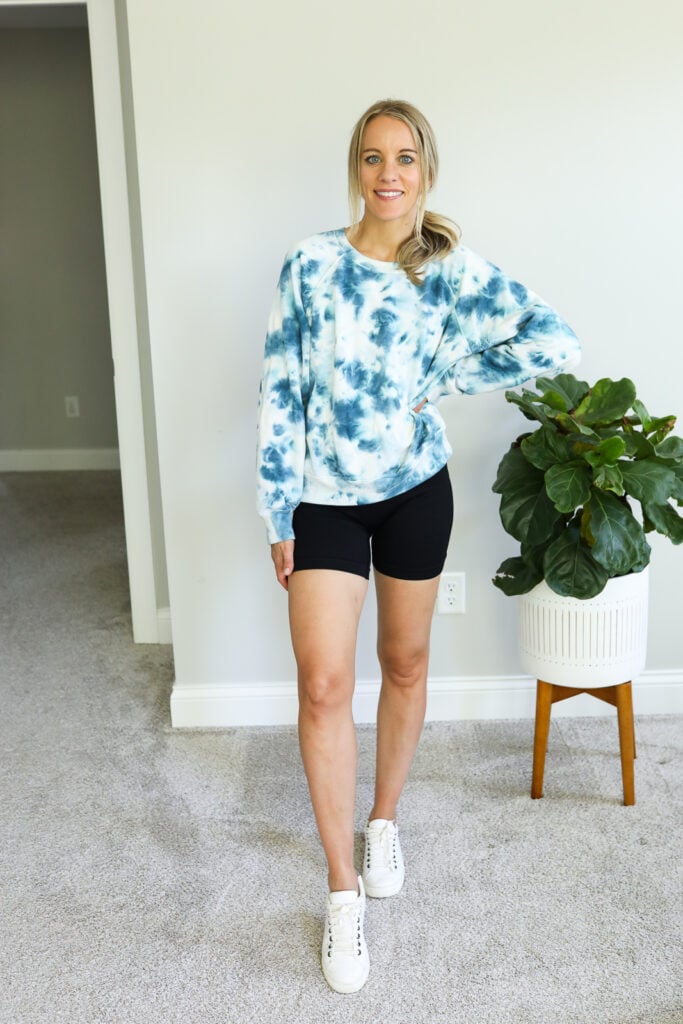 Shop this look: Bike Shorts | Sweatshirt
Want your casual outfits to have a little flair? Try out a tie dye sweatshirt! No better way to give your bicycle shorts a little flair than with some fun on top.
Keep your shoes neutral so they don't compete with the sweatshirt and you're good to go!
8. Sporty Chambray Shirt Look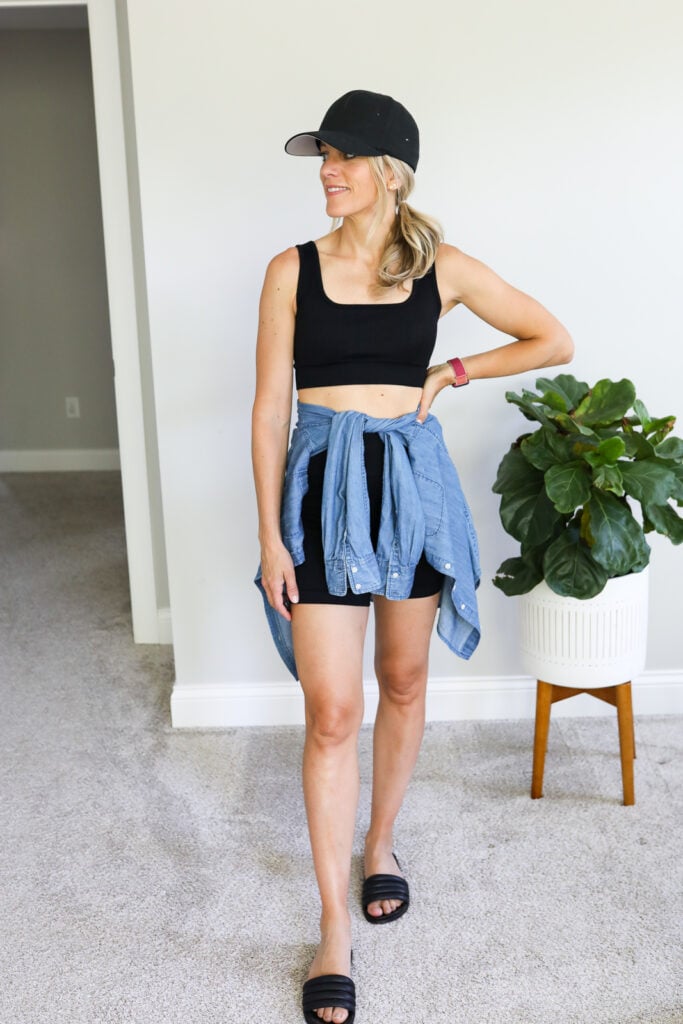 Shop this look: Bra and Shorts Set | Chambray (sold out, similar chambray here) | Hat
Want a more sporty look? For many of us, biker shorts are used for working out. If you're heading straight from the gym or a run to grab coffee with the girls or running errands, this a a great option! Simply tie a chambray shirt around your waist, swap the sneakers for sandals and throw on a baseball cap to cover up the post-workout hair.
The best part is nobody would ever guess you came straight from the gym in this matching set look!
9. Tunic Top and Bike Shorts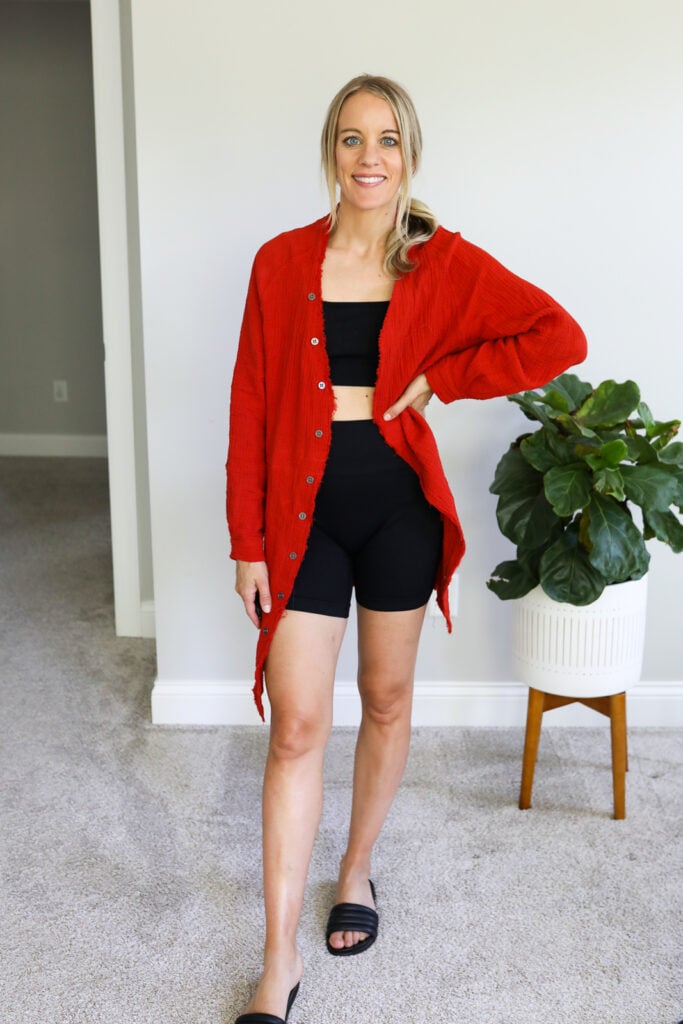 Shop this look: Workout Set | Tunic | Sneakers
If want you want bike short outfits that cover your butt, try a tunic top! This Amazon top is a great option to keep covered and can be worn buttoned up or unbuttoned.
This top is a fabulous Free People dupe and is often worn as a mini dress. Wearing shorts underneath is a great way to ensure you're not going to flash anyone on accident! 🙂
So there you have it! Nine different ways to wear your bike shorts to places other than the gym!
If you want some options of bike shorts to try if you don't have any yet, I have a whole blog post for you.
But first, these these Sunzel brand shorts are my favorite bike shorts! I own these in multiple styles and colors and not only wear them out and about, running errands but I also used these for marathon training!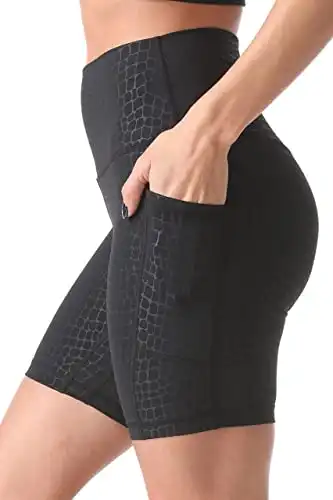 We earn a commission if you make a purchase, at no additional cost to you.
For the price, you could pick up more than one to try out! These shorts come in three different inseam lengths (I typically always chose the 8″ inseam which is what you see in this post) and a variety of colors and patterns.
They have all the features you'll want: they don't ride up (in my experience!), have side pockets, and compression. These are incredibly soft shorts and feel like a second skin!
You can check out more bike shorts options including ones for biking here!
Want some fresh ways to style leather shorts? We've got that too!