It's summertime! Summer brings warm weather, pool time, beaches, vacations, and best of all, afternoons spent in the backyard. Isn't that what childhood memories are made of? For many kids and families, this involves games of T-ball, sidewalk chalk, or running around playing with a bubble machine.
Bubble machines are some of the most exciting and fun (not to mention hands-off!) ways to play with kids in the backyard, and they are great for summer days. They can be used for so many activities and events — holidays, parties, weddings, and even performances that kids put on for school.
If you're looking for a great bubble machine for your family this summer, here are some options for a fun addition to your backyard games. All of these are kid-friendly, easy to use, and work indoors or outdoors.
12 Best Bubble Machines for 2022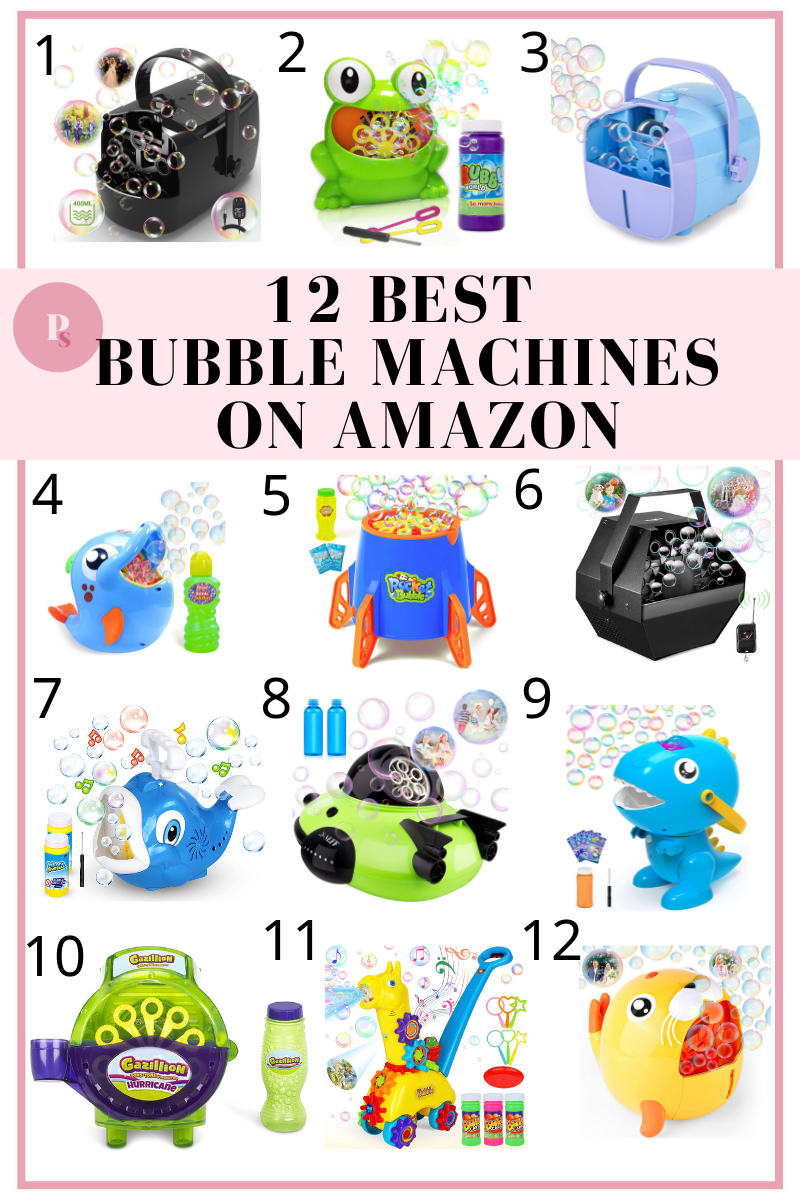 Paisley + Sparrow is a participant in the Amazon Services LLC Associates Program. This post may include affiliate links which means I may earn a small commission if you shop using the links below at no additional cost to you.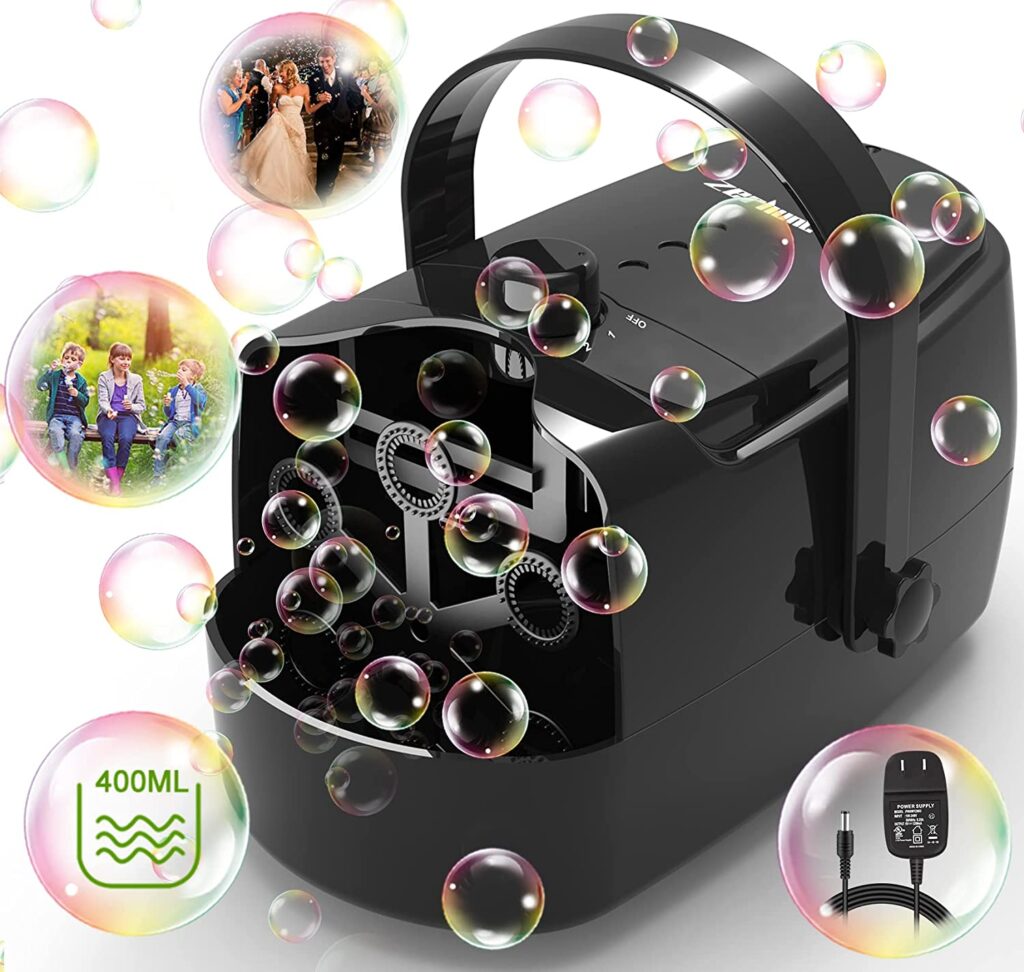 While this one does not have a kid-themed design, this one can produce more than 5,000 bubbles per minute. Touted as useful for parties and holidays, this is a first-rate top bubble machine to consider.
There's a 12.5 ounce reservoir and 6 spinning wheels and 2 levels of speeds to help keep the bubbles flowing. With this machine, you don't have to worry about running out of bubbles.
It can last a really long time, keeping the fun going for hours on end without kids asking for a refill every few minutes!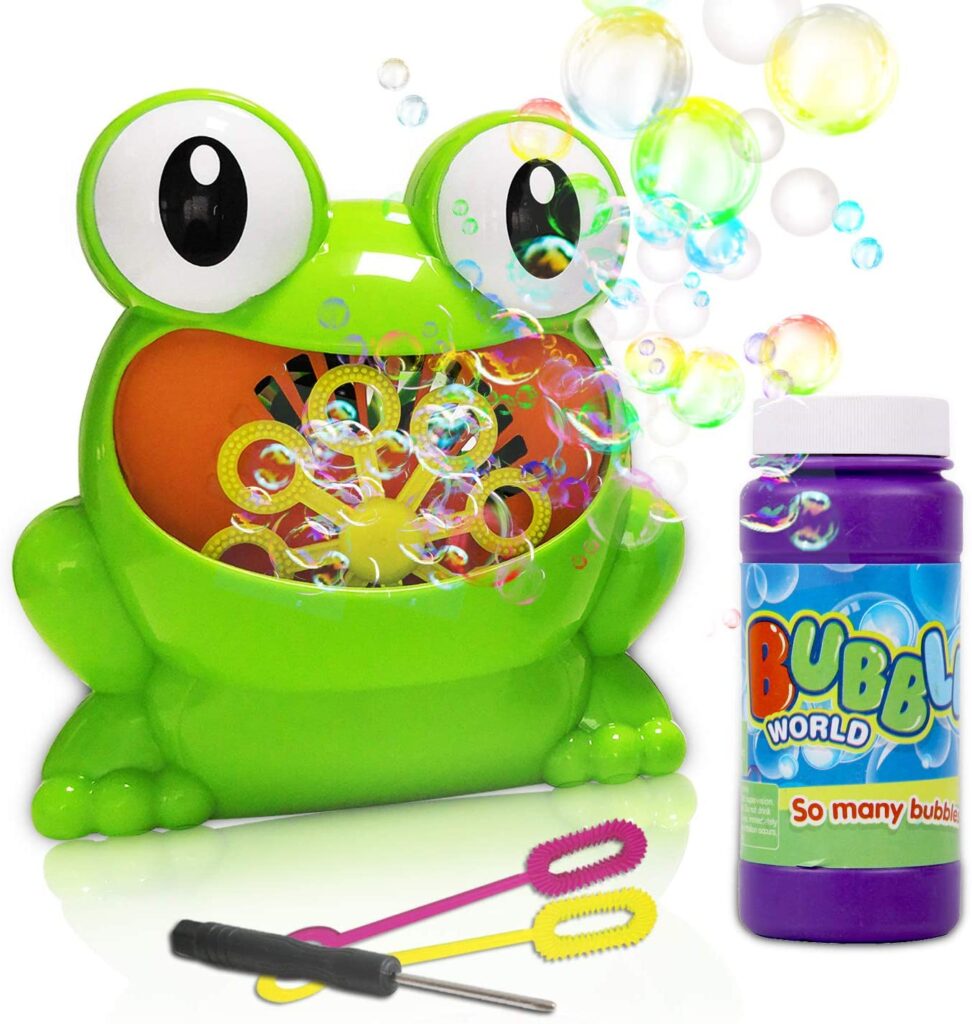 For those with young kids, this is a great choice and one that has a very fun, kid-friendly design. Created in the shape of a frog, the wheel of bubble blowing wands is in the mouth of the animal.
This machine is battery-operated. All you have to do is pour the bubble solution (which is included) into the mouth and turn it on to watch the frog start blowing bubbles!
This little guy can produce more than 800 bubbles a minute. Perfect for toddlers and kids, this fun and portable little activity can go everywhere you go this summer.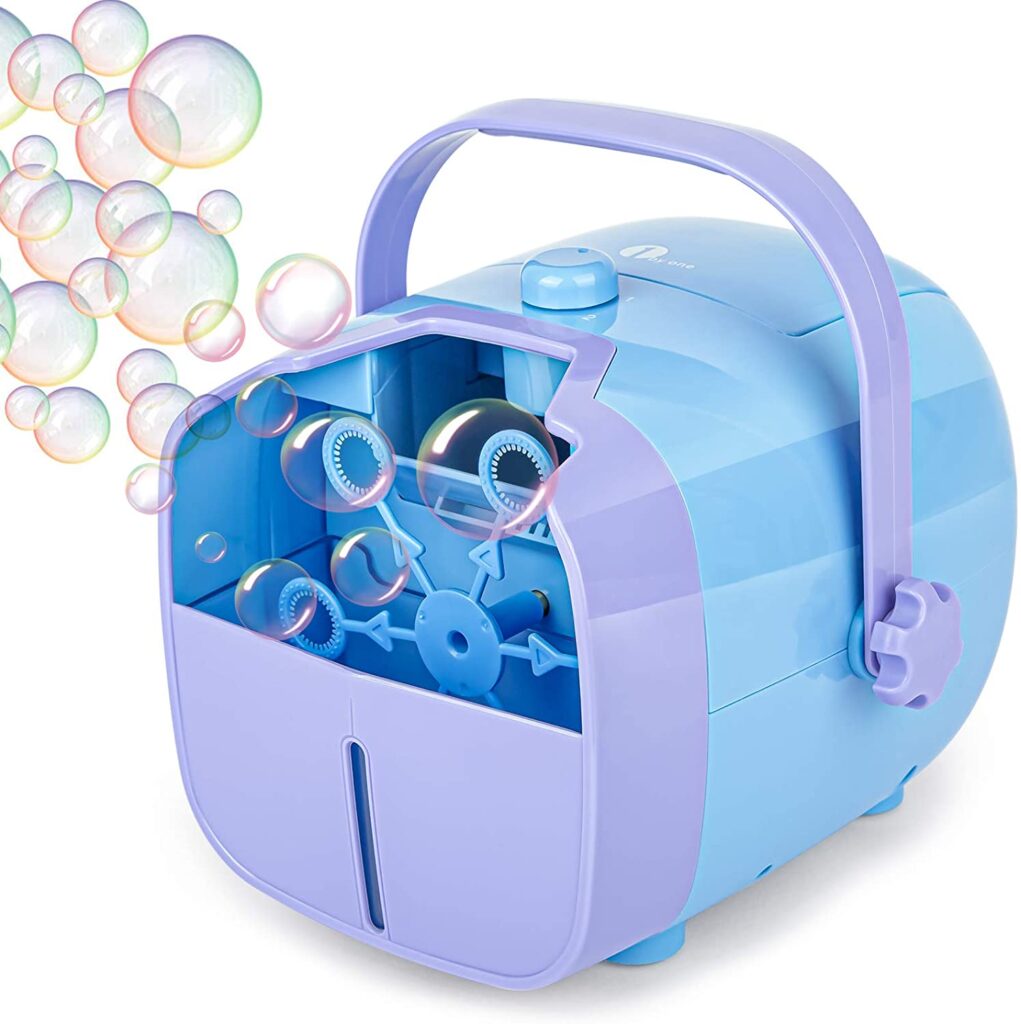 This fun baby blue and lilac bubble machine comes with a handle for easy transport. It can produce up to 4,500 bubbles per minute, and there are two speeds.
You can either plug it in with a power cord or use batteries, making it simple to use outside or right off the patio.
It's a good option for parties, with six spinning bubble wands. It has a built-in motor and 12.8 ounces of capacity, creating hours of fun for your kids every day.
This is my pick for the best bubble machine! We own this one and my kids love it! It's great entertainment and it's super durable.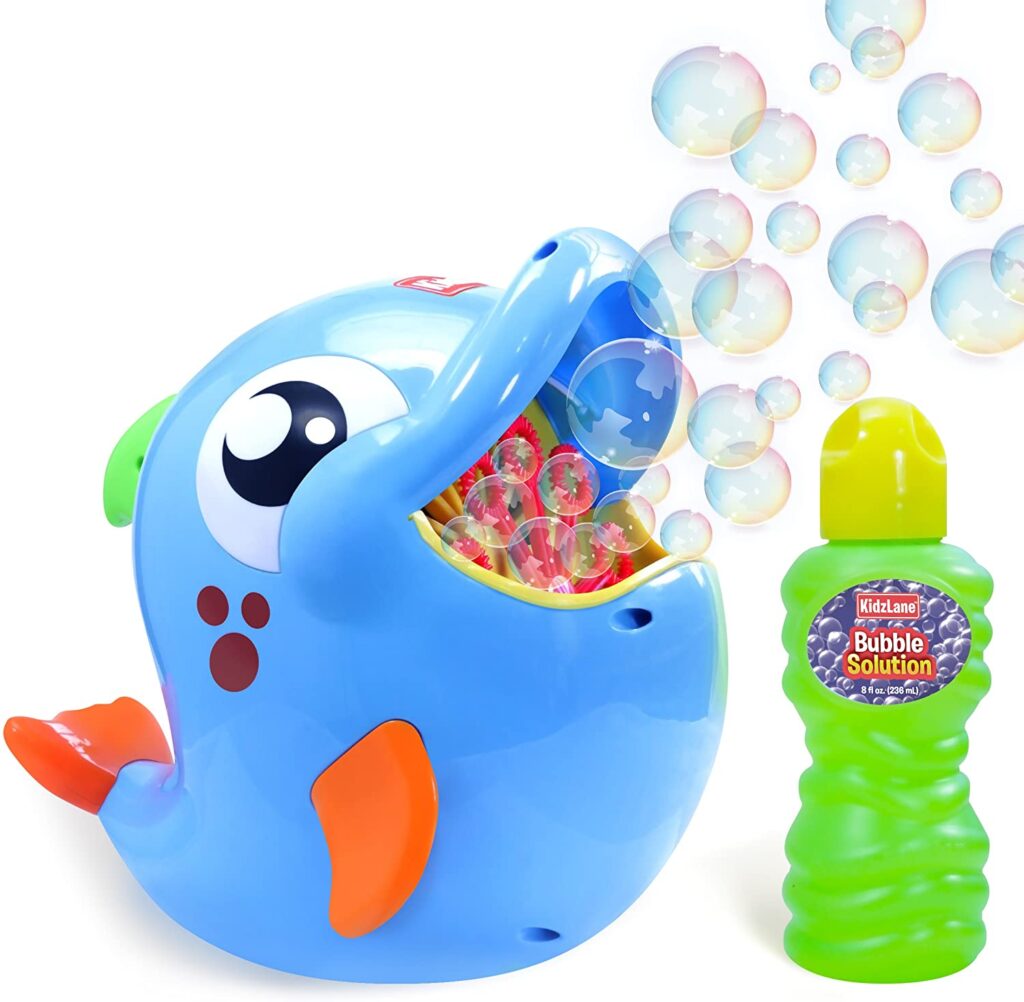 What is it about animal shapes that makes everything instantly more exciting for kids? This bubble machine is shaped like a dolphin.
An 8 ounce bottle of solution is included, and there's an easy on/off switch and a light electronic motor that keeps it churning bubbles for hours. This one is great for children from toddlers to elementary school age.
It can produce 500 to 1,000 bubbles per minute depending on the speed you choose. It has 10 spinning wands, and it is an entertaining activity for anyone looking for a little bit of backyard fun.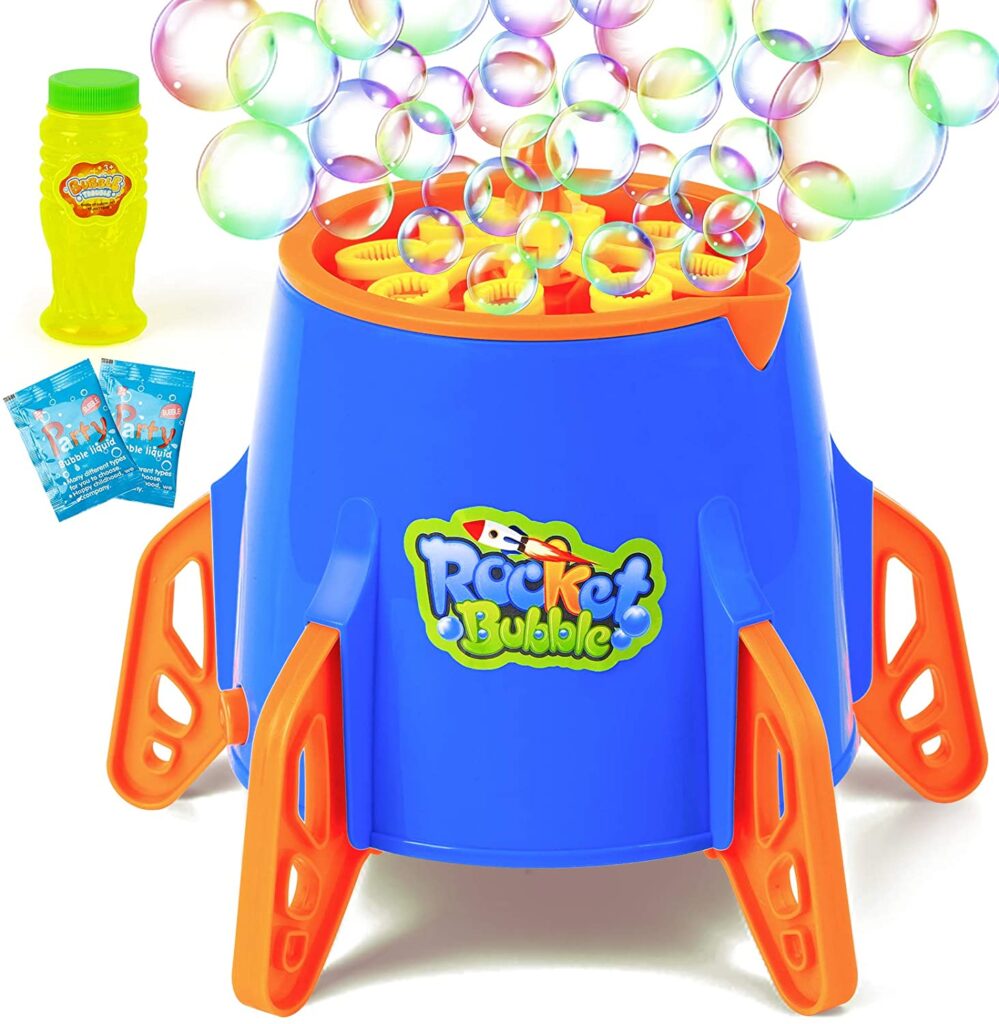 If you're having a space-themed party or just have a little astronaut at home, this is a great choice of bubble machine. Shaped like a rocket, the Rocket Bubble takes four AA batteries. It also has a reservoir in the bottom that continues to blow bubbles.
Instead of blowing horizontally, this one blows bubbles vertically and into the skies. If you want to have a unique machine, consider this one for your summer activities.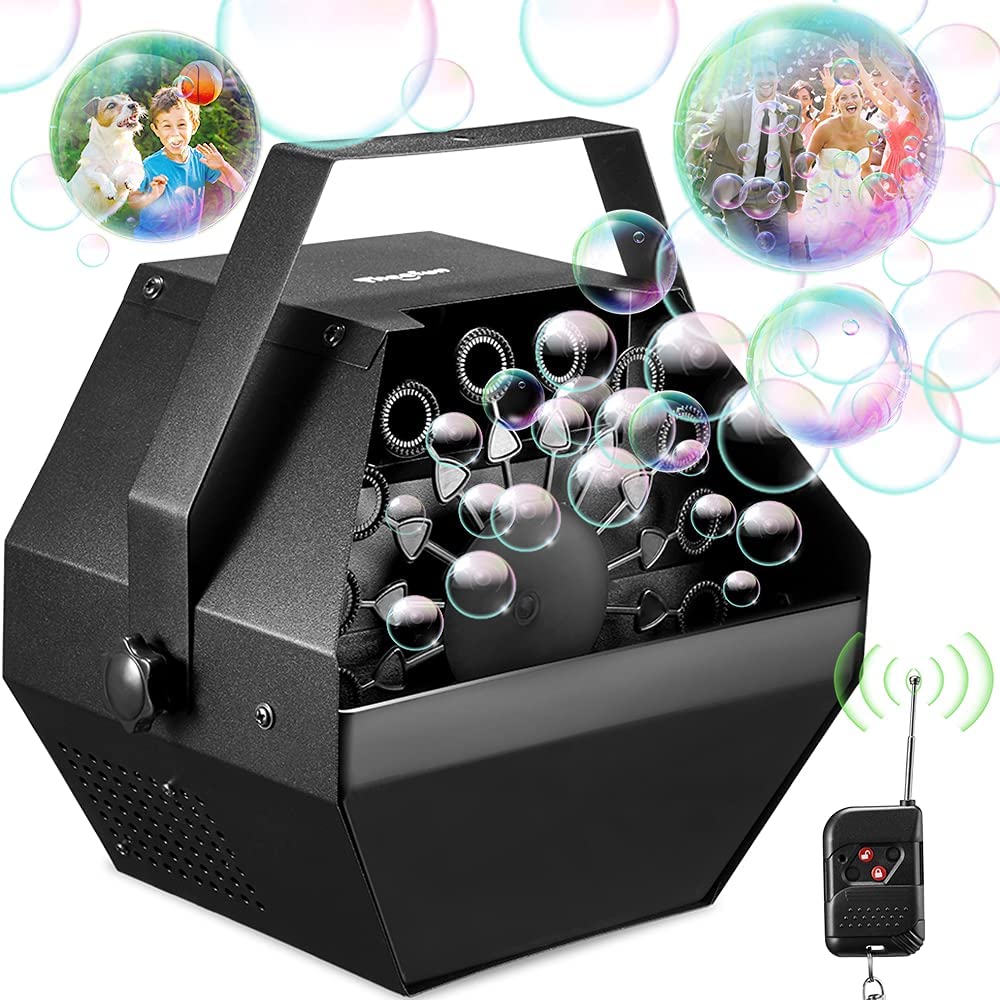 Control your bubbles even from afar! This bubble machine comes with a wireless remote control so you can start and stop the fun with the push of a button. With the ability to blow more than 800 bubbles per minute, this is a great plug-in one that can be used for parties, birthdays, or even weddings.
It's good for indoor and outdoor use with an AC adapter, and the remote control is easy to use. You can use the remote control within 10 meters.
This is one of the more unique options for individuals who want a bubble maker that has the ability to turn on and off without you needing to trek all the way across the backyard or venue.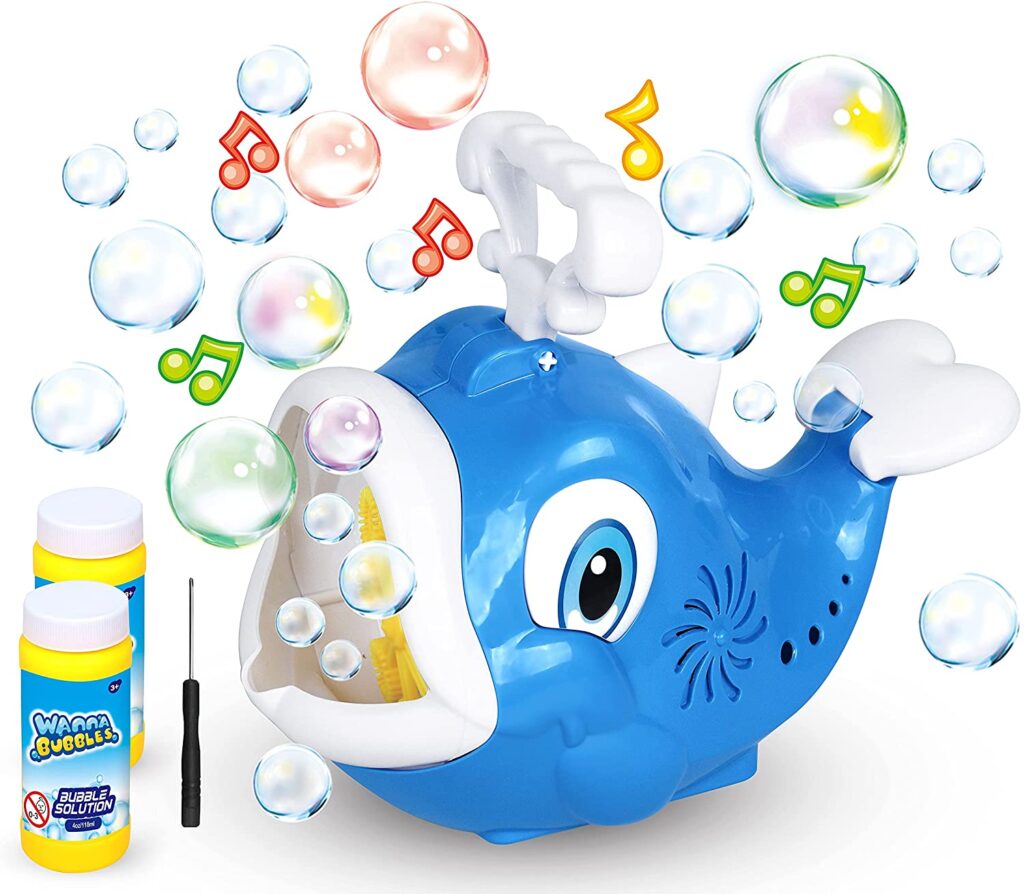 Similar to the dolphin model, this fish bubble blower can produce more than 1,000 bubbles per minute. It's automatic that's great for children and toddlers. It can be used indoors or outdoors, and all you have to do is fill the bubble solution.
With three AA batteries installed, you can keep this running for hours. Just refill the bubble solution (a bottle of 4oz solution is included) as needed to have bubbles on demand all day.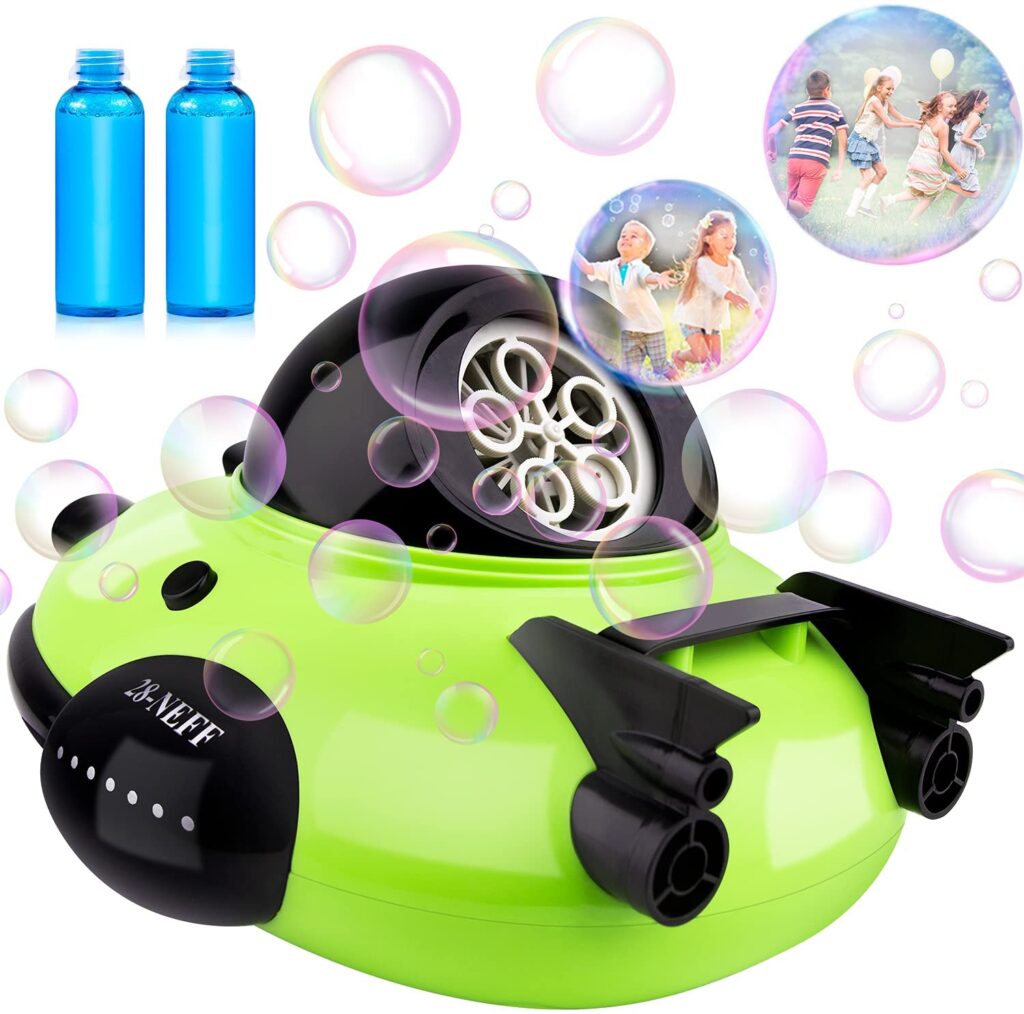 With a cute design that looks like an underwater submarine, this bubble machine can produce a stream of 2,000 bubbles per minute. It creates the perfect atmosphere for any event. The bubbles come out of the device at a slight upward angle. You can place it anywhere, even on the floor!
All you have to do is insert three AA batteries and fill the bubble solution. (Two bottles of bubble solution included.) It is a beautiful little bubble machine that you can use every day during the summer, and the design makes it all the more charming and fun for children.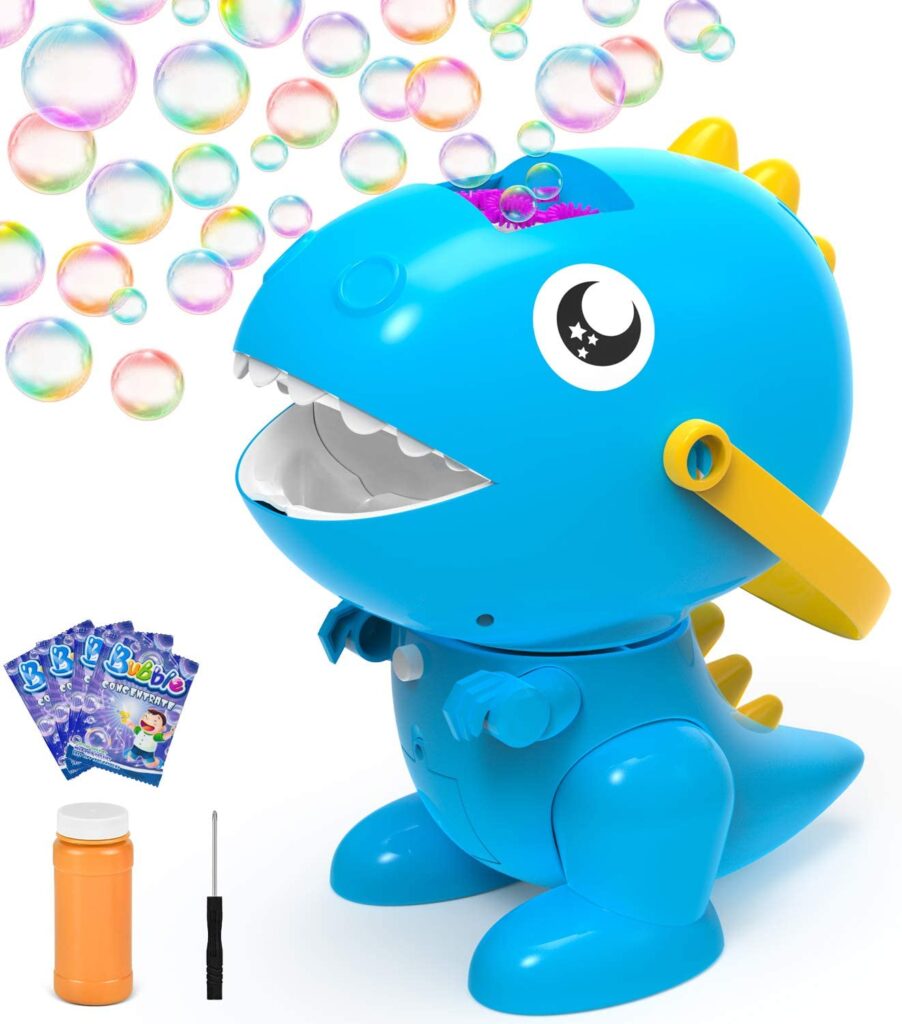 This adorable dinosaur bubble machine can produce up to 3,000 bubbles per minute. There's 2 different size holes on the wands for unique bubbles and the dinosaur head rotates 180 degrees when it's on.
With a portable handle, this one can travel anywhere with you and your family. It's powered by batteries.
It is lightweight, fun, and can produce hours of entertainment for your young ones.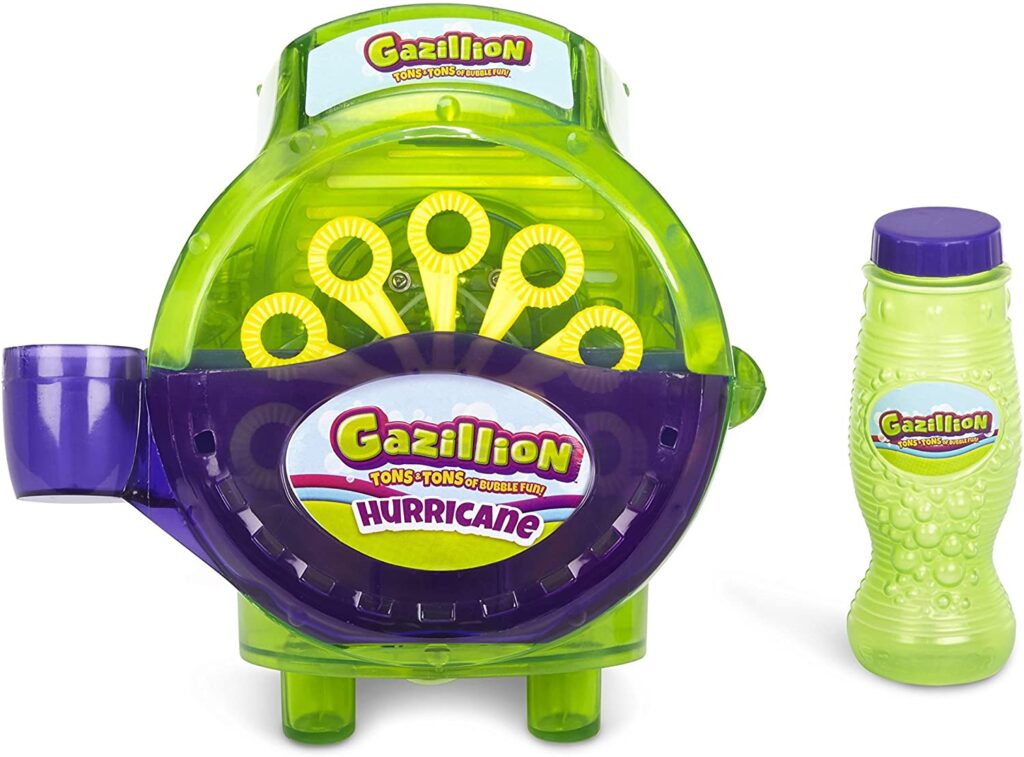 Nicknamed the Gazillion Bubbles Hurricane Machine, this is not just any ordinary bubble maker machine. This one is the real deal and one of the top bubble machines!
This comes with a 4-ounce bottle of bubble solution, and it is simple to operate. It can produce thousands of bubbles, and it comes in the same wheel bubble wand design.
It is an award-winning bubble machine and requires six AA batteries. With its power, it's no wonder why it has so many great reviews and noted as one of the best options!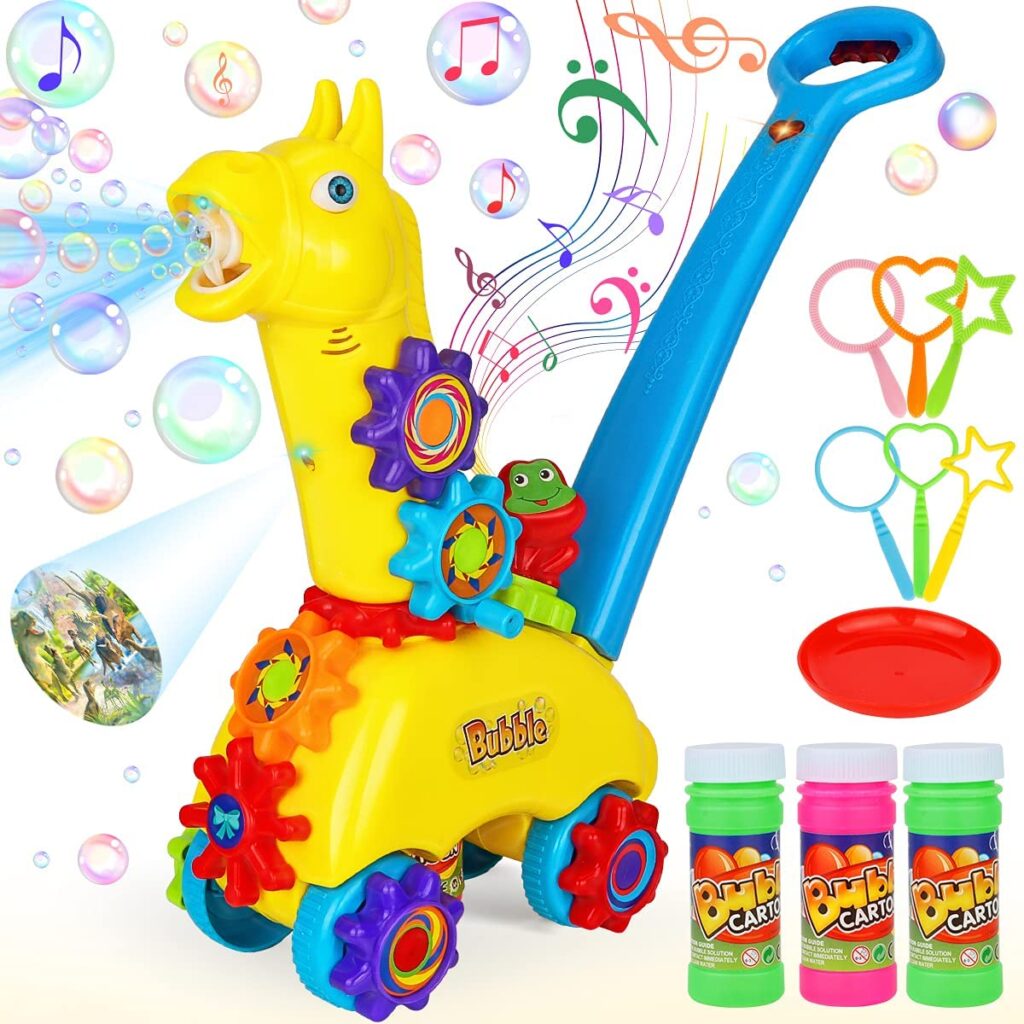 This machine is different than the other bubble machines listed — it offers toddlers a chance to move around and push their very own toy mower. This fun giraffe-shaped machine has a handle that toddlers can maneuver that produces the bubbles.
All you have to do is put in three AA batteries (not included), press the on button, and let your kid walk around. It has music and lights, and is one of the most fun products that we have come across.
It helps toddlers practice walking and gives them a fun incentive for doing so! This one has a bottle of solution included.
*Find other baby walking toys here!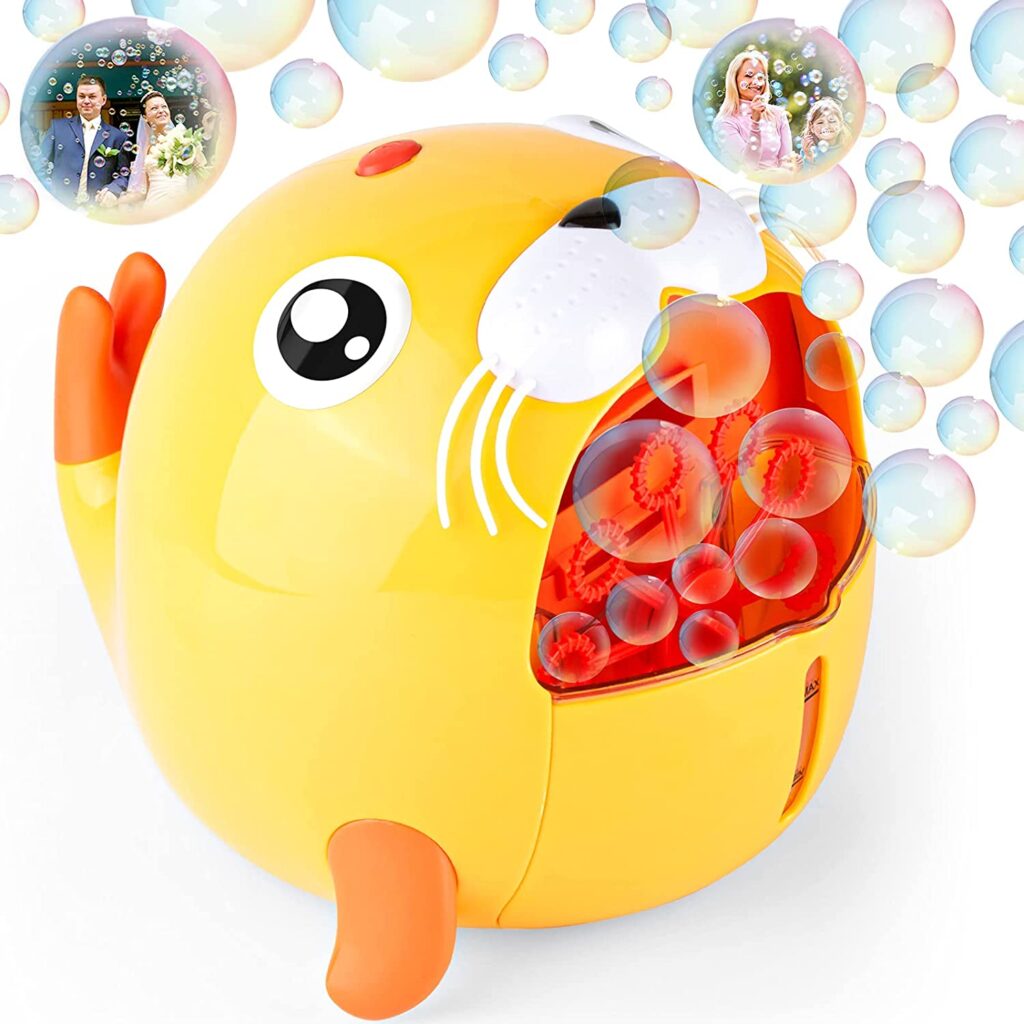 Lastly, this entertaining machine is different from all the rest! With the ability to produce between 500 bubbles and 2,000 bubbles, this bubble machine comes in two sizes. There is a detachable tank for easy liquid recycling, making this a quick cleanup as well.
With two blowing wands, this is a great tool to use for your kids and to choose between more bubbles or a longer run time. The bubble machine itself is only 7 inches tall, but it's still very powerful. It also gives you the choice to have two different sizes!
FAQ
Are bubble machines safe?
In general, yes, bubble machines are safe. Most are made with durable ABS plastic for superior toughness and rust protection. Always be careful when using things that are plugged in when children are involved.
Which bubble solution is best?
Most regular bubble solutions from the store are just fine to use. You can also mix your own solution! Always be sure to use soft water rather than hard water for better bubbles.
Do bubble machines make a mess?
Yes, they can make a big mess! Always be careful to keep them straight and not tip them one way or the other so solution doesn't spill out. Always empty the bubble machine when you're done using it to prevent spilling when not in use.
Introducing a bubble machine for your home and for your family is an exciting activity that will keep the dreaded summer phrase, "I'm bored," out of your house.
If you're looking for more outdoor fun, check out these: