If you're on Instagram or follow any celebrities, you've probably heard of Barefoot Dreams blankets. They appear on gift guides each year, people love to grab them when they're on sale, and they're the only blankets that immediately come to mind as being loved by celebrities.
Barefoot Dreams is a luxury brand known for its luxurious blankets, loungewear, and knit pieces that are uber soft and cozy.
The brand's popular CozyChic throw blankets became prominent after one appeared in Khloé Kardashian's home on the popular reality TV show "Keeping Up With the Kardashians." Other celebrities such as Oprah Winfrey, Kate Hudson, and Chrissy Teigen have also been spotted with the blankets! 
*Short on time? This is my favorite Barefoot Dreams Dupe! I own it in multiple colors, have gifted it to my sister and have a few in our cabin rental!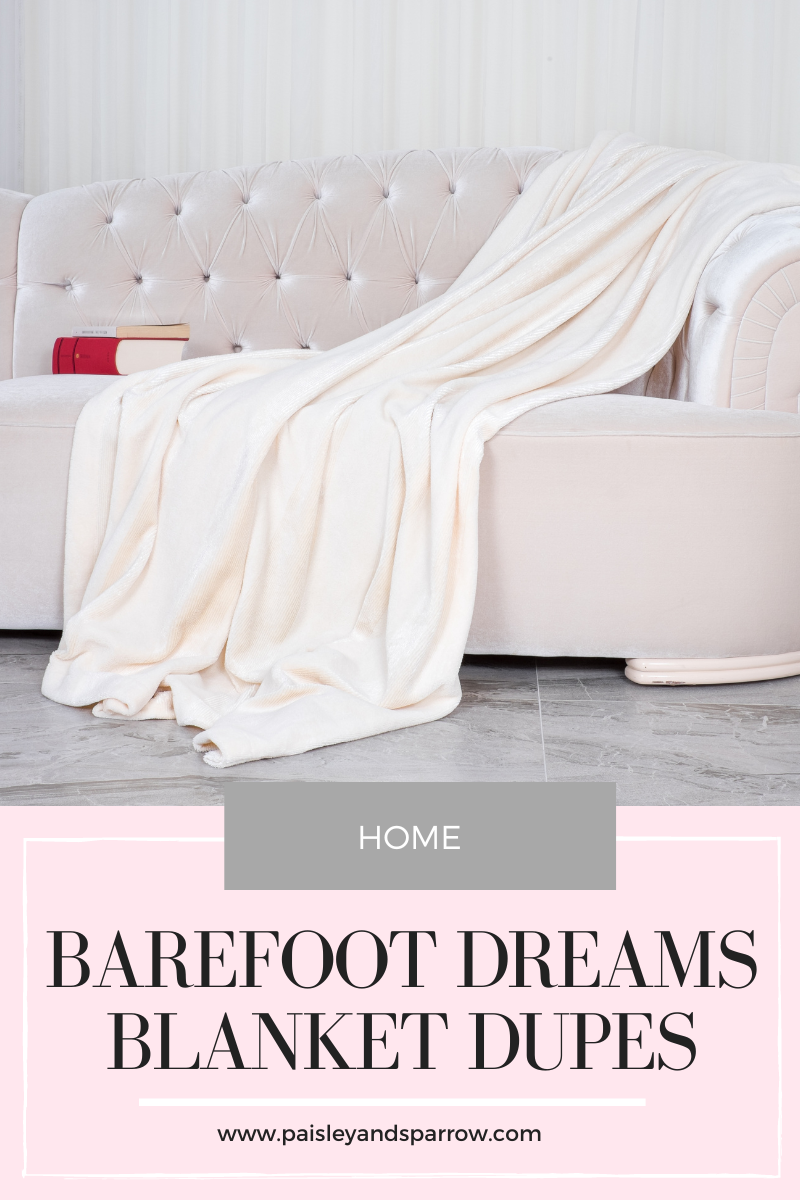 What Are the Barefoot Dreams CozyChic Blankets?
Barefoot Dreams CozyChic Throw blankets are made of 100% polyester microfiber, which is super fluffy, thick, and durable! They're also hypoallergenic, which is perfect if you're allergic to materials such as fleece and wool.
Why are they so popular? Well, it really comes down to just how soft they are (so soft!) and how well the style fits into most home decor.
What Makes a Good Barefoot Dreams Dupe?
The first requirements for picking out your favorite luxurious blankets are that they're cozy and you like the way they look. You don't need it to look exactly like the Barefoot Dreams blanket if you're just hoping to find less expensive but equally comfy blankets for your home or kids.
But if you're looking for a very similar Barefoot Dreams dupe, you'll want to look for a polyester or microfiber material. You also might see some decent dupe options listed as sherpa blankets.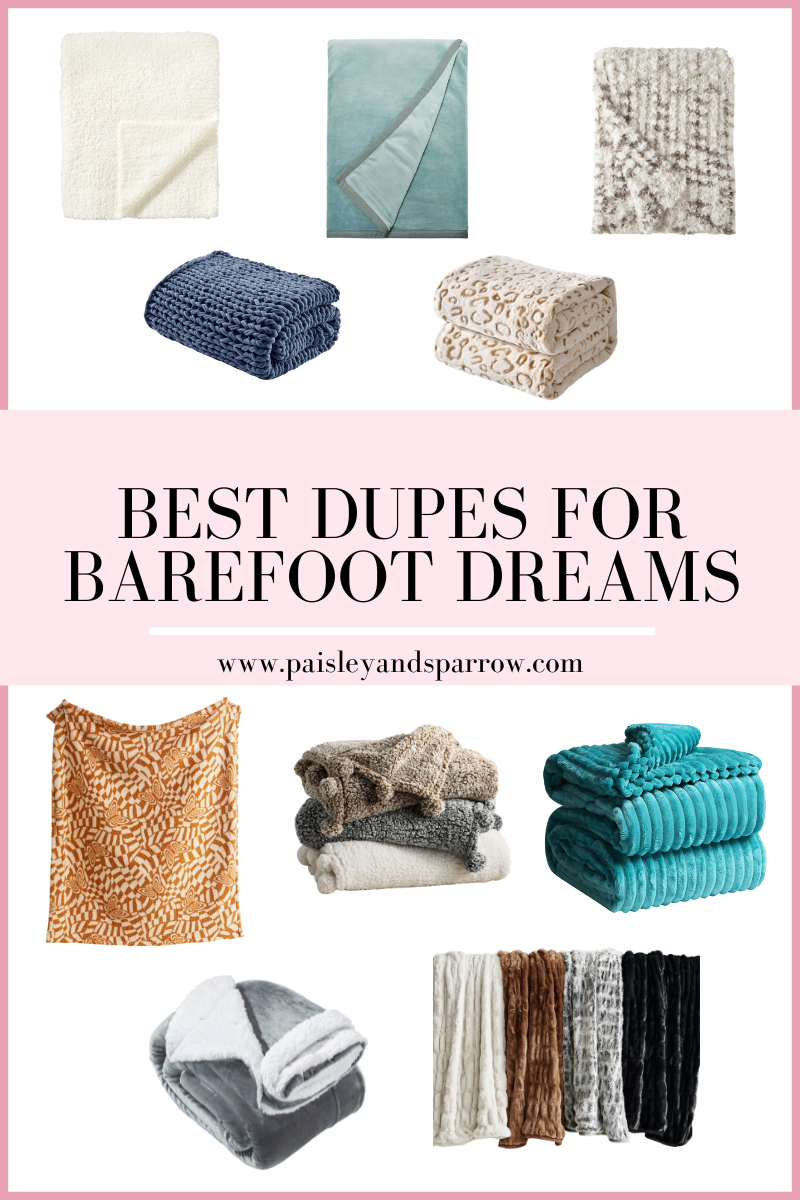 Paisley + Sparrow is a participant in the Amazon Services LLC Associates Program. This post may include affiliate links which means I may earn a small commission if you shop using the links below at no additional cost to you. 
Top 15 Barefoot Dreams Blanket Dupes
If you've had your eye on the Barefoot Dreams blanket but dread the $180 price tag, you're in luck! Here's a list of the top 15 dupes for the Barefoot Dreams CozyChic Throw!
This soft sherpa blanket is available on Amazon and is an excellent dupe for the Barefoot Dreams brand. It's made of microfiber cashmere and faux sheepskin. These plush blankets are buttery soft, reversible, and easy to clean! They come in seven different sizes and are available in over 20 colors, so you'll surely find something that suits your decor!
This cozy dupe on Amazon by FY Fiber House is an alternative option for the Barefoot Dreams animal print throw! It has a 4.8 out of 5-star rating and over 5,500 reviews.
It's also made of a microfiber polyester material like the original, and it's super plush and lightweight. This beautiful dupe comes in four shades of leopard print: brown, pink, gray, and blue. It's also available in four different sizes!
The Kardashians love Barefoot Dreams blankets so much that Kim decided to create and sell her version of the luxurious blanket!
While it's a bit smaller than the original Barefoot Dreams CozyChic Throw, measuring 58″ X 53″, it's still a great size for getting cozy! It's made of a 76% Polyester and 24% Nylon blend, so it's still soft! However, avoid putting it in the dryer; let it air dry so it doesn't shrink and retains its softness!
It comes in seven trendy colors!
This adorable pom pom sherpa throw is the perfect cozy blanket if you want something soft and luxurious but also has a playful design!
It's also certified nontoxic by OEKO-TEX and is free of the harmful substances common in textile manufacturing.
If your dream is to wrap yourself up in a cloud, this is the blanket for you! It's an extra-large size, measuring 60" x 80", and is much larger than the Barefoot Dreams CozyChic Throw.
It's reversible with sherpa lining on one side and a ribbed design on the other. It'll keep you nice and warm while being lightweight and breathable!
This adorable throw blanket is available on Amazon, has an average 4.7 out of 5-star rating, and over 16,000 reviews! It's made of 100% high-grade microfiber polyester like the Barefoot Dreams and is super soft!
The adorable pom pom fringe gives the design a cute, playful touch, and it's available in over fifteen different colors and four different sizes!
I own this one in a few colors and have gifted them to my sister as well. We're both hooked! I highly recommend this one.
If it gets pretty cold at night, wrap up and stay warm with this super soft blanket! It's made of flannel fleece, perfect for cooler temperatures while remaining breathable and comfortable for warmer weather!
It comes in four different sizes: Throw (50" x 60"), Twin (66" x 90"), Queen (90" x 90"), and King (90" x 108")!
If Barefoot Dreams' $180 price tag doesn't scare you, but you're looking for something that looks and feels more elegant, this might be the blanket for you!
Pottery Barn's Faux Fur Ruched Throws are not only soft to the touch, but they're stunning to look at! It's made of extremely silky fibers, and the ruched design creates a gorgeous ripple effect.
It measures 50" x 60" and comes in seven colors!
This adorable handmade throw blanket has a charming chunky knit pattern that is perfect if you're going for a shabby chic aesthetic. The double-knit pattern reinforces the blanket, giving it extra durability, and is incredibly soft! It measures 60" x 50" and is available in five different colors.
It's also certified nontoxic by OEKO-TEX and is free of the harmful substances common in textile manufacturing.
Donna Sharp's Chunky Knit Throw is an excellent choice if you're looking for an extremely warm throw blanket. It's made of acrylic yarn, keeping you nice and toasty for much longer! The beautiful woven pattern has a playful charm that's not too over to the top!
It's available in over 15 colors and measures 50" x 40"!
UGG is known for its uber-soft and cozy assortment of clothing, bedding, and accessories. This fabulous throw blanket is no exception!
It's also made of 100% plush 320gm polyester and is incredibly plush and perfect for cool nights! I have 2 Ugg blankets and love them both!
If you're looking for a throw blanket that will elevate your decor, look no further than the BOURINA Throw Blanket. It has a beautiful diamond pattern across the surface of the blanket and a beautiful tassel fringe.
It's made of 100% acrylic fabric and incredibly lightweight. It measures 50" x 60" and is available in 25 colors and three different sizes!
This luxurious handcrafted throw blanket by Crafted by Catherine is the luxury you deserve! It's made of 100% polyester, and the silky fibers will feel elegant and soft against your skin! Its neutral color palette of soft cream and gray will look great with any décor or aesthetic!
This beautiful microfiber velvet throw blanket is like snuggling up with a teddy bear! It has a beautiful slightly ribbed design which gives a lovely texture and elegant look The 100% premium microfiber polyester is super soft and plush while remaining lightweight during warmer months.
Urban Outfitter's ultra-cozy sherpa blanket is the statement piece you've been searching for. It's made of plush fleece for supreme softness, coziness, and lightweight. It's available in over 10 colors and trendy graphic designs that will catch your visitors' attention!
Looking for more dupes?
Want to save some cash but get a similar look? Check out my other dupe guides!