Golden Goose sneakers have hit the scene with full force. From the runway to the feet of other shoppers at Target, they're everywhere!
Golden Goose sneakers are from the Golden Goose Deluxe Brand (otherwise known as GGDB) that was started by designers Francesca Rinaldo and Alessandro Gallo back in 2000. It's an Italian brand that values quality craftsmanship, strives for uniqueness and authenticity.
Made in Italy, their shoes are made out of premium Italian leather. All of the Golden Goose sneakers on the market have a distressed look to them. As the Golden Manifesto states, they "like things that are lived in, distressed, touched with life".
And if you know anything about Golden Goose sneakers, you know they come with a hefty price tag. If you're someone who wants the look of Golden Goose sneaker but just can't swing the price of the real deal, here's some great Golden Goose inspired shoes to check out in the meantime!
15 Golden Goose Inspired Shoes to Save Hundreds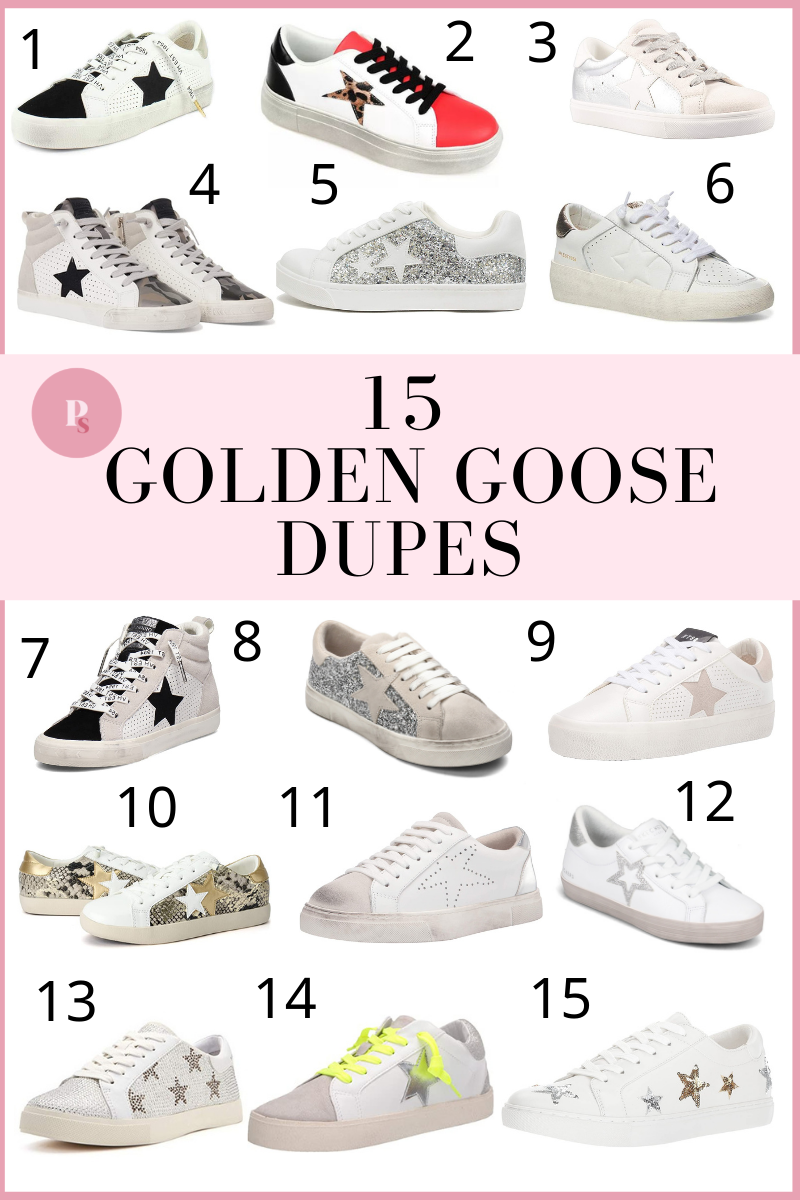 Paisley + Sparrow is a participant in the Amazon Services LLC Associates Program. This post may include affiliate links which means I may earn a small commission if you shop using the links below at no additional cost to you. 
1. Vintage Havana Sneakers
A sleek looking black and white sneaker with a black star on the side gives these definite Golden Goose Vibes!
These are 100% leather with a rubber sole. The details on the laces add a nice touch!
2. Journee Adair Sneaker
If you love a more modern, fun look for your star sneakers, you have to check out these Adair Sneakers! They come in a bunch of different colors including this super fun red and leopard print one.
Roll them around in some dirt and you've got yourself the perfect distressed shoes!
3. Party Fashion Star Sneakers
A shoe with a bit of a metallic feel to it are these Party Star Sneakers! These are 100% vegan materials with a 100% satisfaction guarantee. These have a rubber sole and a breathable, vegan uppers. These are a great neutral shoe that will go with everything!
4. Vintage Havana Lester Mid Top
If you want more of a mid rise sneaker, these are fantastic pair! The top is printed with neutral colors on the side. The black star gives it that Golden Goose vibe!
5. Soda Wander Double Star
This fun shoe has not one but two! The glitter shoe gives this a fun sporty look and it has extra cushion foam to make it extra comfortable! These shoes have a bit of a platform sole – they are .75″ thick – giving them a super fun vibe.
6. Vintage Havana Gold Detail
These white shoes with a white star are 100% leather and 100% cute. Subtle gold detailing on the heel and the tongue give these just a touch of shine.
These might look used, but they aren't! The outsole is made to look slightly dirty, so there is no need to worry about scuffing up the sole of your brand new shoes!
7. Vintage Havana High Top Sneakers
If you are loving the look of high tops this is the shoe for you! These shoes are 100% leather with a distressed sole.
We love the black, white, and beige color scheme. Most reviewers say these run a tad small, so consider sizing up a half size.
8. Steve Madden Rubie Sneaker
These glitter shoes with leather star are made to look dirty – and we love it! These are perfect for someone who hates trying to keep your sneakers look clean.
These have the perfect worn in look – even the laces aren't perfectly clean! You will love heading out the door in these shiny – yet smudgy – shoes!
9. Steve Madden Starling Sneaker
If you like Steve Madden shoes – try these sneakers out! These are 100% synthetic white shoes with a pink-ish color star and heel accent. Theses come with the option of neon laces which give these shoes a unique look you will love.
10. Steve Madden Women's Rezume Sneaker
Clearly the worn in look is in style right now! This is another pair of Steve Maddens, but these have the distressed look going on.
The star on these shoes is a punched out outline. You will find silver accents on the heel which adds a bit of unexpected flair.
11. YYZ Star Sneakers
We love the colors of these shoes! The sides have an animal print feel to them with black, gold, and gray.
These shoes feature double stars – one in gold and one in white. These shoes are 100% vegan and are made to slip on – no tying necessary!
12. Skechers Women's Street Diamond Starz Sneaker
Here is your wedge sneaker! These white shoes have a 1″ heel height and a 2″ wedge inside. These shoes have a padded collar and tongue making them super comfortable. You will love the silver star on the side and silver accent on the heel!
13. Katy Perry Women's The Rizzo Sneaker
These unique shoes feature star applique detailing on the side – these are the shoes for the woman who wants to be a bit more one of a kind!
These shoes lace up and have a comfortable padded insole inside. These are definitely worth checking out.
14. Madden Girl Women's Linlee Sneaker
These Madden Girl shoes have white sides with a sliver star and silver heel. These are generally neutral so they will go with all your outfits. They come with neon laces making them a fun option!
15. Kenneth Cole New York Women's Kam 11 Fashion Sneaker with Star Patches
These shoes have gold and silver star patch detailing on the toe, heel, and outside part of the shoe. (There are no stars on the inside part of the shoe). We love the simple yet fashionable look of this shoe! These are 100% leather and have a super comfortable microfiber lining on the inside.
So there you have it! 15 amazing Golden Goose Dupes that will give you that GGDB vibe without breaking the bank.
Want more fashion fun? Here's tons of ways to wear your white booties and denim jacket outfit ideas!