Balloon garlands are an easy way to create a huge impact for any party. And a rainbow balloon arch is so fun and easy to DIY!
Whether you have a St Patricks Day party, birthday party or just want to spread some cheer, a rainbow balloon garland is a great way to have a statement piece at your party.
Our daughter recently had a birthday and in true toddler form, she wanted a rainbow theme. We ended up having 2 different types of rainbow balloon garlands for it and they were perfect!
There's a lot of different types you can create. You could have mini ones using less balloons, you could create a pastel rainbow balloon garland using pastel balloons, you could even do just white balloons clustered together with rainbow colored streamers hanging down from it!
If you want to create your own rainbow balloon arch, I'm here to help! With a little time and a lot of balloons, you can create a beautiful balloon arch.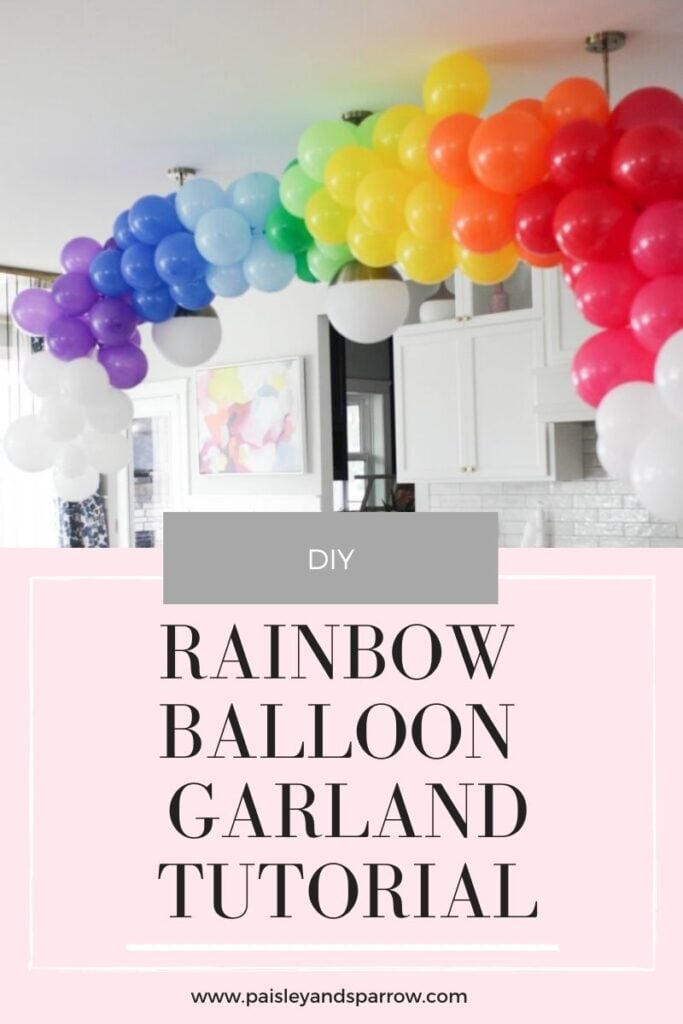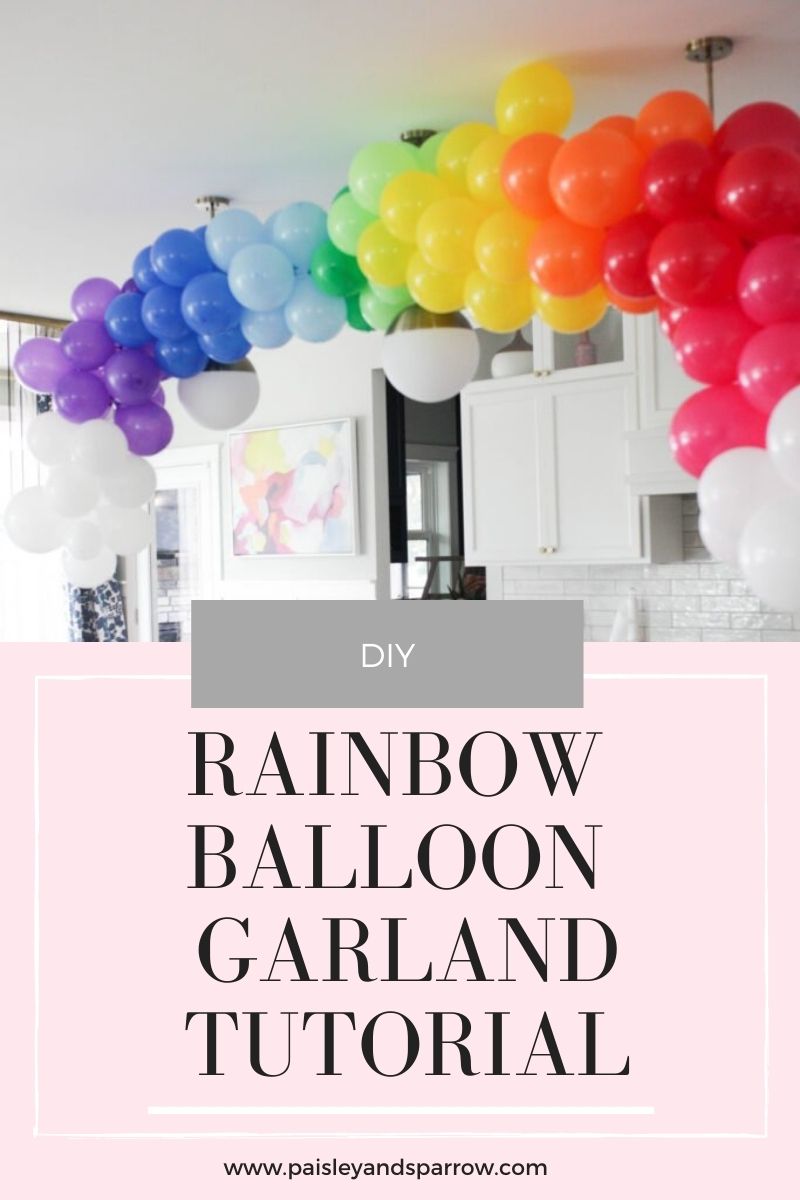 DIY Rainbow Balloon Garland Supplies
1. Rainbow Colored Balloons or Balloon Arch Kit
Depending on your space, you'll need around 100-150 latex balloons. Often times you'll see balloon garlands with multiple sizes of balloons. For my main rainbow balloon arch I used the same size.
You can choose whatever size balloons you want! If you want a more uniform look, use the same size balloons like I did.
To make things easy you can get a balloon garland kit like this! Or just pick up a variety of rainbow color balloons in the shades that you want.
Just remember, it's better to have too many balloons than not enough!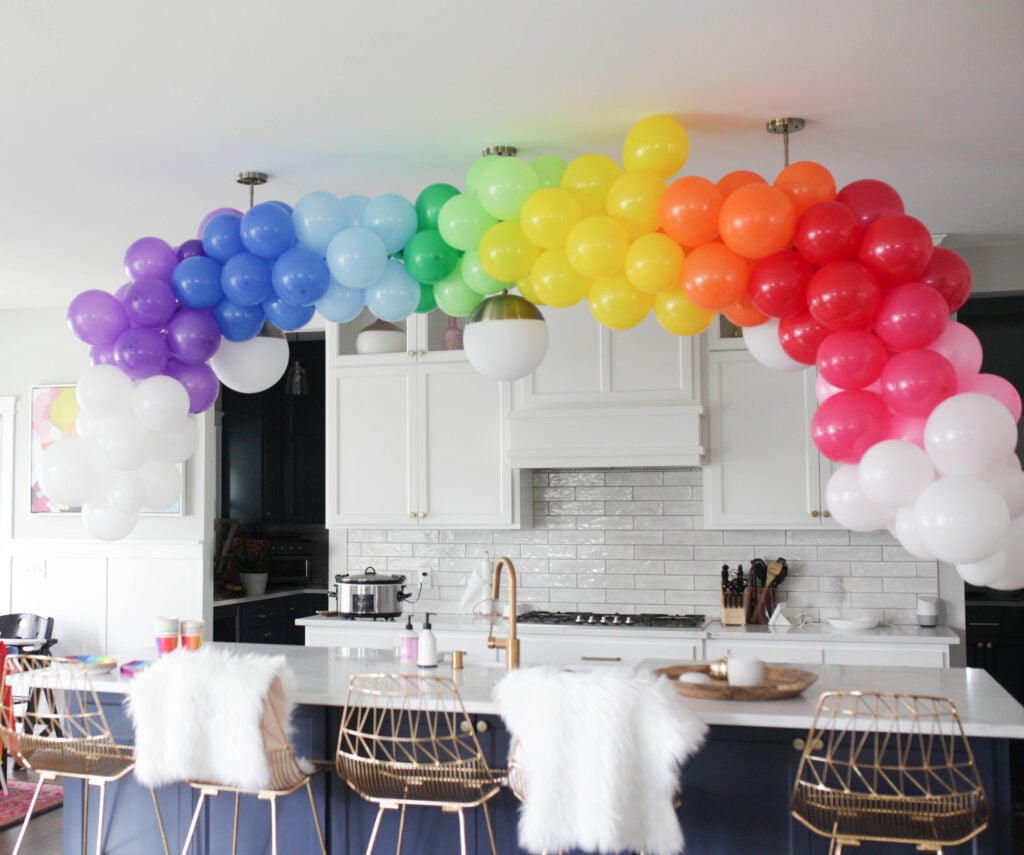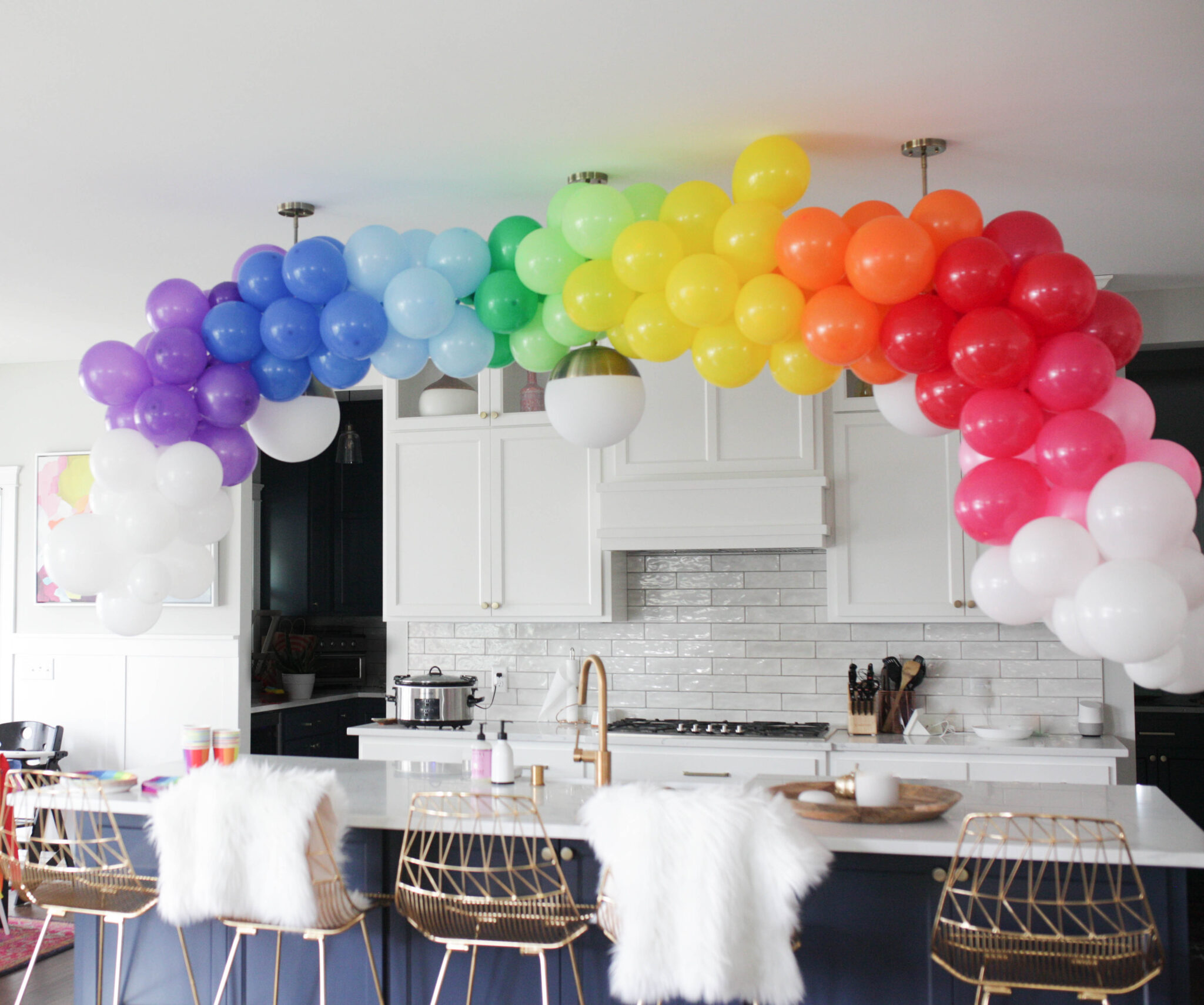 2. Balloon Decorating Strip
A balloon decorating strip is the the key tool to making a balloon arch! This simple strip is what I use for all of my balloon garlands.
A balloon decorating strip is simply a long plastic strip with holes to put the knot of the ballon through. You can't make a balloon garland without one of these! I found my balloon strip on Amazon (the single hole style).
Oftentimes people think this is a stiff wire but it's not. It's just a flimsy plastic. It's the tool to keep the balloons together – how you hang it is how you create the arch. Just something to keep in mind when planning.
3. An Electric Balloon Inflater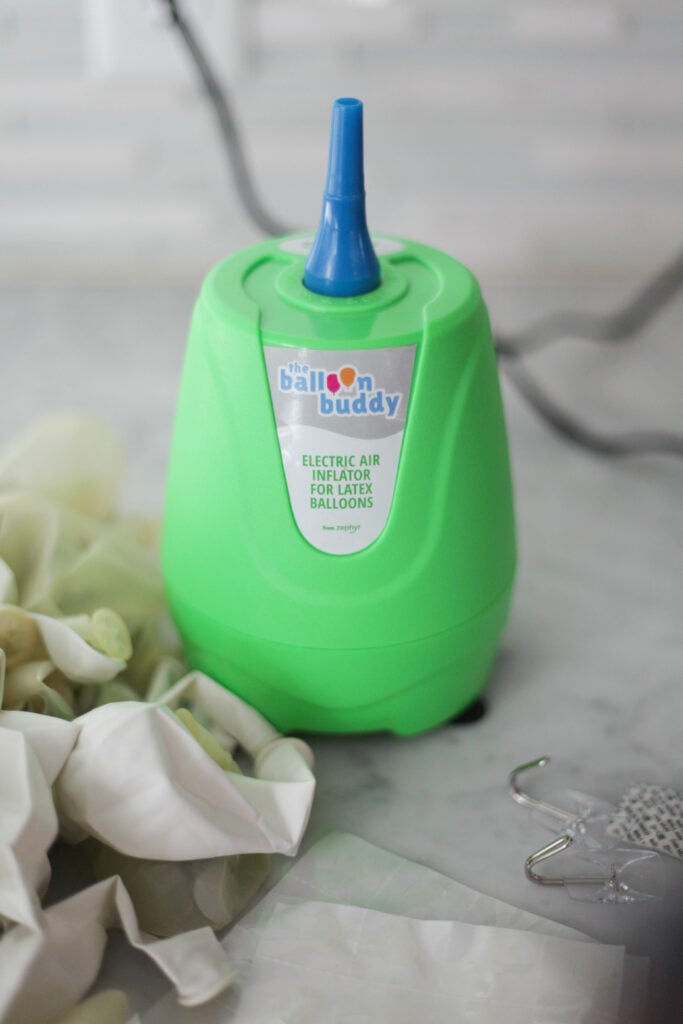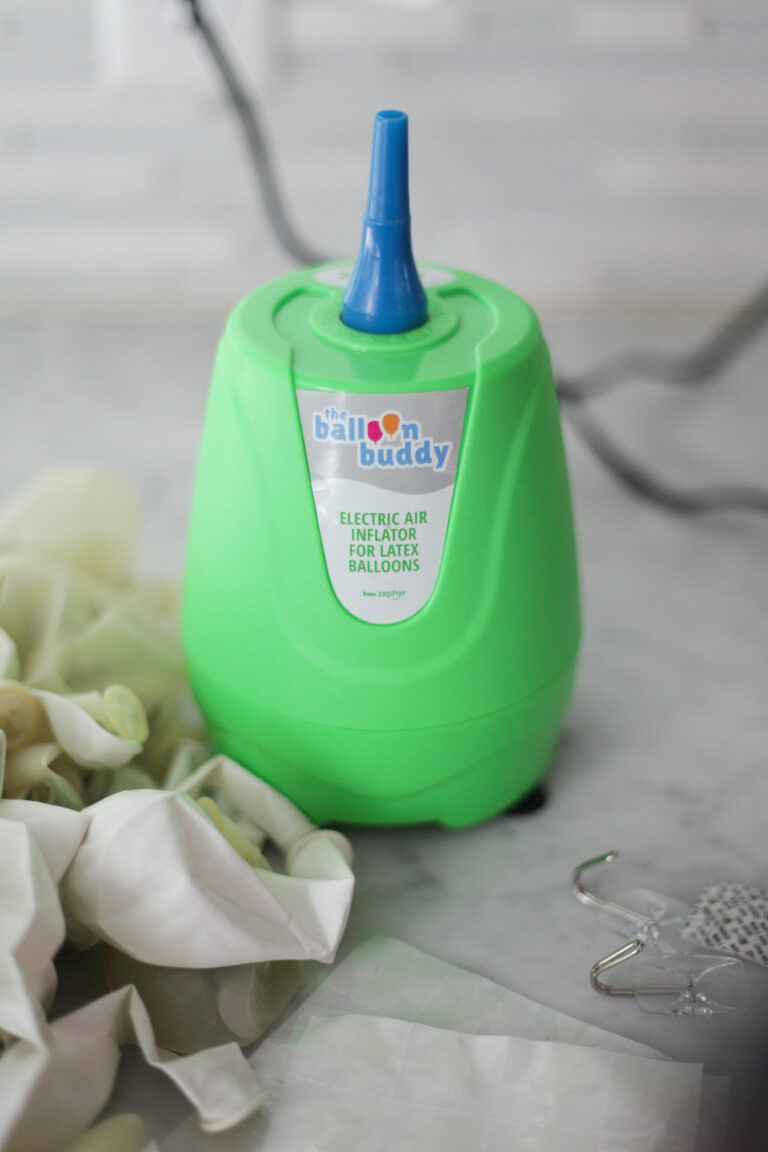 Take it from me after NOT using an electric balloon inflater for one balloon garland – you need one of these. Save your breath and save hours of your time with this!
The one I have is this electric balloon pump from Amazon – it gets so many amazing reviews and is totally worth it.
You could also use a balloon pump but honestly, the electric version makes filling your balloons so much faster and is totally worth the investment.
4. Command Hooks
You'll likely something to hang your balloon arch up to create the rainbow. Command hooks work great since it doesn't create an extra hole in your wall! I got commands hook from Amazon or you can always get hooks from Target.
I've used both the smallest and medium size depending on where I was hanging it. Balloon garlands are super light so you don't need anything too intense!
5. Glue Dots
Glue dots are how you will attach balloons together to fill in any holes at the end of the project. One pack goes a long way (and you can use them for other projects you may have).
I got these off of Amazon and I've used them for all my balloon garlands and still have plenty leftover.
How to DIY an Easy Rainbow Balloon Garland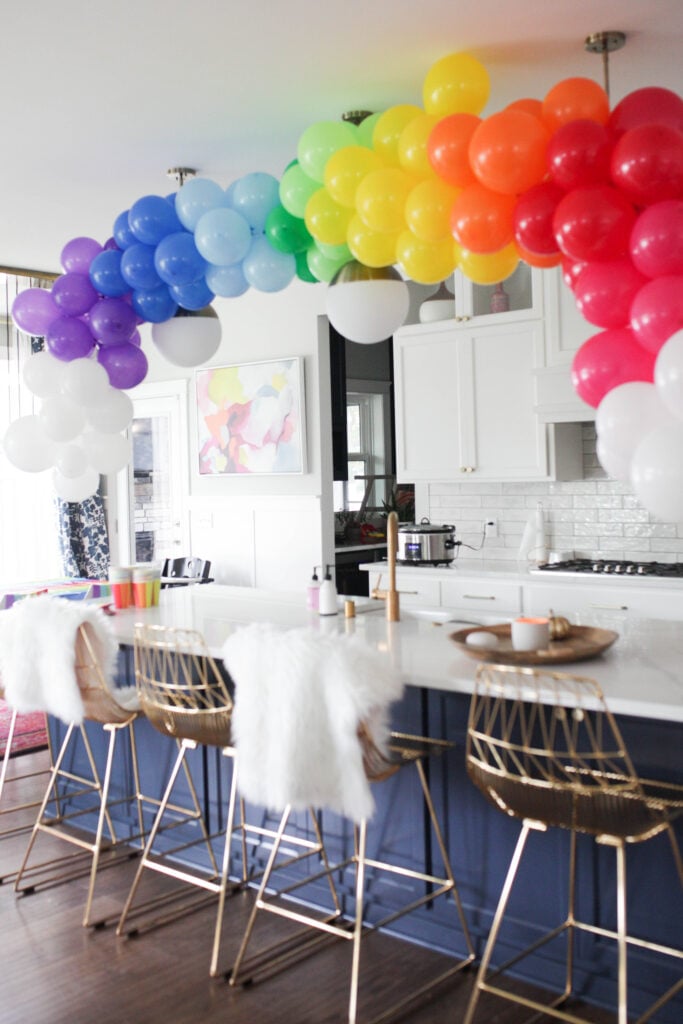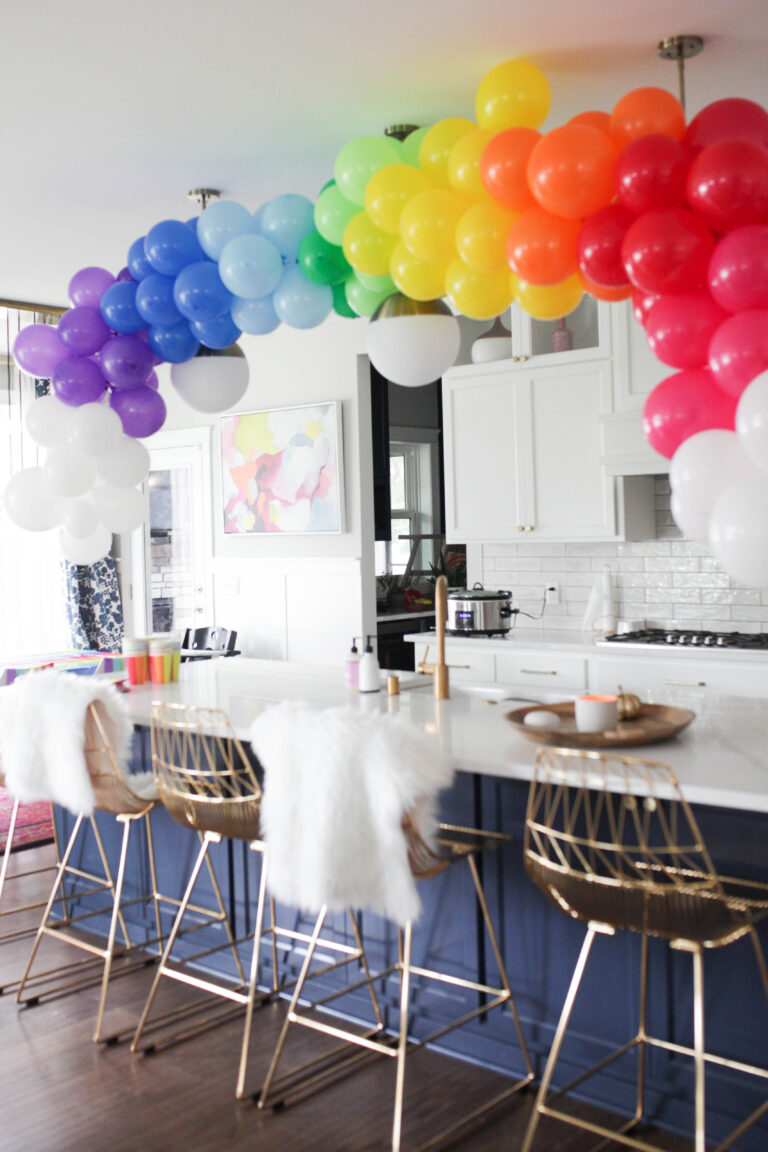 I made 2 different types of rainbow balloon garlands but these instructions will be for the traditional style with the balloons creating the rainbow (and not streamers like this one).
Step 1: Separate Balloons by Color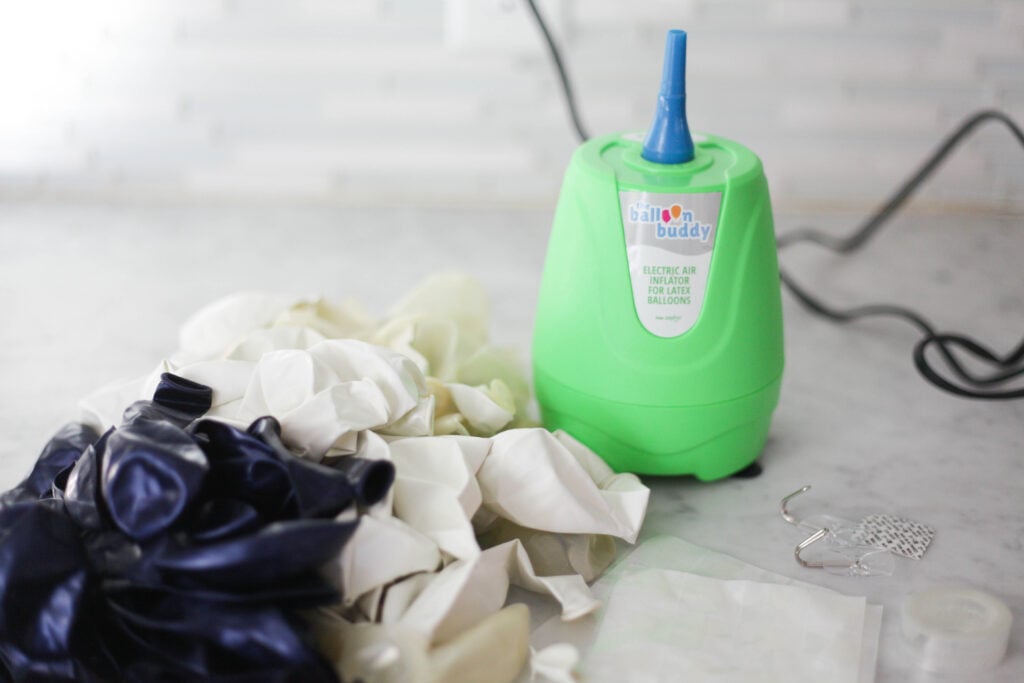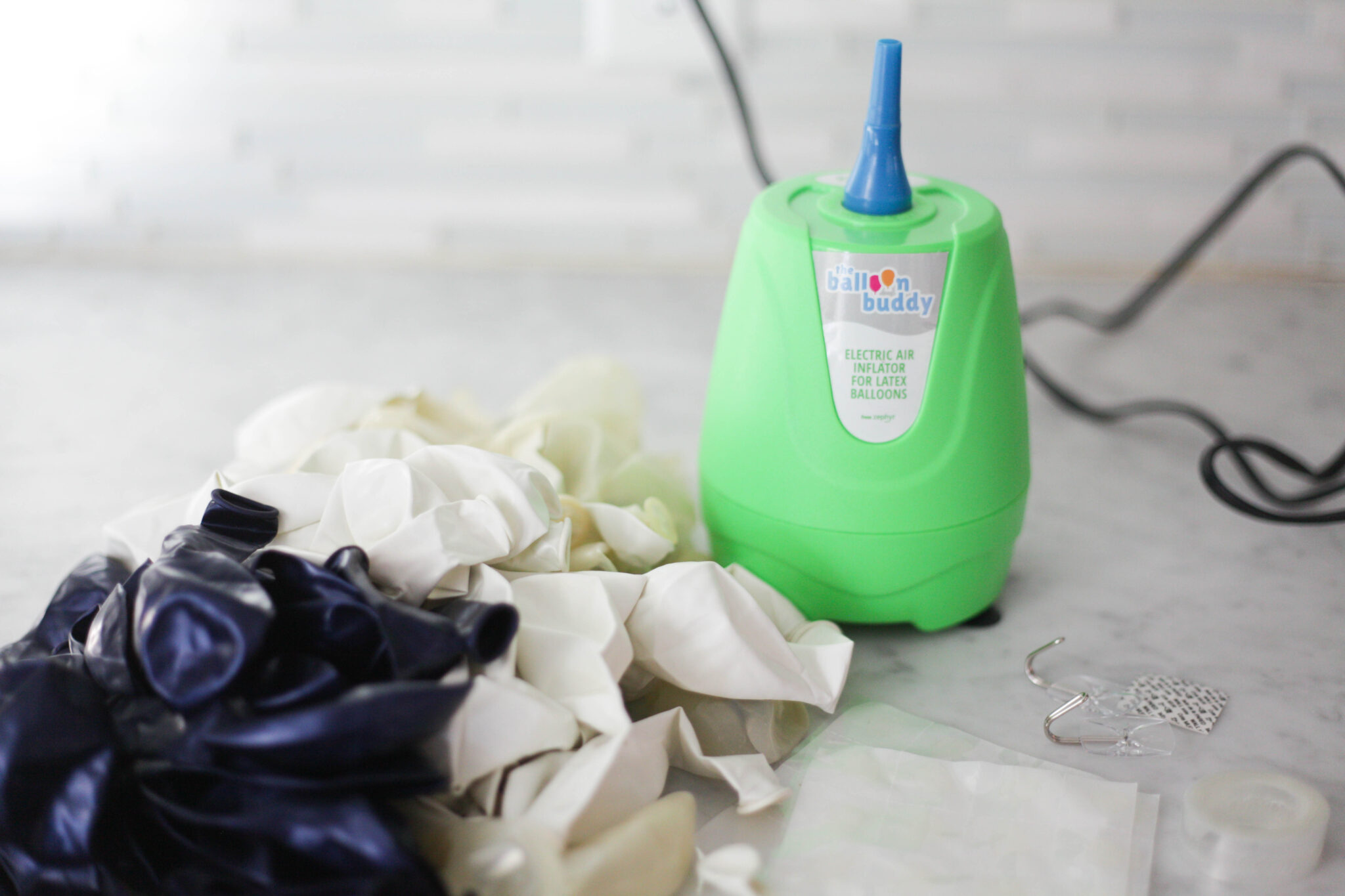 These instructions are slightly different from my regular balloon garland tutorial just to make it easier to put together. First step for a rainbow balloon arch is to separate all your balloons by color.
Step 2: Blow Up First Color
Using your balloon pump, blow up the first color of your garland. As you can see in mine, I had white clouds. If you're doing the same, you'll want to blow up half of the white balloons for the first set of clouds.
Depending on how you hang your garland, you could also have just one side of clouds.
Step 3: Attach First Color to Balloon Strip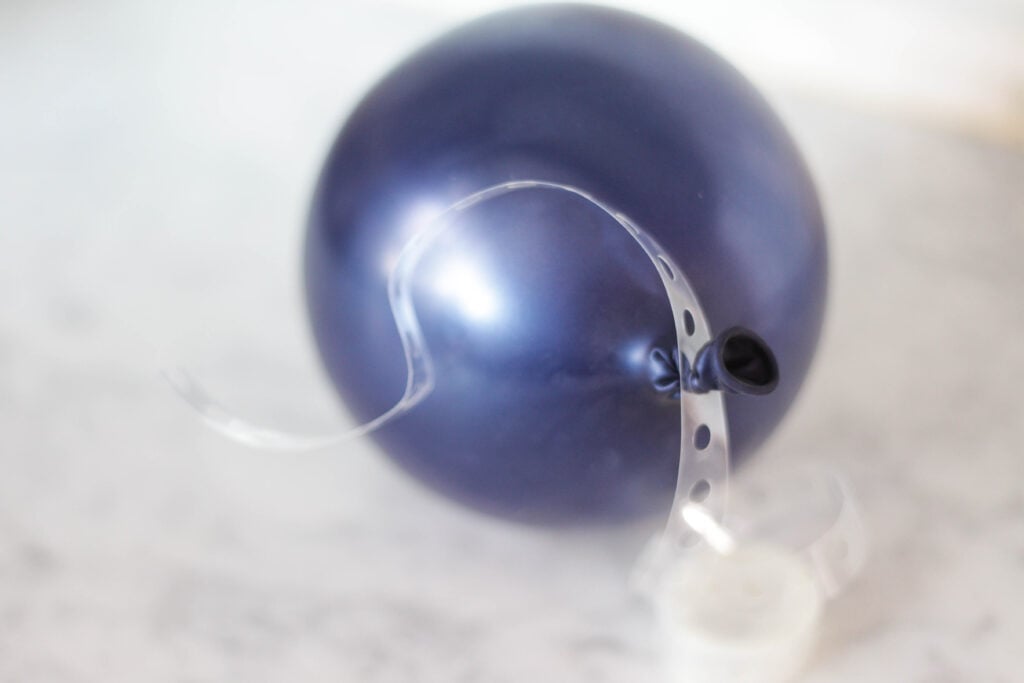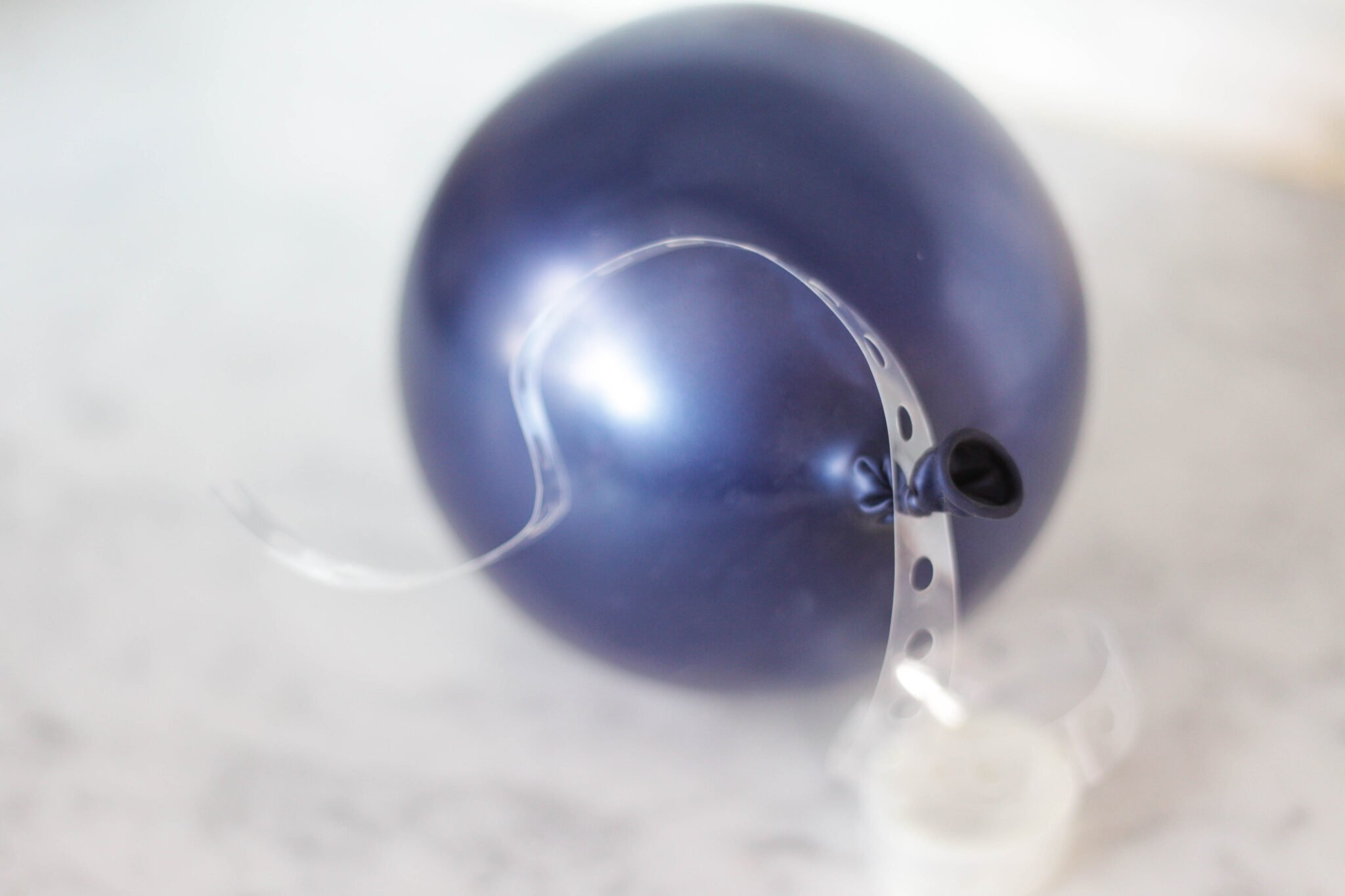 Leaving ~12″ from the end (to allow yourself enough space to attach it to the wall), attach the balloons to the balloon garland strip. You'll want to leave out a few to fill in holes after it's hung up.
Step 4: Repeat Steps 2 and 3 for All Colors
Blow up each color of balloon and add them to the balloon strip until most of the balloons are attached (leftover balloons will be attached after it's up).
Step 5: Hang Up Your Rainbow Balloon Arch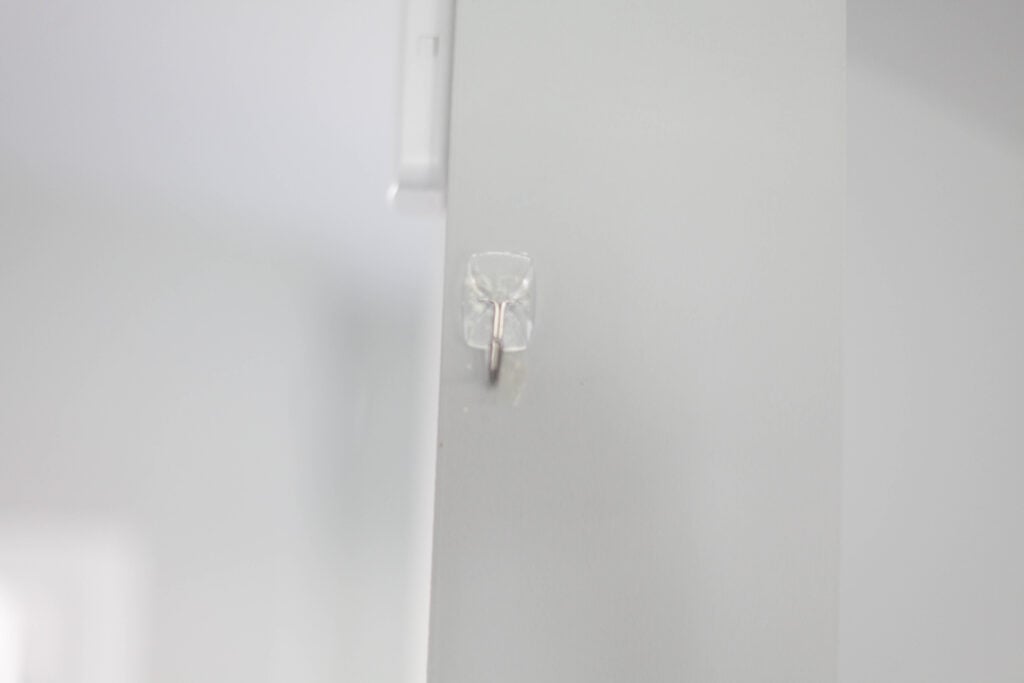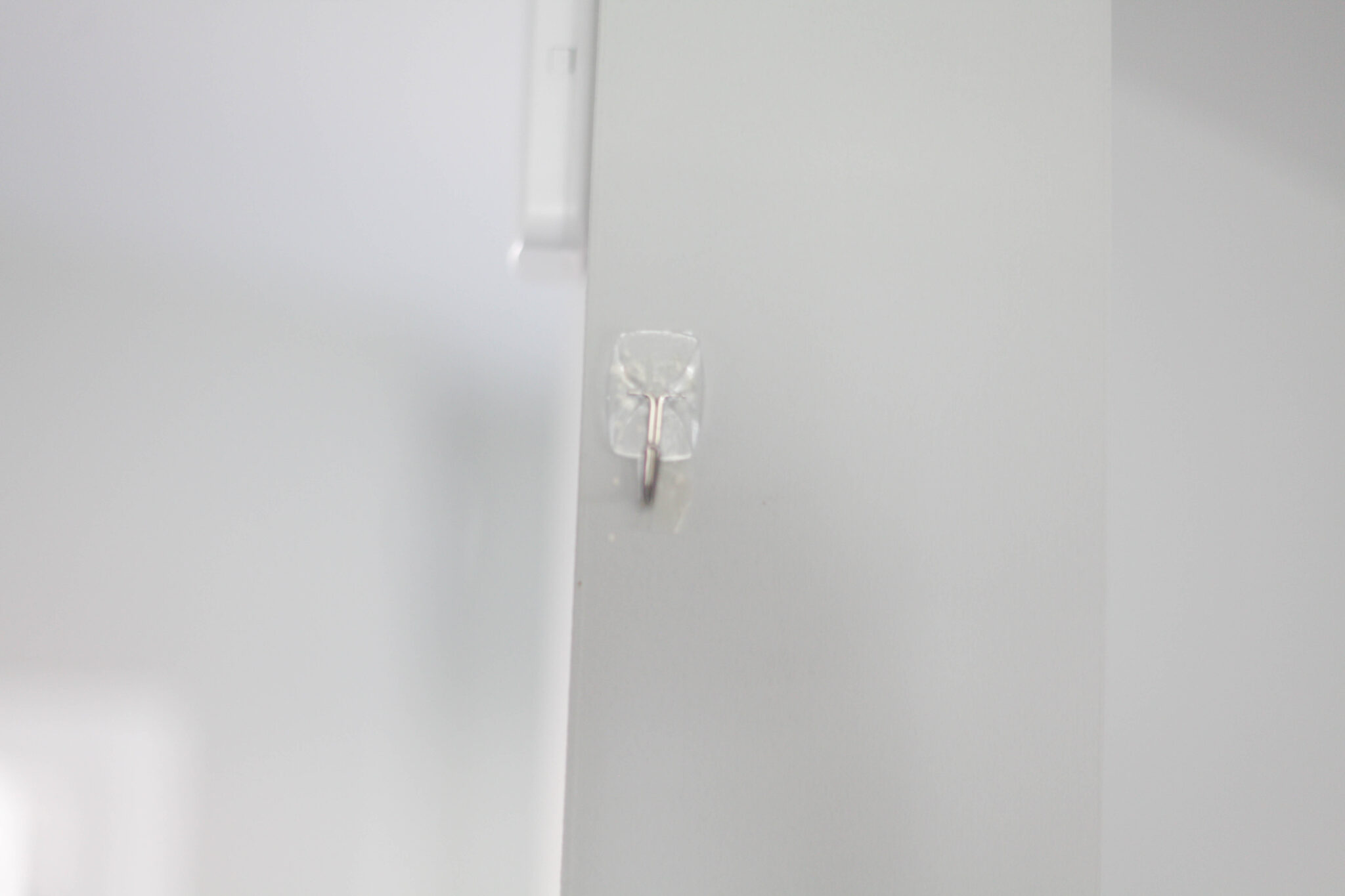 Start by holding up your balloon garland where you want it to go. After you have an idea of the placement, put up your command strips (if you're using those). As you can see in our photo I hung it up by attaching it the light fixtures in our kitchen!
Step 6: Fill in Holes
Using the glue dots, attach any leftover balloons to the balloon garland. Be careful to place the balloons in the right spot the first time since you can't remove them after they're on without popping a balloon or two.
FAQ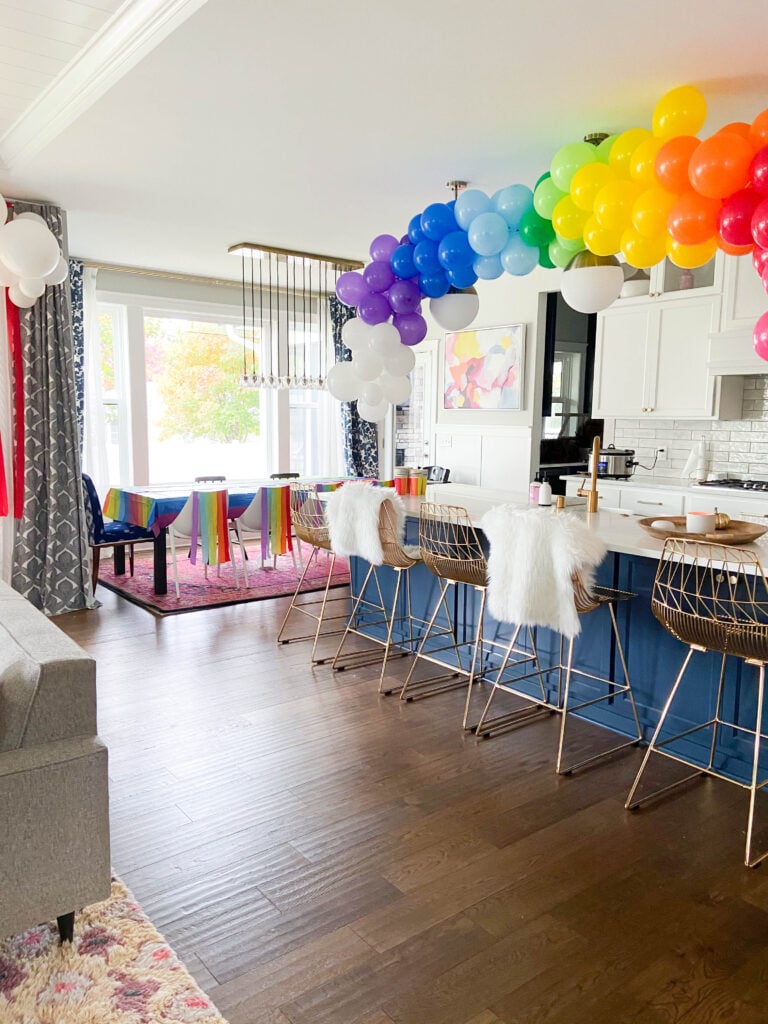 1. How many balloons does it take to make a rainbow arch?
For a larger balloon arch you should use between 100-120 balloons. The one in this post I used 120 balloons. I always err on the side of too many balloons. A balloon arch is a statement piece and when done correctly it will be the focal point of your party!
2. How do you make small rainbow balloon garlands?
You can create small rainbow balloons simply by splitting up your balloons! You can easily have 5 smaller rainbow balloons over one giant one.

All you need to do is use about 4-5 balloons of each color to create your pattern.
There you go! The perfect DIY Rainbow Balloon Arch for any event needing a little extra joy. Be sure to head over to my How to Make a Balloon Garland post for a few more pointers and FAQs!