Your favorite band is coming to town. Yipee! You have tickets secured, babysitter scheduled, but now what the heck should you wear?
Today let's walk through 9 concert outfit ideas to help out with the ever so common question "what to wear to a concert"!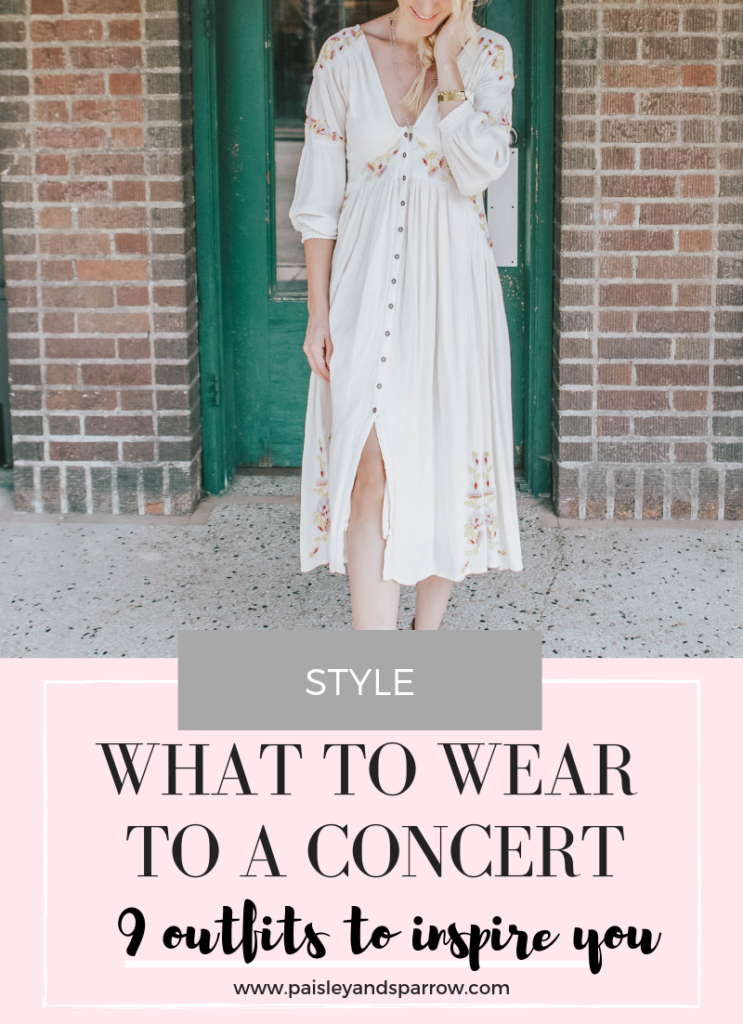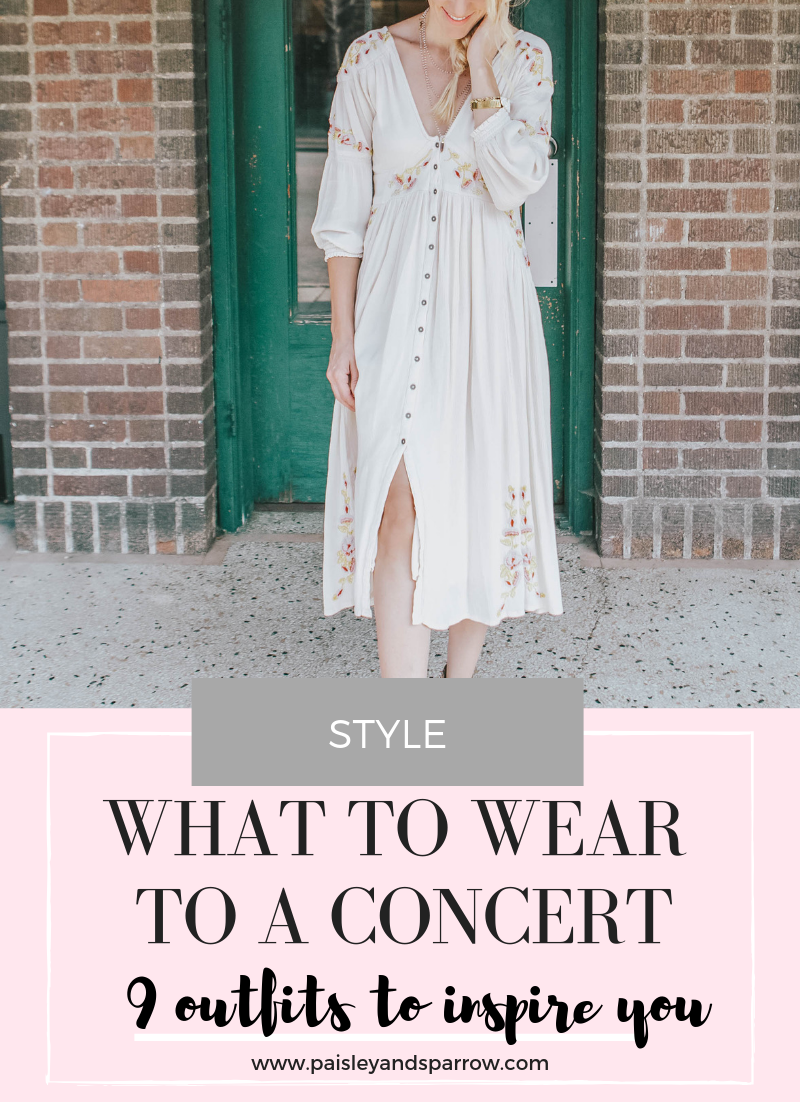 This post may contain affiliate links – thanks for supporting Paisley + Sparrow!
Spring is quickly coming and with it comes concerts! There are so many fun outdoor concerts (especially in MN!) and, of course, all of the sold out arena shows that come to town all year round.
It can be easy to get stumped with what to wear to a concert so hopefully these ideas will jump start your creative side and inspire you with a fun outfit to enjoy your next concert in.
What to Wear to a Concert – 9 Concert Outfit Ideas to Inspire You
1. All Black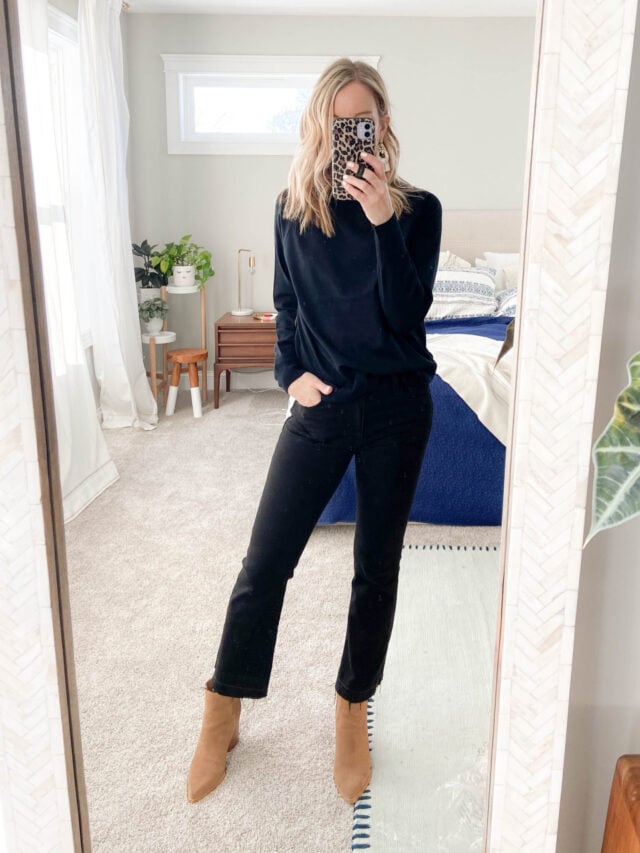 This is a safe bet, especially if you're heading out to see a new band that you've never seen before! My husband loves Smashing Pumpkins and they happened to come to town last year on my birthday.
Being the amazing wife that I am, we spent my birthday viewing a band that I was clueless about (ha!)!
I had no idea what someone wears to a Smashing Pumpkins concert so I went with a classic black outfit. I fit right in with everyone at the concert. 🙂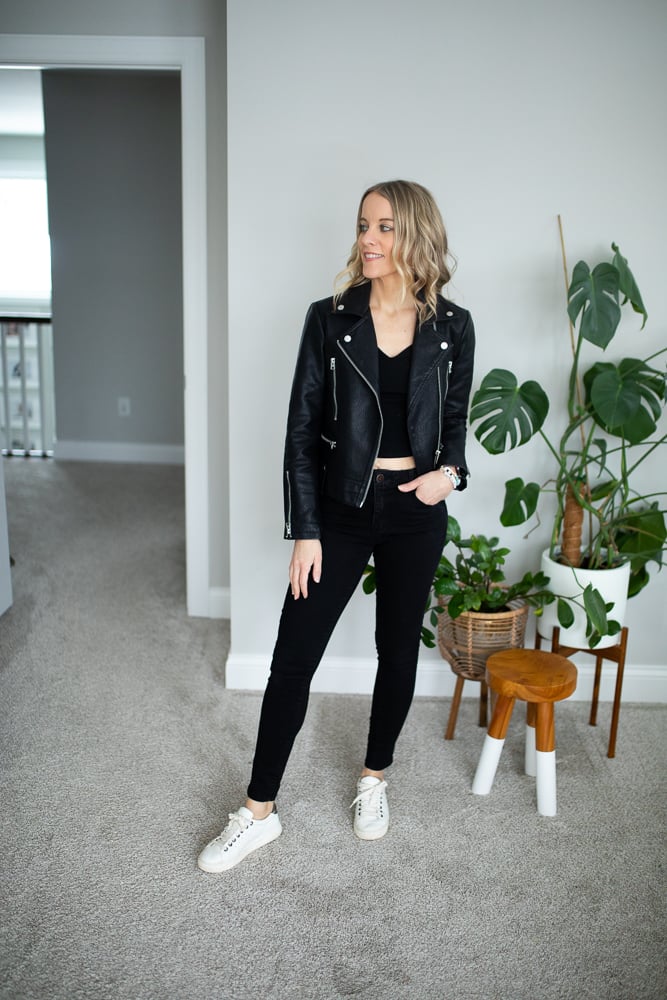 (fnd this outfit and more bralette outfits here)
There are so many different ways to style an all black dress such as a fun colored scarf, a pair of bright colored shoes or a wrist full of bangles and off you go!
Or go with a pair of black skinny jeans and a black top (keep scrolling for my favorite black fringe top!).
Pile on a bunch of gold necklaces, giant tassel earrings, or a bandana (check out this post for a video showing 8 ways to wear a bandana)! It's super easy to accessorize an all black outfit!
2. Sequins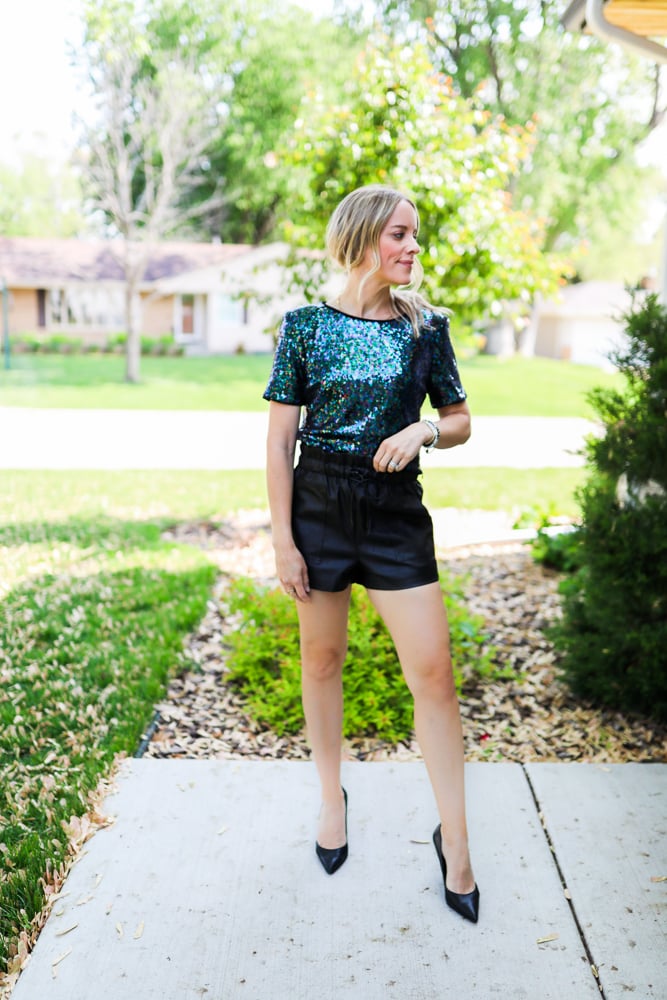 Shop the look: faux leather shorts | sequin top – (sold out similar here)
Whether it's a T-Swift concert, a Beyonce concert or you just want an excuse to bust out those sequins, now is your chance!
If it's a warm weather concert, pair a sequin short sleeve with some faux leather shorts. The combo of the sequins plus the leather is the perfect chic look for a fun pop concert and won't spend the whole concert sweating.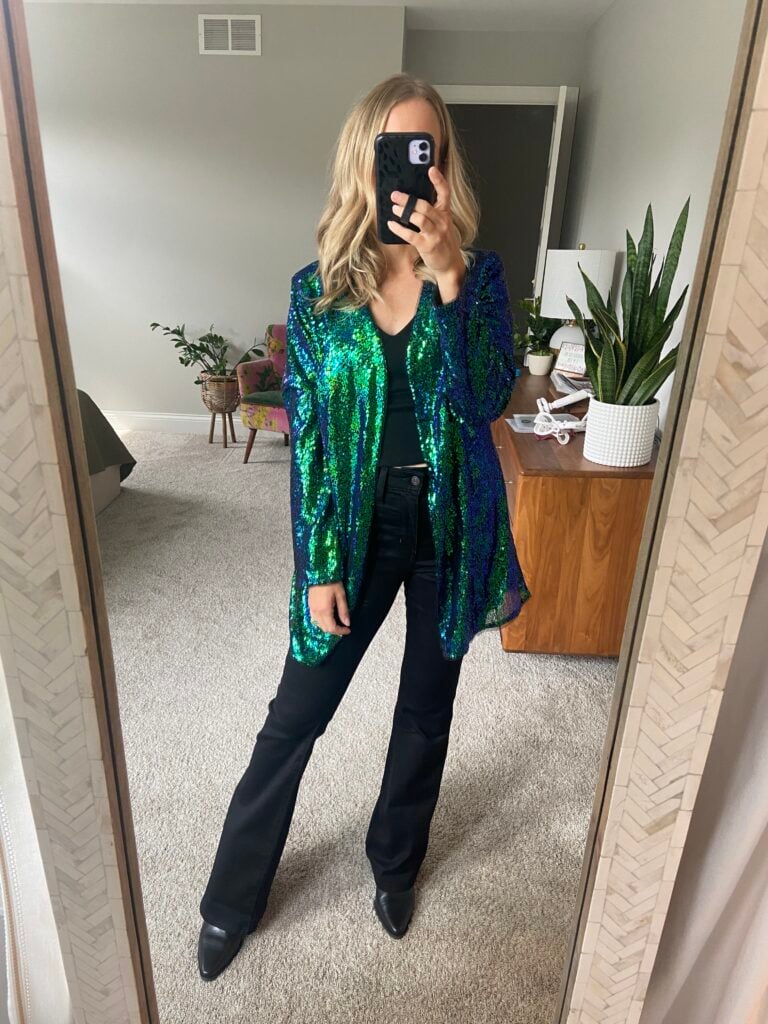 Shop the Look: Pants | Sequin Duster
If it's a little bit colder try a sequin duster! This one from Amazon is SO comfy and cute. Pair it with black jeans, a black crop top and black boots to really let the sequins shine.
3. Fringe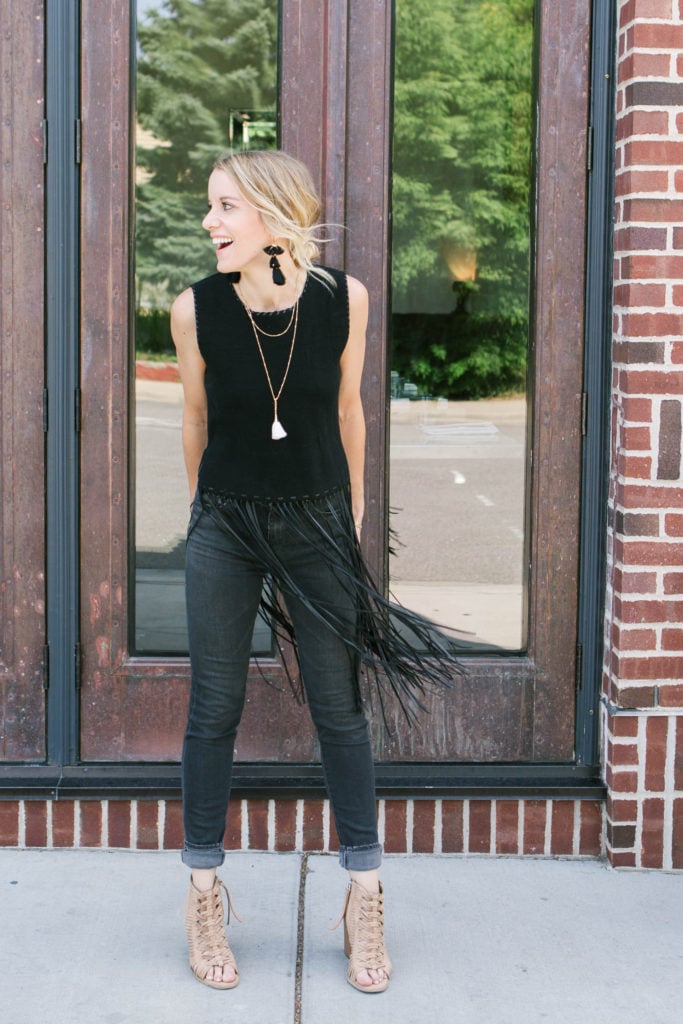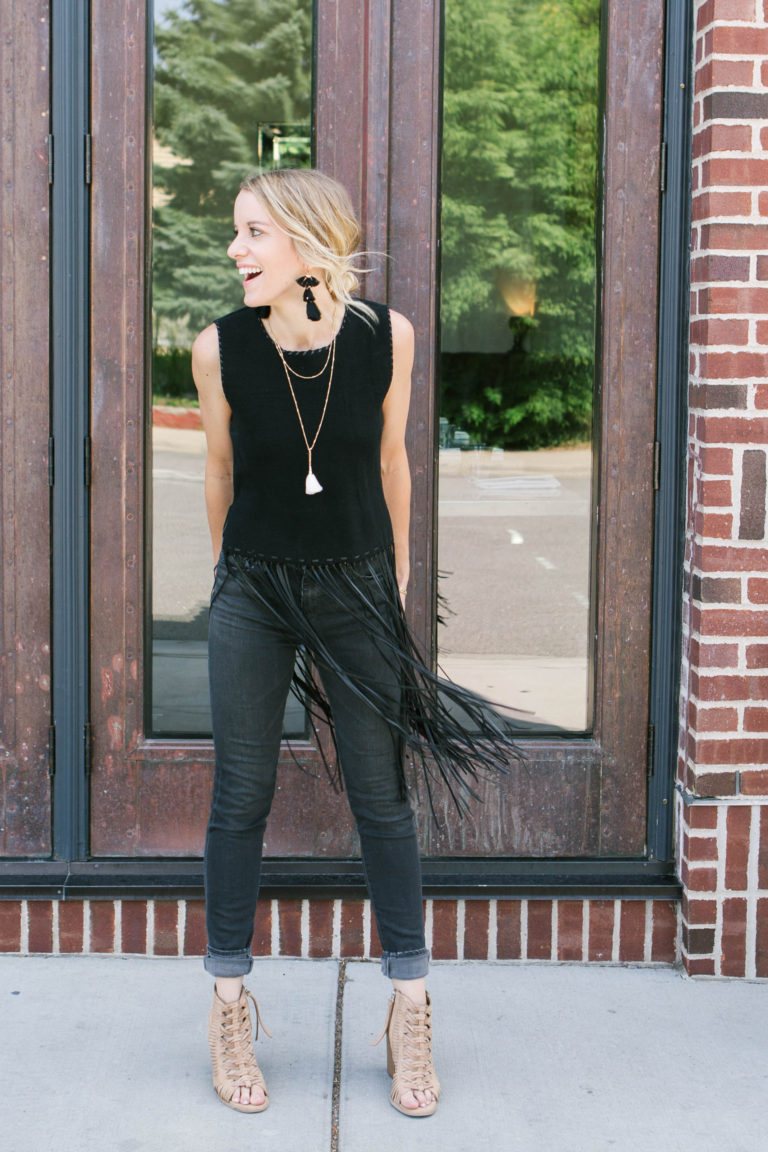 My leather fringe top is one of my favorites for going out! Fringe is always fun, especially if there will be dancing involved!
Whether it's a top like mine or a dress or skirt, swinging tassels around while groovin' to music is always a good idea.
Here are some other fun fringe vests and tops to make your next concert extra fun!
4. A Jumpsuit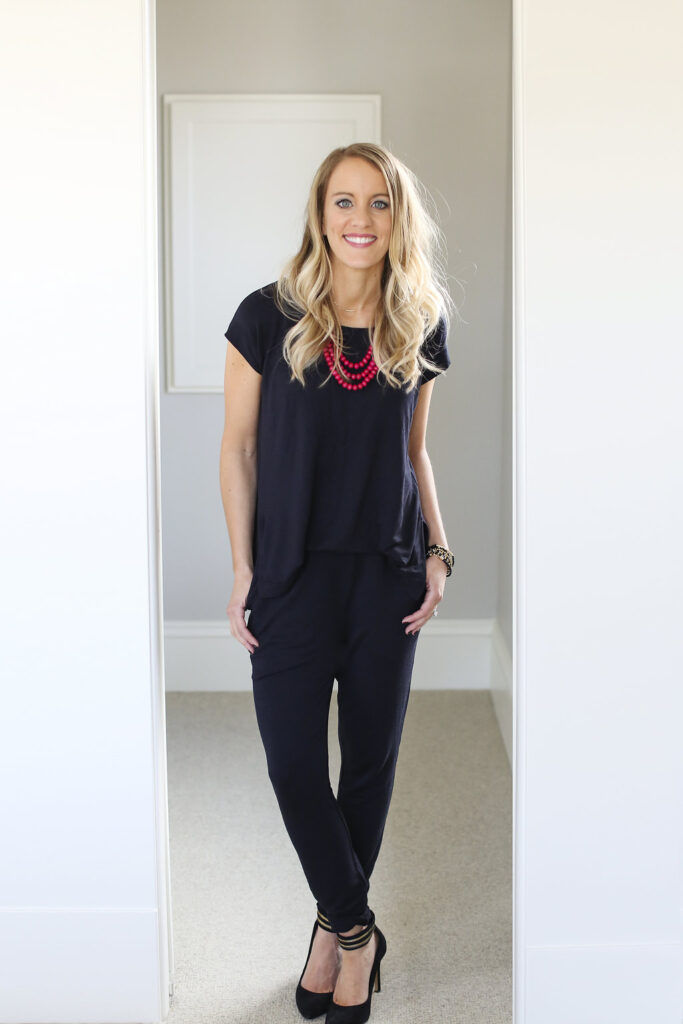 Let's state the obvious first. Wearing a jumper to a concert does make using the restroom a bit more risky. 😉
However, jumpers are fun and flirty and perfect for evenings of listening to music! You won't need to worry about exposing yourself if you're sitting on the ground since you'll be nice and comfortable.
One of the best things about jumpers is how easy they are to accessorize. With a printed jumper like the one I'm wearing, all you need to do is add a belt for definition (or not!) and some fun shoes and you're good to go!
If you have a solid color jumper, follow the same rules as the all black outfit. A statement necklace, wild earrings or a fun hat are great options for accessorizing a solid color jumper.
5. Go Crazy With Color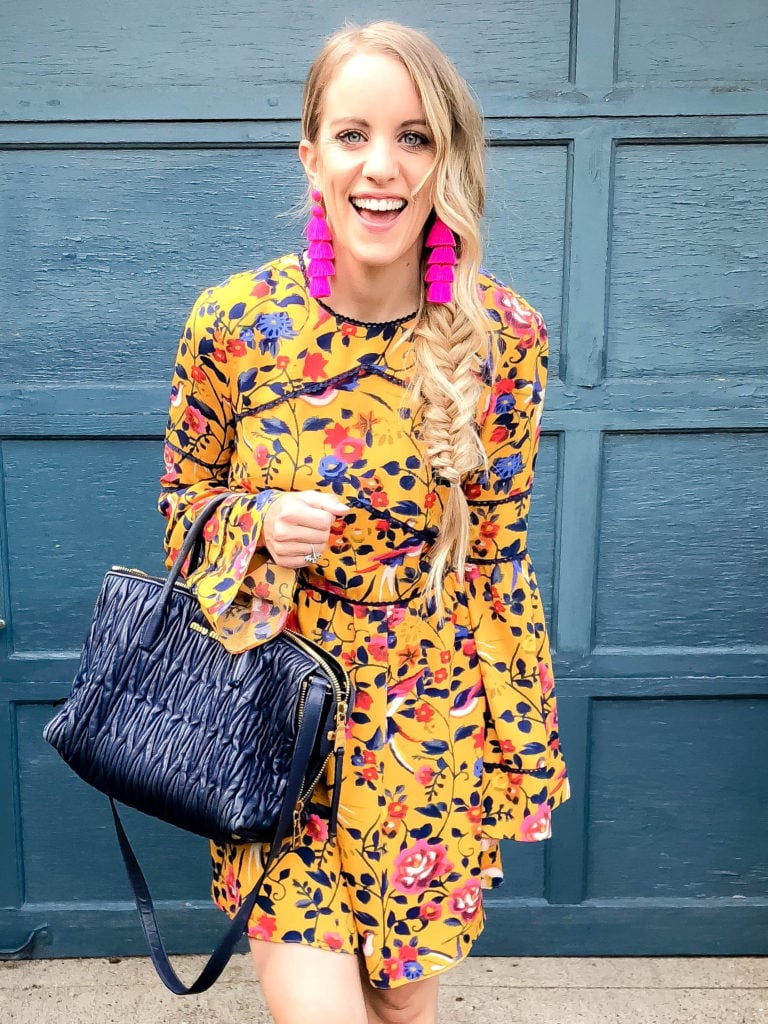 Heading to see an artist known for their wild and fun outfits? You'll fit right in when you bust out the colors! A bright colored dress or wild top is just thing to wear.
I don't typically wear shorter dresses but the long sleeves on this one made me feel a bit more comfortable and not so revealing. Because this dress creates quite a statement with it's color and pattern, I opted for nude shoes to not overpower the dress!
6. Boho Dress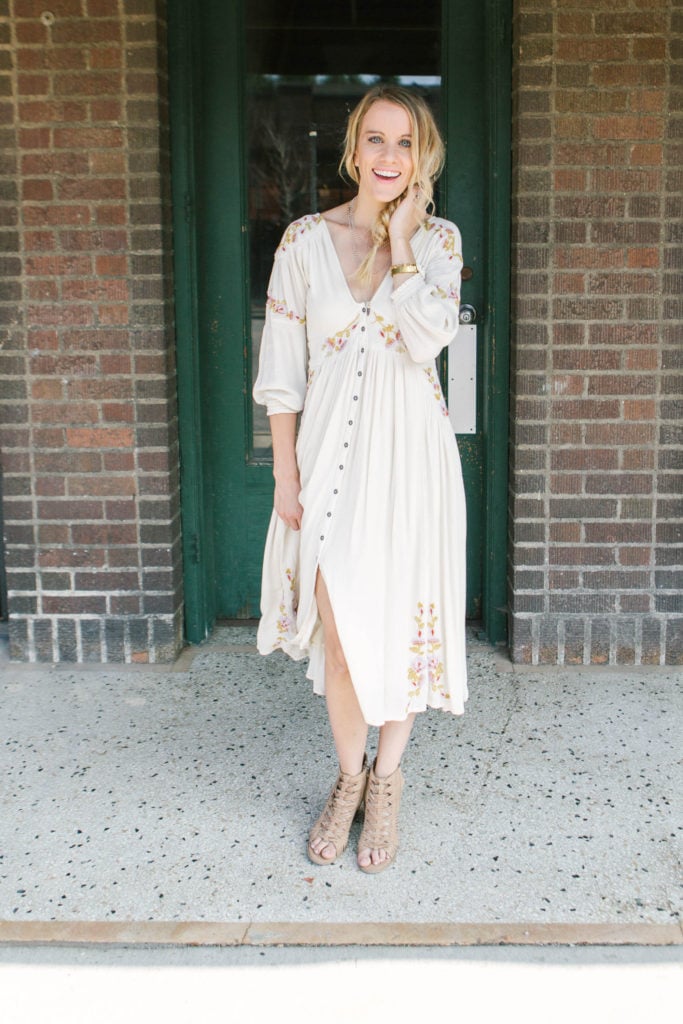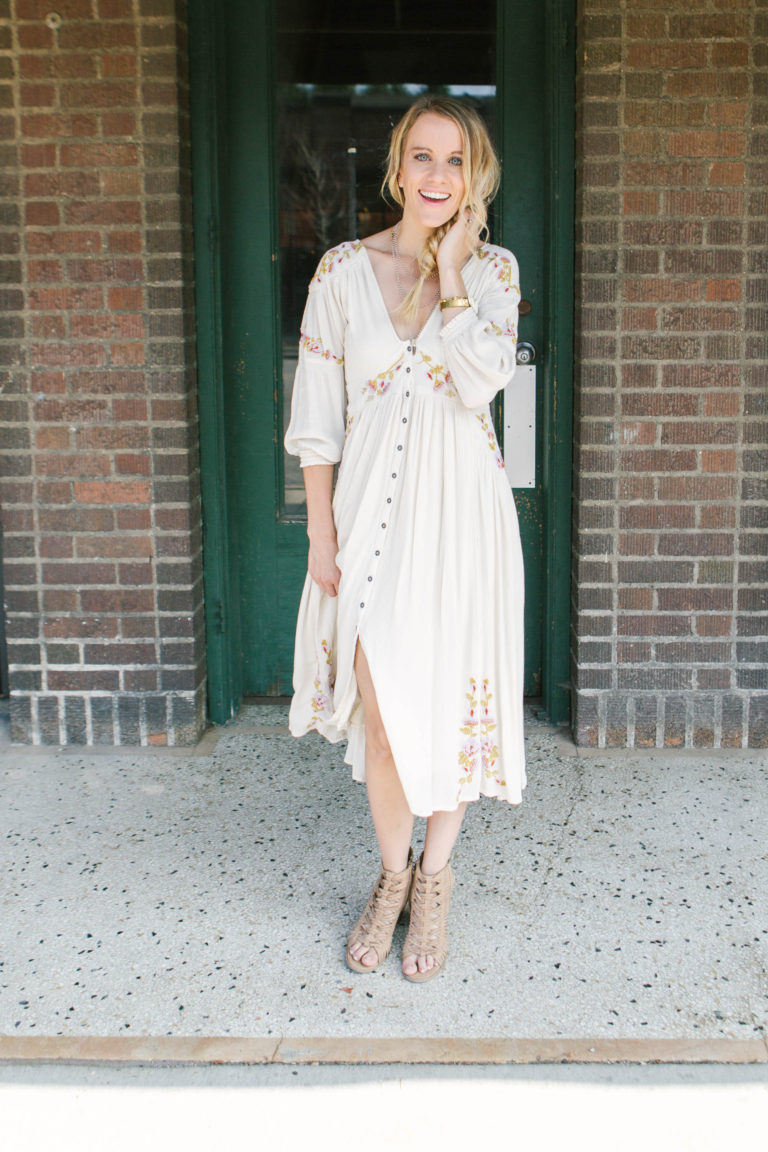 Festivals are the perfect time to bust out your boho chic dresses!
They're light and airy, perfect for summer days and easy to dress up or dress down depending on the location and the artist.
7. Cutoffs + a Hat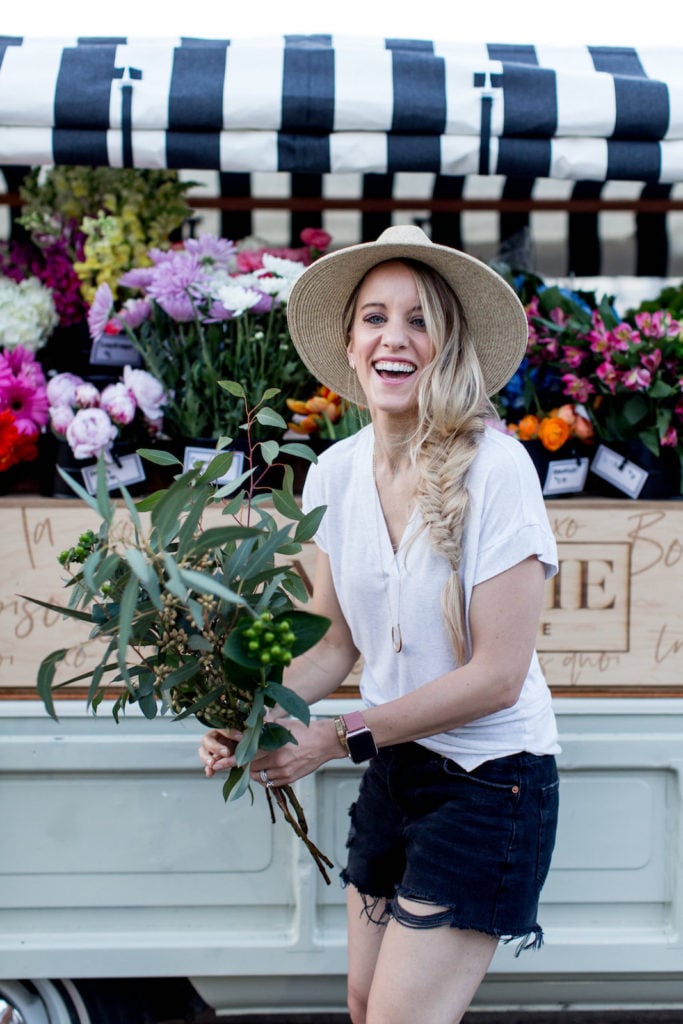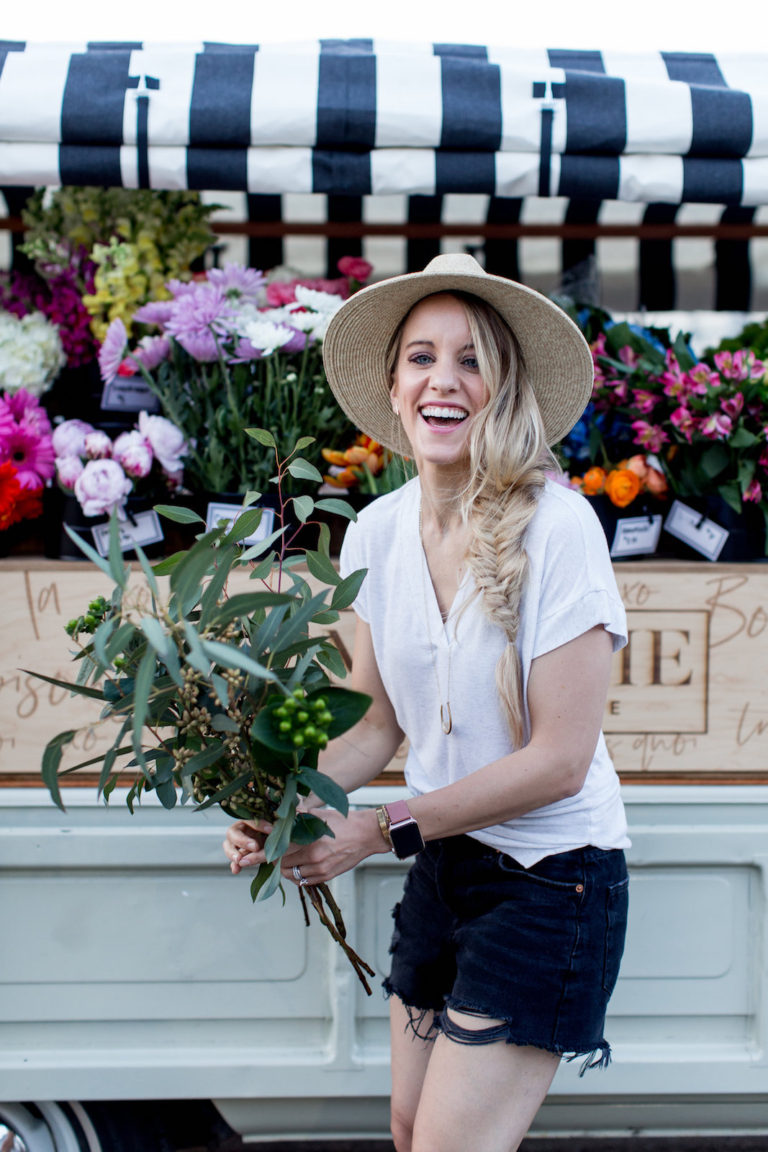 Accessories can make or break an outfit, am I right? If you're heading to an outdoor concert, beat the heat and create your own shade with a hat!
Add some major style to an otherwise "regular" outfit by throwing on a wide brim hat. You'll get instant style points with this one!
8. Faux leather joggers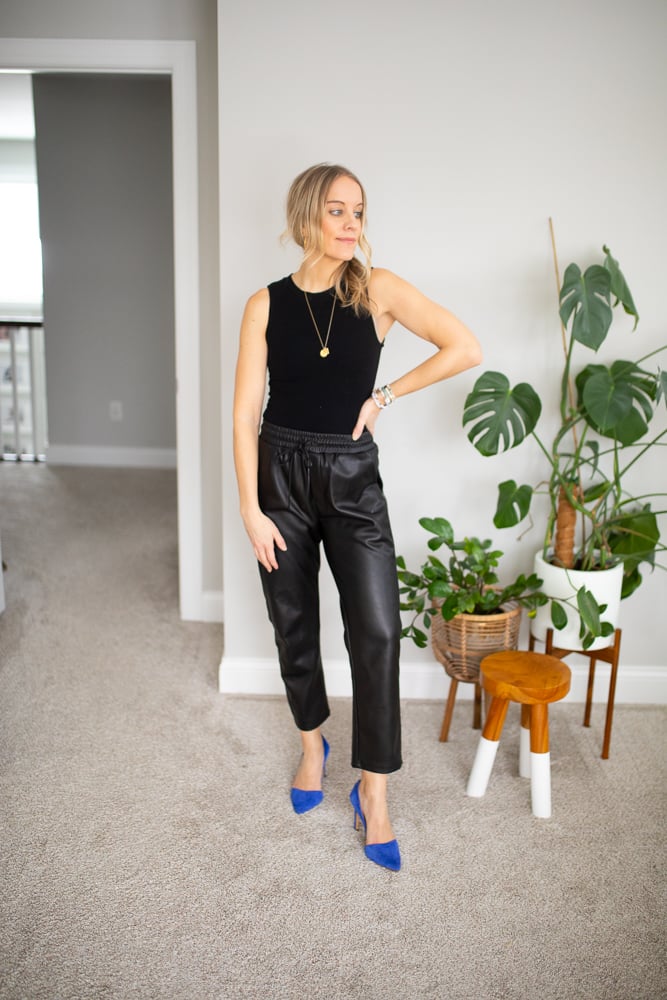 Shop the look: Faux Leather Joggers | Bodysuit | Heels (sold out, similar here)
Want to be comfy but look chic? Try a pair of faux leather joggers! They'll let you dance or sit on the ground (depending on the show!) with no issues. There's so many different ways you can style leather joggers (more here!).
This outfit is paired with a black body suit and a fun color heel to be the statement.
9. A Maxi Dress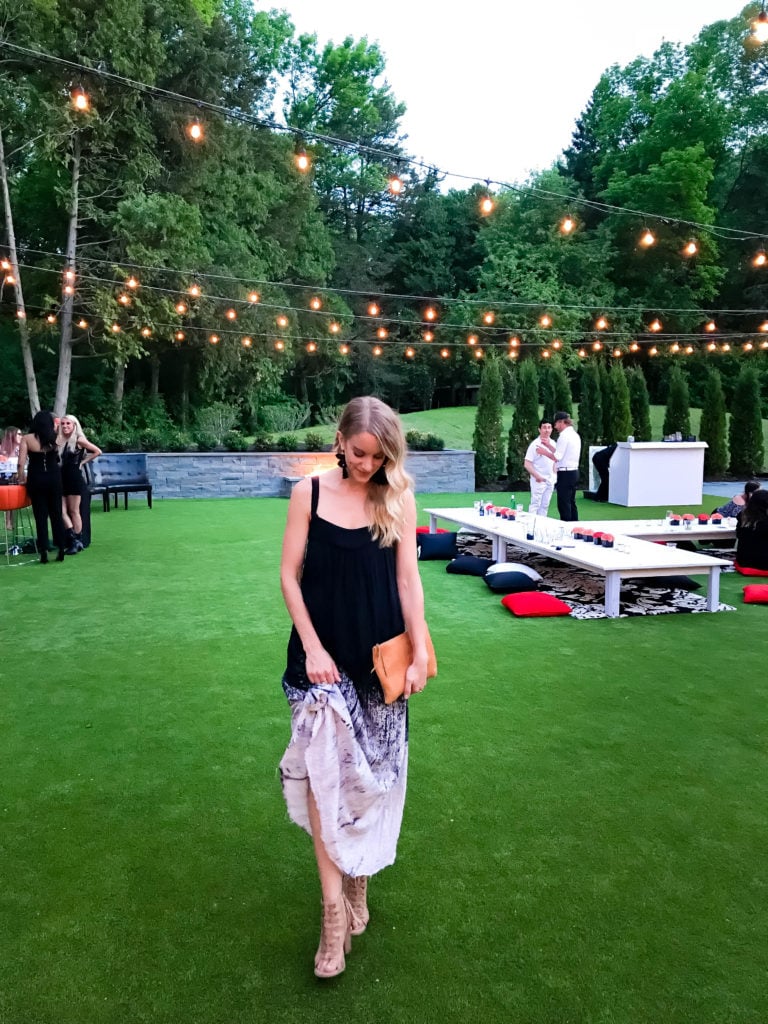 My dress is sold out find a similar Boho Maxi here!
Maxi dresses are my favorite for all stages of life! I actually bought this (non-maternity) dress when I was pregnant with my second and it is in solid rotation still.
Maxi dresses are easy because all you need to do is throw on a stack of necklaces, some wild earrings or a scarf around your neck and get out the door! Perfect if you're feeling a little bloated or happen to be hiding an early pregnancy!
For most of us, concerts aren't something we're going to every day so use that opportunity to bust out something fun that you've been itching to wear!
Whether it's a fun hat, a dress with fringe or a new kimono, I hope these 9 concert outfits help you out when you're trying to decide what to wear to a concert!
Be sure to check out my fishtail braid hair tutorial! Fishtail braids are perfect because they keep your hair off your neck on hot dates and are the perfect accessory to any concert outfit!
And if you want more fashion posts, be sure to click over to one of these:
Thanks for reading and don't forget to follow along on Instagram!
Jen