I'm a firm believer that everyone can be a skirt lover – they just have to find the right type of skirt that works for them!
A fashionable skirt is important when building a versatile spring or summer wardrobe (or any season, depending on where you live!). With many skirt styles available, figuring out where to start can be tricky, especially if you don't know all your options. 
From mini skirts, to maxi skirts and everything in-between, there are so many different types of skirt that will help you look and feel your best.
During this deep dive into the different skirt types, you'll discover which design would be best for your body type and how to easily style each piece with a t-shirt, tank or blouse.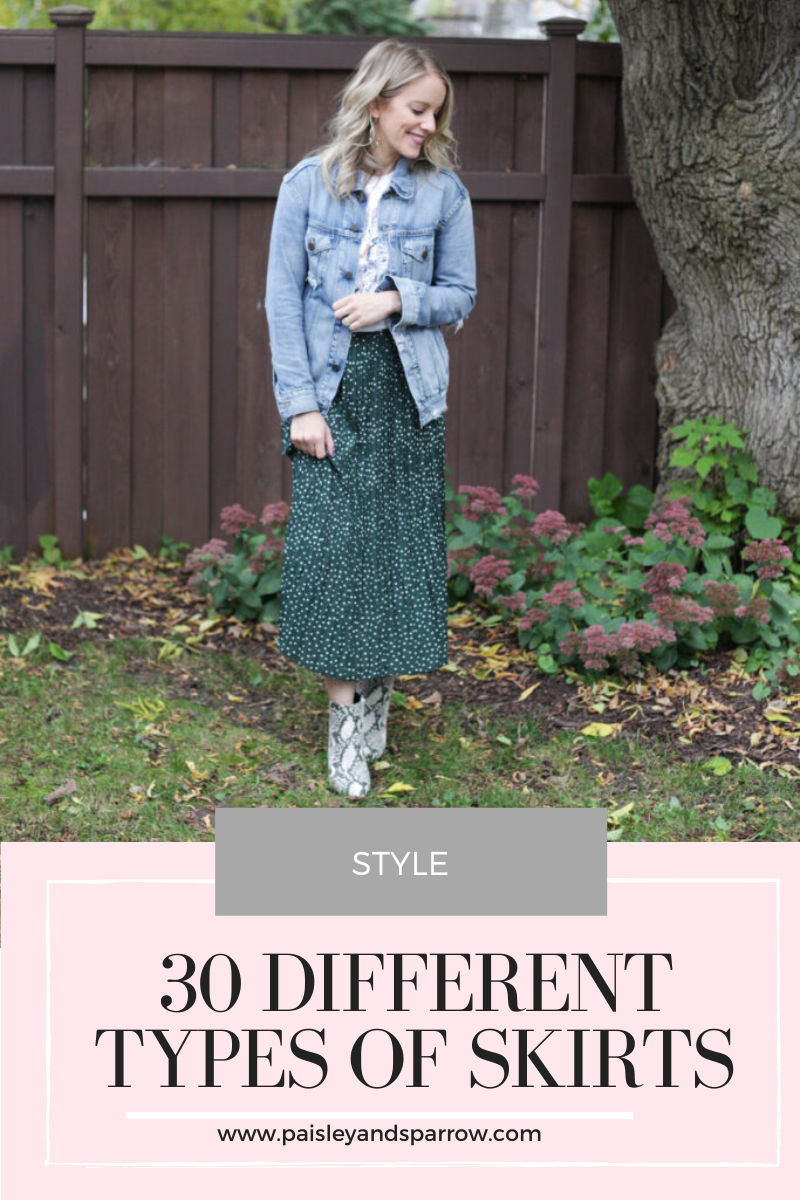 Paisley + Sparrow is a participant in the Amazon Services LLC Associates Program. This post may include affiliate links which means I may earn a small commission if you shop using the links below at no additional cost to you. 
30 Types of Skirts for Every Style
1. Box Pleat Skirt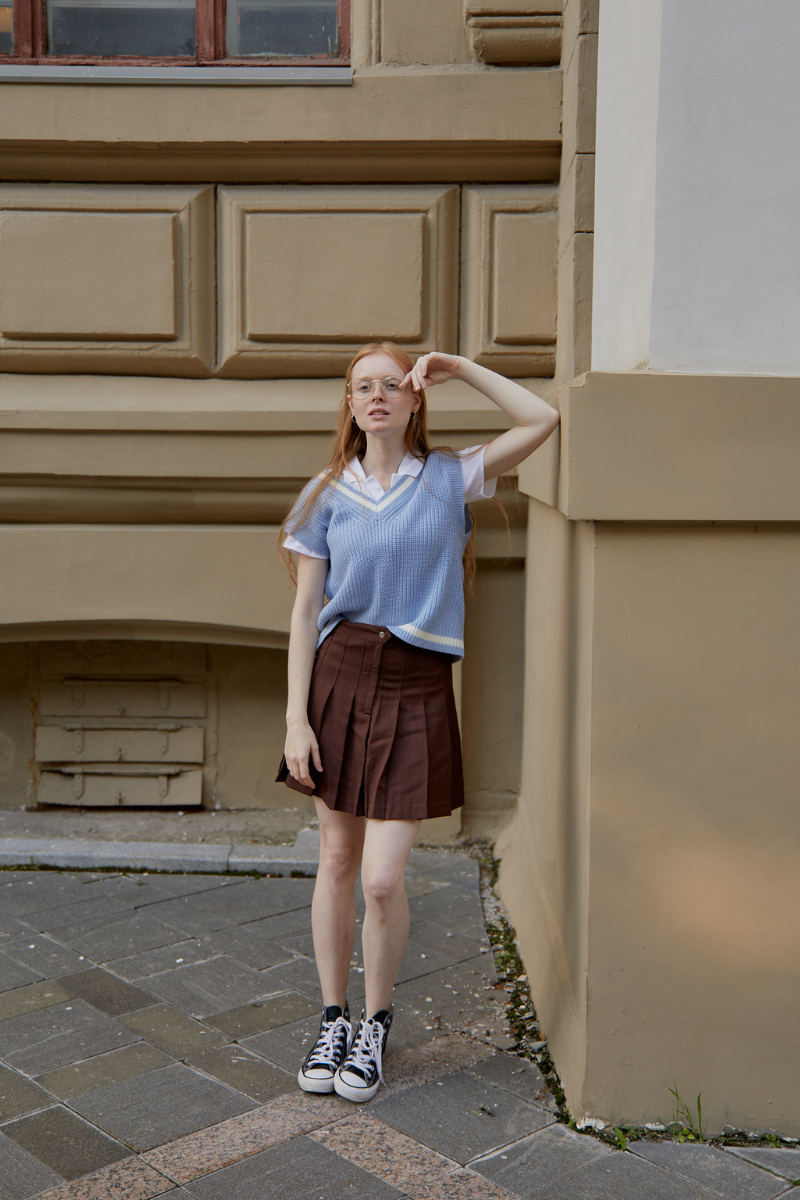 Box pleats have an outward fold. These types of skirt typically have single or double-layers.
A box pleat skirt accentuates your waist by creating lines, which direct the eyes in an up and down direction, versus side to side (which creates a wider look).
When choosing a box pleated skirt, it's ideal to go with pleats that have soft folds and drapes at the knee. This creates a soft look that pairs well with a simple scoop neck t-shirt or cami.
2. Pleated Skirt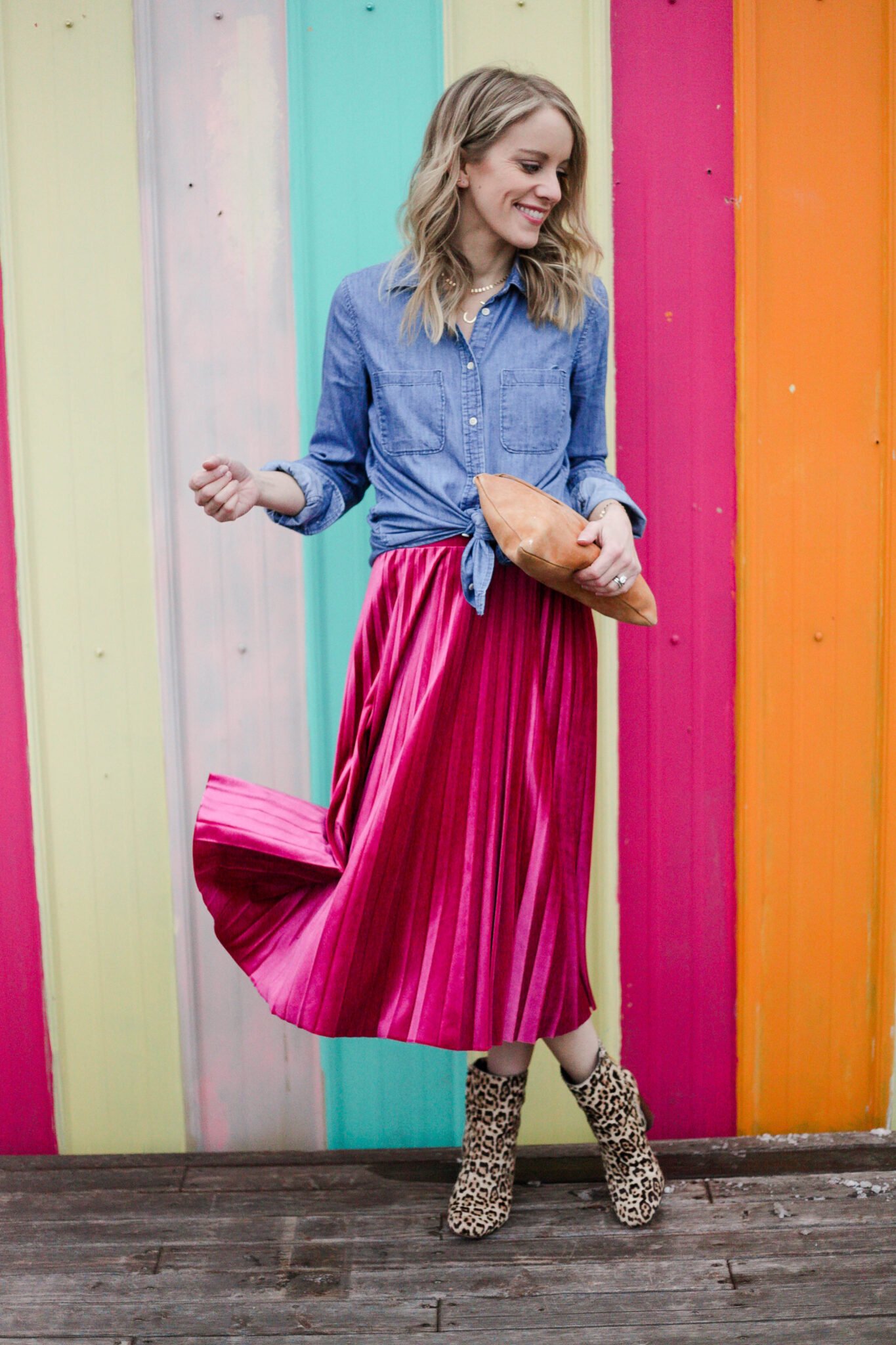 A pleated skirt in more of an accordion style is a great way to turn a casual look into a more dressy look.
The way these skirts are pressed resembles the opening and closing of an accordion instrument. This type of skirt is permanently pressed to give each pleat a sharp edge.
Wearing this skirt is a great way to create a shapely silhouette, when worn with a tucked shirt or slimming tank. If you're having a night out, you can add a jacket and heels.
3. Asymmetrical Hem Skirt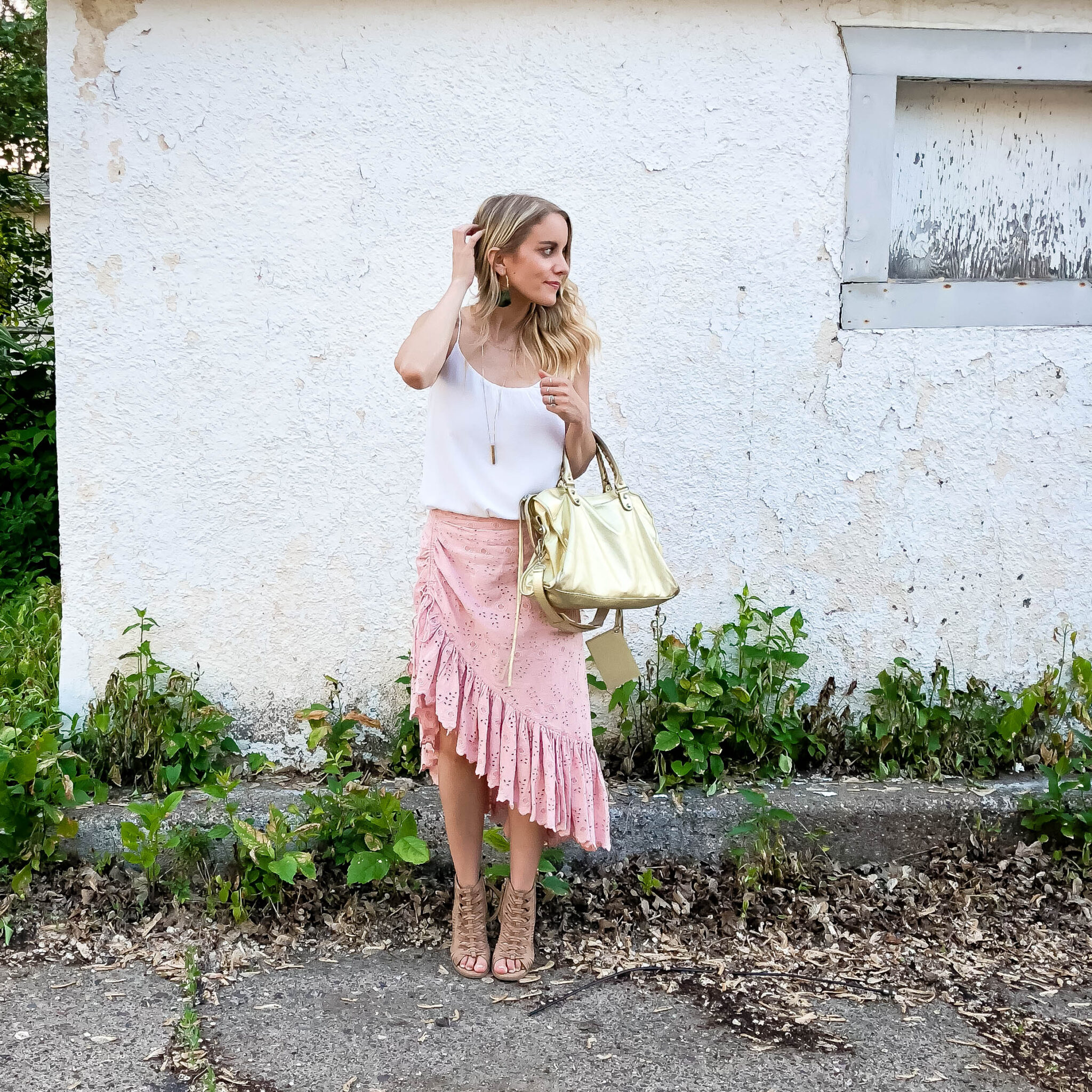 An asymmetrical hem skirt is one that's higher on one side and lower on the other. Although many women wear an asymmetrical skirt for dressy occasions, there are asymmetrical skirts that work well on casual days.
You can wear an asymmetrical skirt with a t-shirt. Or, if you wanted to make it more of a business casual outfit, you can add a button-up.
4. Linen Midi Skirt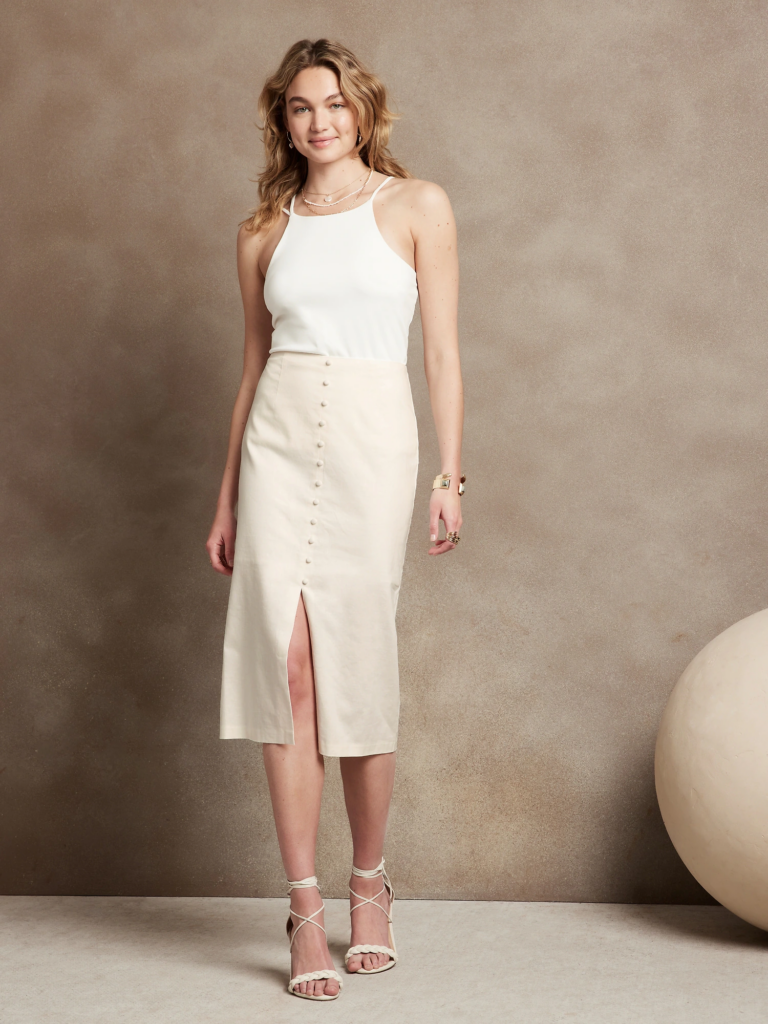 A linen midi skirt is one of the best warm-weather, casual skirt options. They fall below your calves, which helps to bring focus to your sandals.
You can easily add a dressy ruffle top with your skirt, or you can simplify it with a fitted v-neck t-shirt. If you know you'll be inside and may get a little chilly, pair with a jean jacket for a sweet look that's also edgy.
5. Pencil Skirt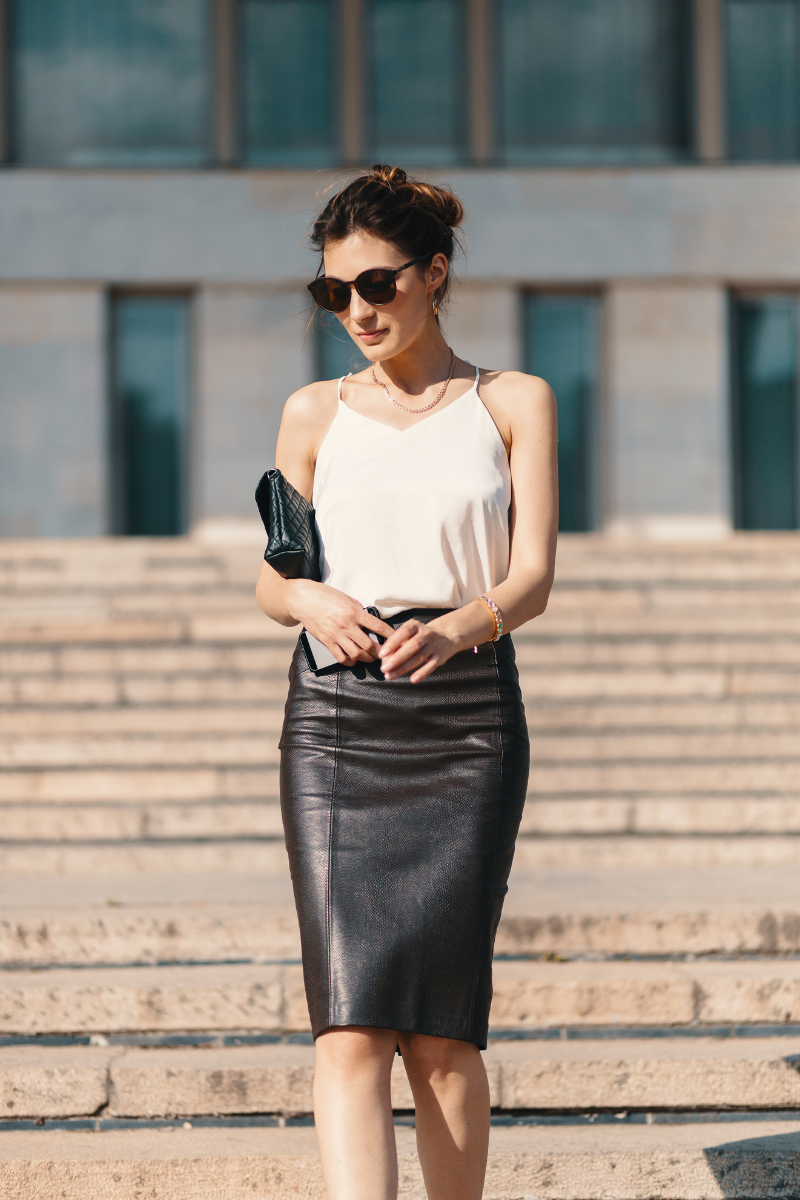 A pencil skirt is often times made with office appropriate fabric used for business attire. The fit and length makes it great for women who want to stay professional but still stylish.
In recent years, the pencil skirt has evolved into more of a casual piece, in spandex and polyester blends.
This type of skirt is best for a curvy body shape, since it accentuates the hips. Bringing more focus to the hips will pull in your waist, creating an hour-glass figure.
6. Tiered Skirt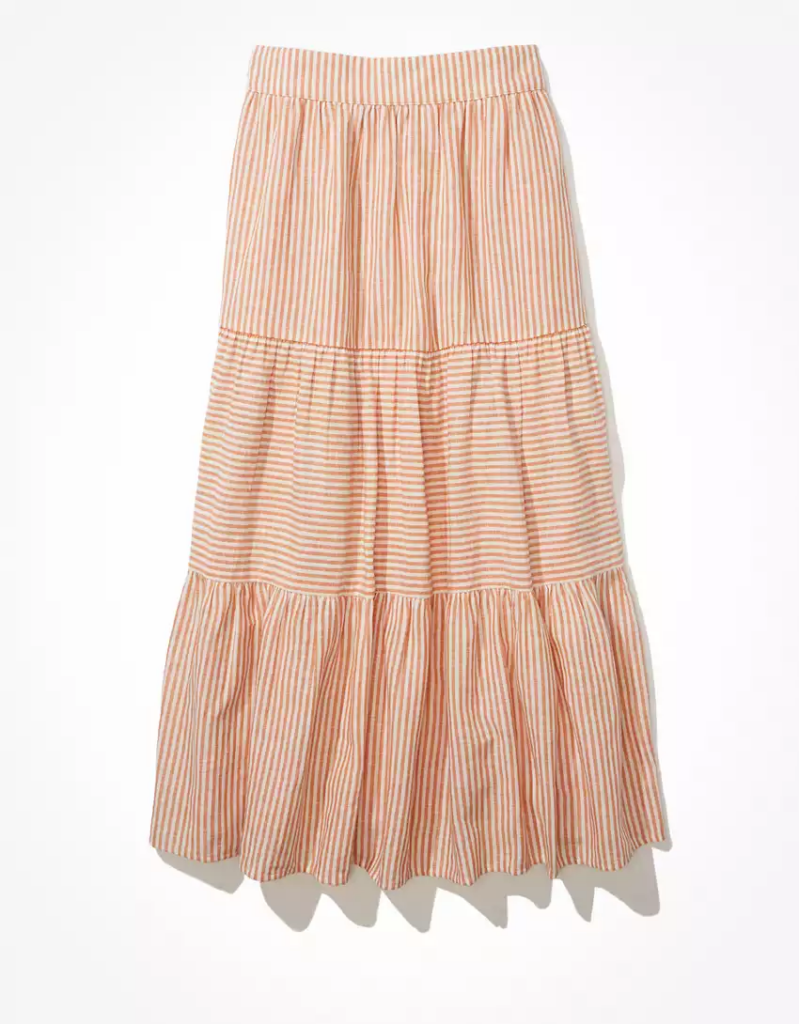 A tiered skirt is a skirt with layers, sort of like a wedding cake. In most cases they have ruffles or peplum that connect at each end. This way, the layers don't flow over each other.
This type of skirt is best for concealing the legs and bringing more attention to the upper body, when worn in a long style that drapes over the toes. Usually a tiered skirt gives off a more bohemian vibe and can be accessorized with wide-brim hats and stacked jewelry.
The tiered skirt is also ideal for wearing an array of shoes including flat sandals, heels, even sneakers!
7. Maxi Skirt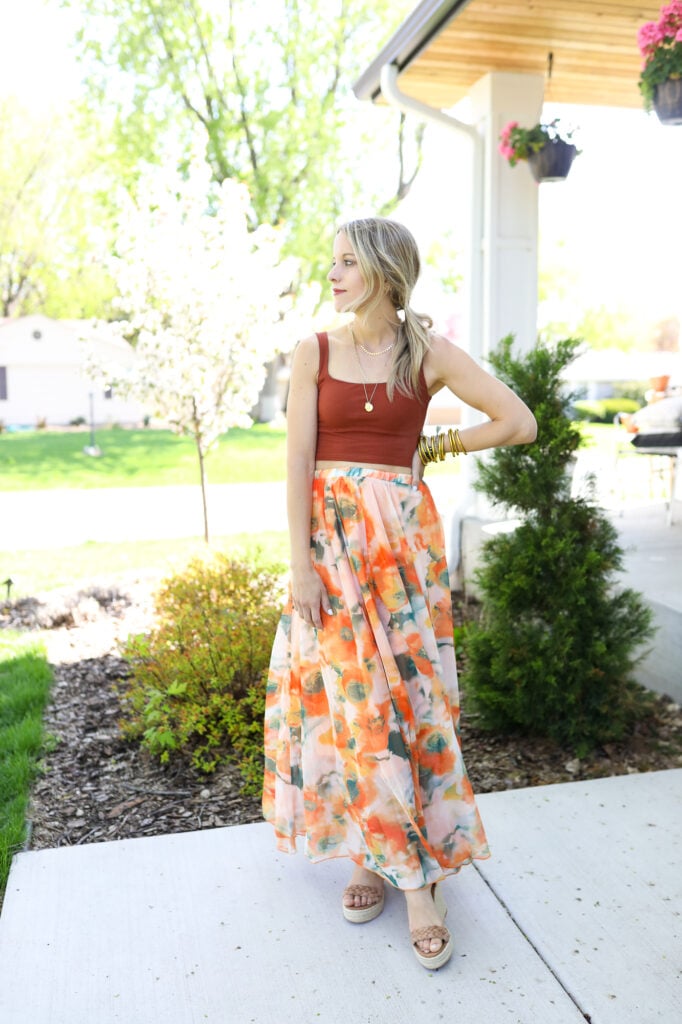 Maxi skirts are long skirts that drape at your feet. The maxi skirt is a concept pulled from the maxi dress, which was first made popular in the 1960's by fashion designer Oscar De La Renta.
In the early 2010s maxi dresses regained popularity as an easy summer outfit to wear with t-sandals. Now, the maxi dress has been re-defined into skirt form and worn more often with a light sweater or solid color tank.
The length of maxi skirts is best for creating an elongated figure, adding height in a subtle way. Wear your skirt with heels to give the illusion of longer legs!
8. A-Line Skirt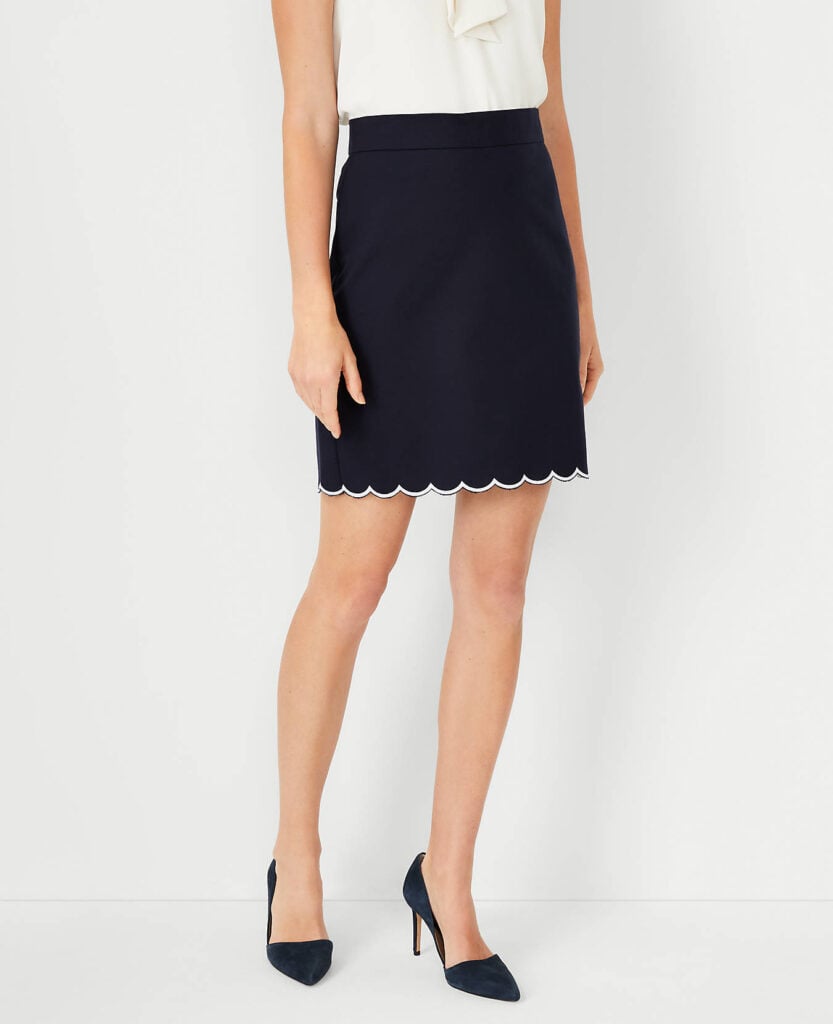 An a-line skirt is a skirt that hugs a bit more in the hip area and widens as you get closer to the bottom or hem. A-line skirts are among the most classic silhouettes of skirts throughout history.
This type of skirt is best for the office or fun events when you want a dressy look that won't appear overdone. This type of skirt is perfect for showcasing the legs and looks great with strappy or chunky heels.
9. Mini Skirt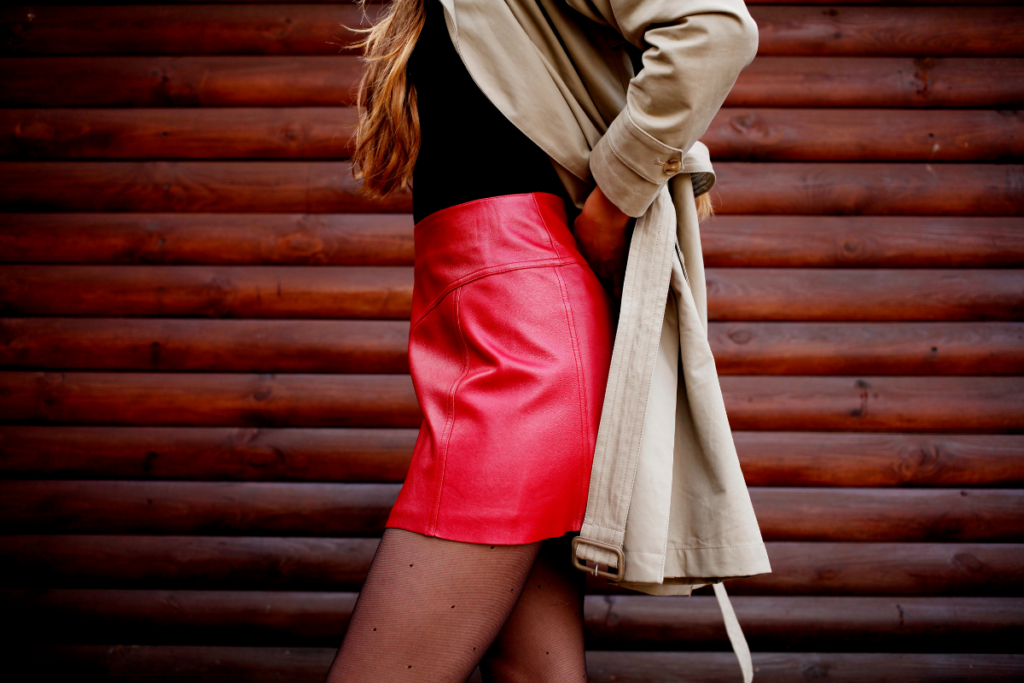 A mini skirt is a skirt that has the shortest hemline. They often come in high-waist designs, but don't necessarily cinch the waist. Instead, wearing a mini skirt creates an easy, sexy look.
The best way to wear a mini skirt is to have balance within your choice of top. Try wearing a shirt that has longer sleeves in a bell or ruffle style.
If you opt for a tank top, keep it simple with a solid design. A white, ribbed tank that has a scoop neck will work best. You can also pair with a band tee, for an edgy look.
10. Ruffle Hem Skirt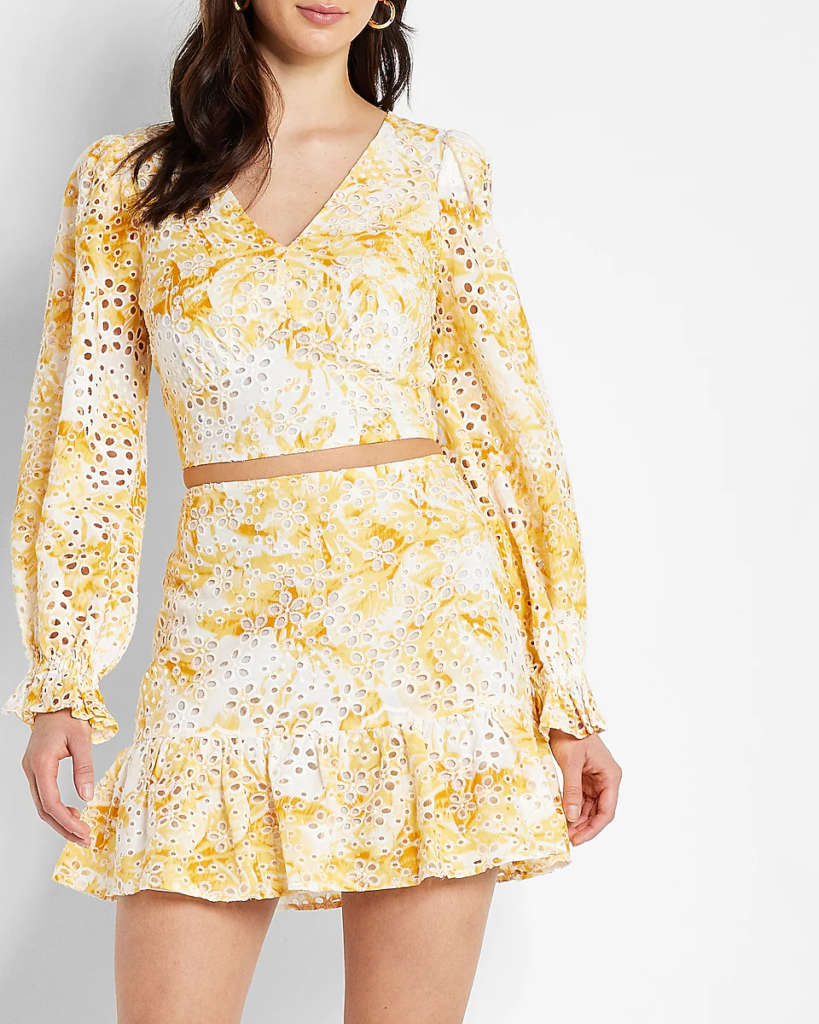 A ruffle hem is usually a pencil or a-line skirt with ruffles at the hemline that creates a soft look. These types of skirts can also be asymmetrical, with a design that creates a cascading look, as well.
Since the skirt has a stand-out design concept, it's ideal to wear a soft top. You can keep your look trendy, with a matching blouse.
11. Tube Skirt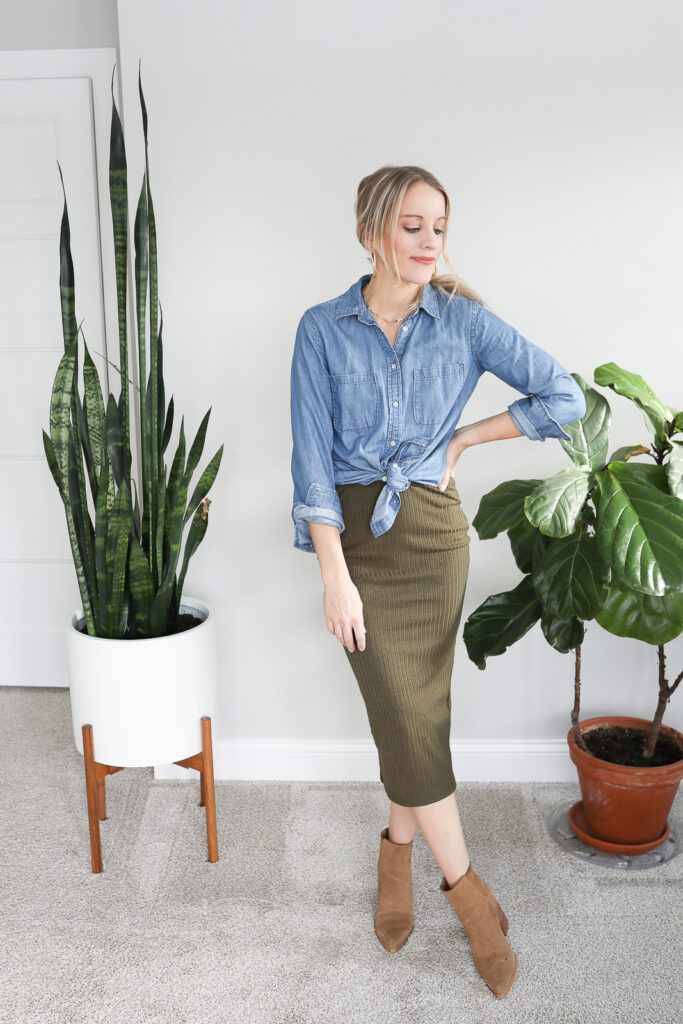 The tube skirt is popular for parties, since it hugs your body in flattering ways. Usually made of stretch material, this is one of the most comfortable to wear.
With the sleek skirt base you can add more drama to your top, if you want to create the illusion of a smaller bust size. To achieve this, try wearing a blouse that has larger ruffles around the neckline.
The tube skirt is also one of the easiest to accessorize! Add bracelets in a silver or gold-tone that will compliment your skirt color, as your hands move freely to the side.
12. Mermaid Skirt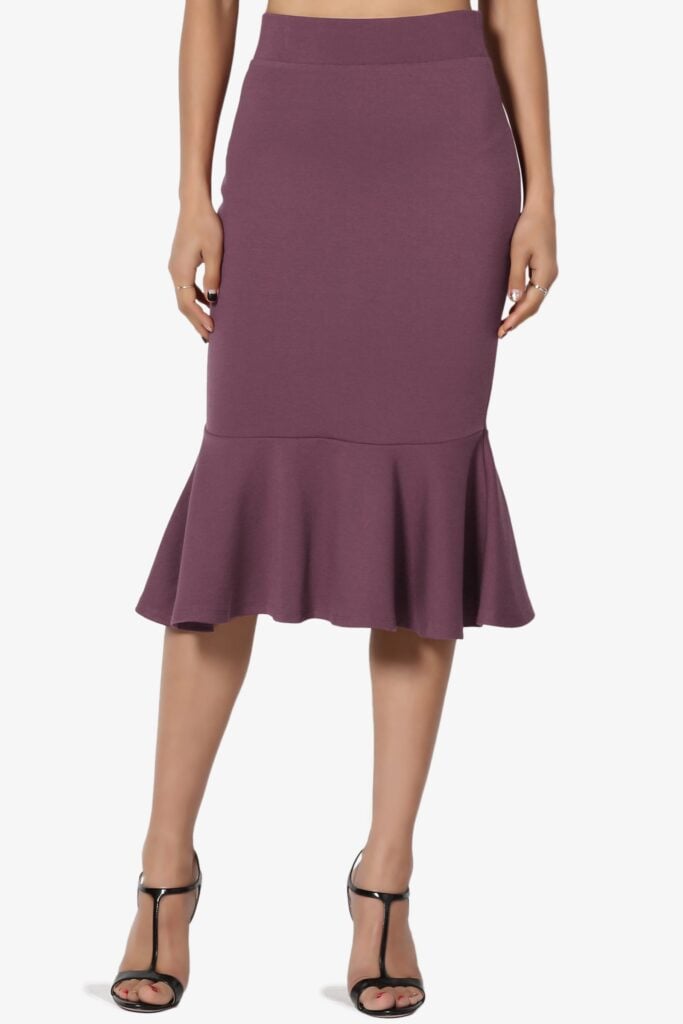 Mermaid skirts hug your waist, while giving a dramatic flare at the bottom, exactly like a fictional mermaid!
This skirt type is normally a stretch material to accentuate your curves. The most exciting part is the mermaid hemline of ruffles or peplum, that will give the perfect peek of your calves and ankles.
Mermaid skirts are styles that are appropriate for professional settings, as well with a button-down or tunic. The ruffle at the knee makes these styles a little more feminine than a pencil skirt.
13. Draped Skirt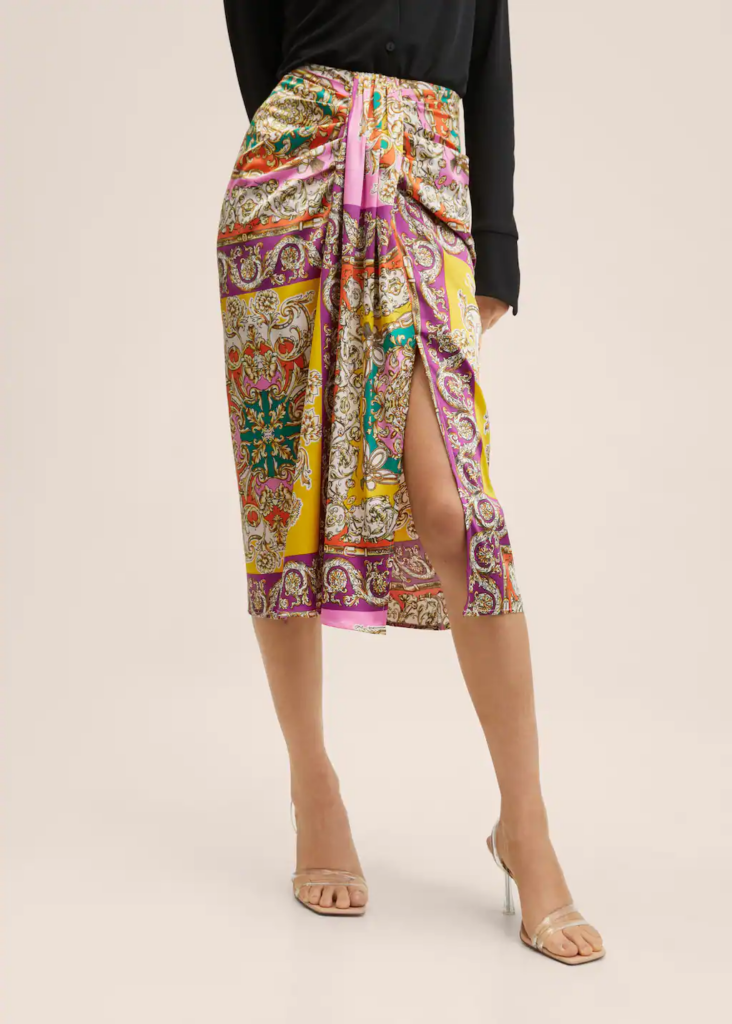 Draped skirts are one of the most elegant skirt types, inspired by the Ancient Egyptians, that allow you to quickly dress up for an event. These styles can range from knee length to maxi length.
The easy style, which usually includes a breathable split, allows you to wear strappy heels. The beauty of a wrap skirt is the flexible fabric — it usually comes in viscose or silk-like material, which will feel soft on the skin.
When choosing shoes for this skirt type, try an ankle strap heel if the occasion is more dressy. Dress down with braided slides or studded flats.
14. Circle Skirt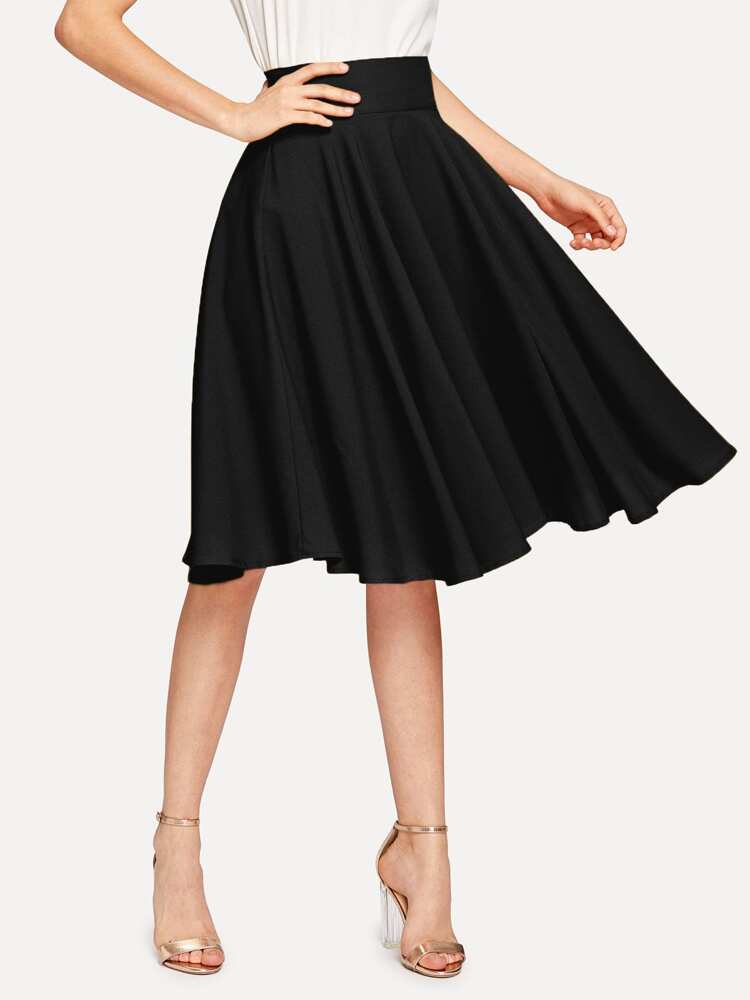 A circle skirt comes in different lengths and is a simplistic design where the fabric is cut as one piece and sewn into a circle, versus a skirt that has multiple panels. Think poodle skirts from the 1950s!
This type of skirt is the ideal piece during the warmer months and pairs well with thong sandals or flat sandals that strap up your legs.
The circle skirt is perfect for coffee runs and small errands. They're also great for concerts and festivals, allowing you to move freely throughout the day.
15. Wrap Skirt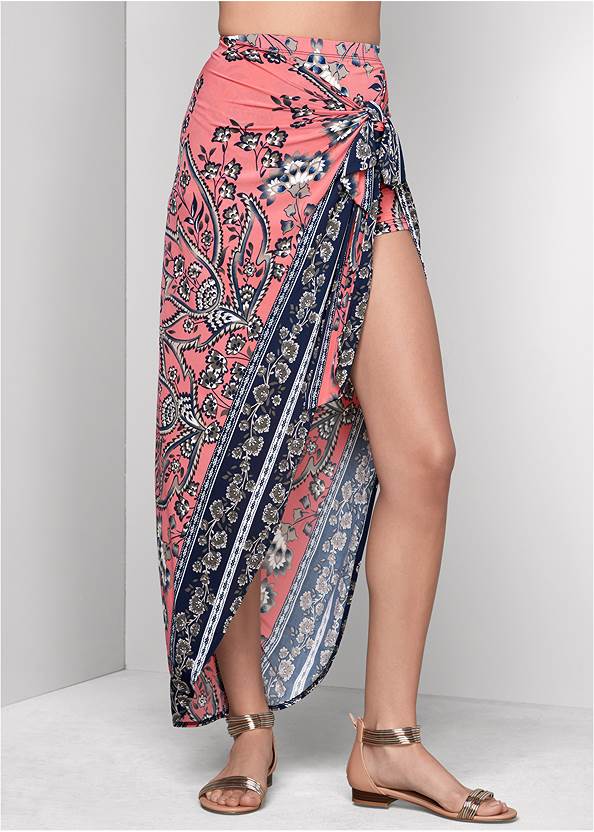 Wrap skirts are the most forgiving, when you want to conceal your tummy. They're also made of stretch material, but are often made of many types of fabric including chiffon, which flows in the wind.
The wrap skirt looks great with short sleeve t-shirts, camis and tanks. You can even wear your wrap skirt with a body or bathing suit.
This type of skirt is one of the best for beach-day outings or back-yard pool parties! A perfect choice for summer styles!
16. Sarong Skirt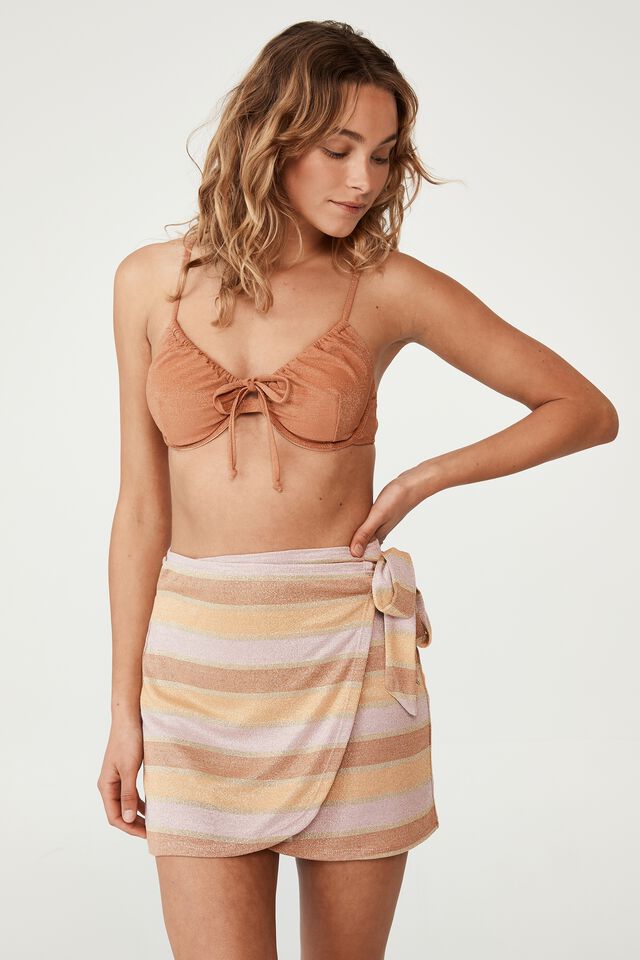 A sarong skirt is similar to a wrapped skirt, but most people normally use it as more of a cover up or top piece that you can wear on top of a bathing suit or shorts. This type of skirt is ideal for fun in the sun and beach days.
You can also wear a longer sarong skirt with a tank top and flat sandals.
Like the pencil midi, the sarong skirt is a great way to create a smooth tummy and hourglass shape, in a classy way. You can tie your sarong higher on your waist, creating a leaner look.
17. High-Waist Skirt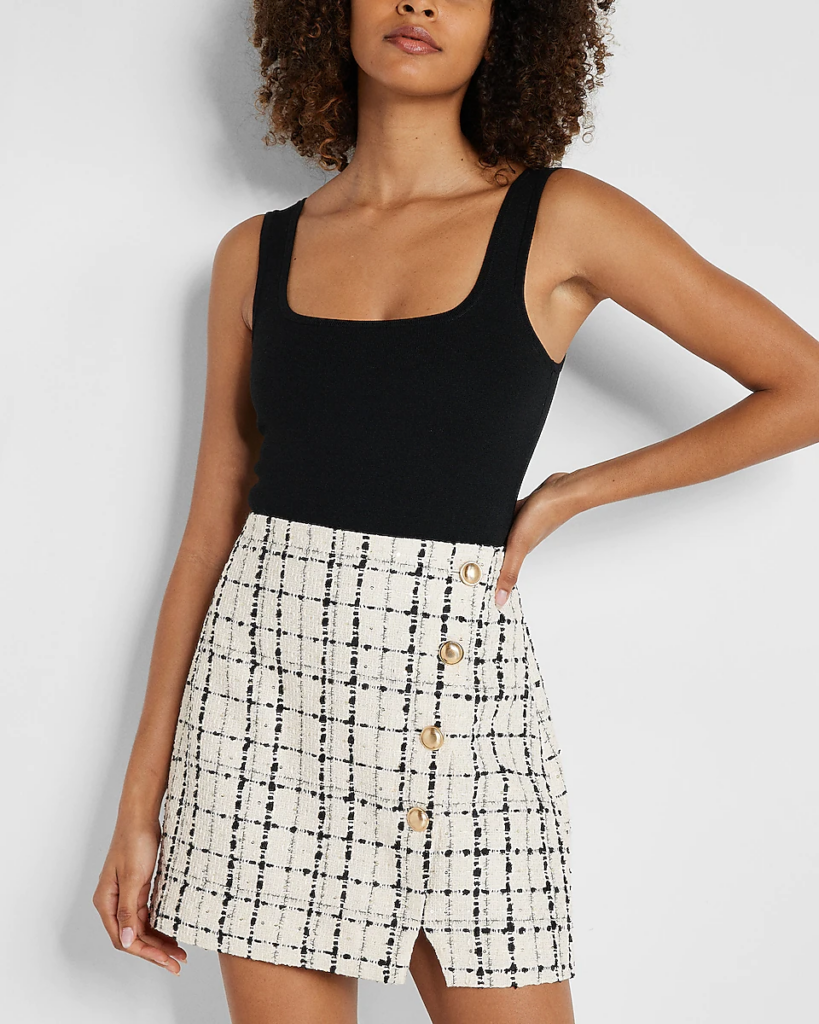 High-waisted skirts have a waist-band design that sits higher on the natural waist rather than farther down toward the hips. This type of look creates a sophisticated vibe that you can wear on many occasions.
You can also dress a high-waisted skirt in a casual way with a blouse or tee.
When choosing the best high-waist skirt, keep an eye on the details. Choose a skirt that has unique fabrics, patterns and buttons!
18. Flared Skirt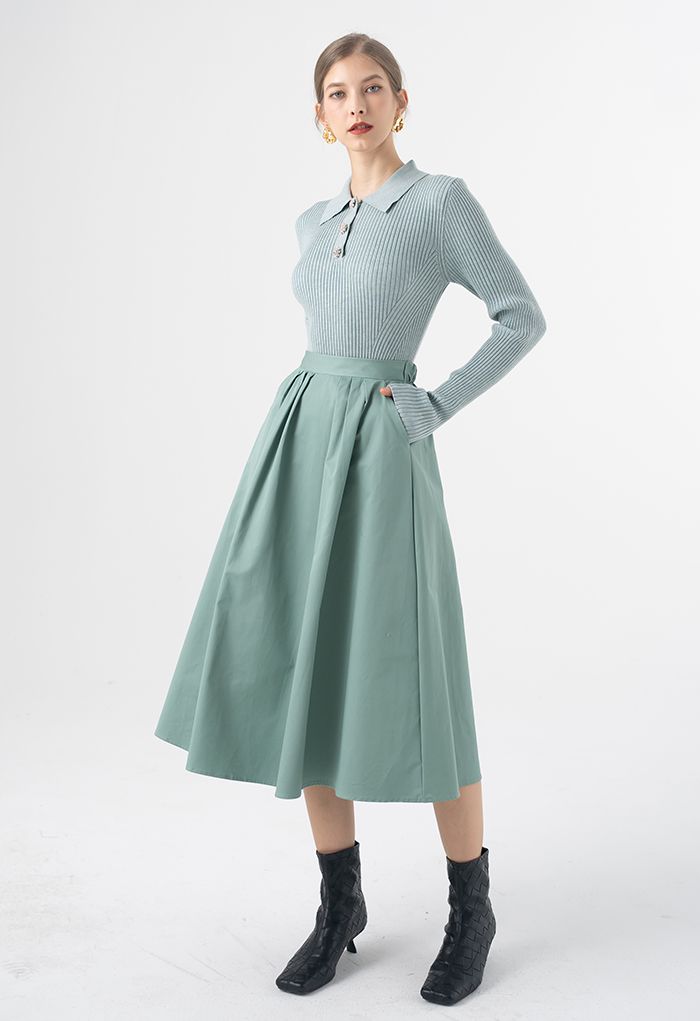 Flared skirts are flared from top to the hem. It's similar to the high-waist skirt, usually fitting higher at the waist. There are flared skirts that don't have a high-waist fit and are mostly made of a polyester blend.
Flared skirts come in various lengths from long to short, and you can wear them with open-toe sandals, mules, even short boots.
Wear a flared skirt when you want a feminine look and accessories with a shoulder strap tote or cross-body handbag.
19. Broomstick Skirt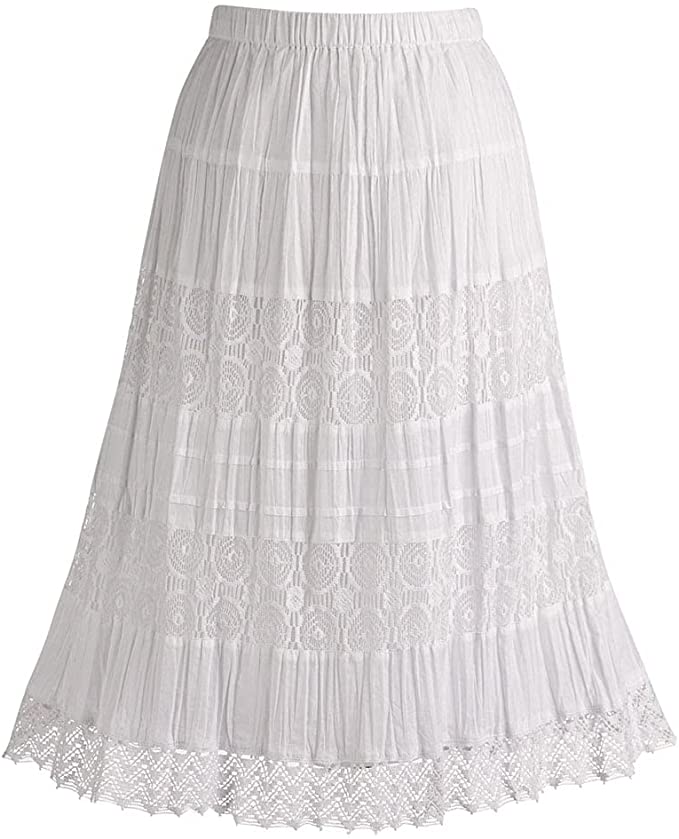 A broomstick skirt has pleats that flare similarly to broomstick bristles. This type of skirt is easy to wear and mainly designed with an elastic waistband. Most often, they're made with cotton fabrics that are soft against the skin.
This type of skirt is very forgiving, when worn with a loosely fitting top. You can even style this look with a t-shirt that doesn't fit close to the body.
Add a shoe with a wooden or platform heel with this type of skirt, to create a bohemian look while making you appear taller.
20. Ball Gown Skirt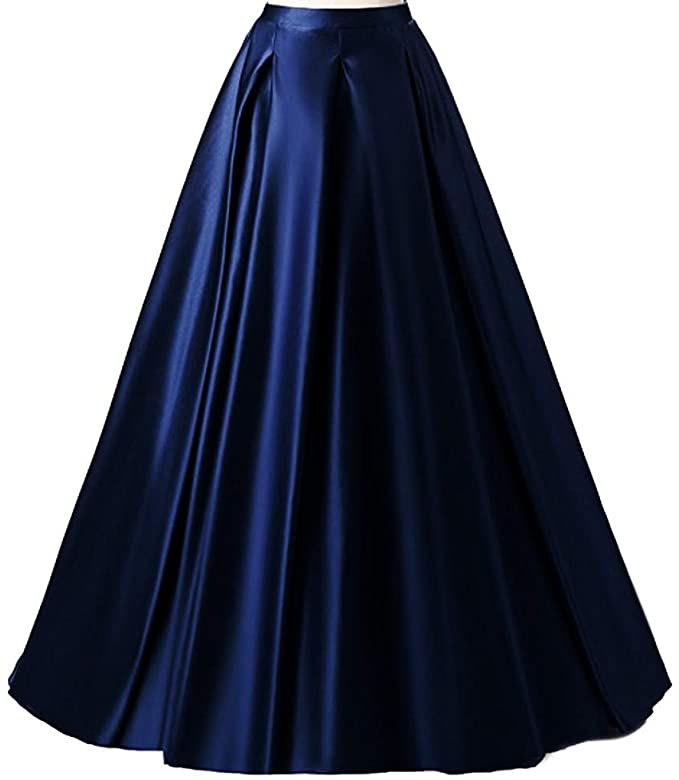 The ball gown skirt is essentially a ball gown, without the top piece. The fabrics are a lot more dazzling than the casual skirt options, oftentimes made with satin, taffeta, or velvet.
In recent years, the ball gown skirt has become a popular way to create an evening look with separates. You can add the most elaborate tops made with sequin and detailed beading to a ball gown skirt!
You can create a slimming look by wearing a beaded, off-the-shoulder or boat neck top. Add metallic or satin heels to complete the look.
With this skirt, keep your accessories simplistic with dainty jewelry in the form of a pendant necklace or thin bracelet. Try to avoid chunky jewelry, if your top has a lot of detailing.
21. Knife Pleated Skirt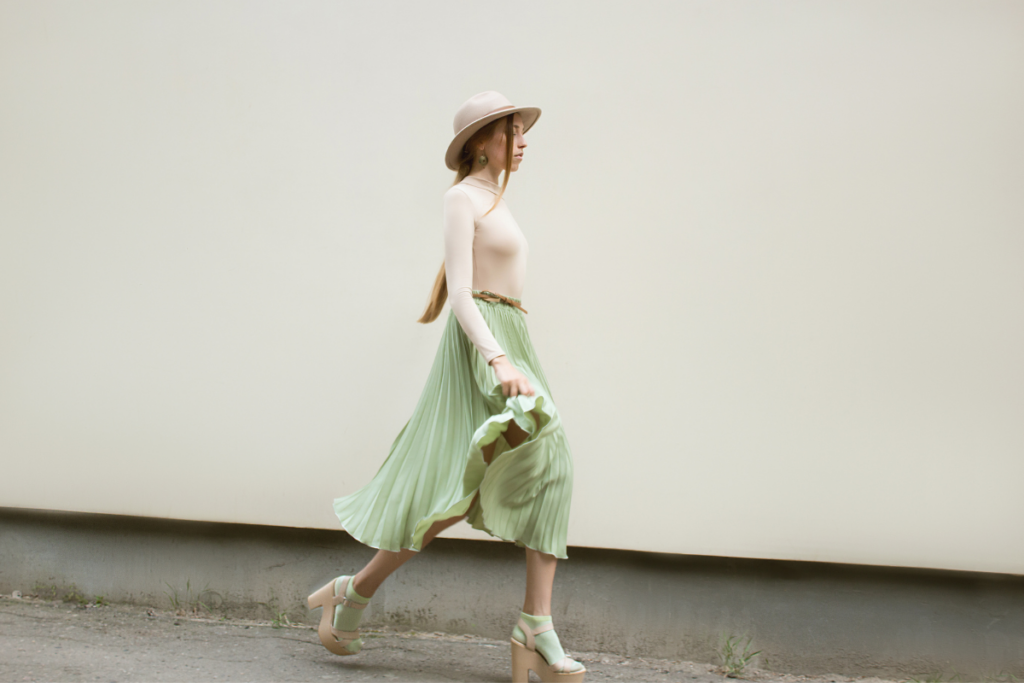 Knife-pleated skirts vary between larger pleats or smaller pleats. A knife pleated skirt is another bottom piece that emphasizes the waist.
They are usually designs in styles that look best with tucked shirts or a leotard that will create a smooth surface at the waist.
These skirts are usually in shorter lengths. If you want to showcase your ankles, wear this type of skirt with ankle strap heels or pumps.
22. Godet Skirt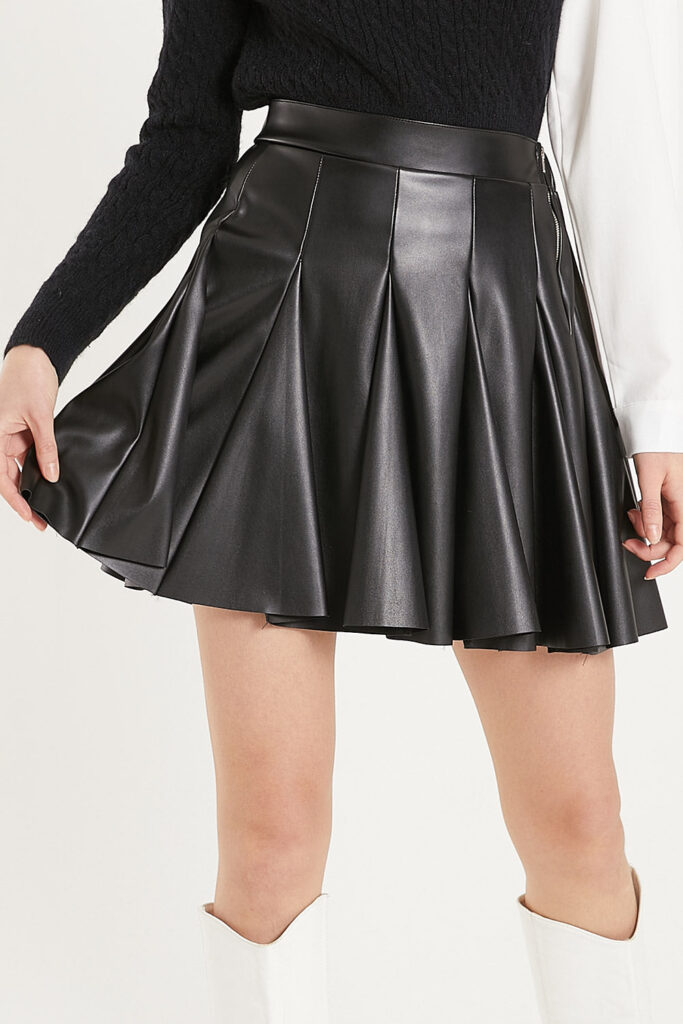 A Godet skirt is similar to the ruffle hem skirt, in that the bottom creates an all-around flare that moves when you walk.
The difference in the Godet skirt is the hem details are created. Volume is added to the skirt by inserting a triangular piece of fabric to create longer width from the hem to the waistline.
By adding this concept, you get the look of pleats and fabric in one, which makes it the most unique skirt of them all.
You can wear this piece with a tucked, long-sleeve shirt made of breathable fabric. Or, you can wear a slightly cropped tee.
23. Bubble Skirt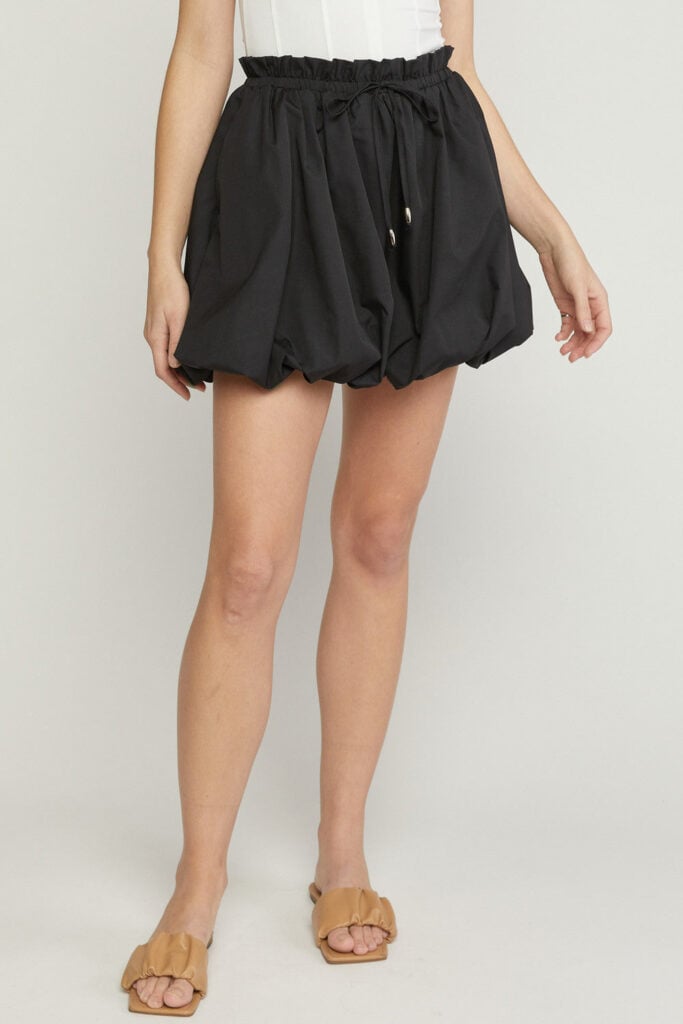 The bubble skirt is one of many good types of skirts to conceal your tummy area. Most bubble skirts have an elastic waistband and lightweight material.
It's made to gather at the top and bottom, creating a slightly puffy look in an elegant way. Some bubble skirts don't gather at the top, but will usually have a higher waist band.
Wear a bubble skirt with a corset-inspired top, if you want to create a slightly dressy look. If you want a casual look, simply wear a t-shirt.
You can also give the illusion of a complete dress by wearing a matching top in the same color as your bubble skirt. If you're wearing a black bubble skirt, add a black tank or body-con top. This will create a one-piece look that's easier to move around in.
24. Yoke-Waist Skirt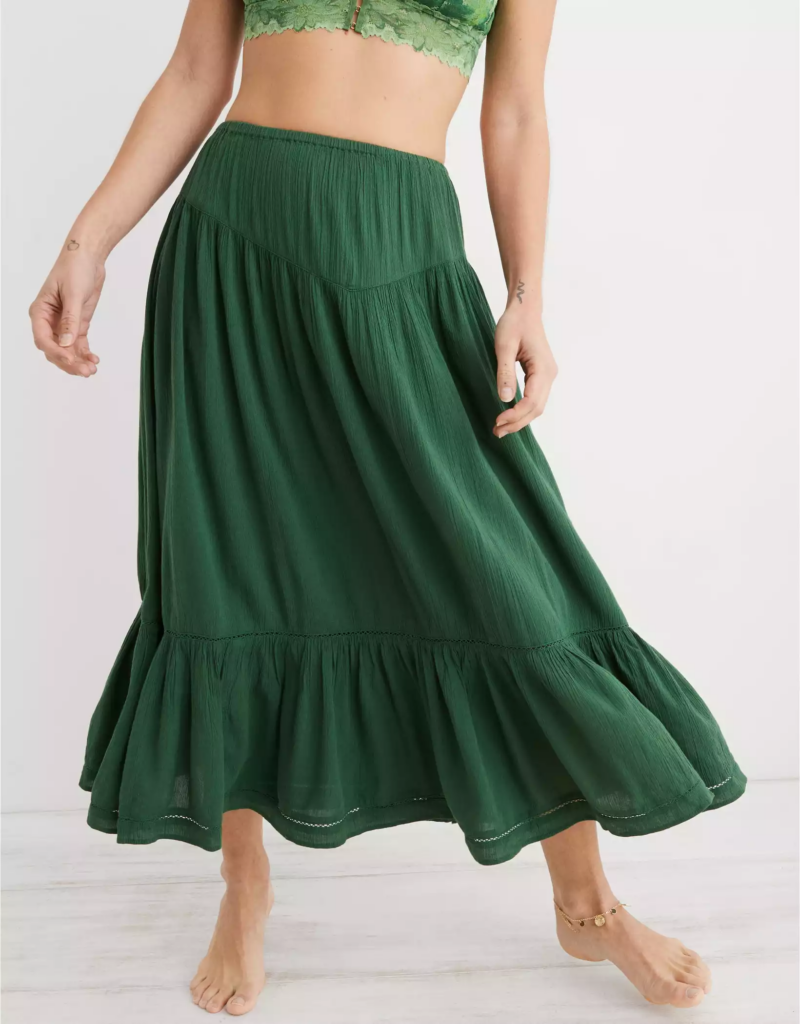 A yoke-waist skirt is simply a skirt made with a yoke. During the sewing process, a pattern piece (yoke) is used to create support for the loose fabric of the skirt. The yoke is sewn as the upper piece to keep the rest of the design stable.
You can usually spot a yoke skirt, by looking for the almost triangular-shaped piece at the top of the skirt.
This type of skirt is ideal for casual gatherings or on-the-go days. Flat sandals pair well with yoke-waist skirts, along with woven handbag accessories.
25. Layered Skirt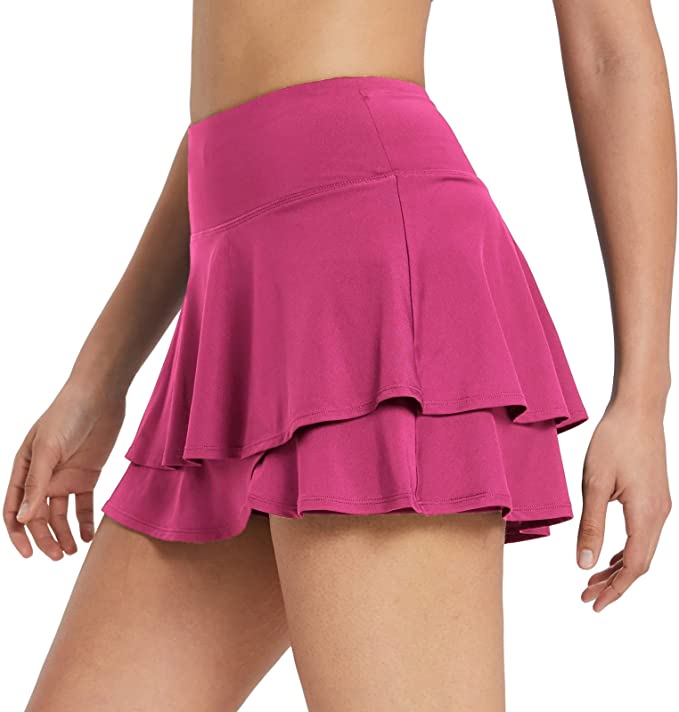 Layered skirts create full volume down to the hem. You'll normally find them in fabrics that overlap in a ruffle design and can be mini skirts or long.
Many layered skirts have more than two or three layers, but the more simple designs stop at two. If you want to wear a layered skirt that has more than three layers, the skirt will usually be longer in length, allowing you to wear shoes with a higher heel.
Wear strappy sandals that tie just below the calves with a layered skirt and a cami or tee.
26. Paneled Skirt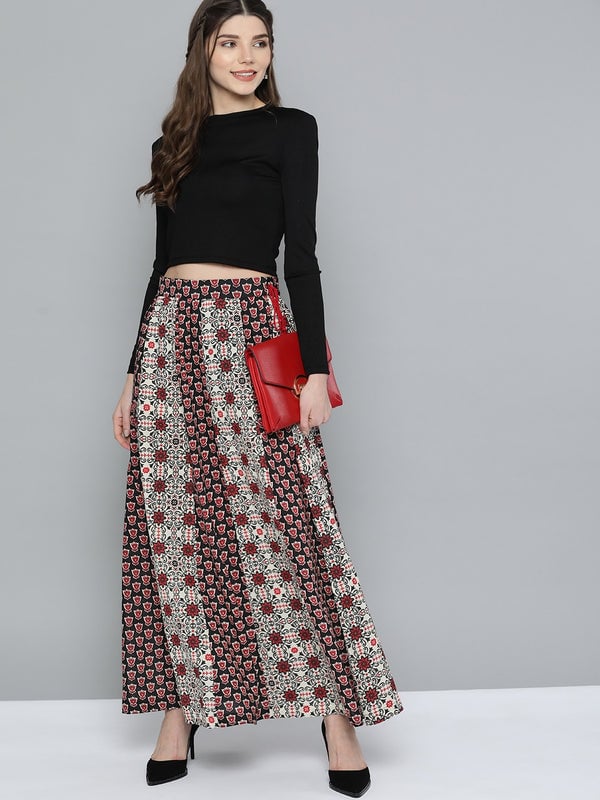 Paneled skirts have a design that are made of different fabric pieces, sewn in a pattern that repeats throughout the entire skirt. This type of skirt is an ideal way to add more of an eclectic feel to your outfit, with vibrant tones.
Since the skirt pattern is busy, it's good practice to wear simple accessories, such as a solid color envelope clutch and minimal jewelry.
27. Jean Skirt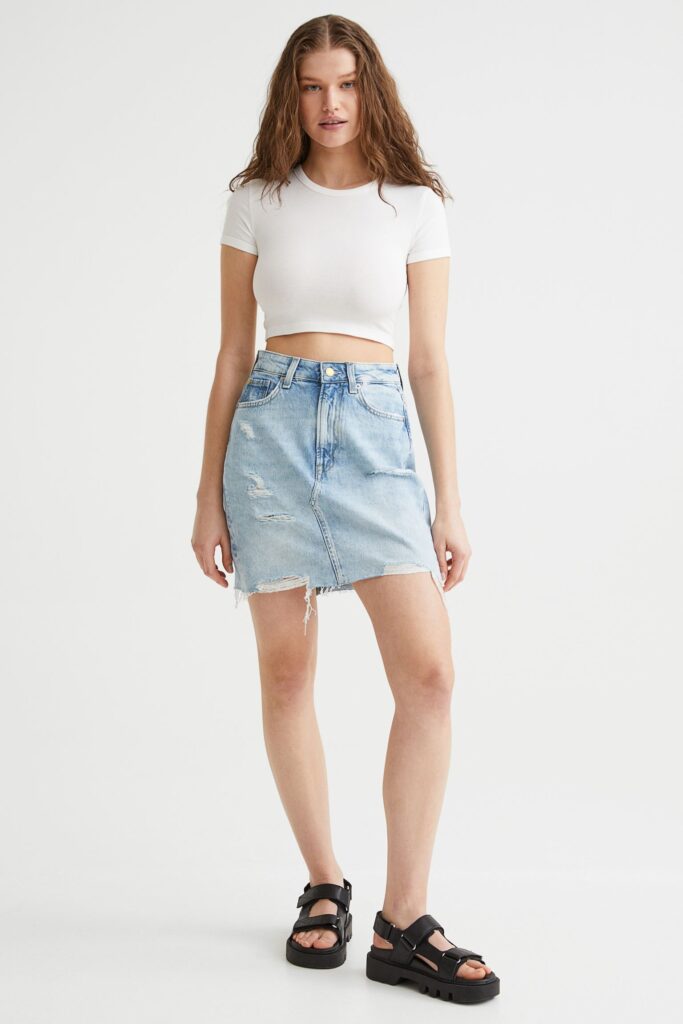 The jean skirt is a denim skirt that usually frays at the hem. During the late '90s and early 2000s jean skirts were closed at the hem, with a smooth finish.
The newer fraying concepts create a more relaxed, easy-going look that you can easily wear with your favorite t-shirt and sneakers.
Jean skirts aren't as forgiving as other skirts made of more stretchable fabrics. If you want to move attention away from your tummy, wearing a jean skirt is best for pear-shaped body types.
To conceal, you want to make sure your skirt is longer in length versus a mini skirt. Choose a top made of free-flowing materials that will drape just a little over the waist.
28. Drawstring Skirt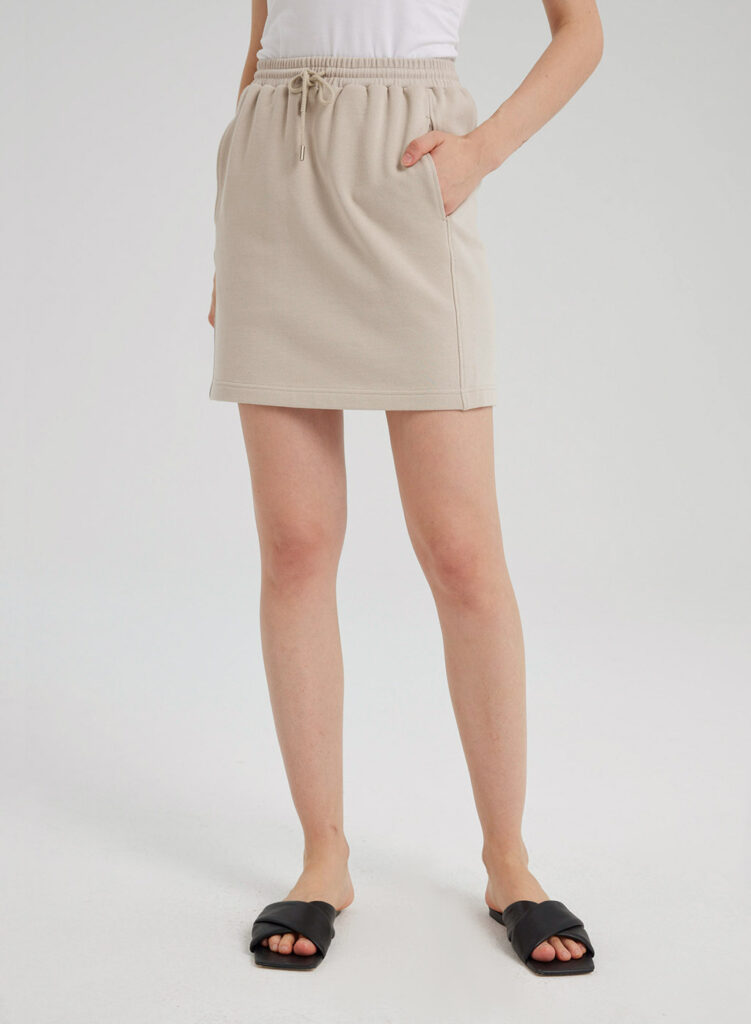 A drawstring skirt is made of performance material, ideal for outings where you'll need a sporty look. The top feature of the drawstring skirt is the moisture-wicking fabric that will keep you dry throughout the day.
You can wear sneakers and a t-shirt with this type of skirt, or you can wear flat sandals. If you want to add to the sporty concept, wear a leather backpack as an accessory and a watch.
29. Tulle Skirt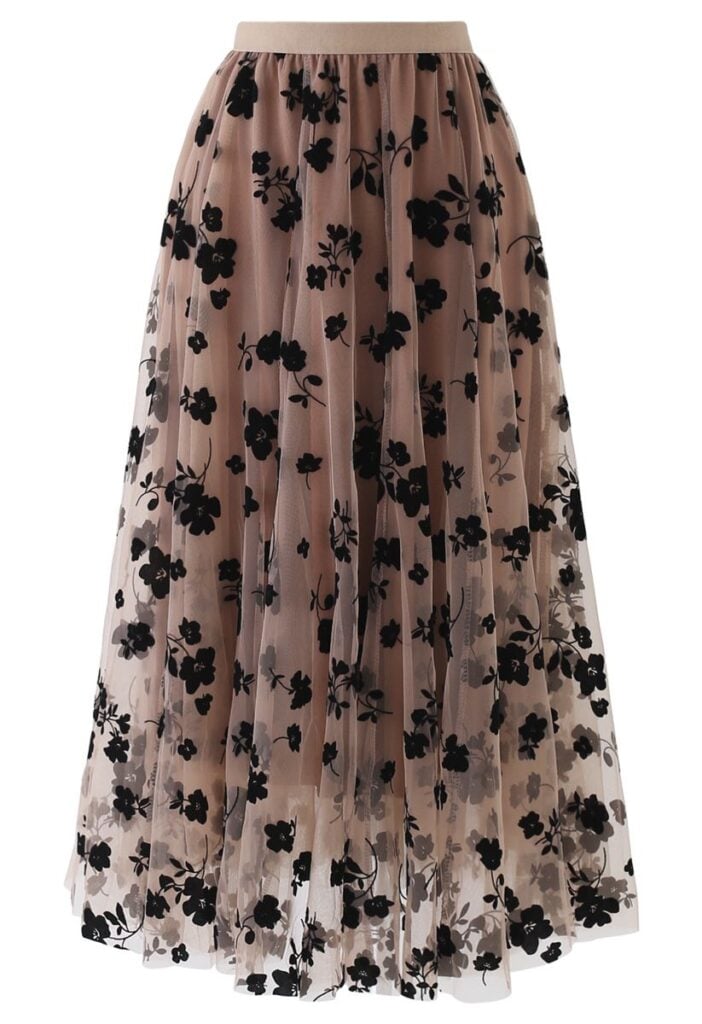 A tulle skirt is made with tulle fabric all-over. Tulle skirts are elegant and simplistic in design. They commonly come in an A-line design and can also have an elastic waistband.
There's such a large catalog of tulle fabrics that have floral prints, beading, and sparkle elements! They fit best in a long design, if you're tall and lean.
You can wear your tulle skirt with a long sleeve blouse, button-up and pumps. If you want to soften the look a bit more, try wearing a long, puff-sleeve blouse and ankle strap heels.
30. Tulip Skirt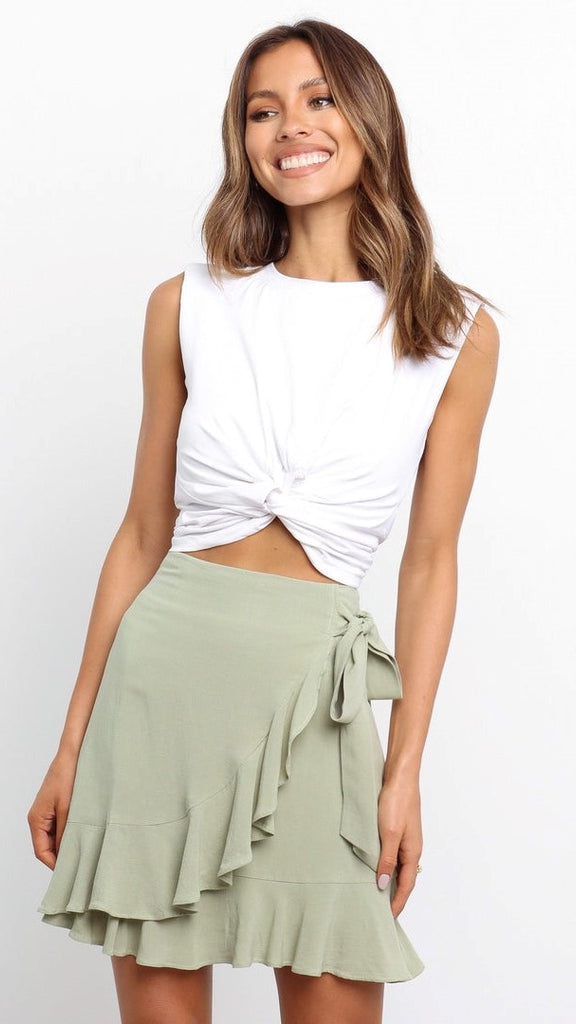 A tulip skirt has slanted front pleats and is ideal for petite body types. The concept of a tulip skirt comes directly from the tulip flower, with its subtle petal shapes.
You can wear a tulip skirt with pumps or ankle strap heels to add height to your legs. Try to avoid flat sandals with this type of skirt, so that your legs and torso don't appear compact.
You can easily dress up this type of skirt with a blouse. If you want to add a casual element to your look, try wearing a t-shirt and gladiator sandals.
Best Skirt Types for You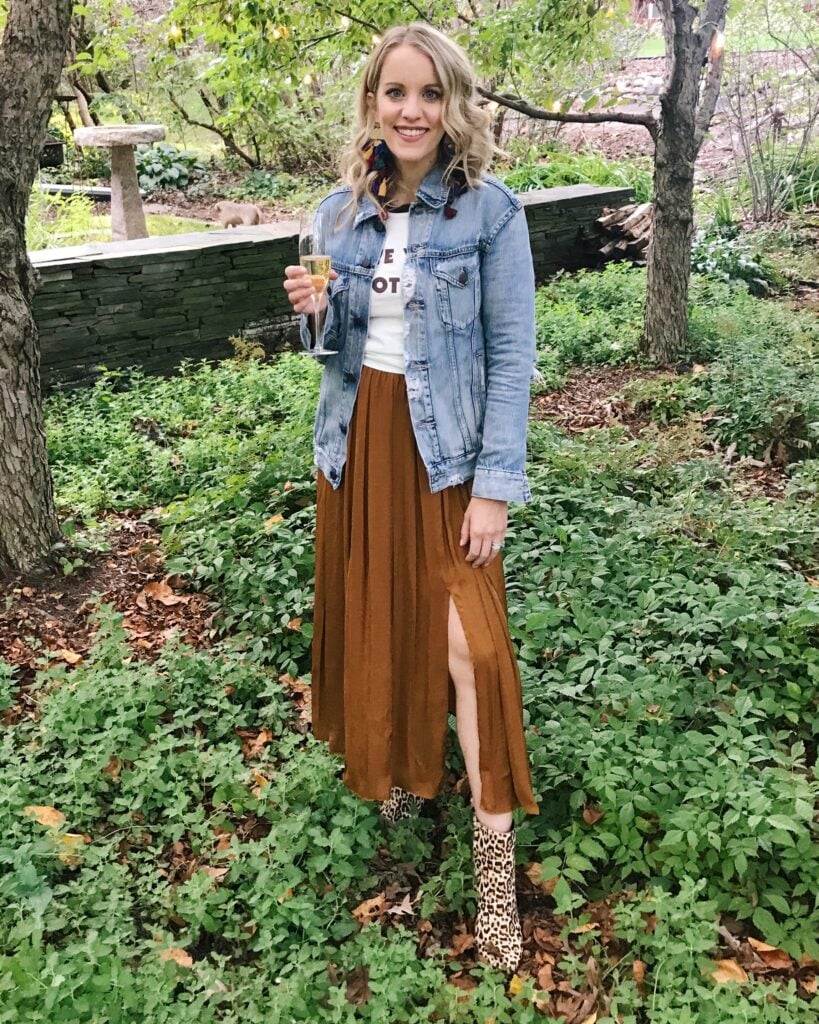 When it comes to skirt types, there's more than one or two in the bunch. Skirts are super comfy and easy to wear. Depending on your body type, you'll want to choose a skirt that will flatter your hips, waist and legs.
Height
If you're on the more petite side, stick with mini skirts and tulip skirt designs. For taller women, wear maxi and tulle skirts that have stand-out patterns.
Stomach Area
If your main goal is to wear a skirt but you also want to bring attention away from your tummy area, choose the yoke-waist or high-waist skirt that will give you room to wear a flowy top. This way, the focus is directly on your legs and pedicure!
Hour-Glass Shape
Accentuate an hour-glass shape if you have more curves to show by wearing a pencil skirt and pumps or strappy sandals.
Skirts are a staple and wearing them in the most fitting way is easy, now that you know your options and what works best for your body shape.
Want more styling advice? Check out my review of Levi's ribcage jeans, whether Chicwish is legit, and dresses to wear with cowboy boots!