I know I'm a little late when writing this (as I'm currently in my 33rd week of pregnancy), I wanted to be sure I shared a few of the things I learned about styling your growing bump in the 2nd trimester!
The 2nd tri was a bit interesting because my belly didn't officially "pop" until 17 weeks in so I had another month of looking like I had a large Dairy Queen blizzard (which I actually had probably just done…). I so badly wanted it to pop and then when it finally did I didn't know what to do with it! Anyone else feel that way?
(If you're feeling completley over being pregnant, here are 7 perks of pregnancy to help you love the stage you're in!)
Although everyone's bodies are different, here are a few tips and tricks I learned in my second trimester.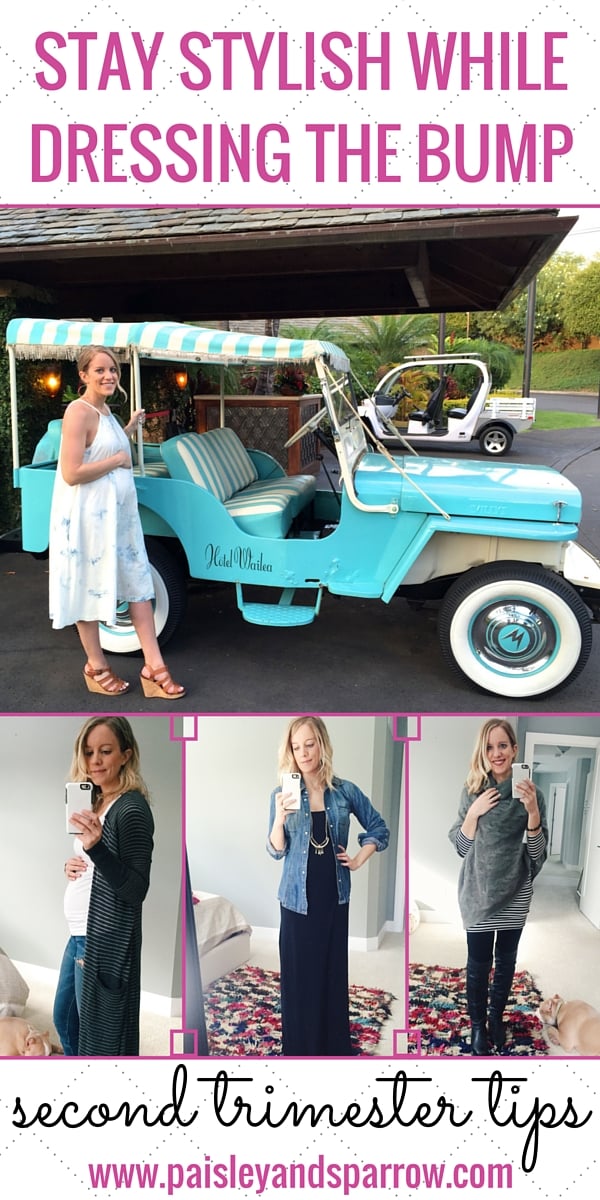 Tip 1. Invest in pieces that will grow with your body…THAT AREN'T MATERNITY.
Being pregnant is temporary and if you're like me, you don't want to waste money on clothes that will only work for a short time. I love dresses and have found 4 great non-maternity dresses that work while I'm pregnant (the photo at the top of this post in the boho dress and the black dress below are 2)!
Also look for flowy tops and cardigans or even long t-shirts with some stretch!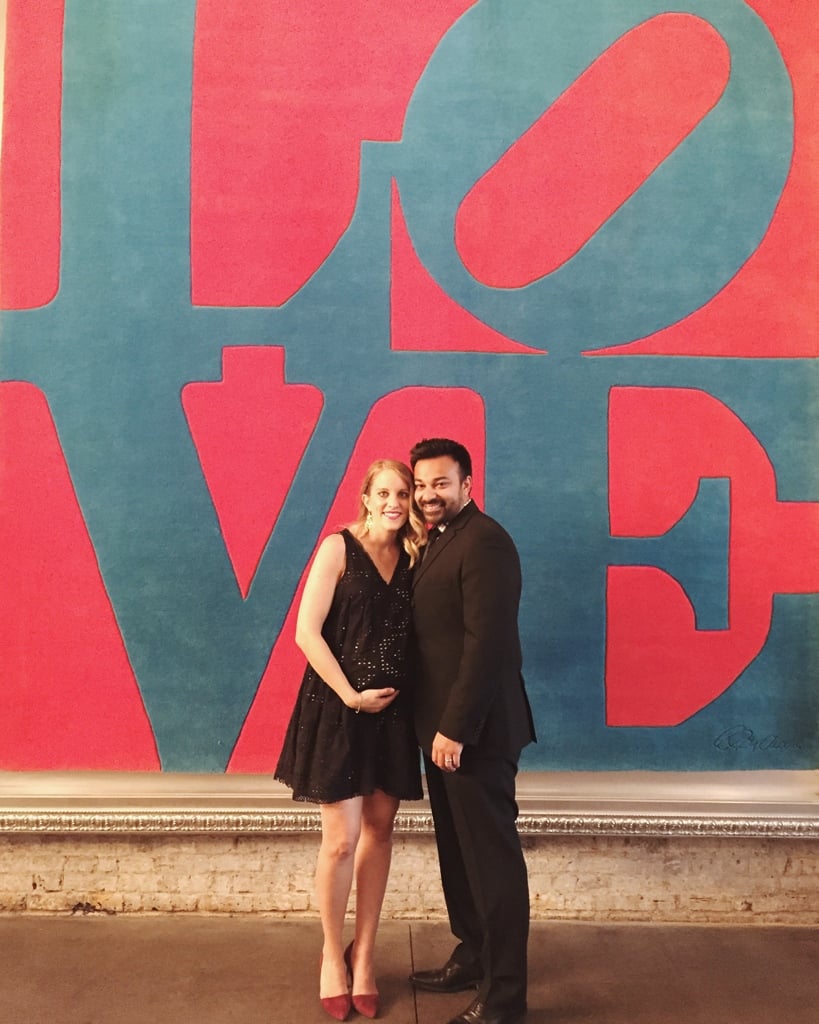 Tip 2. Invest in a few good maternity staples.
While you don't need to go out and buy a ton of maternity clothes, you will need a few good pairs of pants, basic tees and camis (in my opinion).
Look for at least one good pair of jeans in the style you normally wear and a pair of black leggings.
**If possible, try someone else's pants before buying you're own! It's helpful to see if you like the over the belly or under the belly style better! I bought a pair of under the belly pants and feel like I'm showing everyone my booty when I bend over and absolutely live in my pair of over the belly jeans that my neighbor gave me. But I've have some friends who hate the over the belly style! Figure out what you like and stick with it.
My normal camis/tanks worked for most of my 2nd tri but after I finally broke down and bought a couple maternity styles I was so much happier. Don't agonize over this purchase. Just do it. 😉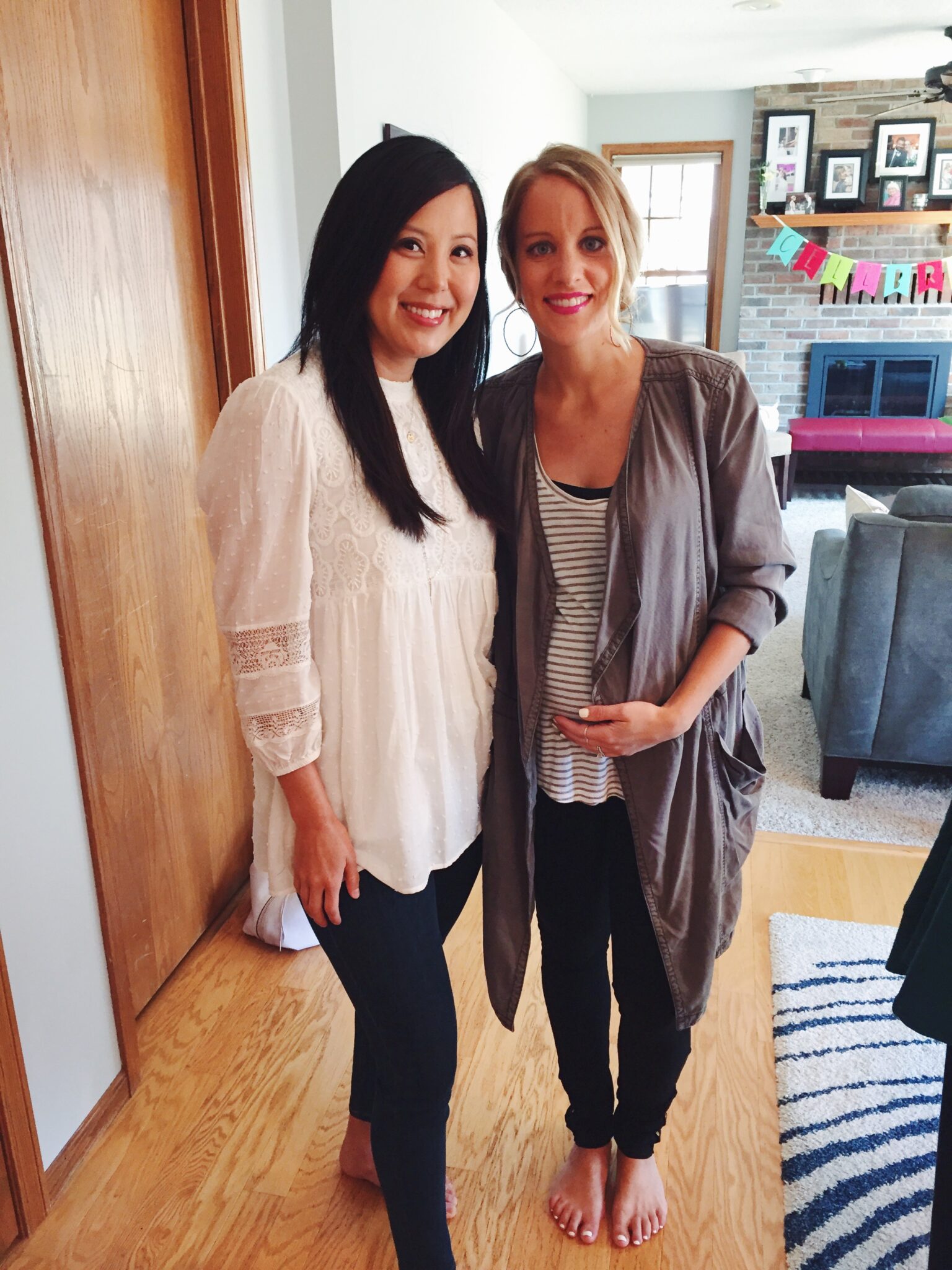 Tip 3. Buy a bra that fits (your girls might grow during this tri!)
My boobs have grown a full cup size already and this baby isn't here! Luckily my sister gave me a few of her bras to wear so I wouldn't have to buy new ones now and new ones after the baby is here (when they will likely grow again). If you don't have a sister who will give you bras GO BUY A NEW ONE. I can't tell you how much of a difference in made in my emotional well being after switching to a bra that fit.
On a side note, learning how to dress my now large (for me) chest has been a whole new challenge!
Tip 4. Shop your closet!
I shared this for the first tri and it's just as important now. Maxi dresses, stretchy pants, flowy tops, long tees and tanks…all of these things are absolutely perfect for your changing body! Just because you're pregnant doesn't mean you have stop wearing all of the clothes you already own – some may just need a bit of modifications! 😉
Tip 5. The Rubber Band Trick
I didn't know this was a "thing" until my sister showed me well into my pregnancy. You can wear your regular pants well into your pregnancy with using a hair tie or rubber band to keep your button more or less closed! A long top is all you need to keep things covered and you're set! 😉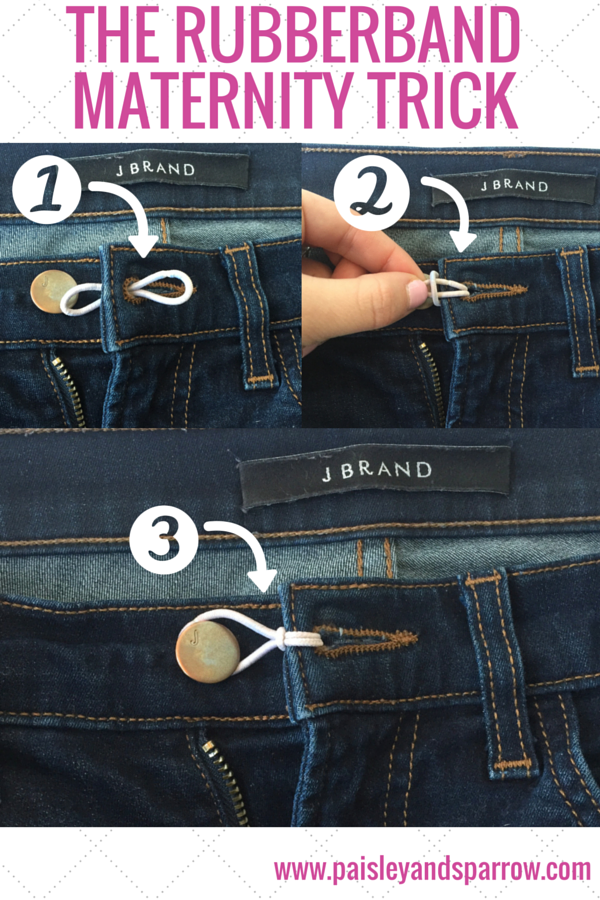 I'm excited to share all the things I learn throughout my pregnancy about staying stylish and feeling like YOU! I hope this helps!
Thanks so much for reading and be sure to follow along on Instagram for more fun!