We're positive you've seen Cetaphil products and Cerave products at your local target or drugstore. But are they worth the hype? Today we're going to looking into both CeraVe vs. Ceatphil products and help you determine which is right for you!
In case you're short on time, we'll tell you right off the bat the Cerave is our winner for almost all skincare products. While they're very similar in many ways (oil-free, lightweight, etc) Cerave has added ingredients (ceramides is one big one) that Cetaphil doesn't have which helps it be the clear winner in our mind.
However, we want to go a bit more in depth for body moisturizers, facial moisturizers and basic cleaners so keep ready for more information on each brand's specific product to see which one is right for you!
Also, we need to make sure that you know that skin products are not a one size fits all. What works for one person may not work for another! If you try one of these products and don't like it, try the other one. There are tons of different moisturizers and cleansers out there to try if these don't work well for you.
Dry Skin Causes and Help
As many of us know, dry skin, while not a serious problem, it's also a bit more than just an annoying problem that may cause slight flaking or itching. Dry skin is known to cause wrinkles, fine lines and contribute to acne on your face. Your skin needs to keep moisture in to protect itself from aging and any environmental factors.
So what causes dry skin? Oftentimes it's cause by cold or hot weather, a lack of moisture in the air or by using too hot of water when bathing or washing your hands. It can also be more frequent in older people or where you live or work.
Developing a skincare routine is essential to preventing these types of problems and keeps your skin hydrated. The most basic form of skincare routine includes moisturizers.
Moisturizers help retain water, act as a natural moisture barrier, and fend off chronic dryness. Two of the most common and affordable moisturizers you can find to solve these issues include CeraVe and Cetaphil.
CeraVe vs. Cetaphil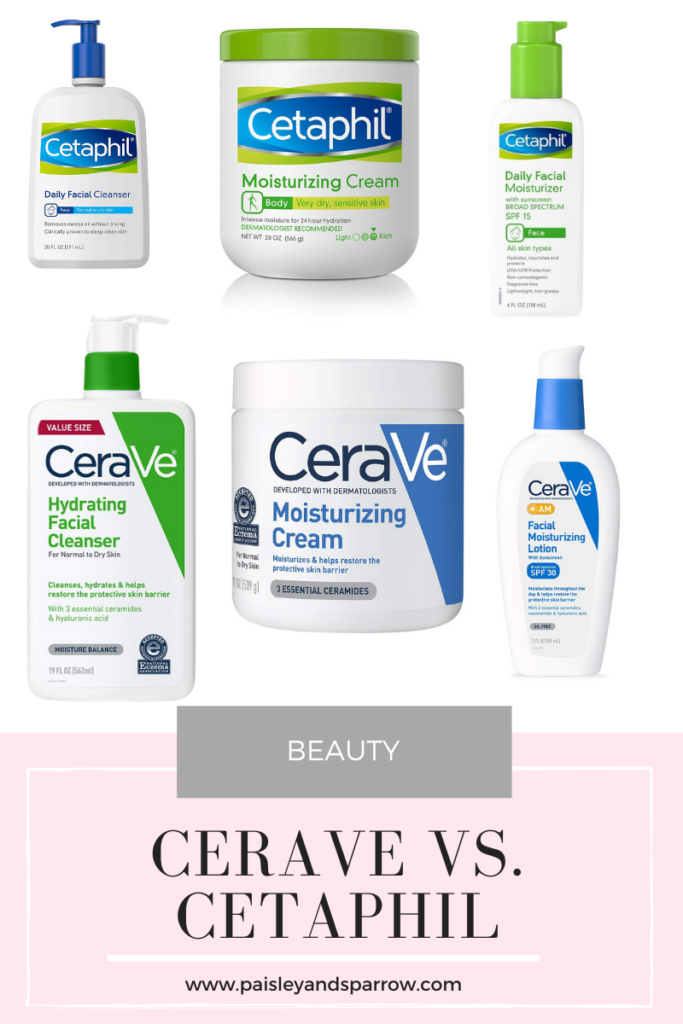 Both brands are well known for their relatively inexpensive products, with almost all products they offer pricing in under $20. Both sell a similar type of fragrance-free moisturizer and cleanser, and both brands are available in most convenience stores or supermarkets around the country.
Plus, both products are well known to help moisturize skin without causing any type of allergic reactions or inflammation. So, how do you choose between Cetaphil and CeraVe? Is one moisturizer better than the other?
Is one cleanser better than the other? Our guide will go through the differences between the two moisturizers and the two cleansers so you can make the best decision for your skin.
First let's start with moisturizing creams.
(Just a note – the ingredient list for each product was taken from each brand's website. They note that ingredients can change so please be sure to check your specific product's ingredient list for active ingredients and other ingredients.)
CeraVe vs Cetaphil Body Moisturizer
A good body moisturizer is a needed product for everyone – men, women, kids and babies! It not only prevents itchy skin but also leaves you soft, hydrated and smooth skin. When it comes to putting body lotion on, the best time to do so is after washing or exfoliating.
Applying a good moisturizer right after showering will lock in the moisture. You should apply it while your skin is still slightly damp.
Other great times to apply body lotion is before exercising if you're going to be outside (it provides a skin barrier from cold or hot air or wind), after shaving (to protect it from dryness and soothe any skin irritation from shaving) or before bed.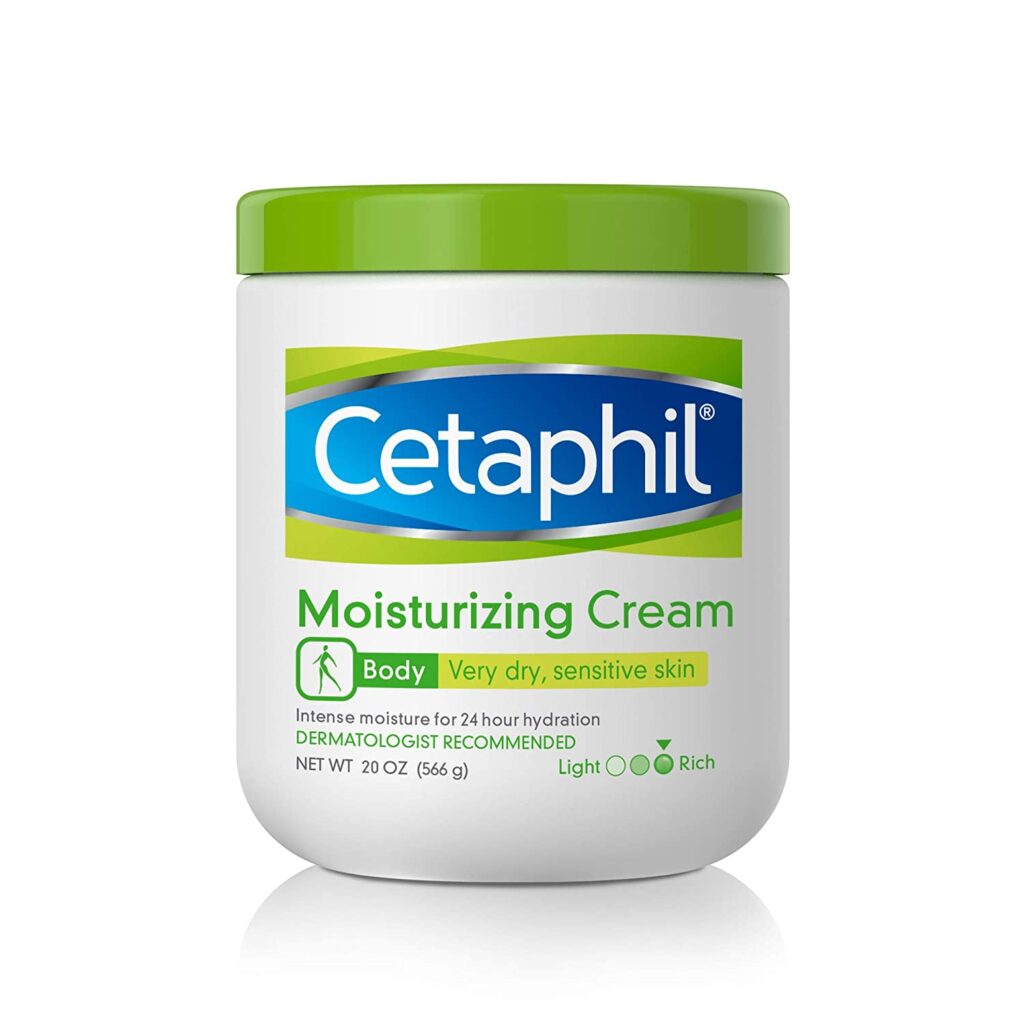 If you need to keep your skin full of hydration, Cetaphil moisturizing cream is a good solution. It's perfect for those who have sensitive or dry skin, as well as those who are suffering from eczema. Cetaphil helps to lock in your skin's moisture for hours at a time to keep your body or face hydrated and free of wrinkles.
Cetaphil's formula not only helps to soothe your skin but helps to alleviate itchy or flaking skin. It contains ingredients that help prevent your skin from losing moisture while simultaneously trapping moisture into your skin.
There are no irritants or parabens in Cetaphils formula, which makes it an excellent choice for those who have sensitive skin.
Ingredients in Cetaphil Moisturizer
According to Cetaphil's website, the ingredients in Cetaphil Moisturizer Include: "Purified Water, Polyglycerylmethacrylate, Propylene Glycol, Petrolatum, Dicaprylyl Ether, PEG-5 Glyceryl Stearate, Glycerin, Dimethicone, Dimethiconol, Cetyl Alcohol, Sweet Almond Oil, Acrylates/C10-30 Alkyl Acrylate Crosspolymer, Tocopheryl Acetate, Phenoxyethanol, Benzyl Alcohol, Disodium EDTA, Sodium Hydroxide, Lactic Acid."
Who Should Use Cetaphil Moisturizer?
Cetaphil can be used for any type of skin, whether you have oily or combination skin. It works particularly well on those who have dry skin, sensitive skin or suffer from eczema.
The hydrating effects of the lotion can help your skin to feel supple and soft throughout the day. However, if you have incredibly oily skin, Cetaphil may feel greasy on your face.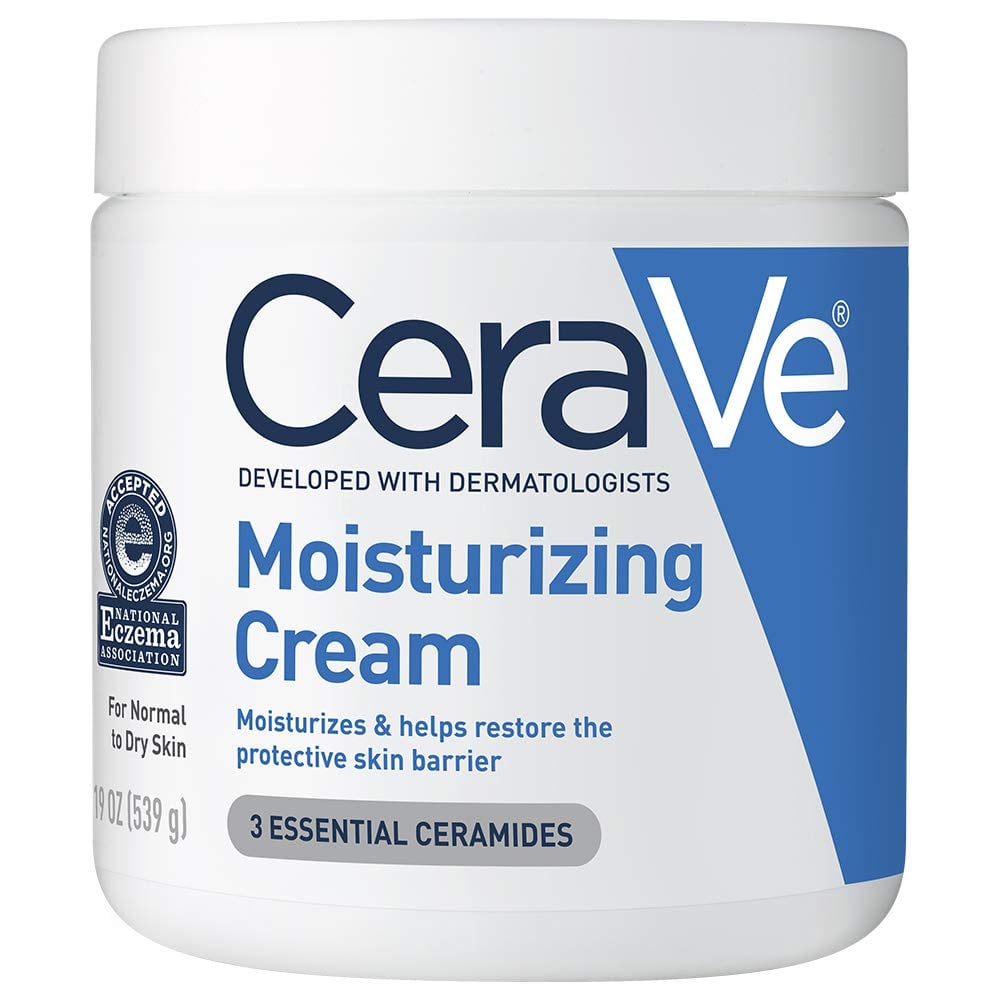 CeraVe moisturizing cream helps to keep the skin both moisturized and hydrated throughout the day. Many love CeraVe because of its ability to repair and protect your skin. CerAve is an extraordinary moisturizer because of the addition of both Ceramide 6-II and Ceramide 3 in its formula. Ceramide is a compound that helps to restore your skin's natural protective barrier.
The cream is fragrance-free, which makes it great to use on sensitive skin or those who have acne-prone skin. Plus, the hyaluronic acid contained in the cream can help to keep your skin looking younger and healthier by reducing any wrinkles or fine lines.
*If you struggle with acne be sure your washing your makeup brushes frequently!
Ingredients in CeraVe Moisturizer
According to CeraVe's website, the ingredients in their moisturizer contains Purified Water, SPF30 Glycerin, Ceteareth-20, Cetearyl Alcohol, Caprylic/Capric Triglyceride, Behentrimonium Methosulfate And Cetearyl Alcohol, Cetyl Alcohol, Ceramide 3, Ceramide 6-II, Ceramide I, Hyaluronic Acid, Cholesterol, Petrolatum, Dimethicone, Potassium Phosphate, Dipotassium Phosphate, Sodium Lauroyl Lactylate, Disodium EDTA, Phenoxyethanol, Methylparaben, Propylparaben, Phytosphingosine, Carbomer, Xanthan Gum.
Who Should Use CeraVe Moisturizer?
CeraVe is perfect for anyone who is in the sun on a daily basis. The added SPF in the ingredients helps to protect your skin from sunburn, sun poisoning, wrinkles, and freckles. Anyone with acne-prone skin or who suffers from eczema should use this moisturizer as it won't make your face feel greasy or clog any pores.
How To Apply Body Lotion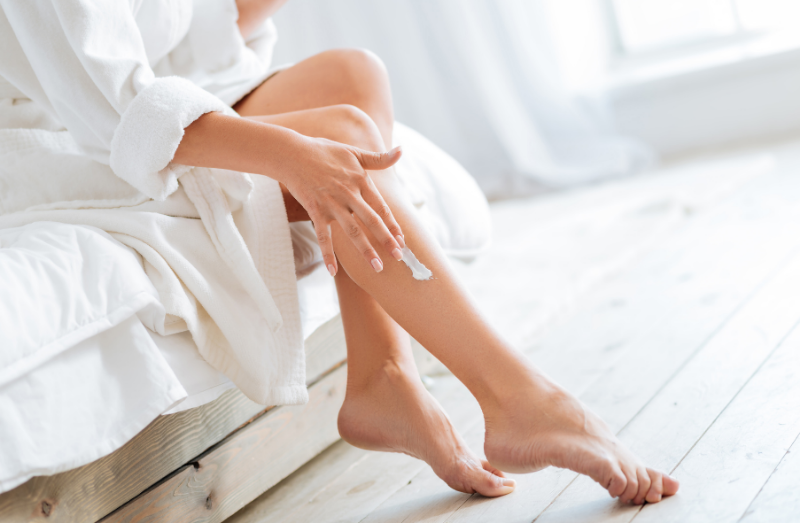 1. Start with a quarter size amount of lotion in the palm of your hand.
2. Rub your hands together to warm it up.
3. Gently press the lotion into a small area of your body in a circular motion apply the lotion with both hands.
4. Continue this until your entire body is covered.
5. Allow the lotion to sink in (roughly 5 minutes) before putting on clothes.
CeraVe vs Cetaphil Facial Moisturizer
Facial moisturizer, like body moisturizer is an important part of your skincare routine. A good facial moisturizer will help protect your skin from irritants in the air and keep your skin's cells healthy. It can also help with extreme dryness or oiliness.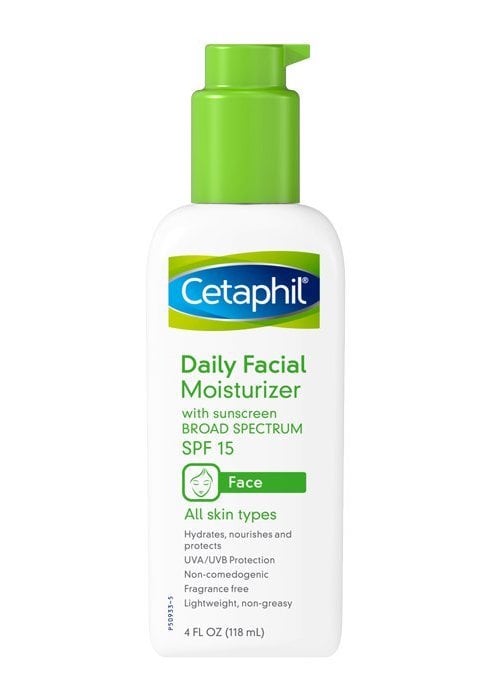 There are a variety of types of Cetaphil daily facial moisturizers with everything from SPF-35 to oil absorbing and more. This lightweight faced lotion is oil-free and won't clog pores or irritate your skin.
It absorbs into your skin quickly and nourishes your skin with things like Edelweiss Flower, Vitamin E, B3 and B5 and helps restore your skin's natural moisture barrier.
Some users say it has a bit of a sunscreen smell (unlike CeraVe) so keep that in mind if you're sensitive to smells. It also has a thinner consistency than the CeraVe's moisturizer.
Ingredients in Cetaphil Facial Moisturizer
Avobenzone 2.8%, Homosalate 9.5%, Octisalate 4.8%, Octocrylene 7% Inactive Ingredients: Water, Glycerin, Dipropylene Glycol, Panthenol(Vitamin B5), Ethylhexyl Methoxycrylene, Isopropyl Palmitate, Silica, Niacinamide, Cetearyl Olivate, Cetearyl Alcohol, Glyceryl Stearate, Potassium Cetyl Phosphate, Sorbitan Olivate, Tocopheryl Acetate (Vitamin E Acetate), Caprylyl Glycol, Acrylates/C10-30 Alkyl Acrylate Crosspolymer, Palmitic Acid, Ethylhexylglycerin, Leontopodium (Edelweiss) Extract, Stearic Acid, 1,2-Hexanediol, Oryza Sativa (Rice) Lees Extract, Propanediol, Sodium Hydroxide, Adenosine, Potassium Sorbate, Sodium Benzoate, Citric Acid, Myristic Acid, Buddleja Davidii (Summer Lilac) Leaf Extract, Thymus Vulgaris (Thyme) Leaf Extract, Tocopherol (Vitamin E)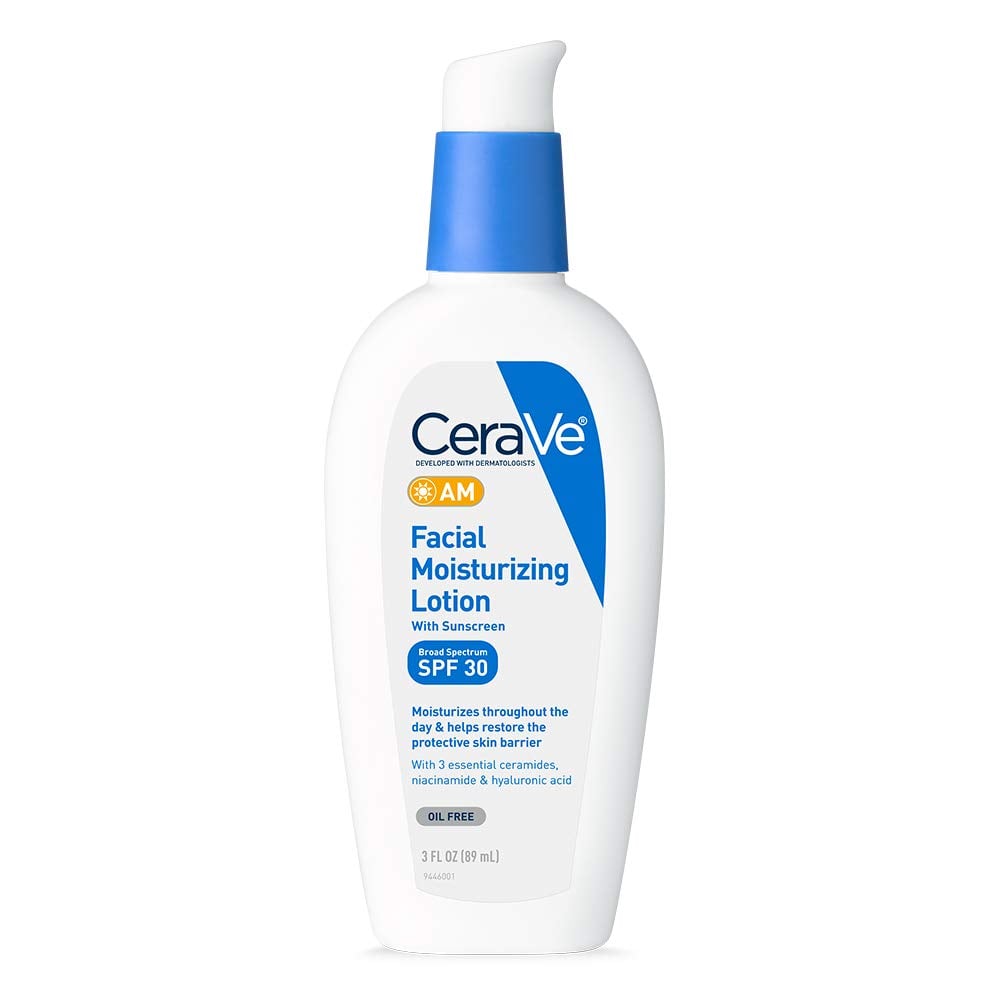 There are multiple types of CeraVe facial moisturizers – including one for AM and one for PM. One thing that we like about the AM CeraVe moisturizer is that it contains SPF 30. This will help protect your face from sun exposure without clogging pores or causing acne.
Like the moisturizing cream, it has 3 essential ceramides as well as MVE technology which works to release moisturizing ingredients all day long, not just when you apply it. It's fragrance free, oil free and helps calm the skin.
Ingredients in CeraVe Moisturizer
According to CeraVe's website, the ingredients in their moisturizer contains Homosalate, Meradimates, Octinoxate, Octocrylene, Zinc Oxide, Water, Niacinamide, Glycerin, Cetearyl Alcohol, Behentrimonium Methosulfate, Dimethicone, BHT, Ceramide NP, Ceramide AP, Ceramide EOP, Carbomer, Triethoxycaprylylsilane, Methylparaben, Sodium Lauroyl Lactylate, Disodium EDTA, Propylparaben, Hydroxyethylcullulose, Hydrolyzed Hyaluronic Acid, Phytosphingosine, Xanthan Gum.
How to Apply CeraVe and Cetaphil Moisturizer
While the two are a bit different in ingredients, the process of using the moisturizer is the same. Follow these steps to ensure you have a clean face and maximize the strength of your moisturizer.
Cleanse Your Face: First, you need to use some type of cleanser to clean your face. It's essential to remove all of the makeup, oil, and dirt that can accumulate in your skin to allow your pores to breathe.
Dry Your Face: Next, you'll need to dry off your face before applying your lotion. Make sure not to rub your face, as this can cause redness and irritation. Instead, gently pat your face with a clean towel.
Apply Your Moisturizing Lotion: Once you've thoroughly cleaned and dried your face, it's time to apply your lotion. Start with one squirt of cream and apply evenly to your face. Use more product as needed.
CeraVe vs Cetaphil Cleansers
Let's talk cleansers! Facial cleansers are meant to clear the skin of makeup, dirt, dead skin cells and other excess oil. This not only clears and unclogs pores that can cause acne but it also primes the skin for treatments such as Vitamin C, toner or moisturizer. A good cleanser is essential to your skincare routine!
*A good facial mask is a great addition to any skin care regime!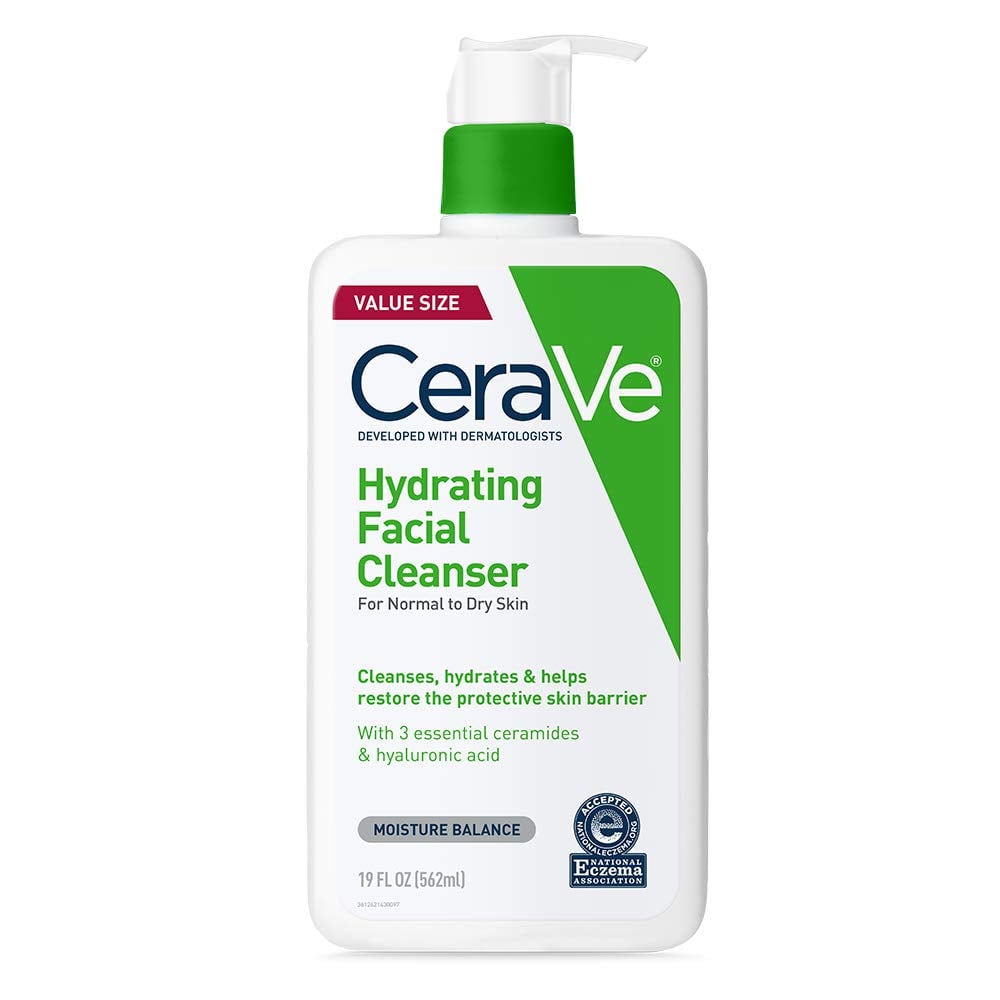 Like the moisturizers, there are a variety of facial cleansers. CeraVe's most common cleanser is their Hydrating Facial Cleanser. CeraVe's cleansers work to clean you skin of dirt, makeup and other things that could be on your face without stripping it of it's natural oils and moisture.
Like their moisturizer, it has 3 essential ceramides and hyaluronic acid to help restore the protective barrier of your skin and lock in moisture so your skin never feels tight and dry.
Ingredients in CeraVe Clenaser
Aqua / Water / Eau, Glycerin, Cetearyl Alcohol, Peg-40 Stearate, Stearyl Alcohol, Potassium Phosphate, Ceramide Np, Ceramide Ap, Ceramide Eop, Carbomer, Glyceryl Stearate, Behentrimonium Methosulfate, Sodium Lauroyl Lactylate, Sodium Hyaluronate, Cholesterol, Phenoxyethanol, Disodium Edta, Dipotassium Phosphate, Tocopherol, Phytosphingosine, Xanthan Gum, Cetyl Alcohol, Polysorbate 20, Ethylhexylglycerin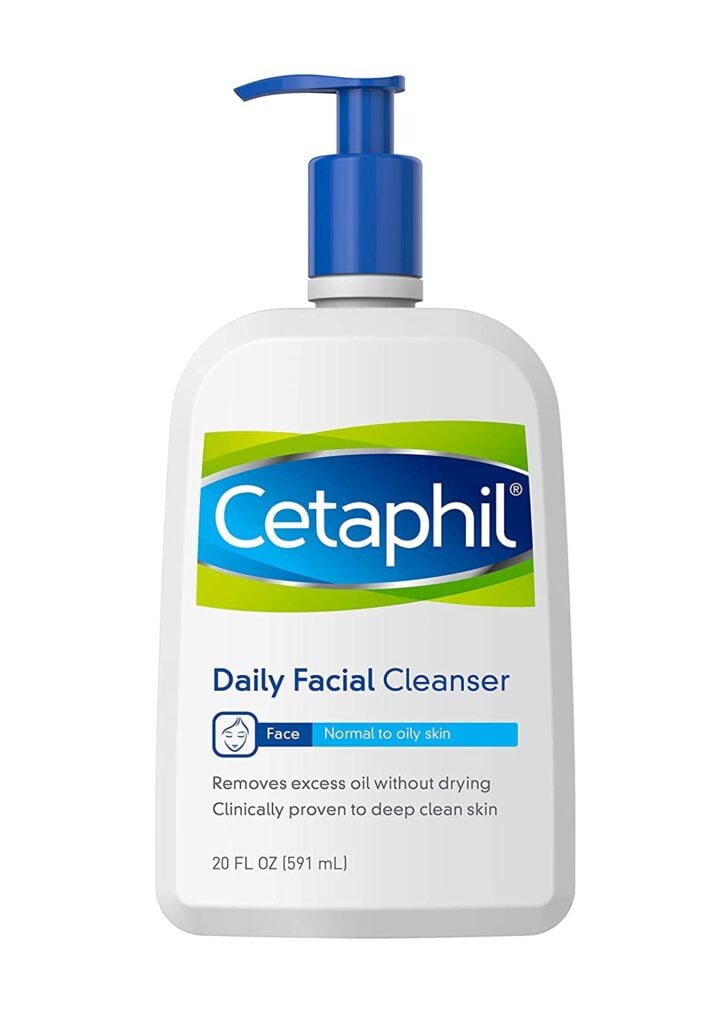 Like the others, Cetaphil also has a variety of facial cleanser based on your skin's unique needs. Their Daily Facial Cleanser is a mild, low lather formula that won't irritate your skin, clog pores or strip it of its natural oils.
It's gentle yest effective in cleaning your skin of makeup, dirt and other oils leaving your skin feeling cleaned and refreshed, never tight or dry.
Ingredients in Cetaphil Facial Cleansers
Water, Glycerin, PEG-200 Hydrogenated Glyceryl Palmate, Butylene Glycol, Sodium Lauroyl Sarcosinate, Acrylates/Steareth-20 Methacrylate Copolymer, PEG-7 Glyceryl Cocoate, Sodium Laureth Sulfate, Phenoxyethanol, Masking Fragrance, Panthenol, PEG-60 Hydrogenated Castor Oil, Disodium EDTA, Methylparaben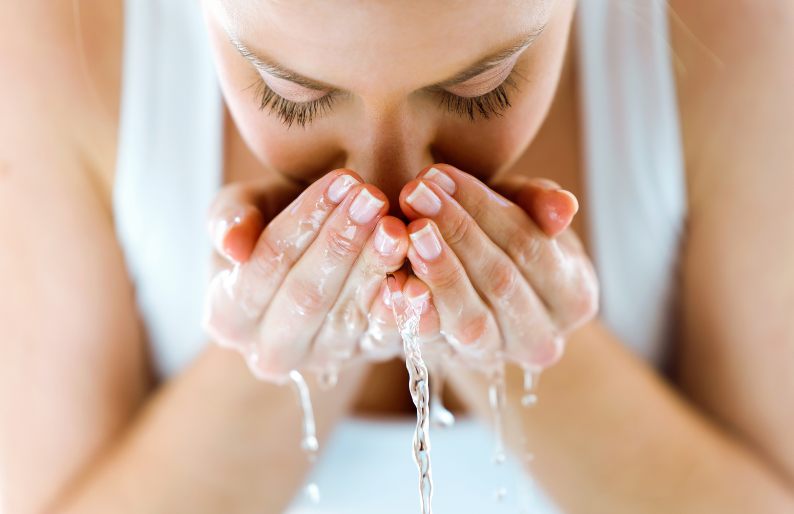 What is the difference between Cetaphil and CeraVe?
While both contain a lot of similarities, such as providing a non-fragrance cream that is inexpensive to treat skin conditions, they both have a fundamental difference. Cereave has added Ceramides, while Cetaphil does not.
Ceramides are essential to keeping the skin moisturized, looking young, and preventing wrinkles because it helps restore the skins protective barrier. Cetaphil does not contain any of those types of ingredients in its formula.
Which Product is Better?
To protect yourself from dry or dehydrated skin, you'll need to choose products that help to preserve your skin and lock the moisture in. With CeraVe, you'll find the best ingredients such as hyaluronic acid, niacinamide, and ceramides, which really help to keep the skin glowing and hydrated.
While Cetaphil does offer ingredients such as plant oils and vitamin complexes, it can't compare to the powerful ingredients of CeraVe.
If you find yourself not loving either the CeraVe or Cetaphil Moisturizers, here are a few additional lotions to try out! All skin types respond to ingredients in different ways so as we mentioned above, finding the best skin care products is not a one size fits all!
We understand that the 2 popular brands may not be the best products for you so here's a few other popular products we like.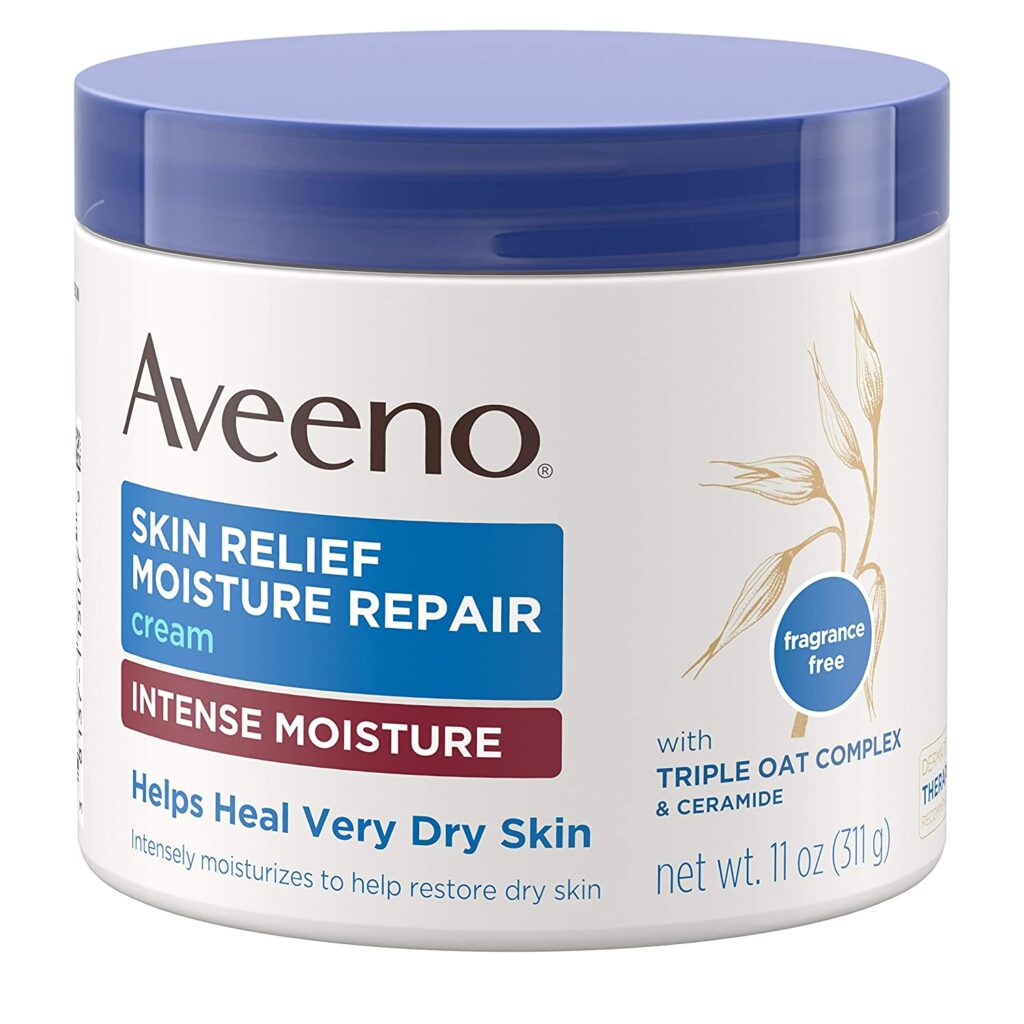 Aveeno is a great option for anyone wanting the ceramides that is found in the CeraVe cream along with some other natural ingredients such as oat flour and oat oil and extract. This super rich body cream is great for extra dry skin.
It's fragrance free and steroid free and provides an intense hydration that lasts for a full 24 hours. This is a great option for sensitive skin as well as very dry skin.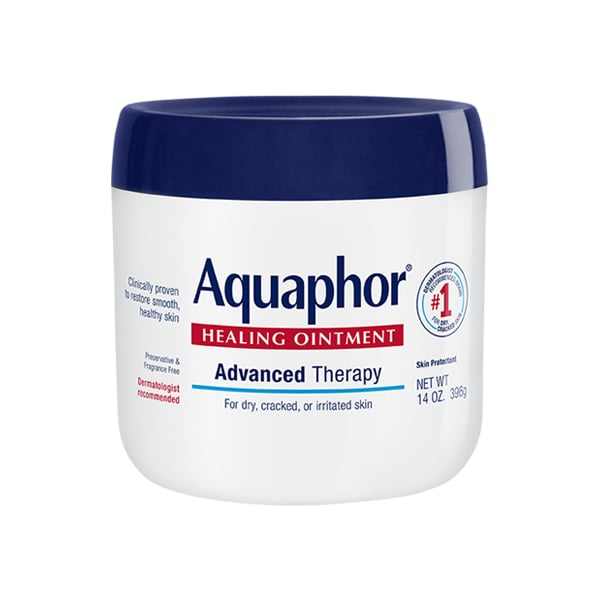 If you don't already own Aquafor Healing Ointment you aren't living. I kid but seriously – this product is amazing! Use if for chapped lips or cracked hand or feet, dry skin patches (we use this on our son who gets dry skin patches on his legs) and just about anything else.
This isn't a normal body cream or lotion but more of an ointment. You wouldn't put this all over your skin but you can definitely put it anywhere that needs a little extra TLC!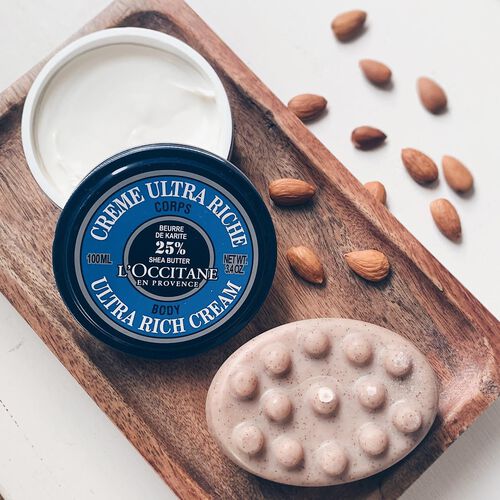 If you're ready to splurge on the best moisturizer, try out L'Occitane's Ultra Rich Body Cream. It's made with 25% shea butter to help keep your skin moisturized for up to 72 hours. It's made without parabens and without phthalates.
They also have set up a sustainable and fair trade partnership with the women who produce their shea butter – the women of Burkina Faso. You're not only getting an amazing body cream but also supporting women's entrepreneurs.
We hope this ultimate guide helps you in knowing the difference between CeraVe vs. Cetaphil and assists in making the right decision for you and your skin type.