Any grandma or grandpa will tell you: The only thing better than being a parent is being a grandparent!
If you are expecting, there are so many ways that you can share the big news with your parents. Whether it is your first baby or your fifth, your parents will share your excitement, especially when you surprise them with a pregnancy announcement gift to tell them they'll be new grandparents.
You might be stuck thinking about how to make it unique and creative. Here are some creative ways that you could present the exciting baby news to your parents! The most important thing is to make it special to you and enjoy the moment!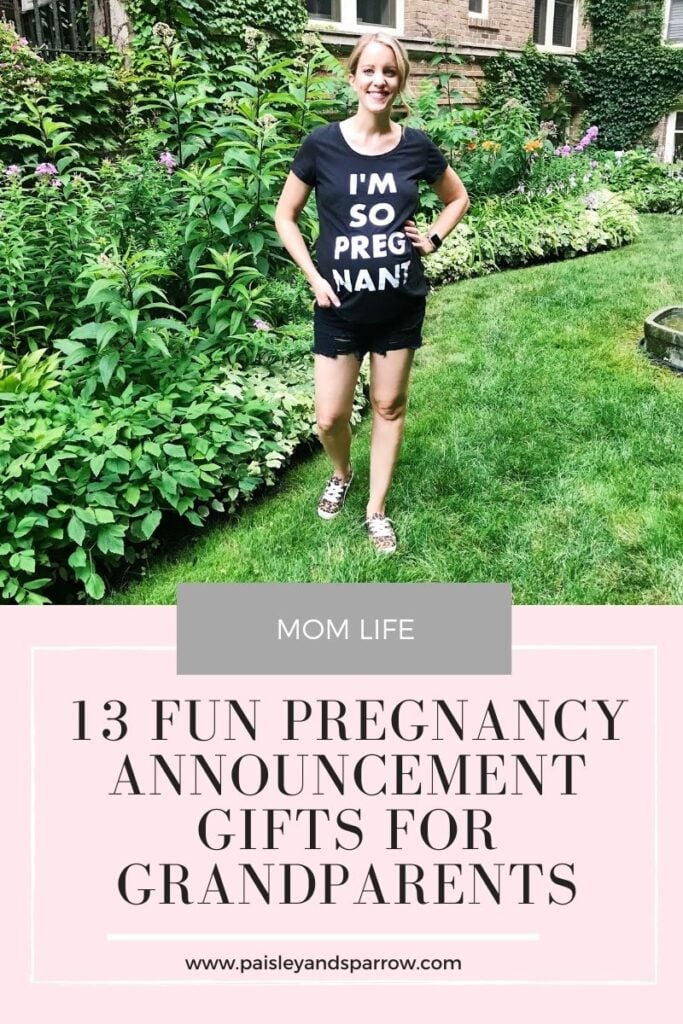 1. Baby Apparel
This is a classic, but one that so many people use because it is easy and really hard to misinterpret. All you have to do is wrap up a baby onesie (with whatever message you think your parents will love), give it as a gift to your parents, and they'll figure it out instantly!
This also lets them relive the feelings once their grandson or granddaughter is born and wears the onesie. It's a magical moment for everyone, whether they're veteran or first-time grandparents.
If you don't want to do a onesie, you could just as easily use baby slippers or any other baby accessory. There are several ways that you could break the pregnancy news to your parents and make it fun for everyone!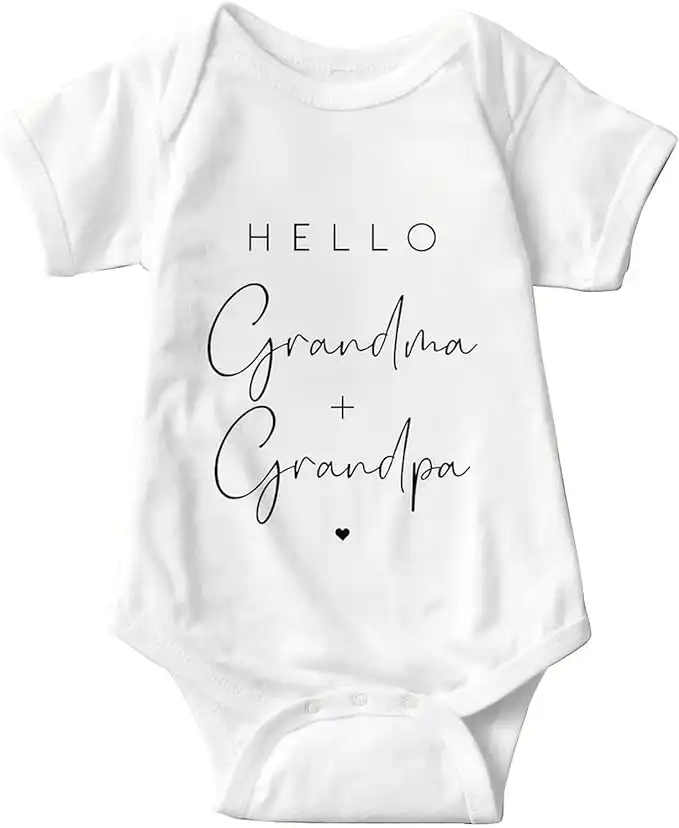 We earn a commission if you make a purchase, at no additional cost to you.
---
2. Pregnancy Reveal Shirt
If you want to keep it simple, the best way is to buy yourself or your current children pregnancy announcement T-shirts. These can come in fun patterns, sayings, and make it humorous but revealing for your parents to find out the big news.
Some of the best ones refer to the classic "bun in the oven" joke that people say about their pregnancies or "only child expiring soon" with the due date. Some people use sayings that tie into the season or a holiday like "growing a little pumpkin" or "Santa's newest elf." Or the classic "big brother" or "big sister" shirt for the older siblings is a clear and cute way to spill the beans.
These are cute, long-lasting, and can present your parents with a memorable way of finding out they are future grandparents. It's also fun to see how long it takes for them to notice what you're wearing!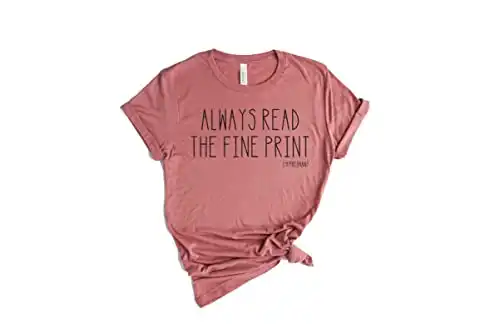 We earn a commission if you make a purchase, at no additional cost to you.
---
3. Pet Clothing
If you have a little cat or dog running around your home, they can also put on some pregnancy-themed clothing. This can be fun, but not all animals enjoy putting clothing on. Or if your parents have a beloved animal at home, you could dress them up in the same clothing as a means of breaking the news.
These come in a variety of sizes, sayings, and colors. It's totally up to you how you want to present the news and what you could have your doggie or kitty sporting when your parents come over to find out for themselves!
This is also great for long distance announcements if you can't be in the same place but want to share fantastic news with your parents.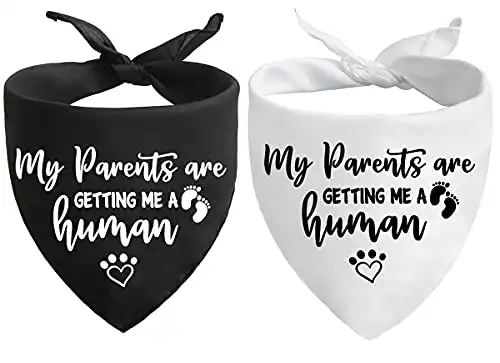 We earn a commission if you make a purchase, at no additional cost to you.
---
4. Grandma and Grandpa Mugs
If your parents are coffee and tea lovers, this is the perfect double gift. Not only can you give your parents the gift of a useful mug for their home, you can give them something they will remember and cherish forever. It's the perfect way for your parents to enjoy their morning cup of coffee while thinking happily about the new addition to their family.
You can use coffee mugs for other family members as well, making it fun and memorable for people to use for many years after the pregnancy announcement. Brothers and sisters can be surprised with their own mug to mark the occasion of becoming an uncle or aunt!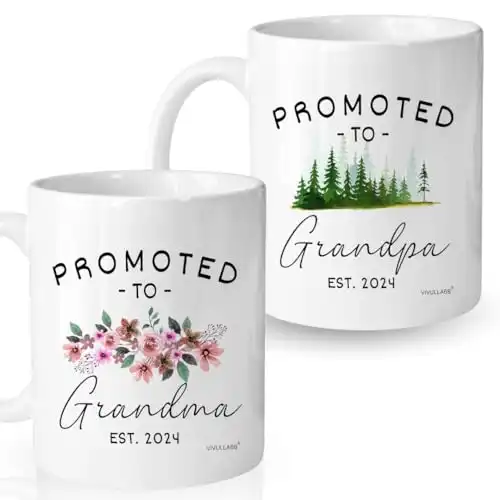 We earn a commission if you make a purchase, at no additional cost to you.
---
5. Grandma and Grandpa Book
This is a sentimental but great way for you to tell your parents that you are expecting. Once the baby is born, grandparents can bond with him or her through reading this book together.
It's a great addition for babysitting nights and reading when grandma and grandpa come to visit your little one.
You don't have to get a generic book either. If you wanted to be more creative, you could also create your own hardcover or board book.
Look at Etsy, Pinhole Press, Artifact Uprising, or other websites to customize something unique, special, and memorable for the whole family when you announce to your parents.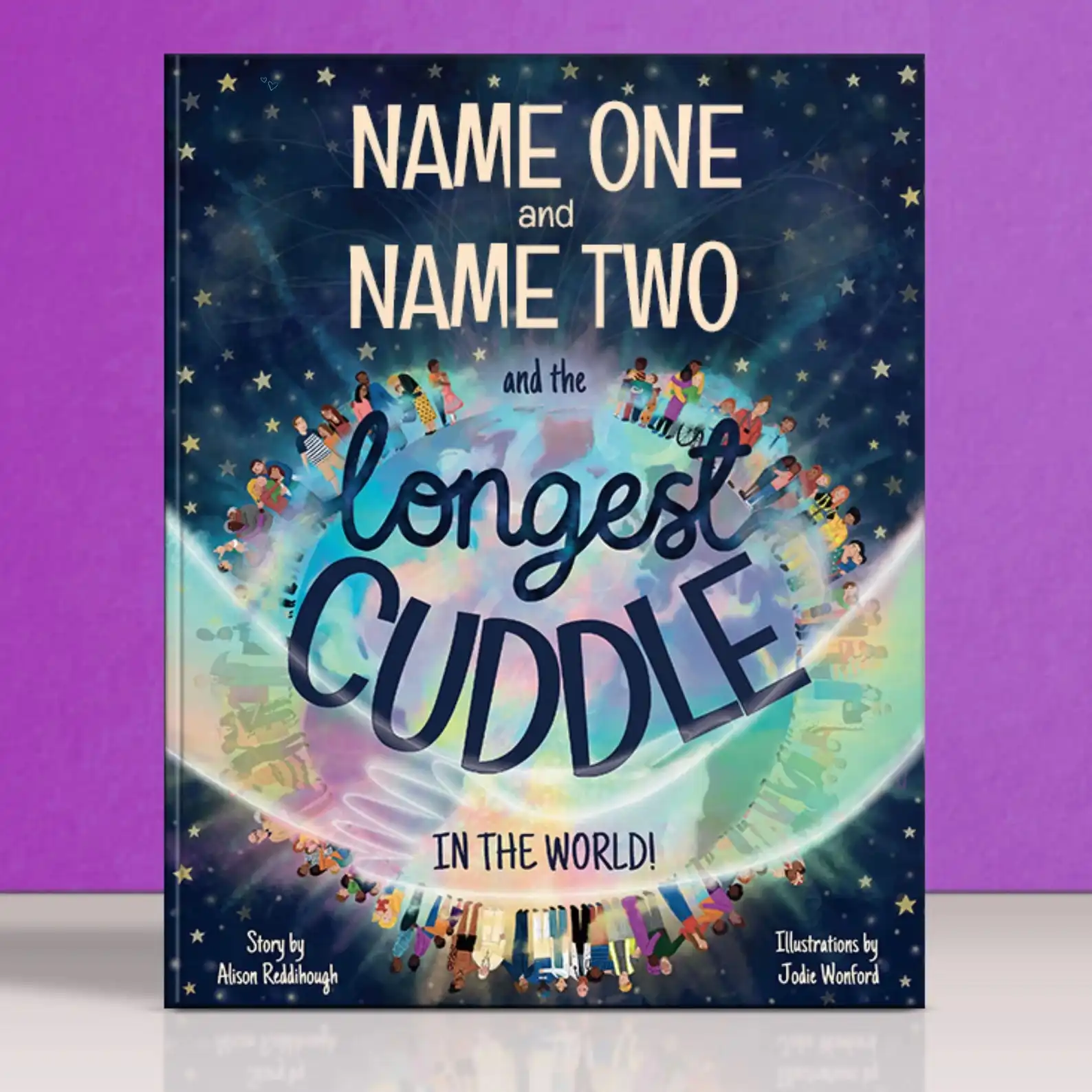 We earn a commission if you make a purchase, at no additional cost to you.
---
6. Sonogram Frame
Images from your sonogram are among the most popular pregnancy announcements, and a sonogram photo makes for a great grandparent gift as well!
All you have to do is have multiple copies of your ultrasound picture produced and find a frame fit for a grandma or grandpa. This is something that your parents can display around the house or keep on their desk at work.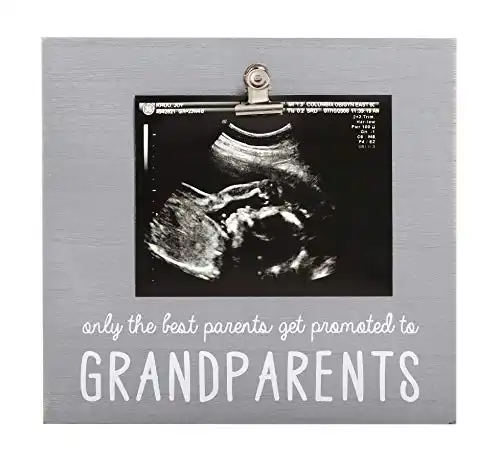 We earn a commission if you make a purchase, at no additional cost to you.
---
7. Promoted to Grandparents Shirts
This is great for parents who are becoming grandparents for the first time! This can be a special way to share the news and spread the excitement not only for you as an expecting mother for the first time, but also for your parents as they get psyched about their first grandchild.
Your dad and mom will be delighted to wear this out in public and share the big news with their friends!
You can choose any design that you want for this including "promoted to grandma/grandpa," "grandma est." or "grandpa est." You can also come up with something unique to your parents that they'll love wearing since you know them best.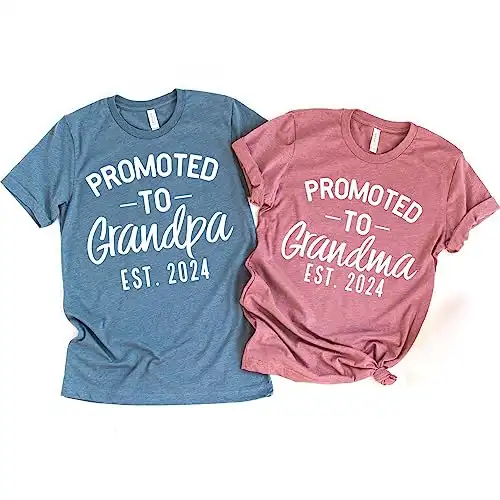 We earn a commission if you make a purchase, at no additional cost to you.
---
8. Fun Photo Shoot
To commemorate the experience for your whole family, you could arrange a fun photo shoot to mark the occasion. This is exciting, especially if you have kids already who could take part in the fun!
Regardless of how many people take part in the pregnancy photo shoot, this is something that you, your partner, and your whole family could enjoy looking at over the years.
For your parents, this is a fun way to both get fresh photos of their growing family and share the good news with them. It's a gift for the entire family and one that you will smile at when you come across the photo years down the road after your kids have grown up.
---
9. Jigsaw Puzzle
If you have parents who enjoy puzzles and games, this is the perfect idea. It might take some time depending on the size of the jigsaw puzzle that you create, but this could be something that truly is fun and memorable for all.
All you have to do is select your photo, get it printed on the puzzle, and then deliver the gift to your parents. By the time they have completed the puzzle, they'll have realized the exciting news.
After you give them the puzzle, you will also have a fun activity for your kids to do with their grandparents as they grow up and play with a gift you presented to your parents all those years ago.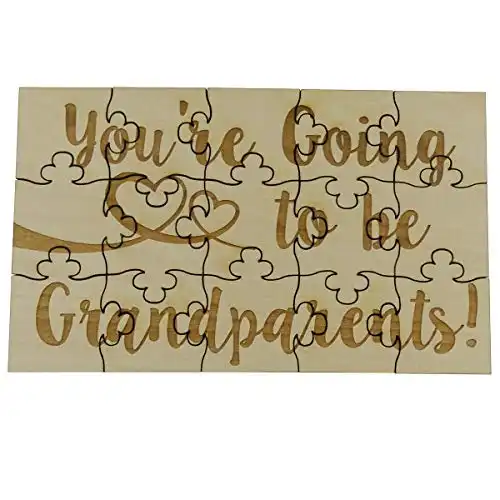 We earn a commission if you make a purchase, at no additional cost to you.
---
10. Use Family Game Night
For the family that comes together and plays game nights regularly, this is another fun idea. Suggest charades, Pictionary, or Watch Ya Mouth — these games can easily turn into an impromptu pregnancy announcement when the time comes.
It would involve the whole family, and if you want to remember the event, you could even sneakily film their reaction!
Mixing the big reveal into family game night takes the excitement to a new level since everyone is already in a playful mood. Seeing the looks of joy on your parents' faces when they guess right and find out about their new title as grandparents is a once-in-a-lifetime moment.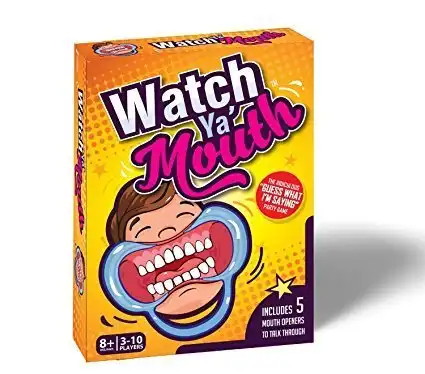 We earn a commission if you make a purchase, at no additional cost to you.
---
11. Lottery Scratchers
Did you know you can take lottery scratch tickets and create your own message? If you have any lottery lovers in your family, pregnancy announcement scratch offs can be a fun trick that ends with a memorable announcement about your happy news. These can be stocking stuffers around the holidays or for birthdays. When they scratch, they will find out the big surprise.
You could also put the message in a fortune cookie and present it at the end of a family dinner. You can buy a bag of fortune cookies with customized fortunes online.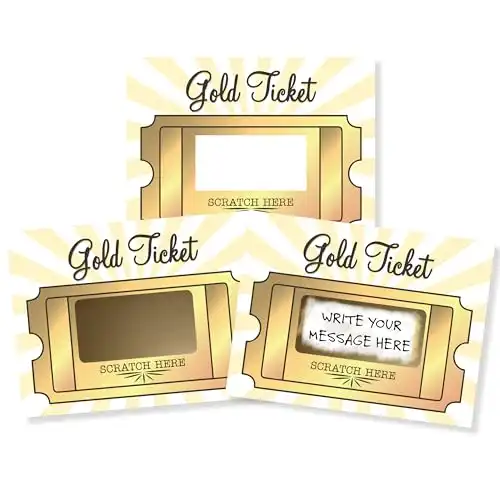 We earn a commission if you make a purchase, at no additional cost to you.
---
12. Make the Holidays More Merry
If Christmas or another special occasion is coming up, why not make the announcement part of your present to them? A Christmas pregnancy announcement makes the whole holiday season more special for your parents, especially because they know that by the next Christmas, there will be a new family member!
Buy a custom grandma or grandpa Christmas ornament or present them with a Baby's First Christmas ornament to put on the tree with baby next year. Put some baby items on your Christmas gift wish list to give them a hint. Or just include any of these other fun ideas as part of your present this year.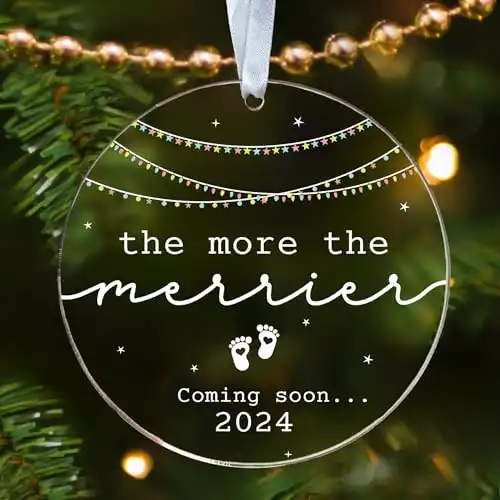 We earn a commission if you make a purchase, at no additional cost to you.
---
13. Get Creative!
Even with all of these ideas for you to choose from, it's more fun and special if you can get creative and choose a gift that is meaningful to you and your parents. You can choose any number of personalized items that best fit your situation.
People have created custom hats, custom tackle boxes for fishing, their own custom wine label, and more. There are so many options to choose from and the truth is, you have to choose something you know your parents and your whole family will adore.
---
And if you're feeling the pressure to come up with something one-of-a-kind, remember that your announcement is the most exciting thing to happen to your parents, regardless of how you tell them.
Now that you've decided how to share the big news, here's what to put on your baby registry and some fun maternity shirts for you!