When you hear about wearing both silver and gold jewelry at the same time, do you immediately think, "I can't do that!"? Then this post is definitely for you!
In the past, mixing silver and gold jewelry was a strict no (I'm sure you've heard that before!), but that's not true anymore. It's very on trend to mix your metals, especially if you do it thoughtfully.
And even if it does go out of style, don't worry about it if you like it! The rules of fashion are flexible and are constantly changing. Your look is unique to you and jewelry is a gorgeous way to express your style.
Jewelry can be used to express your mood or personality. There are days when big, bold pieces make me feel like a million bucks, but then there are days when simple and straightforward is what I am looking for. Style is subjective and it changes depending on what your goals are for the outfit.
Mixing gold and silver jewelry gives you more room to play with all of the jewelry you have at your disposal to create your look. Let's dive into ways we can mix and match jewelry and find our own unique styles.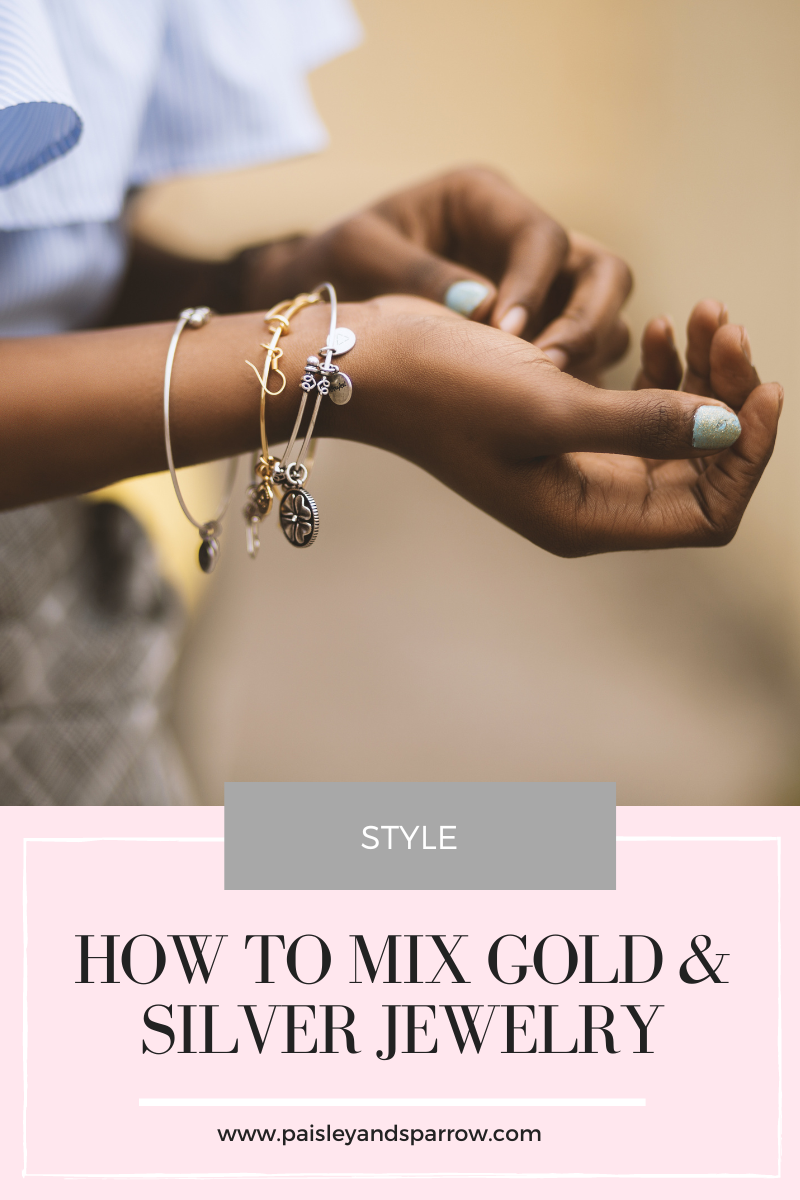 Tips for Mixing Metals
Not sure where to begin? No problem! Here are 8 tips to help you feel confident mixing gold and silver jewelry together.
1. Wear combined gold and silver pieces
This may be the easiest way to incorporate both metals into your look. This gives you the option to wear either metal anywhere else in your outfit because the combination piece (or pieces) will tie the look together.
Wearing a watch with combined metals is a simple and practical way to tie your jewelry together.
2. Ignore "permanent jewelry"
If you have a platinum wedding band like I do, it should not hold you back from wearing gold jewelry. Act like it is not there or use tip #1 to tie silver and gold jewelry into your look.
Hardware like zippers, buckles, and the like can also be ignored most of the time. Unless the hardware is a focal point, you can act like they are not there.
3. Layer bracelets or necklaces in different metals
Layering is another way to incorporate both metals into your look. It gives you the option to wear both silver and gold jewelry even when you do not have a combination piece.
4. Wear similar styles
A casual outfit calls for casual jewelry just like a formal outfit calls for formal jewelry. This is subjective, but the main idea is to keep the style of the jewelry similar to the outfit. Everything should flow, but it does not necessarily have to match.
Keep this in mind when layering jewelry too. All of the pieces should look like they go together in some way or another.
Pro tip: Layer necklaces or bracelets from the same brand. Is this cheating? Maybe, but I won't tell if you won't.
5. Balance is key
When mixing metals, you don't usually want to have five silver pieces and one gold piece. It can be distracting.
Instead, balance the number of gold and silver items you wear.
Do you like wearing bracelets? Grab a couple of silver and a couple of gold bracelets to layer.
If you are layering necklaces too, it is good practice to mix the metals evenly throughout the entire look. This gives a flow to the look instead of being distracted by the mismatched jewelry.
6. Repeat the color in your outfit
Wearing an outfit that has the colors of your jewelry will make the style choices all look intentional. Shoes, handbags, and any other accessories count for this tip too. The goal is to make sure everything in the outfit is tied together.
7. Choose metals for your undertone
I have mentioned that jewelry should flow with your outfit, but you should also consider skin tone.
Yellow gold and rose gold jewelry complement warmer skin tones. Silver and white gold complement cooler undertones.
8. Keep the central jewelry regions in mind
There are four regions where you typically wear jewelry: the neck, ears, wrists, and fingers. You do not have to wear jewelry in every region. Sometimes, less is more.
However, keeping these regions in mind can help you plan out jewelry for one or all of these locations. Mixing jewelry with similar themes and sizes can help you create a fabulous look.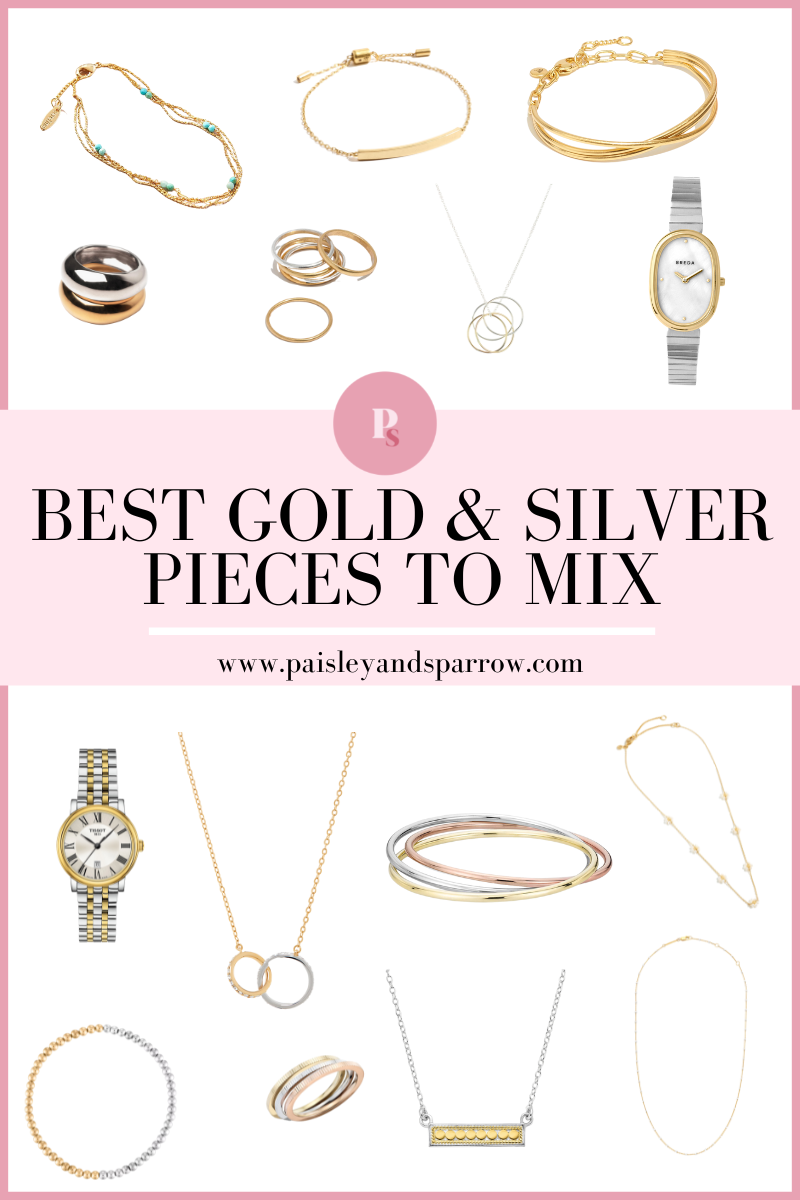 Top Options for Mixed Metal Pieces to Shop
Here are some of my top picks for mixed metal jewelry. These are perfect if you are looking for a staple combined metal jewelry piece.
This is a minimalist bar pendant — a really classy piece. It's handmade in Bali and features small gold discs and ribbed wiring. It is made with sterling silver and 18k-gold plating.
A classic look. This short, simple necklace has a pair of interlocking rings, one in silver and one in gold. A striking, but elegant look to tie the silver and gold together.
Simple and minimalistic, this two-tone necklace is an elegant combination piece. It is made of 18k-gold vermeil and sterling silver and can be worn in almost any situation.
If you are looking for a small, elegant combination necklace, you will want to check out this piece. It has three mixed-finish rings suspended from a dainty chain that is handcrafted in the USA.
This two-tone necklace with interlocking circles is strung along a dual-strand chain with beads strung along the strands. One circle is gold, the other is silver.
This is a classy necklace that can be worn in a formal, business or casual style.
This necklace is great to use as a layering piece. It is a simple gold-plated brass chain with teardrop-shaped cubic zirconia crystals.
Madewell has a variety of necklaces that are perfect for layering. This freshwater pearl daisy choker necklace is fabulous to layer with another longer necklace.
This stretchy ball bracelet fits most wrists. Half of the bracelet has 14k-gold-filled balls, and the other half is sterling silver.
This is a great bracelet to use as a combination piece. Since it is half gold and half silver, it is a great way to tie the two metals together in the outfit.
This is a tri-color bracelet made from 18k yellow gold, rose gold, and rhodium-plated sterling silver. It is made for everyday luxury with six woven strands that can help tie the different metals in your outfit together. It can be worn alone or with other bracelets as a layering piece.
Simple, classy, elegant, and delicate. This is an adjustable chain bar bracelet made of gold-plated brass. It is perfect for a layering bracelet.
A simple crossover cuff to add to your bracelet stack. It is made from gold-plated brass. It is a bold but simple gold bracelet for your collection.
This delicate 14k-gold plated brass bracelet has small, colorful beads on one strand. You can choose between five colors for the beads. It is classy, dainty, and can be worn with almost any outfit.
If you are looking for a higher-end piece to add to your collection, this is a classy staple piece. It includes three hollow bands in 14k Italian white, rose, and yellow gold that are intertwined.
This piece is versatile and can help bring a lot of jewelry pieces together, but the price is a bit steep at $2,880.
This bubble ring set is handcrafted and made from recycled materials. The set of two lightweight rings — one silver and one gold — has a domed shape.
These rings are simple enough to be classy but are fabulous enough to be a statement piece.
This is a set of six slender bands that you can mix and match with rings you already own, wear one or two, or wear this whole stack. There is a mix of silver and gold colors in this simple set of rings.
This mixed-metal ring stack includes three bands: 14-karat white, yellow, and rose gold bands.
These rings are delicate and expensive. The company does not recommend these rings for daily wear. If you want this set as a statement piece, it will cost upwards of $500.
Watches are practical jewelry that can be used as statement pieces.
This watch has an oval 18k gold-plated stainless steel case, a natural mother of pearl dial and stainless steel bracelet with a jewelry clasp enclosure. It's a gorgeous watch that can be worn in formal situations or it can be used to dress up a casual outfit.
This round watch has an adjustable bracelet with extra links that you can use to make the watch bigger. It has roman numeral indexes and a dual-finished bracelet. The face is made from sapphire crystal, and the band is made from stainless steel or stainless steel with a goldtone plate.
Mixing and matching jewelry is an art, not a science. Sometimes your combinations will work and sometimes they will not.
I hope the information above has helped show you ways to make your favorite jewelry work for you, but here are a few more insights to inspire you to get that gold and silver jewelry combination just right.
FAQ
Want more jewelry recommendations? Try these great cubic zirconia earrings, or check out these places to buy jewelry online.
Thinking about a conch piercing? Here's everything you need to know.