Do you decorate your laundry room? It's most often the least viewed room in your home by guests but one of the most often visited rooms by you, if you're the one who does the laundry in your home.
(Our laundry room is impossible to shoot with it being super small and in the center of our home with no windows so bear with me on the mediocre photos!)
While I'm not a huge proponent of spending a ton of money (or time) on your laundry room if it's not in a prominent space in your home, I do think it's worth making it an enjoyable spot that at the very least you don't mind going into each week to do a not so fun task!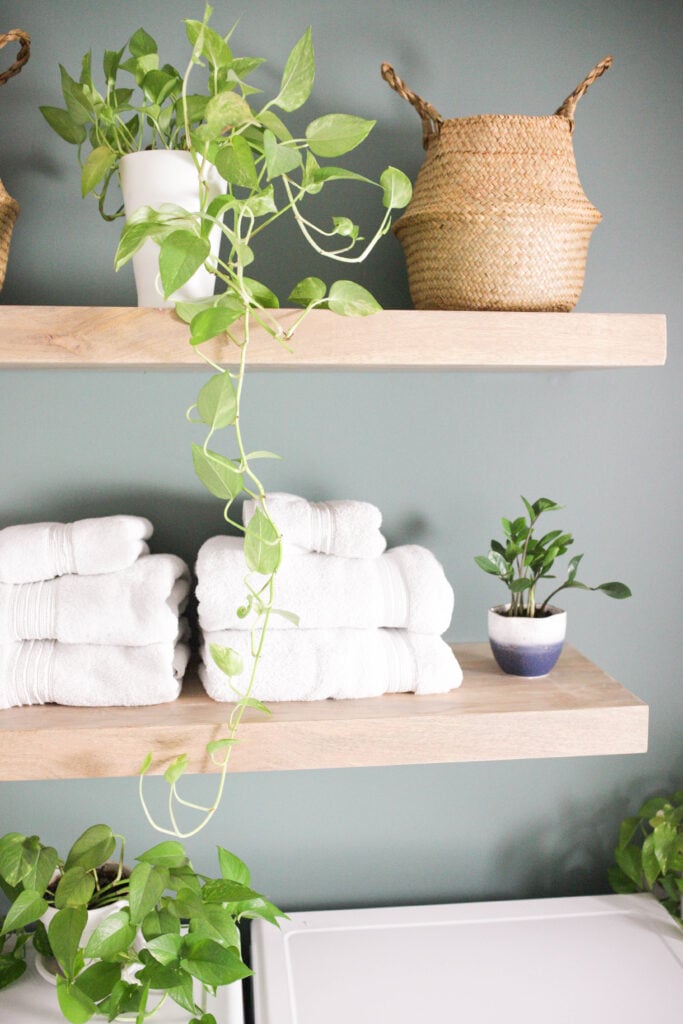 Our last home had the laundry room attached to the master closet so I wanted to make it somewhat cute so I made a faux wallpaper on the wall (find the full post here).
There wasn't any cabinets or shelves for good storage so that was a must have. I also just wanted it to look a little brighter and happier since you could see it from the top of our landing when you go to any of the bedrooms.
Before
Here is the before: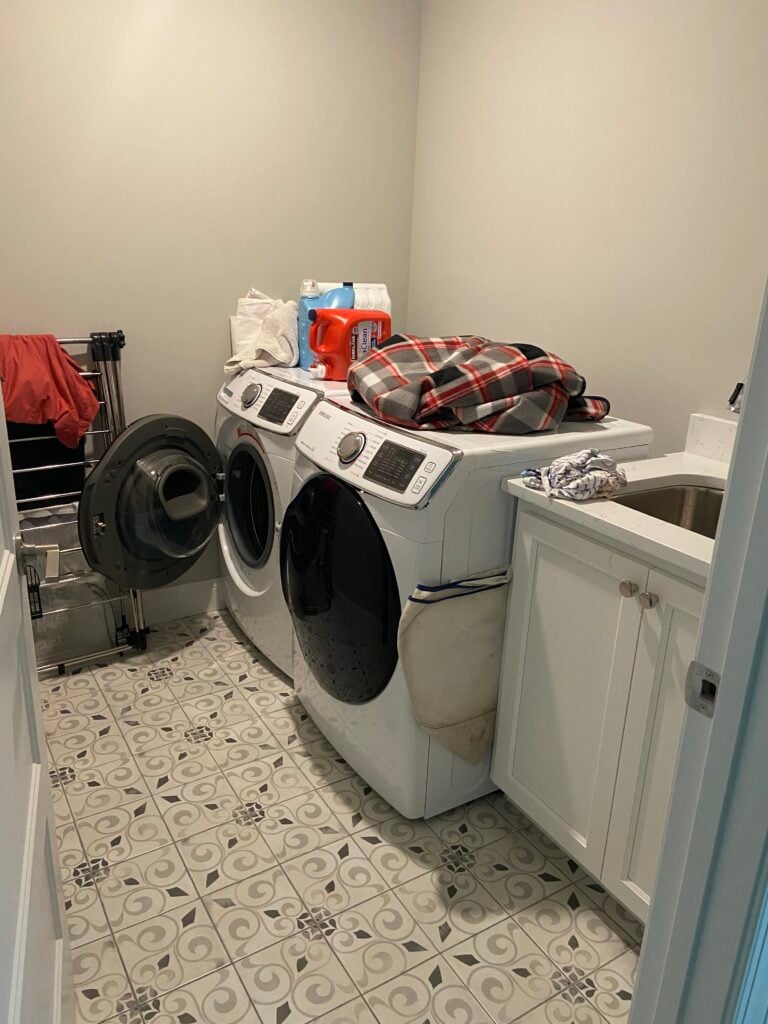 See? Kinda sad with no good storage options.
After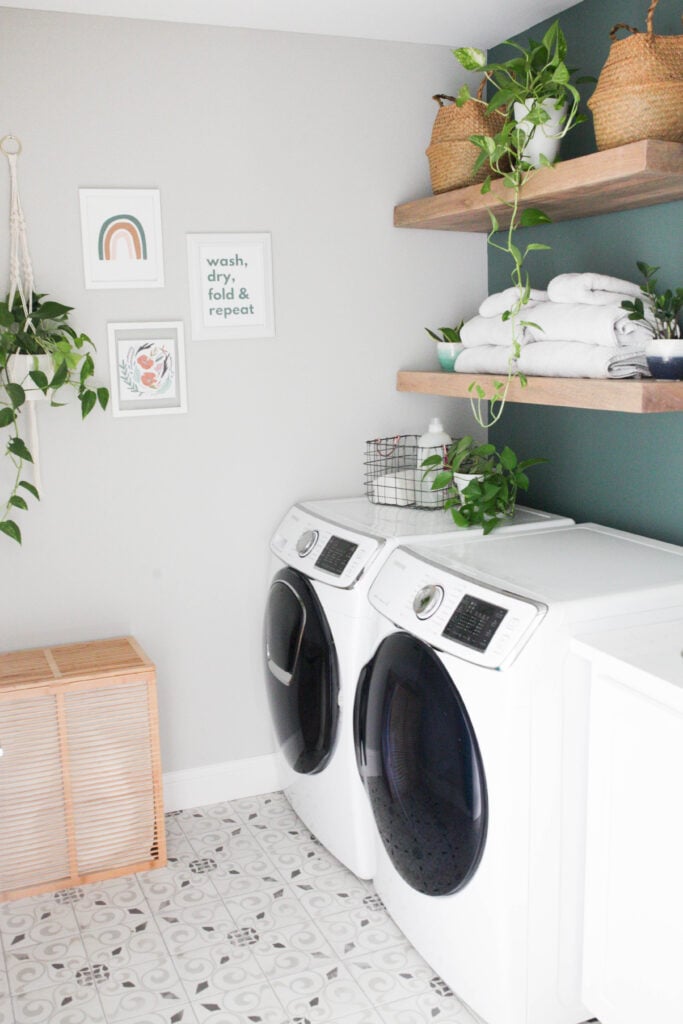 As you can see, our new home had a patterned tile floor installed in the laundry room so I didn't want to do a wallpaper again and opted for an accent wall.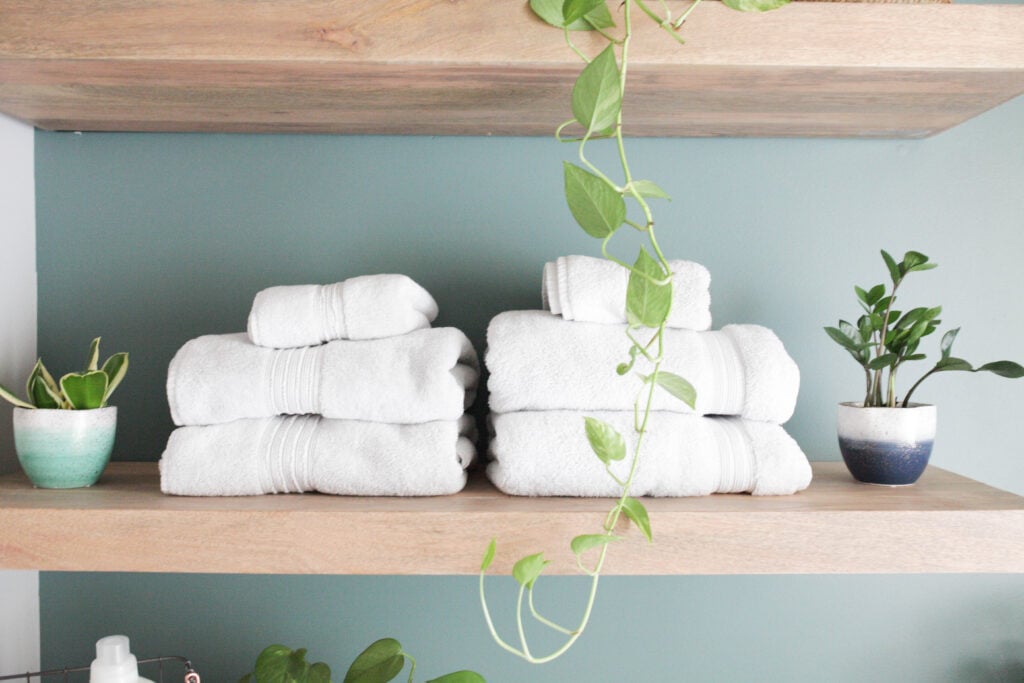 I ended up painting it a Studio Blue Green by Sherwin Williams. I love how it looks with the shelves, simple white towels and brown baskets.
Open Shelves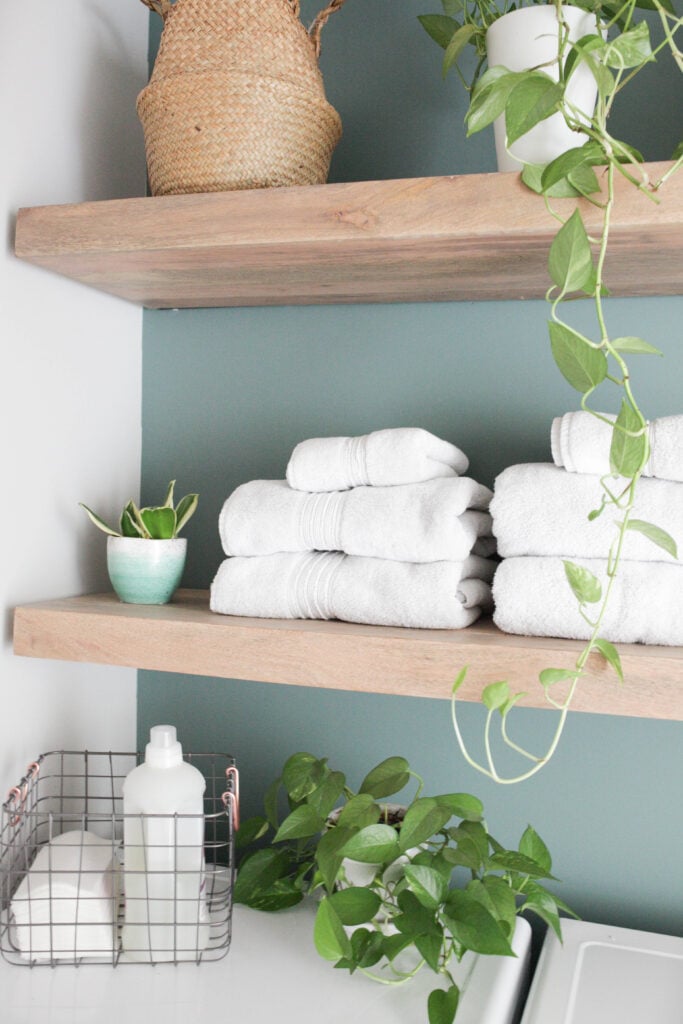 The shelves in our laundry room were the biggest hurdle. We needed something deep enough so we could actually use them but wide enough to go all the way across.
We're not super handy people so making custom ones just weren't something we really wanted to do so we found these from Pottery Barn.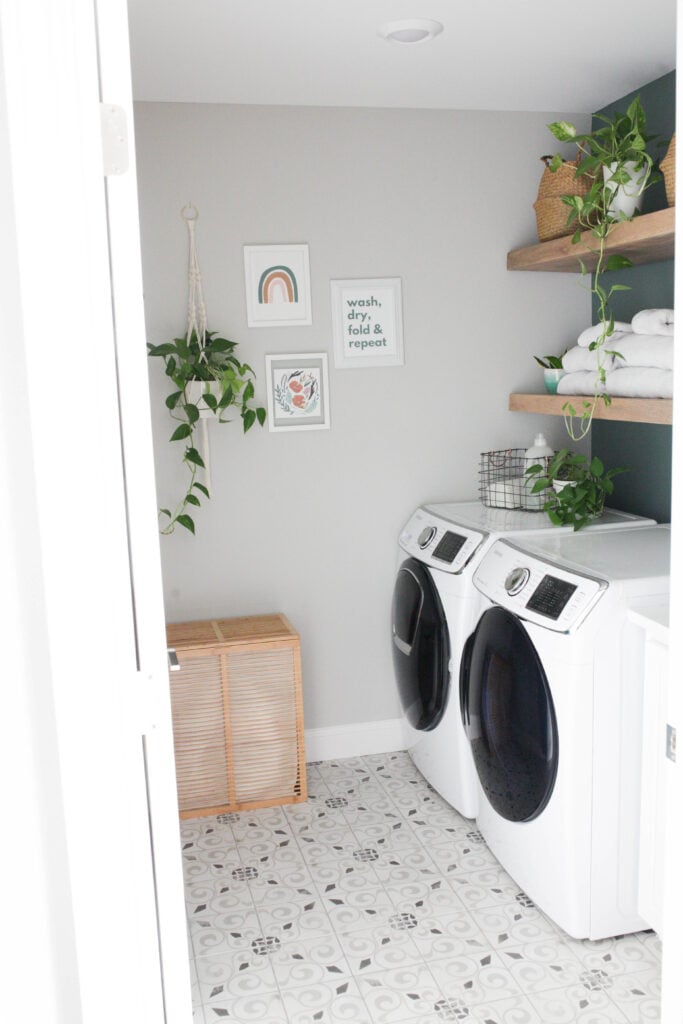 They were backordered for months and I was so tempted to cancel the order numerous times but I'm glad we stuck with it! They ended up being absolutely perfect for the space.
I picked up these baskets from Amazon for socks that are missing their buddy and washcloths. I also have this basket for laundry detergent and dryer sheets.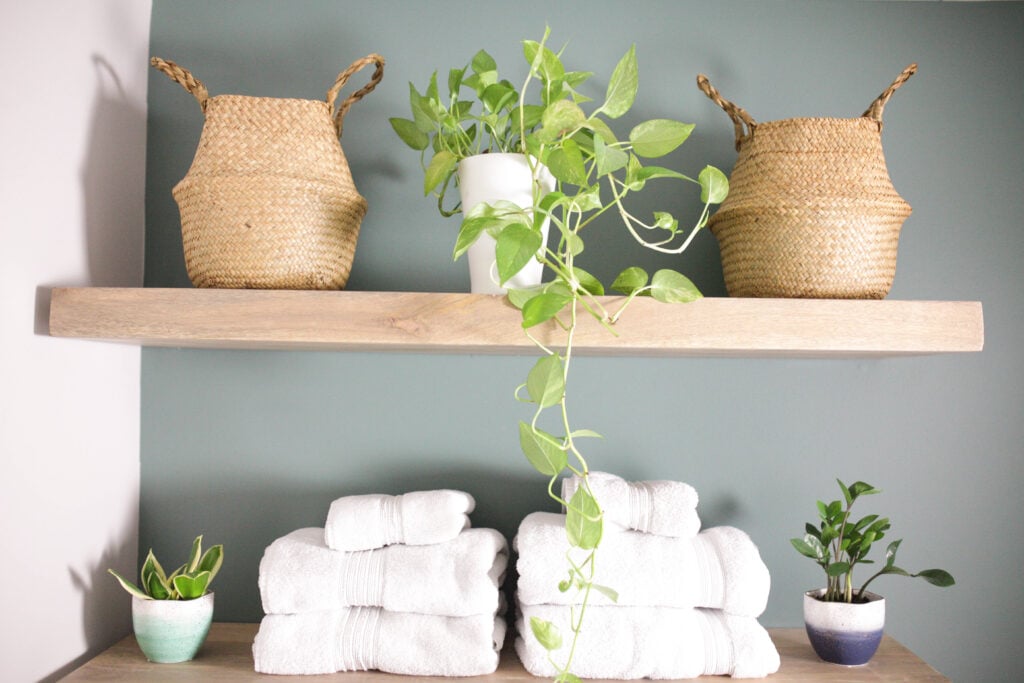 Gallery Wall
I ending up making all the art work! I created both the rainbow and the "wash, dry, fold, repeat" sign and framed a piece of art from the calendar I got from A Spoonful of Faith.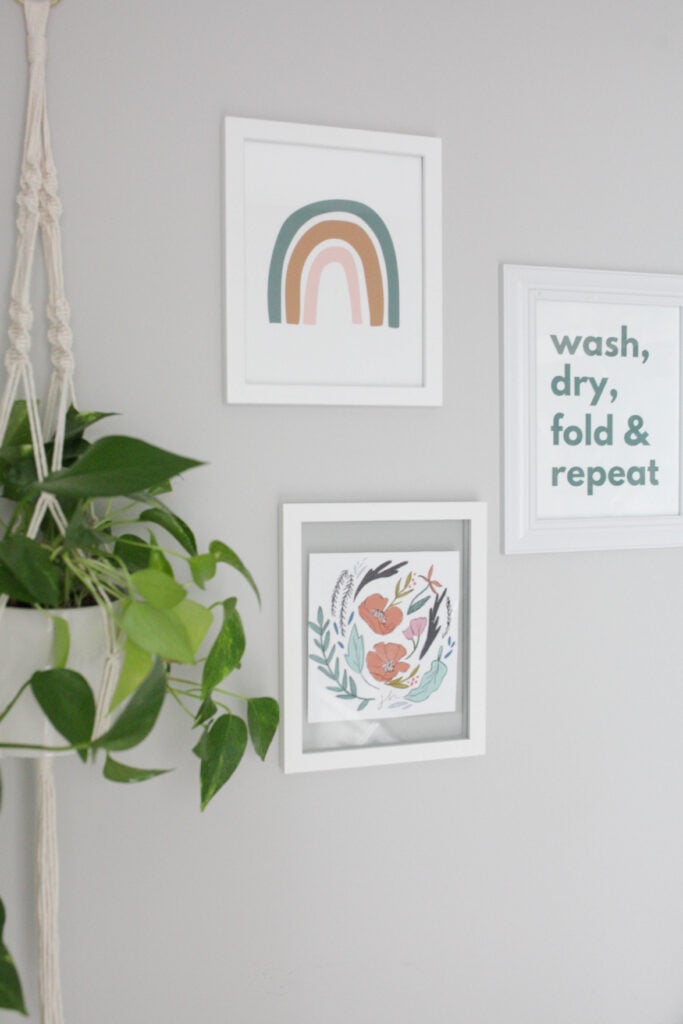 I also made my own macrame plant hanger (using this macrame plant hanger tutorial). Pothos plants do really well in low light spots and I love how the look hanging on the wall.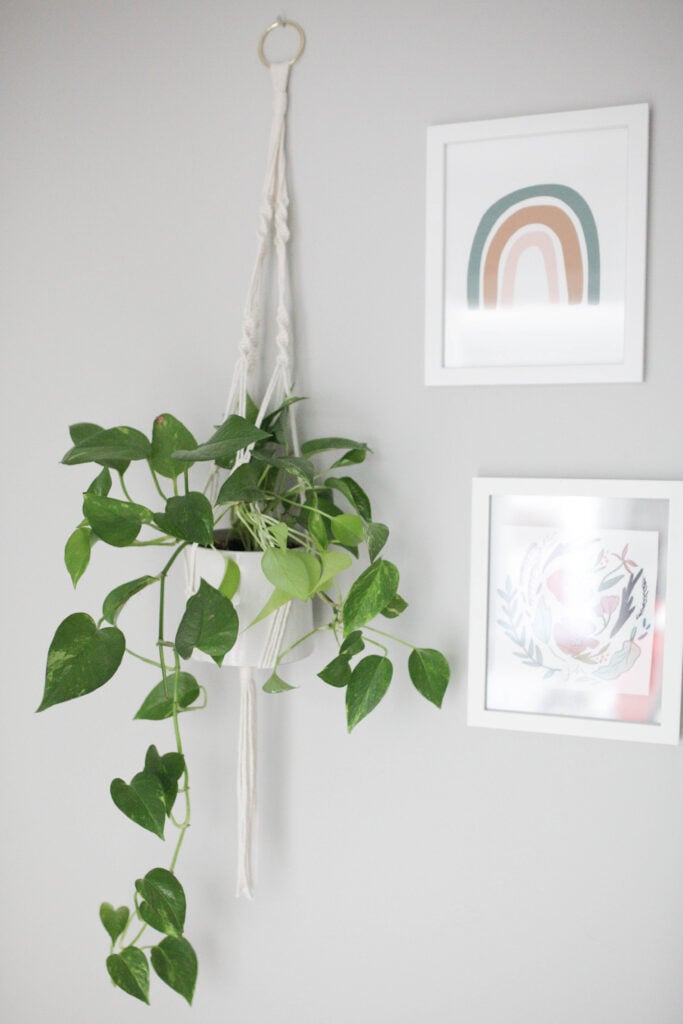 Ironing Board Holder
This is a pretty boring piece of the room but I ended up getting an ironing board and iron holder for this laundry room. It freed up space on the shelves so I didn't need to put the iron there and it made the space a bit safer for our toddler who likes to crawl around so the ironing board didn't tip over!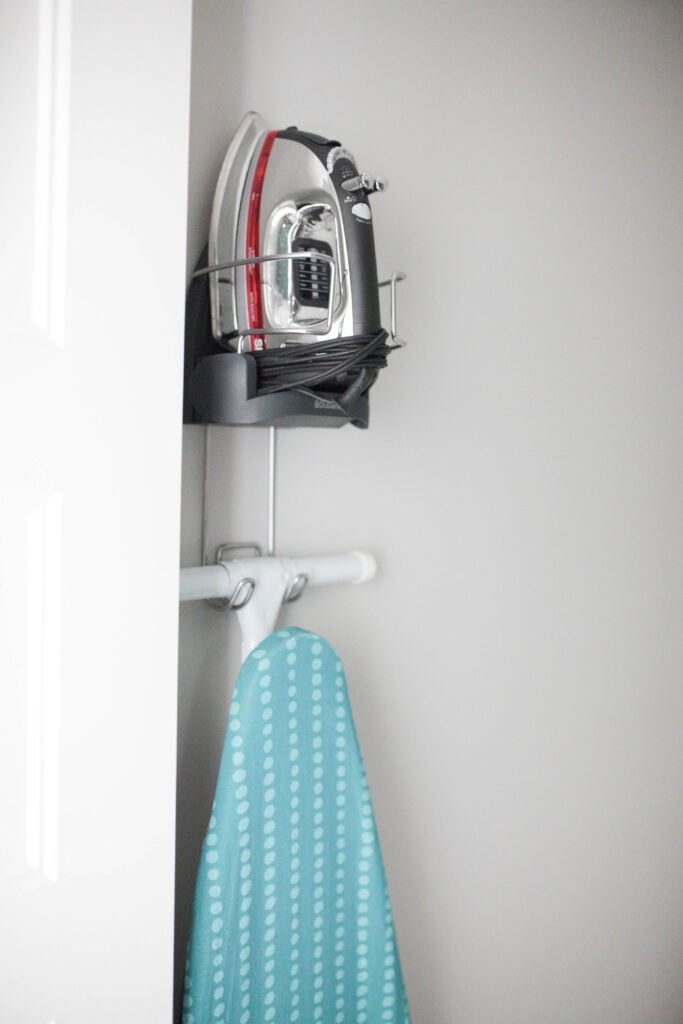 Definitely worth the money for both the space it saves and the safety element.
The laundry hamper we have is from the Container Store. I love that it's split in 2 so we can separate darks from lights. The inside also comes out for easy moving!
Overall I'm just thrilled with how it ended up and it truly does make doing laundry a little less miserable!
And if you need some tips on things you're washing, head over to this post to learn how to wash a weighted blanket!