One of the things that Rishi and I laugh about is when we're heading out on a date night and as he likes to put it, it doesn't look like we're going to the same party.
One of us, ok, let's be real, I'm the one who is dressed up way more than he is and we just don't go. Normally I don't care and just roll with it, but if you want a more cohesive feel to your look, I wanted to share some outfit inspiration for you!
We both picked up some stunning black shoes from our favorite local shoe store, Schuler Shoes.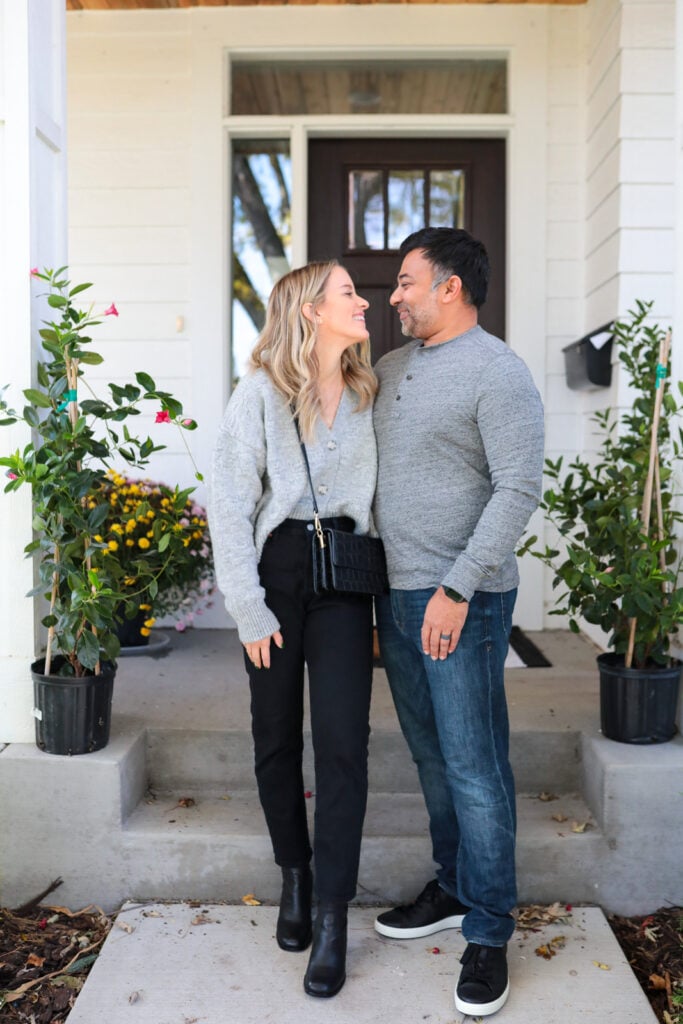 Schuler Shoes has been my own family's favorite shoe store since my grandma started shopping there years ago and the store itself has been family owned since 1889!
Schuler Shoes has an extensive selection of styles, sizes and widths for both outdoor use, activewear fashion that you can shop online if you're not local to MN or in person at a local store.
I'm wearing the Women's Sofft Santee boots. They're made of an incredibly soft leather that timeless and lux. Even with a 3 1/4″ heel they're very easy to walk and and incredibly comfortable thanks to a leather-lined footbed.
Rishi is wearing the Ecco Soft 7 City Sneaker. They're a step up from his every day New Balances without sacrificing comfort. They're also made with a smooth leather that's super soft and durable and can easily be worn dressed up or down as you can see below!
Here's some outfit ideas for you and your man for your next date night!
Date Night Outfits – Black Shoe Looks
This post contains affiliate links.
1. Casual Sweater Date Night Look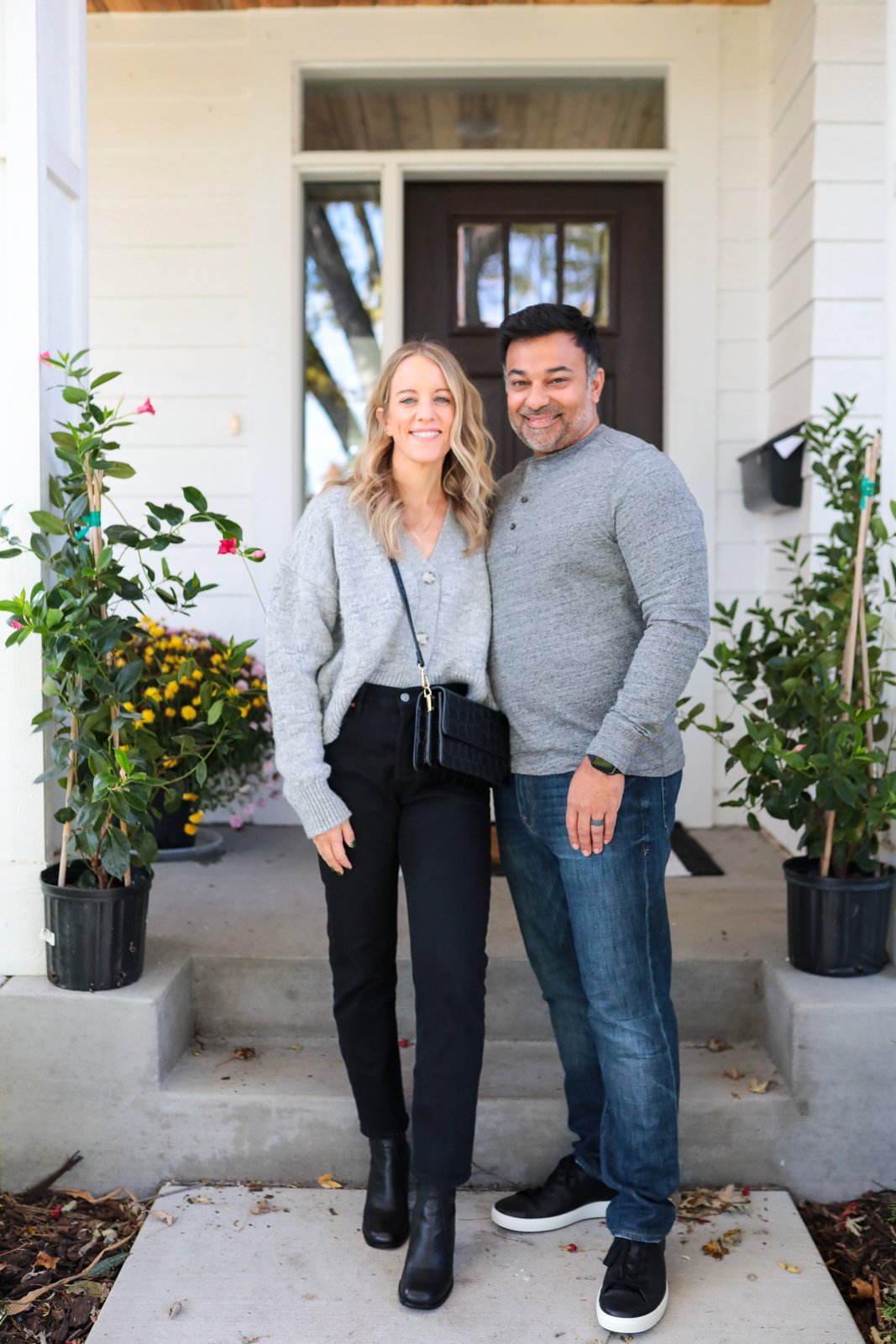 Shop the Look:
On Her – Jeans, Sweater, Shoes, Purse
On Him – Jeans, Henley, Shoes
For the casual lunch date, we opted for a more simple look. I paired some of my favorite straight leg Levi's with my boots. This works well because the length of the jeans light right below the top of the shaft of the boot. This keeps my legs looking long (even through they're actually pretty short).
I paired it with a cozy cardigan with a simple front tuck. The soft knit fabric is a great compliment to the leather shoes and pairs perfect with the crocodile print bag.
Rishi went with a classic denim and simple Henley top for his look. The leather shoes gives it a more styled look that an athletic sneaker couldn't give while the simple shirt keeps his look a bit more casual.
2. Elevated Date Night Look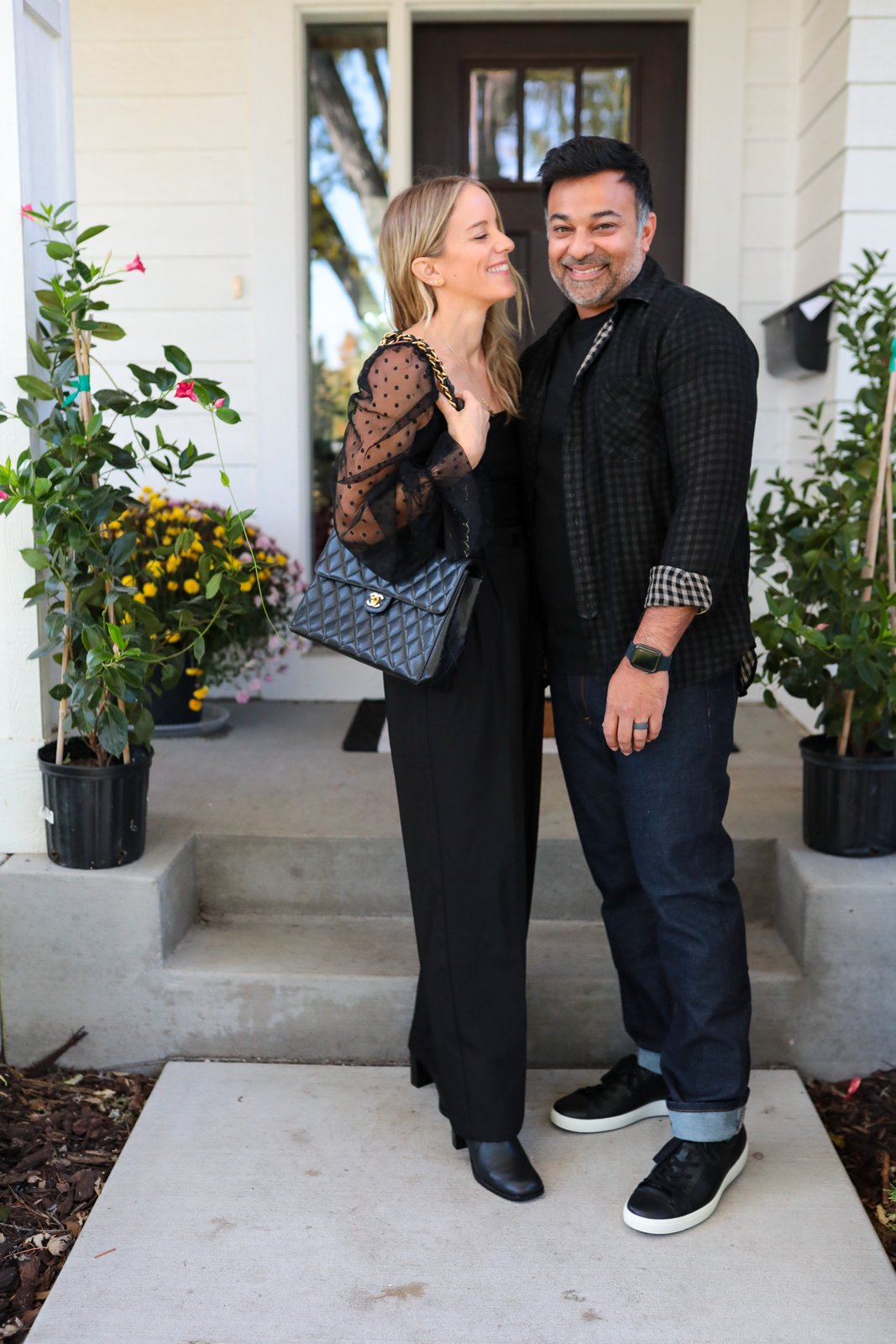 Shop the Look:
On Her – Pants, Bodysuit, Shoes
On Him – Jeans, Top (exact one is sold out, same brand and style here), Shoes
For a more upscale dinner date, we switched things up a bit! I swapped the jeans for a wide leg trouser paired with a bodysuit with lace arms. I love how the bodysuit is a very fitted style to make the oversized look and feel of the trousers not overpower my petite frame.
The boots look perfect peeking out under my trousers. I swapped my Amazon purse for a classic Chanel bag to complete the look.
Rishi went for a more dark wash denim with an on trend cuff on the bottom. He swapped the light grey henley for a black long sleeve shirt. Over the top he added a sleek, checkered button down with the sleeves cuffed.
These 2 looks are super easy to recreate with what you probably already have in your own closet! I hope this helps inspire your next date night look and be sure to check out Schuler Shoes for all your shoe needs!