Looking for inspiration for a modern dinosaur kids room? One that both you and your toddler will like? Today I'm sharing just that!
When we moved into our new home, we decided to let our oldest son, Roy, have some input on what his room looked like! He was almost 4 so no, we weren't going to let him have full reign over what we did but letting him pick from a few options let him be excited about the move and his new room.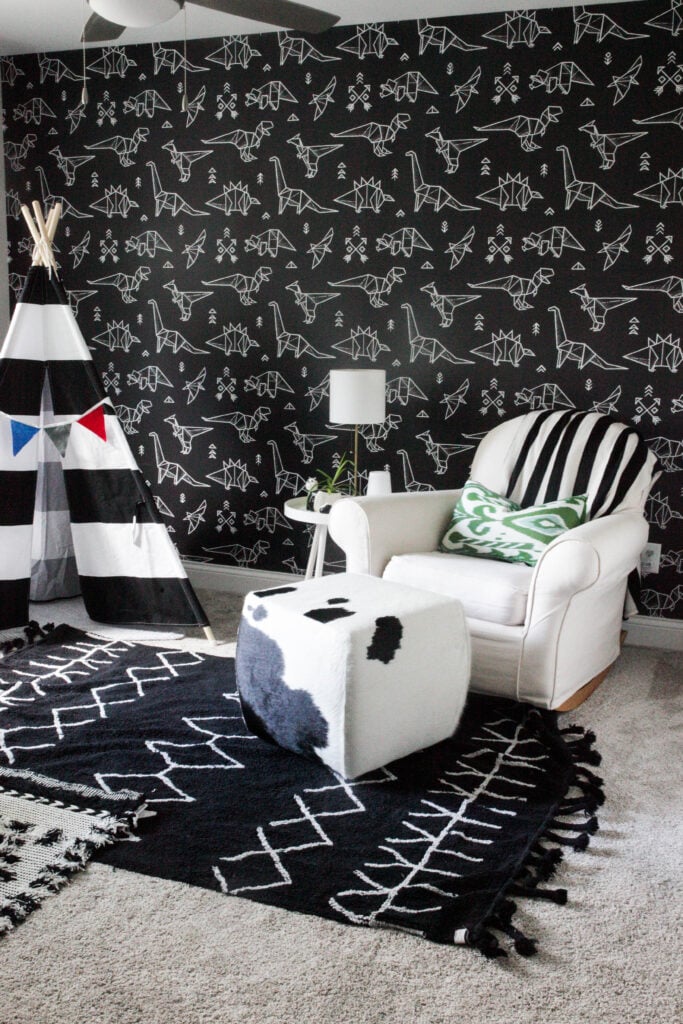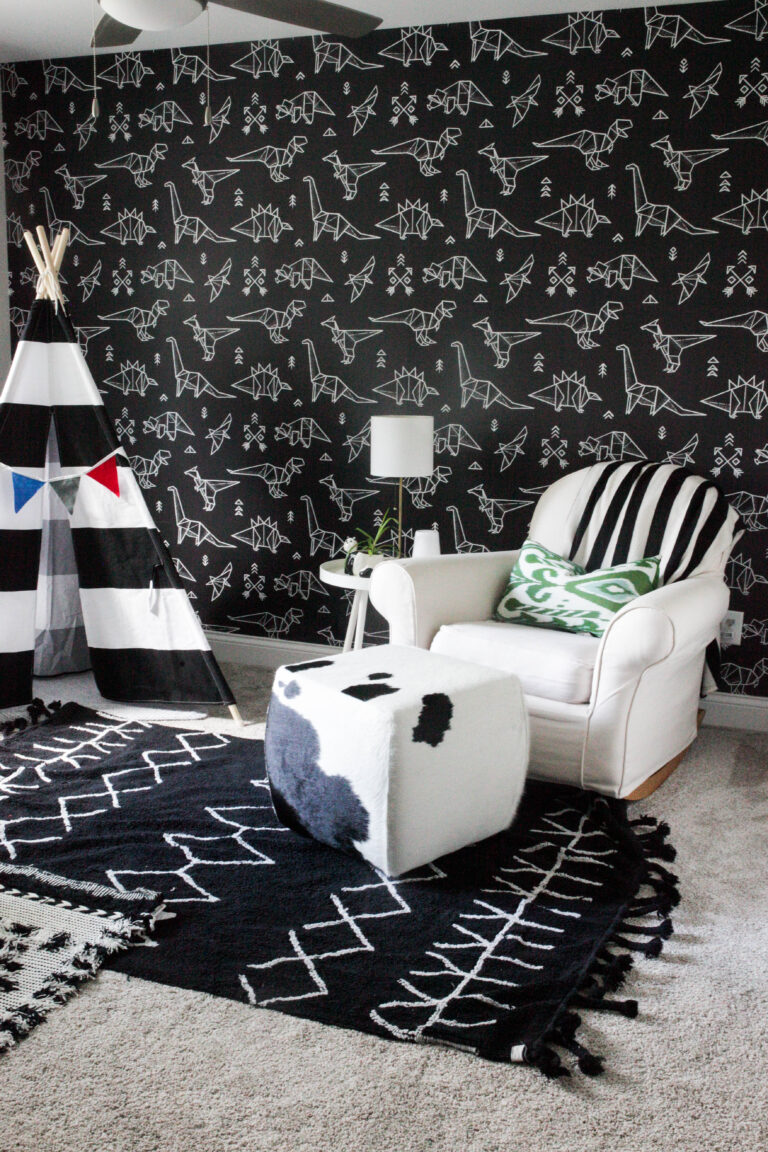 We kept a lot of the same things (his bed, dresser and chair) but decided we wanted to do wallpaper again in his new room.
Dinosaur Wallpaper
I recently discovered Spoonflower (more info on this removable wallpaper post) and they have hundreds of different wallpaper patterns to choose from! I found a few I liked and let Roy pick the one he wanted. He landed on this black and white dinosaur origami wallpaper – good choice, buddy!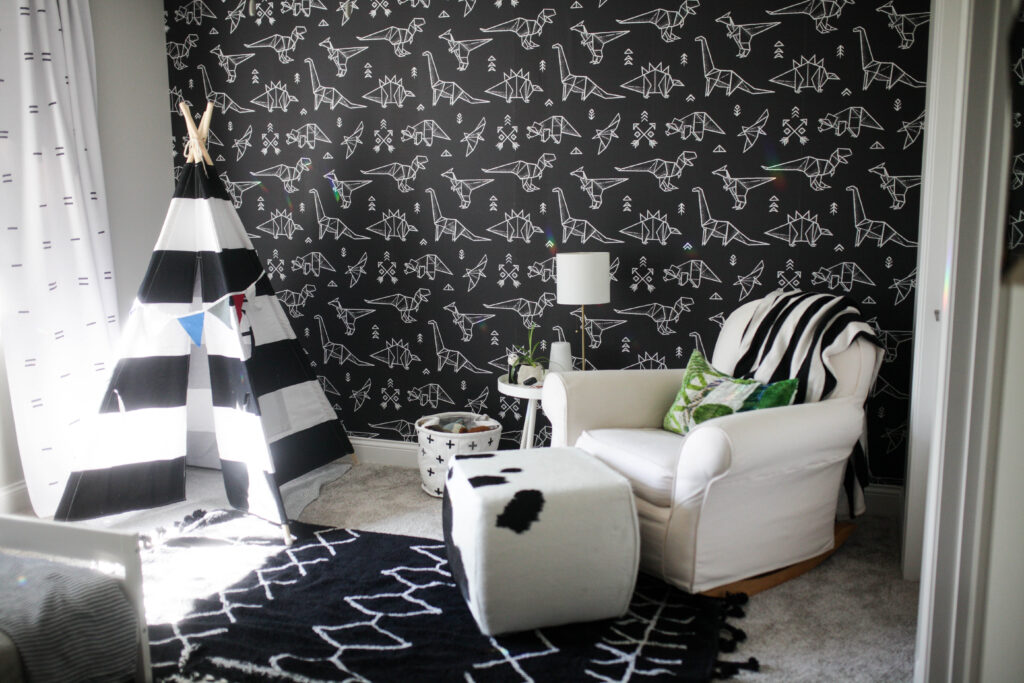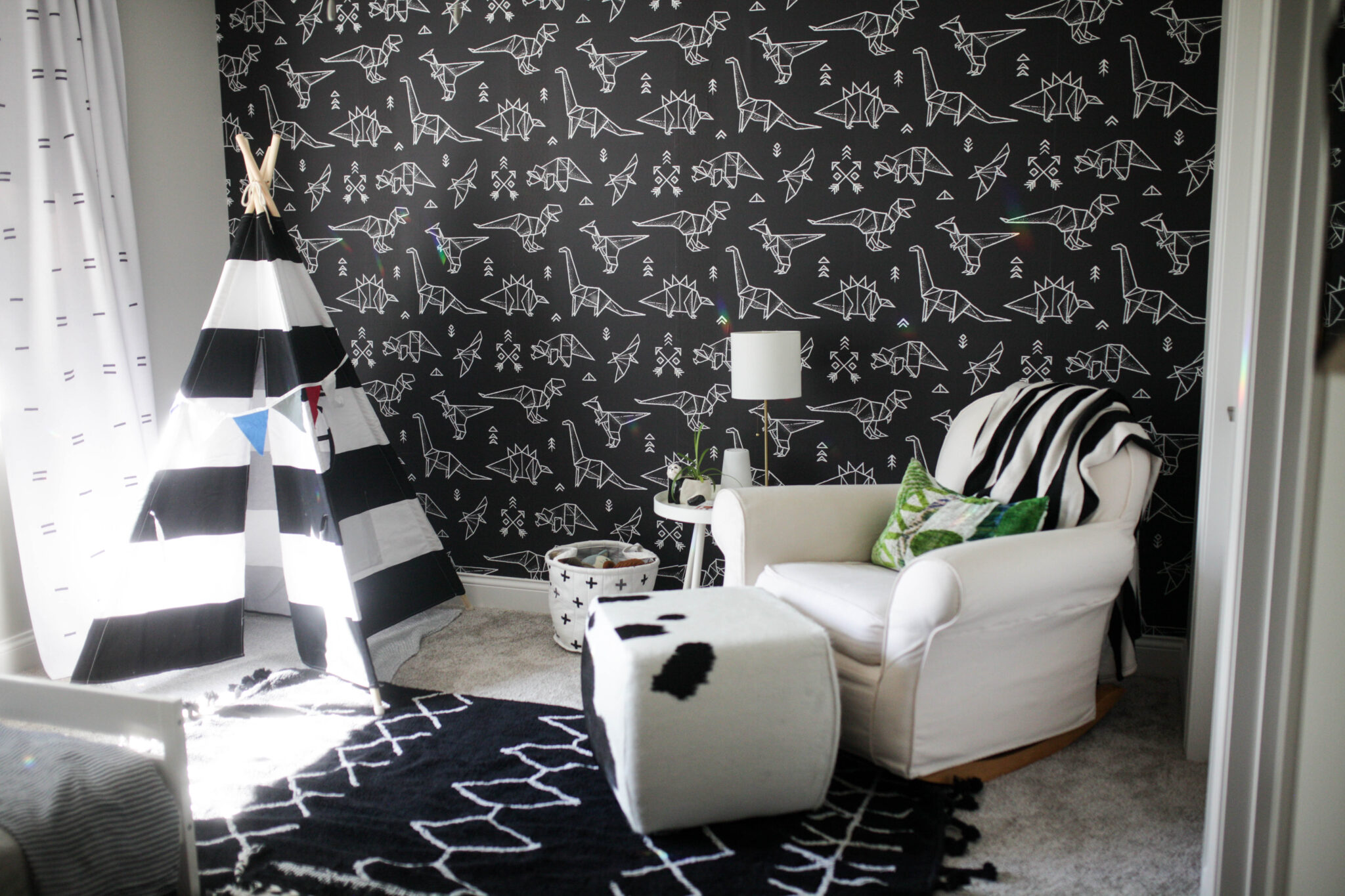 The install for this wallpaper was pretty seamless and easy just like the other wallpapers we've ordered. The one difference was you overlap this one! So rather than lining up the wallpaper next to one another, instead you overlap the wallpaper.
Rishi (my wallpaper installer and also my husband) said this way was a bit more difficult than the other way.
(Find all my tips for removable wallpaper here!)
Black and White Teepee
I wanted a fun space where Roy could go and read, play with his cars and just hang out! I had a little teepee growing up and I remember loving it so I thought it would be fun to put one in his room.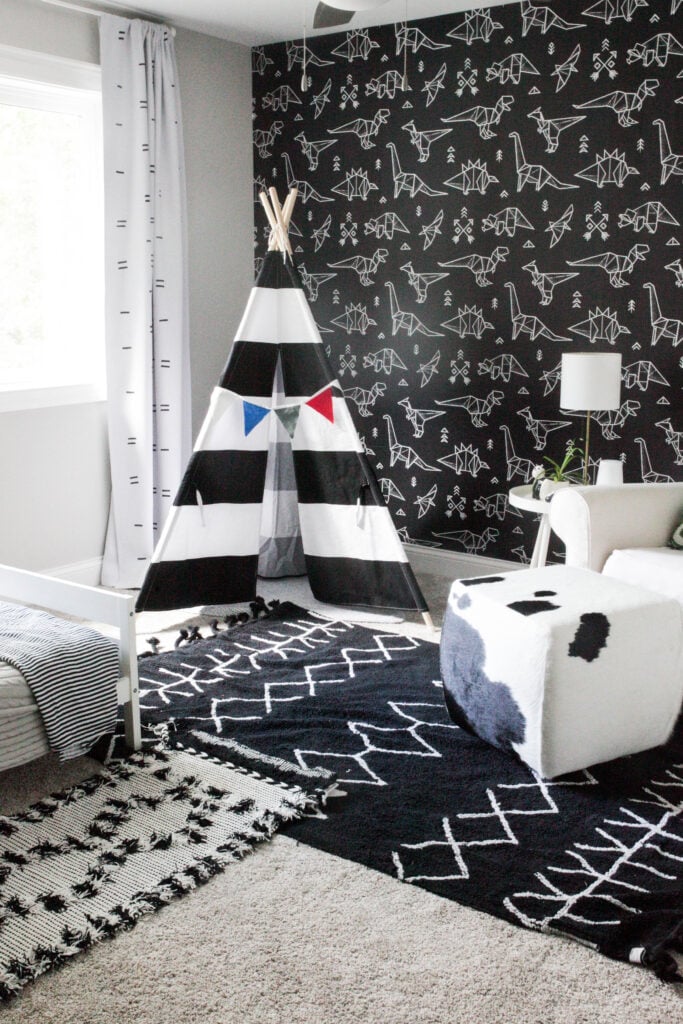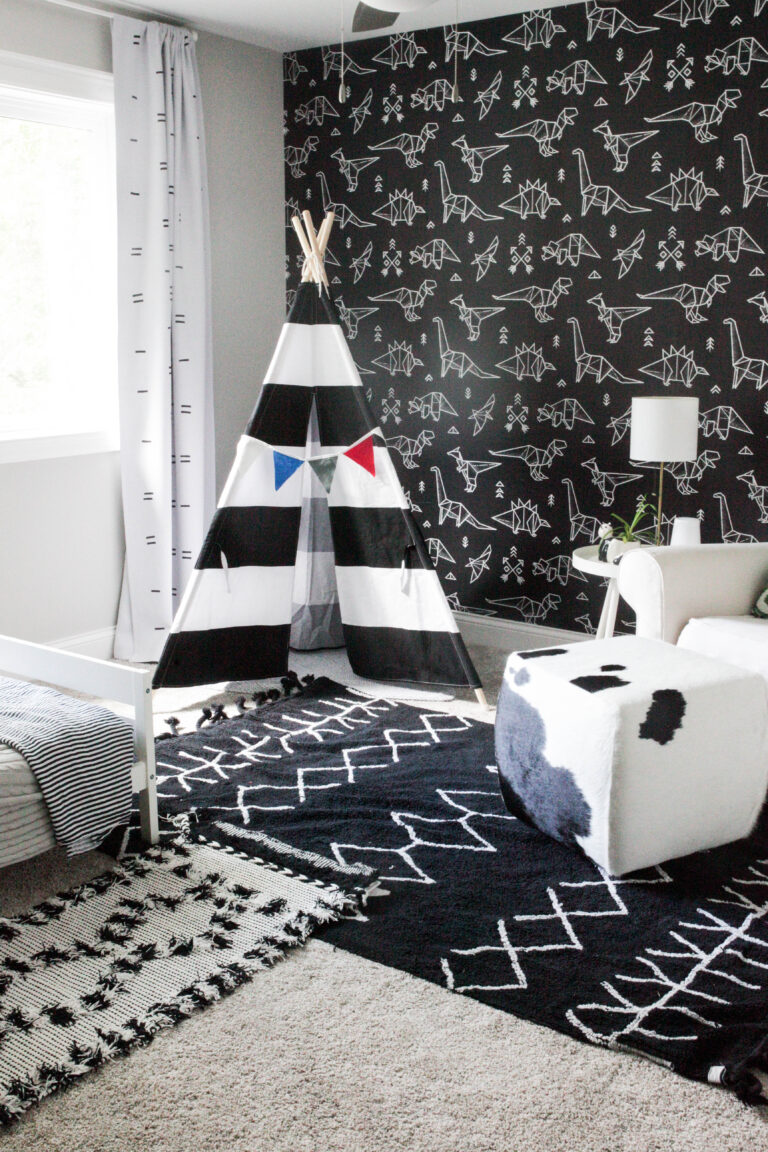 This black and white tepee is made out of cotton, easy to put together and our kids all love playing in it! They've been putting on puppet shows, reading and just hiding out in it!
I also love that it's easy to put away or move around to different areas of the house. This one also comes in different colors!
Toddler Bed
We opted for a toddler bed (similar toddler bed here) rather than a twin size bed since he was so young when we transitioned him which made it a lot easier when we moved!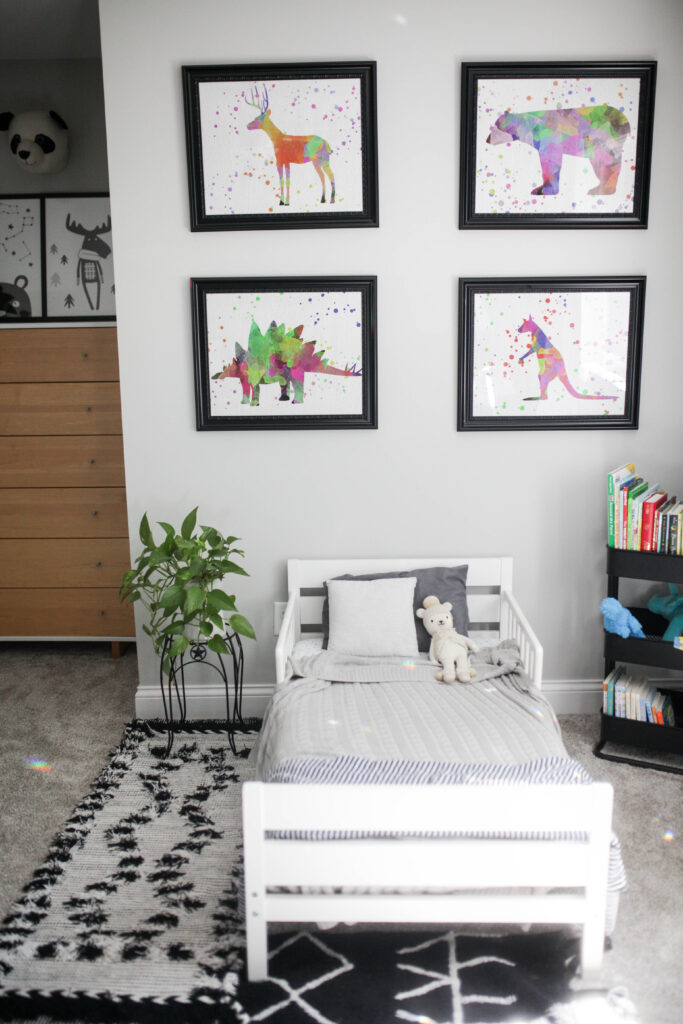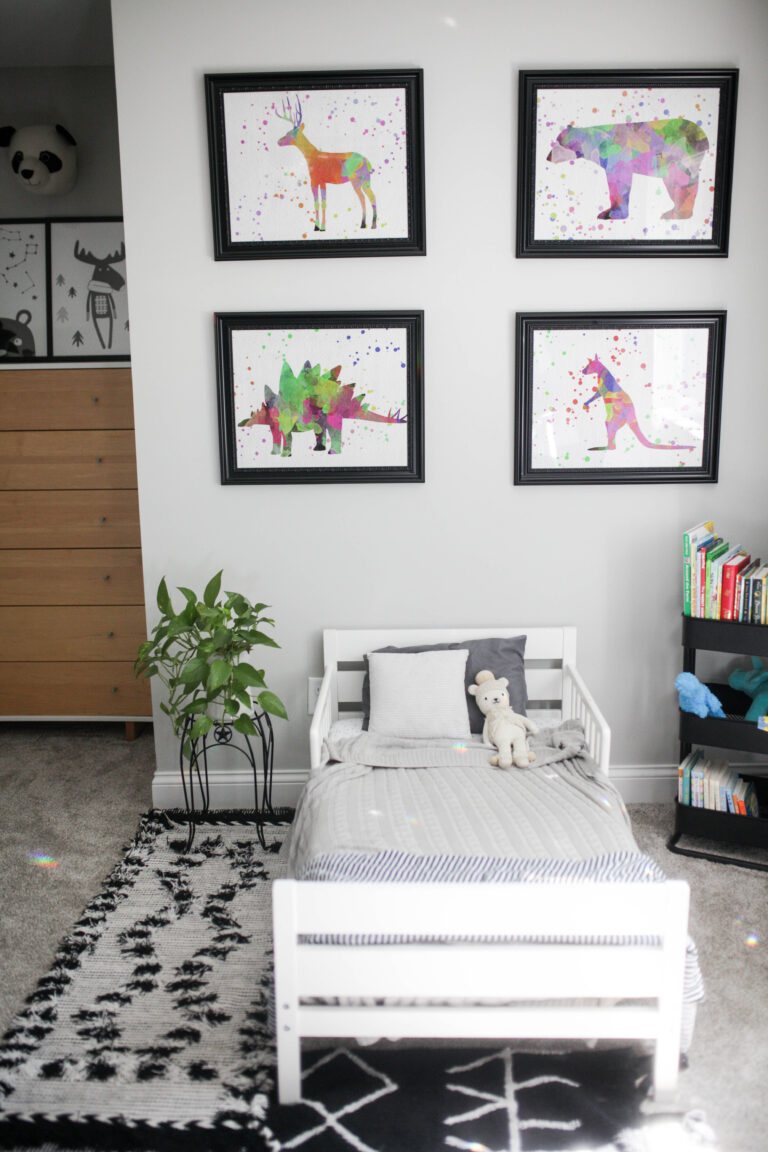 If you get a toddler bed I highly recommend getting a throw blanket rather than a toddler bed size blanket for their bed! We had many, many middle of the night wake ups because his blanket had fallen off and he just couldn't seem to get it back (why is that a thing for toddlers??). We got this throw blanket from Amazon (it comes in many colors) for both of our older kids and love it! It's perfect for warmer, summer months.
Other Furniture
We've had Roy's dresser and chair for a while now! We found his dresser at Room and Board. The top drawers are used for things that are too big or seasonal items since he can't reach that high and the bottom drawers are for pants, pjs, etc!
I got the Panda head from Target a couple years ago (sold out – similar panda head on etsy) and found the panda bin on Amazon. The bin is perfect for extra blankets and stuffed animals!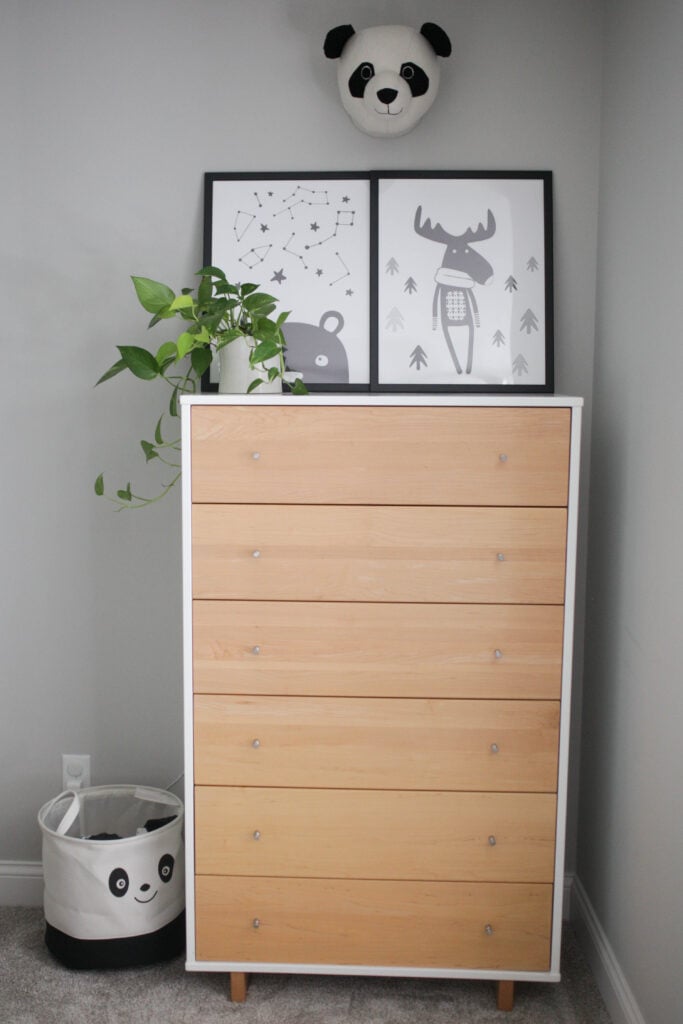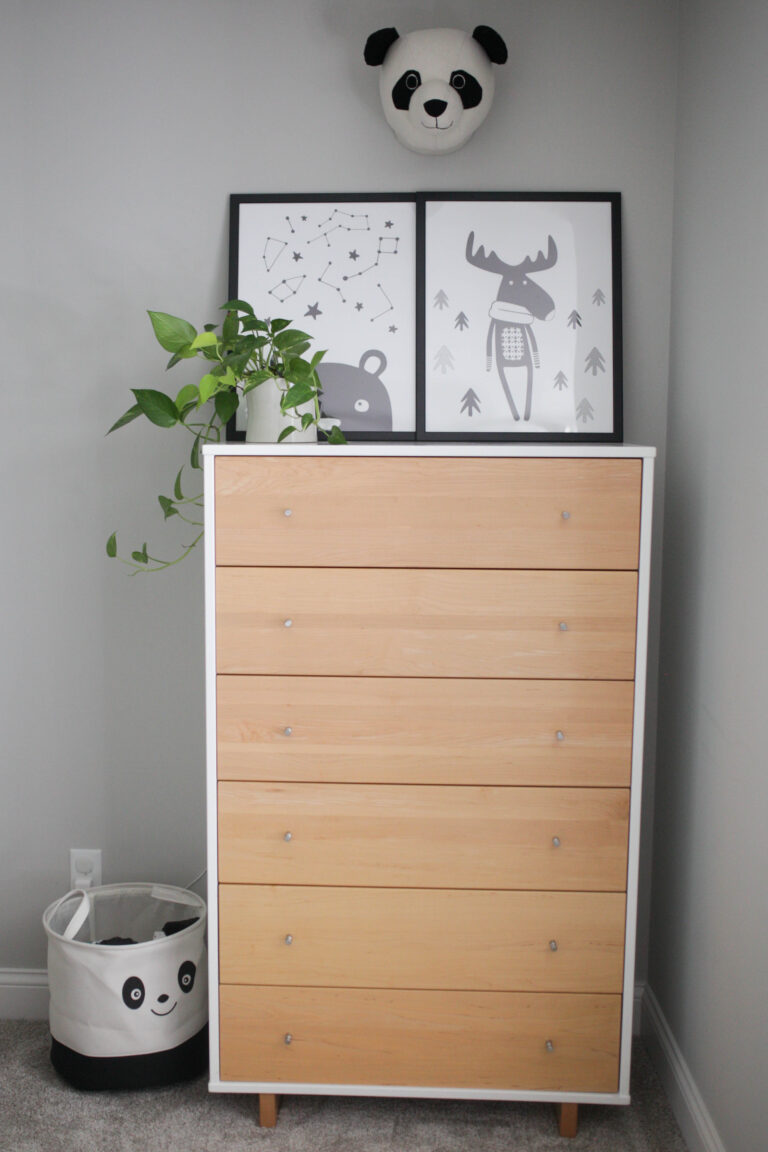 The chair was given to us by our old neighbors (they're amazing!). It's the older version of this Pottery Barn Kids chair! We love having a big oversized chair for everyone to pile up on while we read bedtime stories.
We have 2 cowhide ottomans that have been in almost every room in our house! We've had them in our living room, play room, nursery and now Roy's room! This one is from Room and Board (currently sold out – you can find a similar cowhide rug here).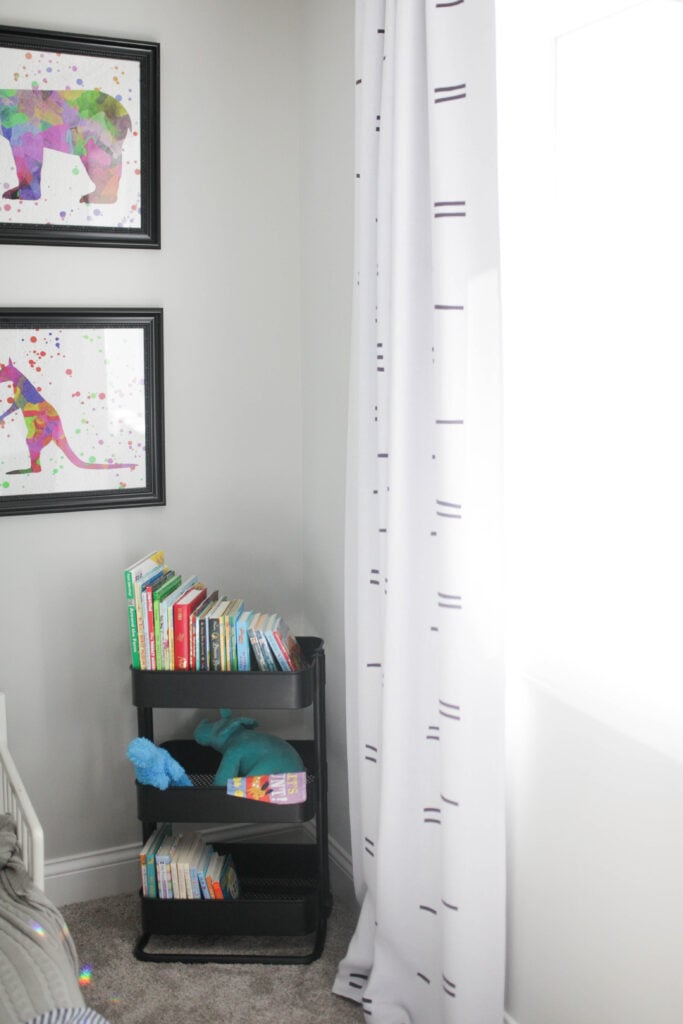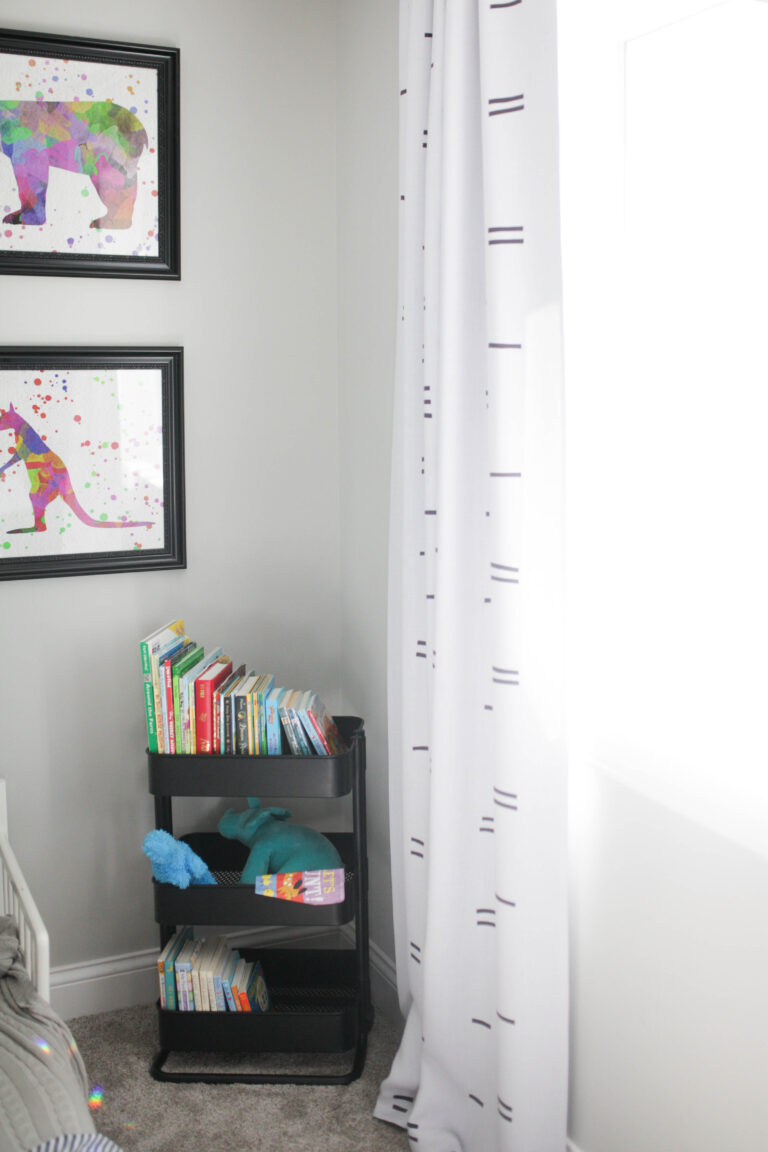 I love using bar carts for books since it's so versatile! It's easy for the kids to put books back and it's also a great spot for stuffed animals or toys. His end table is perfect for a lamp and our favorite item – a Hatch light! (If you haven't heard of a Hatch light you NEED one for you toddler!)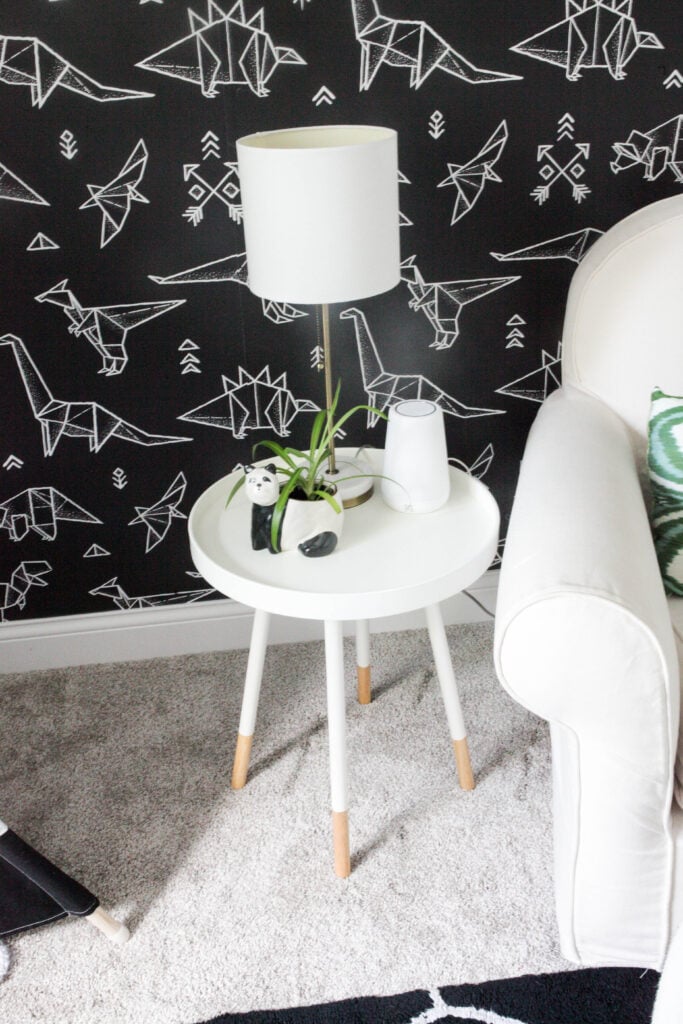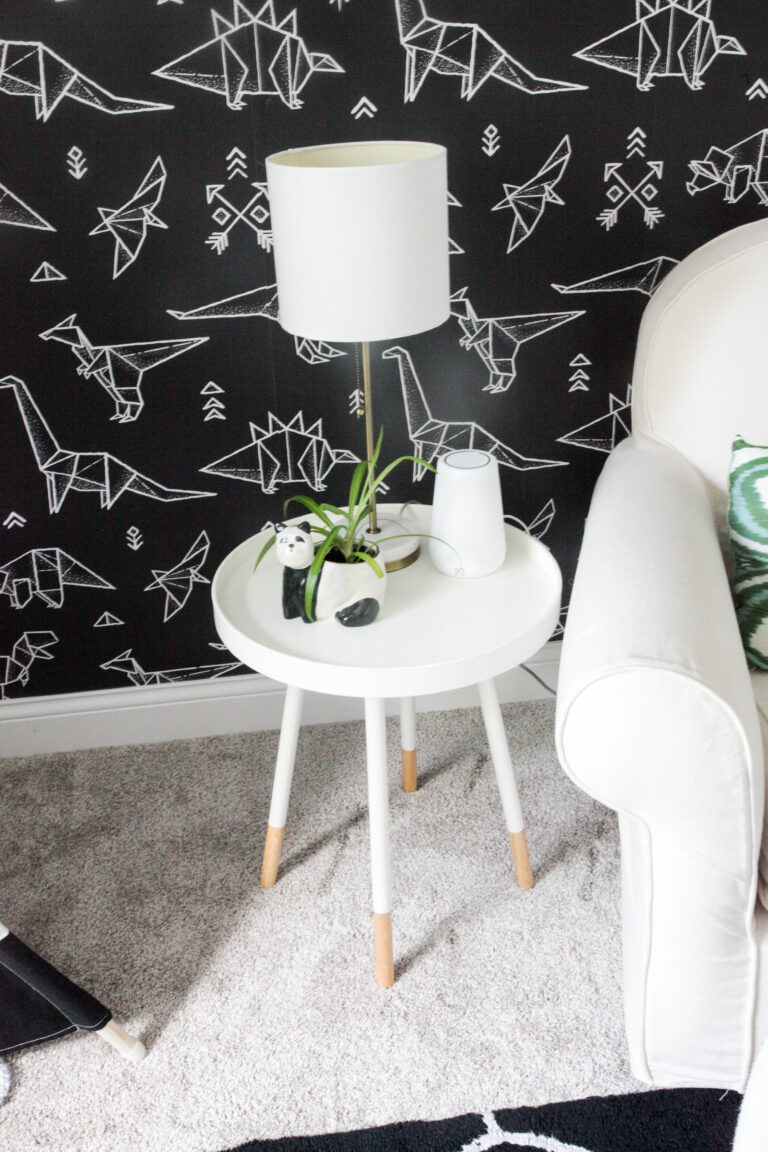 We have a washable rug which makes the inevitable mess a breeze to clean up! We've had it since Roy was a baby and it's been through so many washes and still looks so good!
Accessories
We finished up his room with a mix of stuff we already had and a few new items! One of my least favorite things is finding curtains (anyone else feel me?) but I found these from Society6. I knew I wanted a white and black curtain (more white than black) since the wallpaper was going to be black. I also didn't want anything too kid but also not too grown up. And ideally blakout. That's not too much to ask right? 🙂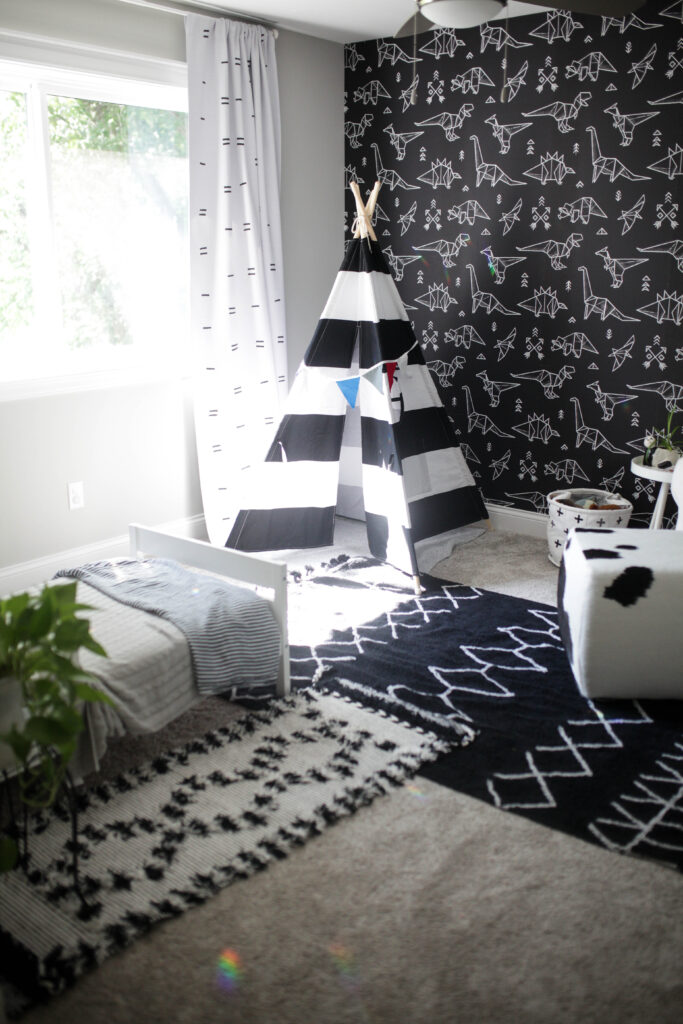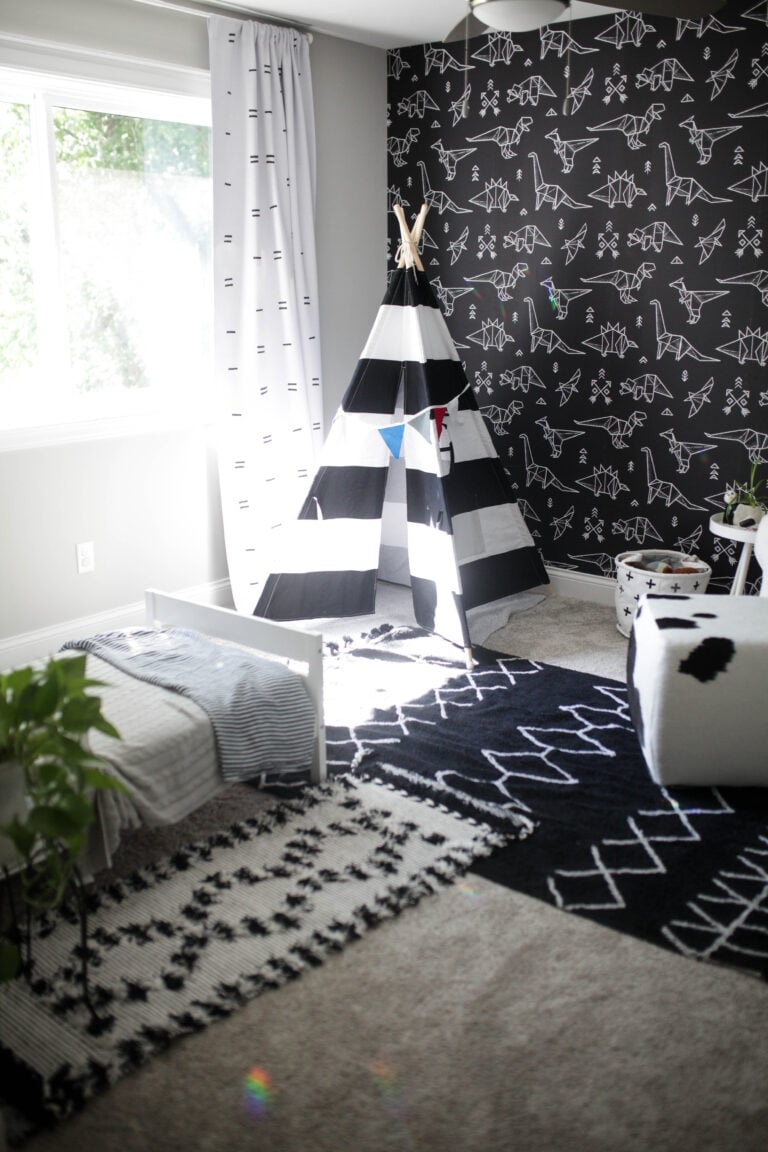 The fabric on these are a polyester which is different than most curtains I get but they're cute, keep the light and go with the rest of the decor so I love them!
We put up these 4 prints that my husband had originally bought for Roy's room here but they didn't go. I'm glad we hung on to them since they look so cute above his bed!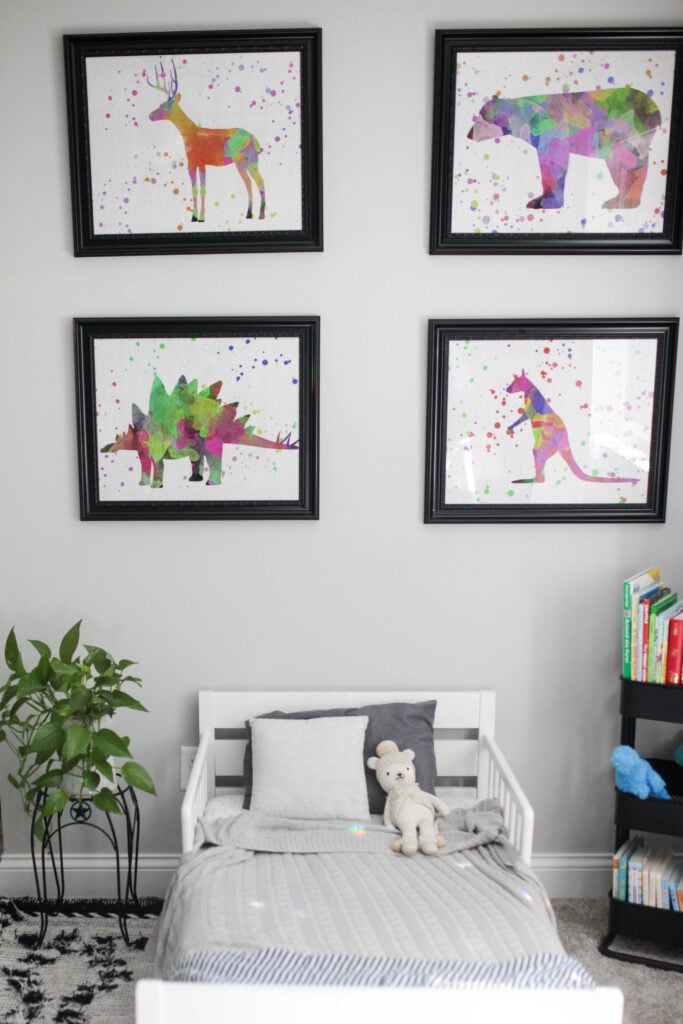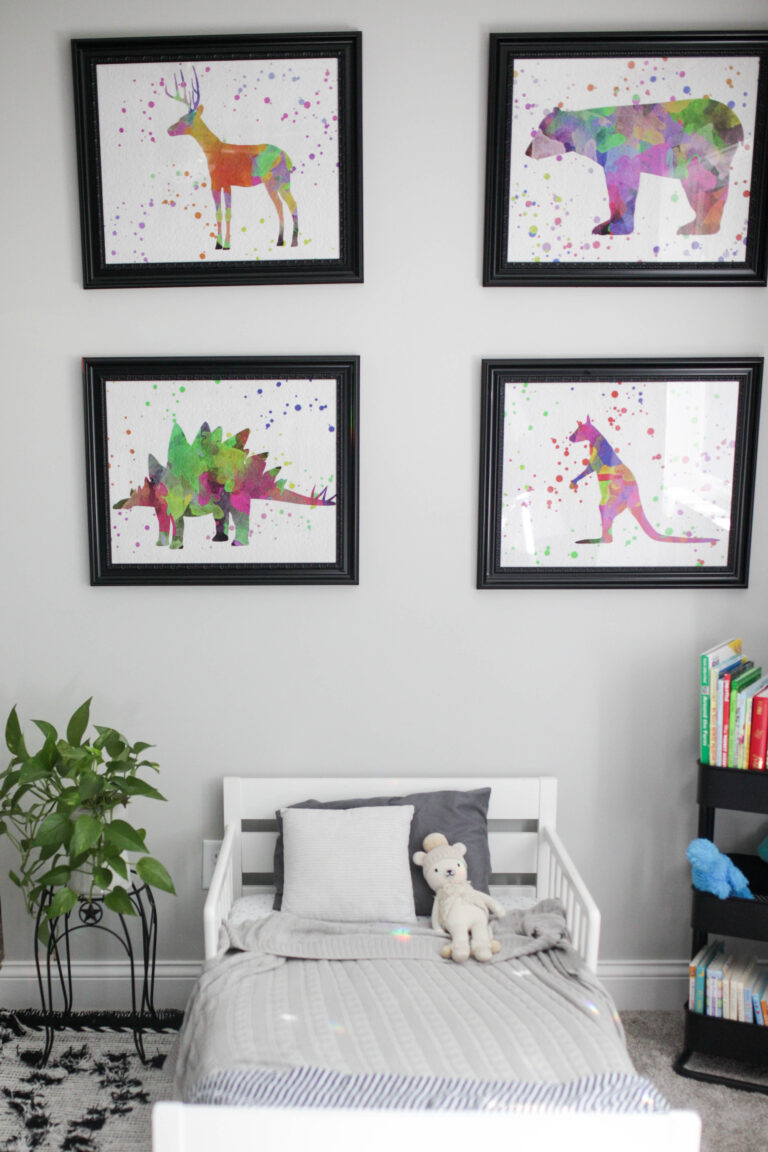 We added in a few plants (of course!)! We have plants all over our house and we've had plants in the kids rooms since they were babies. We've taught them at a young age that they don't play with them and as they get older I get them involved with planting them and watering them, etc. so I love having them in the kids rooms!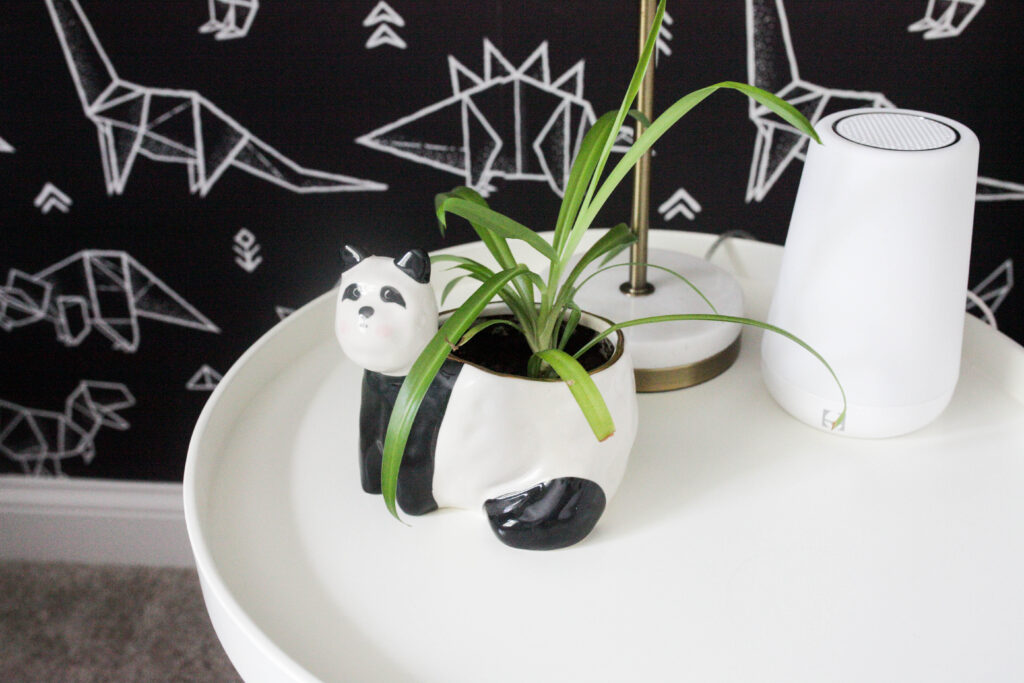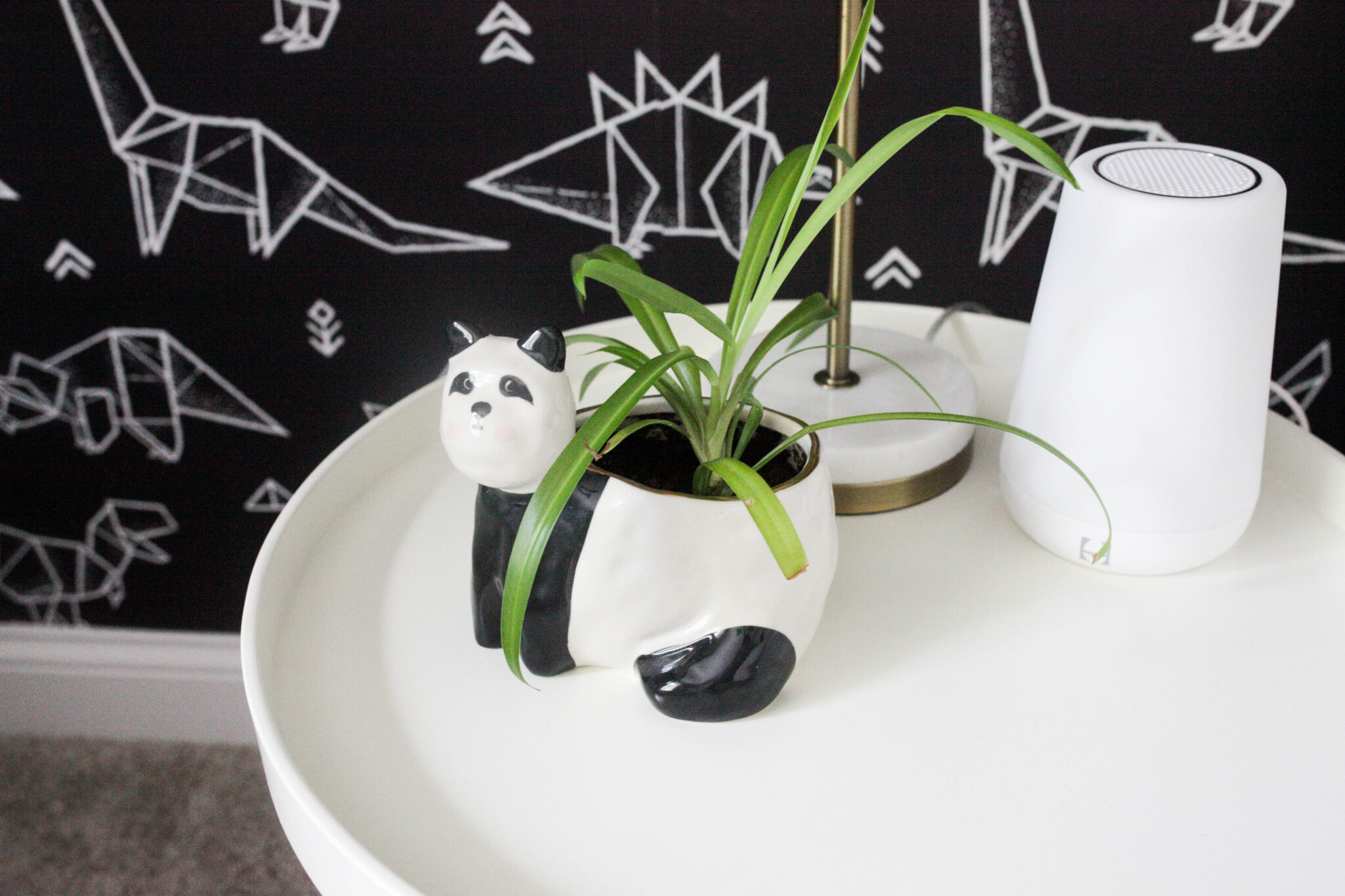 We also put up a star mirror (that we've had since Roy was an infant!) and the fun ROY letters to finish it off!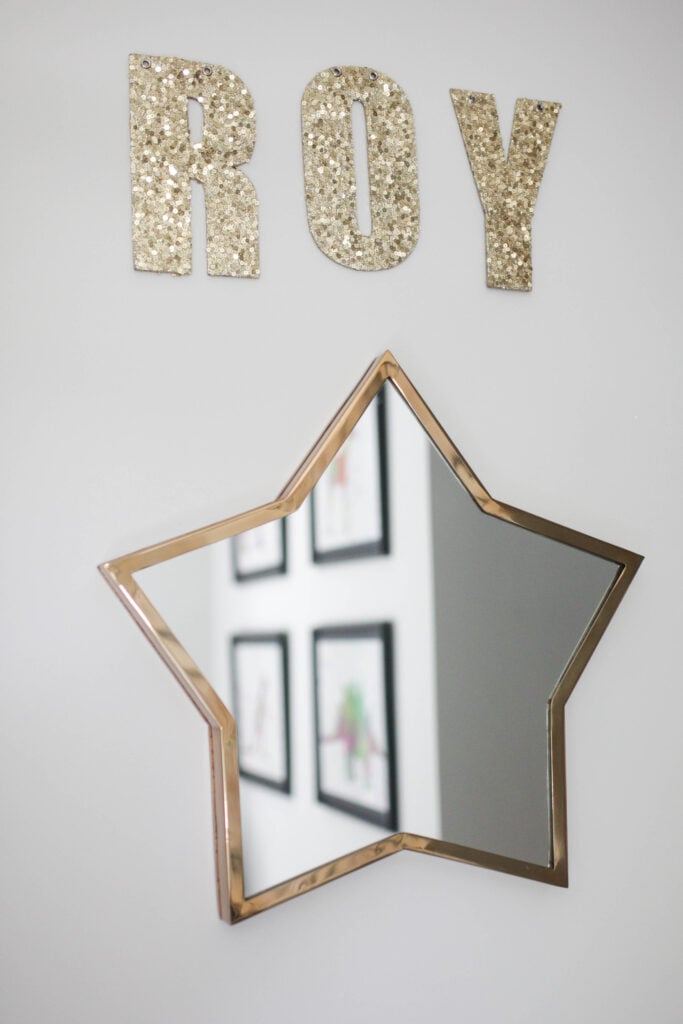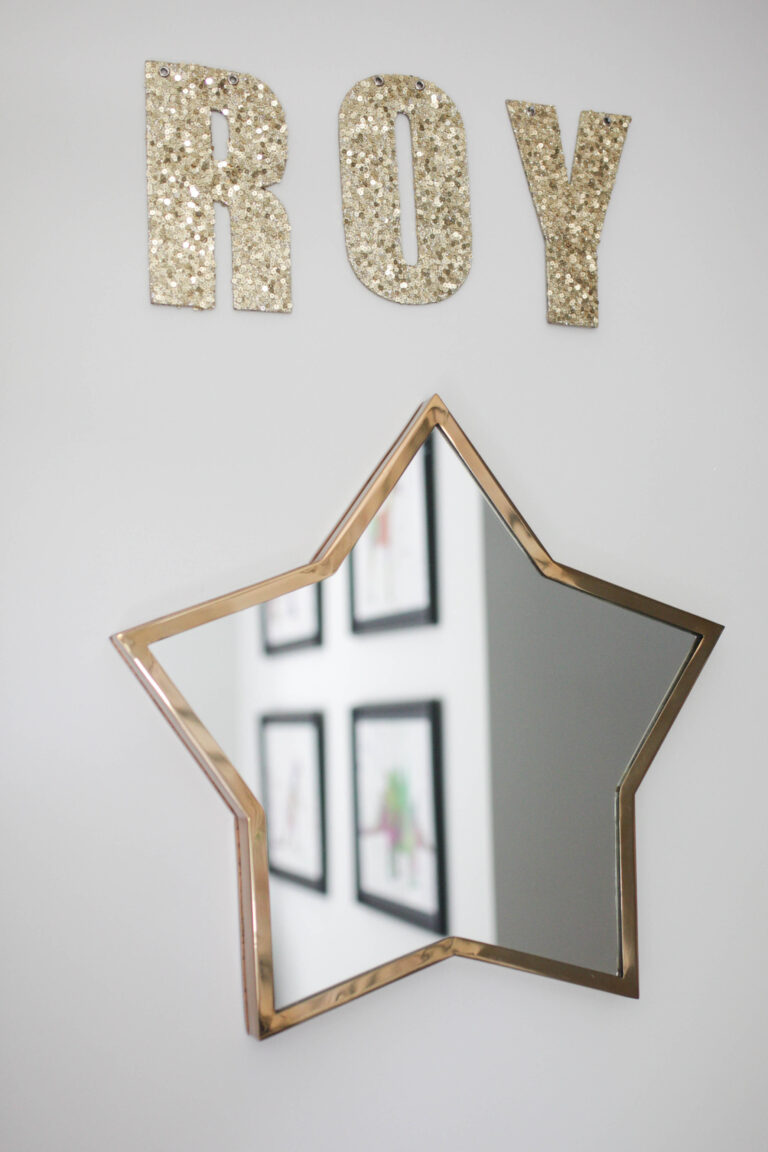 We love the fun, playful look of this dinosaur kid room!
Want more toddler kid decor ideas? Here are other rooms we've decorated!
And a big thanks to Spoonflower for providing us with the wallpaper for Roy's dinosaur room!