*Cameron's Coffee has sponsored this post but all thoughts and opinions are my own.
Are you the type of person whose morning doesn't start until you get to enjoy that first sip of hot coffee? It's what motivates you to get out of bed in the morning and your first stop after your morning workout.
Now take a look at the space where your coffee pot lives. Is it full of clutter and chaos? Or is it the perfect reflection of you and your home?
For some of us, our coffee machine is just another essential item we need in our kitchen. We use it daily but the space it lives isn't necessarily beautiful or inspiring.
For others, your coffee pot is a focal point. It has a proper place in your kitchen or dining room and is stocked properly, eagerly awaiting the next person to stop by for a cup of coffee.
Whether you want a statement area in your kitchen or just a beautiful, functional area to visit each morning, let's chat DIY coffee bar ideas!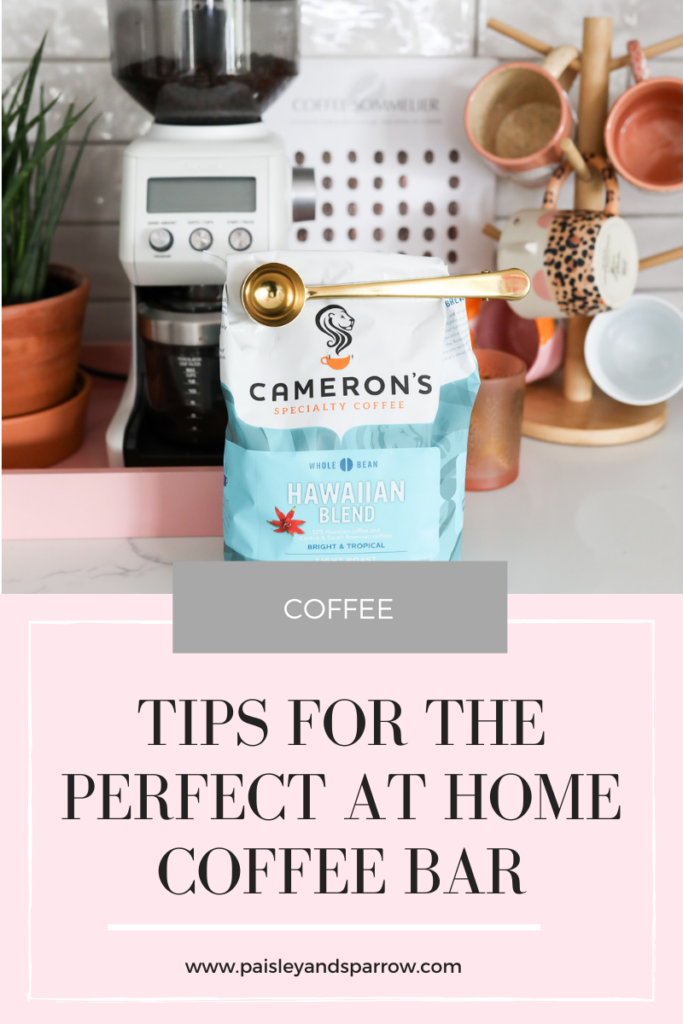 There are many reasons to create a coffee bar in your kitchen – maybe you have limited space in your kitchen cabinets and need to create a little coffee corner to hold all your coffee essentials without taking up too much space.
Maybe you have a small kitchen so your coffee necessities reside in the dining room and you need a functional area that makes coffee brewing a breeze.
Or perhaps you just want to beautify your kitchen counter and make your coffee spot a welcoming, functional coffee bar.
Whatever the reason, I'm going to share a few simple ways to turn your coffee maker into a joy filled place to visit every day!
Cameron's Coffee
Before I get to some of the best items for your coffee bar, we must start with the coffee. Any coffee lover knows that you can have the most beautifully decorated coffee bar and still have a terrible cup of coffee if you don't start with the right coffee beans!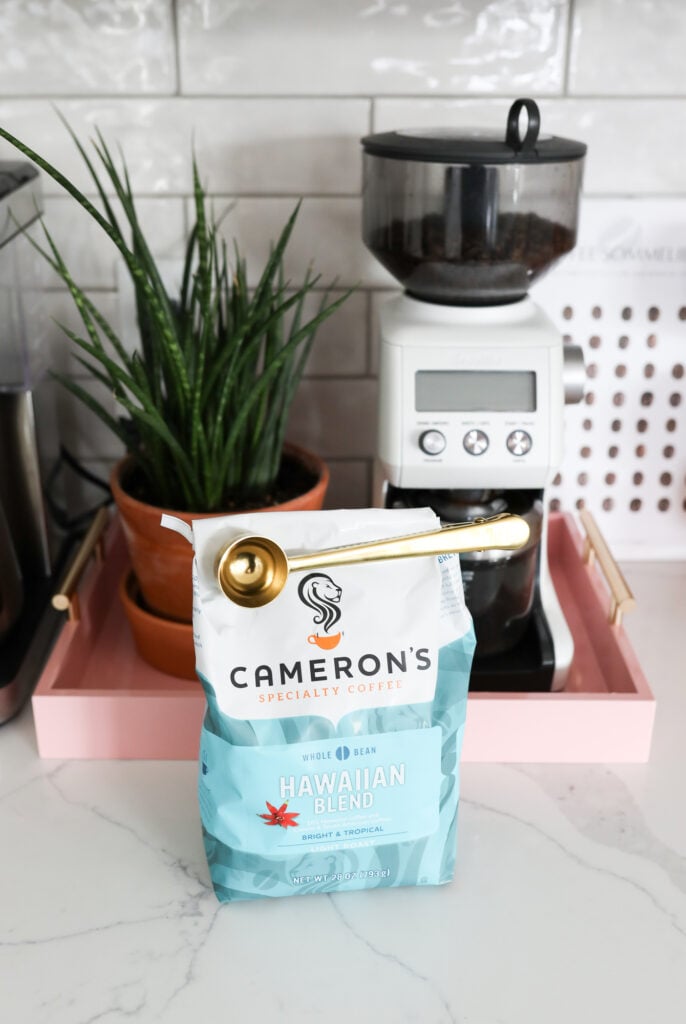 I've been drinking Cameron's Coffee for years now. Not only is their coffee always smooth and never bitter, but it also comes in so many different varieties of flavors and types of coffee. They have everything from whole bean to ground coffee to EcoPods for your Keurig.
Not only that, but they're also a company that views the world as mug-half-full kinda place and exudes optimism and joy into everything they do.
I don't know about you, but I want to start my days with joy and optimism in addition to a great cup of coffee which is why I reach for Cameron's each and every morning! They keep me inspired and have never let me down. Try them out!
Tips for the Perfect Home Coffee Bar
Ok, moving on to coffee station ideas! Let me first just say there's no perfect coffee bar. It doesn't matter if your coffee bar is a bar cart turned coffee bar cart, a coffee corner in a small corner of your home or a built-in coffee bar with all the works, a lot will depend on how much space you have to work with and how snobby of a coffee drinker you are!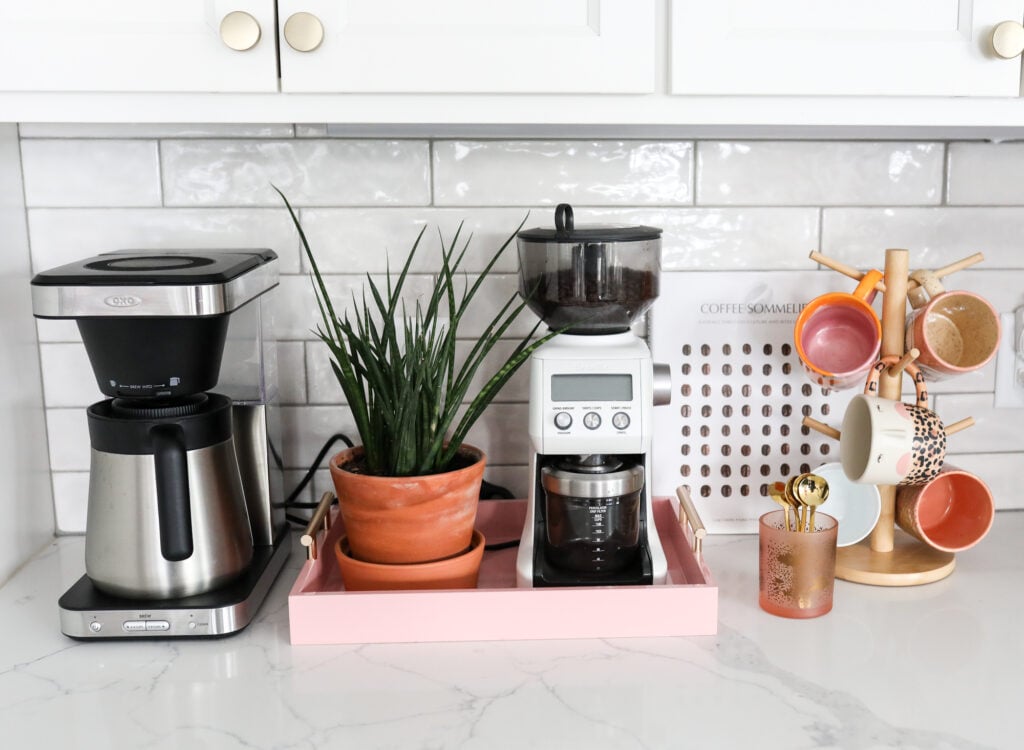 If you have an espresso machine and tons of accessories, you'll have a much different set up then someone who only uses a French press and one single mug.
Here's a few tips before I share some fun ideas:
Tip 1: Make Everything Accessible
There's nothing more annoying than struggling to find a coffee cup or have room to set your mug down to pour in your coffee in. You don't want to have to move 4 things to just get the 1 thing you need!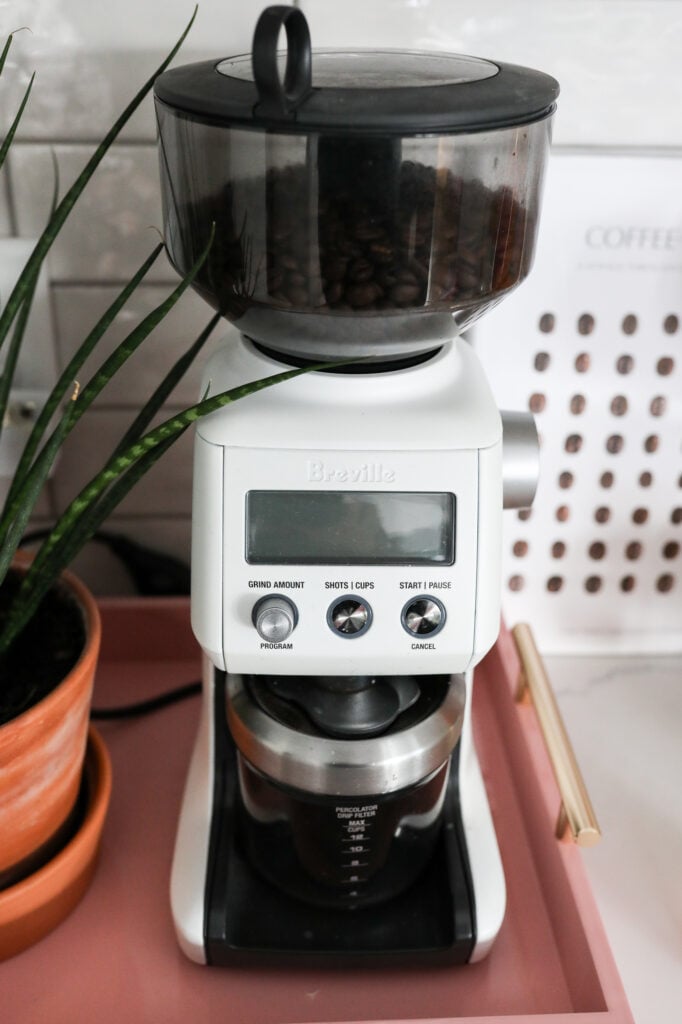 The most important thing is to have easy access to your essentials – your coffee pot, your mugs, your beans (and your grinder if you use one). Don't over style your coffee bar and make it less user friendly!
Tip 2: Shop Your House
Before you go buying anything, shop your house! Use a cake platter for your coffee beans and filters, a cleaned out candle for your spoons (like me!), a plant from another room, etc. The best place to start is your own house!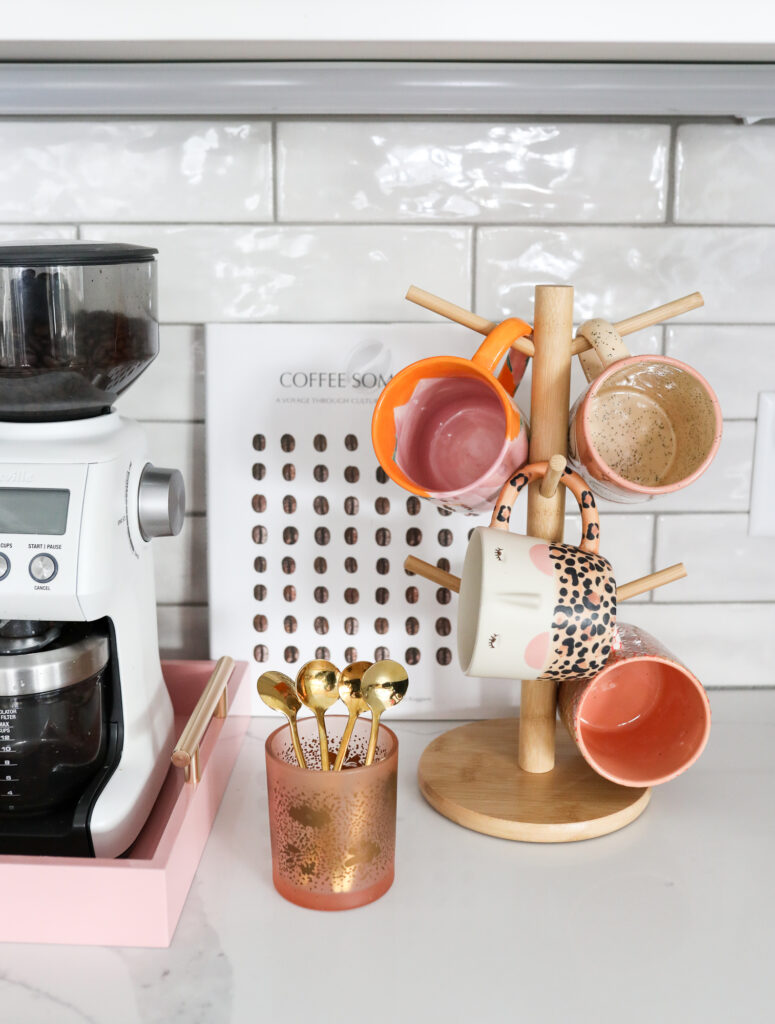 Tip 3: Get Creative and DIY
Take an old cabinet and DIY it into a coffee bar cabinet. DIY your own sign! Take a piece of wood and create your own sign. Get creative with your kitchen coffee station and make it unique to you!
Tip 4: Use the Wall or a Coffee Bar Cart
Don't have a lot of counter space and what you have is used up by your coffee maker and grinder? No worries! Use the wall! Hang a mug rack to hold your favorite mugs or DIY floating shelves for your coffee supplies such as your beans, filters, etc.
Don't have wall space? Get a bar cart! Something as simple as a bar cart from Ikea is perfect! You can wheel it in and out of whatever room you want or need it whenever you want.
Tip 5: Get Inspired By Other's Coffee Bar Ideas
Before you start creating your own perfect coffee station, look at what you love about other people's designs! Check out Pinterest or your local coffee shop and make notes of what you love about their coffee bar.
Is it the bright color or neutral vibe? Is it the use of plants or flowers in the coffee bar? Do you love the look of eclectic mix of items, or do you prefer something more streamlined?
Before you start changing things, doing anything DIY or buying things, have an idea of what you want and what makes you joyful and inspired!
9 Home Coffee Bar Ideas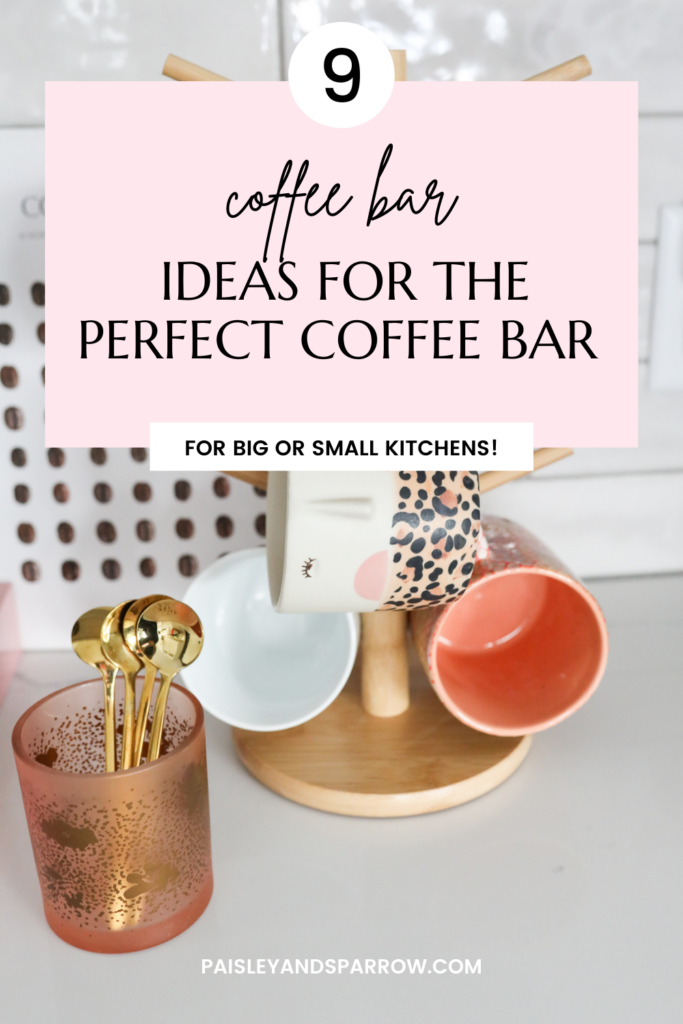 Paisley + Sparrow is a participant in the Amazon Services LLC Associates Program. This post may include affiliate links which means I may earn a small commission if you shop using the links below at no additional cost to you. 
Ok, now that we have an idea of what style of coffee bar we want, let's chat about some of the things you may want to include in your own coffee bar.
Remember, everyone has their own space and their own style! Figure out what works best for you and your space to incorporate into your coffee bar to make it some place you want to visit each morning!
I'm going to share a few different DIY coffee bar ideas to turn your coffee pot into a stylish coffee bar!
1. Coffee Container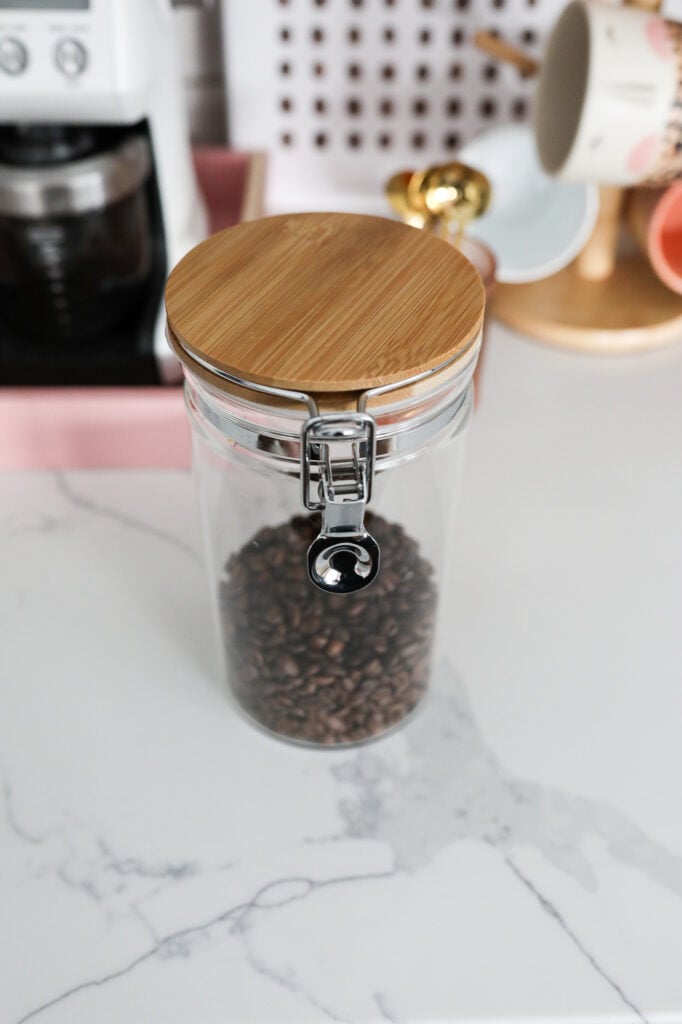 Don't let your beans get stale! You'll want to get an airtight container to keep your coffee beans so they stay fresh.
This can be tucked away and pulled out to refill your coffee grinder if you have a small coffee station or set out alongside other coffee supplies if you have more space.
The container I own is beautiful and comes with its own scoop! It easily holds my leftover beans to keep them fresh.
2. Bag Clip/Spoon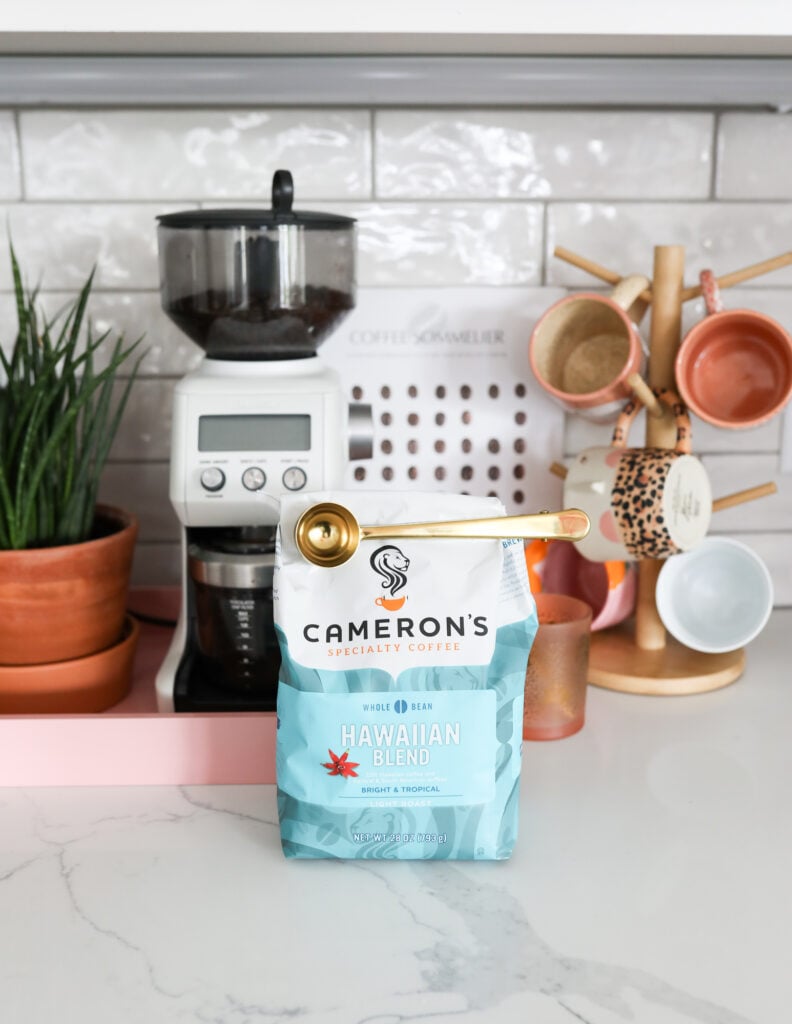 If you decide to get larger size bags, you'll need a way to close them if you don't have enough space in your container. I typically always opt. for Cameron's 32oz. bags – they're the perfect size if you have multiple coffee drinkers in your house!
Wile yes, you could use a clothes pin or something similar, a great way to keep your bag closed, your coffee fresh and never lose your scoop is to use a bag clip that doubles as a coffee scoop!
If you don't have the space for a container and a coffee bag, this is the perfect way to simply open up the bag, scoop out what you need and close it up. You'll never be without a coffee scoop again!
There are so many different varieties of bag clips that have a scoop included so find one that works best for your decor!
3. Mug Rack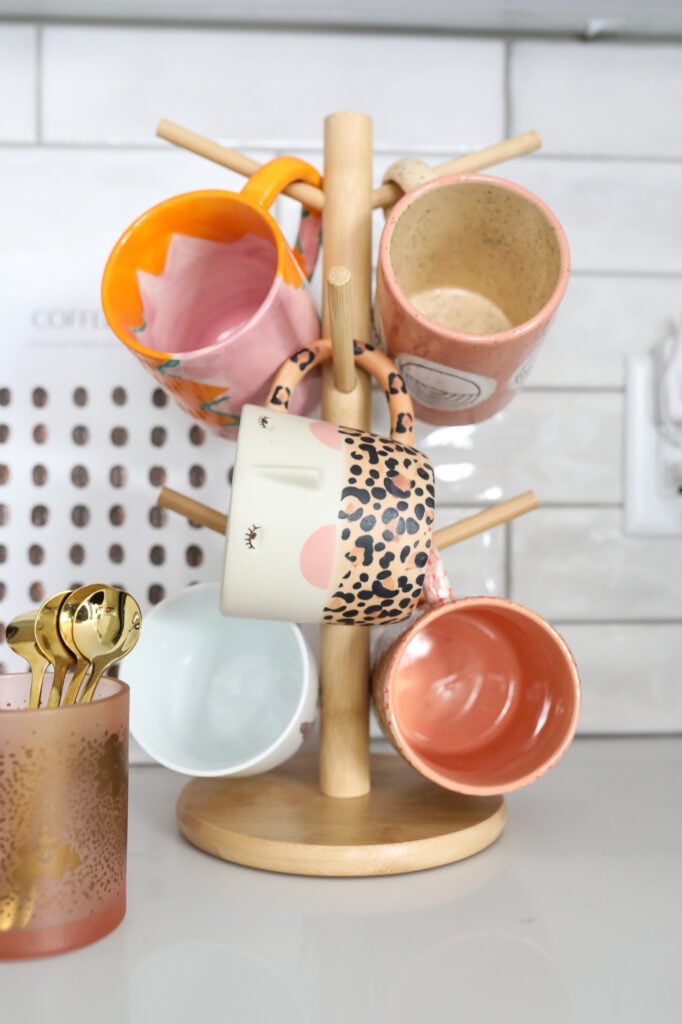 Maybe you need to free up some cabinet space or maybe you just want a space for your favorite coffee mugs, either way a mug tree or mug rack is a fun way to show your cutest mugs while making them accessible to you and your guests!
This mug tree has space for 6 mugs and is a great option for cleaning up your counter space and also freeing up kitchen cabinet space.
4. Mini Spoons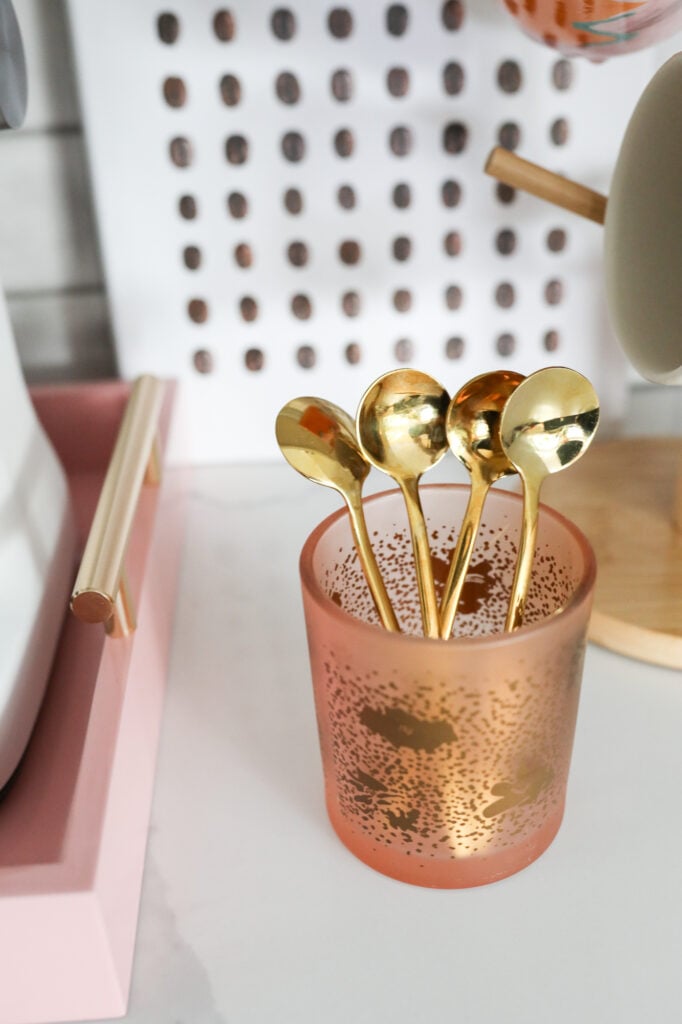 If you like to add some coffee creamer or flavor shots to your coffee or use your coffee area for tea or hot cocoa, small stir spoons are a great coffee bar idea! You'll have dedicated spoons for your home coffee station, and nobody needs to go on the hunt for spoons in the morning!
Set them in a fun jar or cup to keep them neat and tidy. The jar I'm using is actually a candle jar that I cleaned out!
5. Filter Container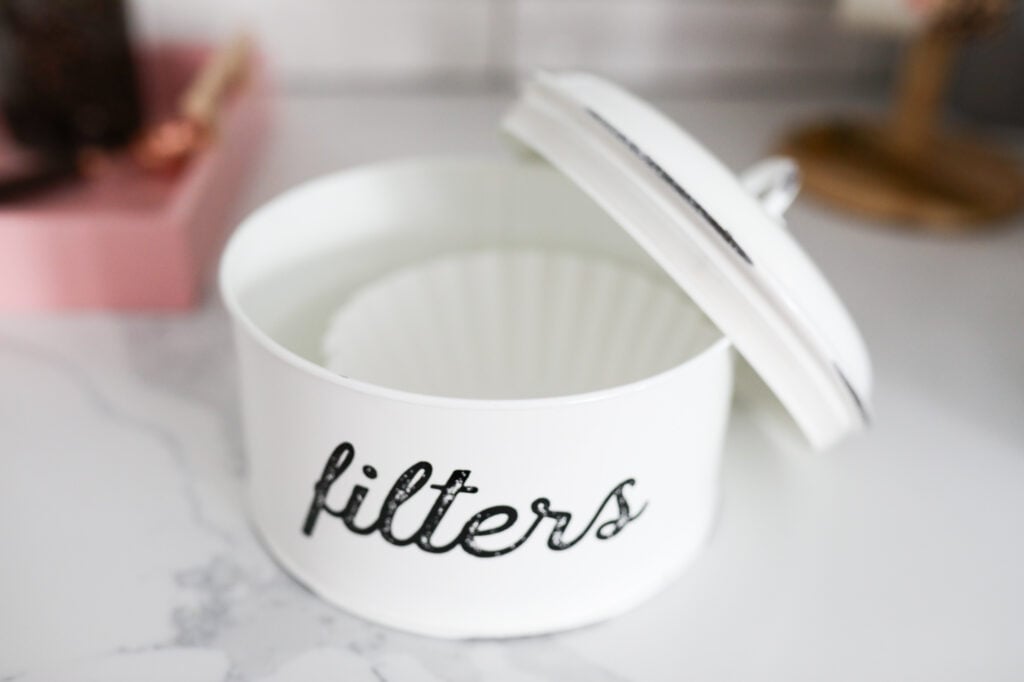 Are your filters a mess? Are the falling out of cupboards or at risk of getting ruined just sitting out by your coffee pot? Give them their own home!
A filter container like the one I have is pretty enough to leave out on the counter if you don't have the space in a cabinet. It's also a great option if you keep your filters tucked away. It keeps them safe and organized.
6. DIY Coffee Station Sign
If you have the space, a great addition to any DIY coffee station is your own sign! Get a custom sign if you want a personal touch or a generic "coffee bar" sign is a good idea!
If you don't have the space or the wall behind your coffee bar isn't a great place to hang a sign, you can go without or lean a coffee inspired coffee table book behind it!
I use a coffee book behind mine!
7. Plant or Flowers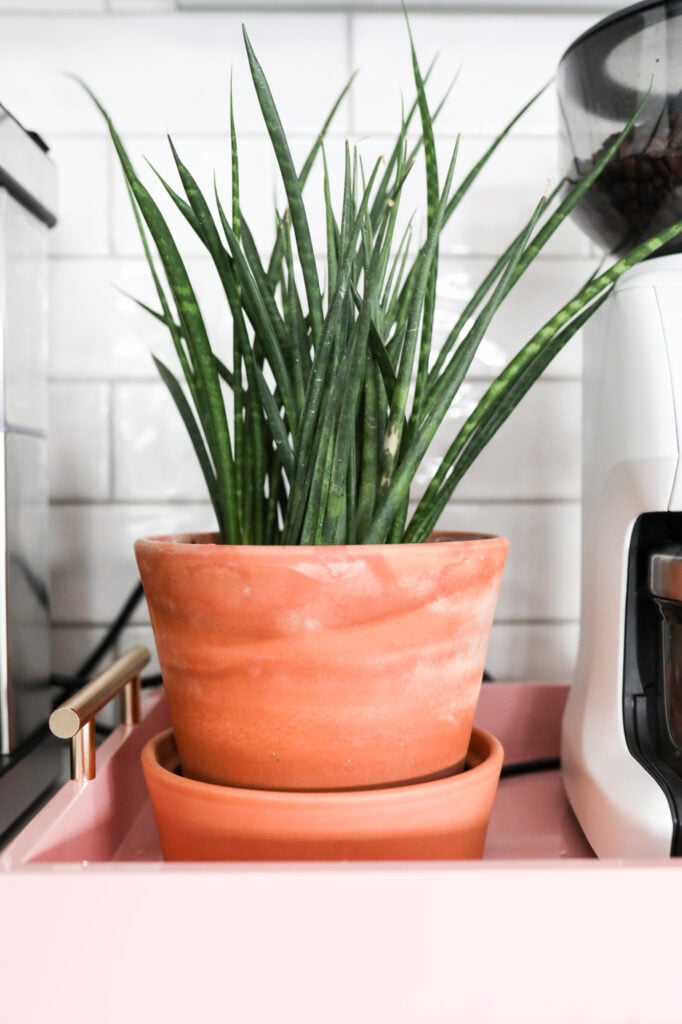 If you have the space, the best thing you can do is add a green plant or fresh flowers! I have plants all over my house so naturally I choose an easy to care for plant to be the perfect accent to my coffee bar in kitchen.
8. A Tray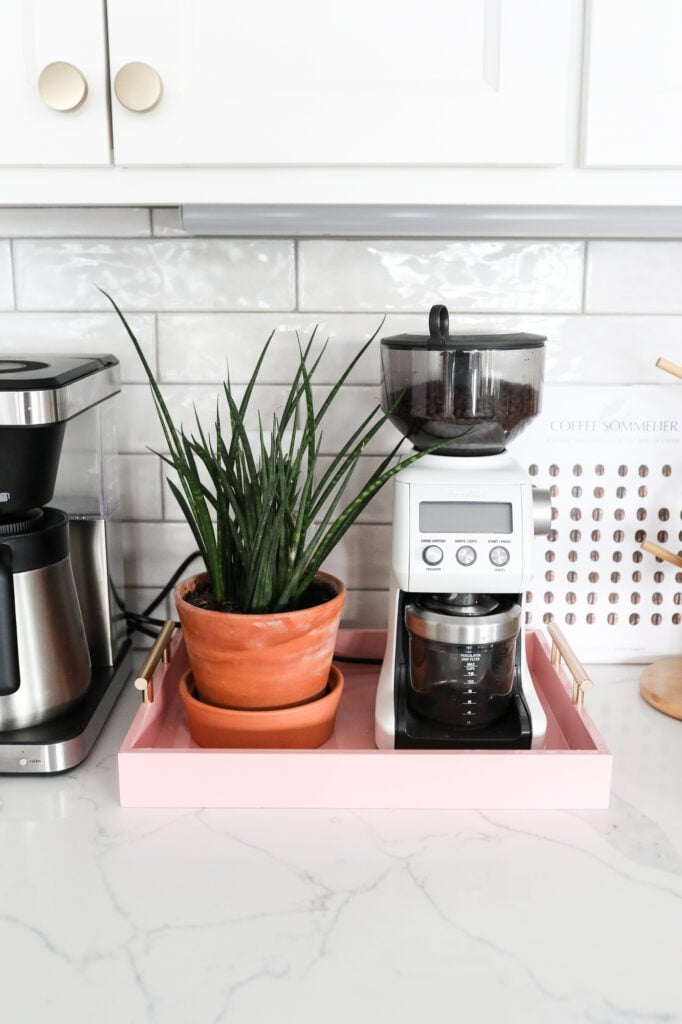 A tray is something useful whether your coffee bar is on your kitchen counter or somewhere else in your home! It helps center the different coffee items, giving them a "home base".
Many coffee lovers have a variety of different supplies and accessories. Rather than having them all stand alone, group them together on a tray! It helps if feel less cluttered and more cohesive.
Tie in the color of your mugs with your tray (this tray comes in different colors) or go totally neutral with your whole coffee bar – the options are endless!
9. Large Jar
If you're someone who uses coffee pods, invest in a large jar to put all your pods in! You can set this out right next to your machine (or on your tray!) or tuck it away in a cabinet, whichever you prefer and whatever space allows!
Having this jar full of your pods makes them accessible and organized.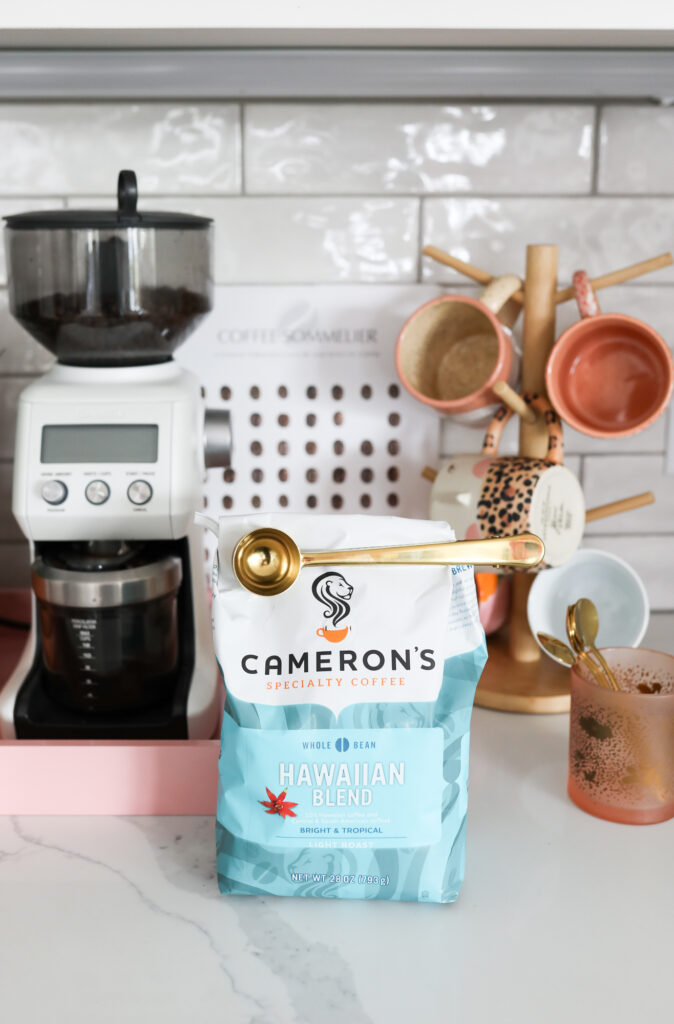 And there you have it! I hope these tips and ideas inspire you to DIY the right coffee bar for you.
And if you need a coffee that's more satisfying and always a bright spot in your day, be sure to check out Cameron's Coffee! I promise they won't disappoint.