I have a new show idea for HGTV. Bring a 5 year old to a paint store, let them pick out whatever color paint they want for their bedroom and make it work. In this case, it is Evening Blue by Benjamin Moore.
That's what I did with my 5 year old when we decided to switch bedrooms with him and our 2 year old before he started kindergarten! I wanted him to have something he loved and also get him involved in the whole design process.
We started out by going to the paint store and brought home tons of paint samples. He slowly weaned it down to his final option and we were off running!
To be totally honest, this was definitely not the color I would have chosen for his room but I adore how it came out. When I was a kid I remember absolutely loving it when my mom let me have a say in how I decorated my room so I wanted to do that with my kids too.
We picked up paint and stopped by a few shops to find decor. He picked out most of the art work himself – I was pretty impressed! 😉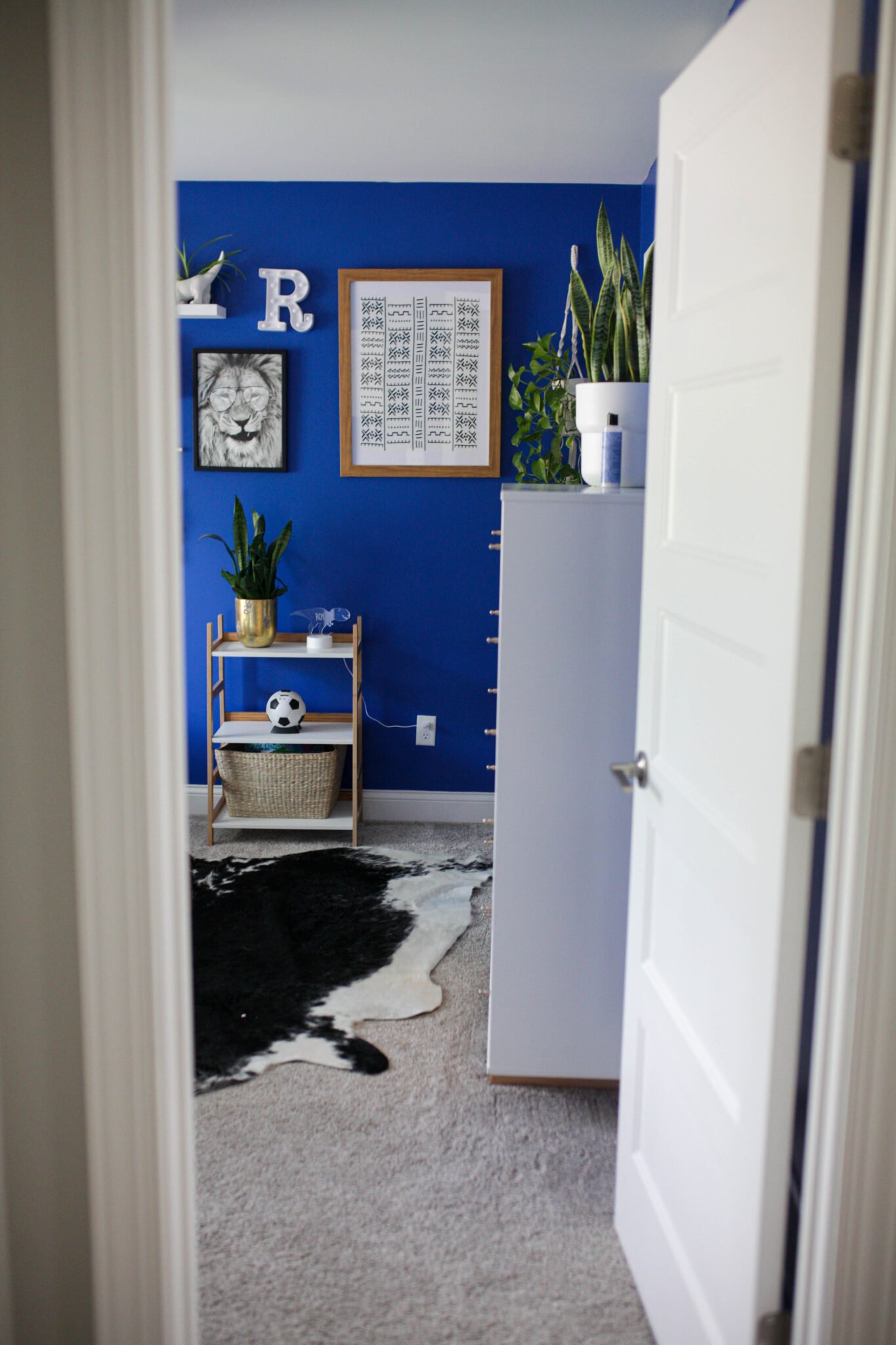 This post contains affiliate links.
Furniture
To start, we already owned this dresser from Room & Board. (You can see it in his dinosaur room here or his nursery here!)
We originally bought it because it matched the crib we had but it's still a great dresser (and we bought our daughter a different, more girly one) so we kept that.
Because of that, I knew I wanted to pull in a bit more wood aspects into the room. I found the shelf on Amazon and it's perfect! It's small enough to not take up too much space but big enough for a few essentials (books, legos, his piggy bank and of course his light up dinosaur and a plant).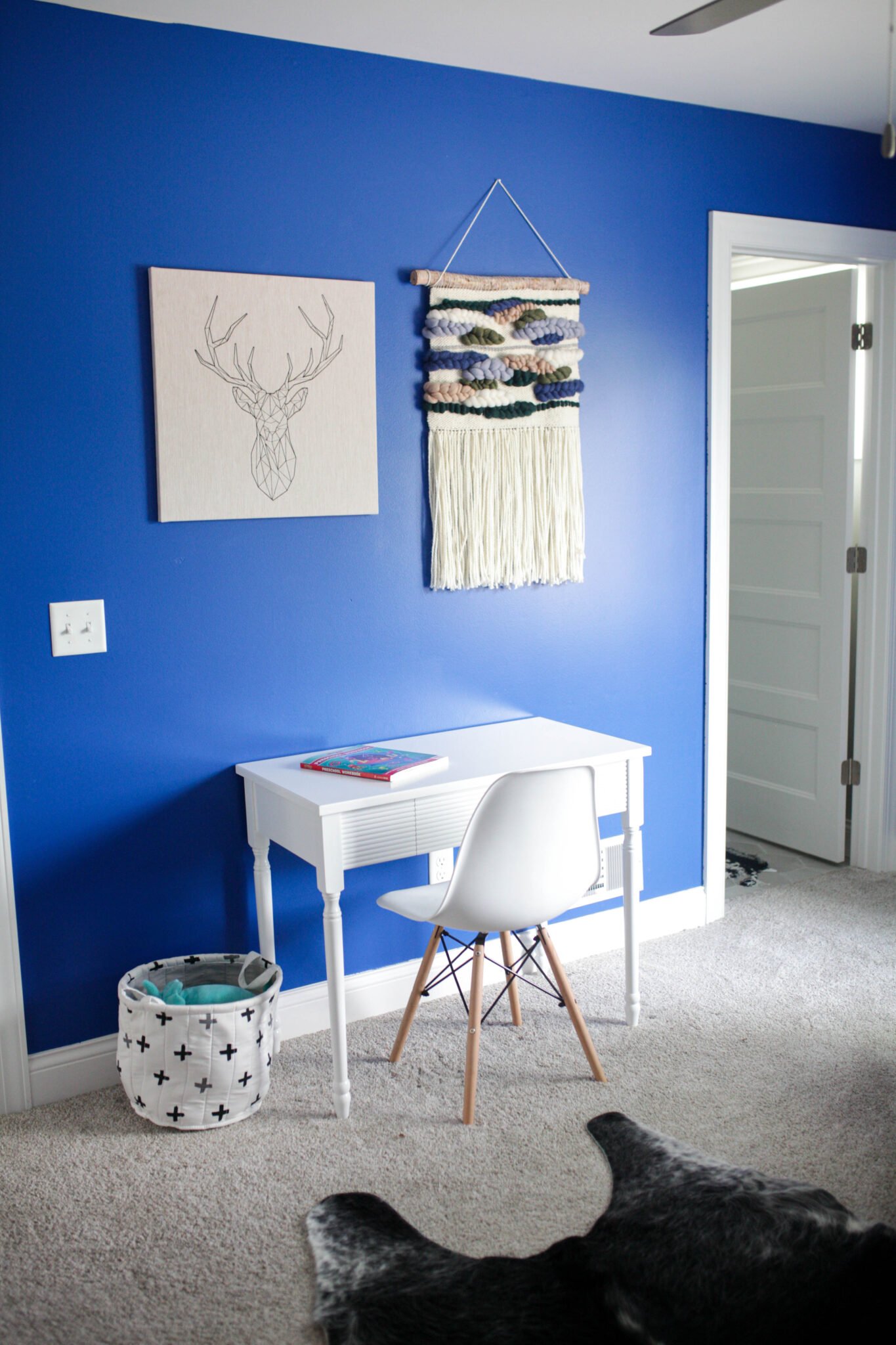 We also decided to upgrade him from a toddler bed to a twin bed. It was only a matter of time before he grew out of the toddler bed so thought now was as good as any time to get him a bigger bed!
Again, I found the bed and mattress on Amazon! The mattress slid around a little bit but I found this handy dandy gripper pad to lay down on top of the frame and under the mattress to prevent it from moving.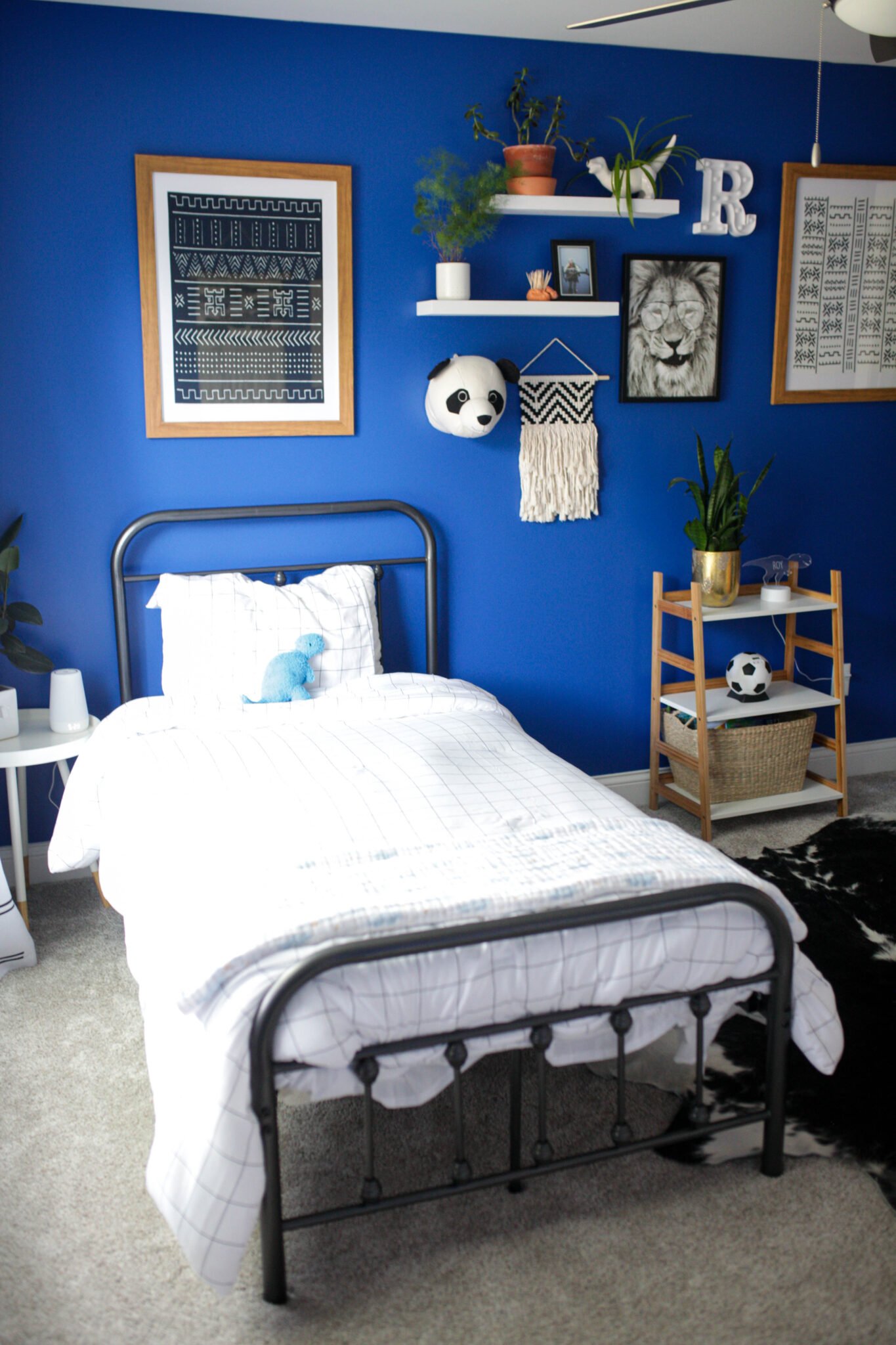 Roy's incredibly obsessed with soccer at the moment so I surprised him with the soccer sheet. I couldn't find a soccer themed comforter that I really liked so I ended up getting him the grid style one and to my surprise he freaked out when he saw it! He told me it looked like a soccer net so all in all it was a fantastic purchase.
Since he's starting school this year we decided a desk would be a bit more appropriate than the rocking chair we had in there prior. Another Amazon find for the win with this desk and chair!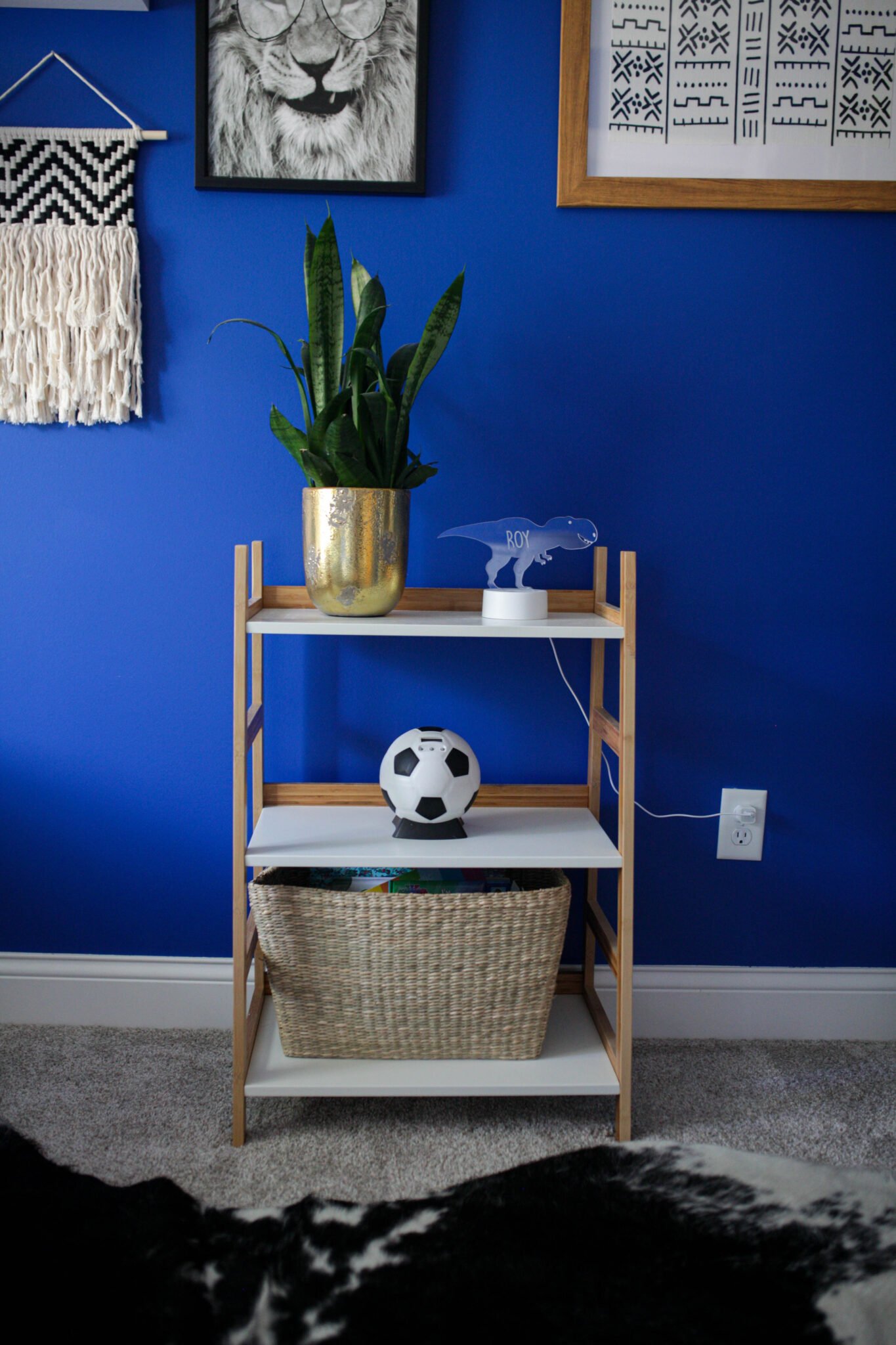 It's a little bit big for him right now but great for him to grow into.
Wall Decor
The wall decor is a mix of old and new. I taught Roy how to "shop the house" first to find things that he loved that would work in his room. While doing that we found some plants (not hard to find in our house haha!), woven wall hangings and his panda head for the wall.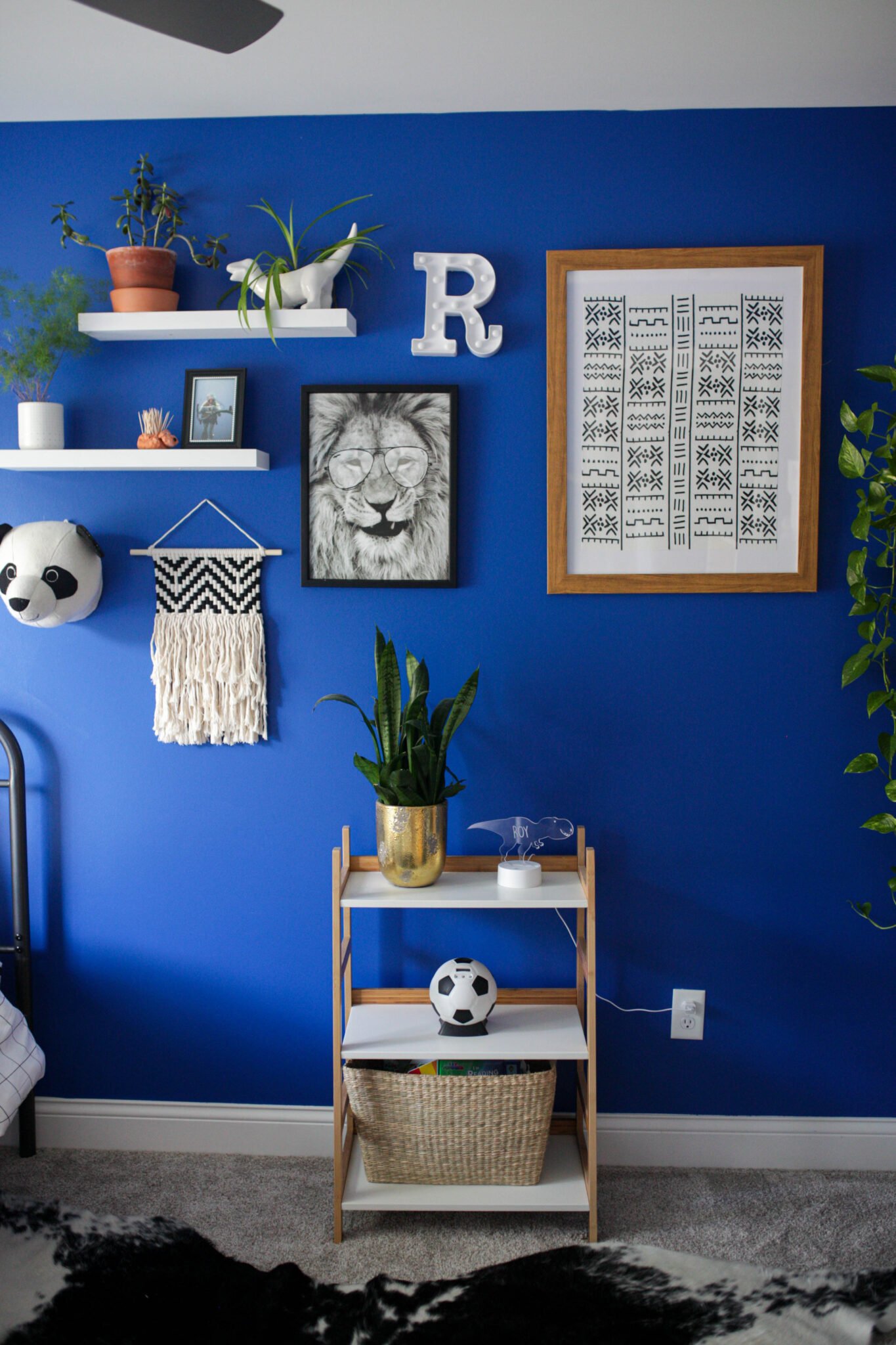 We picked up some shelves for the plants as well as one of his art projects from school (a hedgehog) and an old photo of my grandpa scuba diving. Having a mix of textures but all in the same color scheme helps pull it all together.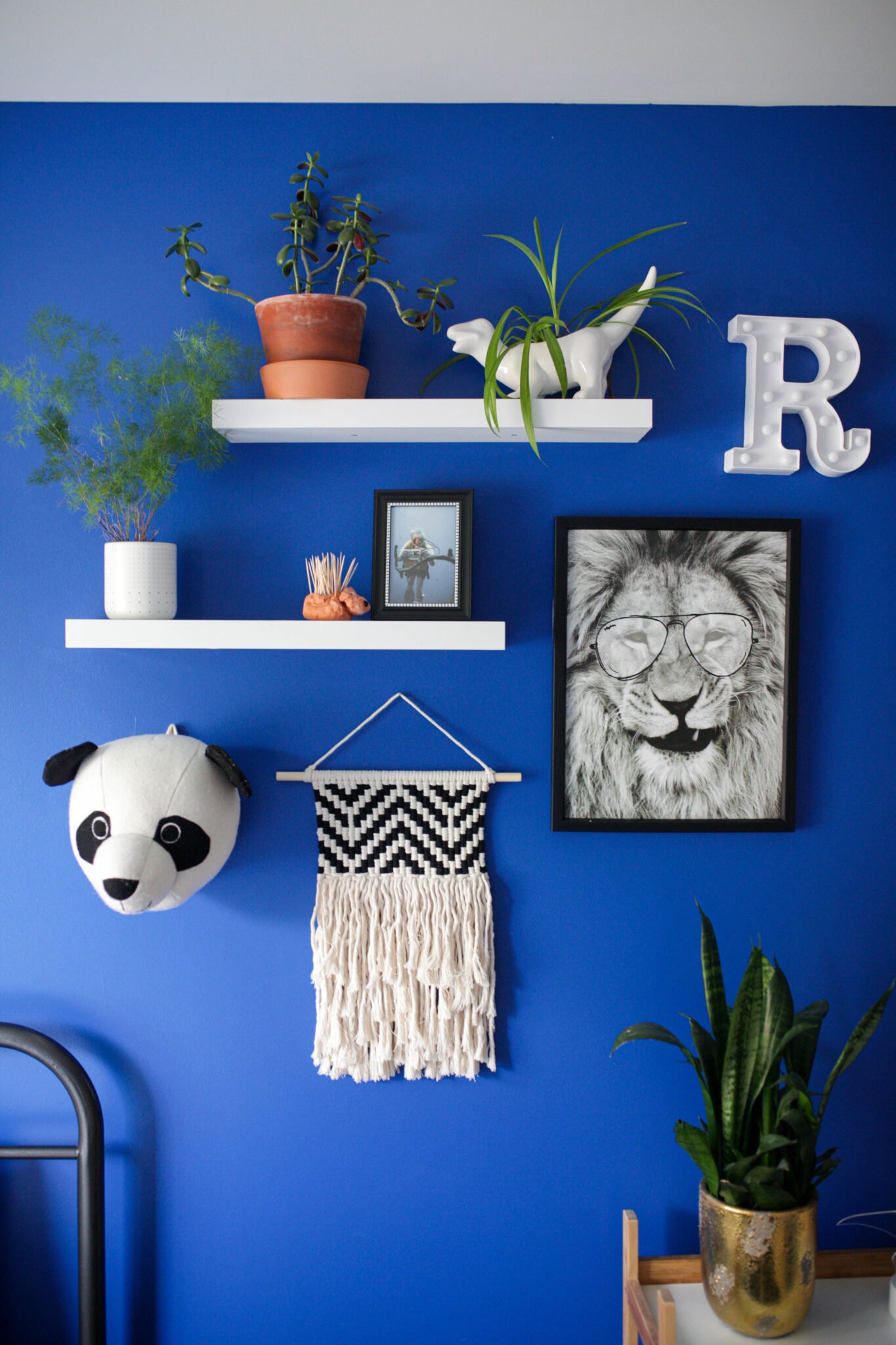 The pair of wood, white and black art work came from Target (that Roy picked out himself – he told me they reminded him of a castle, the light up "R" was another Amazon find and the lion came from Hobby Lobby.
Shop the room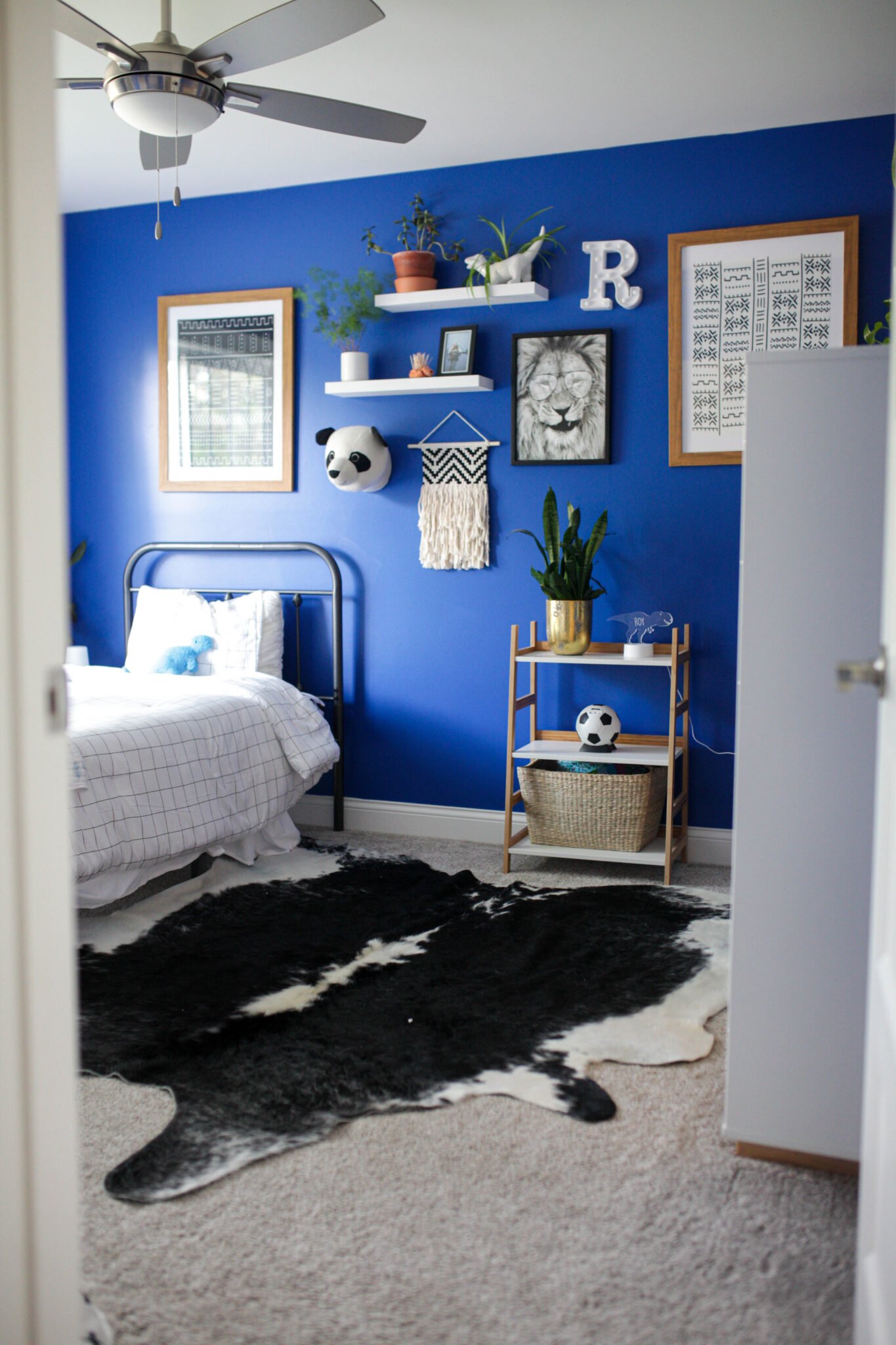 Bed | Mattress | Sheet | Comforter | Gripper Pad
Shelf | Light Up R | Pair of Art
Find some of our other room reveals here!