*Madden's on Gull Lake hosted our stay however all opinions are mine. Keep scrolling for a discount code!
We recently got to spend a couple days at Madden's Resort in Brainerd with the whole family and had the absolute best time! My husband and I had been there a couple years ago just the 2 of us and the entire time we kept thinking "man, the kids would love it here"!
Fast forward 2 years and now the kids were able to join us!
If you're wondering if Madden's is a good spot for you and your family, here's some of the kid friendly activities that they offer.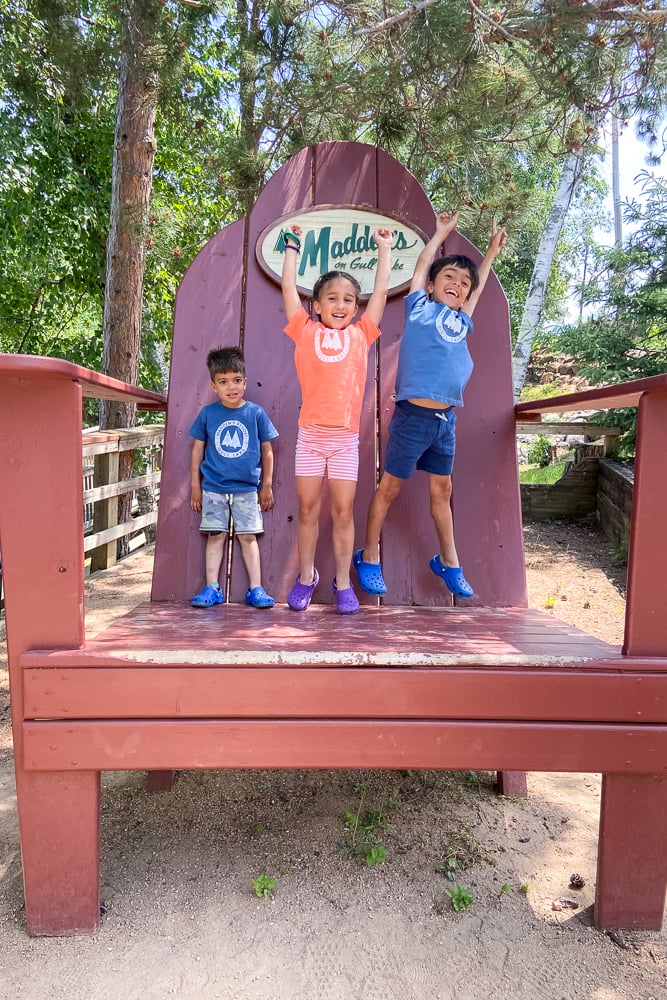 About Madden's
Madden's is a resort just 2 hours north of the Twin Cities which makes it easy to get to and worth it even if you're going up for just a couple of nights.
It's located on a peninsula so you get both sunrise and sunset views and it has the most shoreline of any of the Brainerd Lakes area resorts. There's 3 sand beaches on over 2 miles of lakeshore.
Madden's is family-owned and has been for over 90 years! It's on its 3rd generation of ownership.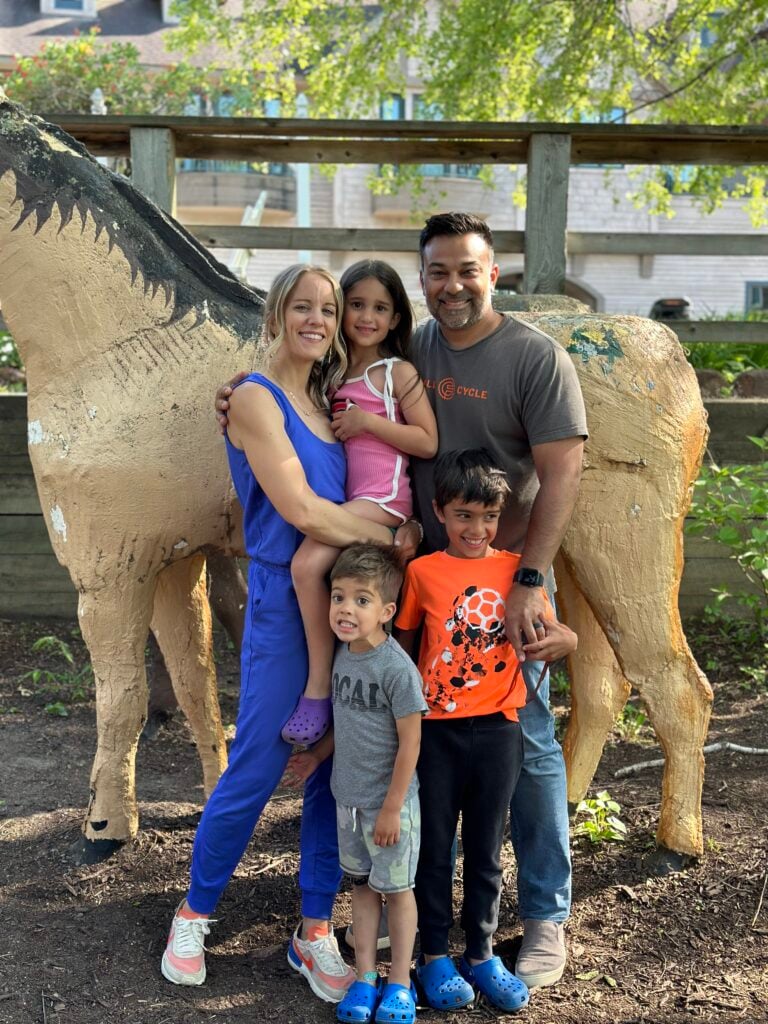 Where to Stay
We stayed in the Steamboat Bay Upper Sunrise Villa which was a super cute A-frame style room that overlook Steamboat Bay on Gull Lake. Fun fact – 70% of Madden's rooms overlook the lake!
This room had an upper loft area with 2 twin beds. We put all 3 kids up there so they could be together and took the downstairs area for ourselves. There's 2 bathrooms (one upstairs and one downstairs) and 2 queen beds on the bottom floor.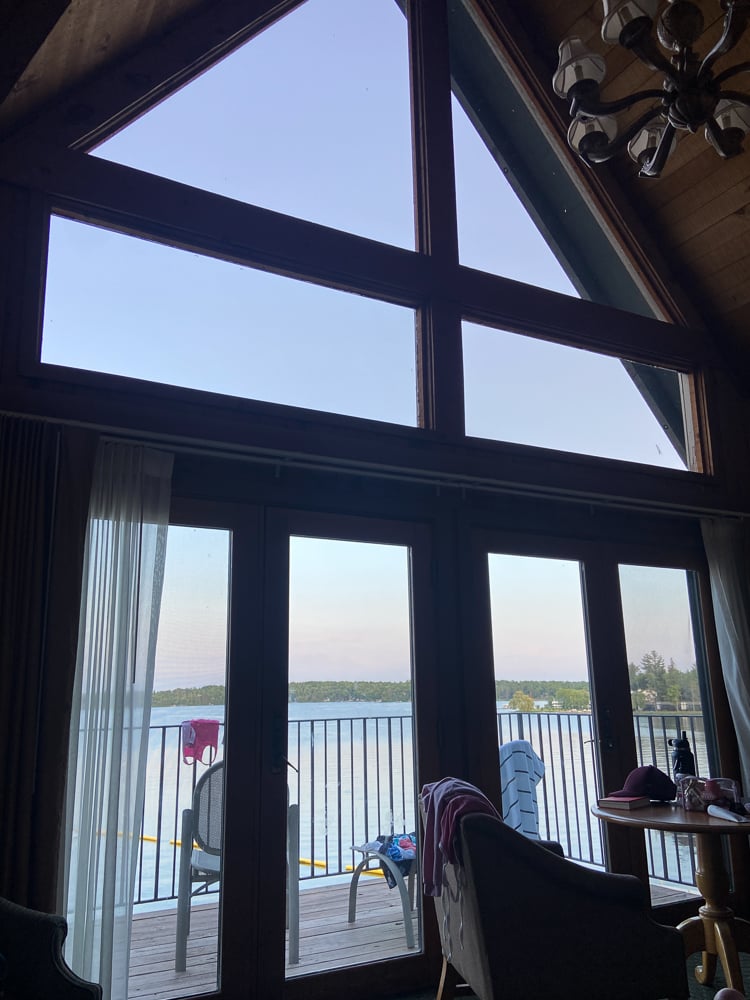 One thing to note about these rooms – since they're a-frame the top windows don't have window treatments. It stayed pretty light in our room until about 9:15pm and got bright early (about 5:30am).
If your kids are sensitive to light it and have an early bedtime it might be hard for them to fall asleep!
There are over a dozen different lodging options from cottages to hotel room to villas. You're sure to find the perfect option for you and your family!
Kid Friendly Activities at Madden's Resort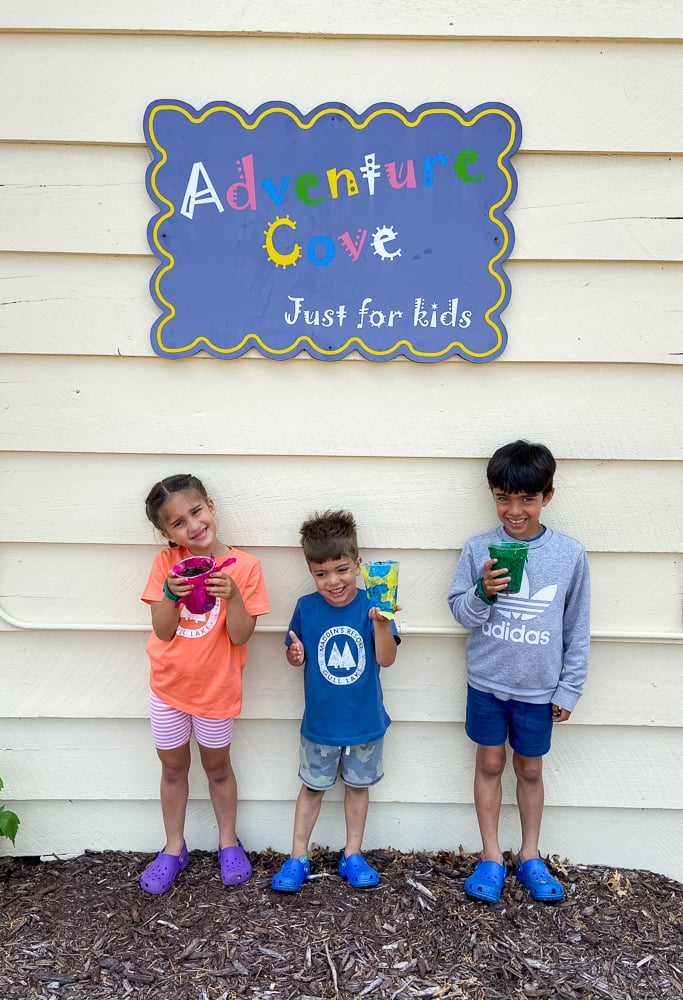 Adventure Cove is Madden's version of a kids club! You can drop your kids off for a full day or a half day to make crafts, play games, go swimming and more!
Our kids did a half day at Adventure Cove and they were able to play mini golf, decorated a pot and planted a plant, played kickball, went on the playground and tons more! They also ate lunch there (while we had an adult only lunch!).
They honestly couldn't stop talking about it when we picked them up! They loved all the activities and that they were able to meet other kids staying at the resort.
Swimming in Saltwater Pool
NEW to Madden's is a saltwater pool! It's absolutely stunning and a great addition of things to do at Madden's. It's right near the 19th Hole restaurant in the Madden Inn & Gold Club building so super easy to get to. It also overlooks the golf course which is just stunning.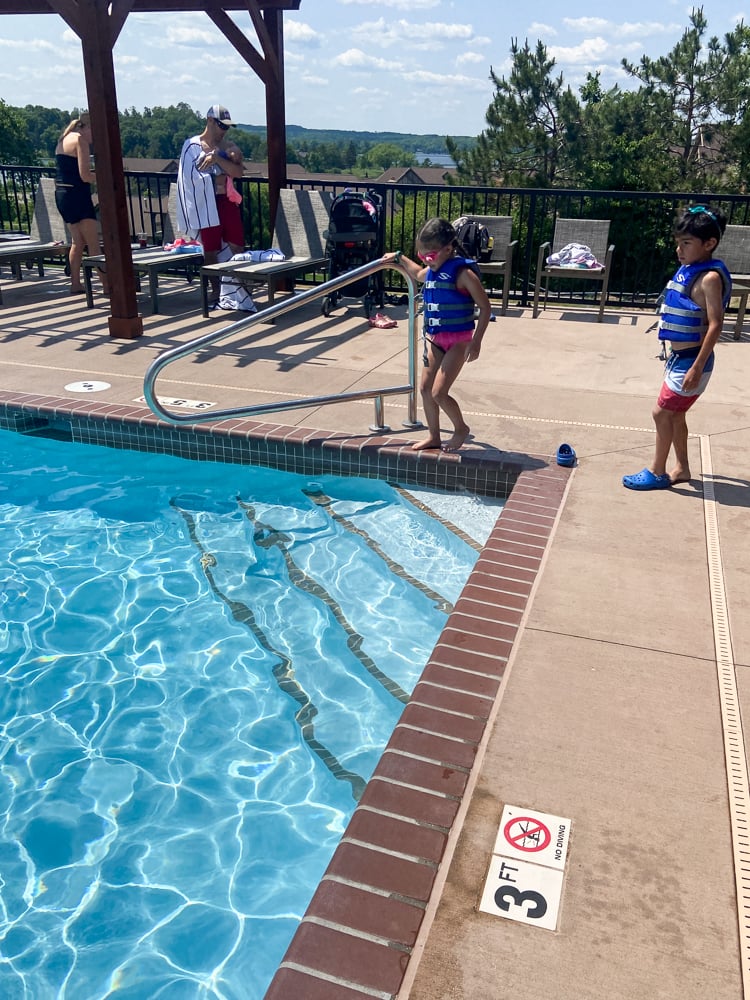 Our kids spent a couple hours swimming around, jumping in the pool and just having a blast. It was their first time in a saltwater pool and they all loved it!
Indoor Pool
In addition to the saltwater pool there's also 2 indoor pools! We didn't venture into the indoor pool since the weather was beautiful during our visit but this is a great option for rainy days or if you just need a break from the sun.
Lake Swimming and Inflatables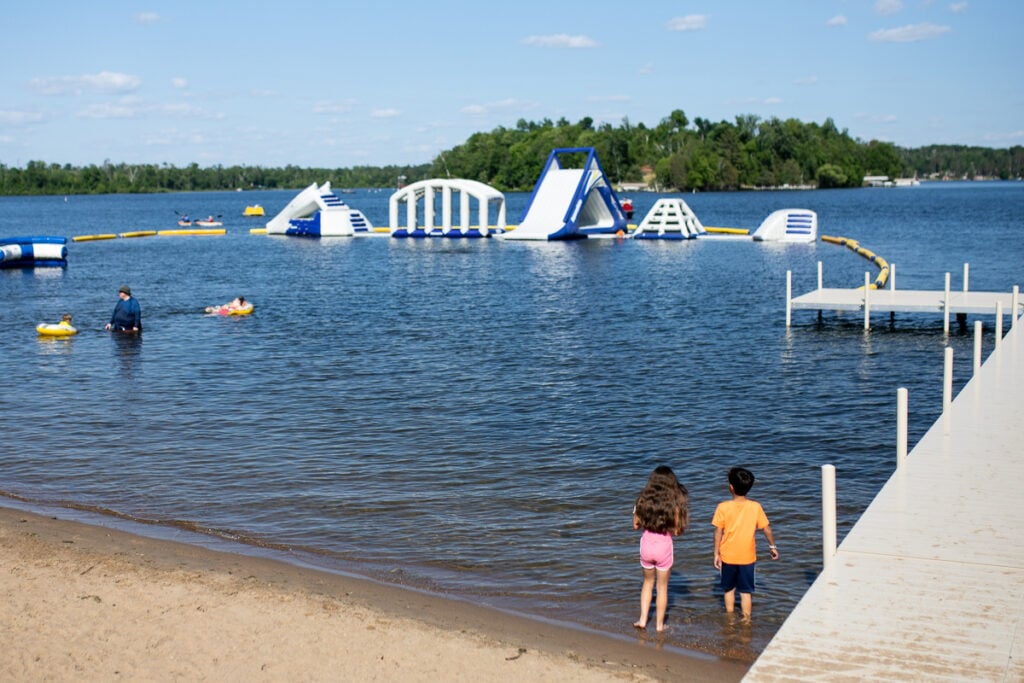 One thing all of our kids loved was spending time at the lake. Our boys loved looking for shells (surprisingly there was a ton of them!) and our fearless daughter swam to the large inflatable obstacle course complete with 2 giant slides, a trampoline, monkey bars and more!
This was truly an area for kids of all ages and all swimming abilities.
Recreation
If you have a recreation pass there's a ton of different activities that you can do in addition to those above.
We loved going to the Tennis & Croquet Club to play tennis and try our hand at croquet. Our kids were able to take a tennis lesson which was fun since none of them had ever played tennis before! They all really enjoyed it.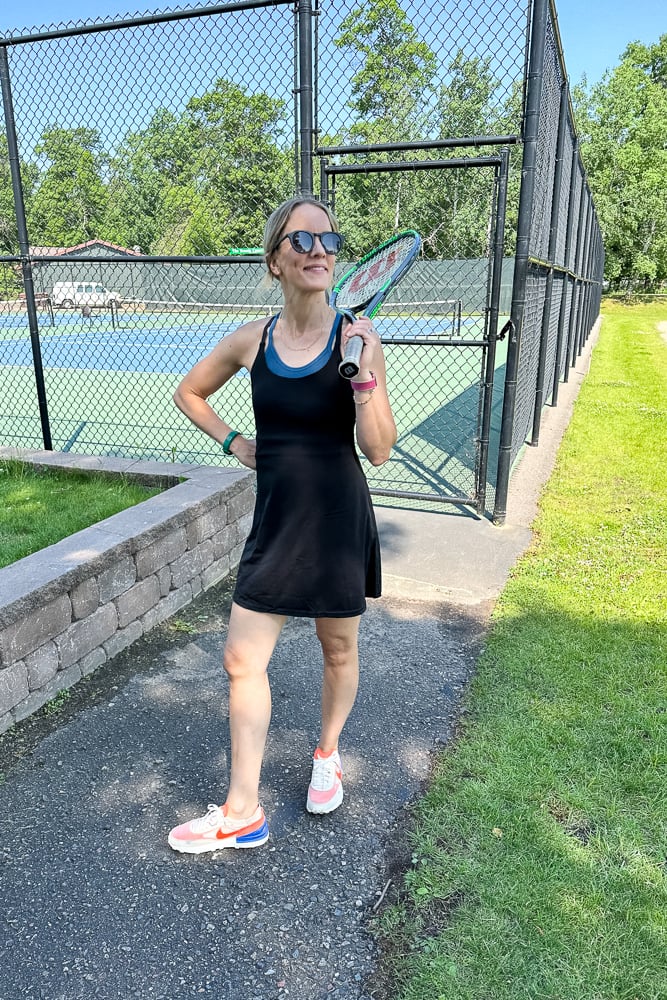 My husband and I played some tennis while the kids were at Adventure Cove during the morning! It was fun to get some adult only tennis time in. The last time we played together was the last time we were at Madden's!
There's also bikes you can use so we spent an hour biking around the area which was great. Our youngest was able to ride in an attached bike carrier that was supplied. Super convenient!!
Our kids also did some soccer on one of their fields – our oldest was SO excited there was not only soccer balls but goals too! They had basketball hoops too, a huge perk for our youngest. There's also pickleball, sand volleyball, horseshoes, badminton and shuffleboard.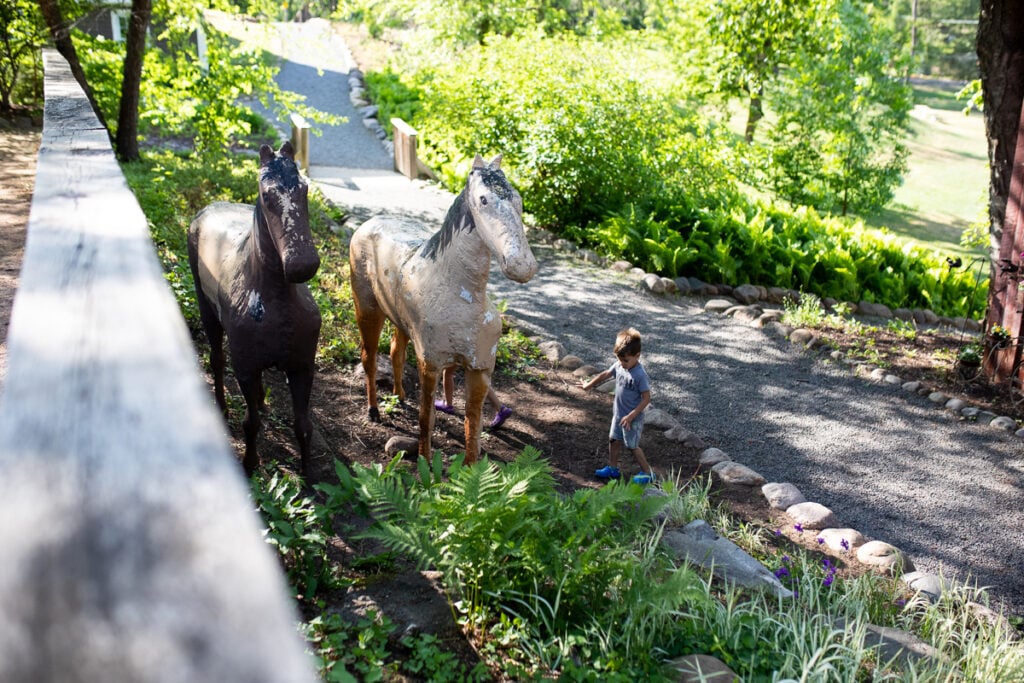 Our daughter and my husband did the banana taxi and they both LOVED it! They were taken around the lake for about 15 minutes.
You can also do boot camp, yoga and non-motorized watercraft on the marina. There's paddle boards, kayaks and more.
Other Fun
We took a pontoon ride on the morning of our last day and our kids loved being able to drive the boat. My husband and I loved the tour of the lake to learn more about the history and what celebrities had homes there.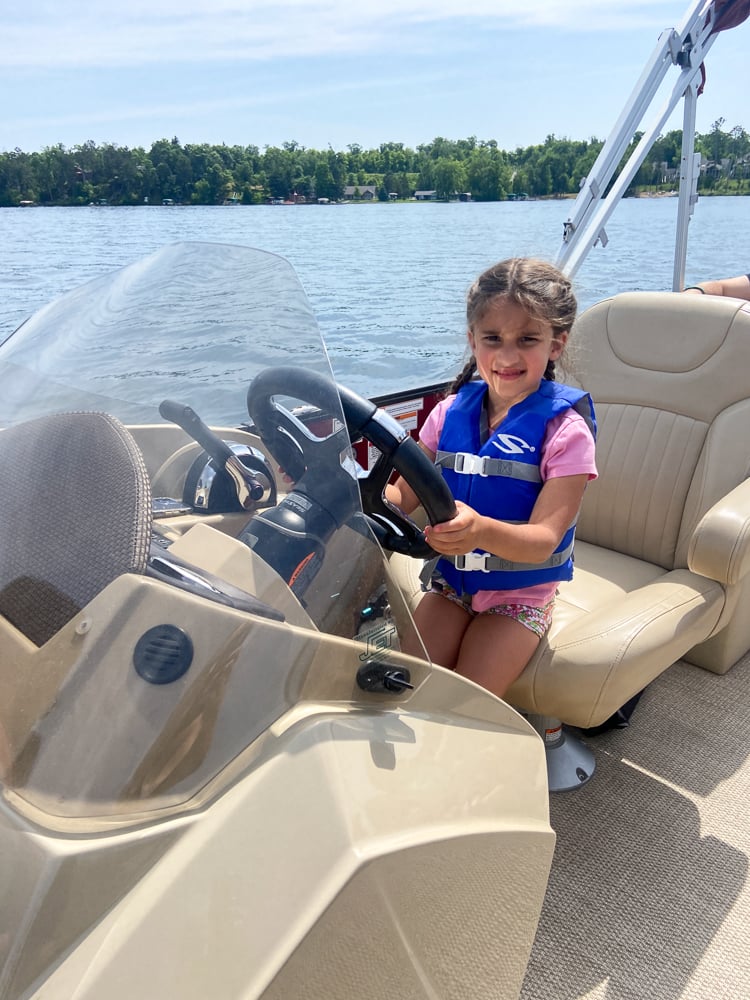 You can also do some fishing if that's something that interests you!
Madden's also has s'mores available every night starting at 8pm! Our kids are still young and go to bed early so we didn't venture out to get s'mores but you better believe in a couple years when they're a tad bit older we'll do that.
If you want to learn about all of the restaurants, you can head to this post which has even more things that we did during our first trip to Madden's as well as even more adult things to do at Madden's!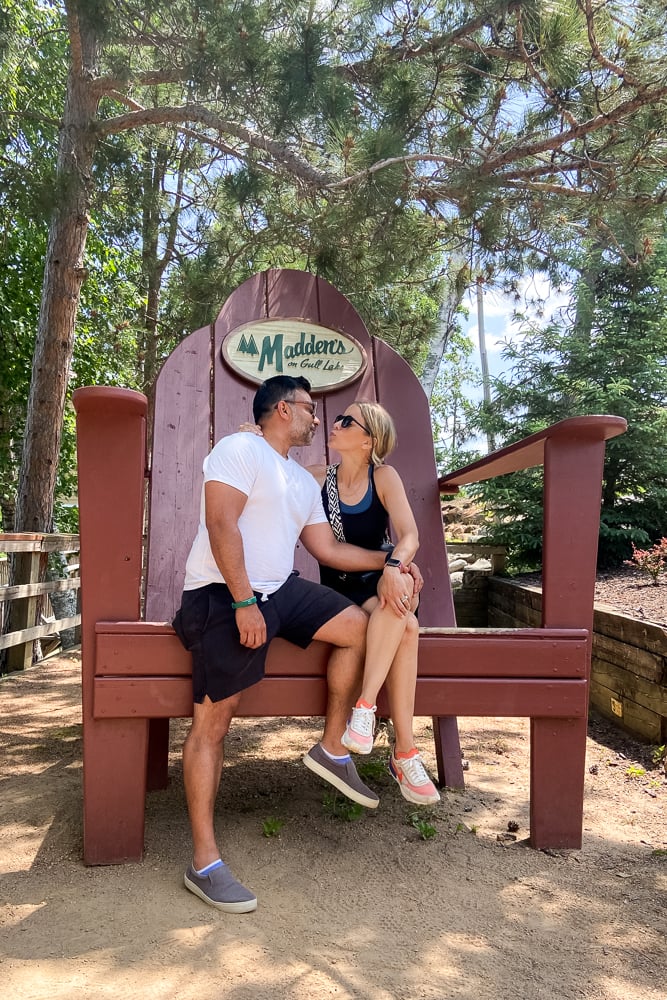 Be sure to also head to their website to learn even more and use the code Jen for 10% off your stay!
Please note: Discount applies to lodging-only rate (Best Available Rate). Discount is valid for new reservations in 2023. Cannot be applied to existing reservations. Cannot be combined with any other offers or promotions.