As someone who has dealt with really bad postpartum hair loss, I've been looking for something that help get my hair back to where it was pre-kids! I really want my hair to get back to the long, healthy hair it was pre-kids.
If you're anything like me, you've seen Vegamour ads everywhere and have always wondered – "does the Vegamour serum actually work?".
Well good news, I'm here to tell you that it actually does! Below you'll find my whole review, photos and some background on the Vegamour brand.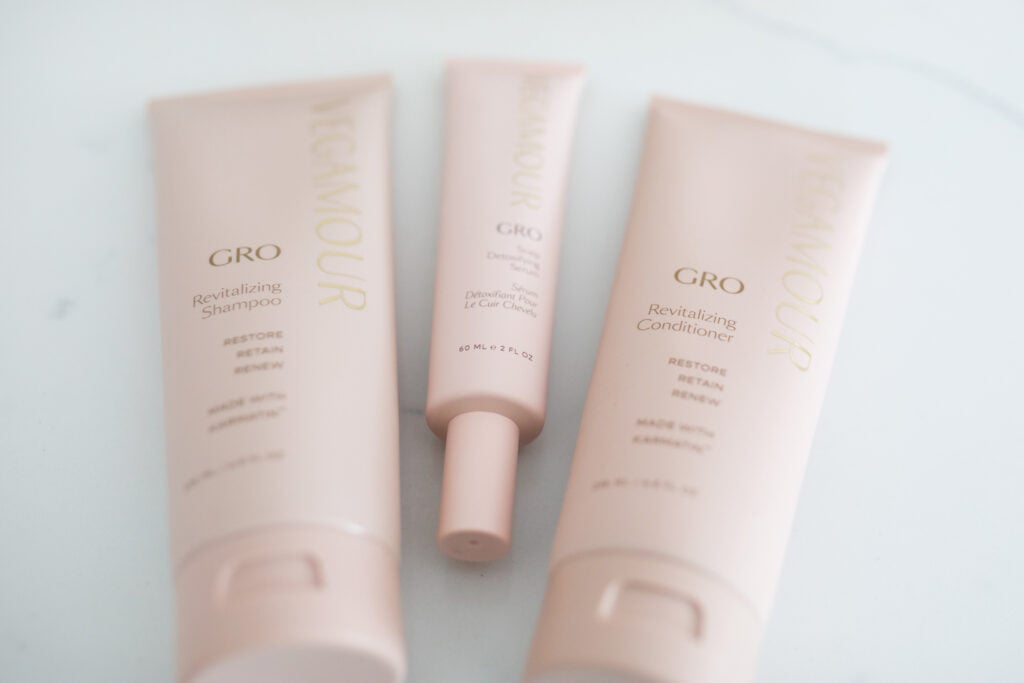 To give you some perspective, I've always had thin hair, never super thick hair. When I had my first child I lost SO much hair that my hairstylist told me that I was the worst case of postpartum hair loss she's ever seen. I ended up having 3 kids in just over 3 years so my hair took a toll.
I did a lot of things to help with keeping what hair I had left healthy like switching hair tools and using better hair products and have done tons and tons of research on hair growth products like Vegamour.
I'm about 1.5 months into using Vegamour's products so I wanted to share my experience with you! Since they do say you need a full 3 months to see total results I'll update this once I hit 3 months.
Vegamour sent me products to try but everything in this post is my own opinion!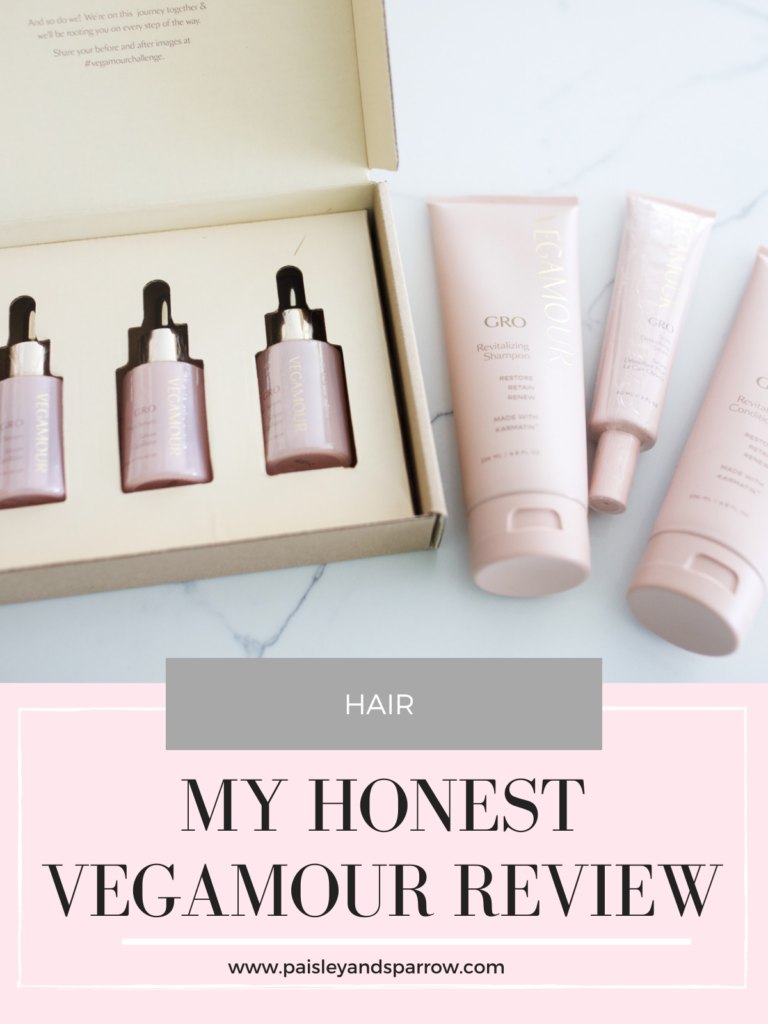 Paisley + Sparrow is a participant in the Amazon Services LLC Associates Program. This post may include affiliate links which means I may earn a small commission if you shop using the links below at no additional cost to you. 
Vegamour Review
Let's start off with my review and then move into more details about the product. Like I said, it's only been 1.5 months and to be honest, I'm not very consistent at using it! I don't wash my hair every day and I have a hard time remembering to apply it on the the days I don't wash my hair.
I'm using the GRO Essentials Kit which includes the shampoo, conditioner and serum. I typically wash my hair about 2-3 days a week and have been applying the serum roughly the same number of times in a week. I mostly apply the serum on my temples and at the top of my head since that's where I've noticed the most hair less.
Even with not consistent daily use, I've noticed that I'm getting more growth! My 2 worst spots have always been right at my temples and as you can see in the photos, there is definitely some more hair growth in those spots.
I've also noticed way less hair loss over the past month. Typically when I dry my hair my hands end up full of lost hair but now that I'm using the hair growth serum I'm only getting a few strands, if any! That was one of the most notable changes for me. I know that overall I'm keep more hair on my head and am starting to see some growth and baby hairs on the parts that need some more growth!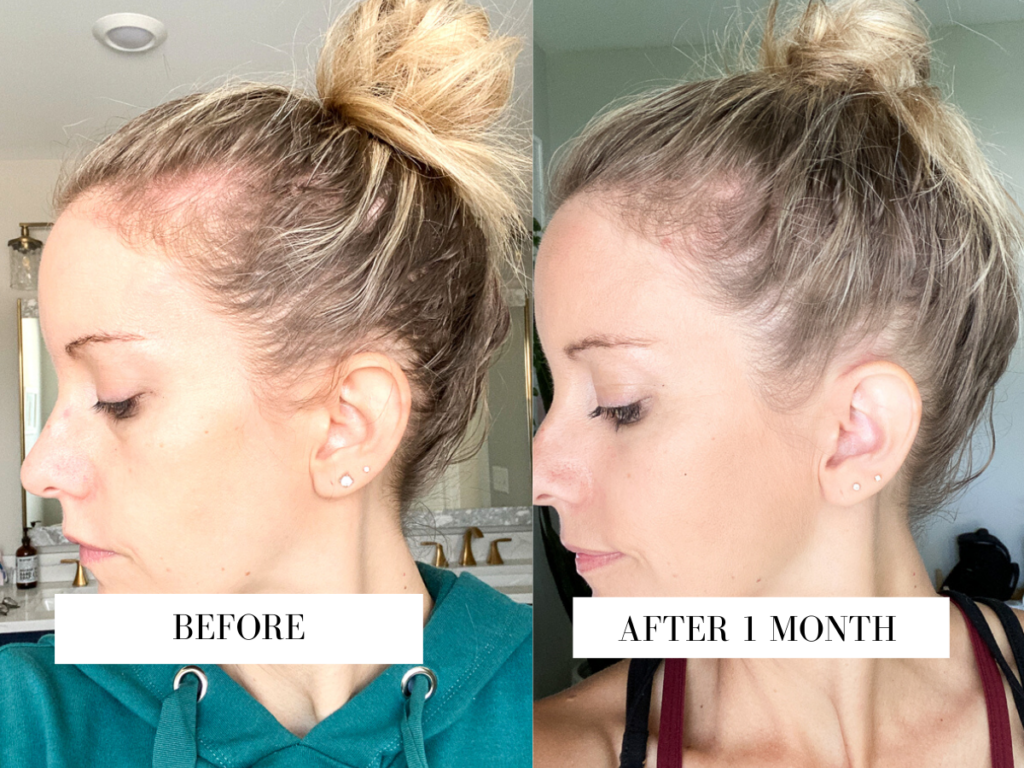 Yes, I have more to go but seeing as though I have hit 3 months of use, I'm really pleased with the positive results I've had so far!
Pros
See results with inconsistent use
Serum is super easy to use
Less shedding
Cons
Can be hard to remember to apply
Serum is super easy to use
Seeing actual growth
Vegamour the Brand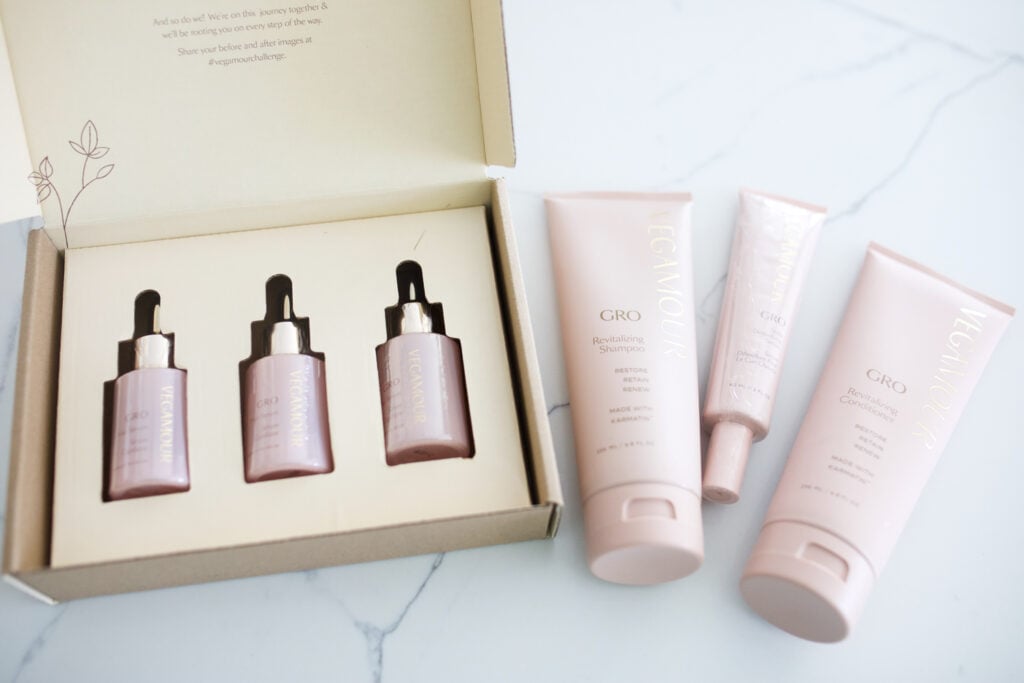 So who is Vegamour? Vegamour, as they say on their website, "is a holistic approach to hair wellness that incorporates clinically tested plant-based ingredients that work in tandem to promote healthy, beautiful hair naturally, without the use of chemicals".
They are a vegan haircare brand that created plant-based products to help promote healthy, beautiful hair without the use of harmful, harsh chemicals.
The founder of Vegamour, Dan Hodgdon, spent every summer working on his uncle's organic farm only to realize that living organisms (like your hair) are affected by the elements in their environment.
That's why he uses the holistic approach to create plant-based products that aided in new hair growth and to give you healthier hair!
Is Vegamour legit?
Yes, Vegamour is a legit hair care brand (and their products actually work and give you real results!). It's easy to wonder if a brand is legit when you see tons of ads on social media and people making claims about better hair because of them. But you can be certain, Vegamours is a reputable company!
Vegamour Products & Ingredients
Vegamour has a ton of different products that helps with different hair issues. ALl of the products are 100% vegan, paraben-free, eco-ethical and cruelty-free. Here's some of their most popular products.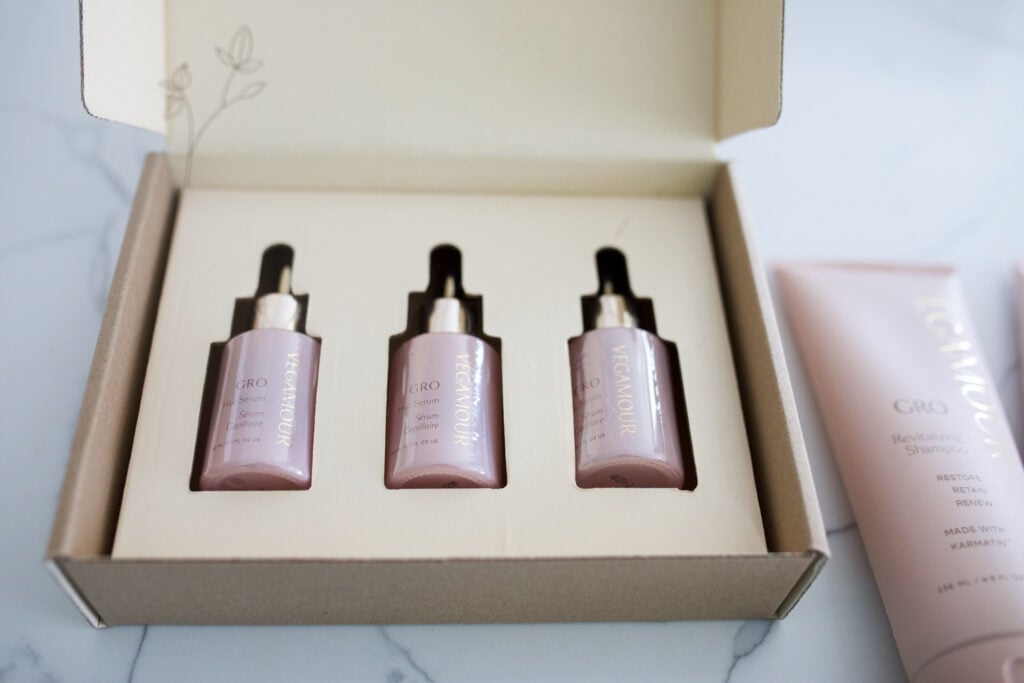 The Vegamour GRO Serum is one of the products I used and had my eye on for SO long. It's super easy to use too! All you do is fill the dropper with the serum and apply it on all of the spots you'd like to see new hair growth. I focused on my temples and the top of my head.
Ideally you want to put it on dry hair or towel-dried hair and it doesn't matter when you apply it (morning vs night). And you don't need to wash it out! You leave it in and style your hair as normal.
I found that I was most consistent putting it on in the morning time when I styled my hair. Ideally I wanted to use it at night so it could dry while I slept but I often times forgot to put it on.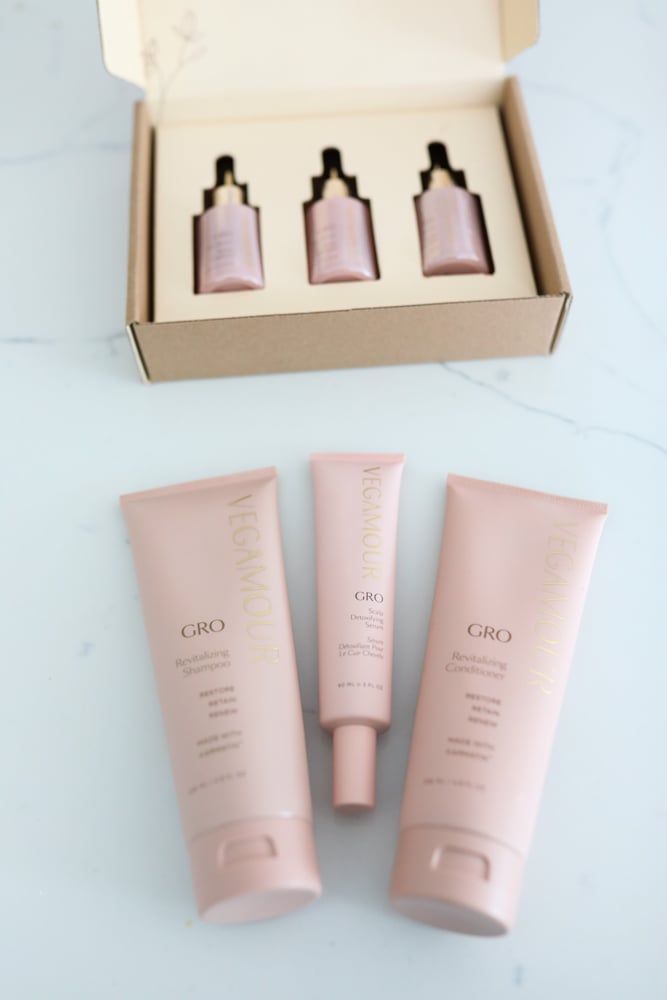 I would apply it before I got dressed and put on my makeup so it had time to dry before I styled my hair.
The key ingredients in the hair serum is Curcumin Stem Cell Extract, Red Clover and Mung Bean. Curcumin Stem Cell Extract (aka turmeric) has been shown to prevent causes of hair loss in clinical studies. The Red Clover is rich in isoflavones and can minimize hair thinning and hair loss while the Mung Bean contains copper which helps with scalp and hair health and can help strengthen the hair follicles.
If you have stress related hair shedding, the advanced serum could help you! It has the added benefit of broad-spectrum hemp CBD to help calm down stressed out scalps. It has all the other ingredients as the other serum with the addition of the cannabidiol.
I didn't use this one since I used the other Gro serum so I can't attest to how well it works!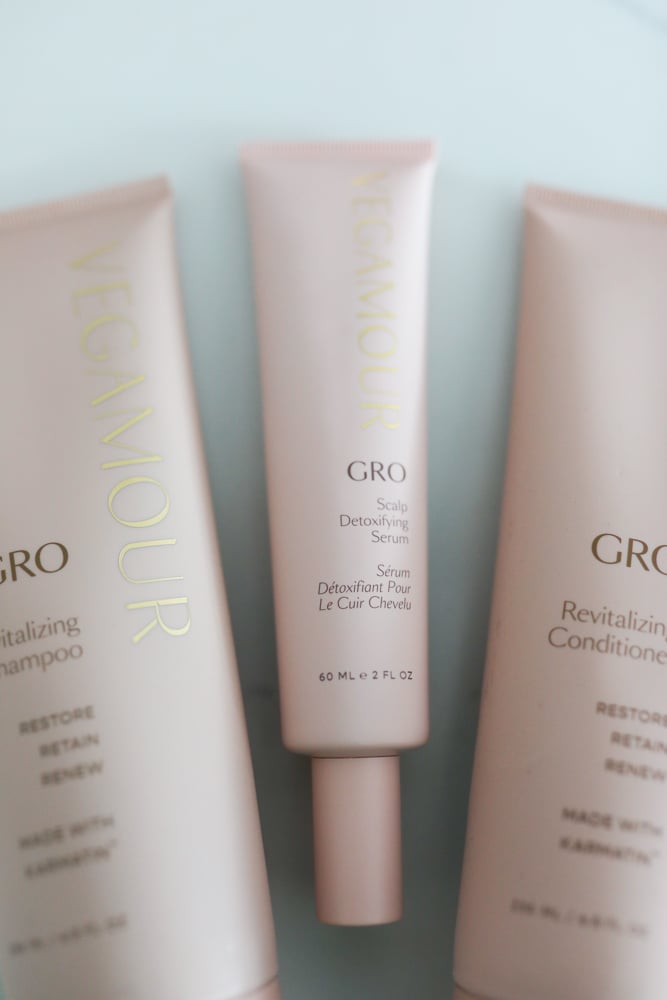 The Scalp Detoxifying Serum helps to clear away any buildup or excess oils from your scalp.
You use this by applying the product onto your scalp (it's easiest to part your hair into sections) and actively massage it on scalp for a minute or two. Then let it stay on your scalp for 5-10 and rinse!
I love this serum! I feel like it does a great job of clearing up all of the leftover product from styling my hair in between washes.
If you're someone who deals with dandruff or flakes, this is a great product for you.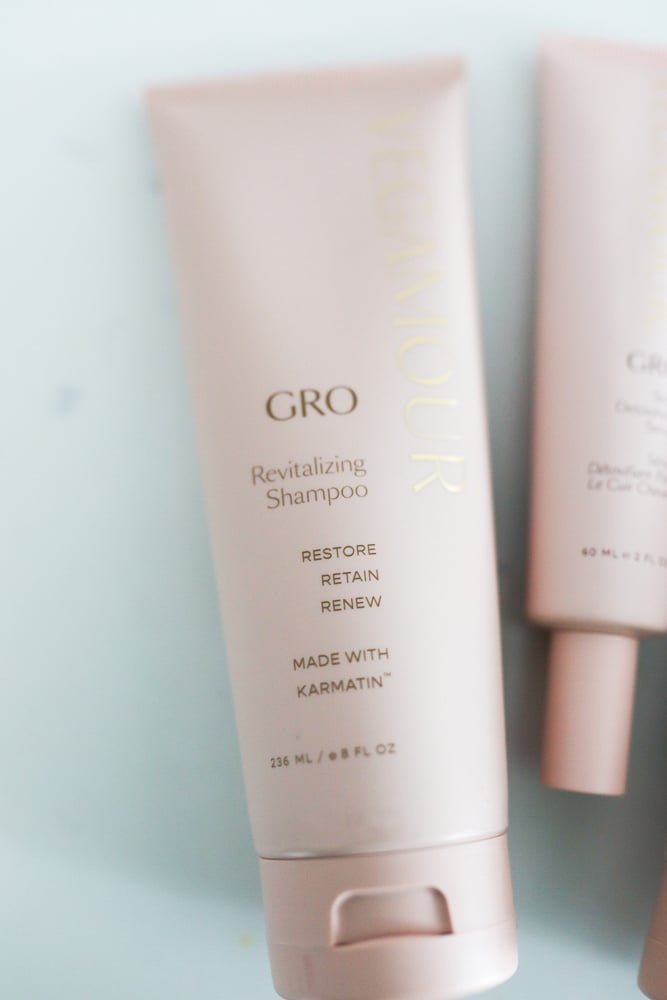 The other products I used was the Revitalizing Shampoo and Conditioner. The one funny thing is that it sort of smelled like sun tan lotion! I don't think that my hair ended up smelling like that after I rinsed it out though.
The GRO Shampoo and Conditioner has Karmatin which is a vegan alternative to keartin and silicone. This ingredient really helps to strengthen your hair and bring back the shine to it. It also has wild harvested marula, baobab and ximenia oils to help moisturize and nourish your hair. You can use this on color treated hair without any issues!
One product I really want to try is the GRO Lash and Brow kit. As someon who live through the early 2000s, my over-plucking has done a number on my brows! The lash serum and brow serum have the same natural ingredients as the hair serum, just packaged in a way to make it easy to apply way.
If you use these, you can see results from the lash serum in 30 days and the brow serum in 60 days.
One super popular product that I haven't yet tried is the Pure Marula Oil which is a product that can be used for both your hair or skin! This oil as made from marula tree fruit and has antioxidants, omega fatty acids and oleic acid to help tame flyaways and frizz and leave your hair silky smooth.
You can also use it on your skin to help combat fine lines and wrinkles!
Vegamour has even more products like a dry shampoo, a hair mask, a scalp massager and even supplements to aid in hair growth.
Should You Try Vegamour?
So the burning question is, should you try Vegamour? Will it work for you? In my personal opinion, yes! Vegamour has a 90 day back guarantee so if you realize that it doesn't actually work for you, you can easily get your money back!
Everyone's hair is different and everyone reacts to things differently so it's really hard for me to say that yes, this will work for you. However, with so many positive reviews and people seeing a big difference from it, it can't hurt!
FAQs
How effective is Vegamour?
Of people who use the GRO Hair Serum, there's been up to 52% more density and up to 76% less shedding.
What are the side effects of Vegamour?
Vegamour is a plant based product so there are no known harmful side effects of it.