*This post was sponsored by Walmart but all thoughts and opinions are mine.
Ready for winter? I'm not. 🙂
If you need to spruce up your winter wardrobe a bit, I've got you covered! Walmart has some amazing cute pieces that fit all your needs from lounging around the house to dinner with girlfriends.
I love that you can easily shop online at Walmart and have it delivered to your door. I also on occasion do in store pick up for things I need quicker! It's so easy to find great items and get them quickly that way.
Here's some of my favorite Walmart fashion finds! I love being able to wear items more than one way so you'll see each item styled slightly different. I'd love to know your favorites!
Head to the bottom to shop this post!
Winter Outfit Ideas from Walmart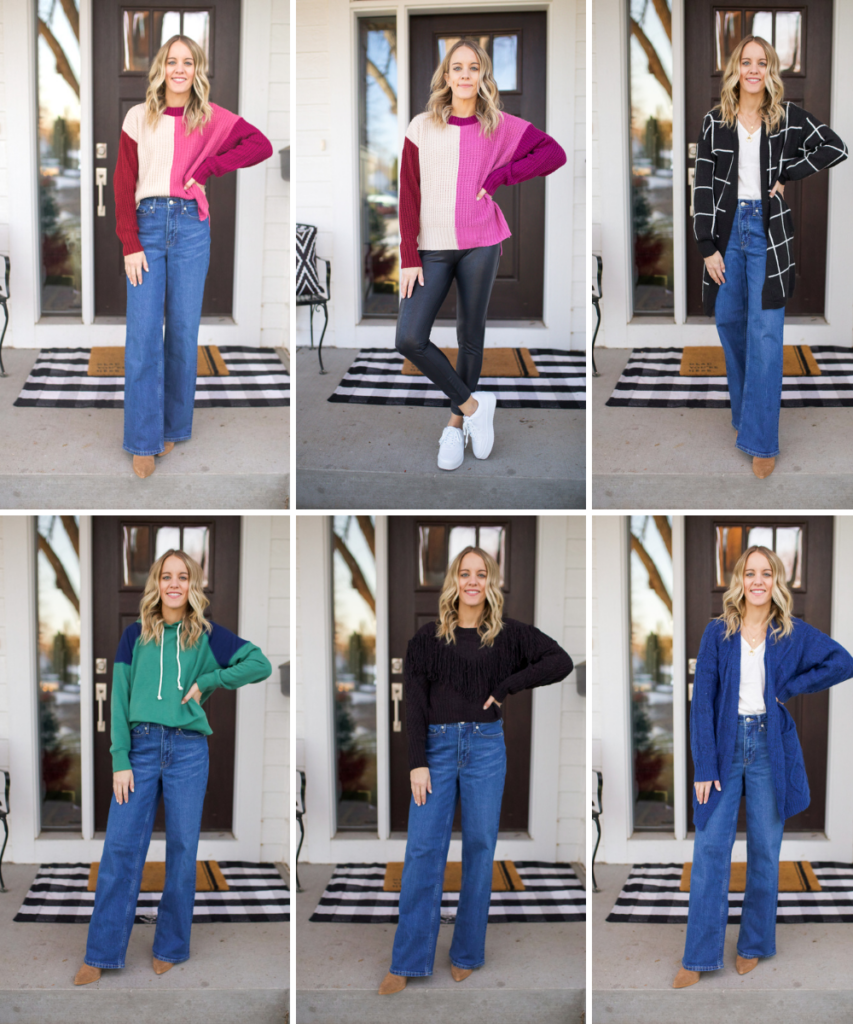 This post contains affiliate links.
Sweatshirt Outfit – Casual vs Dressed Up A Bit:
I'm not even kidding when I say that the second this sweatshirt arrived on my doorstep I immediately put it on and it's been worn on constant repeat ever since!
I absolutely love the matching pants as well. Both fit TTS. In the photo I'm wearing an XS on the top and a small on the bottom but I exchanged the bottoms for my normal XS size.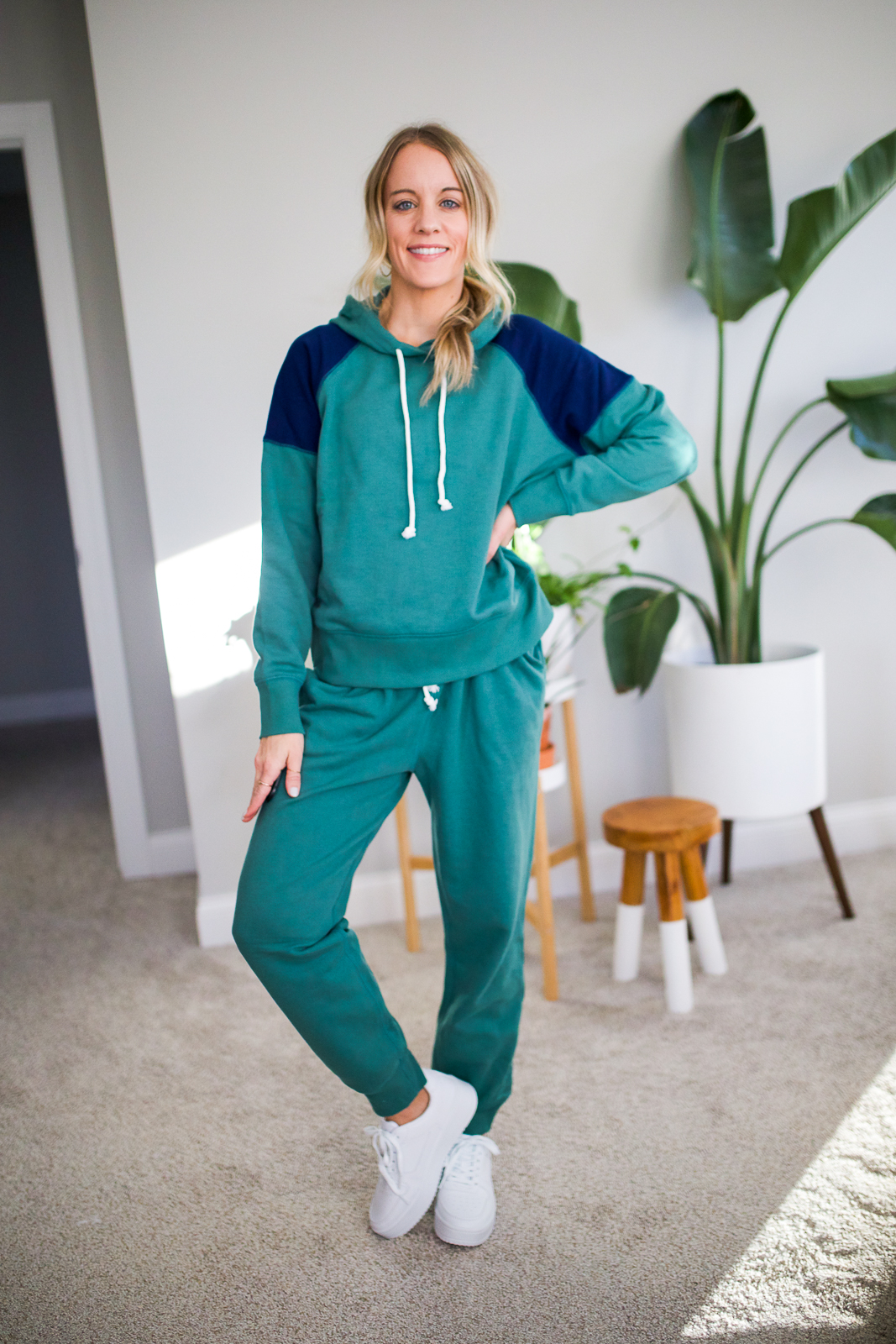 Sweatshirt & Pants & Platform Sneakers
Taking the same top but swapping the bottoms can completely change the look! I paired it with high rise flare denim and boots to give a more elevated feel. The jeans are super comfy and I love them!
Size down on the jeans if possible – they run slightly big.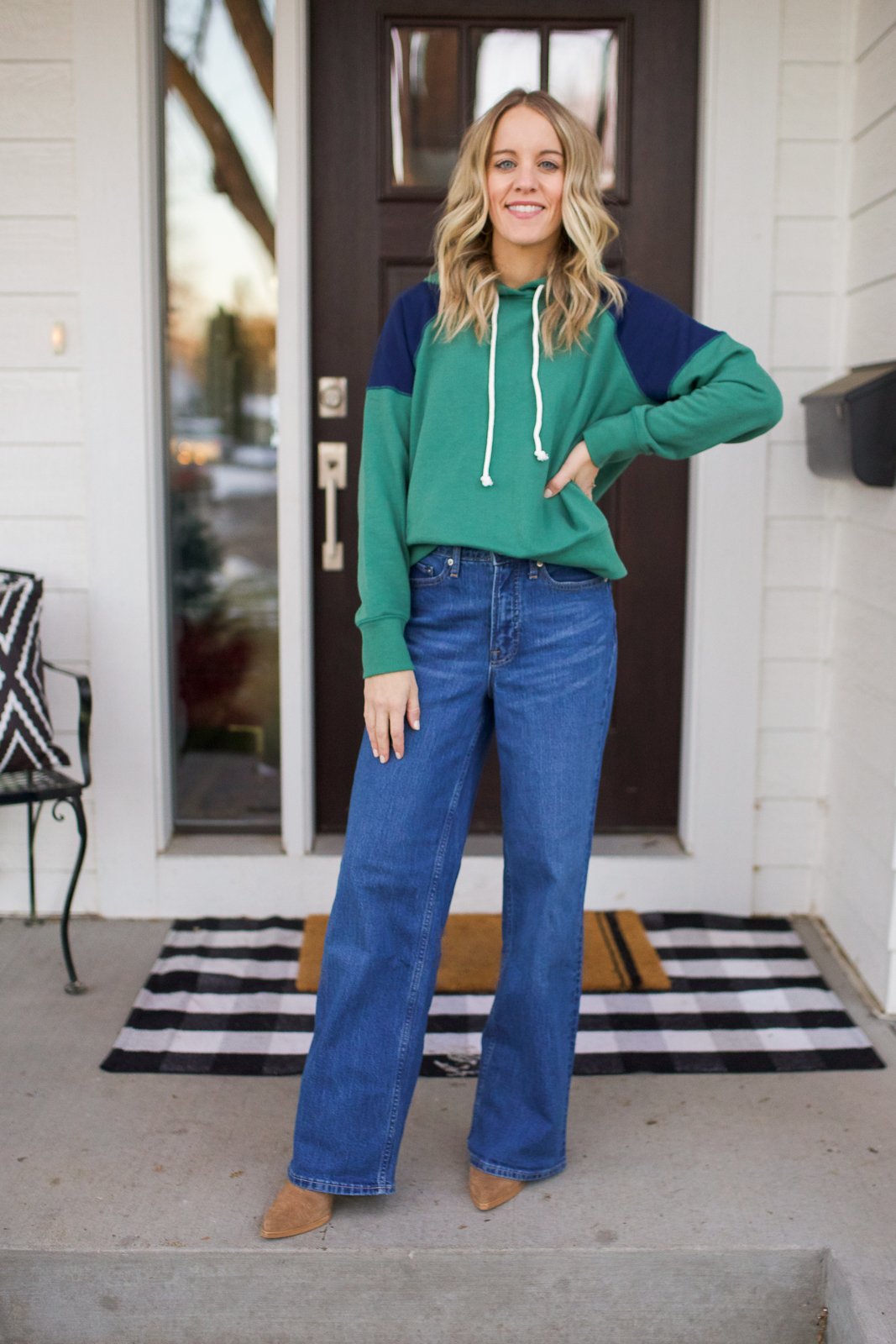 Pink Sweater Outfit – Leggings vs Jeans:
I love this fun colorblock pink sweater. It's super soft and great for dressing up or dressing down!
I got both the leggings and the jeans from Walmart too! Faux leather leggings are a fantastic closet staple and actually super versatile.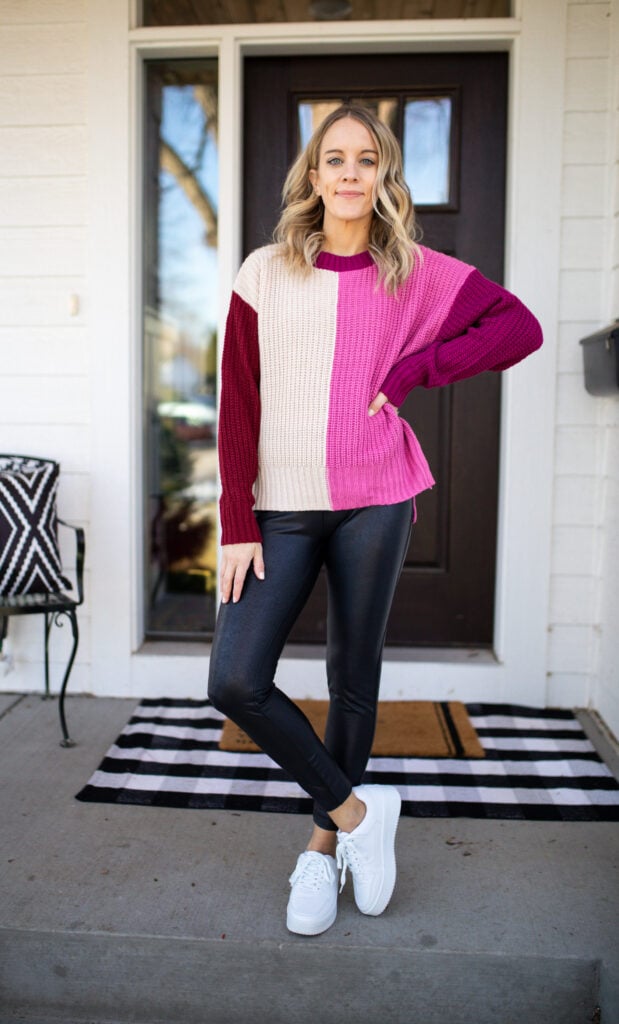 Faux Leather Leggings & Pink Sweater & Platform Sneakers
High waisted flare jeans are on trend right now and these are incredibly flattering. I love you swapping the leggings for jeans instantly made this look a great date night outfit! I did a little front tuck to give my waist some definition.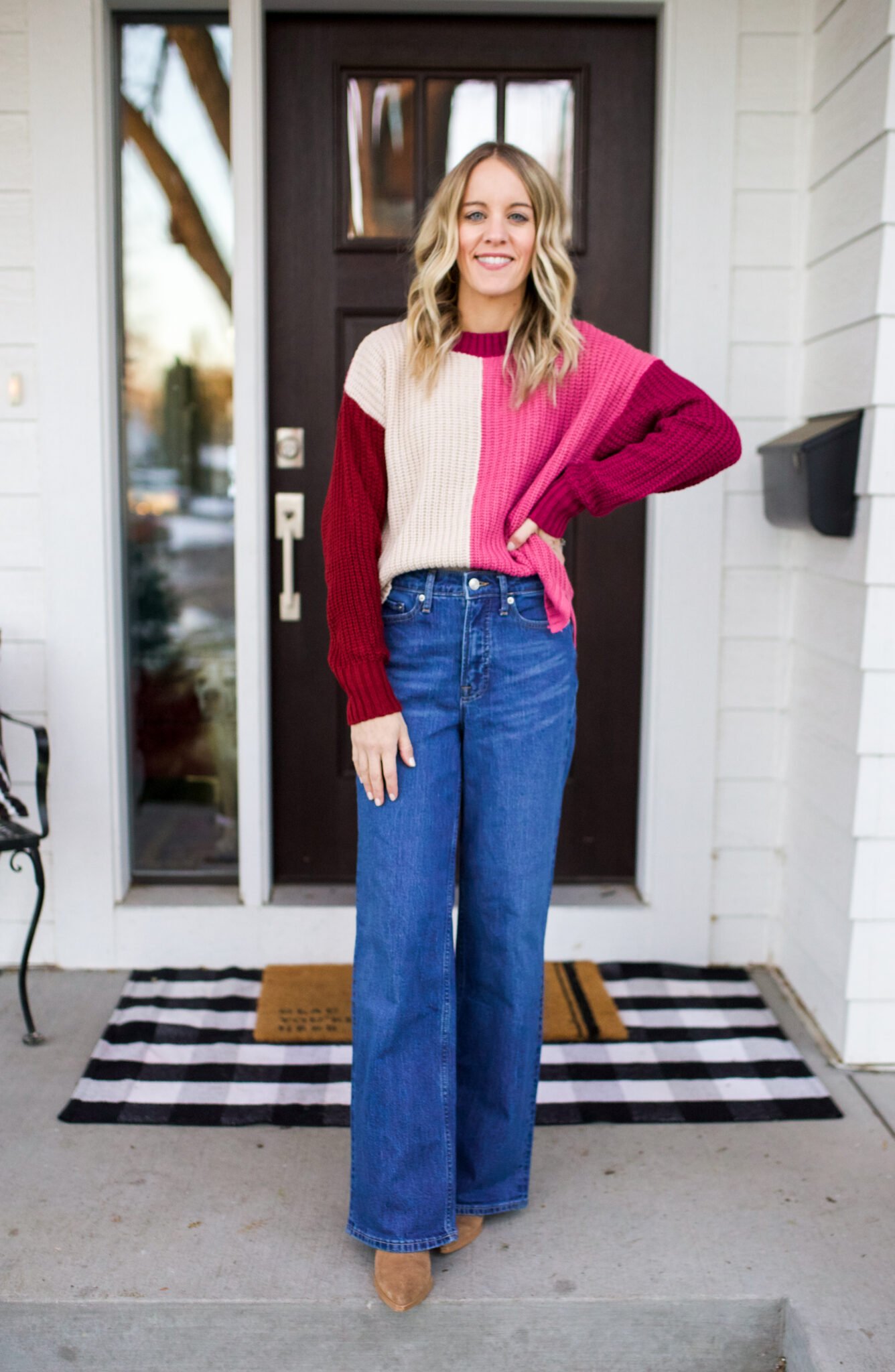 Jeans & Cardigan – Black vs Blue
Do you live in cardigans during the colder months? Here's two great options for you!
This black and white cardigan has a belt to easily tie and accentuate your waist and give your outfit a completley different vibe. This one is great for layering on top of dresses to keep you warm and add some additional texture to your outfit as well.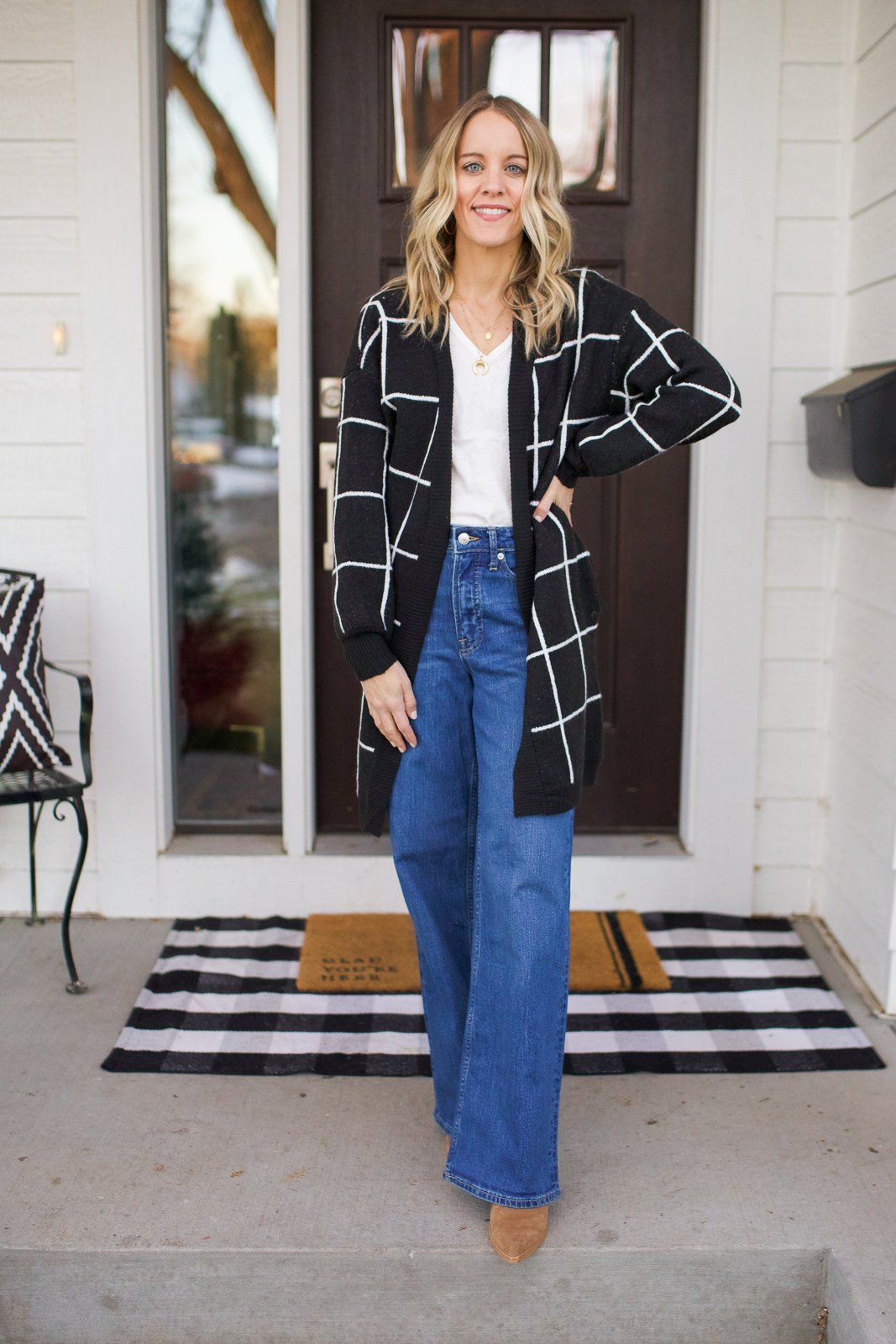 Wide Leg Jeans & T-Shirt & Coatigan
This blue cardigan is one of the softest things I own! It's all the things you want in a cardigan – soft, cozy, and stylish. It has knit detailing throughout and nice large pockets to keep your essentials close all day long.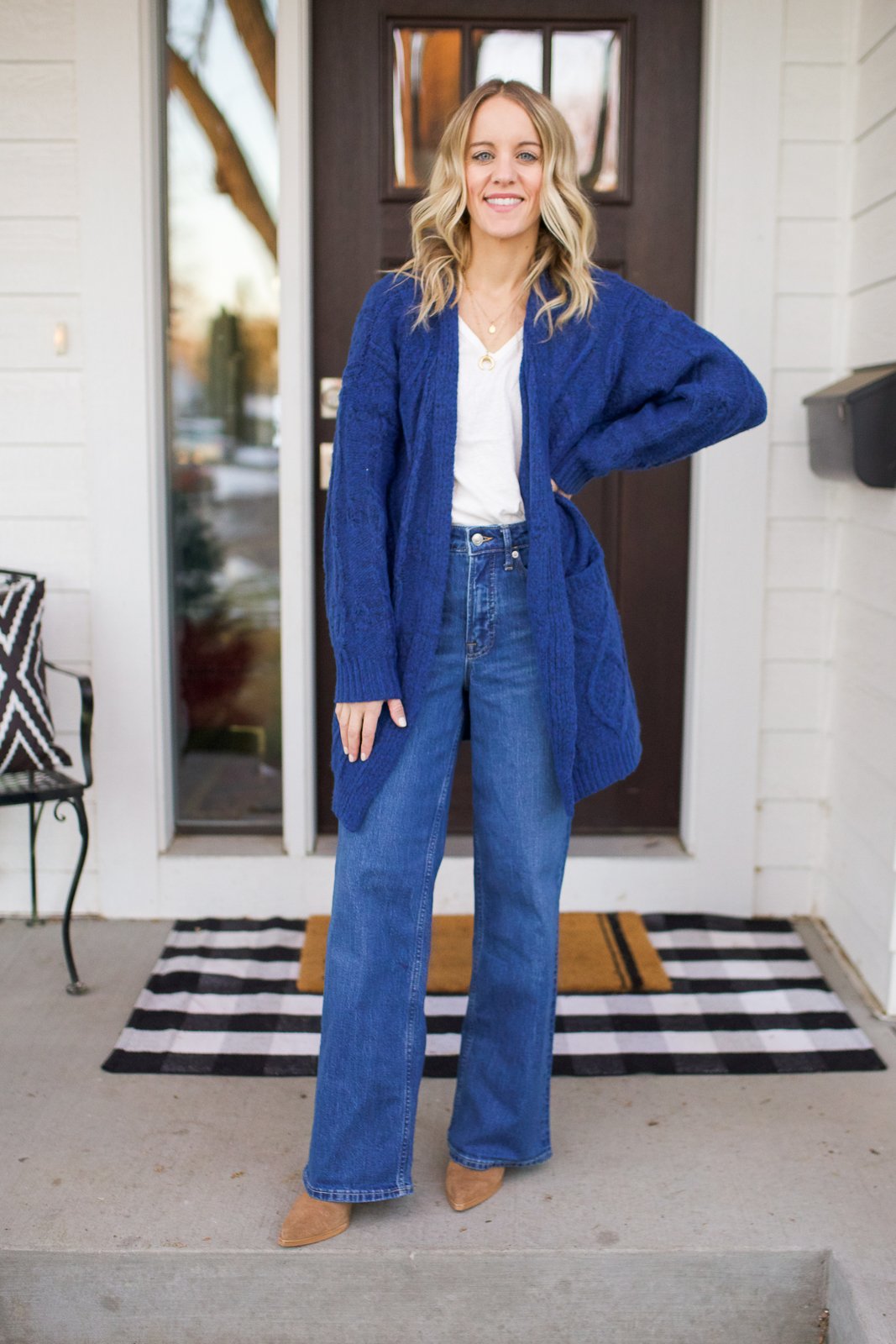 Wide Leg Jeans & T-Shirt & Cardigan
Leggings Outfit:
If you're a leggings kinda gal, here's two additional options for you! I really love the shacket style tops and when you live in a cold weather climate you absolutely need to layer!
I found this fun graphic sweatshirt for under the jackets that's long enough to cover my butt but also fitted enough to be able to layer. It comes in tons of different prints!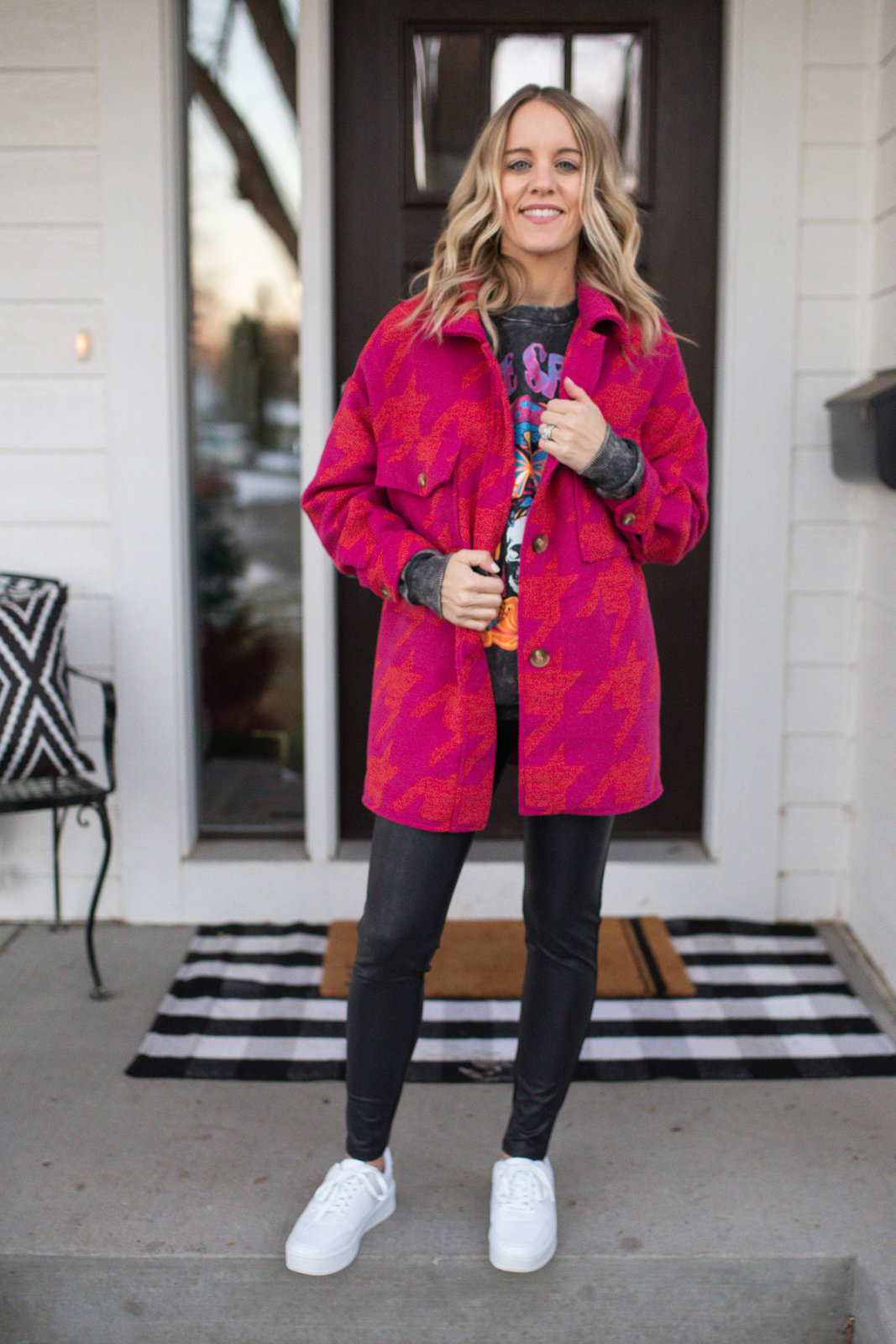 I love the bright pink color of this shacket. It has slightly shorter arms so if you have long arms just know that this might be a tad too short on you. It fits oversize so size down one if you want a slightly more fitted feel. I'm wearing a size small.
Faux Leather Leggings & Graphic Sweatshirt & Pink Shacket & Platform Sneakers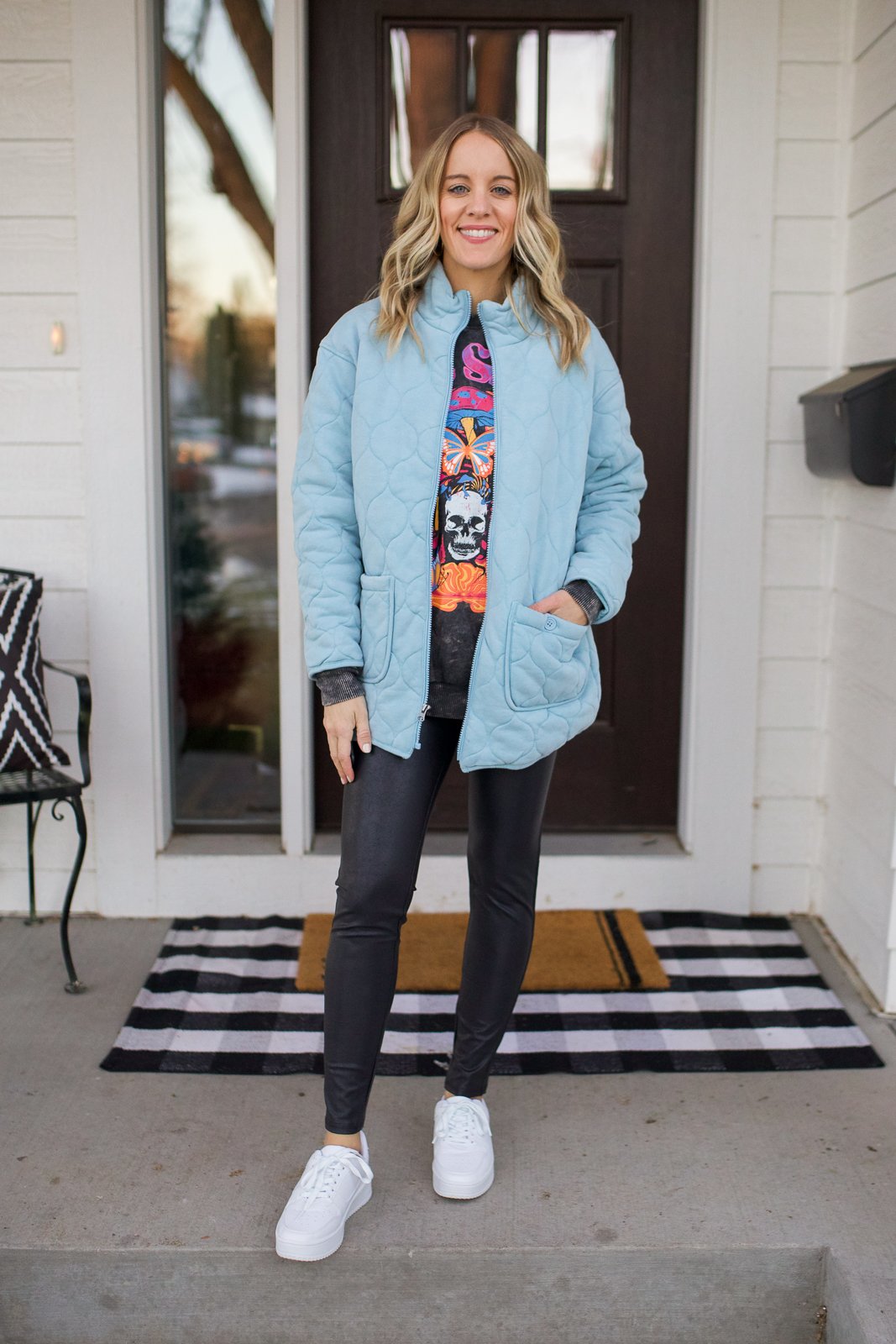 It comes in other colors and also fits oversized.
Faux Leather Leggings & Graphic Sweatshirt & Blue Quilted Jacket & Platform Sneakers
Want to shop this whole post? You can do that here!