When it comes to baby products, there's a LOT of options. It can be hard to know which one is a good option for your little one!
As a mom to 3 kids I've more than my fair share of baby products over the past 7 years. One that we've used since the beginning and continue to use is Tubby Todd!
There are lots of good products out there and there are lots of not so good products and Tubby Todd is one of the good ones. Great products, clean ingredients and so much good stuff for the whole family!
Today I want to introduce you to the Tubby Todd brand and some of my favorite products. Let's get started!
Just want the discount code? Get 10% off your purchase by simply using this link.
Tubby Todd Bath Co History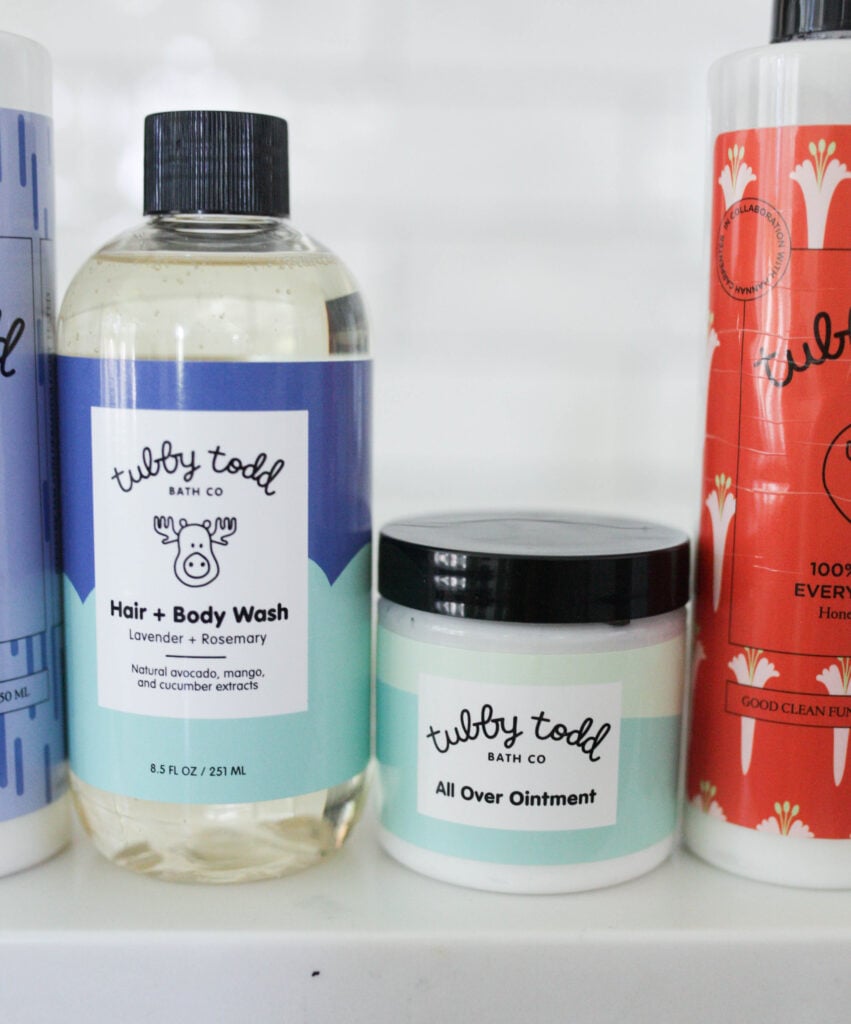 Paisley + Sparrow is a participant in the Amazon Services LLC Associates Program. This post may include affiliate links which means I may earn a small commission if you shop using the links below at no additional cost to you. 
Tubby Todd was created by a mom of 4, Andrea Faulkner Williams back in 2014. Their family had sensitive skin issues – everything from dry skin to eczema and they couldn't find a product that worked for them.
Some of the best brands (such as my diaper bag from Austin Fowler) are created out of need, aren't they?
Eventually Andrea became frustrated with wasting money on products that didn't work and decided to make her own.
They have everything from body wash, lotion, hair conditioner, an all over ointment, bubble bath, sunscreen and so much more!
Tubby Cares
One thing that I love the most about Tubby Todd is their mission – clean ingredients, reduce, ruse, refill and giving back.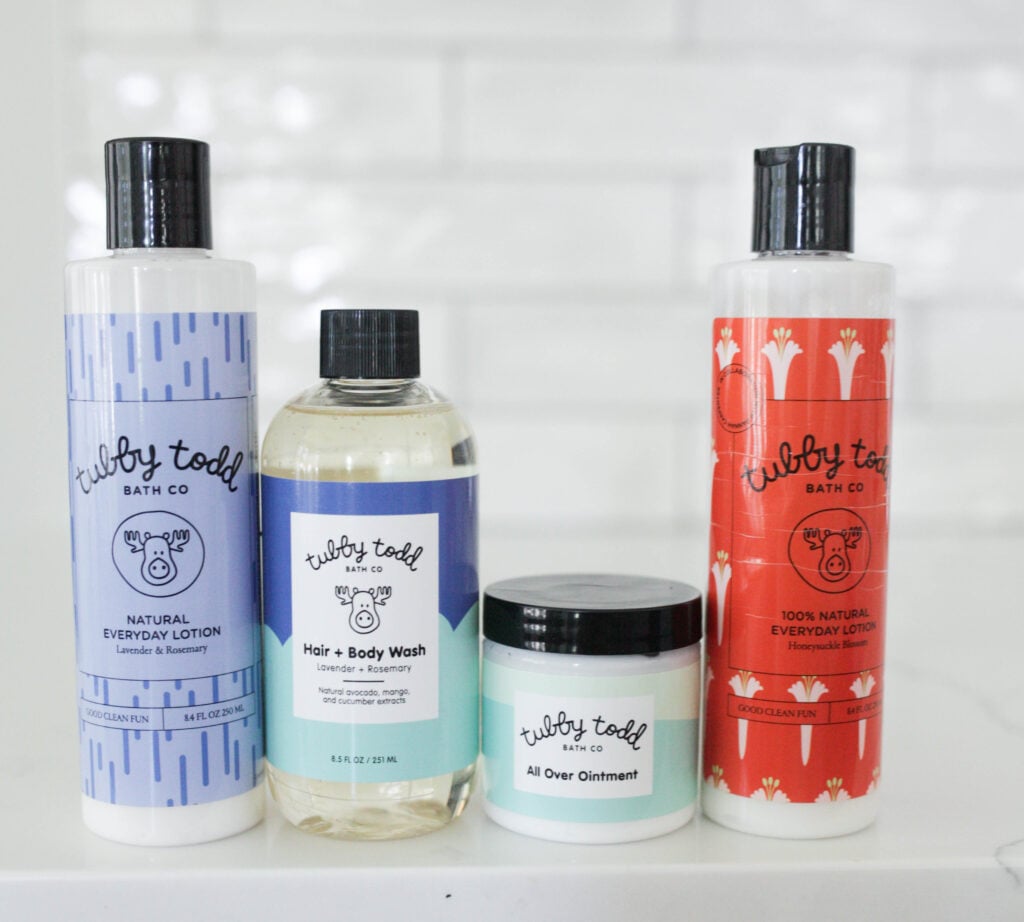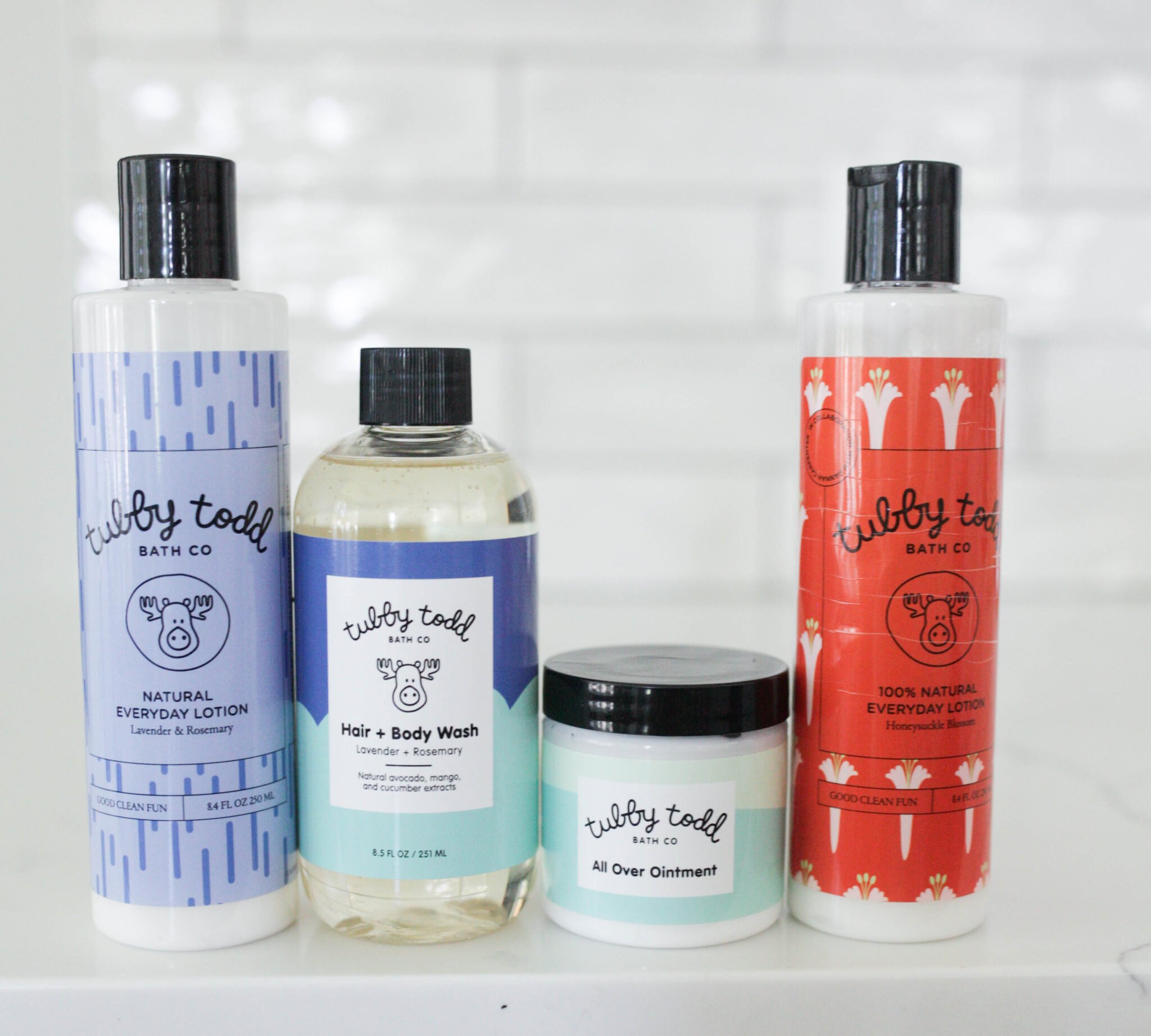 All of their products are made using gentle ingredients and natural plant based extracts. They go through intense testing to make sure they are safe for your newborn (and you!). They're also made in the USA.
They do a ton of work to be sustainable from launching refill stations so customers can bring in empty bottles to fill them up rather than getting new ones each time, adding more reusable glass bottle options, increasing the size of the bottles to help reduce the need to reorder and more!
They also give back to their community. They partner with Baby2 Baby to donate basic hygiene to kids and families in need.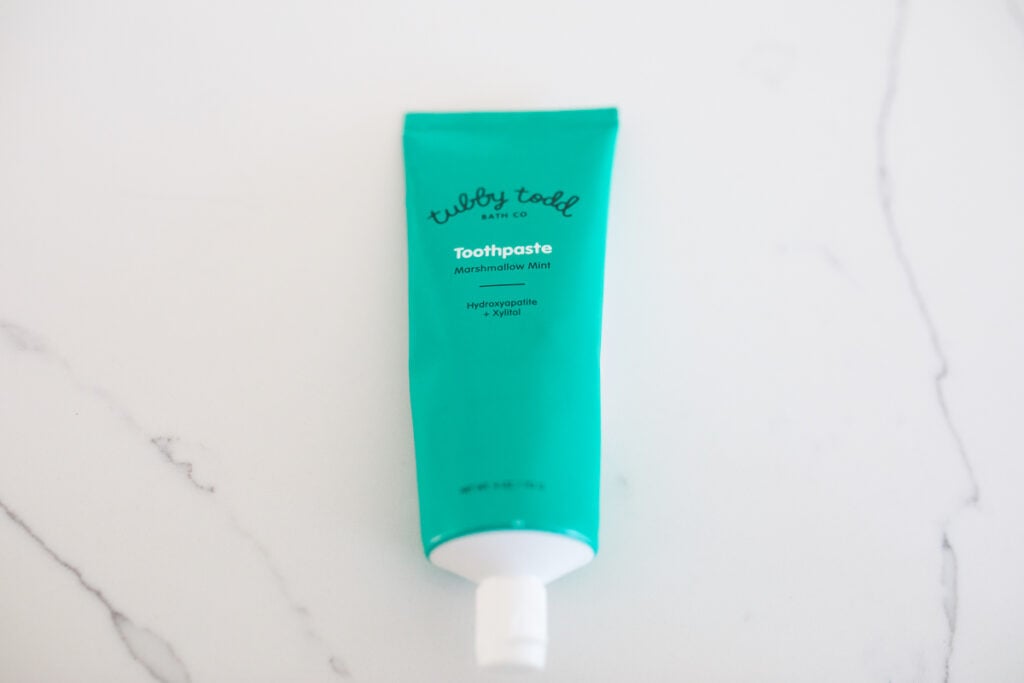 Tubby Todd Review
I've used most of the Tubby Todd products that they carry over the years so here's my review on the ones I've used!
But before I share my review of each product, here's my general review of Tubby Todd products as a whole. I have yet to use one product from Tubby Todd that I didn't like.
AND they keep coming out with new and amazing products for the whole family. Our go to products are the Hair + Body Wash, All Over Ointment and Everyday Lotion. I initially only used the All Over Ointment on my youngest who has a bit of sensitive skin but switched to using it on all of my kids during the winter months when it's so dry.
It has helped tremendously! The dry patches are few and far between on my youngest and my older two never complain about itchy dry skin.
The only negative I have about any Tubby Todd product is that the kids will sometimes complain if soap gets in their eye. We do our best to avoid that but when the inevitable happens they will sometimes complain (but not always…so I honestly can't be certain it's a real bother to them!).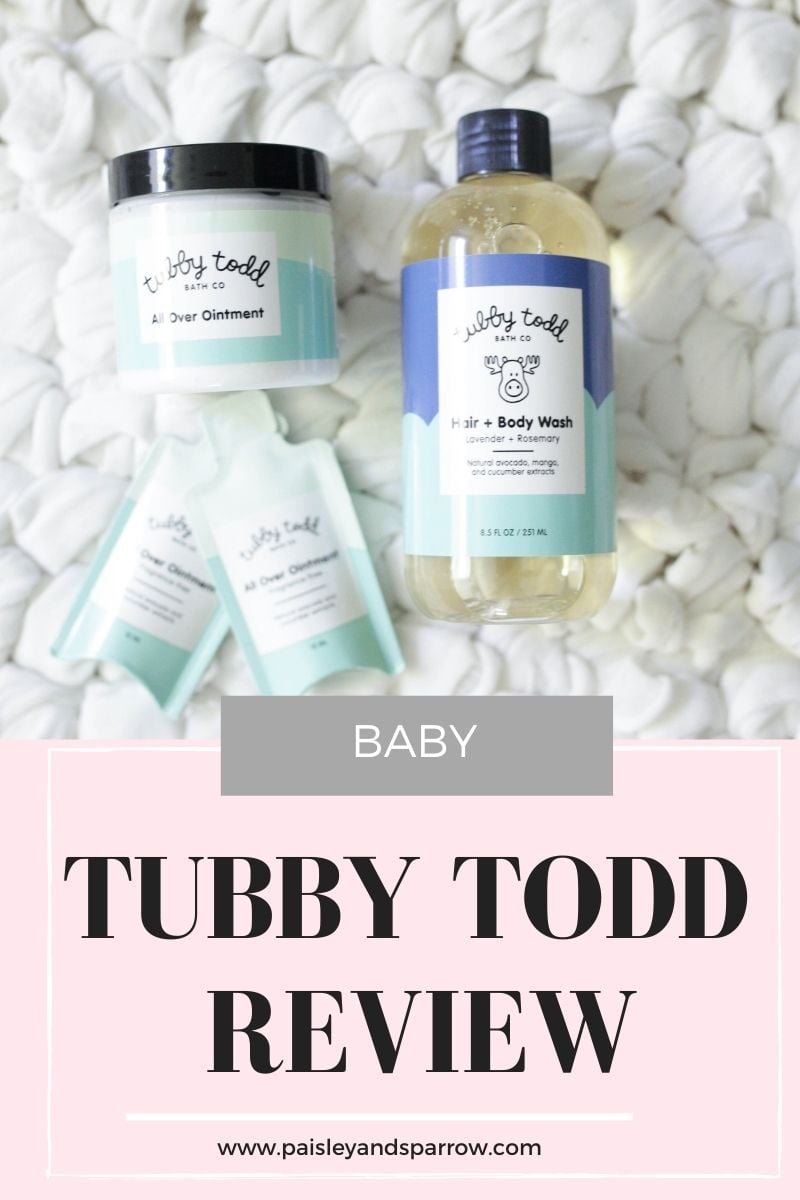 Tubby Todd Hair and Body Wash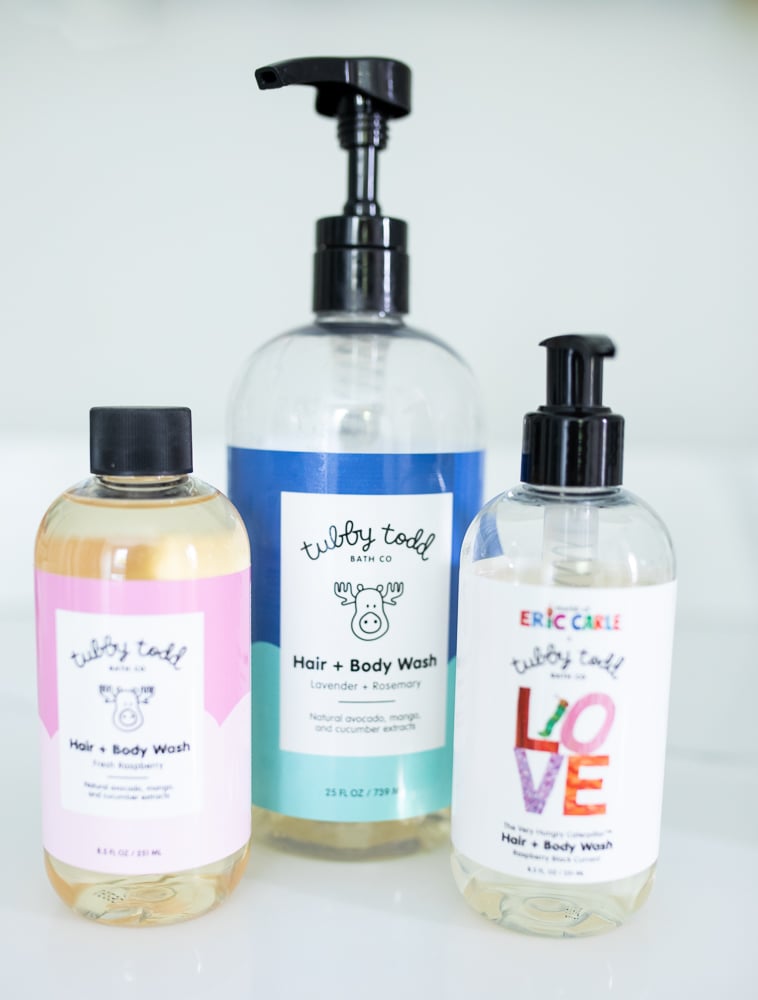 In my opinion as a mom to 3, there's few things better than a hair/body wash, two in one formula for bath time! I use this when our kids are little and for our boys who don't need as much specific hair care products.
A little bit goes a long way. You're not pumping 10 pumps of product to wash up your kid! Our youngest has sensitive skin and this has been great for him.
It's hypoallergenic and full of good things like natural extracts and plant based ingredients. You can chose from fragrance-free to scented types like green floral, lavender and rosemary or others.
Tubby Todd Everyday Lotion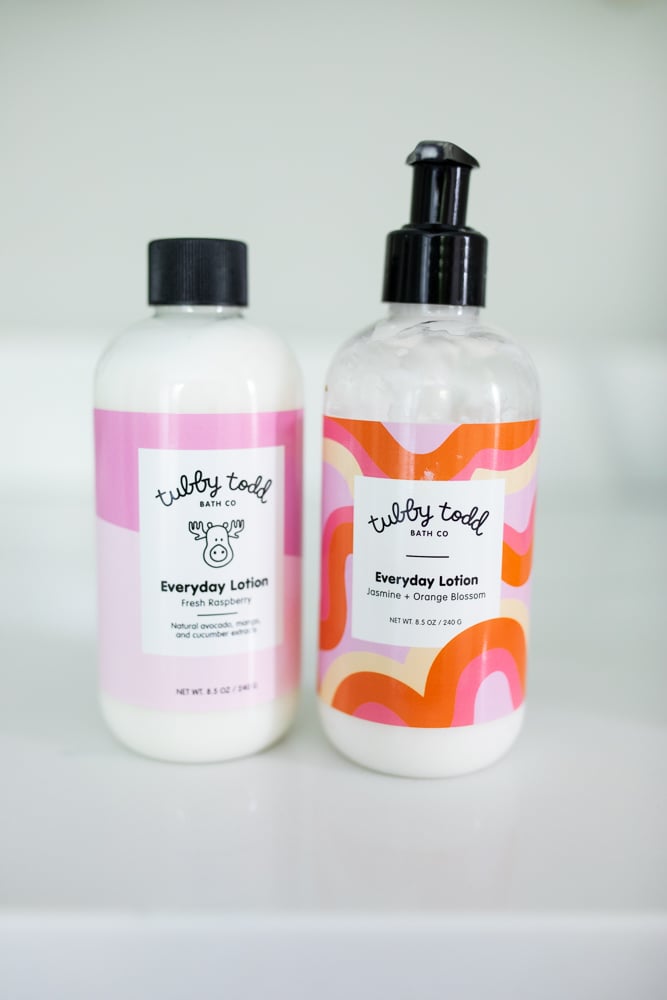 After a bath or every morning during diaper changes we apply lotion! We've tried a variety of different lotion and one that has been a tried and true in our routine is the Tubby Todd everyday lotion.
Like the hair and body wash it has natural extracts and plant-based ingredients. It hydrates and conditions your little ones skin (and yours too!).
It also comes fragrance free and scented (coconut & vanilla, lavender & rosemary, lemon creme, and fresh raspberry).
Tubby Todd All Over Ointment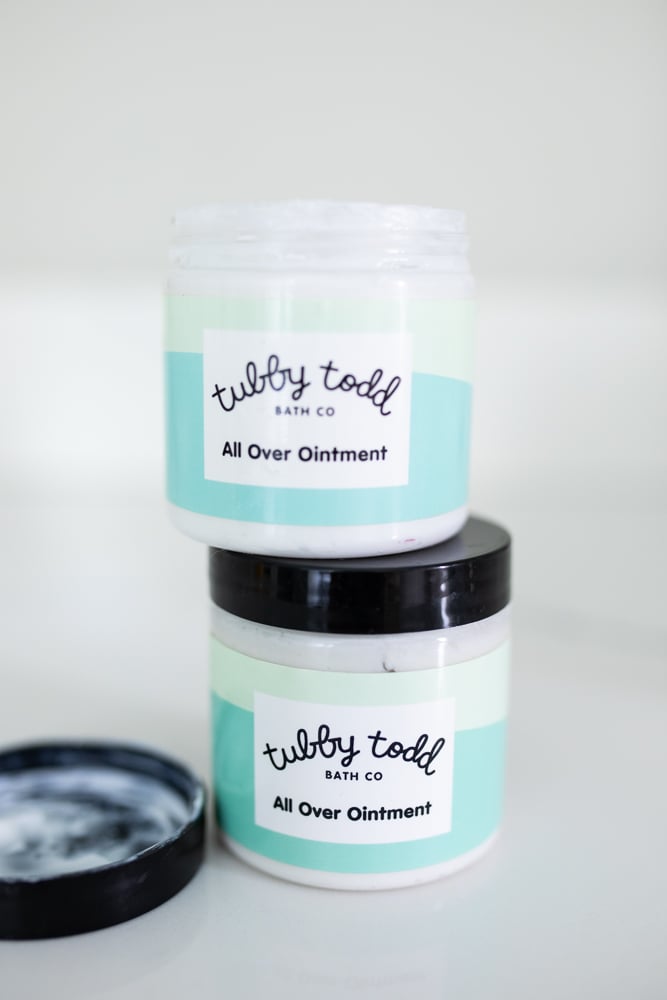 If you're someone who has a little one with especially sensitive skin or deals with things like cradle cap, eczema, or any other skin irritants, this is a fantastic option for you!
It's a more rich and creamy texture than the everyday lotion but it still absorbs easily. Like all of their products, it's made from plant based ingredients (Jojoba Esters and Camellia Leaf Extract) to hydrate and nourish your skin.
It's not oily and perfect for the whole family! I actually have their small 2oz travel tubes to bring with me on our family vacation, that's how much we love it!
Tubby Todd Bubble Bath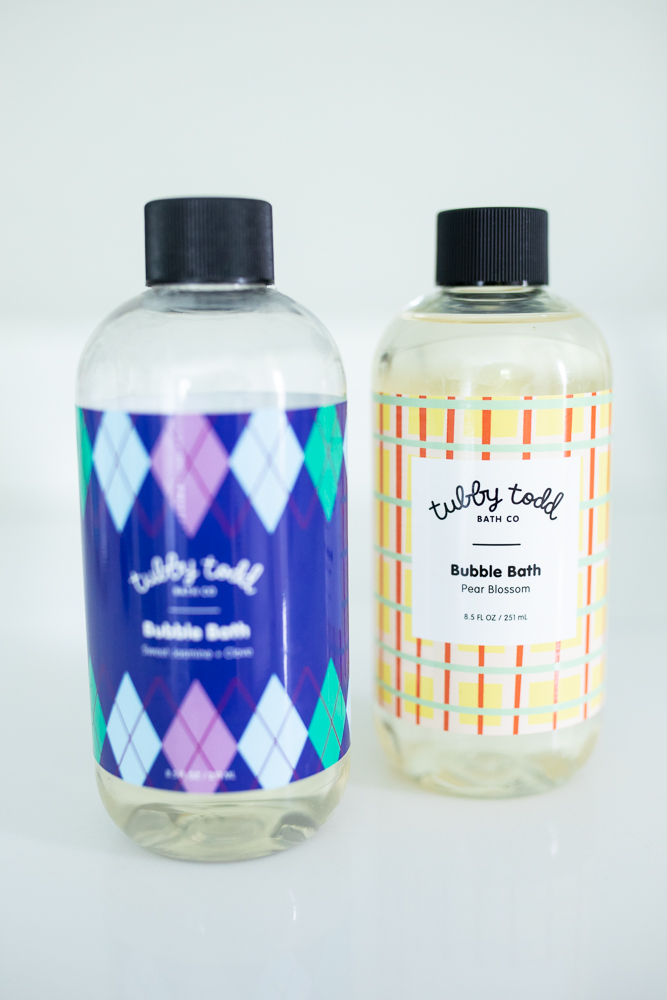 All kids love baths and it's my best mom hack for crabby kids! Simply fill up the tub, add some bubbles and let them play. It's guaranteed to wash the crabbiness away! 😉
Our kids love Tubby Todd Bubbles and I love that their hypoallergenic, non-irritating and great for sensitive skin. The bubbles also last for as long as the kids are in the bath too!
Kid 5+ Products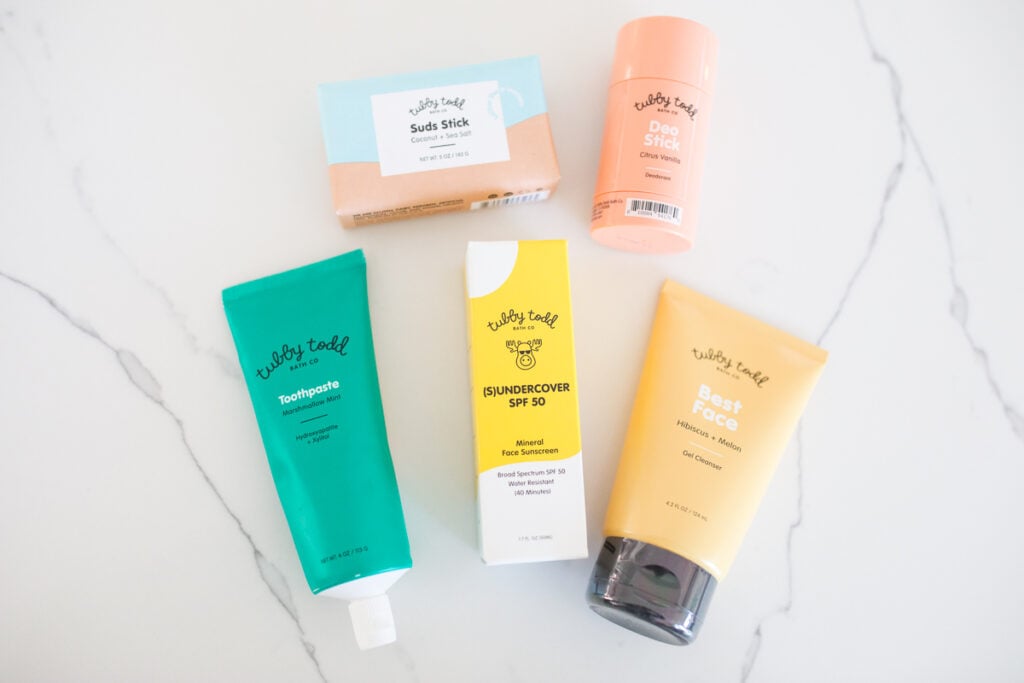 One thing that I love about Tubby Todd is that their continuing to come out with new things! They recently launched new products for kids 5+.
Now you can get face wash deodorant, bar soap and kids toothpaste! You'll get the same natural yet effective products you know and love but for your big kids as they grow up!
We've used the toothpaste (and LOVE it) but we haven't quite reached the stage of using the face wash or deodorant. I'll be sure to update this once we've tried it!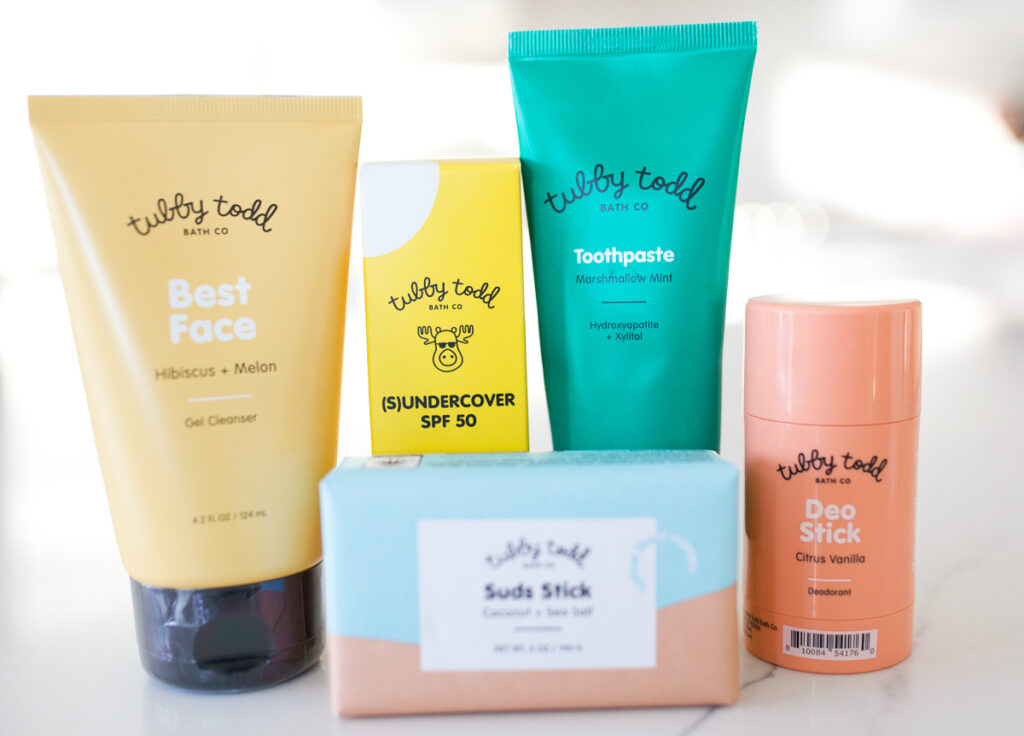 Other Products
Tubby Tudd also has a variety of other great products too! They have products for mom like hand cream, nipple balm and body oil – especially perfect for pregnant and new moms!
There's also bath bombs, conditioner, diaper paste, chest rub, SPF – even toothpaste! There's tons of amazing products and they seem to launch new stuff often.
Tubby Todd Prices
Tubby Todd costs a bit more than any baby bath product you'd get at a drugstore but it's natural products are well worth it, especially if your baby has sensitive skin!
It's the least expensive if you shop directly on their site and you can get 10% off simply by using my link!
I also recommend buy their bundles such as the Tubby Hair Duo (wash and conditioner) which is $80 for 25oz bottles or their Regulars Bundles (hair and body wash, everyday lotion and all over ointment) $112 for their 25oz bottles, $47 for their 8.5oz bottles or $36 for their 3oz bottles.
I always get the largest bottles – they're the cheapest in the long run!
Club Tub Rewards
They also have Club Tub rewards which will also hep you earn credits, gifts and freebies! You'll get rewarded for doing things like making purchases, leaving reviews, following on social media and more.
Is Tubby Todd Worth It?
With so many different baby products out there, is Tubby Todd worth it? In my opinion, yes! With it be a safe, natural option to actually tend to my kids (and my!) needs, it's a definite win in my book.
It's especially perfect for families with sensitive skin needs. If your little one has ezcema or irritated skin, I would definitely recommend tryin gout their products – espeically the All Over Ointment!
Tubby Todd Coupon
If you decide to try out Tubby Tudd, you can get 10% off your purchase by simply using my link! Pick up some lotion or body wash or a gift for a new mom. I bet you'll love it!
FAQ
Is Tubby Todd dermatologist approved?
Yes, Tubby Todd is pediatrician and dermatologist approved.
Why is Tubby Todd so good?
Tubby Todd is so good because it's made in the USA and everything they make is toxin, paraben, sulfate, artificial fragrance, BPA, and animal-cruelty free. Best of all, kids love it!
Is Tubby Todd safe for newborns?
Yes, everything from Tubby Todd is made with natural ingredients and is 100% safe for your newborn baby's skin.
Does Tubby Todd help baby eczema?
Yes, Tubby Todd's All Over Ointment is great for eczema!
If you're a soon to be mom and trying to figure out what to put on your baby registry, here's my ultimate Baby Registry Checklist! Take it from a mom of 3 who knows what's actually worth putting on that list. 😉