We've finally reached the warmer months, the days are getting longer, and the sun is out to play! With the increasing temperatures, it's time to switch out our boots and coats for lighter-weight fabrics and open-toed shoes!
Summer is all about vacations, date nights on restaurant patios, and running after kids! And that means having fun, comfortable shoes for wherever you're going.
I've rounded up the 10 types of shoes you need for your summertime wardrobe, from casual to dressy, sneakers to sandals.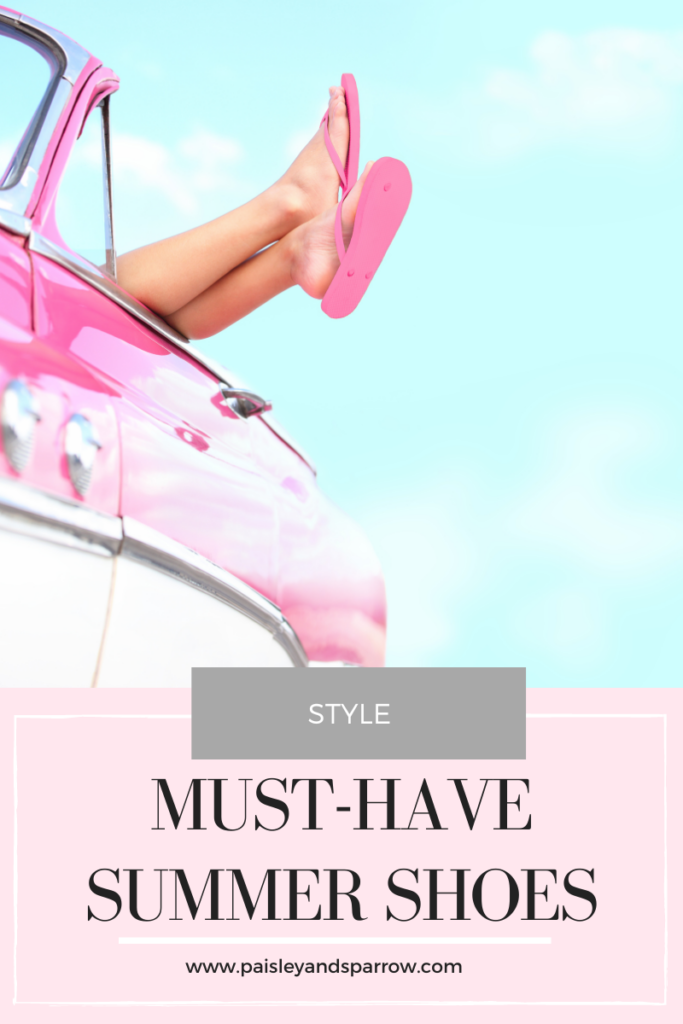 Paisley + Sparrow is a participant in the Amazon Services LLC Associates Program. This post may include affiliate links which means I may earn a small commission if you shop using the links below at no additional cost to you. 
10 Best Summer Shoes for Women
1. White Sneakers
If you don't own white sneakers, you've got to grab a pair! They are such a good investment since you will wear them constantly and they are one of the most versatile pairs of casual shoes you can add to your wardrobe.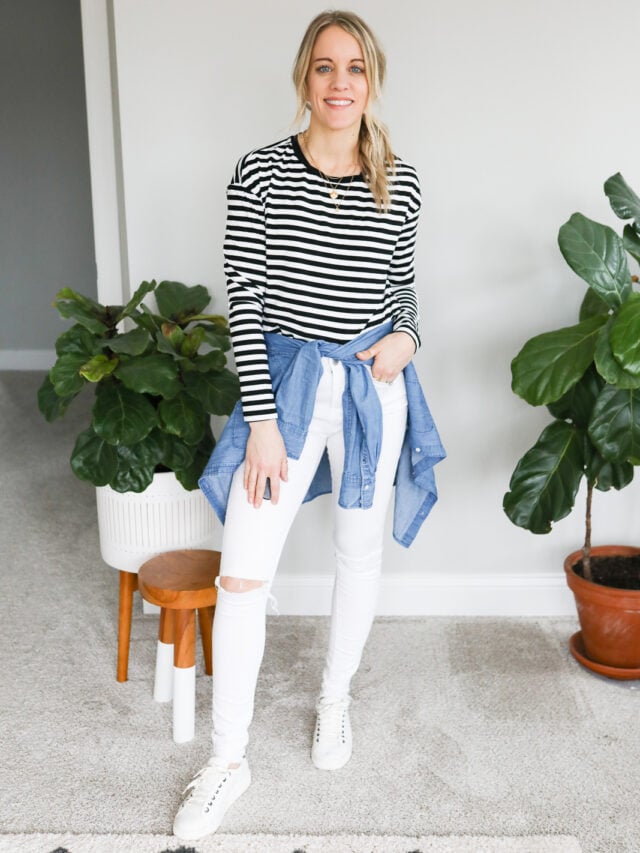 Because they're a neutral color in a bright enough shade, they can easily pair with any color or print without taking away from the entire look!
You can wear white sneakers with virtually anything. Pair them with a fitted t-shirt and your favorite shorts or jeans for casual everyday wear. Don't be afraid to pair them with something dressier, such as a dress or skirt.
However, if you wear them with a dress, make sure it's a casual design in a lightweight fabric such as cotton.
We earn a commission if you make a purchase, at no additional cost to you.
These leather sneakers are excellent because they have a clean look and no noticeable logo or design. They're also super comfortable shoes to wear all day because they have a cushioned insole that will provide a lot of support!
2. Strappy Sandals
You can never go wrong with a stylish pair of strappy sandals in summer! They're perfect to wear during warmer weather and will allow you to show off your beautiful summer pedicure.
Like classic white sneakers, strappy sandals can be paired with virtually anything — a t-shirt and jeans, a dress, or a blouse and skirt.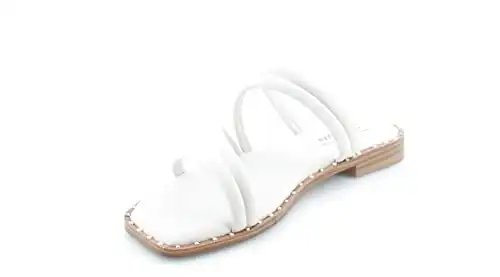 We earn a commission if you make a purchase, at no additional cost to you.
These Steve Madden flat sandals are a great option; the rhinestones that line the footbed provide a touch of glitz and glamour to any outfit. They're super comfortable to wear, too, and have a stylish and modern square open toe.
Despite being flat, they're surprisingly comfortable with a lightly padded footbed!
3. Dressy Sandals
Every woman needs a dressy sandal in her wardrobe! Wear it for date night, out with friends or on your summer vacation.
They're perfect if you dress up but don't want to commit to uncomfortable high heels. Pair your dressy sandals with your favorite dress or a skirt to kick the look up a notch!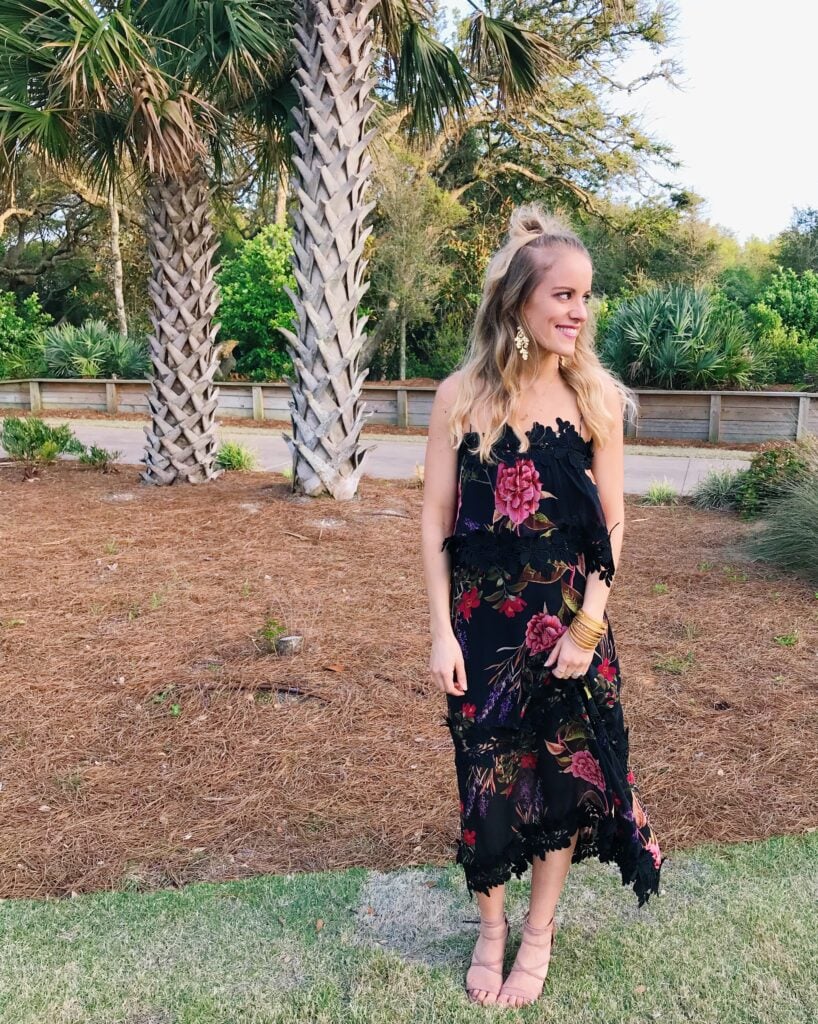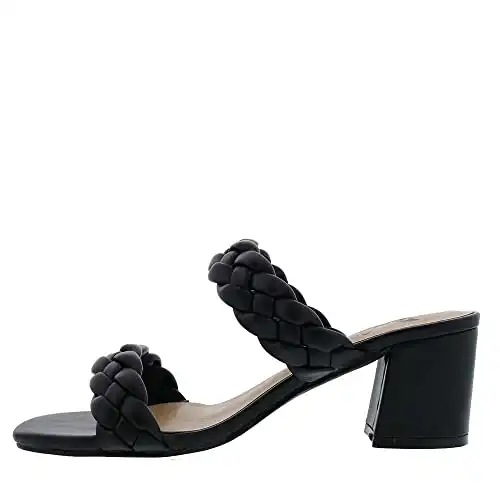 We earn a commission if you make a purchase, at no additional cost to you.
These faux-leather sandals play with texture to create an intricate visual interest. They have playful, chunky braided straps across the bottom and top of the foot, a classic square open toe, and sturdy block heels with 2.5-inch heel height.
4. Ballet Flats
You are missing out if you don't own a pair of ballet flats! Perfect for when sandals aren't quite appropriate (or when your pedicure is looking rough and you need some closed-toe shoes).
Just like white sneakers, the ballet flat is a classic shoe that should be in every woman's wardrobe! They're simple, elegant, and the perfect shoe to slip on and go.
However, what sets them apart from other options is their incredible versatility. Ballet flats are appropriate for casual wear, on the go, and even for the office!
Slip them on with your casual weekend outfit, pair them with a dress, or wear them into the office with your slacks.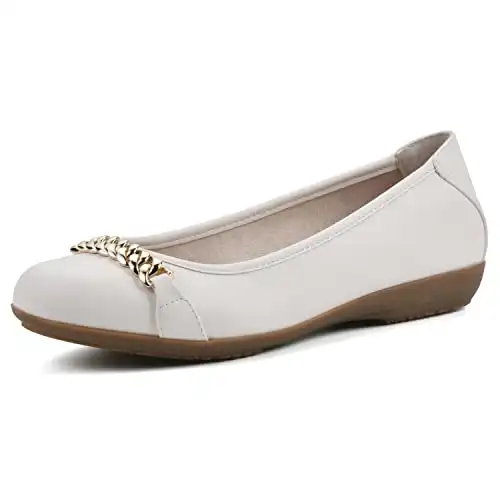 We earn a commission if you make a purchase, at no additional cost to you.
Cliff's Charmed Ballet Flat is timeless and an excellent staple for any shoe collection. It features a clean, sleek silhouette, a softly rounded toe, and a metallic chain detail across the top of the foot, adding playfulness!
5. Birkenstocks
If you're looking for the ultimate comfort, Birkenstocks are the way to go! There's a reason these trendy sandals get such rave reviews from their fandom.
They're fantastic if you've got a busy day ahead of you and need something extremely comfortable to wear, and since it's a slip-on shoe, you can just throw them on. The brand has mastered the art of comfort, and its shoes provide amazing support.
They're the perfect casual wear for the weekend. So slip them on with your favorite pair of shorts or jeans, and go!
These fun sandals are trendy and easily fit into your summer wardrobe with their casual silhouette! It features a rounded open toe, two wide straps with buckle detail, and is entirely waterproof! These fun slip-on sandals are also available in a crazy number of colors!
6. Flip-Flops
Is it truly summertime if you're not breaking out the flip-flops at least once?
Thong sandals are a classic summer staple — honestly, they're the best shoes to show off a fresh pedicure. They're great because they're easy to slip on and off effortlessly without suffocating your feet in the summer heat.
You should wear flip-flops primarily for activities you anticipate taking your shoes off often, such as going to the pool, the beach, or taking the kids to the waterpark! They're not my top pick for a walking sandal, but the open design is perfect for the off and on action when you're around water.
Pair them with an adorable bathing suit, denim jeans, and a cover-up.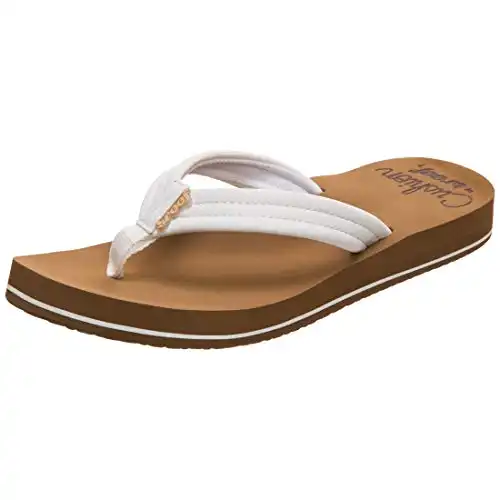 We earn a commission if you make a purchase, at no additional cost to you.
Reef's Cushion Breeze Flip-Flops are supremely comfortable; everyone should have a pair!
What sets these flip-flops apart from all the rest is the excellent arch support and soft, cloud-like cushion lining! In addition, the thicker strap that goes across the top of the foot and thicker thong between the big and second toe makes the shoe very sturdy, allowing you to walk without worrying about losing your shoes or putting a strain on your feet.
7. Platforms Sandals
If you love the look of high heels but suffer from foot pain, platform sandals are an excellent alternative! They're great because they'll give you the height you desire, while the thicker heel and soles will give your feet plenty of support.
This is the perfect pair to go with a little black dress for the perfect night-out look or for a summer wedding that has a more formal dress code!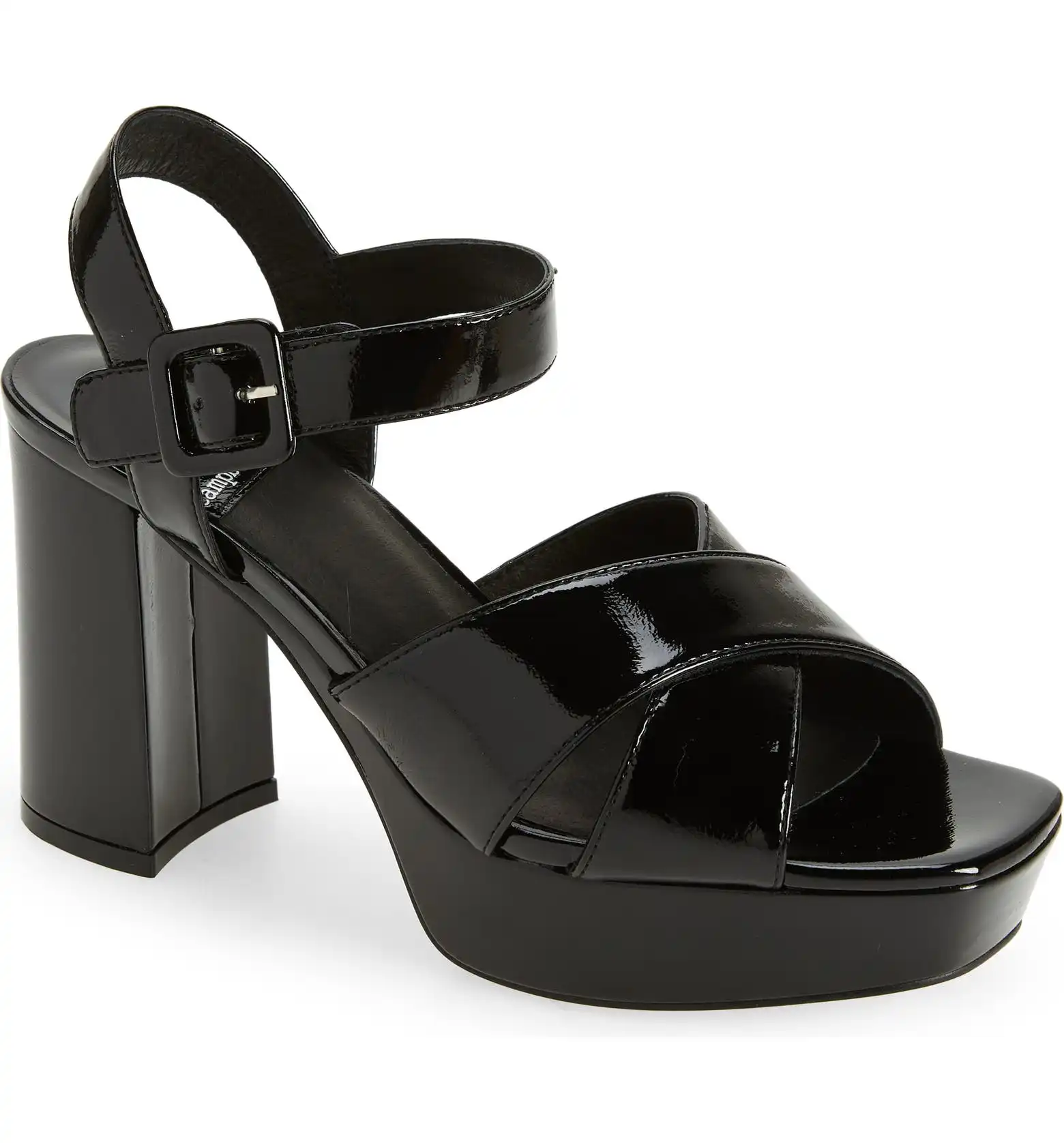 We earn a commission if you make a purchase, at no additional cost to you.
They have a fun retro-inspired sling-back design! The wide crisscross straps are extremely vampy, perfect for nighttime wear! In addition, they feature a 3.75″ chunky heel that will give you some height and a 1.25″ platform that will support your feet and provide comfort.
8. Gladiator Sandals
Is it summer if no one breaks out their favorite gladiator sandals?
The strappy style is super cool without being too dramatic. Because the straps tend to come up above the ankle, it's best to wear an outfit that can show off your legs. Pair it with a beautiful skirt, sundress, or shorts to show off your legs and stylish summer footwear.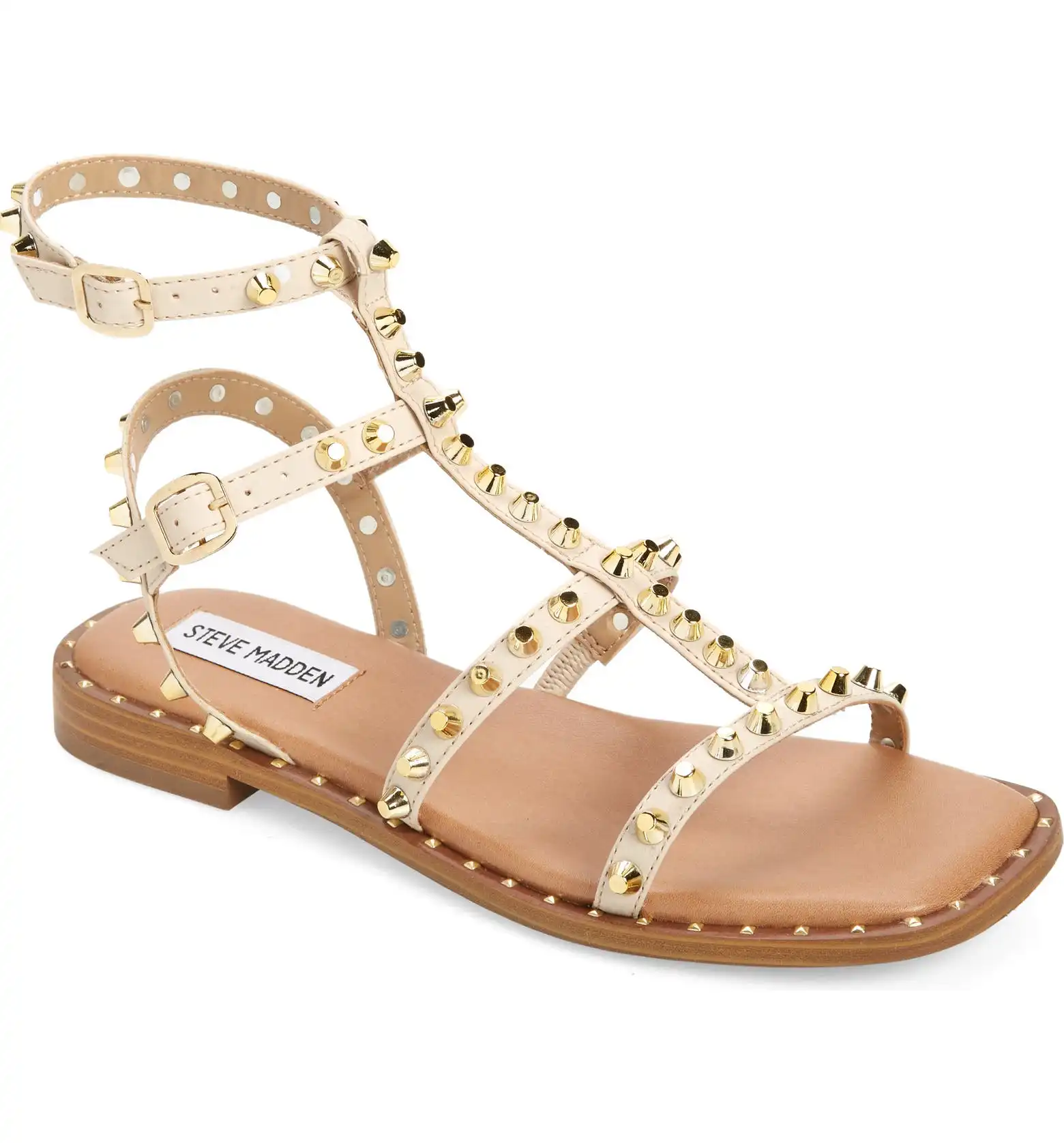 We earn a commission if you make a purchase, at no additional cost to you.
These beautiful gladiator-style sandals are a little bit edgy, with straps enclosing the heel's foot, ankle, and back. The straps are adorned with stunning golden studs that add a dazzling, rocker-chic flair. The extra glitz make these a statement shoe even with their flat soles.
9. Espadrille Wedges
Similarly to platform sandals, Espadrille wedges will give you the look of wearing high heels without the discomfort! They're a classic style that exudes softness, femininity, and class.
Because of the espadrille's texture, this shoe is typically best suited for a casual daytime look. Pair it with a lightweight sundress or a skirt to elevate your look!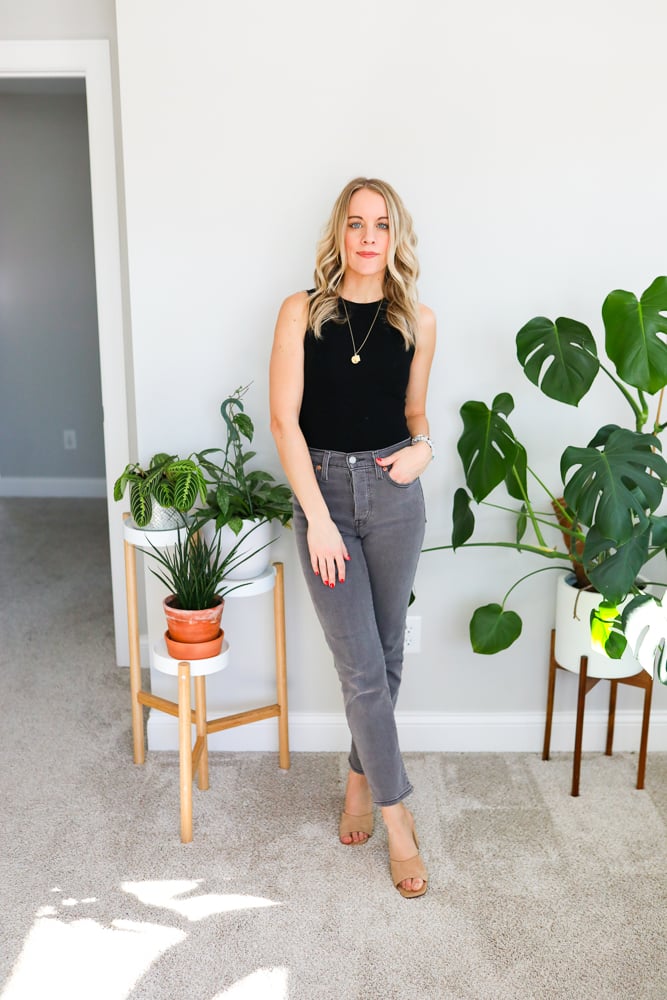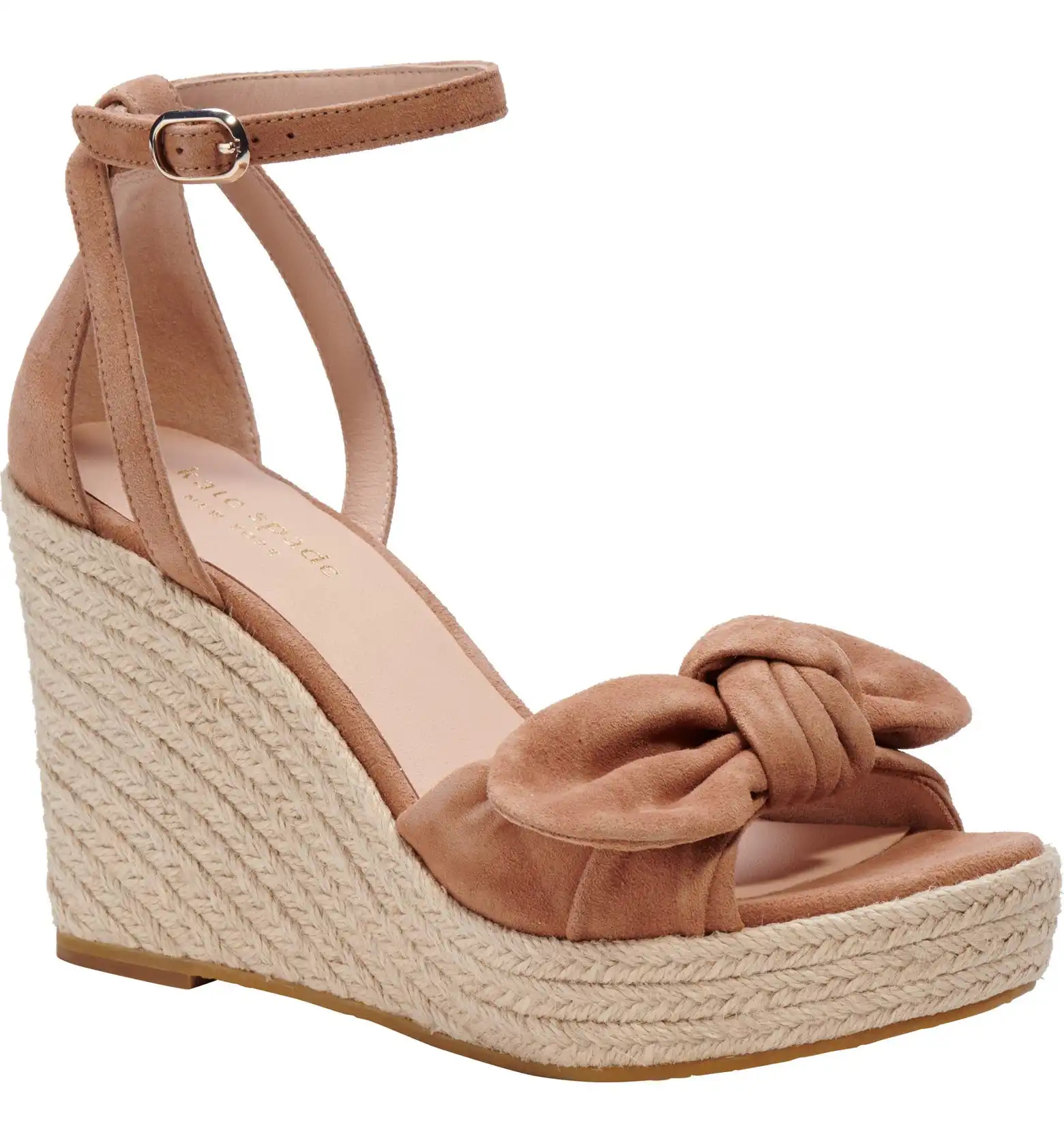 We earn a commission if you make a purchase, at no additional cost to you.
Kate Spade's Espadrille Wedge Sandals are stylish shoes featuring a leather upper, delicate ankle straps and an exquisite bow detail above the foot. The 3.25″ inch heel and 1.5″ platform combination provides stability for the foot, making it comfortable to wear for an extended time.
10. Converse Sneakers
Take it back to the old school with a pair of timeless Converse! You can't go wrong with a cool pair of these comfortable sneakers.
Like white sneakers, these canvas sneakers can easily be paired with anything to create fun and casual outfits. So throw them on with your favorite t-shirt and jeans, and go! Or wear them with a casual summer dress. 
And don't worry about getting them dirty! We have easy instructions on washing your Converse here!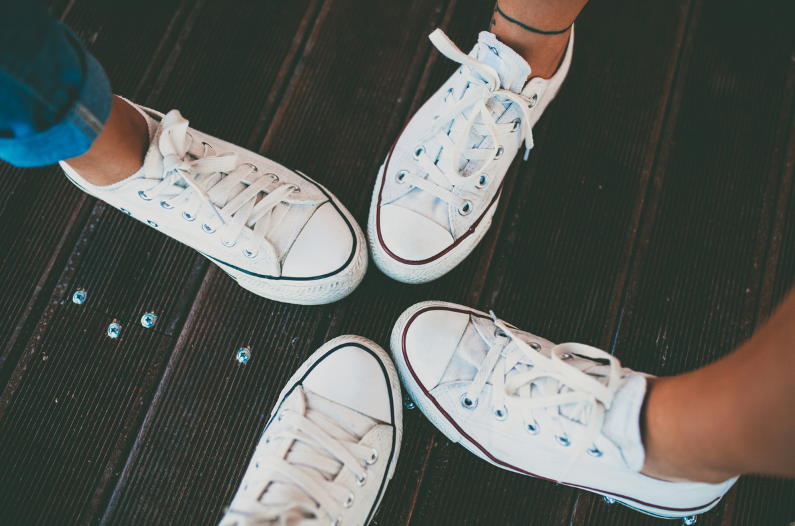 Here's my top pick for Converse:
We earn a commission if you make a purchase, at no additional cost to you.
These mid-top sneakers come just above the ankle and have a lace-up closure and rounded toe. The shoe is made of canvas that's easy to clean and has a cushioned footbed so you can wear them comfortably all day!
Looking for more shoe recommendations? Check out my roundup of affordable Golden Goose lookalikes, the best picks for water shoes, and how to wear Chelsea boots.