Back when I ran a fair trade e-commerce store, I partnered with some amazing brands doing incredible things around the world. One of those brands was Sseko!
Sseko was started in order to send young women in Uganda to University. I spent a month in Uganda (and many months in East Africa) so I was immediately drawn to their mission. When I was in Uganda I worked with a school of girls who had lost one or both of their parents to the war. Many of them also had a babies – another outcome of the war. They were there to learn not only basic education but also a trade that could support them and their families.
This is similar to Sesko! The young women who work for Sseko are all in the nine-month gap between secondary school and university, saving part of their income for university. They receive life skills training, are paired with professional mentors and get valuable formal work experience. At the end of their term, Sseko matches their savings 300%. Every woman who has graduated from Sseko has gone on to pursue higher education and is on her way to making our world a more beautiful place. In 2019, Sseko will enable their 131st woman to attend university! (all found on Sseko's site)
Now that I have closed down my e-commerce site and moved strictly to blogging, I've loved sharing about all types of brands and products but one thing that will always be near and dear to my heart are the brands that are working to make a difference in the world. Brands that are creating opportunities for women, especially those in developing countries.
Because of that, I want to share Sseko with you! Let's start with a bit of stats before we get to the good stuff (their products!!).
Sseko Stats
For every $100,000 in sales, they're able to employ 2 full time employees and provide 1 university- bound scholarship.
They've fully funded 25 university-bound scholarship in 2019.
Sseko currently employs 63 people in Uganda.
In total, they've sent 106 women to university and will provide an additional 25 scholarships in 2019.
They currently have 57 university graduates.
Their employees get a fair wage, formal employment that pays above market.
Sseko has a fully Ugandan management team.
All of their employees get 3 months of paid maternity leave, 21 days of paid time off and 10 public holidays.
They're a member of the Fair Trade Federation.
They provide 17 educational classes for the employees including budgeting, family planning, gender equality, computers and more.
They're the largest exporter of non-agricultural goods from Uganda to the U.S.
100% of their staff's kids are in school.
They have tons of stories of university-bound women they've employed in addition to full time veterans – moms, daughters, designers and cooks who all work together to make the world a little brighter. Be sure to check them all out!
The Sseko Fellows Program
Sseko also has a fellows program which is what I'm in! The fellows program is basically sharing the story of Sseko with people in our sphere of influence (aka you all reading my blog!!) to help make a bigger impact in the world, send more women to university and outfit women in gorgeous style! 😉 I earn a small commission on any sales placed through my links in this post so thank you in advance for using them!
Ok, now on to the good stuff. I have a handful of Sseko products (like I mentioned above) but none of those are still available (bummer, I know). I have a big order placed for a bunch of new products so I'll be sure to update this post with photos and personal reviews but I have seen all of these in person so I can attest to their quality (and beauty!).
My Current Favorite Sseko Products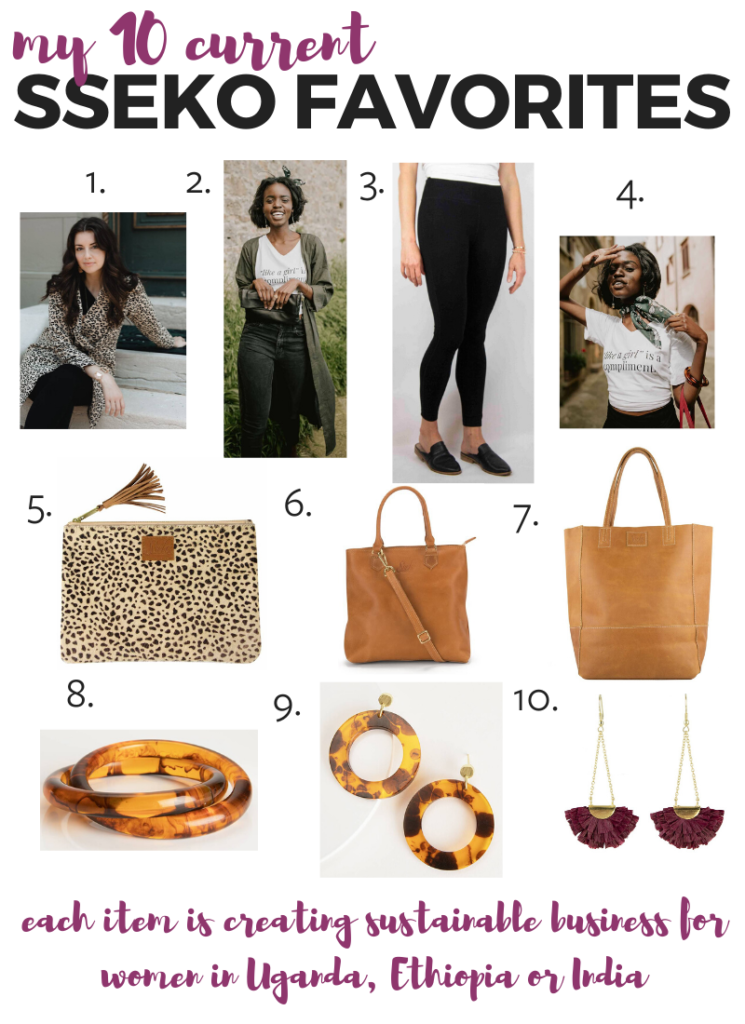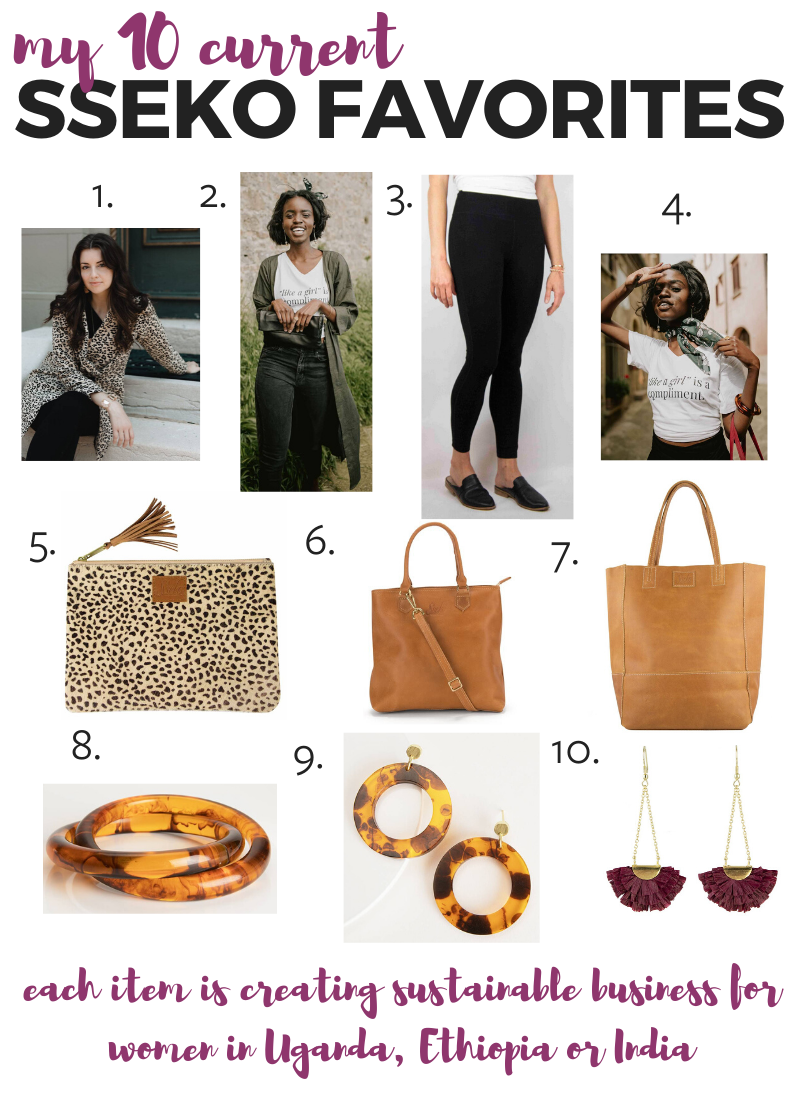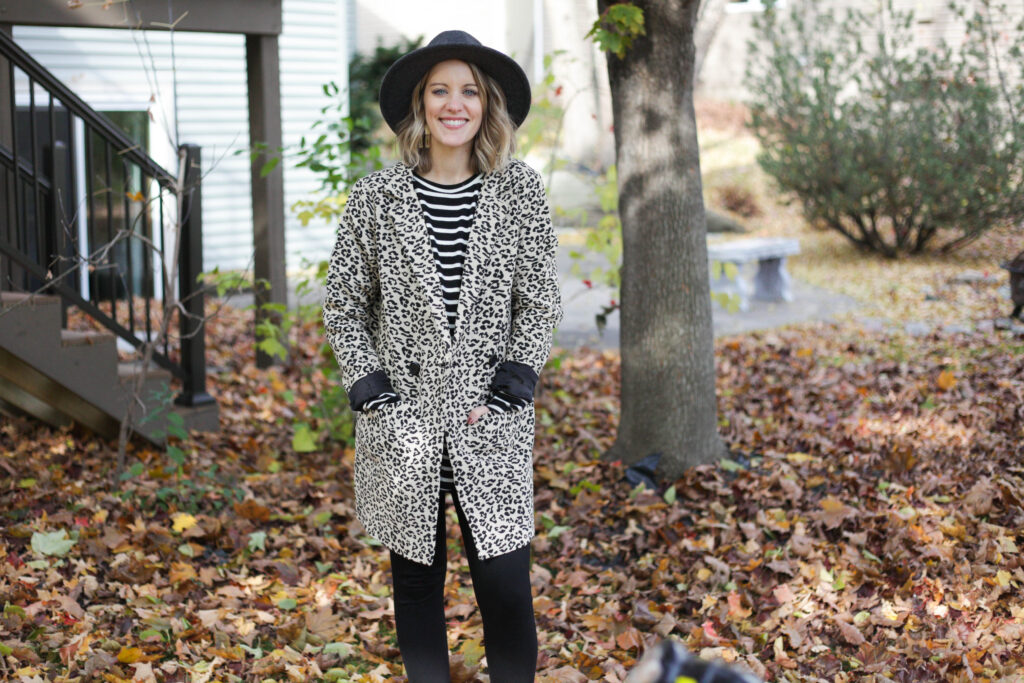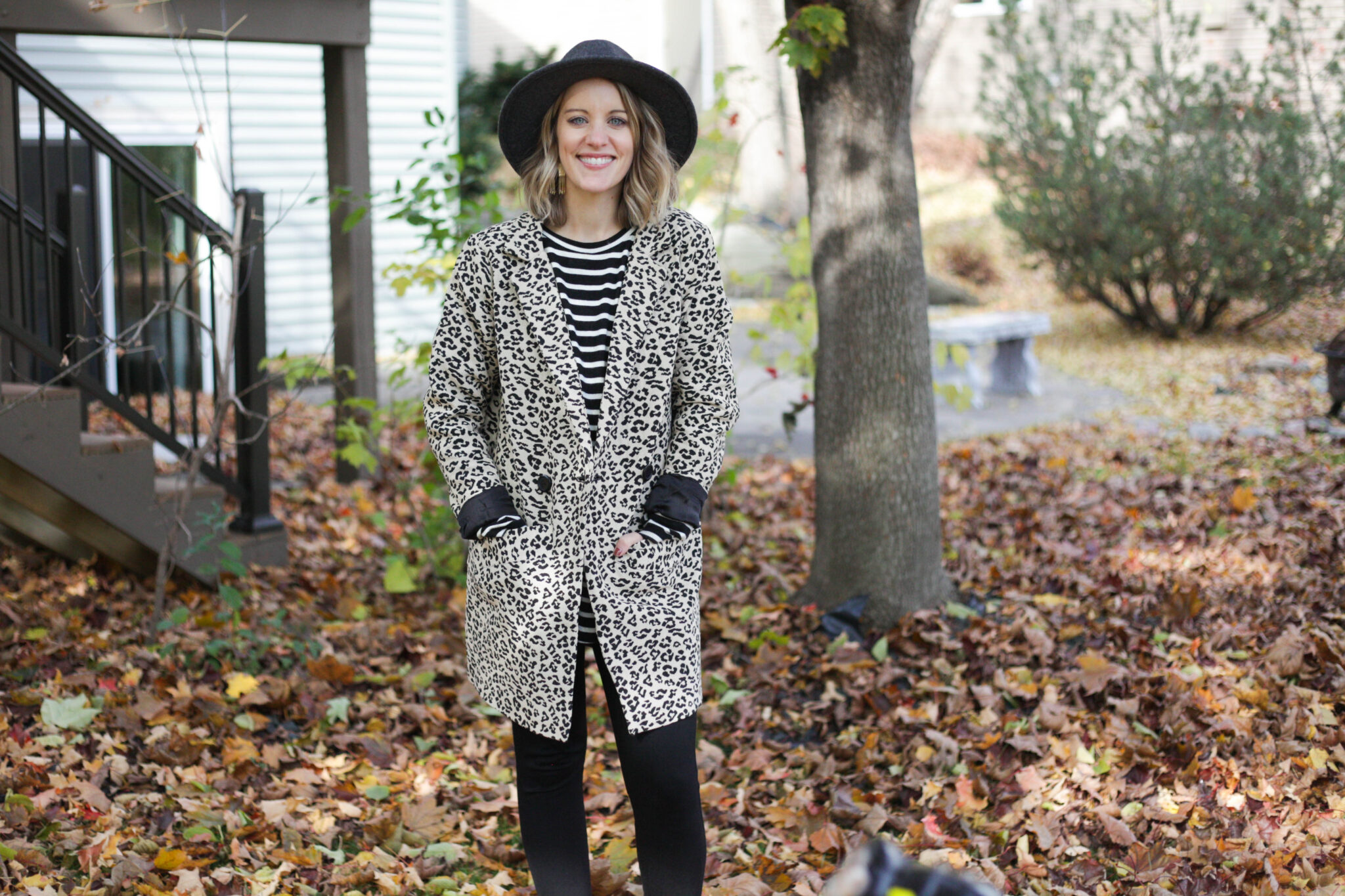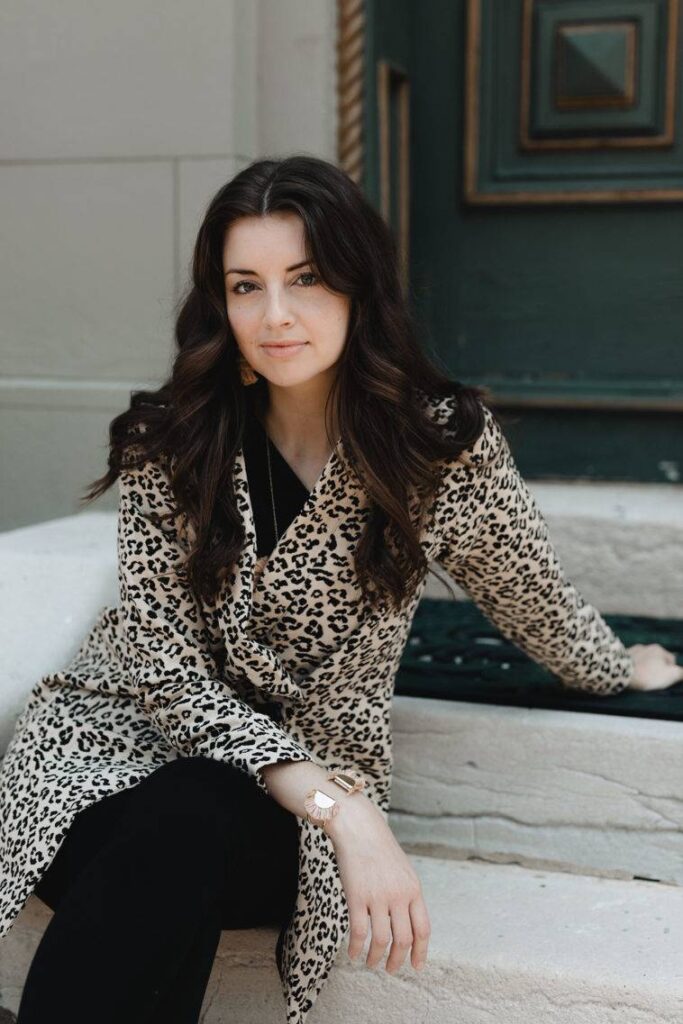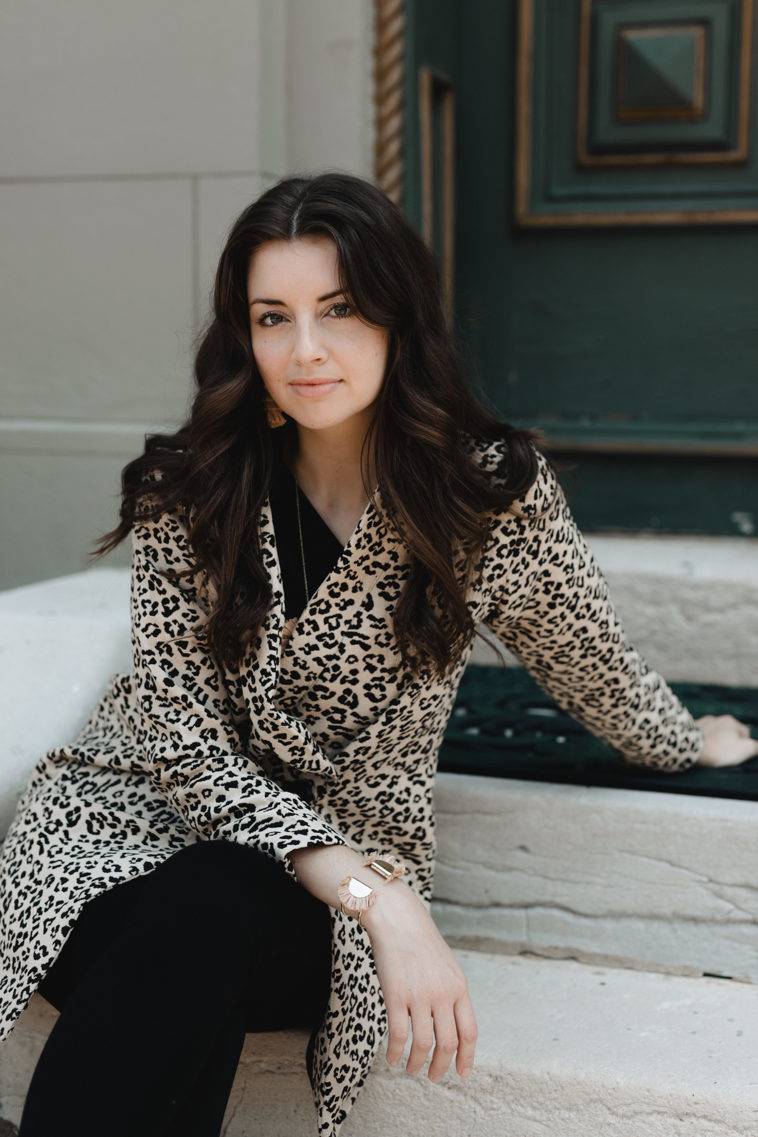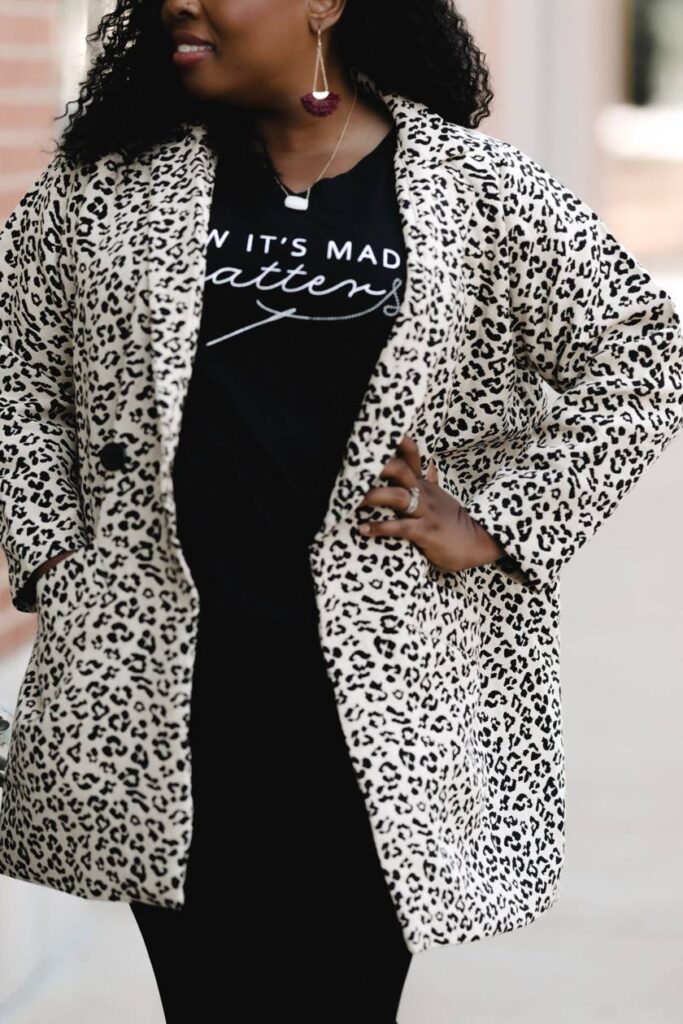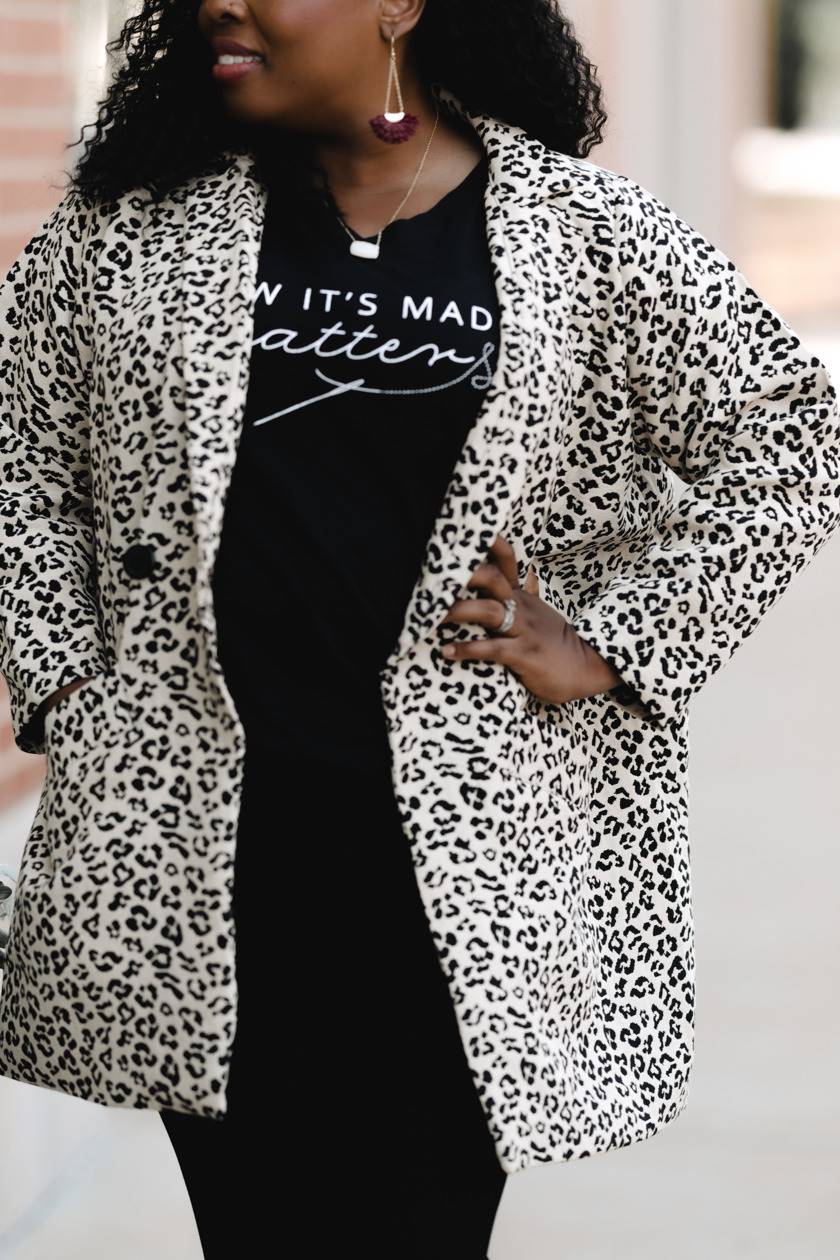 I'm not kidding when I say that this jacket convinced me to sign up as a Fellow. This jacket is right up my alley and will be in constant rotation in my wardrobe, I just know it!
It's thick enough that it could worn as a jacket in the fall and spring but not too thick where you'll be sweating indoors! I paired it with a graphic tee and was super comfortable the entire day.
It's made with 100% woven cotton and satin lining. It comes in 2 size (I ordered the size 1).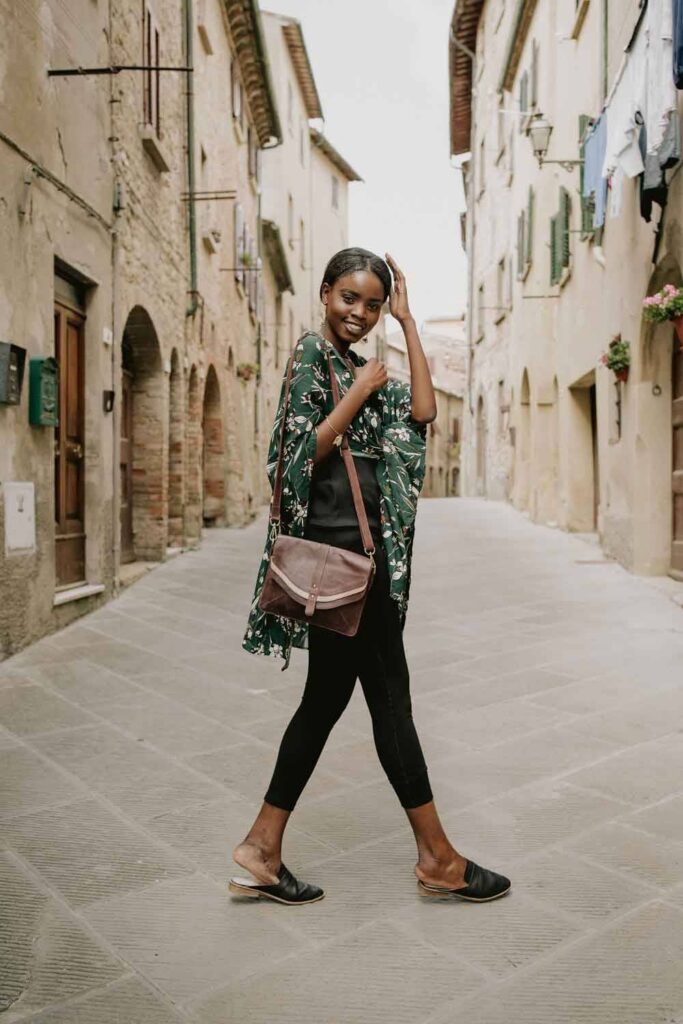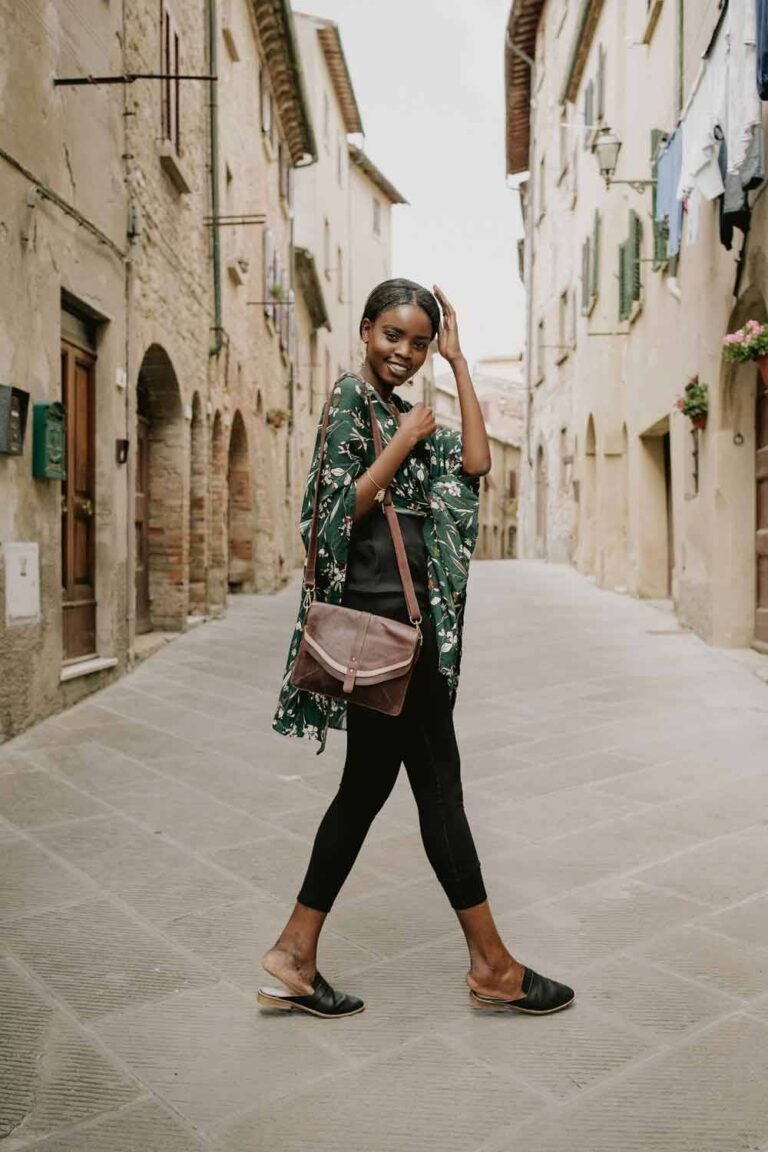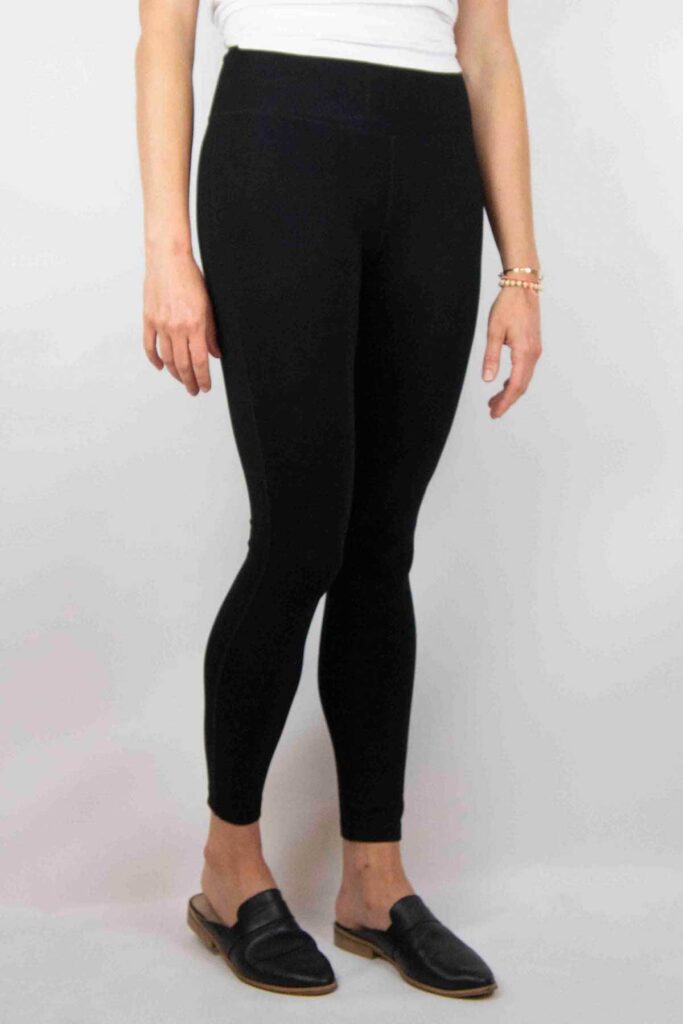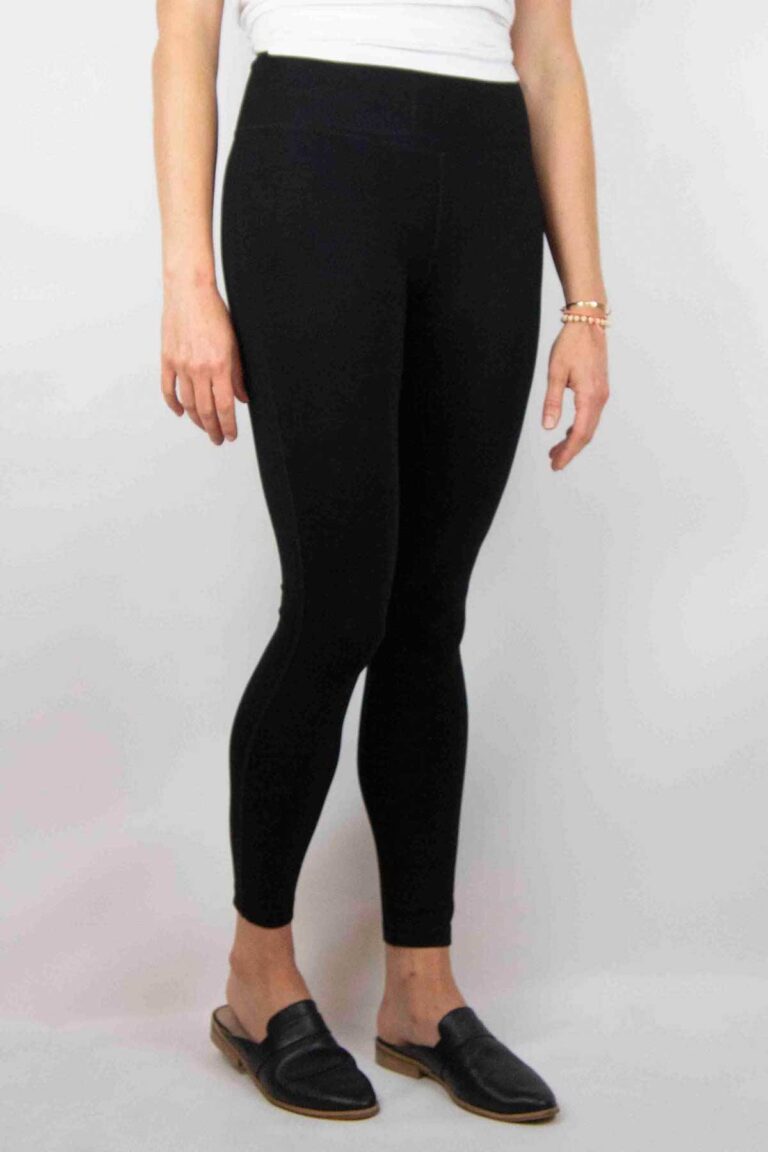 High waisted black leggings are a mama's best friend. Literally I wear black leggings for preschool drop off almost every time. I'm sure the other moms are wondering if I own regular clothes! 😉
These leggings are a nylon and spandex mix and they are amazing!! I honestly think they rival my Spanx leggings. These are super high waisted and suck everything in (just what this postpartum mama needs!). I have them in a small. I do think I would like an xs better but small is their smallest size. Keep that in mind when ordering!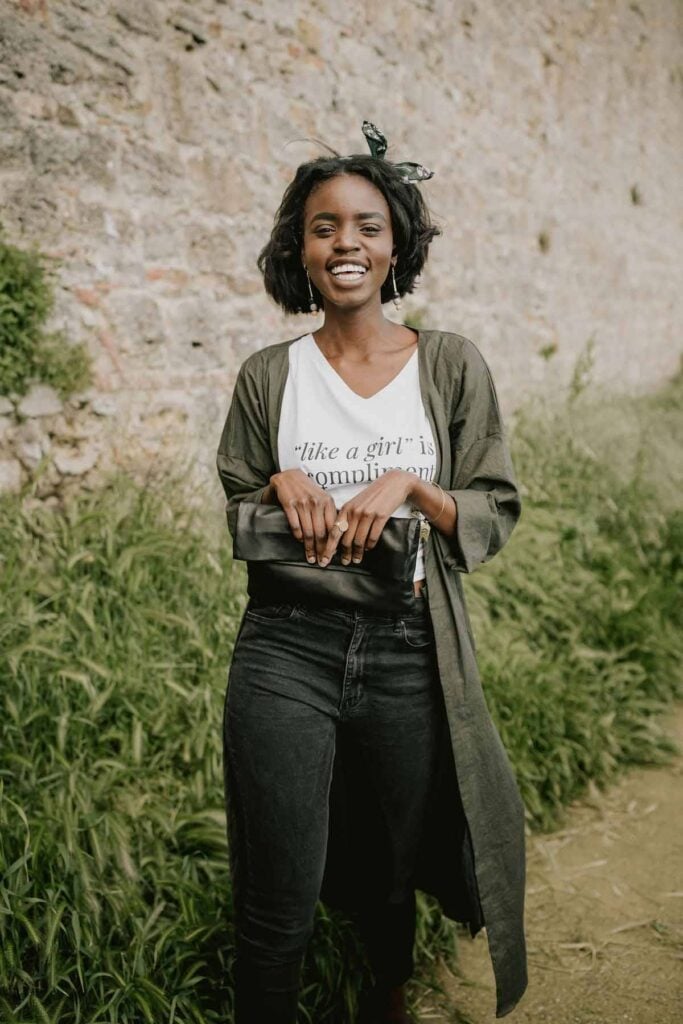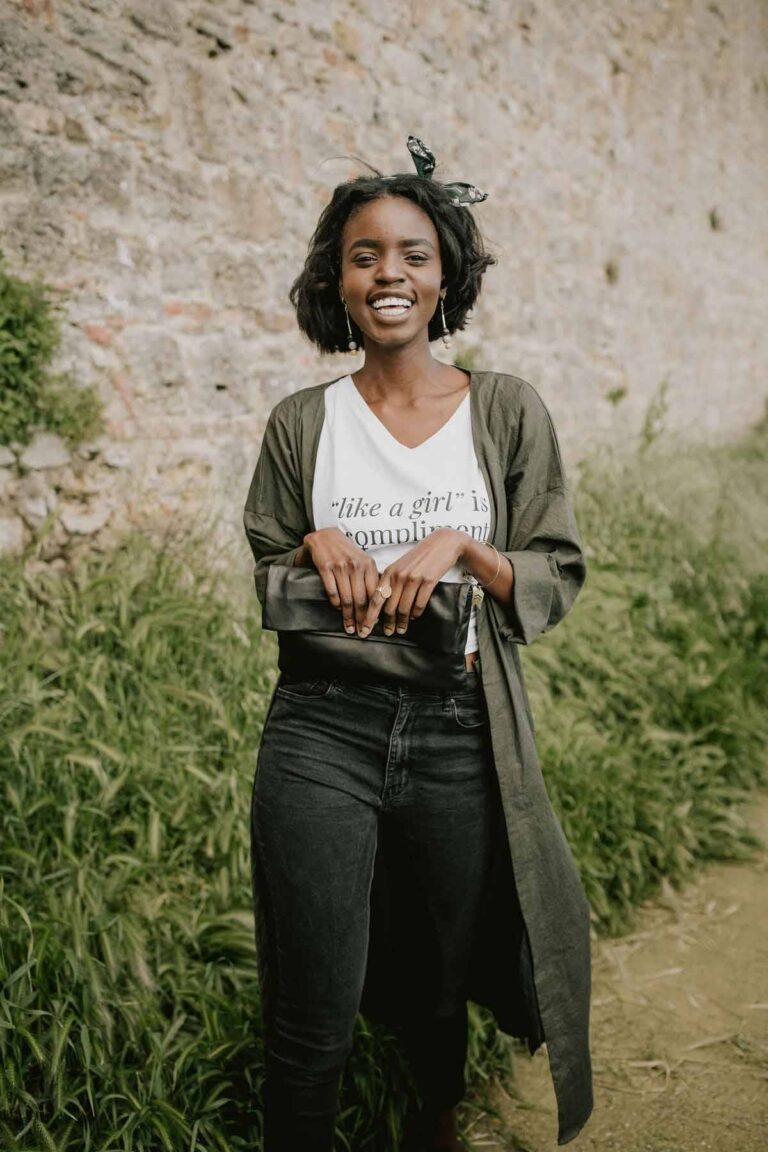 I love things you can throw on over a graphic tee that's something different than a cardigan! This open front duster is just that. Throw it on over a little black dress or over skinny jeans + a graphic tee and you'll instantly show your fabulous style.
Comes in one size.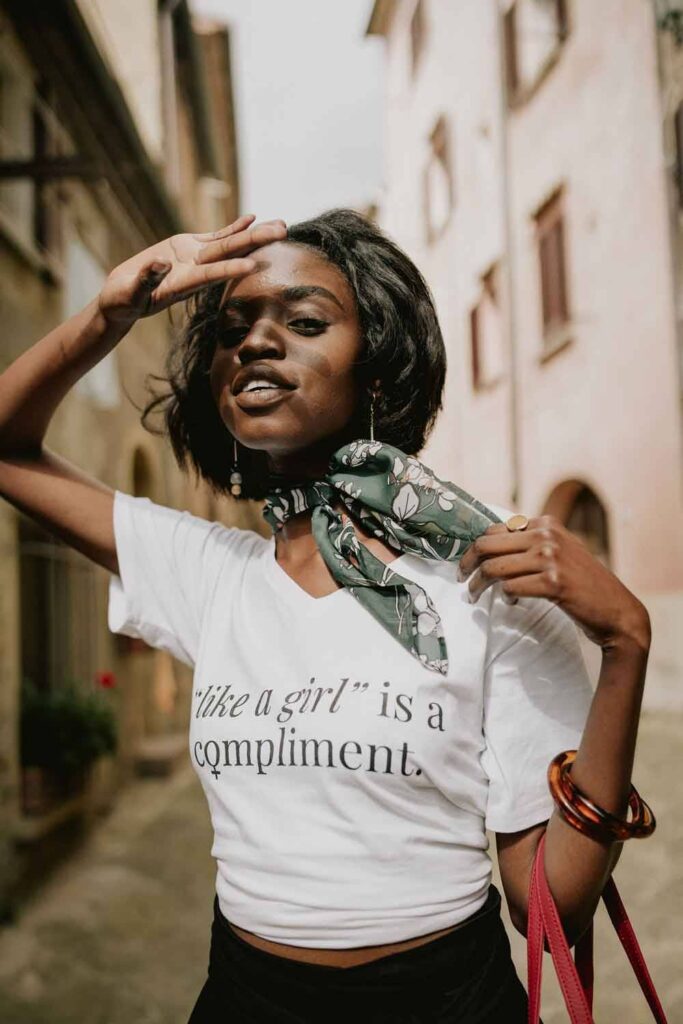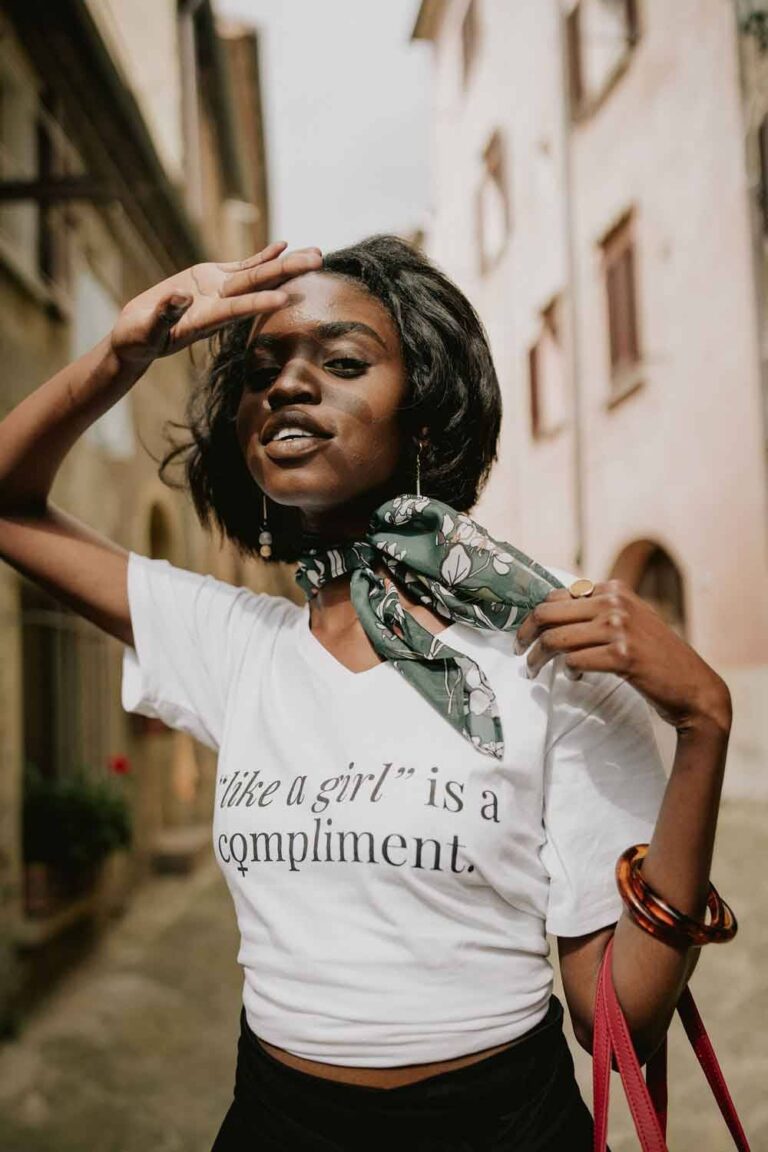 Remind yourself (and everyone around you) that "like a girl" is a compliment!
This cute graphic tee is a cotton and spandex mix giving it that perfect cozy stretch and comes in 2 sizes. I ordered a size 1. It's definitely oversized but knotted up it looks perfect! (Update – currently out of stock!)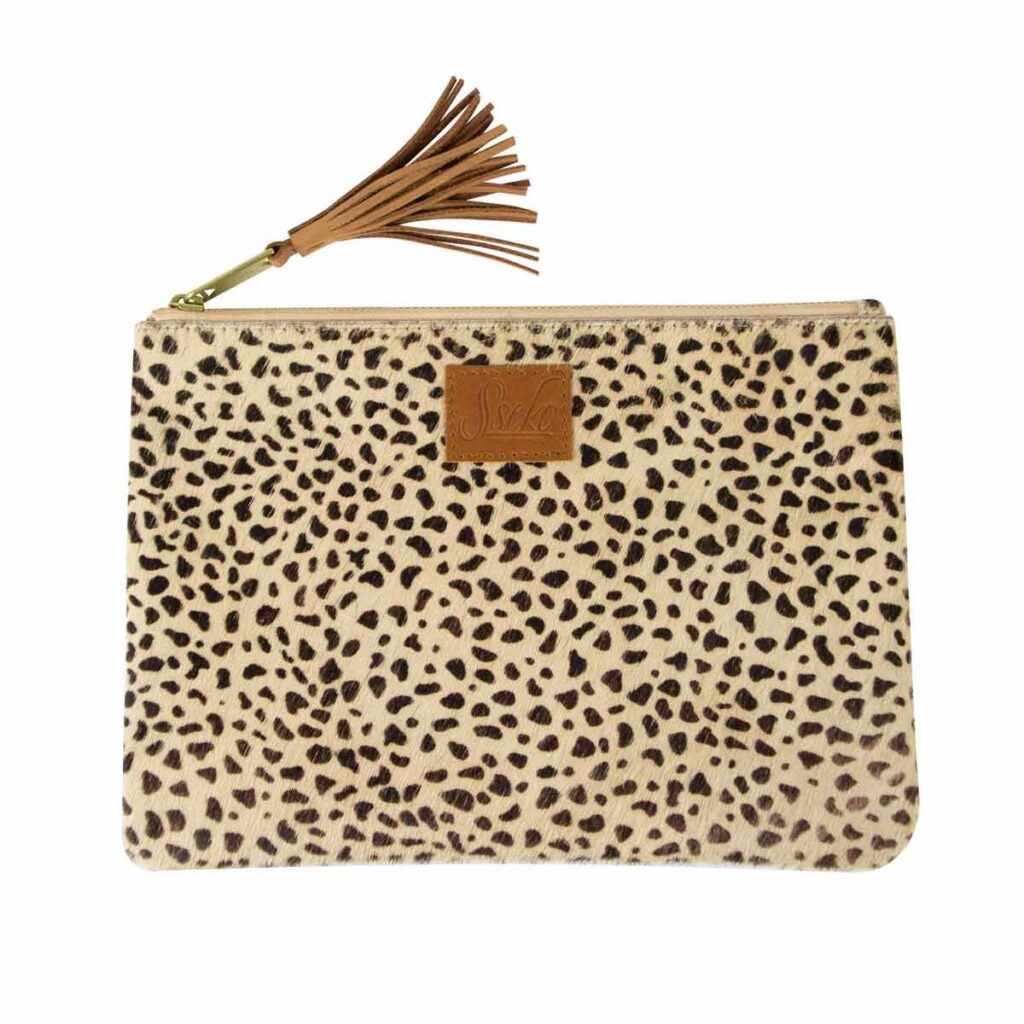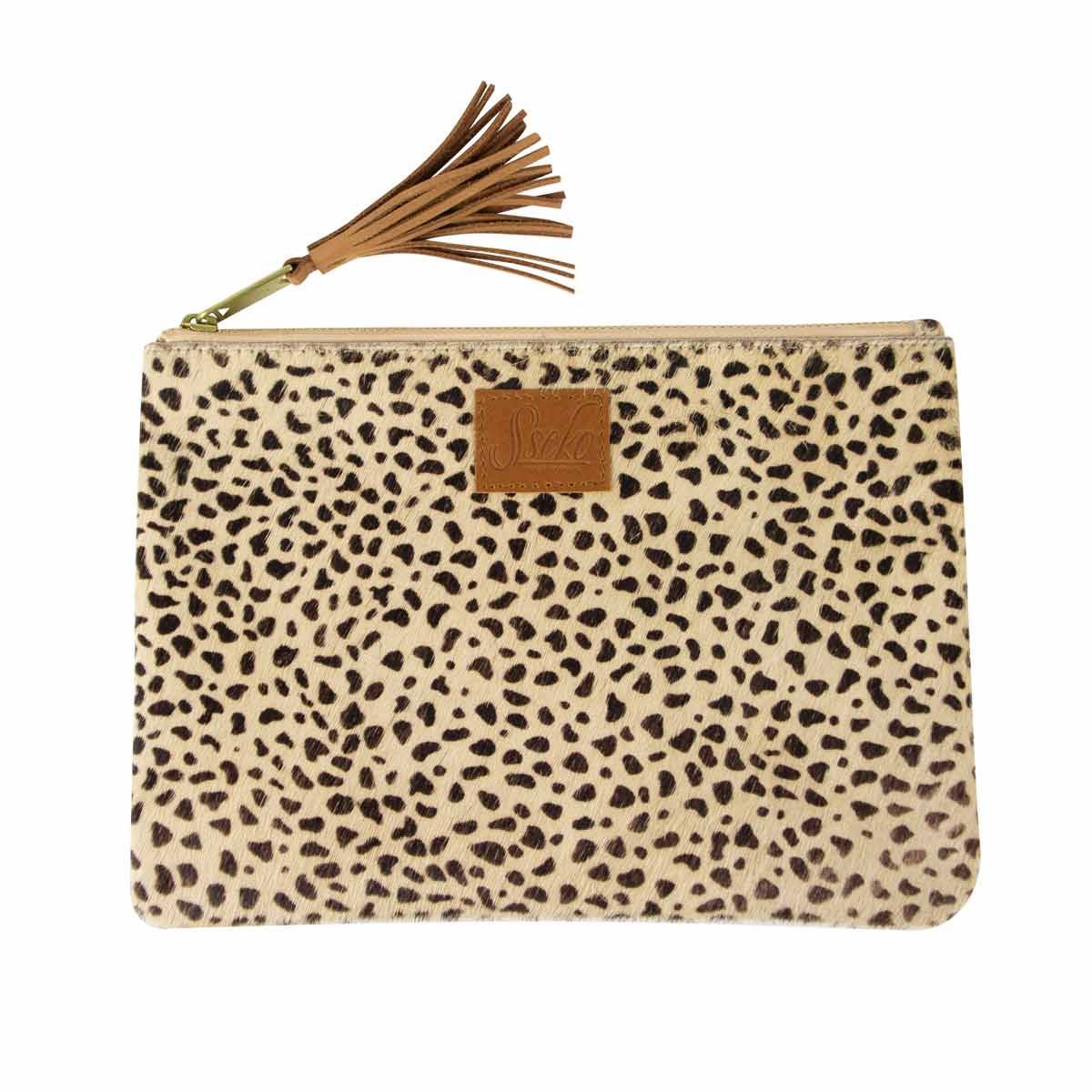 To fit with my animal print obsession, enter in this beautiful Sseko clutch! I have another fair trade clutch that I use every single day for my essentials (car keys, wallet, lipgloss). This clutch will be replacing that one because it much cuter! 😉
It's hand-painted hair on hide leather, has a zip closure and is unlined.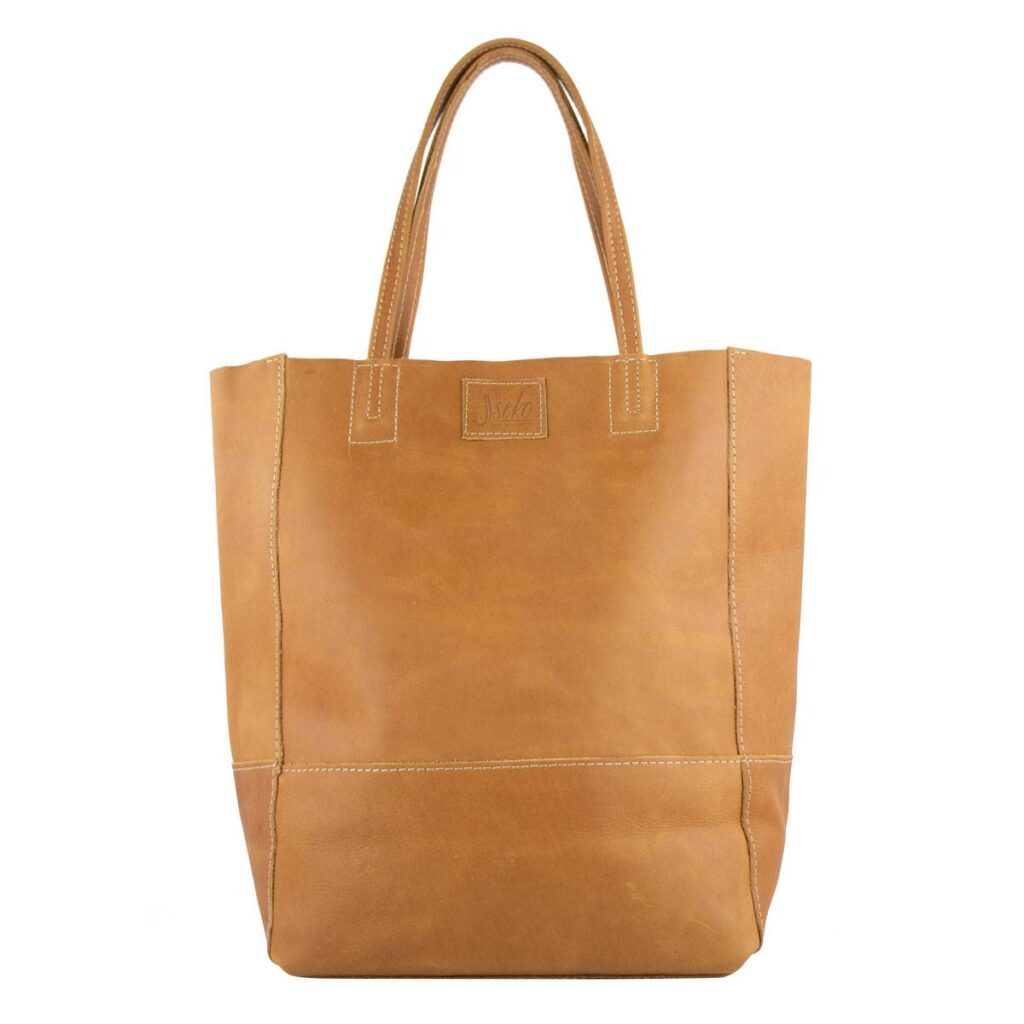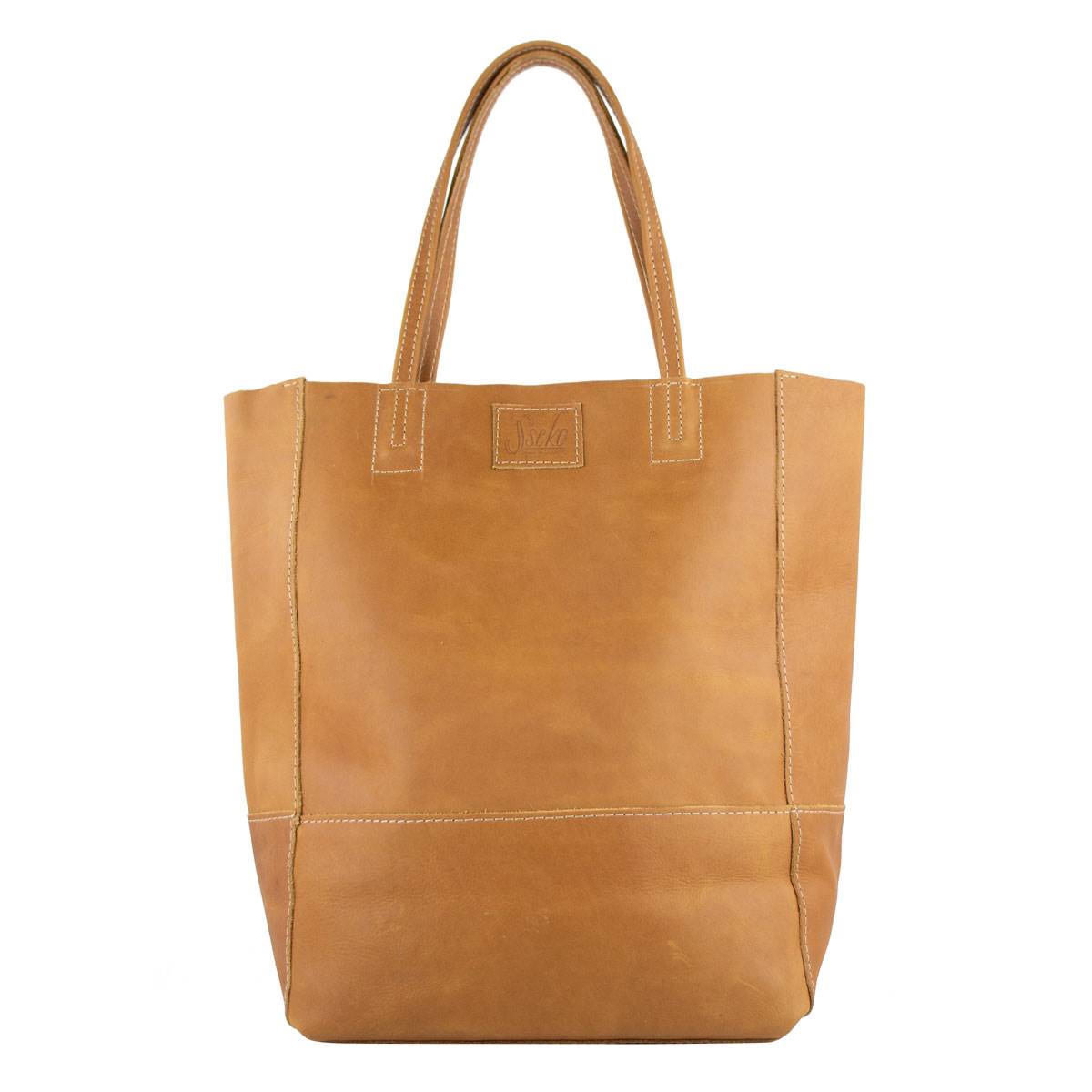 I'm not sure you can go wrong with a cognac Safari Leather Bucket Bag! It's one of Sseko's most popular items and perfect for pretty much anything – school, work, diaper bag, or anything in between!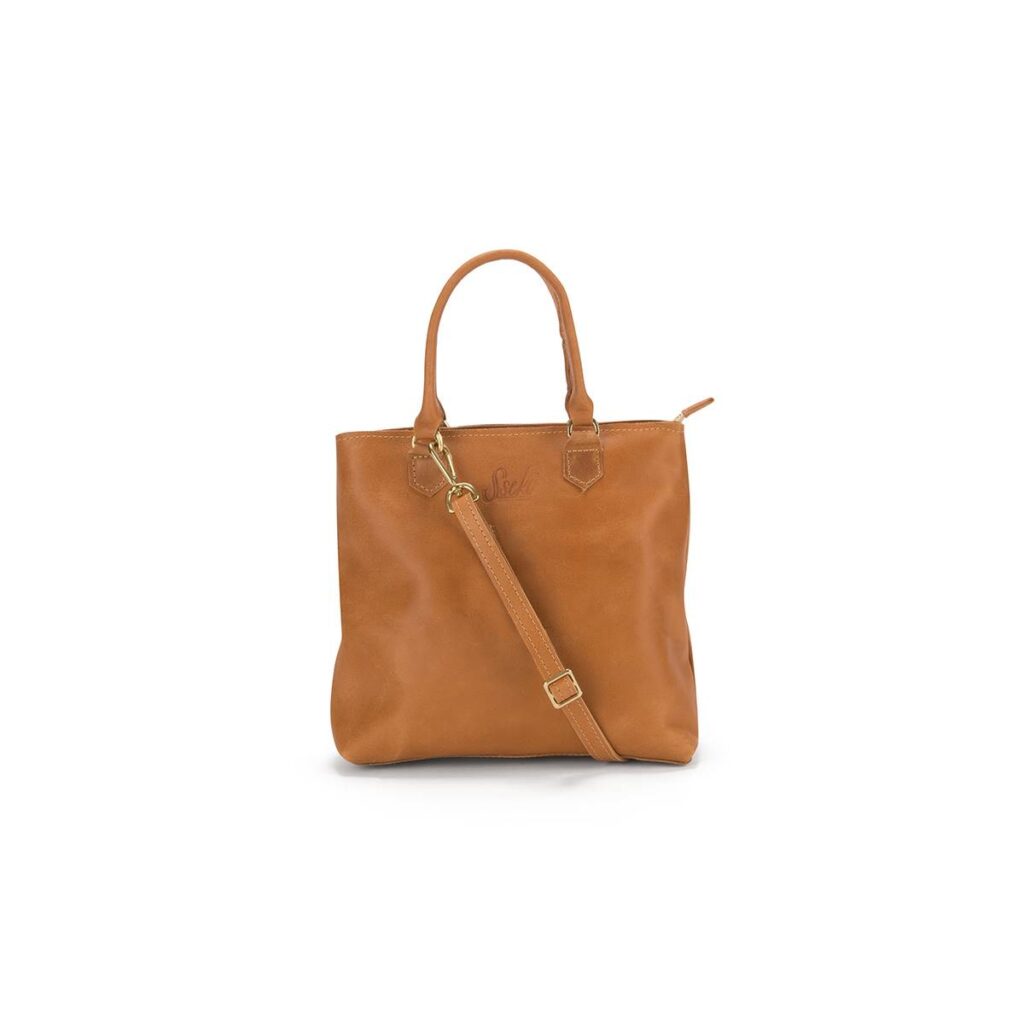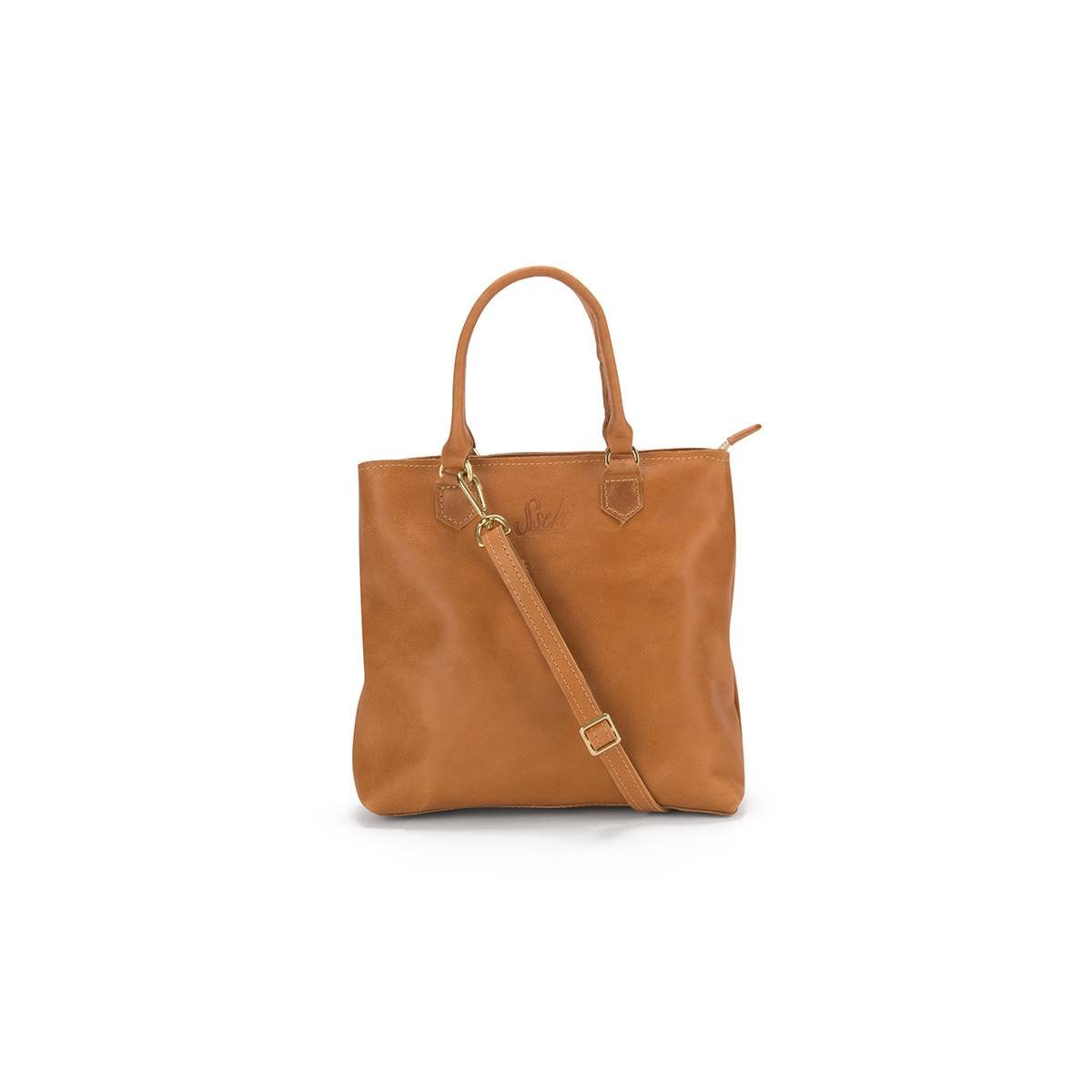 I have multiple cognac leather bags and I use them SO much! I love that you can use this one either as a crossbody or by the handles. It also has a zipper to keep everything safe!
Handmade in Ethiopia and also available in black! You can find even more Sseko crossbody bags here!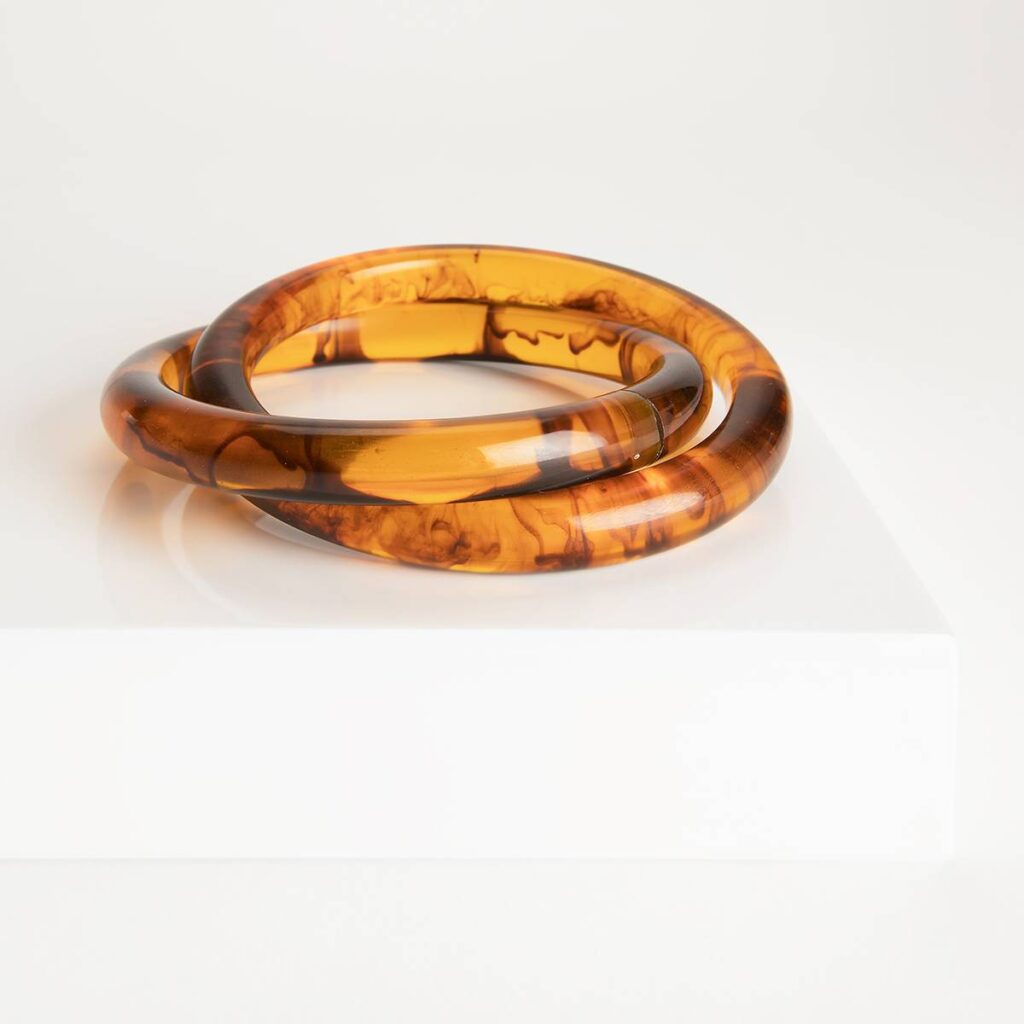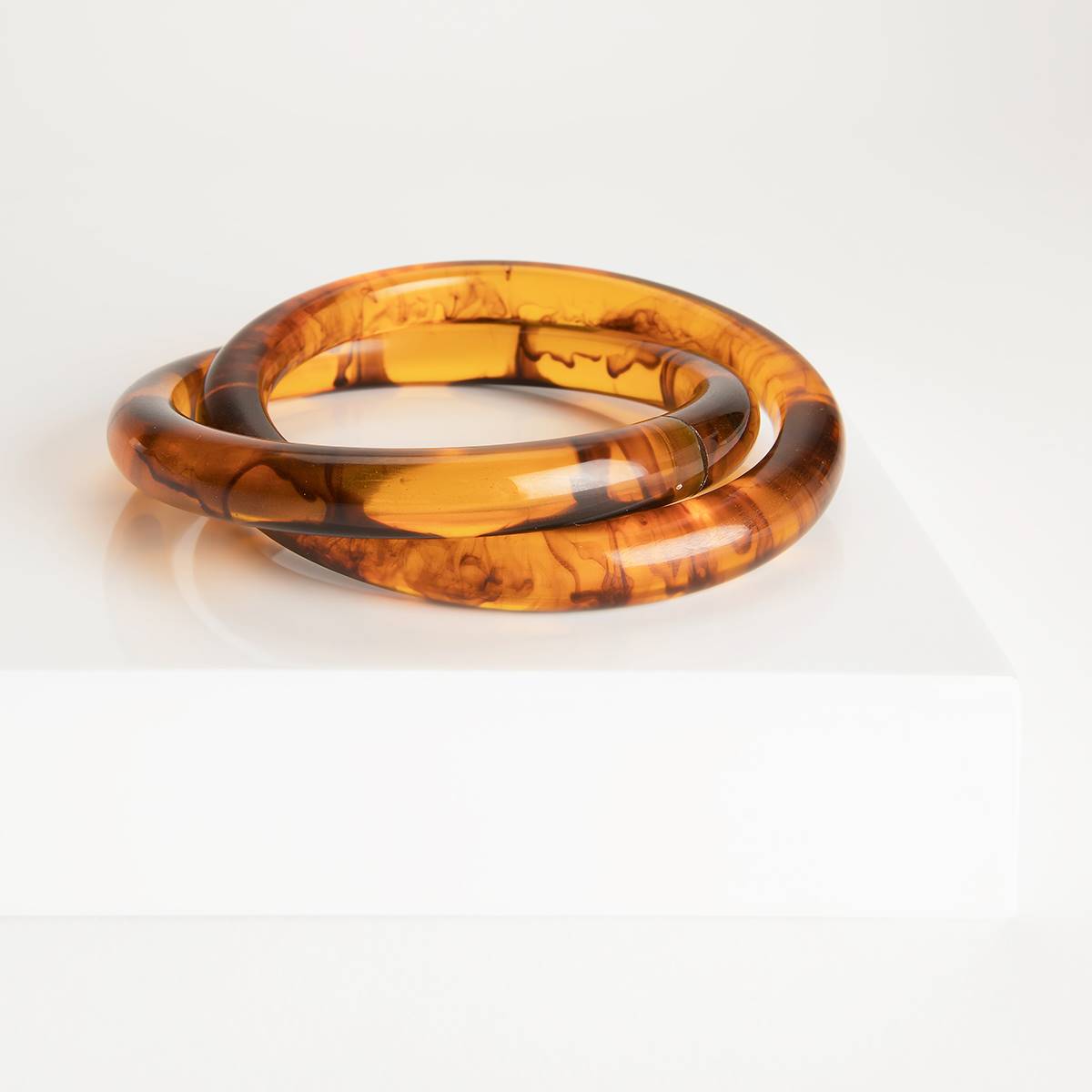 I love big bold bangles and these fit the bill! There are 2 bangles connected together to create the perfect statement set.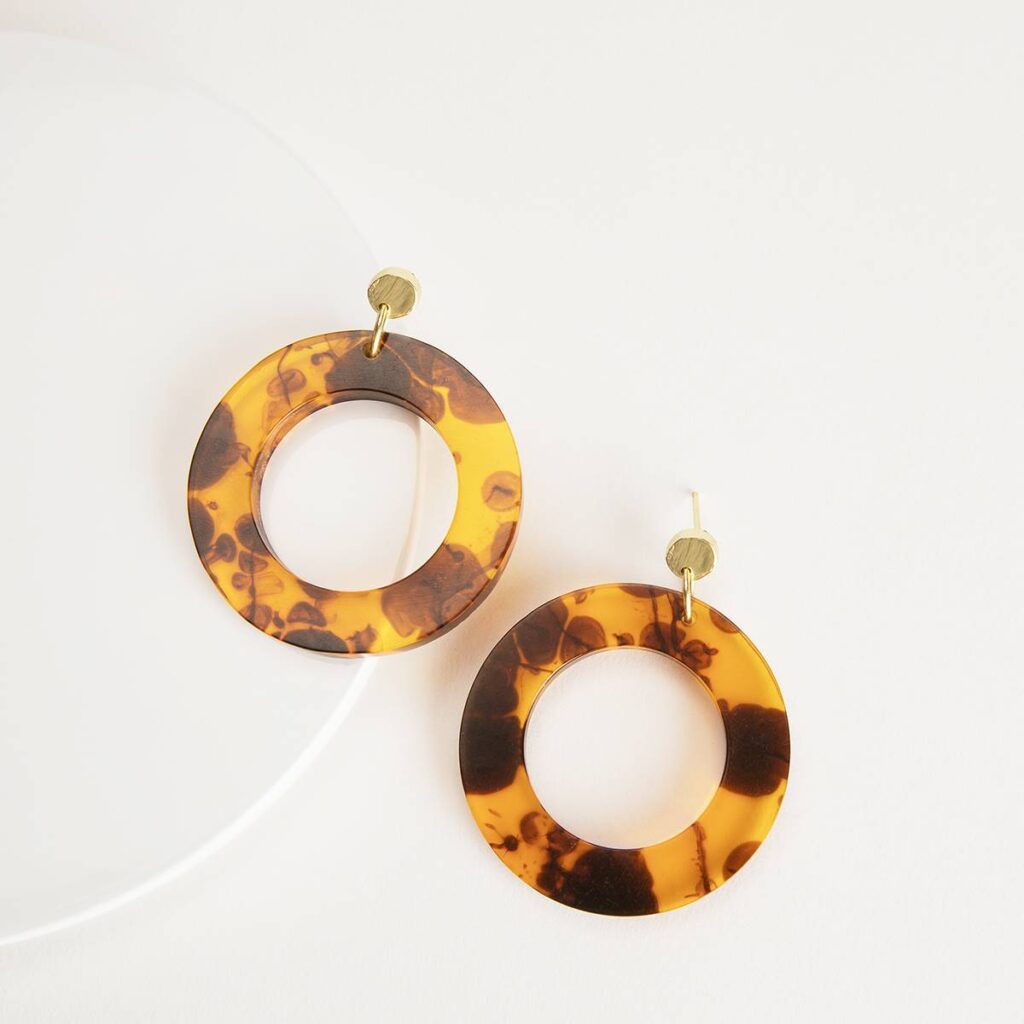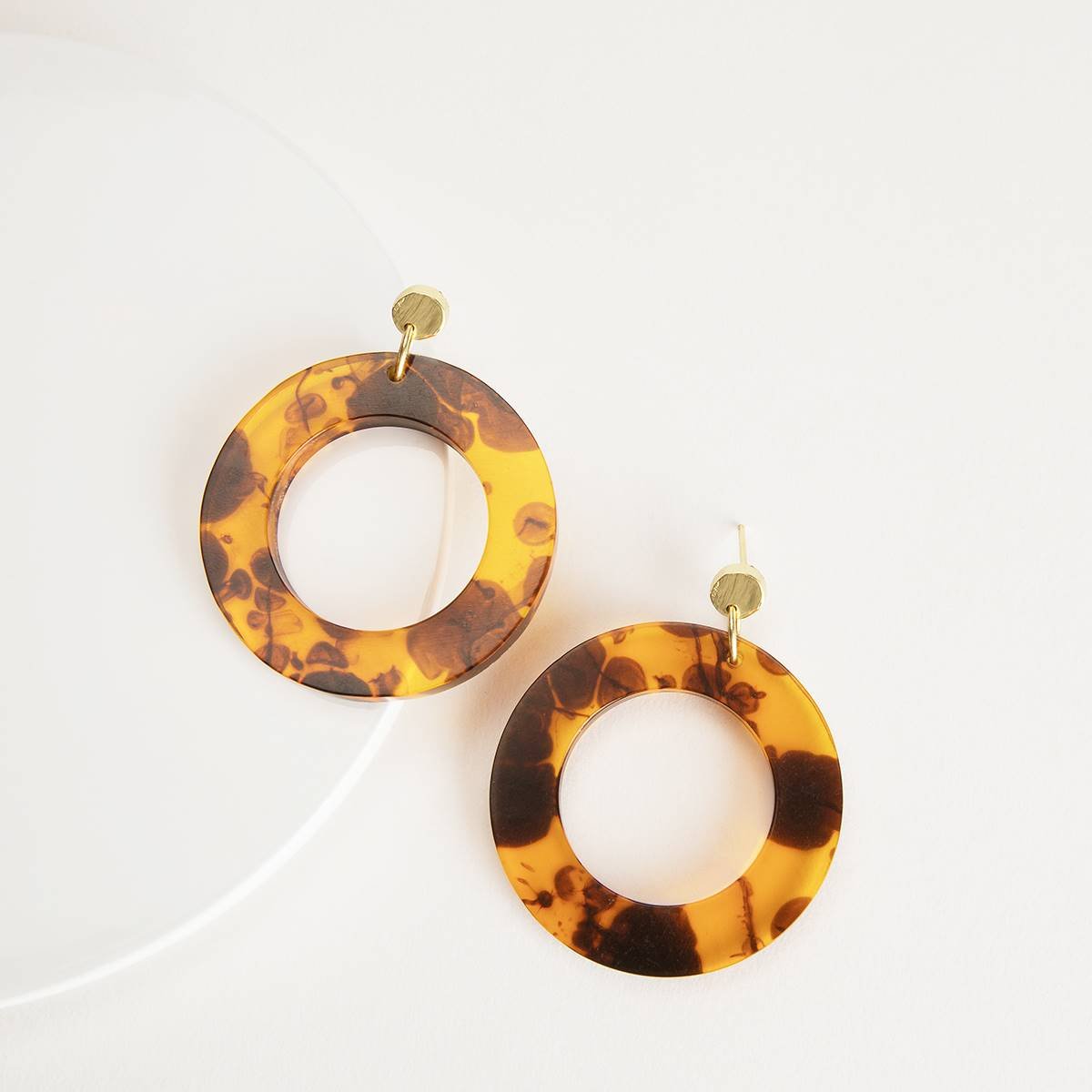 If you're they matchy-matchy type, you'll love these Tortoise Resin Circle Earrings to match your bangles! I love the print on these bold earrings and you'll be able to wear them with a variety of outfits!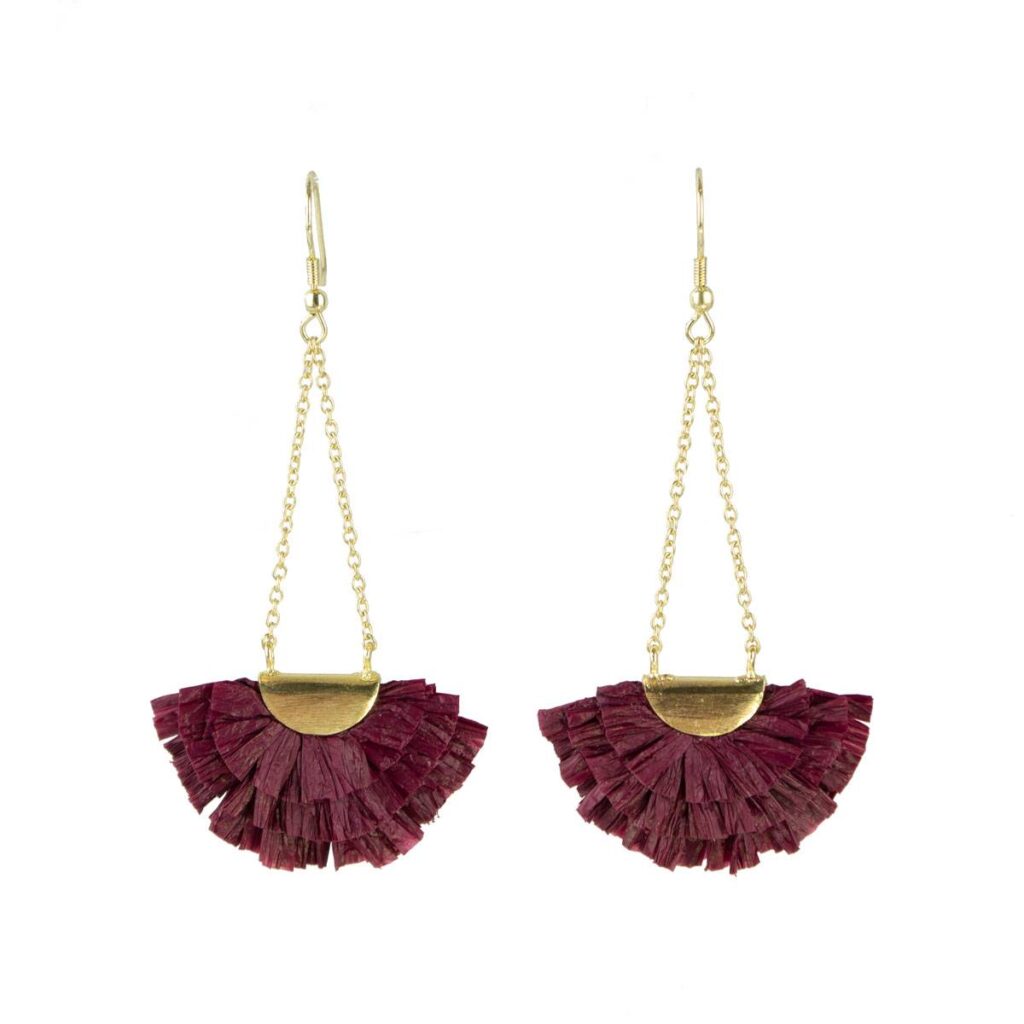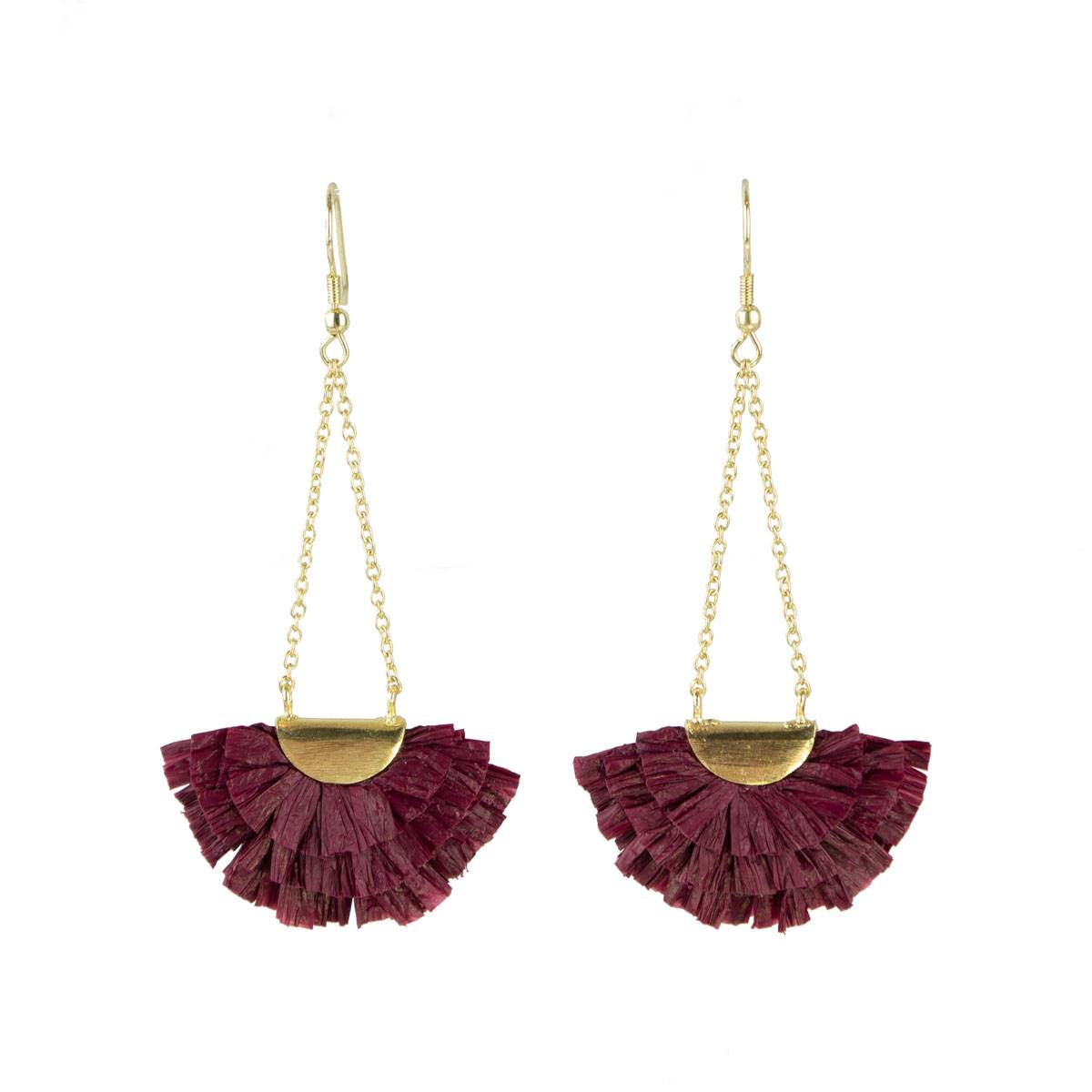 I love a good earring and these are beautiful! The gold and wine color are perfect for fall and winter and they can easily be dressed up or down.
I'll continue to share more of my favorite items as they get new things and I'll be sure to update this post once my products come in! I'm excited to partner with such an amazing brand making a big impact in the world.
Thanks for joining me!
With love,
Jen