Thinking of getting into journaling to help organize your life and all the things that are important to you? One great way to get started is through bullet journaling. Basically, a bullet journal, sometimes also called BuJo, is a method for personal organization. Bullet journaling is a system that organizes one's reminders, scheduling, to-do lists, and other organizational tasks into a single notebook.
While some people use bullet journaling as a chance to get creative and artistic (and you can find some really impressive pages online for inspiration), minimalist spreads can be the most effective.
What makes simple spreads for bullet journaling so great is that they're easy to recreate. They're also pleasing to the eye, meaning you won't get overwhelmed despite all the information packed in a single notebook.
Whatever your personal aesthetic may be, minimalist pages give you the opportunity to get creative without distracting yourself with too many elements. Best of all, it's more affordable than complex spreads.
There's no right way to use the bullet journal method; the only thing that matters is that it works for you. You don't need an elaborate spread with beautiful handwriting; clean lines and basic elements do the trick just as well!
What You Need to Get Started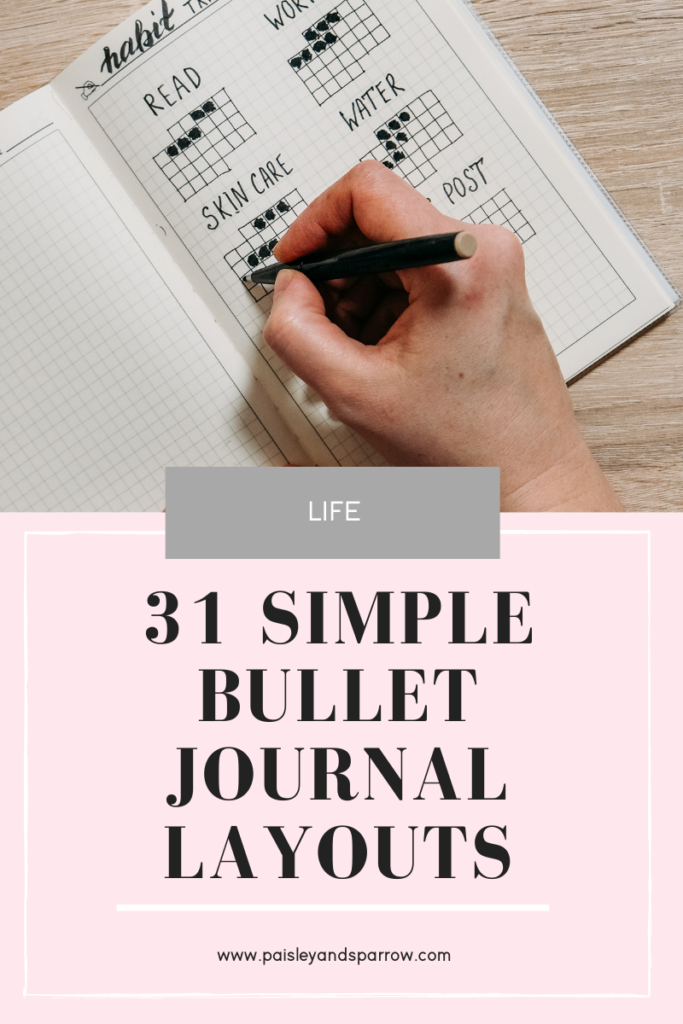 This post contains affiliate links.
Before you start jotting things down, you need to equip yourself with the essentials. You need some basic tools to get into bullet journaling. Here are the things you need for your new bullet journal system:
A nice notebook. This dotted notebook is the perfect size for your journaling needs. It comes in 24 color options, which means you can choose what best fits your personality. And if you don't like the dotted paper common in bullet journaling, you can also choose plain, ruled, or squared.
A trusty black pen. You can never go wrong with a reliable black pen. A lot of people have sworn by this particular model since their school days. Get a big pack because you know they'll disappear!
Assorted colored markers. To add some personality to your bullet journal, you need colored markers. It's a great way to decorate and color-code items in your journal.
Bullet Journal Ideas
Once you've got your materials, you're ready to start journaling. Here are some of the best minimalist bullet journal spreads for you to try.
Index Page Ideas
1. Minimalist Index Page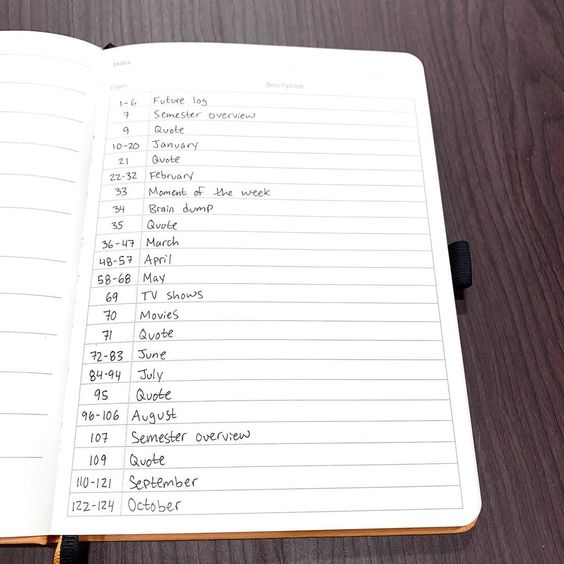 The first page or few pages of your bullet journal should help you navigate through your various lists. Your index page serves as a guide for you to find what exactly you're looking for in your journal by page number. You can try treating your bullet journal by copying the "table of contents" style of a typical textbook.
2. Color-Coded Index Page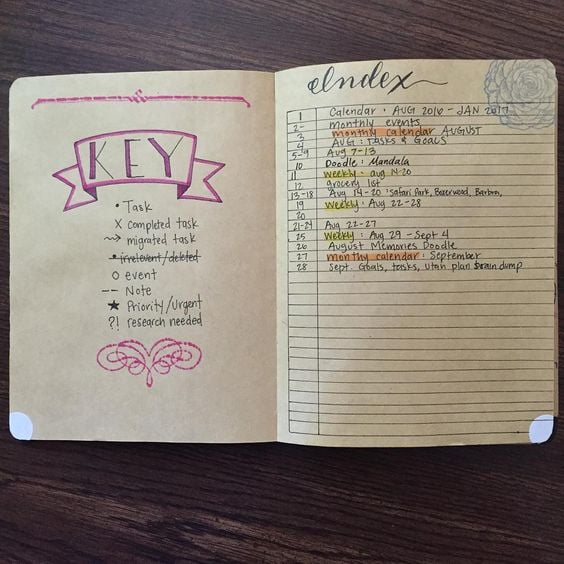 You'll find it easier to navigate your bullet journal by keeping the index page color-coded. Each list can have a designated color for you not to get confused when you're looking for something important.
3. Two-Columned Index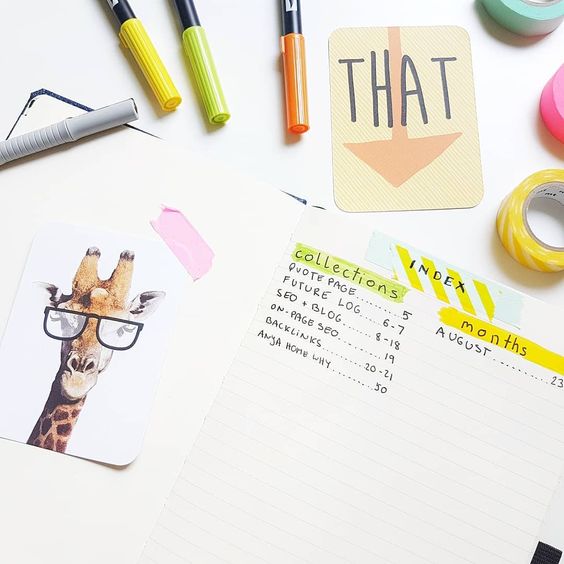 For this kind of index page, you need two columns: one for your page numbers and another for your topics. They're grouped by the months they were created.
4. Track Every Page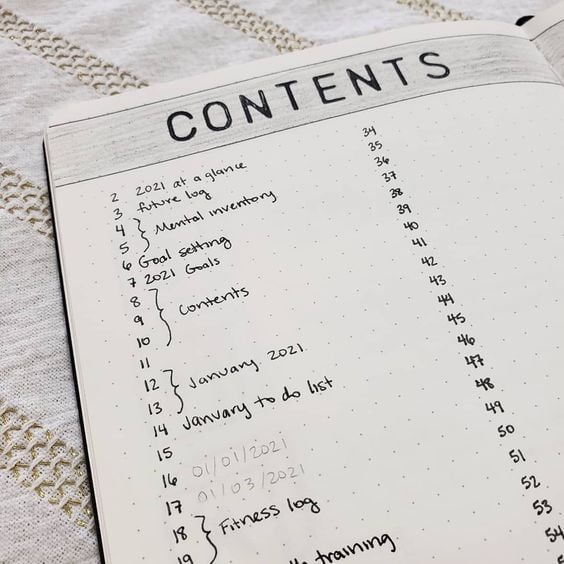 If you're all about precision, consider tracking the content of every page through an elaborate index page. This way, you know exactly which page to turn to when needed.
5. Minimalist Index With Key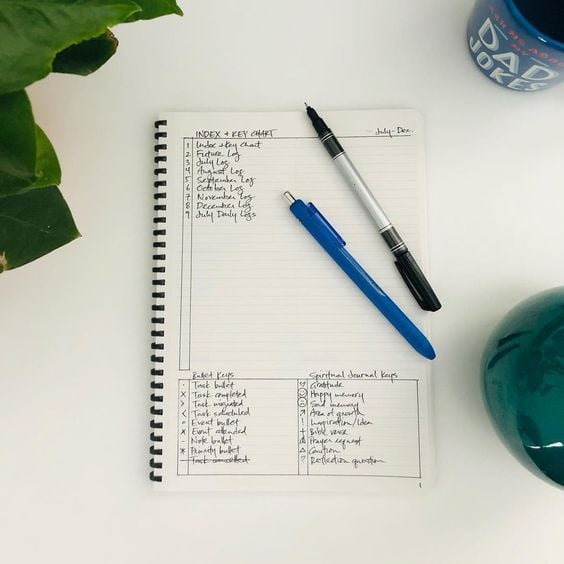 You can add a creative touch to your minimalist index page by adding a key or legend element to it. You can include shapes or colors that would make it easier for you to identify what you need.
Daily Spreads
6. Daily Timeline Layout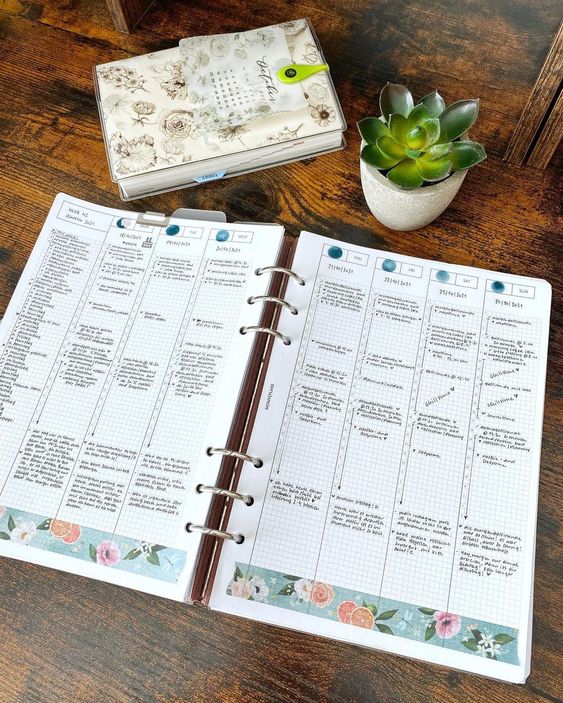 You can organize your entire day by breaking it down by the hour. You can even cut it down to 30-minute intervals so you can schedule even the most minute details.
7. Rapid Logging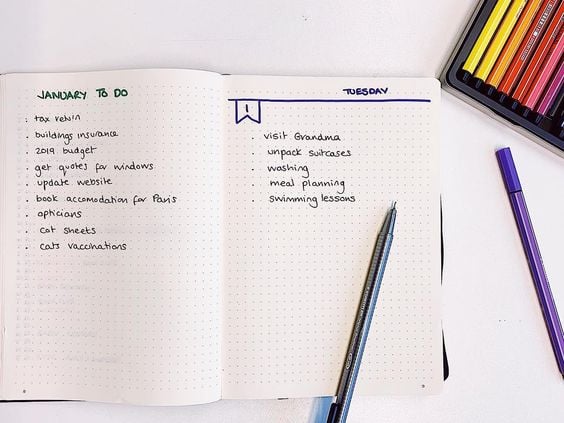 In this basic layout, you list down all pieces of information throughout the day via a bullet list. You can customize symbols so you know what activity or item they represent. It's like a brain dump each day and helps you get organized without taking too much time.
8. Daily Layout for Your Mental Health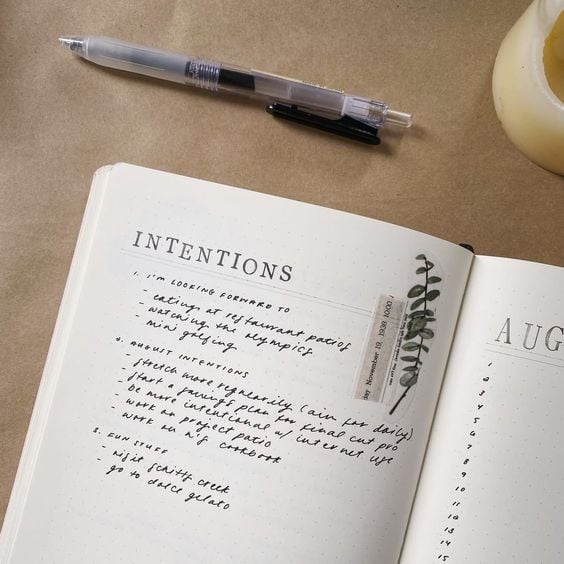 You can put your mental health first by creating a layout that puts mental health-related items in addition to important reminders. These can include your gratitude list and the things you're manifesting.
9. Motivational Daily Spread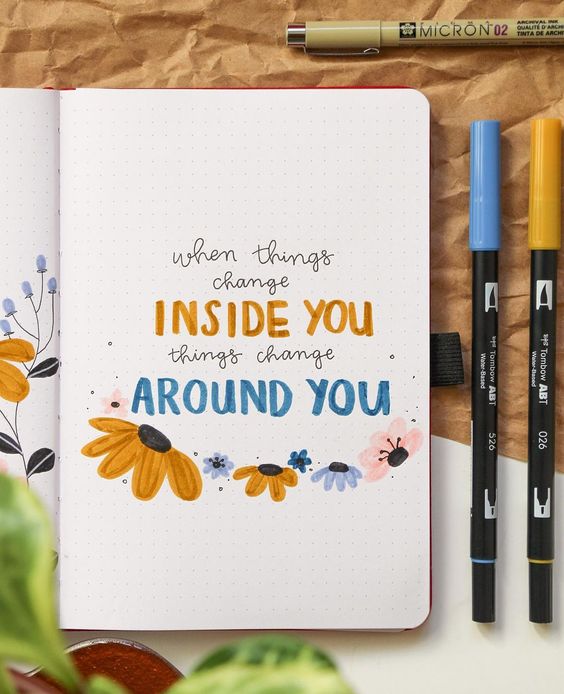 You can encourage yourself every day by adding a special message or little quote to your spread. Adding a short quote that would inspire you can help you finish all the daily tasks you need to accomplish.
10. A Categorized Spread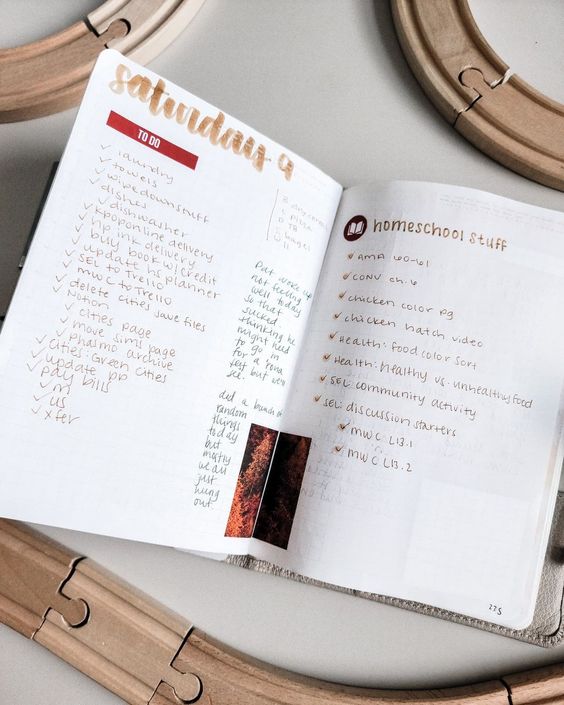 You can streamline the task list on your bullet journal by adding categories. Adding items such as 'to buy' or 'remember' will help you get things done accordingly.
Weekly Spreads
11. Minimalist Weekly Journal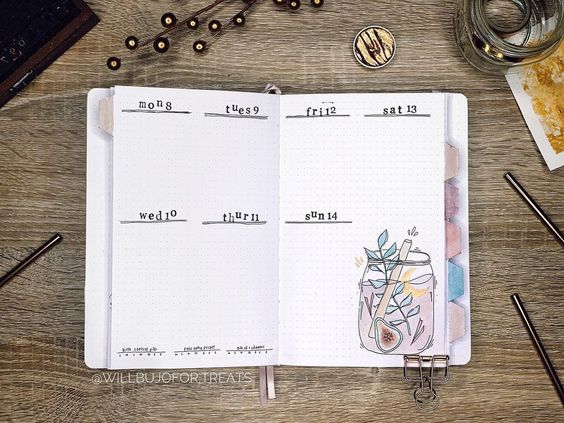 You can keep it simple by opting for a no-nonsense spread. Basically, you just organize each section by days of the week. Then, you write action items accordingly in a simple list.
12. Neutral Planner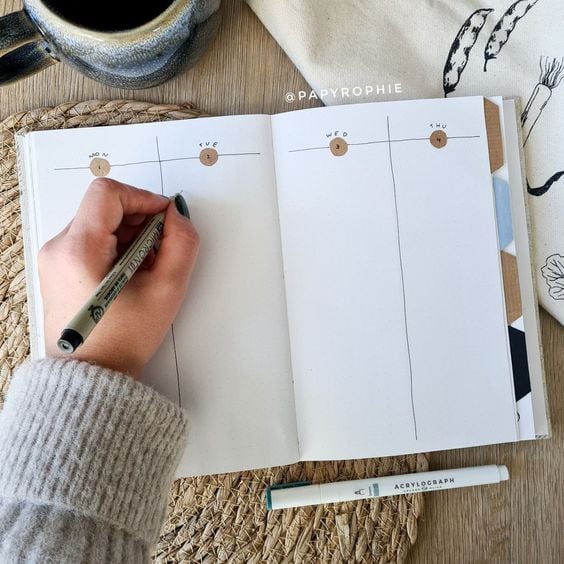 If you like to see your tasks on a weekly basis, you can create your own planner. You can add a separate page for urgent tasks so you're always on top of them.
13. Rapid Logging Weekly System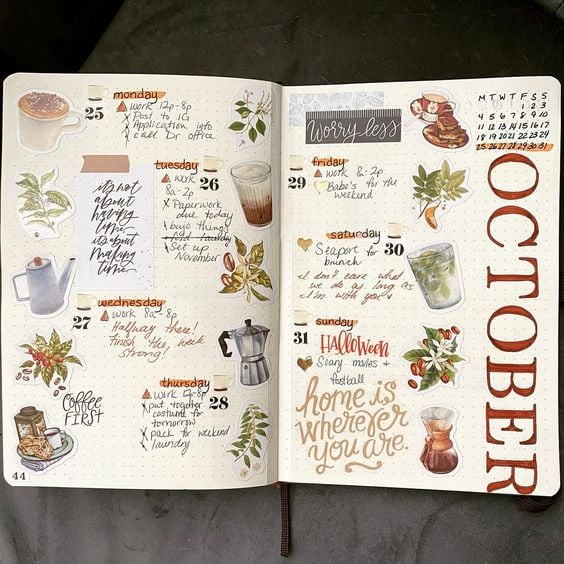 Similar to the rapid logging daily spread style, you jot down important tasks but on a weekly basis. Adding symbols and a legend area will keep you organized as you write down different items.
14. Journal With Doodles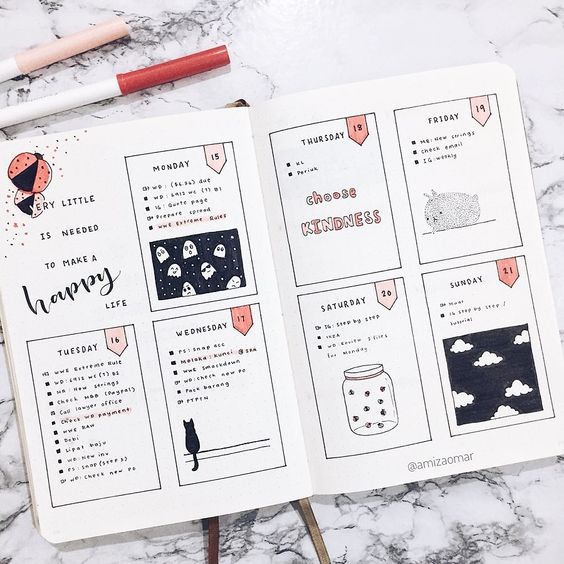 You can showcase your artistic abilities by doodling on each weekly spread. You can even choose a theme per month to keep things streamlined. It's a great place to give your journal some pops of color. By just choosing certain spreads for doodles, you can keep the clean look of the minimalist approach you like.
15. Structured Spread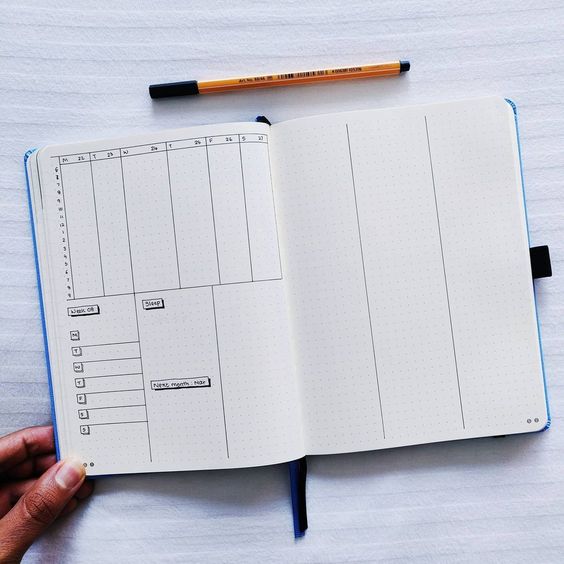 If you like things more structured, consider a weekly layout that has trackers and sections to help you plan the week. This layout has minimal distractions to keep you focused on the tasks at hand.
Monthly Spreads
16. Monthly Calendar Spread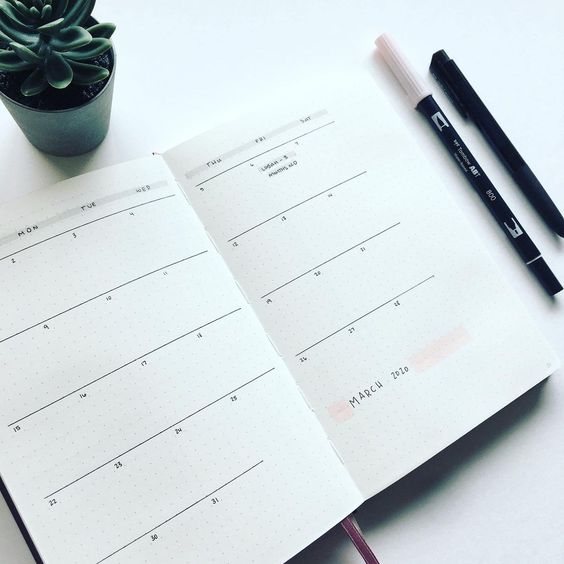 You can personalize your own monthly calendar by making a monthly calendar spread. Color-coding items help you distinguish one kind of activity from another.
17. Themed Monthly Spread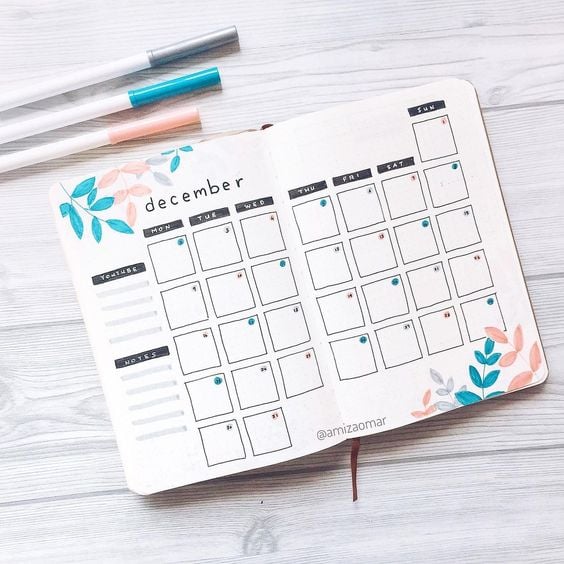 You can get creative by assigning a theme each month. This will not only add some personality to your bullet journal but also let you express yourself. You can design each month per season or whatever inspires you.
18. Log-Style Monthly Spread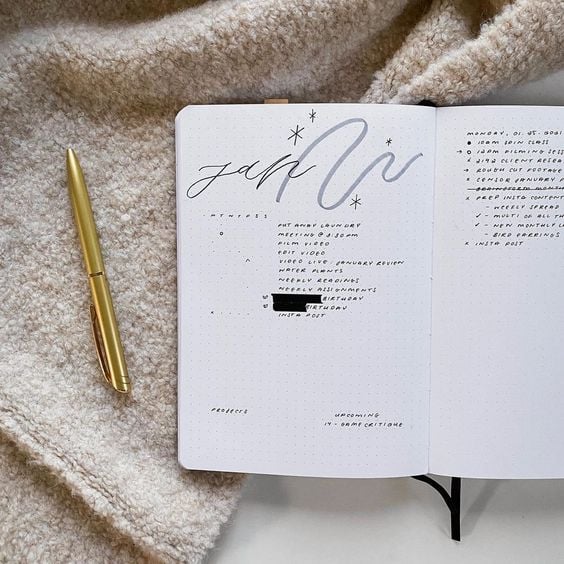 Keep it simple by making a log sheet for all the important things to be accomplished within the month. It's a no-nonsense way to keep yourself organized.
19. Monthly Spread With Goals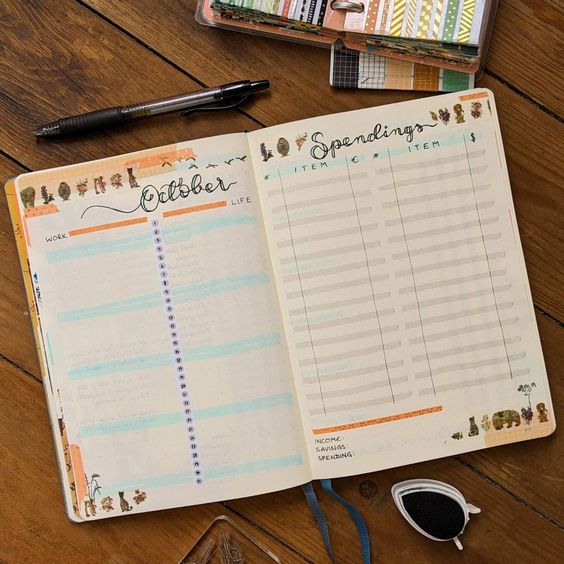 You can keep track of your monthly goals by listing down the things you wish to accomplish within the month. This can include your target exercise goal or a savings tracker with the amount you aim to deposit in your bank account by the end of the month.
20. Month at a Glance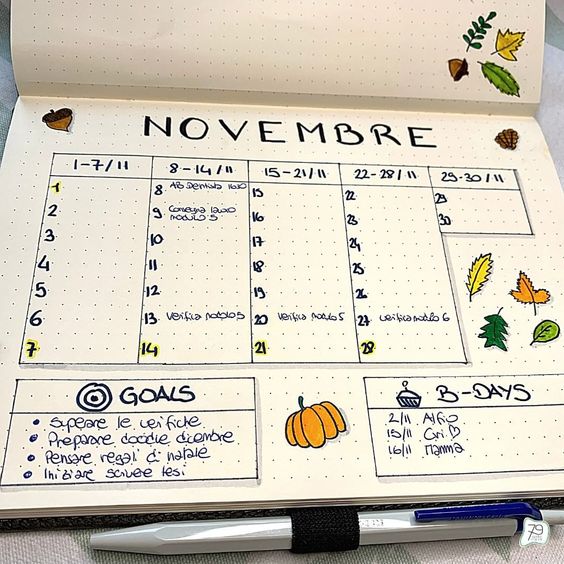 You can clump your tasks per week with a monthly spread that gives you a glance at your monthly goals. In addition to a section per week, you can add a column at the top to highlight the top three things on your to-do list.
21. One Line a Day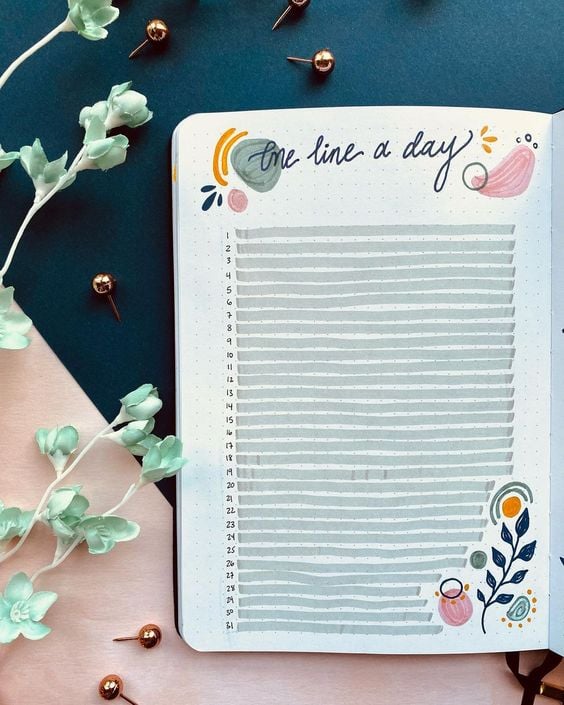 If you're looking for a spot to do some journaling rather than planning, a line-a-day spread is a great minimalist way to jot down notes about each day. Just write one line — a summary or something you'd like to remember — about each day once it's over.
Habit Tracker
22. Wellness Tracker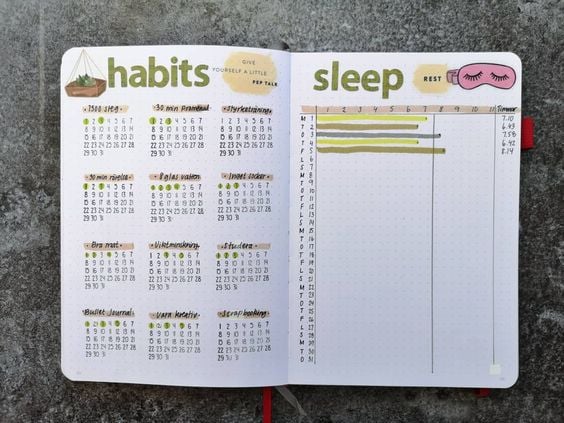 You can make sure you get enough sleep and exercise by tracking your progress through your bullet journal. Listing down your wellness goals helps them become more feasible to achieve.
23. Food Journal or Meal Planner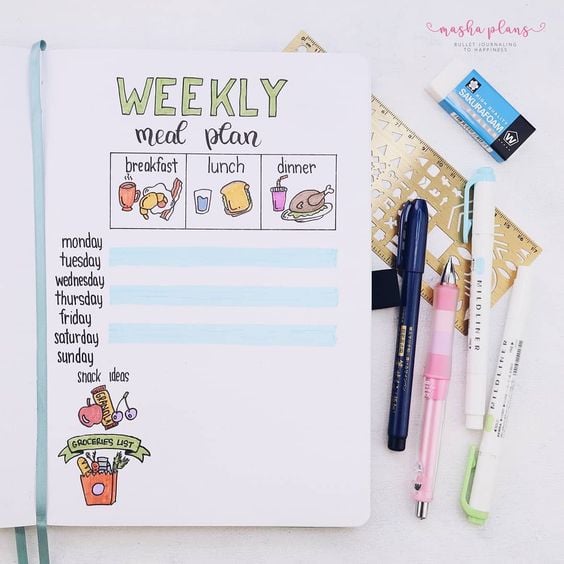 Especially useful when you're watching your weight or trying to find the source of food sensitivity, consider listing the food you consume, as well as the number of calories or potentially problematic ingredients. You can also make a spread to plan your meals for the week.
24. Self-Care List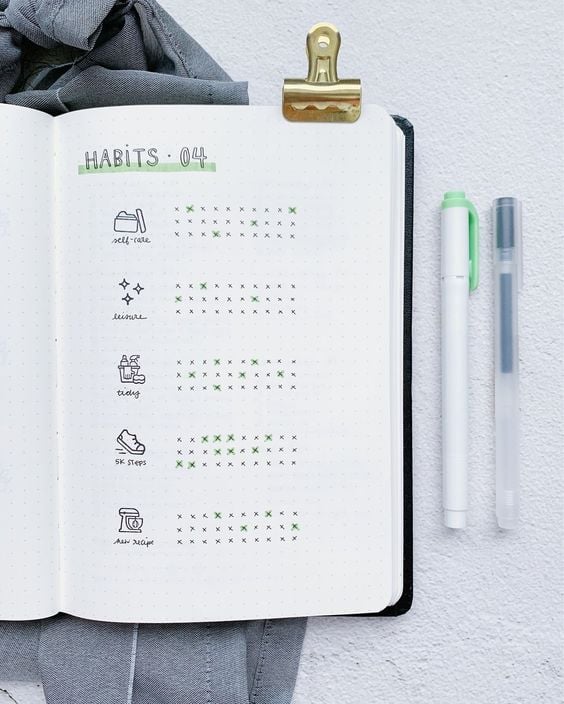 You can include self-care habits in your routine by adding a list in your bullet journal. This can include daily meditation, activities that you enjoy doing, exercising, or your nightly skincare regimen.
25. Productivity Tracker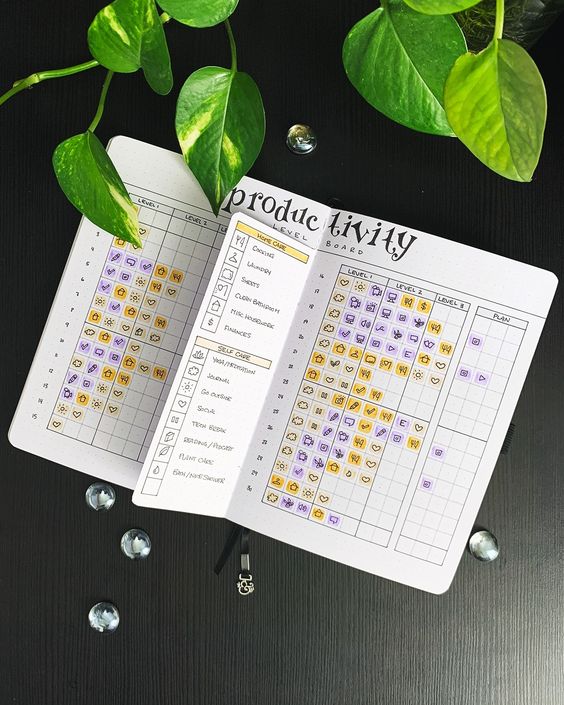 A great time management tool, you can make sure you're on top of everything you have on your plate by tracking your productivity level. This way, you know which items you need to prioritize and which ones you can accomplish later.
To-Do Lists
26. By Priority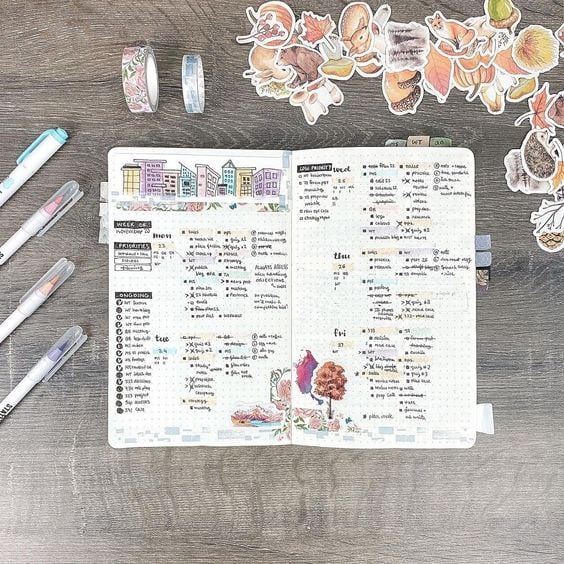 Segregate tasks by the must-do items, should-do things, and if-I-have-the-time stuff. This helps you prioritize the most important tasks on your list. At the same time, you do away with unnecessary little things that can distract you from what's important.
27. Project Planning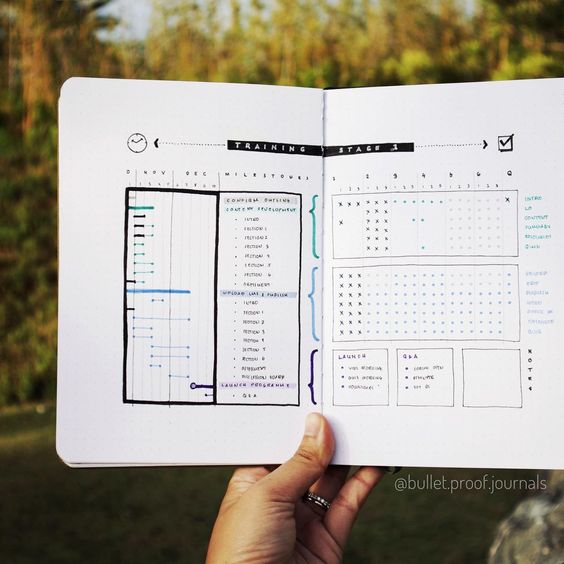 You can track your progress for each task by jotting things down. This helps ensure that you accomplish things on or before their designated deadlines. This also reassures you that you're making progress along the way.
28. Color-Coded Tasks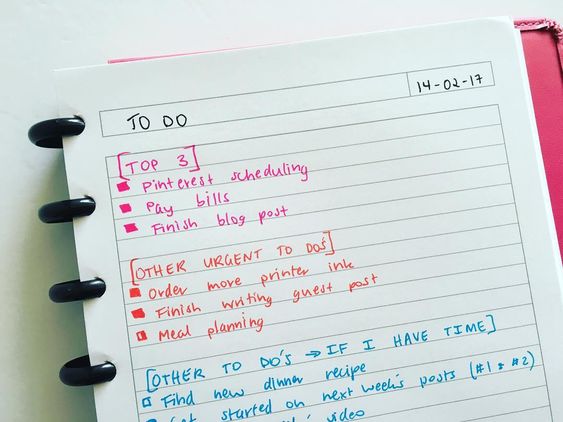 You can jot down random tasks you need to accomplish and segregate them by the level of priority through color-coding. Washi tape is a fun way to color code if you're feeling a little fancy. Make sure you have a blank box in the left corner so you can tick off what you're done with.
Future Logs
29. Vertical Future Log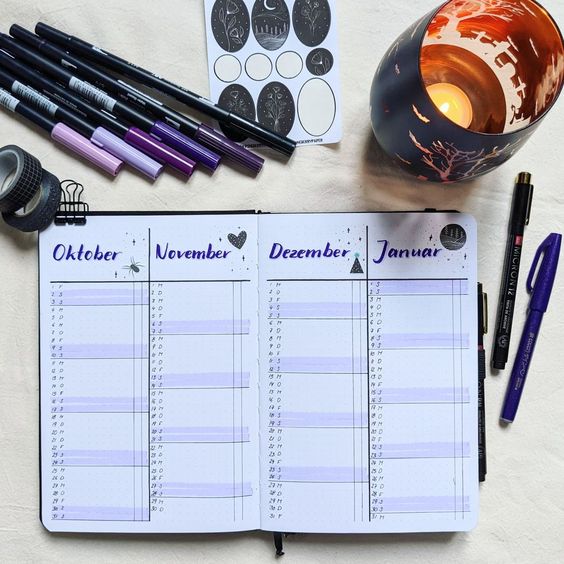 You can write down all important dates and due dates by logging them down vertically. This helps you keep on top of your priorities in advance.
30. 12 Months at a Glance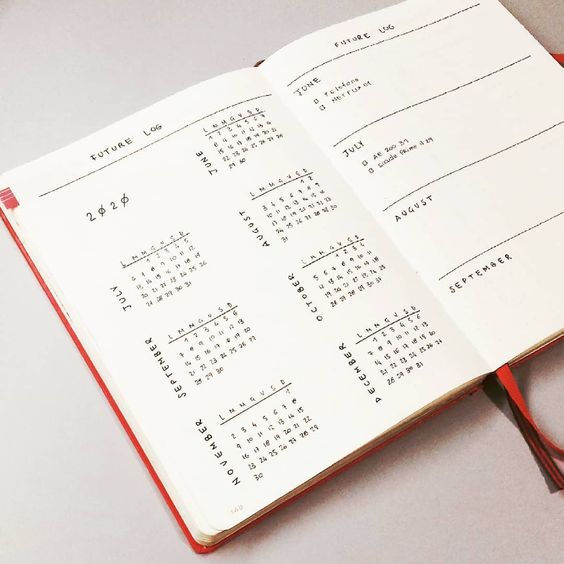 You can keep track of holidays, birthdays, and important events by making a spread with all the months of the year. This will make sure you prepare for each occasion accordingly.
31. Monthly Goals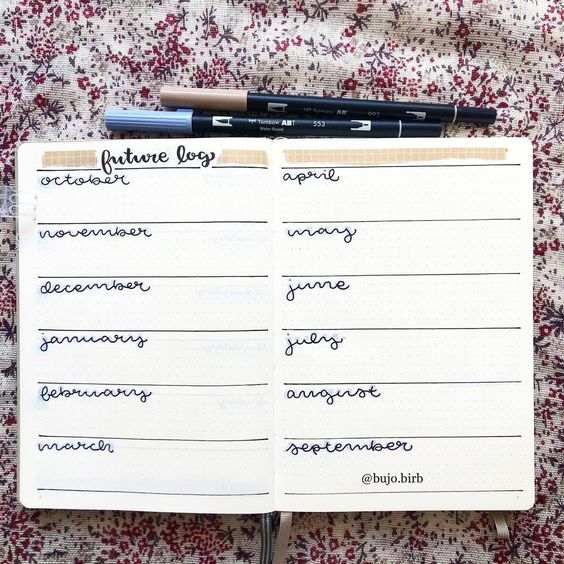 Make sure you accomplish your goals by jotting down per month. This is an awesome way to make your goals more feasible. Consider writing down goals with an erasable pen so you can recalibrate your goals if needed.
Keeping In Mind What's Important
Bullet journals help you stay on top of everything, but you should treat them as more of a guide. Even if you're meticulously organized, life can throw a lot of curveballs. That's why you shouldn't be too hard on yourself if you don't accomplish everything perfectly on time.
On the other hand, bullet journaling shows you how much progress you're making. In a way, it reminds you that you're doing pretty good for yourself. Plus, it's a great way to make sure you don't forget what's important. Your bullet journal is essentially your partner in getting things done, so start jotting away!