Bullet journaling can be a fantastic way to stay on track, make goals, and create a planner for your desired format! Journaling can feel too structured, but bullet journaling allows you to pick and choose what you would like to include in your notebook.
What is Bullet Journaling?
Bullet journaling is a fun way to create your schedule for weeks, months, or even years. They are used to keep track of what you have done or what you are planning to do. Bullet journaling can be great for trackers and goals and keep you on task!
Whether it is financial spreads, scheduling, a to do list or other choices, there are many options to choose from. When it comes to starting your bullet journal, you want to figure out what you would like to track. Then it is time to create your bullet journaling spreads!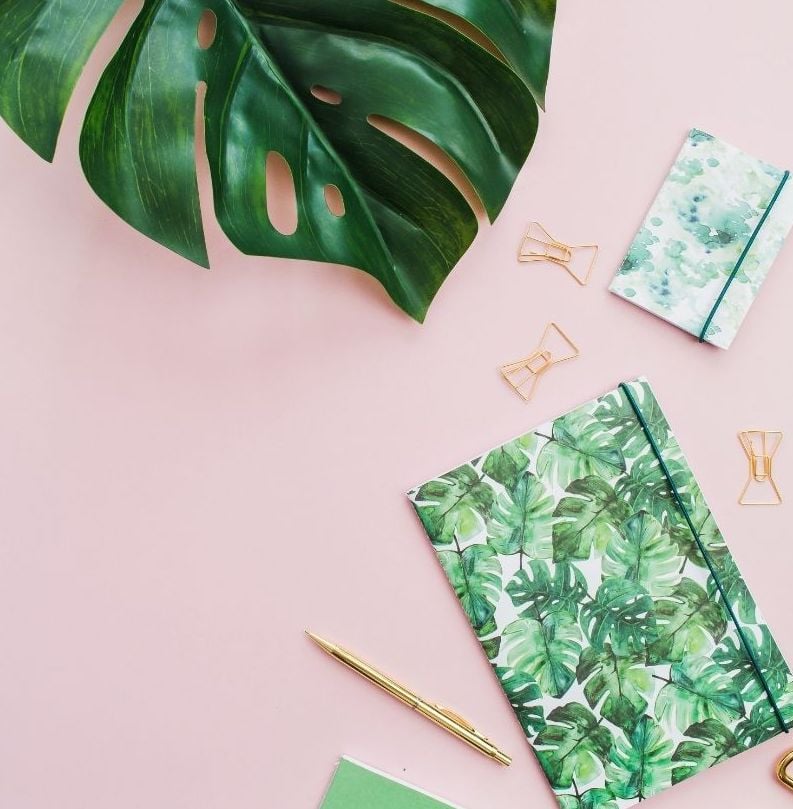 What is a Bullet Journal Spread?
A bullet journal spread is a group of pages that are related to one single topic. Most people can create two-page spaces for their one subject, allowing them to present the whole topic quickly.
Your bullet journal spreads can look any way that you desire. If you want to have a simple design, go for it! If you are really into design, you have the potential to create elaborate structures and formats that fit your style and your personality.
You can do a yearly spread, monthly spread, a weekly spread or even daily spreads! There are so many different options when it comes to bullet journal spreads.
Creating Weekly Bullet Journal Spreads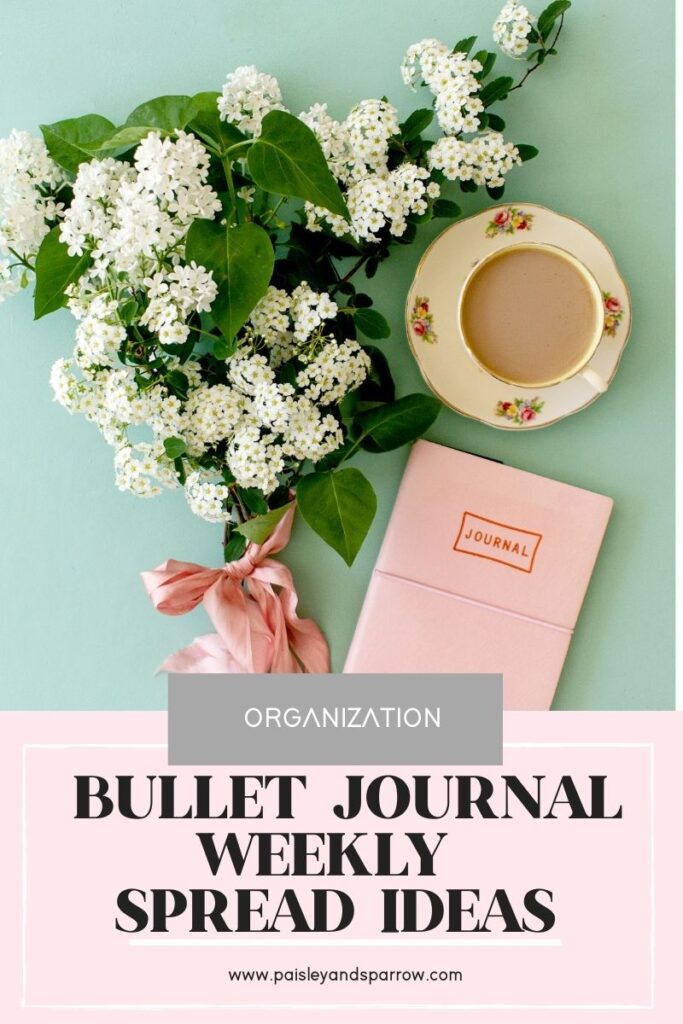 This post may include affiliate links which means I may earn a small commission if you shop using the links below at no additional cost to you. Paisley + Sparrow is a participant in the Amazon Services LLC Associates Program. Thanks so much for supporting me and this blog!
Your weekly spread covers what you do for one whole week. You can use it to track your weekly tasks, important tasks, as a small habit tracker, or anything else you have scheduled for that week. Here are the top bullet journal spread ideas:
To-Do Lists
Daily Tasks
Meal Planning
Water Intake
Fitness
Notes
Mood Tracker
Gratitude Log
Affirmations
Birthdays
Reminders
No matter what is happening that week, you can include any details that you need to keep in mind for that week and look ahead into the future for the next few weeks.
How Do I Create a Weekly Bullet Journal Spread?
It is pretty simple to create your own structure for your bullet journal spread and I highly recommend starting with a minimalist spread to get the hang of it. Once you've got it down you can make it more elaborate and add details and fun with things like washi tape, stickers and more!
When you create a weekly bullet journal spread, first, you want to figure out what day of the week you want to start on. Generally, people choose to start their weekly log on Sunday or Monday.
From there, you can decide on what trackers you want to include. In the beginning, the simpler, the better. You want to make sure that your structure is simple and easy to follow and that you can add more to it as time passes on. You will definitely be editing it more than you would any other journal!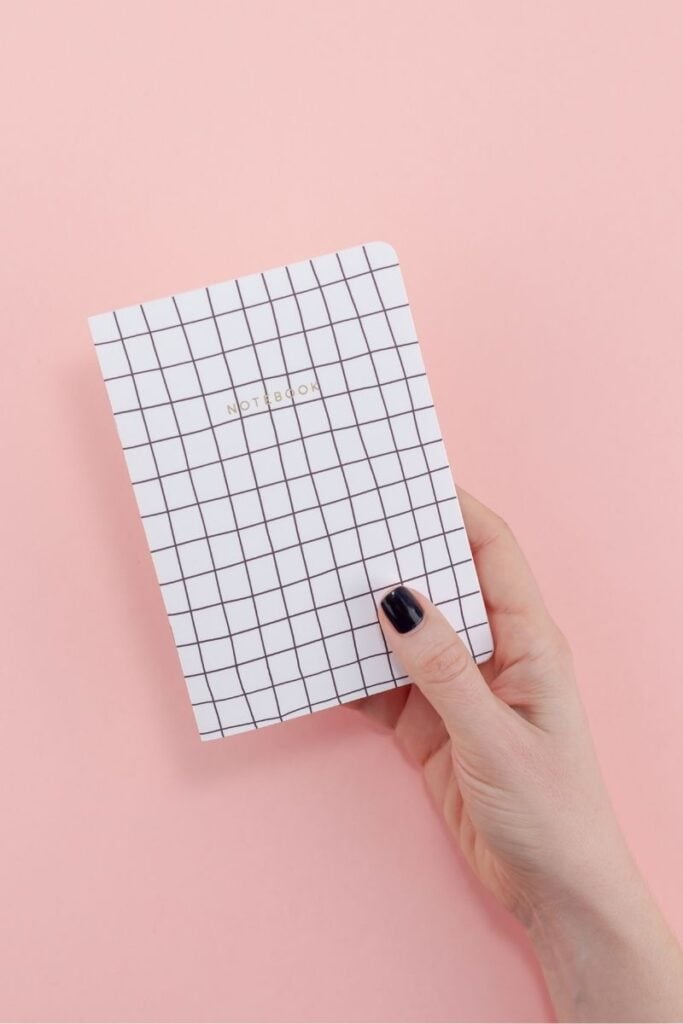 Generally, a great place to start is with creating your weekly schedule including the days of the week and writing in the dates. Put in your appointments, weekly goals and any other weekly trackers you want to include.
From there, you can even add in doodles or other designs that will make your bullet journal truly yours. Remember: it is up to you how your journal looks and what format you want to implement! It's all up to your personal preferences!
Ideas for Your Weekly Bullet Journal Spreads
If you are lost on where to start for your own bullet journal or your own weekly spreads, we've got you! You can take a look at some other creative ways people have made their own amazing weekly spreads!
There are many options for you to choose from. You can start with any of these or use them as inspiration for your own designs. Here are some of the most popular bullet journal weekly spread designs that people use for their own journaling routines.
1. Block Layout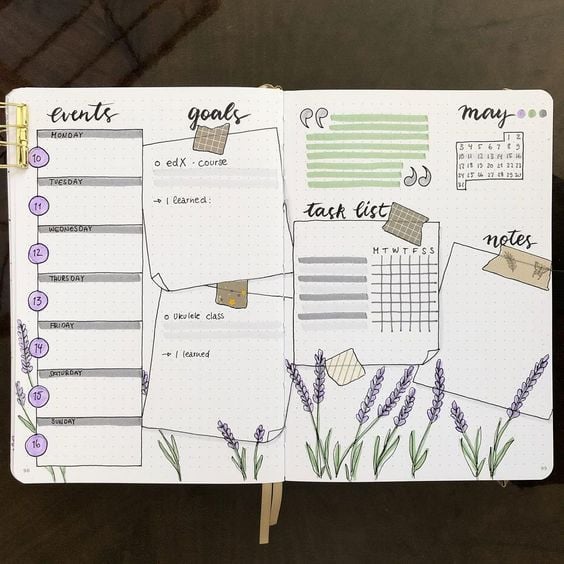 Image via @experimental_bujo
For simplicity, you can create your own blocked schedule. With a gridded notebook, this is easier because you can use the dots to create your structure. You can use the grids or the blocks to do bullet lists, decorative designs, or even implement some fun geometric theme to your schedule.
With block scheduling, you can also use this style to fill in your habit trackers. For example, you can color in one of the blocks for every finished task and complete your day of habits. This can be a great and simple way for you to visually stay on task and focused on your goals.
Blocked examples also allow you to keep your days in uniform locations. You can choose to do this for multiple days on one page or even just one page per day. If you need more space, it is up to you!
2. Vertical Structure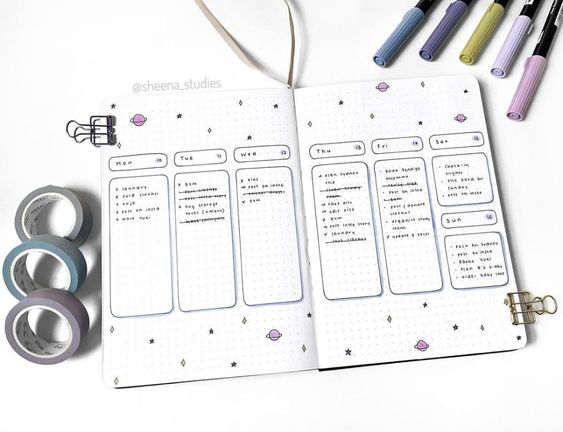 Image via @sheena_studios
If you want to keep your spreads looking similar to a regular schedule, the vertical layout can achieve simplicity and give you ample space for your daily tasks. The vertical design keeps each day with its own vertical block.
You can include meetings, appointments, tasks, and anything else you'd like in the daily sections. The significant part is regarding the format: you have most of the length of the page to write what you need to! This allows you to add more and adjust as needed.
3. Create Lists for Your Spreads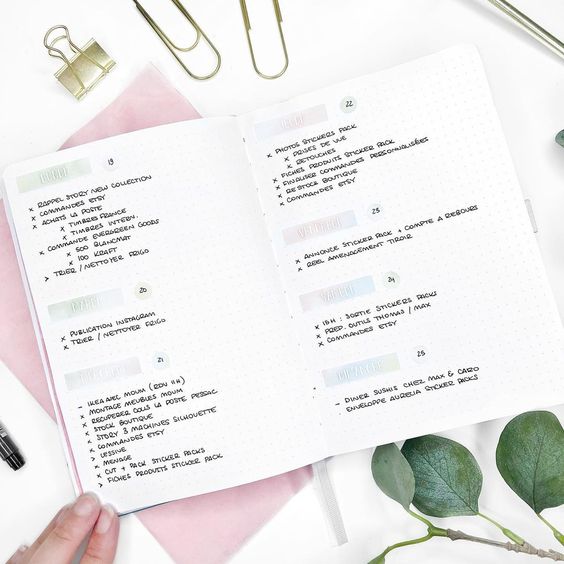 Image from @planwithady
If you aren't stuck to a structure, lists are the best way to remain organized and give you the most flexibility. You can have multiple lists on one page, and you can keep track of your daily tasks.
No weekly spread will look the same, but with lists, you can keep track of everything even as it comes up.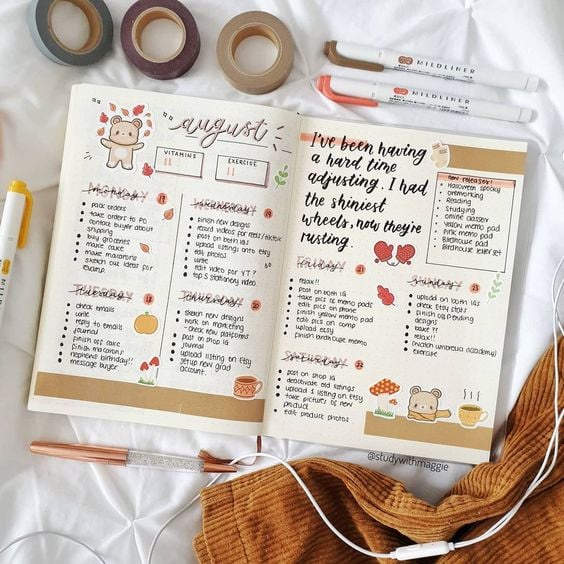 Image via @studywithmaggie
One example of a list structure could be separating each day by a line and then putting the items to complete under it.
If you have things scheduled, you can keep the set appointments on the side, with your main tasks in the middle. As you become comfortable with this structure, you can tailor it to your liking.
4. Colorful Designs and Formats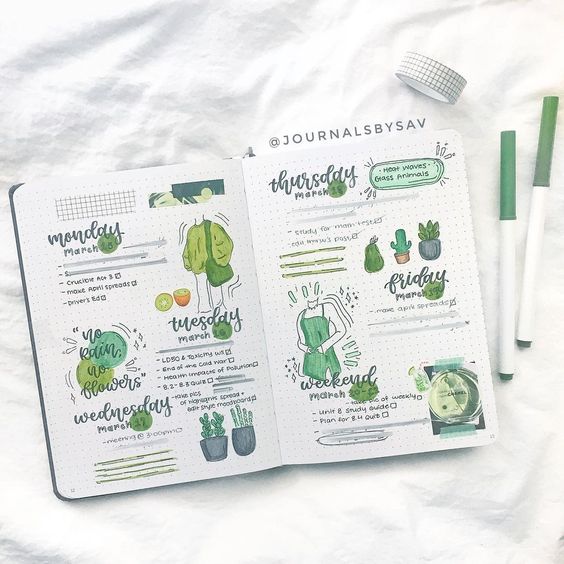 Image via @journalsbysav
Don't be afraid to add a pop of color to your bullet journal! This can be a great way to get your creativity flowing and also plan for the week. Add a fun banner at the top with the dates for the week or even color-code your tasks.
With colors, you can also code certain items. For instance, maybe you always keep your financial tracker color-coded and available so that you can refer back to it at any point throughout your spreads. You can choose your color scheme and how you plan your design for these weekly spreads!
5. One Page Weekly Spread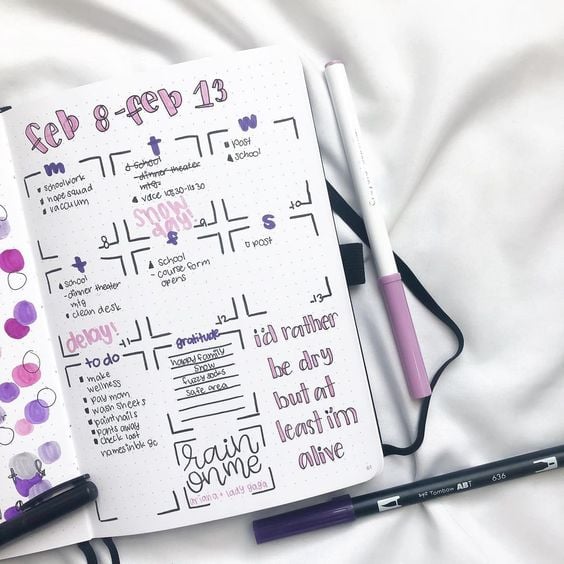 Image via @leahwritesfancy
You can opt to shrink your spread down to one page for those who want to be concise and organized. Having an entire week on one page allows you to also see the next week easily on the next page.
The best designs for this more minimalist approach includes blocks, lists, or even pixelated trackers. These can be at your discretion.
If you don't have a lot happening throughout your weeks, this can be an excellent way to save paper, keep organized, and keep your weekly spread simple. You can still add some color and fun to this design, even with it only being one page!
6. School Weekly Spreads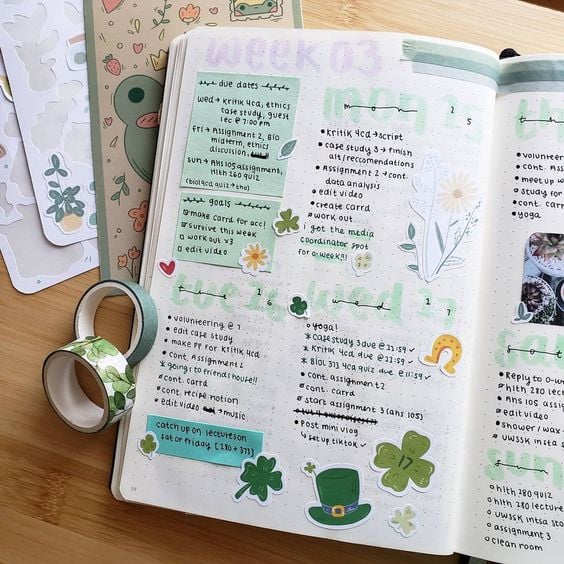 Image via @maari_bar
For those of you in school or college or are a mom with kids in school, bullet journal spreads can be a great way to track assignments and which classes to attend. These can be as simple as the other designs but can include more items, such as extracurricular activity schedules and meals to pack for lunch.
You can also include reading trackers and see how much you read in a week for avid readers! This can be a great way to stay on task and make sure you are on top of your assignments for the semester.
7. Watercolor Designs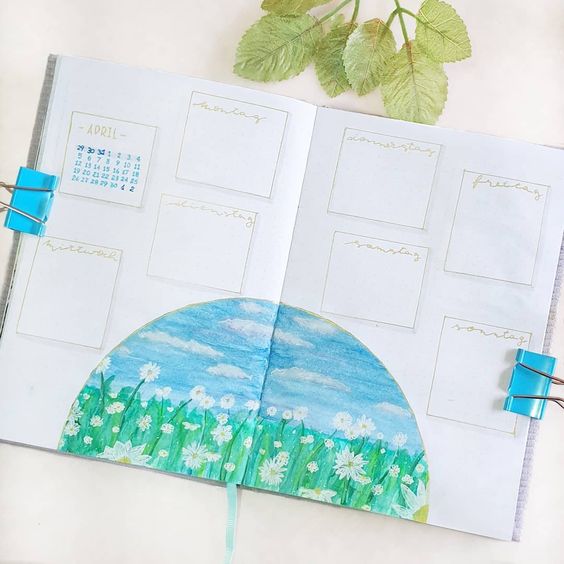 Image via @shooting_star_176
If you are artistic and want a creative weekly spread, this can be a great way to add some color and unleash your creativity! You can add some watercolor to the edges, bottoms of the pages and even in the blocked sections.
Perhaps you color the title of your weekly spread with the dates too!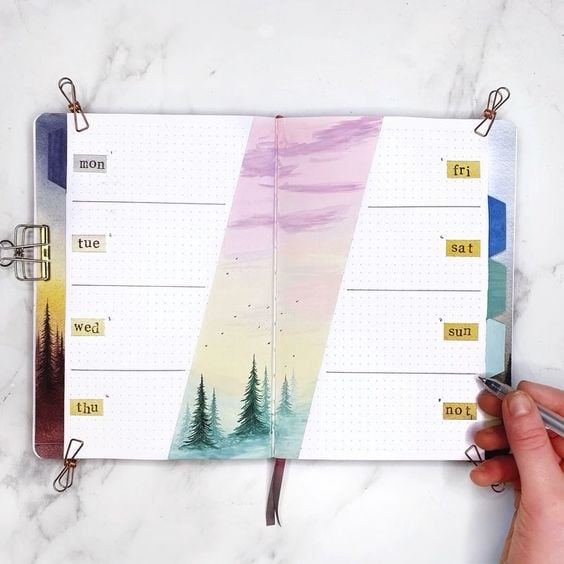 Image via @hannahmariaplans
There are no wrong ideas with adding watercolors, but make sure you let them dry before you go and shut your journal! The last thing you want is a smashed drawing, or worse, ink spreading through several pages of yours.
8. Floral Designs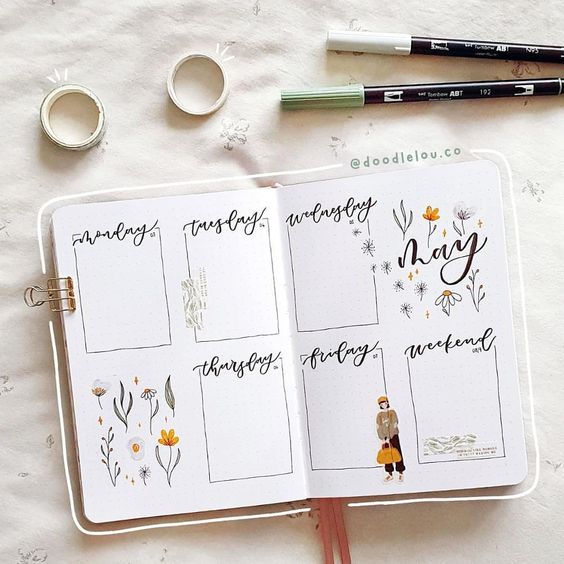 Image via @doodlelou.co
Everyone loves flowers and flower doodles are so fun to make, so why not include them in your bullet journal? It can be as simple as adding flower designs in the middle or even one larger one by your dates for the week. You can pick any flower you like.
Some of these designs can be beautiful and extraordinary! Even if you don't have artistic talent like some of your friends or those in the bullet journal community, you can still choose something tasteful and straightforward to include in your bullet journal to add some personality to your weekly spread.
Favorite Bullet Journal Products
Here's some of our favorite bullet journal products!
Conclusions
Bullet journals can be an incredible way for you to be creative, keep track of your habits, and stay on task. No matter what you use them for, we shared so many bullet journal ideas for your weekly spreads!
Don't feel the pressure to choose just one either. The best part of a bullet journal is that you can change it as you go. You are the creator, and you can switch it up as you wish!
We love bullet journals and will be sharing more in the future to help you create your perfect journal so keep checking back!
Journaling is a great thing to do each morning. I have a full post on how to wake up early (with more energy) to help you break up with the snooze button!