If you're looking for a beautiful, shiny pair of earrings like diamonds but need something less expensive, Cubic Zirconia earrings are the perfect alternative. Cubic Zirconia earrings offer a low-price tag with the same sparkle factor. Plus, they're likely to look flawless because they're produced artificially in a controlled environment.
Today we're going to share exactly what Cubic Zirconia earrings are, how to pick them, how they are different from other types of jewelry, where to buy them and our top 5 picks! We hope this guide helps you pick your next pair of sparkling earrings with success.
If you need a quick answer, here are the 5 best Cubic Zirconia earrings!
5 Best Cubic Zirconia Earrings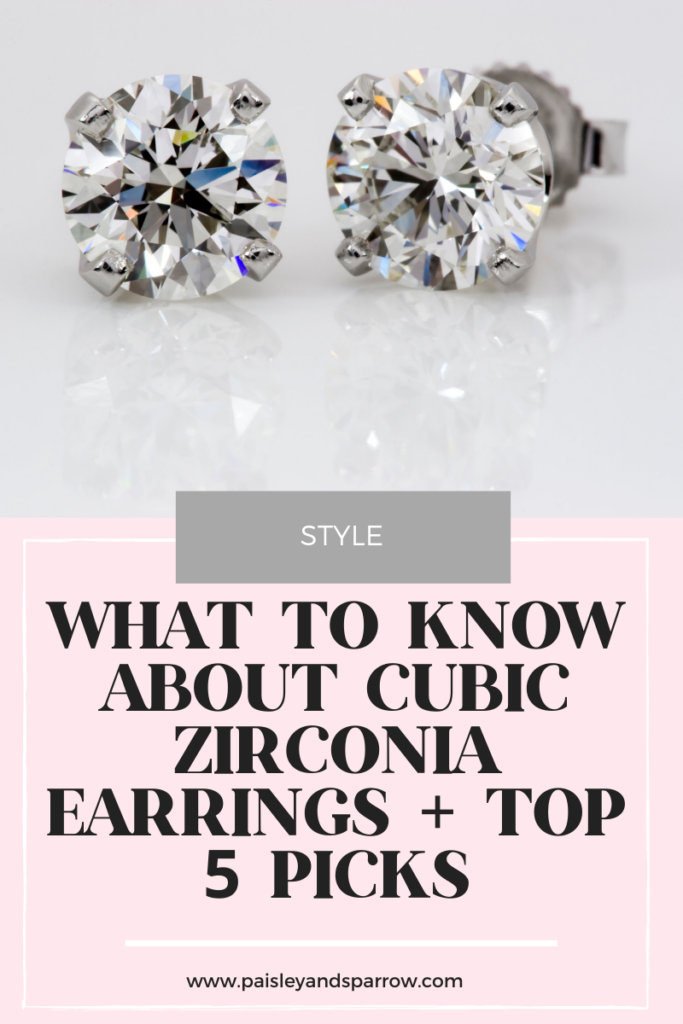 Paisley + Sparrow is a participant in the Amazon Services LLC Associates Program. This post may include affiliate links which means I may earn a small commission if you shop using the links below at no additional cost to you.
1. Best Budget Cubic Zirconia Stud Earrings
2. Best Overall Cubic Zirconia Earrings
3. Best Hypoallergenic Cubic Zirconia Earrings
4. Best Hoop Cubic Zirconia Earrings
5. Best Cubic Zirconia Drop Earrings
We'll go into more depth on each below but that will give you a head start if you need the info fast!
Let's get started on our complete guide!
What are Cubic Zirconia Earrings?
First up, what in the world are Cubic Zirconia earrings? We're sure you've heard of them from friends or on social media but what does it actually mean when someone owns a piece of Cubic Zirconia jewelry?
In simple terms, Cubic Zirconia earrings are earrings that look like diamond earrings in all the different shapes and sizes that diamond earrings come in. You'll see Cubic Zirconia all over – as bridal earrings, wedding rings, and more!
In scientific terms, Cubic Zirconia is a mineral called zirconium oxide. While this cannot be commonly found in nature, it's easy to replicate in a laboratory. It's considered by jewelers a simulated diamond, which means it's a gemstone that is constructed to resemble a diamond but is not a diamond at all.
Cubic Zirconia earrings were first commercially produced in the early 1970s due to the demand for an inexpensive alternative to costly diamonds.
How to Pick Cubic Zirconia Earrings?
When you're looking for a pair of Cubic Zirconia earrings, you have a ton of options to choose from. To pick the best pair of earrings, you should consider a few things:
1. Style
Cubic zirconia earrings will come in all different types of styles, including cluster, drop, hoop and stud. Pick your style based on the amount of shine you're looking for and what you feel most comfortable wearing.
Your face shape, outfit and even your neckline you'll be wearing your earrings with will have an impact on this as well. If these are for everyday wear, you may want a pair of simple cz studs. If it's for a formal gathering, you may want a pair of statement earrings.
2. Size
There are multiple sizes you can choose for your Cubic Zirconia earrings. Larger stones will be heavier on your ear but will shine brighter and catch the attention of others. While using a smaller stone will be lighter on your ear and offer a subtler shine.
Again, you'll want to think of when and where you'll be wearing your earrings. Smaller earrings would be great for daily wear while larger ones would make a great option as a statement piece.
3. Quality
Consider the type of quality you are looking for in your Cubic Zirconia earrings. Just like other types of gemstone jewelry, Cubic Zirconia pieces have a ranking associated with them. 5a is the best quality ranking, which looks the most like the real thing, while 1A is the lowest quality.
4. Metals
While Cubic Zirconia won't bother your ears, the material the metal part of your earrings is constructed from might cause a reaction. You can often get the same metal as a real diamond. If you're sensitive to jewelry, go for a gold set, and try to avoid nickel. There's also some stainless steel options as well.
How are Cubic Zirconia Earrings different from other jewelry?
Cubic Zirconia is commonly compared to a diamond. Unless you pay close attention, it's hard to tell the difference between Cubic Zirconia and diamonds although we do suggest that if you're buying CZ jewelry for someone else that you're a straight shooter and let them know that it's Cubic Zirconia and not diamonds. It can be so difficult to know!
As mentioned above, the way CZ jewelry is created differs from any diamond-type you might find. However, there are a few different ways you can tell the two apart.
Weight: The biggest difference is the weight. Cubic Zirconia will always be about two times heavier than a diamond if the two have the exact same dimensions.
Color: White Cubic Zirconia is colorless and contains none of the flaws that diamonds typically have because Cubic Zirconia is synthetically created.
Sparkle: Cubic Zirconia stones will appear brighter or produce more fire than an actual diamond.
Where To Buy
Cubic Zirconia can be purchased in many locations, such as your local jewelry shop or retailer. However, many online stores (such as Amazon) offer Cubic Zirconia and offer a more comprehensive selection of cut, color, and sizes.
Top 5 Cubic Zirconia Earrings You Need to Buy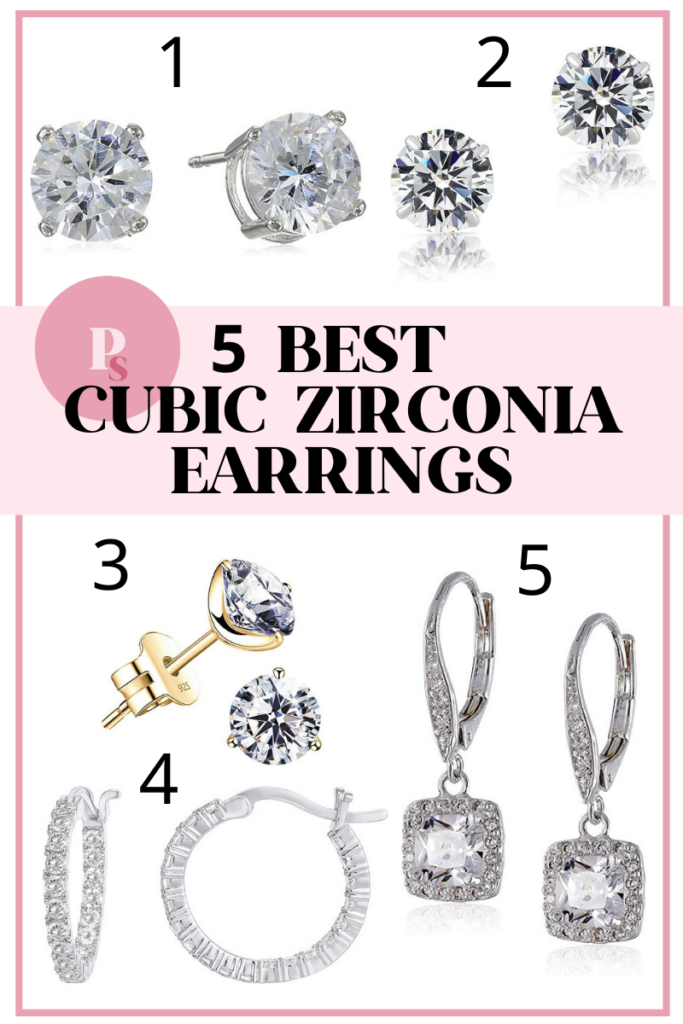 If you're looking for Cubic Zirconia earrings, you've come to the right place. Cubic Zirconia earrings are the perfect mix of affordability, beauty, and versatility. Check out our top five choices below for the best Cubic Zirconia earrings.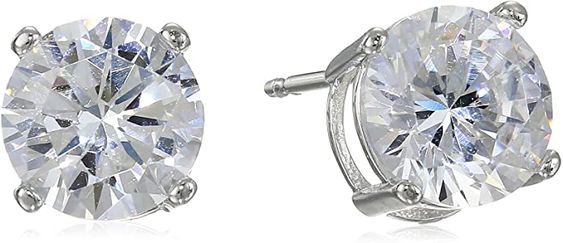 Our top pick for the best budget earrings (and the ones that I personally own) are the Amazon Essentials Plated Sterling Silver Cubic Zirconia Stud Earrings! These Cubic Zirconia studs
are a bargain, starting at $10 for a pair of beautiful earrings. The stone has various sizing options available, with the smallest at 4.5 millimeters up to 8.5 millimeters.
You can choose either rose gold, white gold, or platinum for your plated colors, as well as either a princess-cut or round-cut stone. If you're looking for a simple, stylish, and affordable pair of earrings, choose Amazon Essentials Plated Sterling Silver Cubic Zirconia Stud Earrings.
Looking for a Cubic Zirconia cocktail rings? Shop Cocktail rings here!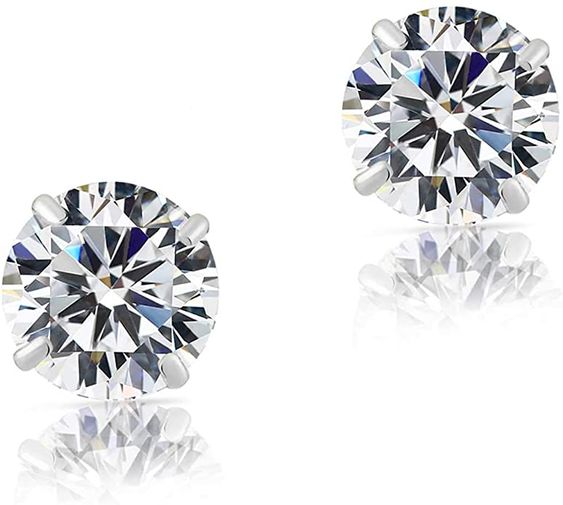 The 14k White Gold Solitaire Round Cubic Zirconia Stud Earrings with Gold Butterfly Pushbacks has over 1,200 reviews and is are best sellers favorite among jewelry shoppers. These 14.k white solid gold earrings are constructed with a 4-prong basket setting.
The 14k White Gold Round Gold Cubic Zirconia stud's earrings range in sizes from 2.5 millimeters to 8 millimeters and are handcrafted by third-generation jewelers. These earrings are made by Tito Jewelry, which has been around since the early 1990s.
They make each pair by hand to create some of the best quality, flawless earrings. Plus, all of their jewelry has a 30-day money-back guarantee. That's how confident they are in the quality of their jewelry.
Want a coordinating Cubic Zirconia tennis bracelet? Shop silver bracelets from Tito here!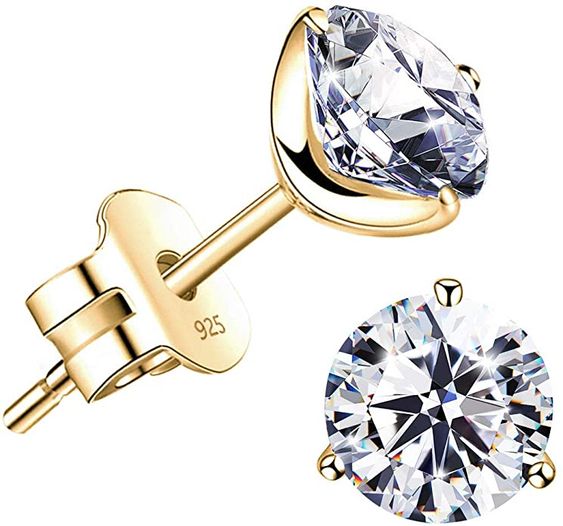 If you tend to have sensitive ears, you need to consider purchasing the Stunning Flame 18k gold plated silver brilliant-cut Cubic Zirconia stud earrings. They are created with Hypoallergenic 925 sterling silver, which is perfect for those who are typically sensitive to jewelry.
You have a few options to choose from with these earrings, as they are available in 14k gold post and sterling silver in white or yellow. These well-sized earrings are elegant and the perfect wear for your everyday outfits.
Looking for Cubic Zirconia rings? Shop diamond rings here!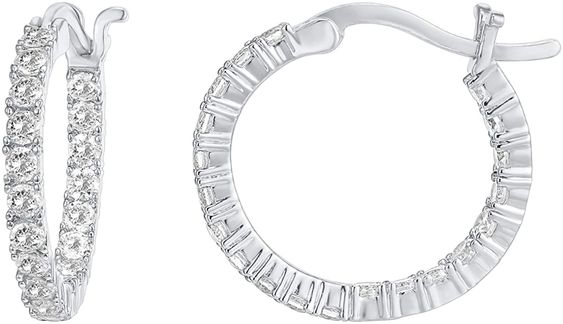 If you prefer styled hoop earrings, check out Pavoi's 14k Gold Plated 925 Sterling Silver Post Cubic Zirconia Hoop Earrings. Available in either platinum, rose-gold, or yellow gold plated options, you're sure to find a color and style to fit your needs.
These hoop earrings feature Swarovski Zirconia set on the inner backing and outer front hoop. The earrings are made of 925 sterling silver. Each set of earrings features a seal of authenticity, guaranteeing its high quality.
Want freshwater pearl earrings? Check out these beautiful Sterling Silver Freshwater Pearl Cubic Zirconia earrings here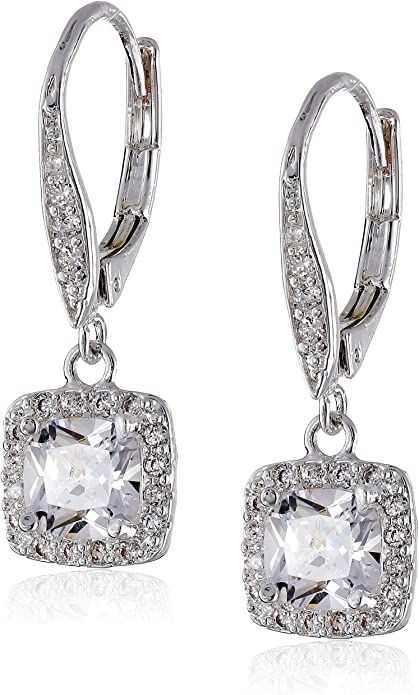 The Anne Klein Flawless Cubic Zirconia Drop Earrings are the perfect mix of luxurious and stylish. The earrings' approximate dimensions are a length of 21mm, a width of 7mm, and a depth of 6mm, and are made with sterling silver with a rhodium plating.
The earrings are easy to put on, with an adjustable clasp located in the back. These Cubic Zirconia drops are the perfect addition to a wedding outfit or a nice night out with friends.
Want other Cubic Zirconia Statement earrings? Shop statement earrings here!
FAQ
1. Who makes the best CZ Earrings?
The best Cubic Zirconia earrings are subjective, as many brands offer high-quality Cubic Zirconia earrings. Always check the ranking of the Cubic Zirconia. If it's rated 5a, you're likely picking one of the highest quality pair of earrings.
2. What is the best Cubic Zirconia brand?
The best Cubic Zirconia brand is dependent on what you're looking for from your Cubic Zirconia jewelry. You can browse great selections on Amazon (and oftentimes benefit from free shipping!) or many other online retailers or retail shops such as Birkat Elyon (where you'll frequently find new arrivals) have great options.
3. Are Cubic Zirconia Earrings good?
Yes! Cubic Zirconia Earrings are a great alternative to diamonds, featuring the same sparkle without the hefty price tag.
Cubic Zirconia jewelry is a great way to add some sparkle to your life without breaking the bank! This jewelry is an amazing choice for many different types of individuals. Whether you're looking for earrings set or diamond necklaces for someone special in your life or perhaps you want to gift your child with a special piece of jewelry for a special occasion, there are tons of great choices for stunning jewelry!