If you want to transform any room in your house, a rug is one of the most effective but overlooked accessories to consider. You'll spot a rug in almost any home you enter — in the living room, the dining area, or the bedrooms.
Rugs have evolved from being a symbol of culture, success, and wealth to being part of history, trade, art, music, and literature, to now being a standard for interior design providing a classic, luxurious look.
They can complement your furniture and decor while also having the potential to alter your home's space depending on how you use it. A rug makes a style statement and can solve problems like covering ugly old floors or defining rooms in an open floor plan.
A new rug can pull a room together and make it feel warmer … unless you get the wrong size! Learn how to choose the right rug size for your living room with my rug size guide.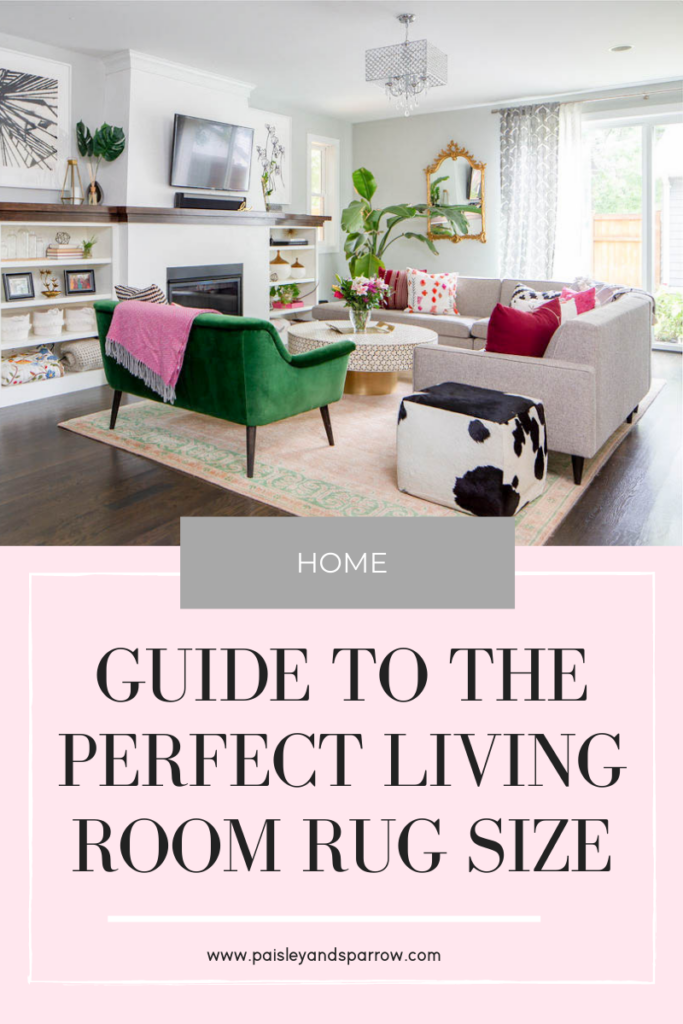 Common Sizes
Regardless of where you are planning to purchase your rug from, there are standard sizes. This makes planning and shopping easier because the dimensions are set.
Here are the standard rug sizes for your reference.
Large Size Rugs
You can get a large rug with a dimension of 8′ x 10′, 9′ x 12′, or even larger. These rugs are usually used to help define the overall design or theme of a room. When used in an open space, a large area rug can also help determine the area.
Medium Size Rugs
Rugs that measure 5′ x 8′ and 6′ x 9′ fall under the medium-sized category of rugs. This is a popular size among households and designers alike because they are incredibly versatile. You can use multiple medium-sized rugs with varying designs in a single area to really make a statement.
A standard choice for apartment dwellers, medium-sized rugs are often used as "in-between" rugs to help define the space if you push the dining table toward the wall or window. It is also used near entry ways.
Small Size Rugs
Often seen as bathroom or kitchen rugs, small rugs measure 4' x 6′ and smaller. These rugs are also typically placed by entry doors and on the patio.
How To Decide Your Rug Size
These are important decisions — rugs are big purchases (and a pain to return!), so you want to get it right before you commit! Measure out the rug sizes you're looking at and mark them with masking tape, and consider the following factors.
How Much Bare Floor To Leave
You have to find the perfect balance between fully covering your floor without leaving too much or too little space on the sides. A good rule of thumb is to leave 18-24 inches of space bare. Too much bare floor can actually make the room feel smaller.
You can also choose to adopt a more modern look where your rug almost reaches the wall, leaving only a few inches of wood or panels exposed. This can make a big statement if you have a good eye for interior design.
Furniture Placement
Your planned furniture layout will help determine the right area rug size for your living room.
For a living room on the smaller side (and to save money) go for a smaller rug with your your furniture arranged around the rug. Avoid placing your furniture (other than your coffee table) on top of the rug so you can make the room look more spacious.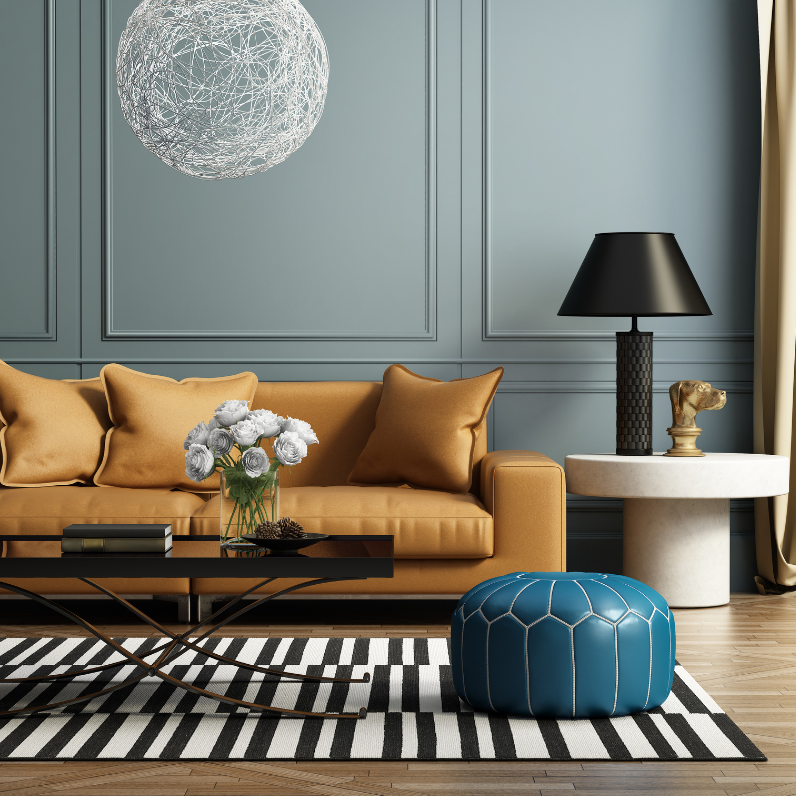 But if you are working with a family-sized living room with more floor space, opt for a larger rug! If you have a slightly larger rug you'll be able to settle the front legs of your furniture on top of the rug.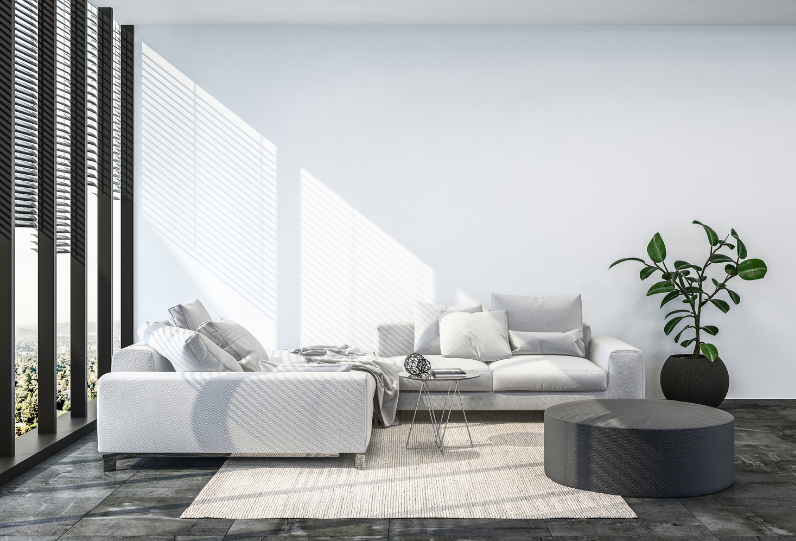 In an open floor plan, your furniture can all be set on top of the rug. And when you are working with two sofas, your area rug should be placed at an equal distance between the sofas.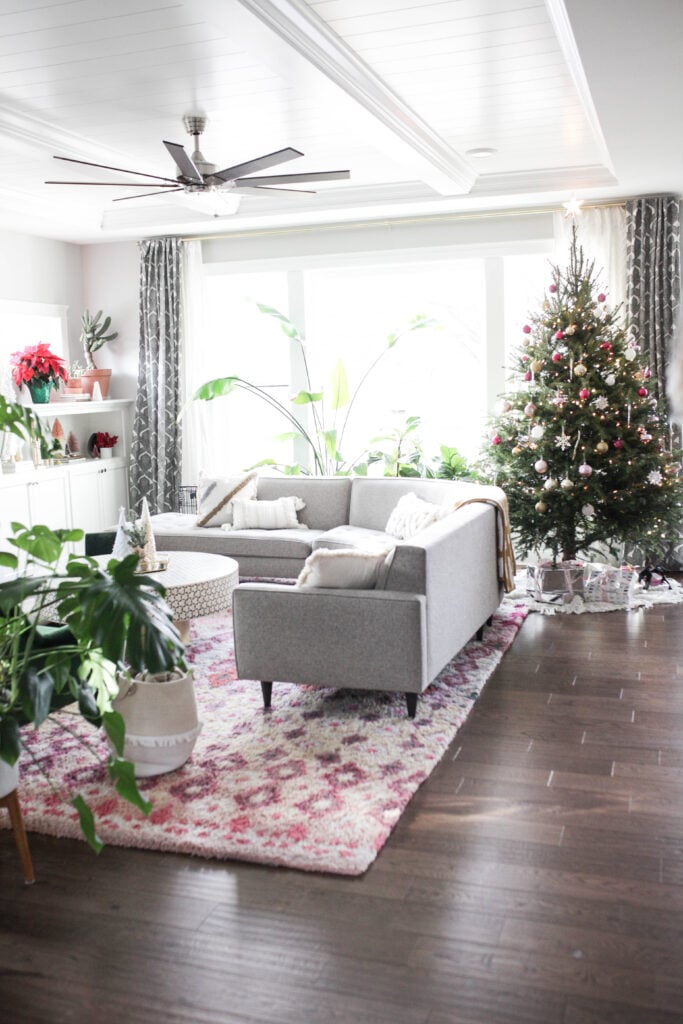 Shape of Your Living Room
A rectangular rug is the most commonly used when your living room is elongated. However, this is also the safest shape of rug to use for nearly all living room shapes, and it gives you the most pattern options.
It's likely that the shape of the room won't fit the dimensions of your rug exactly, so don't worry about your rug being perfectly centered in the room. Custom rugs are expensive, and proportions don't have to be perfect to make your room cozy and stylish.
How Much Walkway Do You Need Between Furniture?
While you don't need perfect proportions, your space does need to be functional! Always allocate at least 30 inches of walkway between fixtures and furniture so you have enough space to easily walk around.
Even if bigger rugs seem like the perfect size aesthetically, they are a no-go if you're going to be bumping into the couch or a table every time you walk by.
How To Use Rugs To Define Spaces in Open Floor Plans
With open floor plans becoming more and more popular, it's not unusual to be decorating large rooms that serve several separate functions. You don't want one huge rug to cover the whole room when it acts as living room, dining room and entryway.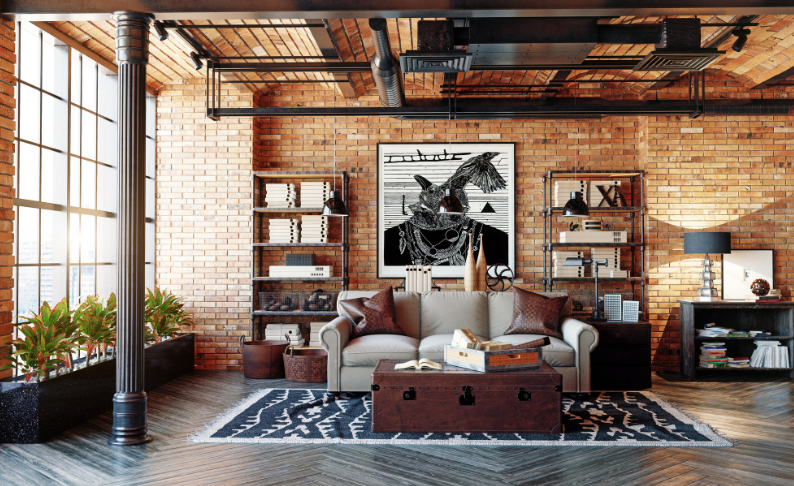 When looking to define space, the most commonly used approach is using different pieces of furniture like screens and shelves. It helps break up an open space and create zones at eye level.
Although these are tested methods, rugs also work quite effectively as room dividers, albeit in a more horizontal fashion. When used correctly, your rug can work as a visual divider for different areas of any room.
Considering the Rug Size
The rug size plays a critical role because it will dictate where you want to start and end your space. You don't want one side to be fully extended to the wall while the other side appears lacking.
You also need to ensure that your rug size suits your fixtures and furniture. For example, in a dining room, your rug should be large enough so that even when the chairs are pulled out, they remain within the rug.
Playing With the Rug Shape
Although a rectangle is the safest option, you can still get creative with different rug shapes. You must first identify which spaces you want to define and the furniture you have there. A small sitting area, for example, might be perfect for a square rug or small round rug between a couple of chairs and under a small coffee table.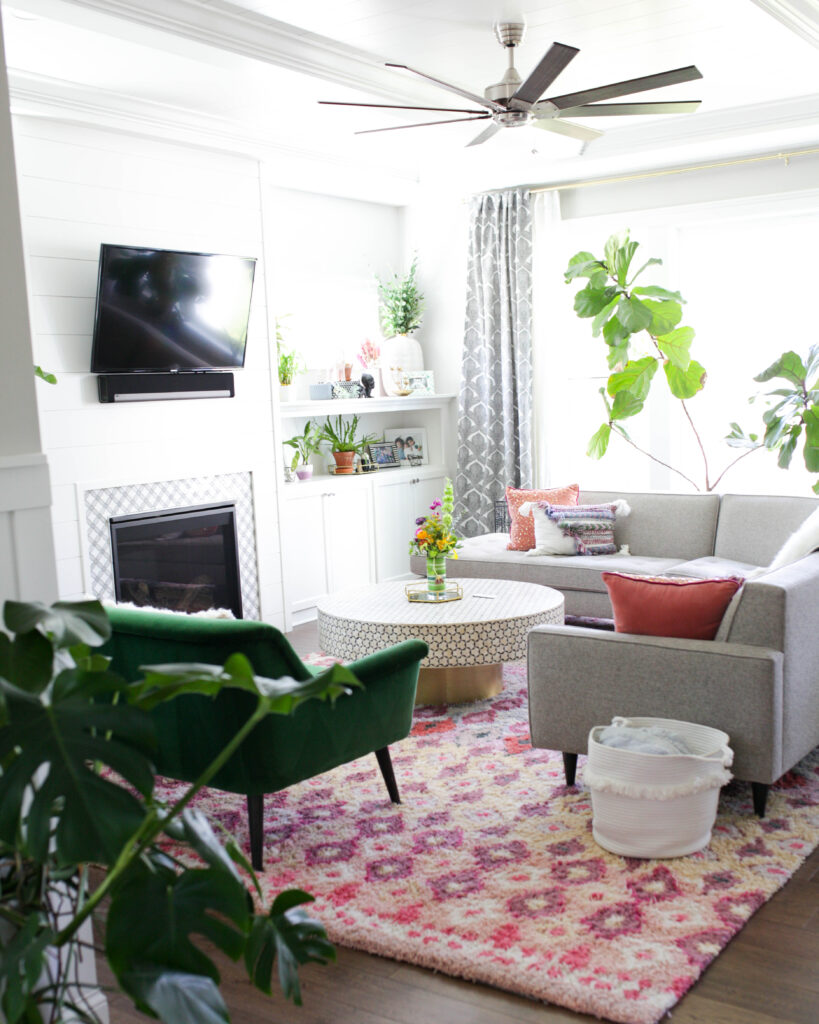 You can also mix and match by using square and rectangular rugs instead of just two rectangles. A round rug is also a great idea to delineate your child's play area inside his bedroom.
Staying Cohesive With the Color, Theme, or Motif
If you are aiming for harmonious visuals, stick to rugs that complement the colors and textures of your overall interiors.
Matching your rug with the main paint of your walls is a great idea, or you can opt for shades within the same color palette.
Or if you want your rugs to make a statement, make sure the rug has colors shared by your room's motif to bind everything together. You can have a cohesive look without being too matchy-matchy.
How To Layer Rugs
Layering rugs not only adds texture to a given area but also doubles up as a space-saving technique when you have limited room for new rugs (provided that the colors coordinate).
Layering is a practical way of making the most of a small rug in a bigger space, especially if the dimensions of your favorite rug don't work well with your space.
For example, you can put a smaller rug on top of a more extensive and neutral carpet. You can also layer several smaller rugs together until you reach your desired size.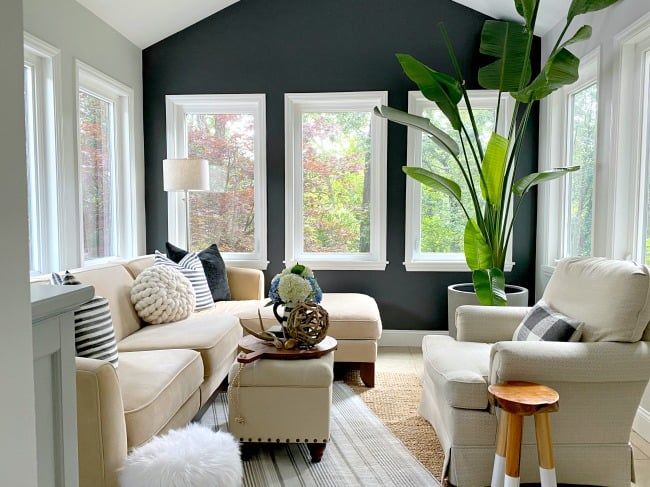 Note that layering is not just putting two rugs on top of each other.
You don't want to have a visual mess from layering too many colors, patterns, and textures. You need to make sure that the colors and patterns complement one another.
For example, you can layer Kilim rugs together because they usually have similar tones. Or layer a cowhide rug over a jute rug to create visual interest while remaining cohesive.
When Do You Need a Rug Pad?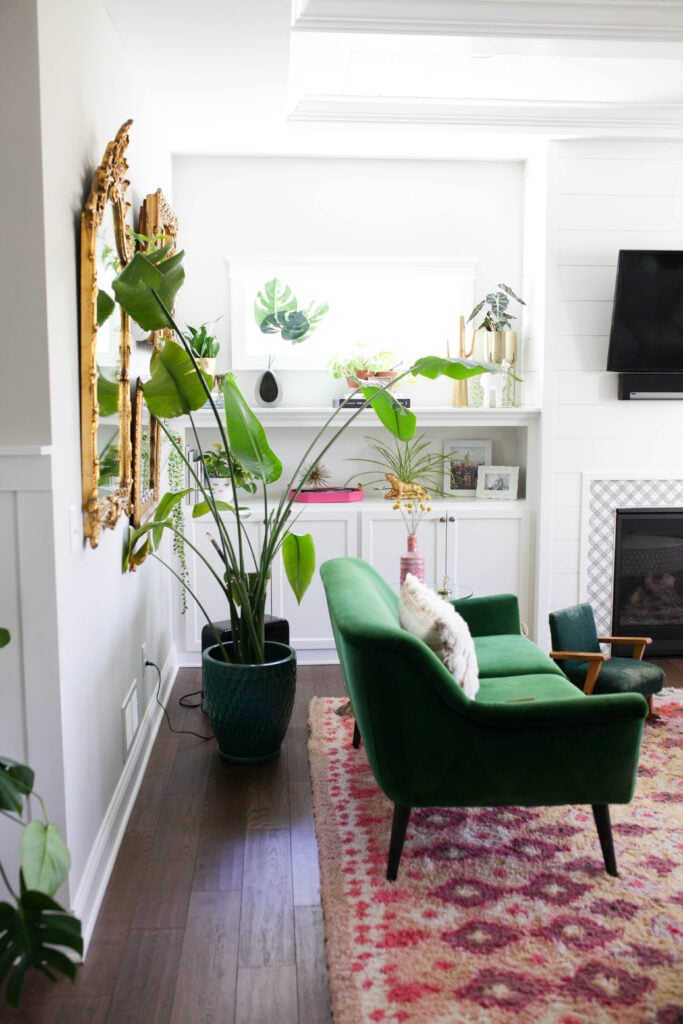 A rug pad, while not entirely necessary, is often advisable. Not only does it hold the rug in place, but it also offers many other advantages.
Here are some reasons you might want to get a rug pad.
If you don't want your rug to slip or move around too much, a rug pad is your solution.
Rug pads come in handy when you want to enhance the feel and look of your rug. They add a bit of plushness.
They ensure additional safety for senior family members and children when walking on the rug.
Rug pads make it easier to move furniture around and to vacuum as they keep the rug in place.
Rug pads can help prevent molds and mildews from setting in.
They help prolong the lifespan of your favorite rug while also protecting your floors.
General Rules for Dining Room Rugs
If you're trying to buy rugs for your whole house, you may need some more guidance on the other rooms. Each type of space comes with its own challenges. Here's what to consider for your dining room rug
If you want to place a rug in your dining room table, your chairs should comfortably sit on the rug in the dining room even after you pull them out. Otherwise, the chairs will get caught on the edge of the rug when you scoot them back in.
The dining table should be positioned at the center of the rug.
Quick List of General Rules/Options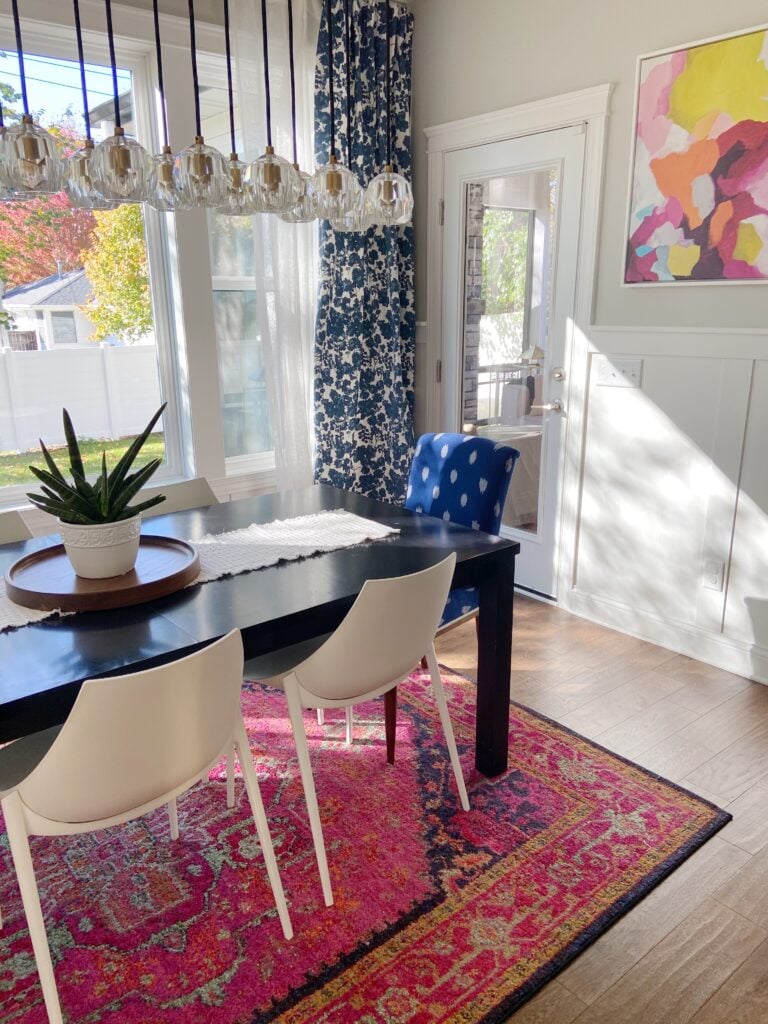 Select a short-pile option or a flat weave for a small dining room that has less space for chair clearance. It will allow your chair to move smoothly over the edge of your rug.
To get the best dimension for your dining room, identify the length and width of your table and add in at least 36 inches on all sides.
If your dining area is significantly large, it is best to leave 8 inches of exposed floor around the perimeter of your rug to anchor the space.
How To Choose a Dining Room Rug in an Open Floor Plan With Living Room
With an open floor plan, it is important to ensure that your dining room rug can cohesively bring together the furniture while also identifying specific zones in the area.
Here are ways to make this possible:
It is preferable to use darker dining room rugs to camouflage the stains that it is frequently exposed to, but the color should still be within the same color palette as the rest of the space.
Make sure that your entire dining table can be placed on top of your area rug. If the rug you have is smaller than the table, better use it somewhere else and leave the dining area bare.
Despite being bigger than your table, your rug should not cover the entire dining area zone. In an open floor plan, this can distort the spaces you have visualized. Make sure you have at least 6 to 18 inches of the floor exposed to define your dining space.
General Rules for Bedroom Rugs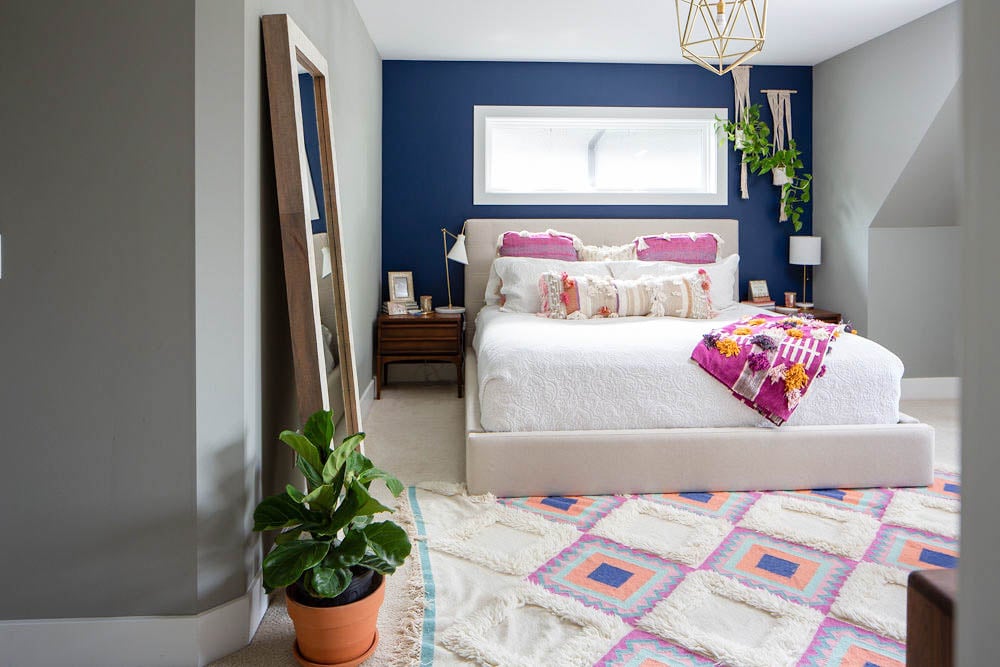 Need a rug for your bedroom? There are so many shapes and sizes to bedrooms, it can feel a little overwhelming to know where to start on choosing a size. Here are some general guidelines, but hey, it's your space! Do what feels good to you!
You have several options for how the furniture sits on the rug:
Your entire bed frame sits on the rug;
Your bed frame and nightstands (and bench if you have one) sit entirely on the rug;
Your nightstands and headboard are completely on bare floor and the lower 2/3 of the bed (and your bench) are on the rug;
Or just the lower 1/3 of your bed or even none of your bed frame sit on the rug, so your rug makes a big impact.
Other guidelines:
Choose a bedroom rug that can complement your room's theme. Since this is a personal space, you can choose bolder designs with a matching color motif.
8′ x 10′ or 9′ x 12′ rugs will work for a queen or king bed if you only do the lower 2/3 of the bedframe.
Rugs should extend 18 inches past either side of the bed.
Now Go Find a Rug!
Now that you've chosen your rug size, it's time for the fun part: finding the perfect rug for your space!
Rugs can perk up any area in your home. And with varying sizes, shapes, and textures, you have endless options to play around with to create that perfect look for your home.
I hope this guide on living room rug sizes can help you make the right choice and explore your decor options. If you're looking to add some Bohemian touches to your decor, check out my blog post on boho bedrooms. Or get more inspiration with these 11 Anthropologie mirror dupes!